New England fall (beautiful towns, regions, road trips and parks to explore for autumn)
If you are planning on visiting New England this fall season, you should start looking now for inspiring places to discover on a road trip, state or local park or a discovery getaway weekend. Bookmark this post so you'll see the best highlights of places to discover around New England to see the fall colors and unique places, towns and regions to explore in the area.
New England is just made for Fall season and exploring all the gorgeous landscapes, towns, parks and taking your car out on a fun road trip through the many areas where fall colors create a magical scene.
As you plan your quick Autumn getaway or short road trip, you'll definitely want to keep all these New England sites on your list of fantastic places to visit for fall season.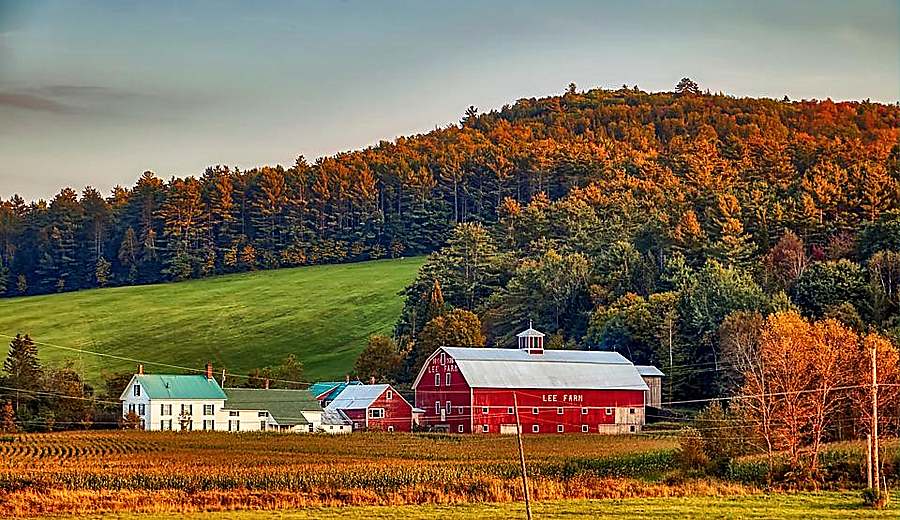 New England Fall Season FAQ
If you plan on visiting New England for the fall season, here's some basics to think about before you plan your fun fall discovery tour of the area.
When is the best time to visit New England for Fall Season?
Fall season conditions always change each year depending on weather and other conditions that can affect the best time to visit New England
When does Fall season start and end in New England?
The main time frame for Fall season tends to be around Mid-September to end of October timeframe for the brightest and most colorful range of autumn colors in the area
What is the progression of Fall in New England?
Fall season's colors vary in locations from Northern areas of the USA and gradually goes south. So, this typically starts with fall around Vermont, Maine and New Hampshire and then goes south to Connecticut, Massachusetts to New York areas.
How long does fall season last in New England?
The six New England states offer some of the most spectacular colors for fall and peak at different times depending on their location in the region, although this changes year to year. The general time frame of fall season and colors lasts anywhere from late September and into November timeframe.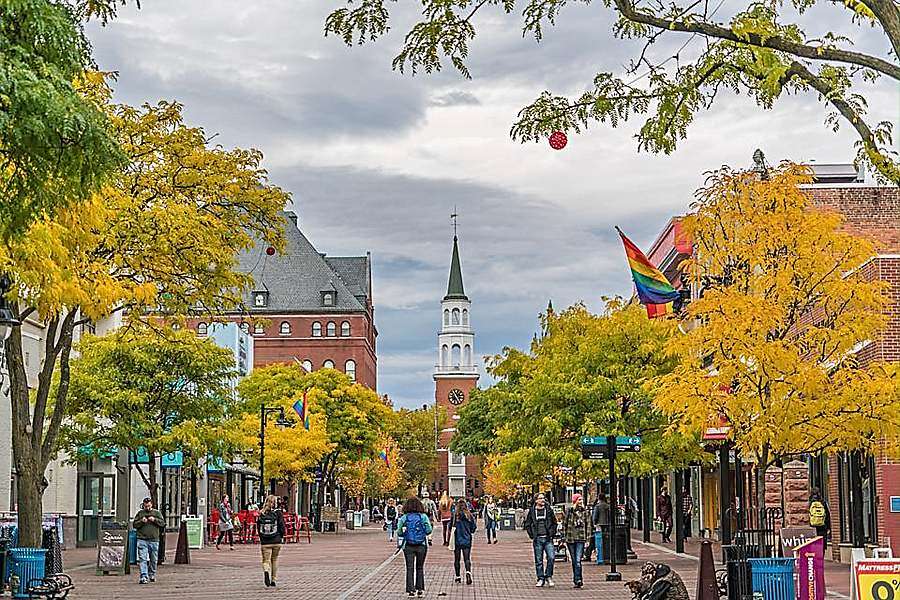 Visit all the gorgeous places in New England for the fall season below
Fall Season in Vermont area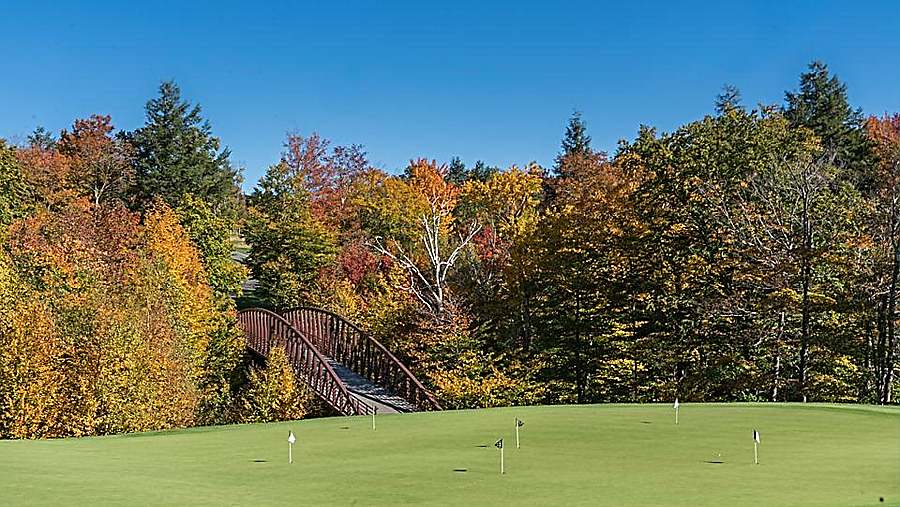 Stowe, Vermont
Stowe, VT is one of the most charming and fun towns to visit in New England in the fall season. While it's mostly known for being a big ski destination in the winter, the fall foliage in Stowe is absolutely spectacular, and you'll definitely feel like you've been transported into a New England postcard once you arrive.
Be sure to stroll around Main Street in the village center, and pop into the Stowe Mercantile for all kinds of unique finds and gifts. Right next door, you'll find Cafe on Main, which is an amazing spot for lunch.
A quick walk from Main Street, and you'll find the Recreation Path, which stretches over 5 miles through town, and takes you on a scenic walk that provides beautiful fall foliage views.
For all things fall, including apple cider and donuts, you'll want to take a short drive to Cold Hollow Cider Mill, where you can snack on freshly-made treats and delicious cider drinks. There's also a wonderful country store on site where you can buy all kinds of Vermont-made products and specialty foods.
To taste some local hard cider, you'll want to make a trip to Stowe Cider, where they have several varieties on tap in their taproom. You'll also be able to grab some really great food from the food trucks while there.
The best airport to fly into to visit Stowe is Burlington International Airport, which is about 45 minutes away. Alternatively, you could also fly into Boston Logan Airport, which is just over 3 hours away, but makes for a beautiful fall road trip. The best way to get to Stowe once you've arrived in New England is by car, as public transit is not extensive in this region.
Check out Samantha's post on Where to stay in Vermont in Fall
Wow, Stowe, Vermont in Autumn is stunning!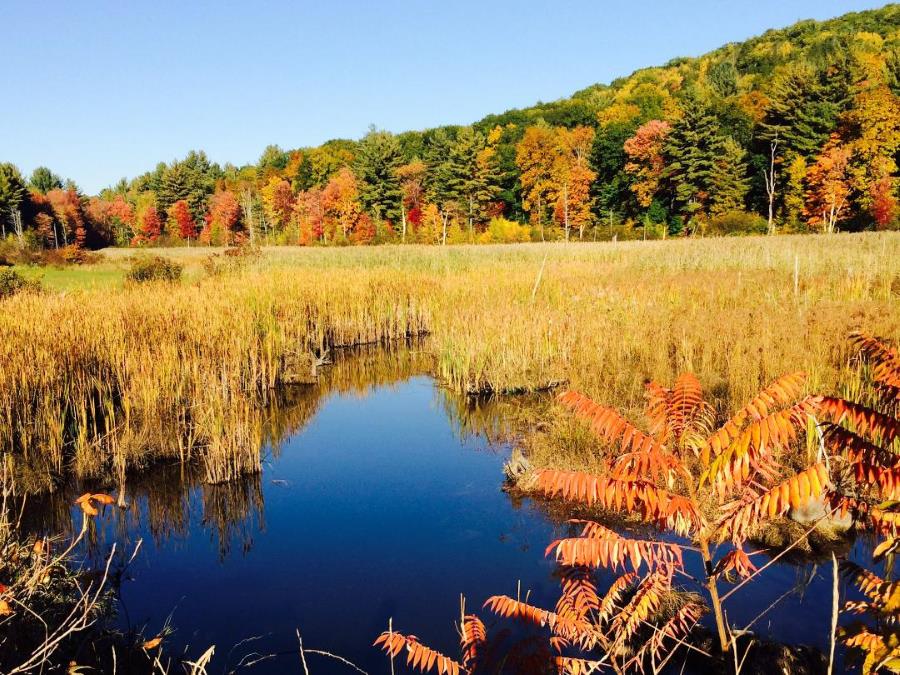 Fall at Quechee, VT
Quechee is a small town centrally located in Vermont just across the border from New Hampshire. Filled with artisans, antiques and nature sanctuaries, Quechee is the ideal location to spend a whole day leaf-peeping, broken up with activities along the way for the whole family.
Specifically, Route 4 from Quechee or even directly from Highway 89 in the direction of Woodstock is one of the most quintessential New England roads to see some of the best fall foliage VT has to offer. The road curves between valleys and mountains, offering panoramic views and scenic areas.
The best viewing point for folks who really want to immerse themselves in fall foliage is the nature sanctuary, the VINS Nature Center (just outside the center of Quechee). Alternatively, you can go to the Quechee State Park with camping, picnic area and amazing view of the Queechee Gorge from the famous bridge.
In the center of town, just across the covered bridge of Quechee is Simon Pierce's store and glass blowing workshop, where you can shop his fine glass, dine at the amazing restaurant, have a drink at the bar or watch live demonstrations on the basement level. Don't miss the back door that opens up onto the rushing waterfall on the backside. Just down the road, stop in at Andrew Piece's wood carving factory store.
Keep an eye out for the enormous antique mall with a toy museum and a petting llama farm, a great stop for families with kids.
Quechee is two hour drive from Boston and 2 ½ hour drive from Portland, ME, making it an ideal day trip for New England travelers. To arrive in Quechee, you will need to drive. Take Highway 89 North and get off at exit 1 for US-4/Woodstock Rd toward Rutland/Quechee (South). Turn left onto US-4 W/Woodstock Rd. Quechee is just up the road.
Louisa Loring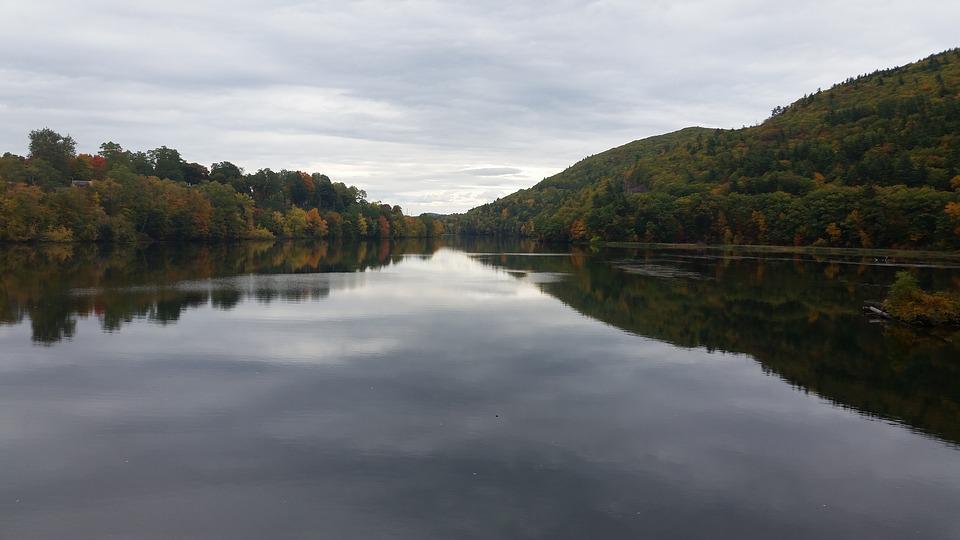 Exploring Brattleboro, Vermont during fall season
When most people think of fall foliage, they think of New England and all of the beautiful colors that come with it. While all of New England offers amazing displays, Brattleboro, Vermont is truly a hidden gem and a must visit in the fall.
Located in southern Vermont, Brattleboro is a charming town that is worth visiting any time of year. But it's especially beautiful in the fall when the leaves change color and the hills are covered in a blanket of orange and red.
To get to Brattleboro, you can drive or take the train. The town is about a two-three hour drive from Boston, Albany and New York City. You can also take the Amtrak Vermonter as well. Once you're there, you can enjoy walking around town and taking in all the sights and sounds.
There are also plenty of things to do in Brattleboro. Some of the highlights include hiking or biking on the West River Trail, checking out one of the many art galleries or museums, or eating at one of the local restaurants. Yalla, which is located right in town, is a great place to start. They have some of the best falafel around and it's perfect for a quick lunch.
If you're looking for a scenic autumn getaway, be sure to add Brattleboro to your list. You won't be disappointed!
Taima with Poor in a private plane
Here's a look at Battlebro, Vermont from above…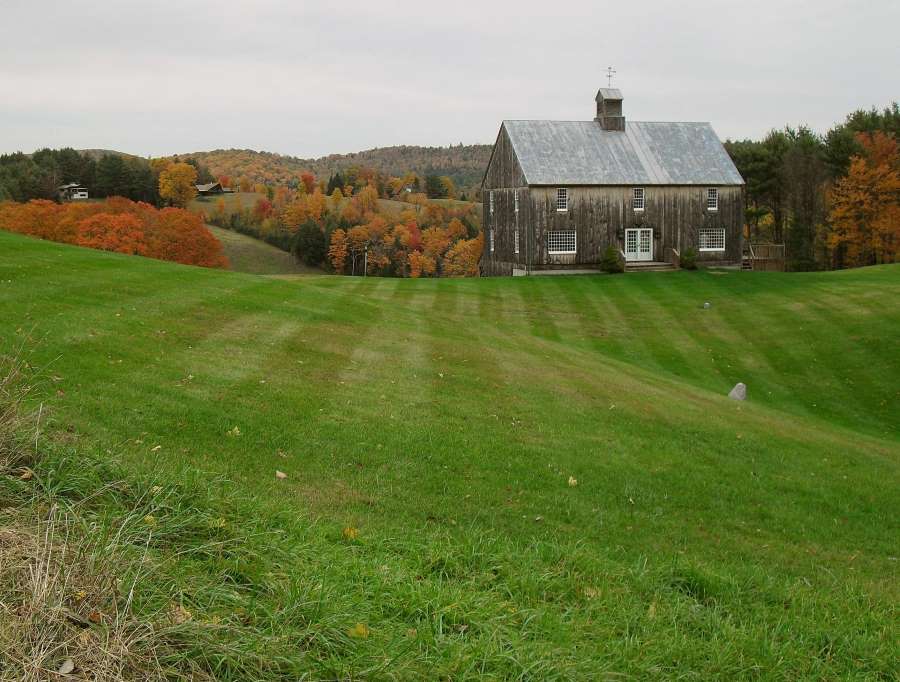 Woodstock, Vermont
If you are looking for a perfect fall destination in New England, you should add Woodstock to your bucket list. Woodstock is easily one of the best gateways in Vermont and a great place to capture the breathtaking autumnal colors. Woodstock is also considered one of the most beautiful towns in the United States, and it offers something for everyone, doesn't matter if you are an outdoor lover, or if you prefer to explore the local shops.
One of the top things to do in this beautiful town during fall is to hit the nearby hiking trails. The Marsh-Billings-Rockefeller National Historical Park is one of the best places for this, as you will get to appreciate the stunning views and it is perfect to photograph the orange leaves falling from the trees. Another amazing opportunity to capture incredible pictures is to walk around downtown and admire the classic New England architecture. You will love taking a stroll down Main Street in Woodstock, and just get lost admiring the stunning array of buildings of 18th and 19th-century architectural styles. The best streets to mark on your map are The Green, Central Street, and Elm street to get mesmerized by the beauty of Woodstock.
Woodstock is a 15-minute drive from Vermont Interstate 89. Take Exit 1 to Route 4 West. Follow Route 4 West directly into town. If you're flying, the closest airport is
Burlington International
(BTV). Approximately 90-minutes from Woodstock. You don't need a car to explore Woodstock, as the town is very small. But it is recommended to rent a car, especially if you want to visit the covered bridges, as the Woodstock region offers some of the most beautiful in New England.
Paula with Paula Pins the Planet
It's beautiful here at Woodstock in Autumn
Fall season around the New York area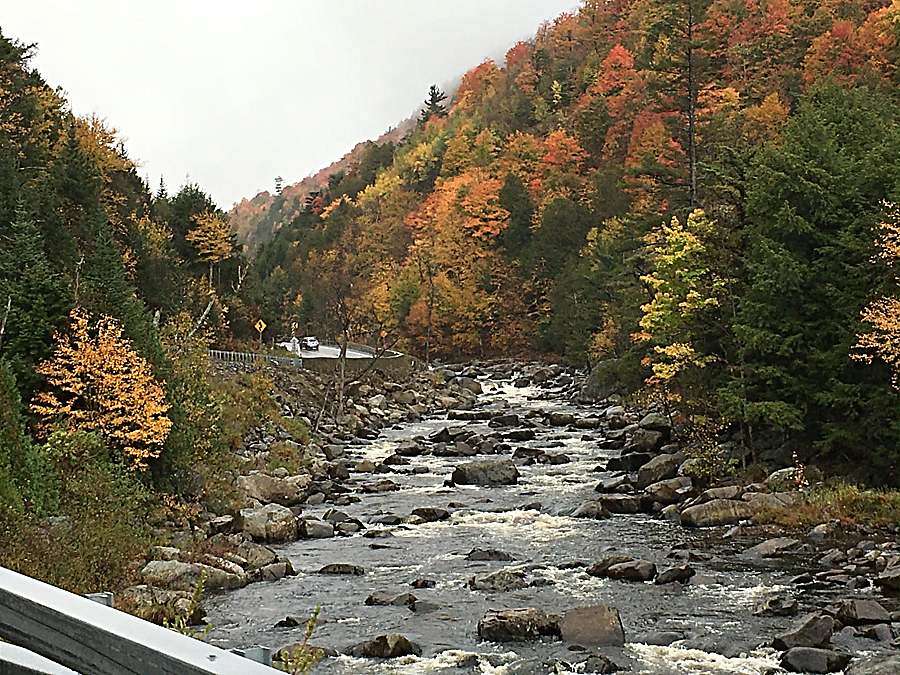 Explore the Adirondack Mountains in Fall
The Adirondack Mountains in Upstate New York make for a great fall destination in New England due to the scenic mountain landscapes and beautiful fall foliage. Activities are wide and plentiful, from hiking, taking in the Ausable Chasm, scenic drives, exploring Olympic sites (like the ski jump and Olympic Museum), taking a gondola up Little Whiteface Mountain and checking out an old, covered bridge.
Fall Foliage is abounding no matter where you go, however, some of the best areas to see it are at the summit of Whiteface Mountain (which is accessed by a scenic drive that has pull off spots and a castle at the summit with views of Lake Placid), at the top of the Olympic Ski Jump, and on some of the areas many scenic drives. Hiking the many mountain trails will allow you to surround yourself in nature and immerse yourself in the foliage.
If you time your visit right, you may also get to experience one of the many fall festivals in the area. Some of the popular ones include: the Balloon Festival (where there are dozens of hot air balloons launched, as well as local crafts and food), Oktoberfest, and the Moose Festival (where there are moose calling contests and guided hikes to look for these magnificent animals). Check the Visit Adirondacks website for dates and locations.
Getting to the Adirondacks is just a short and pretty drive from Albany airport in New York. Once there, you can choose to stay in either Lake Placid or Saranac Lake as both provide a great base for exploring the mountains and surrounding area. If you are camping, there are plenty of options in both areas as well. Some of these campgrounds also offer cabin rentals.
Kristin with World on Wheels
Check out these gorgeous views of the Adirondacks from above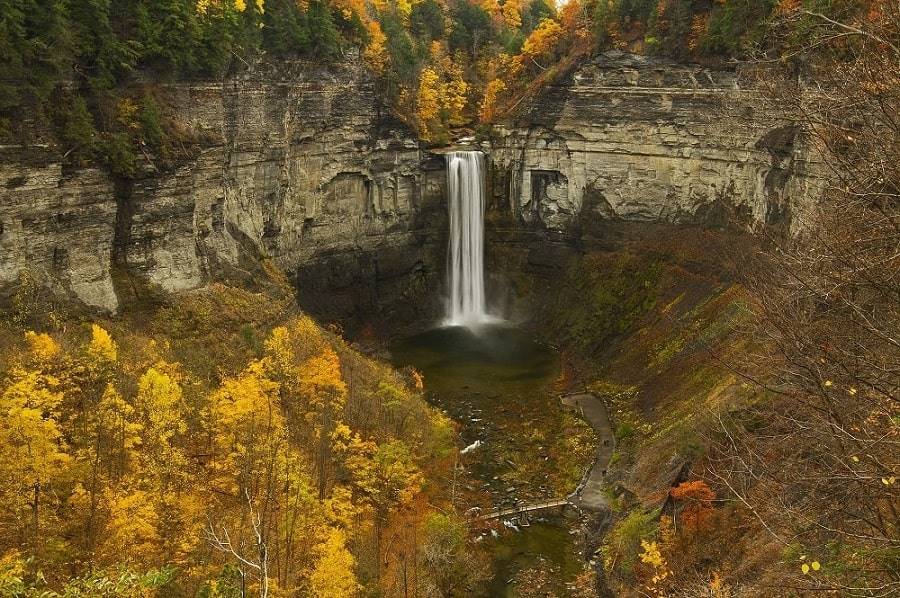 Fall time at the Finger Lakes
A visit to the Finger Lakes in the fall should be on everyone's radar — it's one of the most beautiful spots on the East Coast. Beginning late September/early October (depending on the weather), the trees come alive with a fiery mix of reds, oranges, yellows, and purples that pair spectacularly with any of the eleven Finger Lakes.
One of the best places to enjoy the fall color is on a scenic hike — there are hundreds of fantastic hiking trails throughout the Finger Lakes. A few spots to check out include Treman State Park, Taughannock Falls, and Watkins Glen State Park. All three feature show-stopping waterfalls, but Watkins Glen is particularly photogenic — if you're looking for the most Instagram-worthy shots, go there! Watkins Glen features towering 200 ft. cliffs, 19 waterfalls, stone bridges, and lush foliage that makes for the most beautiful fall photos.
Aside from hiking, throughout the area, in many of the small towns, you will also find farmer's markets, apple orchards, and loads of wineries and breweries to create a perfect fall itinerary! For a scenic wine and beer tasting adventure, be sure to stop at Atwater Vineyards and Grist Iron Brewing Company. Both spots are situated on a hill overlooking Seneca Lake — on a sunny day, everything just sparkles!
Recommended by Rebecca from Veggies Abroad
Here's a quick video tour of the Finger Lakes district
Fall Season in Maine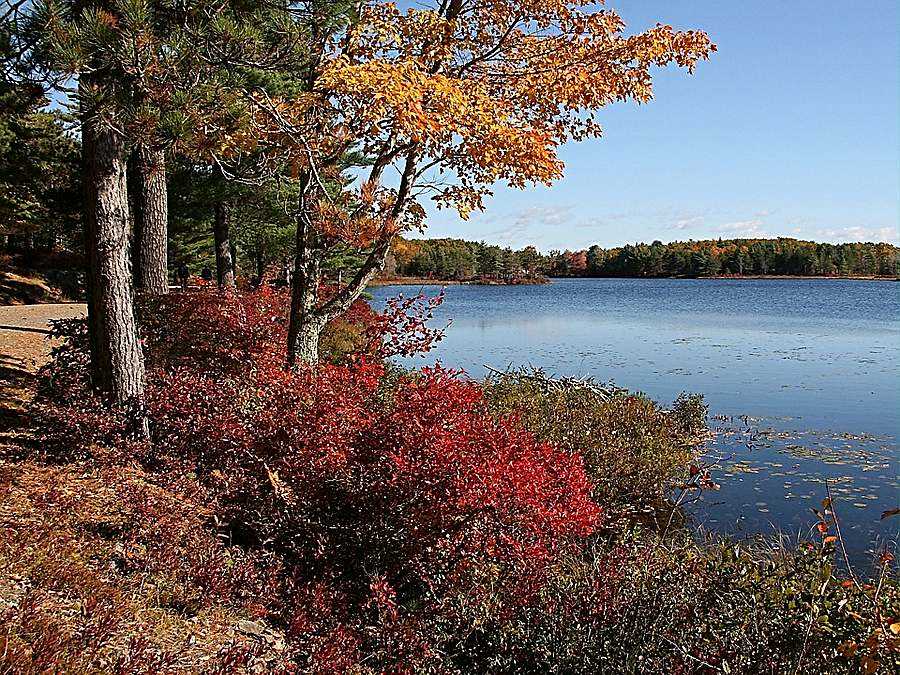 Road trip through Acadia National Park
A visit to Acadia National Park during the fall season is fantastic with most visitors just coming for quick day trips so you'll enjoy the area without crowds especially if you plan on a nice weekend stay or a longer getaway through the area. With fantastic crisp fall weather from September to mid-October when the fall colors start to peak.
You'll enjoy the brilliant colors around the landscapes in the National Park especially around the park Loop Road which is a scenic 27-mile loop that starts at Hulls Cove Visitors center and goes through many of the best vista and lookout points along the way. Other places to explore for gorgeous scenery and fall colors is at Cadillac Mountain for more amazing views and colors or the famous Carriage Roads created by John Rockerfeller Jr in the early 1900s and are really wonderful to walk through
Noel with Oahu Travel Now
Check out Acadia National Park in a time lapse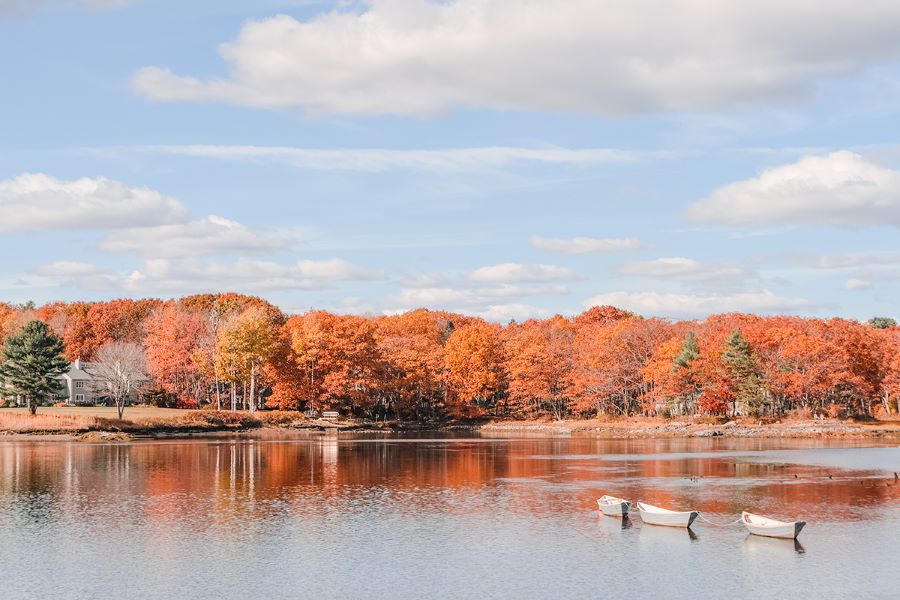 Kennebunkport in Fall Season
One of the best places to visit in southern Maine in October is the charming town of Kennebunkport. While it's known for beautiful beaches and stunning coastal scenery, it's an underrated autumn destination that's bursting with fall color at every turn. Enjoy landscapes with bobbing fishing and dingy boats in the water, backdropped by blazing orange and red hues.
Since the fall lies outside the high tourist season, Kennebunkport is rarely crowded during the month of October. Strolling the quaint streets of Dock Square will be much more relaxing, and you'll be able to enjoy free parking at the beaches this time of the year for a brisk walk on the shore.
For festive fall fun, you'll want to make sure you attend the town's Harvest Fair, which typically takes place in mid-October, and has everything from live music and costume parades, to pumpkin decorating and scavenger hunts.
For an exciting night out in the fall, Batson River is the place to go. The outside is all decked out in gorgeous pumpkins and mums, and they have delicious and unique fall cocktails on their menu this time of the year.
Kennebunkport's foliage is sone of the last in Maine to change, so you can typically enjoy colorful leaves later in the season after other popular foliage destinations have peaked, sometimes even through the first week of November. Mid to late October is a great time to catch the best foliage in this area.
While Kennebunkport is small, and doesn't require a car to get around the main town, you'll want to have a car to explore the beaches, and nearby areas.
Fall season in Rhode Island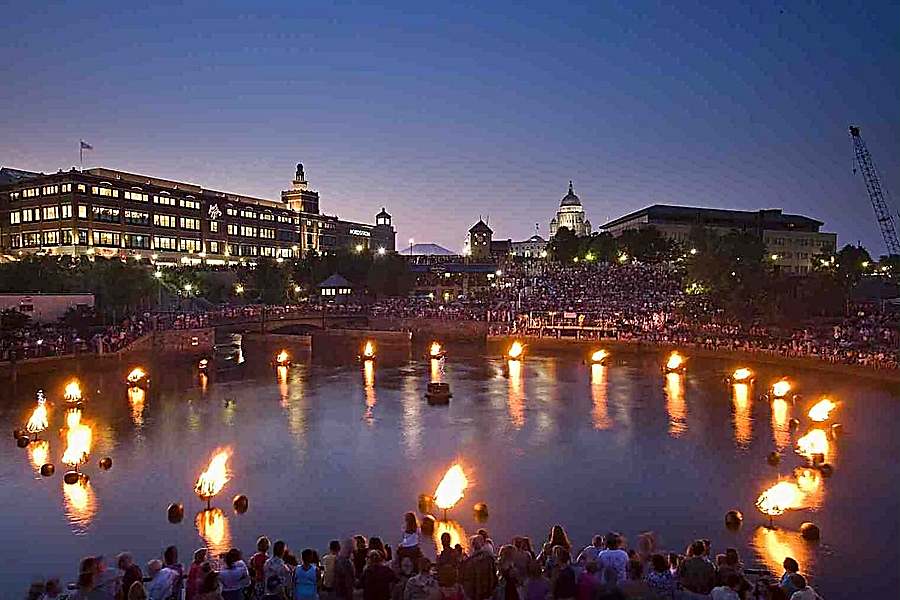 Visit Providence Rhode Island
Providence Rhode Island is the second largest city in New England and the Capitol of Rhode Island. It's affectionately known as the "Creative Capitol" due to the massive influence of arts and culture in the city.
Fall is one of the best times to visit Providence because of how the fall leaves color the city. If you cross the canal and venture to Providence's "College Hill", a historic district with RISD and Brown college campuses.
Up on College Hill, you can find Benefit Street, which is home to the very first Baptist Church in all of America. The church dates back to 1775, and a lot of the surrounding buildings are equally historic. It's a lovely place to go and see gorgeous colonial houses enshrouded with fall leaves.
While you're on Benefit Street be sure to visit the RISD museum. The Rhode Island School of design has a very small museum housed in a converted colonial mansion. Here you can see a variety of paintings, including some works by world-renowned artists like Van Gogh, Monet, and Degas.
Fall is also the time of year when the famous Waterfire festival is held in Providence. Started in the 90s by artist Barnaby Evans, Waterfire has become a beloved annual tradition.
Going from the first week of September to December every year, during Waterfire Festival the iconic Providence Canal is lit up by dozens of fire pits as various performing acts float by on barges.
While the show is going on the water, the canal is lined with artisan stands and food carts. It's a not-to-be-missed occasion!
Submitted by Katie from KatieCafTravel.com
Fall Season in Massachusetts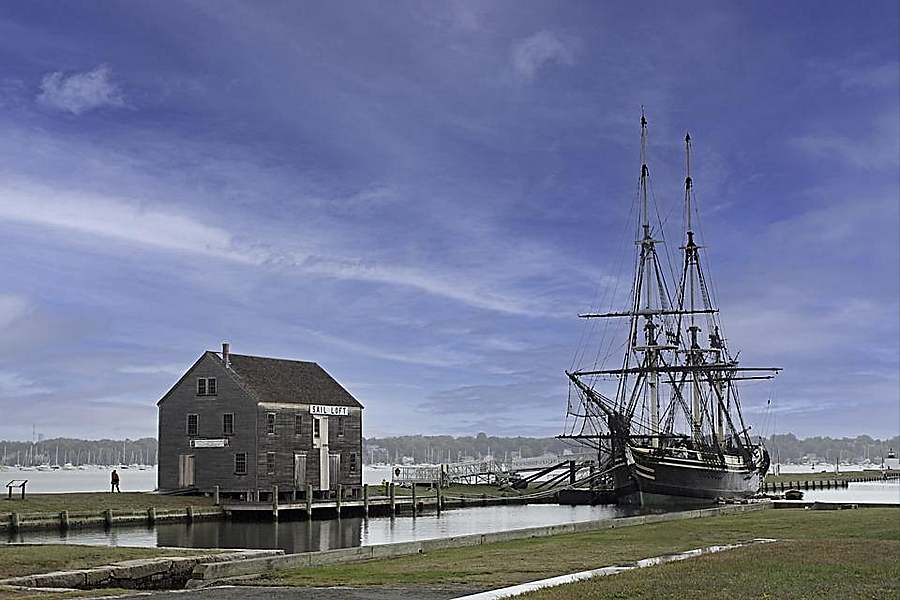 Salem, Massachusetts during fall time
Salem, Massachusetts is the perfect Fall destination. The leaves are changing, the air is crisp, and there's so much Halloween fun.
Salem is known as "Witch City" and they play that up come fall. During the late 1600's, Salem was the scene of the infamous witch trials. Over 200 people were accused of witchcraft and 19 were sentenced to death.
These days, Salem celebrates its witchy history with a host of Halloween-themed events. The Salem Witch Museum is always popular, and the Witch House, where Judge Corwin lived, is open for tours. There's also a Witch Dungeon Museum, which recreates the 1692 witch trials.
In October, Salem becomes even spookier, with Haunted Houses, the Hallowed Harvest Jack O'lantern festival, Ghost Tours and "Hocus Pocus" walking tours. There is truly something for every Halloween enthusiast.
If you're looking for a more light-hearted Halloween experience, The Family Fun Fest takes place the weekend before Halloween on the Salem Common. Your kids can get in the Halloween mood in a gentler way. There's a pumpkin patch, arts and crafts, rides, games and more. Of course, there's also plenty of candy.
If you're looking for a Fall getaway that's a little bit different, Salem is the perfect place. With its rich history and Halloween fun, it's sure to be a trip you'll never forget.
By Alicia of Travelswiththecrew.com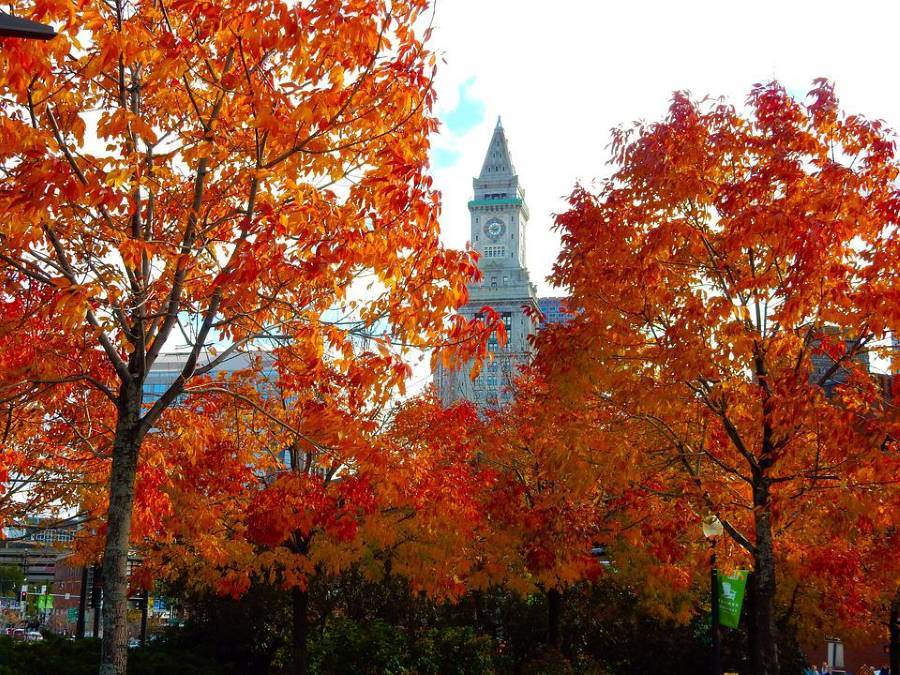 Fall season in Boston
Boston is one of the best fall destinations due to its outstanding foliage, charming neighborhoods, great eateries, and fun outdoor activities.
The best way to get to Boston is by either flying into Boston Logan International Airport or by taking the Amtrak train. If you're coming from a major city like New York, you can also get to Boston via the Greyhound bus, Bolt Bus, Mega Bus, Peter Pan bus, Flix Bus and Lucky Star buses. Boston is also an easy city to drive to if you plan on visiting during a road trip!
One of the best hotels to visit or stay at during a guys' or girls' weekend in Boston is The Liberty Hotel in Beacon Hill! Before it became a luxury hotel, The Liberty Hotel was a notorious jail that housed some of Boston's worst criminals. Nowadays, you can savor an incredible brunch at Clink, party the night away at Alibi and enjoy all the cool décor.
During a trip to Boston in the fall, you must visit Pauli's for lobster rolls; State Street Provisions for great American food; Mike's Pastry for incredible Italian pastries and Drink for craft cocktails and speakeasy vibes! There is also nothing like visiting a Boston brewery during the fall. The best Boston brew pubs to make memories and taste local beer are at Harpoon Brewery, Samuel Adams Brewery and Cambridge Brewing Co.
Fall in Boston isn't complete without wandering through Beacon Hill, which is the city's most charming and quaint neighborhood. Beacon Hill features beautiful Federal-style houses to admire and boasts lovely coffee shops, flower stores and boutiques to wander through.
The best spots to enjoy fall foliage in this breathtaking New England city are at the Boston Common and Public Garden! Other great things to do in Boston during the fall are to see a Patriot's game, enjoy everything the Boston Harbor offers and do a day trip to either Salem or Cape Cod.
Taylor with Brown Eye Flower Child
Explore Cape Code in the fall season
Cape Cod is a great place to visit in the fall. The weather is usually mild, and the colors of the leaves are beautiful. There are many activities to enjoy, such as hiking, biking, and kayaking. The Cape is also home to many great restaurants and shops. If you're looking for a wonderful place to spend a few days in the fall, Cape Cod is the perfect destination.
Getting to Cape Cod is easy and there are a few options. We recommend driving, so that you can explore as much as you want and not be limited to only one or two places. However, if driving is not possible you can also fly, take a bus, or ferry. These options may leave you to stick to one specific location.
While there, be sure to check out one of the many lighthouses and the Cranberry bogs. This will make for an incredible photo opportunity with the bright fall leaves against the stunning lighthouses and bright red floating cranberries.
The Wellfleet Oyster Festival is a must-attend event for anyone visiting Cape Cod in the fall. This annual festival celebrates the oysters that are harvested from Wellfleet Bay. There are many activities to enjoy, including shucking contests, live music, and great food. If you love oysters, or just want to experience a truly unique event, be sure to check out the Wellfleet Oyster Festival.
Julie with Family Trips and Travels
Want to see Cape Code in the fall season?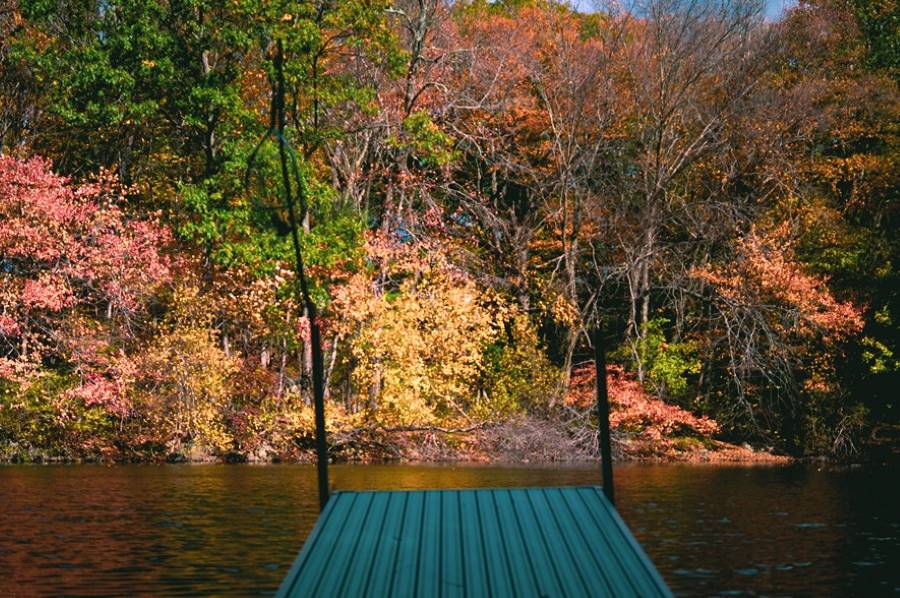 Visit to Martha's Vineyard
Martha's Vineyard sits on the southern tip of Cape Cod and is one of the most popular tourist destinations in the area. It's the pinnacle of New England fall, with vivid foliage, picturesque cottages, and moody beaches. And, best of all, since Martha's Vineyard sits on an island, it's typically a bit warmer than other areas in the region (although it does still get chilly!).
There are actually no bridges or commercial planes going to the island, but don't worry! There are plenty of ways to get to Martha's Vineyard, usually some combination of driving or flying before getting on the ferry. It might sound a bit arduous, but it's well worth the trip.
Stroll through the Polly Hill Arboretum or Long Point Beach to admire the natural beauty of fall with bright orange, red, and brown leaves. Or meander through the town, filled with cottages and shops that look straight out of a storybook.
You can also swing by the Martha's Vineyard museum, which is filled with collections of art and history as well as temporary exhibits rotating through the year. The museum is perched up on a bluff overlooking the island, so it's also the perfect place to get some birds' eye views. And of course, you can't visit Martha's Vineyard without seeing a lighthouse or two. East Chop and Edgartown Lighthouses are both under the museum's care, which makes them a perfect stop before or after visiting the facility.
Rachel with Wonderu.com
Fall Season in Connecticut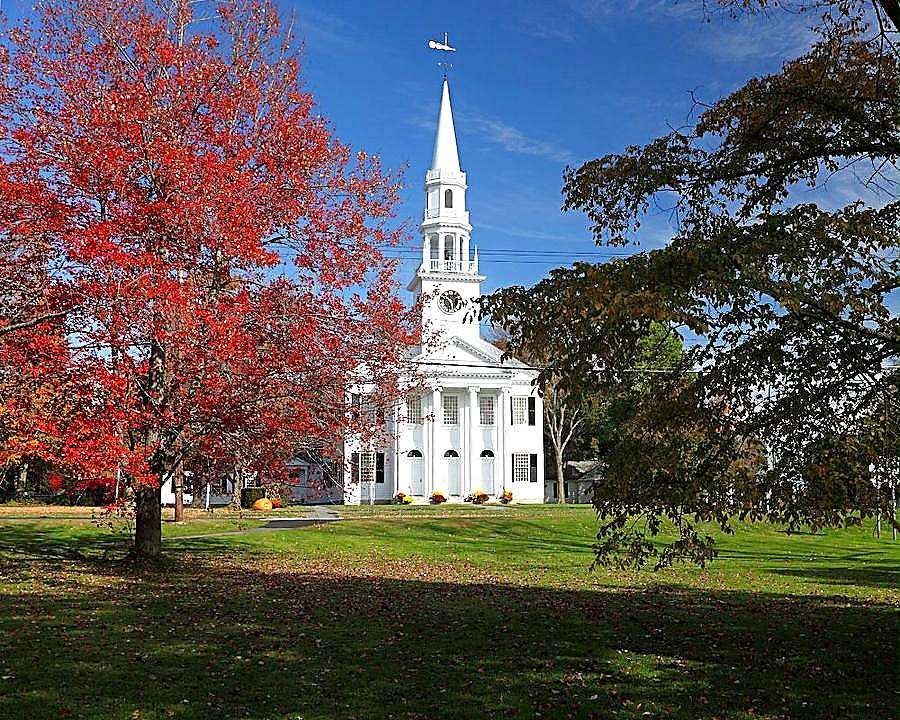 Visit Litchfield in the fall season
There is something absolutely magical about a crisp fall day in Litchfield, a quintessential New England town in northwestern Connecticut. This entire area makes for a perfect day trip since it is only a short two-hour drive from both Boston and New York City. The town isn't only packed with history it is surrounded by an abundance of opportunities to enjoy nature.
The town of Litchfield was settled in the 1720s and it is home to many beautiful historic homes as well as the widely photographed Litchfield Congregational Church. Streets leading to the center, the Litchfield Town Green, are lined with towering trees that are more than 100 years old and glow in the autumn sun with their vibrant changing leaves against a clear fall blue sky.
If you are looking for an activity beyond the abundance of shopping and fine dining opportunities available in the center of town then there are a handful worth exploring that help celebrate the beauty of the fall season.
A walk down both North Street and South Street will introduce you to splendid large Colonial, Greek revival and Victorian homes with impressive architectural features. If you do nothing else in Litchfield but drive or walk down these streets in the refreshing fall air surrounded by changing leaves, you will be content with your visit.
Haight-Brown Vineyard, just outside of the center of town on Chestnut Hill, is Connecticut's oldest Vineyard Winery. Go visit the tasting room and enjoy the view while sipping your wine and nibbling on light fare.
Consider a visit to the Tapping Reeve house, the first law school in the United States! This historic house and school are now a museum, owned by the Litchfield Historical Society and open to the public for tours.
If time allows check out "The Boardwalk" which is an elevated walkway that leads visitors through the wetland environment of Little Pond, in the Whites Woods Preserve. It is particularly beautiful and unique during the fall bird migration along with many other trails in this forested preserved area.
Submitted by Heather Kasvinsky, This Noshtalgic Life
Falls season in New Hampshire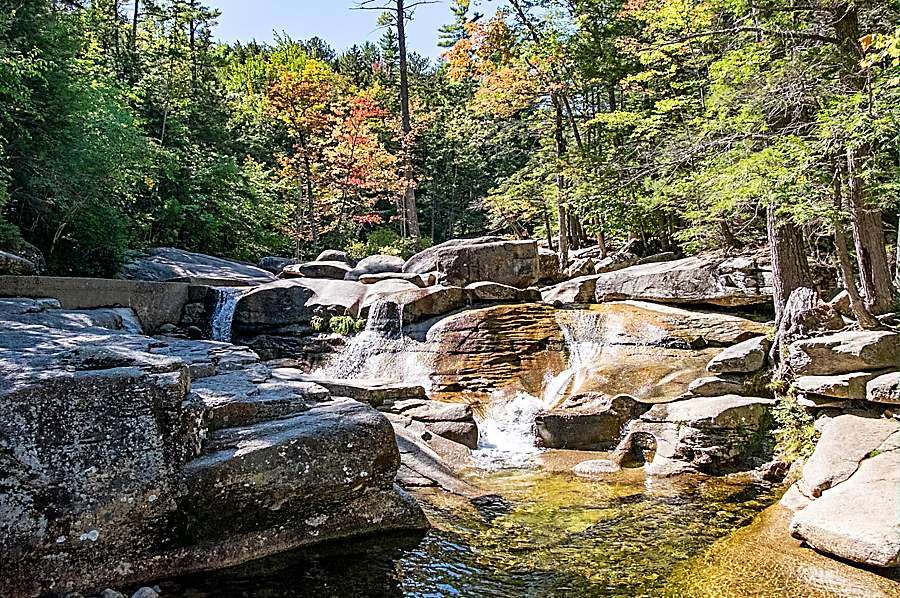 Explore the White Mountains
The White Mountains of New Hampshire are one of the most visually spectacular fall foliage regions in the world. If you have any interest in visiting New England in the fall, the White Mountains will blow you away with their beauty!
The easiest way to get to the White Mountains is to fly into Manchester, New Hampshire, or Boston, and rent a car. Two of the best hubs to base yourself in are North Conway, a cute small town home to the Conway Scenic Railroad, and Lincoln, an outdoorsy town that is the gateway to Franconia Notch State Park. Both towns are within a 2.5-hour drive from Boston.
One of the best things to do in New Hampshire is to drive the Kancamagus Highway, an American scenic byway snarking through the White Mountains filled with scenic overlooks, waterfalls, hiking trails, gorges, and historic sites.
Hiking is outstanding here, too! A short hike with a big payoff is the Artist's Bluff trail in Franconia, with outstanding views over Echo Lake and Franconia Notch State Park. If you're up for more of a challenge, tackle scenic Franconia Ridge or do a hut-to-hut hike along the Appalachian Trail.
And the White Mountains are home to adorable small towns, too. Don't miss Littleton and its outstanding Schilling Beer Co., Sugar Hill and it's world-famous Polly's Pancake Parlor, or Jackson and its plucked-from-a-storybook covered bridge.
One thing's for sure — if you come to the White Mountains, it's fall like you've never experienced before!
Kate McCulley with New Hampshire Way
Here's a gorgeous look at the White Mountains from above
More inside tips on fall season in New England
Fall in New England is a magical time, known for its vibrant foliage, crisp air, and a wealth of seasonal activities. Here are some inside tips to make the most of your fall visit to this picturesque region:
Timing is Key: The timing of your visit can greatly impact your fall experience. Peak foliage typically occurs in late September to mid-October, but it can vary depending on location and weather conditions. Plan your trip accordingly for the most colorful displays.
Scenic Drives: New England is famous for its scenic drives during fall. Consider routes like the Kancamagus Highway in New Hampshire, the Mohawk Trail in Massachusetts, or Vermont's Route 100 for stunning leaf-peeping opportunities.
Leaf Peeping: To avoid crowds, explore lesser-known areas or smaller towns for leaf peeping. Local parks, lakeshores, and backroads often provide picturesque views without the crowds found at major tourist spots.
Outdoor Activities: Embrace the season by hiking, biking, or kayaking. New England offers a multitude of trails, including those in the White Mountains, Adirondacks, and the Appalachian Trail.
Apple Picking: Visit an orchard for apple picking. Enjoy the fresh, crisp apples, and bring some home for pies, cider, or snacks. Many orchards also offer hayrides and other autumn activities.
Pumpkin Farms: Explore pumpkin farms and pick your own pumpkins for carving or decorating. Some farms host fall festivals with corn mazes, petting zoos, and wagon rides.
Festivals and Fairs: Check out local fall festivals and fairs. The Big E in Springfield, Massachusetts, is one of the largest and most famous, featuring food, music, and entertainment from all six New England states.
Historical Sites: New England has a rich history. Explore historic sites and colonial villages like Plymouth, Massachusetts, and Old Sturbridge Village, Massachusetts, to step back in time.
Seafood Feasts: Fall is an excellent time for seafood. Savor a traditional New England clam chowder or lobster roll at local seafood shacks or restaurants along the coast.
Fall Photography: Capture the beauty of fall with your camera. Sunrise and sunset provide gorgeous lighting for capturing the vibrant foliage.
Local Breweries: New England is known for its craft beer scene. Visit local breweries to sample seasonal brews, such as pumpkin ales and Oktoberfest lagers.
Cozy Inns: Consider staying at cozy bed-and-breakfast inns or cabins. The ambiance of a roaring fireplace and hot cider can enhance your fall experience.
Embrace the Chill: Pack layers and warm clothing. Fall evenings can be chilly, so bring a jacket, gloves, and a hat for outdoor activities.
Plan Ahead: Popular fall destinations and accommodations can book up quickly. Make reservations well in advance to secure your preferred dates.
Enjoyed the Post? Pin it for later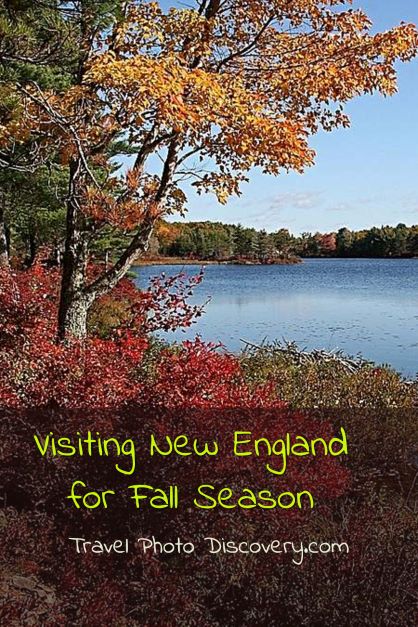 Check out these other posts
Autumn in USA (travelphotodiscovery.com)
Best USA National Parks scenic road trips (travelphotodiscovery.com)
Top USA national parks by state (travelphotodiscovery.com)
Best places to winter in USA (travelphotodiscovery.com)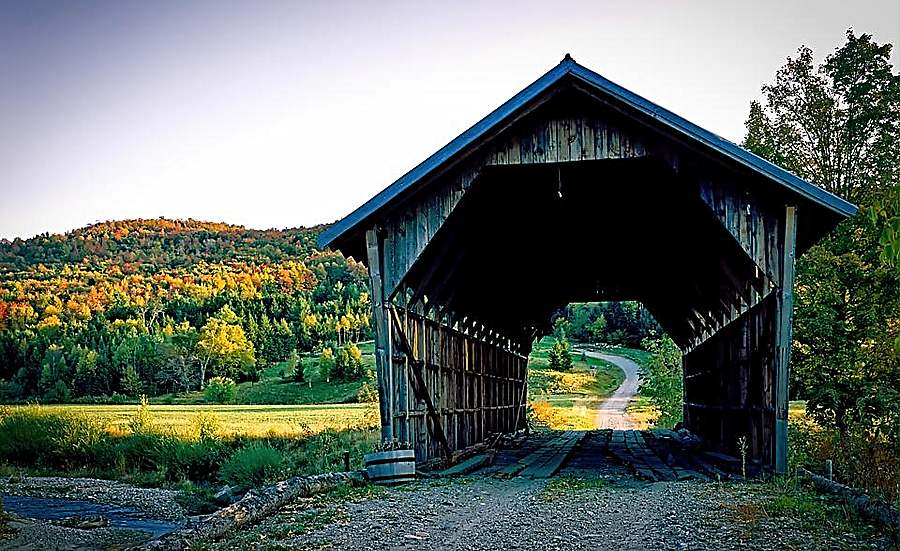 Conclusion to a New England Fall season
If you enjoyed this post on a New England Fall season, please subscribe to my updates below and share the post with any of the social media buttons around the post. I appreciate your visiting today.
If you like what you see, come and check out my other social media channels for more updates, including Instagram, Pinterest and Twitter
Disclosure – There may be some affiliates links on this posts which provide a small commission to support this site at no extra cost to you. Thank you for reading, and happy travels
Sharing is caring!