The Big Island is a great place to explore with family and occasionally, I get friends or family to visit Hawaii to spend quality time and explore the island. Recently, I had my sister and her children visiting during their winter break, and I decided to map out a variety of adventure experiences and tours around the entire island. This was a fun vacation for them to see the entire island and participate in a variety of adventure tours and activities that are safe to do for children. There are many fun things to do with children that are activity driven, some are simple to do like a DIY hike to Volcanoes national park and exploring lava tubes, while other outfits specialize in well-orchestrated adventure tours.
Unforgettable Family Adventures: Things to Do on the Big Island with Kids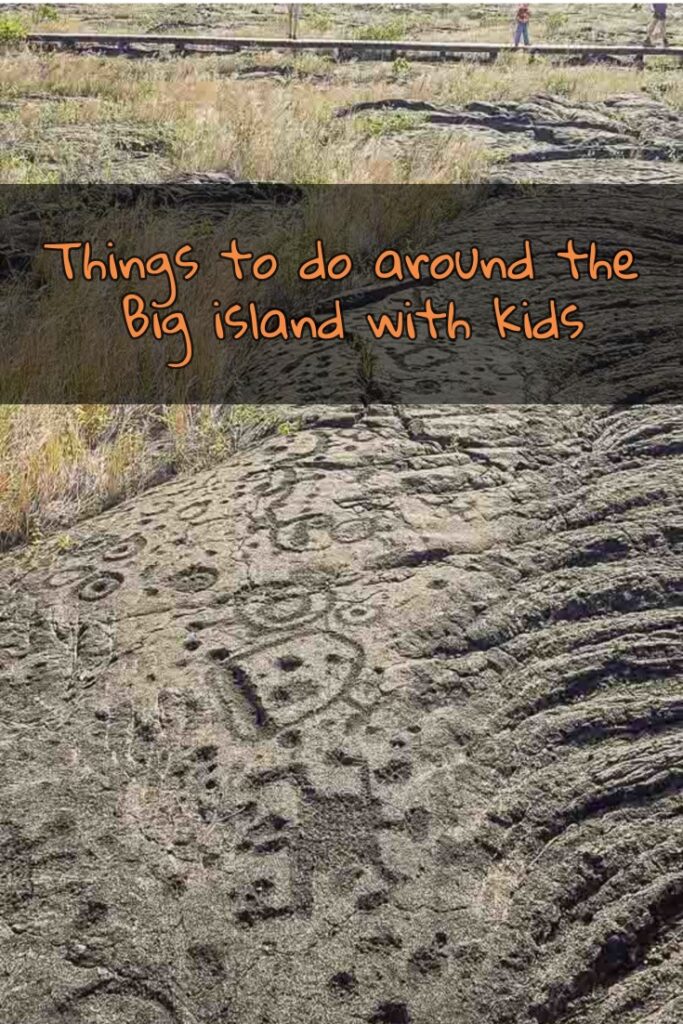 Kid friendly activities and adventures on the Big Island
Kona boat and snorkel cruise with Body Glove tours
The Body Glove boat tours along the Kona coast offer a fun snorkel and boating experience that is family friendly in West Hawaii. We woke up early for a morning tour  and waited at the Kona town pier while the ship was preparing for departure. While waiting for the ship to finish boarding, we quickly staked out a sitting spot and then explored the ship, taking some nice sunrise shots of Kona and the surrounding coastline.
There's so many cool things to do on the Big Island and taking a Body Glove tour on the coastline to Red Rocks is really a spectacular way to experience the west side of the island.
The kids spotted a few green turtles swimming just off the ship's aft and some tropical fish congregating around the boarding plank area. In no time the ship was ready to depart from the harbor and we quickly left, heading towards South Kona.  Just outside of the bay, we spotted a pod of spinner dolphins that were actively following the catamaran and playing in the ship's waves. It was a wonderful first experience to see all these active sea creatures in their natural habitat. We cruised along the scenic coastline while enjoying our breakfast and drinking some fresh made smoothies from the bar tender.
In no time, we cruised up to the jagged Red Rocks in South Kona where we will be spending some time snorkeling just off the shoreline. The kids take a complimentary basic snorkeling class while I get my equipment to work and I head into the water and get all the essentials ready including some very colorful floaties for the kids to use. It really is amazing to see the sea life and coral just off the Red Rocks, so pristine and amazing. I decide to head back to the ship so we can try the slides and jumping off the high deck which was a real thrill in itself.
After the cruise, lunch is served with burgers, salads and other lunch fare while we head back to Kona pier and it is a pleasant trip back while we enjoy the hot sun and beautiful cruise back into town. If you are interested in checking out more about the Body Glove tours, check out their website here.
Ziplining the Hamakua coastline
Of course ziplining was in store for my nephew and niece who wanted to zip across a series of beautiful canyons and waterfalls. Next in store was the Zipline tour at the UmaUma Experience. The zip line tour is about two hours long with guides and you take a shuttle all the way to the top and do a quick intro zip as an orientation. This is definitely the best zipline tour over some beautiful canyons and waterfalls over the UmaUma Falls. The guides on the tour are engaging and have fun with visitors, offering some stories and tips for visiting the local area.
My nephew and niece loved the tour and even tried a few fun tricks like hanging upside down, but that wasn't something I would do on my own, in any case the zipline tour was a lot of fun and worth the price and experience with this wonderful outfit.
Tip – tours happen rain or shine so dress so so check the weather to dress appropriately or you can book at the last minute depending on weather and your timeframe.
Hiking through Onomea, Akaka falls and checking out Honomu town
I love doing road trips and doing a drive along the Hamakua coast and exploring some of the area around the coastal communities was going to be a unique way to explore this scenic region of the island. First up was a drive along the beautiful Onomea scenic road. We stopped fronting the Onomea bay and decided to hike down to the small bay while passing through a beautiful botanical garden. Afterwards, we head out to Akaka Falls and walk around the trails to view the large falls at Akaka falls which were full and quite spectacular. Along the way we stopped at a local fruit stand to try out some fresh coconuts and sugar cane. Also worth a visit is the cool town of Honomu to check out the interesting crafts and gallery shops along with sampling some yummy baked goods in some of the eateries in town.
Tip – parking is busy and crowded,  you can also park outside of the parking lot. There is a fee to enter the park grounds (free for locals). On the way out of Akaka Falls, stop by for snacks and checking out the cool shops in Honomu town, which is a fun little village to explore.
Exploring the coastline and tropical forest at Onomea
Walking through a botanical garden and a live maze
Close by to the Umama Experience Zipline, we dropped by the World Botanical Gardens to check out the waterfalls, botanical trails and the largest green maze in Hawaii. It was so large that my sister and niece were so completely lost that they had to back track to get back to the entrance since they couldn't find their way out. There are a variety of garden trails and a large waterfall that you can drive to as part of this garden tour. Check out the World Botanical garden and maze here for more details and information
Tip – the maze is quite large so take your time. It's also worth the short one mile drive up to view at Kamae'e falls, so go ahead and drivee up to the look out point.
A visit to Volcanoes national park, lava tubes and petroglyphs
Volcanoes National Park is one of the biggest draws on the East side of Hawaii Island and it's a great spot to visit with children. Unfortunately with all the lava activity around the park it has been closed off to let things settle until things are safe again. If you are exploring the area for longer, consider staying in Volcano Village to visit all the cool attractions in the area.
** Update – Even though the National park is closed but you can still explore all the areas around the park at the Kuhuku unit of the national park with guides and trails open in East Hawaii. Also, there are plenty of things to do with children at the Mokupāpapa Discovery Center in downtown Hilo with activities and guides to share stories and things to do around the center.
Discovering East Hawaii & the Red Road
The lava is still active in East Hawaii, but you can still drive down Highway 130 all the way down to Kalapana and the Red road. It's part of old Hawaii with lush forests, tunnel trees, black sandy beaches and stunning coastline that is still intact despite the lava activity close by. Popular places to visit along the way include the black sand beach at Pohoiki and MacKenzie state park on the Red Road.
Most days are fine with lava fumes blowing out to the ocean so the air is clear and spectacular to view on days visiting this area. Check out what's worth seeing below.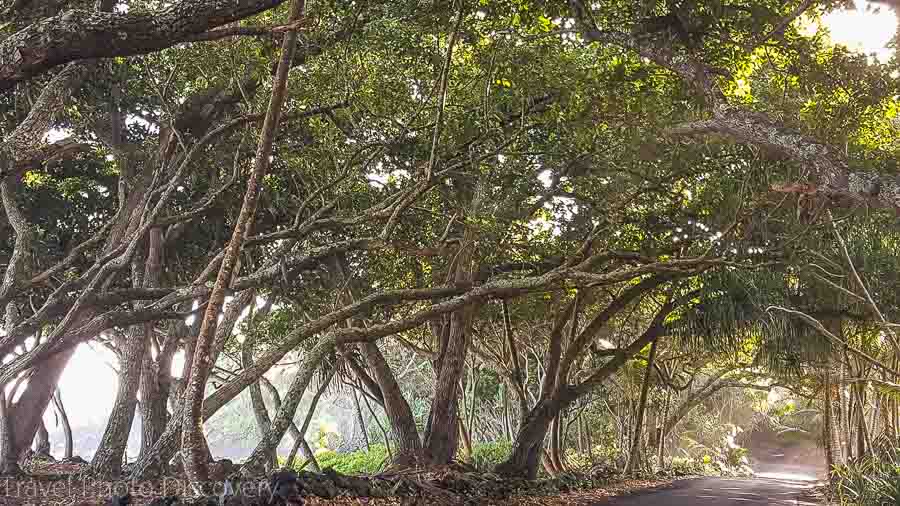 Driving along the historic and lush Red Road in the Puna district
Night market at Uncle Robert's
Popular with locals and tourists in the area, the Wednesday night market along the Puna coastline in Kaimu is a local favorite hangout at night. Easy parking ($2  donation) and you're in to a quirky and funky crowd and mostly organic or local style food to choose from along with handmade products and some other cool finds. There's a big bar, a regular band playing Hawaiian and other fun tunes for everyone to enjoy.
** the popular night market is discontinued with Covid but there is a Saturday market on the parking lot early morning to afternoon
Tip – When you are at the parking lot, walk all the way to the ocean trails to the new black sand beach with young coconut trees planted to create the old Black Sand Beach. It's a great photo spot but the waves are treacherous and not safe for swimming. Tell the guards at the Pahoa check point that you are attending the night market to let you through.
If you are in the area on Wednesdays, the night market at Uncle Robert's is a fun and funky spot to hang out.
** You can still drive down to Kalapana on Wednesday nights when the market is open
Hilo Zoo
The small zoo at Panaewa outside Hilo is wonderful and free. A combination tropical garden and zoo, this is an easy place to hang out for a few hours and enjoy the animals and wonderful surroundings. Even though the zoo is small, the displays are well done and the animal pens are fairly natural looking and incorporating native plants and other tropical features to make this a unique place to visit.
Tip – Parking is easy, but try to get there in the morning to for feeding time with many of the animals at the zoo.
Checking out Hilo downtown and the Hilo Farmers Market
Historic Hilo downtown is funky and a fun place to explore with kids. Start with the local Hilo farmers market that happens daily but is in full force mostly on Wednesdays and Saturdays with more vendors, local crafters and a variety of street food vendors.  From the farmers market, you can easily walk through the fun bay front shops and check out the bandstand and huge monkey pod and banyan trees. Lunch is easy with the street food vendors or check out some delicious local food outlets or even treat yourself to a nice lunch in one of the wonderful restaurants in town for some delicious local food.
Tip – outside of the downtown district, there's Rainbow falls, the waterfront area, Coconut Island and Queen Liliuokalani park worth exploring by foot or car if you have one to drive to all these spots. If you are looking for family friendly beaches, consider Richardson Ocean Park, Reeds Bay or Carlsmtih Beach park just outside of Hilo town area.
Trying some local shaved ice with tropical flavors
Exploring some lava tubes in Hawaii
You can explore a variety of cool lava tubes on the island and two of the most popular are Thurston Lava tube and the Kaumana caves above Hilo. We ended up doing both and they were a fun experience for the kids to explore a real lava tube. After doing the very popular and busy Thurston lava tube in the national park, we ended up doing the Kaumana caves which is really off the beaten path and not lit, so you definitely have to bring your own flashlight to help exploring the deep and very dark cave which goes on for miles and miles – but we were only able to climb down a few hundred feet into the cave.
Tip – The Kaumana tube is less touristy and off the beaten path, so parking is easier and there's more to explore without all the crowds. Check the national park website if you are planning to visit the Thurston lava tube and if the park is open for visitors.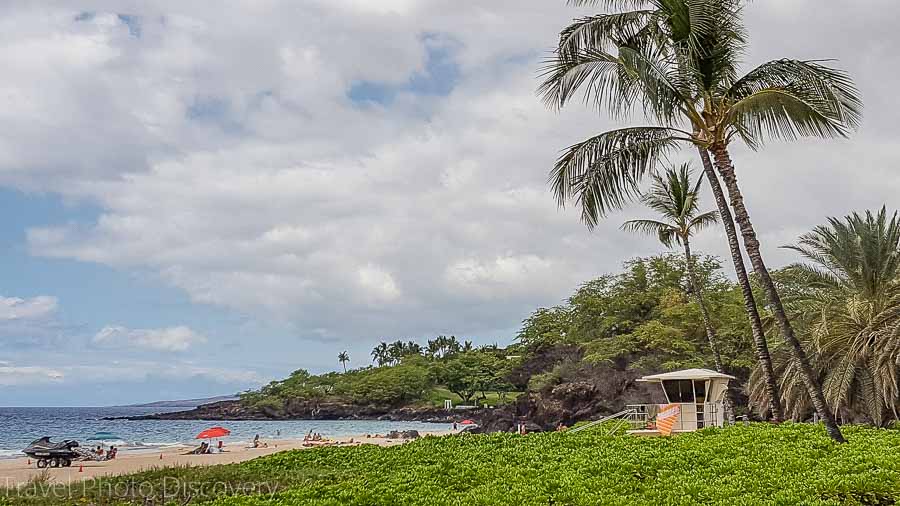 Beach time on Hawaii Island
You definitely need to schedule some down time to enjoy the beach and blue waters on the island – we ended up spending time on the west side and enjoyed the popular and family friendly Hapuna beach on the Kohala coastline. One of the nicest white sand beaches on the west side, Hapuna is very popular and crowded and the parking lot fills up in the mid morning, but starts to clear out in the afternoon timeframe. Definitely a fun beach to hang out, walk along the shoreline and enjoy some water time to play in the relatively safe beach.
There are so many unusual and fun beaches to explore around the island which are kid friendly, but Hapuna is easy with plenty of parking and regular lifeguards stationed all around the beach areas.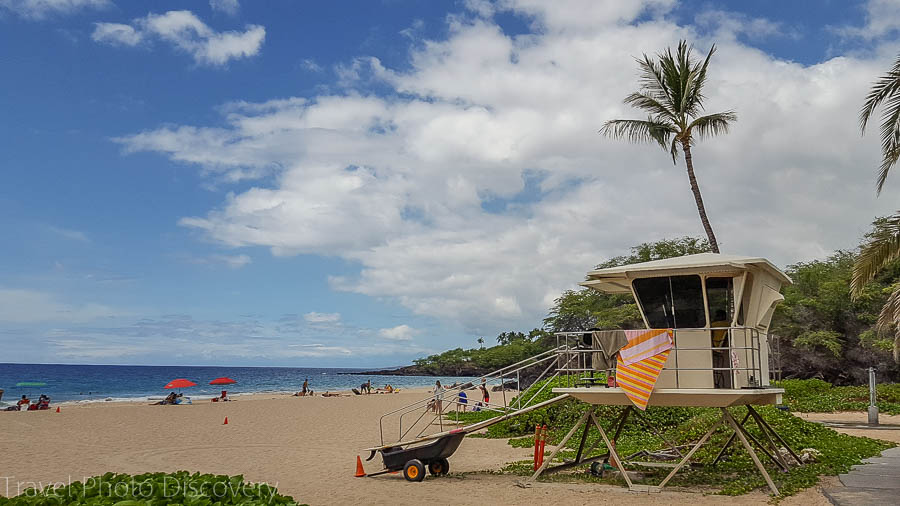 Tip – Parking is busy towards mid morning so go early or head out later in the afternoon when the parking lot starts to clear out.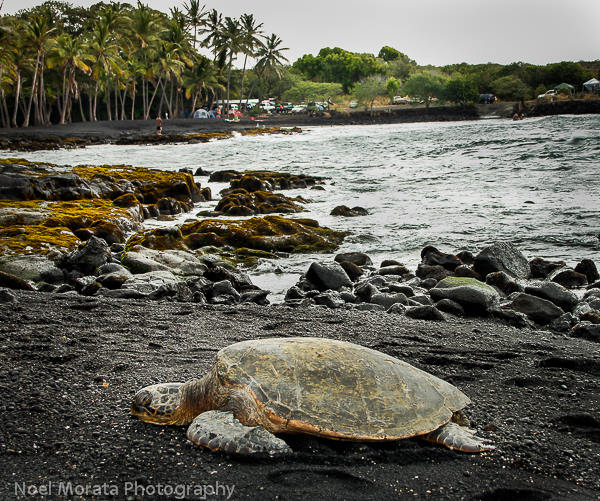 Checking out green turtles and black sand beach at Punalu'u
If you drive along the southern areas of Hawaii Island, make sure to stop at Punalu'u black sand beach which has a gorgeous beach. Usually you'll find a few or more green sea turtles lounging on the beach and enjoying the warm sandy beach. Typically rangers have the turtles corded off, but if they are not – make sure you are at a good distance away from them since it is illegal to disturb them from up close. Along the way, check out the popular Punalu'u bakery which sells some of the tastiest malasadas (Portuguese origin donuts) and pastries in their café/shop – it's definitely worth the visit and enjoy the sweet outdoor garden spaces which you munch down on a few malasadas.
Tip – make sure you get to Punalu'u before the late afternoon when they practically run out of the malasadas and other sweet goodies that are typically sold out early.
Details for your Hawaii island visit and stay
More tips to visiting the Big Island with kids
Traveling to the Big Island of Hawaii with kids can be an exciting and enriching experience. To make the most of your family adventure, here are some additional tips to enhance your visit:
Plan Kid-Friendly Activities: Research and plan activities that cater to the interests and ages of your children. Consider visiting places like the Imiloa Astronomy Center, where kids can explore interactive exhibits and learn about the stars and galaxies. The Panaewa Rainforest Zoo and Gardens is another great option, offering an opportunity to see various animals and engage in educational programs.
Explore Volcanic Wonders: The Big Island is renowned for its volcanoes. Take your kids to Hawaii Volcanoes National Park, where they can witness the power of nature and learn about volcanic activity. Explore the park's visitor centers, take guided tours, and hike along kid-friendly trails to discover unique landscapes and geological features.
Enjoy Beach Time: The Big Island boasts beautiful beaches with calm waters perfect for kids. Spend quality time with your family building sandcastles, swimming, and snorkeling in the clear turquoise waters. Popular family-friendly beaches include Hapuna Beach State Recreation Area, Kahaluu Beach Park, and Kealakekua Bay.
Attend Cultural Events: Immerse your children in the rich Hawaiian culture by attending local festivals and events. Keep an eye out for events featuring traditional music, dance performances, and arts and crafts demonstrations. The Merrie Monarch Festival, held annually in Hilo, is a vibrant celebration of hula and Hawaiian traditions.
Try Local Cuisine: Introduce your kids to the flavors of the Big Island by sampling local cuisine. Enjoy fresh tropical fruits, shave ice treats, and traditional Hawaiian dishes like poi, kalua pig, and loco moco. Engaging their taste buds in the local food scene can be a fun and delicious experience for the whole family.
Stay in Family-Friendly Accommodations: Choose accommodations that cater to families and provide amenities and services tailored to children. Look for resorts or hotels with kid-friendly pools, play areas, and organized activities that will keep your little ones entertained and ensure a comfortable stay.
Embrace Nature: The Big Island is a paradise for outdoor enthusiasts. Take your kids on nature hikes, jungle treks, or waterfall adventures. Discover the island's diverse flora and fauna while teaching them about the importance of preserving the environment.
Capture Memories: Encourage your children to document their experiences through drawings, photographs, or a travel journal. Let them express their creativity and reflect on their favorite moments during the trip. These keepsakes will become cherished memories for years to come.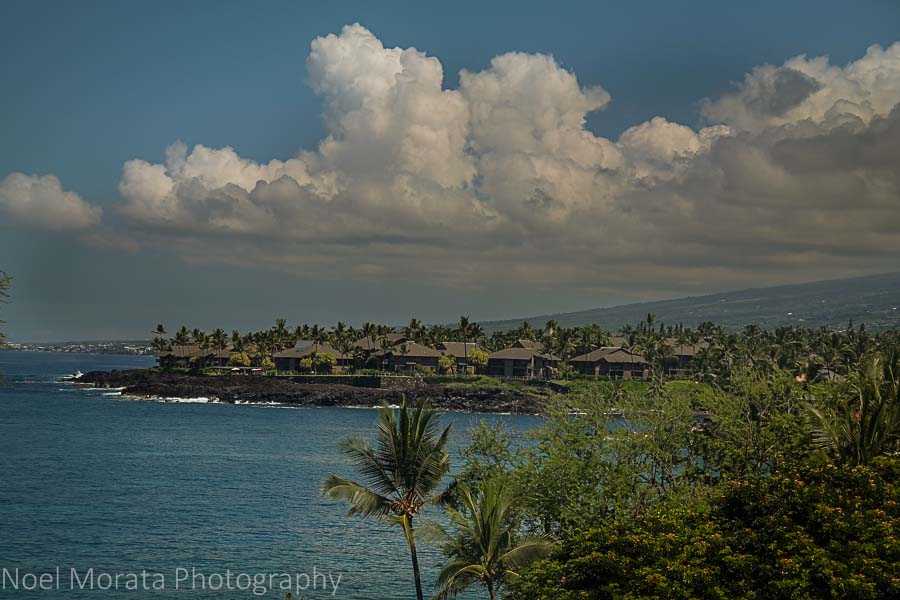 Family Friendly Hotels in Hawaii
The Hilton Waikoloa is the ultimate kid friendly destination with wonderful kiddie pools, slides, beaches and other outdoor accommodations – did I mention the Dolphin Quest program? This is definitely a nice splurge for the Kohala coast area of the Big Island
The Sheraton Kona – Also a kid friendly hotel with nice pools, outdoor activities and at night time by their restaurant/bar you can see the large manta rays skirting around scuba/snorkel outfits very close to the hotel grounds which is really a spectacular experience
Courtyard King Kamehameha Hotel Kona – located in central Kailua Kona town, this is easy for walking around the waterfront, restaurants and tourist areas of downtown Kona
Hilo Grand Naniloa Hotel – probably the nicest hotel on the east side in Hilo – the Double Tree on Banyan drive fronts the bay, Liliuokalani park and other nice outdoor venues, beaches and parks close by
For other hotel locations around the Big island of Hawaii check out Trip Advisor's featured hotels site here for more details and prices
Rental Cars for the Big Island
You definitely need a rental car to get to and visit around the island. Depending on where you start your Hawaii vacation, you can find car rental agencies available on the Kona or Hilo side at the airport or in town. You can check out the following car rental agencies below for current prices and car availability based on when you go.
Priceline car rentals – name your price for 40% off car rentals
Travelocity – search for car rental deals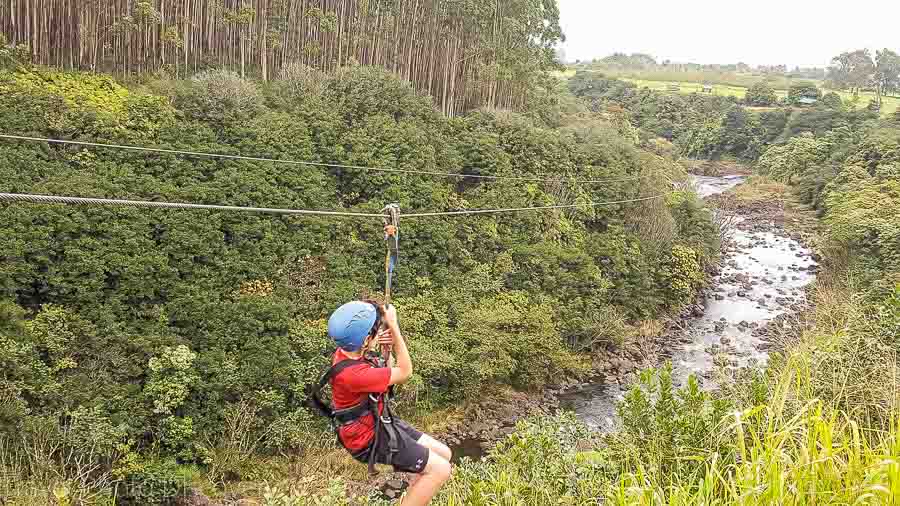 Touring activities for Children on the Big Island
There are plenty of fun outdoor and tour activities you can participate in that are kid friendly, here are some options below
Manta Ray night snorkel – one of the most incredible experiences to see the amazing Manta Rays lit up at night time on a boat tour where the Manta rays frequent
Big Island circle island tour – if you don't want to drive around yourself, this comprehensive tour covers many of the popular places to visit and tour highlights around the Big Island
Kona Lunch or Dinner cruise – a fantastic 3 hour cruise to this important historic site in Hawaii and a beautiful tour of the lovely Kona coastline with a wonderful lunch or dinner meal included
A popular Luau in Hawaii – a three hour Luau and show extravaganza in Kona at the popular Luau at the Sheraton Kona resort in a lush garden setting and traditional show and dinner experience.
Check out more of these cool and fun tours around the Big Island that may be more of interest, check here for more details and prices
If you enjoyed this post, please check out these other Big Island stories
Big Island key attractions on the West side
Big Island atractions and activities on the East side
Big Island locally grown foods
Visiting Keauhou on the Big Island
Road trip to the Hamakua district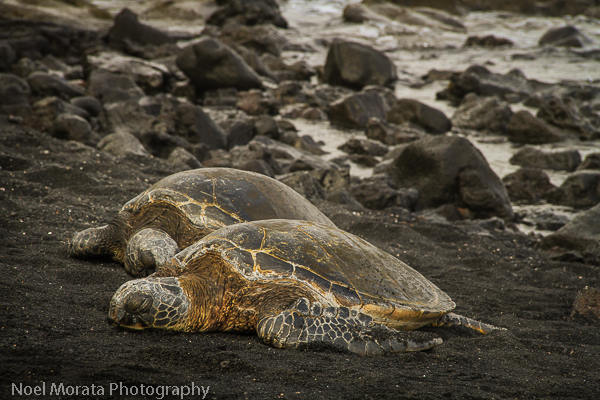 Wouldn't you like to travel the Big Island with your kids?
Any of these fantastic attractions you would like to do first? Please share your thoughts in the comments below.
Conclusion on Things to do the Big Island with kids 
In conclusion, the Big Island of Hawaii offers an abundance of family-friendly activities and attractions that will create unforgettable memories for both kids and adults alike. From exploring stunning natural wonders to engaging in cultural experiences, there is something for everyone to enjoy. Whether it's snorkeling in vibrant coral reefs, discovering the wonders of volcanoes, or stargazing under the clear night sky, the Big Island provides a perfect setting for family adventures.
Spending time on the Big Island is a wonderful experience with children, there are a lot of free activities and a few of the touring outfits that offer a unique and fun experience. I hope you get to go out and explore many of the different areas of the Big Island and discover the outdoors and beauty of the island.
If you like what you see, come and check out my other social media channels for more updates, including Instagram, Pinterest and Twitter
Disclosure – There are affiliates links on this posts which provide a small commission to support this site at no extra cost to you. Thank you for reading, and happy travels.