As a first impression of Copenhagen, everyone assumes that this is one of the most expensive cities in the world to visit and no wonder, the cost to import and do business in the city is very expensive. With so many attractions to visit in Copenhagen, you'll be surprised that there are many wonderful attractions and free things that you can do for free or at least a cheaper way to experience the best of the city. Check out the free things to do in Copenhagen below and hopefully this won't make a big dent to your travel budget visiting the city and country.
Free things to do and see in Copenhagen (cool neighborhoods, historic sites and fun places to explore)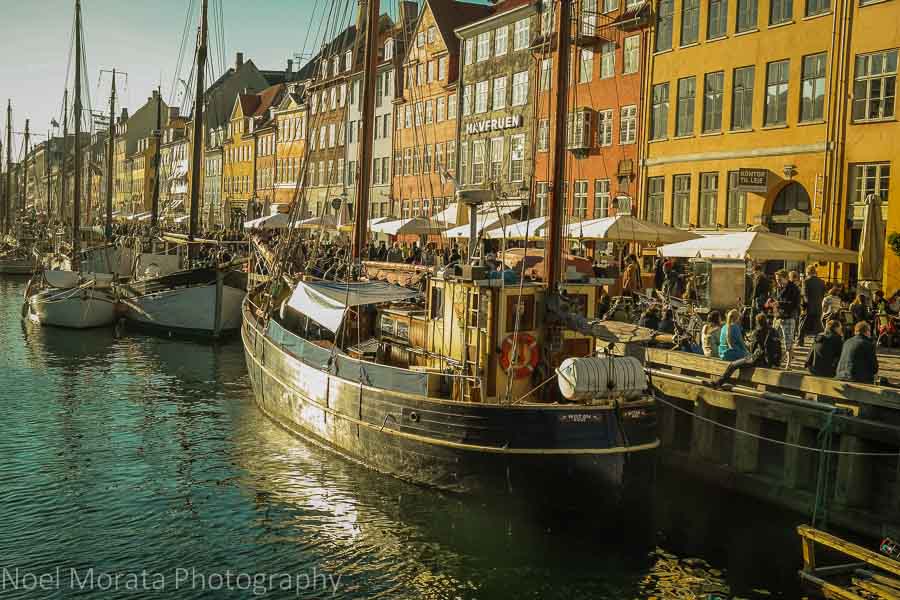 Weather and the best time to visit Copenhagen
If you plan on exploring Copenhagen and in the planning stage, here's the ideal time to visit with perfect weather for outdoor adventures and cultural exploration.
Spring (March – May): Spring in Copenhagen brings milder temperatures and blooming gardens. It's a delightful time for outdoor activities, especially in parks like Tivoli Gardens and Rosenborg Castle Gardens. Bring layers to accommodate changing weather.
Summer (June – August): Copenhagen's summer is enchanting with long, sunny days. It's the peak tourist season, perfect for exploring the city's waterfront, taking canal tours, and enjoying open-air festivals. Don't forget sunscreen and light clothing.
Autumn (September – November): Fall in Copenhagen offers crisp air and fewer crowds. The city's parks showcase beautiful autumn foliage. It's an excellent time for cultural events and museum visits. Remember to pack a jacket for cooler evenings.
Winter (December – February): Winter brings a magical atmosphere to Copenhagen, with holiday markets and cozy cafes. While it's cold, the city is less crowded. Enjoy Christmas lights, ice skating, and warm Danish pastries. Bundle up in warm clothing.
Overall, the best time to visit depends on your preferences. Summer is ideal for outdoor activities, while spring and autumn offer pleasant weather and fewer crowds. Winter provides a unique, festive experience. Keep an eye on the weather forecast before your trip to pack accordingly and make the most of your visit to Copenhagen.
So, what's free to do in Copenhagen?
Plenty of places to explore around Copenhagen with walking promenades, historic attractions, places from above you can explore. There's colorful neighborhoods that are attractive and unique to walk around and other popular venues where the locals like to hang out. Check out all of these suggestions below.
Explore the cool neighborhoods of Copenhagen
There's a lot of really cool and fun neighborhoods to explore around Copenhagen and absorb some of the local places to hang out and shop in these districts. Here are some of my favorite neighborhood areas that you should check out when want to see something unique and worth visiting outside of the main attractions.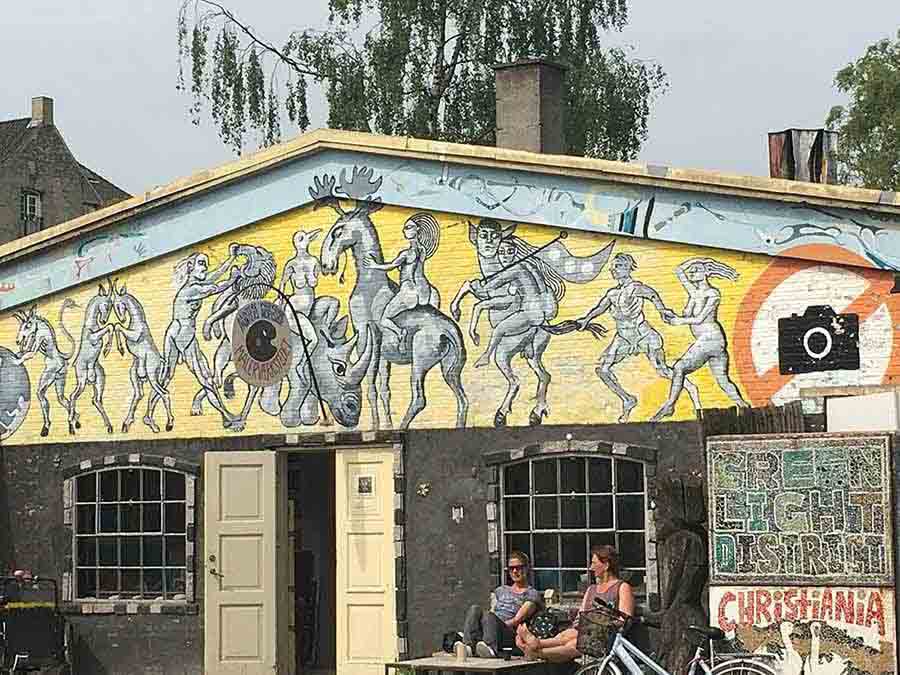 1. Checking out Copenhagen's hippie hangout at Freetown Christiana
We visited  Freetown Christiania because it is Copenhagen's own hippy town, and where the 900 residents live in a community and have established their own rules independent of the Danish government.
Freetown Christiania was established in 1971 by a group of hippies who occupied some old and abandoned military barracks and developed their own set of societal rules, completely independent of the Danish government
We arrived to this green and car-free neighborhood in Copenhagen which is known as The Green Light District, for many reasons. We were greeted by a mix of hippy houses, street art, galleries, music venues, and a very cool vibe.
We also visited because we knew that this was where many Danes came to buy their marijuana from the vendors on the street. Two men asked us very nicely before we proceeded to wander the colorful Pusher Street ,not to take photos of the transactions. While not legal in Denmark, and despite repeated raids, the sale of marijuana is prolific from what we saw, and the clients very discerning in their knowledge. Locals of Freetown Christiania welcome visitors as long as they respect this commune.
Paula McInerney of Contented Traveller
Check out this tour of Freetown below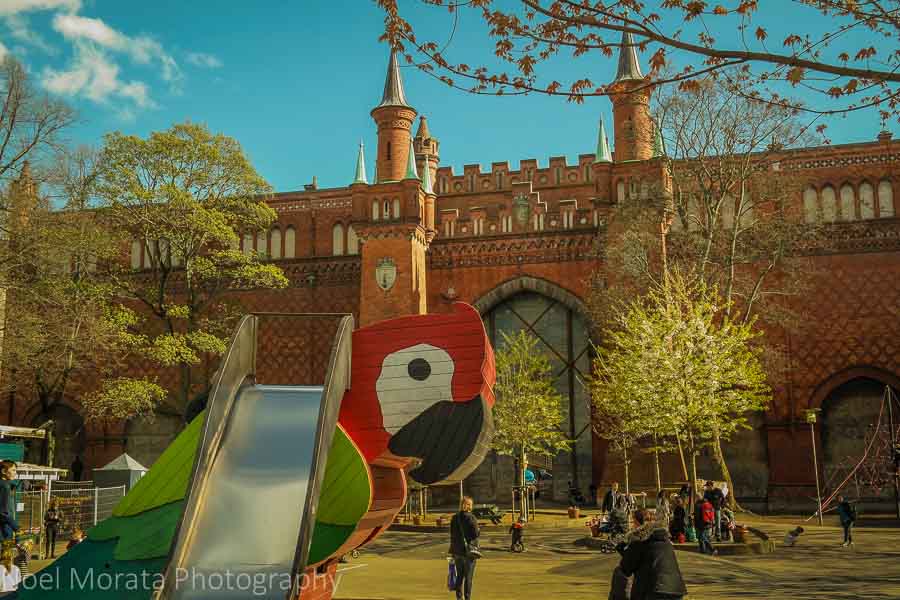 2. Hang out in Vesterbro at Absalon with the local community
If you looking to connect with locals, go to Vesterbro and the community center where they have Absalon. This is what the locals call their living room and hangout spot for a meal, bar and easy socializing. A reconstructed old church turned community center/salon – the Absalon is colorful, friendly and a creative space to relax and meet the locals and maybe new friends in the area.
Check out the cool and fun spots around Vesterbro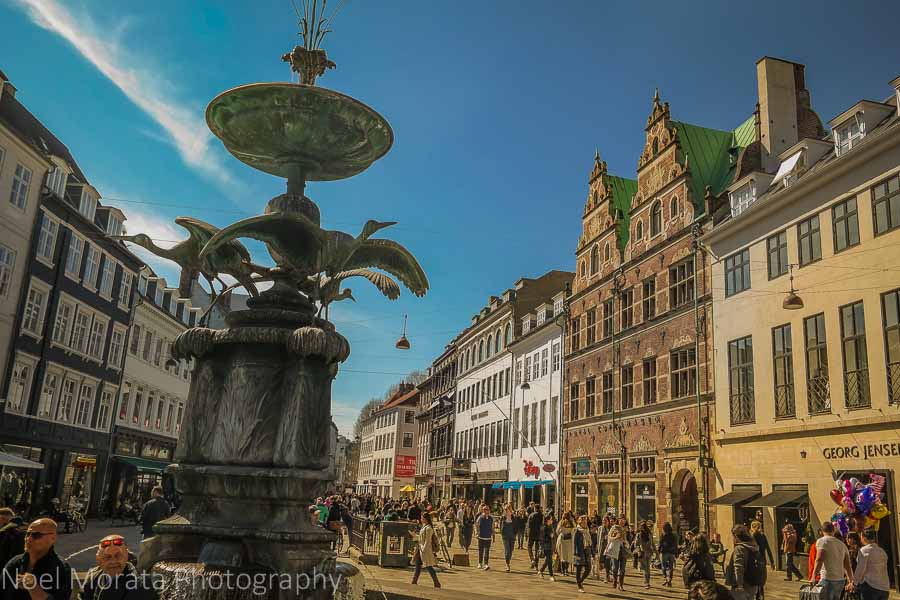 3. Shop til you drop at the Stroget
Copenhagen's fashionable and busy walking promenade is filled with popular local brands along with many other international brands from around the world. One of the longest and oldest shopping venues in Europe the Stroget is also popular with popular Danish Design and brands. Walk all the way to the end or maybe your starting point at the magnificent Italian inspired city hall or Rådhuspladsen. Observe Jen Olsen's world clock which is a famous clock of intricate and ornate time keeping. Other popular things to check out at Radhuspladsen is the beautiful dragon fountain, statue of Hans Christian Anderson and the western gate of the city.
Here's a cool walking tour around the main streets of Stroget and landmarks
4. Check out the most colorful streets of Copenhagen
Copenhagen definitely is known for buildings with colorful facades and Nyhaven is one of the most popular spots along the harbor area to hang out and enjoy. But if you are looking for more fun and unusual streets to explore in the city, check out this DIY tour of the most colorful streets of Copenhagen here. If you a fan of pastel homes and taking lots of IG pictures, check out these fun neighborhood to explore in the city.
Here's a visit to Nyhaven and the colorful streets in the area
Explore Copenhagen's beautiful parks and gardens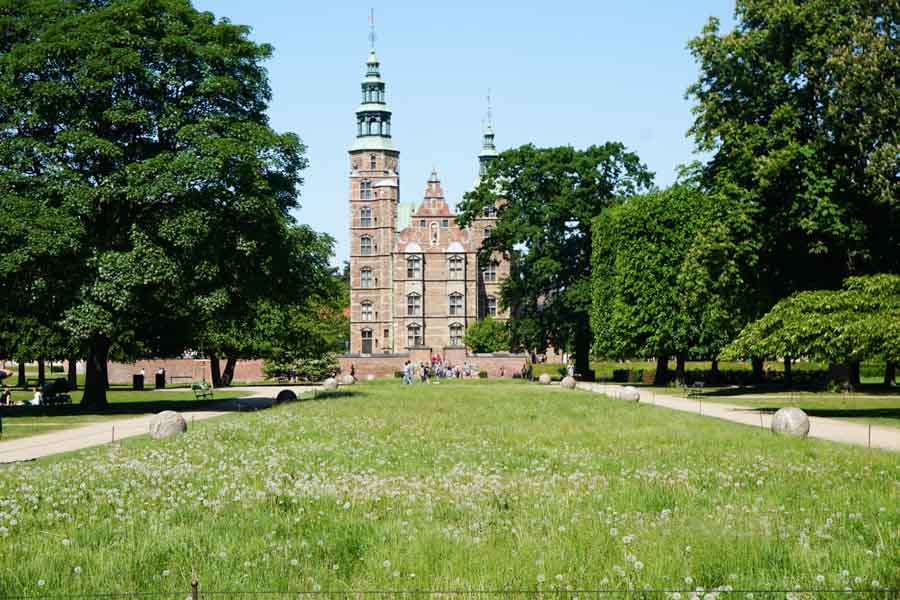 5. Visit the Rosenborg Castle and gardens
The gardens of the Rosenborg Castle in Copenhagen, also known as the King's Garden, is a lovely (and popular!) place for a wander. There is an entrance fee for the Castle, but exploring the grounds is free, and fun!
The King's Garden is more than 400 years old, and the oldest gardens in Denmark. They were first established in the Renaissance style in the early 17th century, on the orders of the then ruler, King Christian IV. The gardens served as the kitchen garden for the palace, supplying fruit, flowers, vegetables, and herbs. The design of the gardens was switched to Baroque a few decades later, and a maze was added.
In the early 1700s, the royal family abandoned Rosenberg Castle as a residence, and with it, the gardens. The gardens were then opened to the public, and today they are the most visited gardens in Copenhagen.
The layout of the gardens is beautiful. Tall trees line major avenues. Seasonal floral displays provide bursts of color amidst all the cool green. When we visited in the spring, tulips were in bloom. There is a perennial garden as well as a rose garden here, both of which must look stunning in the summer. From everywhere in the garden, you get great views of the handsome Rosenborg Castle.
On the sunny spring day we visited, lots of folks were out enjoying the beautiful weather, walking around, playing games, reading under trees, or sunbathing. We had a wonderful time wandering these gorgeous gardens.
Tip: If you visit in the summer when school is out, come here early in the day to avoid the crowds that are reported to sometimes get rambunctious later in the day. Outside of summer, this is a lovely place to bring a blanket and some picnic fixings and spend a few hours relaxing in the lovely surroundings.
Dhara from It's Not About the Miles
You can explore the gardens for free below, there is an entrance fee to visit the palace interior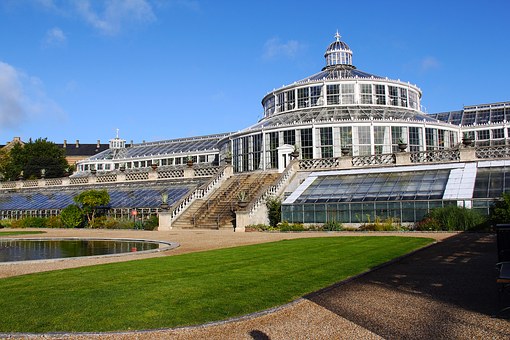 6. Check out the free Botanical Gardens
Opened in 1874, the beautiful Copenhagen Botanical Gardens include the impressive cast iron glass palm house. The gardens are broken up into smaller gardens that are easy to explore including the alpine garden, local Danish plants, Rhododendron garden and a long arbor walkway. There's also a wonderful vista lookout point at the Observatory hill with fantastic views of the inner city below.
Check out the highlights to visiting the gorgeous botanical gardens below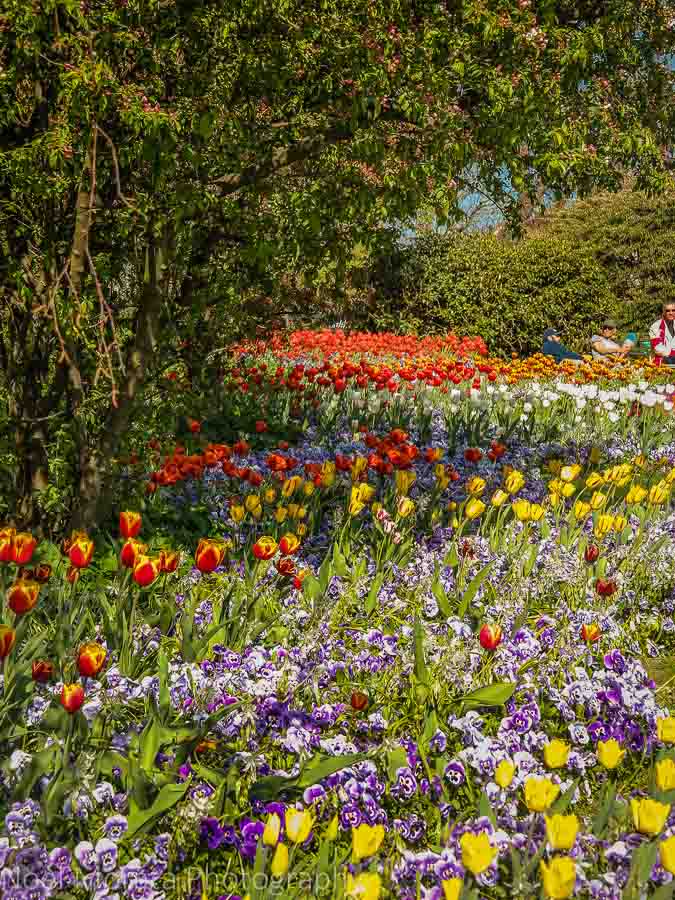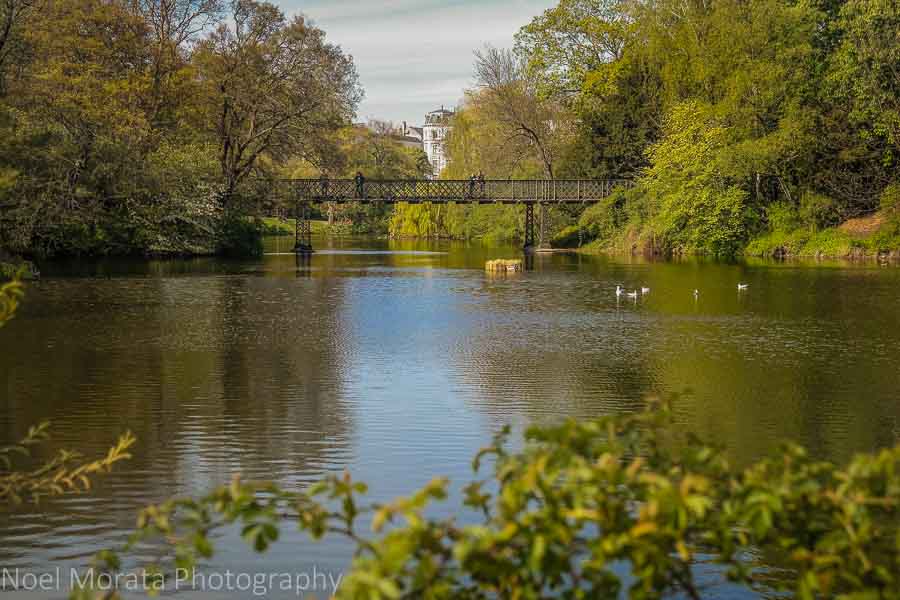 7. Orsteds park
Located in central Copenhagen, this well loved park is both a fun strolling garden and nice place to picnic or just lounge on the grass. A beautiful lake sits in the middle of the park with walking promenades circling the lake. Originally laid out as open area as part of the fortification ring of the city, the area was decommissioned and converted into a lovely park with play grounds, planted gardens and walkways, bridges and follies surround the lake area around the park.
Check out the park area around Orsteds Park below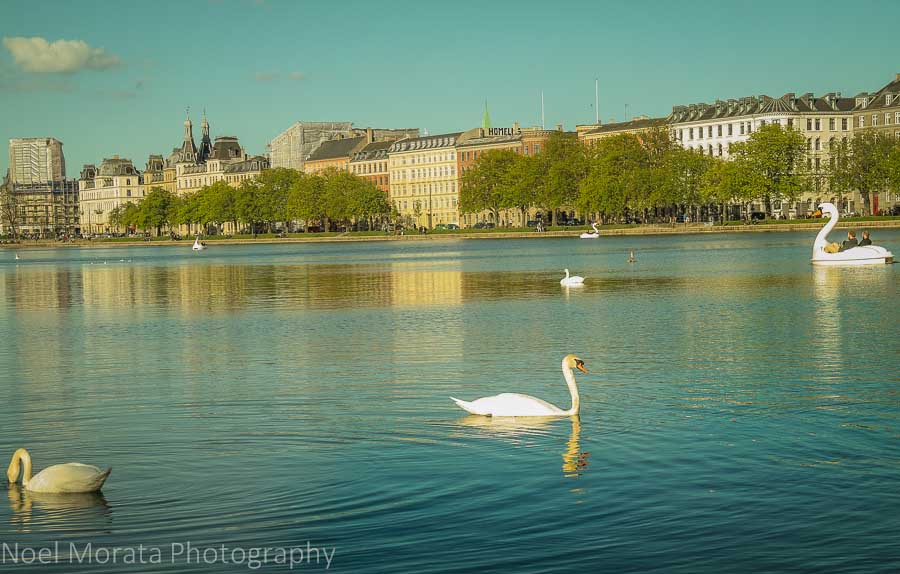 8. The lakes (Søerne) area
Located in the city center the large rectangular lakes that are an outdoor haven for local wildlife along with open space for visitors and locals to enjoy some open space. "The Lakes" is a wonderful place to just relax and enjoy some nice city views along with checking out the local vibe in the area.
Check out how different and fun the Soerne lakes are in winter below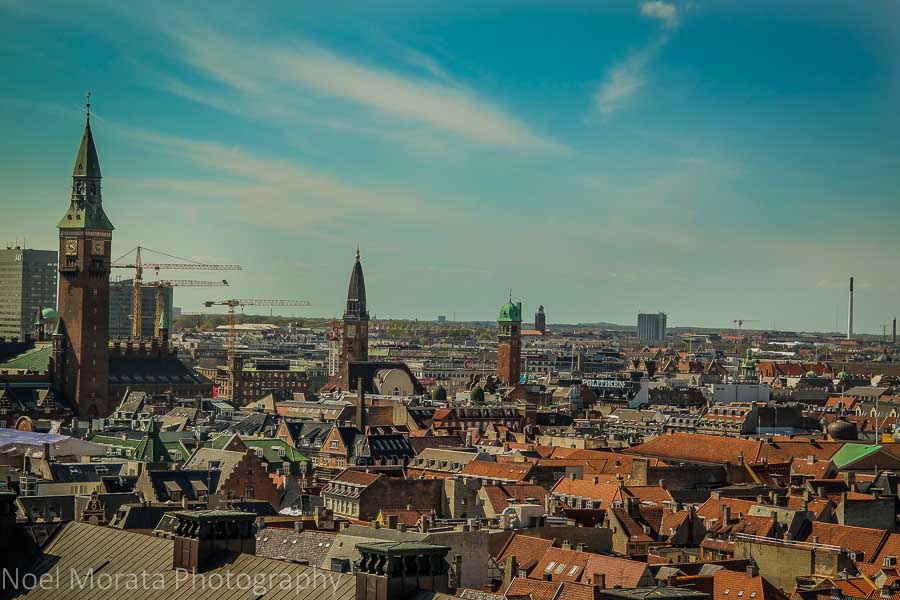 Tour Copenhagen's historic sites for free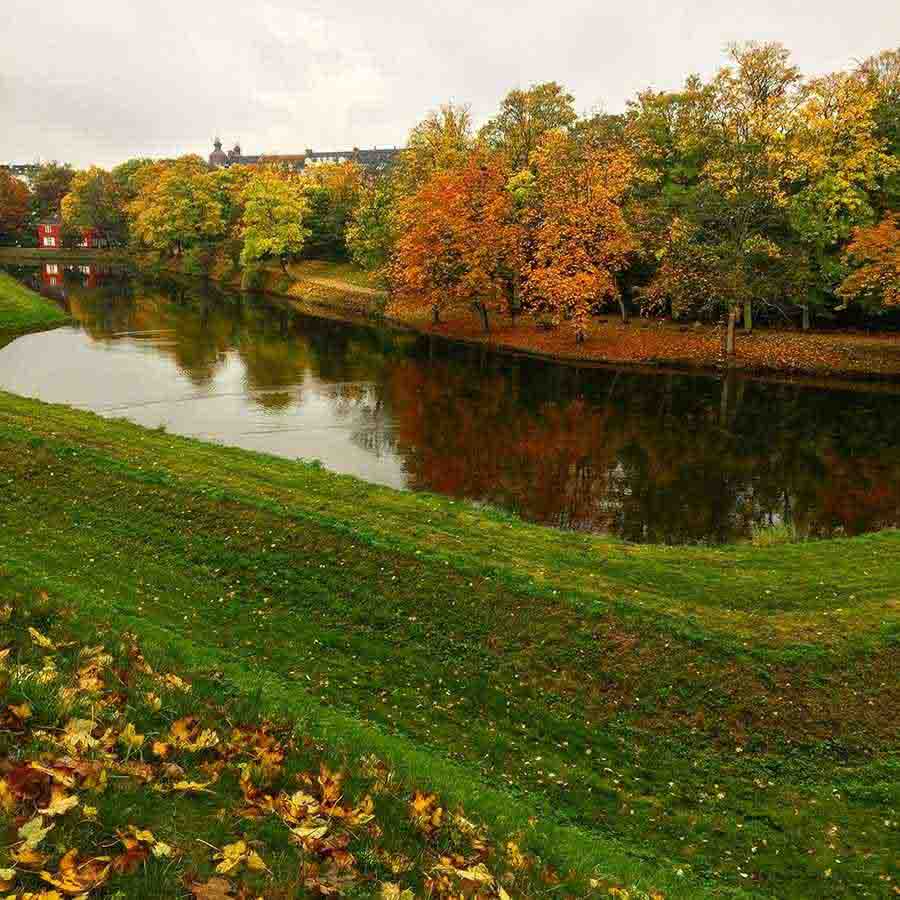 9. Exploring the Kastellet for Free
Kastellet is one of the best preserved star-shaped fortresses in northern Europe and is still in operation today. It was also one of our favorite free spots during our quick 2 day trip to Copenhagen. Aside from its affordability, we loved its tranquility and peacefulness in the middle of the city. We were amazed at how quiet and relaxing the park was even though it was steps away from the hustle and bustle.
The fort was originally built by King Christian IV, the ruler Denmark and Norway, in 1626 to protect Denmark from sea attacks, and has been reconstructed over the years. Today, the Danish Armed Forces still use the castle for military purposes; however, certain areas are open to the public as recreational space. The fortifications of Kastellet hold various buildings, such as military barracks, a jailhouse, as well as a church and a windmill.
Because there is still military activity in the park, please remember to read the posted rules at the entrance to the castle area of Kastellet. The fortress can be accessed from one of two gates: the Northern Gate and the King's Gate to the south. You can take the bus to the Østerport train station nearby, walk into the park and around the moat until you reach one of the gates.
Check out Constance's post on a weekend in Copenhagen with The Adventures of Panda Bear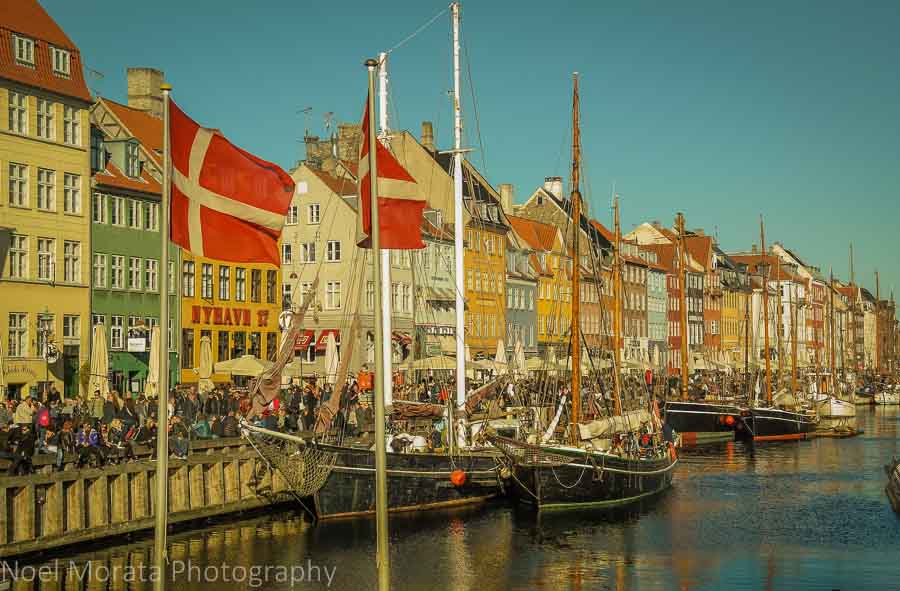 10. Explore Nyhaven in Copenhagen
Copenhagen is an expensive city to travel around. After visiting twice, I've found that one of my favorite things to do in town is to spend time in Nyhavn. Even though it's a little on the touristy side, with it's picturesque townhouses and beautiful wooden boats, it is also a vibrant spot in the city and appeals to tourists and locals alike. While tourists typically head to one of the sidewalk cafes, young Danes have a free alternative that gives them the same atmosphere without the cost:  BYOB! It's free to stroll, sit, and enjoy Nyhavn without ever sitting down at a cafe, but it is also perfectly legal to bring your own drink and sip your beer right on the sidewalk. For tourists coming from countries where drinking on the street isn't legal, this might not be the first option that pops into their heads. However, follow the lead of young locals and enjoy your drinks from the sidewalk instead of a sidewalk cafe, saving your euros for a canal cruise or some of Denmark's famous museums, like a day trip to Roskilde's Viking Museum, palaces like Amalienbourg, or art museums like the Carlsburg Glyptotech.
Check out Stephanie's post on the Vikings go to Denmark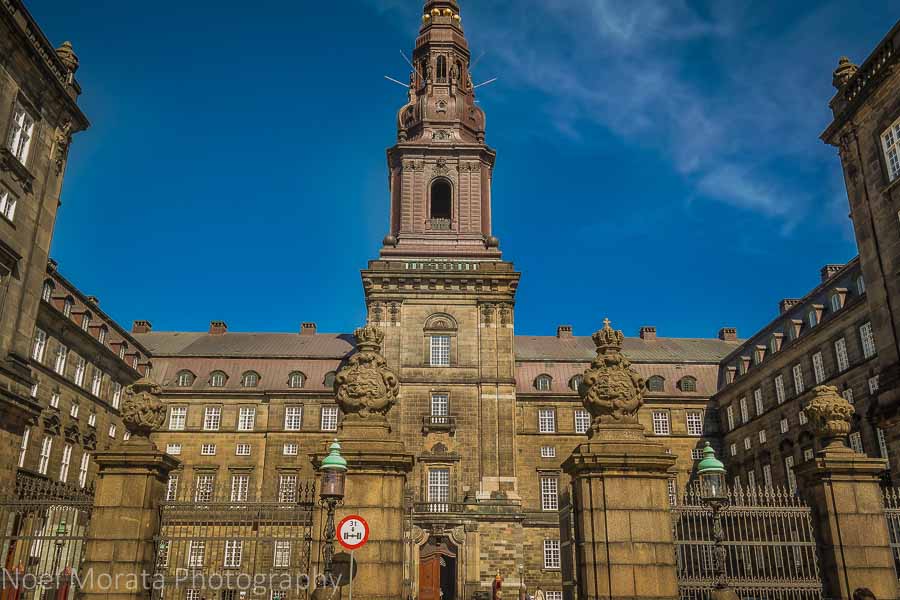 11. Climb the tower at Christianborg Palace
Now serving as the Parliament building, you can sign up for a tour and also climb the tower for some magnificent and free views of the entire city from the top. When you back down, you can also explore the church for free but the parliament and private royal chambers require an additional fee to visit.
Tip – get there early or late in the day when the lines are low compared to peak visiting timeframes.
12. The Royal Library
Located on the island of Slotsholmen, the Royal library is made of an older building made in 1648 and a modern building built in 1999. You'll get some lovely harbor views from this fascinating building and a lovely little garden on the historic side of the library.
Tour the gorgeous library interiors and views below
Fun and free attractions around Copenhagen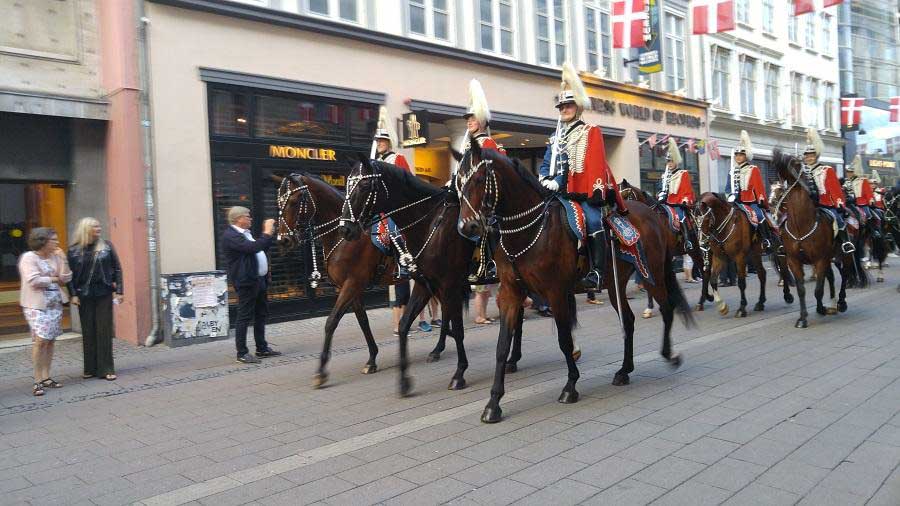 13. Changing of the Guards at the Royal Palace at Amalienborg
One of the most popular things to do in Copenhagen for most tourists is to visit the royal palace, Amalienborg. The museum gives insight into the life at the royal court. Admission to the palace is 95 DKK which is why I recommend you see the changing of the guard for free instead! Although the ceremony is smaller than in other countries, it
is an important part of the royal tradition. The ceremony takes place every day, although its scope depends on the season. The guard leaves Rosenborg Palace at 11:30 and reaches Amalienborg Palace at about 12:00. As the queen resides at Amalienborg between September and April, the ceremony is only accompanied by the Royal Guard's music band. During other times of the year, the ceremony may be accompanied
either by flutes only or take place without music.
In order to get the best view, we recommend that you position yourself at the corner of Frederiksgade and Amalienborg Slotsplads. The ceremony at Amalienborg lasts about 15 minutes. Alternatively, you can see the guard on their way through the city. My favorite spot is Østergade, just off Kongens Nytorv!
Check out Jacky's post one day in Copenhagen with Nomad Eipicureans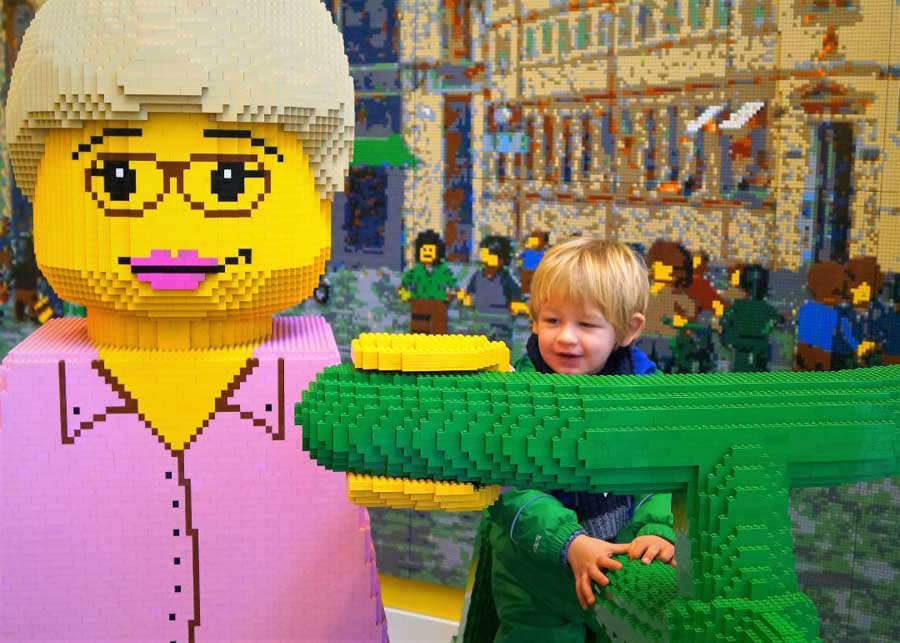 14. Free fun in the LEGO store
We visited Copenhagen in January, and as such, it was extremely cold; even rugged up in coats, hats and gloves. It's a wonderful city to explore on foot, however we needed to find places to thaw out along the way. The LEGO store (on Vimmelskaftet) was the perfection solution, not only as we were visiting Copenhagen with young kids, but it is FREE!
There are some impressive LEGO models inside, including one of Copenhagen's famous Nyhavn street, and there are small play areas where both kids and adults can get creative! We spent almost an hour there putting together our own LEGO creations and super-friendly staff were on hand to help keep our little ones entertained. And as LEGO is actually made in Denmark (we didn't actually know this before our visit, how lax of us!) we treated ourselves to some colourful blocks to take home. Since then, we have taken the LEGO everywhere we have travelled – hiking in the Himalayas, on sleeper trains through India, and now overlanding Africa in a Land Rover Defender.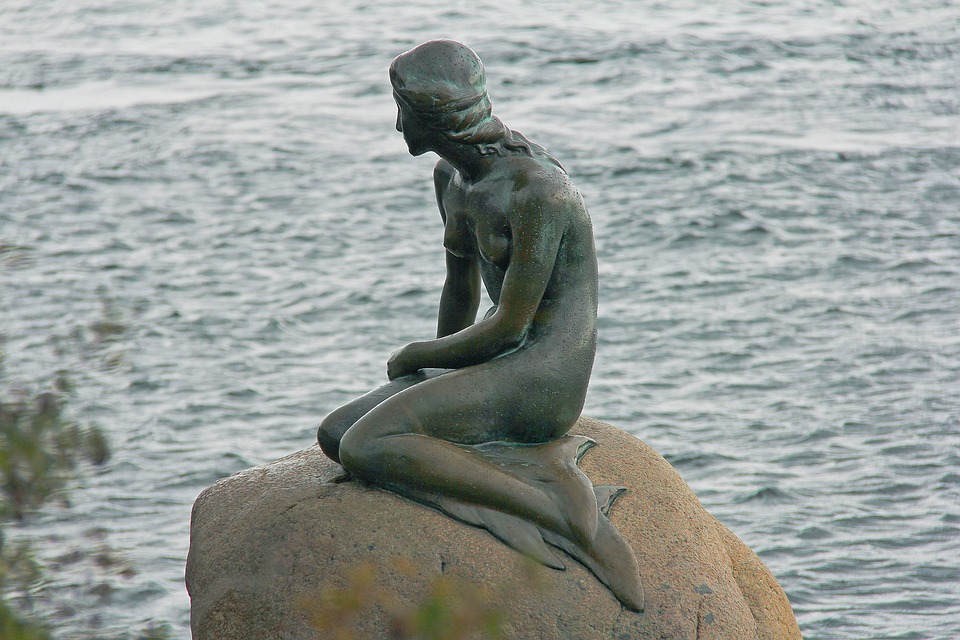 15. Check out the Little Mermaid and enjoy some beautiful cherry blossoms
A walk along the harbor area and spring time is magnificent with the cherry blossoms blooming enforce. This little statue made famous by local author Hans Christian Anderson is smaller than most expect, but walking along the harbor area, you can also check out the beautiful
Gefion Fountain
, featuring the mythical Gefion and her oxen and further down the Kastellet – a star shaped fortress built in the 1600s.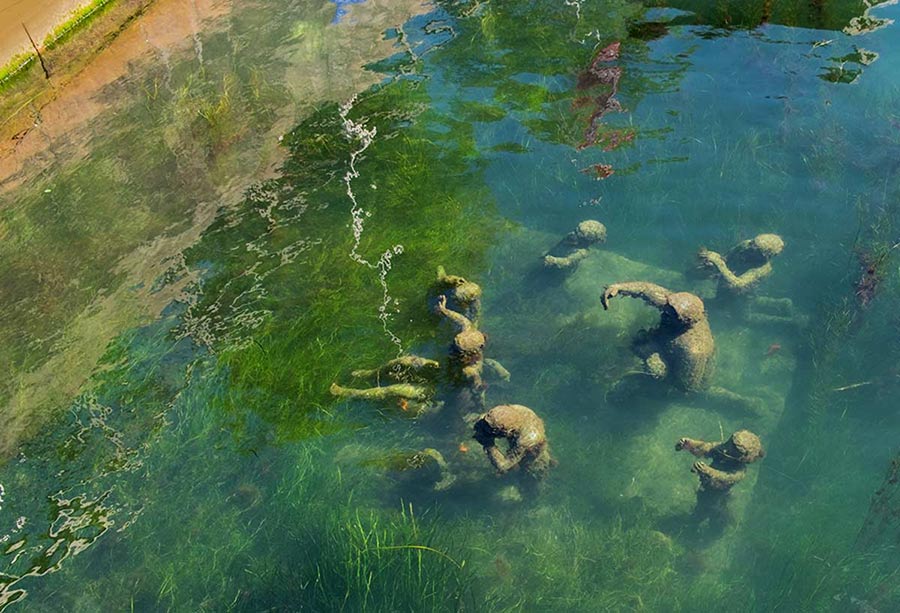 16. Sculpture of Agnete & the Merman underwater statue
There's a wonderful fairy-tale site many people miss in Copenhagen. That's because it is sometimes hidden. The sculptural group called Agnete and the Merman is underwater. It's actually easy to find. The water is shallow, a bridge runs right beside it, and it is near the Christiansborg Palace. But you might have to wait for the sun to shift
or the ripples on the water to still to bring the story into focus.
The bronze sculpture, done in 1992 by Danish artist Suste Bonnen, tells the sad story of a merman who fell in love with a girl, Agnete. Equally smitten, she joined him in the water and they had seven children. But, as might have been inevitable, the day came when Agnete wanted to go back and visit her village on the land. Though she promised to return, the pleasures of her landborne life held her fast, and she never came back. The sculpture shows the merman and their children yearning for her, reaching up, covering their tears, longing for their mother. Their story of love and loss is based on a very old
Scandinavian legend. Seeing the sculpture is a touching and unusual thing to do in Copenhagen.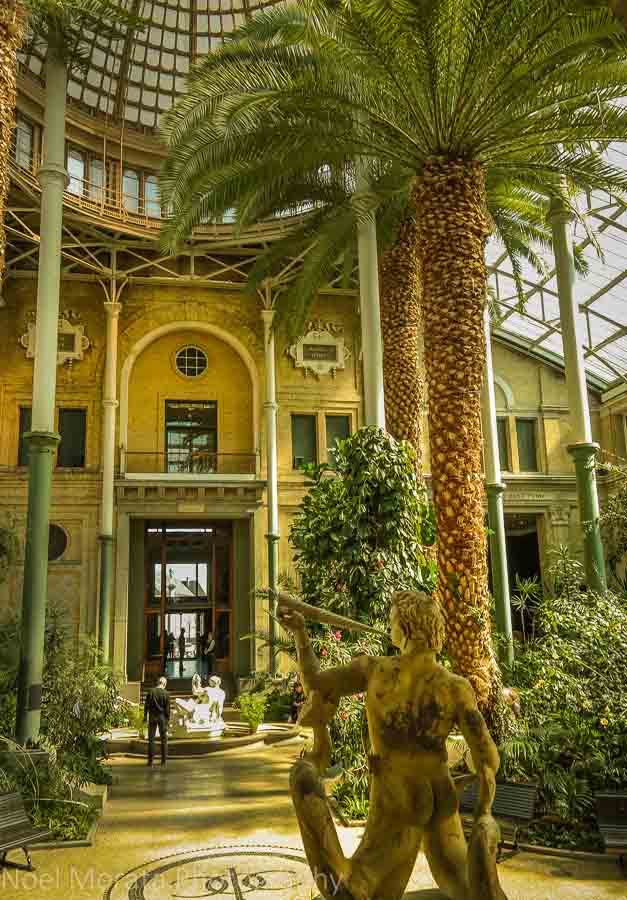 17. Free Tuesdays at the Glyptotetek Museum
Housed in a beautiful museum founded by brewer Carl Jacobsen, this gorgeous art museum is free to visit on Tuesdays. Part Art and antiquities collection and collection of Modern Danish sculpture and paintings, you can enjoy a wonderful visit to the
Glyptoteket museum
and take a breather in the gorgeous winter garden and or café fronting this classic interior sculpture and tropical oasis in the heart of Copenhagen.
18. Visit the oldest amusement park in Europe at Bakken
Not as well known as popular Tivoli, Bakken is actually free to enter and has one of the oldest wooden rollercoasters in the world. The park is open end of March to end of August time frame.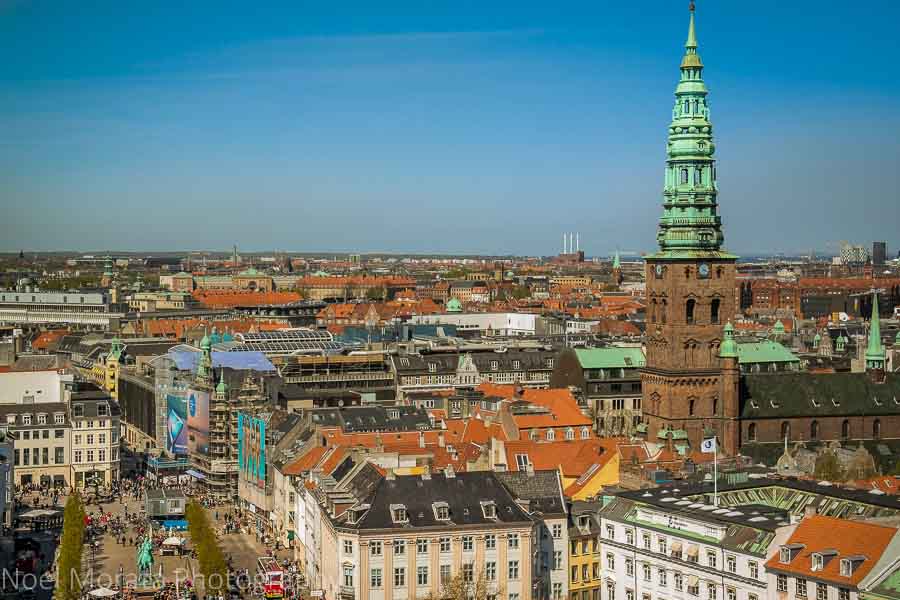 19. Free walking tours of Copenhagen
You can participate in various free walking tours of Copenhagen run by local volunteers that do make a living off the tips they earn for the tours they offer. Check out these different
Copenhagen walking tours here
for locations and hours of when tours start.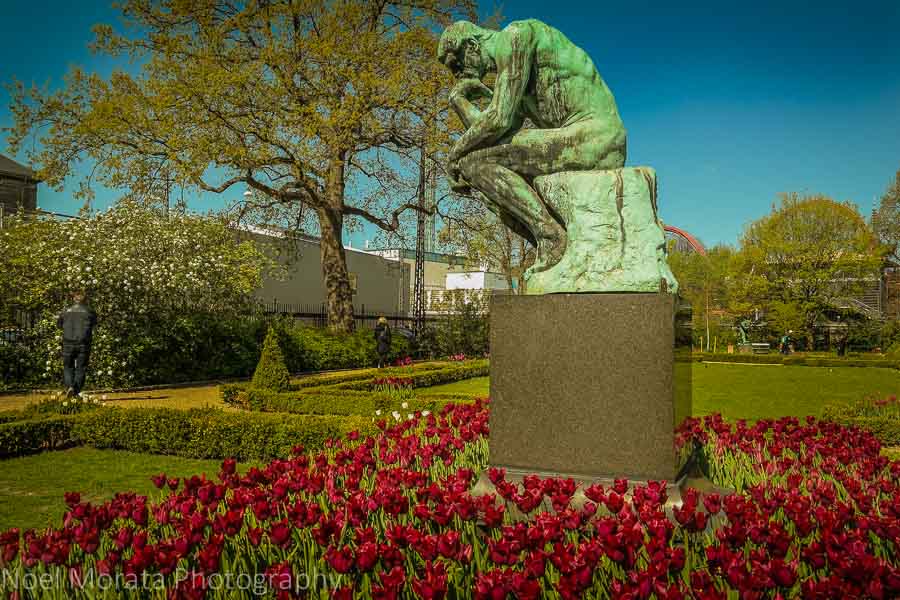 Free Events in Copenhagen
Museum Free days in Copenhagen
You can go and visit these museums on their free days and enjoy seeing some of the historic and cultural treasures these places that are also historic places to visit on their own. Check out the free museums days to visit here for more information.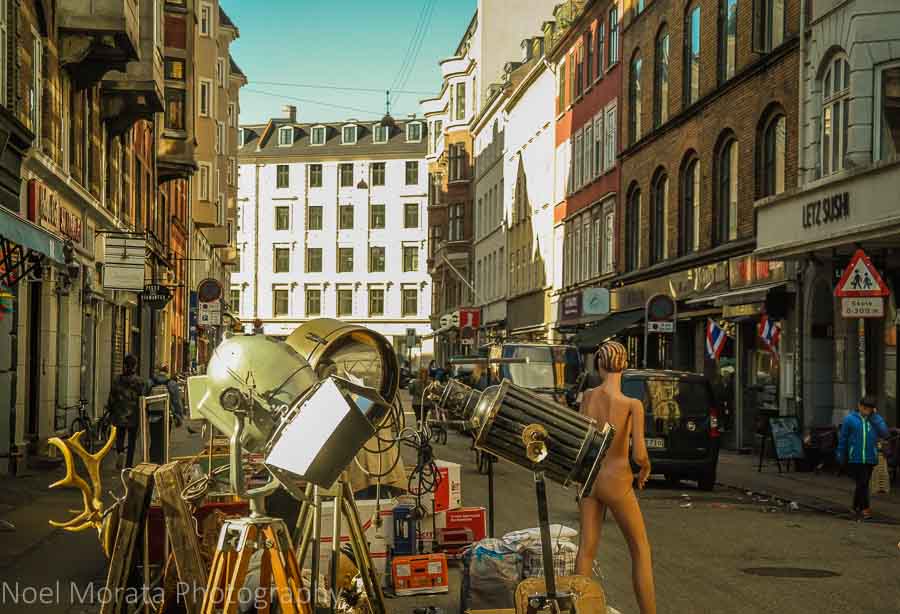 20. Go to a Loppelmarket
The local flea market is where Danes love to shop and find bargains in many neighborhoods around the city. One of the most popular is Islands Brygge which is a frequent flea market host.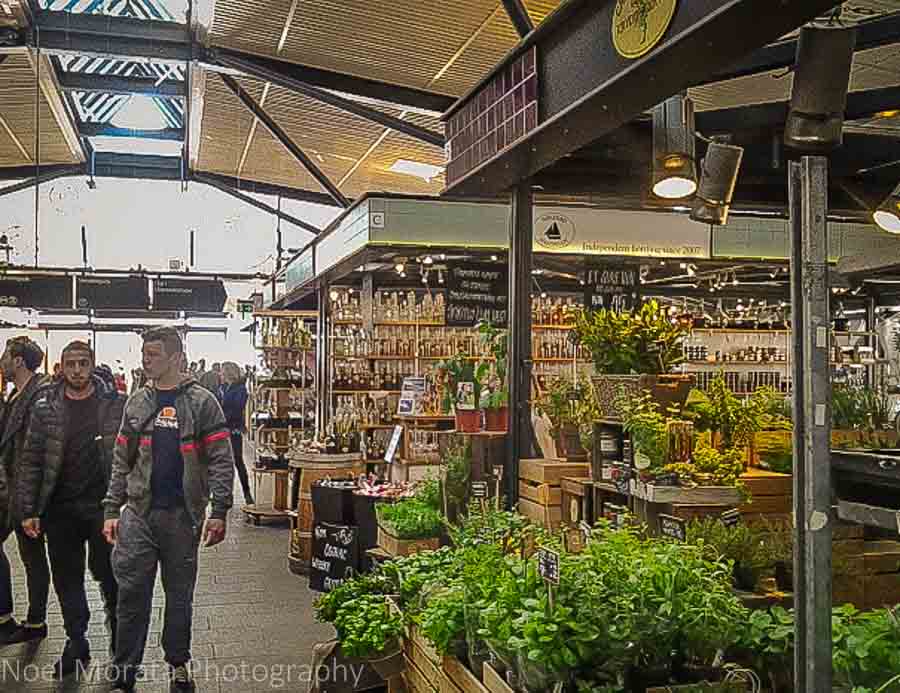 21. Savour the flavours of Torvehallerne Market
Located in Torvehallerned, these two glass enclosures house an international array of locally grown products, made in Denmark foods, take out food specialties and a variety of eat in cafes featuring daily specials. You'll find some wonderful delicacies and quality ingredients for sale, and free samples if you just want to noche for free.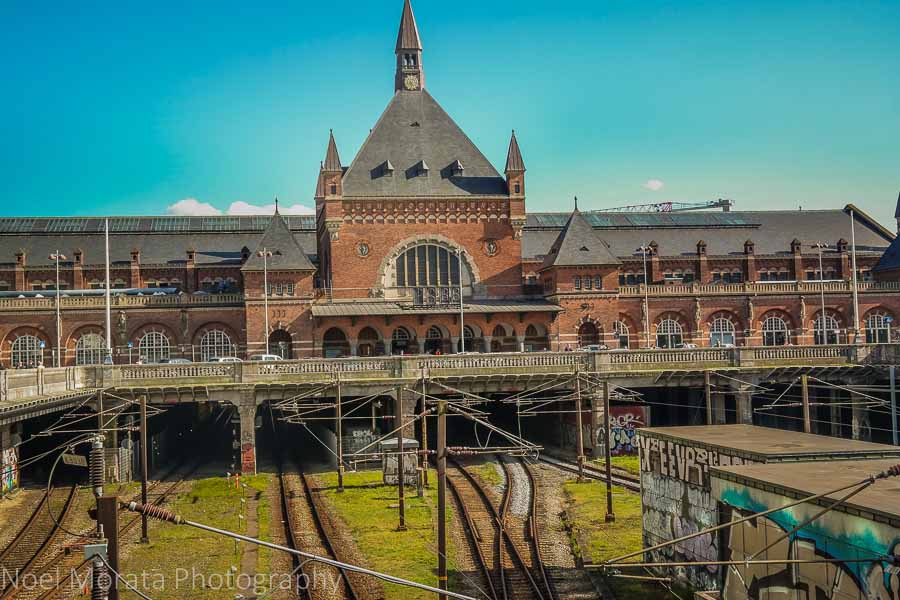 How to get around Copenhagen cheap or free
There are several ways of getting around Copenhagen for cheap or better yet free. The easiest thing to do is walk around and concentrate your efforts to visiting neighborhoods that are close to each other.
Another easy and fun way to explore the city is to rent bicycles through Bychklen (the city bike) offered all around the city and are electric bikes that can be taken all around the city on the many popular bike lanes the city is known for. Or if you are looking for traditional bikes you can rent inexpensively, check out these official vendors for your bike riding excursions in the city.
Public transportation – there are local trains and a small metro system and extensive bus system that you can easily take advantage of while visiting Copenhagen. All public transport systems are very punctual so be on time or check out this site for more information on getting around. Also available are the Copenhagen card and Citypass system that you can use mass transit for longer visits to the city.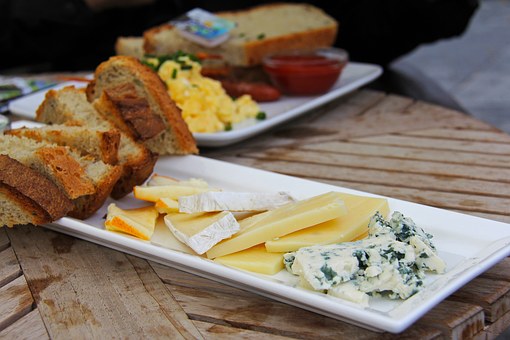 Where to eat cheap or reasonable in Copenhagen
Eating out in Copenhagen is very pricey, so looking for something local and good to eat in the area is always a budget buster especially in this expensive city. Here are a few suggestions of places to go to save and still be able to enjoy something local and fun!
You can make your own picnic or dine in the small eateries or outdoor areas with some local favorite spots at affordable prices depending on what peaks your interest at the market stalls.
Check out the Norrebro district for international dining
The Norrebro district is fun, colorful and hip with lots of dining choices and international flavors that are more affordable in the center of Copenhagen. You can check out a wide variety of cafes to restaurants that cater from casual to more trendy spots and on your interest in the type of food venue. You'll also find more ethnic foods that are more affordable to the pricey Copenhagen eateries in general.
PapirØen-Paper Island
L0cated on the east bank of Copenhagen harbor is PapirØen is a must visit and relatively new venue for good and cheap food with an international flavor of delicious foods. You'll see a wide variety of food stalls in this combined street food market, craft and design innovation center that is worth exploring.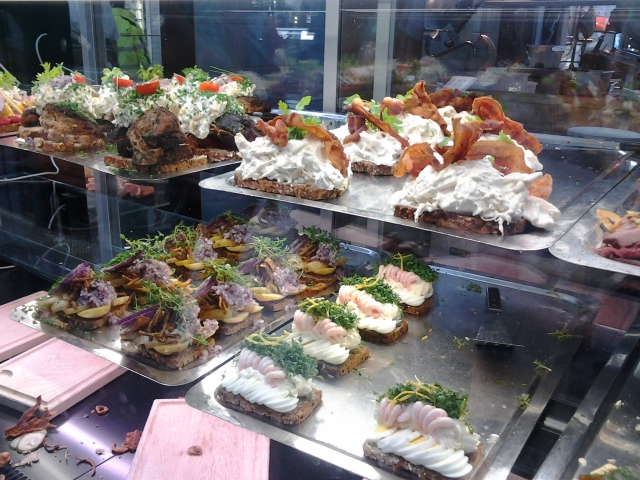 More local flavors and cheap eats!
If you're on the lookout for more local foods or hangout spots that are both fun and affordable, check out the Copenhagen guide here for some cool suggestions on dining about in the city and really good cheap eats for the budget conscious.
Where to stay in Copenhagen
Staying in the heart of the central district is very expensive while visiting Copenhagen. Here are some suggestions on where to stay and other options on affordable stays in the city area including Cheap Hostels to stay and other affordable options.
Dan Hostel Copenhagen – a hip and fun place that dispels the boring hostel stay. This is cheap for city standards and is centrally located in the city center.
Absalon Hotel – close to the train station and city hall, great value and extensive breakfast make this an excellent value, location and service.
Ibsens Hotel – another great value hotel and centrally located in the historic district with comfortable and basic rooms with a good buffet breakfast service.
Check out these other best value reviews from TripAdvisor here for current prices and details.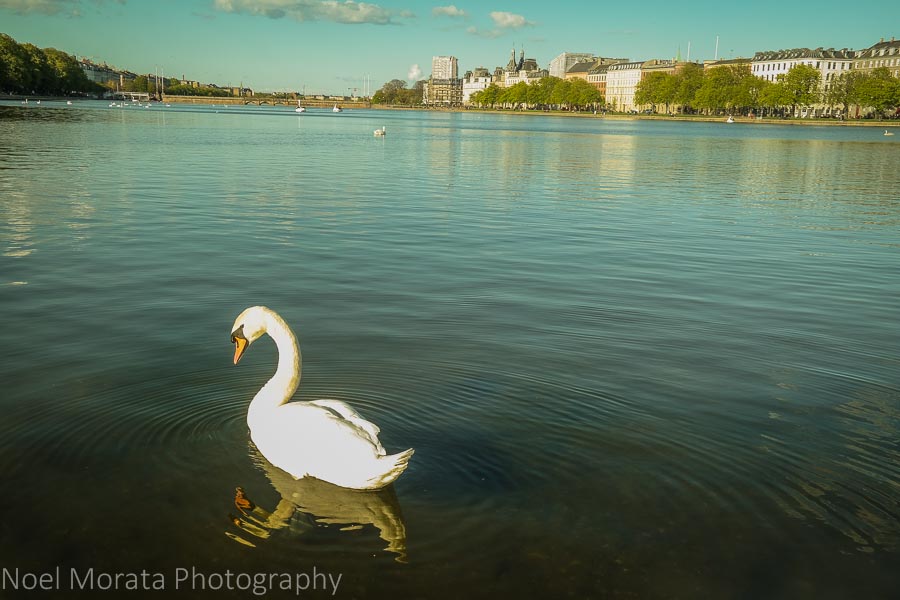 More posts on visiting Copenhagen
20 top attractions in Copenhagen
A first impression of Copenhagen
The Glyptotek Museum in Copenhagen
Check out these locations for free and cheap things to visit
Free things to do in Sao Paulo
Free things to do in Barcelona
Like this post – Please pin it!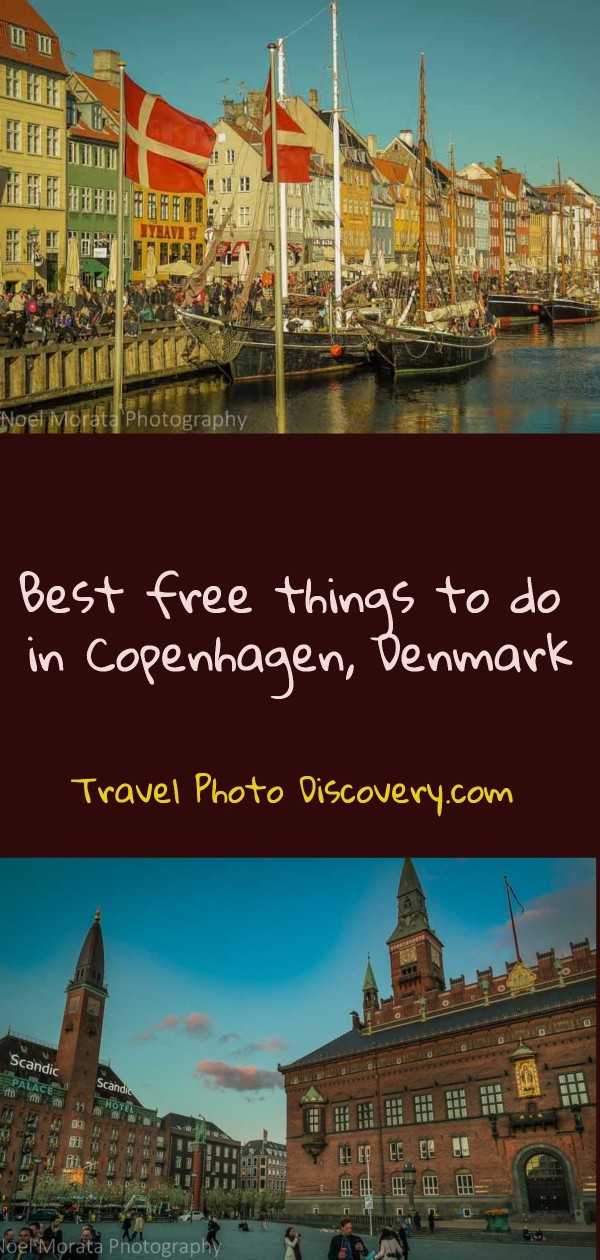 Thanks for visiting today and checking out this post on Free things to do in Copenhagen, if you enjoyed the images and post, could you please share it with any of the social media buttons located around the post.
If you like what you see, come and check out my other social media channels for more updates, including Instagram, Pinterest and Twitter
Disclosure – There are affiliates links on this posts which provide a small commission to support this site at no extra cost to you. Thank you for reading, and happy travels.