Discover Barcelona on a Budget: Free Things to Do in the City
There are so many free things to do in Barcelona, a gorgeous city in Catalan where you can enjoy many attractions, outdoor venues and parks, scenic vista points and walking around all the neighborhoods for free!
Barcelona, the beautiful regional capital of Catalunya is filled with so many wonderful places to visit and attractions that are truly unique. The sad part is there many of these places require an admission to enter and that eventually adds up when you are visiting this lovely city.
But, if you knew that there are so many other worthwhile venues that you can visit for free around the city, wouldn't you schedule some of these places in your itinerary? If so check out these free things to do in Barcelona and hopefully visiting won't break the bank when you do some little spurges on vacation. You can expore some of the best viewpoints of Barcelona, experience some delicious Catalan food or just enjoy some of these free things to do in the city below.
There are so many amazing things to do in Barcelona and attractions to explore, it truly is one of the best places to visit in Spain right now. Check out all our free things to do in the city below.
Here's what's free to do in Barcelona now
Check out the free Barcelona views from above
Barcelona offers breathtaking views from various vantage points, allowing visitors to admire the cityscape and its iconic landmarks. From above, you can enjoy panoramic vistas without spending a dime. Climb to the hilltops, explore rooftop terraces, or visit public parks to experience the stunning views of Barcelona's skyline, the Mediterranean Sea, and architectural marvels like Sagrada Familia and Park Guell (paid)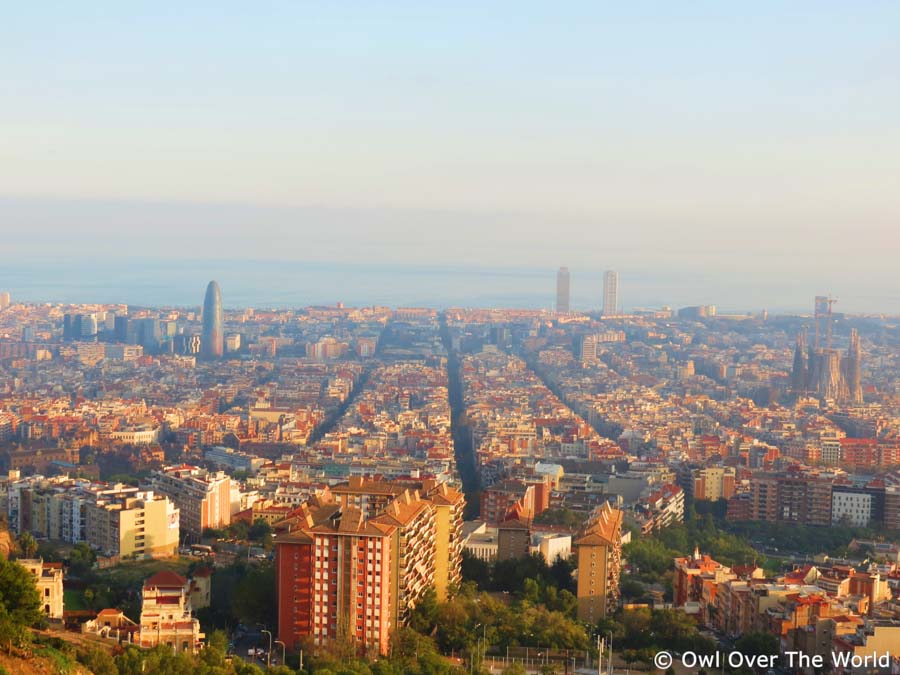 Bunkers Del Carmel
Bunkers Del Carmel are a local spot in Barcelona that is becoming more and more popular. One the recent
Barcelona's best kept secrets
is now a favorite place for both local and travelers to meet, hang out and watch the sunset.
The Bunkers Del Carmel were built on 1938 during the Spanish Civil War – they were build so they can defend and help the city from further bombing.
The Bunkers are offering one of the best views of the city! From there, you can see the Sagrada Familia, as well other landmarks of the city, you can even see the sea from up there and the famous La Rambla street.
To get there, you need to take the L4 metro line and get off at Alfons X station. From there you need to walk up hill for around half an hour.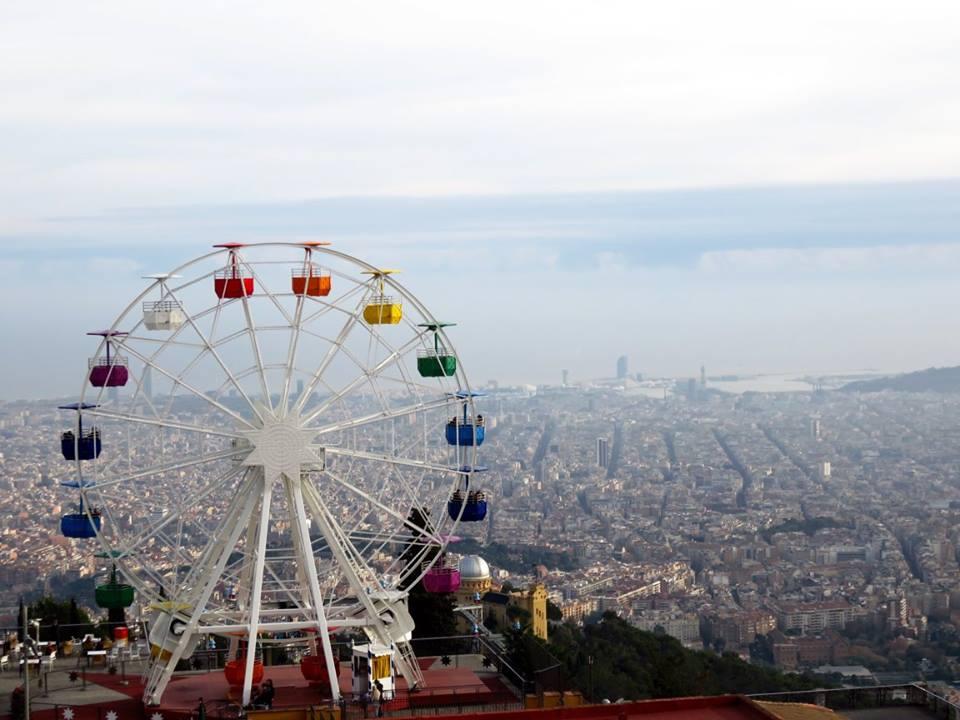 Do the Tibidabo Skywalk
For amazing views over Barcelona, Tibidabo Amusement Park is well worth the trek up Tibidabo Mountain, which is part of the Serra de Collserola mountain range.  The Skywalk section of the park is free to visit and is home to fairground rides that are close to 100 years old.  The rides cost 2 Euros each to go on, but if you don't want to pay they certainly make for some interesting photography props with Barcelona city spread out behind them in the distance!  From the colourful ferris wheel to the bright red plane of 'Arvo', which isa replica of the first plane to fly between Barcelona and Madrid!  The Saguaro Cor church can also be viewed from here, or it can be used as a way to elevate yourself a bit higher, as it sits a bit further up the mountain compared to Tibidabo!
You can reach Tibidabo Skywalk via the direct shuttle bus (T2A) from Placa Catalunya which runs every 20 minutes or take the S1 or S2 train and then the funicular railway up to the top of the mountain.  The funicular railway has been in operation since 1901!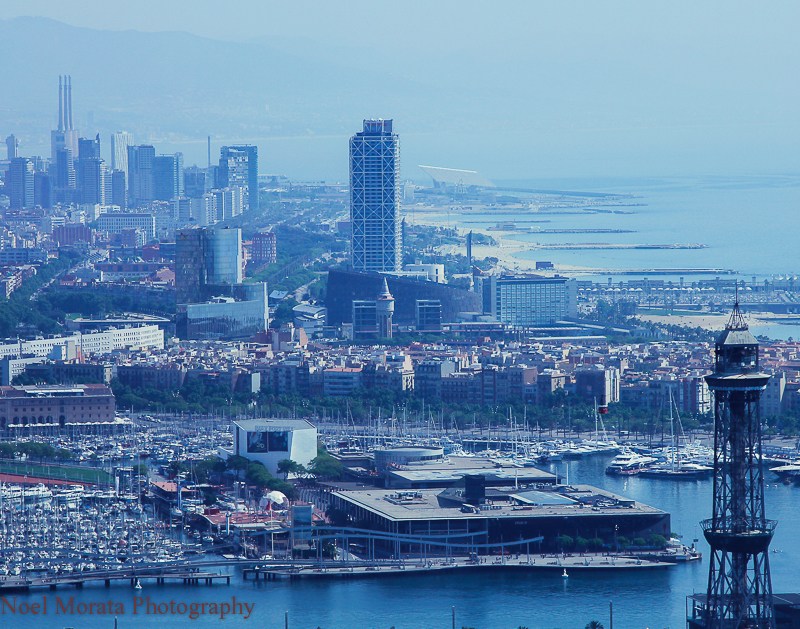 Views of Barcelona from Montjuic
You will find fantastic views of Barcelona from Montjuic from many vantage points leading up the mountain. One of the best spots to see harbor, ocean and downtown views is from the Montjuic castle – actually an old military fortress located right next to the cable car system on top of the mountain.
You will get some amazing views of the entire city and surrounding landscape that truly is spectacular to see and photograph. Check out my post here on what else you can see and do around Montjuic for inspiration to visiting the area.
You can walk up around Montjuic or take the cable car system or public transportation to get you to these fantastic gardens, views and the castle.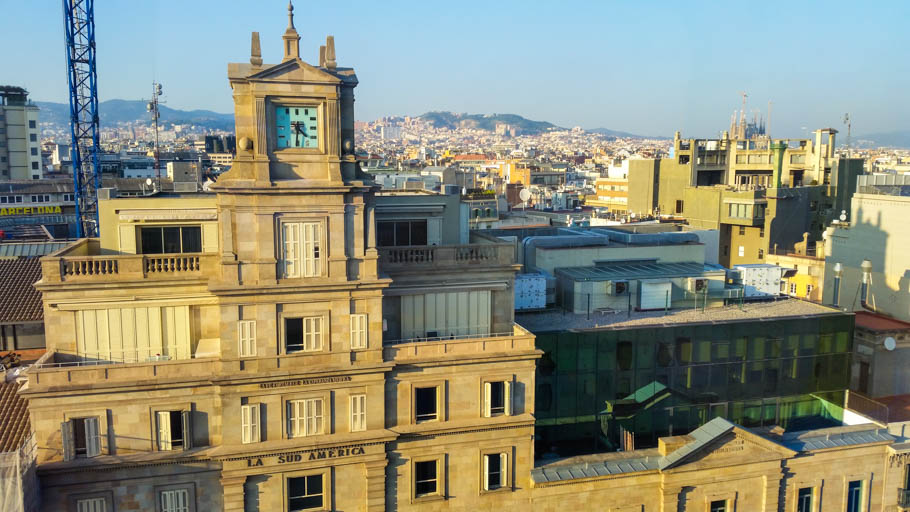 Views from the El Court Engles Shop
On the top floor of the EL Court Engles shop located on Plaza Espanya is a cafeteria. The cafeteria serves all sorts of yummy cakes, foods and drinks for lunch or just a snack. The attraction of heading to the top floor Cafeteria is the all-encompassing view of Barcelona.
Even if you don't buy food the view is free! (But I dare you to walk past the food stalls in the cafeteria and not buy something!) Having windows all round means you get an all-encompassing view of the Catalan capital.
Window seats may be at a premium so if you spot one get it while you can! Just keep an eye out for people leaving. We loved sitting down and having a little snack while taking in the views. A visit is one of the great ideas for travelers in Barcelona wanting to get amazing views for Free.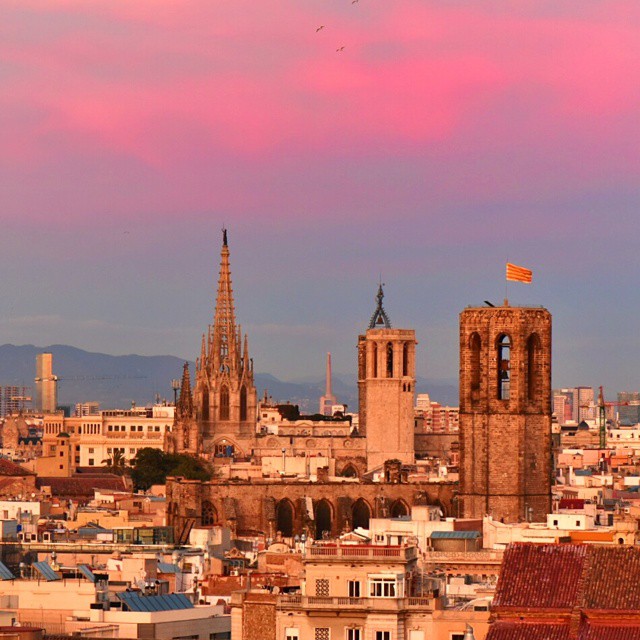 ADMIRING BARCELONA'S SUNSET FROM A ROOFTOP TERRACE
There are not many things that can be compared to a beautiful sunset seen from a terrace in the middle of a big city. Luckily, Barcelona has a few rooftops that are worth climbing at nightfall.
My favorite is the 360º bar at the Hotel Barcelo Raval. Although of course, its drinks menu is a bit more expensive than usual for being a hotel, it is well worth it and going up to enjoy the terrace for a few minutes is totally free. Take a look at your next trip. You will not regret it.
Check out A World to Travel post on  fun things to do in Barcelona.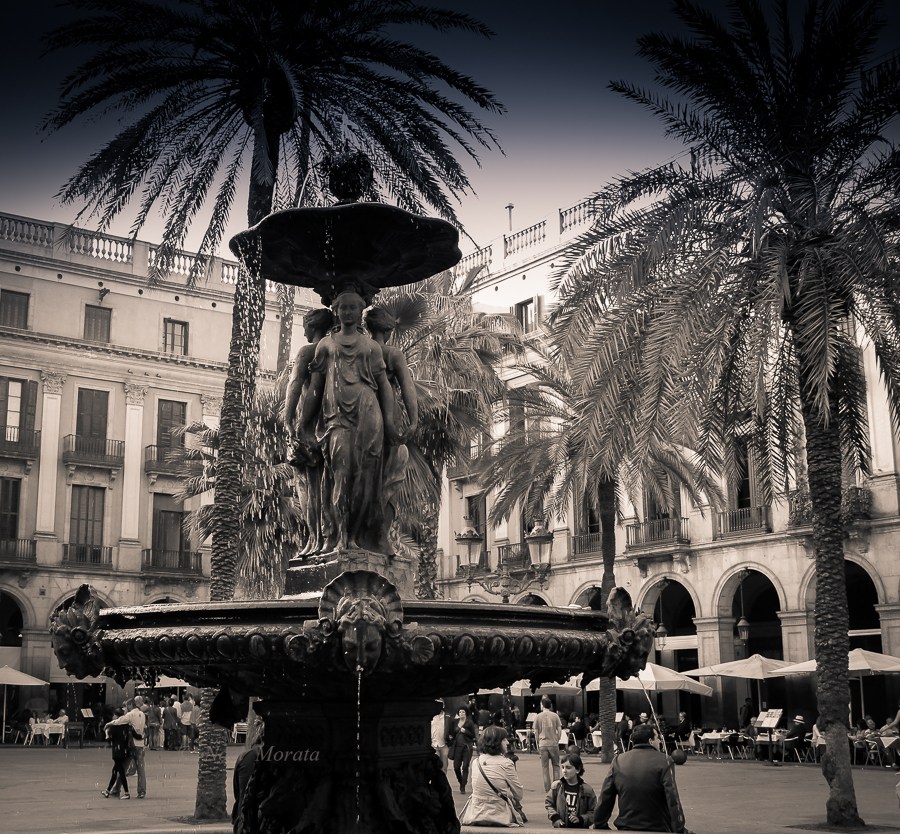 Explore the cool neighborhoods of Barcelona
There's a lot of really cool and fun neighborhoods called "Barris" in Barcelona to explore and absorb the local places to hang out and shop. Whether your exploring the cool Gaudi architecture in the Gracia neighborhood, the Gotic district for historic attractions, the Jewish area called El Call, or La Raval for shopping and trendy venues, you'll find plenty of interesting places to visit in Barcelona's fun districts.  Here are some of Barcelona's  favorite neighborhoods that you should check out when you are in the area.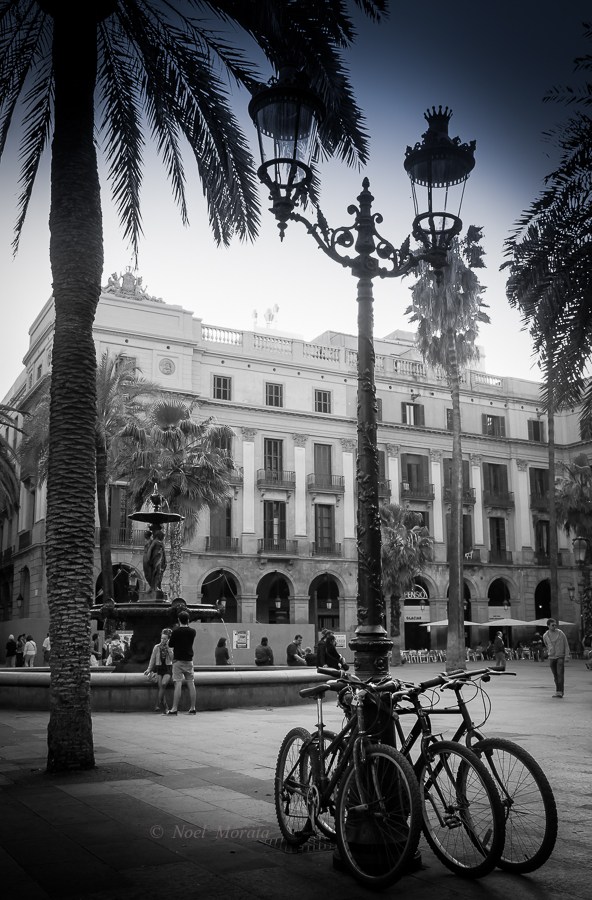 Explore the Bari Gotic
Barcelona's Gothic district called the Bari Gotic or Cituat Vella (or old city), this neighborhood is filled with stunning architecture and historic treasures worth visiting.
The main location and plaza forms around the Cathedral of Barcelona called Cathedral of the Holy Cross and Saint Eulalia. Other beautiful areas of the Barri Gotic worth exploring include Historic Museum of Barcelona and these squares:  Placa Reial, Placa del Pi, Placa de la Generalitat, and the quiet Placa Sant Felip Neri
Passing through Carrer del Bisbe bridge in the Bari Gotic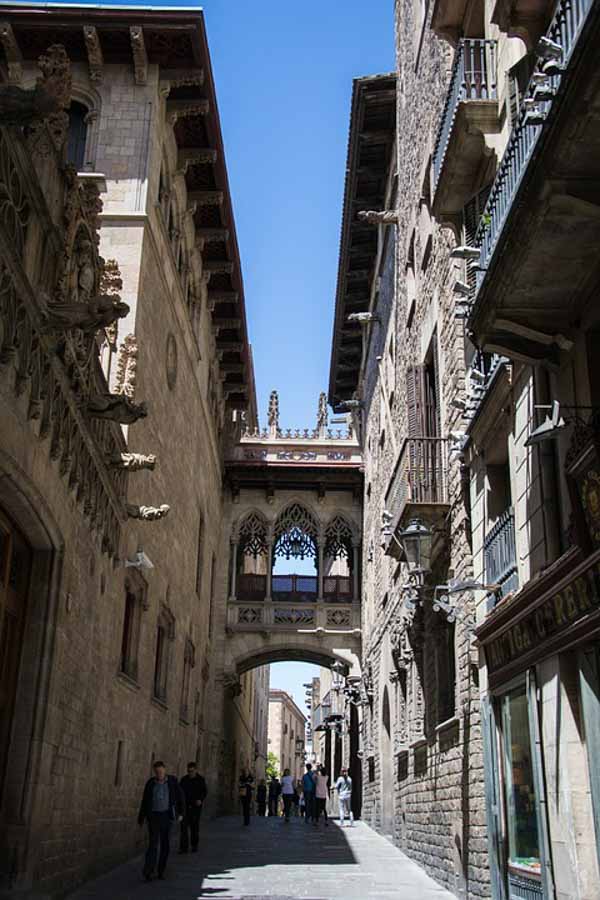 Video credit to Watched Walker
Do the beach scene at Passeig Maritime
You can easily get to the beach via metro station at Barceloneta with a short walk to the beach. At Passeig Maritime, you can spend the day strolling, roller blading, finding a nice café or just enjoying Barceloneta Beach and being outdoors. The most popular beaches to enjoy in Barcelona include: Barceloneta Beach, Icaro Beach, Mar bella and San Sebastia just to name a few.
Cruise the popular El Raval Neighborhod
The busy El Raval neighborhood is filled with large pedestrian only streets lined with some of the largest Spanish and regional retailers from the area, cutting edge exhibitions and museums like the Maritime Museum, Museum of Contemporary Art and the Contemporary Cultural Center. El Raval is filled with cool art venues, bookshops, hip galleries and design studios, fun wine or tapa bars and a plethora of local restaurants. You'll also find some wonderful daily markets on these busy promenades to enjoy and photograph.
Video by Athena Advisors
Trendy shopping and people watching in Gracia
One of the most bohemian areas of Barcelona is also lines with trendy boutique stores, art galleries and over filling with street side restaurants. It's a great place for people watching and just enjoying the vibe in the Gracia district.  Of course, the restaurants here are a little pricey but a nice little snack or splurge is worth the experience here at Gracia. A wonderful area to explore on foot and see some of the fantastic art, galleries and of course fantastic buildings of Gaudi – Barcelona's master architect.
Walk the Passeig de Gracia and beautiful architecture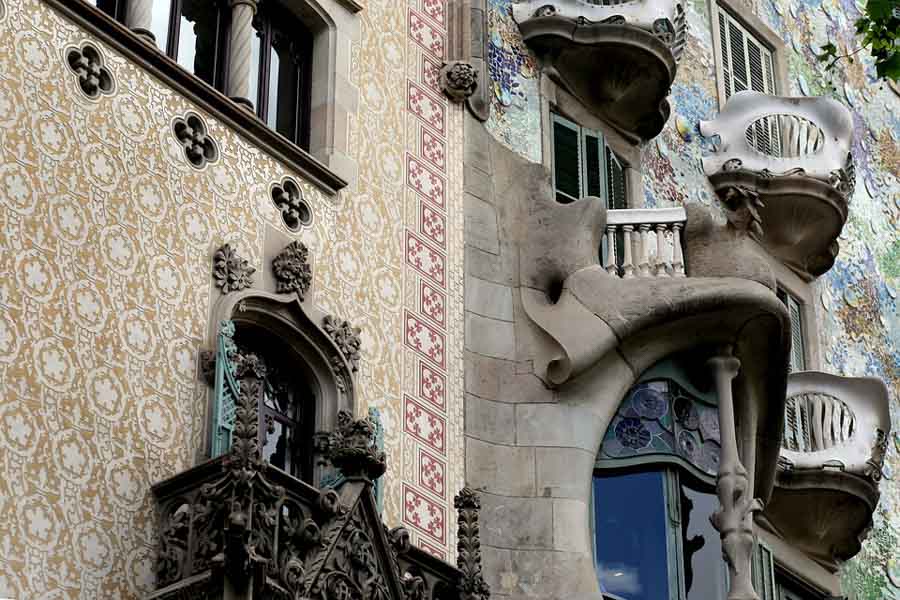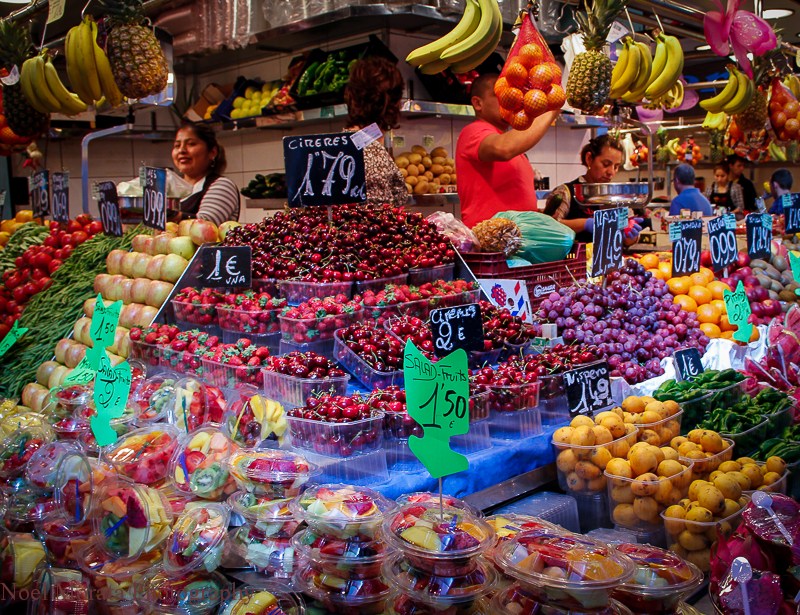 Barcelona's public markets
Video credit by Sant Jordi Hostels
A fantastic flea market, the Encants Vells, also known as the Mercat de Bellcaire dates back all the way to the 14th century, one of the oldest markets in Europe. The Encants is the typical flea market with antique booths, vintage clothing, collectibles, tools and electronics and you name, you can find it in this colorful market, which is the largest of its kind in Barcelona. Located in a colorful and large open air pavilion, the three-story pavilion houses over 500 stalls of established and junk sale type of products for sale.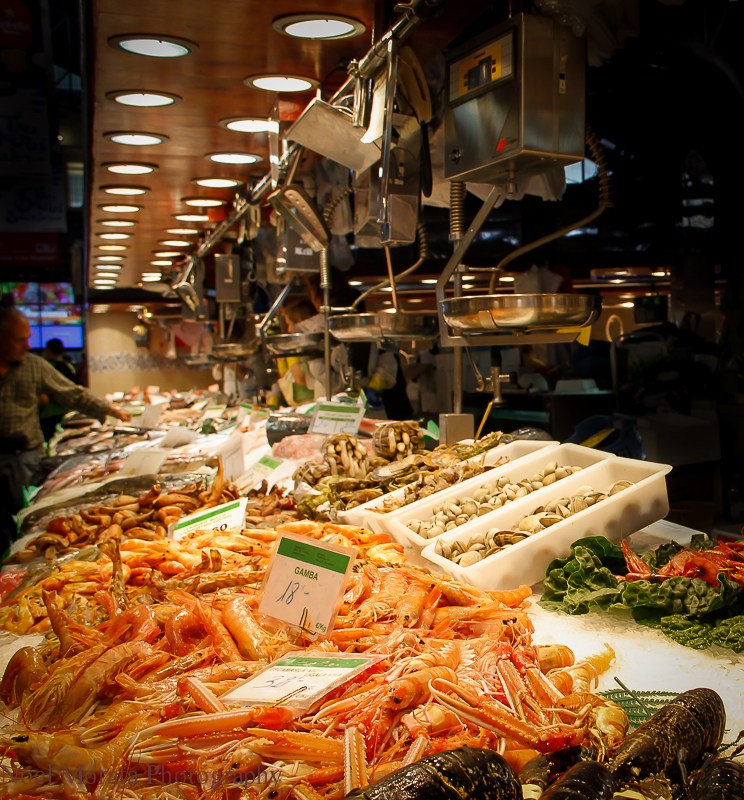 The gorgeous La Boqueria on Las Ramblas
This popular public market called Mercat Boqueria is the place to explore to see beautiful displays of fresh produce, home made artisanal foods of the highest quality in all of Spain. You can also find booths that sell finished products, souvenirs and drop by one of the tasty food stalls or bars for a drink or a quick bite with locally made food items for sale.
The Boqueria dates back all the way back to 1217 where tables and fresh produce were set up close to the old gates of the Ciudad Viejo (old city). Later this market was established as a pig market even though the literal translation of Boqueria is a goat market.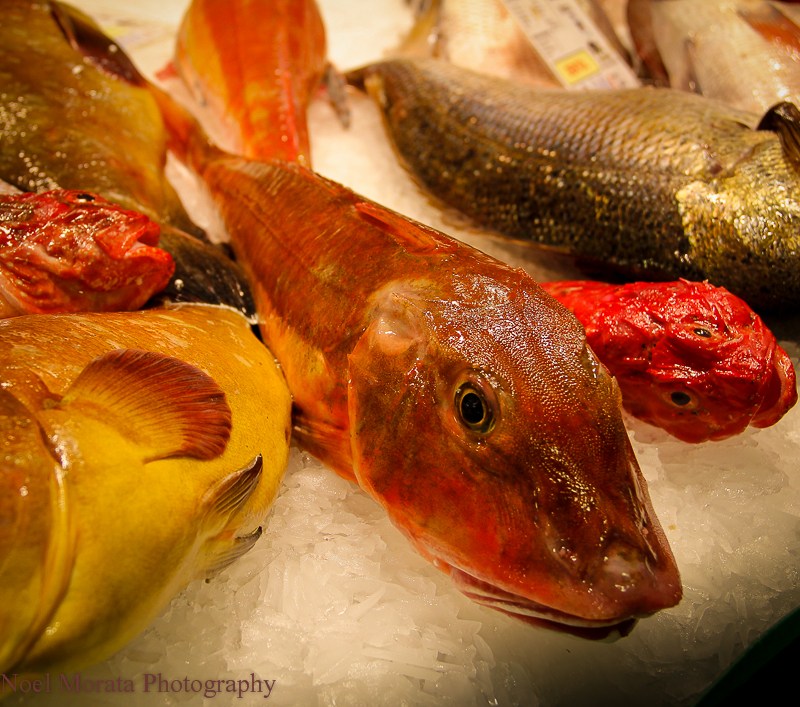 Video by Devour Tours
Visit a local market at  Santa Caterina Market
Located under a brightly colored roof completed in 2005, an undulating structure with brightly colored ceramic pieces to resemble the fruits and vegetables sold in the market.  Santa Caterina market is filled with gorgeous seafood, perishable fruits and vegetables, cheese stands, food stalls and restaurants that cater to both local crowds and visitors to the area.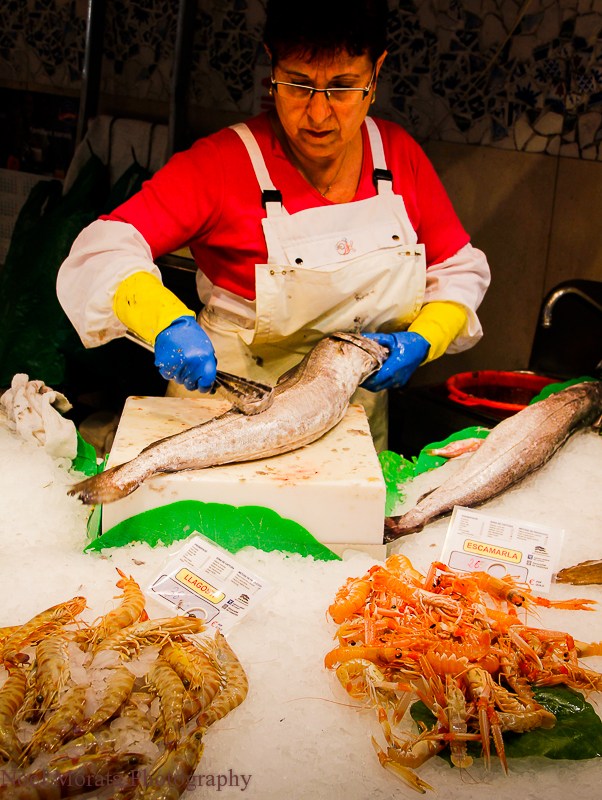 Barcelona's free parks to enjoy
Barcelona is home to several beautiful parks that offer tranquil and picturesque escapes from the bustling city streets. Here are some free parks worth visiting: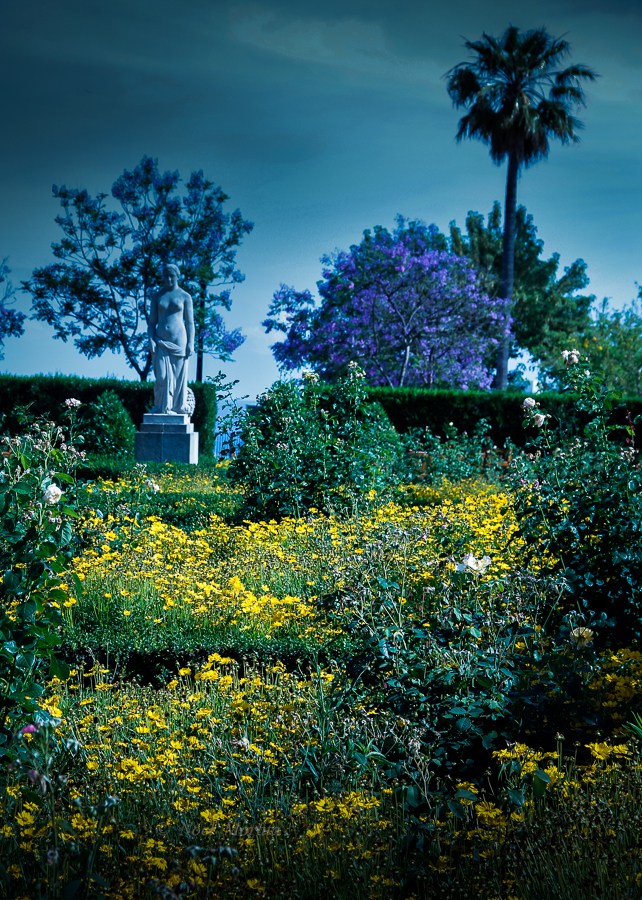 Explore the gardens and parks at Montjuic
The large mountain close to Barcelona's coastline is Montjuic which is filled with many attractions and gardens worth visiting along with many of the city's spectacular museums worth visiting (many you can visit for free on certain days). Other wonderful attractions you can see at Montjuic includes the fortress, Tramway and fantastic vista points throughout the park to the city and surrounding mountains.
Check out one of the most beautiful arid garden below at Mossen Costa i Llobera Garden

Walk to Montjuic and the Olympic Stadium
An underrated thing to do in Barcelona is to visit Montjuic and the area surrounding it. There is a lot to see here, and as it's slightly out-of-the-way, it can be overlooked by most people.
The Olympic Stadium is close by and worth checking out, you can walk in for free and get a glance at the stadium. The Torre Calatrava is near the stadium, and is an imposing sight. It held the Olympic flame while the event was ongoing.
If you wander further up the road, you will begin the short walk up to the top of Montjuic. You have to pay to enter the castle, but there isn't much point in going in. The walk around the castle is much more rewarding. You will be offered spectacular views of the city and the beach below as you navigate your way around the castle.
It's a beautiful walk and will take you into a quieter and interesting part of the city you might not otherwise see!
Here's a look at the Olympic stadium below
https://youtu.be/PJe6PIksn7w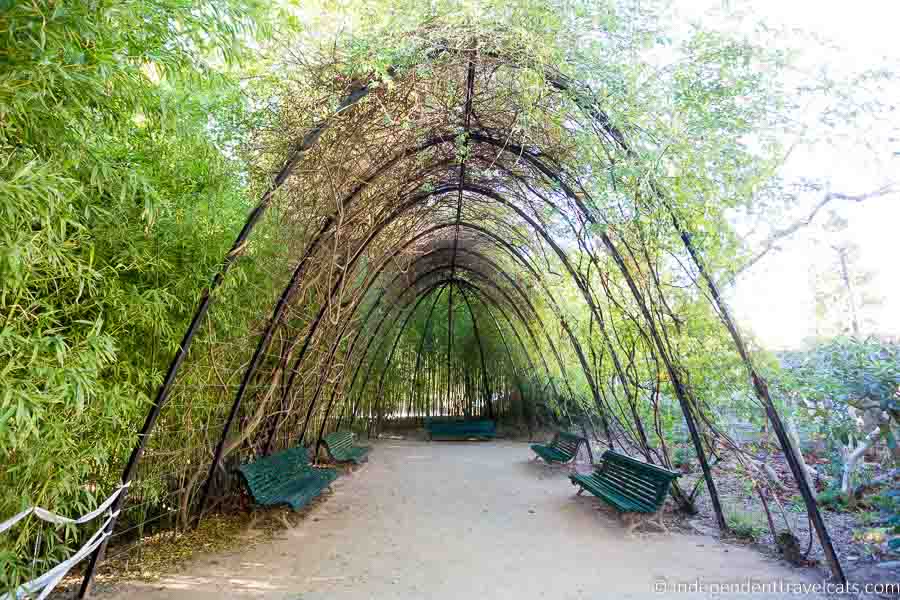 Jardins del Palau de Pedralbes
A great free park in Barcelona is the Jardins del Palau de Pedralbes. It is far enough away from most of the city's popular tourist attractions that it is usually quiet and not crowded. The gardens are the gardens of the former royal palace Palacio Real de Pedralbes (or Palau Reial de Pedralbes in Catalan). The palace is still here although it is now used for administrative purposes and as a museum space. 
Another good reason to come to this garden is that it includes a few relatively unknown works by Antoni Gaudí. Before the palace was given to the royal family, it was the holiday home of Eusebi Güell who commissioned Gaudí to enlarge the building. In addition to helping to enlarge home, part of this work was to build 2 fountains and a pergola. One of the fountains (a small gurgling fountain with the bust of Hercules above) and the pergola are still there and can be seen here. 
 Also, just outside the park are the Pavillions on the estate which were designed by Gaudí. You can see one of the wrought iron entrance gates here for free, but there is a small fee to visit the pavillions. 
 If you are interested in Gaudí, we have a full guide to Gaudí attractions in Barcelona, both free and ticketed.
 Jessica with Independent Travel Cats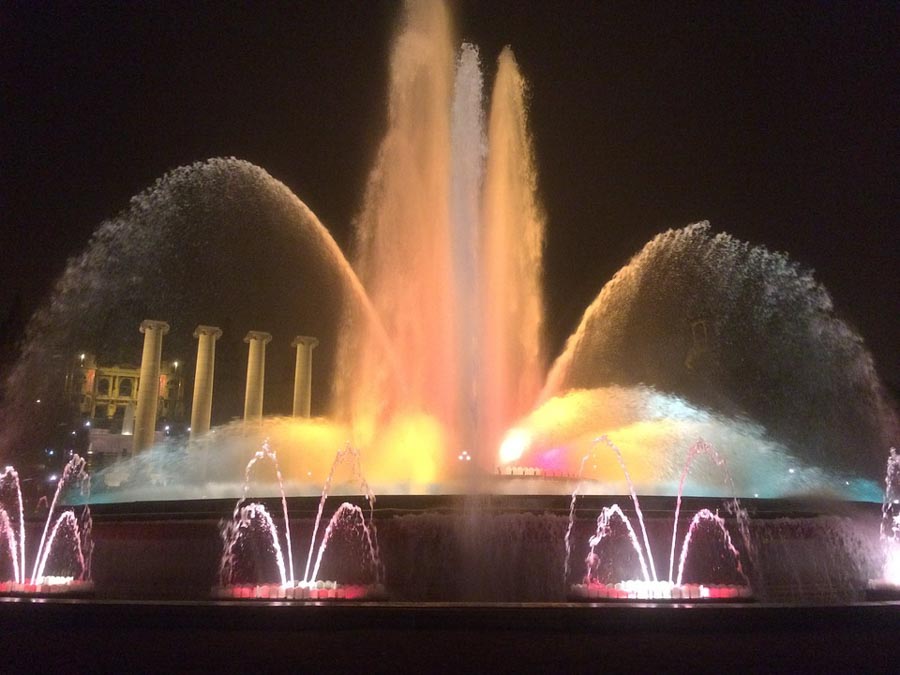 The Magic Fountain at Montjuic
The Magic Fountain in Barcelona, also known as Font Magica de Montjuic, uses music, water, and lighting effects to put on a spectacular show. Get to the show early because it is popular, over 2.5 million visitors watch the show every year!  The fountain show is free to watch and the schedule varies depending on the season.
The fountain can actually do 7 billion different light-and-water combinations and it is choreographed to music.  It uses 3600 waterjets which pump out 2600 liters every second. Since 2010, the Magic Fountain has been using groundwater.  I also like that they have switched to LED technology to be more environmentally conscious. 
The Magic Fountain is located on Avinguda de la Reina Maria Cristina, the street running from the Palau Nacional to Plaça d'Espanya in Montjuïc.
We sat on the steps to enjoy the display.  You can bring along some snacks along or purchase them from the vendors there to enjoy during the show.  It was a great way to end a day of sightseeing in Barcelona.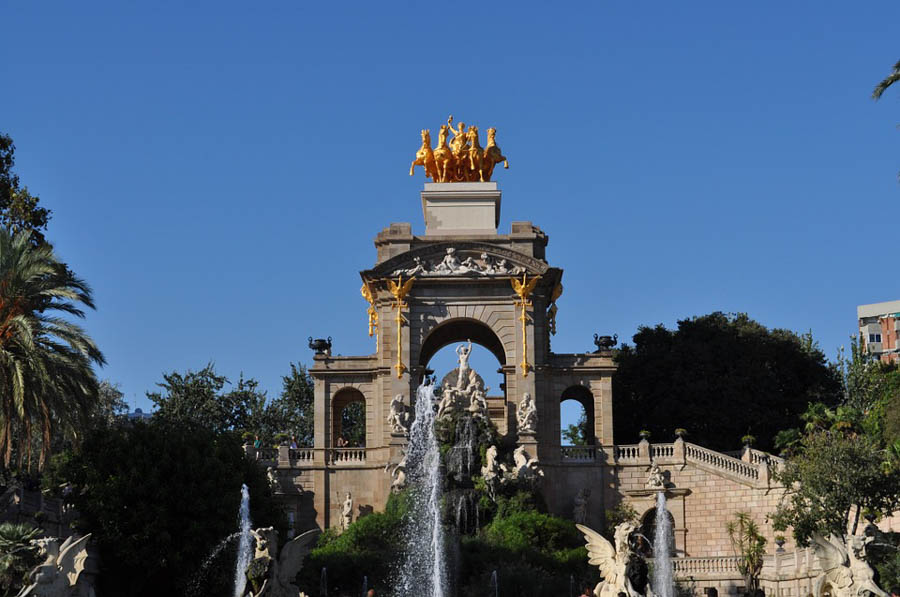 Chill out at Parc de la Ciutadella 
One of the most popular city parks and well visited with tourists, Park de la Ciutadella is a green oasis with beautiful buildings and grounds worth visiting in the central district. You'll find a variety of attractions located in the park including the Zoological museum (castle of the Three Dragons, the Catalan Parliament, zoo and the stunning fountain which is the centerpiece of the garden along with formal gardens, beautiful statuary and other cool attractions worth visiting in the park.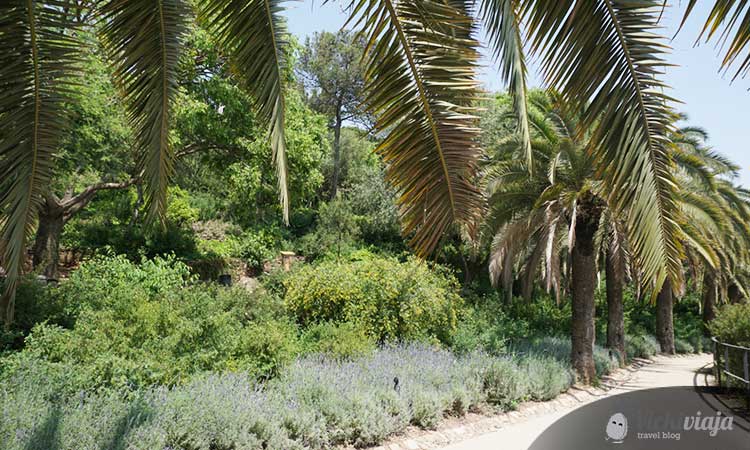 Visiting Park Guell
The Park Güell is known to be one of the most popular attractions on every Barcelona itinerary. While the park used to be free of charge until some years ago, today, you must pay 7,50€ to enter the most famous part of the park in which you can find the Gaudí statues. Anyway, the rest of the park is still free of charge and absolutely beautiful. You have a great view over Barcelona from here and you can take a nice walk around the park. To be honest, you can even see most of the sculptures in the paid park from above without even paying for it.
But if you really want to see the sculptures from near without paying for it, there is a trick. If you go to Park Güell before the tickets are sold for the paid part (before 8 am), there is no security guide yet and you can enter for free.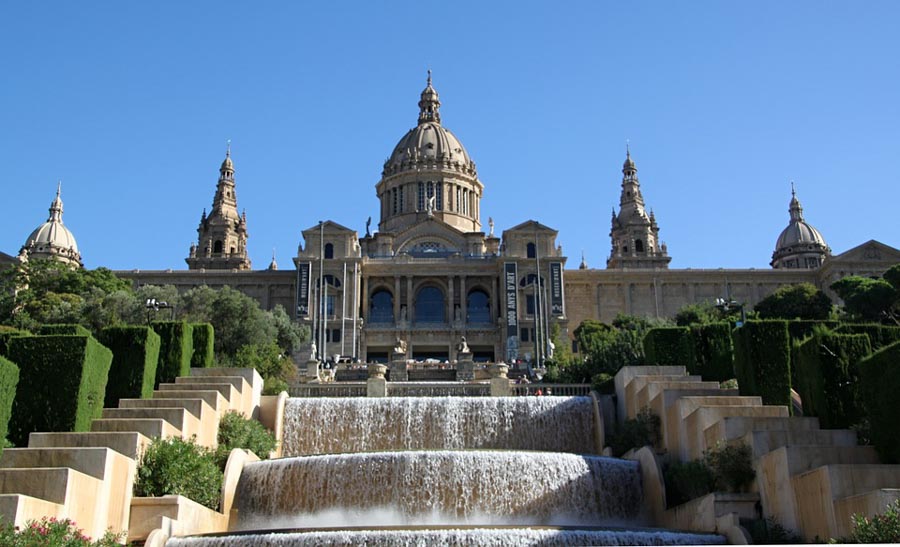 Free museum days in Barcelona
Museo National d'Art de Catalunya
One of the most spectacular museums to visit in Barcelona, the Museo National d'Art de Catalunya has the most extensive collections of contemporary Catalonia art in the state. Locate on Montjuic district, the museum is free to visit on the first Sunday of the month. The museum is located at Palau Nacional, Parc de Montjuïc, s/n, 08038 Barcelona, Spain,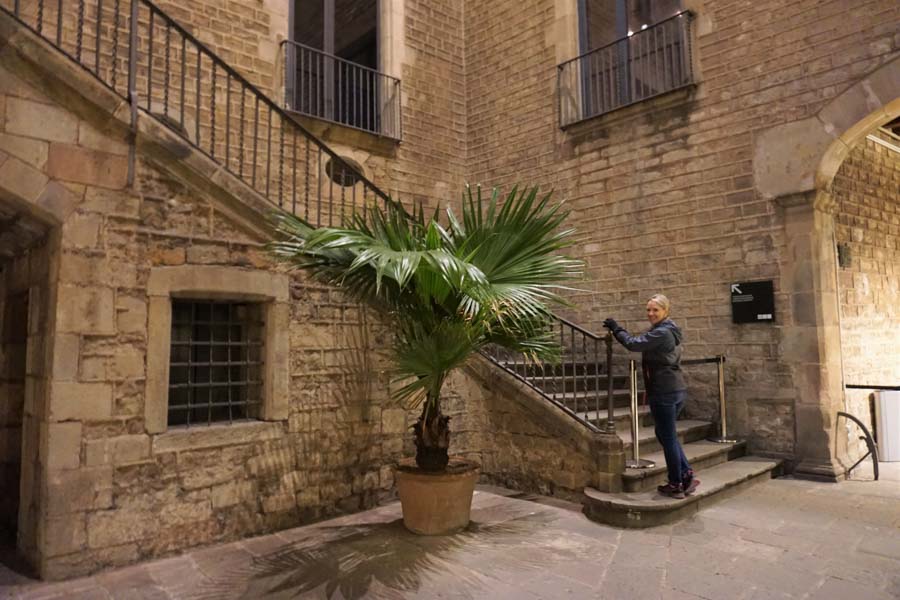 Visit the Picasso Museum for free on Thursdays
After five days in Barcelona we had spent a bit of money on tours and admission fees to all the top rated places–Sagrada, Camp Nou, Parc Guell, etc.  The list of beautiful and historic sites in this city is endless.  The Picasso Museum was on our list of places to go, but we were reluctant to pay for one more admission.  While perusing their website I discovered that Thursday nights from 6-10 p.m. was free!  Wow, a great opportunity. 
Fortunately I also read their caution that reservations are recommended.  So I reserved our space early in the day and that night we spent about two hours enjoying the works of Pablo Picasso. I have always admired this artist and it was such a pleasure to see so many of his works in one location.  Anyone doing this should expect crowds, but because free admissions are timed, the museum wisely spaces out the guests throughout the evening.  This was the last site of our trip since we flew home the next day and it was a perfect ending to a lovely trip.
Check out Wendy's post on what to eat in Barcelona for more inspiration to visiting the city.
Barcelona History Museum
If you love history, then check out the Barcelona History Museum which houses art, collectibles and antiquities from the early Roman occupation to historical periods of the city's development. You can visit the museum for free on Sunday evenings after 3pm. The museum is located at Plaça del Rei, s/n, 08002 Barcelona, Spain.
Maritime Museum at the Barcelona Royal Shipyard
Enjoy a visit for free to the Maritime Museum building of Drassanes Reials de Barcelona which is the ship building area of Barcelona. During the 13th to 18th century this area was home to the royal arsenal of Barcelona and now houses the Maritime Museum. You'll find ongoing expositions, antiques and collectibles, model ships, small boats and a full scale galley.  Free visits are every Sunday after 3pm.
Museu Blau – Natural Science Museum
Located at El forum, the Natural Science Museum hosts collections of science, natural history and medicine along with rotating shows, interactive and multi media displays in English and Spanish. Visits are free on Sundays after 3pm. The museum is located at Plaza Leonardo da Vinci, 4-6, 08019 Barcelona, Spain.
Check out Barcelona's free historic sites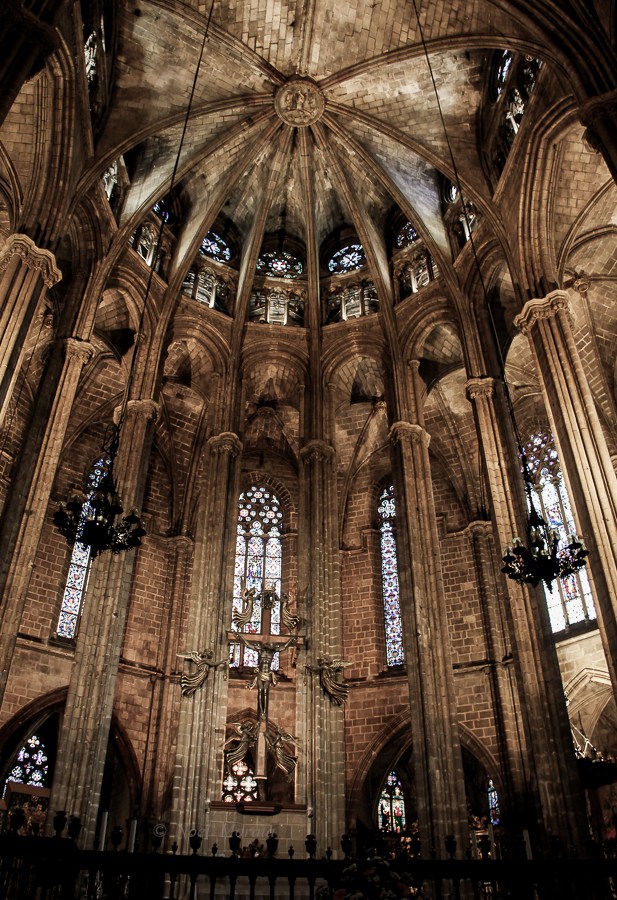 The Cathedral in Barcelona
"The building of the
Cathedral in Barcelona
was completed in many stages across several centuries with more and more of the constructions in the complex added at different periods to the original structure. The building is also surrounded by narrow alleys which are all pedestrian and some of the most popular and crowded parts of Barcelona.
There is a particularly interesting spot, right behind the cathedral, up an alley to the right of the building that is popular with musicians and singers. This is because the acoustics of the old thick walls and tall buildings are perfect.
If you walk past at any time of the afternoon and evening any day, you will be treated to a real live performance. This can sometimes be a flamenco duo of dancer and singer/guitarist or even an opera singer, my favorite. While the artist will be playing to collect donations, the performance is entirely free and you can usually buy a CD with the music if you like it."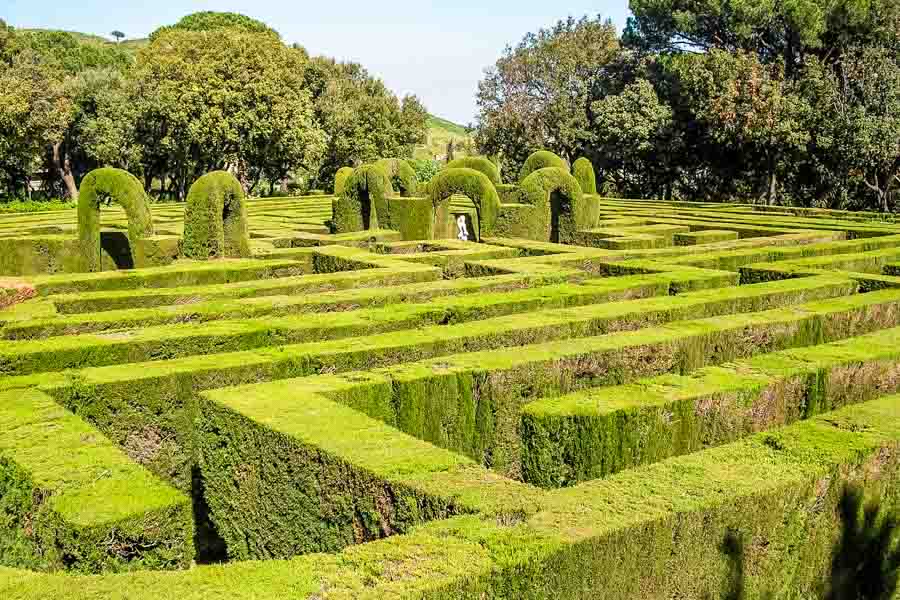 Parc Laberint d'Horta (Horta's Labyrinth Park)
Barcelona is much more famous for its great urban beaches than for its parks. In the city center there's no space for large green areas, the Ciutadella Park being the only green oasis there, but in the suburbs of the city you can find several hidden gems.
Horta's Labyrinth Park is a picturesque park that represents a great option if you want some relax in a not so  touristy place after visiting the highlights of Barcelona. This park actually is the oldest garden park of the city, created at the beginning of the 19th century.
The park is divided into two main areas. The part built-in neoclassical style has the main highlight (and name giver) of this park, a Cyprus bush labyrinth. Kids especially enjoy their time finding the statue of Eros located at the center point of the maze. The rest of the park contains several beautiful romantic gardens with Greek style sculptures. Apart from nice buildings and statues, the park has fountains, streams and even waterfalls together with ducks and even turtles. The entrance to the park is free of charge every Wednesday and Sunday. The closest metro station is Mundet on the L3 Green Line, accessible from the city center in 20-30 minutes.
Gabor with Surfing the Planet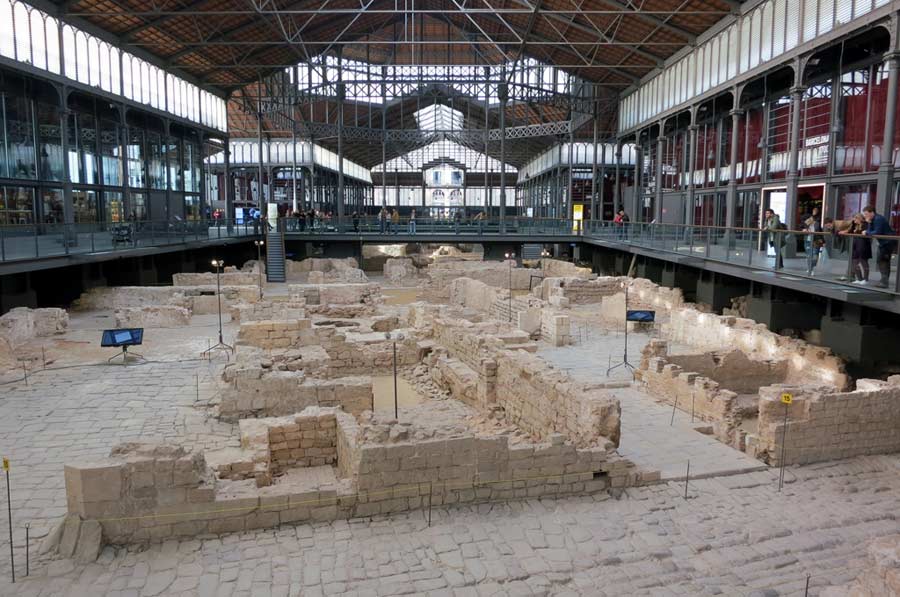 El Jaciment del Born (the Born Site)
The Born Site is the name given to the archaeological remains located in the building of the old Born market, in the Ribera district of Barcelona. These remains correspond to 8.000 m2 of the medieval and modern urban plot of Barcelona, including a network of sewers, streets, multiple shops, houses, and palaces. This part of the city was destroyed
during the War of the Spanish Succession in the XVIII century. During the siege of 1714, thousands of bombings punished the whole city and it is in this neighborhood where the final assault took place.
After the capitulation of Barcelona, it was decided to build a military citadel in this area, with the consequent destruction of whole streets, houses, and other buildings. After long excavation and restoration works, people can now get a glimpse of how was life in Barcelona around 1700. Informative panels all around the balcony describe the main structures and help with the historical background.
Elisa from World in Paris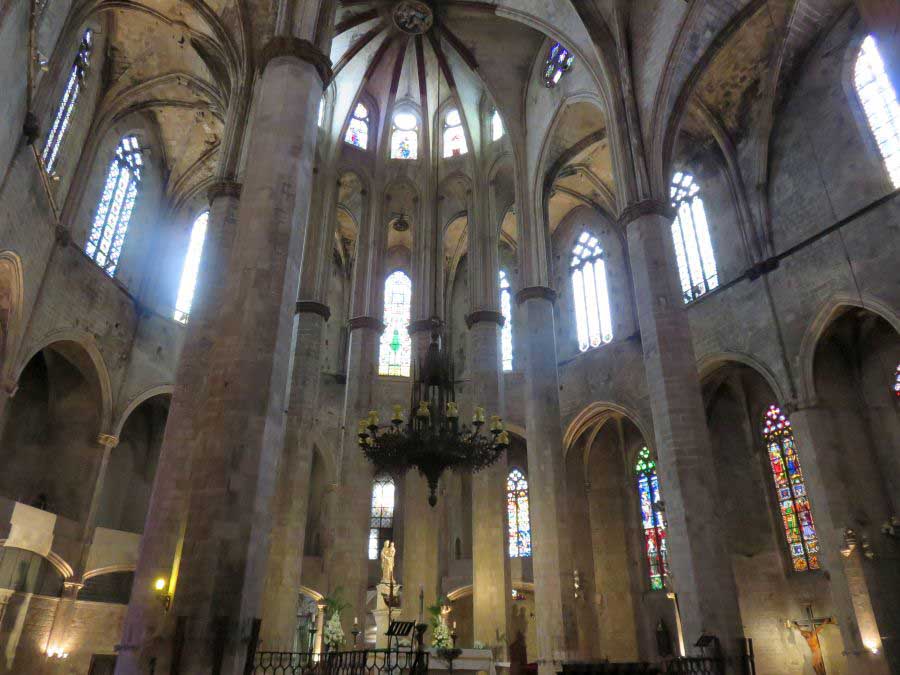 Basilica Santa Maria del Mar (The Church of Saint Maria of the Sea)
 Every time I travel to Barcelona I enjoy visiting Basilica Santa Maria del Mar. Not quite as grandiose as that famous church that is still under construction, but just as worthy of a visit. The name translates to the Church of Saint Maria of the Sea.
You can attend a mass at Santa Maria del Mar or simply enjoy touring the church. Built between 1329 and 1384 the church is an extraordinary example of Catalan Gothic architecture. What is unusual about the church is the unity of style for that era. Large structures took decades to build and changes in architectural style were commonplace.
The address is Plaça de Santa Maria, 1, 08003 Barcelona. It is close to Parc de la Ciutadella so it's easy to visit both places on the same outing.
Free entry (to the nave only) days/times:
Monday to Saturday from 9:30 to 13:00 and 17:30 to 20:30
Sunday 10:00 – 13:00 and 17:00 – 20:00
Susan Moore with Solo Trips and Tips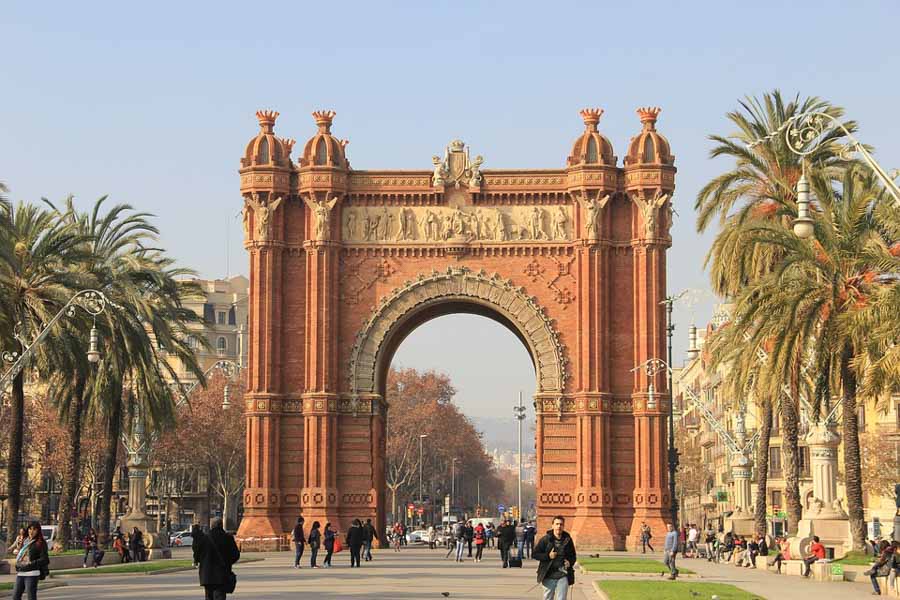 Barcelona's Arc de Triomf
The Arc of Triumph is a mostly brick edifice was made to commemorate the 1888 Barcelona World Fair and was used as the main gate entrance. Built in the popular Islamic Mudejar style, the triumphal arch sits in front of a long promenade that enters into Park de la Ciutadella which was the actual site of the world fair at Barcelona.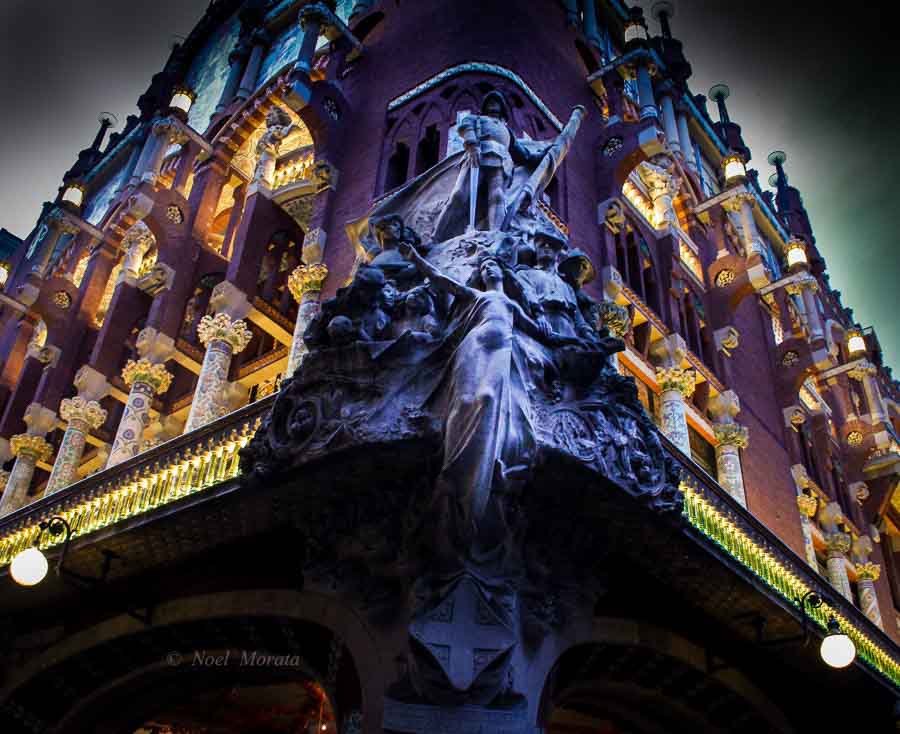 Palau de la Musica
You can enjoy the stunning façade of the Palau de la Musica walking around the building and even enjoying a nice meal in the cafeteria without having to pay. But the best way to actually enjoy your visit here is to watch any of the evening performances and you will be treated to viewing the most spectacular interiors of any concert halls in all of Europe. In fact, the Palau de la Musica was declared a world Unesco Historic Site in 1997 for this outstanding Catalan Modernista style created by Lluís Domènech i Montaner.  You can check the website here for what classical programs are currently showing. Also, check out my post on Visiting the Palau de la Musica here and attending a wonderful evening performance.
Video by Michael Jiroch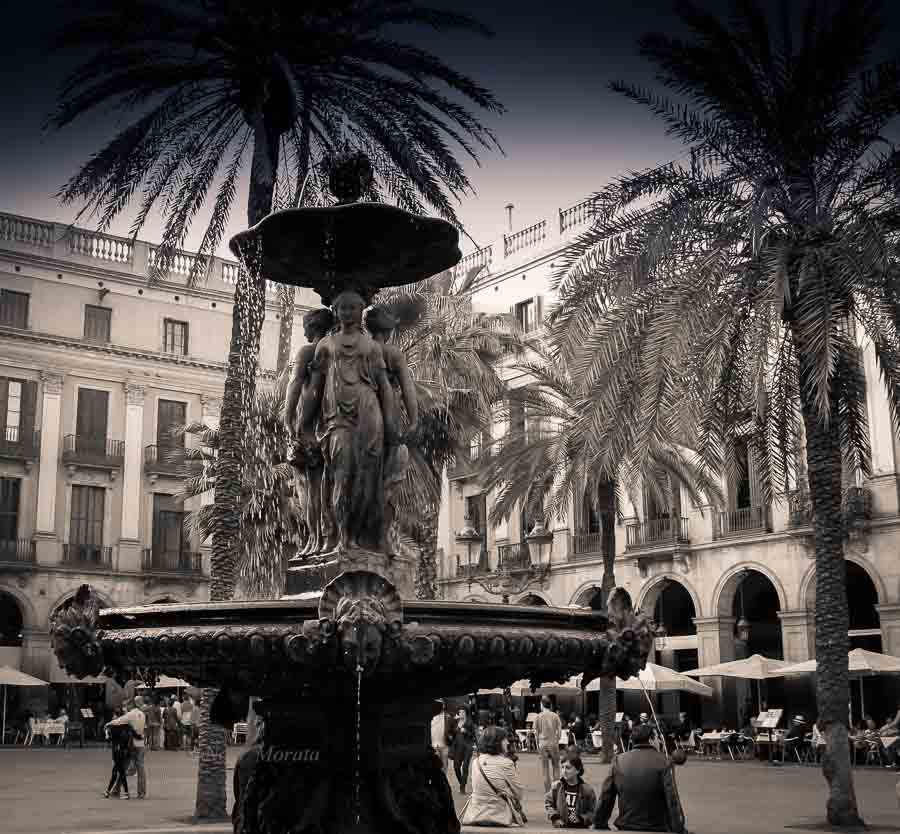 Enjoy Barcelona's Plaza Reial
One of the grandest squares in Barcelona, Plaza Reial located in the Barri Gotic district is gorgeous with fountains, amazing restaurants all fronting these striking architectural buildings with beautiful porticoes. Along with the restaurants, you'll find some popular nightclubs worth checking out including: The Sidecar, Karma and Jamboree and other popular venues. The 19th century square and buildings also host popular summer events, open air concerts and a New Years Eve celebration.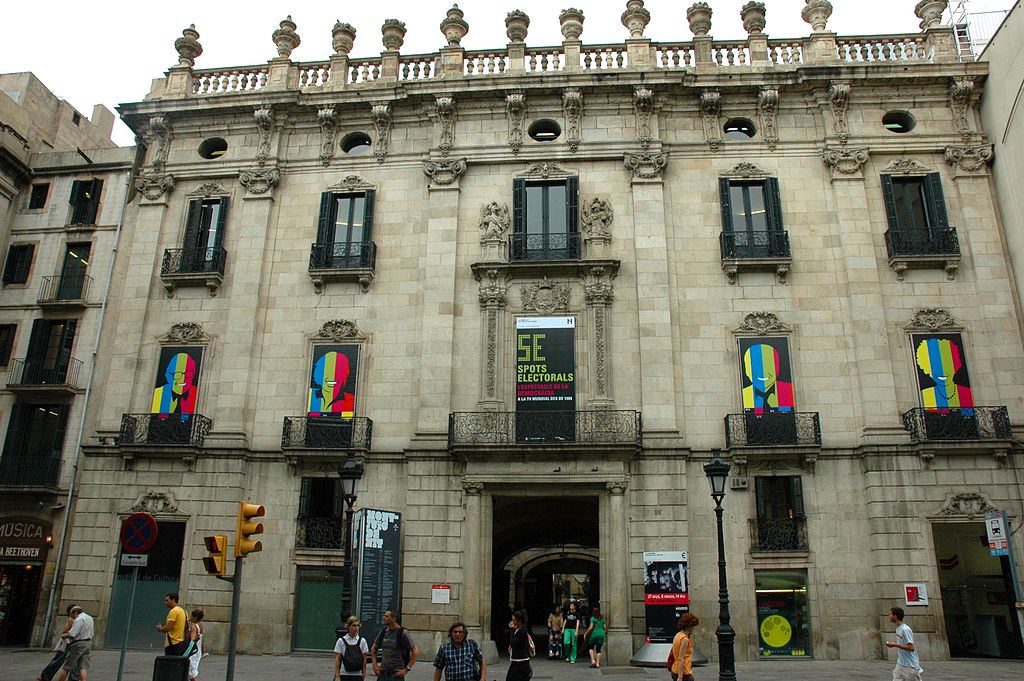 Picture credit by By Josep Renalias – Own work, CC BY-SA 3.0,
Visit to the Virreina Palace
Located on Las Ramblas above La Boqueria market, the palace hosts a variety of rotating shows and free exhibits mostly covering photography, video installations, modern art and other free events. Check out the latest events on their calendar here for more details on what's new.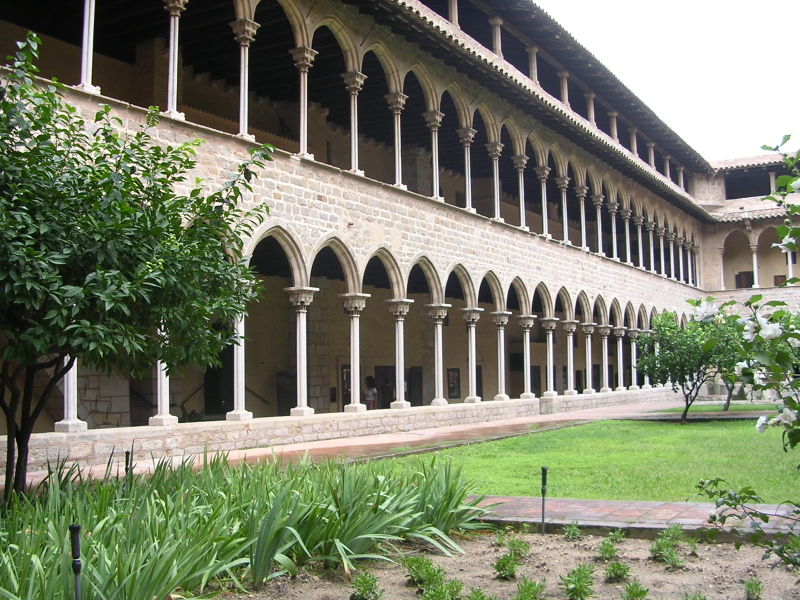 Photo credit by By Marc Figueras, CC BY-SA 3.0
Pedralbes Monastery
Located in the Pedralbes district, just outside of the city, the gothic monastery is gorgeous and worth a visit. The monastery is free to visit on every first Sunday of the month. You can visit the single nave church and cloister with three floors and columns depicting the kings of Aragon. The monastery is still run by the nuns of Poor Clares.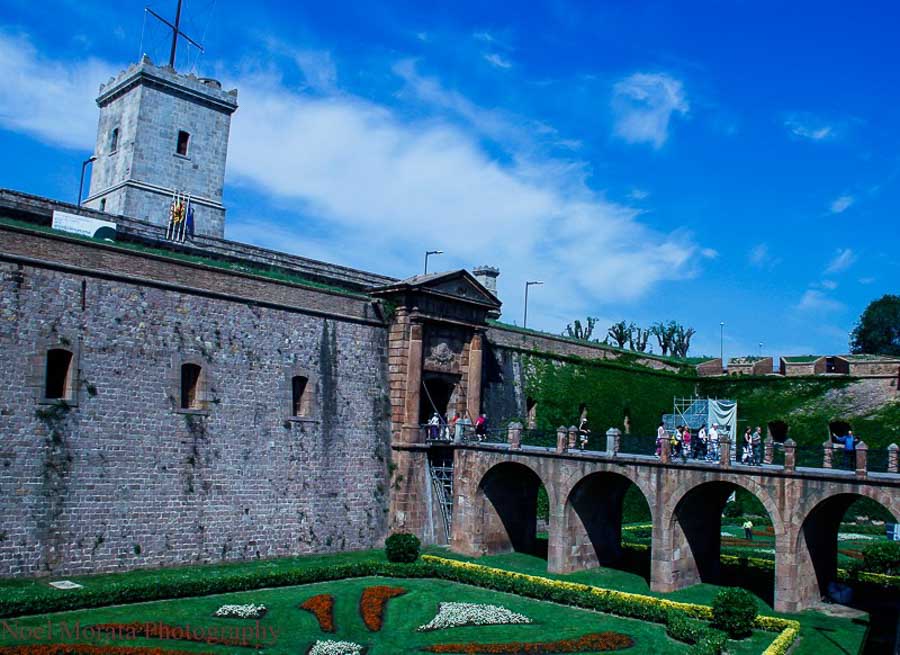 Montjuic Castle
The castle, actually a fortress sits on top of Montjuic sits in a strategic spot overlooking the entire harbor, coastal range and the city center. The fortress was built around 1640 and is now a museum and cultural center with rotating shows and available tours of the fortress. You'll get fantastic views of the harbor and coastline from different parts of the upper ramparts of the fortress along with panoramic views to the entire city.
Free attractions and art venues around Barcelona
Free Street Art in Barcelona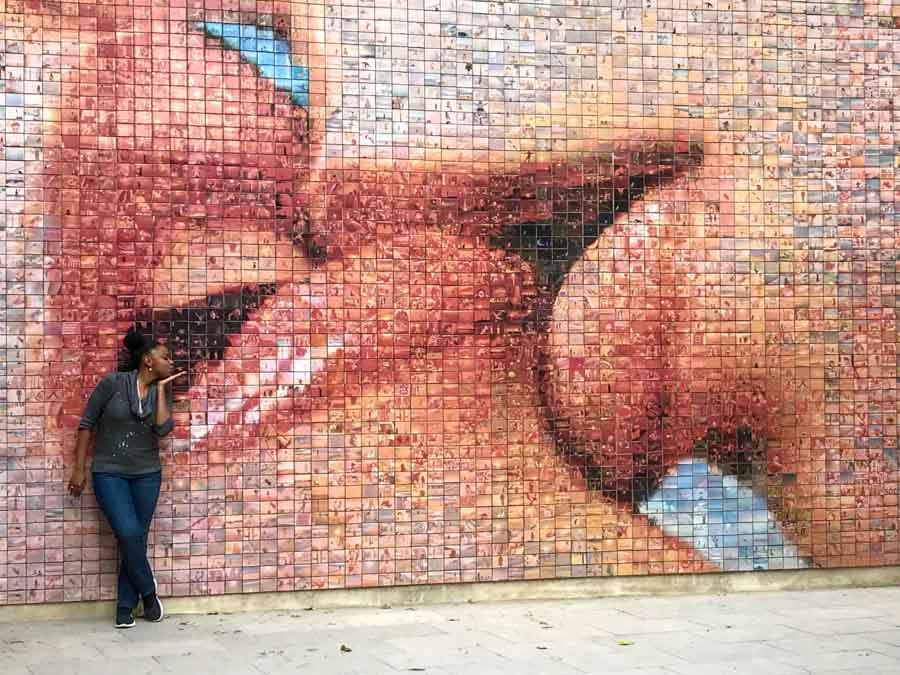 Art Mosaic in the Gothic district
Visiting "The World in a Kiss" in the Gothic Quarter of Barcelona is one of the unique free things that I recommend doing in Barcelona. The World in a Kiss is a large mosaic by the Catalan artist Joan Fontcuberta which from afar depicts two mouths about to kiss. However as you get closer you'll see that the kiss is made up of 4,000 photos. Each photo depicts how locals describe a moment of freedom. Riding a bike, a baby sleeping, and swimming are some of the photos that you will find on the wall.
Danielle Desir with The Thought Card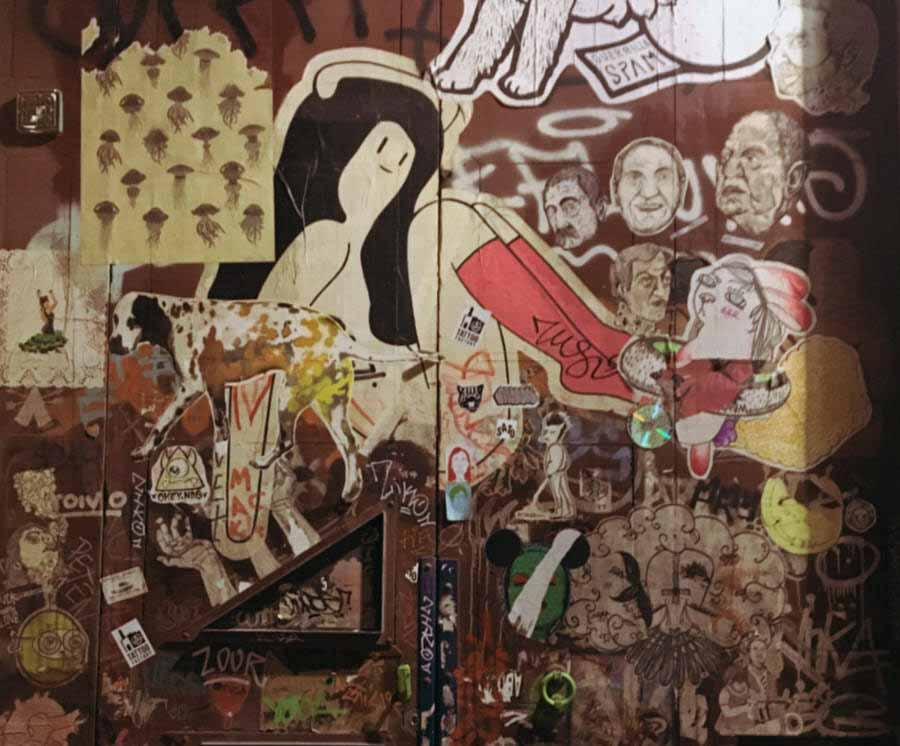 DIY Street are tour of Barcelona
Barcelona is an artistic city, filled with incredible art galleries and architecture, from medieval towers to Gaudi's brightly mosaiced creations. But what a lot of first timers don't know is that it's also a great destination for cool and unusual street art.
The best areas of central Barcelona for street art are the gothic mazes of the Born area, and the slightly edgier alleyways of Raval. Both are sandwiched on either side of the central Gothic quarter, where you'll find the city's Cathedral and some of its most charming streets.
You can go on a street art walk on your own — the street art is constantly changing as artists paint and repaint artworks on top of each other, and wandering the winding pavements art-spotting is a fun way to spend an afternoon. But when I was in Barcelona, I actually went on a free street art tour  offered by Barcelona Street Style Tour. It was an incredibly interesting couple of hours as we learned about street art culture and were guided to some of the coolest art in the city. I went on the Raval tour because I was living in the Born area and felt I had already stumbled on most of the best street art in that area. But they both look great! Note that while this tour is free, if you enjoy the tour you are encouraged to tip.
Check out Maire's post on tips on your first trip to Barcelona with Temples and Treehouses
Do a free Walking tour is Barcelona
Barcelona offers a range of free walking tours that provide an excellent opportunity to explore the city's history, culture, and iconic landmarks. Here are some popular options:
Gothic Quarter Walking Tour: This guided tour takes you through the narrow medieval streets of the Gothic Quarter (Barri Gòtic), where you can discover the neighborhood's rich history, Gothic architecture, and hidden squares. Learn about Barcelona's Roman origins and explore famous sites like Barcelona Cathedral and Plaça Reial.
Modernist Architecture Walking Tour: Barcelona is renowned for its modernist architecture, with masterpieces by Antoni Gaudí and other prominent architects. Join a free walking tour to admire the stunning facades and intricate details of buildings like Casa Batlló, Casa Milà (La Pedrera), and the iconic Sagrada Família.
Gaudí Free Walking Tour: This tour focuses specifically on the works of Antoni Gaudí, taking you to his most famous creations, including Park Güell and Casa Batlló. Learn about Gaudí's unique style and the inspiration behind his designs as you explore these architectural wonders.
Street Art Tour: Barcelona has a vibrant street art scene, and a free walking tour can introduce you to the city's colorful murals and graffiti. Discover hidden street art hotspots in neighborhoods like El Raval and El Poble-sec, while learning about the artists and the stories behind their creations.
Born District Walking Tour: The trendy Born district (El Born) is known for its narrow streets, medieval buildings, and hip boutiques. Join a free walking tour to explore this bohemian neighborhood, visit attractions like the Santa Maria del Mar church, and learn about its history as a hub for artisans and merchants.
These free walking tours are typically led by knowledgeable local guides who provide fascinating insights and anecdotes about the city. While the tours are free, it's customary to tip the guide at the end if you enjoyed the experience.

La Casa dels Entremesos – cultural center
If you've ever been to a Barcelona festival, you may have seen the gegants, or towering puppets, dancing around. La Casa dels Entremesos is a free cultural center and museum where you can check out these fascinating gegants, capgrossos (oversized papier-mache heads), and other wildly wonderful beasts. The word "entremesos" means "appetizers" in the local language of Catalan, and these curious creatures were used as that entertainment "appetizers" to please crowds during the Corpus Christi celebration starting in the 14th century. La Casa dels Entremesos are especially entertaining for children. They're handcrafted with extreme detail, where you can see brushstrokes to demonstrate the glistening of the eye of a Moor or the braided hair of a princess. Expect to spend less than an hour here looking at dragons, eagles, fisherman, and other fun characters. You can also learn how people actually crawl inside the gegants to make it dance during the celebrations! It's a free museum, but a donation is also welcome.
Check out Justine's post on La Casa dels Entremesos for more inspiration.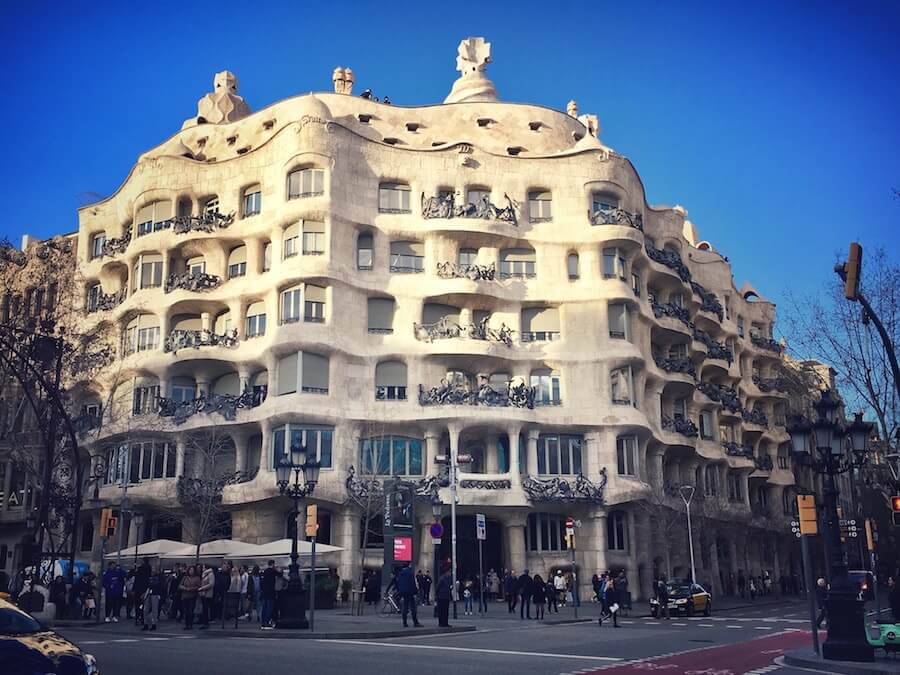 A self-guided tour of Gaudi's work
Barcelona is home to many unique buildings, structures, and works of art created by the famous artist, Antoni Gaudi. His work can be found throughout the city and if you're looking for something free to do, I highly recommend taking a self-guided tour.
The first stop on the tour is the famous La Sagrada Familia. This Roman Catholic church is an amazing sight and not to be missed! It is an unbelievably gorgeous basilica which has undergone construction for almost 40 years. Tickets to enter are not free, but the outside alone is worth visiting. Next, take an 18 minute walk over to Casa Mila which is a wavy, wonky building and just plain cool. Admire and snap a photo, then walk 9 minutes over to Casa Batllo. Chances are you've seen photos of this on Instagram. It's a flowery building that looks straight out of a fairytale!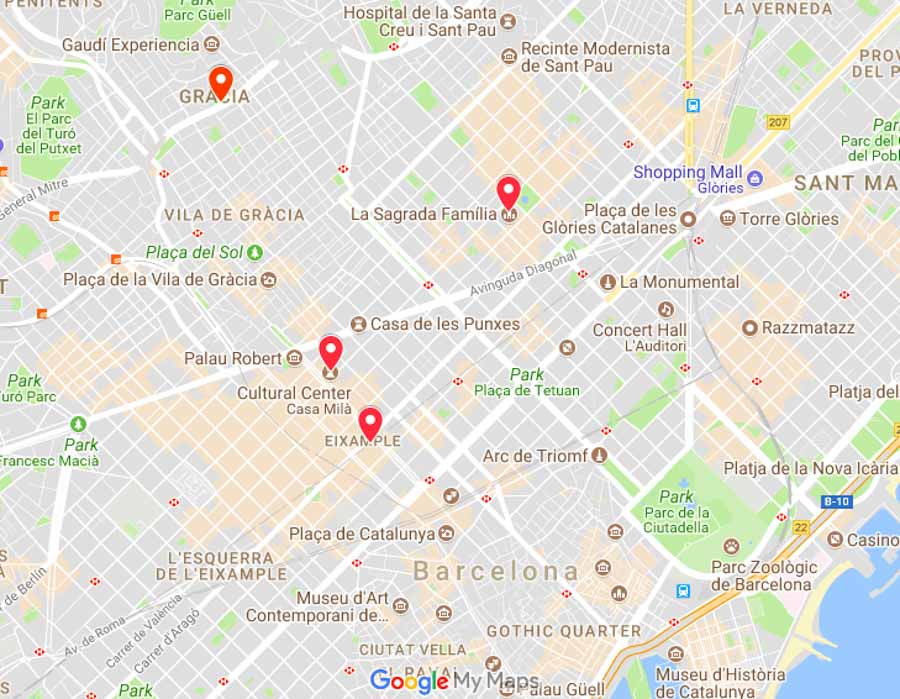 Last on the tour is Park Guell. A wonderland-like park full of mosaic and unique structures, it is unlike anything you've seen before. It's a bit of walk, but doable. Otherwise hop on the Metro which will only set you back a few dollars. There is an entrance fee to the Park, but if you get there before opening timeframe then you can easily explore the area on your own.
Check out Julia's blog The Freckled Tourist
Caixa Forum Barcelona
Free public art events, forums and exhibits are held at the Caixa Forum which is a Barcelona bank building in the Montjuic area. Exhibits are typically rotating new shows and events held at the Caixa forum and you can check out their calendar of events here for the latest updates.
Check out the arts and crafts and street vendors at Las Ramblas
A large pedestrian walkway and mall area with local shops with outdoor vendors selling arts and crafts, souvenirs and other locally made goods. There are lots of entertainers, outdoor cafes and souvenir kiosks to check out along with popular local brands and department stores lining the streets of Las Ramblas. To the north of Las Ramblas is Plaza Catalunya, one of the largest squares and considered the city center and where the Eixample district, La Raval and old city meet.
How to get around 
Barcelona 
cheap or free
You can get around Barcelona inexpensively with public transportation or walk around the many attractions for free. Here are the best ways of getting around the city on a dime.
Take the Metro
Barcelona's metro is clean, fast and covers most of the main attractions and locations you can visit around the city. The cost of a metro ride going one way is EUR 2.20 or approximately $2.60 USD.
Walk around the city
The cheapest way to get around, it's good to concentrate on a few districts at a time and maximize the attractions and places worth visiting in each district.
Take an Uber
You can take Uber around Barcelona, you just have the app and take the Uber  X service that is available throughout the city.
Cheap or affordable places to stay in 
Barcelona
Barcelona is pricy, but there are many affordable options and locations to make a stay not too expensive. Here are some recommendations of places to stay around the city if you are on a tight budget and all in good locations around the city.
Alberge Studio – affordable, pleasant and well run with continental breakfast. Rooms are small, but clean and comfortable and close walk to Reina Station and safe neighborhood
Holidays BCN Hostel – Good safe location close to Plaza Espana with friendly staff, clean rooms and comfortable rooms
Hotel Costanza Barcelona – located very close to La Pedrera in an excellent location and close to many attractions. Clean and comfortable room and bath with good buffet breakfast.
Check out these reviews to affordable inns and hostels in Barcelona here with updated prices and availability.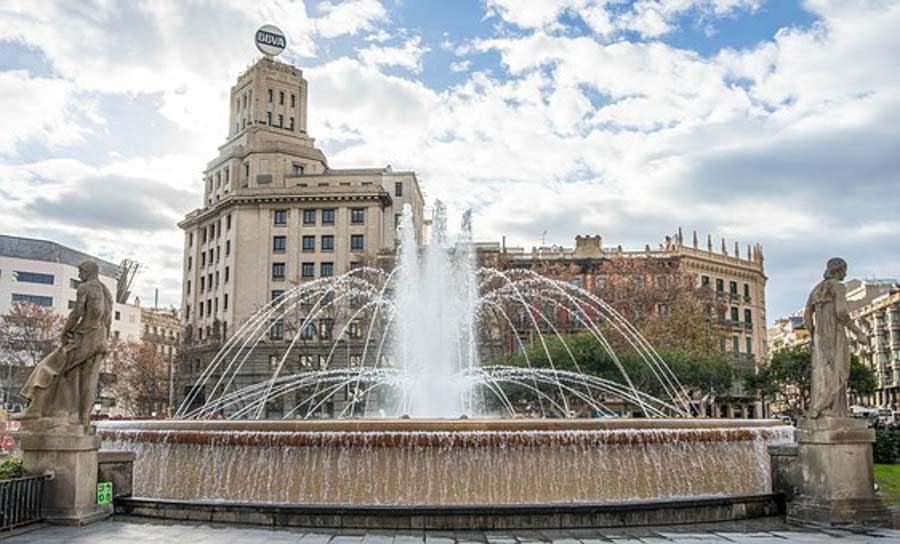 Weather and best time to visit Barcelona
The weather in Barcelona is typically Mediterranean, characterized by mild winters and hot summers. The best time to visit Barcelona largely depends on your preferences and interests.
Spring (April to June) and Autumn (September to October) are generally considered the best seasons to visit. During these months, the weather is pleasant, with mild temperatures ranging from 15°C to 25°C (59°F to 77°F). It's an ideal time to explore the city's outdoor attractions, stroll along the beaches, and enjoy outdoor cafes and terraces.
Summer (July to August) can be quite hot, with temperatures often exceeding 30°C (86°F). This period attracts crowds of tourists, and some locals may go on vacation. However, the city comes alive with festivals, vibrant street life, and extended opening hours for various attractions.
Winter (November to February) in Barcelona is relatively mild, with temperatures ranging from 8°C to 15°C (46°F to 59°F). It's less crowded during this time, and you can enjoy lower hotel rates. While the weather is cooler, you can still explore indoor attractions, museums, and savor the city's culinary delights.
Check out these fantastic posts to visiting Barcelona
Barcelona attractions and key places to visit now
Traditional Catalan food you should try
Free things to do in Barcelona
Enjoy the Mossen I Llobera garden at Montjuic
Top places to photograph Barcelona
Exploring the Gothic District of Barcelona
Check out other destinations for free things to do and see
Free things to do in Sao Paulo
Free things to do in Copenhagen
Like this post ? Please pin it!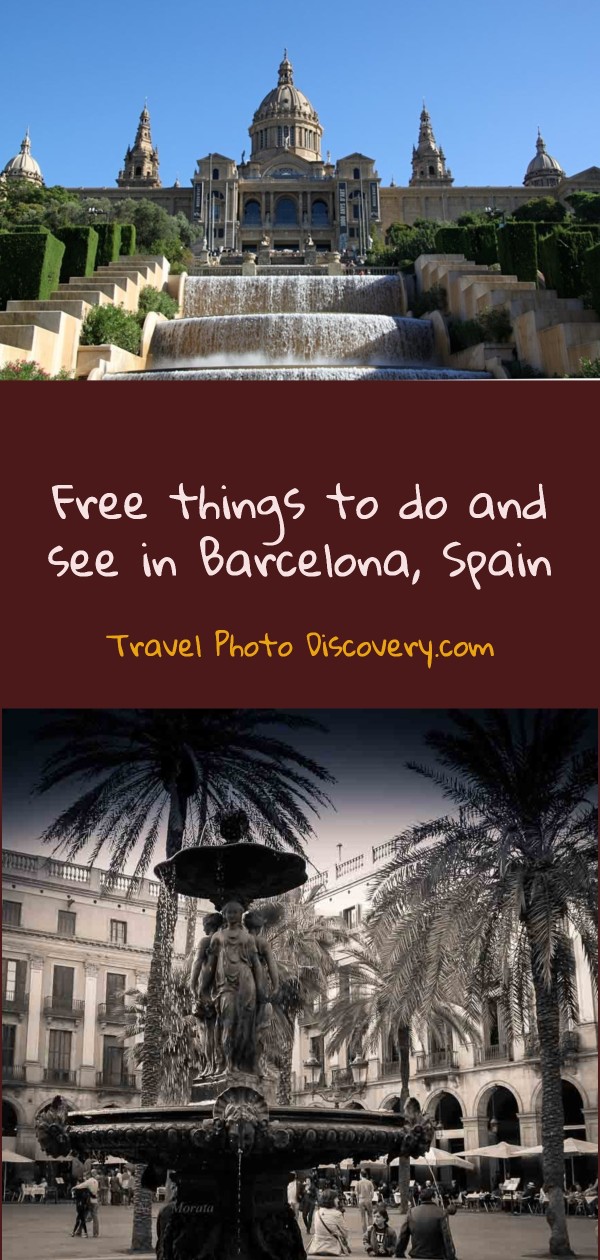 Conclusion on Free things to do in Barcelona
In conclusion, Barcelona offers a wealth of free activities and experiences that allow visitors to embrace the city's vibrant culture and beauty without breaking the bank. From exploring the enchanting streets of the Gothic Quarter to relaxing on the pristine beaches, there is something for everyone to enjoy at no cost. Immerse yourself in the artistic wonders of Park Güell or take a stroll along the iconic Las Ramblas. Delve into the local culture by visiting bustling markets or attending free festivals and events. Barcelona proves that you don't need to spend a fortune to create lasting memories in one of Europe's most captivating cities.
Thanks for visiting today and checking out this post on Free things to do in Barcelona,  if you enjoyed the images and post, could you please share it with any of the social media buttons located around the post.
If you like what you see, come and check out my other social media channels for more updates, including Instagram, Pinterest and Twitter
Disclosure – There are affiliates links on this posts which provide a small commission to support this site at no extra cost to you. Thank you for reading, and happy travels.