Tokyo is such a large city with so many cool neighborhoods and fun attractions that you can visit around this metropolis, the only down side is that everything seems to cost for an admission which all adds up quickly in this very expensive city. But there are actually a lot of free things that you can do sightseeing in Tokyo. You can experience the old, authentic and unique areas of the city without spending a lot of money, or even free admission to these sites mentioned below. Take a look at some of my 20 free things to do in Tokyo and add this to your must do list of activities when you visit this amazing city.
Best

 20 free things in Tokyo, Japan
You'll find some good free and cheap things to do in Tokyo despite this being a very expensive city to visit, stay, eat and explore around the city. If you are a DIY kind of person and like to do things on your own then you will enjoy exploring more of the city and save some money big time. Check out all these cool things you can do in the city for free in Tokyo now.
How to get around Tokyo, Japan
Getting around Tokyo is relatively easy, thanks to its efficient and extensive public transportation system. Here are the primary modes of transportation you can use to navigate the city:
Subway and Trains: Tokyo's subway and train system is one of the most efficient in the world. It consists of several lines operated by different companies, but they are all interconnected, allowing for seamless transfers. The Tokyo Metro and JR (Japan Railways) lines are the most commonly used. You can purchase tickets at ticket vending machines or use a rechargeable IC card like Suica or Pasmo for convenient fare payment.
Buses: Buses are another option for getting around Tokyo, especially to destinations not easily accessible by trains. While they might be slower than the subway, they offer the advantage of seeing the city's streets and landmarks from above ground. Bus fares are typically paid in cash upon boarding or with an IC card.
Taxis: Taxis are readily available in Tokyo, but they are the most expensive mode of transportation. They can be convenient for short trips or when you need to reach specific destinations not well-served by public transit. Taxis are metered, and drivers usually don't expect tips.
Bicycles: Some areas of Tokyo offer bicycle rentals, and biking can be a pleasant way to explore neighborhoods with less traffic. However, keep in mind that Tokyo is a busy city, so be cautious about cycling on main roads during rush hours.
Walking: Tokyo is a pedestrian-friendly city, and walking can be a great way to explore certain neighborhoods. Many popular areas like Shibuya, Shinjuku, and Akihabara are best explored on foot, allowing you to take in the sights, shops, and local atmosphere.
Rental Cars: While not the most practical choice within the city due to traffic and parking challenges, rental cars can be useful if you plan to explore more remote areas outside Tokyo.
Water Buses and Ferries: Tokyo also has water buses and ferries that operate along the Sumida River and Tokyo Bay. These can be a unique and scenic way to travel between certain areas or enjoy a cruise with a different perspective of the city.
To get the most out of your transportation experience in Tokyo, consider getting an IC card (Suica or Pasmo) as it allows for easy transfers between different modes of transport and minimizes the hassle of buying individual tickets. Additionally, Google Maps and other navigation apps are useful for finding the best routes and schedules for your journeys.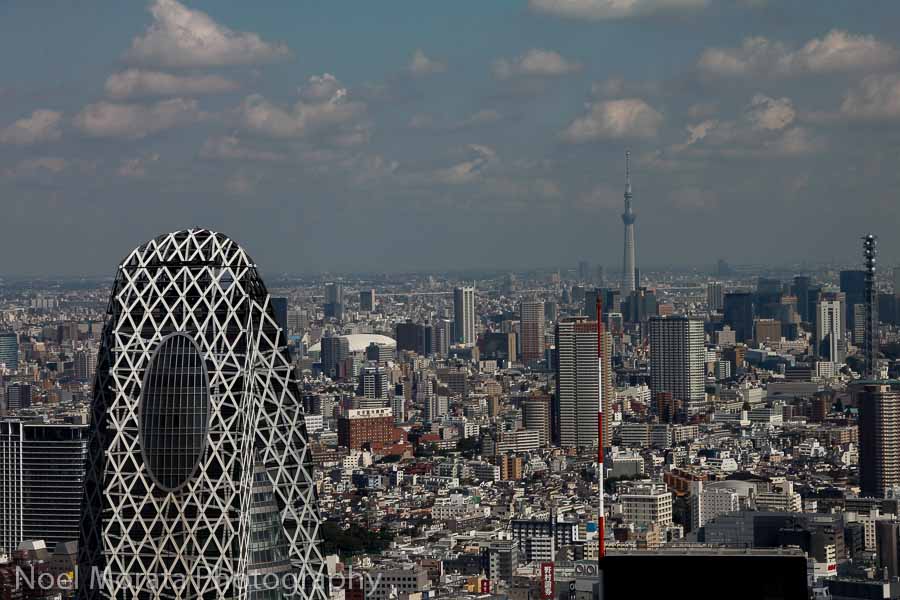 1. Amazing and free views from the Tokyo Metropolitan Government building – One of the most popular and free attractions in your Tokyo city tour is a visit to both buildings of the Metropolitan Government buildings. These are free and open for the public to visit from the top observation decks to see the entire city from above. Each building offers a slightly different views from their observation areas.
2. ADMT Advertising Museum Tokyo – This is a fascinating museum that covers all facets of Japanese advertising and promotion from ancient wood block cut prints to modern techniques. Beautiful interactive displays and signage make this a fun place to explore and have a hands on experience while checking out the beautiful graphic details and colorful imagery in the museum.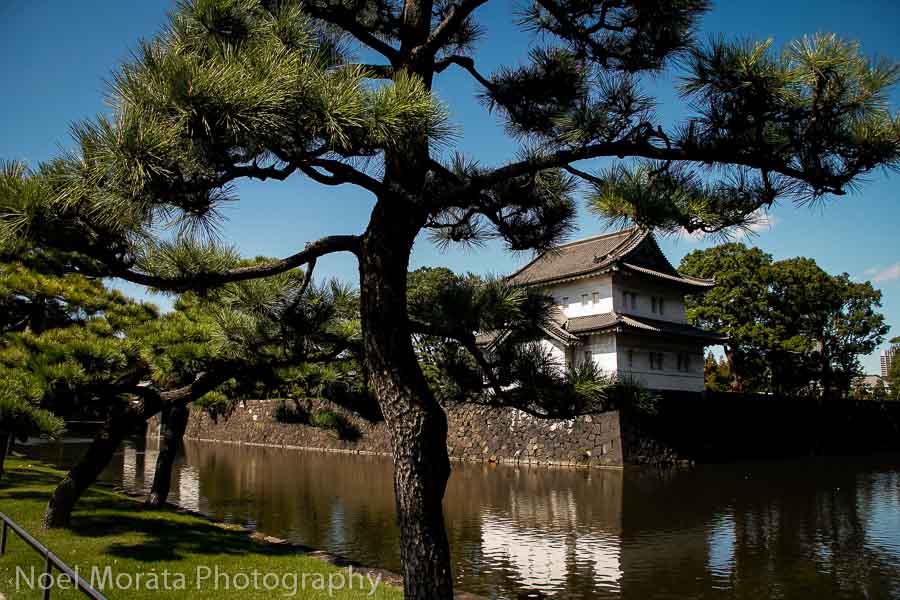 3. One of the most unique things to see in Tokyo is to visit the East gardens and moats around the Imperial palace – you can also check out the grounds of the ruins to the Edo castle with nice views of the central Tokyo. For a nice break with some beautiful views and skyline panoramas, the East gardens are a nice destination to visit in Central Tokyo.
4. Visit the Tsukiji Market – A very popular thing to do is to visit the famous Tokyo fish market gets started early and takes in reservations to enter and get into the view areas. You need to get there before registration starts at 5am. Here is the website to visit for more information (tsukiji-market.or.jp) If you are looking for more places to eat, check out this post on Cheap eats in Tokyo.
5. Hang out at Harajuku – this famous neighborhood is where all the cool and bizarre dressed up Harajuku kids go to check out other dressed up characters, street performers or fashion wannabe types. You'll also find a variety of street music, marshal artists, free style dancers and cosplay people doing their quirky routines. It's also fun to explore the surrounding neighborhood and streets at Omote Sando, a glamourous street lined with upscale boutique galleries.
6.  Visit  Meiji-jingū – One of the cool things to do in Tokyo is to visit this shrine located in the middle of a forested area around Yoyogi Park. The capital's major Shinto Shrine is where weddings take and other Shinto events place and during many of the festival days in Tokyo. Visiting the shrine is free and locals will come dressed up in traditional kimonos and participate in elaborate shows, promenades and other displays that the public can also view and take some wonderful photographs
7. Check out Odaiba Island – the reclaimed island formed in Tokyo bay is accessed by metro or by crossing the rainbow bridge. You can check out the mini Statue of Liberty, an artificial beach and the cool galleries with a variety of shopping, dining and leisure activities including Decks Tokyo Beach, Aqua City Odaiba and Diver city. Other free attractions include the huge Toyota Mega Web, Leisure land, Panasonic center and the Rainbow bridge with its nightly illuminations.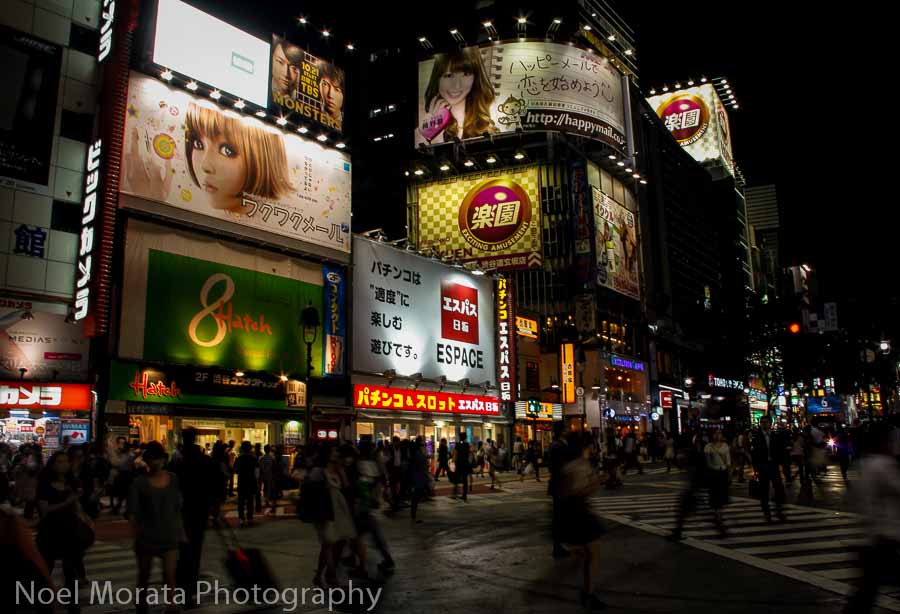 8. Watch the massive crowds at Shibuya Crossing – A very busy tourist spot is this section crossing where you see huge crowds – the biggest crossing area probably in the world. Probably one of the best things to do at night in Tokyo, try to find a spot from above like the bridge corridor from Shibuya station to the Shibuya Mark City complex. There are a variety of eateries in the complex and surrounding buildings hosting fast food and cafes with views, but of course that is an extra cost, but the views and people watching are really fascinating
9. Tokyo Kite Museum in downtown Tokyo at Nihonbashi is free and you can learn about the unique craft of kite making
10. Check out a food basement or depachika – Many of the large Japanese department stores have extensive food basements which offer and amazing array of specialty food and made foods for take aways – almost all of them offer free samples and if you are bold why not browse all of them. But you may just want to splurge and pick up a wonderful snack or bento box for an inexpensive meal outside or at a park. You can find food basements at most Takashimaya, Mitsukoshi, Matsuya and Isetan department stores.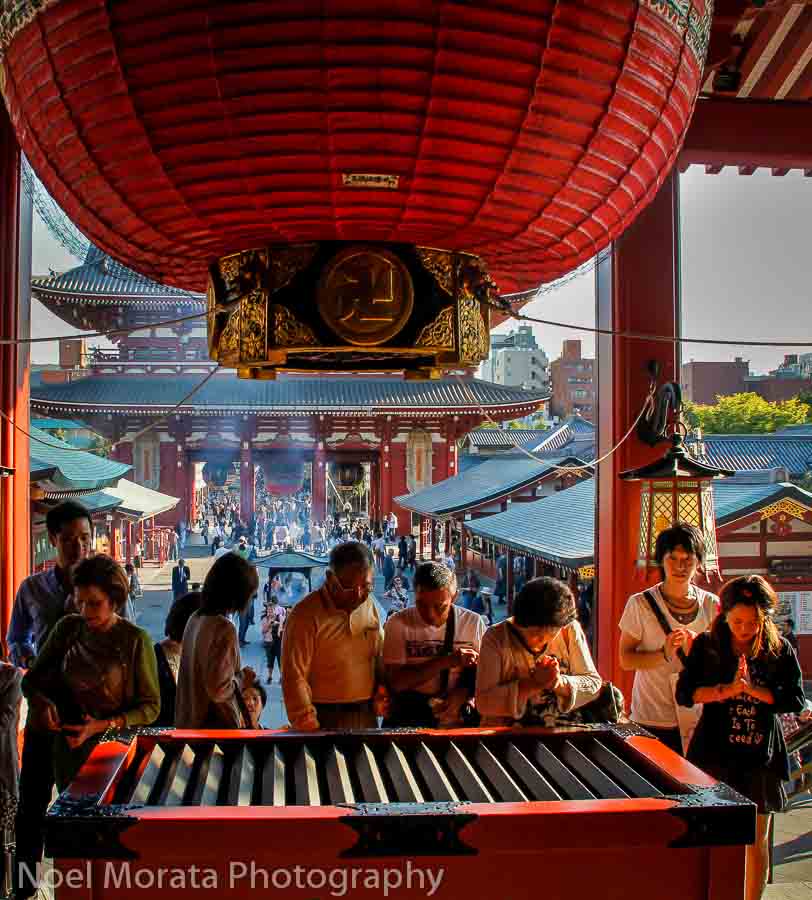 11. The Buddhist temple of Senso-ji – you can follow the rest of the pilgrims to the holy temple of Senso-Ji in Asakusa, one of the oldest and most popular attractions in Tokyo. Along the way are colorful stalls selling a variety of souvenirs, home made products and specialty foods that you can sample for free. The temple grounds contain many different buildings to explore, but the main temple is fascinating to visit in the late afternoon which is a perfect time for sunset and into the night when the temple is lit up and is even more beautiful to see in the evening.
12. Free walking tours in Tokyo, the free walking tours are given by local volunteers and all start at the Tokyo Tourist Information Center Head Office at the Tokyo Metropolitan Government Buildings in Shinjuku. There are 10 walking tours to choose from and you need to reserve a spot from their main website above. Note some of the tours are free and others charge a nominal fee for the volunteer/guides.
13. Visit the Imperial Palace – This is where the Emperor and Empress of Japan still live but tours are available to visit some of the public rooms and meetings halls by appointment only. Invitation and hours are limited per day so do check out the reservation policy and details on their main website here.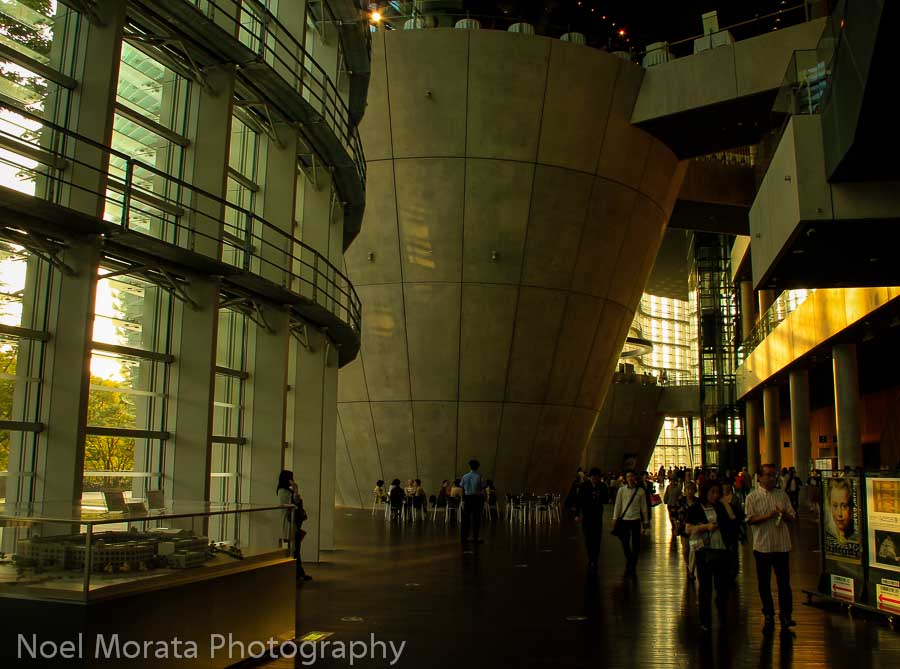 14. Public art, architecture and museums of Rappongi – this popular nightlife area is also host to many public art displays, beautiful museums like the National Art Center of Tokyo that are free to explore (although the museum exhibits are not free). The stunning contemporary architecture in the area is also fun to just walk and explore the Rappongi neighbhorhood.
15. Suntory Musashino Beer Factory tour – A free one hour tour of the brewery where the Suntory beers are produced. Afterwards, there is also a free tasting of the beers available. Tours are from 10am to 4pm and you can check out the website here.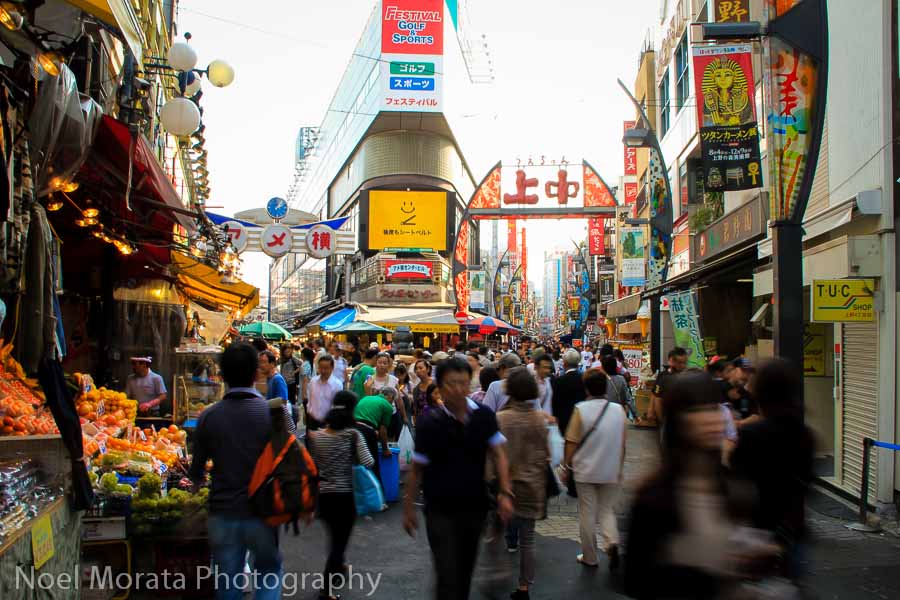 16. Ameya-yokocho – is Tokyo's largest outdoor market close to Ueno Station. Here you'll find everything from fish stalls, cheap souvenir stands to knock off fashions being sold inexpensively. It's a fun place to explore the market, find some cheap souvenirs or eat some of the tasty street food for sale all around the market.
17. Japanese Sake Information Center – a wonderful place to learn more about the process of making sake and the many different brands that are represented in the country. There is also a tasting area where you can visit and try sake in the nihonshu tasting area. For more information, check this website.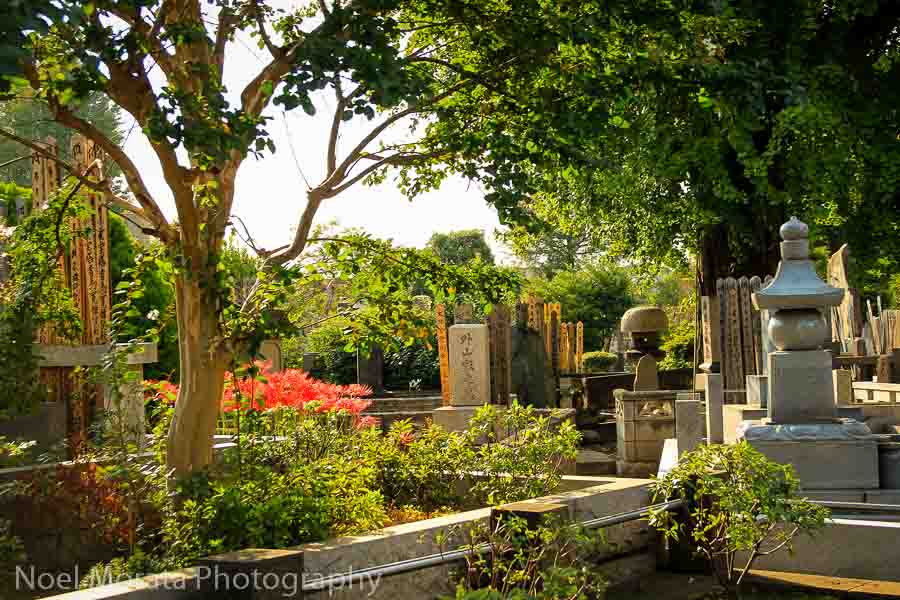 18. Visit the cool neighborhood of Yanaka Ginza and the beautiful old cemetery – a very old area of Japan that is more of a real neighborhood with a small main thoroughfare and has a great vibe of a small and authentic community in Tokyo. The cemetery at Yanaka is filled with a beautiful gardens, temples and unique grave stones. The neighborhood of Yanaka, Nesu and are remnants of old neighborhoods in Japan that survived and show what Pre-World War II looked like.
19. Yoyogi-kōen the centrally located park between Shinjuku and Shibuya is an oasis of green and used to be where the Olympic village were. There are lots of beautiful trails, temples like the Meiji Shrine and a variety of cultural assets in the park to explore.
20.  Tokyo Anime Center – located in Akihabara is the free Anime Center which a geeky zone of electronics, maid cafes and anime emporiums. the main streets around Akihabara are filled with a strange cast of characters and anime dressed characters trying to get you to visit their various bars, restaurants, stores and galleries. This is a fun place to explore and absorb the interesting street performances and off beat vibe of the area.
Where to stay in Tokyo
When looking for the best places to stay in Tokyo, I love to use this website hotel consolidator called Hotels Combined that do a search through sites like Booking.com, Hotels.com and other popular booking sites to give you the best options and prices. For Tokyo hotels that fit your budget, check out some of these hotel listings here for the Tokyo area and you can choose any criteria for district, price range or amenities.
Mid Range hotels
Hotel Villa Fontain Tokyo Shiodome – in the heart of the city on the Oedo subway line and located next to higher end hotels. Offers free breakfast, wifi, and easy walking to Ginza area.
Shinjuku Grandbell Hotel – located in Shinjuku with excellent shopping and eateries close by. The modern style hotel has nice breakfast service, rooftop bar and typical amenities in each room.
Inexpensive but good
Belmont Hotel – Close to Shibuya station and friendly service, this is a basic hotel in a good location with plenty of restaurants close by. Free wifi, clean rooms and comfortable beds make this a well priced option.
Gotanda Arietta Hotel & Trattoria  – Located in the Shinagawa district and an easy walk to Gotanda station.  Small but comfortable rooms with nice beds, wifi and free continental breakfast. Close by restaurants and shopping in the area.
Hokke Inn Tokyo Nihonbashi – A typical business style hotel located in Nihonbashi and an easy walk to Tokyo City Air Terminal. Small rooms but clean and comfortable, wifi with continental breakfast.
Shinjuku Kuyakoshu Mae Capsule Hotel – A very affordable capsule hotel in Shinjuku, capsule style accommodations with nice pool, sauna area at one star prices.
If you enjoyed this post, please pin it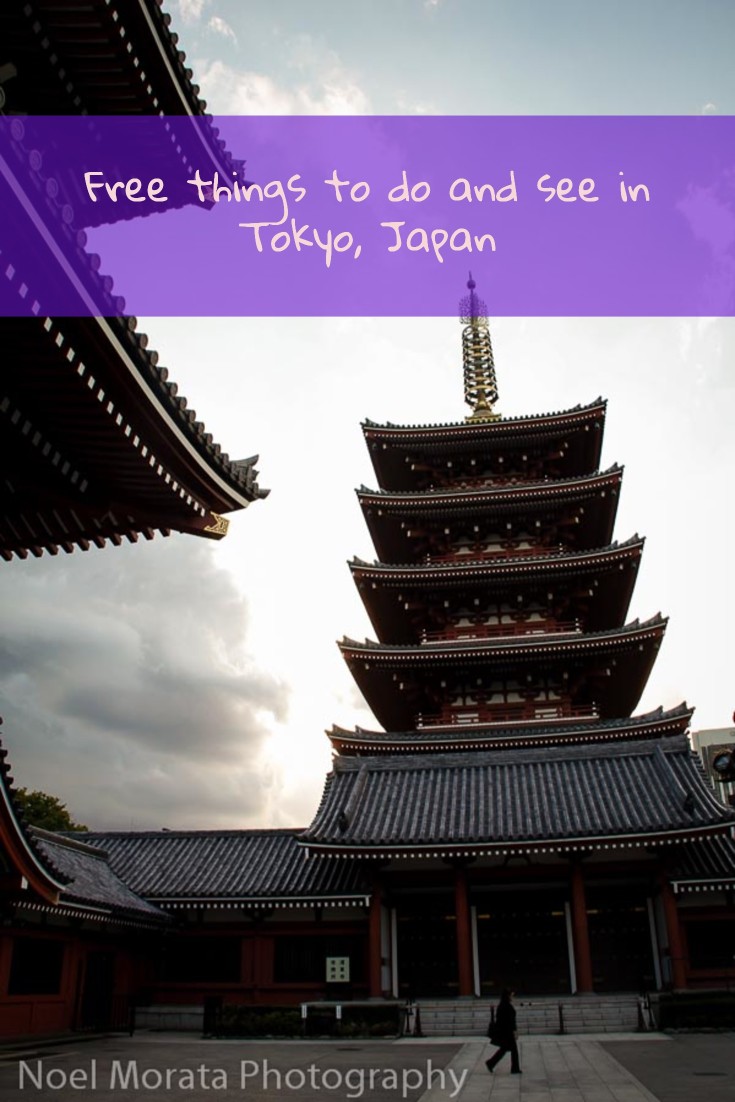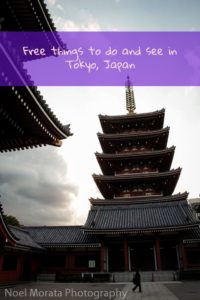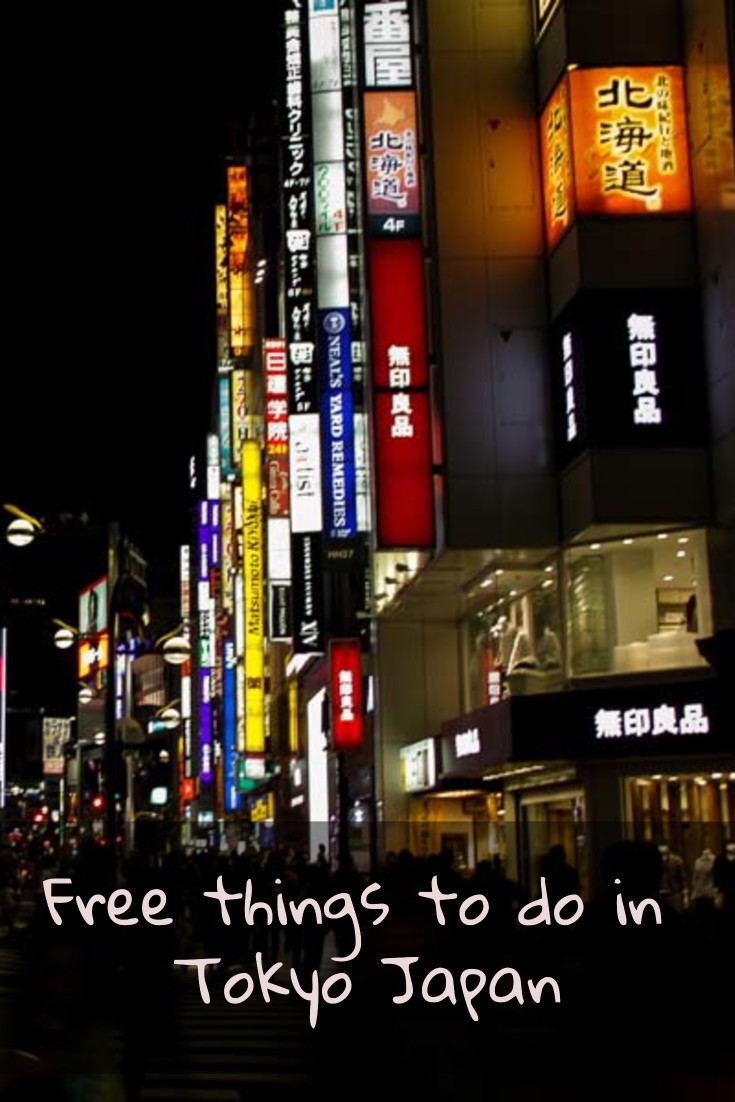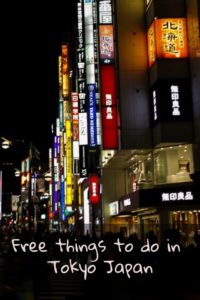 Weather and best time to visit Tokyo, Japan
Final thoughts
Hope that you found these tips and suggestions useful, have you been to Tokyo and done any of these cool things? Also, any other tips you can add to visiting in the comment sections below?
If you are exploring Japan, check these other places to explore
If you are visiting Tokyo and outlying areas, check out these other Japan attractions and places to visit. There's so much to enjoy around the country so check out these places for more information and pictures.
Conclusion on free things to do in Tokyo, Japan
Tokyo offers a wide range of free activities for visitors. Explore beautiful parks like Ueno Park and Yoyogi Park, as well as traditional neighborhoods like Asakusa and Yanaka. Visit the Meiji Shrine and enjoy iconic landmarks like Tokyo Tower. Window shop in trendy districts like Harajuku and Shibuya, and attend festivals and events throughout the year. Take advantage of free museum entry and enjoy the city lights at night. Tokyo has something for everyone, even those on a budget.
If you like what you see, come and check out my other social media channels for more updates, including Instagram, Pinterest and Twitter.
Disclosure –  Some links in this article are affiliates which provide a small commission to support this site at no extra cost to you. Thank you for reading, and happy travels!