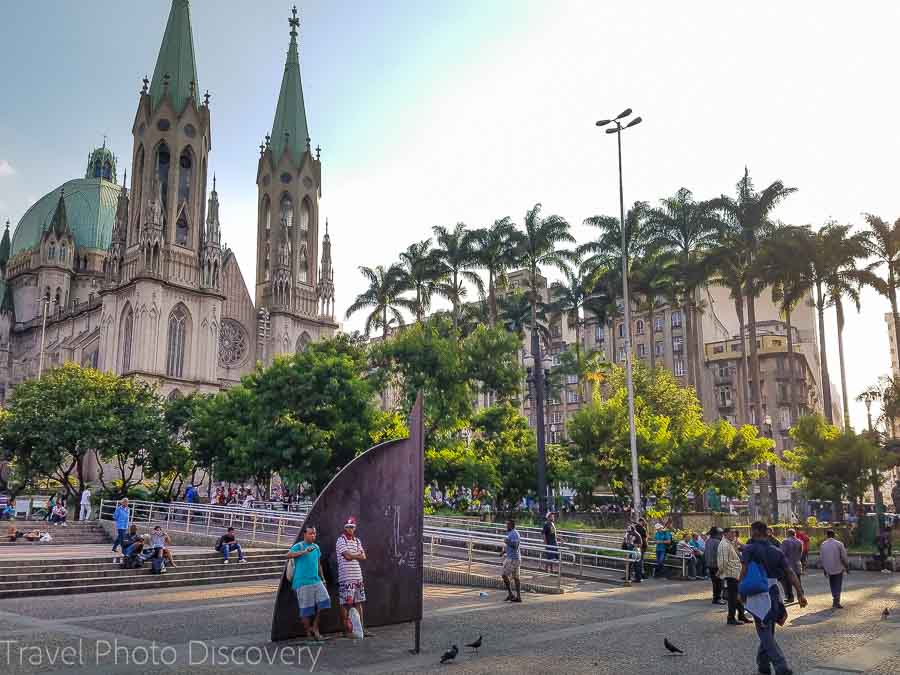 Sao Paulo surprisingly is a fairly expensive city to visit from the food venues, hotels and entertainment in all of the cities of Latin America.  To make your tourist dollars last longer, there are many places and attractions that are free or very inexpensive to do around the city that won't break the bank. Following are some suggestions on what to see in Sao Paulo for free or inexpensive without hitting your pocket-book too hard.
Free or cheap in your Sao Paulo tour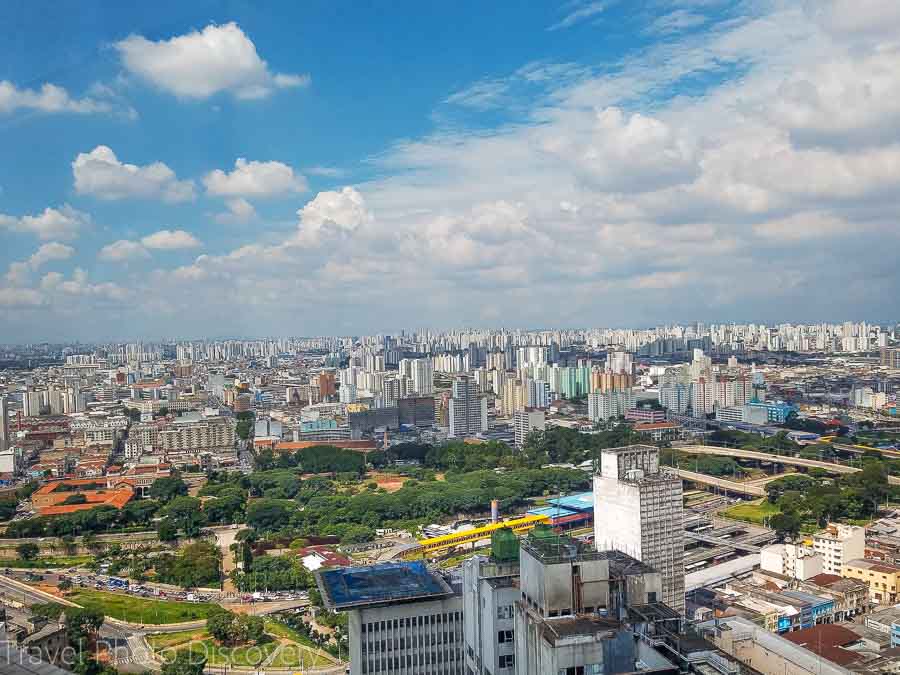 Free stuff to do in Sao Paulo's historic district
The historic central district has so many treasures and beautiful architecture and landmarks that are easy to see on foot and many are free to visit, you just need to provide identification to enter some of those properties or museums. Check what to do in Sao Paulo's downtown for free or cheap below.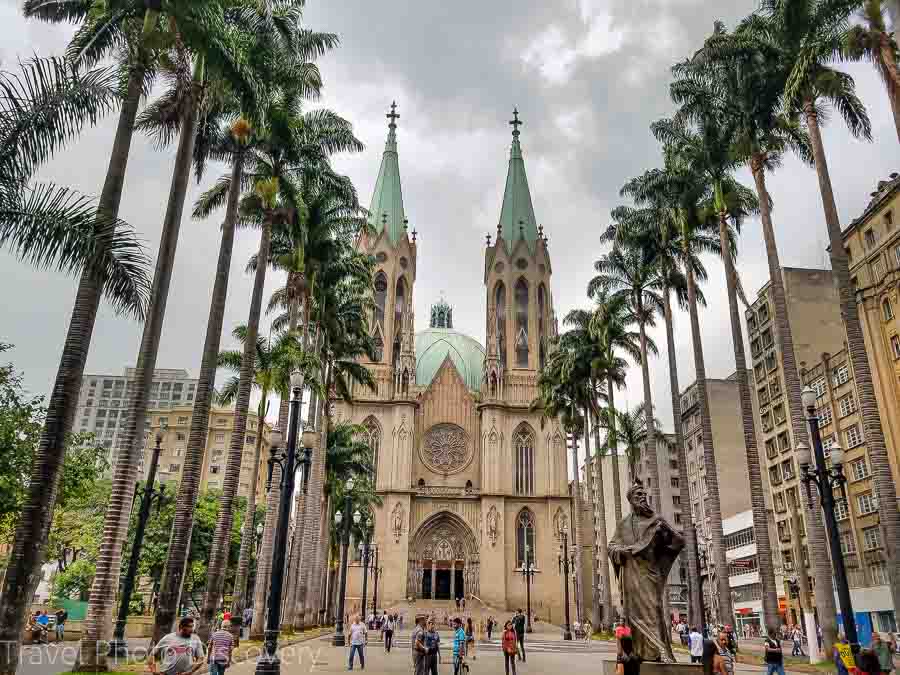 Se Cathedral
An imposing gothic styled building located in an impressive palm lined square, Se Cathedral is beautiful both inside and out and one of Sao Paulo's top tourist attractions. First thing to do is to check out the main square and activity around the cathedral before you head inside. A fun and cheap thing to also see inside is the burial crypt under the main altar, which is beautiful and elaborate just like the main hall.
Tip – you can get to Se Cathedral easily with the metro stop Se in the main square fronting the Cathedral.
Theatro Municipal
The stunning opera theater houses all the performing arts including: the opera, symphony, ballet and many other creative arts performances. The building is designed in an elegant classic style with baroque and rococo flourishes. Foreigners can sign up for a free daily tour of the inside of the opera (you must bring identification like a passport) to see the gorgeous interiors and beautiful details in this  architectural treasure. Check out the website here for more details to the free visits.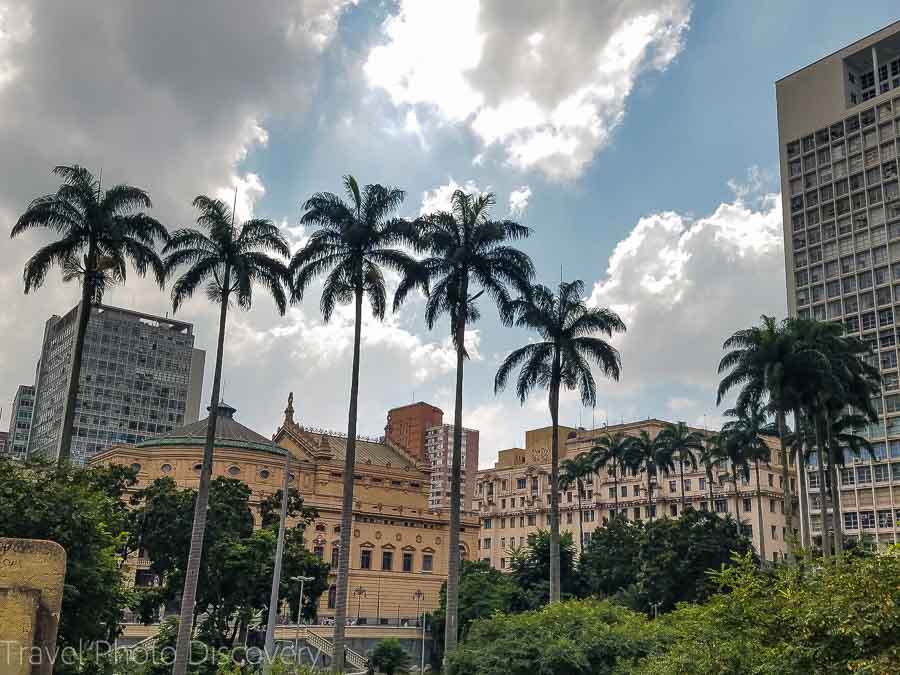 Caixa Cultural center
Many of Sao Paulo's banks have free cultural centers that offer revolving art shows, performances and talks. The impressive Caixa cultural (located off the in the main Se square) typically hosts many fantastic art shows for free as part of their outreach and goodwill to both visitors and locals in the area. To see what's happening now at the downtown Caixa, check out their website here for more details.
Municipal market of Sao Paulo
The Mercado Municipal, or municipal market in Sao Paulo is impressive and located in a grand classical building with colorful stained glass panels,  clean and colorful vendors booths are attractive and designed to woo you into purchasing some of the local fruits and vegetables, meats, seafood and other finished goods. You can also have a tasty and cheap meal here with many food venues to choose from. Tasting the fruits and other locally made products are free, but they are expensive to buy. You can find cheaper alternatives just outside the main building in the surround market areas.
Tip – there are markets outside the main building also selling inexpensive fruits and vegetables and other hand made goods for sale. This area also has many party supply and kitchen stores in the immediate area selling gadgets and other party related merchandise.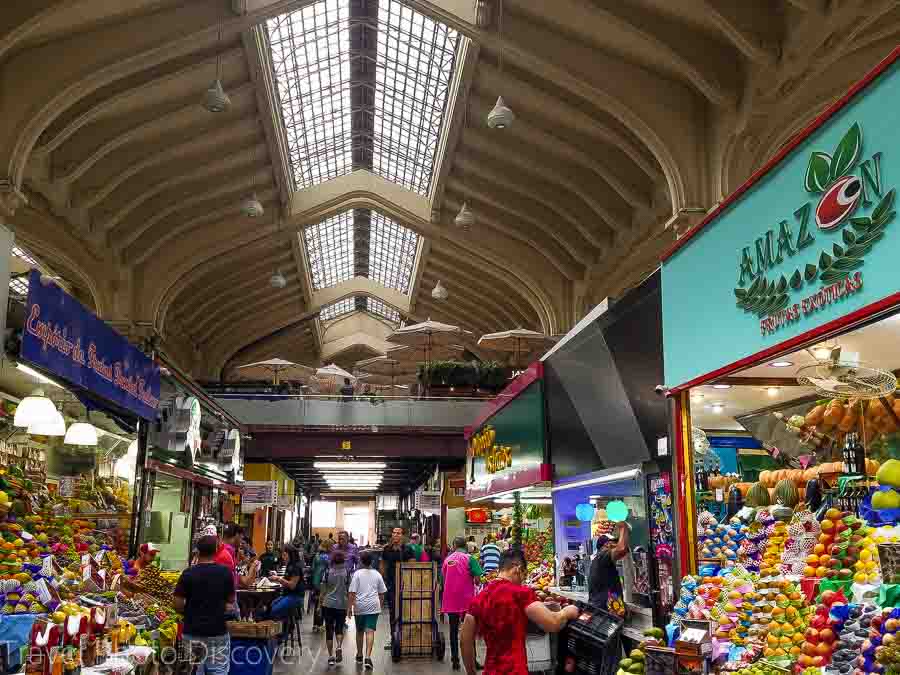 Beautifully displayed produce and finished goods for sale
Republic Square
A popular square and park, Republic is at the heart of Sao Paulo and the downtown district. Easy to get to via metro stop Republic, the park is lively mostly during the weekend when a busy arts and crafts market, gem vendors,  food vendors and other things are for sale at the park.  Other sites worth visiting close by include the Copan building, the Italian building, the Municipal theater and popular shopping promenades leading to leading up to the opera house.
 
 The weekend market at
Republic Square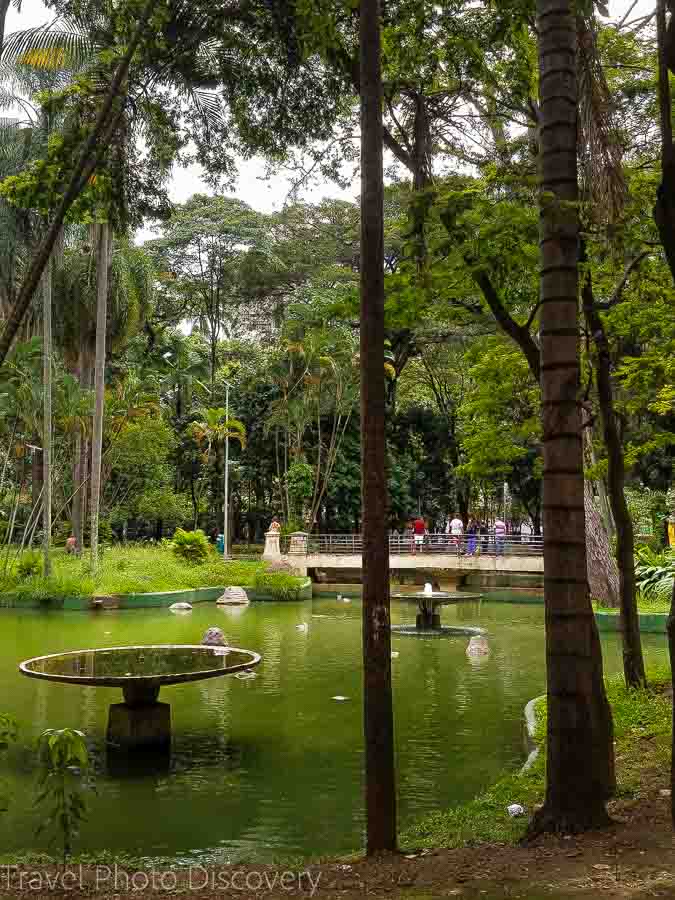 Banespa Building
Modeled after the Empire state building, this mini Empire State was the largest building built of its time in Latin America. Located in the commercial business center the building is impressive to walk through in the interior and the views from above are magnificent. There is a modest entry fee to go up to the top of the Banespa building, but a small splurge would be to take the deluxe tour with special exhibits, rotating art shows and get this a skate board park in one of that upper floors that you can also take part in if you want.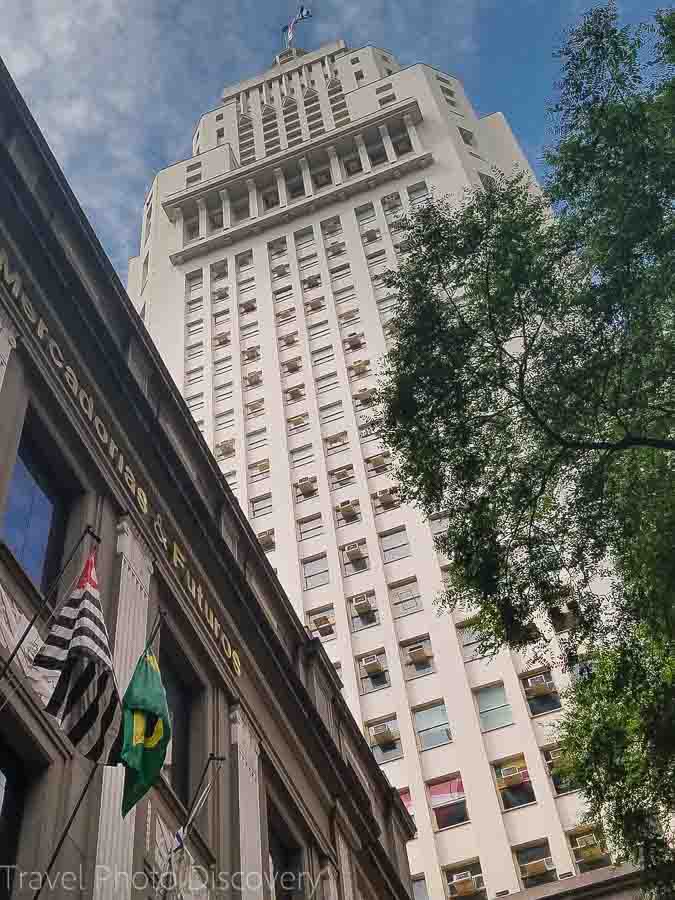 Views from above from the Banespa building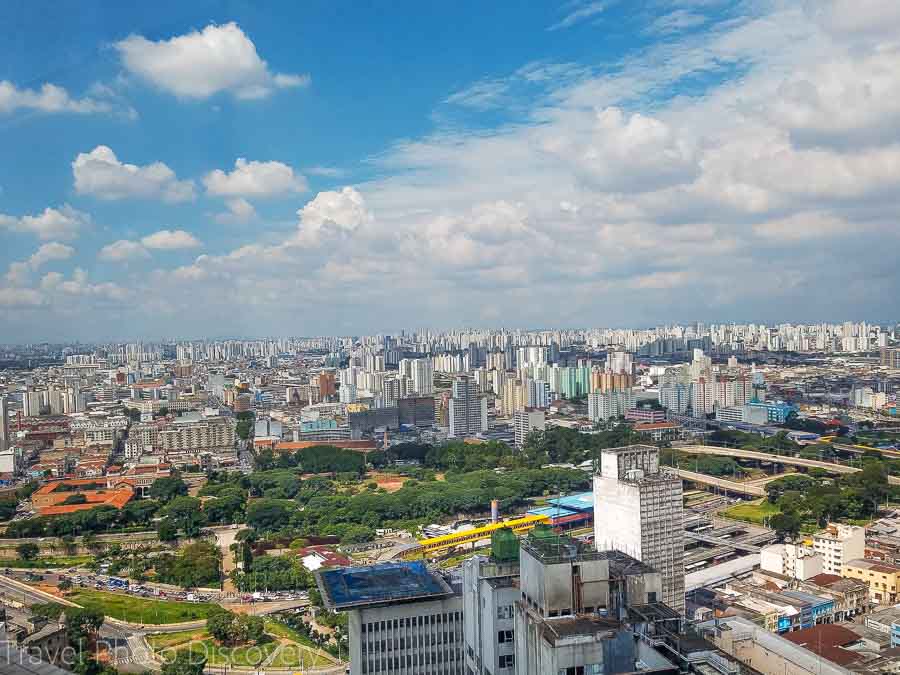 Tip – There are many cheap eateries around the main promenades and the best places to check out are the many buffet cafes offering many local dishes and priced per kilo which is a great way to sample a variety of local dishes and at cheap prices.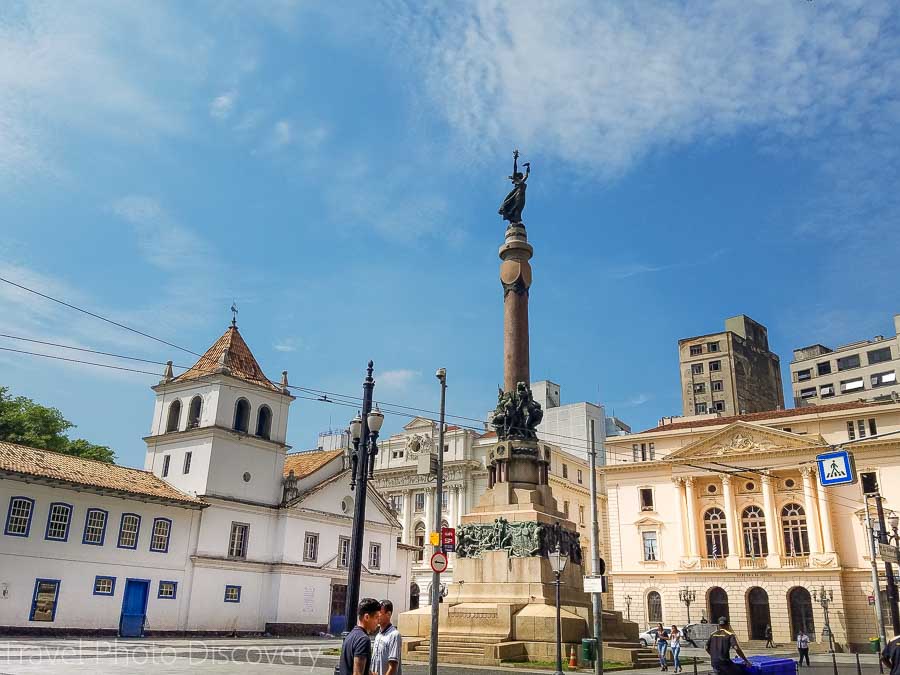 Patio do Colegio
The original site of the start of the city of Sao Paulo and a Jesuit mission that was established in 1554. Surrounding the square are impressive buildings representing various government agencies that showcase the wealth of the developing city of Sao Paulo.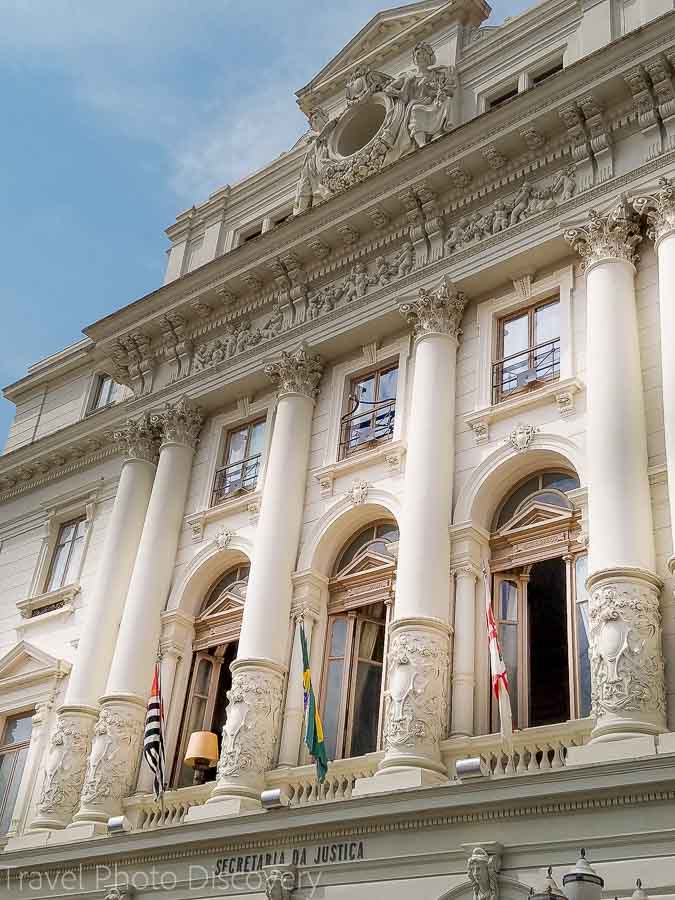 Tip – just around the corner on one of the oldest streets of Sao Paulo are some historic homes ( Solar da Marquesa de Santos) that are open for the public to visit as living museums and free to visit.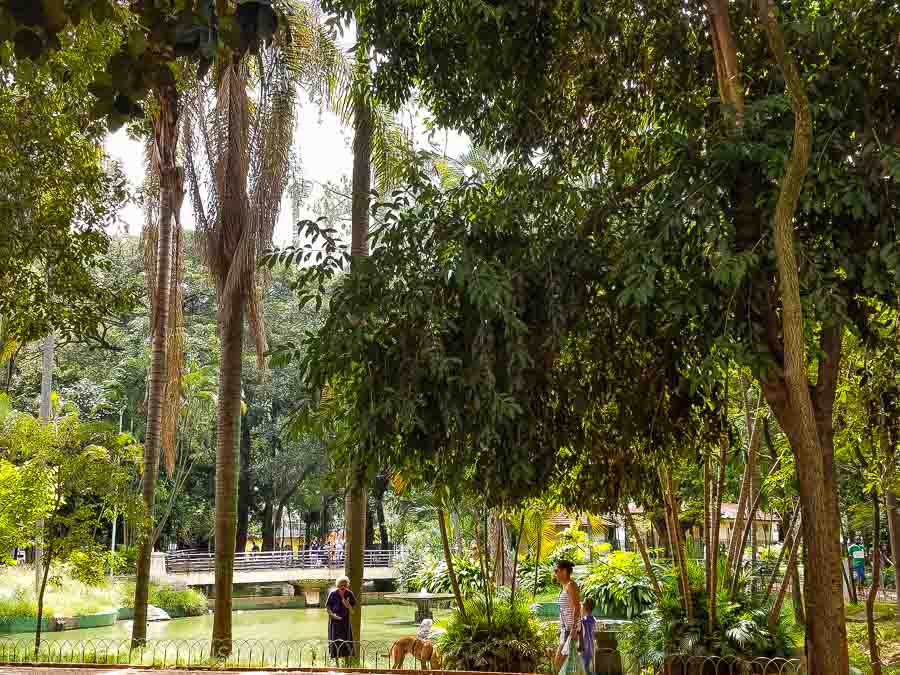 Visit Sao Paulo's popular parks
Paulistas as the local people are called love to use and hangout in their gorgeous parks which are always well maintained and typically clean. You'll find many of the parks easy to get to and patrolled in many of the popular parks around the city. Check out these fun parks in the city worth exploring for free.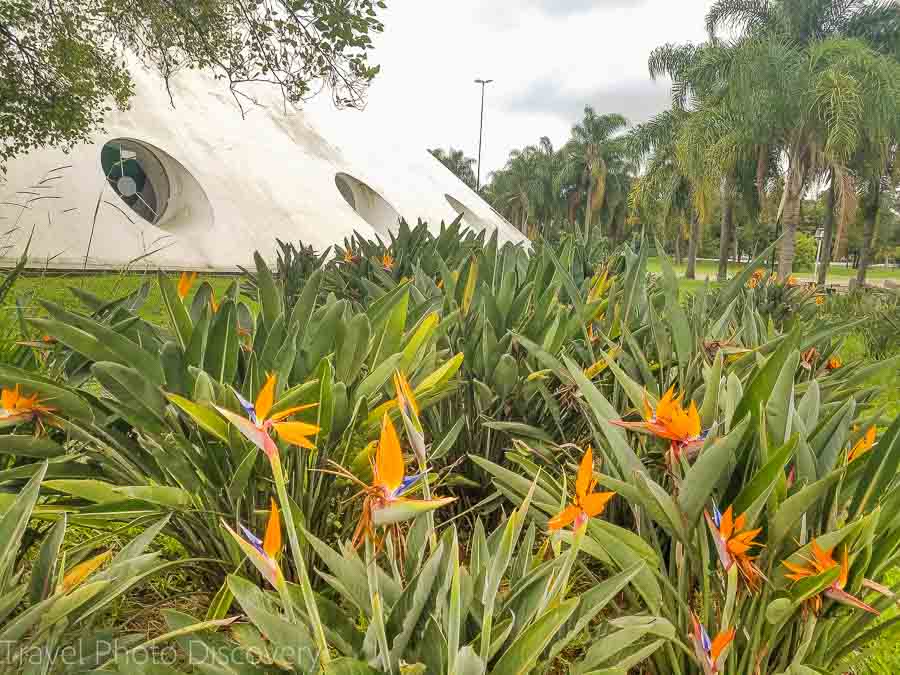 Ibirapuera Park
One of the most popular parks in the city with over 14.4 million visits a year, the park has many of the well visited museums in the city including the Modern Art Museum and African history museum as well as the planetarium and other historical gardens that were designed by famous landscape architect Roberto Burle Max.  Also important are the impressive buildings designed by Oscar Niemeyer who created the first modern and organic buildings in Sao Paulo to herald a new look and vision for the city. Check out the main attractions to visiting Ibirapuera park here for more details and inspiration of what to see.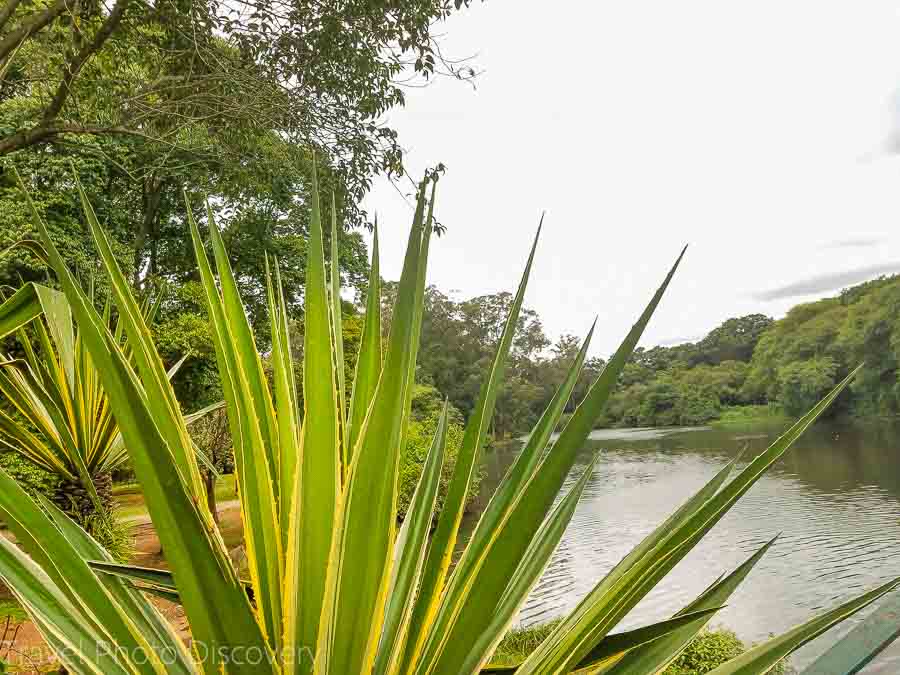 Trianon Park
Also known as Parque Trianon is located on the busy Paulista district and is a fabulous park that feels like being in the rain forest in the heart of urban Sao Paulo. Located right off the main street, Paulista road, Trianon is atypical of the parks of Sao Paulo featuring all the native plants and other genera on a massive scale with giant trees of ironwood, cinnamon, different species of cedar and local woods like jequitibá, cabreúva, araribá-rosa and other local shrubs and perennials. This oasis is a fantastic getaway from the busy Paulista road and when you just want to admire some huge and amazing trees in this jungle.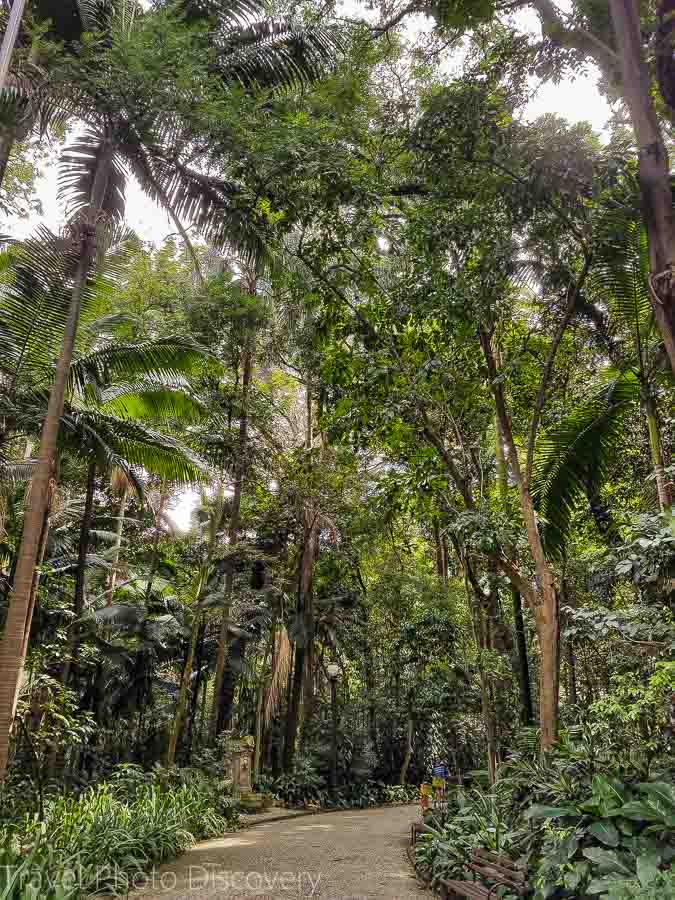 Rain forest jungle at Trianon park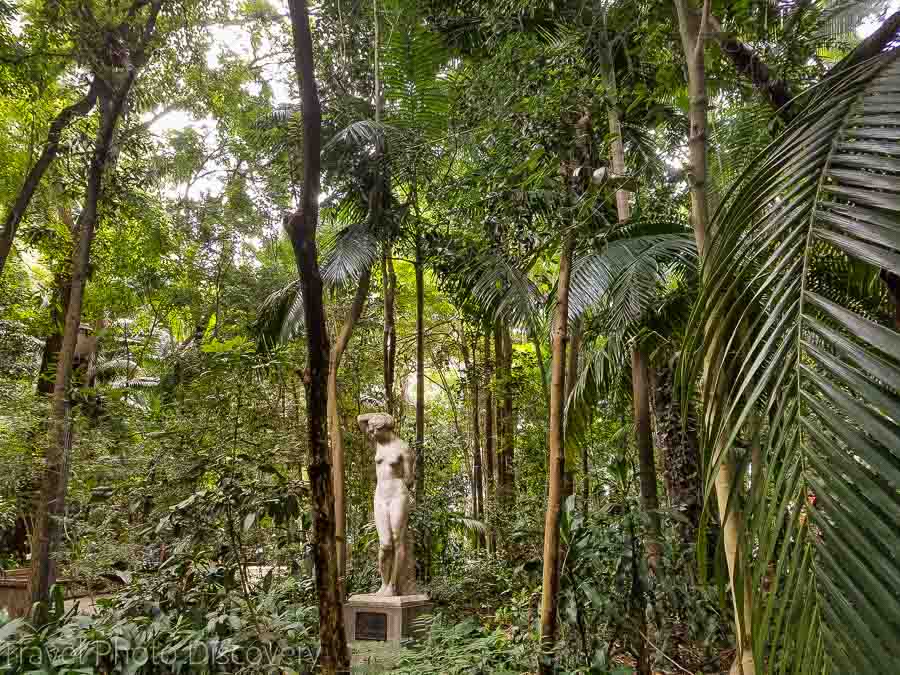 Park Jardim da Luz
Fronting the grand Pinacoteca museum, this beautiful garden with many smaller gardens inside is one of the prettiest gardens to enjoy in all of Sao Paulo. Containing many ornate buildings, fountains, a fake mountain with caves and stunning modern sculpture, the park is wonderful to walk around and explore. A funny spot to the right of the fake mountain is a well used outdoor gym with funny cement barbels and other odd work out equipment that is entertaining and a different type of work out to see.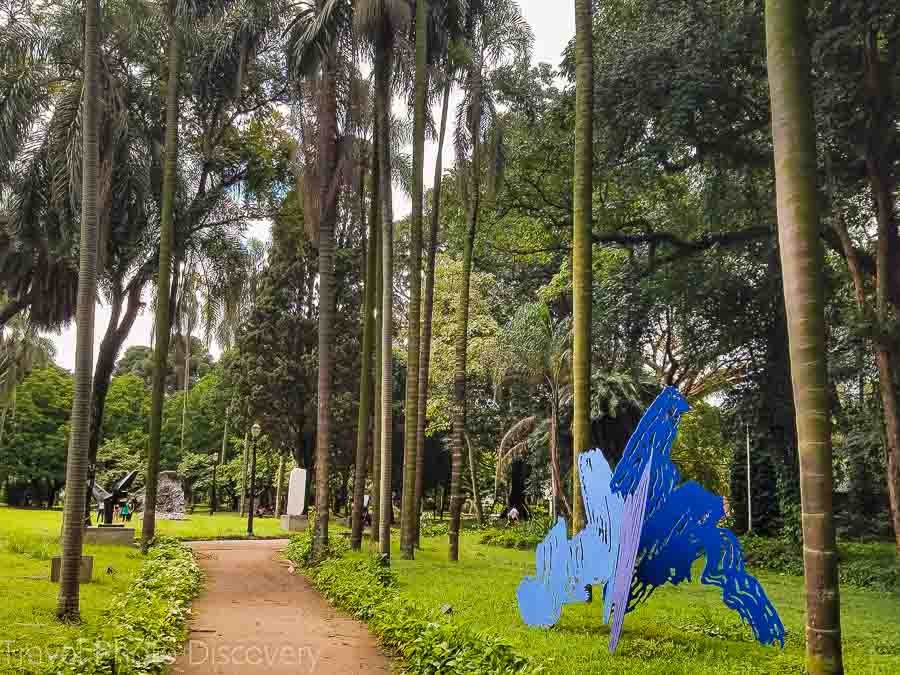 Tip – across from the park is the Luz train station, an ornate and beautiful classic styled station that is worth visiting and you can also take the metro directly from here to explore the area.
Beautiful sculptures randomly placed at Park Luz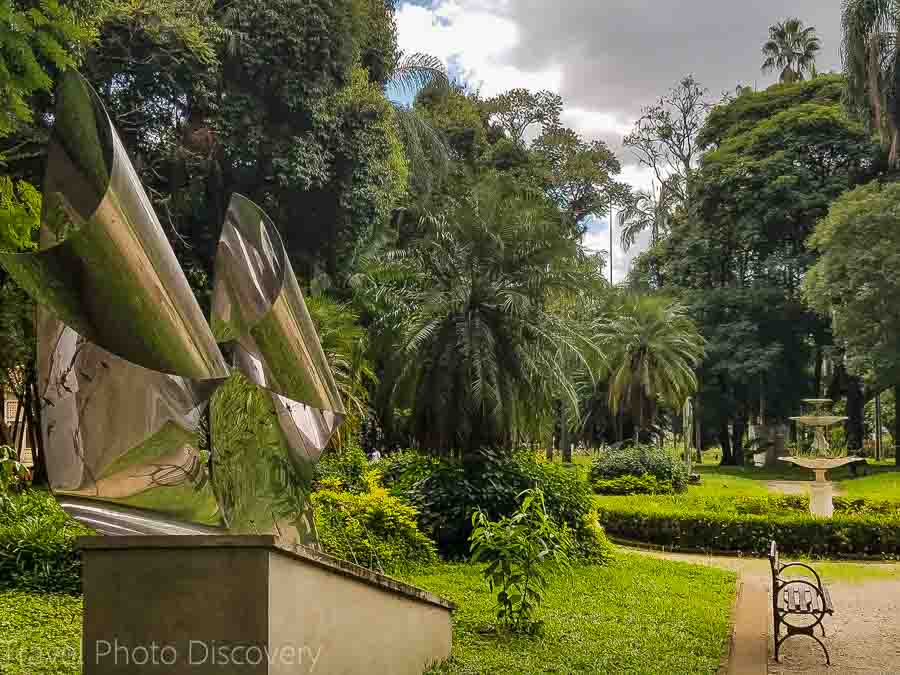 Independence park
One of the grandest parks where the emperor Dom Pedro proclaimed Brazil's independence from Brazil in 1822. A grand building fronts the park that is the Museum of Ipiranga (still closed for renovation) but is cool to wander around including the formal gardens of Independence park. Walking down from the formal gardens through the main promenade brings you to the Sao Paulo Independence monument, a grand landmark which also houses the Brazilian imperial crypt of Emperor 1st and family. The site celebrates the first centenary of Brazil's independence from Portugal.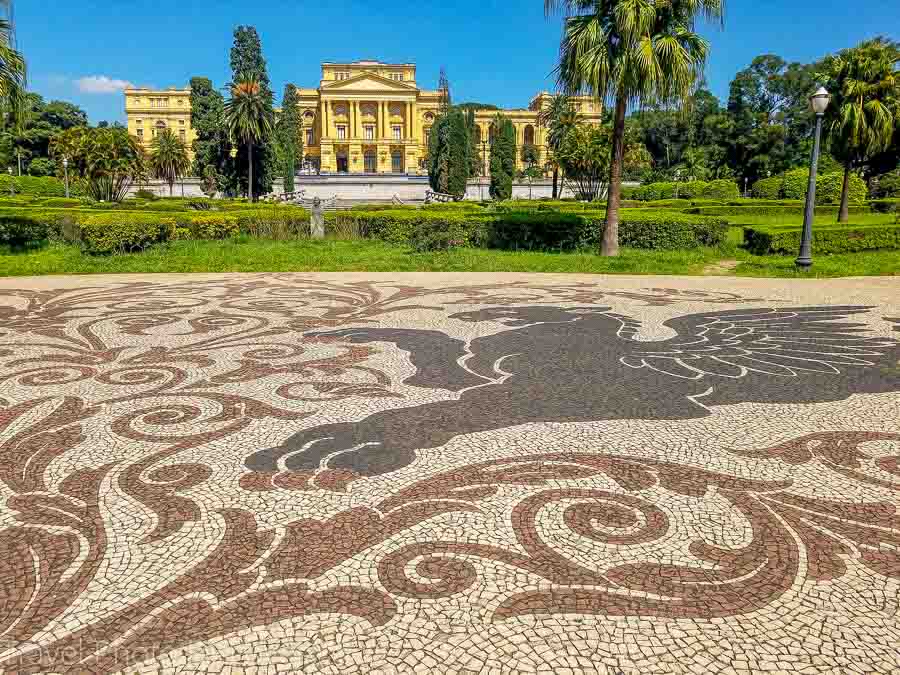 Independence monument and royal tombs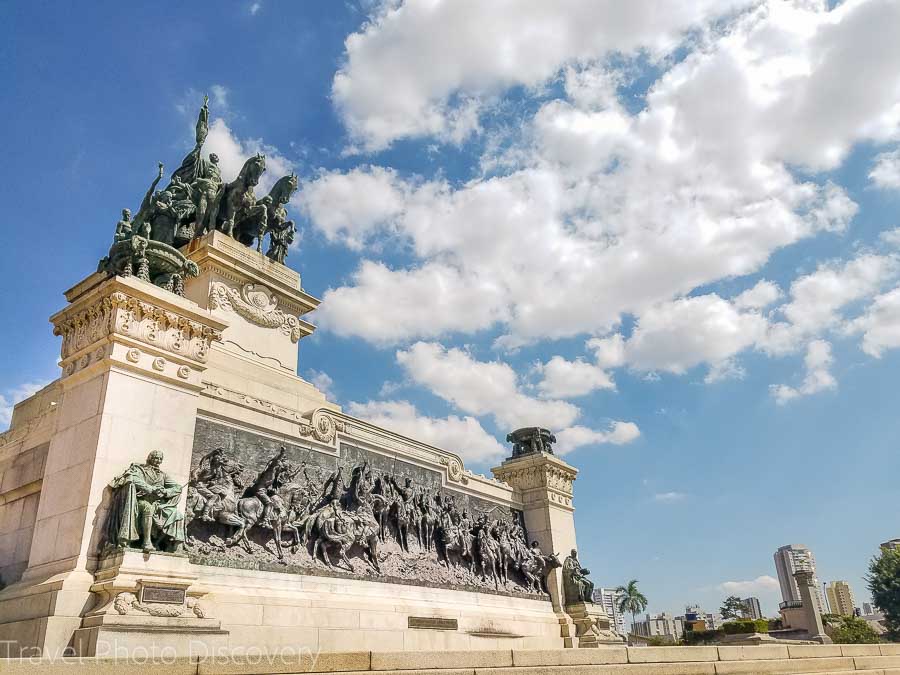 Things to see in Sao Paulo's cool neighborhoods
I love to visit the neighborhoods of Sao Paulo which gives you a better idea about how the locals live, entertain and eat in their area. There are so many fascinating and unique neighborhoods around Sao Paulo that are fun to explore in the city. The best thing is that you can take a cheap metro ride for 4 real ($1.25 USD) anywhere to check out these places and walk around each neighborhood.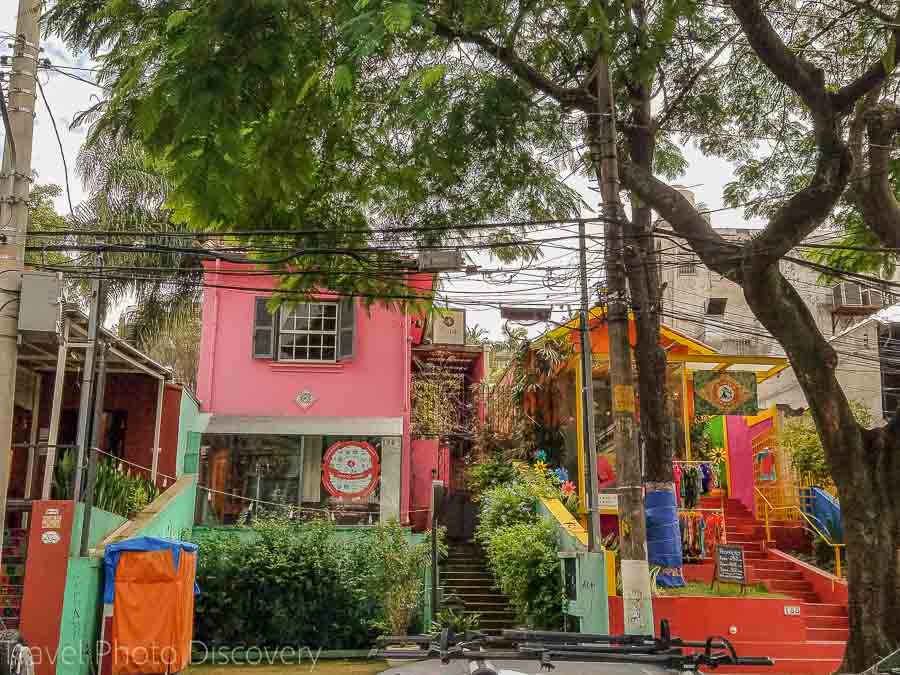 Vila Madalena
What used to be a divey and cheap housing for university students has become the trendy spot with vibrant graffiti and street art plastered in the alleys, buildings and even nice establishments. Make sure to visit the famous Beco de batman – a really cool alleyway filled with colorful street art done by local and famous muralist from the area. Vila Madalena is full of cool bars, restaurants, galleries and other fun hang out spots in this hip area where Happy hour and the bar scene is celebrated daily.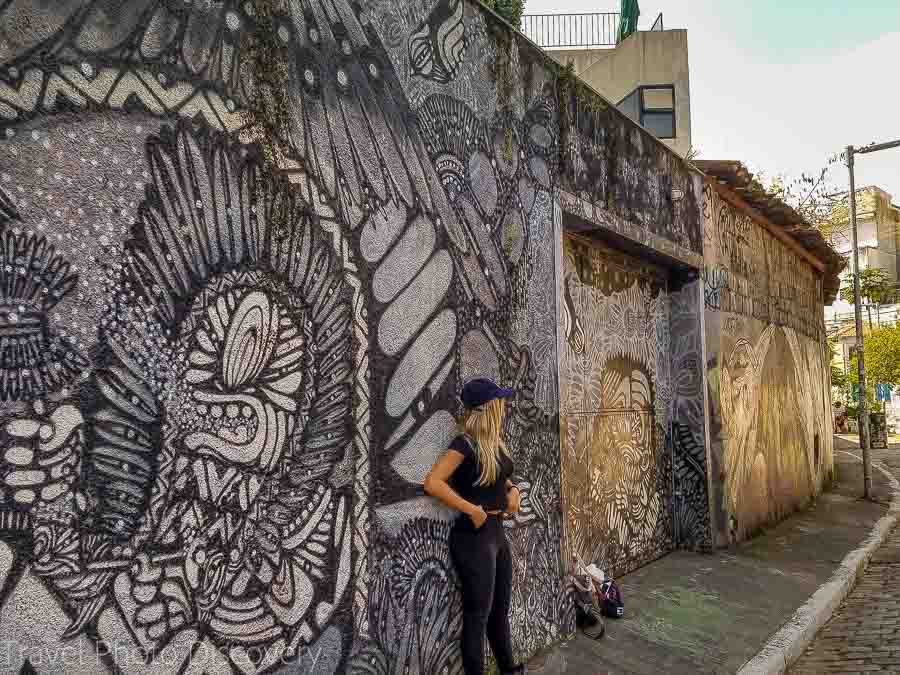 Checking out the street art at Vila Madalena
Tip – there is a Metro stop at Vila Madalena and you can also sign up fr a free walking tour to check out the area and cool graffiti with this free walking tour here.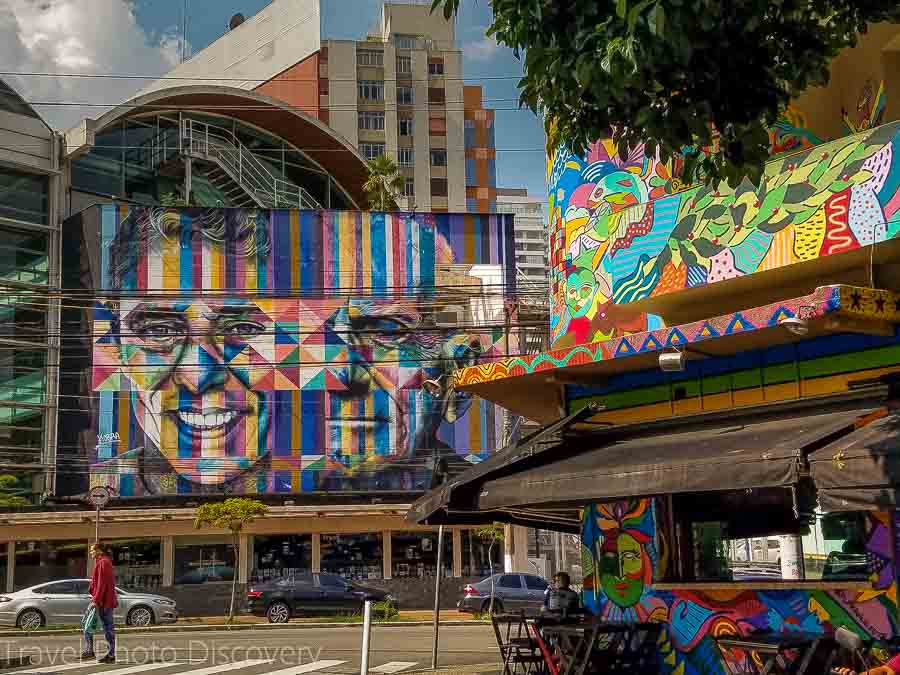 Pinheiros district
A very poor borough close to Vila Madalena that quickly has become the hip and cool spot to explore and hang out. You'll find this an easy walking area to explore and the scene typically is more popular around the late afternoon to dinner crowd enjoying drinks or dinner in many of the trendy restaurants around Pinheiros.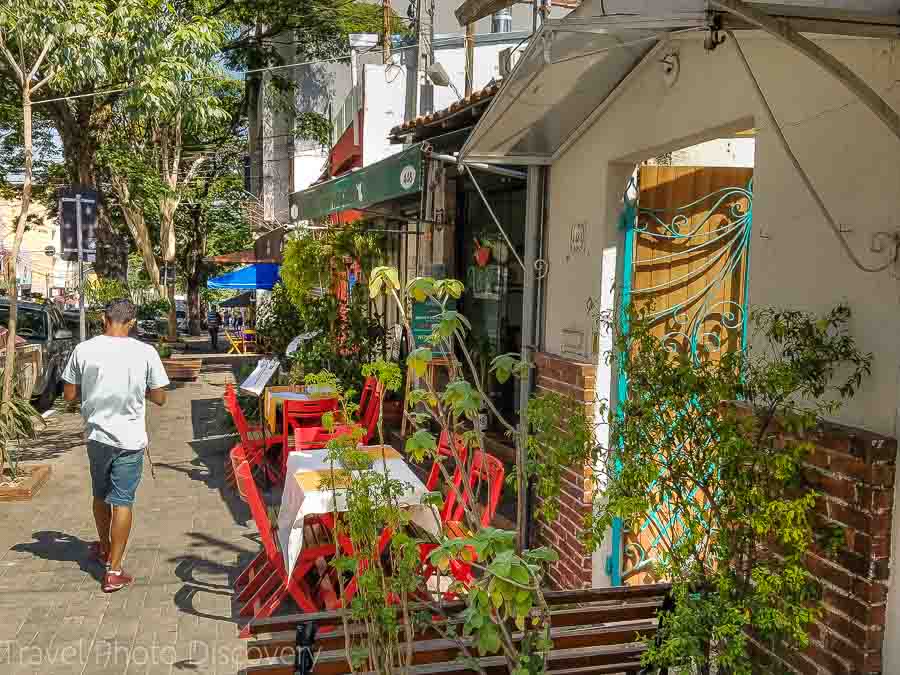 Tip – It's an easy metro stop to the Pinheiros station or the more popular areas around metro stop Fradique Coutino.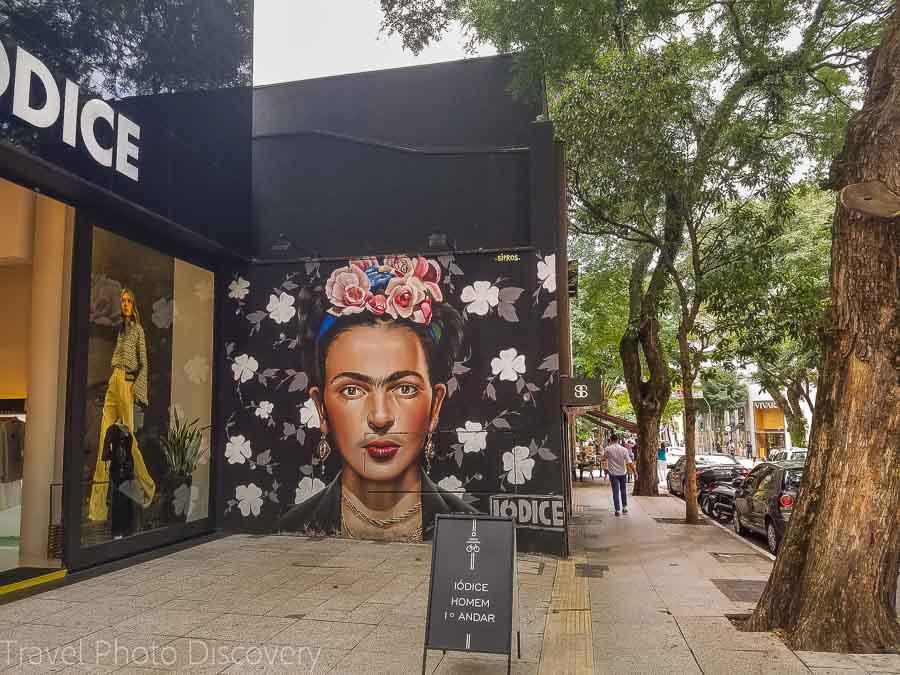 Jardin District
Uber trendy Jardin is where you can shop till you drop – or at least just window shop all the international and local brands of Sao Paulo. It's fun to just see and be seen walking around the chic places on Oscar Friere and maybe pick up an inexpensive souvenir or try some of the many eateries especially gelato shops that are a small splurge for this area.
Checking out the trendy shops at Jardin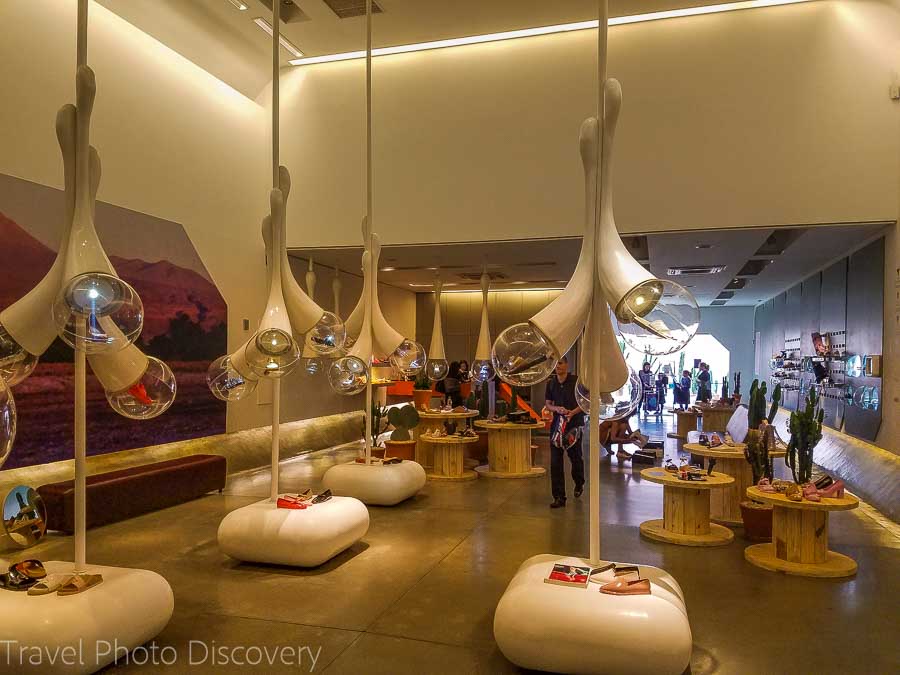 Tip – you can easily explore Jardin with metro stop Oscar Friere on the Yellow line.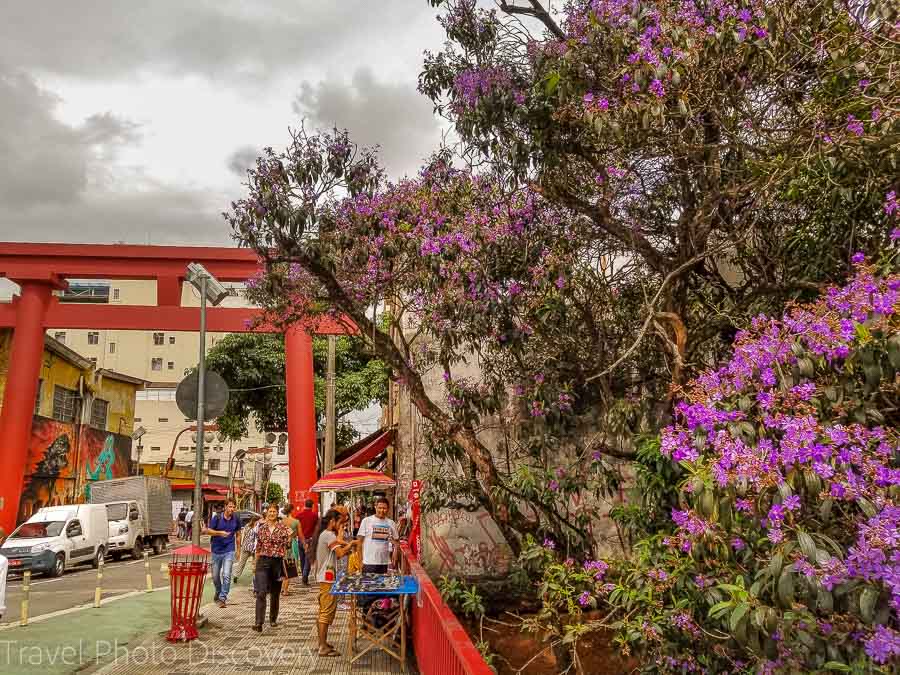 Liberdade
The large Japanese district downtown is called Liberdade but is also home to many Asian ethnic businesses. You'll find a variety of specialty grocery stores, cafes, Asian gift shops, souvenir stores and other cheap general stores in the district to explore. An easy place to walk to and close to the historic district, you can also take a metro ride direct to Liberdade station.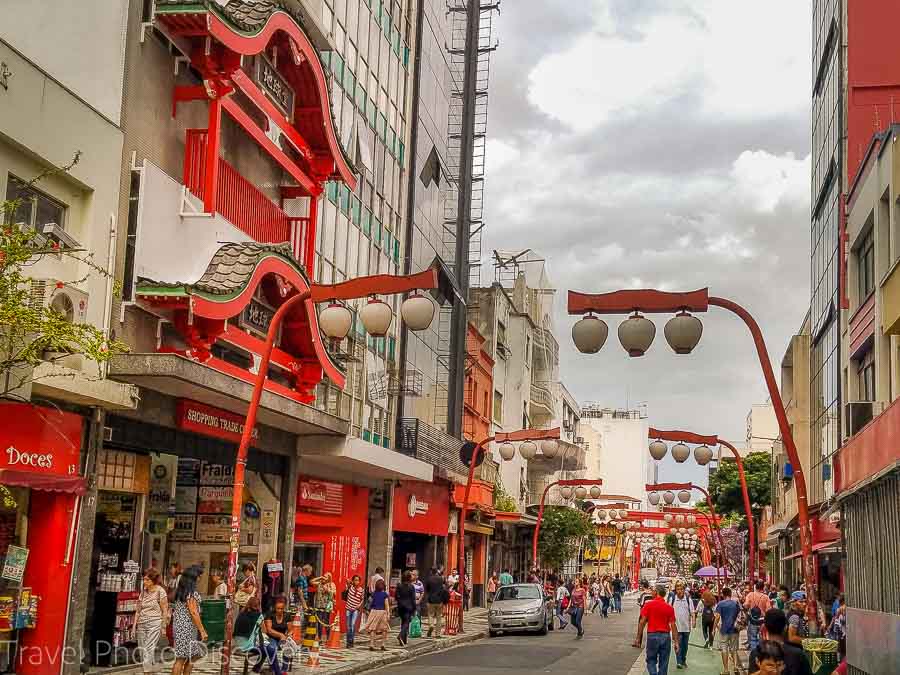 Avenida Cruzeiro do Sul
Another popular spot to see the beautiful graffiti art that mostly adorns the pillars of the metro passing through the area. The neighborhood around Avenida Cruzeiro do Sul is more of a working class area with affordable shopping and dining venues in the area especially surrounding the metro stop at Santana which is also a regional bus station.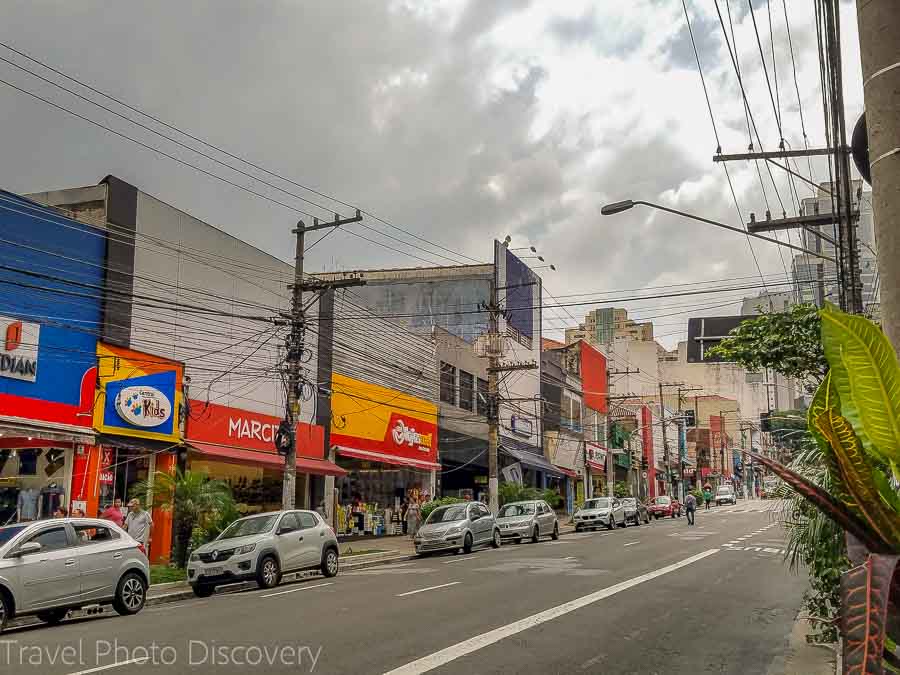 You'll find street art on the Metro pillars worth exploring
Sao Paulo points of interest and inexpensive activities
There are many free or inexpensive activities to keep you busy and entertained while visiting the city. Here are some suggestions on what to do or see activity wise for cheap.
Free walking tours around Sao Paulo
You can sign up for a variety of free walking tours around the historic center and other cool areas of the city to discover. Check out the free walking tours here offered by Sao Paulo walking tours. Even though the tours are free, it's nice to give a tip to the guides that lead you on a 2.5 to three-hour tour of each area.
Visit the Sao Paulo cemetery
Located in the Pinheiros district, this old cemetery is a quiet spot in the busy urban metropolis and filled with beautiful architecture, sculpture and art in this packed cemetery. A good respite if you're visiting the area and check out the old, creepy and artistic mausoleums and structures left by the rich and celebrities of the city.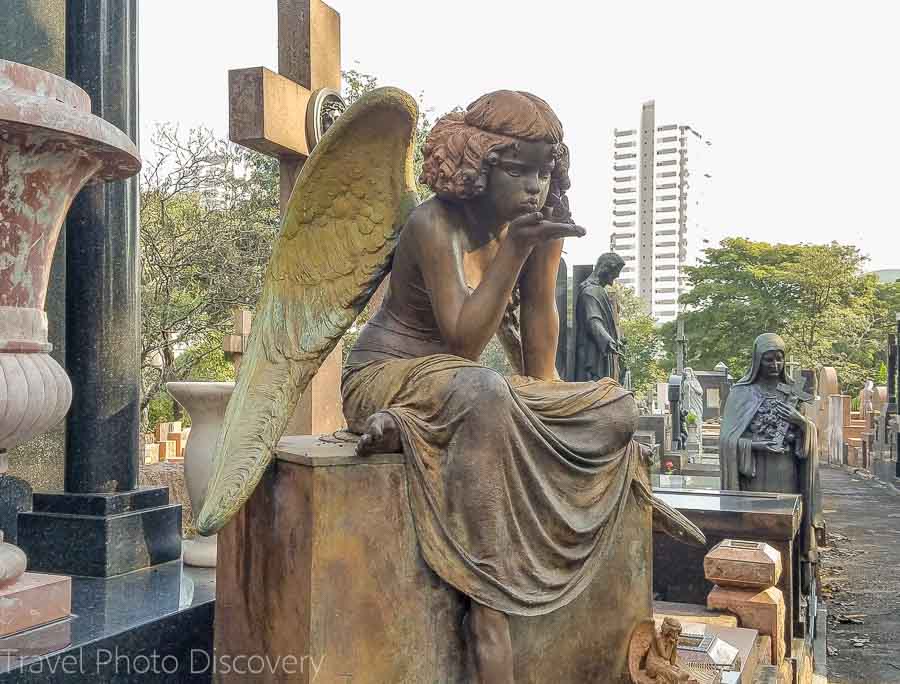 Peace and quiet at Pinheiros Sao Paulo Cemetery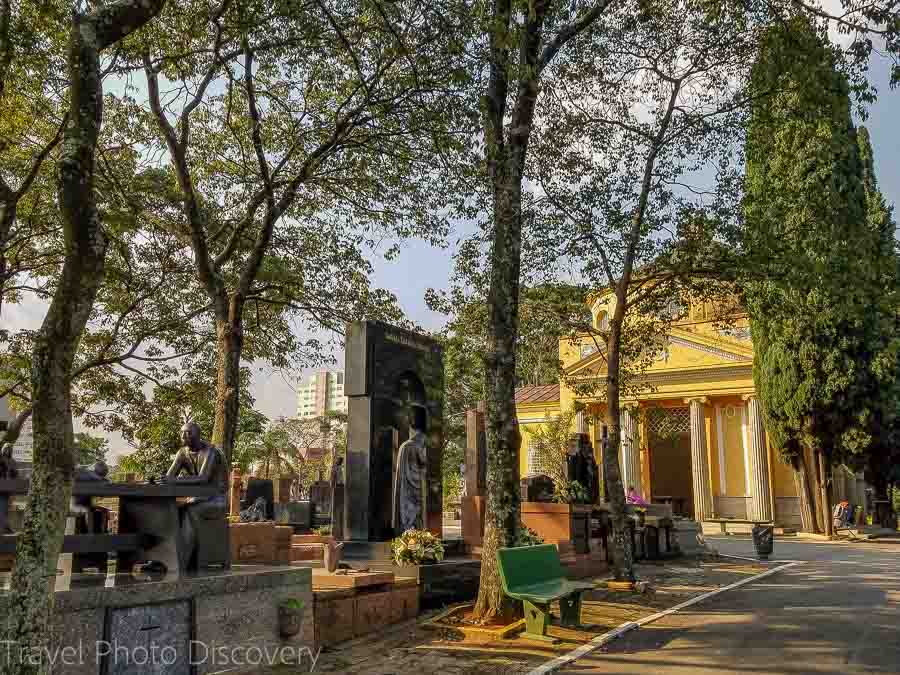 Explore Paulista Avenue
The heart or business district of Sao Paulo is Paulista which is a modern and busy thoroughfare with shopping centers, cultural centers and museums and other fun attractions to explore just of the boulevard including Trianon park, Masp, Japan House and the Instituto Moreira Salles of Paulista. Many of these attractions are free for the public to explore including the cultural centers located on Paulista Avenue.
Visit the Japan House
The Japan House is a collaboration with the Japanese government is a cultural center that showcases revolving new art shows and installations, design, thematic discussions and new technology showcases. These Japanese inspired events and shows are free for the public to visit and experience and there's also a nice café and a beautiful restaurant to enjoy some delicious Japanese snacks or a full gastronomic experience.
Check out the views of the city for free
You can see the city from above and for free at the Copan building daily at selected time frames. The views from above are quite spectacular and worth the effort to sign in the administration office and taking the elevator to the top observation deck. To visit the Copan building and sign up for the self tour, check out this website here for more details.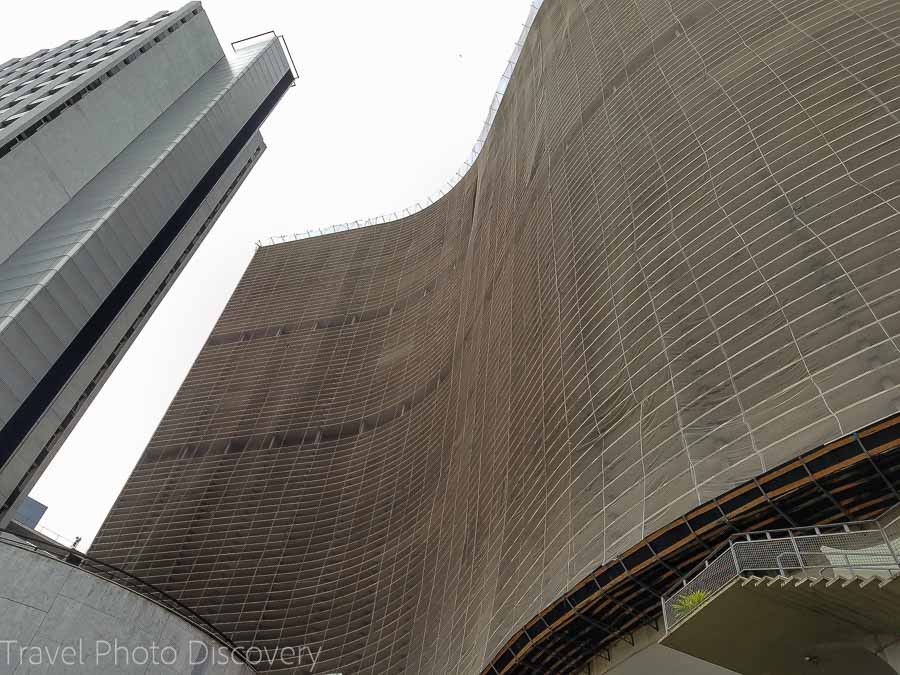 Getting around Sao Paulo inexpensively
Sao Paulo is a huge city and getting around is fairly inexpensive if you use public transportation or walk around to some of the popular places and attractions. Here's how to get around the city on a dime when you are trying to do this cheap.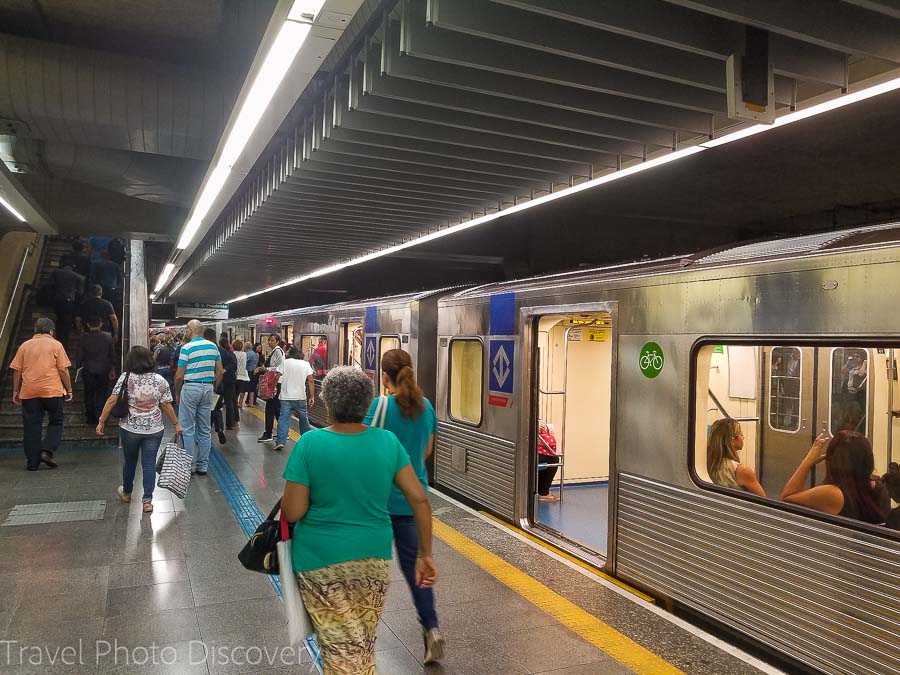 Taking the Metro system
The metro system is fast, efficient and cheap covering most of the areas that you will want to explore around the city. The current fare to travel in any direction is 4  real which is equal to $1.30 USD per ride.
Take an Uber
It's easy to catch an uber around the city especially if you want to get to a destination right away. Uber rides tend to be cheaper outside of the typical busy periods around the morning and evening commutes and the late dinner crowds when rides are less prevalent and more expensive.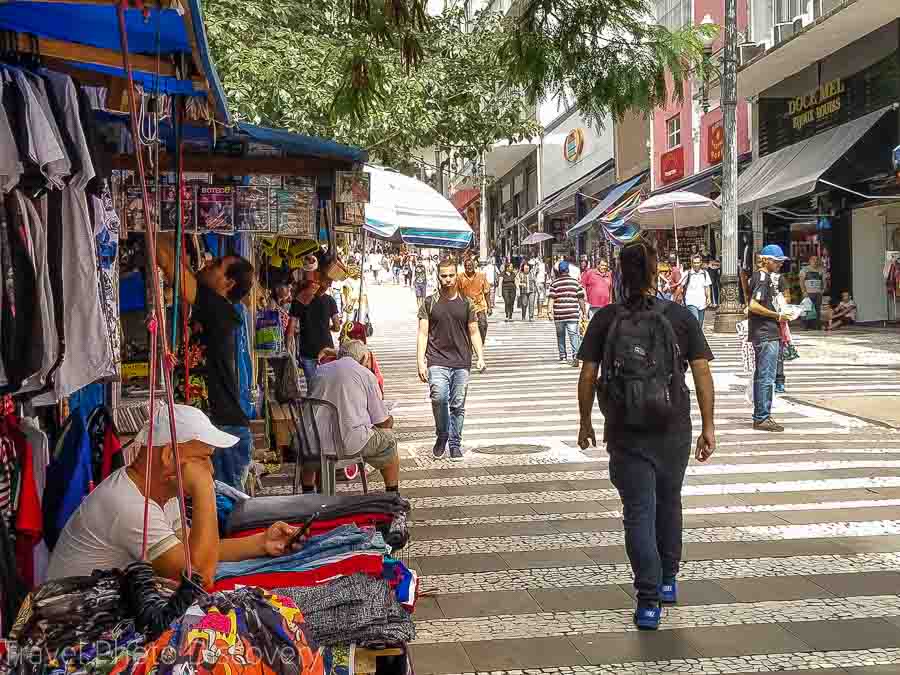 Walking around by foot
Get a free walking and metro map from the tourist center and it's easy to explore Sao Paulo by foot or get to the many districts by public transport and you can easily check out the different spots by touring around on your own or even signing up for a free walking tour in that neighborhood.
More free & cheap things to do in other destinations
Free things to do in Barcelona
Free things to do in Copenhagen
If you enjoyed this please pin it!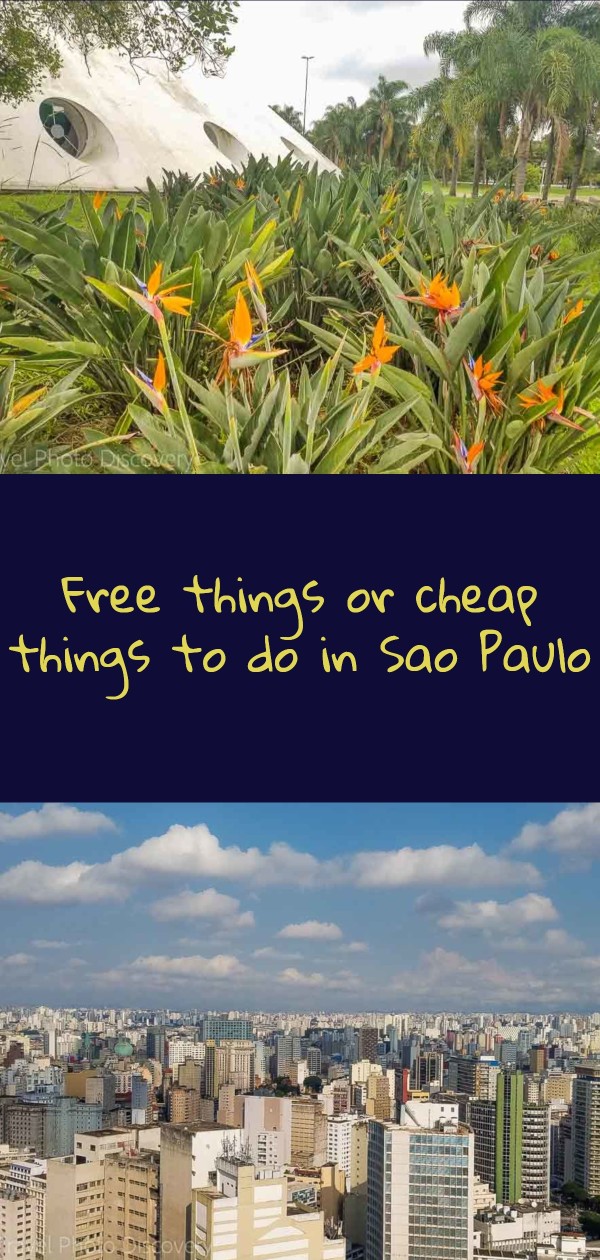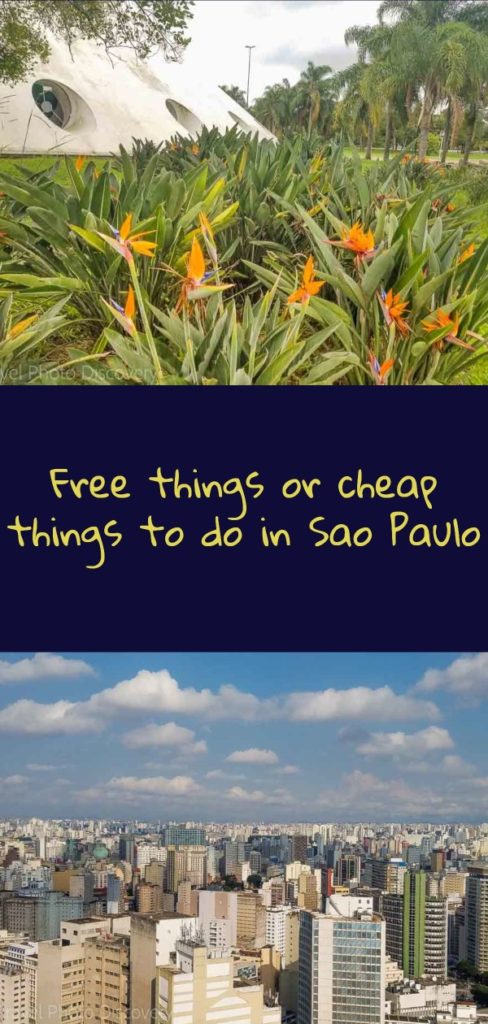 Thanks for visiting today and checking out this post on the free things to do in sao paulo, if you enjoyed the images and post, could you please share it with any of the social media buttons located around the post.
If you like what you see, come and check out my other social media channels for more updates, including Instagram, Pinterest and Twitter
Disclosure – There are affiliates links on this posts which provide a small commission to support this site at no extra cost to you. Thank you for reading, and happy travels.