Hiking in California – Enjoy these top hiking places to explore around the state now
Being outdoors and exploring California trails is a fantastic way to really enjoy the landscape and getting in touch with nature, beautiful landscapes and enjoying some exercise. You'll be inspired with the best hikes in California from all these fantastic tips and places to visit from some of the best travel journalists and bloggers sharing their favorite hiking spots around the state. Hiking in California is always popular and finding local areas close for you to discover and enjoy the outdoors is the perfect way to spend the day or a short getaway break. Hope this post inspires you to see many of these fantastic hiking trails and even revisit many of your favorite places around California on foot.
Popular hiking trails to experience in California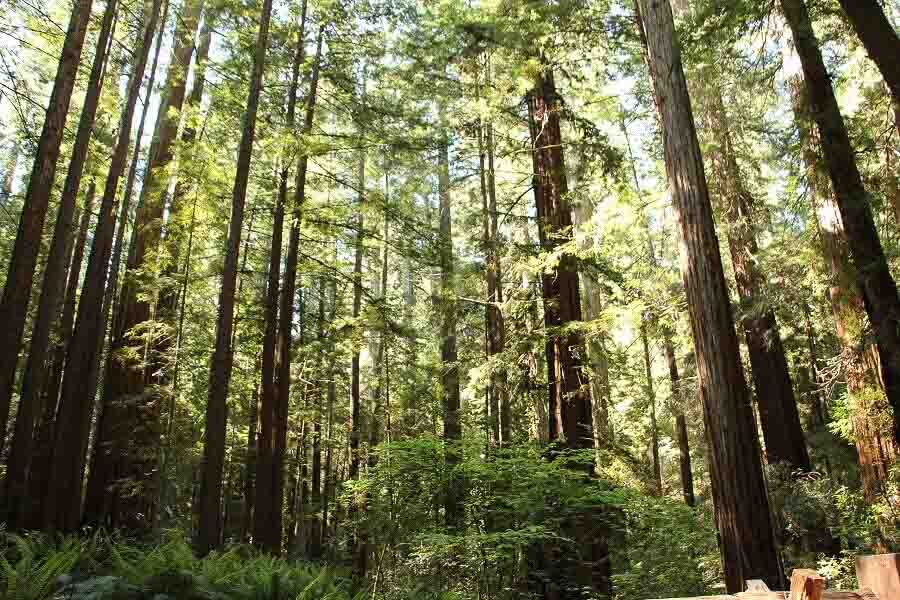 Why go hiking in California?
With fantastic weather year round in most locations around the state, it's perfect being outdoors and exploring. There's so many fantastic day hikes in California to explore the state. Check out all of these fantastic places for hiking in Northern California and also Southern California hiking inspiration now and maybe you can start exploring soon!
Best hikes in Southern California
If you're looking for fantastic Los Angeles hikes and down to the San Diego area, check out all these fantastic suggestions to inspire you to get outdoors and have some fun adventures in Southern California. Many of these hikes are rugged and challenging so having the best hiking shoes available to explore these places is always the best preparation to have a safe hiking experience.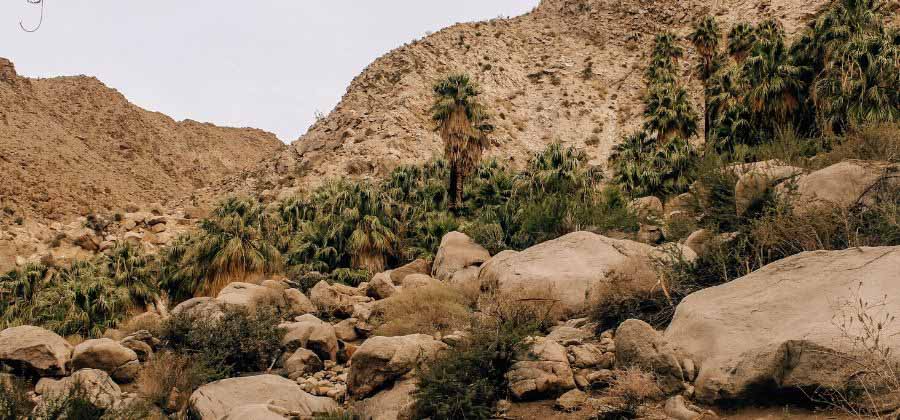 Lost Palms Oasis Trail in Joshua Tree National Park 
Joshua Tree National Park is one of my favorite desert hiking destinations on the planet.  Sitting only two and a half hours outside of Los Angeles, it is easy to visit Joshua Tree National Park for as little as one day (though you will probably want to stay for longer!).
The park spans both the Mojave and Colorado deserts, so hikers can experience completely different landscapes within the park and even hike in two different deserts in one day.  The Mojave Desert features the iconic Joshua Trees and bulbous rock formations, while the Colorado Desert is hotter, drier, and is home to cholla, barrel, and other cacti.
One of my favorite hikes in Joshua Tree is the Lost Palms Oasis Trail, which is in the Colorado Desert portion of the park.  It is a moderate in-and-out 7 mile hike over rocky peaks, with lots of cacti marking your path.  The first time I hiked this trail, I had no idea that it actually led to a green oasis in the middle of the desert, so the group of towering palms was a complete surprise.  All of a sudden, while climbing the dry earth, green life rises unexpectedly out of the desert.  Many hikers, including myself, like to climb down under the trees to enjoy the water and shade, but tread carefully – it's slippery!  This hike is also not typically recommended during hot summer months, so be sure to pack plenty of water and start early.
Monica from This Rare Earth
Looking for places to stay while hiking around Joshua Tree National Park? Check out these well reviewed places now for current prices and availability.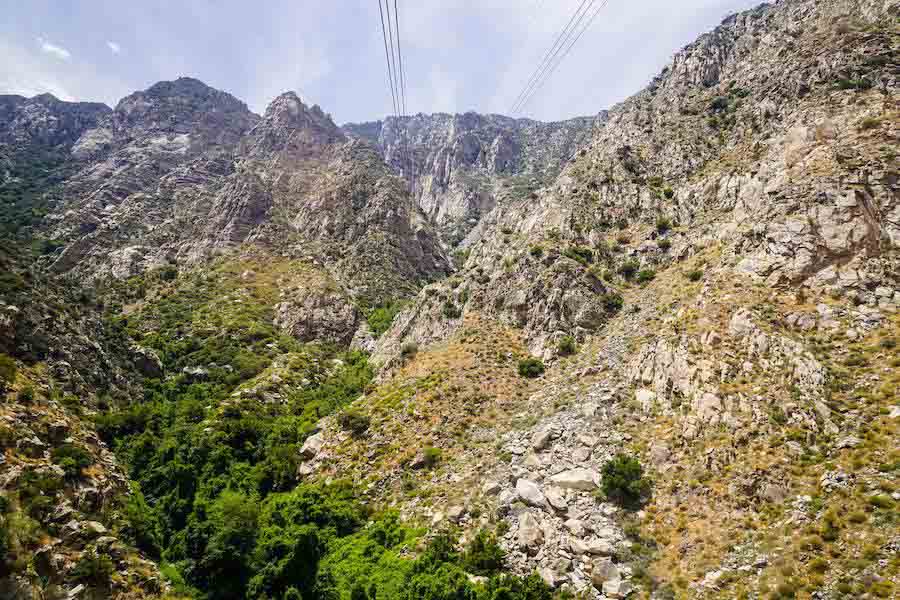 Hiking trails at Mt. San Jacinto State Park
Hiking the trails of the Mt. San Jacinto State Park( accessed from fabulous Palm Springs by an aerial tramway) has to be one of the most iconic hikes in California.  With majestic granite peaks, soaring subalpine forests, and dreamy mountain meadows, it is easy to see why. There is actually not just one trail here, but 54 miles of paths spread over 14,000 acres – meaning you have plenty of choices for all different fitness levels.    From the hot desert floor, you first ride the tramway 10 minutes up to the Mountain Station (8,516 ft.) where it is 30 degrees cooler – goodbye summer heat!
Once you arrive, I personally recommend you take the Round Valley Loop as it has a little bit of everything. This path is somewhat strenuous and takes around 4 miles with short climbs and amazing views out over the desert valley below. It isn't usually too busy, and there are plenty of side trails to explore to escape the crowds. To make a whole day adventure, you can also combine with the 2-mile addon trail called the Wellman Divide with views to the  Palomar Observatory and Tahquitz Peak. There are picnic tables, water refill stations, flushing toilets, and information signs, and a Ranger Station along the way. Just in case you need it.
While the views are second to none year-round, be careful to dress appropriately as the temperature change catches many people out – especially in the winter.
Jordan with Queer in the World
Looking for places to stay while hiking around San Jacinto State Park? Check out these well reviewed places now for current prices and availability.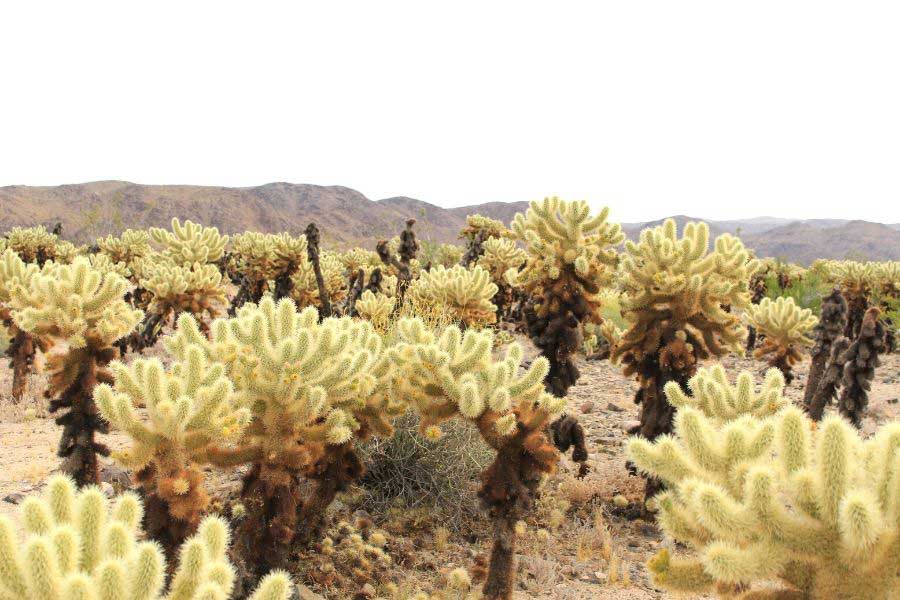 Cholla Cactus Garden at Joshua Tree National Park
The Cholla Cactus Garden trail is a beautiful, short walking loop at Joshua Tree National Park. The trail will take you through a vast expanse of gorgeous cholla cactus, also known as teddy bear cactus due to their fuzzy appearance.
Located about 12 miles south of the park's main entrance, in the Sonoran Desert portion of the park, this short, flat quarter mile loop will take you through a beautiful field of cholla cactus. Walking through this cactus garden is one of the best things to do in one day in Joshua Tree.
Starting from the parking lot, you're immediately greeted by acres of cholla cactus. Starting the hike, there's plenty of opportunities to stop along the way and take photos of the garden, and you'll definitely want to do so. I especially love photographing the wooden bridges that transverse the garden.
Keep your eyes peeled for the small animals and birds that live in the area, we've seen the small wood rat precariously perched on a cholla cactus here before!
The Cholla Cactus Garden is a great place to catch the sunrise. As the light slowly rises over the desert, you'll see beautiful pinks and blues light up the sky – they make the perfect backdrop for photographing this ethereal place.
Ale with Sea Salt and Fog.com
Looking for places to stay while hiking around
Joshua Tree National Park
? Check out these well reviewed places now for current prices and availability.

Claremont Wilderness Park at the San Gabriel mountains
The vast Inland Empire is home to the stunning Claremont Wilderness Park that sits at the base of the San Gabriel mountains. With an over 1,620 acres, this wilderness park hosts several trails with its most prominent trail called the Claremont Wilderness Loop Trail. This wellness trail is wide in stature, providing a comfortable route for mountain biking, horseback riding, and hiking with the family. It's also dog-friendly.
When you arrive to the trail, there are two parking lots. One at the trail head, and the other, a short walking distance to the trail head. The fee to park in either lot is $5 on weekdays, and $7 on weekends.
The Claremont Loop Trail is a 5 mile loop, rated at a moderate level and starts at the bottom of the hill. The loop slowly inclines, winding through the lush hillside. Along the ridge line you'll witness delicate wild flowers, birds, and a couple lookout points for a scenic panoramic view of the city. One lookout point is found between miles 1.5 – 2, while the other beautiful lookout is at the halfway mark. These trail markers are easily spotted along the side of the trail to help you keep track of your miles accumulated.
Moreover, at halfway point, you'll also find picnic tables provided to have a picnic atop the serene mountain. Because this trail is popular, I do recommend hiking in the morning to avoid the crowds and the dry heat since there is little shade on the trail.
Looking for places to stay while hiking around
San Gabriel Mountains?
Check out these well reviewed places now for current prices and availability.
Best hikes in Los Angeles area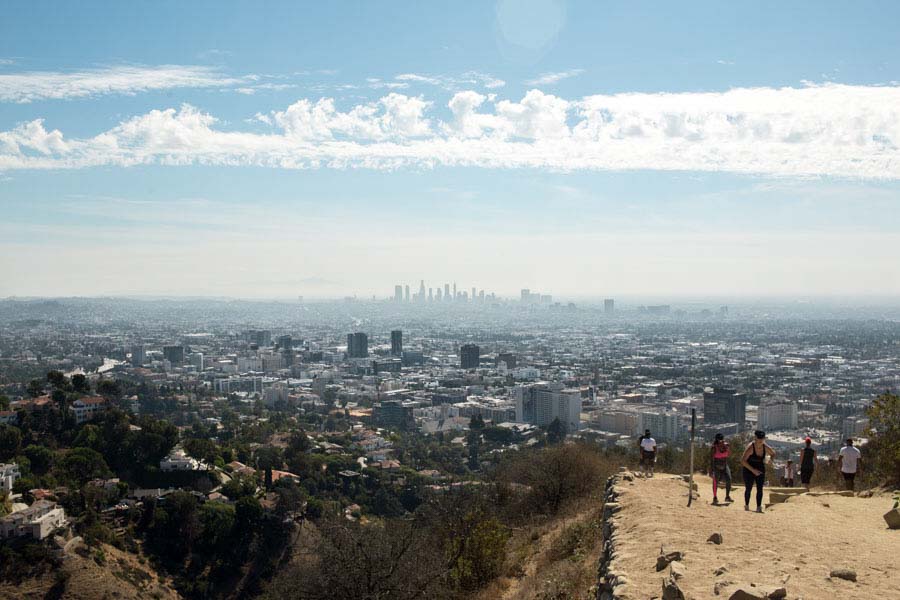 Runyon Canyon hike in Los Angeles
Tucked away in the Hollywood Hills is the iconic Runyon Canyon hike known to locals and tourists alike for its sweeping views of the Hollywood Sign, Griffith Observatory, million-dollar homes, and skyline of downtown Los Angeles. There are three trail loops distancing 1.9 miles, 2.65 miles, and 3.3 miles which all begin at the North Fuller Avenue entrance where there is a large gate. The famous lookout point can be seen from all loops with the longest loop being 3.3 miles taking about an hour and a half to complete. While on the shorter 1.9-mile loop, look for the East Ridge Trail. While at the top, you will come across a fence filled with Love Locks from couples. Bring a lock with you and snap a photo for the memories! This hike offers little shade so make sure to pack a hat, lots of water, and sunscreen. Dogs are allowed and, in designated areas, can be off leash. The trail features wide dirt paths and single-track trails that are heavily trafficked, so expect to see a lot of hikers along the way. Runyon Canyon is also known to have celebrity sightings due to its prime location near Hollywood. A parking lot is not available, so street parking is your best bet. When looking for parking in the neighborhoods be sure to check the street signs and watch out for permit-only spot! The trail is free and a fantastic bucket list activity when visiting Los Angeles!
Erin McLaughlin from The Gal On The Go
Looking for places to stay while hiking around
Runyon Canyon
? Check out these well reviewed places now for current prices and availability.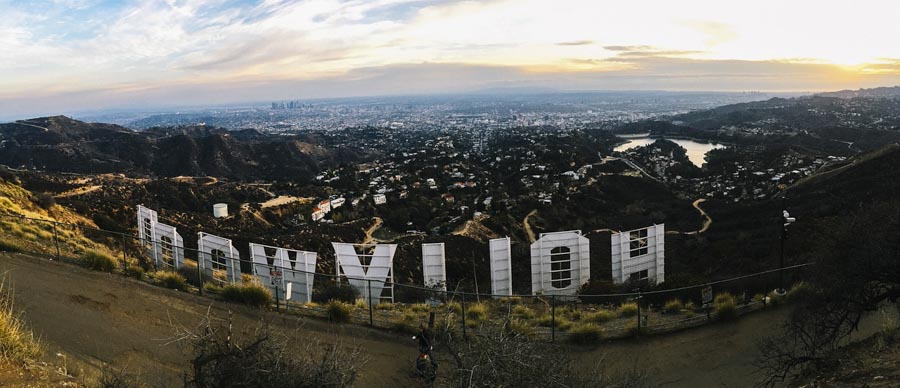 Hiking the iconic Hollywood sign
While the City of Angels boasts many amazing hikes, the trail to the Hollywood sign is one of those classic LA things that many visitors want to do. This 6-mile hike is located within Griffith Park, one of the largest urban parks in the United States.
The best place to start your hike is 3200 Canyon Drive in Los Angeles. If you look for directions online, you might find other information on how to find this trail, however, many hikes to the Hollywood Sign have been closed in recent years, as they were too close to residential areas.
The Hollywood Sign trail has a gradual ascend and is suitable for hikers of all levels. But after the initial stretch, the hike is very exposed and you will need to bring plenty of water and a hat, if you are going to do it on a hot summer day.
I recommend starting your journey as early as possible, as the trail tends to get crowded toward the afternoon. In addition, it's better to plan your trip for a clear day, so you are able to see the sprawling LA and the entire California coastline.
After enjoying LA, take a trip up to Santa Barbara, one of the most beautiful places in Central California. My guide will help you plan your itinerary!
Check out Daria's post on things to do in Santa Barbara
Looking for places to stay while hiking around Griffith Park? Check out these well reviewed places now for current prices and availability.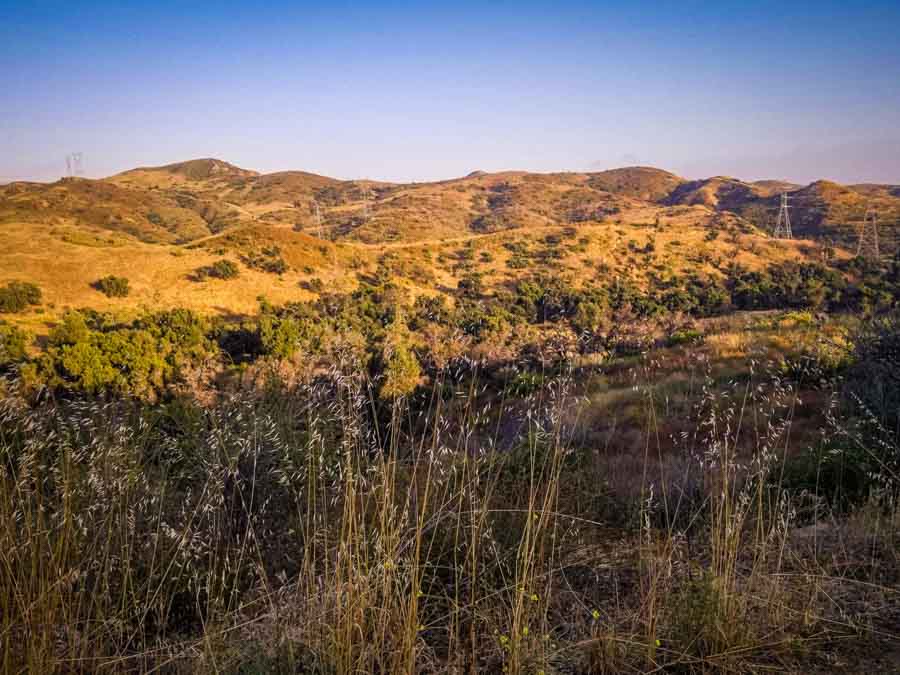 Santiago Oaks Regional Park
Santiago Oaks Regional Park is a true gem in Orange County and one of my favorite places to hike in California. You'll reach this 1300 acre park after a relaxing climb along the posh residential areas of Anaheim Hills that give off an almost Tuscan vibe. Once you reach the park, you'll encounter a variety of trails to choose from, from relatively easy to quite challenging. You can climb the steep canyons by yourself, on a bike, or a horse, and take in some beautiful views of the chaparral landscape. One of the highlights of every hike in Santiago Oaks Regional Park is Robber's Roost, a distinguishable rock on top of a hill overlooking the entire region. You can easily reach this spot after a short hike from Anaheim Hills Elementary School. For the best experience, I recommend climbing the rock in the evening to observe a stunning sunset. Its proximity to the park's entrance makes it easy to safely exit the trail before it gets too dark.
Looking for places to stay while hiking around Anaheim area? Check out these well reviewed places now for current prices and availability.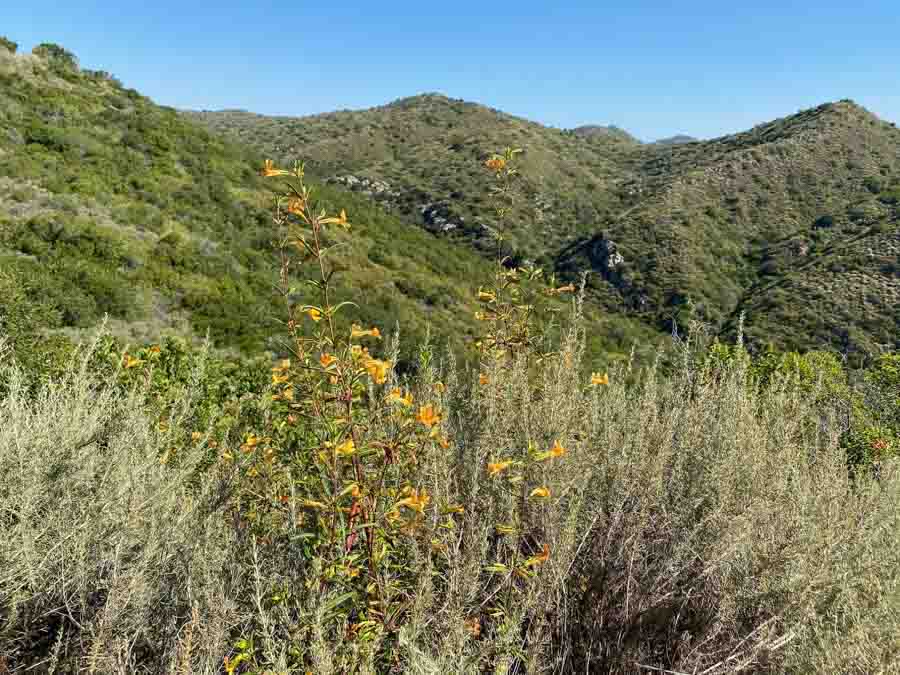 Laurel Canyon Trail, Laguna Beach
Most people speed down Laguna Canyon Drive towards the beach and have no idea they are surrounded by a unique reserve that is considered a biodiversity hotspot. These rare California coastal canyons protect a wealth of plants and wildlife called the Laguna Coast Wilderness Park. And it's for this reason that hiking in Laguna Beach should not be missed by outdoor enthusiasts.
Among the most scenic and peaceful hikes in this park is Laurel Canyon Trail, a 1.5 mile out-and-back trail of moderate difficulty. At first the trail follows the road and can be noisy, but soon it dips into a lush meadow and all signs of modern life disappear. Look out for a wide variety of birds since there are more than 100 species found in the park. Next the trail slopes up for a while giving hikers a good workout. If it's been a rainy winter, there may be a waterfall. And in the spring and early summer hikers are treated to a colorful display of wildflowers.
Anyone looking for a longer hike can opt to continue on Upper Laurel Trail or Laurel Spur. Parking for this hike can be found at the Willow Staging Area. The parking fee is $3 per day and the lot is open from 8 a.m. to 5 p.m. Weekends can be very busy so plan to arrive early.
Wendy Lee with Empty Nesters Hit The Road
Looking for places to stay while hiking around Laguna Beach area? Check out these well reviewed places now for current prices and availability.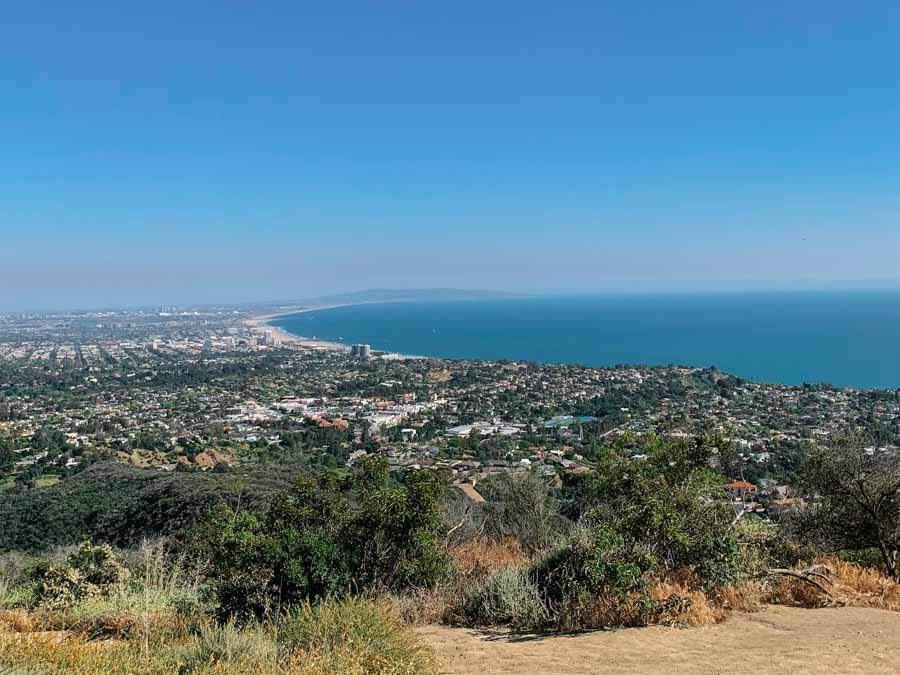 Temescal Canyon in Pacific Palisades
Temescal Canyon Gateway Park in Pacific Palisades, Los Angeles is a favorite hike of Angelenos and virtually unknown to tourists. It is part of Topanga Canyon State park in the Santa Monica Mountains. On a beautiful weekend day or holiday weekend, you can count on it being crowded so go early before 10am or for sunset if you are looking for a peaceful hike.
The hike is a 2.9 mile loop that includes amazing California beach and Pacific Ocean views with a small, but pretty waterfall along the way. Don't forget a camera! The elevation gain is 875 feet so it's a decent workout but it's not particularly long which makes it fun for almost everyone. If you want to hike further, this trail connects to multiple coastal trails.
Some tips that will make your hike better – wear trail runners or hiking shoes because the path can get gravely and slippery. If there has been a recent rain, it will be muddy. The harder part of the trail, with the ocean views, is to the left so you can either start by going up that side or finish coming down there. Always wear sunscreen and bring water when hiking any trail in Los Angeles. There is paid parking at the base of the trail.
Jenifer with The Evolista.com
Looking for places to stay while hiking around Temescal Canyon area? Check out these well reviewed places now for current prices and availability.
Best hikes near San Diego area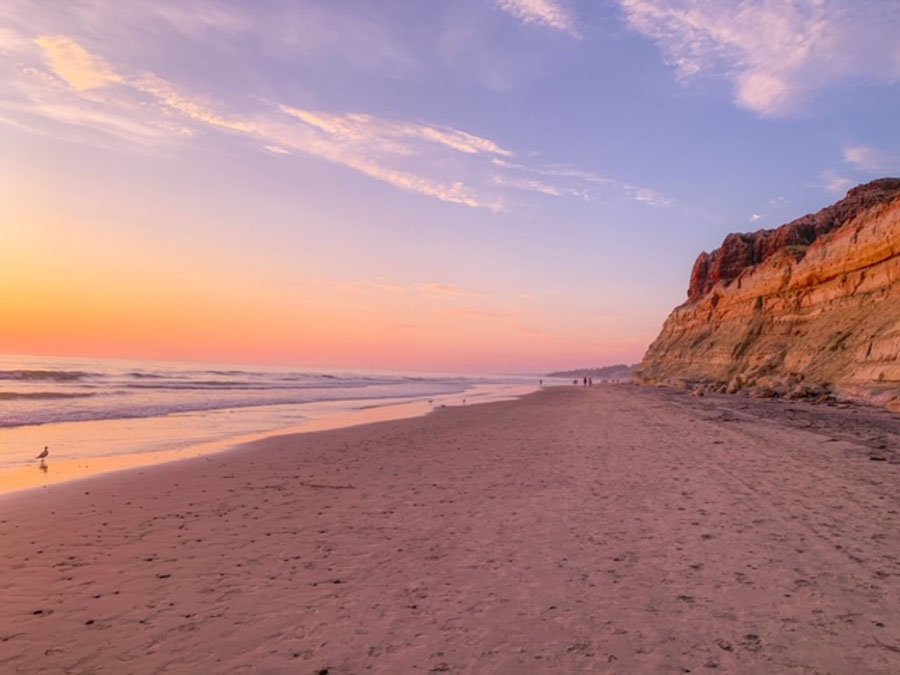 Torrey Pines outside La Jolla
San Diego may not have a national park, but it still has some pretty gorgeous hiking options. San Diego is mostly known for its weather and surf, but what you may not know is that there are plenty of San Diego hiking options too.
One of the best hiking options is called Torrey Pines. This hike is located in La Jolla right along the cliffs. Begin by parking either along the beach or in the parking lot below the start of the hike (this parking lot has a fee).
You will then head up the hill along the paved road. If you don't want to hike this paved road then you actually can drive to the top and park at the Torrey Pines Visitor's center; however, this is the part of the hike that gives you a leg workout.
Hiking through Torrey Pines is great for all ages! It is fairly easy, especially if you skip hiking up the road at the beginning. Once you reach the top you have multiple paths to choose from. My personal favorite is the Beach trail because you actually get to hike from the top of Torrey Pines Preserve all the way down to the beach.
I recommend that you spend the day relaxing on the beach and then finish your day by hiking up to the top of Torrey Pines Preserve and watching the sunset from atop. You won't be disappointed with the views from this hike!
Chelsey with My Explore with Me
Looking for places to stay while hiking around La Jolla area? Check out these well reviewed places now for current prices and availability.

The Potato Chip Rock Hike in San Diego
The Potato Chip Rock hike is one of the most iconic in the San Diego area, located about 30 minutes outside the city. There are three main trails that will lead you to the picturesque summit of Mt. Woodson, ranging in both difficulty and time. The easiest and most accessible trailhead, Lake Poway, is also the longest at 7.5 miles roundtrip. It is also the only trailhead that requires paid parking ($5USD a vehicle) and restrooms open to the public. Meanwhile, the shortest trailhead, Route 67, is only 4 miles roundtrip but is also the most difficult and strenuous.
Whichever trail you decide, make sure to pack plenty of water and sunscreen. There is no shade along the trail, and the California sun can be relentless. It might also be helpful to pack snacks and a saved offline map, However, the hike itself is pretty straight forward. Keep an eye out for "Butt Crack Rock" if you are hiking from the Route 67 trailhead, or just enjoy the wildflowers and lake view from the other trails. Towards the top, you will begin to spot the antennas at the summit. Right around the corner from the antennas, you will spot the famous "potato chip" rock formation! The actual rock is not the most accessible, as it requires a 3-foot jump to reach the rock, and there might be a long line waiting to take a picture there. To avoid the crowds, try hiking on a weekday in the early mornings!
Kay with The Awkward Traveller
Looking for places to stay while hiking around Mount Hoodson area? Check out these well reviewed places now for current prices and availability.
Best hikes in Northern California
There's a lot of cool San Francisco hikes and many other Bay Area hiking trails that is a fantastic experience to have in the region. Outside of the Bay Area, there are so many fantastic places to hike in Northern California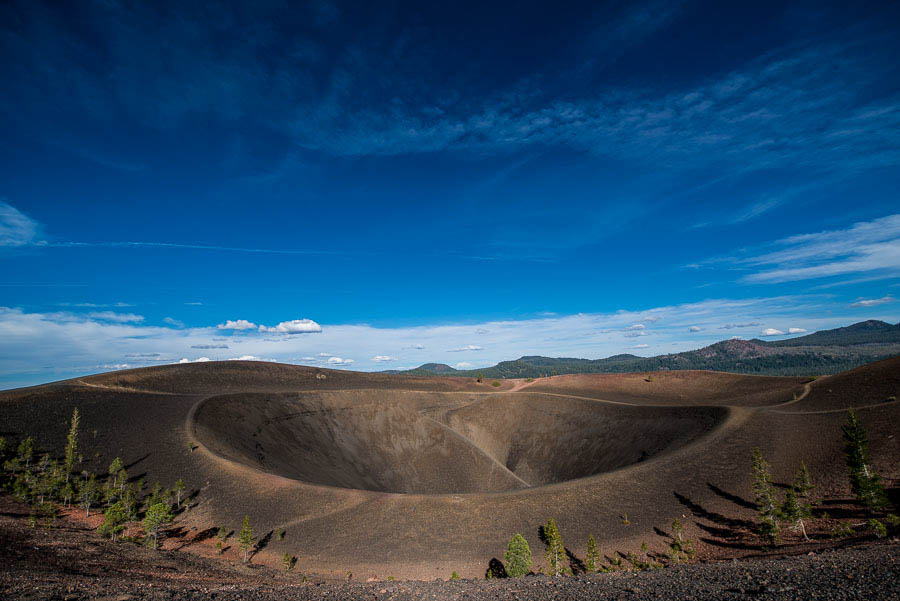 Lassen Volcanic National Park
The Lassen Cinder Cone is in a remote area of the Lassen Volcanic National Park. You have to drive for about an hour from the main part of the park to a different entrance, then take a six-mile gravel road.
From the trail head, it takes about an hour to walk to the base of the Cinder Cone–a walk in pumice sand that is much like walking on a beach. That walk is through a nice evergreen forest that is shaded and cool. The wind mostly stays in the tops of the trees and makes a nice breeze.
About 200 yards short of the actual path up the Cinder Cone, all vegetation stops and you feel like you've suddenly stepped onto a very black, windy, and dusty world. And, the path up the cone that's now just in front of you is a lot steeper than it looks. And the wind is much stiffer. book.
And that path is made of pumice stones that vary in size from golf ball to pea. And, since they are light pumice stone, they're very easy to displace. In other words, for every step up the hill you take, the stones roll back about half the distance of your pace–taking you back down the hill with them.
But, you'll develop a technique (hint: walking sticks help) that will get you to the top, where you'll see an almost verdant landscape that's a stark contrast to the moonscape you've just traversed. A welcome and stunning sight indeed.
Tom with Travel Past 50
Looking for places to stay while hiking around Lassen area? Check out these well reviewed places now for current prices and availability.
Best hikes San Francisco Bay Area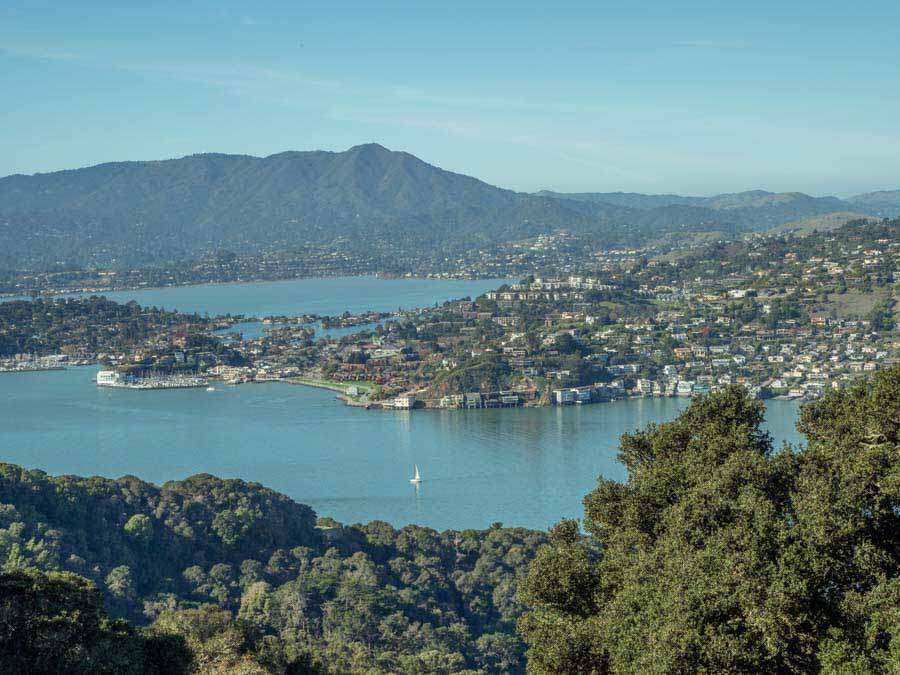 Angel Island State Park
Angel Island sits on a strategic location near the mouth of the Golden Gate. It was once a hunting and fishing site for the Miwok Native Americans, who are believed to have used it for a summer camp. At times, it has also bee– a cattle ranch, an army post during the civil war, an immigration and quarantine station, a World War II POW camp and a cold war missile site. This long history means that the island has a treasure trove of historical sites to be explored.
The island is also notable because it's such a lovely natural habitat right in the midst of a densely populated metro area.
The island has 13 miles of hiking and biking trails. Two notable hikes are the 5-mile loop trail, which circumnavigates the island, stopping at all of the major historical sites. There is also a shorter North Ridge Trail, which climbs to the top of the island, offering stunning 360' views of San Francisco, the bay and the Golden Gate Bridge.
Top things to do on Angel Island include:
The Immigration Station: This station is where thousands of immigrants were processed between 1910-1940.
Fort McDowell: A former military quarantine station built in 1899.
The Batteries: A series of gun emplacements that were used for various purposes between 1898 through the cold war.
Fort Reynolds: a Civil war era barracks.
Carol Guttery with Wayfaring Views
Looking for places to stay while hiking around Tiburon area? Check out these well reviewed places now for current prices and availability.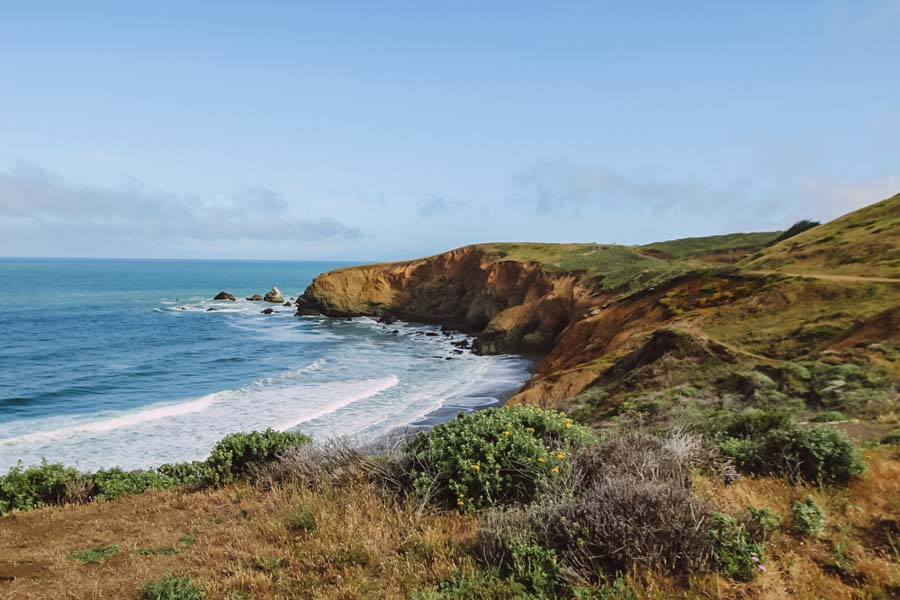 Mori Point in Pacifica
Mori Point is a popular hike among Bay Area locals and one of my favorite things to do in Pacifica, California. The Mori Point hike is a fairly easy 2 mile coastal walk along Pacifica's Headlands. It's located just off of Highway 1 so if you need to stretch your legs on your PCH road trip, this hike is for you.
There is a parking lot specifically for Mori Point, however, it's usually crowded, and street parking is easier to find!  I usually park in the neighborhood near Pacifica Pier, but just be warned this will add on about 1 mile of walking. From Pacifica Pier, walk south along the flat coastal trail in between the beach and Sharp Park Golf Course.
Once you reach the end of Sharp Park Beach you'll have two options to reach the top of Mori Point. You can either climb Bootlegger's Steps to the top or walk Old Mori Road trail up (slightly inclined switchbacks). It's incredibly easy to follow and I guarantee you there will be plenty of other people doing the same walk as you!
At the top you will have amazing views of the city of Pacifica, the pier, and waves crashing making for some excellent photo ops. The weather in Pacifica tends to be foggy which makes for interesting photos, but prepare by dressing in layers. Definitely add this gem of a hike to your California hiking bucket list.
Katie with Just Chasing Sunsets
Looking for places to stay while hiking around Pacifica area? Check out these well reviewed places now for current prices and availability.
Best hikes in Marin, Sonoma, Napa and North Bay Areas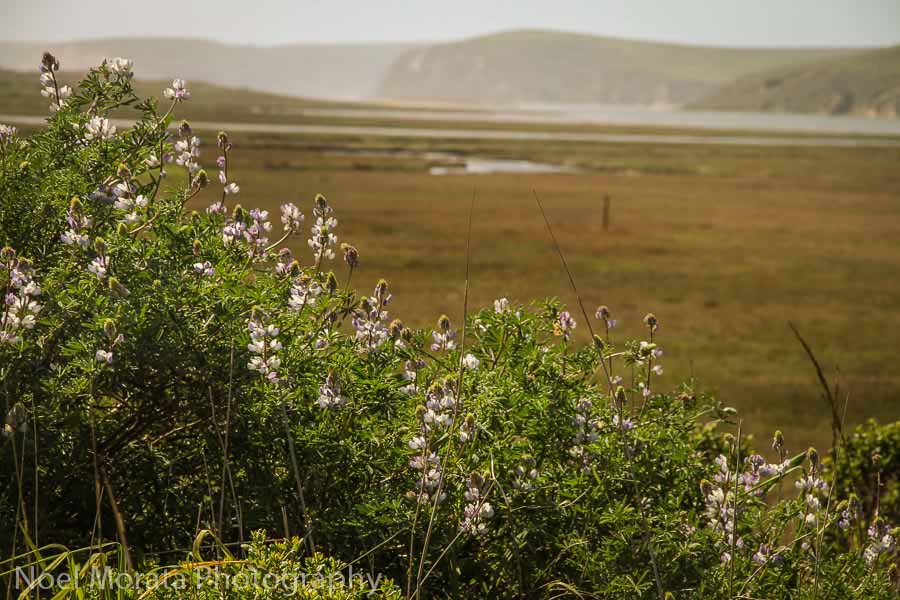 Hiking around the Point Reyes National Seashore
Located in Marin County and just a short hour and a half drive from San Francisco, the Point Reyes National Seashore is a hidden gem for those that want to see a stunning landscape of old California on the coastal reserve. This historic and magnificent park is gorgeous and a visit to the visitors center will give you a fantastic entry to wonderful trail maps, dioramas and events going on for the day. From the parking lot, you can do their iconic hike through the Bear Valley Trail wandering through redwood forests, rambling streams and grassy meadows and then to the stunning coastal areas, dunes and landscape of the oceanside areas of the park.  There are many other wonderful coastal hikes to do throughout the park and see fascinating segments that are unique with amazing wildlife to view in person. Check out my post on visiting Point Reyes National Seashore here for more inspirations and images to visiting this wonderful reserve.
Noel with Travel Photo Discovery
Looking for places to stay while hiking around Pt. Reyes area? Check out these well reviewed places now for current prices and availability.
Best hikes in the South Bay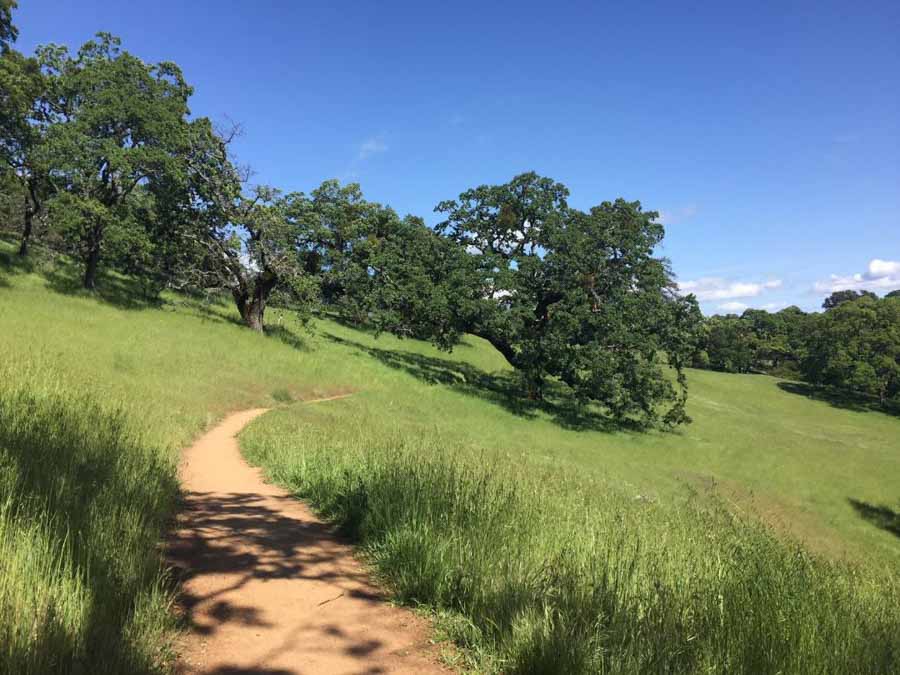 Henry Coe State Park in Northern California
California is blessed with many national, state, county, and city parks, each with its own character, charm and hiking trails. At about 87K acres, Henry Coe is the largest state park in Northern California. It offers some of the best spring wildflower blooms and a variety of trails. There's a trail for ability and interest. One can do a quick and easy hike or a multi-day back packing trip in the park. It's great for sunset photography and star gazing away from the city lights.
The best way to get to Henry Coe is to go on 101 and exit E Dunne Rd E, in Morgan Hill. Go straight up the hill for many miles until
You reach the parking lot.
Our favorite time to go "hiking in Henry Coe State Park"  is in spring. The park is filled with dozens of varieties of blooms, streams and lush greenery. In summer it tends to get quite hot so it's best to visit in early morning or late evening.
Jyoti with Story at Every Corner.com
Looking for places to stay while hiking around Henry Coe area? Check out these well reviewed places now for current prices and availability.
Best hikes in Central California and the coastal areas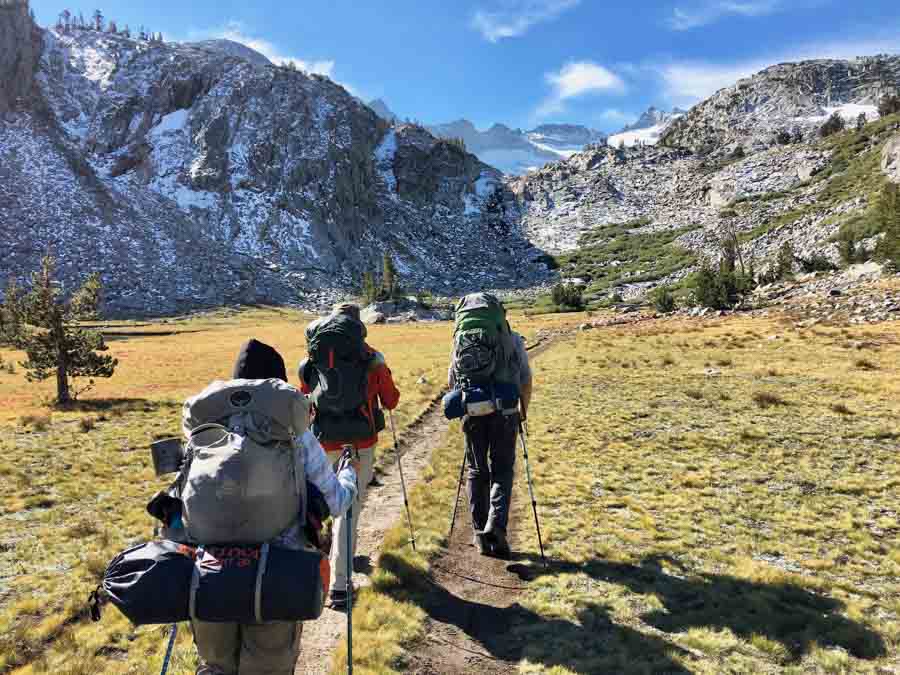 The John Muir Trail in Central Eastern California
The John Muir Trail is an epic hike in California, especially among long-distance backpackers. While you can choose to hike just a section of the trail, the true challenge is to thru-hike the entire 211 mile trail over the course of several weeks.
Spanning from Yosemite National Park to Mt. Whitney, the John Muir Trail mostly follows the Pacific Crest Trail and covers terrain in the Ansel Adams Wilderness, John Muir Wilderness, Sequoia National Park, and Kings Canyon National Park. You can choose to hike the trail in either a northbound or southbound direction, but both ways require a John Muir Trail permit which you will need to do some advanced planning to get.
Along the John Muir Trail, you will encounter spectacular wilderness vistas that make the long hike very worthwhile. The amount of stunning sights to photograph seem limitless, from alpine lakes to sequoia forests to mountain peaks. The terminus of the trail in Yosemite Valley offers views of the iconic Half Dome, and the other end of the trail sits at the summit of Mt. Whitney, the tallest point in the lower 48 states. Completing the entire John Muir Trail provides an amazing sense of accomplishment, as well as memories that will last a lifetime.
Allison with She Dreams of Alpine.com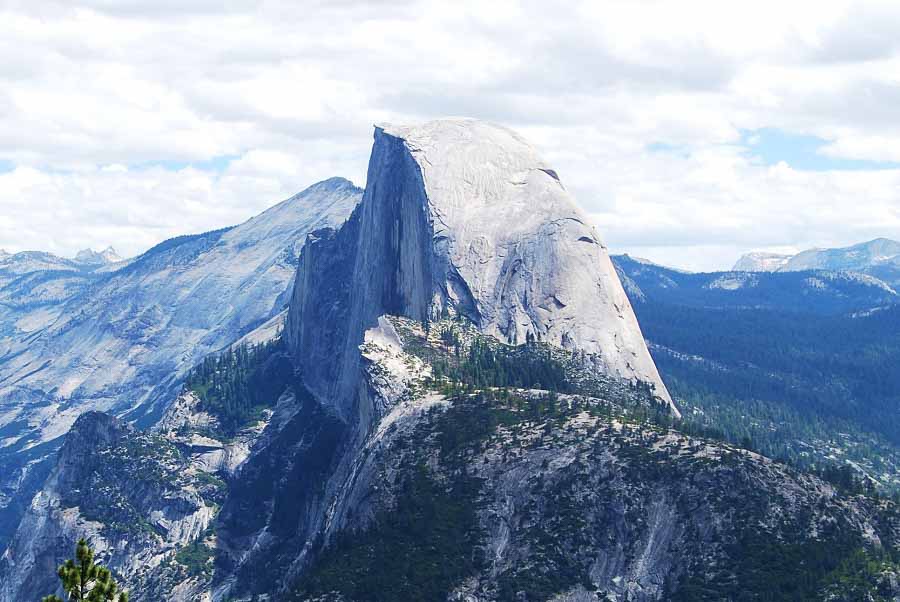 Half Dome at Yosemite National Park
Yosemite National Park is home to tens of hiking trails that stretch through the Sierra Nevada mountain range. No hike within the region is more iconic than the trek to the top of Half Dome, a spectacular slab of granite that has captivated hikers for centuries.
Trekking to the top of Half Dome is not for the faint of heart, and you must secure a permit in advance before completing the journey. The 16-mile hike starts at the Happy Isles and ventures past Nevada Falls and Vernal Falls and offers a look at Yosemite Valley from above. Finally, you'll reach the most exciting part of the hike, a near-vertical climb up the back of Half Dome itself.
Wooden planks and steel cables guide hikers up the granite dome. It is not a hike to do if you have a major fear of heights. Once you push past this section, you'll be rewarded with panoramic views of the park. The top of Half Dome is the perfect place to rest and feel as though you're on top of the world.
If you have the pack space, a camera is worth the extra weight. A zoom lens will help you capture wildlife. If you're lucky, you might spot deer hiding in between the trees, bald eagles soaring above, or even black bears wandering far away. A wide angle lens will capture Half Dome in its entirety, allowing viewers to admire its size.
Plan at least 10 to 12 hours to complete the whole journey. Bring plenty of water and start at sunrise to clock in a few miles before it starts getting too hot.
– Chantae from Chantae Was Here
Looking for places to stay while hiking around Yosemite area? Check out these well reviewed places now for current prices and availability.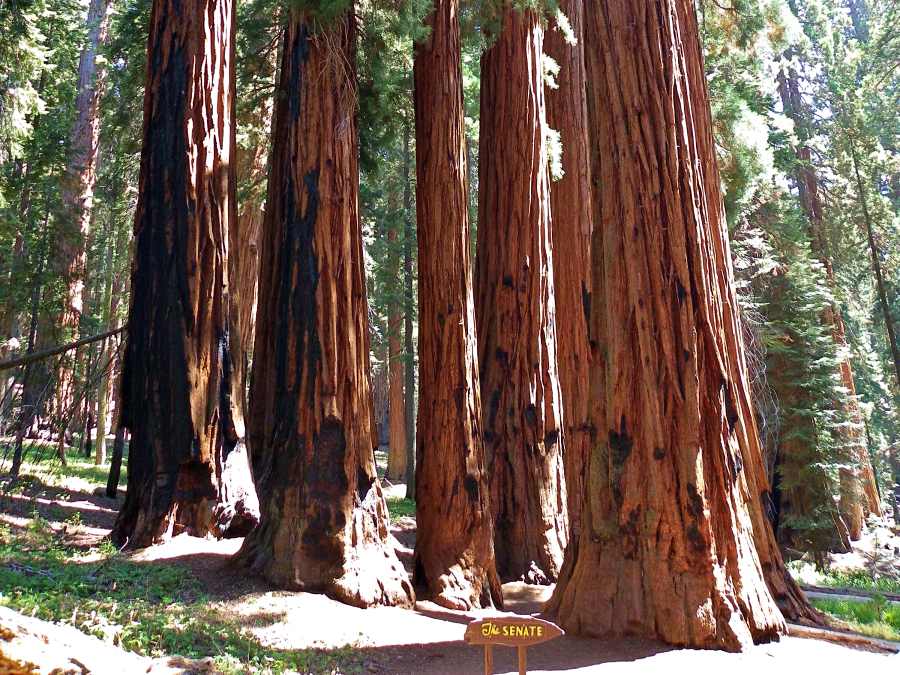 Hike: Congress Trail
Location: Sequoia National Park
Length: 2 miles/ 3.2 km (3 miles/ 4.8 km including the General Sherman Trail)
Elevation Change: 230 feet/ 70m
Difficulty: Easy
The hike starts at the General Sherman Tree.  It is 0.5 miles each way from the parking lot to the General Sherman Tree through a tunnel cut through the trunk of a giant sequoia that fell across the path. This is the world's largest tree. It's also the start of the Congress Trail.  The largest of the sequoia trees, which are biggest trees in the world, have been named after important political and historical figures, hence the name of the trail. The trail is loop and the beginning and end are through pine forest that contains few sequoias, but is still very pretty.  The first of the main sequoia trees are Chief Sequoya and the nearby President Tree, the world's fourth biggest.  A little further down the trail are two small groves of big trees. Most sequoias grow alone, so these clusters of trees – named the Senate and the House – are especially awe-inspiring.  A side trail between them takes you to Washington Tree. Further along is the McKinley Tree, then a side trail to the Room Tree (which has a hollowed out center as big as a room – yes, you can go inside!), and the Lincoln Tree (the world's fifth largest). You will also pass the enormous burnt root system of a fallen tree – it is easily four times the height of a full-grown adult. If you only hike one trail in Sequoia National Park, it should be this one!
James Ian at Travel Collecting
Looking for places to stay while hiking around Sequoia area? Check out these well reviewed places now for current prices and availability.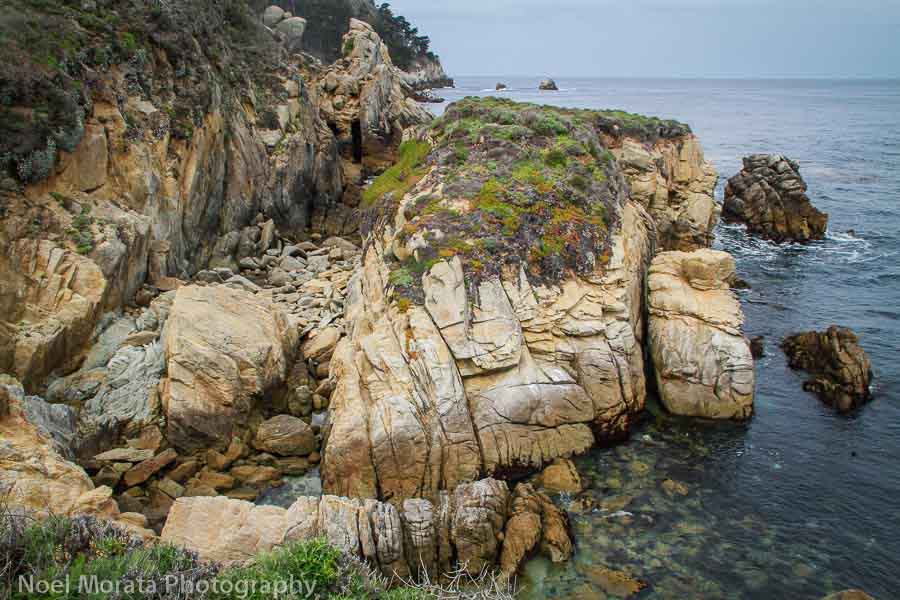 Hiking around Point Lobos State Reserve
Of all the most iconic coastal places to explore and visit is the Point Lobos State Reserve just a few miles drive from Monterey. This stunning coastal park has so many magnificent trails that skirt the beautiful coastline, rugged cliffs and forested areas within the park that are so wonderful to walk through, enjoy and then capture in your photography. It really is a photographer lover's dream to explore this area and even see some amazing wildlife ( whales, deer, Sea Lions, stinky skunks and a plethora of seabirds living around the park. Come and visit the park in spring time when all the California wildflowers are in bloom and it really is a stunning display to witness and hike through. Fantastic hikes to enjoy include the Granite Point Trail to Moss Cove Trail or the opposite direction with the Cabin Trail to the North Shore Trail traversing the beautiful scenic coastal areas of this amazing park. You'll love visiting this park and start your visit with a stop at the visitors center to pick up a map and check out any active guided hikes or events happening on your visit that day.
Noel with Travel Photo Discovery
Looking for places to stay while hiking around Point Lobos area? Check out these well reviewed places now for current prices and availability.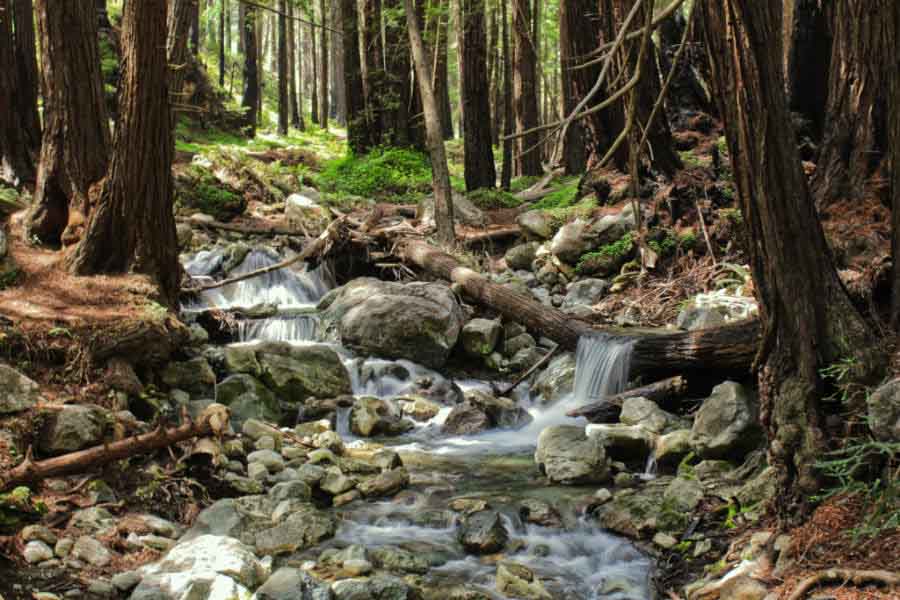 Limekiln State Park in Big Sur
While Big Sur is full of amazing hikes, Limekiln State Park is the perfect park for a cool and refreshing hike. The two primary trails in this park run along Limekiln Creek. The rushing waters of the creek add to the somewhat otherworldly atmosphere of the park. You'll be shaded by a new growth redwood forest as you hike along the well traveled path.
About halfway into the hike, you'll come to a split in the trail. The primary trail will continue alongside the creek towards the eponymous limekilns that provide the park its name. However, the better hike will take you towards Limekiln Falls. This is going to require a couple of water crossings that do not have bridges. If you're wary of getting your feet wet, then stay on the main trail.
Once you reach the falls, enjoy a few minutes there. The hike is an out and back, so you'll be retracing your steps along the creek. When you reach the split, take the opportunity to hike the short way to Limekilns before heading back to the beginning.
Limekiln State Park also offers camping, so don't be afraid to grab a campsite. Not only does Limekiln offer a great hike, but its the perfect spot for a basecamp to explore the rest of Big Sur. It's also a great stop if you're driving along the Pacific Coast Highway for that epic road trip!
Looking for places to stay while hiking around
Big Sur area
? Check out these well reviewed places now for current prices and availability.
Best hikes Eastern California areas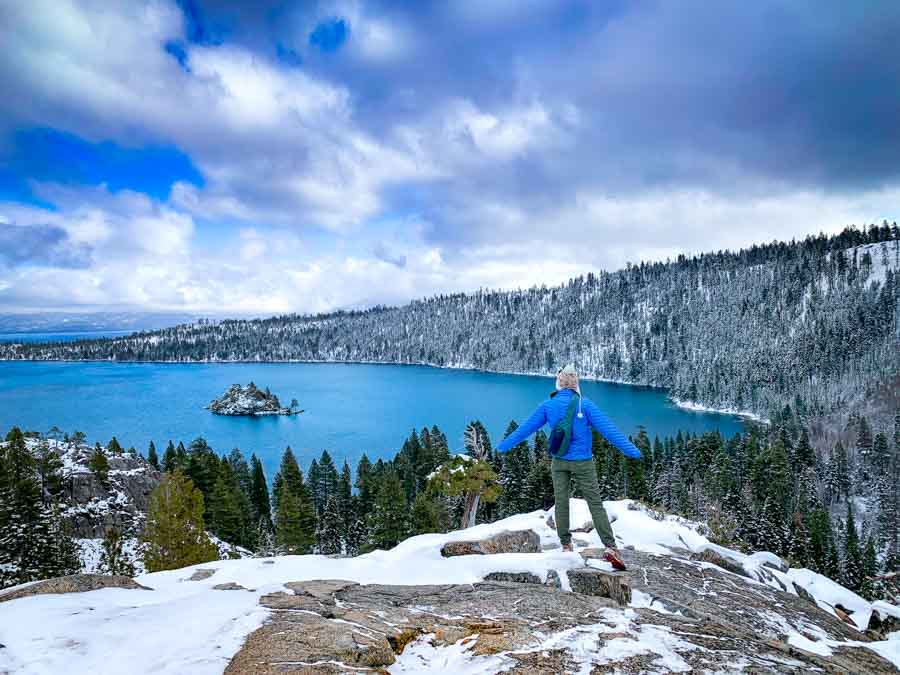 Sweeping Vistas of Lake Tahoe at Eagle Lake
Located on the southern shores of Lake Tahoe, California's Desolation Wilderness hosts some of the best hikes in Lake Tahoe. Eagle Lake is one of the most accessible (and beautiful) hikes in California. Take Highway 89 south from South Lake until you reach the famous Emerald Bay Overlook. You'll start your hike from here. Spend time exploring the amazing views of Emerald Bay and Eagle Falls either before or after your hike.
The 1.8-mile out-and-back trail climbs a steep hillside after crossing a few bridges. Turn back and enjoy spectacular views of Lake Tahoe. You'll certainly want to bring your camera for this one! Continue along the trail until you reach a smaller, yet still stunning, alpine lake. This is Eagle Lake and it's an excellent spot to stop for a snack. You can opt to continue upwards another 1.6 miles until you reach the Bayview Trail Junction for even more spectacular views. Return the way you came for an amazing half-day outing.
All hikes in the Desolation Wilderness Require a permit. Simply fill out the permit application at the trailhead. If you're parked in the parking lot (as opposed to the road) you'll need to pay a $5 fee. This is a super iconic area, making it quite crowded during the day throughout the year. In order to make the most of this beautiful place, opt to go early (for sunrise) or take in the sunset views. Overall, this relatively easy hike is all about the wow-factor of both Lake Tahoe and the surrounding Sierra Nevada Mountains.
Meg Atteberry of Fox in the Forest
Looking for places to stay while hiking around Lake Tahoe area? Check out these well reviewed places now for current prices and availability.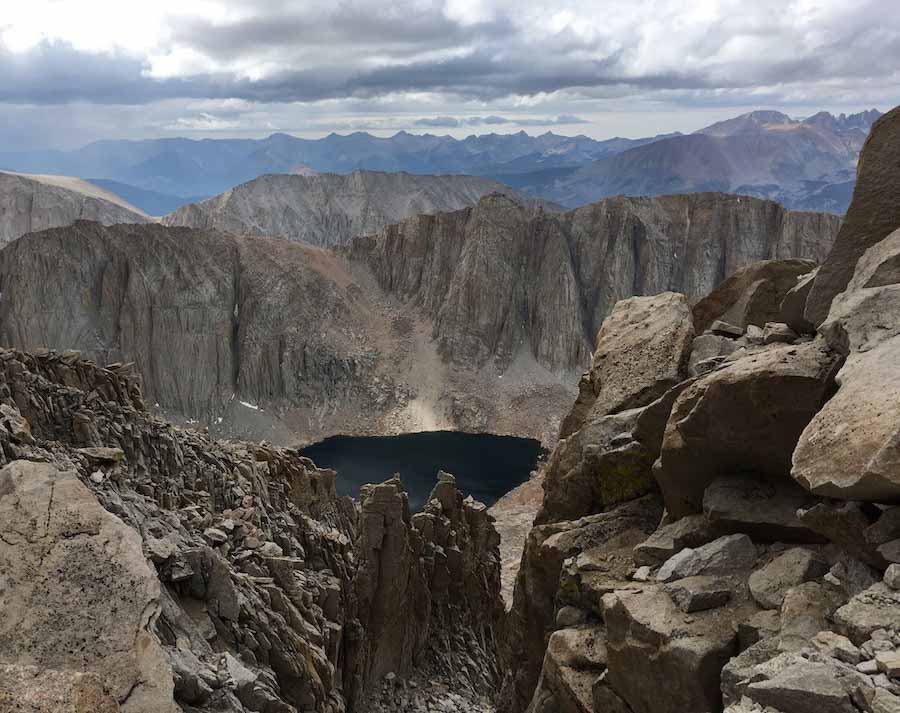 Hiking to the top of Mount Whitney
Mount Whitney is the tallest mountain in the lower 48 states and one of the most iconic amongst outdoor enthusiasts. Standing at 14,505 feet, Mount Whitney isn't exactly a walk in the park. The 22-mile out-and-back trail is a challenge to many but the feeling of standing on that summit is well worth it.
Hiking to the summit and back to the trailhead can be done as a day trip or an overnight backpacking trip. Permits are needed for this hike from May 1st to November 1st each year. Only 100 day-hikers and 60 backpackers are permitted each day which can make this hike even more of a challenge.
Mount Whitney is a part of the Sierra Nevada Mountains and will take you through Inyo National Forest and  Sequoia National Park. The summit is also the southern end of the John Muir Trail. Along the way, you'll pass through a couple of campsites, various lakes, and climb the 99 switchbacks.
As you get closer to the summit the views become out of this world, quite literally. The other mountains in the distance will have you feeling like you're on another planet. You'll climb many rocky steps until you reach the summit. And there you'll stand at the highest point in the contiguous United States.
Check out Jeanine's post about Mount Whitney and a permit lottery
Looking for places to stay while hiking around Mt Whitney area? Check out these well reviewed places now for current prices and availability.
Little Lakes Valley Trail to Morgan Pass – Mammoth Lakes, CA
The Eastern Sierra of California is a hiker's dream. The iconic 2,650-mile Pacific Crest Trail runs the length of the Sierra Nevada range and traverses high peaks, alpine lakes, wildflower studded meadows, and towering pine forests.
But there are also plenty of amazing day hikes within the Sierra Nevada range as well. One of the most beautiful trails is Little Lakes Valley to Morgan Pass. The hike starts at 10,300ft from Mosquito Flats Trailhead at the end of Rock Creek Road and gradually winds its way up along a gently flowing river. In the spring the wildflowers along this section are incredible.
After about 15 minutes of hiking, the trail passes over a slight rise and opens up into a valley backdropped with incredible views of jagged snowcapped peaks mirrored by a shining lake. It is one of the most beautiful sights in the Eastern Sierra.
The trail continues on for several miles, passing crystal clear alpine lakes and grassy meadows. The grade is mellow with only a few short, steep inclines.
For a 7.2-mile out-and-back hike, take the turnoff to Gem Lakes and explore this little cluster of beautiful lakes before heading back to the trailhead.
Little Lakes Valley tends to be popular in the summer. It's best to visit in late spring when the wildflowers are blooming or in the fall when the aspen leaves turn to gold.
Becky from Two Wheeled Wanderer
Looking for places to stay while hiking around Mammoth Lakes area? Check out these well reviewed places now for current prices and availability.
Share this or pin this for later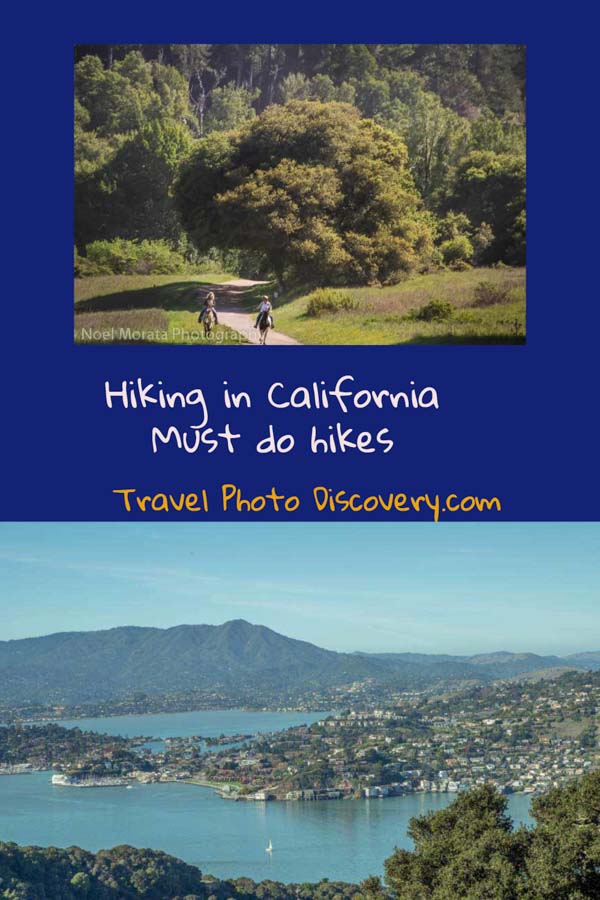 More inside tips to hiking around California
Plan Ahead: Research the trail you intend to hike, including its length, difficulty level, and any permits or reservations required. Check the weather forecast before heading out and let someone know your hiking plans.
Start Early: Begin your hike early in the morning to avoid the midday heat and to allow ample time to complete the trail. It's also a great way to experience beautiful sunrises and beat the crowds.
Carry Sufficient Water: California's climate can be dry and hot, so it's crucial to stay hydrated. Carry enough water to last the entire hike, and consider bringing a water filtration system or purification tablets for longer hikes.
Pack Essential Gear: Wear appropriate hiking shoes or boots, and dress in layers to accommodate changing weather conditions. Carry a backpack with essentials such as a map, compass, first aid kit, sunscreen, insect repellent, headlamp, extra batteries, and snacks.
Leave No Trace: Practice Leave No Trace principles to minimize your impact on the environment. Pack out all trash, stay on designated trails, and respect wildlife and plant life. Leave the trail as you found it for others to enjoy.
Check for Trail Closures and Conditions: Before heading out, check for any trail closures, alerts, or warnings on the websites or social media accounts of the relevant park or trail authority. Conditions can change due to wildfires, weather events, or maintenance work.
Wildlife Awareness: California is home to diverse wildlife, including bears, mountain lions, snakes, and more. Research the area you're hiking in and learn about any potential wildlife encounters. Carry bear spray if hiking in bear country and be cautious when approaching any wild animals.
Know Your Limits: Choose hikes that match your fitness level and experience. California offers trails for all abilities, so select ones that align with your capabilities. It's okay to start with shorter or easier hikes and gradually work your way up.
Consider Trail Etiquette: Be mindful of other hikers on the trail. Yield to uphill hikers, stay to the right to allow others to pass, and keep noise levels low to preserve the tranquility of the wilderness.
Enjoy the Journey: Take your time to soak in the stunning natural beauty that California has to offer. Pause frequently to appreciate the views, snap some photos, and connect with nature.
Remember, safety should be your top priority while hiking. Always be prepared, exercise caution, and follow any guidelines or regulations set by the authorities. Happy hiking in California!
Check out these other posts on California
Best national parks in California
Best places to go in California
20 best day trips from Los Angeles
Fun and unusual activities to do in San Francisco
Conclusion on Hiking in California
There's so much fantastic nature to explore around California and being outdoors and hiking around the state is one of the best ways to enjoy the best of different landscapes, California's regional, state and national parks, the coastal areas through the central foothills and into the majestic Sierra Nevadas and hill country to even wine country.
Thanks for visiting and checking out this post on Hiking in California. Bookmark this post for future reference when you are looking for some Hawaii activities, adventure or fun experiences.
Please do share this post with any of the social media icons on the side bar and thanks for visiting today!