Fun and unusual things to do in San Francisco: Here's what's cool, unique and different to do(2023)

So what's the fun and unusual things to do in San Francisco outside of the typical attractions to see in the city you ask? A lot, considering all the fun new  attractions, repurposed historic landmarks and cool hidden venues to visit, you can find a lot of fascinating places and things to do in San Francisco outside of the tourist traps.
If your looking for some fun and unusual things to do in San Francisco, especially the cool things to do in San Francisco with kids, check out these places below and I'm sure you'll enjoy your visit to the city.
Weather and best time to visit San Francisco
San Francisco's weather is influenced by its unique microclimates, and the best time to visit depends on your preferences. Here's a breakdown of the seasons:
**1. Spring (March to May):**
– Spring in San Francisco is mild and often foggy, especially near the coast.
– It's a good time for fewer crowds and lower hotel rates.
– Ideal for exploring the city's cultural attractions and parks.
**2. Summer (June to August):**
– Summer is the peak tourist season, with pleasant, sunny weather.
– Average temperatures range from the mid-50s to mid-60s °F (12-20°C).
– It's perfect for outdoor activities and exploring the iconic landmarks.
– Note that Karl the Fog (the city's famous fog) may make appearances, especially in the mornings.
**3. Fall (September to November):**
– Early fall is considered one of the best times to visit. Weather remains warm and pleasant.
– Crowds begin to thin out after the summer rush.
– September and October offer ideal conditions for sightseeing.
**4. Winter (December to February):**
– San Francisco's winter is characterized by cooler temperatures and occasional rain.
– While it's not the warmest time for outdoor activities, it's great for cultural and indoor attractions.
– December brings festive holiday events to the city.
In summary, the best time to visit San Francisco largely depends on your preferences. If you enjoy mild, sunny weather and don't mind crowds, summer is a popular choice. For pleasant weather with fewer tourists, consider early fall. Spring and winter offer unique experiences and are excellent for those looking to explore the city's cultural and culinary scene without the summer crowds.
Here's some of the cool, unique and fun things to do in San Francisco
Leave all the typical tourist attractions of the zig zag road of Lombard street, the Golden Gate bridge or Fisherman's Wharf, there are so many new and interesting places to visit around the city now. After checking out the most famous landmarks of San Francisco, I'm sure you will be ready to find some unique and off the beaten path places to discover in the city right?
Check out the best of these unique neighborhoods, attractions and one of a kind places in the city below.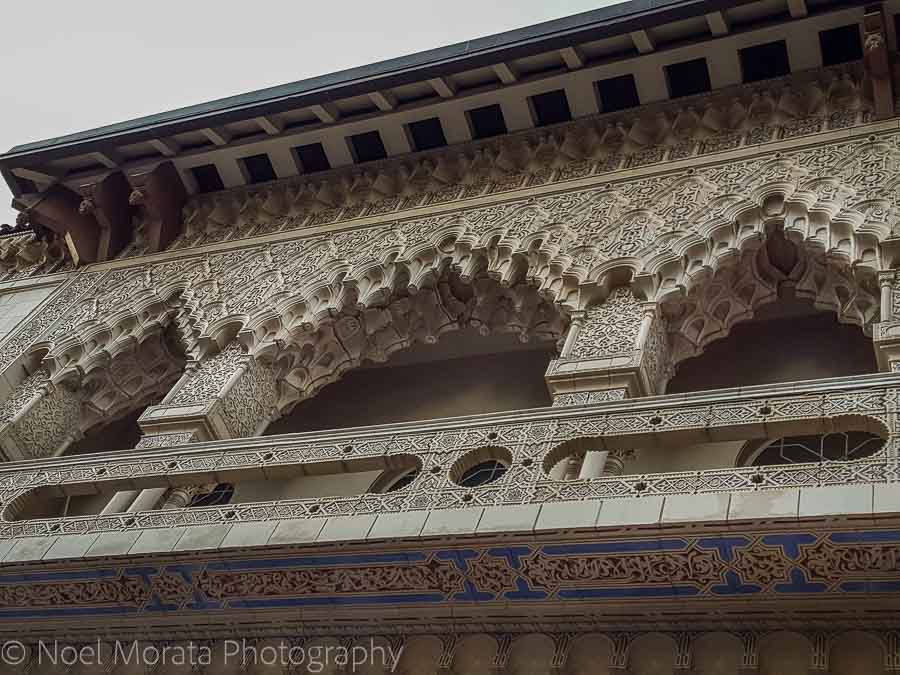 Visit the up and coming Little Saigon area in the Tendernob district
This once seedy and fringe area of the city on the edge of City Hall is where many new immigrants have set up shop and established a variety of amazing food from around the world. Primarily a spot to find some delicious Vietnamese foiood and known affectionately as Little Saigon, the area also has an influx of Thai, Indian, Middle Eastern to Latin inspired venues that are all inexpensive mom and pop type establishments. For visitors that want to get a good sampling of different ethnic foods in the area with an expert then book a tour with Explore San Francisco, they have a variety of different locations but their Little Saigon tour is run by a local who has worked in both the Chinatown and Little Saigon neighborhoods. For details and tour information, you can check out their website here.
Tip: This is a little rough on different blocks, so I would advise doing a walk or tour during the day time instead of the evening when the area is bustling. (all depends on your comfort level)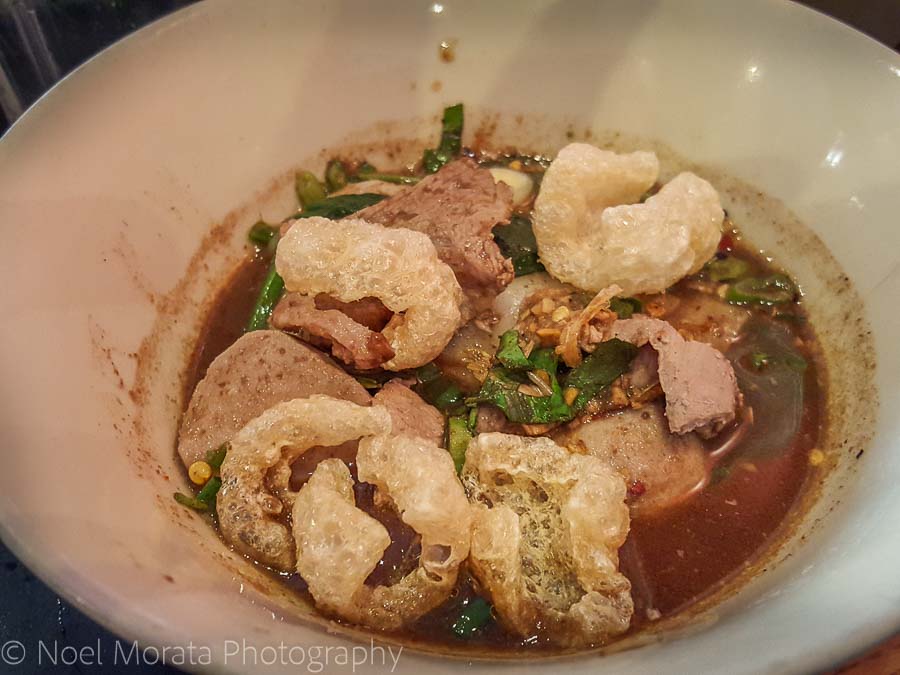 Here's a look at Tenderloin and Little Saigon area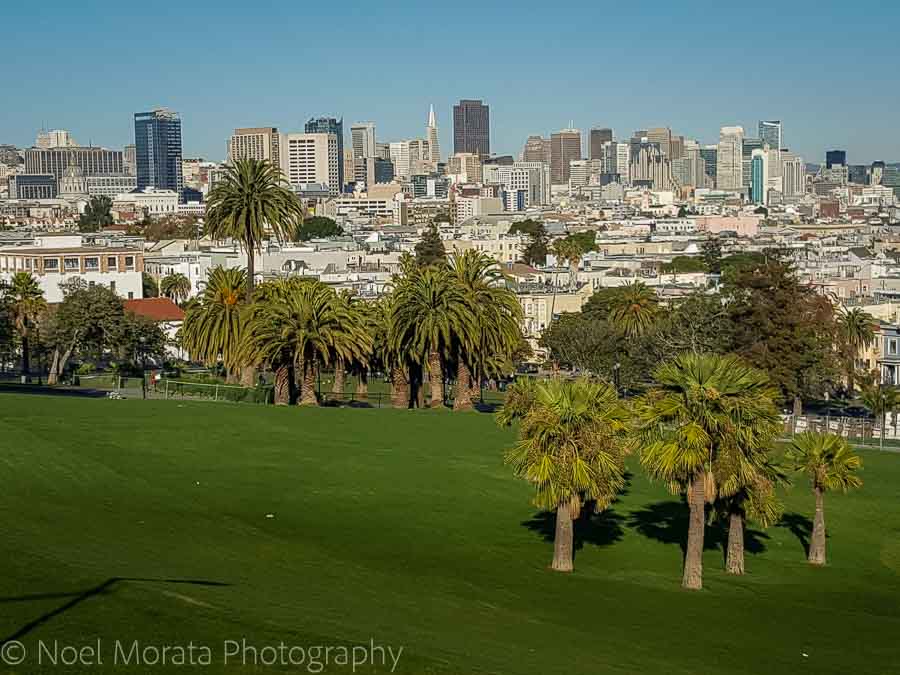 Explore and hang out in the Castro District 
The Gay district of San Francisco better known as the Castro is colorful, friendly and fun to explore. You'll see a lot of fun and inexpensive food venues, bars and stores that cater to a gay and gay friendly clientele and visitors from international locations come to visit and explore the area.
The Castro District is always changing with new venues and development in the area so there are always interesting new places to shop, eat and hang out in this neighborhood. There's also fun outdoor venues to enjoy like Mission Delores Park, Corona Heights and the Triangle area which is very popular with locals enjoying some time on the lawn and park area grounds.
Theater shows at the Castro Theater and other small performance venues add entertainment options and events for visitors and the public to also enjoy while visiting the Castro District of San Francisco.
Take a tour of the Castro area below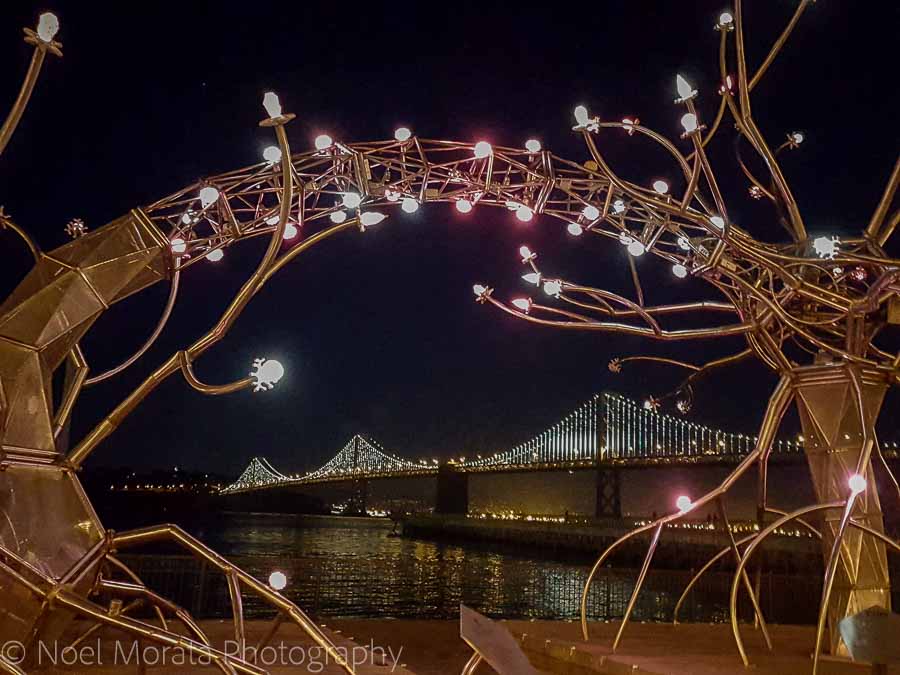 Check out the Illuminate SF installations around the city
For visitors in interested in the combination of cool light and art installations in the city, walking around at night to check out Illuminate SF is a different way to enjoy art and creative lighting around the city. Most of these public art displays can be found in busy tourist locations and if you are in the area, a fun thing to do in San Francisco.  Or you can also take docent lead tours of closely grouped exhibits, to do this check out the calendar of events and tours on their website here.
Tip: the revolving show is seasonal so check out the site to see what is currently being shown in the various parts of the city.
Check out what Illuminate is all about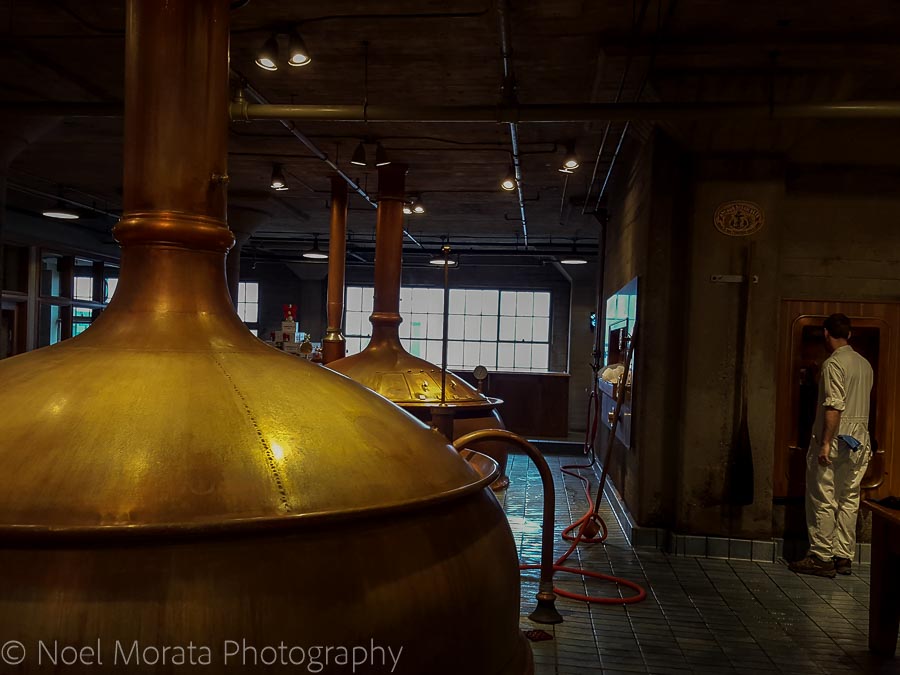 Visit the cities first and only Beer brewing distillery at Anchor Brewery
Located in a landmark building in the design district and tracing back all the way from the California Gold rush, Anchor Brewery is a fun visit to San Francisco's past with a brewery tour and tasting in their cool tasting area. The relatively short tour (45 mins) around the brewery with the cool copper vats that the beers are distilled in offer fantastic photo ops inside the building along with the tasting room with its antique bar. After completing the brewery tour ,the bar is open with servers offer tastes of their recent brews and favorites and it's a relaxed environment, like a fun pub where you can enjoy the company of friends with plenty of time to take in this unique experience. Reservations are necessary due to the popular tours, so to book a visit, you can check their website here.
Tip: the stunning tasting room bar is really beautiful and worth taking a few pictures in the room along with trying out some of the favorite brews on tap.
A visit to Anchor Brewery below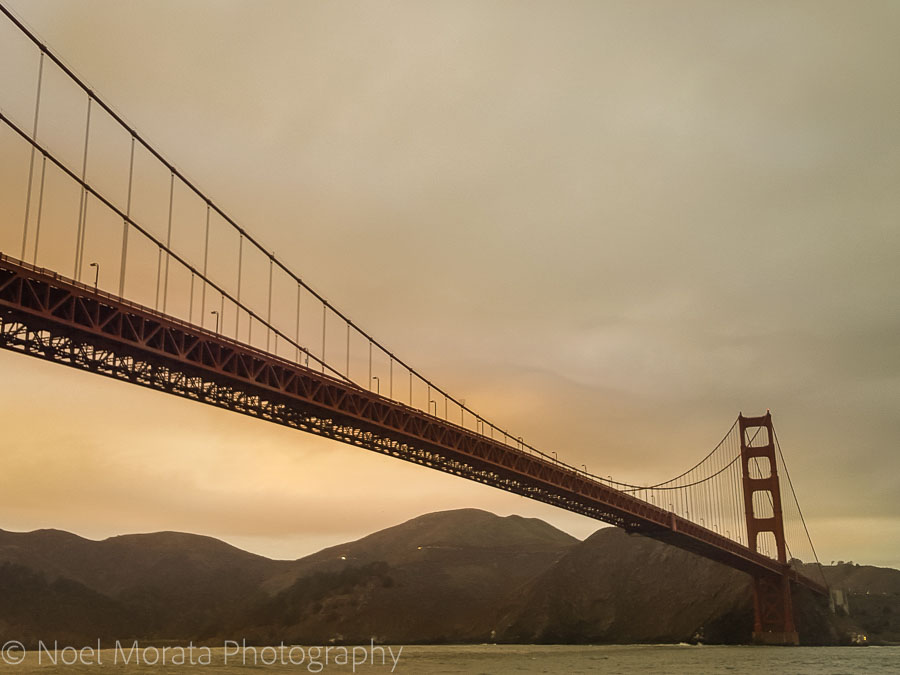 Take a catamaran sail around San Francisco bay
If you want to experience San Francisco in a different way then being on the water is a fantastic way to see the amazing skyline and magnificent landmarks of the city.  Taking a catamaran sail on the bay is fun especially when you get to sail right under the Golden Gate bridge at sunset and enjoy the city lights at night time when you sail back to the main dock at Pier 39. I would recommend taking the sunset cruise with Adventure Cat Sailing so you can get some wonderful afternoon, sunset and evening views to photograph the city in different lighting conditions, plus there are nice appetizers and drinks included on the sunset cruise. For more information on catamaran sails on Adventure Cat Sailing Charters, you can check out their website here.
Tip: there are many cruise companies around the bay but this is a very cool way to sail on a catamaran where you really enjoy being on the water.
 
Happy hour with panoramic views of San Francisco and bay
There's nothing like seeing San Francisco from above and one of the most stunning locations to see downtown and the entire bay area would be at the top of the Marriot at their View Lounge bar. Located on the 39th floor, the views from the View Lounge are truly magnificent and if you get there when they open at 4pm, you will be rewarded with gorgeous afternoon light into sunset (try to get to the View Lounge on a clear day). Of course, trying out some of their appetizers or a cool cocktail will enhance the experience while you see the scene change slowly for sunset in the city. For more information on the View, menu and open hours, check out their website here.
Tip: there are many spots around the city with fantastic views from above, you can check out my link below of places that are open for the public to check out some amazing panoramas of the city.
Check out the views from the Lounge Bar at the Marriott below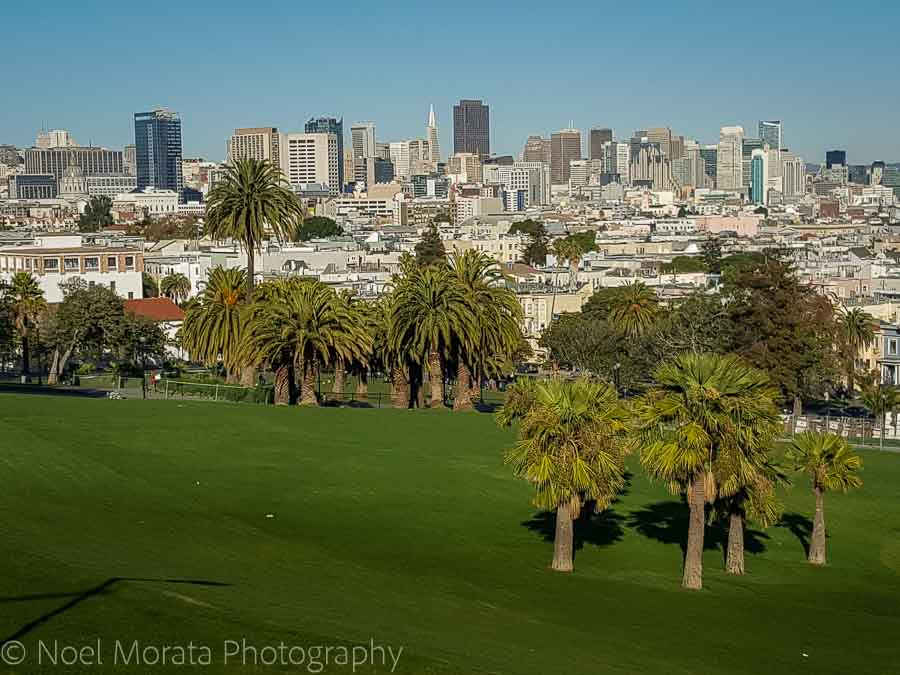 Views of San Francisco from above
A San Francisco point of interest is to see the city from above with beautiful panoramas of the city below, and there many spots around the city where you will find these wonderful views of the city. If you are interested in checking out some of the best views of San Francisco from above, take a look at a recent post I did here, it's definitely worth the effort to get to some of these places when you visit the city. Although quite a few are from hotels that require a drink or meal, there are a few that are also free and just require you to walk up to that destination or better yet, just take public transportation.
Dolores park has one of the prettiest views and a cool hang out vibe below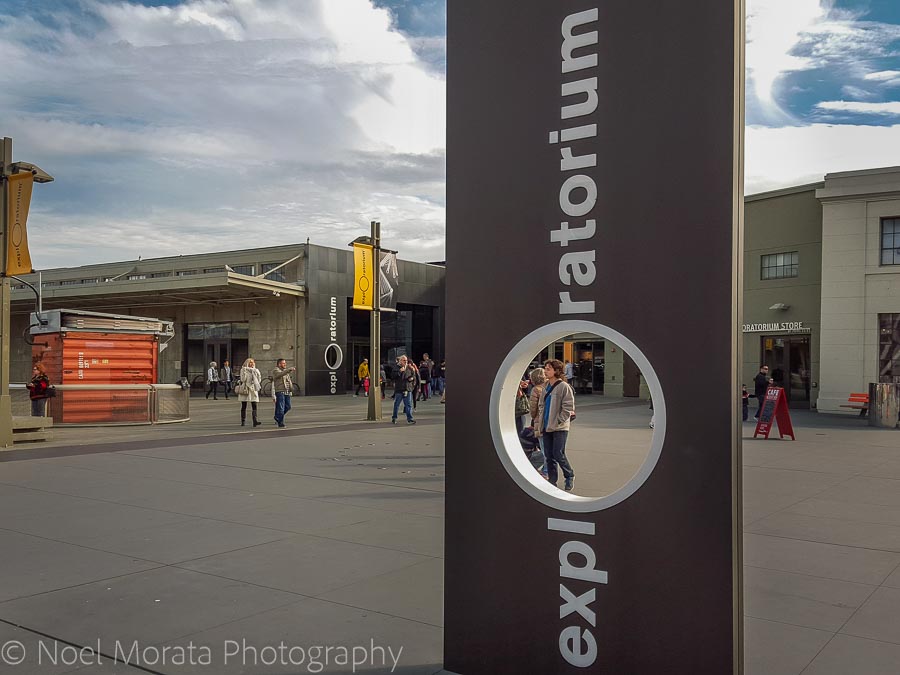 A visit to the Exploratorium
One of the fun things to do in San Francisco is to visit the New Exploratorium on the waterfront. The expanded Exploratorium is a fantastic place to bring children or the young at heart to experience this cool space. Inside, it's fun to explore the museum filled with a combination of science, art and interactive exhibits and displays that the museum specializes in. Education and fun is the main entertainment focus while the views outside on the bay and city are also a worthwhile draw to the Embarcadero. For more information about the museum, special exhibits and entry, check out their website here.
Interior and exhibits at the Exploratorium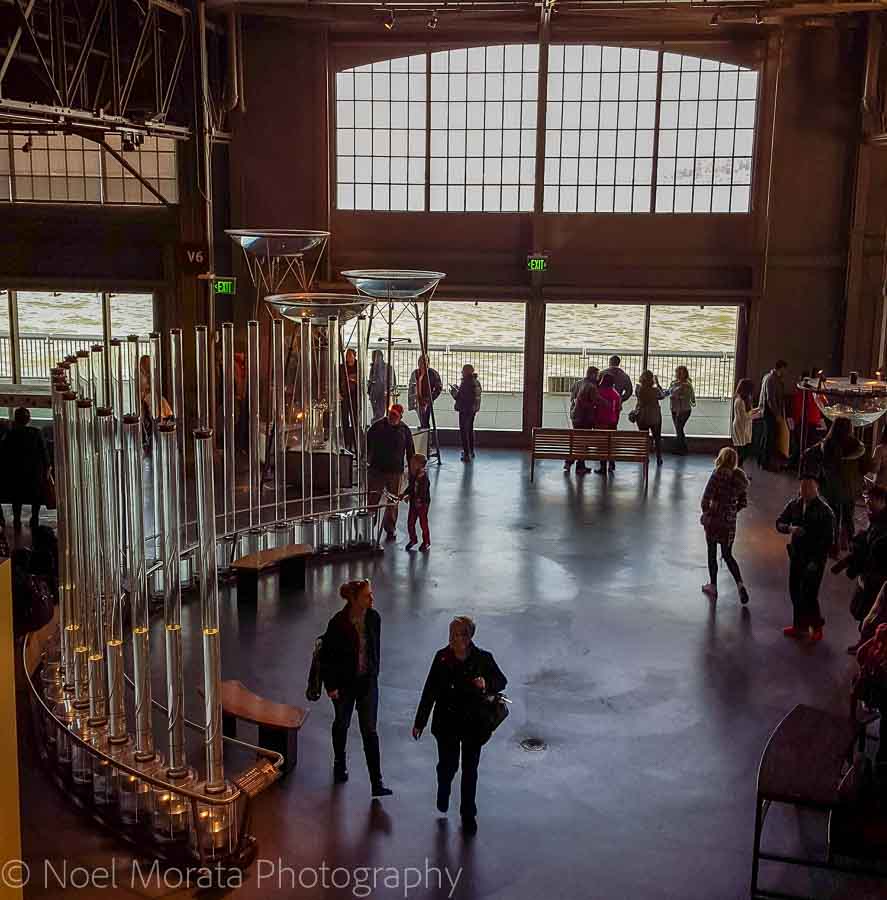 Visit the family friendly Exploratorium below
How to get around San Francisco
Getting around San Francisco is relatively easy, thanks to its comprehensive public transportation system and various transportation options. Here's how to navigate the city:
**1. BART (Bay Area Rapid Transit):**
– BART is a convenient and fast way to travel within the city and to nearby suburbs.
– It connects San Francisco with other Bay Area cities like Oakland and Berkeley.
– BART operates several lines, making it accessible for most major destinations.
**2. Muni (San Francisco Municipal Railway):**
– Muni includes buses, trolleys, cable cars, and light rail services that cover the entire city.
– The iconic cable cars are both a mode of transportation and a tourist attraction.
**3. Bus Services:**
– Muni buses serve various neighborhoods in San Francisco, making them a practical option for getting around the city.
– Additionally, several private bus companies offer transportation to nearby areas and attractions.
**4. Cable Cars:**
– San Francisco's cable car system is world-famous and provides a unique way to explore the city's steep hills and iconic neighborhoods.
– Be prepared for long lines during peak tourist seasons.
**5. Caltrain:**
– If you plan to visit Silicon Valley or other parts of the Peninsula, Caltrain provides a convenient rail connection.
**6. Ride-Sharing Services:**
– Uber and Lyft are readily available in San Francisco, offering a convenient way to get around the city.
**7. Bike Rentals:**
– San Francisco is bike-friendly, with dedicated bike lanes and paths.
– You can rent bikes at various shops throughout the city for a more active way to explore.
**8. Walking:**
– San Francisco is known for its walkable neighborhoods, and many attractions are within walking distance of each other.
– Wear comfortable shoes and be prepared for steep hills in some areas.
**9. Rental Cars:**
– While parking can be challenging and expensive, renting a car may be useful for exploring areas outside of San Francisco.
**10. Ferries:**
– San Francisco has a ferry terminal serving various destinations in the Bay Area, including Alcatraz Island and Sausalito.
**11. Electric Scooters:**
– Electric scooters are available for short trips around the city through various companies.
**12. Airport Transportation:**
– To travel to and from the airport, you can use BART, airport shuttles, taxis, or ride-sharing services.
Navigating San Francisco is a blend of diverse transportation options, allowing you to choose the mode that best suits your itinerary and preferences. The city's public transportation system is extensive, making it easy to explore all that San Francisco has to offer.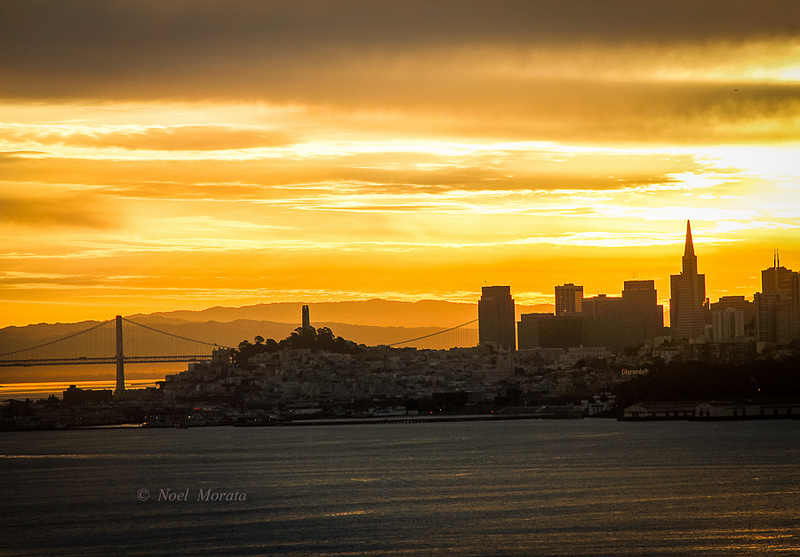 Wake up at sunrise with city views
There's nothing like starting the day off early in the city at sunrise and also have some stunning views of the city. The best place in my opinion to see a sunrise with the city skyline is at any of the observation areas around the Golden Gate Bridge or even on the bridge itself if you are brave enough for the early morning breeze. The best thing about this experience is that there are just a few people brave enough to get to the view areas in the morning to experience this once in a lifetime sunrise and view to the city. Another plus is seeing the Golden Gate bridge and adjoining cliffs lit up beautifully for more photo opportunities and exploring the coastal areas if you want to see the rugged parts of the San Francisco coastline and trails.
Here's a look at the Golden Gate bridge at sunrise below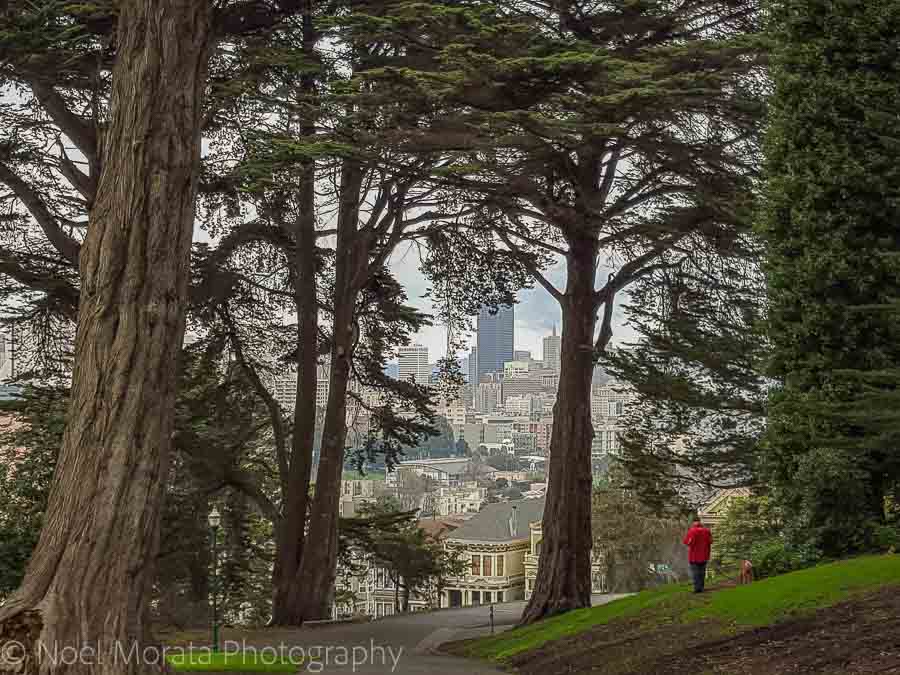 A Visit around Alamo Square and foodie eating in Divisadero street
Yes the Painted ladies are located here at Alamo Square, but if you take the time to explore the park and perimeter, you will find some stunning architecture that spans the Victorian, Edwardian to more contemporary timeframes. The huge park is popular with dog owners but there are some wonderful views of downtown San Francisco and the many neighborhoods in view. If you take local transportation then you will probably be in the Divisadero district which I'm also describing below and worth checking out especially since it is now an uber trendy foodie area.
The famous painted ladies at Alamo Square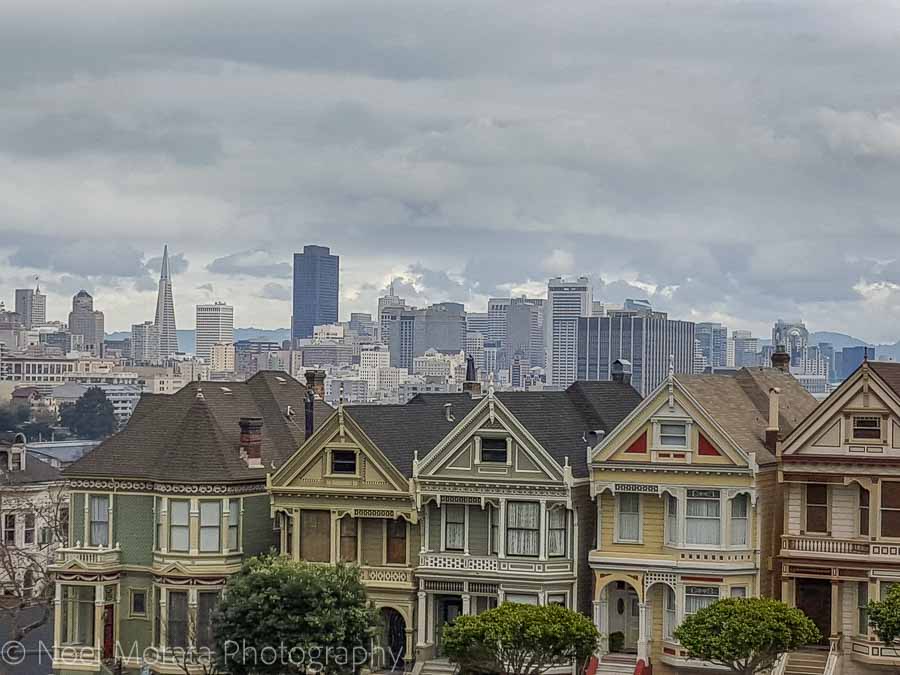 Check out some fun foodie spots in the Divisadero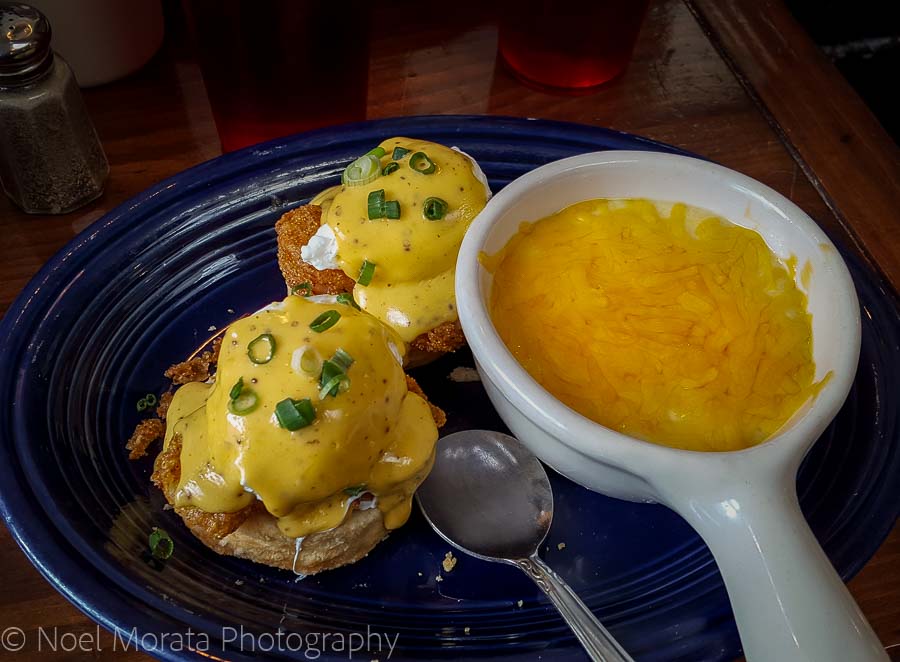 One of the fastest growing foodie zones in the city, the Divisadero is home to many new and exciting eateries that span the gamut of international and local cuisine. Within the main street on Divisadero you can find trendy cafes, cool pastry and coffee shops, specialty food purveyors and galleries. It seems like every time an old shop closes on Divisadero, a new and exciting restaurant steps in and becomes the latest 'it' place. You can find every take of cuisine here including: Southern Style, trendy Latin Fusion, Pan Asian, cool BBQ joints to California style locavore dining. The area is definitely turning into the new In dining and bar scene of San Francisco, which is perfect for fussy locals that keep looking for the next new eating experience around the city.
Here's some fun places to explore and grab a delicious bite on Divisadero:
Divisadero Street in San Francisco is known for its vibrant food scene, with a variety of fun foodie spots to explore. Here are some recommendations:
1. **Bi-Rite Creamery:** Indulge in artisanal ice cream and baked goods at Bi-Rite Creamery. Their salted caramel ice cream is a local favorite.
2. **Nopa:** This popular restaurant offers a seasonal menu with dishes made from locally-sourced ingredients. Try their wood-grilled burger, known for its deliciousness.
3. **Little Star Pizza:** If you're a pizza lover, don't miss Little Star Pizza. They specialize in deep-dish and thin-crust pizzas with a variety of toppings.
4. **Bar Crudo:** Seafood enthusiasts will enjoy Bar Crudo, which serves a selection of fresh oysters, crudo (raw seafood), and creative cocktails.
5. **The Mill:** For coffee and toast lovers, The Mill is a must-visit. They serve artisanal toast with a variety of toppings and excellent coffee.
6. **4505 Burgers & BBQ:** Satisfy your barbecue cravings at 4505 Burgers & BBQ. Their smoked meats and flavorful burgers are a hit among locals.
7. **Ritual Coffee Roasters:** If you appreciate high-quality coffee, Ritual Coffee Roasters is known for its expertly brewed coffee and cozy ambiance.
8. **The Mill** (Different from the one mentioned earlier): This is a bakery known for its sourdough bread and pastries. Their bread is a local favorite and can be paired with various spreads.
9. **The Progress:** A Michelin-starred restaurant offering a creative and ever-changing menu, The Progress provides a unique dining experience.
10. **Nopalito:** Enjoy authentic Mexican cuisine at Nopalito. Their menu features delicious tacos, tortas, and a variety of flavorful dishes.
11. **Alamo Drafthouse Cinema:** This cinema offers a unique food and movie experience. You can order food and drinks to enjoy during your film screening.
12. **4505 Meats:** Visit their butcher shop for high-quality cuts of meat and artisanal sausages. They also have a food truck serving delicious barbecue.
Divisadero Street is a food lover's paradise, offering a diverse range of culinary experiences. Whether you're in the mood for ice cream, pizza, seafood, or artisanal coffee, you'll find plenty of fun foodie spots to satisfy your cravings.
Check out what's to see around the Divisadero area
Visiting the Conservatory of Flowers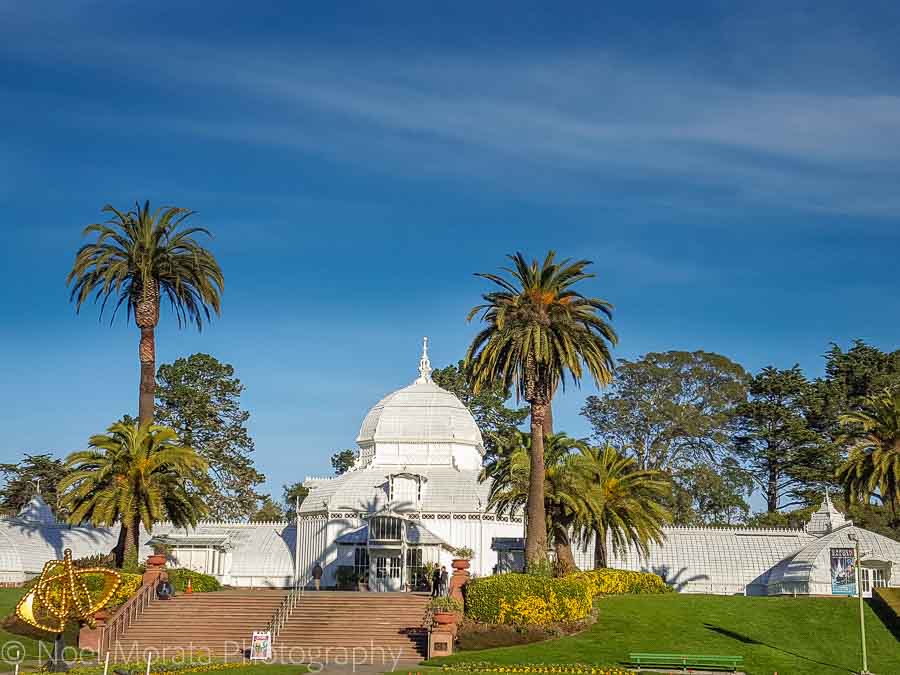 Visiting the Conservatory of Flowers
You don't have to be a garden enthusiast to visit this cool Victorian glass house in Golden Gate Park. The conservatory houses some exotic, tropical and revolving plant inspired exhibits and other unique treasures that are fun to explore. Broken down into different glass rooms, you can travel from the cloud forests to jungle forests and discover unique flora and fauna combined. This is also a great place to take children to any age group in discovering the unique plant world and environment. For current exhibits and tours of the Conservatory of Flowers, check out their website here.
Check out my experience of visiting the Conservatory of Flowers here for more images and inspiration.
Interior detail at the Conservatory of Flowers
I did a post with more pictures and details about visiting the Conservatory of Flowers, you can check out the link here.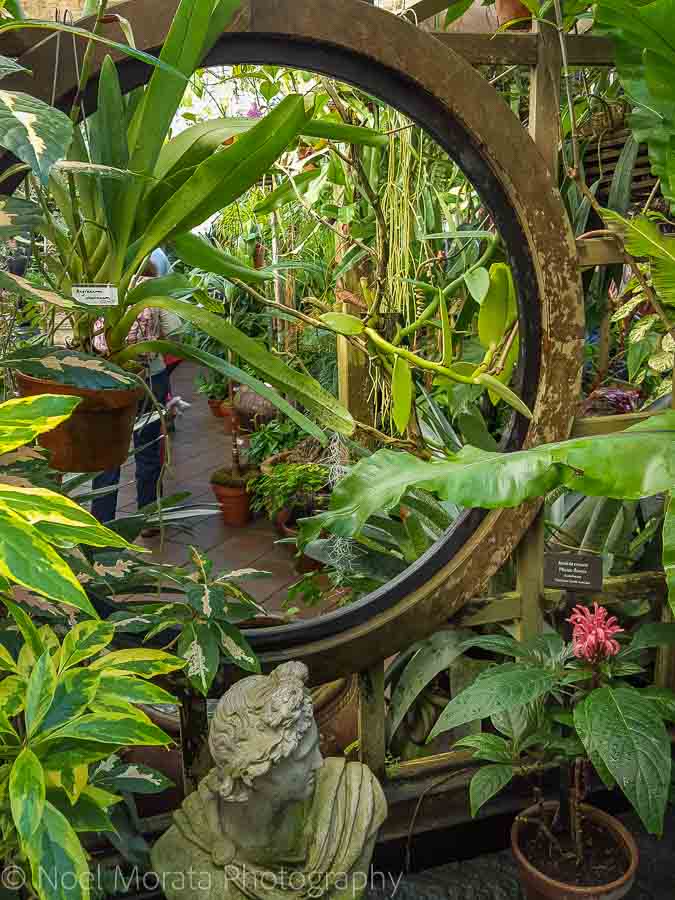 Here's a visit of the Conservatory of FLowers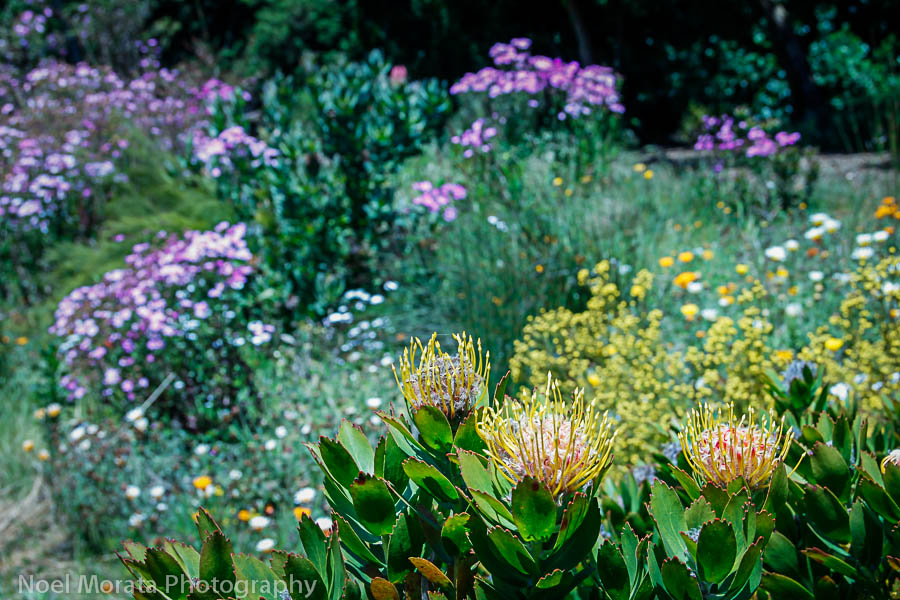 San Francisco Botanical garden and arboretum
A short walk from the Conservatory of Flowers is the beautiful botanical garden of San Francisco which contains beautiful gardens in mostly Mediterranean climates that grow very well in the San Francisco Bay Area. Before you enter, make sure to pick up a trail map because the gardens are huge and easy to get lost in. Many of the favorite seasonal gardens include the Prehistoric garden, the bamboo grove, cloud forest, Evergreens and pines, South African and California natives section. For plant and flower lovers, this botanical garden is a year round favorite to explore and see some amazing specimens. For more details and images, check out a recent post I did here on the gardens of Golden Gate Park.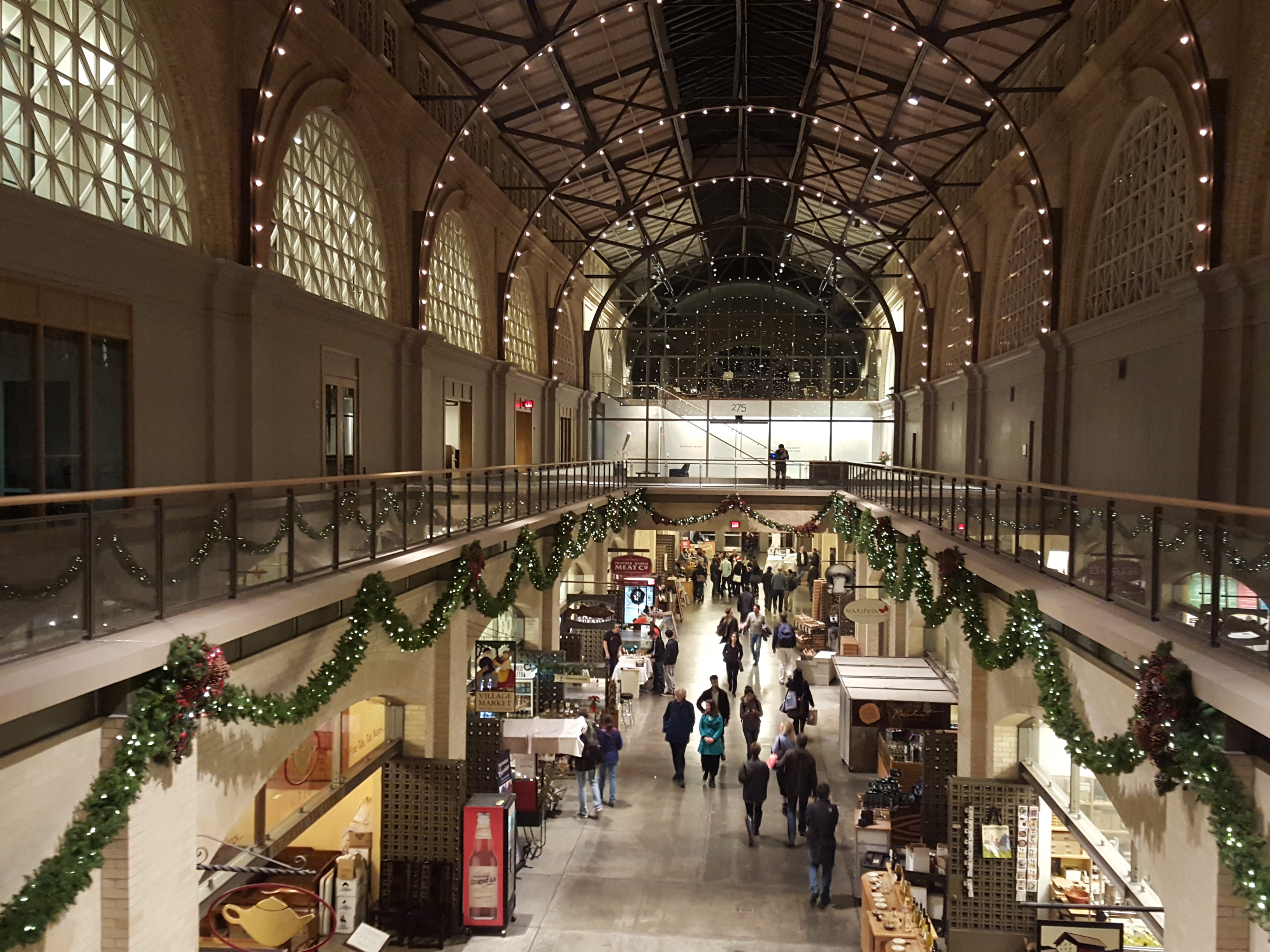 Check out the Ferry Plaza building at the Embarcadero
An Uber trendy foodie and tourist zone, the historic Ferry Plaza building is still a functioning ferry terminal, but the grand interiors are filled with well-known food purveyors, foodie stores, cafes and galleries that caters to every food indulgence you might have and for you to discover even more delicious bites. On Tuesday, Thursdays and Saturdays are the popular and large farmers markets that are held around the entire terminal and host even more regional growers, finished goods retailers and specialty foods for you to explore – it's a must visit event for any food devotee to check out all the specialty foods from the region.
To get more information about the Ferry Plaza and the weekly markets, you can chttps://travelphotodiscovery.com/ferry-plaza-farmers-market-photo-friday/check out my post to visiting the Ferry Plaza here for more information.
Check out the Ferry Plaza and the outdoor farmers market – a must in the city!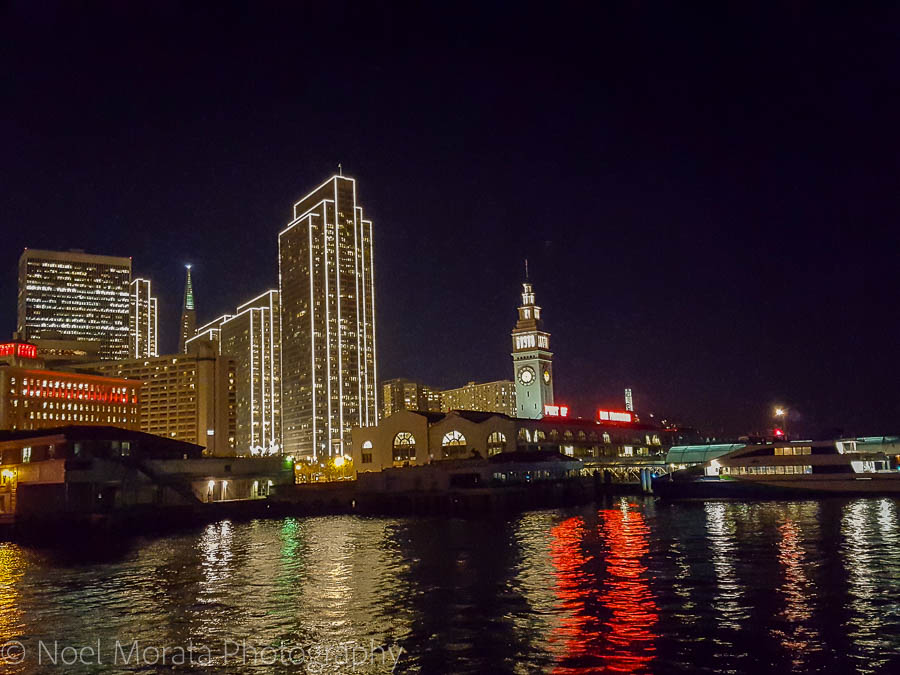 Walk out to Pier 14 for a skyline view
Just off to the right side of the Ferry Plaza is the entrance to Pier 14 where you can get some fantastic shots of the Embarcadero and San Francisco skyline. You can visit anytime, but if you come at night, there are less crowds and the views are really spectacular with the skyline all lit up and perfect to photograph .  Afterwards, go and grab a bite at the Ferry Plaza, there are a lot of great local restaurants and food venues to explore inside. Also, at the Pier 14, there are two installations of SF Illuminate worth checking out, one is right at the entrance of the pier and the other is the Bay Bridge lit up with a revolving light installation that is fun to watch along the entire span of the bridge.
Check out these views from Pier 14 for free!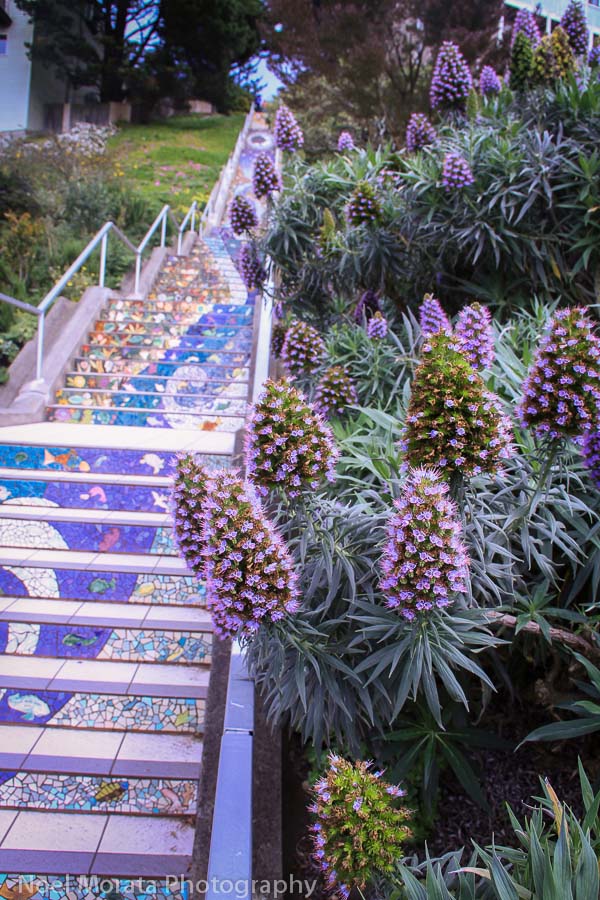 Art inspired staircase on 16th Avenue
Just off the beaten path and out in the Sunset district is a magical staircase made completely of ceramic mosaics. Created by a combination of artists and support from the local community to beautify this long staircase, the end result is this fantastic showcase climbing to the top. The colorful and multi-themed display runs the gamut of underworld treasures, outer space and constellations, along with local San Francisco scenes and other outdoor recreational motifs. Over 300 neighbors helped to create beautiful tiles of handmade animals, tropical fish, birds and other animals with the help of the San Francisco Parks Trust – it was a full on neighborhood lead coalition of volunteers to create a stunning landmark for the community and visitors.
Check out more images and the story behind this amazing staircase, check out my recent post here.
Visit the cool mosaic stairs at 16th Avenues in the Sunset area below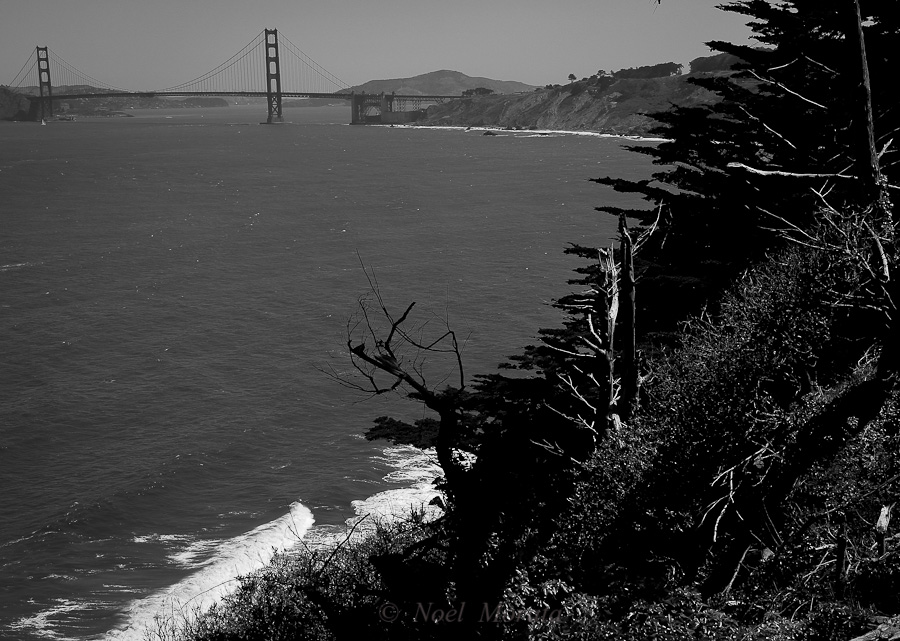 Touring Sutro Baths ruins and Lands End
Right below the iconic Cliff House facing the Pacific Ocean are the ruins of the Sutro Baths, and next to it is the Lands End trail. The bath ruins are part of San Francisco's Victorian past when this was a recreational getaway with huge glasshouses, giant salt water swimming pools and other recreational activities that were a popular pastime for locals in the city. Now the bath foundations are all that is left along with some trails to tunneled areas which lead you to magnificent views of the rugged coastline and small rocky promontories close by. The Lands End trail are part of the Golden Gate Park Recreation area with trails that skirt the natural coastlines with hidden beaches, lush forest and stunning views of the cliffs and the Golden Gate Bridge. To check out more details and information about Sutro baths and Lands End, you can check out the National Park service website here.
Check out my post to visiting Lands End in San Francisco here for more images and inspiration to visiting.
Tip: check out the beautiful new visitors center with amazing views. The information guides are very helpful in giving historic information or places to hike in the Golden Gate Park Recreation area.
Sutro Baths ruins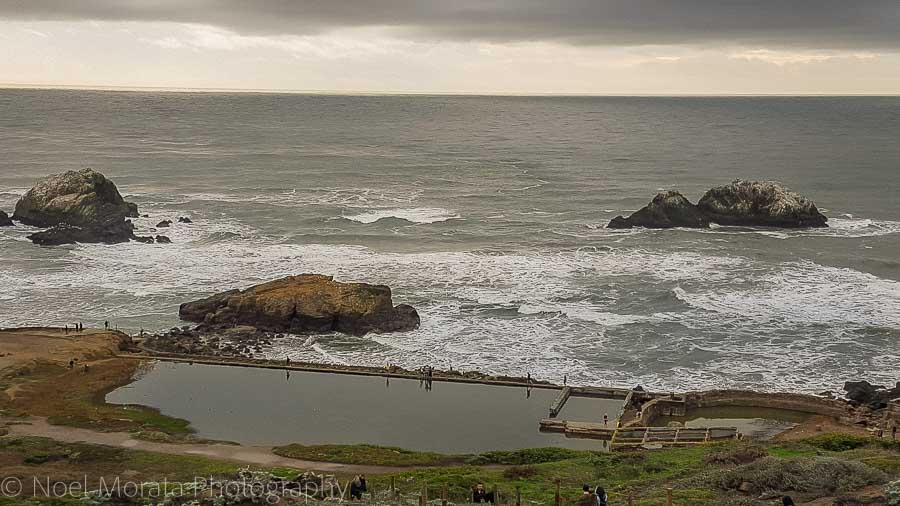 Explore the ruins and landscapes around the Sutro Baths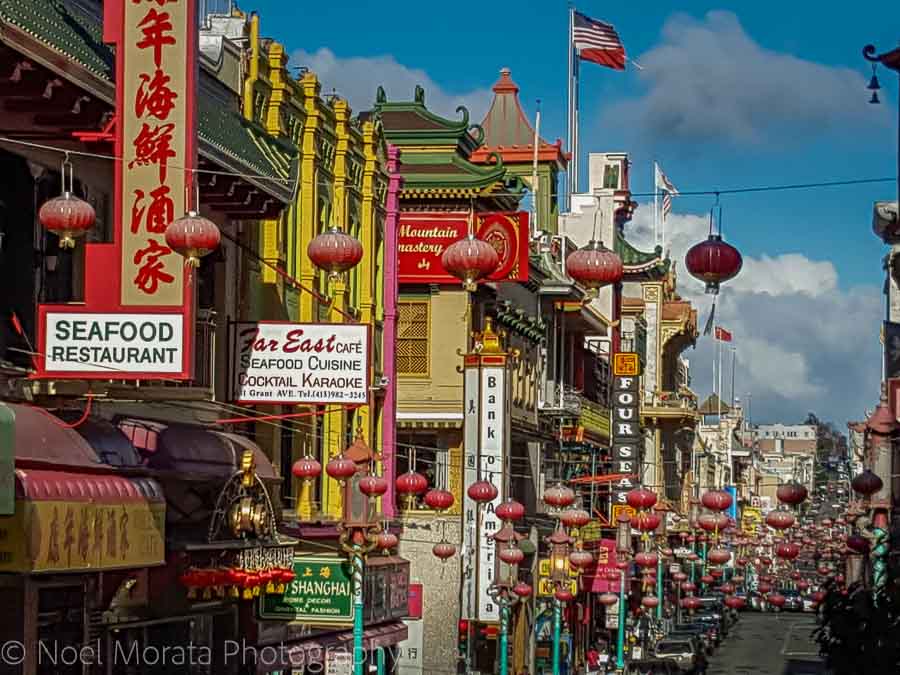 Visit Chinatown with a local and a dim sum lunch
It's easy enough to visit Chinatown on your own, but if you want to get more inside information about the history, businesses and people that lived in this large tract of land in downtown San Francisco then taking a tour with Wok Wiz Chinatown tours is a good option. Most of their guides have lived and grown up in the Chinatown district and have intimate knowledge about the history and fascinating stories of the early immigrants that settled in the area along with a visit to many unique and fascinating businesses that support the community and are also unusual to experience as an outsider. A fun add on after the tour is a lunch experience at a local Chinese restaurant which includes many local favorites and dim sum with your newly acquainted friends from the tour. To get more details and tour information, you can visit the Wok Wiz website here.
Tip: Dim Sum is a very popular thing to do in Chinatown with nice small tasty bites to try good or bad (all depends on you like). Make sure you get a chance to try some of the take away Dim Sum or drop into the many eateries you may find along the way.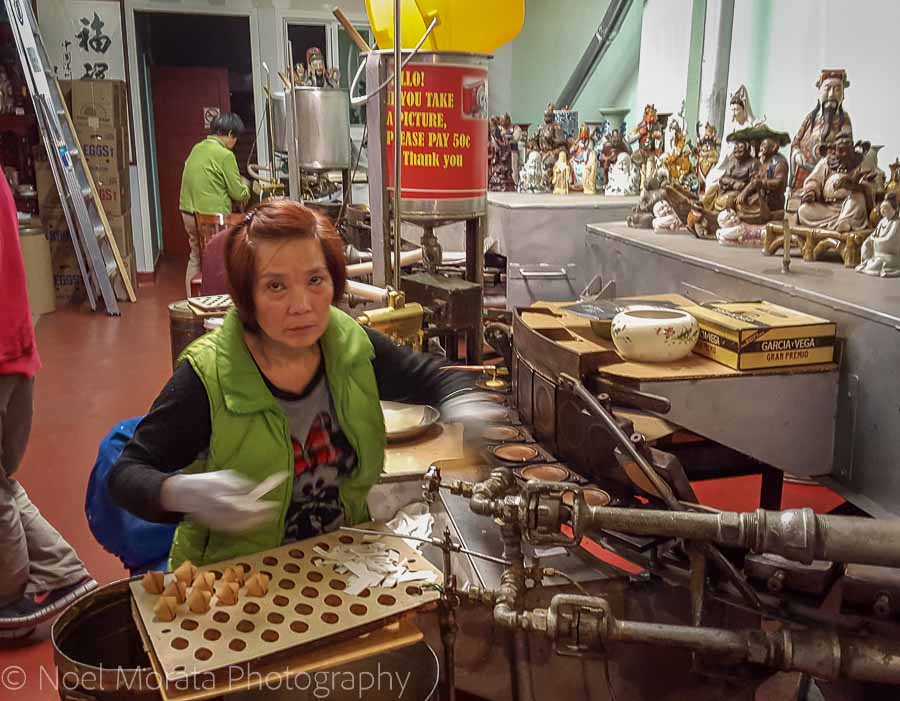 Check out the cheap eats in Chinatown for good places to eat below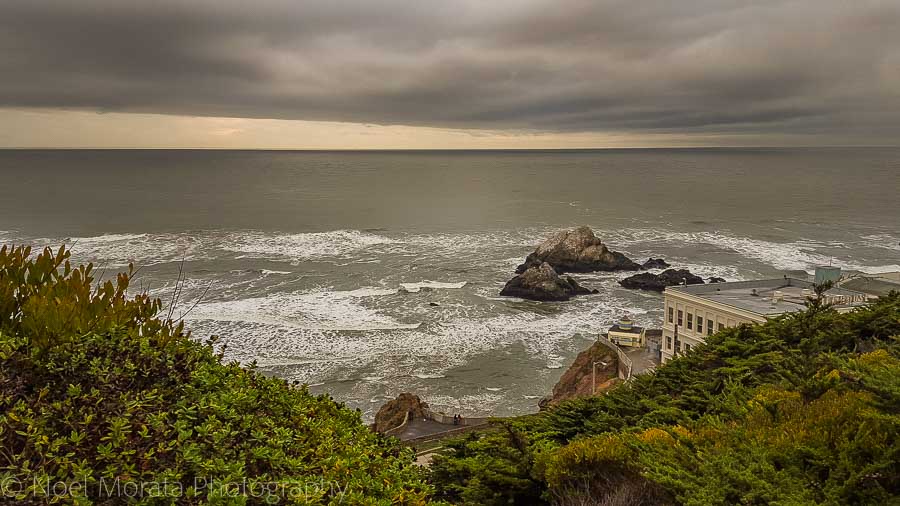 Sutro Heights park
Outside of the Sutro Baths and Cliff House that entrepreneur, Adolph Sutro left as his legacy to the city, Sutro also donated his mansion and grounds to the city of San Francisco when he passed away. Even though all the buildings have deteriorated and were eventually torn down, the beautiful grounds were later converted into a park and open for the public to enjoy. Expansive views of Ocean Beach, the Cliff House and the Pacific ocean can be seen from the rear promenade areas and stone viewing stone parapet that is the only remaining structure of the original compound. If you are visiting the Cliff House or Sutro Bath ruins, go and explore Sutro Heights nearby, it's worth visiting just for the views alone.
Tip: look out for the cool and interesting artifacts that are located around the grounds – they are perfect for photo ops.
A cool tour and views of Sutro Heights Park below
If you enjoyed this post, please do check out these other posts on visiting San Francisco
Places to eat in San Francisco
20 quirky, fun and trendy places to visit in San Francisco
San Francisco views from above
The cool stairs of San Francisco
Cool graffiti at Clarion Alley
Exploring North Beach and the Greenwich steps
20 quirky and fun places to explore in San Francisco
Best views to photograph in San Francisco
Conclusion to fun and unusual activities to do in San Francisco
San Francisco is always changing and creative with so many fun and unusual places and attractions that are for both locals and tourists alike. Hope that you enjoyed the post and found some cool places to visit when you go visit this amazing city.
Thanks for visiting today and checking out this post on Fun and unusual activities to do in San Francisco, hopefully some of these places will inspire you to visit when you come to the city. If you enjoyed the images and post, could you please share it with any of the social media buttons located around the post. I have posted recently about visiting more cool and fun places to visit around the city, you can check out this post on San Francisco here.
If you like what you see, come and check out my other social media channels for more updates, including Instagram, Pinterest and Twitter.