London Hidden Gems (local spots and cool places outside of the tourist attractions (updated 2023)
If you're visiting London but tired of all the big attractions or looking to visit London's and some of its hidden gems and other quiet spots to visit, then read on. Visitors looking for a more unique, fun and cool parts of London and quirky attractions to visit will love hearing about some of our local finds here.
I've asked some of my travel blogger friends and journalists to help me out and share their favorite local spots around town. These hidden gems are as colorful as the Queen's House in Greenwich, the fun pastel streets of HIllgate place or Chalcot street to the lovely little mews or hidden glens that showcase a more quiet and real neighborhood worth visiting around the city.
Some of these places are recommended by locals that live in the area or places that are favorite spots away from the tourist venues of the city. You'll enjoy visiting these cool attractions and venues to appreciate a different aspect of daily life, hang out spots or historical / cultural places of interest that showcases London into a more memorable visit.
26 Best hidden gems of London and cool attractions to visit
You'll find these fantastic hidden spots and they are the perfect filler visits if you are just in the area and looking for something interesting to add to your tour of a neighborhood in town. Check out these fun and colorful hidden spots in London below. You can visit any of these London Hidden gems using London public transport, bus service from London, Uber or easy Underground Metro service to visit most of these attractions.
Whether you are out exploring the East End of London to South Bank in London, you'll find these hidden gems worth discovering on your free time or if you happen to be in the area.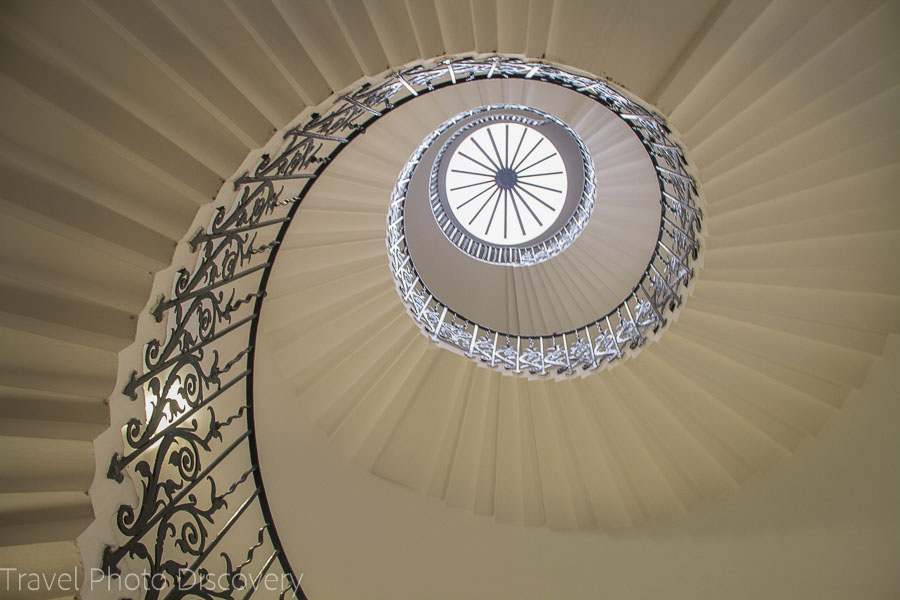 1. Queen's House and the Tulip Stairs
Located in Greenwich the Queen's house was built in the 17th century and a beautiful palace that not many visitors get a chance to explore, let alone the fun district of Greenwich to explore.
The palace is devoid of most of the elaborate furnishings so you actually get to see the bones and the beautiful artwork on the walls.
The grand hall showcases the stunning staircase that leads up to the upper painting galleries. The wrought iron staircase with detailed flowers that were thought to be tulips but are a gorgeous stylized floral presentation.
The visit to the Queen's House is absolutely free to explore and check out the painting galleries. So, if you are in the area of Greenwich, then this is an easy walk to explore the Queen's House.
Check out these highly rated accommodations in the Greenwich district here for more details and current prices.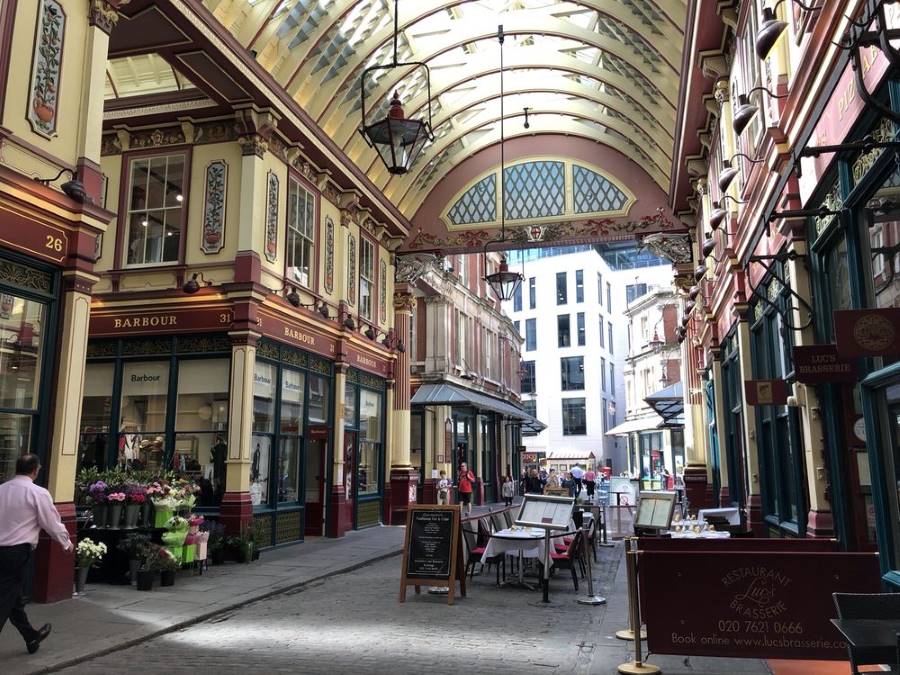 2. Leadenhall Market
There are so many fantastic markets to visit around London, but none as striking as the Leadenhall Market which tends to be off a lot of the tourist trail.
The Leadenhall Market is a gorgeous covered marketplace with ornated glasswork, curved beams, beautiful portals and detailed carvings to this 19th century building although original markets in the same area date back to the early 14th century in London making it one of the oldest in the city.
The Lendenhall market has actually been in showcased in popular films like the Harry Potter Movies and is even featured in the Harry Potter Guided Walks which is fun to do.
Noel with This Hawaii Life
Check out these highly rated accommodations in the Old London district here for more details and current prices.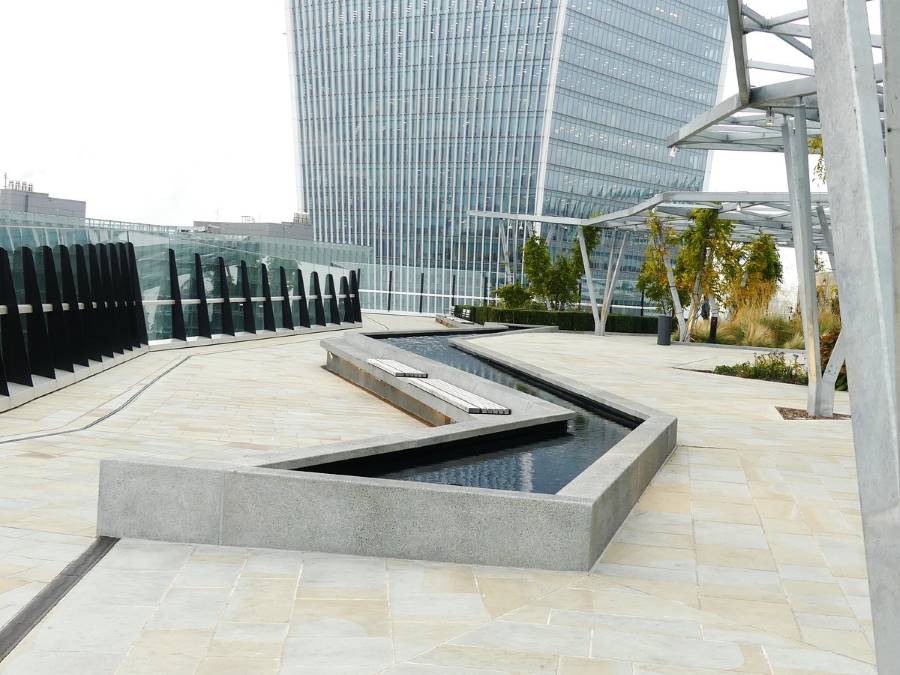 3. The Garden at 120
This is London's new rooftop garden located on Fenchurch street is gorgeous open-air spaces and gardens on a rooftop with a view of London. Located in the Old City of London on the 15th floor of the modern Fen Court Building, you'll be able to spot all the major monuments and attractions of the city from above and for free! The gardens are teaming with roses and climbing vines putting you into a wonderful frame of mind while enjoying the views of the Shard, St. Paul's Cathedral and the Tower bridge close by.
To visit the Garden at 120 Fenchurch, the rooftop is open from 10am until 6ish on the week days and 10am to 5pm on weekends.
Noel with Oahu Travel Now
Check out these highly rated accommodations in the London City here for more details and current prices.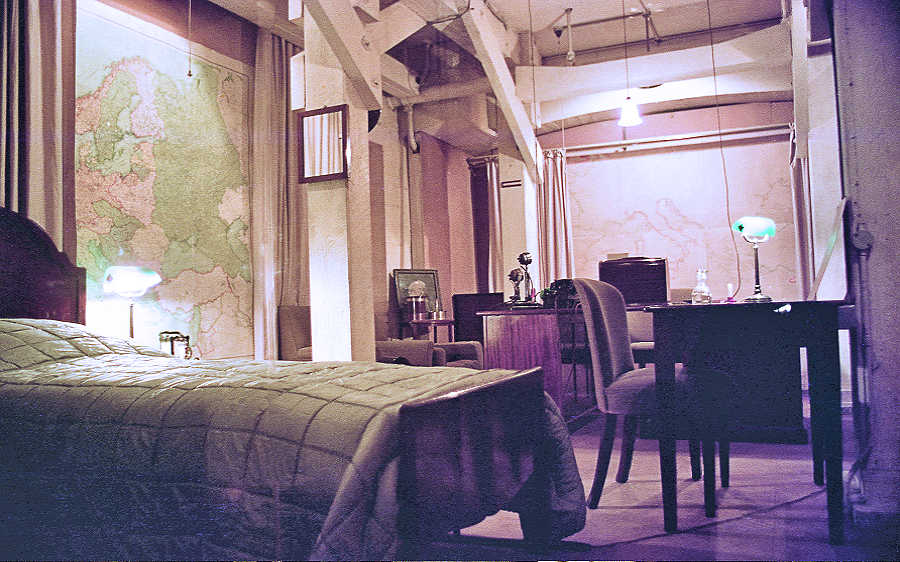 4. Churchill War Rooms
London might be a busy metropolitan city, but hidden beneath the hopping streets of Westminster lies a hidden gem. The Churchill War Rooms are a series of underground bunkers utilized by Prime Minister Winston Churchill and his cabinet during the second world war.
Most locals don't know it exists, and travelers sometimes stumble upon it by accident. By touring the underground spaces, you'll be transported back to a crucial time in history and see where the British government made all the critical decisions during the war.
Purchasing a ticket gives you access to the bunkers and a museum on Churchill's life. You'll learn about his isolated childhood at Blenheim Palace, one of England's inspiring palaces, and see personal objects from his residence at Downing Street.
Inside the bunkers, the winding tunnels take you on a journey through history. You'll see the map room with strategic notes pinned upon the board.
A group of old telephones allowed for communication between government officers and the royal family. With an audio guide, you'll learn about the events that took place in the heart of London.
Next to the map room, Churchill's bedroom kept him close to the action at all times. His room with a single bed still looks the same as in the 1940s but features a carpet, which the other rooms didn't have.
Karen with Forever Karen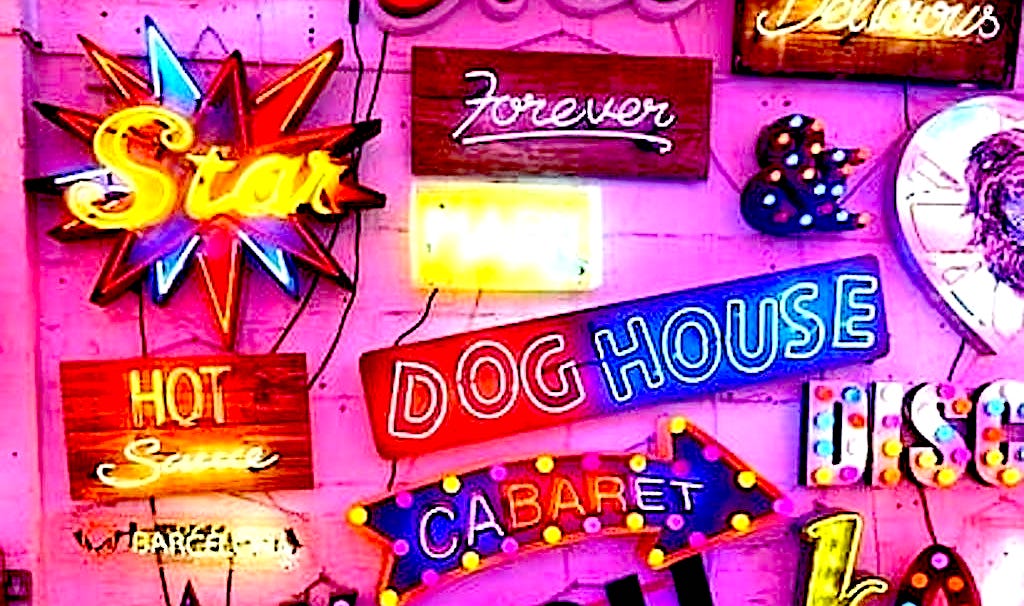 5. God's Own Junkyard
Looking for one of the best hidden gems in London to add to your one day in London itinerary?
If so then run, don't walk, to God's Own Junkyard. It's one of those totally unique places that is like a museum, only better since it is a giant warehouse filled with handmade, glowing, neon hued signs in every shape imaginable.
So, if you're picturing a mini–Las Vegas strip in Walthamstow then that's exactly what this maze of signs, maintained by third-generation neon artisan Marcus Bracey, is like.
Therefore, have your camera at the ready and take plenty of photos as you stroll through this totally free attraction filled with glowing lips, neon hearts, eclectic religious symbols, and more.
And when you're ready to chill out, grab a comfy seat on a couch at the on-site cafe, The Rolling Scone, and sip on a latte while listening to sweet 70's rock music playing in the background.
Just be aware that this place is only open on the weekends and that it does take awhile to get here since you'll have to take the Victoris line to Walthamstow Central station and then walk about twelve minutes from there.
On the plus side though, there are some amazing craft beer breweries in the area that you can enjoy afterward.
Kelly of Girl with the Passport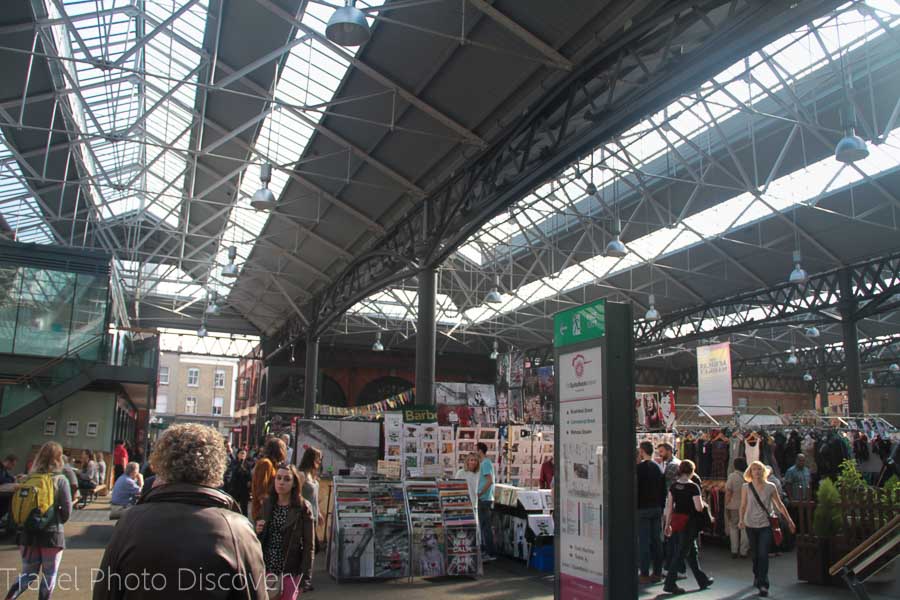 6. Spitafield Market on the East End
An old railway station has been converted into a new market area that showcases local artists, crafters and artisanal food vendors in the central courtyard area. The other storefronts house regular bars, restaurants, galleries and other trendy shops to make this a fun and cool hang out spot in London's trendy East End.
Spitafield's Market has been an old market shopping venue and repurposed with this train station to be the gathering hub for drinking, dining and shopping around the East End and just above the Underground line to the Shoreditch stop.
Check out these highly rated accommodations in the East End district here for more details and current prices.
7. Westminster Cathedral
Most tourists know about Westminster Abbey – the striking landmark is located near the Parliament and Big Ben, and it has been an important venue for many monumental royal events for centuries.
Little may know that Westminster has a cathedral, and it's a separate architecture located about 15-minute away from Westminster Abbey by walking. Unlike some of the other well-known religious architecture in London, the cathedral has a rather special color combination of red and white in the Neo-Byzantine style. The red and white stripes go all the way up to the top of its Campanile bell tower, which stands at 98.6 meters, another eye-catching feature of the site that demands attention.
The cathedral was opened in 1903, and it is in fact the largest Roman Catholic church in England. If you are on a biking tour to explore London, don't forget to stop by the cathedral and admire the extravagant embellishment and design of both the exterior and interior. The building was designed by architect Francis Bentley with the widest nave in England, and while it's red and white on the outside, the chapel is decorated in a shade of gold, and the intricate and beautiful marble columns were all carved differently. Mass is open daily and it's sung by a famous choir.
Kenny with Knycx Journeying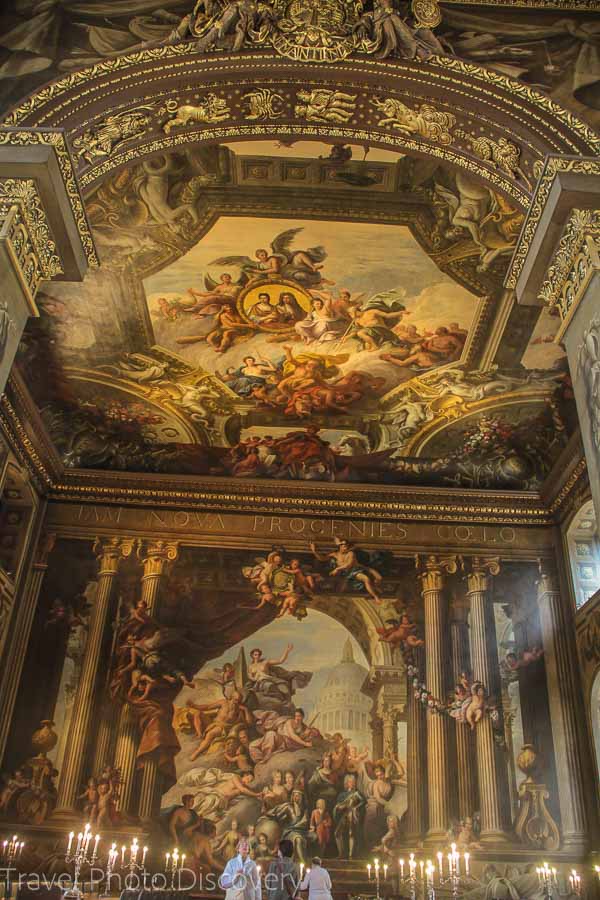 8. Touring the old Royal Naval College
Located in Greenwich area and fronting the Thames river, the Old Royal Naval College sits proud on the banks of the Thames River. It is a gorgeous complex of buiidings that represents the Royal Naval College and exploring around and walking the many monuments and architecture that once housed the Old Royal Naval College is quite fascinating.
This complex of buildings originally housed the Palace of Placentia, built in the 15th century, and I found it fascinating that this was the birthplace of both Henry VIII and Elizabeth I. After a civil war left the complex in ruins, the area was rebuilt into the Royal Naval Hospital for Sailors and then repurposed in 1873 into the Royal Naval College.
While I was walking outside admiring the lovely architecture and details, I heard beautiful music, lively singing and other practice recitals all happening at the same time. I was pleasantly surprised to find out the buildings again had transitioned into both the Trinity Laban Conservatoire of Music and Dance and the University of Greenwich.
Check out these highly rated accommodations in the Greenwich district here for more details and current prices.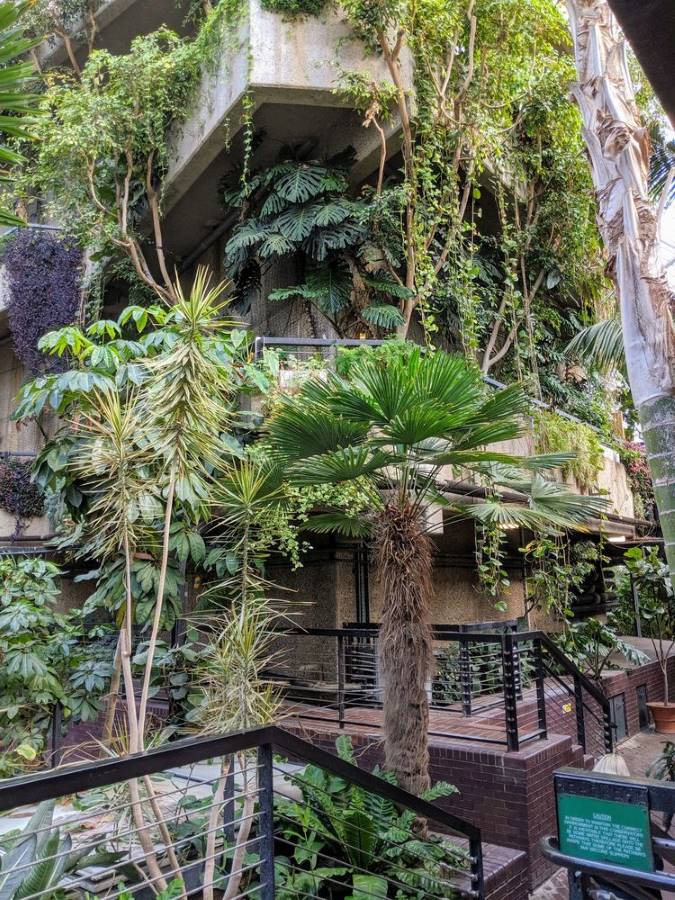 9. Tropical gardens at the Barbican
Barbican Conservatory is located In the heart of central London far away from the famous Kew gardens and arboretum you will find a tropical paradise in a 60s style concrete complex housing a museum, school, arts and conference venue and a tropical oasis filled with birds and tropical fish.
The Barbican is a fascinating visit to the city's 2nd largest conservatory and to check out this interesting public space. with shopping and dining venues all around this public space.
Check out more to visiting the Center here for more information and details.
Address: Barbican Centre, London EC2Y 8DS, United Kingdom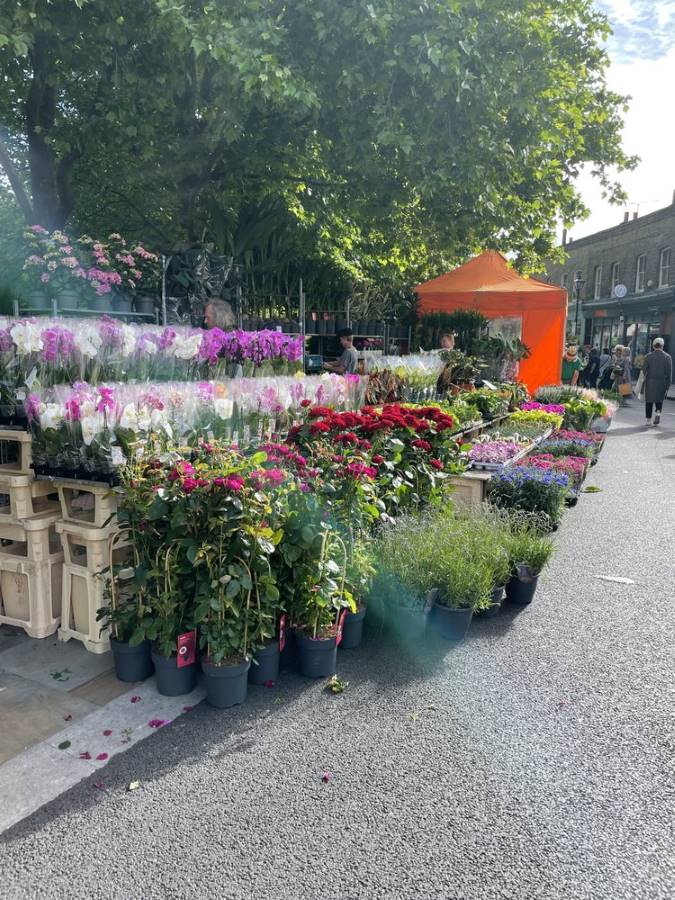 10. Columbia Road Flower market
The flower market on Columbia road is probably the prettiest street in terms of beautiful blooms, markets, colorful shops and flower galleries. Taking place on Sundays from 8am to 3pm, the market is perfect for a morning stroll with the street closed off and a big production with the flower market taking up multiple blocks.
For anyone who is into photography or wants to capture some beautiful scenes, the flower market on Columbia Road is fun to walk through and explore or even pick up some beautiful blooms to take with you or just a nice stroll around the area is a great experience.
Address: Columbia Road London E2 7RG United Kingdom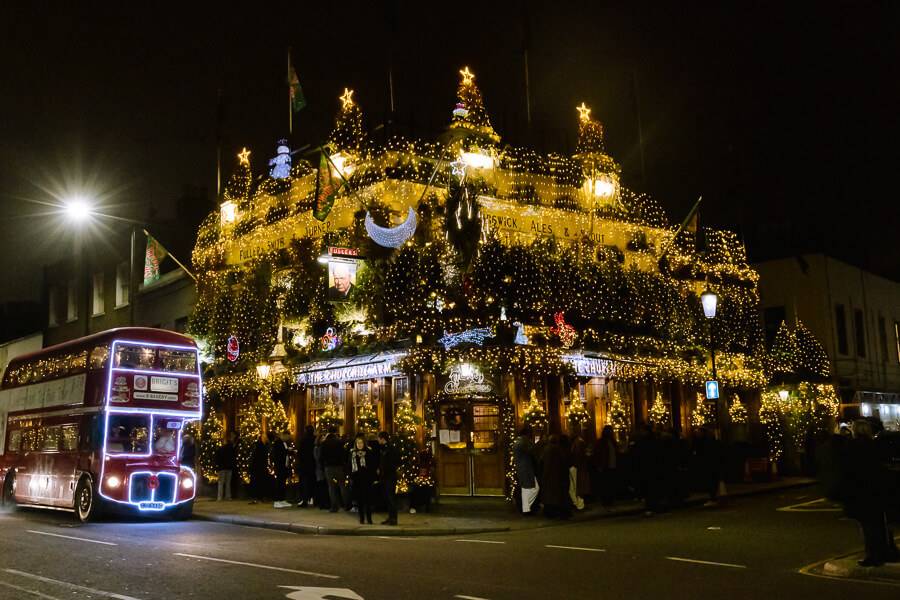 11. Churchill Arms
The Churchill Arms is a pub in Kensington that has become an institution in the area and a hidden gem in London. It's famous for being covered with flowers on the outside and dripping with memorabilia on the inside. It's the height of charming British eccentricity.
The pub was established in 1750 and was originally called the Church-on-the-Hill. After the war and due to the fact that Winston Churchill's grandparents were patrons, it was renamed the Churchill Arms.
Today, the corner watering hole is ablaze with British collectables, Churchill memorabilia, nick-nacks cramming every inch of ceiling space and thousands of flowers.
Over Christmas, the Churchill Arms adds 80 Christmas trees to an already packed floral display along with 22,000 lights, creating one of the most spectacular display of Christmas lights in London.
Apart from the photogenic nature of the Churchill Arms, they also claim to be the first pub in London with a Thai Restaurant. The real ales and vibrant atmosphere are complemented perfectly by some of the best Thai grub you'll find in the city.
Kensington and the nearby Notting Hill are some of the best places to stay in London. The Gore Hotel, where the Rolling Stones had an album launch party, is rich in period styling and rock'n'roll details. It's just a 20-minute walk from the Churchill Arms past Kensington Palace and Royal Albert Hall.
Paul with Anywhere we Roam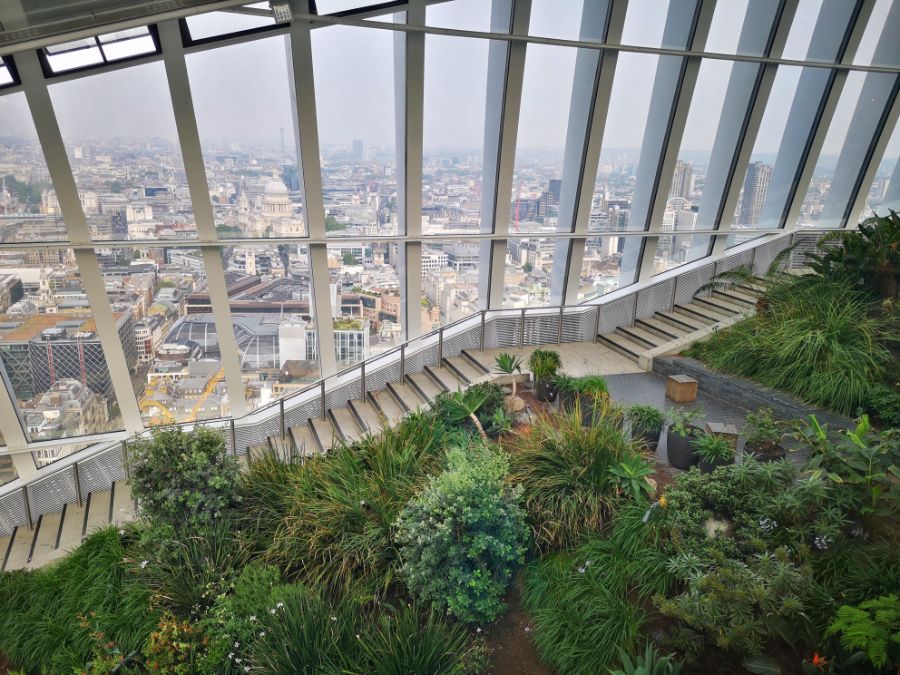 12. Sky Garden
The Sky Garden is one of the most recognisable buildings in London, although you might know it by another name – the Walkie-Talkie.  It is a strange-looking building, but the views from the top floor terrace are stunning.
There are several options for visitors who want to come and see the view.  You could attend an event such as morning yoga or a live music night (both of which should be booked in advance), or book a table at one of the restaurants to enjoy brunch, lunch or dinner whilst admiring the view.
If you're visiting London on a budget then you can also enjoy one of the best views in London for free!  Free tickets to access the garden and terrace are released every Monday so you can book a timeslot in advance guarantee access for a specific time, like sunset for example.
You might also be able to walk in without pre-booking but it depends on how busy it is.  Early morning tends to be the quietest time, opening hours are from 10am to 6pm during the week, and at weekends and Bank Holidays from 11am till 9pm.
Walk-in guests must bring a photo ID with them, and all visitors go through a security checkpoint before ascending to the top floor.
Tower Hill underground station is 5 minutes walk away, and several hotels near the station have views overlooking the Tower of London so it is a great place to stay with good views and transport links.  Highly-rated options include the Four Seasons Hotel London at Ten Trinity Square and the CitizenM Tower of London.
By Claire Sturzaker, Tales of a Backpacker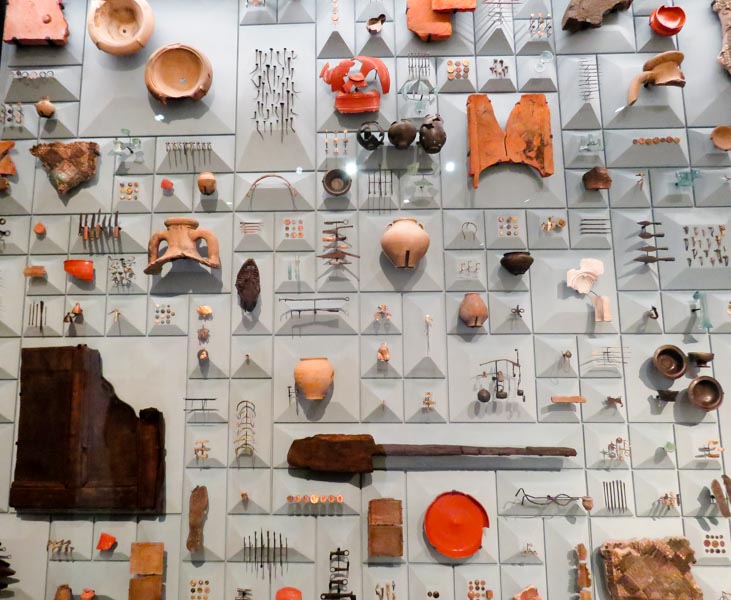 13. The Roman Temple of Mithras
If you're looking for a hidden gem in London, look no further than The London Mithraeum, which is also known as the Roman Temple of Mithras. This temple, dates back to the 2nd century AD, was discovered during a construction project in 1954 while excavating a WWII bomb site.
It soon became one of the most famous and significant 20th-century Roman discoveries in London. The archaeological excavation took place between 2012 and 2014 was one of the most extensive ever to have taken place in London,
More than 14,000 individual artefacts were found, including 63,000 shards of Roman pottery and three tonnes of animal bone. Some of these are on display in the museum,
Mithras was originally a Persian god, but was adopted by Rome as one of their own gods in the first century AD and takes the form of a bull. The temple that was found was used by Roman soldiers as a place of worship.
It was relocated to its current home seven metres below street level not far from its original location.
One of the really interesting discoveries in a piece of wood with the word "London" etched into it. The other cool thing is that thousands of people walk past each day without knowing what lies beneath their feet.
Visiting the London Mithraeum is free, but you need to book your visit in advance online on the site.
Where to Stay: The Westin London City
Check out Janine's post on What to eat in Lisbon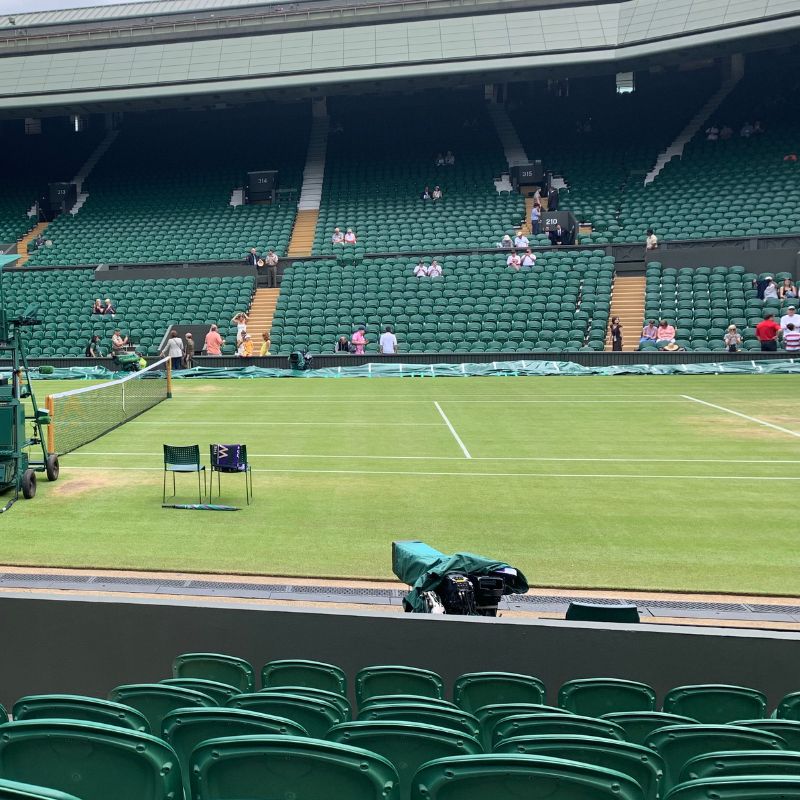 14. Visit the Winbledon Lawn Tennis Museum
If you love tennis, a hidden gem in London that you won't miss is the Wimbledon Lawn Tennis Museum. Located on the grounds of the All England Lawn Tennis Club, the museum is known for offering a comprehensive history of both the tournament and sport.
For instance, the museum talks of some of Wimbledon's greatest traditions. One example is how every year, tens of thousands of fans camp and queue for Wimbledon because they are rewarded with discount tickets for some of the tournament's best court seats.
Other interesting activities that the museum offers include: allowing visitors to dress up in clothes from different eras and experiencing what it's like to sit on Centre Court through a virtual reality tour. And of course, no Wimbledon Lawn Tennis Museum visit would be complete without a walk around the grounds itself. Visitors can book a fantastic 90-minute tour to view exclusive areas within the All England Lawn Tennis Club.
Thus, if you're interested in learning more about tennis and Wimbledon's long-standing history, the Wimbledon Lawn Tennis Museum is definitely worth a visit. For places to stay in the Wimbledon area, consider the Rose and Crown Hotel. It's about a 10-minute walk or a 3-minute drive away from the museum.
Contributed by Kristin Lee of Global Travel Escapades.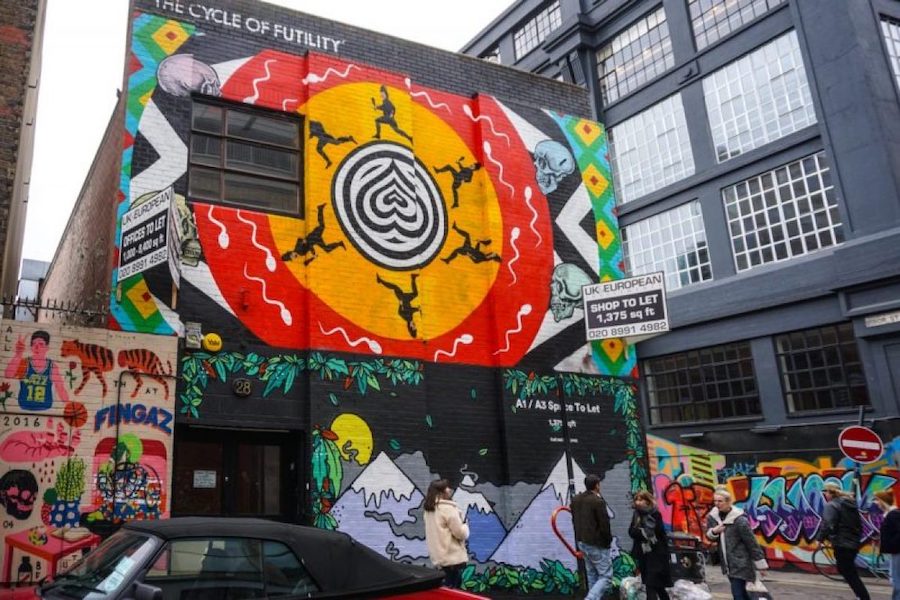 15. Street art at Shoreditch in East London
One of the coolest hidden gems in London is the street art of Shoreditch in East London — be sure to add it to your London itinerary!
This area is often skipped by people sticking to the well-trodden tourist route but it is worth a small detour on the Tube in order to see this eclectic and bohemian neighborhood filled with street art!
The area around Brick Lane is where you will find a majority of the street art, tucked away on alleys, side streets, basically everywhere you look! The street art changes frequently but you will be shocked by the beautiful grandness of the street art and just how talented these artists are.
Other fun things to do in Shoreditch besides looking for street art include coffee-shop hopping, vintage shopping to find cool pre-loved clothes, visiting the Flower Market on Sundays, and enjoying all the wonderful street market food that you'll find in the area, especially on weekends. There are also a lot of fun bars in this area to enjoy at night.
I suggest staying at CitizenM in Shoreditch, which is a budget-friendly place to stay with many modern amenities. The room sizes are a bit small but they are very modern, comfortable, and affordable.
Allison with Eternal Arrival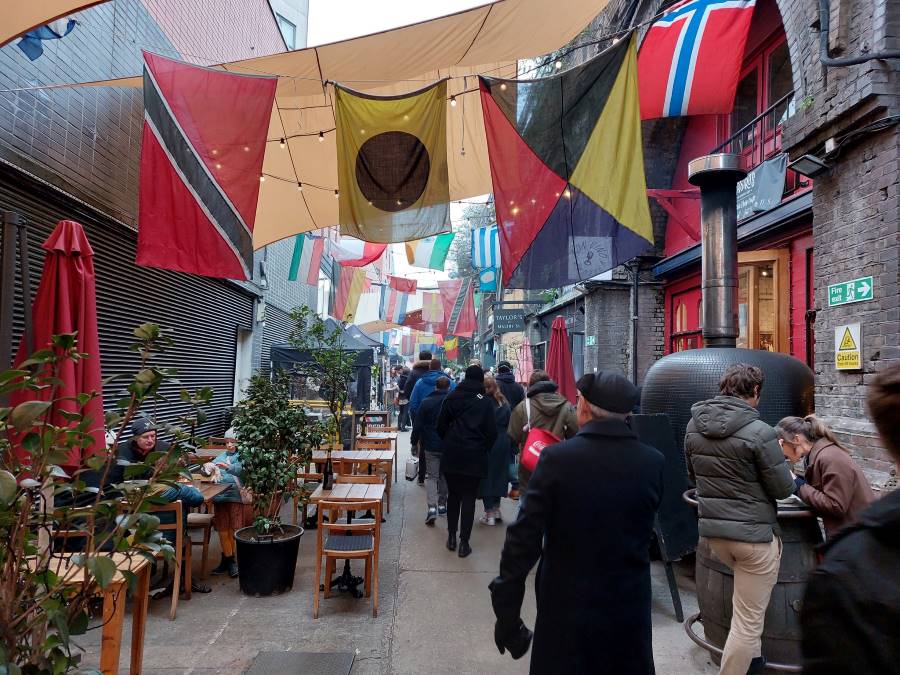 16. Maltby Street Market Collab Post
Maltby Street Market is in the heart of Central London and only open during the weekends, 9am to 5pm on Saturdays, and 11am to 5pm on Sundays. It's walking distance from London Bridge Station, one of London's central terminus stations connecting to the Southeast of London.
Maltby Street Market is that is hidden from the main tourist attractions like the London Eye and Buckingham Palace. Situated in a quiet neighbourhood, between the wall of a council flat and a tall, bricked wall of a train track, you'll find crowds of people gathered at both entrances.
Maltby Street Market offers an array of mouth-watering street food from around the world together with hundreds of flags from different countries hanging above you. Thai, Greek, British fish, and chips, Chinese, you'll find it. Aside from street food, you'll find shops below the train tracks selling fine wines, pizzas, cheese, pop-up bars and pubs, and many more.
If you're staying near the London Bridge, you'll be in the middle of Central London. The best accommodation is the Sanctuary House Hotel. A clean superb 3-star hotel offering great breakfast. This hotel is also attached to a traditional British pub for fish and chips, helpful hotel staff and only a 20-minute tube and bus ride to Maltby Street Market. If you want to visit London,4 days in London  is a recommended amount oftime to visit.
Annisa with London Travellers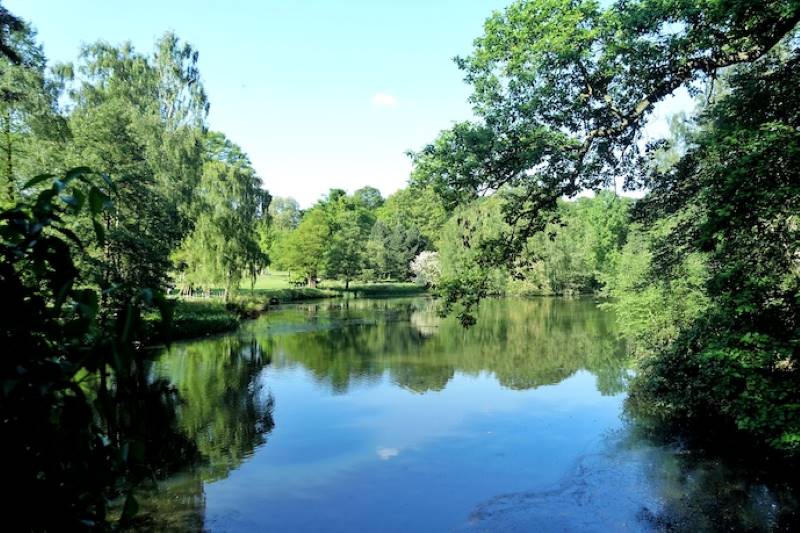 17. Hampstead Heath
Hampstead Heath is one of London's best kept secrets. One of its oldest and wildest parks, and the only place in the Central area where you can be surrounded by nature. It is one of the few places when you are traveling the world biggest cities where you can recharge the batteries in absence of
urban noises.
The Heath existence first records, date back to 986 and since then, it has been the inspiration to many artists and writers, such as the poet John Keats.
The park contains three open air swimming pools, where Londoners cool off during the hot Summer days. There are several hiking trails in the park leading you to hidden meadows, centenary trees and to Parliament Hill, one of the highest points in London.
The lakeside area hosts concerts during the hot season and you can sip a coffee or take a nice meal at the Brew House garden throughout the year. Spring time is one of the best times to visit the park, specially the Kenwood House gardens, where a myriad of multicolored Rhododendrons will greet and soothe your eyes.
The park was declared a conservation area in 1968 and it is home to many special creatures, such as 180 species of birds and 25 types of butterflies.
You can stay at the Montcalm Royal London house, in the heart of London, at 4.8 miles from Hampstead Heath and walking distance to many of London's landmarks.
Pilar with Travel the World Pages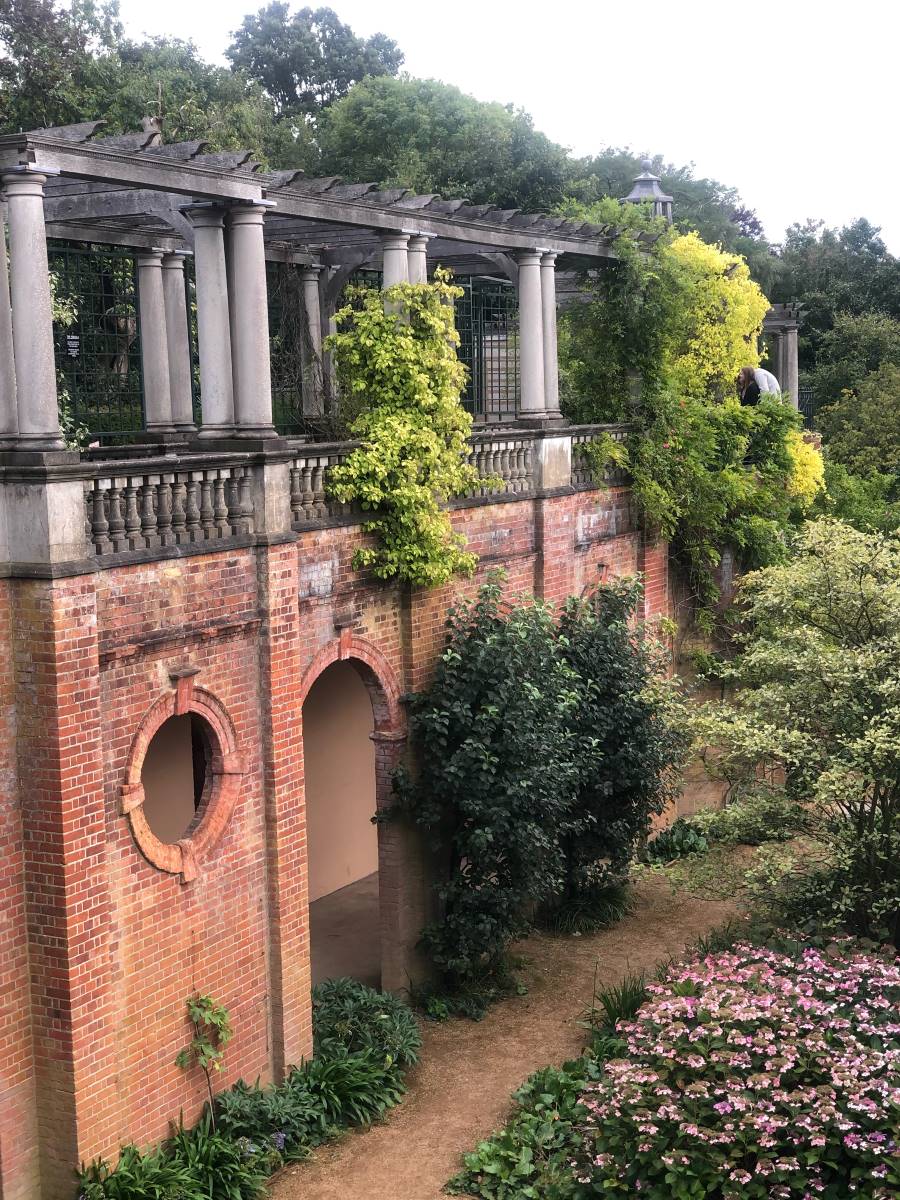 18. Hill Garden and Pergola
The Hill Garden and Pergola is a secret garden to visit in London in the pretty neighborhood of Hampstead. Many people visit Hampstead Heath to see the view at Parliament Hill but not many know about the beautiful Pergola garden nearby. Upon entering, you will be greeted by wonderful pathways full of greenery and intricacy. You will see a raised walkway with columns on each side where the garden can be seen from the top.  The Edwardian design was created in 1904 by Lord Leverhulme. It took 20 years to complete as construction was disrupted due to the Great War.
The best time to visit is during the changing seasons. In April you'll find beautiful wisteria and in Autumn time you will find pretty autumn leaves. Of course, the best time of day would be during the golden hour before sunset. You won't find this spot as busy as other tourist spots in London but filled with locals.
You can really relax and admire nature here as it feels like you are miles away from a big and busy city like London but in fact, it can be reached so quickly. The closest tube station is Hampstead station on the Northern Line. From here you can reach the Pergola by walking 15 minutes. It is open daily at 8:30am and closes at dusk. Entry is free! If you want to stay overnight in the amazing Hampstead neighborhood, you can stay at La Gaffe which is a family-run Italian restaurant with hotel rooms too.
 Jackie of Jou Jou Travels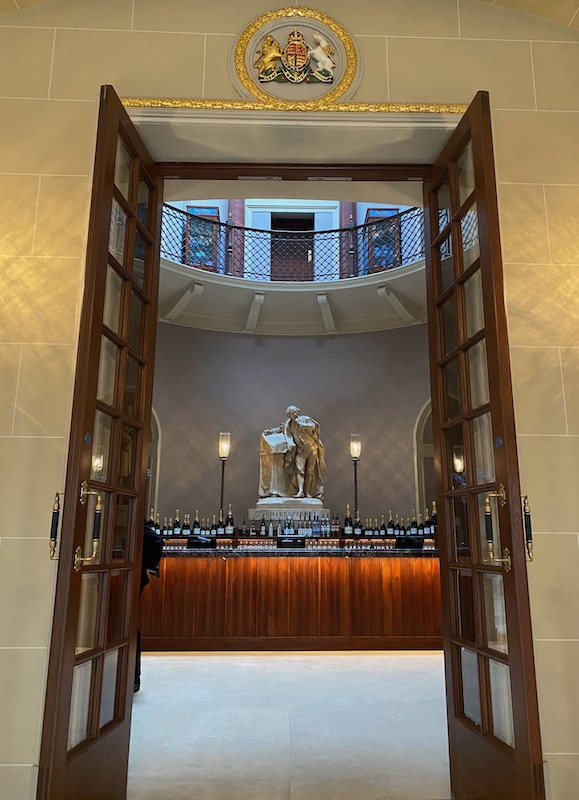 19. Visit the Theatre Royal Drury Lane
Interested in theatre history, Royal drama, and a bit of murder? Don't miss a visit to the Theatre Royal Drury Lane. This is the oldest theatre in the world to operate continuously on the same site. It has survived fires and tragedies and is the birthplace of many modern theatre practices.
Located in Covent Garden, the theatre is home to concerts and musical theatre performances.
Unlike many theatres, it is also open throughout the day for visitors.
Guided tours of the theatre are the best way to get a full look at the beautiful interior and hear the many fascinating histories and ghost stories. Tours are conducted by actors so you can expect some dramatic flourishes along your way.
Tour highlights include visiting the Royal Retiring Room where a passionate argument between King and Prince led to the theatre being divided down the middle. You'll also learn how passions over a wig led one actor to murder another in the theatre. Peek backstage and into a tunnel that was once the only path connecting each side of the backstage area.
Tours are available to book every day but Tuesdays. No ticket is required to visit the front of house areas and restaurants. Matinee and evening performances depending upon the current show schedule.
Stay nearby in the heart of Covent Garden at ME London by Melia.
Hidden Gem found by Victoria at A Life Away.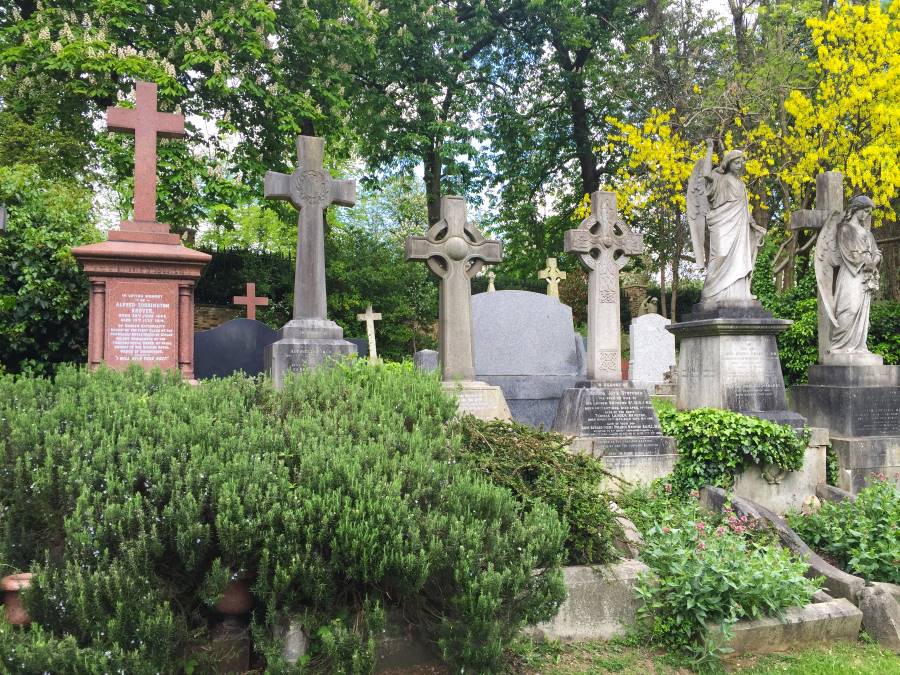 20. Highgate Cemetery
Highgate cemetery is one of the more unique travel destinations in London. At first it may seem strange to visit a cemetery as a tourist destination. However, Highgate cemetery is a hidden gem and is well worth a trip to see! The cemetery staff are used to visiting tourists and even hand out maps of the most famous graves. The cemetery is open to visitors every day between 10am and 5pm and guided tours are available too.
Located in the upscale neighborhood of Highgate, the cemetery is the final resting place of several famous and notable historic figures. Some of the most famous graves belong to philosopher and socialist Karl Marx, author of hitchhiker's guide to the galaxy Douglas Adams, rocker and fashion designer Malcolm McLaren and TV presenter Jeremy Beadle.
There are also several commonwealth war graves. The cemetery itself is very beautiful and can be an extremely peaceful place to wander around and spend an hour or two.
Highgate is a short walk or quick tube ride to both Hampstead Heath and Camden Town, so can easily be combined with a visit to either of these popular destinations. Camden Town is a great place to stay as it has many excellent restaurants and a vibrant nightlife.
JJ with Travel Across the Borderline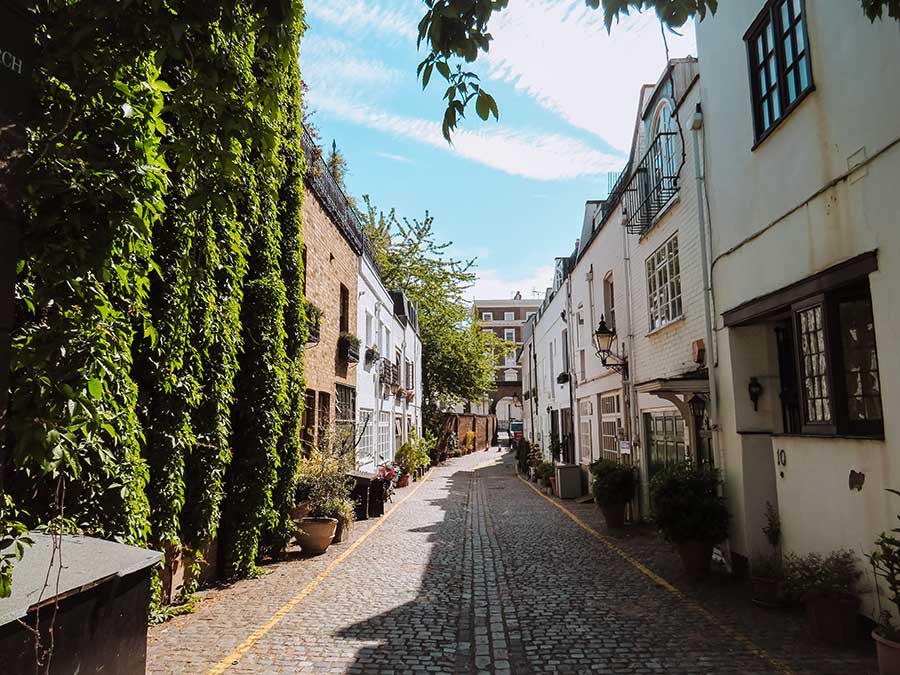 21. Explore Kynance Mews
Tucked away in South Kensington beyond the hustle and bustle of London's busy streets is the hidden gem that is Kynance Mews. With the quaint feel, rustic cobblestones, and beautiful wisteria cascading on the buildings, it's easy to see why it's a fan favourite for London travellers.
It's fairly easy to get to Kynance Mews. The two nearby metro stations are Gloucester Road and South Kensington station. It is also a quick walk from the Natural History Museum, which is a popular museum many travellers check out during their first-time in London!
While Kynance Mews is beautiful year-round, there are two distinct times of the year when the street truly comes alive, Spring and Autumn. During these two seasons, you can experience Kynance Mews at a whole other level.
During these two vibrant seasons, the archway that leads to Kynance Mews is covered in beautiful vibrant leaves. The enchanting foliage of this archway is the perfect spot for photo opportunities. Continuing through the archway, there will come upon a wall that is covered in more leaves and wisteria. This facade is another great spot to snap photos and take in all the natural beauty.
After exploring the whimsical mew, be sure to stop by the nearby bakery, Fait Maison on Gloucester Road, which offers a collection of gourmet baguettes, wraps, and colorful baked goods (they even have kid-friendly dishes!).
By Cristina of My Little World of Travelling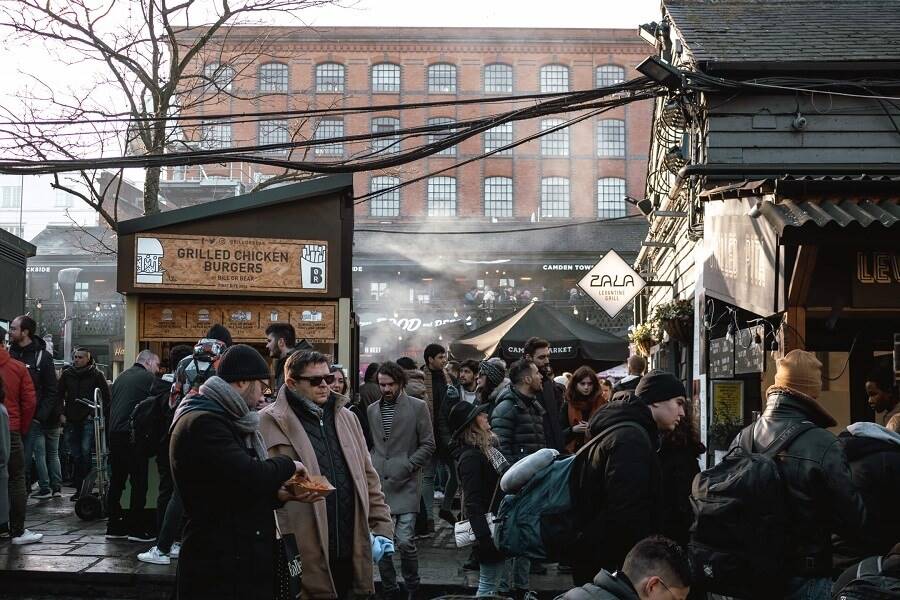 22. Visit to Camden Market
Camden Market is one of London's best-hidden gems although it's started to gain popularity over the years!  The closest metro station to this awesome market is Camden Town; from there it's just a 5-minute walk. Whether you're a fan of vintage clothing, unique jewelry, or astrology, this place has something for everyone.
Although you'll find thousands of stores in Camden Market selling clothes and quirky items, the true highlight of this place has to be the food! There are endless food stalls in this market and they sell everything ranging from juicy burgers to incredible pasta dishes. You'll also find plenty of vegan options here too. Some of the best food options here include Dez Amore, Yorkshire Burrito, and Lockside Camden. You've also got Roti House which serves delicious curry-naan bread wraps and Elia Greek Street Food if you're craving gyros!
It's best to get to the market relatively early as the place becomes pretty busy towards midday, and it can be a squeeze to wander around some of the smaller stores! Just make sure you allow yourself a good couple of hours to explore as you won't want to leave.

If you want to visit this incredible Market then you'll want to stay in Camden Town. One of the most popular accommodation options here is the Holiday Inn London Camden Lock which offers superb views of the local area. 
Jack & Abbie with A couples Calling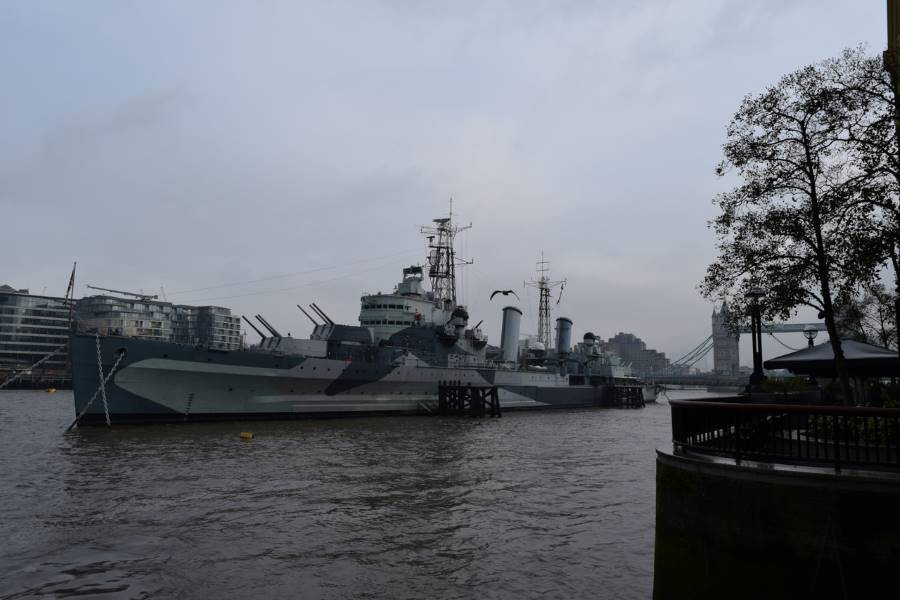 23. London Boat canal cruises
London has a lot to offer in terms of excursions on the water. Head to Regent's Canal for a fun cruise on the water. Pass parks, quiet streets and even a zoo along the way. You'll start in Little Venice and go all the way to Camden Lock Market which takes around 45 minutes. You can also cruise along the Thames and see the famous HMS Belfast, a navy ship which houses a floating museum. This is a great place to include some education during your trip to London.
A true hidden gem is the London Canal Museum which is a great starting point to get to know London's unique history and how its waterways helped the city evolve. You can also head to Grand Union Canal or Paddington Basin, all of which can be explored by boat. Most boat companies also offer private tours, picnic cruises or sunset tours, perfect for a special occasion. Private tours start at around 150 pounds for up to ten people. Make sure to book in advance as these tours tend to sell out quickly, especially during the summer. There are also more affordable group tours available for those who aren't ready to book a private one.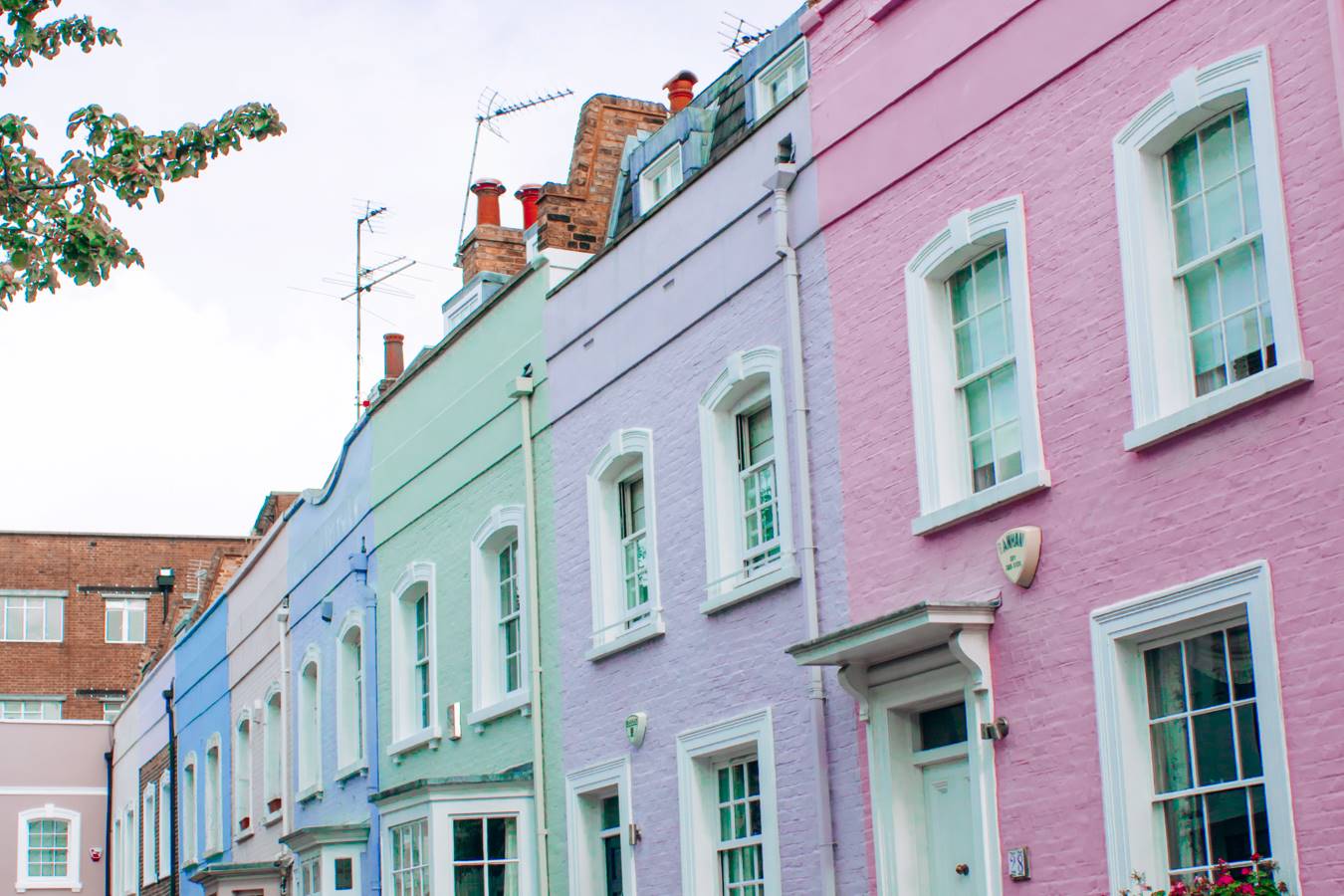 24. Bywater Street
One of the best hidden gems in London is Bywater Street. This is a beautiful street that you can find in the area of Chelsea. The street has pastel-colored houses that all vary, which makes the street very pretty. It is great to go here for a stroll while checking out the houses. Also, the street is one of the best places for photography in London, so going here to take photos is great as well. Besides the street being great to visit for how it looks, Bywater Street is also great to visit because it plays a role in the novels about George Smiley. No 9 Bywater Street, the house with the bright red door, is the home of the fictional spy George Smiley and it is featured a lot in the novels and the TV series.
Moreover, you can find the street next to King's Road, which is a well-known busy street. Here, you can find a lot of shops and restaurants. Bywater Street is a much quieter street in comparison to King's Road, in part because it is a dead-end street. Also, if you are looking for a place to stay in London near Bywater Street, Sloane Square Hotel is a great choice
Dymphe with Dym Abroad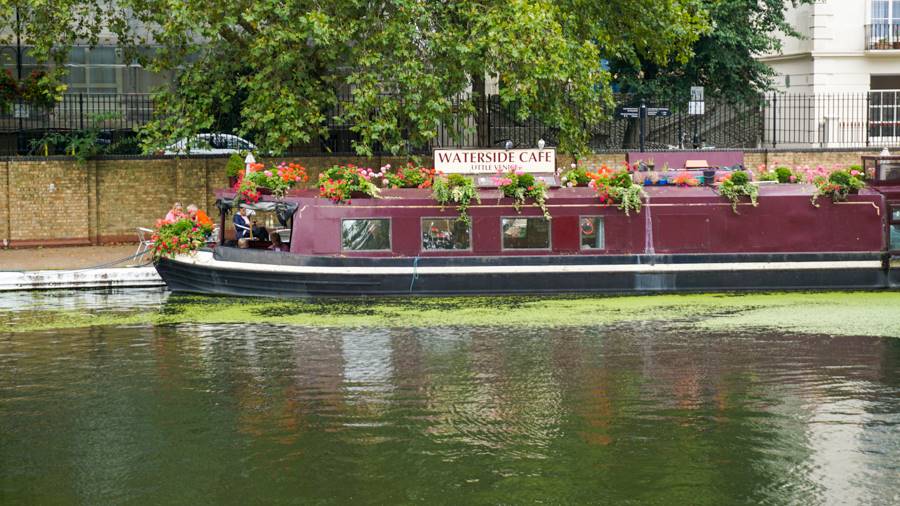 25 Little Venice
Little Venice is one of those places that will make you have a hard time believing that you are standing in the heart of London. Located right behind the busy Paddington station, Little Venice is the intersection point between the Grand Union Canal and the Regent's Canal.
Despite its proximity to the bustling life of London, Little Venice is known for its tranquillity and picturesque walkways. Come here for a relaxing walk or a coffee at one of the coffee shops by the canal or literally in the canal. Cafes, bars and even restaurants inside long and narrow canal boats are quite common there and give an alternative vibe to the place.
If you want to do something unique, at least by London's standards, get on a canal boat and commute along the Regent's Canal to Campden Lock, right next to the vibrant Campden Market. Along the way, you will pass through various tunnels and even the London Zoo.
To get to Little Venice, simply make your way to the Paddington station in central London. Paddington is a big station serving both the London underground and national train routes, so it should be relatively easy to get there. Once you arrive, follow the signs towards Paddington Basin and from there walk along the waterway until a triangular junction or in other words, Little Venice.
If you want to stay in the area there are plenty of hotels for all budgets. Look out for the impressive
Hilton London Paddington
, the no-frills easyHotel London Paddington or the many other hotels in between.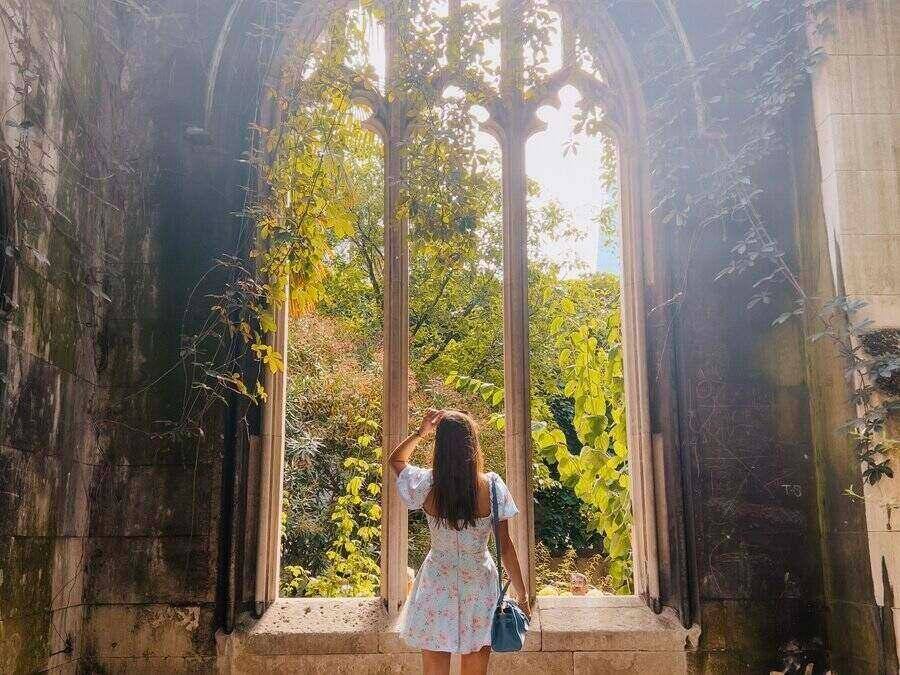 26. St Dunstan in the East, City of London
St Dunstan in the East Church Garden is a beautiful hidden gem in the City of London. The garden is located in the ruins of a mediaeval church, which was destroyed in the Great Fire of London in 1666. Although it had since been partially rebuilt, it was once again destroyed by a German bomb in 1941. Today, only leaves and flower adorned ruins of the church remain. 
Nestled between St. Paul's Cathedral and the River Thames, St Dunstan in the East offers a serene oasis in the heart of the city. It's the perfect spot to escape the hustle and bustle of city life for both office workers and tourists alike. Visitors can explore the garden's mix of native and exotic plants, or simply sit and relax in one of its many secluded corners. Those with a hefty budget can even hire out the church gardens for a wedding or party.
It's a popular place for a quiet picnic in the summer months, although bear in mind that it's also popular with photographers snapping away. With its lush greenery and peaceful atmosphere, it's easy to forget that you're in the heart of one of the world's most vibrant metropolises.
The closest stations to St Dunstan in the East are Tower Hill and Monument tube stations. For those looking to stay in the area, the five-star Vintry and Mercer is a gorgeous 
luxury London hotel
, just a 10 minute walk away.
By Jessie Moore from Pocket Wanderings
Enjoyed this, also check out these London posts
Things to do in Greenwich, London
Eating London – a delicious food tour
Cool attractions to explore in South Bank
Exploring London's East End district
Conclusion on visiting these  26 London Hidden Gems
We hope that you enjoyed your visit here and these 26 London Hidden Gems, do you have any other tips to share around London? Please share on the comments below.
Thanks for checking out this post on visiting these London Hidden Gems. Hope the post was informative and a must read article – if so please do share it with any of the social media buttons around the page.
Disclosure – This article and related articles may have some affiliate links. This means that
we earn a commission from qualified purchases and bookings at no additional costs
to you.
Thank you for supporting the site, if you do.