Lyon, France: A Captivating Journey exploring the city at Night and fun activities and places to visit
Nighttime in Lyon is really when the city comes alive and all the locals come out to celebrate the end of day, an evening out to enjoy some drinks or discover a new restaurant in town. And Lyon really sparkles at night when all its squares, river front and historical monuments are lit up like little jewels for everyone to enjoy.
Lyon at night is a mesmerizing spectacle that reveals a different side of this vibrant city. As darkness descends, Lyon's illuminated streets, historic landmarks, and bustling nightlife come alive, casting a magical ambiance over the cityscape. The blend of old-world charm and contemporary energy creates an enchanting atmosphere that beckons visitors to explore and experience the nocturnal allure of Lyon.
Here's a photo essay of some wonderful places to visit in Lyon'France at night.
Where is Lyon, France located?
Lyon is located in the eastern part of France, in the Auvergne-Rhône-Alpes region. It's situated at the confluence of the Rhône and Saône rivers, making it a strategically positioned city in southeastern France.
Lyon is approximately 292 kilometers (181 miles) southeast of Paris, France. You can reach Lyon from Paris by train, which offers a convenient and scenic journey through the French countryside. The trip takes around 2 to 2.5 hours by high-speed train (TGV) or a bit longer by standard train.
Lyon, France FAQ
What is Lyon, France known for?
The city of Lyon is recognised for its amazing food markets, cuisine and gastronomy. A smaller version of Paris with a Unesco Heritage site of Old Lyon and the Fourviere Hill along with the scenic Perqu'ile area
Is Lyon, France worth visiting?
You can get by visiting Lyon in two days to get the highlight. But if you want to explore and use the city as a base to visit the region, a relaxed week is perfect to explore the outlying regions for day trips and the city's hills, rivers and cultural events that happen weekly.
Weather and best times to visit Lyon
Lyon experiences a mild and temperate climate, making it a pleasant destination to visit throughout the year. Here is an overview of the weather and the best times to visit Lyon:
Spring (March to May): Spring brings mild temperatures and blooming flowers to Lyon. The weather is generally pleasant, with average temperatures ranging from 10°C (50°F) to 20°C (68°F). It's a great time to explore the city's outdoor attractions, enjoy outdoor dining, and witness the city come to life after the winter season.
Summer (June to August): Summer in Lyon is warm and sunny, with temperatures ranging from 20°C (68°F) to 30°C (86°F). This is the peak tourist season, with longer days and numerous outdoor events and festivals taking place. It's a popular time to visit, but be prepared for larger crowds and higher hotel prices.
Autumn (September to November): Autumn in Lyon is characterized by mild temperatures and beautiful fall foliage. The weather remains pleasant, with temperatures ranging from 10°C (50°F) to 20°C (68°F) in September and gradually cooling down towards November. It's a great time to enjoy the city's parks, visit museums, and savor the autumn flavors at local markets and restaurants.
Winter (December to February): Lyon experiences cool temperatures during winter, with average temperatures ranging from 0°C (32°F) to 10°C (50°F). While it can be chilly, the city is adorned with festive decorations, and you can experience the charm of the holiday season. Winter also offers the advantage of fewer crowds, making it an ideal time for those seeking a quieter and more intimate visit.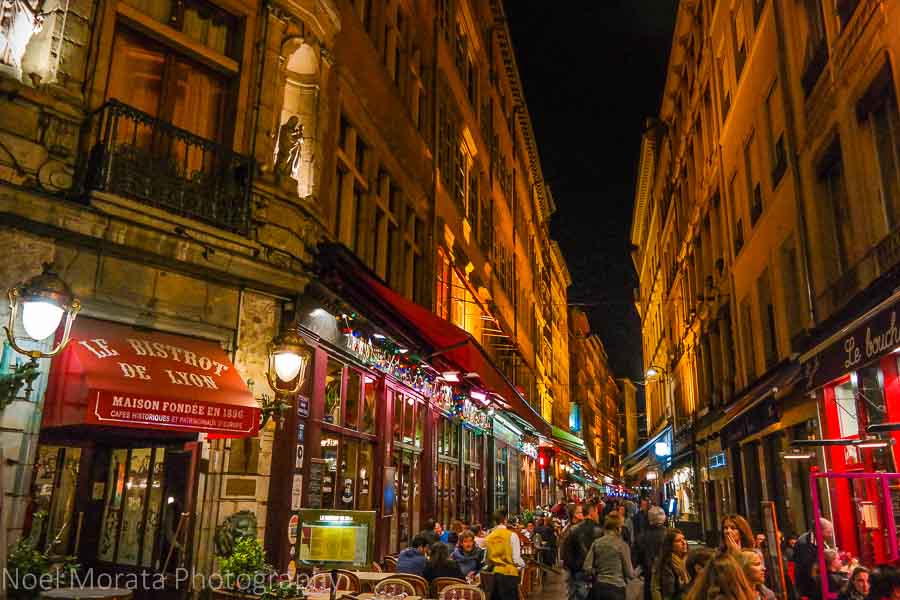 Dining venues in Lyon
It looks like almost all the restaurants and bars are filled and busy for the evening, it's no surprise considering that it is a weekend night in Lyon. It's a lovely summer evening and everyone wants to be outdoors at any of the public venues in fashionable attire. I keep forgetting the French are so stylish even here in Lyon, and people watching is almost a sport at any of the busy promenades.
At  Pres qu'ile, in the heart of Lyon's central district, there is a exciting buzz filled with sexy French conversations, glasses filled with champagne and huge platters of fresh oysters which seem to be prevalent on every menu, porquoi?
It just seems natural that the French love to celebrate their weekends leisurely at the many parks and squares or having a nice long meal at any gastronomic restaurant open for the late afternoon to evening dining event.
When it comes to dining in Lyon, the city is renowned for its culinary scene and exceptional gastronomic offerings. Here are some of the best local restaurants that you should consider for an unforgettable dining experience:
Paul Bocuse: As a legendary figure in French cuisine, Paul Bocuse's namesake restaurant is a must-visit. Indulge in exquisite dishes crafted with precision and creativity, showcasing the finest ingredients and culinary expertise.
Les Halles de Lyon Paul Bocuse: This indoor food market is a paradise for food lovers. Explore the stalls filled with fresh produce, cheese, meats, pastries, and more. Stop by one of the small eateries within the market to enjoy authentic Lyonnaise specialties such as quenelles, saucisson, and praline tarts.
Le Sud: Located on the banks of the Rhône River, Le Sud offers a delightful dining experience with a focus on Mediterranean cuisine. Savor dishes inspired by the flavors of Provence, accompanied by a carefully curated wine selection.
Chez Mounier: This cozy bistro in Lyon's historic district serves classic Lyonnaise dishes in a warm and welcoming atmosphere. Try the traditional delicacies like coq au vin, pike quenelles, and tarte tatin, all prepared with a touch of rustic charm.
L'Auberge du Pont de Collonges: Another culinary gem created by Paul Bocuse, this three-Michelin-starred restaurant is located just outside of Lyon. Immerse yourself in an elegant dining experience and indulge in gourmet French cuisine in a picturesque setting.
Le Comptoir Cecil: For a taste of Lyonnaise bouchon cuisine, head to Le Comptoir Cecil. This lively and authentic bistro serves up hearty dishes like andouillette, cervelle de canut (a local cheese spread), and praline tart, giving you a true flavor of Lyon's culinary heritage.
Le Kitchen Café: If you're looking for a more relaxed and trendy atmosphere, Le Kitchen Café is the place to be. This popular café offers a delectable brunch menu with a variety of options, including delicious pastries, pancakes, and savory brunch dishes.
Check out these videos of top restaurants to visit in Lyon when you visit
Fashionable window shopping in Lyon
Lyon's public squares are beautiful at night time
Wondering what to do in Lyon at night, then check out all the beautiful public squares that are main gathering places with gorgeous fountains, plazas and monuments in Lyon where all the venues are lit at night .
The squares are used like a like an extended living room for meeting friends and hanging out late into the evening. Many of these public venues are also a great spot to find a nice bar or café and people watch, or just have a nice relaxed conversation.
Considering that it is not even the busy tourist season, the squares are already packed including the large venues at Place des Terraux or Place Bellecour, and all the restaurants along the perimeter of the square are filled.
Fountain Bartholdi
I was drawn immediately to this stunning water fountain  above created by French Sculptor FE Bertholdi in 1889. He is also the same artist who created the Statue of Liberty in New York, creating significant public sculpture for everyone to enjoy especially in Lyon at Place des Terreaux in the historic center of the city.
Lyon's city hall and Place des Terreaux
Lyon's City Hall, known as "Hôtel de Ville," is an architectural masterpiece located in the heart of the city. It showcases a stunning blend of Renaissance and neoclassical styles, featuring intricate facades and decorative elements. The building serves as the administrative center of Lyon and is a symbol of the city's rich history and civic pride.
Place des Terreaux is a picturesque square situated in front of Lyon's City Hall. It's renowned for its beautiful Bartholdi Fountain, created by the same sculptor who designed the Statue of Liberty. The square is surrounded by impressive historical buildings and is a popular gathering spot for both locals and visitors. It's a vibrant and artistic hub, often hosting cultural events and festivals.
Lyon's Saone riverfront walk
Walking along the Saone riverfront at night is magical, especially on a warm summer evening. All the restaurants are busy and everyone is seems to be hanging out at all the piers and sitting areas along the waterfront.
Eclectic sounds of sappy Euro pop, the Beatles and Jazzy French beats echo through the public areas where people congregate, sing and even do some impromptu dancing. And it's fun to just hang out by the river where it's cool and breezy late into the evening with all these amazing landmarks lit up.
Along the riverfront, the city has installed some local art and sculpture, including this dramatic sculpture below of two young lovers. Placed right next to this illuminated pedestrian bridge that leads to Vieux Lyon (the old medieval area of Lyon), it's the perfect spot to take a photograph of Lyon's central district and riverfront.
 An elegant pedestrian bridge to Vieux Lyon
Exploring Vieux Lyon at night
The old medieval town is wonderful to explore at night with all the pedestrian zones filled with cafes and bars. You can explore the many promenades which all lead to the main square facing the cathedral of St. Jean with it's stunning interiors and stained glass.
Vieux Lyon is the perfect spot to really get a feel for the older parts of the city where all the main historic roman monuments and medieval buildings are located, including Lyon's Cathedral of St. Jean and the Basilica of Notre-Dame de Fourvière.  If you want to see what the area of Vieux Lyon looks like during the day time, check out my post on Lyon's attractions here.
Dining in Vieux Lyon at night
When it comes to dining in Vieux Lyon, the historic district of Lyon, you'll find a plethora of charming restaurants and eateries offering a delightful culinary experience. Here are some places to eat in Vieux Lyon that you should consider:
Le Café des Fédérations: Known for its authentic Lyonnaise cuisine, Le Café des Fédérations is a beloved institution in Vieux Lyon. Indulge in traditional dishes such as quenelles, sausages, and gratin dauphinois in a cozy, rustic setting.
Le Poêlon d'Or: This charming bouchon, a traditional Lyonnais eatery, captures the essence of Vieux Lyon. Enjoy a convivial atmosphere as you savor hearty Lyonnaise specialties like pork terrine, coq au vin, andouillette, and praline tart.
Les Lyonnais: Located in a beautifully restored Renaissance building, Les Lyonnais offers a refined dining experience in the heart of Vieux Lyon. Sample classic Lyonnais dishes made with locally sourced ingredients, accompanied by an extensive wine list.
Le Vieux Lyon: Situated in a historic courtyard, Le Vieux Lyon is a quaint restaurant serving up delicious French cuisine with a creative twist. Enjoy a mix of traditional and contemporary dishes, prepared with care and presented beautifully.
Le Bouchon des Filles: This charming bouchon, run by a group of talented women, offers a fresh and modern take on Lyonnais cuisine. Delight in innovative dishes that showcase local flavors and ingredients, accompanied by friendly service and a welcoming ambiance.
Les Adrets: Nestled in a picturesque alley in Vieux Lyon, Les Adrets is a cozy restaurant specializing in seasonal and regional cuisine. Relish in dishes that highlight the best of Lyon's gastronomy, prepared with a contemporary touch.
Le Petit Bouchon Chez Georges: Experience the authentic charm of a traditional bouchon at Le Petit Bouchon Chez Georges. Feast on hearty Lyonnais fare, including pork sausages, roasted meats, and a variety of delectable desserts.
Here's a fun walking tour around the many streets and promenades of Lyon at night
Check out these other popular walking promenades in Lyon
Lyon offers several beautiful walking promenades that allow you to explore the city's charming neighborhoods, architectural gems, and scenic landscapes. Here are some walking promenades in Lyon that you should consider for an enjoyable exploration:
Presqu'île Promenade: Located between the Rhône and Saône rivers, the Presqu'île is a bustling area with lively streets and elegant squares. Take a leisurely stroll along Rue de la République, Lyon's main shopping street, and explore the charming traboules (hidden passageways) that lead to hidden courtyards. Admire the stunning Belle Époque buildings and don't miss Place des Terreaux, home to the iconic City Hall and the Bartholdi Fountain.
Old Town (Vieux Lyon) Exploration: Step back in time as you wander through the cobblestone streets of Vieux Lyon, a UNESCO World Heritage site. Start at Place Bellecour, one of Europe's largest squares, and make your way up to the magnificent Lyon Cathedral. Explore the traboules, visit the captivating Cour des Voraces, and enjoy the vibrant atmosphere of the medieval streets lined with Renaissance-era buildings.
Fourvière Hill Walk: Embark on a scenic walk up Fourvière Hill, where you'll be rewarded with panoramic views of Lyon. Begin at the base of the hill near the Roman amphitheater and ascend to the stunning Basilica of Notre-Dame de Fourvière. Along the way, pass by beautifully landscaped gardens, ancient ruins, and enjoy breathtaking vistas of the city below.
Parc de la Tête d'Or: This expansive urban park is perfect for a leisurely stroll or a picnic. Explore the park's botanical gardens, tranquil lake, and various walking paths. Don't miss the impressive Rose Garden, the African Plain with its wildlife, and the charming island in the lake.
Along the Rhône River: Take a scenic walk along the banks of the Rhône River and enjoy the picturesque views. Start at the iconic Pont de la Guillotière and stroll along the riverside promenade, passing by the striking Musée des Confluences and the vibrant La Confluence district.
More inside tips to visiting Lyon at night
When exploring Lyon at night, there are several inside tips to enhance your experience and make the most of the city's vibrant nightlife. Here are some suggestions:
Discover Lyon's Illuminated Landmarks: Lyon is renowned for its beautifully illuminated landmarks. Take a walk along the banks of the Rhône and Saône rivers to admire the stunning lights that illuminate iconic buildings such as the Basilica of Notre-Dame de Fourvière, Lyon Cathedral, and the Hôtel de Ville. These landmarks take on a magical ambiance at night, creating a truly enchanting atmosphere.
Explore the Presqu'île District: Lyon's Presqu'île district comes alive at night, offering a variety of entertainment options. Head to Rue Mercière and Rue des Marronniers, known for their vibrant dining and nightlife scenes. Enjoy a delicious meal at one of the many restaurants, indulge in a glass of local wine at a cozy bar, or simply immerse yourself in the lively atmosphere as you explore the bustling streets.
Take a Nighttime Boat Cruise: Experience Lyon's beauty from a different perspective by taking a nighttime boat cruise along the Rhône or Saône rivers. These cruises offer panoramic views of the city's illuminated landmarks and bridges, creating a memorable and romantic experience.
Visit the Lyon Opera House: If you appreciate the arts, attending a performance at the Lyon Opera House is a must. This stunning venue hosts a variety of operas, ballets, and concerts throughout the year. Immerse yourself in the world of music and theater as you witness a captivating performance in a grand setting.
Enjoy a Late-Night Bouchon Experience: Lyon is famous for its traditional bouchon restaurants, which offer hearty Lyonnais cuisine. To fully immerse yourself in the local culinary scene, consider enjoying a late-night dinner at one of these establishments. Relish in classic dishes such as quenelles, sausages, and gratin dauphinois, accompanied by local wines and the warm ambiance of a traditional bouchon.
Attend Festivals and Events: Lyon hosts numerous festivals and events throughout the year, many of which continue into the evening hours. Check the local event calendar to see if any festivals, concerts, or cultural events align with your visit. From the Fête des Lumières to the Nuits de Fourvière, these festivities offer a unique and unforgettable experience of Lyon's vibrant cultural scene.
Also, you can take a look at my recent post on a first impression of Lyon here.
Check out some of my other favorite night city tours around the world
Walking the streets of Vienna at night
Conclusion to visiting Lyon at Night
Visiting Lyon at night is a fantastic experience that reveals the city's captivating allure. The illuminated landmarks, bustling streets, and vibrant atmosphere create a magical ambiance that lingers long after the sun sets. Whether you're strolling along the riverbanks, savoring the flavors of Lyonnais cuisine in a traditional bouchon, attending a performance at the Lyon Opera House, or simply immersing yourself in the lively nightlife, Lyon at night offers a unique and memorable adventure. The city's charm and beauty take on a new dimension under the cover of darkness, leaving visitors with cherished memories and a deep appreciation for Lyon's vibrant spirit. So, embrace the nocturnal charm, let Lyon unfold its secrets, and allow yourself to be captivated by the city's captivating magic at night.
Thanks for visiting today and checking out this post on Lyon, France at night. I hope you are inspired to plan a visit and enjoy these wonderful attractions. If you enjoyed the images and post, could you please share it with any of the social media buttons located around the post.
If you like what you see, come and check out my other social media channels for more updates, including Instagram, Pinterest
Disclosure – Some links in this article on Lyon, France at night are affiliates which provide a small commission to support this site at no extra cost to you. Thank you for reading, and happy travels