Touring Budapest at night: Must visit attractions and landmarks to explore around the city (2023)
During the day time Budapest is a wonderful city to walk around and visit attractive landmarks, scenic vista points and fun neighborhoods to explore around the city. When the sun finally starts to set early in the evening over Buda Castle, you need to head out to the Danube river promenade on the Pest side so you can enjoy sunset and the lit up attractions of Buda and the surrounding landscape. Later on at night, the entire city is magically transformed and lit up to highlight all the city's beautiful attractions, skyline views,  it's promenades and fashionable squares and attractive architecture. As a starting point, it's fun to  slowly walk along the Danube promenade to check out the riverfront area and attractions, and then proceed to some of the lively squares and busy promenades around the city. It seems like a favorite pastime at night is to go out in the evenings to some of the busy squares and other public venues while checking out restaurant menu's or dropping by a local bar for a quick drink and order Eloetelek (Hungarian appetizers). For late owls, the night club scene or ruin bars are another fun alternative to check out on the Pest side of the city.
Why explore Budapest at night time?
Budapest becomes magical at night-time all around the city with lit up monuments, scenes from the Danube and bridges and the historic attractions and sites around the city to explore. The various monuments and buildings lit up really do add a special vibe and scene to the many night scapes around town that make it fun to explore the city at night time. Walking through beautifully lit streets and squares, classic fountains and architecture and outdoor markets and other places where the public enjoy local foods, drinks and outdoor markets only add to the fun of exploring the various neighborhoods around the city.
Check out these popular attractions and places to explore below for more inspiration.
How to get around Budapest
Navigating Budapest is easy with various transportation options. The city offers a well-connected public transport system, including trams, buses, and the metro. You can purchase tickets at vending machines or from newsstands.
**1. Metro:** Budapest has four metro lines (M1, M2, M3, M4), making it convenient to reach different parts of the city quickly.
**2. Trams:** Trams are a popular way to get around the city, especially along the Danube River, providing scenic views.
**3. Buses:** Buses cover areas not served by the metro or trams, making them essential for reaching some attractions.
**4. Taxis:** Taxis are widely available, but make sure to use official, licensed taxis or ride-sharing apps for fair pricing.
**5. Bicycles:** Budapest has bike lanes and rental services, offering an eco-friendly way to explore.
**6. Walking:** The city center is compact and pedestrian-friendly, perfect for exploring on foot.
**7. Boats:** Budapest sits on the Danube, and you can use riverboats for a unique perspective.
Consider purchasing Budapest Cards for unlimited use of public transport and discounts at various attractions. Planning your routes in advance will help you make the most of your time exploring this beautiful city.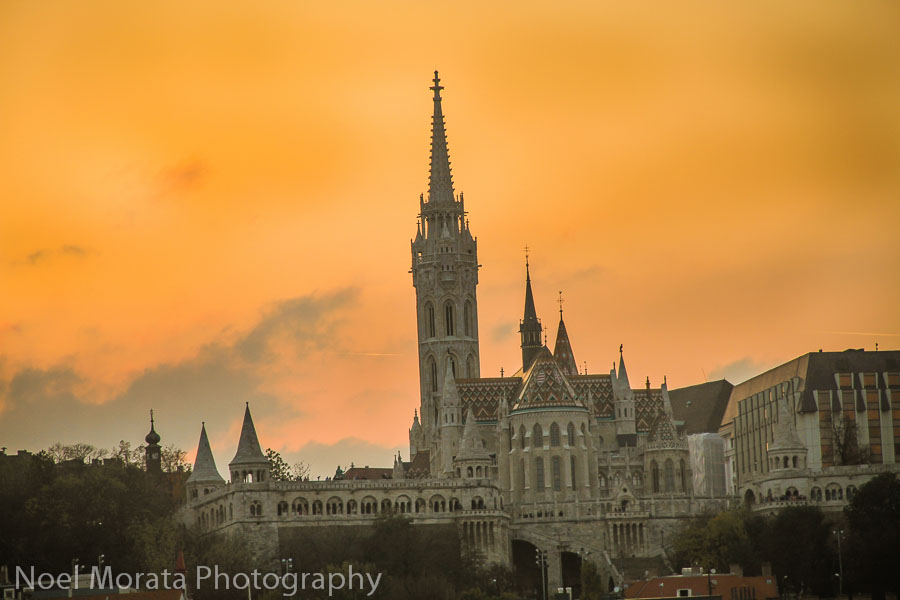 Looking up to Buda castle and the Fisherman's grotto
When the last golden rays of sunset has finally left Buda castle hill and the city lights start to glisten, check out some of these popular attractions, squares, promenades and areas of Budapest that are worth visiting at night time.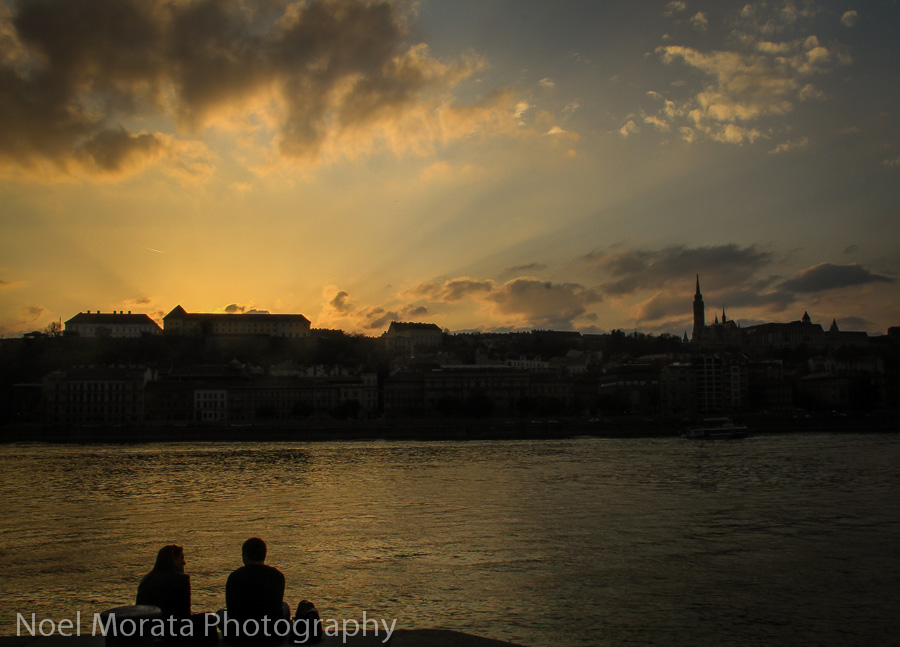 Visit the river promenade along the Danube
Walking along the Danube at night is a fantastic area to explore the river promenade with many of the city's popular landmarks and monuments lit up at night. You can capture some wonderful photographs along the river at night with the gorgeous Széchenyi chain bridge, Buda castle, Matthias church and the Fisherman's Bastion which are all lit into the late evening.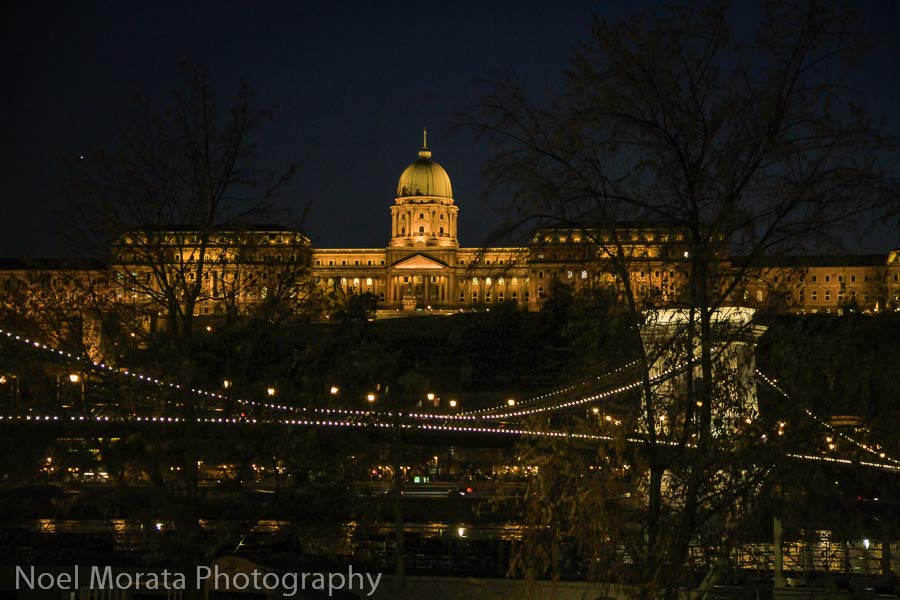 Széchenyi Chain bridge and Buda castle lit up at night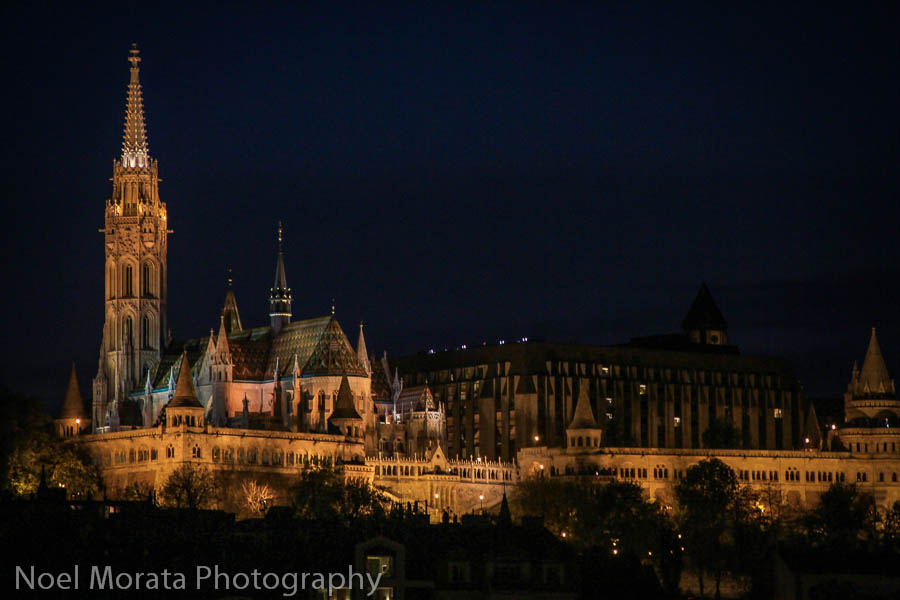 Check out these views from the banks of the Danube river up to Buda castle
Explore St. Stephen's Square and Basilica
St. Stephen's square is a popular area to hang out at night with the main promenades filled with busy restaurants, bars and galleries open to attract visitors and locals to enjoy a night out in and around the square and perimeter of the basilica. Evenings are a perfect time to visit the main cathedral and view the ornate interior hall and separate chapels. Typically there are regular nightly concerts offered for a nominal price with popular classical concerts or local choral groups performing for the public. You can check the schedules, if you visit the cathedral earlier in the day to find out what the performance for the night will be in the cathedral.
Tip – you cannot bring your tripod to set up inside the basilica, so you definitely have to have a steady hand or find an easy prop like the chair pew backs to keep the camera still.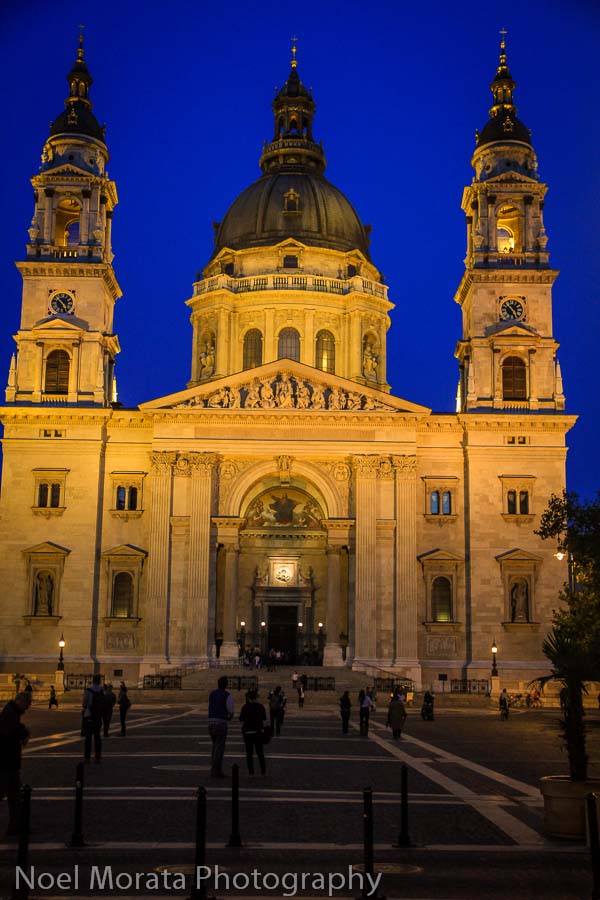 There are many historic monuments and stunning architecture lit up at night in the old city center of Buda and Pest. The streets are well lit and it's easy to walk along any of the promenades or the Danube river front where many of these beautiful buildings lit up for the evening. You can easily set up a tripod outdoors, but having done this for a long time, I've learned a few techniques to take hand held photographs with decent results and prefer to work spontaneously when I tour at night.  You'll find so many gorgeous portals like the entry below, I love catching these accidental discoveries and come back with some wonderful memories of my night visits.
Tip – if you have no tripod with you, look for buildings that are well lit and make exposure adjustments to your camera so that you can capture most of the details of that particular subject.
Exploring the cathedral interiors of St. Stephen's Basilica
https://youtu.be/lml_Rk3-Fos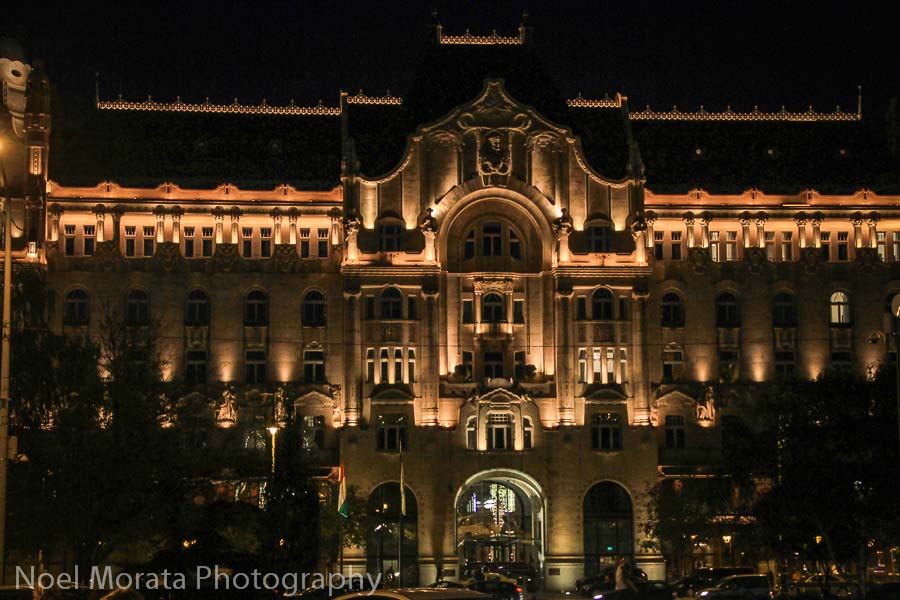 Ornate exterior/interior of the Four Seasons Hotel by the Danube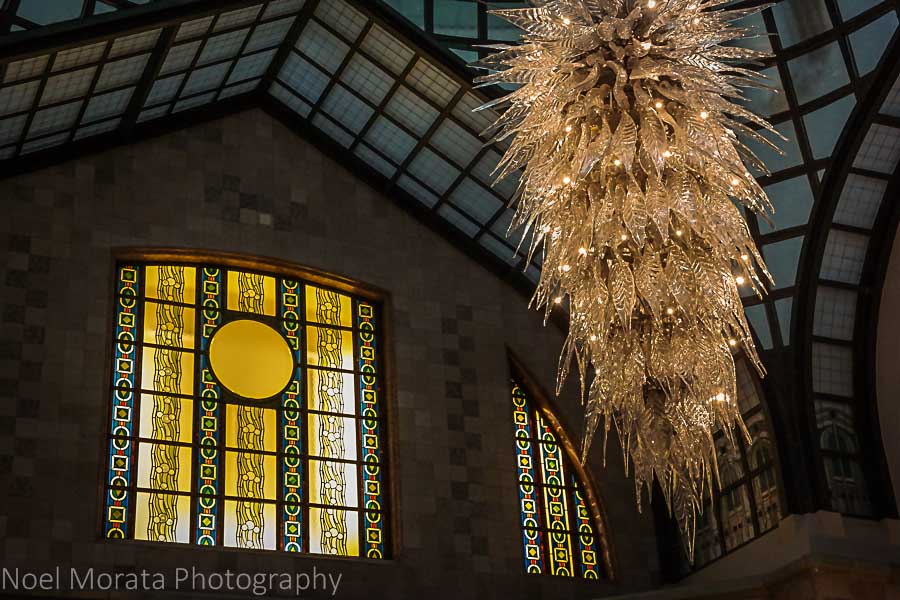 Magnificent architecture
The historic district in Pest is filled with stunning architecture offering a broad range of many classical periods including: Art Nouveau, Gothic and Neo Gothic, Renaissance, Ottoman, Baroque and Neo Baroque, Classicism to Neo Classicism styles and Romanticism style.  You find gorgeous portals, stained glass and beautiful architectural details every when you walk through the central district. The gorgeous Four Seasons Hotel above used to be the Gresham palace, an Art Nouveau office building along the Danube, it has been beautifully renovated into this luxury hotel brand. If you have some free time, it's fun to explore inside and enjoy a lovely drink at at the Kocsma (bar lounge) or dinner at the signature restaurant called Kollazs Brasserie.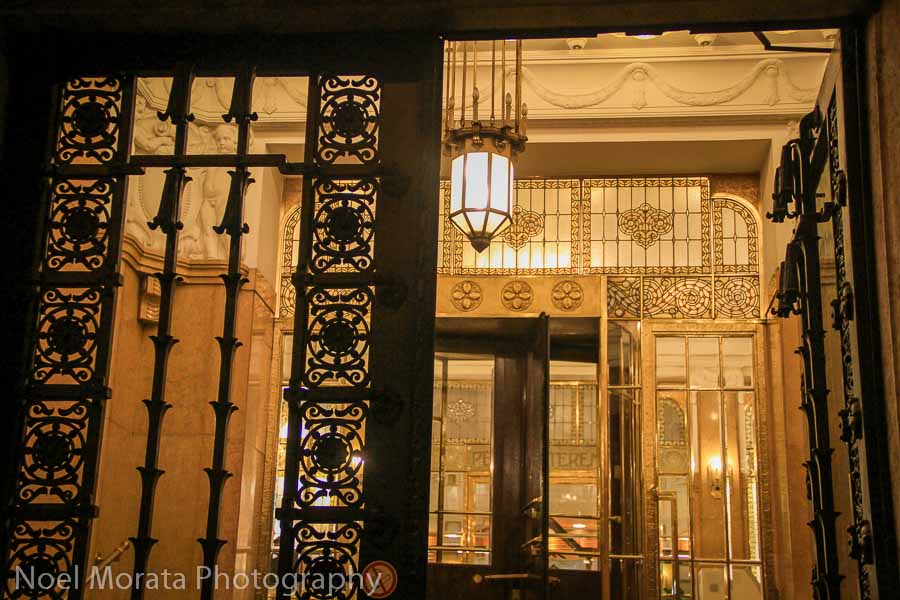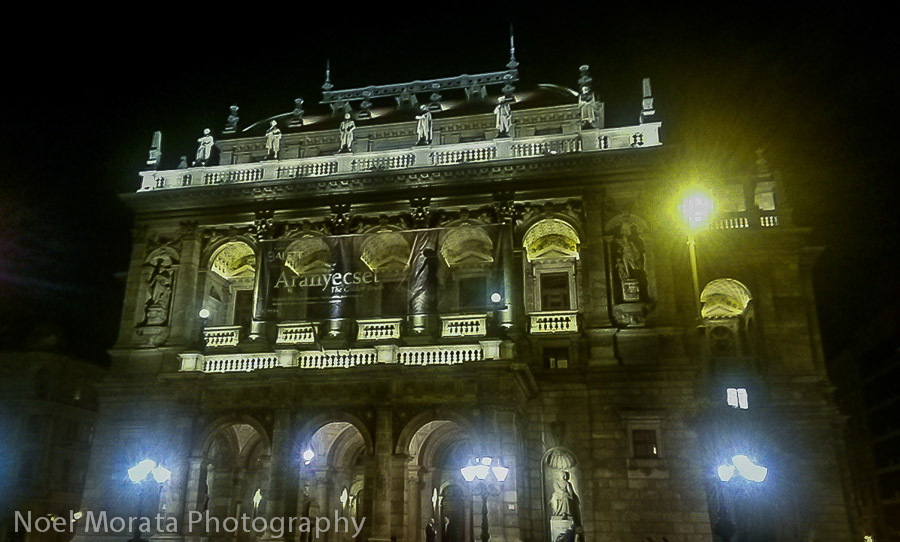 Budapest Opera House
In another area of Pest along the grand boulevard of Andrassy street is the Budapest Opera house. The stunning and gorgeous Neo-classic style interior is worth the price of an opera ticket alone to visit the inside and enjoy an exceptional Opera performance. The interior is dripping with golden balconies and carvings, crystal chandeliers and colorful frescoes on the ceiling and walls and statuary everywhere. Again you can't bring in a tripod or use a flash, but keep a steady hand and take pictures before the program and you'll get a decent shot of the interior which is really stunning to experience any opera in grand style.
Tip – photographs are not allowed inside during the performance but prior to and intermission, everyone is taking pictures inside.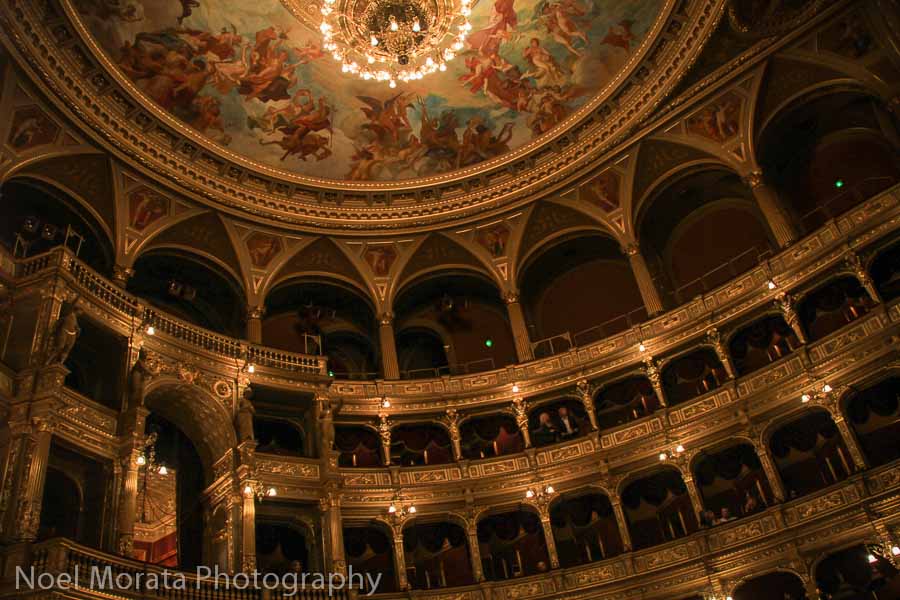 Here's a gorgeous view of the interiors of the Budapest Opera house
Nyugati Railway Terminal lit up at night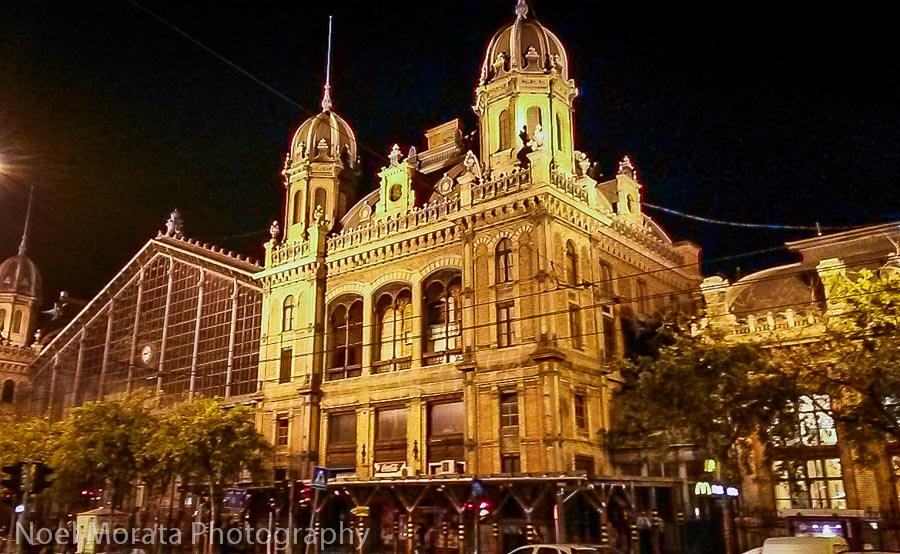 The Széchenyi Chain Bridge at night by the Danube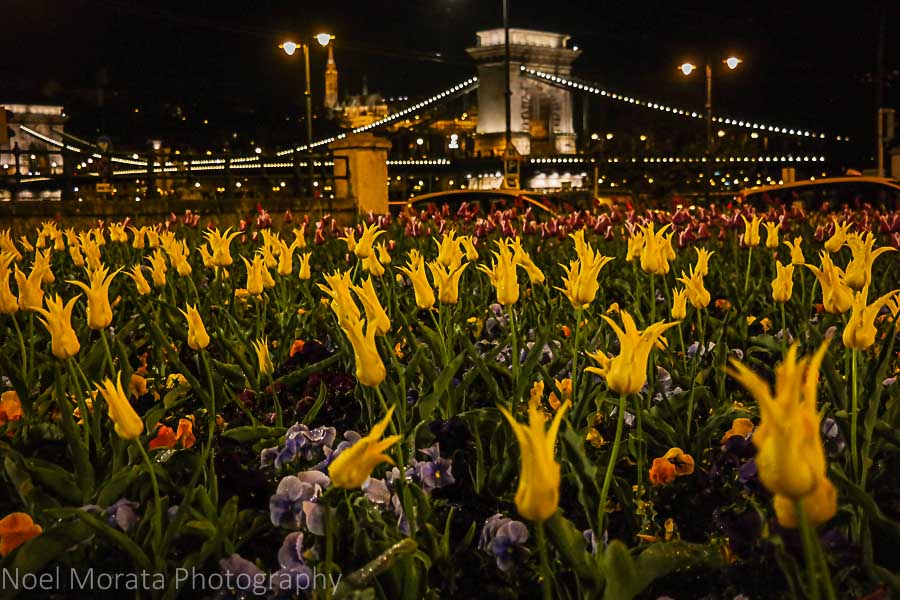 Ornate Pest basilica along the Danube river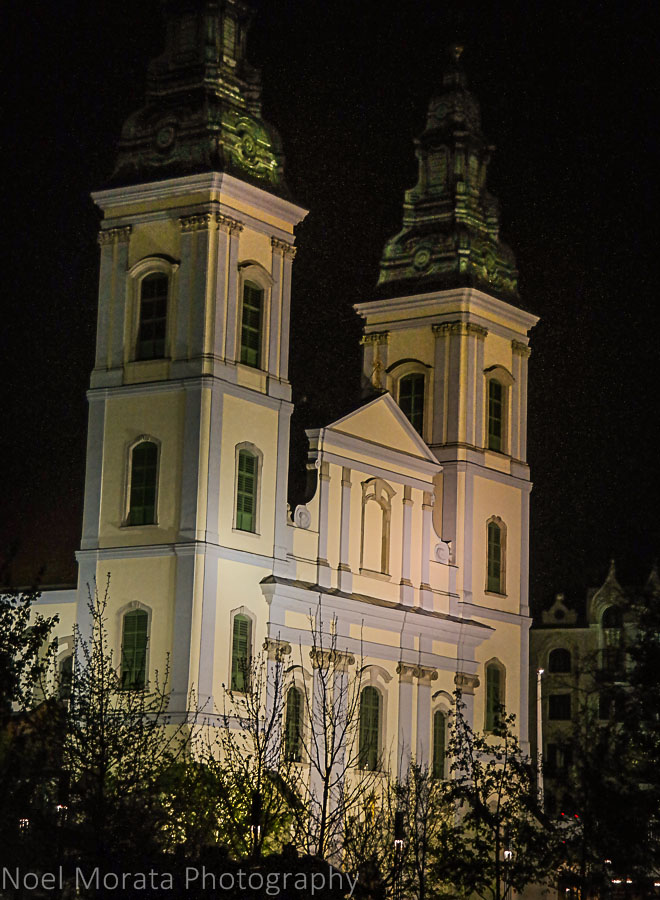 Discover the Ruin Bars of Budapest
Budapest is renowned for its unique and vibrant nightlife, and the Ruin Bars are a testament to that. These eclectic and unconventional bars have become a cultural phenomenon in the city. Originally set up in abandoned buildings and ruins, these bars have a distinctive atmosphere that blends art, history, and music.
The most famous Ruin Bar is Szimpla Kert, located in the Jewish Quarter. It's a maze of rooms, each with its own theme and decorations, making it an artistic wonderland. Another popular spot is Instant-Fogas, known for its lively parties and diverse music.
Exploring these Ruin Bars is like stepping into a different world, with quirky furnishings, graffiti-covered walls, and a diverse crowd. It's a must-do experience in Budapest, offering a taste of the city's bohemian spirit and nightlife culture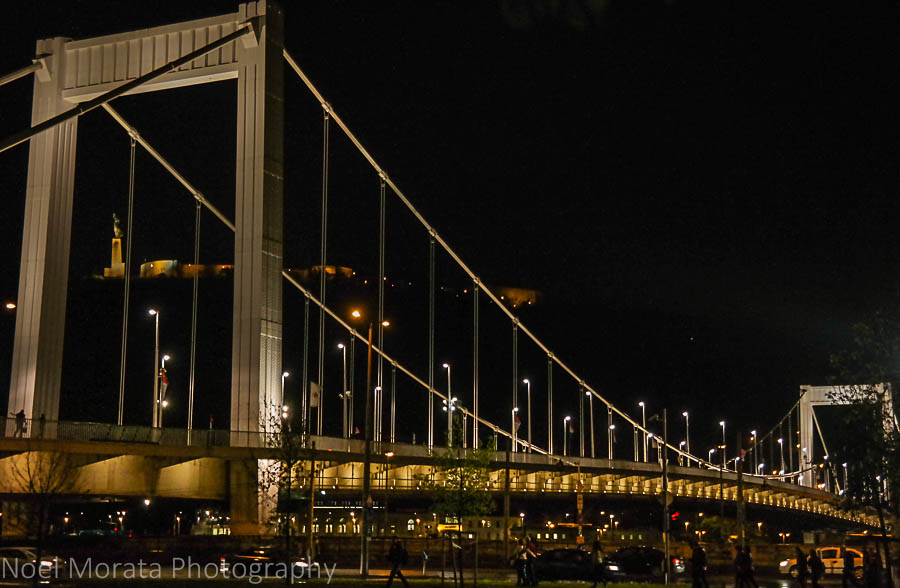 Bridges along the Danube in Budapest
Many of Budapest's bridges along the Danube river are lit up at night time and command some stunning views of the historical district. Most of them have walking passageways which allow for wonderful views of both sides of the river to Buda and Pest with monuments and significant buildings lit up beautifully at night time. It's definitely the place to be to enjoy the night along the Danube river while enjoy views from both the Pest and Buda side of the city. You'll see a full range of bridges covering classical styles to more contemporary styles like the Elisabeth bridge (above), named for Elisabeth of Bavaria, a popular queen and empress of Austria-Hungary.
Here's a gorgeous drone view of the bridges and Danube scenes and attractions around the river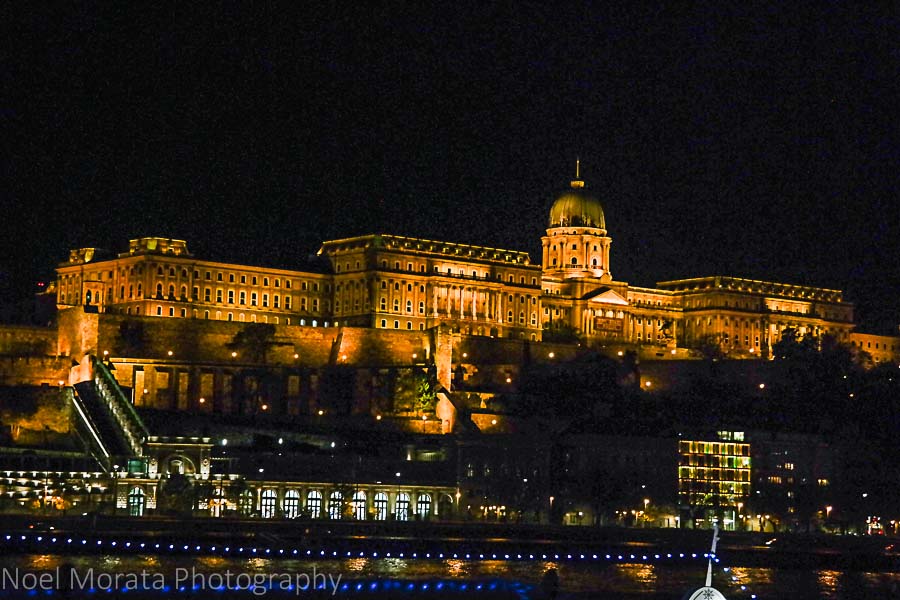 Buda castle and National museum at night by the Danube promenade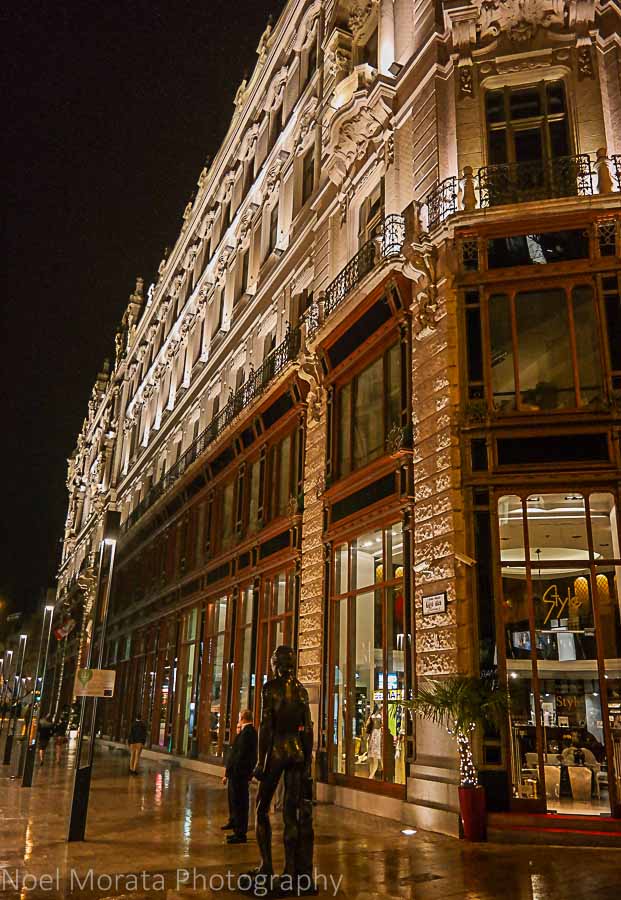 More inside tips to visiting Budapest at night time
When exploring Budapest at night, there's a lot more to discover beyond the main attractions. Here are some inside tips to make the most of your nocturnal adventures in this enchanting city:
1. **Late-Night Baths:** Budapest is famous for its thermal baths, and some of them offer extended hours. Visiting the Széchenyi Thermal Bath or Rudas Baths in the evening can be a serene and unique experience.
2. **Hidden Ruin Bars:** While Szimpla Kert is the most famous, Budapest has numerous hidden Ruin Bars waiting to be discovered. Venture off the beaten path to find these quirky and lesser-known gems.
3. **Danube Promenade:** Take a stroll along the Danube Promenade, which offers breathtaking views of the illuminated Buda Castle, Chain Bridge, and Parliament Building. It's a romantic spot for an evening walk.
4. **Dinner Cruises:** Enjoy a dinner cruise on the Danube River. You'll have the chance to savor delicious Hungarian cuisine while taking in the city's stunning landmarks under the night sky.
5. **Live Music:** Budapest has a thriving live music scene. Explore local bars and clubs for jazz, folk, or contemporary music performances. The A38 Ship is a notable venue for live music enthusiasts.
6. **Night Markets:** If you're here during the right season, check out the Budapest Night Market. It offers a fantastic array of street food, local crafts, and a lively atmosphere.
7. **Late-Night Cafés:** Budapest's café culture is alive and well. Many cafés stay open late, offering a cozy place to enjoy a cup of coffee, cake, or even a nightcap.
8. **Gellért Hill:** While it's a popular spot during the day, Gellért Hill provides panoramic views of Budapest at night. The Citadel's illuminated Liberty Statue and the city's lights below are truly captivating.
9. **Karaoke Bars:** Budapest has some entertaining karaoke bars where you can belt out your favorite tunes with both locals and fellow travelers.
10. **Local Late-Night Eats:** Try some traditional Hungarian snacks at late-night food stalls. Lángos, a deep-fried bread topped with various toppings, is a popular choice.
Remember to embrace the city's vibrant nightlife, but always keep an eye on your belongings and prioritize your safety when exploring after dark. Budapest truly comes alive at night, offering unforgettable experiences for night owls and adventurers alike.
Check out some of my other favorite night tours of cities around the world below
A night walking tour in Vienna
If you enjoyed this post, please pin it!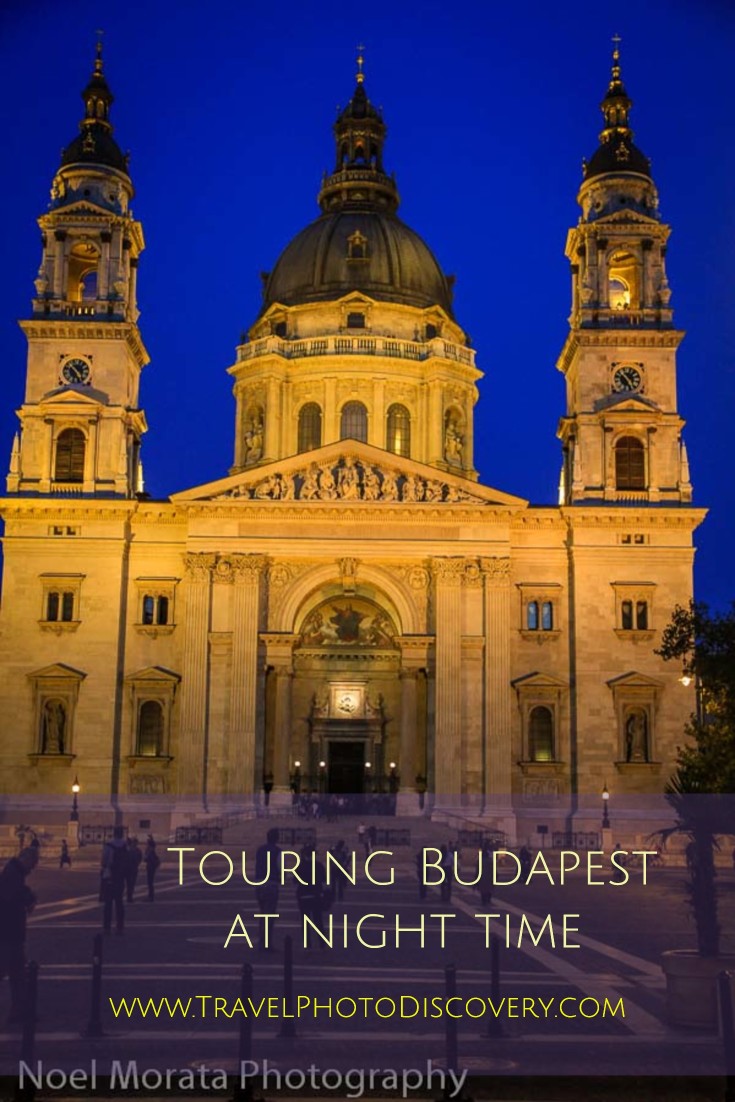 What do you think, are these tips helpful for you to visit Budapest at night time and visit some of these popular attractions to photograph them. If you have visited and can share other wonderful spots to visit at night, please share them in the comments section below. Thanks for visiting today and checking out this post on Touring Budapest at night. If you enjoyed the images and post, could you please share it with any of the social media buttons located around the post.
If you like what you see, come and check out my other social media channels for more updates, including Instagram, Pinterest and Twitter.