Big Sur coastline
It's Monday morning, time to enjoy some gorgeous travel photography and inspiration from around the world. Let's banish those Monday blues by sharing gorgeous imagery and story telling. You can also check us out on Twitter for Travel Photo Mondays at #tpMondays for more updates and submissions for the day.
Road trip to Big Sur in Monterey County
There's nothing like taking a road trip down the coastal highway in Monterey along the scenic coastline to Big Sur on this fantastic California road trip. It's a pleasant drive along Highway 1 – one of the most stunning coastlines along California's central coast. With drop dead views of sheer cliffs with rocky promontories and sandy beaches below, the views just take your breath away.
Probably the most popular spot for taking a picture of Big Sur always include the Bixby bridge – a perfectly arched bridge set with a panoramic backdrop. The bridge and the Big Sur landscape is regularly featured in many car commercials and driving related movies – making the bridge such an iconic brand on your Big Sur road trip. On this particular spot an artist set up his easel to spend a lovely afternoon painting plein air with the bridge as a backdrop – I wish I could have done the same all afternoon long.
It's always nice to have a delicious lunch at any of the wonderful lunch spots around Big Sur. One of the newest and popular lunch destination is The Big Sur Roadhouse – a retro modern cafe serving contemporary California style with a Cajun twist.  It's a very comfortable and colorful dining space with plenty of indoor and outdoor lounging and dining, so right for the relaxing California cuisine and lifestyle. The menu is eclectic with huge salads including Kale caesar salad,  Mediterranean salad with olives, artichoke heart, red peppers and mixed greens and Cajun rice and beans. Classic sandwiches like Mufulleta and club turkey sandwiches are huge, piled with a thick layer of various meats. The food is nicely presented, generous in portions and a real hit considering the unusual pairing of Cajun style with California fresh ingredients.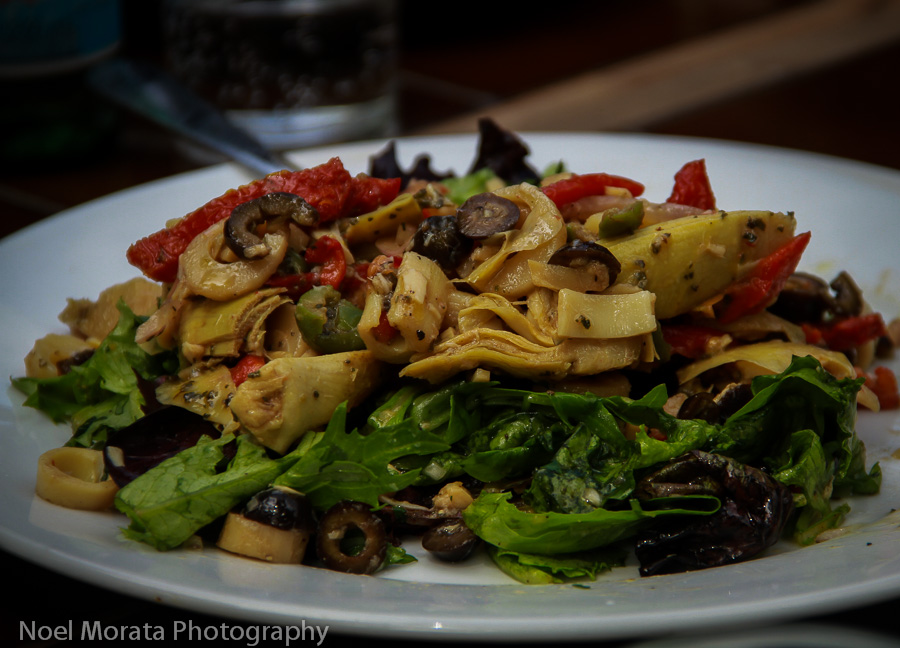 Driving back to Monterey, we stopped at a few more vista points and took some more photos of the stunning panoramas. It's easy to spend a whole day enjoying those endless views at Big Sur and even better if you can stay overnight and enjoy a delightful dinner and sunset views.
What to see more of Monterey and Carmel?
Enjoying a day in Monterey and Pacific Grove
Exploring Moss Landing in Monterey
Weekend getaway to Carmel by the Sea
Conclusion to visiting Big Sur
You'll love exploring all the fantastic attractions, natural landscapes and parks and fun outdoor activities around Big Sur, hope you get to visit and explore this area soon!
Thank you for visiting us today, please do check out these other bloggers below by clicking on their links. If you enjoyed this Road trip to Big Sur, please share it with any social media links below.
I received a complimentary lunch at the Big Sur Roadhouse, and transportation to and from Big Sur, with the Monterey County Visitors & Convention Bureau, all opinions and writing are my own.