Tentacles on parade at the Monterey Bay Aquarium
"Wow that is awesome", a wide-eyed kid blurts out to his friend who nods in agreement and adds ' yeah pretty cool!' That is the typical consensus all day long at the new Tentacles exhibit which just opened at the Monterey Bay Aquarium – a new exhibit of never seen before collections of squids, octopus and cuttlefish, making up this family of sea life called Cephalopods. These marine sea creatures are marine mollusks related to sea slugs and snails. Because of the short lifespan of these Cephalopods (most living an average 6 months) and the complexities of maintaining this special exhibit, it has been a difficult venture, but something that the world-famous Monterey Bay Aquarium enthusiastically creates.
The Tentacles exhibit draws you in completely into its cool, dark and surreal world of fantasy like creatures, starting with the almost glow in the dark Cephalopods called Big Fin Reef Squid. These ghostly white creatures with invisible fins glide in strange sideways gestures unlike movements you would equate to these creatures, their zig-zag motions looks so strange and other-worldly. Close by are the even more colorful sea creatures called Chambered Nautilus with their distinctive round patterned shell that gives it their iconic name – propelling their huge shelled bodies in strange and fantastical rhythmic motions – it is mesmerizing to watch them in their environment.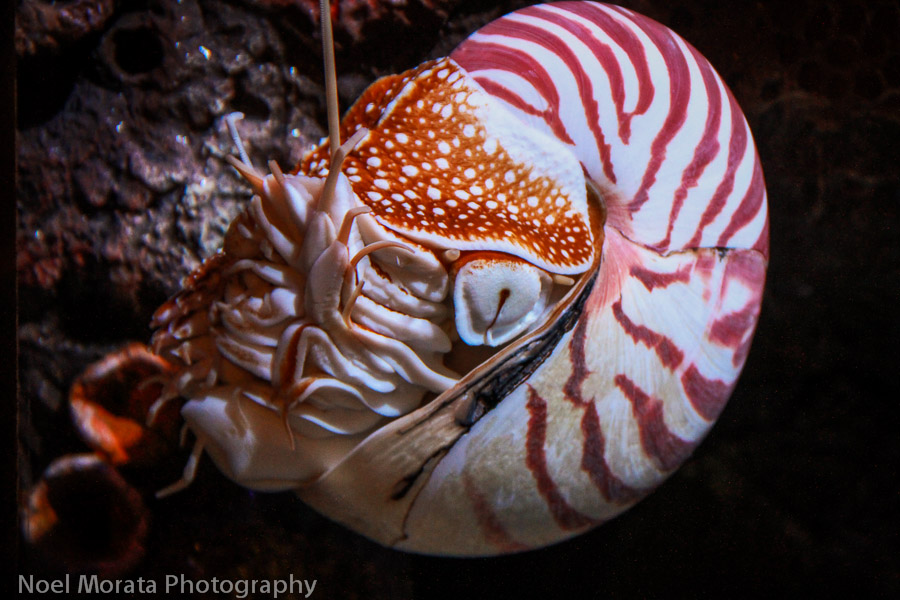 The Tentacles exhibit is filled with wow factor –  showcasing Cephalopods that have never been seen in public and premiering in this show.  One of the most outstanding creatures are the colorful red octopus called Flapjacks found in the deepest and darkest areas of the ocean floor in Monterey Bay. Red lights illuminate the dim curved tank to mimic their dark environments and the flapjacks float around like bizarre strange ghost-like caricatures. Even more reclusive are the little amazing octopus genera called the Flamboyant Octopus getting their name from their colorful rainbow accents as they bump around and float in comical and random bumper car like motions.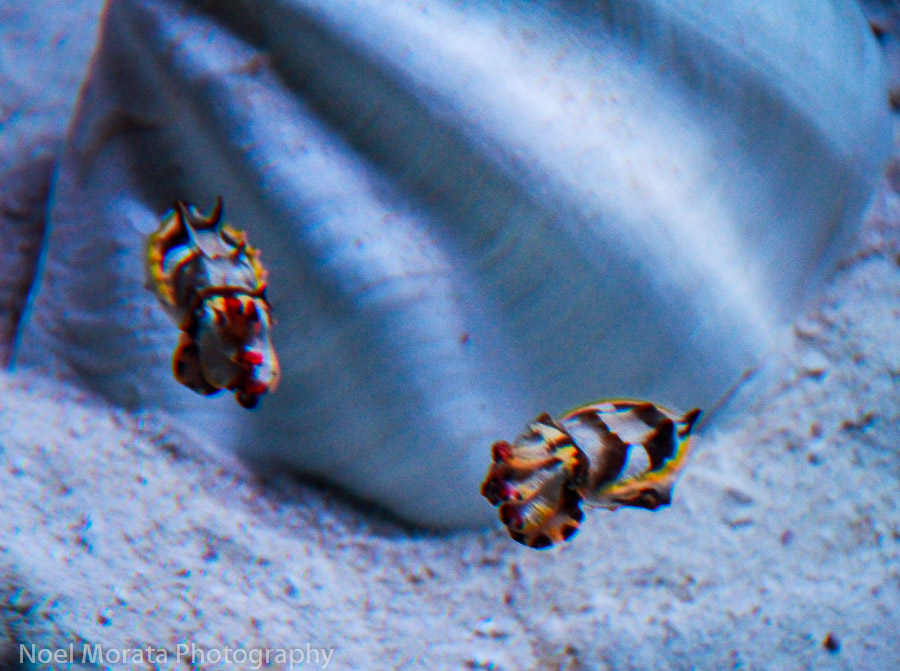 Flamboyant cuttlefish
The entire exhibit is very well laid out with interactive exhibits and child friendly educational tools and signage. This is one of Monterey Bay Aquarium's most challenging and will soon to be popular exhibits – despite the difficulties of replenishing and maintaining the Cephalopod displays. In any case, you should come down soon to visit all the new and cool octopus, cuttlefish and squids at the show, and don't be surprised if you are also 'oohing' and 'aaahing' throughout the entire exhibit.
 Here are some highlights from the other exhibit areas of the aquarium
Outside of the new Tentacles exhibit, there are many popular on-going exhibits to discover at the aquarium including: the Jellies exhibit, Open Sea Exhibit, a whole section of plastics, junk and garbage taken from the ocean and turned into art and the permanent sea-life collections. There is so much to see at the aquarium that you can easily spend an entire day enjoying the exhibits, special events and even take a behind the scenes tour of the facilities to see how everything operates from the back-end.
Things to know before you go
Tickets are $39.95 for adults and $24.95 for children 3-12. Discounts are given for Seniors and Students.
The Aquarium is located on Cannery Row and is open daily. Check the website below for hours and more information.
Most hotels offer two-day passes for the price of one day, just ask with your hotel about this pass.
There are two dining options available at the aquarium – a casual cafeteria style and a fine dining restaurant called Cindy's Waterfront named after Cindy Pawlcyn, the James Beard Award-winning creator of Mustards Grill in Napa Valley and the culinary partner of the aquarium since 2010.
For updated information on the aquarium, you can visit their website here.
What to see more of Monterey and Carmel?
weekend getaway to Carmel by the Sea
Enjoying a day in Monterey and Pacific Grove
Exploring Moss Landing in Monterey
If you enjoyed reading this post on the Tentacles on parade at the Monterey Bay Aquarium, please do share it with any of the social media buttons below, thanks so much for visiting.
My visit was part of the #Tentacles FAM tour, breakfast, early admission, seminar, and behind the scenes were hosted. All opinions are completely my own