Budapest Street Food Delights: A Gastronomic Journey through Hungary's Culinary Capital
For those unfamiliar with Hungarian cuisine, it can probably be best summed up with a story about Queen Elizabeth's husband, Prince Philip, on a 1993 visit to Budapest. Upon meeting a fellow Brit in the city, he remarked on his countryman's physique, observing, "You can't have been here that long – you haven't got a pot belly."  That might be the best overview of Hungarian cuisine you'll ever get. I would doubt any Hungarians were offended by that royal gaffe, as they happily admit Hungarian food is based on a holy trinity of lard, paprika, and onion. And while that combo may not make your cardiologist happy, it certainly tastes pretty good. You'll love trying The best Budapest street food suggestions below for inspiration when you visit Budapest.
Budapest street food FAQ
Hungarian street food covers a variety of street food you'll find in many food court areas, farmers markets and individual food stands. You can try some of the delicious streets foods offered like fried hake, chimney cakes, langos, boiled corn and many different types of sausages for sale.
Where to find the best Budapest street food?
When we arrived in Budapest, we were actually surprised by how much street food is available, and how it's taking over some of Budapest's coolest neighborhoods. And since we've made a pretty big dent in exploring the city's street food scene – with expanding waistlines to prove it – we are more than happy to share our discoveries.
If you ever visit Hungary or go to a Hungarian restaurant you will always find goulash on the menu. A very popular Hungarian dish, goulash is a hearty and warm stew filled with beef, paprika, onions, and potatoes. for a filling and delicious dish, goulash hits all the right spots especially on colder nights and seasonal changes in the city.
Fortunately tap water in Budapest is drinkable and safe. You can easily bring a resuable bottle with you to bring for daily use when you tour around the city.
Why eat the street food in Budapest?
All the locals love the street foods of Budapest ,they are inexpensive, beautifully displayed and prepared and showcase all the best foods from the area . These easy take away foods can be found all over the city in food courts, public markets and other outdoor food stall venues that are popular favorites with locals and tourists alike. Follow your eyes and nose to see what peaks your interests and check out some of the delicious bites you'll find as street food below.
Not only is the street food amazing here, but Budapest is one of the cheap spring destinations in Europe to explore and have a fantastic holiday experience.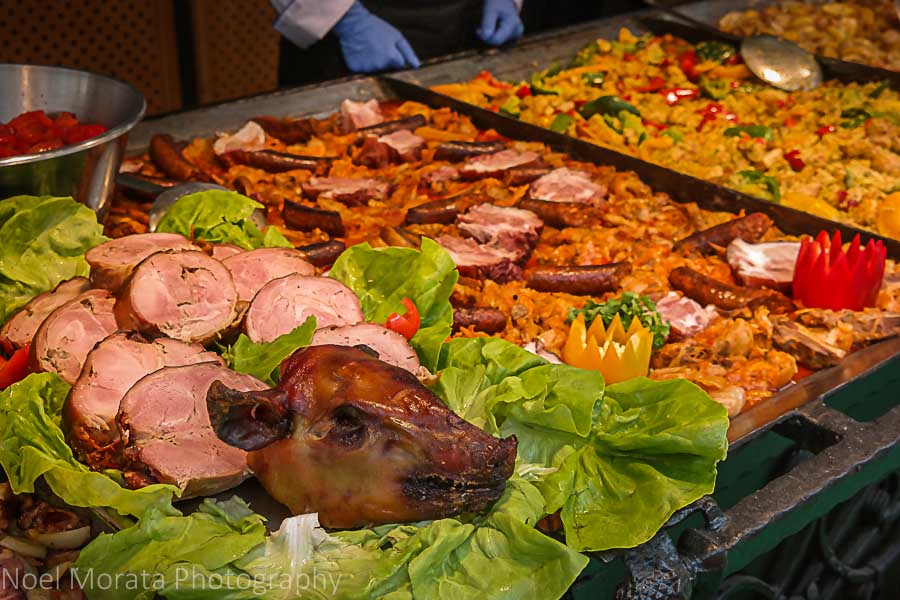 5 Classic Hungarian Street Foods and Where to Try Them
Listed below are the most popular classic Hungarian street food choices, and where to eat them, along with Budapest's coolest street food spots to visit. If stuffing your belly with some of the tastiest dishes you'll ever try is on your Budapest to-do list, read on!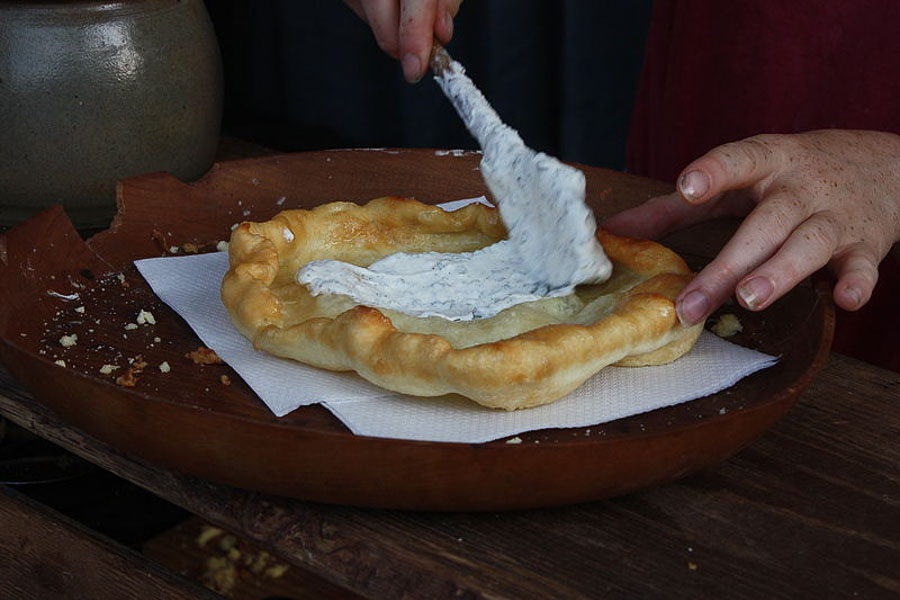 By Politikaner (Own work) (CC BY-SA 3.0  via Wikimedia Commons)
Lángos
When we first moved to Budapest, a long-term resident gave us an education in lángos, announcing the best way to enjoy it is on a hot summer day, cold beer in hand, and after a long swim in Lake Balaton.
Thankfully, we've since had plenty of time to do our own research, and can happily report lángos taste pretty darn good when consumed in Budapest, as well.
The quintessential Hungarian street food, lángos, for the uninitiated, is the ultimate flatbread. Comprised of a doughy base made of flour, yeast, and salt, the dough is deep-fried and topped with garlic, sour cream, and plenty of cheese.
Not immune to the gourmand hipster street food trend, plenty of enterprising Budapesters also offer their own modern twist on lángos, such as the ruccola-topped version found at Street Food Karavan.
Regardless of what you choose to put on top of your Lángos, we suggest eating it fresh and warm.
Where to Get it
Tomi Lángos at Blaha Lujza tér is consistently mentioned as a favorite, but you can find it all over the city. The lángos on the top floor of Budapest's Great Market Hall is also a top contender for the best, as is the version served up at the underpass at Flórián tér. If you happen to be in Budapest during a festival or during Christmas market season, you can be pretty confident lángos will be on offer.
Here's a quick look at Longos and how they are prepared below
https://youtu.be/j6EWwhHFeiA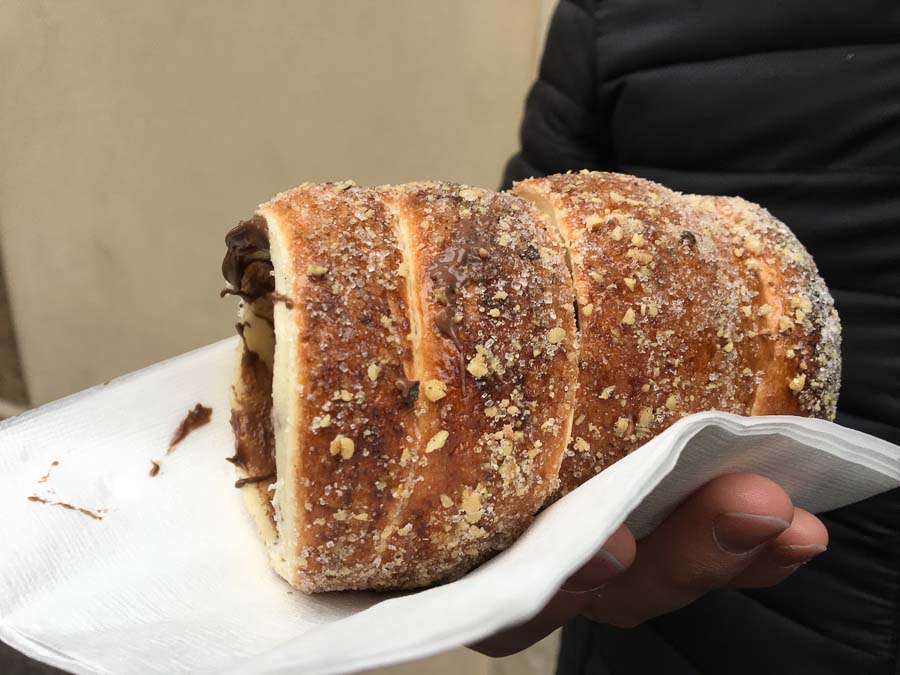 Kürtöskalács
Central and Eastern Europeans love to argue about which country invented which classic regional food, and what's known as Kürtöskalács to the Hungarians (and Trdelník to the Czechs and Slovaks) is a favorite source of friendly argument.
Kürtöskalács is a sweet chimney cake served all over Budapest in tiny kiosks set up on street corners. Personally, I think kürtöskalács is best enjoyed in cool weather, but you can get it year round.
This sweet cakey-bread is wrapped around a cone-shaped baking spit, rolled in sugar, then roasted over charcoal until it reaches a beautiful golden-brown color. During baking, the chimney cake forms a crispy crust, while the interior maintains a spongy, melt-in-your-mouth quality. You can ask to have it rolled in cocoa, nuts, cinnamon, and more.
Where to Get it
Every Budapester has their favorite kürtöskalács spot, and a local guide once told us she swears by the one at Andrássy Avenue and Bajcsy-Zsilinszky Street. The stand just in front of Nyugati train station is always lined up, as is the one in the Deák Ferenc tér underground metro station. As with lángos, you're sure to find loads of options if you're here for Christmas market season…although the line-ups tend to be the longest in cool weather.
Check out this video on how Kurtoskalacs are prepared and sold below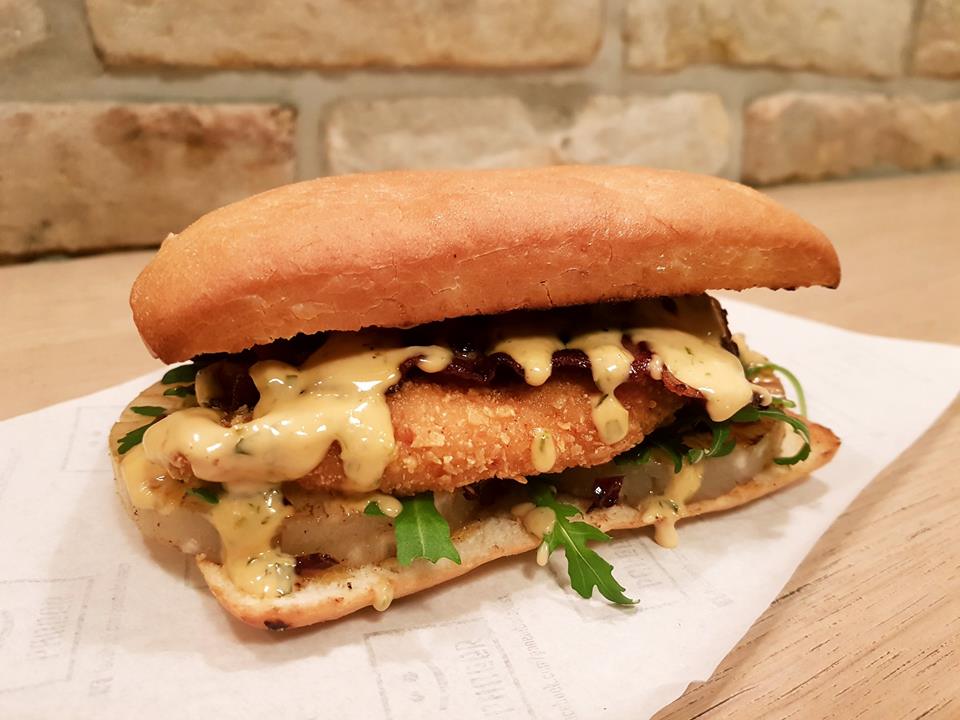 Photo credit at Paneer – deep fried cheese sandwich
Deep Fried Cheese Sandwich
Another popular street food is breaded and deep-fried cheese, served up as a sandwich. When we lived in Prague, deep-fried cheese was known as 'drunk food' best suited to late night snacking after a big night out, but Budapest has classed it up a bit. I'm happy to report it's perfectly acceptable to make it a meal of it in this city, which is mostly thanks to Paneer, Budapest's leader in deep-fried yet upscale cheesy goodness.
Where to Get it
You can try it at Paneer on Kiraly utca 53, or at their permanent street food truck at Street Food Karavan (Kazinczy u. 18). Paneer also has a roving street food truck; they announce locations on their Facebook page.
By Thaler Tamas (Own work) (9CC BY-SA 4.0 via Wikimedia Commons)
Rétes
Although the name probably doesn't ring a bell, rétes is actually the Hungarian version of strudel. While Austria and Germany seem to get all the glory for their strudel-making abilities, that shouldn't stop you from trying rétes as well, which is not as sweet as the versions you may be used to. Choose from a range of fillings, from apples and sour cherry, to nuts, cheese, and poppy-seed.
Where to Get it
Rétesbolt on Lehel u. 38 is a good bet if you want to taste if for yourself, although it's a bit out-of-the-way for the typical tourist route. Another option is to simply keep your eyes out when you're in Budapest's many cafés. You can often get a piece to go, along with a hot coffee or mulled wine (forralt bor): perfect for a cool autumn or winter walk around the city!
If you're in Buda, Ruszwurm Cukrászda (Szentháromság u. 7) is a bit of an institution, and always a good bet.
Here's a strudel retes at the famous place here in Budapest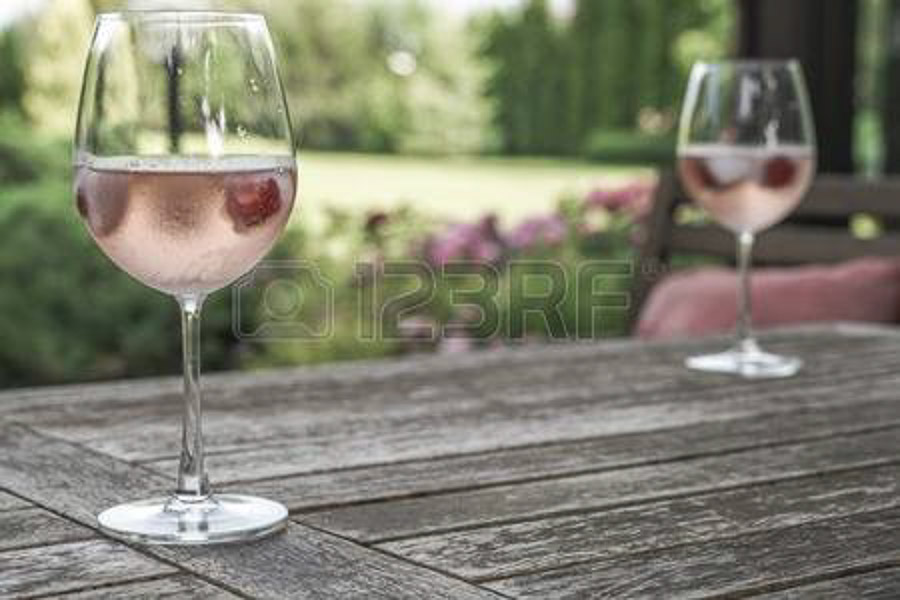 Fröccs
Not a street food per se, fröccs is still worth mentioning, as you'll see it all over the city in the summer.
The Hungarian word for wine spritzer, the word fröccs is onomatopoeic, referring to the splashing sound that's made when you're mixing the drink. What is particularly interesting about fröccs, however, is the variety of recipes you can ask including the sportfröccs (1 part wine, 4 parts soda water), for those who want to exercise AND drink wine.
Most commonly, you'll just have to specify between a kisfröccs (small fröccs) and a nagyfröccs (big fröccs), which are made up of 1 part of wine to 1 part soda water and 2 parts wine to 1 part soda water, respectively.
Where to Get it
You can get a fröccs pretty much anywhere in Budapest that serves alcohol, but we'd suggest you find a nice terrace bar in the 7th district, such as Kőleves, in the summer. All summer long, you'll find plenty of young Budapesters spilling out of cheap bars lining the outer ring road (the körút), rosé fröccs in hand. A word of warning: most of these körút bars use cheap wine, so don't indulge too much, lest you end up with a next-day headache.
Here's a look at the popular Froccs in the area and why it is a hit here
Exploring Budapest's Street Food Pods and Culture
Beyond some of the classic Hungarian treats, Budapest is becoming a bit of a street food magnet, and it's possible to get all sorts of delicious eats around the city, especially from late spring to early fall when the street food scene is busiest, and food festivals seem to occur every weekend. Here are a few places to check out if you're in the city during warm weather: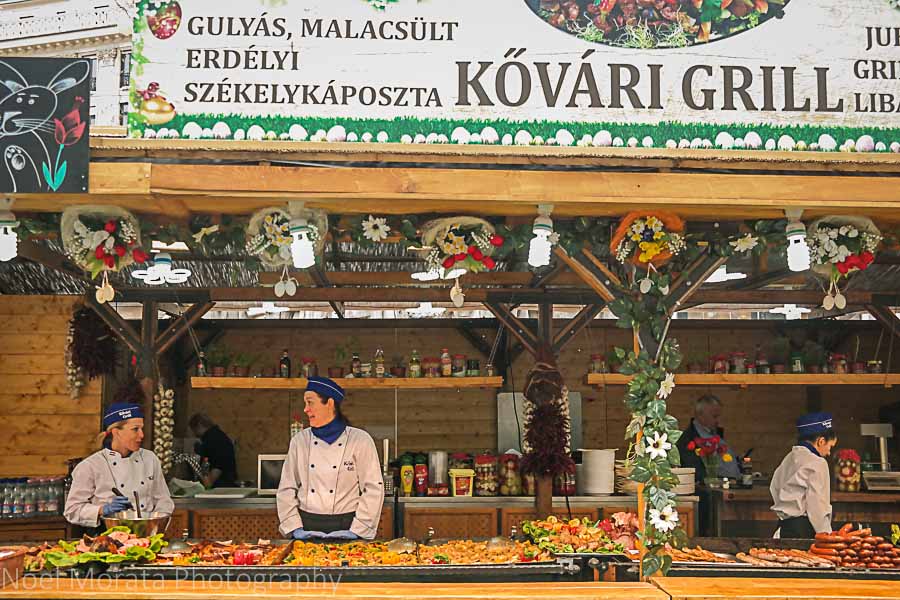 Street Food Karaván Budapest
Karaván (Kazinczy utca 18) is Budapest's first street food pod, and probably the most popular. Housed in a former parking lot next to Szimpla Kert (Budapest's most famous ruin bar), each side of the parking lot is lined with food trucks, with picnic table seating in the middle and at the back. In addition to some Hungarian classics (you can get fried cheese, lángos, and kürtöskalács here, and can wash it down with a fröccs), there are plenty of international options, too. Burgers, pizza, pasta, and Japanese-style "rice bun" burgers are popular, as are sausages (another street food classic!).
Jónás Kézműves Sörház (Craft Beer Bar) at the Bálna (Whale) Building
A craft beer bar at the whale building, Jónás has a great terrace area in nice weather with a few street food trucks serving up basics, like burgers and fried cheese. In nice weather, this is a great place to spend an evening with friends, and the views and sunset over the Danube are gorgeous from here.
Food Truck Court at Üllői út 51
This one is a bit hit or miss, but worth checking out if you're in Budapest for a longer stay, and aren't crunched for time. What seems to be trying to recreate the success of Karaván, this place seems to suffer from a location that's slightly more difficult to get to for pedestrians, and out of the main tourist districts. That said, it's also much more local, and is far less busy than Karavan. We've been once, and would go back in a heartbeat, but if you only have time for one street food experience, go to Karavan.
More inside tips to experiencing the local foods of Budapest
Exploring the local foods of Budapest is a delightful culinary adventure. Here are some inside tips to help you savor the authentic flavors of this beautiful Hungarian capital:
Sample Paprika-Based Dishes: Hungarian cuisine is known for its use of paprika. Try dishes like Chicken Paprikash (csirkepaprikás) or stuffed peppers (töltött paprika) for a taste of this essential spice.
Visit the Central Market Hall: Head to Budapest's Central Market Hall (Nagyvásárcsarnok) to explore local produce, meats, and artisanal products. You can also enjoy freshly prepared Hungarian dishes at food stalls and eateries within the market.
Cafés and Cake Shops: Budapest has a rich café culture. Visit historic coffeehouses like Gerbeaud and Central Café to enjoy coffee and traditional Hungarian pastries like Dobos Torte and Rétes (strudel).
Fisherman's Bastion Views: Head to the Fisherman's Bastion on the Buda side of the city for stunning views of Budapest and enjoy a meal at one of the restaurants with panoramic terraces.
Ruin Bars and Kerts: Budapest's ruin bars (romkocsma) and garden bars (kert) are unique experiences. Szimpla Kert is one of the most famous. These venues offer a laid-back atmosphere and often serve local dishes and drinks.
Traditional Hungarian Breakfast: Start your day with a traditional Hungarian breakfast. Try a hearty breakfast dish like Lecsó (pepper and tomato stew) or Pogácsa (savory pastries).
Local Wine: Hungary is known for its wine regions. Sip local wines like Tokaji (sweet wine) or Bull's Blood (Egri Bikavér) with your meals. Many restaurants offer wine pairings.
Taste Hungarian Cheeses: Sample Hungarian cheeses like túró (cottage cheese) or Trappista cheese. They are often used in dishes like Lángos or cheese-filled pastries.
Take a Food Tour: Consider joining a guided food tour in Budapest. These tours offer an excellent opportunity to taste local dishes, learn about Hungarian cuisine, and discover hidden gems.
Experience Local Markets: In addition to the Central Market Hall, explore local farmers' markets like the Hold Utca Food Market and Fény Street Market for fresh produce and artisanal products.
Exploring Budapest's culinary scene is an integral part of your visit, allowing you to immerse yourself in the city's culture and savor the delicious flavors of Hungary. Be adventurous, try new dishes, and don't forget to pair your meals with a glass of Hungarian wine or pálinka (fruit brandy) for a complete experience.
Enjoyed the post, check out these additional Budapest stories
Touring Budapest at night and highlights
Best places to photograph around Budapest
There are so many fantastic places to visit in the central district on either the Pest or Buda side of the city and at different price ranges, although in general Budapest is quite an affordable city to visit.
Overlooking the historic Chain Bridge and the Danube, you have access to all the historic attractions downtown. This classic and elegant boutique hotel offers convenience, plush and modern and comfortable to this four star accommodations that is worth every penny.
Fantastic central location, classic features to this new hotel with a Michelin star restaurant. This turn of the century hotel and converted with modern amenities and look make this an exceptional stay in the historic district.
A classic 1800s grand hotel but updated to todays standards of comfort, luxury and modern day amenities, this stunning hotel is elegant, comfortable, warm, friendly and a great stay in the city.
Check out some of these other best rated hotels and inns here for current prices and availability while staying in Budapest.
Fun activities to do in Budapest, Hungary
Here's some cool and fun activities to also experience around Budapest outside of the culinary experiences. These will definitely amp up your fun experiences and cool activities to experience in the city.
Do a Grand City tour of Budapest, Hungary
Experience the House of Terror Museum
Do a Danube River champagne and dinner cruise
Experience the world class Szecheny Spa experience
Do a Budapest sightseeing river cruise
Experience an organ concert at St. Stephen's Basilica
Visit the Royal Palace of Godollo
Check out these other Hungary posts to enjoy
Best places to photograph Budapest
There are so many fantastic scenic areas of the city to visit and capture wonderful street scenes, landscapes an views from above to photograph. Check out our post on the best places to photograph Budapest here and you'll enjoy many of these cool sites on your tour of the city.
Budapest at night
Budapest is a city that comes alive at night with all the major sites lit up and magical, it's so easy to visit and capture in photographs and really adds a different take then day time visits. Check out our post on Budapest at night here and you'll enjoy many of these cool sites on your tour of the city.
Conclusion on street foods of Budapest
Although most of these food names are hard to pronounce take note of what these specialties are and if you see them for sale at a market in Budapest, make sure that you order some to try and see if these are the best street foods to try in town now. Part of the fun of exploring the public markets, specialty food courts and venues and other unique foodie places to visit is what makes Budapest and the foods to try here so delicious, savory and a wonderful adventure.
Thanks for visiting today and checking out this post on The best Budapest street food, if you enjoyed the images and post, could you please share it with any of the social media buttons located around the post.
If you like what you see, come and check out my other social media channels for more updates, including Instagram, Pinterest and Twitter
Check out these other posts on Fruits, markets and foods of the world below
Exotic and unusual fruits around the world
Traditional Food specialties in Italy
Popular food to eat in New York
Best countries for food around the world
Traditional Catalan foods you need to try
8 Traditional Portuguese foods to try
Top food destinations around the world
10 must try dishes and street food of Sri Lanka
Outdoor markets and street food of Bologna
Local foods of the Dalmatian Coast in Croatia
Please pin this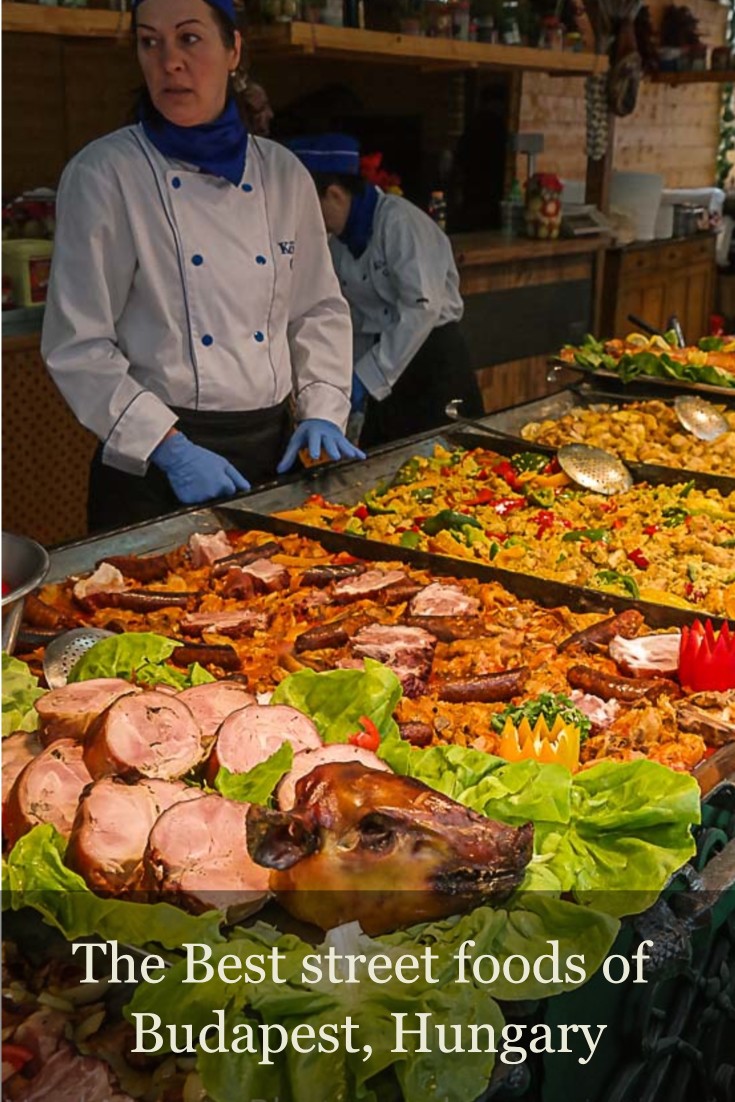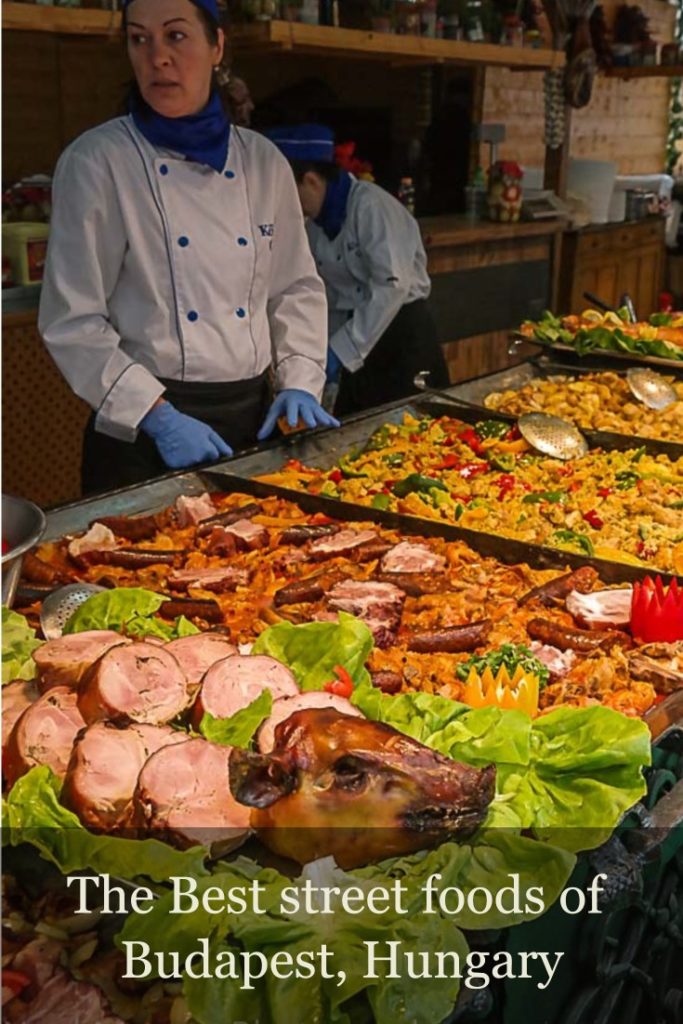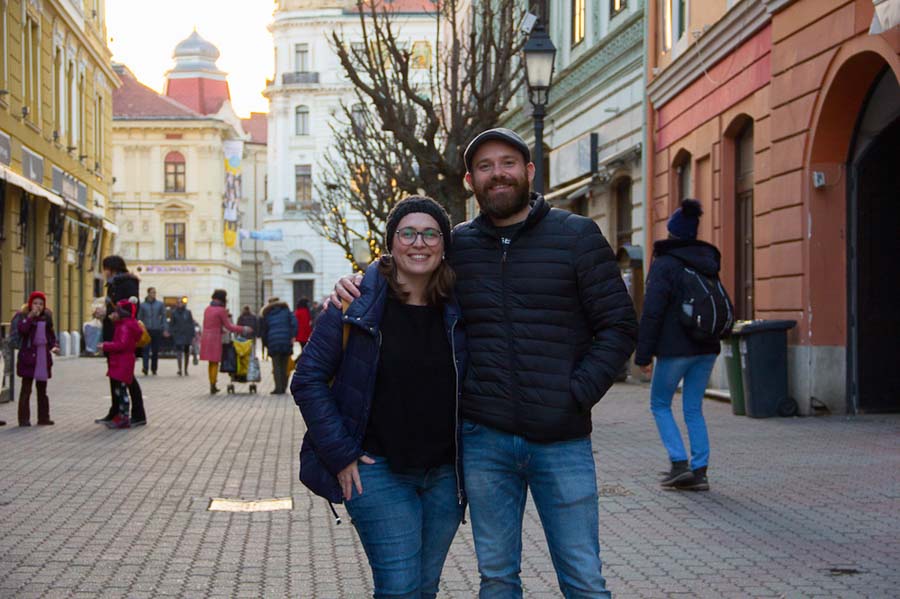 Guest Blogger Bio
Perpetually on the hunt for cheap flights, cold beers, and awesome terraces, Katie has been traveling the world since she was 16, when she somehow persuaded her parents to let her move abroad to learn the ways of hygge in Denmark. Picking up a Canadian husband and a Taiwanese street cat along the way, she's now based in Budapest, where she makes a living blogging at wandertooth.com, and creating adult coloring books with her husband, Geoff.
Conclusion to the best Budapest street food
Which place or market stood out for you and want to visit soon? Please share those in the comments below.
Thanks for visiting the the best Budapest street food, if you enjoyed reading this post, please do share it with any of the social media buttons located around the post.
Disclosure – some of the links above are to affiliate sites that are either reviews or recommendations if you book helps to keep our site running. We appreciate your supporting our website meanwhile