Best things to do in Mendocino and surrounding coastal areas
Touring Mendocino town
A walk around the town of Mendocino is like taking a leisurely stroll down a well-preserved Victorian coastal town except that this is on one of the most spectacular coastlines of Northern California. The nicest part about a visit to Mendocino is that easy feel of the town, it is not congested and touristy compared to the many tourist attractions in California.
Here the walking tour is easy and simple…..window shopping, dropping into a fun and creative arts or crafts gallery, snacking on some sweet desserts at a local bakery, or just walking down the beautiful and ornate neighborhoods filled with ornate Victorian homes. Even the homes with white picket fences and sweet entry gardens are fun to enjoy from the sidewalk and imagine what it would be to live in this charming neighborhood.
What to see around Mendocino's historic area
More low key than the tourist areas of Monterey and Carmel, Mendocino has its own charm in the historic district and coastal areas that surround the town.
The small historic district of Mendocino is easy to walk through the few main streets and side areas to check out a variety or mom and pop shops, art galleries and one of a kind boutique stores. Nearby delicious scents from the local bakery and pastry / coffee shops are easy to follow your noise and take a small detour.
This easy to walk around town is so sweet and charming, it's fun to just walk every street, pop into a few shops, drink some coffee and pastries in a bakery and just enjoy the moment.
Look around the details and Mendocino's rich architecture
One of the fun parts of walking this town is noticing the details that make this place special and so well-preserved and taking these images.  A short walk from downtown is the local Mendocino Art's center which offers a whimsical garden and magnificent  art gallery featuring local art from artisans in the area.  I love walking down the main streets and older neighborhoods to see the beautiful architecture, and  fine details that make this place so special, take a look at what I captured:
Architectural details around Mendocino
Everything in town, just oozes coastal charm and looking at all the cool details from the bottom to the top of each building makes all architecture of Mendocino fun to check out and see. Take a look at some of these fun details below.
Nature trails
Spending some time outdoors and walking through any of the trails by the cliffs and coastlines is another wonderful way to observe nature and vistas of the town and coast. The trails are relatively flat and easy to maneuver unless you are interested in walking or climbing down into some of the coves and beaches below. It's nice to enjoy your walk, take some beautiful coastal pictures and include the town in some of your compositions.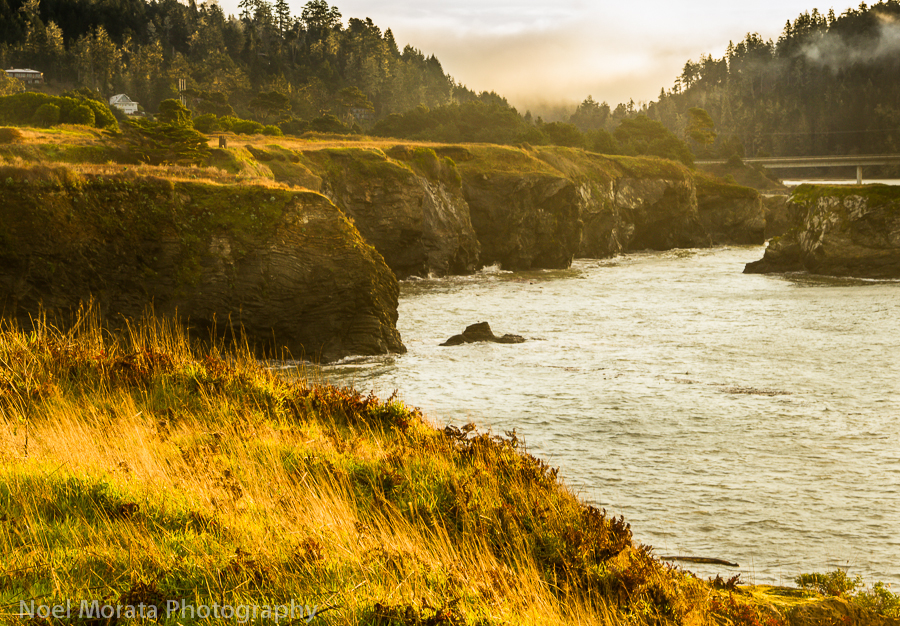 Exploring outside of Mendocino
There are so many fantastic trails, state parks and cool beaches to explore around the Mendocino area. If you're staying a few days in town, you can visit more of these fun places in detail and do it in a relaxed pace.
Check out the Mendocino Coast Botanical gardens for their outstanding perennial garden beds and amazing displays of California natives and mediterranean plants and other collections.
Visiting downtown Fort Bragg and the cool downtown area to explore the shops, galleries, boutique stores and eateries downtown.
Visit the cool glass beach around the Fort Bragg area – a fun beach to find some amazing tumbled glass treasure to take home.
Explore Russian Gulch State Park for some fun hikes and enjoying nature or even camping here in Mendocino County.
Go hiking along the many coastal trails along Mendocino town and surrounding areas for gorgeous views, beaches and some quit time on your own.
If you enjoyed this check out my other posts visiting the Mendocino area
A quirky and fun garden in Mendocino
Coastal hike around the Mendocino coastline
Visiting the glass beach at Fort Bragg
Where to stay in Mendocino
With lots of cute inns, Bnbs and vacation rentals, there are so many wonderful options of locally owned businesses you can stay in and support in Mendocino. Check out these top rated places to stay below.
Mendocino Hotel and Garden Center – A fabulous stay at this local hotel with romantic and luxurious suites and cottages in this lovely hotel with amazing ocean views, comfortable rooms and excellent front desk service.
Joshua Griddle Inn – a Victorian charmer with large porches, well furnished and comfortable rooms with vintage appeal and wonderful public areas, fantastic breakfast service and easy walk to the historic district.
MacCallum House – This victorian charmer in the heart of the historic district is an iconic inn of Mendocino with classic features and luxury amenities in each room with an amazing dinner experience in the hotel dining area.
If you are looking for more places to stay, check out these well reviewed hotels and inns with Trip Advisor here for current prices, availability and amenities.
Conclusion to visiting Mendocino Town
If you love coastal communities filled with art, artisanal shops and good food, you'll enjoy visiting and doing a nice getaway to Mendocino town now.
If you like this post on Touring Mendocino town, please consider subscribing to the blog below – also please do share the post with any of the social media buttons all around the post. Thank you for visiting.