Check out this quirky and fun garden In Mendocino (updated 2021)
I love being surprised just happening into someplace unusual or quirky, it really makes discovering a new place a wonderful experience. So when I walked into this fun and creative art garden in Mendocino, it totally put a smile on my face. The garden is located on the grounds of the Mendocino arts center in downtown Mendocino. You'll have a wonderful time walking around this quirky and fun garden in Mendocino and discovering all the surprising little bits and colorful parts of the garden. You'll also love all the beautiful art and hidden treasures throughout the property and so cleverly placed into the landscape for you to enjoy. This  quirky and fun garden in Mendocino is quite a surprise and you'll love visiting it in person!
Why visit the Mendocino arts center and garden?
This wonderful garden is just magical and filled with creativity and an art center located right in the garden. A wonderful walk around the garden will surprise any visitor with colorful plant arrangements set with gorgeous art, sculpture, seating areas and so many beautiful artwork on display to  discovery and enjoy.
What's around the corner in this Mendocino Garden?
You'll never know what to expect walking round this garden and art center, colorful sculpture, magical arrangements matched with bizarre and massage plants and flowers makes this even more exciting to visit and see what is just around the corner.
Found materials and local inspiration
Being an artist center, many of the pieces were created by local artisans inspired by the landscape in the area. So it isn't a surprise to see really amazing pieces with creativity at the core with many of these whimsical pieces even with materials gathered and used from the area. Covering a range of materials from wood, to metal and mosaic, the diversity of materials and subject is what really drew me into the garden and exploring every corner of the garden for cool art and unusual presentations below.
I would love a bench like this in my garden, take a look at the cool details…
Here's another bench with found metal pieces, which do you like better?
Here are some more of my favorite pieces I found along my tour of this sweet garden.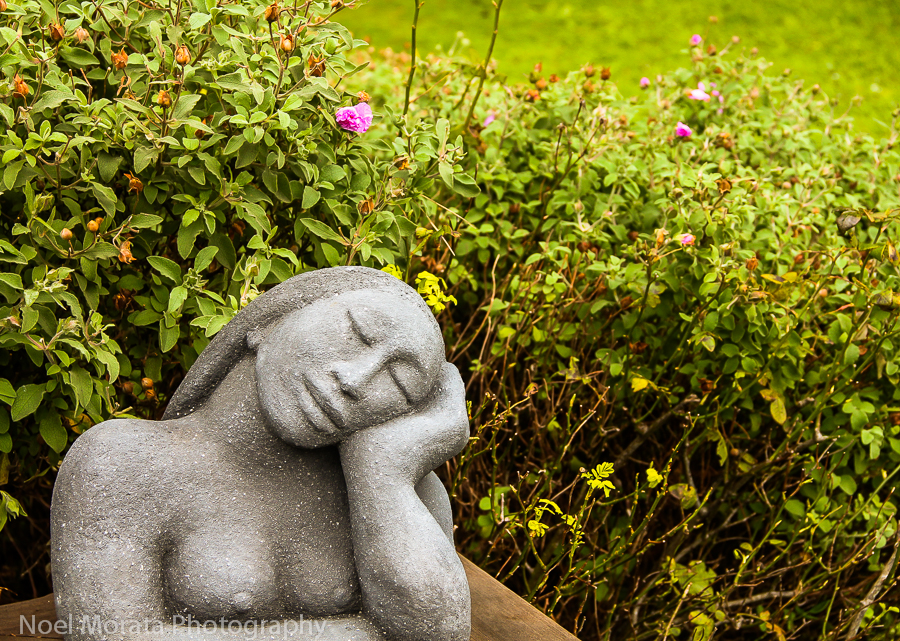 Stone and concrete art have their place in the garden
A modern mosaic interpretation in the woods
Huge sunflowers in this garden will last forever….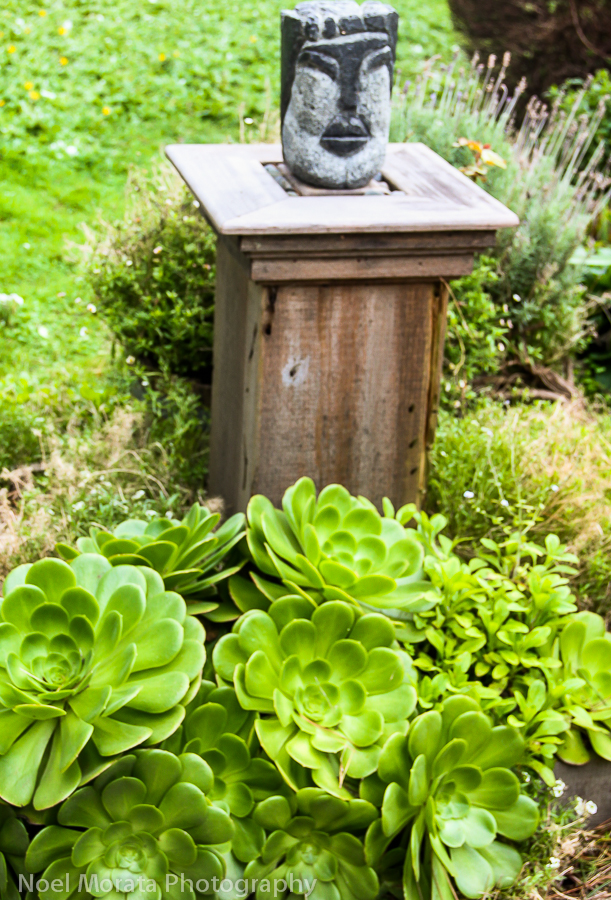 Hello there you colorful thing…what are you?
This is not on the same par as the Alhambra in Granada or the Huntington gardens in Pasadena. But what it lacks in grand scale and mega botanical collections is offset with inventive or creative inspiration supplemented with color and whimsy, accents which make a garden fun and filled with joy. If you would like to learn more about the Mendocino art center and what is currently happening at the gallery, please visit their website here for more details.
Check out these other posts on visiting the Mendocino area now
Coastal hike around the Mendocino coastline
Visiting the glass beach at Fort Bragg
Best National Parks in California
Best Places to go in California
Russian expansion to America in California
Have you been to Mendocino, If so tell us about your visit in the comments below. Also, please  share this post with any of the social media links on the post, thank you.
Conclusion visiting the Mendocino garden and art center
Put this on your must do things to see when you are in Mendocino walking around the historic town. It's worth the walk to visit this quirky and art filled garden and art center in the heart of the town.
Thanks for visiting today and checking out this post A quirky and fun garden in Mendocino, hope you are inspired to plan a visit the best national parks in California and enjoy these wonderful attractions. If you enjoyed the images and post, could you please share it with any of the social media buttons located around the post. Seniors, take advantage of the national park senior pass now while prices are really low for a life time membership.
If you like what you see, come and check out my other social media channels for more updates, including Instagram, Pinterest and Twitter
Some links in this article on A quirky and fun garden in Mendocino are affiliates which provide a small commission to support this site at no extra cost to you. Thank you for reading, and happy travels!