Discover the Beauty of Vizcaya Museum & Gardens in Miami: A Captivating Tour through History and Nature
The private village of the James Deering family (of Deering/Harvester fortune) at Vizcaya was the most prominent home in Miami during that time frame and early development of Miami. Vizcaya meaning was built on the shores of Biscayne bay from 1914 to 1922. Today the well preserved manor home and elaborate gardens are a public museum and DIY tours with audio are offered for the interior of the home. Touring  the Vizcaya Museum & Gardens in Miami is a fantastic way to experience the gorgeous past of Miami's beginnings.
Touring the Deering's Miami home at Vizcaya
Vizcaya Museum History
Vizcaya conceived as an Italian villa of the 18th century exudes the opulence and grand lifestyle of Italian villas mostly from the Northern Italian regions but re-interpreted to the Miami subtropical environment, which was no easy feat. Built with engineering and artistic marvels of that time frame, the home was constructed mostly of reinforced concrete and utilized modern comforts including two elevators, heating and ventilating systems, a generator, central vacuum system and an automated laundry facility.
Nowadays Vizcaya is a popular place to hold events, functions and even weddings around the grounds and open areas that venues can be arranged for fundraising events.
Tip – photography is not allowed inside the home due to the collectibles and other fragile personal effects, but you can take pictures anywhere outside of the villa. Make sure to have your headset ready for the self tour of the inside to give more details about each room you will be visiting.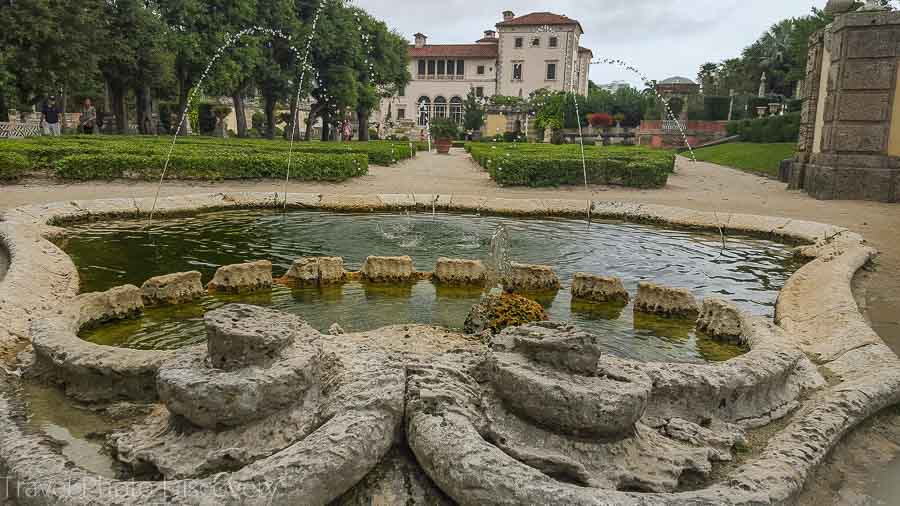 Touring inside Vizcaya
The home interior collections are intact with wonderful furnishings, artwork and personal effects covering several cultures and periods of art including: Neoclassical and Rococo furnishings, Chinese antiques and ceramics, Renaissance tapestries and architectural details, Roman sculptures to more midcentury sculptures, paintings and collectibles.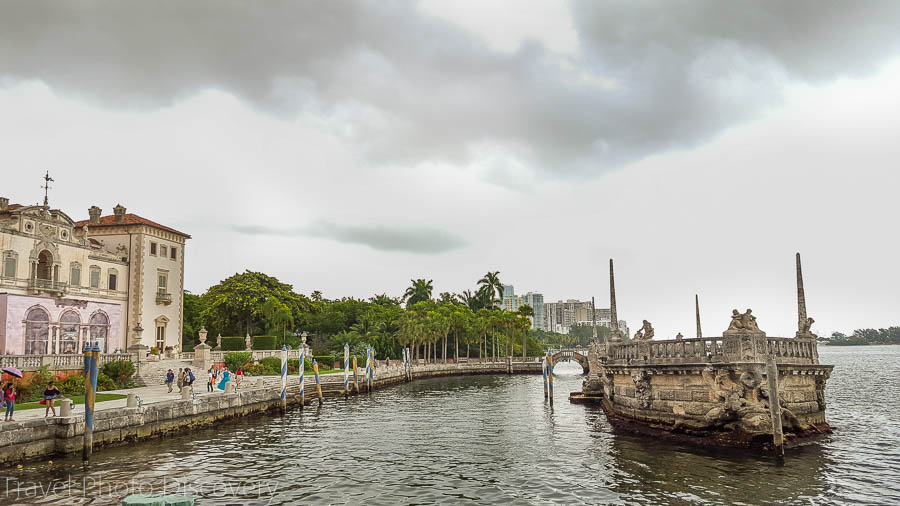 Touring the Vizcaya Gardens 
Built in a natural native forest which is almost gone except for a few remnants in the Coral Gables area, the Deerings maintained an effort to as much of this native forest as possible as living collections. Even with the protection of native forest, elaborate subtropical gardens were also created in a formal Italian style but utilizing tropical elements and design into the garden rooms surrounding the property. Below a sunken garden with beautiful Rococo architectural details are accented with succulents and dessert blooms.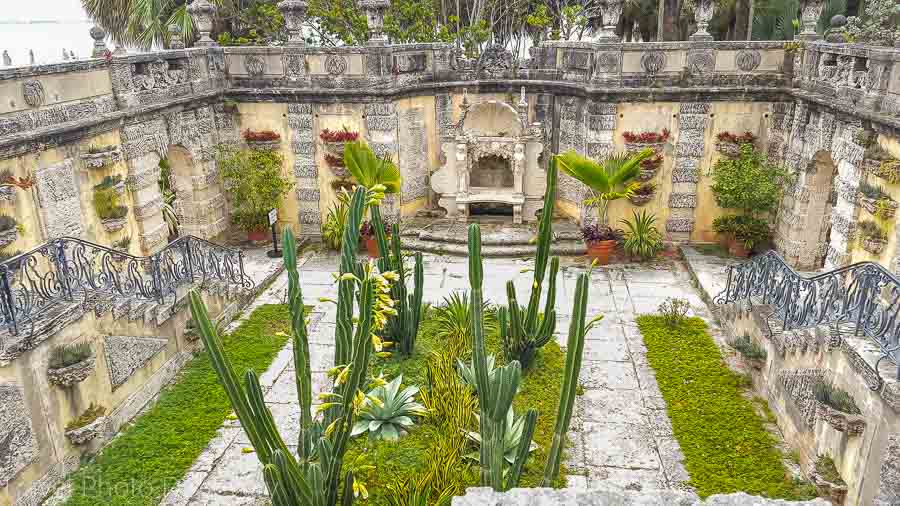 Entering the sunken garden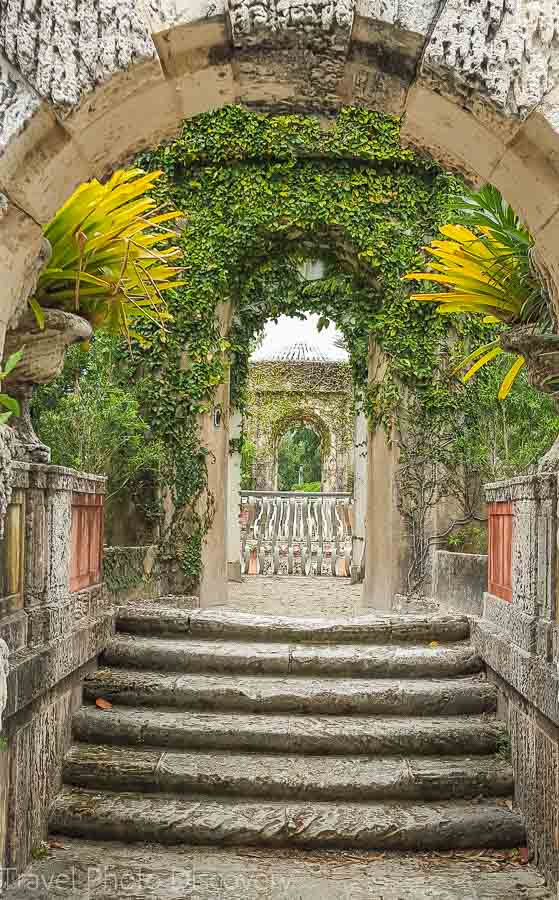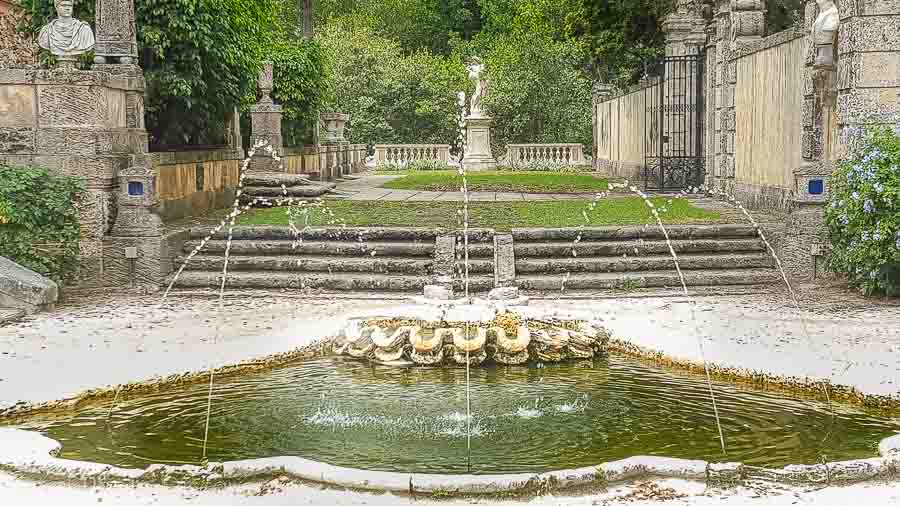 After touring the home and outdoor gardens, it's nice stop for something refreshing and do some shopping below the main house and adjacent to the swimming pool. The cafeteria style service offers light bites along with some delicious and inventive menus for a full service. The gift shop next to the cafeteria has a full range of gift items, books and other fun souvenirs to take home while also supporting this non-profit foundation.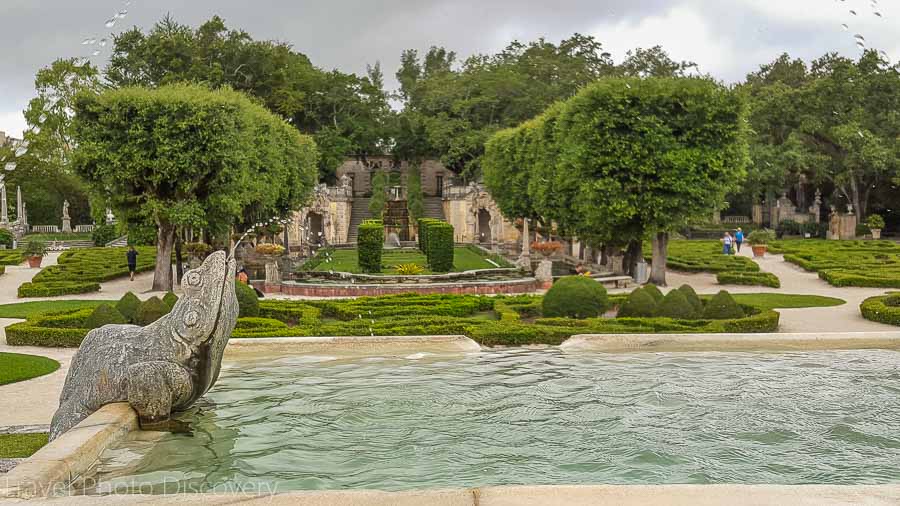 Remnants of a coral subtropical forest in Coral Gables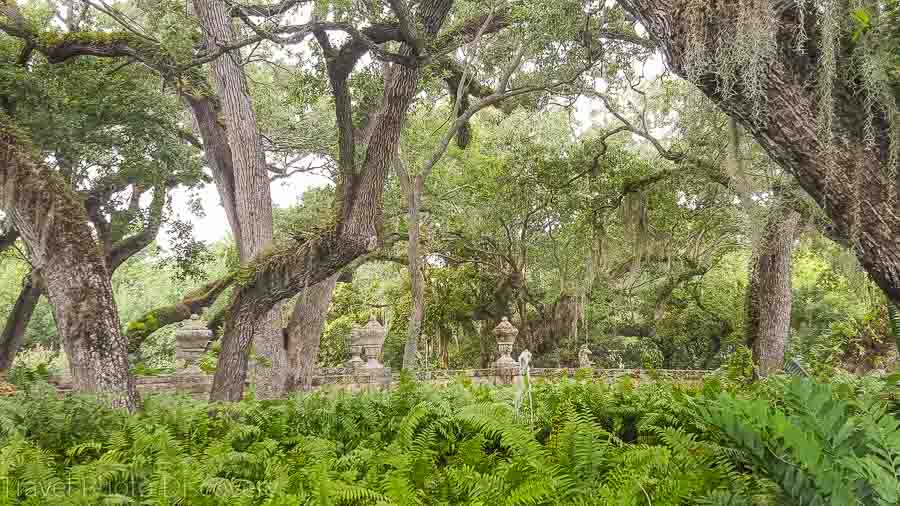 More details to visiting Vizcaya Museums & Gardens
Entrance fee to Vizcaya Museum & Gardens: $18 Adult  $6 children 6-12, free under, Seniors 62+ $12
Hours 9:30 -4:30
Vizcaya website here for more information
Visit the gift shop and cafe
Don't forget to visit the gift shop and café during your visit, the food and service is surprisingly good! Explore the gift shop for unique souvenirs and mementos to take home, and take a break at the café to enjoy a refreshing drink or a tasty snack. The gift shop and café provide an opportunity to enhance your experience at Vizcaya Museum and Gardens.
How to get to Vizcaya Museum in Miami
To get to Vizcaya Museum and Gardens in Miami, you can follow these directions:
By Car:
If you're coming from downtown Miami, take US-1 South (South Dixie Highway) until you reach 32nd Road. Take a right onto 32nd Road and continue straight until you reach Vizcaya Museum and Gardens on your left.
If you're coming from Miami Beach, take MacArthur Causeway (I-395) westbound. Continue onto I-95 South, then take exit 1B for US-1 North. Merge onto US-1 North and drive until you reach 32nd Road. Take a left onto 32nd Road, and you will find Vizcaya Museum and Gardens on your left.
By Public Transportation:
Take the Metrorail to the Vizcaya Station. From there, you can either take a taxi or rideshare service to Vizcaya Museum and Gardens, which is just a short distance away.
By Bus:
Take bus route 24, which stops near Vizcaya Museum and Gardens. Check the bus schedules and stops for the most convenient option based on your location.
It's always a good idea to check for any updates or changes to public transportation routes and schedules before your visit. Additionally, parking is available at Vizcaya Museum and Gardens if you decide to drive.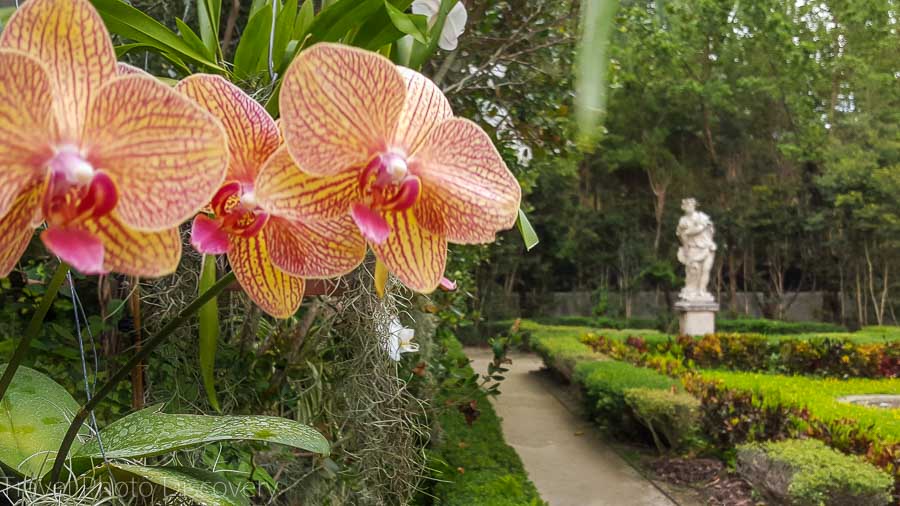 What else to see close to Vizcaya Museum
When visiting Vizcaya Museum and Gardens in Miami, there are several other attractions nearby that you can explore. Here are some notable places to see:
Coconut Grove: Located just a short distance from Vizcaya, Coconut Grove is a charming neighborhood known for its bohemian vibe, lush parks, trendy shops, and waterfront dining options. Take a stroll along the streets, enjoy the beautiful scenery, and discover the unique boutiques and art galleries.
The Kampong: Situated adjacent to Vizcaya, The Kampong is a hidden gem that offers a tranquil botanical garden experience. Explore the diverse collection of tropical plants, including exotic fruits and flowering trees. Guided tours are available to enhance your visit.
Barnacle Historic State Park: Located on the shores of Biscayne Bay, this state park preserves the historic home of Ralph Middleton Munroe, one of Coconut Grove's early pioneers. Take a guided tour of the house and enjoy the scenic walking trails and picnic areas.
Miami Museum of Science and Planetarium: Just a short drive from Vizcaya, this museum offers interactive exhibits, a planetarium, and a wildlife center. Explore the wonders of science, astronomy, and the natural world.
Key Biscayne: Cross the Rickenbacker Causeway and visit Key Biscayne, a beautiful island with pristine beaches, lush parks, and outdoor recreational opportunities. Enjoy swimming, sunbathing, biking, or exploring the Cape Florida Lighthouse and Bill Baggs Cape Florida State Park.
These nearby attractions provide additional opportunities to make the most of your visit to Vizcaya Museum and Gardens, allowing you to explore more of Miami's cultural and natural wonders.
Weather and best time to visit Vizcaya Museum
Check out these Miami Posts
If you enjoyed this post, please check out my other stories on visiting Miami below
Free or cheap things to do in Miami
A stay in Miami Beach at Hotel Astor
Liked the post, please pin it for later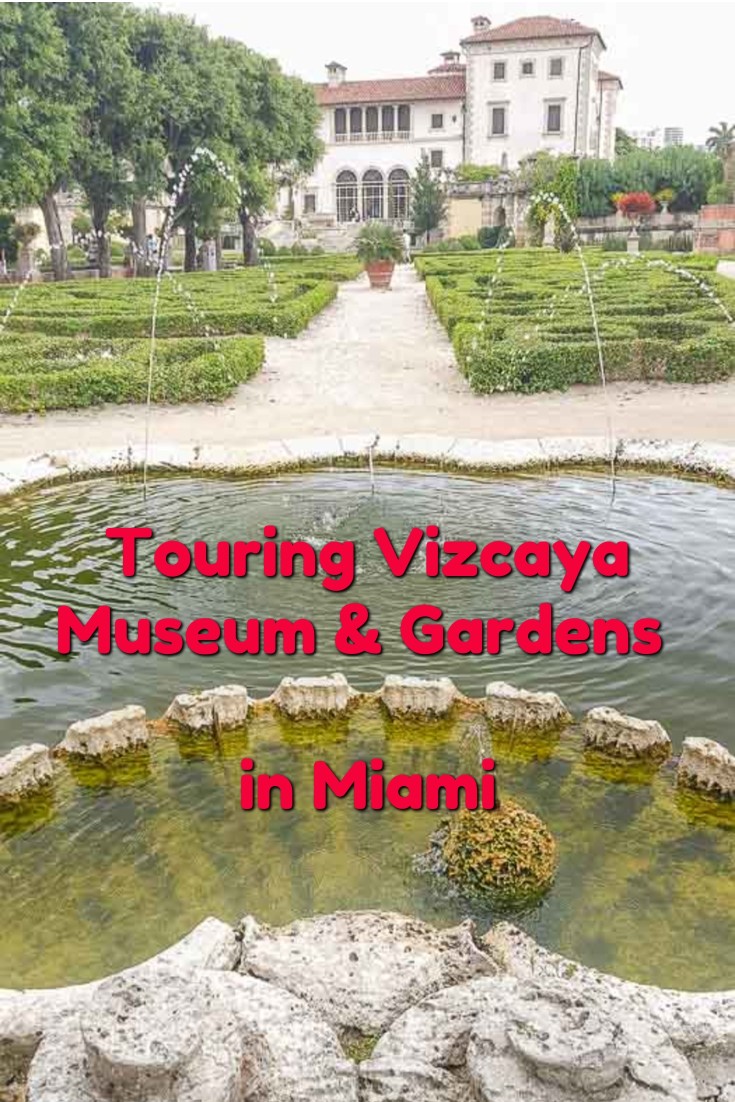 Have you been to or heard about the Vizcaya Museum and gardens?
What were your favorite parts to visit around this historic house? Please share your thoughts in the comments below.
Conclusion to visiting the Vizcaya Museum and gardens
Visiting Vizcaya Museum and Gardens in Miami offers a captivating experience. Explore the grand villa, stroll through the lush gardens, and enjoy stunning views of Biscayne Bay. Nearby attractions like Coconut Grove and the Kampong provide additional delights. Discover the rich history, tranquil beauty, and cultural significance of this remarkable destination, leaving with cherished memories of Miami's heritage.
Thanks for visiting today and checking out this post on the Touring Vizcaya Museum & Gardens Miami, if you enjoyed the images and post, could you please share it with any of the social media buttons located around the post.
If you like what you see, come and check out my other social media channels for more updates, including Instagram, Pinterest and Twitter