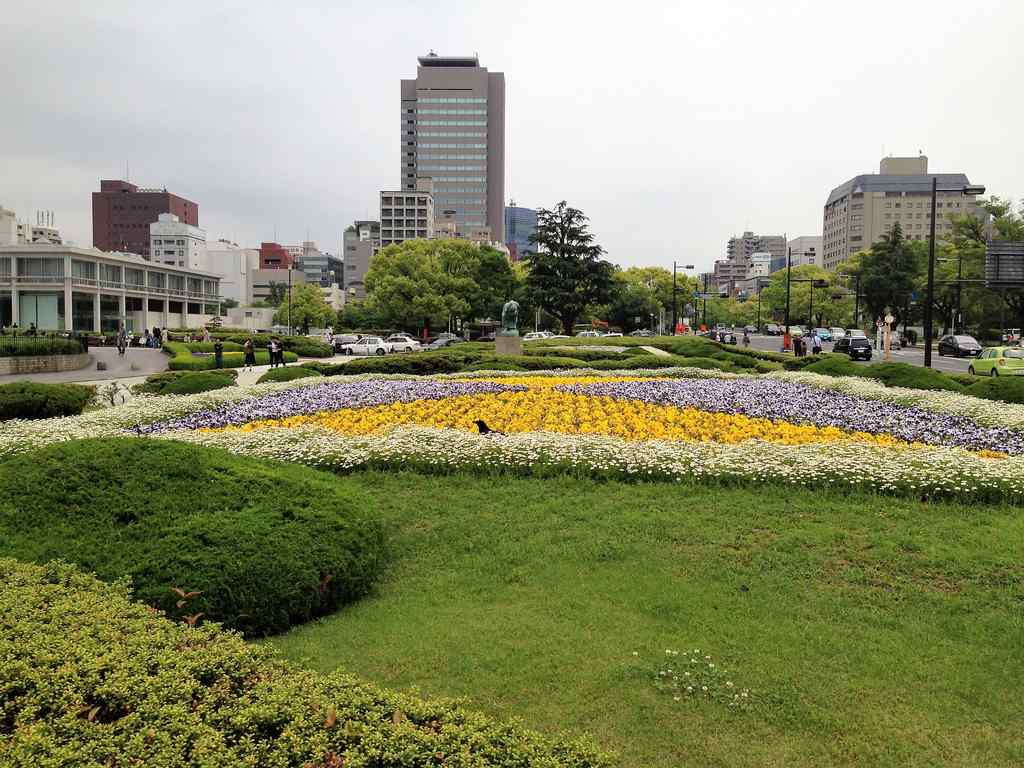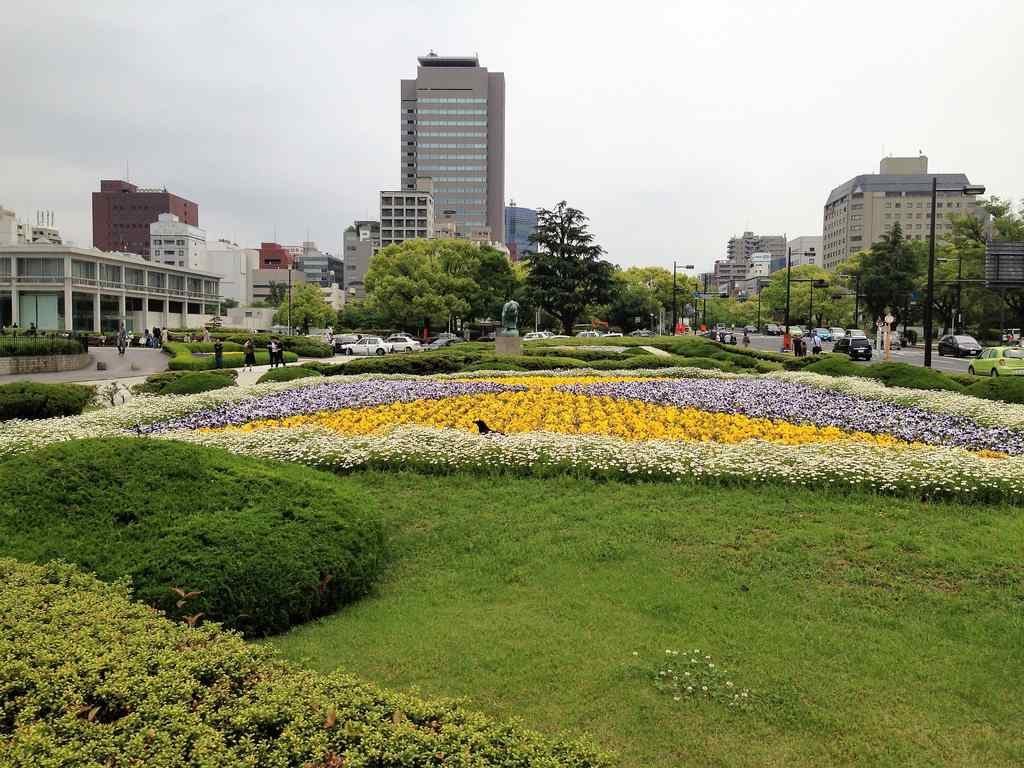 Unforgettable Reasons to Visit Hiroshima: Exploring History, Culture, and Resilience
Located in western Japan, Hiroshima is a city that carries profound historical significance, while also being a symbol of resilience, peace, and hope. Steeped in a tragic past marked by the atomic bombing during World War II, Hiroshima has risen from the ashes to become a vibrant and inspiring destination. From its poignant memorials and museums that pay tribute to the past, to its breathtaking natural beauty and warm hospitality, Hiroshima offers visitors a truly unique and transformative experience. Whether you are drawn to delve into the city's rich history, immerse yourself in its vibrant culture, or simply bask in the serenity of its picturesque landscapes, a visit to Hiroshima promises to be an unforgettable journey that touches both the heart and the soul.
Hiroshima is a city in the Southern part of Honshu, the largest island of Japan. Approximately 1.2 million people live in Hiroshima and the city is an important player in the production of high-end products.
Hiroshima's historic and tragic past
Most visitors coming to Hiroshima will know Hiroshima from WWII, when the first atomic bomb in history was dropped and detonated 600 meters above the city. A devastating event, instantly taking the lives of 80.000 people and 120.000 more in the aftermath… The bomb vaporized everything in a circle of 1.6 km from the hypocenter center.
Despite it's tragic history, Hiroshima is not a sad city, far from it. The people of Hiroshima remember and commemorate their past. However, the main focus is on promoting worldwide peace, instead of placing the blame of things that happened in the past.
Nevertheless, it's strange to walk in a city which was completely destroyed only 70 years ago. But, as you stroll along the leafy green and wide boulevards, you'll find that Hiroshima has a lot to offer. You can both learn about its past and enjoy the modern and pleasant city Hiroshima is today.
The history of Hiroshima
Walking around the Memorial Park is a moving experience, still, visiting places like these is important. To learn from the past and to remember the innocent victims of war.
The Atomic Bomb dome Hiroshima Japan
All the memorial buildings in Hiroshima are impressive and tell their own story, but the building which impressed me the most was the Atomic Bomb Dome. This used to be the Industrial Promotion Hall, on the information sign in front of the crumbling structure you can see what the building looked like before the bomb was dropped.
The A-bomb dome was one of the few buildings in Hiroshima left standing after the explosion. The reason why this building is still standing and why it's called the A-bomb dome? The atomic bomb was dropped exactly above this building and exploded directly above it. Therefore, the vertical columns of the Industrial Promotion Hall could withstand the vertical downward force of the blast.
Even though the building is still standing, the melted iron dome is a vivid reminder of the destructive power if an atomic bomb. I hope this symbol will remind everyone who visits that war is awful and there are no winners…
Children's Peace Monument Hiroshima Japan
The Children's Peace Monument is dedicated to all the children who died in or after the atomic bombing of Hiroshima. The story behind the statue is a heartbreaking one…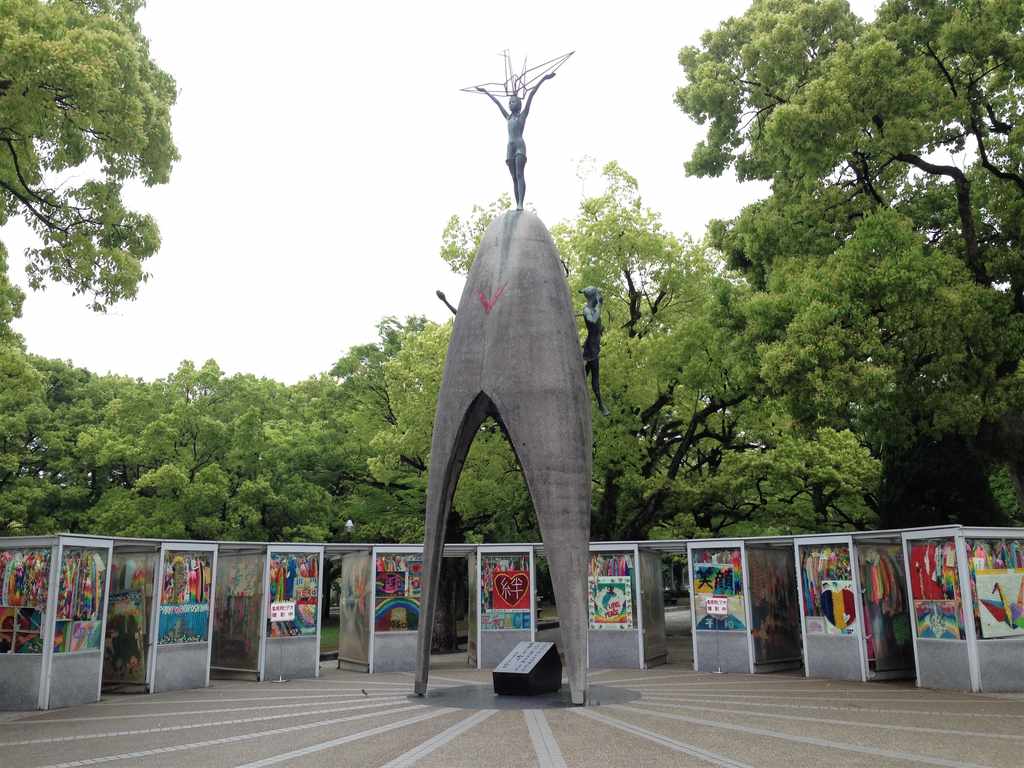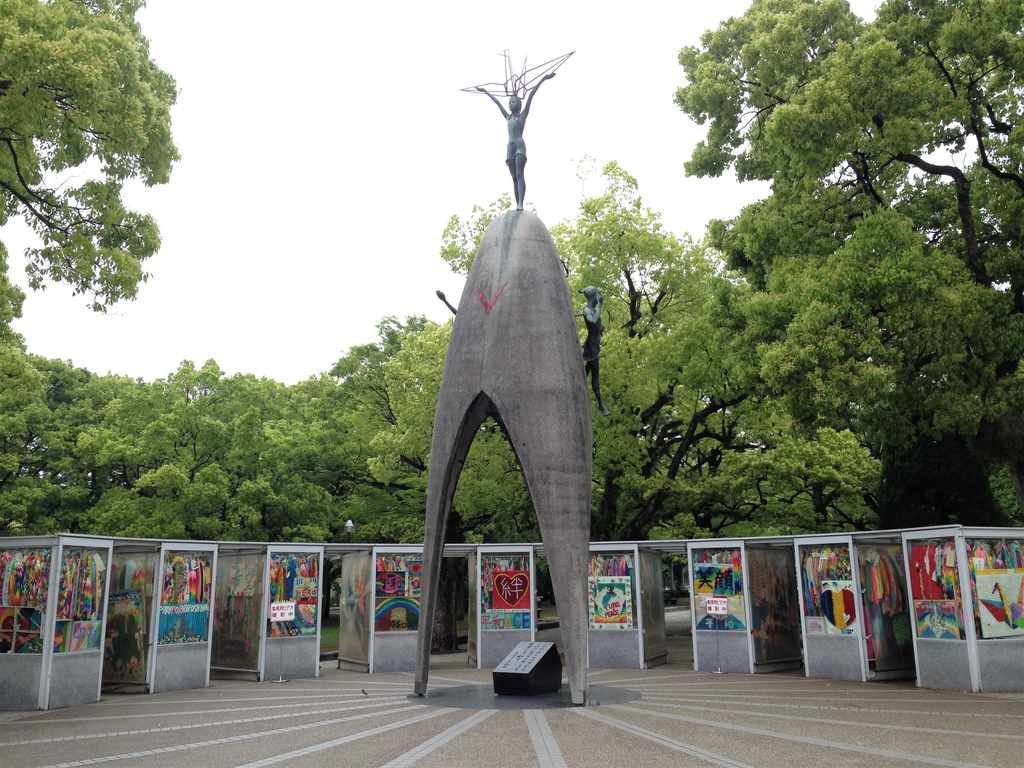 Picture of the Children's peace memorial monument
In Hiroshima lived a little girl named Sadako Sasaki, shortly after the atomic bomb she (like many other children and adults) developed leukemia. Sadako decided to fold one thousand paper cranes, because in Japan the crane bird symbolizes longevity. Sadly, the little girl passed away before she reached her goal.
However, this is not the end of the story because Sadako's classmates decided to finish the thousand cranes for her. Until this day, children send paper cranes from all around the world to Hiroshima, to honor and commemorate Sakado Sasaki and the other victim of the bomb…
The Peace Memorial Hall
In the Peace Memorial Hall, you can listen to the harrowing stories of people who survived the bomb. It's not easy to listen to these stories, but it helped me to better understand what happened and how peoples' lives were affected by the bomb. Nevertheless, it's impossible to comprehend the amount of suffering and utter destruction caused by one single bomb.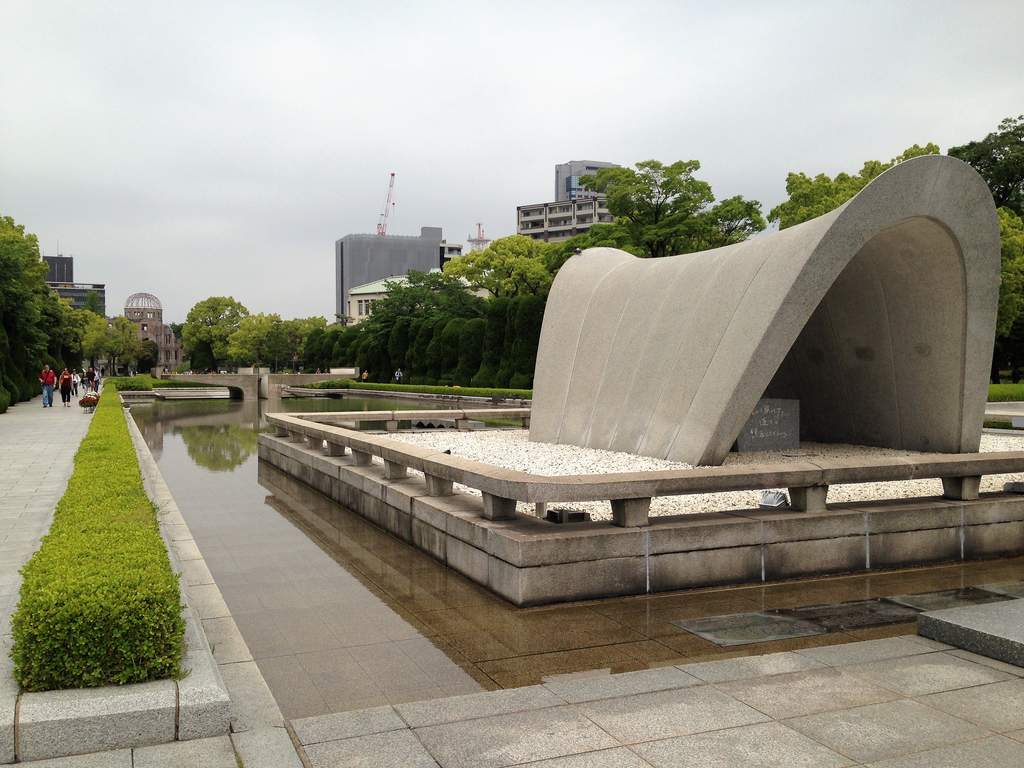 Picture of memorial cenotaph
Hiroshima Peace Memorial museum
In the Hiroshima Peace Memorial museum, you can read more about the science behind an atomic bomb and about the effects of such a bomb on the human body. Throughout the museum there are displays with molten glass and metal, demonstrating once again the force of an atomic bomb and the impossibly high temperatures which vaporizes everything in its vicinity.
Hiroshima, a modern city with a great atmosphere
After this heavy morning, you can spend the afternoon discovering the other side of Hiroshima. Hiroshima is a very green and walkable city, you can cover all the main sites on foot. Stroll along the Ota river and through Central Park, you'll soon arrive at the grounds of Hiroshima Castle.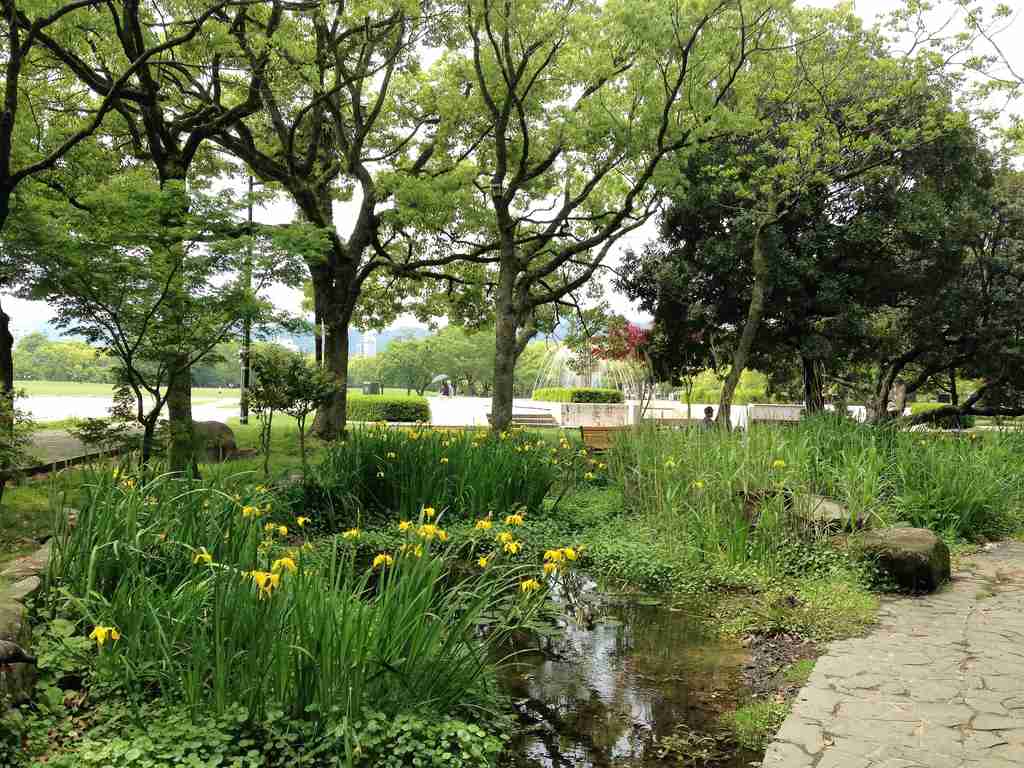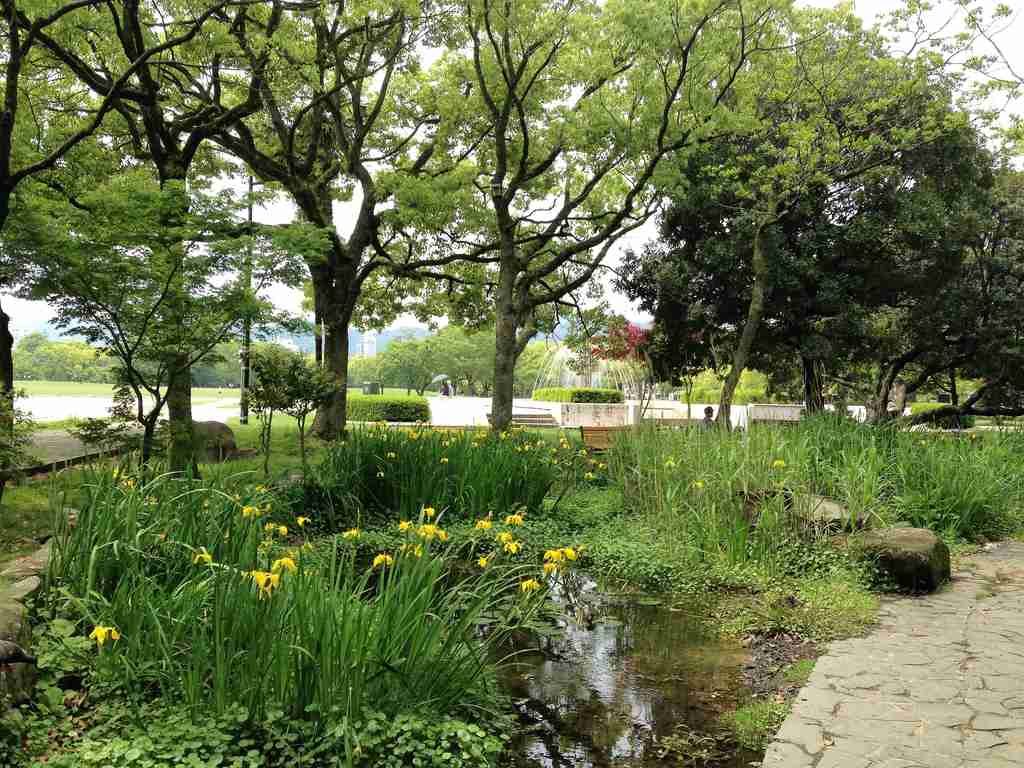 Picture of Central Park
Hiroshima Castle
Japan is famous for its wooden castles and Hiroshima Castle is a fine example of this style. The original castle was destroyed by the bomb, but in 1958 Hiroshima Castle was meticulously reconstructed. Like you could expect anything less than perfection in Japan!
There is a museum inside the Castle walls, where you can learn all about the history of Japan, the history of Hiroshima and about Japanese Castle building.
Be sure to climb to the top of the Castle, you'll have a beautiful view over the city! Within the castle park you'll also find the Gokoku Shrine. Surrounding the grounds are the Ninomaru, the castle's second circle of defense.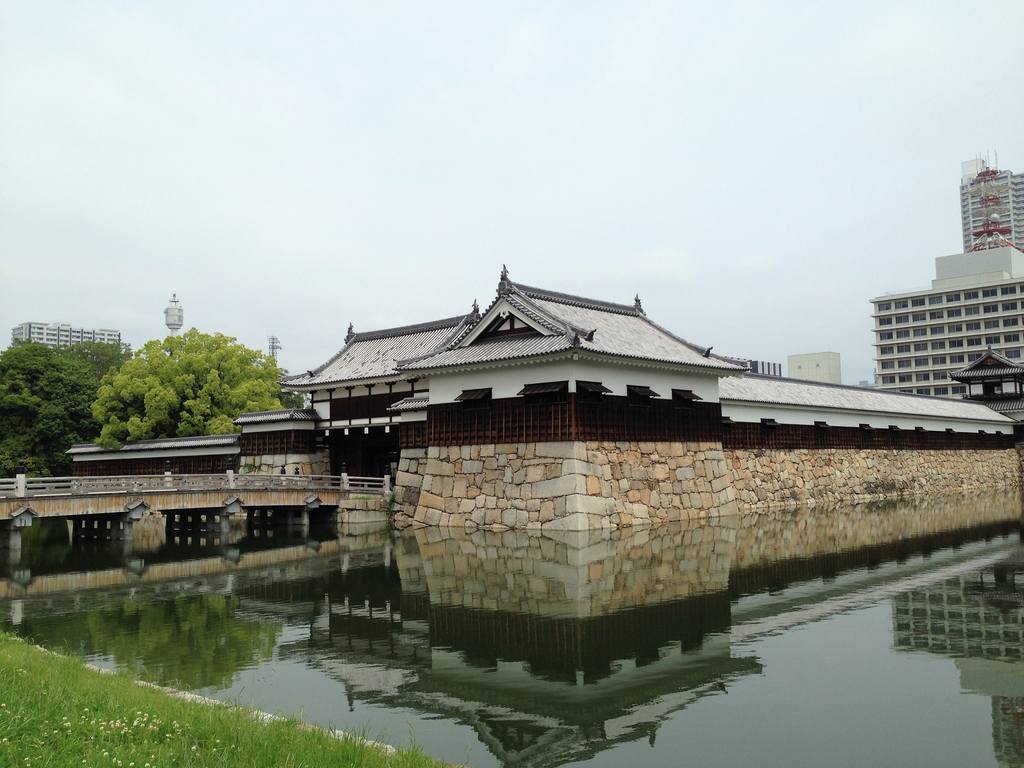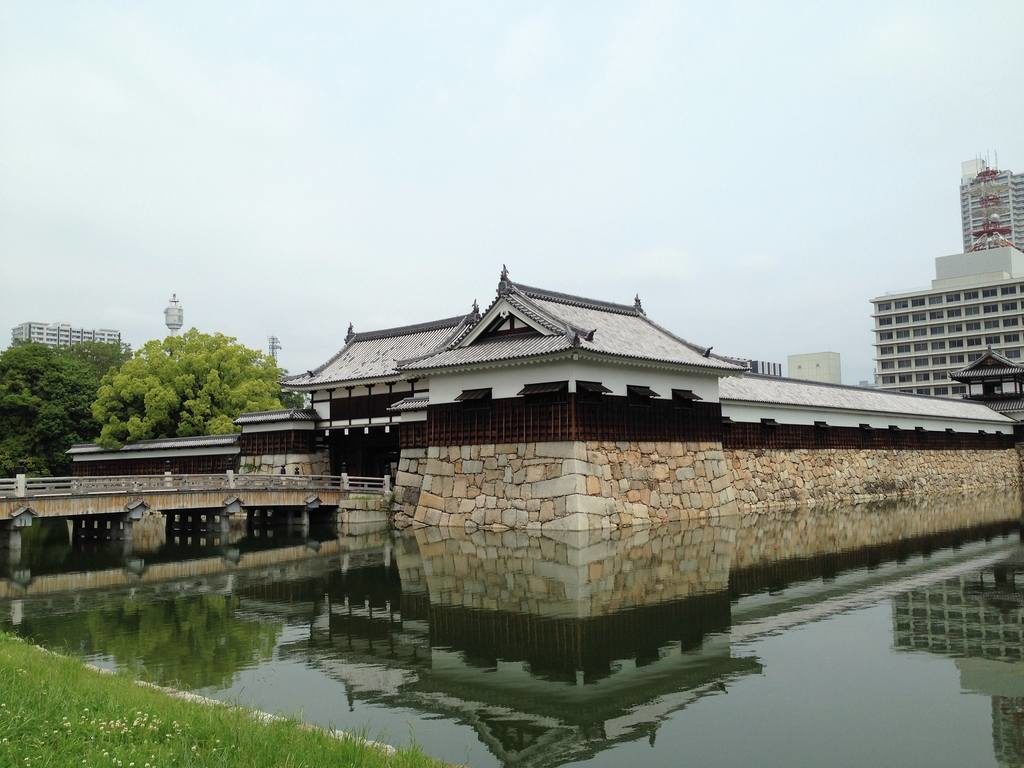 Picture of the Ninomaru
Other places in Hiroshima to visit are the Shukkei-en (a historic Japanese garden) and the Mitaki-dera (historic Japanese temple).
How to get to Hiroshima?
If you plan to travel around Japan by train, it's worth looking into the Japan Rail Pass. Be sure to do this before going to Japan, you cannot buy the card once you are in Japan. There is a Shinkansen train (Japan's famous bullet train) station in Hiroshima, travel time is about 90 minutes from Shin-Osaka.
The shinkansen is a very comfortable way to travel around Japan. Seats are quite big, the bathrooms are sparling clean, there are small changing rooms and you can charge your phone/laptop in the sockets under the seats. Plus, you'll be traveling at 320 kilometers per hour!
You can also fly to Hiroshima
Hiroshima has its own airport, Hiroshima Airport (HIJ), which is located about 50 kilometers east of the city center. The airport is well-connected to major cities in Japan, as well as some international destinations. Several domestic airlines operate flights to and from Hiroshima Airport, making it convenient for travelers to reach the city by air. From the airport, there are various transportation options available, such as airport shuttles, taxis, and rental cars, to take you to your desired destination within Hiroshima.
 How to get around Hiroshima city
Getting around Hiroshima city is relatively easy, thanks to its efficient public transportation system. Here are the main modes of transportation you can use to navigate the city:
Streetcars: Hiroshima has an extensive streetcar network that covers most parts of the city. The streetcars are a convenient and affordable way to travel to popular attractions, shopping areas, and residential neighborhoods. Look for streetcar stops and route maps to plan your journey, and be sure to have exact change or use an IC card for payment.
Buses: Hiroshima also has a well-developed bus network that complements the streetcar system. Buses are a good option for reaching destinations not served by streetcars or for traveling to areas outside the city center. Bus stops are clearly marked, and route information is available in both Japanese and English.
Taxis: Taxis are readily available throughout the city, and they can be hailed on the street or found at taxi stands. While more expensive than public transportation, taxis offer convenience and a door-to-door service. Make sure to have your destination written in Japanese or show the address on a map to the driver if you don't speak Japanese.
Bicycles: Hiroshima is a bicycle-friendly city, and renting a bicycle can be a fantastic way to explore at your own pace. There are several rental shops around the city, including near major train stations. Look for designated bicycle lanes and parking areas, and follow traffic rules when cycling.
Walking: Hiroshima's city center is relatively compact and easily walkable. Many popular attractions, such as the Peace Memorial Park and Hiroshima Castle, are within walking distance of each other. Exploring on foot allows you to take in the city's ambiance, discover hidden gems, and stumble upon local shops and eateries.
Hiroden One-Day Pass: Consider purchasing a Hiroden One-Day Pass, which provides unlimited rides on streetcars, buses, and the Hiroshima Sightseeing Loop Bus for a full day. This pass offers excellent value for travelers planning to visit multiple attractions and use public transportation extensively.
When getting around Hiroshima, it's helpful to have a city map or use smartphone navigation apps to ensure you're heading in the right direction. Public transportation signage and announcements are usually in Japanese and English, making it easier to navigate. By utilizing these transportation options, you can efficiently explore Hiroshima and make the most of your visit to this historically and culturally significant city.
More inside tips to visiting Hiroshima, Japan
To make your visit to Hiroshima even more rewarding, here are some inside tips to consider:
Start at the Peace Memorial Park: Begin your exploration at the Peace Memorial Park, which serves as a poignant reminder of Hiroshima's history and promotes peace. Take your time to visit the Hiroshima Peace Memorial Museum, the Peace Memorial Hall, and the iconic A-Bomb Dome. These sites provide profound insights into the impact of the atomic bombing and the city's journey towards peace.
Explore Miyajima Island: Don't miss the opportunity to visit Miyajima Island, located a short ferry ride from Hiroshima. Known for its iconic floating Torii gate and scenic beauty, Miyajima offers a tranquil escape. Explore the Itsukushima Shrine, hike Mount Misen for breathtaking views, and sample local delicacies like momiji manju (maple leaf-shaped cakes).
Savor Local Cuisine: Hiroshima is renowned for its delicious food. Be sure to try Hiroshima-style okonomiyaki, a savory pancake layered with cabbage, noodles, meat, and sauce. Head to Okonomimura, a multi-story building with multiple okonomiyaki restaurants, for a variety of flavors. Also, indulge in Hiroshima-style tsukemen (dipping noodles) and oysters, known for their freshness.
Take a Day Trip to Iwakuni: Consider a day trip to the nearby town of Iwakuni, located approximately 40 kilometers from Hiroshima. Explore the iconic Kintai-kyo Bridge, a historical wooden bridge spanning the Nishiki River. Visit the Iwakuni Castle, which offers panoramic views of the city, and enjoy the charming streets lined with traditional shops and eateries.
Experience Hiroshima Carp Baseball: If you're a sports fan, catch a Hiroshima Carp baseball game at Mazda Zoom-Zoom Stadium Hiroshima. The Carp are beloved by locals, and the energetic atmosphere of the games is contagious. Enjoy the cheering, chants, and excitement as you immerse yourself in Japanese baseball culture.
Visit Shukkei-en Garden: Discover the serenity of Shukkei-en Garden, a beautifully landscaped traditional Japanese garden in the heart of Hiroshima. Stroll through the garden's pathways, admire the seasonal flora, and relax in peaceful tea houses. The garden offers a tranquil retreat from the city's hustle and bustle.
Attend Local Festivals: Check if any festivals or events are taking place during your visit to Hiroshima. The Hiroshima Flower Festival in May, the Hiroshima Peace Memorial Ceremony on August 6th, and the Hiroshima Oktoberfest in October are just a few examples of the vibrant events that showcase the city's culture, traditions, and community spirit.
Respect Local Customs: While exploring Hiroshima, it's important to respect local customs and traditions. Take off your shoes when entering traditional establishments, such as temples or ryokans (traditional inns). Be mindful of noise levels in public spaces and dispose of trash properly to help maintain the city's cleanliness.
By incorporating these inside tips into your Hiroshima itinerary, you can deepen your understanding of the city's history, savor its culinary delights, immerse yourself in local culture, and create unforgettable memories. Embrace the spirit of Hiroshima and its resilient, welcoming atmosphere as you explore this remarkable destination.
Guest author Bio
My name is Lotte, born and raised in the Netherlands and trying to explore as much of the world as possible! Up until now I lived in Barcelona, London and Amsterdam and visited 38 countries.
I am a banker turned blogger and write about my adventures on Phenomenal Globe Travel Blog (www.phenomenalglobe.com). It's my mission to inspire other people to travel and help them plan their trips! In 2017 my husband and I are making a round the world trip, we don't know where we'll end up and how long we'll be traveling. Probably until the money runs out;-).
Social media:
https://www.facebook.com/phenomenalglobe
https://instagram.com/phenomenalglobe
Check out these other posts on visiting Japan
Day trip to Miyajima island
A weekend in the Japanese Alps
Conclusion to visiting Hiroshima, Japan
In conclusion, visiting Hiroshima, Japan is a journey that goes beyond mere sightseeing. It is an opportunity to pay homage to the past, embrace a message of peace, and appreciate the resilience and spirit of its people. From the poignant reminders of the atomic bombing at the Peace Memorial Park to the scenic beauty of Miyajima Island, Hiroshima offers a unique blend of history, culture, and natural wonders.
Exploring the city's iconic landmarks, such as the A-Bomb Dome and the Hiroshima Peace Memorial Museum, provides a profound understanding of the devastating impact of war and the importance of peace. The culinary delights of Hiroshima, including the famous Hiroshima-style okonomiyaki and fresh oysters, tantalize the taste buds and showcase the region's gastronomic prowess.
Venturing beyond the city, a day trip to Iwakuni or the serene beauty of Shukkei-en Garden offers additional insights into the region's history and tranquility. Attending a Hiroshima Carp baseball game or immersing oneself in local festivals provides a glimpse into the vibrant community spirit and cultural traditions of the city.