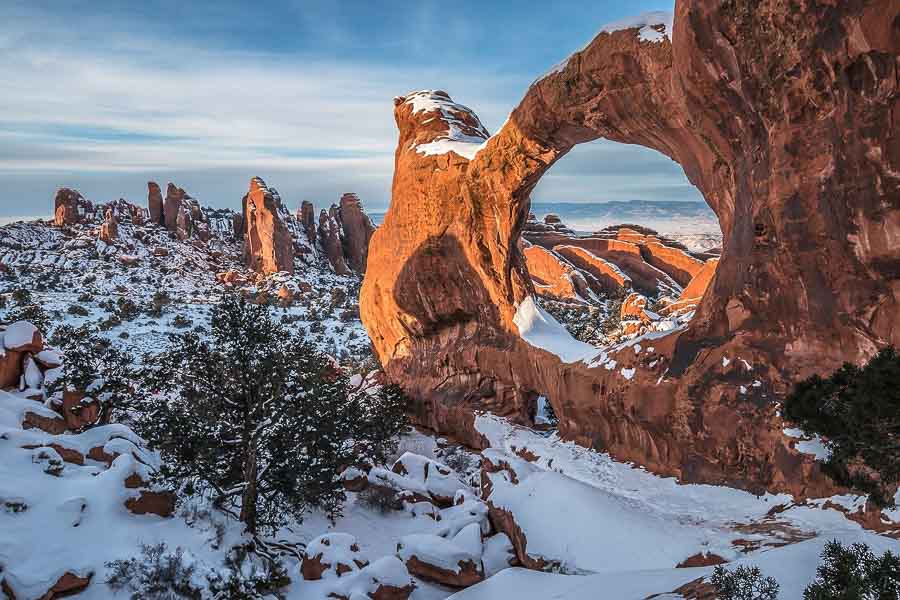 Winter vacations and getaways around the USA are a fantastic way to visit local destinations for snow or sunny destinations and fun experiences. I've asked my favorite travel bloggers to share their favorite places to visit around the USA and what to see and do in the area. Check out the best of these winter vacations in the USA below and start planning for your fun getaway now.
Check these popular winter places around the USA

Snowy and cold winter destinations in the USA
When you think of winter getaways, it's typically the snow covered, gorgeous winter scenery and outdoor adventure that comes to mind for a winter destinations. We have you covered with some of the cool places below that are a fun getaway and some that you maybe didn't even think would be fun, check them out below.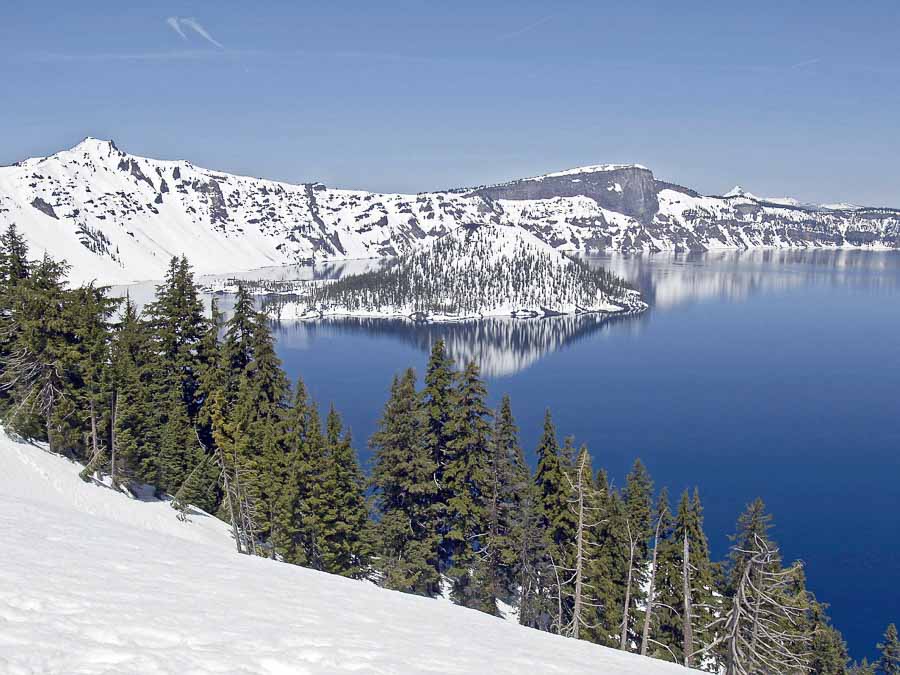 Crater Lake in Oregon
Crater Lake is just one of many great lakes in Oregon to visit, yes, even in winter! When the days get shorter and the weather gets brisker many places around the world get less crowded. Crater Lake is no secret and during the summer months, it can get pretty busy.
If you take a trip during winter though, you'll have most of the views all to yourself. Sure, you'll need to pack those snow boots, and bust out those extra puffy jackets but once you make it up the windy road to the overlook, you'll immediately be transported to a winter wonderland. The snow blankets your surroundings and you're left peering into the deep dark blues of the lake below. It's truly stunning!
The Rim Village Cafe and Gift Shop is open year round but the North Entrance and Rim Road are closed for winter due to the crazy amount of snow fall this area receives.
To visit Crater Lake in the winter, make sure to enter via the South entrance which is always open unless there is very heavy snow fall which delays the daily road plowing. While many come during summer to take boat rides to Wizard Island or to go hiking and camping, during winter people come for snowshoeing, sledding, snowboarding and Nordic skiing.
Nina with Oregon is for Adventure
Check these best rated Trip Advisor hotels here for reviews and hotel images.
Wisconsin in Winter
Many don't see Wisconsin as the first place to visit when they think of winter destinations in the US: However, there are plenty of things to do in the Dairy State.
First, Wisconsin in winter is particularly suited for nature lovers and adventurers. Indeed the vast landscapes and rolling hills of Wisconsin invite you for snow hikes, skiing and ice-skating.
When looking for things to do in Wisconsin in Winter, I recommend having a look at its natural parks. The best place for ice-skating is probably Lake Geneva. Door County is my opinion one of the prettiest places to go for long hikes in the snow.
However, even if you are a city traveller, you'll find plenty of options in Wisconsin. The artsy museums of Milwaukee and Madison are welcome retreats when you're looking to escape the frosting temperatures of Wisconsin. My favorite one is without any doubt the Milwaukee Art Museum with its splendid architecture.
Paulina with Paulina on the Road
Check these best rated Trip Advisor hotels here for reviews and hotel images.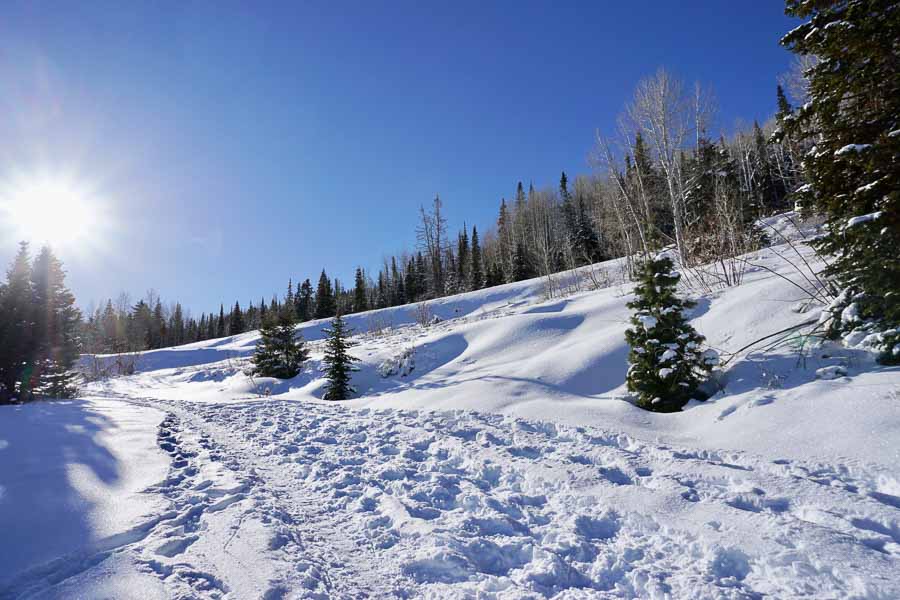 Winter fun in Park City
Park City is a winter sports enthusiasts dream come true. It's best known for its downhill skiing and snowboarding offered at several spots throughout the area. Among the most popular ski resorts are Deer Valley and Park City Mountain. But dig a little deeper and visitors will discover many other things to do in this charming mountain town. Summer hiking trails become snowshoe trails that weave around the town and deep into the surrounding forests. For cross country skiers, there are both tracks and trails offered at multiple places. Adrenaline junkies will enjoy the winter bobsled experience at Utah Olympic Park.
For anyone not interested in winter sports, Park City also offers plenty of fun on its Main Street. Here there are dozens of galleries, boutiques, and highly-rated restaurants. There is even a museum exploring the city's development and mining history.
During peak winter season–December through March–this town is packed with visitors, so be sure to make hotel and restaurant reservations in advance. It's important to know this is not a budget destination. Ski passes, accommodations and food is pricey. Park City is also home to the Sundance Film Festival at the end of January. This is an ideal time to visit for film buffs.
Anyone looking for an easily accessible, charming winter destination in the West, should definitely consider Park City, Utah.
Wendy with Empty Nesters Hit the Road
Check these best rated Trip Advisor hotels here for reviews and hotel images.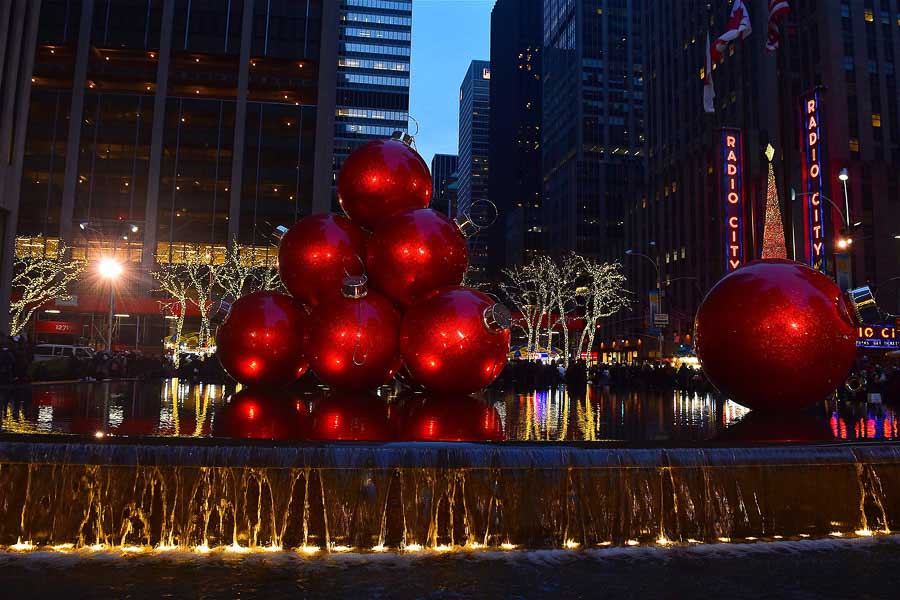 New York City in Winter
New York City, a place you have probably never heard of until now, is surprisingly one of the best destinations for traveling in the winter. Typically, winter is a time where everyone stays inside to avoid the numbing cold and the bleak atmosphere. In New York City, the people are not afraid of the cold. Lights, figures, and other winter decorations are sprawling around the city, reminding you that winter in New York City is a time of enjoyment and fun. Public places such as Bryant Park and Rockefeller Center are remodeled to include an ice skating rink in the center. They are great places to enjoy the wintertime with the family. If you are visiting during Christmas time, the Christmas tree at Rockefeller Center is one of the places you must see in New York City. It is one of the biggest in the world and it attracts people from all over the world to come visit New York City, amidst other things. And if you are going to spend New Years in New York City as well, go to Times Square and countdown for the ball to drop. There you will experience the true New York experience: crowded, cold, and content! But make sure you check out some of the off the beaten path and unusual things to do in NYC while you are there!
Sean with Living out Lau
Check these best rated Trip Advisor hotels here for reviews and hotel images.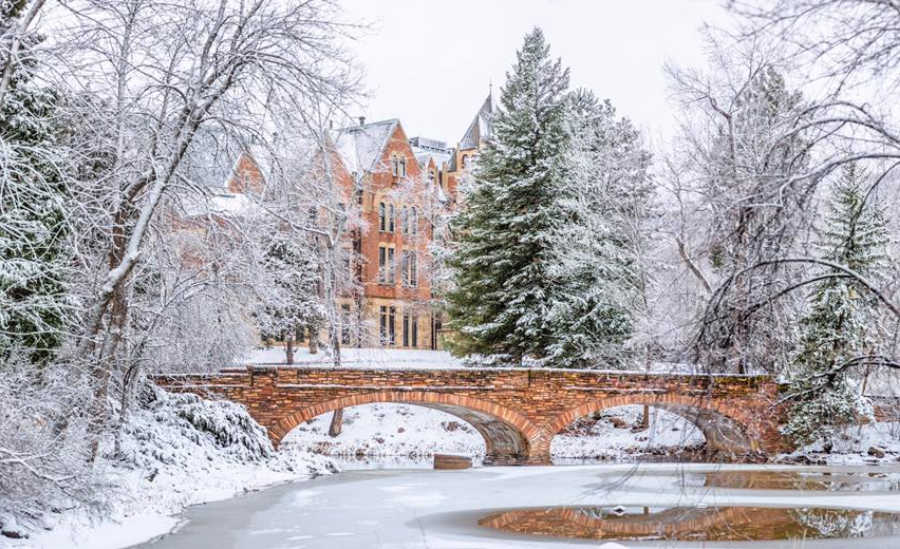 Boulder Colorado is one of the best winter destinations in the USA 
Why?
Boulder has gorgeous views of the beautiful Rocky Mountains, fantastic healthy food and lots of winter activities for the best trip ever.
The best way to explore Boulder is by foot. The best things to do in Boulder Colorado in winter are shopping at the Pearl Street Mall (an outdoor street mall), located in the heart of downtown Boulder); walking around the University of Colorado Boulder's college campus; go skiing at the Eldora Mountain and staying at the Eldora Mountain Resort.
If you like hiking, go to the Flatirons! From the top spot, Lost Gulch, you have an absolute stunning view of the Rocky Mountains to the west an unbeatable overlook view of Boulder laid out to the east.
If you're a foodie, I recommend you to eat a burger at the famous restaurant The Sink and have a craft beer. Do you know that Boulder has a well-earned reputation as a beer crafting capital? It's Winter Craft Beer Festival is really popular!
Boulder Colorado is a winter wonderland, but don't forget to pack warm clothes!
Sara with Mindful Travel with Sara
Check these best rated Trip Advisor hotels here for reviews and hotel images.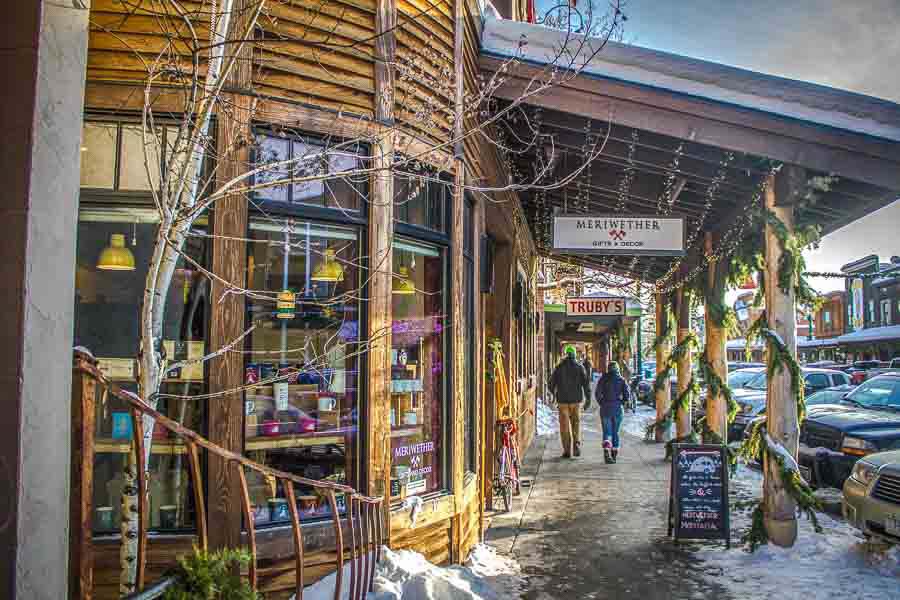 Picture perfect in Whitefish, Montana
If ever there was a picture-perfect ski town, it just might be Whitefish, Montana. Whitefish Mountain Resort looms over the town with more than 3,000 acres of skiable terrain, and lift tickets that are considerably cheaper than the big names in Utah and Colorado. If cross-country skiing is more your style, the Round Meadows X-C Ski Area sits on the other side of Whitefish Lake from the ski resort and has over 12 miles of groomed trails. Or for a backcountry adventure, you can cut your own trail around Lake MacDonald on the west side of Glacier National Park.
Skis aren't the only way to enjoy the winter wonderland of Whitefish, though. You can also rent a fat tire bike from Glacier Cyclery and hit a few of the snow-covered biking trails surrounding the town. The 42-mile Whitefish Trail has twelve trailheads positioned throughout the town, making it easy to start and end wherever you please.
Whitefish is no slouch when it comes to après ski either, with a wide selection of restaurants, bars, and coffee shops. After a big day on the slopes, there's nothing better than a cold beer, and Whitefish is home to two excellent microbreweries: The Great Northern Brewing Company and Bonsai Brewing. Make sure you save some time to peruse the downtown area too, and check out the local coffee shops, quirky bookstores, and retailers selling "Made in Montana" goods.
Check out Jen's post on visiting Whitefish, Montana
Check these best rated Trip Advisor hotels here for reviews and hotel images.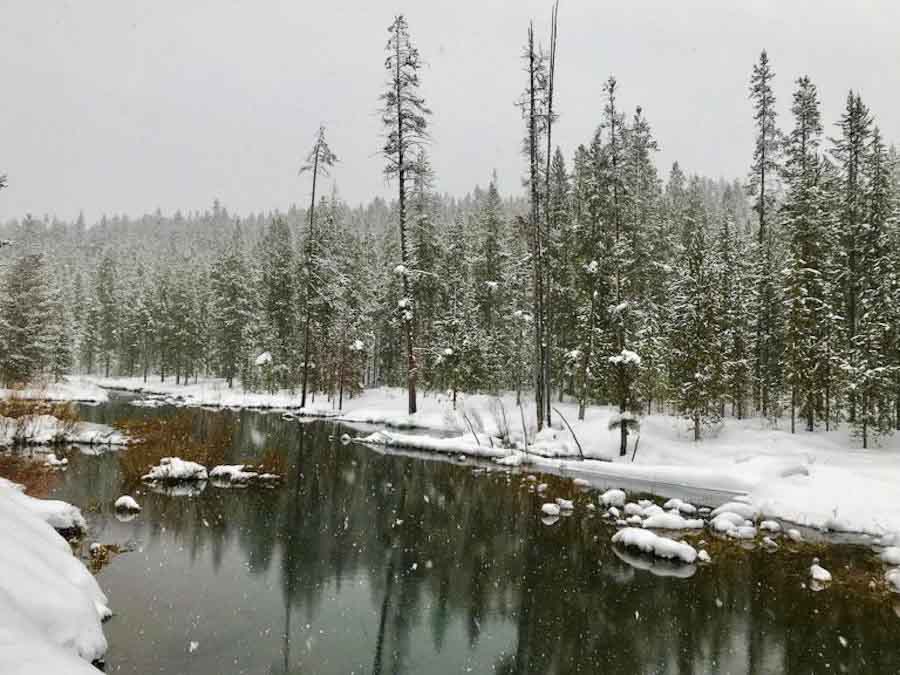 Gorgeous Yellowstone in winter
Beaches and warm weather are a common choice for winter destinations. If you're looking for something different and don't mind the cold weather Yellowstone National Park is just the place.
Experience the majesty of Yellowstone with just a few people. When we saw Old Faithful erupt during a January visit we shared it with three other people and a coyote. Summertime crowds easily include a thousand onlookers.
If you like to be active, hiking, cross-country skiing, snowshoeing, snowmobiling, and even dogsledding are all available to do in the park.
Like to relax and watch nature in comfort? That can be arranged too. Take a snow coach ride through the park to get all the highlights. See Mammoth Hot Springs Terraces, colorful Norris Basin Geysers, and so much more. Sip hot chocolate (or something stronger) in front of a roaring fireplace in one of the lodges.
Afraid you won't see any wildlife in the winter? Don't be. You'll share the roads with herds of buffalo lazily taking their winter walks. Plenty of birds, wolves, and other critters are all part of the unforgettable landscape at America's first national park.
To stay comfortable dress in layers, keep hydrated (yes, even in the cold), allow time for frequent weather changes, and wear warm boots that have a good grip on ice and snow. Don't forget your camera. You'll get some photos to cherish and remind you of your trip for years to come.
Check out Sue's post on adventures in Yellowstone country
Check these best rated Trip Advisor hotels here for reviews and hotel images.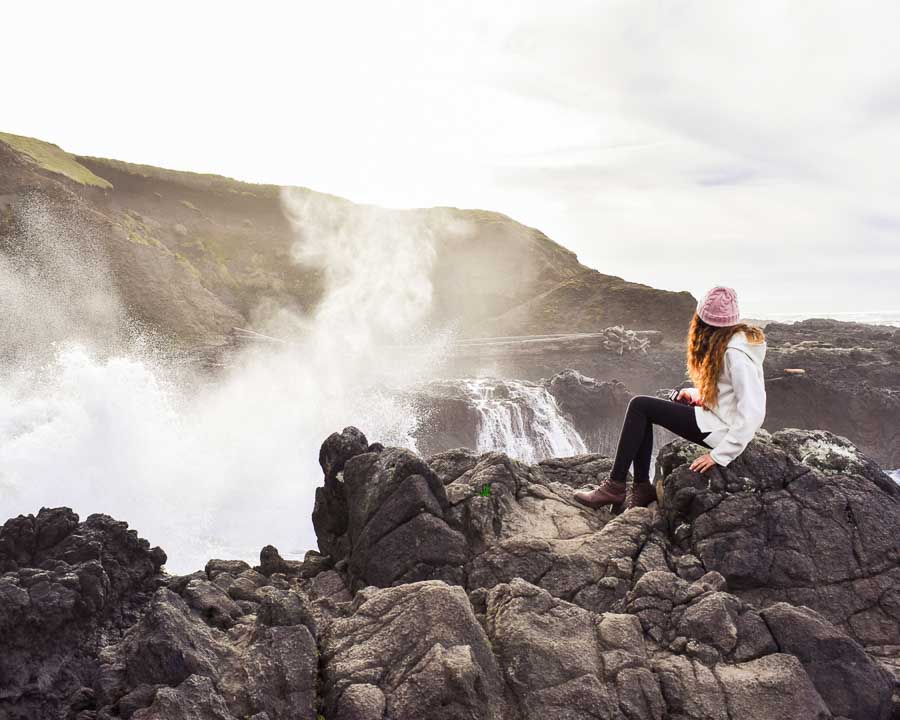 Cool winters in Yachats, Oregon
Are you looking for a moody winter getaway in America, but hate the snow and the crowds that usually surround the typical destinations? Welcome to Yachats, Oregon, where the clouds are billowing, the waves are deafening, and the sights don't get any more beautiful. The city of Yachats is located on the Southern coast of Oregon, but you won't have to battle Portlandia hipsters for a cup of coffee in this small town. Yachats is a bit of a hidden gem, even to Oregonians! It is a relaxed town, and its restaurants hold themselves to a high standard of serving food that is both sustainable and ethically sourced!
In terms of things to DO in Yachats, there isn't much, but you could spend a whole week with all of the amazing natural sites! The coast glistens black with basalt rocks, leftover from lava millions of years ago, creating jagged chasms and blowholes. The water is ice cold, but home to colorful critters scuttling across the tidepools that dot the shoreline. Yachats is also home to the largest sea lion cave in the United States of America! Aside from the Yachats Sea Lion Cave, I also highly recommend visiting Thor's Well and the Devil's Churn! A quick drive south will lead you to some awesome sand dunes along the coast, where you can rent ATVs by the hour! On the flip side, if you're looking for a more relaxed vacation, Yachats has a great resort spa for a full day of pampering. Or you could simply cuddle up in front of your cabin's fireplace and indulge in a good book!
Check out Kalilah's post on Yachats
Check these best rated Trip Advisor hotels here for reviews and hotel images.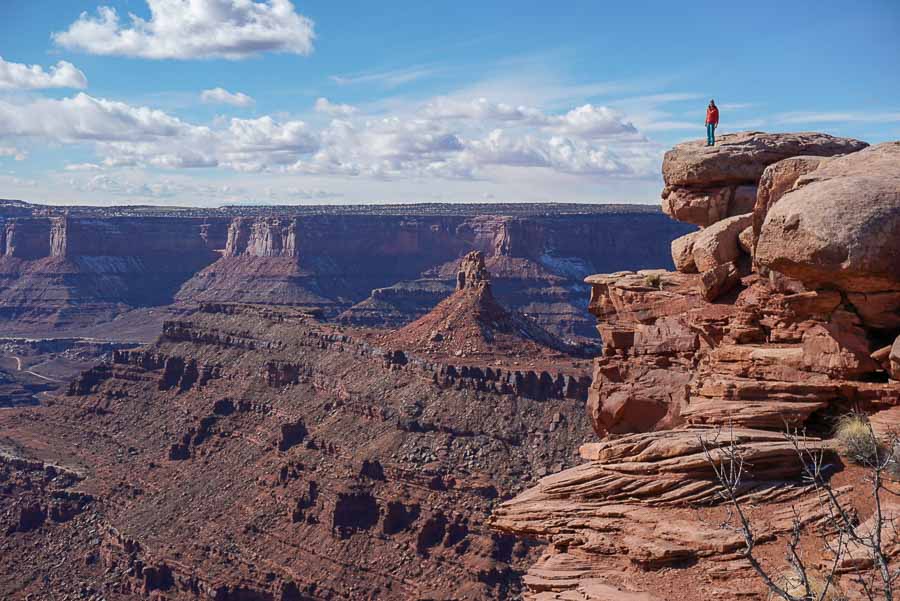 Discover the Magic of the Desert in Moab, Utah
Where jaw-dropping sandstone formations meet lush green river valleys, Moab, Utah is a must-see during the winter months. Unlike the busy seasons of late spring through early fall, Moab is practically empty in February, making it an ideal time for those who like to enjoy nature with a little more solitude. If you're lucky, the desert will get a dusting of snow, creating a magical landscape of reds, whites, and greens.
Moab offers world-class desert hiking, biking, climbing and 4-wheeling throughout the year, but visiting this incredible landscape in winter is a special treat. Sure, you'll need to bundle up and the temperatures are sweltering, but the desert sun still brings plenty of warmth. You'll have two premier national parks, Arches and Canyonlands to yourself this time of year.
For spanning views and jaw-dropping canyons, check out Deadhorse Point State Park. Arches National Park absolutely lives up to its namesake, with plenty of mellow hikes offering endless beauty. For the more adventurous outdoors experience consider four wheeling or backpacking in Canyonlands Needles District or The Maze. For dog-friendly hiking, be sure to check out Corona Arch while sandstone climbers will enjoy the multiple options at Wall Street and Fisher Towers. The town itself has everything you need with boutique accommodation, small eateries, a brewery, and even gear shops. Camping is available year-round if you don't mind chilly nights. For a unique desert experience, head to Moab, Utah in the winter.
By Meg Atteberry with Fox in the Forest
Check these best rated Trip Advisor hotels here for reviews and hotel images.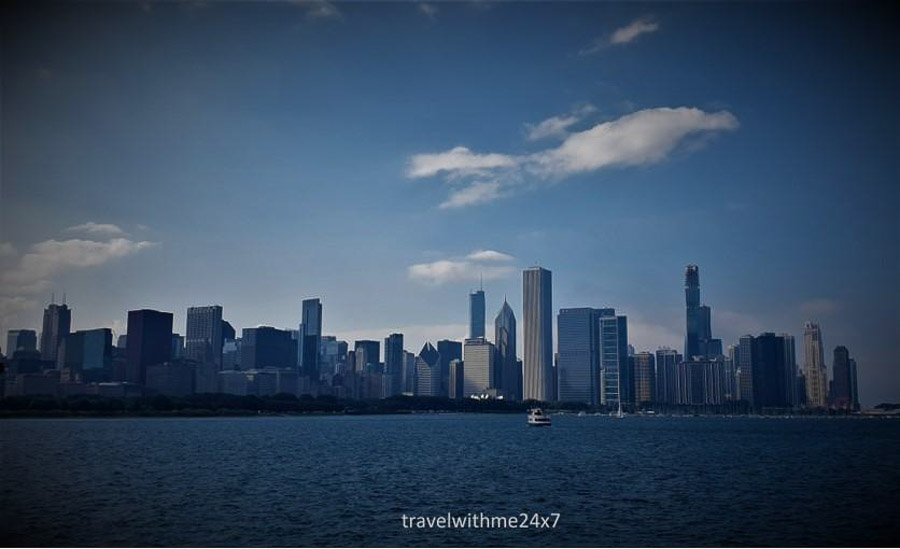 Winter in Chicago
Chicago is worth visiting in all seasons as it has unique charm in all seasons.  Chicago has wonderful winter with snowy parks, festivals and many opportunities to have the best food and theater shows during these chillier months.
As winters in Chicago is full of cold and freezing snow there are many ways to enjoy like the ice-skating in Millenium Park, indoor museums and shows, festive light shows and lots of warm food.
Chicago is famous for ice-skating that too in the mid of city with the backdrop of beautiful skyline. 16,000 square foot of rink with the famous Cloud Gate (Bean) sculpture and Crown, surrounded by Crown fountain and many sculptures this ice-rink is popular among the tourists of all ages. Enjoy the Zoo Lights at Lincoln Park Zoo which has a free entrance and so it is the one only in the country with free entry. Also they have many events like snow sculpting, restaurant week, Chicago Wintefest, attend Chicago Bulls game and many art shows too.
Also having the view of snow capped city with beautiful skyline from the tallest tower of city – Willis Tower is the favorite thing to do in Chicago.
Yukti with Travel With Me 24 x 7
Check these best rated Trip Advisor hotels here for reviews and hotel images.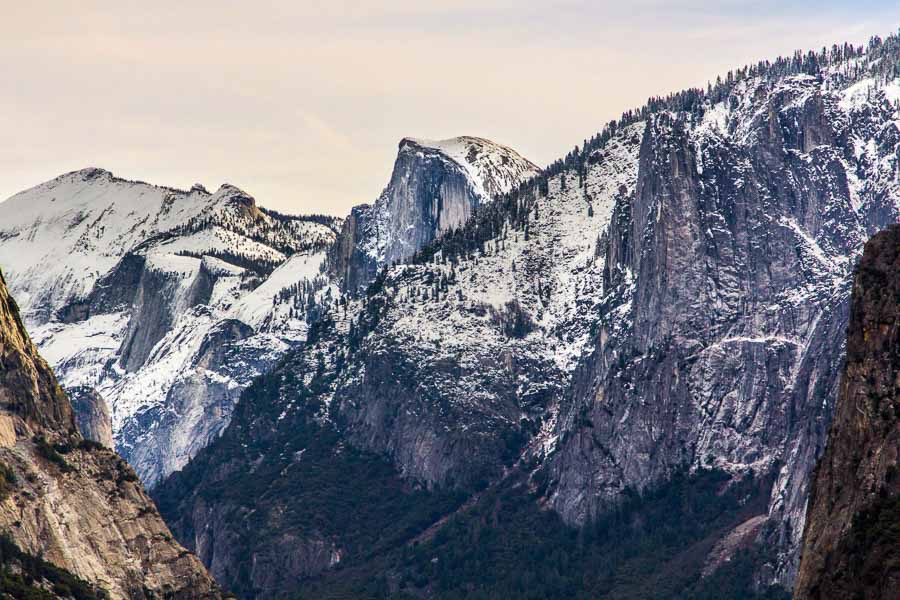 Yosemite National Park in Winter
Yosemite National Park is an iconic West Coast destination located in Northern California. Many people know it for its tall granite walls, amazing hiking trails, and as a place to spend time in the great outdoors and hone their sense of adventure.
During the summer, Yosemite is filled to the brim with people traveling from all around the world to experience its inviting warm summer weather, however what many people don't know is Yosemite absolutely transforms into a snowy winter-wonderland in the Winter. Iconic features, like Half Dome and El Capitan, are dusted in snow and display another beautiful side to Yosemite, and unlike the summertime, Winter in Yosemite has a more relaxed and slow-paced vibe. While you'll likely experience colder snowy weather in the Wintertime in Yosemite, you'll also get to avoid the crowds and enjoy more moments of peace and solitude to yourself and your family, making it an awesome place to unwind and spend quality time with loved ones over the holidays.
During Christmas, the Majestic Yosemite Hotel, Yosemite Valley Lodge and Big Trees Lodge all hold Christmas festivities and big holiday dinners in celebration of the holiday season. There's all kinds of activities, including gingerbread house decorating, ornament making gatherings, and much more. You can even go on day adventures into the park like snowshoeing, ice skating and skiing at Badger Pass Ski Area. When you come to Yosemite during the Wintertime you will be pleasantly surprised by Yosemite's charms and will leave wishing you had more time to explore this mesmerizing winter wonderland.
Allison with She Dreams of Alpine
Check these best rated Trip Advisor hotels here for reviews and hotel images.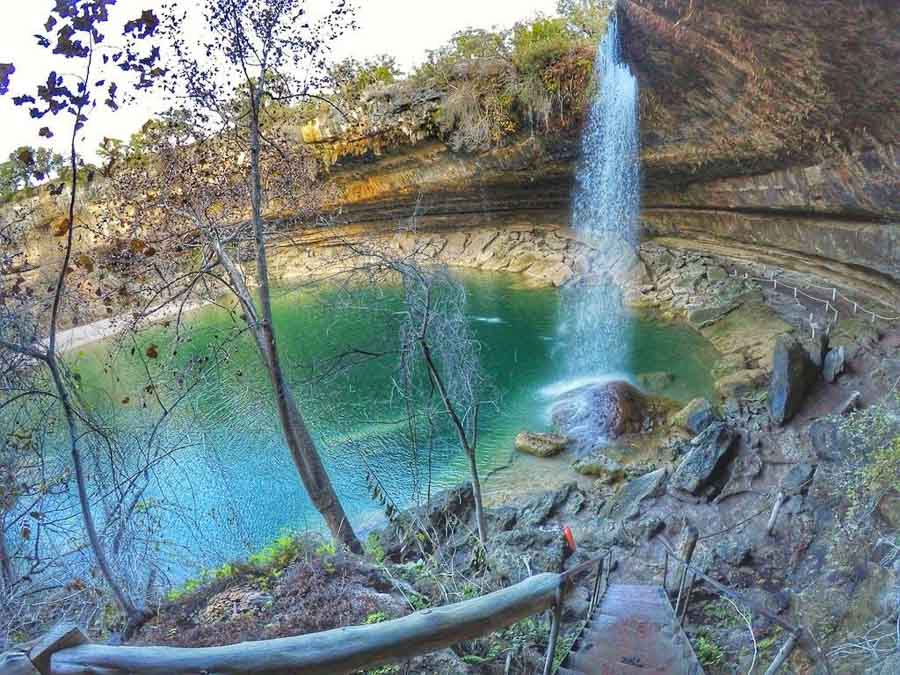 Visiting Austin, Texas in Winter
Though most people would tend to visit Austin, Texas in the summer months, as locals, we would highly recommend visitors to come in the winter.
One of the biggest benefits to visiting Austin in the winter is that you do not have to deal with the crowds. You'll be able to have a much more relaxed and peaceful experience doing all of the fun outdoor activities and seeing the top sights in winter. For instance, Hamilton Pool Preserve, a bucket-list worthy spot, does not require reservations between November and February (except for weekends). During other parts of the year you would have to reserve months in advance!
Temperatures in Austin are still not that bad and you get some nice sunny days that allow for being outdoors and doing some hiking, biking, or kayaking. Lady Bird Lake and the trail around it are much less crowded during the winter and allow you to enjoy renting bikes and kayaks easily. Honestly, the summer is extremely hot in Austin which makes it hard to really enjoy these activities.
Hiking up Mount Bonnel is also easier in the cooler weather and also allows you to have a more leisurely visit without running into any parking issues or the crowds being in your photos. The same goes for the hike to the 360 Bridge viewpoint which is even a smaller area for hanging out and enjoying some spectacular views of the bridge and the Colorado River.
Additionally, the winter months offer a chance to see the spectacular Trail of Lights for the holidays in Zilker Park and the close proximity to San Antonio to see the Riverwalk all lit up!
Taiss with Together to Wherever
Check these best rated Trip Advisor hotels here for reviews and hotel images.
Sunny winter destinations in the USA
For those that prefer a warmer winter getaway in the USA, there's plenty of choices of warm and even tropical locations in the country you can get away from cold, wet and miserable. Check out these fantastic warm to hot places in the USA to plan your getaway vacation now.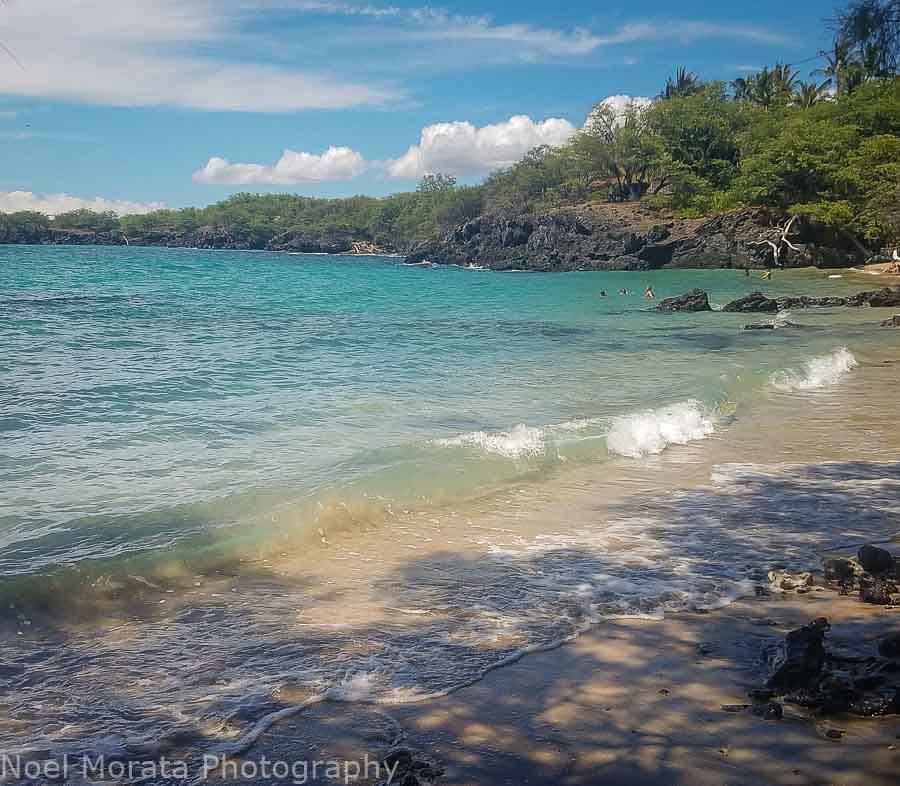 Winter at the Big Island
Hawaii is a dream destination and the Big Island of Hawaii is one of the best places to really enjoy a warmer winter destination. The island is an ideal place to do whatever suits your personal need for a vacation, beach time, adventure experiences or exploring all the different and unique parts of the island. With so much open areas, national parks and amazing landscapes to explore, you'll have lots of choices of things to do and see around the island. The sunny west side of the island have beautiful historical sites to visit, perfects sandy beachs and cool little towns to explore and the east side of the island is lush and green with waterfalls, botanical gardens and Volcanoes National park to explore the natural wonders on the east side.  If you are looking for more fun experiences especially outdoor adventure experiences, check out this post on things to do in Kona on the west side of the Big Island of Hawaii.
Noel with This Hawaii Life.
Check these best rated Trip Advisor hotels here for reviews and hotel images.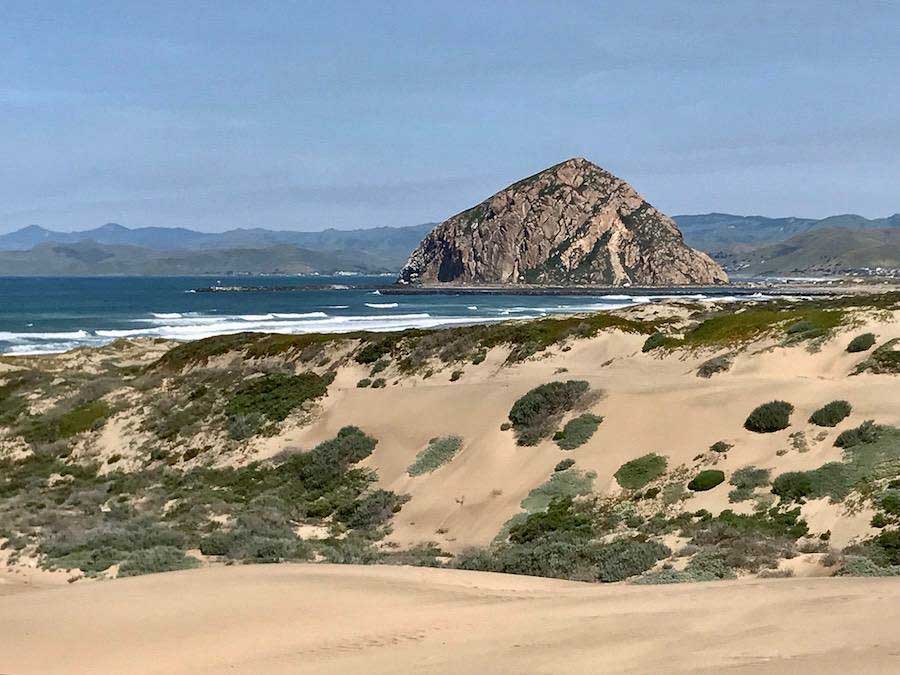 San Luis Obispo
Winter in California
 is exceptional. San Luis Obispo, on California's central coast is a jewel any time of year, but particularly wonderful during winter whale watching season. More than 1,500 California gray whales—not to mention blue whales and humpback whales— migrate from Alaska to the warmer waters in Baja Mexico in winter then. And they are closest to the coast on their journey south so don't miss them!
If you're an adventure lover, rent a kayak after your whale watching cruise to paddle this beautiful coast (or hire a local guide as we did). Consider hiking Valencia Peak for phenomenal rural views (about four hours round-trip.) Then stop for fresh oysters and beer dockside. It's as local as it gets!
Whatever you do, be sure to drive Highway 1 north to beautiful Big Sur. This iconic drive delivers dramatic views of the California coastline and offers frequent opportunities for short day hikes with big pay-offs, such as at Julia Pfieffer State Park. San Luis Obispo makes a great base to experience it for drivers less inclined to drive the length of California's Highway 1, with some of the most beautiful views on this stretch just north of SLO. (Or make it a full day trip, continuing on to Carmel and Monterrey).
Be sure to leave time to explore SLO's cute village though. This is coffee culture at its finest. And as home to a major university, SLO has no shortage of beautiful cafes and restaurants to enjoy.
Chris at Explore Now or Never
Check these best rated Trip Advisor hotels here for reviews and hotel images.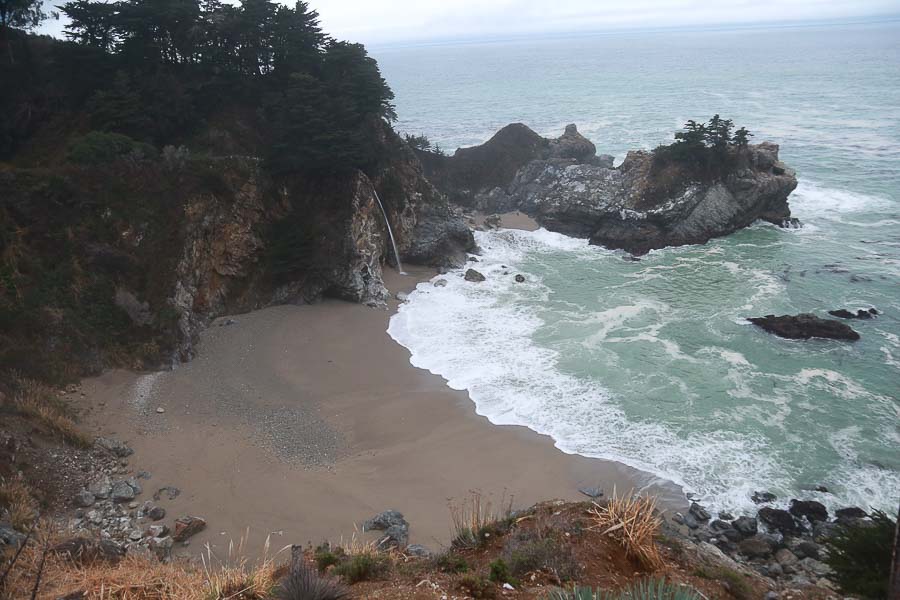 Monterey and surrounding areas
Located 2.5 hours south of San Francisco, and an integral part of anyone driving the Pacific Coast Highway route is the seaside village of Monterey. The centre of the action is Cannery Row, formerly home to a number of sardine canning factories. These have all now been turned into various museums, shops, restaurants and bars.
In the winter, the Monterey area has a mesmerising fog in the morning. If you're like us, you'll be awoken by squawking seagulls who let you know the sun is coming up whether you like it or not. Head outside and take in the freshest and coolest sea air with a wander along Cannery Row and down along the beachfront.
Fans of the TV show Big Little Lies will recognise the town and the impressive mansions that line the streets of Monterey. The town is the setting for the HBO series and scene spotting has become a popular tourist attraction in itself in recent years.
A trip south down the Pacific Coast Highway along Big Sur to is an absolute must. Whilst the thick fog can turn into a drizzle during winter, there is an air of romanticism about this time of year. We sat at McWay Falls waiting for the fog to lift in December and were treated to a surreal natural unveiling of this waterfall that runs onto the beach. Bixby Bridge is a stunning bridge at any time of year, but the crashing waves below you along the undulating coastline is a sight to behold.
When you've enjoyed the natural spectacle along this route, be sure to drop into nearby Carmel-by-the-sea. Another quaint seaside town, you might even bump into Clint Eastwood who owns a ranch here.
Jeff Miller with Our Passion For Travel
Check these best rated Trip Advisor hotels here for reviews and hotel images.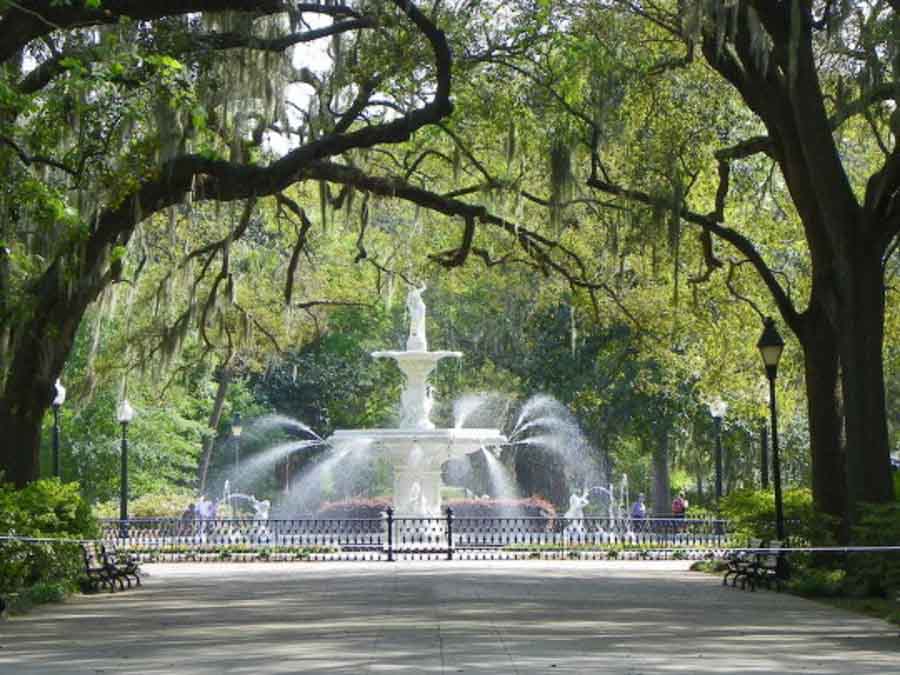 Visiting Savannah in winter
Savannah, Georgia is a richly historic, laid back Southern City with pleasant winters and no shortage of activities of every kind. In many ways, Savannah is frozen in time with its trolleys, markets, and historic architecture. All of this is, naturally, set against an iconic backdrop of Spanish moss swaying in the breeze. While I've always visited Savannah as a budget solo traveler or in a group of friends, I can imagine how much fun it would be for a couple or family, as well.
I'd start any Savannah trip with an Old Savannah Trolly Tour, which is a unique hop-on-hop-off experience between Savannah's most famous historic landmarks. Savannah is very walkable, and this fun, educational tour will help you get oriented. It also passes by several stops that, if they strike your interest, I strongly recommend visiting: John the Baptist, Juliette Low's (the founder of the Girl Scouts) Home, and the Mansion of Forsyth Park are all great.
Forsyth Park is a classic Savannah landmark known from its drapes of Spanish moss and grand fountain. It's a lovely place for a picnic, or just a stroll in a peaceful green space. A perfect day in Savannah would include exploring Forsyth Park, stopping by a few museums and historic homes, and finally having dinner in the City Market area. The City Market is full of quirky local shops, cafés, and restaurants. It is still warm enough for outdoor dining throughout most of the winter in Savannah. If you're into nightlife at all, the market has some bars and breweries that can be a lot of fun as the night goes on.
All of these experiences are enhanced in the winter, when the lack of tourists lends to Savannah's natural feeling of taking a step back in time.
Kaisa Wayrynen with Glam Granola Travel
Check these best rated Trip Advisor hotels here for reviews and hotel images.
Miami to Key West road trip
Probably the most iconic trip to do in the Southeast is the road trip from Miami to Key West and driving through all of the Florida Keys. A fun and easy day trip, I would recommending staying at a few of the islands to really absorb and enjoy the quiet and adventure experiences i each of  these fabulous locations. If you love sun, fun and exploring then the Florida Keys are a perfect way to enjoy the fantastic weather, sunny blue skies and gorgeous waters driving through the Keys. Key West at the end of the chain is historic, quirky and fun to explore from the waterfront areas, historic city attractions, fun beaches and other cool venues to enjoy and discover on the island. The food experience is also quite exceptional and you will really have a blast with fresh seafood, Florida and Pan Caribbean flavors in many dishes. Check out my post here on doing a road trip from Miami to Key West with stops along the way and things to do and see on each major island in the Keys.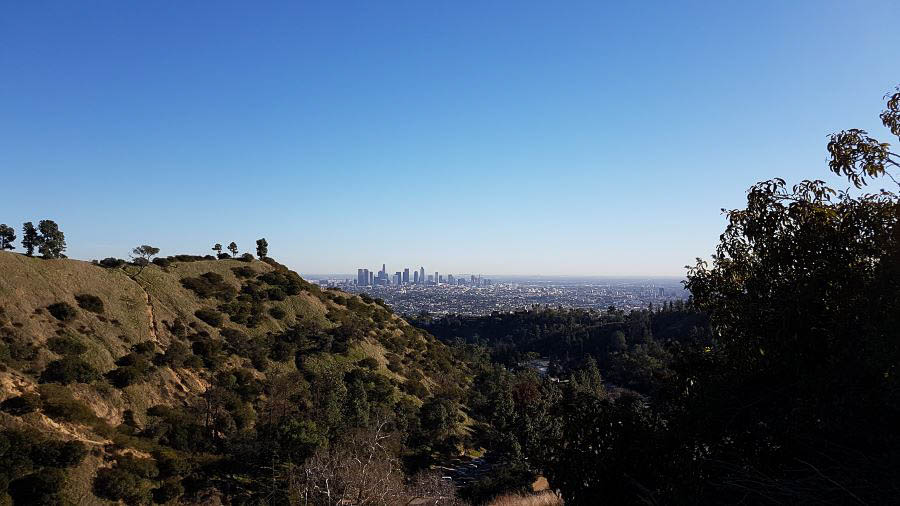 Winter visit to Los Angeles
California's most populated city, Los Angeles is blessed with a climate that makes it pleasant to visit all year round, even in the coldest month of the year it is warm enough to be comfortable getting around in t-shirt and shorts.  It also makes it a great time of year to spend a few days in LA, without having to deal with excessive heat.
Visitors may not have heard of Griffith Park, but they have doubtless seen shots of the Observatory that sits atop a hill. Bigger than New York's Central Park, it's worthwhile spending the afternoon hiking through Griffith Park to the Observatory, posing for photos with the backdrop of the landmark Hollywood sign on the way. If you time it right, you can watch the sun sinking over LA from the Observatory viewing platform, then stroll around the exhibits within the Observatory. Entry is free.
Santa Monica Pier is a LA star of multiple movie fame. You get to feel like you have escaped the busyness of the city, and the pier is home to Pacific Park and a number of old arcades and stores that give the century old pier a nostalgic feel. While the water may be a little on the cool side for a dip in winter, the pier offers picturesque views out to sea and a significantly less crowded beach.
LA is a place of fascination for any movie buff, and Universal Studios is not to be missed. Featuring shows, a studio lot tour and rides which combine virtual reality and movement for exhilarating experience, movie lovers will be enraptured. Even in winter visitors can enjoy a drenching from the water ride, drying quickly in the sun.
Holly with Globe Blogging
Check these best rated Trip Advisor hotels here for reviews and hotel images.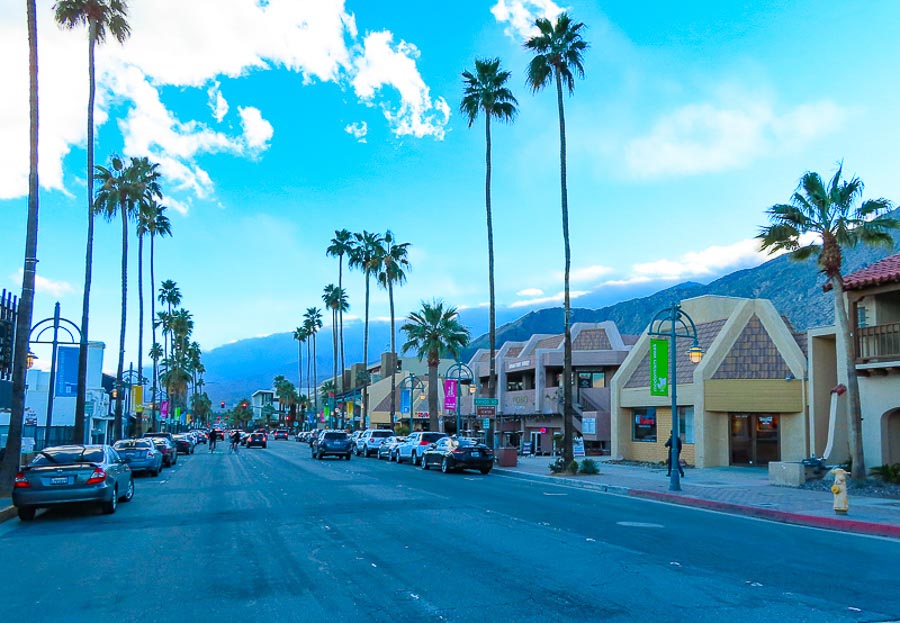 Winter getaway to Palm Springs
Palm Springs, California, is an absolutely fabulous winter getaway. Daytime temperatures are pleasant such that you can spend the days hiking and exploring the California desert around the city, and in the evenings, a light cover-up is all you need to stroll the main street. If it's snow and cold weather that appeals to you, check out one of the fabulous ski resorts within a couple hours drive of the city: in Palm Springs, you can have the best of both worlds!
A day trip to one of the California desert parks is one of the best things to do in Palm Springs. Joshua Tree National Park is about an hour away, and Anza-Borrego State Park is about 90 minutes away by road. Both parks offers spectacular scenery and a variety of hiking trails. Closer to the city, you can hike in Indian Canyons, or at the Coachella Valley Reserve, where the beauty of the Thousand Palms Oasis will leave you awe-struck.
If you love art and architecture, you have tons of choices in and around Palm Springs. Do a self-guided tour of mid-century modern architecture, or view the many public art installations in the communities of Greater Palm Springs. Tour the desert gardens in the area, and enjoy the modern art in the Palm Springs Museum of Art.
In December, as the city gears up for the holidays, you can see superb holiday lights at many area attractions, such as the Living Desert Zoo in Palm Desert, and RoboLights, which features more than 8 million lights on a one-acre plot.
With all the options available for enjoyment in and around Palm Springs, you are guaranteed to have a fabulous time!
Dhara from It's Not About the Miles
Check these best rated Trip Advisor hotels here for reviews and hotel images.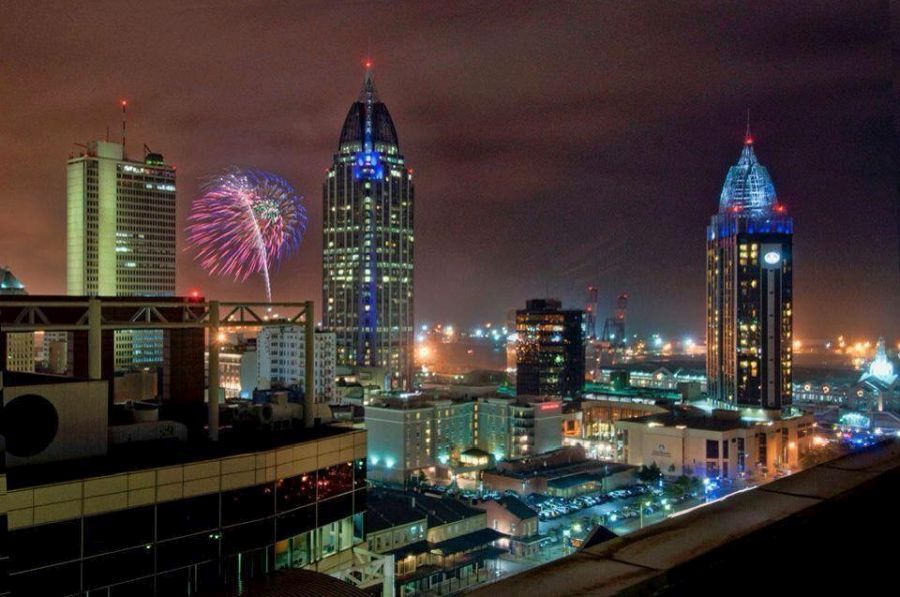 Mobile, Alabama
Mobile, Alabama is a beautiful and highly underrated city on the Gulf Coast, but in the summer it's uncomfortably hot and muggy. You'll enjoy your stay here much more if you time your visit during the winter months.
The downtown area oozes southern charm and is full of antebellum mansions and old brick buildings with wrought-iron balconies reminiscent of New Orleans. And in fact, the two cities do have many similarities.
Both were founded by the French, and Mobile was actually the original capital of French Louisiana. Mobilians will proudly tell you that their Mardi Gras celebration is the oldest one in the United States!
If you come towards the end of winter, you may be able to catch some of the parades, which run for about two weeks in the lead-up to Ash Wednesday, the first day of Lent. Depending on the date of Easter, Mardi Gras usually falls in late February or early March.
The beaches near Mobile are some of the best on the Gulf of Mexico, with long stretches of fine white sand and gentle waves that make the beaches very family friendly. While the Gulf water is too cold for swimming in winter, the beach is still a very pleasant place to be at this time of year.
Quite a few retirees from northern states choose to spend their winters in Gulf Shores, Fairhope or one of the other beach towns just outside of Mobile. Locals call these seasonal residents "snow birds", and they have become an integral part of the community and the economy.
Wendy with the Nomadic Vegan
Check these best rated Trip Advisor hotels here for reviews and hotel images.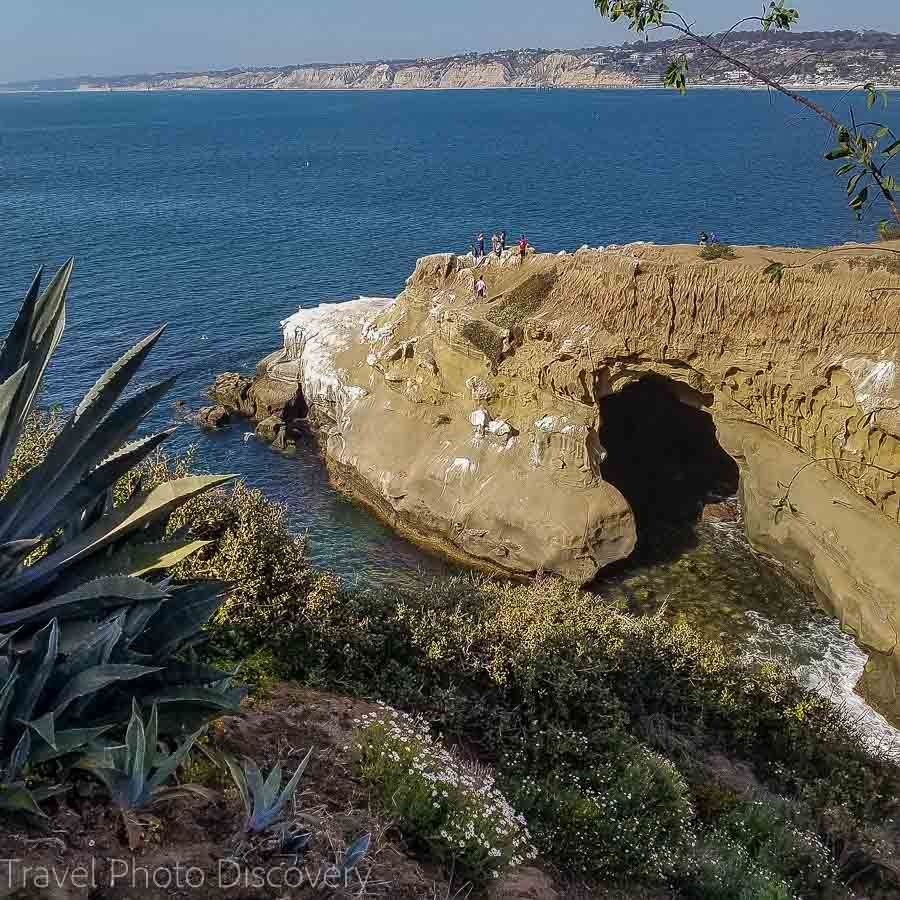 Sunny San Diego in Winter time
Although you may not believe it, San Diego is one of the best winter destinations! It may not get snow, in fact some winters it is even warm enough to lay out at the beach. Despite the weather not being cold, the Christmas season is still in full swing during December in San Diego.
San Diego likes to deck their streets out in Christmas lights each night. One of the most spectacular places you should check out would be Christmas Card Lane. A whole neighborhood rallies together to create a Christmas feel. Each house is decorated with thousands of lights and giant Christmas cards in their front yards. The residents supply hot cocoa, popcorn, Christmas cookies and lots more snacks as you walk by.
Another "must visit" experience would be the December nights in Balboa Park. This event occurs each year and has become the talk of the town. It only occurs one weekend in December, so make sure to plan around it. This is a free holiday festival for all ages to enjoy. Come watch a Christmas show, make a Christmas craft, buy your loved one a gift, or fill up on delicious food. Don't forget to take a picture in front of the giant Christmas tree!
So, come celebrate your Christmas in one of America's finest cities. Trust me you won't be disappointed!
Check out Chelsea's blog at Explore With Me
Check these best rated Trip Advisor hotels here for reviews and hotel images.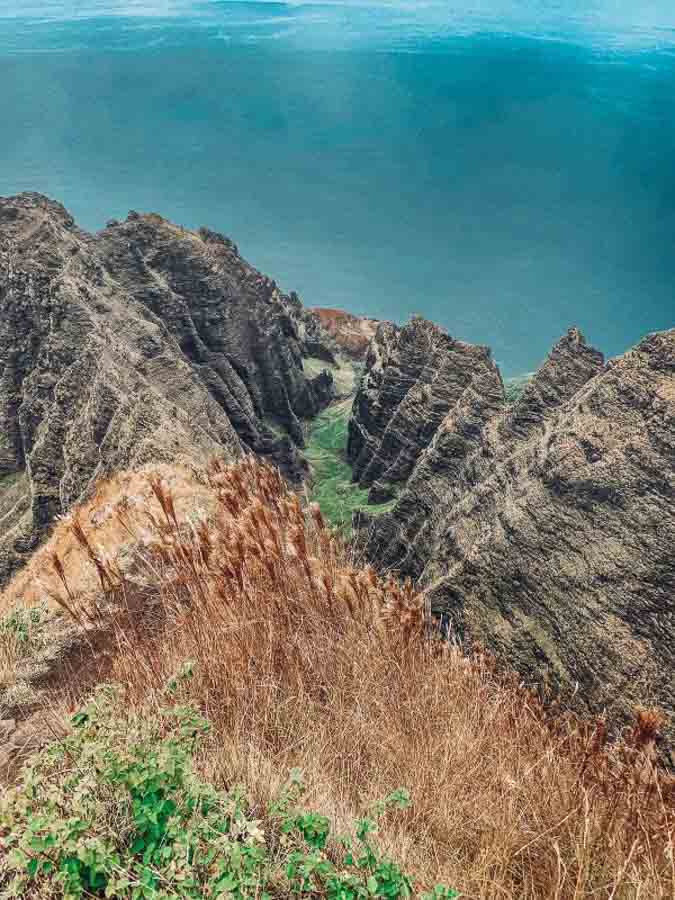 Warm Kauai in Winter
Kauai is an absolutely IDEAL winter destination for anyone and everyone. This is one of the most remote Hawaiian destinations and is known for all of the outdoor adventure on the island, but it can also be a relaxing paradise if that is what you are looking for!
The absolute best destination in all of Kauai is the Na Pali Coast. If you recognize this place, it is from the opening scene to Jurassic Park! The Na Pali Coast is one of the most visually stunning places on the planet, everyone needs to see it in person at least once. Options for seeing the coast include hikes such as the Awa'awapuhi Trail or a boat excursion the brings you along the coast.
Another excellent Kauai destination is the Waimea Black Sand Beach. Have you ever seen a black sand beach? It is incredible! Walking on a black sand beach feels unique and there aren't many that exist, so make Waimea Black Sand Beach a stop on your adventure.
Finally, you HAVE to go snorkeling in the ocean around Kauai. Green Sea Turtles are everywhere around the island (there is even a place called Turtle Cave on the North side…) and are absolutely wonderful to see in their natural habitat! In addition, the water around Kauai is incredibly clear, so you can explore the coral and see colorful fish you won't be able to see elsewhere!
Check out Julie's post on visiting Kauai
Check these best rated Trip Advisor hotels here for reviews and hotel images.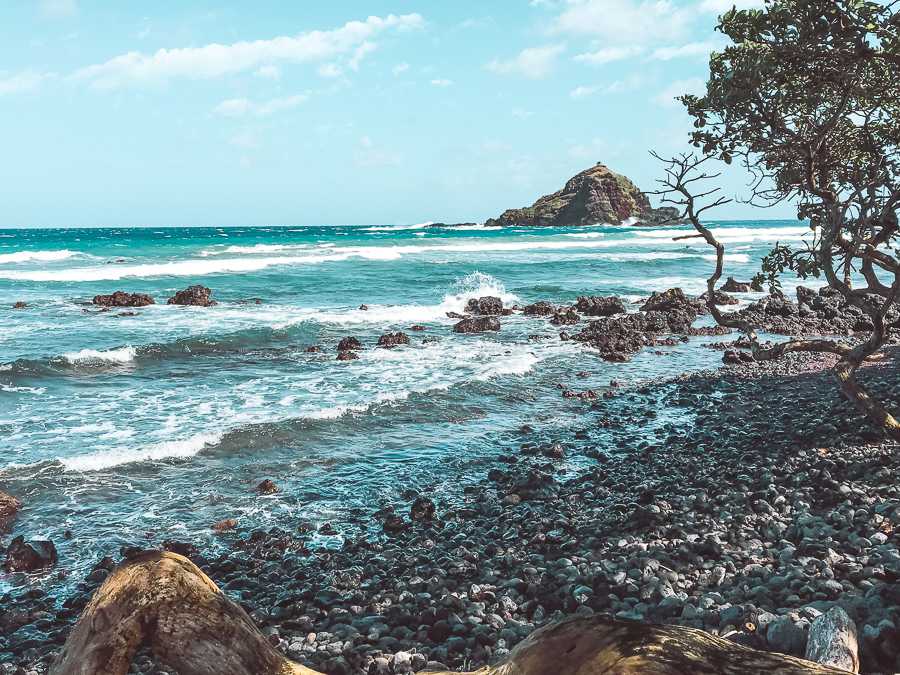 A Maui Winter vacation
A trip to the Hawaiian island of Maui is the perfect way to escape the cold winter weather.  Maui is known for its exotic beauty, with the shadow of dormant volcanoes in one direction and views of the Pacific in the other.
There is so much one can do during a trip to Maui, it's impossible to leave not wanting more.  First and foremost, this is a huge beach destination, so a couple afternoons should be spent lounging at beaches like Kaanapali in the north and Wailea to the south.  Both are lined with resorts where you can stay for easy waterfront access.
Another must-do on a trip to Maui is an evening Luau.  Although these are meant purely for tourists to enjoy, they are a lot of fun with great entertainment and a real underground pig roast.  Luaus are also a great way to learn about Hawaiian culture and folklore with the stories the hula dancers tell through their performances.
Finally, the grand finale of your trip must be a drive down the road to Hana.  Set out early to beat the crowds, and enjoy wild waves smashing against the coastline, waterfalls, black sand beaches, and beautiful hiking paths.  It cannot be put into words how magnificent this driving route is, and it's something that every visitor to Maui must experience.
If you seek a winter escape where you can combine relaxation with culture and adventure, then a winter trip to Maui will give you everything you need.
Theresa, Fueled By Wanderlust
Check these best rated Trip Advisor hotels here for reviews and hotel images.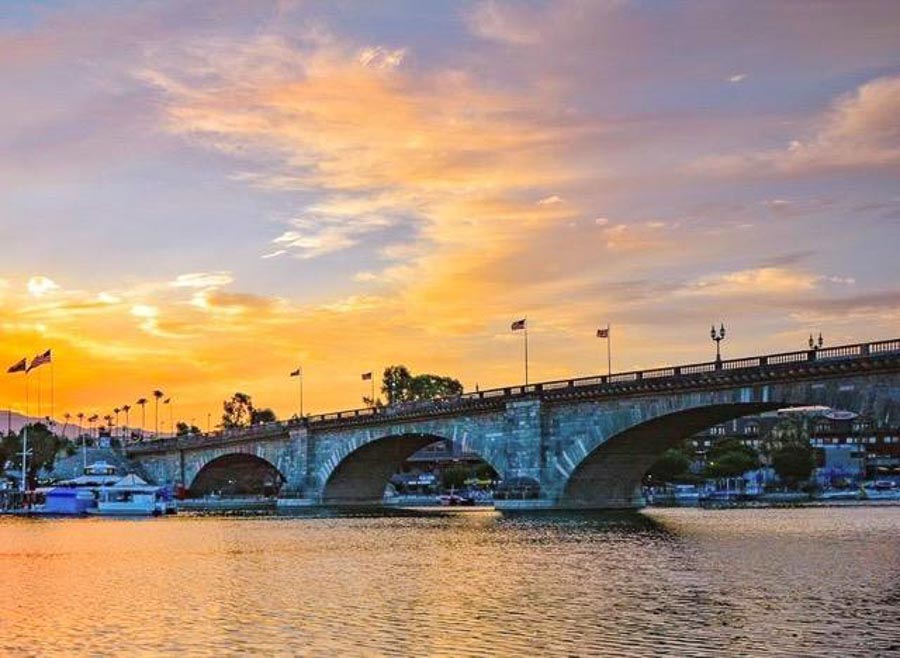 Visiting Lake Havasu in winter
Endless sunshine, warm temperatures, and a big shining lake in the heart of the Mojave Desert. This is Lake Havasu City, Arizona, a town that embraces warm and sunny winters with outdoor activities and special events all through the season. Because of its beautiful winter weather, Lake Havasu City is a top destination for Snowbirds — senior citizens who escape the cold each winter to this sprawling city in the desert, but you don't have to be a Snowbird to enjoy Lake Havasu. It's also a great vacation destination for families, hikers, anglers, and boat enthusiasts.
Lake Havasu City's shining jewel is, of course, Lake Havasu, a man-made reservoir formed by the Parker Dam on the Colorado River. Lake Havasu is 26.3 miles long and 2.85 miles wide at its widest point. It is known for recreational fishing and boating, and numerous fishing tournaments are held on the lake each year. Lake Havasu is surrounded by a rugged, mountainous wilderness that is perfect for hiking, mountain biking, and off-roading. The lake's most famous feature is the London Bridge, bought from London in the 1960s for $2,460, and reassembled brick-by-brick in Lake Havasu City.
Winter is peak tourist season in Lake Havasu City, so there is always something going on. Highlights include the Lake Havasu Balloon Festival and Fair, the Winterfest Street Festival, and the Festival of Lights, an annual event featuring more than 500,000 lights reflecting on the water around the London Bridge.
Hiking trails around Lake Havasu are varied, but most feature stunning views of the turquoise lake and lots of wildlife-viewing opportunities. Favorites hikes include the 5-mile loop Crack in the Wall trail through slot canyons at SARA Park and the 7.5-mile Dead Burro Canyon Trail through the desert. Boat rentals – from kayaks and canoes to pontoons and houseboats are available to rent if getting out on the water is a priority.
Check out Tara's post on visiting areas outside Lake Havasu with Backroad Ramblers
Check these best rated Trip Advisor hotels here for reviews and hotel images.
Pin this for later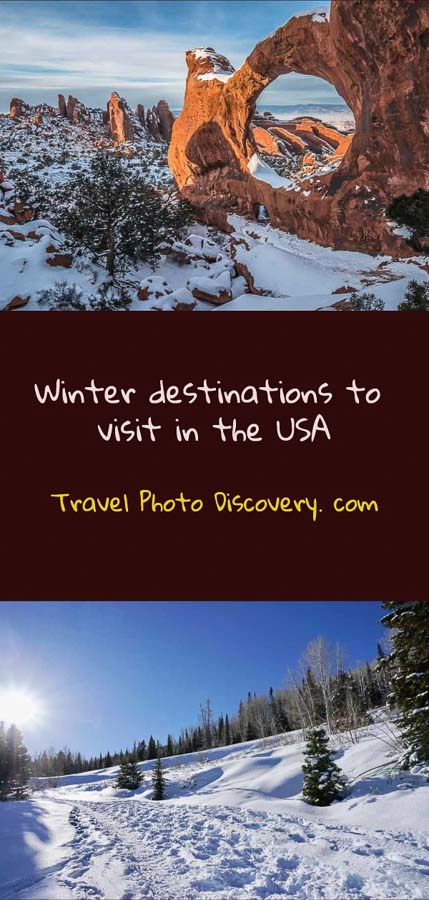 Thanks for visiting today and checking out this post on Winter vacations in the USA. I hope you are inspired to plan a visit and enjoy these wonderful attractions. If you enjoyed the images and post, could you please share it with any of the social media buttons located around the post.
If you like what you see, come and check out my other social media channels for more updates, including Instagram, Pinterest and Twitter
Some links in this article on Winter vacations in the USA are affiliates which provide a small commission to support this site at no extra cost to you. Thank you for reading, and happy travels