San Francisco is a pretty cool city – there is so much going on in terms of art, history, culture and architecture. Tourists and locals alike enjoy the amazing food culture and cuisine, diverse ethnic flavors, fun neighborhoods to hang out in and surprisingly lots of parks, open spaces and stunning nature views to photograph. It is easy to see that when you visit San Francisco, there is something for everyone to do in the city. There are so many San Francisco attractions to serve every desire and interest in a cosmopolitan environment. San Francisco is also full of fun and quirky areas or activities to make things interesting for your visit to the city.
I grew up in the Bay Area and lived San Francisco for many decades and come back regularly to visit my favorite neighborhoods, foodie hangouts and get my culture fix when I'm in town. So do you want to know what I like to see and do when I am visiting?
What to do in San Francisco
Clarion Alley in the Mission
One of the fun things to do in San Francisco is to visit the small alleyway called Clarion Alley between 17th and 18th street off Valencia street. The alley is filled with spectacular graffiti and street art that changes on a regular basis. Beautiful imagery and some not so beautiful, yet more graphic portray various topics and street life in this sunny and electic neighborhood called the Mission. The graffiti and street art changes regularly so it's fun to visit on a regular basis to see what is new in the alleyway.
Here is a recent post with more images that I included about Clarion Alley.
Filbert Steps in North Beach
The Filbert Steps is one of those hidden back streets of San Francisco, well more like stairs that start from the base of a hill that leads all the way up to the base of the Coit Tower, one of the most well-known landmarks in the city. The stairs and secret gardens, make this a wonderful place to enjoy some beautiful views, old Victorian homes and peek into some gorgeous public and private gardens that abuts the stairs and walkways.
I just finished a nice photo essay on the steps, you can take a look at the post here.
16th Avenue Steps out in the Sunset district
Something to put on your San Francisco sightseeing must do's is to check out the 16th Avenue steps located in the Sunset district. This long staircase is so beautiful with stunning art mosaic themed sections depicting the stars and constellation, the sunrise, tropical underworld and marine life and beautiful jungles and gardens. You will practically want to climb the staircase and you will be rewarded with a nice view of the sunset all the way to Ocean beach. The gardens are also beautiful during the spring to fall time frame so try to time your visit to see the gardens in bloom.
To see more gorgeous pictures and a photo essay of these steps, check out my post here.
Moscone Center downtown San Francisco
In the heart of downtown San Francisco is an urban redevelopment zone called Moscone Center which has been a very popular spot for locals and tourists to enjoy some outdoor grass, seating areas and beautiful plazas with wonderful views of the downtown skyline. Moscone Center combines the largest underground conference centers with public parks, museums, water features, shopping and food venues along with a performance art center and children's park and center. A very successful urban project, it is also a wonderful place to meet or relax and enjoy a day outdoors.
Check out my recent post and pictures of Moscone Center here.
Not surprising, this is also one of the San Francisco romantic places to hang and enjoy the views of the city.
North Beach & Greenwich Steps
North Beach or Little Italy from Broadway is definitely one of the fu places to visit in the city. With the busy thoroughfare called Columbus street to explore, North Beach is one of the liveliest and colorful areas to visit with an amazing history. Columbus street is lined with so many wonderful Italian focused eateries, trattorias, bakeries and other cool shops. If you climb up Greenwich you come across Coit tower with magnificent views of the San Francisco skyline and bay. On the other side of Greenwich going downhill is the really cool neighborhood, gardens and stairs of Greenwich is a cool area to explore with more views of the bay.
Here's a post I did recently of highlights to North Beach and some more pictures of the area up in Coit tower and the Greenwich steps that you can explore
Museum night, Academy of Sciences
A museum night for adults is a totally different and fun experience especially at the Academy of Sciences in Golden Gate park on Thursday nights. This popular venue has a rotating theme every week that varies from foodie nights and chef talks, to dance performances and many art focused activities. Check out the museums website to find out more about the weekly events that happen every Thursday here.
To see more images and information about museum night, check out this post I wrote recently on the museum.
Visit Balmy Alley in the Mission District
Balmy Alley off 24th Street and many parts of the neighborhood are filled with amazing street art and graffiti. There seems to be more acceptance of graffiti in the neighborhood if it is caliber work from local artisans,  many stores even include street art on their front facades to attract more business.
The exciting thing about Mission street art is the pure graphic and saturated colors that are used in each artist's palate, creating vivid imagery and stunning visuals. The colors are shocking, contrasting and vibrant – it grabs your immediate attention to look and focus on the subject and enjoy the wild and fresh visuals. If your into art and street art in general. one of the best things to do in San Francisco would include a visit to Balmy Alley.
To see more cool images and information about Balmy street,  check out my current post here.
Embarcadero Ferry Plaza farmers market
The mecca of farmers markets in San Francisco is held outside in front of the Embarcadero ferry terminal three times weekly, with the largest market taking place on Saturdays. The Ferry Plaza farmers market is widely acclaimed for providing the freshest and largest variety of produce straight from the farms, artisanal products and finished brands along with other certified organic products.  As a certified California farmers market, the Ferry Plaza farmers market upholds a high standard while promoting sustainable, local production and distribution of these raw and finished products. It's definitely a foodie hangout and attracts top local chefs and fussy buyers to support well-known artisanal and farm products grown or made locally.
To see more magnificent photographs and details of this popular farmers market and food haven, take a look at my post here.
Hiking the coastal trails in San Francisco
Surprisingly, San Francisco has gorgeous coastal trails with some of the best beaches in California to visit below and enjoy exploring the coastline trails, beaches and gorgeous scenery.
For a congested metropolitan, San Francisco has an abundant source of green belts, parks and coastal areas that are left natural and preserved for the public to enjoy. One of these special areas include the Golden Gate park recreational area the covers most of the coastal trails and areas of the city and interior bay front areas. You can hike to some magnificent beaches below and almost touch the base of the Golden Gate bridge here at Marshall beach. The views are stunning and the walks are beautiful, but don't try to swim in the really cold waters with extremely rough surf below.
For more pictures and details, check out my recent post on Marshall beach here. 
Killer views around the hills of San Francisco
San Francisco, can you get any bad shots of this amazing city? It doesn't seem likely with postcard views from every angle along the many hillsides, coastline or bay front offering dynamic views of San Francisco and the entire Bay Area.
There is no shortage of scenic spots around the city with some incredible view to enjoy and photograph. Sometimes the best part of seeing something spectacular around the city is when you discover these views just by accident. Even scenic vistas looking into the city from a close distance like Treasure island, will present San Francisco at its best with a panoramic skyline, iconic city attractions and its stunning bay front. Most of the best views are up in the surrounding coastal hills of San Francisco, get up to any of the open areas or parks along the city's hills and you will be rewarded with magnificent views of the city and the entire Bay Area.
Check out a post I did on some of the wonderful places to find killer views of the city here.
Visit Treasure Island in San Francisco Bay
There's nothing like visiting an island in the middle of San Francisco bay like Treasure Island. The panoramic skyline views are amazing and you can see views of the three main bridges spanning different  parts of the Bay. The once a month collectibles flea market is a very popular and fun venue with fantastic foodie truck spots all along the market – it's a great combination of finding treasures and enjoying some delicious fare from local specialty truck vendors. On a perfect day you can see 360 degrees from every point on the island across different parts of the bay.
Take a look at more pictures and details from my post of Treasure Island here.
Sutro Baths and Lands End
Facing Ocean beach and the wide expanse of the Pacific Ocean the ruins at Sutro Baths hand Lands End with the delightful new visitor center marking the Golden Gate recreation park is a wonderful place to explore. The remains of Sutro Baths, a popular Victorian bathing/entertainment center is long gone, but the foundation cool trails and tunnels below the Cliff House are fun to explore, along with lovely views of the rugged coastline. The wonderful and easy trails leading to Lands End and all the way to the Golden Gate bridge offer stunning views of the coastline,  the Marin headlands and the iconic bridge.
For more images and details to the area, check out my recent post here.
Vintage and Flea shopping in San Francisco
Outside of the many specialty boutiques in the city selling vintage and antique collectibles, there are popular antique markets in San Francisco and close by worth checking out when you are in town. The first is the Alemany flea market on Wednesday and Sunday mornings which is combined with a farmers market for local produce, meats and seafood along with prepared foods.
Just outside of the city is the monthly vintage market at Treasure Island which is also combined with food trucks with an excellent view of the entire city, I did a post of Treasure Island here if you would like to check it out.
The largest antique and collectibles market is located just across the bay in Alameda for their monthly flea markets that are held on the first Sunday of every month. For more information on the Alameda flea market, you can check out their main website here
.
Explore the gardens at Golden Gate Park
The area around Golden Gate park is a treasure trove of wonderful museums, conservatories, playgrounds and of course a variety of local and exotic gardens covering many facets of landscape and garden design. There are many specialty gardens around the park that bloom seasonally and at certain times of the year. I just did a post of some of my favorite gardens to visit around the park and you can enjoy some of my photographs and information about these gardens here.
If you enjoyed this, please pin it!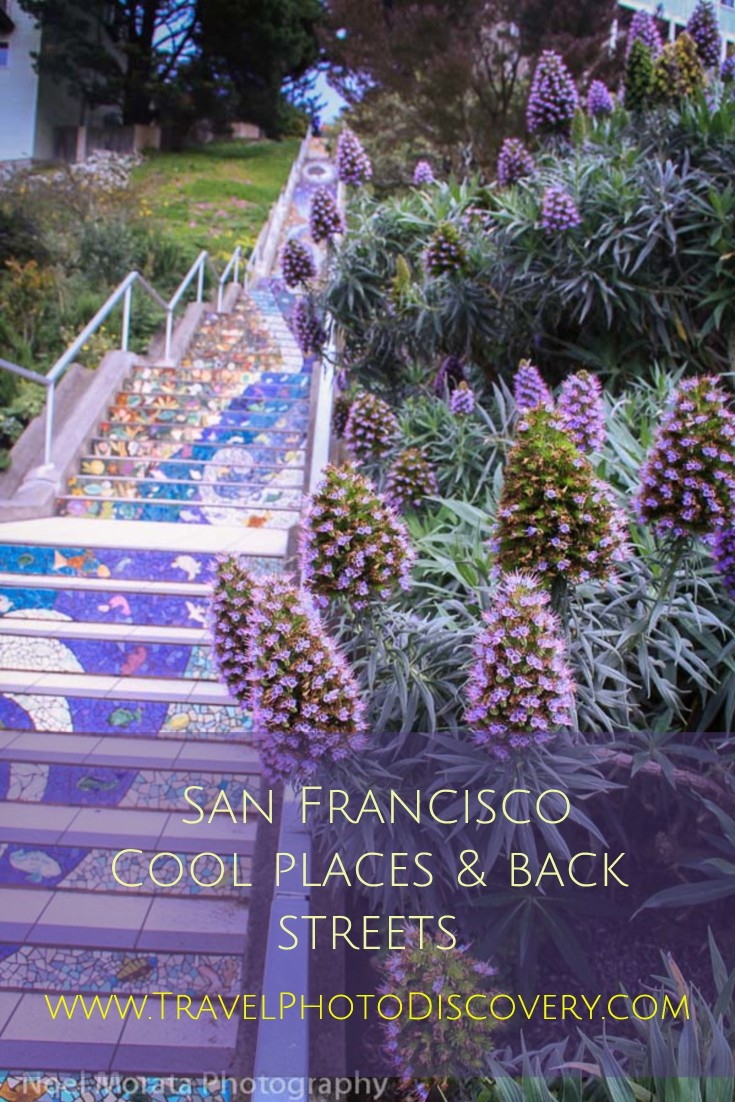 What do you think, San Francisco is pretty cool right? I hope that you enjoyed seeing some cool places to visit in San Francisco. Hopefully you might get a chance to visit any of the cool places that make this city so wonderful and worth visiting. If you enjoyed the post, please do share it with the social media buttons on the post, thanks.
If you like what you see, come and check out my other social media channels for more updates, including Instagram, Pinterest and Twitter