San Francisco, can you get any bad shots of this amazing city? It doesn't seem likely with postcard views from every angle along the many hillsides, coastline or bay front offering dynamic views of San Francisco and the entire Bay Area. There is no shortage of scenic spots around the city with some incredible view to enjoy and photograph. Sometimes the best part of seeing something spectacular around the city is when you discover these views just by accident. But if you really want to get the best views to take a picture in San Francisco you have to go to these scenic spots and get your cameras ready to capture some of those amazing photos. Check out these best views to take a picture of San Francisco for inspiration on where to go and capture the best shots on your visit.
Where to find the Killer views around San Francisco?
Even scenic vistas looking into the city from a close distance like Treasure island, will present San Francisco at its best with a panoramic skyline, iconic city attractions and its stunning bay front. Below is a shot from Treasure island from the Bay Bridge looking into downtown San Francisco and a scenic bay front view from the Treasure Island. Check out these inspiring places to visit around the city for those amazing views of the city and the best attractions around San Francisco to visit now.
Capture San Francisco from Treasure island looking out to the bridge and into the city
The best San Francisco panoramas and unique vista points
Nothing beats climbing up one of the city's many hills for the views. Photographing the city from any of the scenic hillsides on Twin Peaks, Bernal or Corona heights or even from Dolores park will offer breath-taking panoramas of the entire city. You're bound to get postcard perfect views and gorgeous captures (except on foggy days) when you explore any of the hill-top vista points in the city.
Spend some time enjoying the views first when you arrive, and then scout the area and frame the shots that you want to highlight. A little time spent working on your composition, angles and camera technique will guarantee better results. When you take the time to enjoy and see all the details around the landscape, you'll have a better overall experience and this usually translates into a better photograph that tells its own complete story.
If you're visiting Lombard street known as the zig zag road of San Francisco, the views to the neighborhood are beautiful along with the ride down this iconic street.
Looking down from Twin peaks and Dolores park areas
Best Sunrise or Sunsets in San Francisco
Preparing early for sunrise or sunset photography can lead to exquisite and dramatic images, it's worth the effort in getting to a scene ahead of time.  Researching and planning ahead for ideal places that capture the 'golden hour' with beautiful light is always the ideal situation.
On a clear day, sunrises forming directly east and behind the city skyline creates a dazzling and golden light illuminating the entire city. Sunsets overlooking the Golden Gate bridge, or the coastal areas around Lands End to Ocean beach affords gorgeous views during the twilight hours.
The result of spending some time in the right place during the golden hour with iconic landmarks, cityscapes or panorama are definitely worth the effort in arriving ahead of schedule. Below are examples of sunrise and sunset shots in various locations around the city.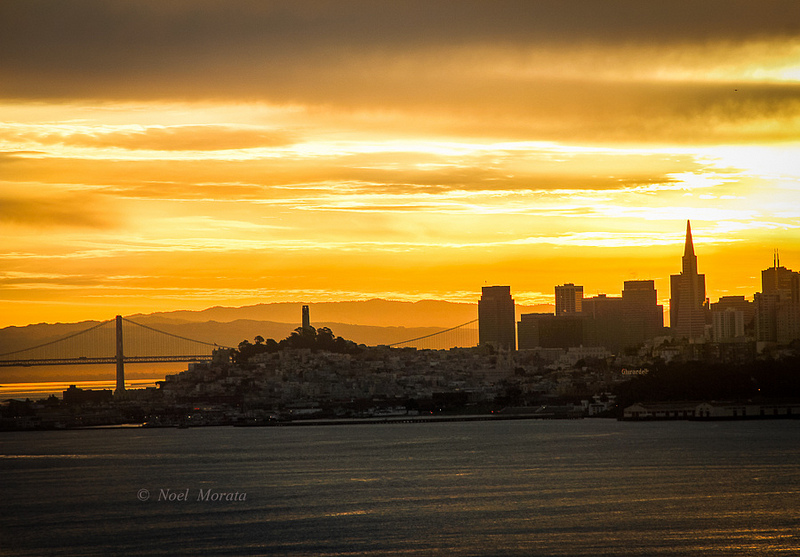 Find those San Francisco bridge views
What's a shot of San Francisco without one of its iconic bridges included into the mix? You can't go wrong with any shots with the Golden Gate or Bay Bridge with skyline views of the city, the challenge is in trying to create a unique  or different approach with your own perspective and presentation.
Maybe capturing an image of the bridges during sunrise or sunset will convey a different mood to the city that you may want to express in your photographs. Sunset is a magical timeframe to be outside and walk along the city's bay front area to capture some magical shots. Here's a photo below of the Golden Gate bridge at Crissy Fields in the Marina district.
If your a German visitor, check out more details of the Golden Gate bridge here for more details.
If you enjoyed this post, please do check out these other posts on visiting San Francisco
Places to eat in San Francisco
20 quirky, fun and trendy places to visit in San Francisco
San Francisco views from above
The cool stairs of San Francisco
Fun and unusual things to do in San Francisco
Cool graffiti at Clarion Alley
Exploring North Beach and the Greenwich steps
20 quirky and fun places to explore in San Francisco
Best views to photograph in San Francisco
Do you have any other ideas or places to take an incredible shot of San Francisco or the Bay Area? Please share with us in the comment section below.
Best places to photograph series
If you enjoyed this post, please check out my other best places to photograph series from around the world.
Best places to photograph Budapest, Hungary
Best Places to photograph in Sedona, Arizona
Best places for views and photograph Tokyo, Japan
Best places to visit and photograph Girona, Spain
The most photo worthy spots in Split, Croatia
Conclusion on the best places to photograph San Francisco
It seems like the city has no bad places to take a photograph especially when you see it from different angles and directions. All the iconic vistas are easy to spot along the city's amazing skyline when you take it from a distance or with panorama shots.  Where to find inspiration? Try one of the many vista points of the city, on a hill, in a skyscrapers, or even along the bay front with magnificent views of the city and bay front. You'll always be inspired if you take a little effort to visit the city and look at it from different vantage points, experiment, or use different camera techniques. The killer views will always be there for you to worth your magic!
If you enjoyed this post on San Francisco – best views to take a picture, please subscribe below and also share the post with any of the social media buttons surrounding the post, thank you.