Experience these Spring break US destinations now
Spring time is just around the corner in the USA with people itching to be outdoors and enjoying nature, adventure activities or even a short road trip to someplace new. I've asked a few travel bloggers and journalist to share some of their favorite spring break US destinations and these are some of the most inspiring places to visit in spring. Check out these wonderful spring time destinations around the USA and hopefully you can go visit many of places soon!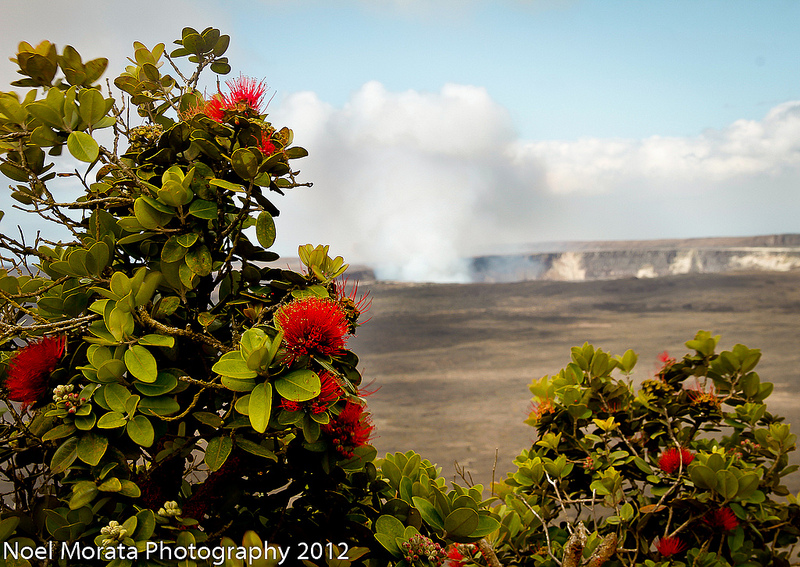 Where to enjoy spring break getaways US getaways
Well the choice is the limit in the USA and depending on what is close by and your budget for a quick spring getaway. Whether you want to explore in your region or go somewhere new and exciting in the United States, the choices are unlimited below and hopefully will inspire you to plan a travel experience soon.
Central USA spring break destinations
The Central USA regions for spring time are just gorgeous with fantastic national and state parks, outdoors landscapes that are amazing to explore and day trips that will inspire you to be outside. Check out all these wonderful places to visit in spring time soon.

Northern Minnesota in Spring
There's a lot more to northern Minnesota's Itasca State Park than the headwaters of the Mississippi River. Itasca State Park has a history you'll learn as you cover its considerable wilderness. Probably most important is that it still has a lot of wilderness, thanks to the early reservation of the park lands and the prohibition of logging. The importance of the act establishing the first state park in Minnesota is driven home by one map you'll see on Wilderness Drive that shows that Minnesota was once nearly covered with old growth forests, but the only ones that remain in the state are at Itasca State Park and in Voyageurs National Park. Spend some time at the headwaters, where you can actually walk across the incipient river. But from there, be sure to take the Wilderness Drive. Either by car or bike, you can make a 10-mile loop through a good portion of the remaining old growth forest. Along the drive, there are several spots where you can park and take a hike through the forest. Definitely worth the walk are the Landmark and Blowdown Trails, which are right across the road from each other. In both, you'll get an up-close view of the forest in its many states. You'll see areas that were once logged, and how they've regrown. For example, on the Blowdown Trail you'll see areas that lost all their biggest trees to wind. If you pay attention to the signs along the trail, you'll learn a lot about the life cycles of a forest. If you're going in Spring, be sure to check snow conditions at the Minnesota State Parks website and be sure the ice has gone out on the lake. Otherwise, you'll be in for a bit of Minnesota's late winter conditions. Tom with MN Trips Looking for hotels in the area? Check out these highly rated TripAdvisor hotels here in the area for the best prices and availability.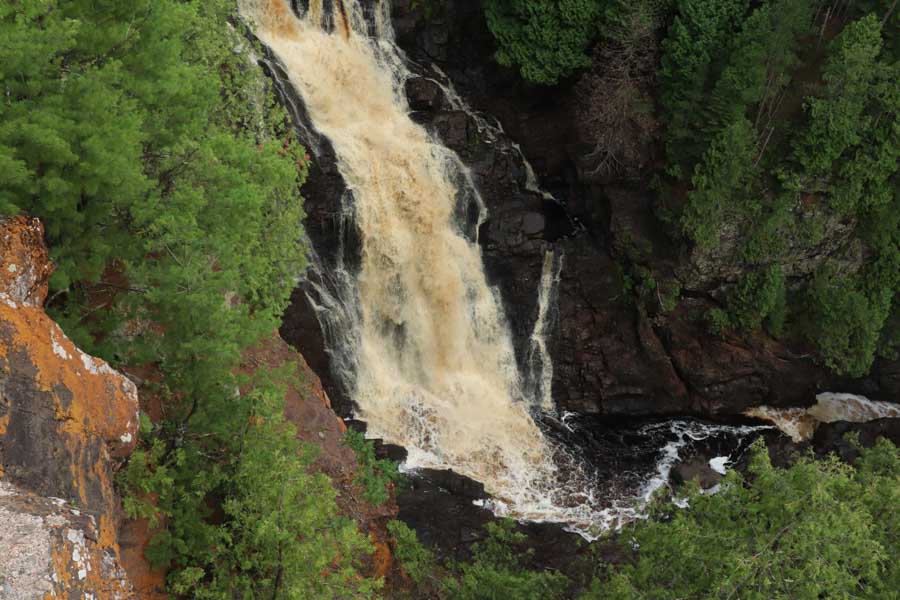 St Louis, Missouri is a great place for a spring weekend getaway
St Louis is home to some amazing places. First the St. Louis Gateway Arch and Nation Park, which has gone through some extensive renovations in the last few years. The renovations have improved the visitor experience extensively. A visit to the Gateway Arch National Park can be an entire day's adventure. The newly landscaped park surrounding the Arch is warm and inviting and beautifully. Great for strolling, biking, or enjoying the water view. In addition to taking the tram to the top of the Arch, there is a museum, a movie and a souvenir shop located at the base of the arch. Within the park a visit to the Old Courthouse (free), a helicopter ride and a riverboat cruise are all available to visitors. After a long day at the Gateway National Park, The Union Station Hotel is the perfect place to stay. Union Station Hotel is only a few blocks from the Gateway Arch. The Union Station Hotel is home to the New St Louis Aquarium at Union Station. Gary and Michelle with Our Laptop Lives  
Looking for hotels in the area? Check out these highly rated TripAdvisor hotels here in the area for the best prices and availability.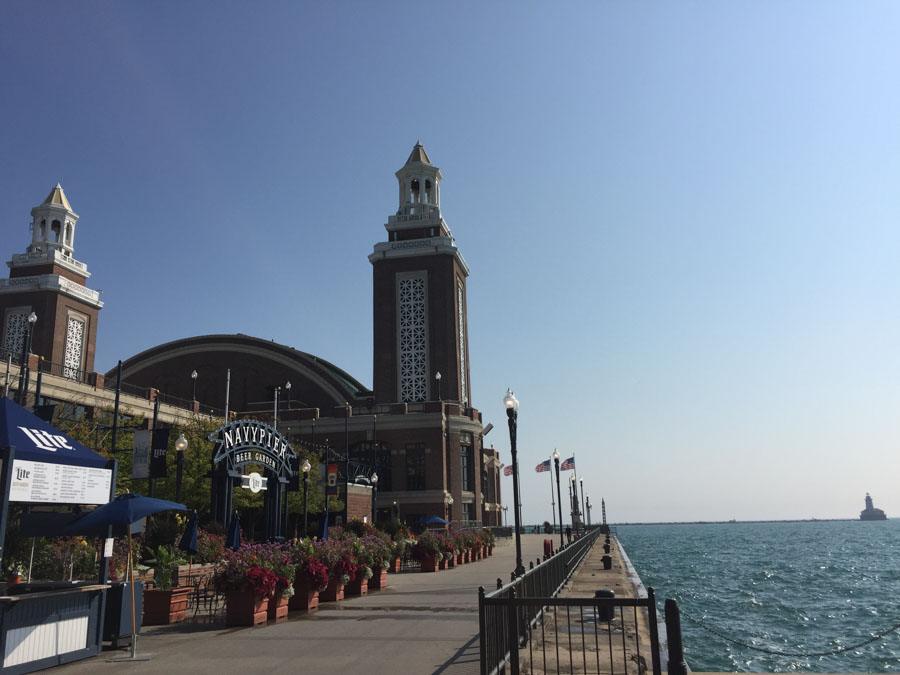 Chicago – Lake Michigan Waterfront & Navy Pier
Traveling to Chicago, IL all year round is a good idea, but especially in spring, visitors to the Windy City can expect a very special atmosphere. The metropolis in the Midwest and the third largest city in the USA impresses with its versatility. In just a few minutes you can drive, cycle or walk from the impressively deep high-rise canyons around the Willis Tower to the green shores of Lake Michigan. In the extensive parks such as Millennium Park and East Lake Shore Park, you can easily relax from the hustle and bustle of the city! Tired of crowded streets and skyscrapers? Then off to Lake Michigan! Past the famous Cloud Gate, "The Bean", it only takes about 30 minutes to walk to a real highlight: Don't miss out on Navy Pier, Chicago's number 1 destination on the shores of Lake Michigan. The pier is a whole kilometer long and was built in 1916. For years it served as a loading station for shipping goods on the Great Lakes and a landing stage for tourist excursions. Today, Navy Pier is Chicago's biggest attraction for travelers. Here you will find countless restaurants and stalls, an IMAX cinema and the "Centennial Wheel", a 47.5 meter high ferris wheel. From the closed gondolas you have a great view over the city and the shores of Lake Michigan. For younger guests there are a number of playgrounds, the Chicago Children's Museum, carousels and other attractions on Navy Pier. With the mostly mild weather, Chicago is a great springtime excursion destination in the USA. Explored by Phil from JOURNICATION Travel Blog  
Looking for hotels in the area? Check out these highly rated TripAdvisor hotels here in the area for the best prices and availability.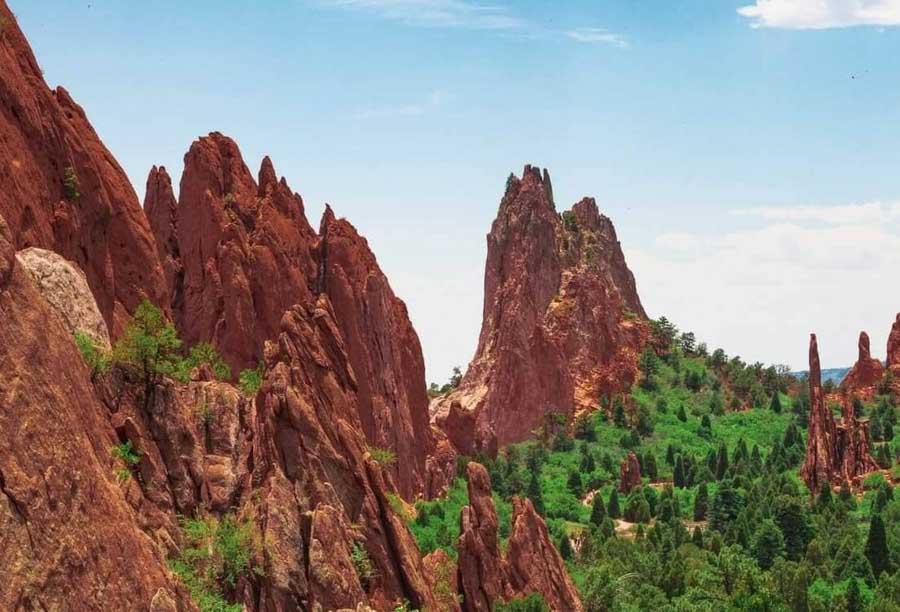 Colorado Springs in springtime
Colorado Springs is the ideal nature-oriented destination to visit during the springtime. Adventurers from around the United States flock to this scenic destination to explore the city's breathtaking Rocky Mountains and awe-inspiring views of the unique landscape. With most of the tourism reaching Colorado Springs in the heat of summer, very few get to experience the magical transformation of the area's vast wilderness in the spring. As the winter snow melts and uncovers millions of native plants, the local animals slowly awaken from their deep slumber. Between the waterfalls, soaring mountains, and deep gorges, you will find plenty of ways to have fun in the great outdoors of Colorado Springs. Discover towering red rock formations by hiking through the astounding Garden of the Gods park. With this natural landmark offering over 400 acres of incredibly scenic land, you will want to check out the less-traveled Palmer Trail when planning your hiking excursion at the Garden of the Gods. For a more challenging and intense hike, head over to the nearby Manitou Incline. With more than 2,000 feet gained in elevation in a little less than a mile, Olympians from around the nation train on this scenic path to push their endurance and lung capacities to the limit. Finally, make sure to visit "America's Mountain" – Pikes Peak. Overlooking Colorado Springs from over 8,000 feet, this peak is not something you want to miss. There are multiple ways to reach the summit by either completing a scenic hike, driving your car, taking a complimentary shuttle, or catching a ride on the Pikes Peak Cog Railway. The best way to avoid crowds when visiting Colorado Springs is by waking up early and being one of the first groups at your must-see attractions. If you arrive early enough, you may even get the chance to watch one of Colorado's colorful sunrises slowly drape across the valley. Elle with Ellie's Travel Tips https://elliestraveltips.com
Looking for hotels in the area? Check out these highly rated TripAdvisor hotels here in the area for the best prices and availability.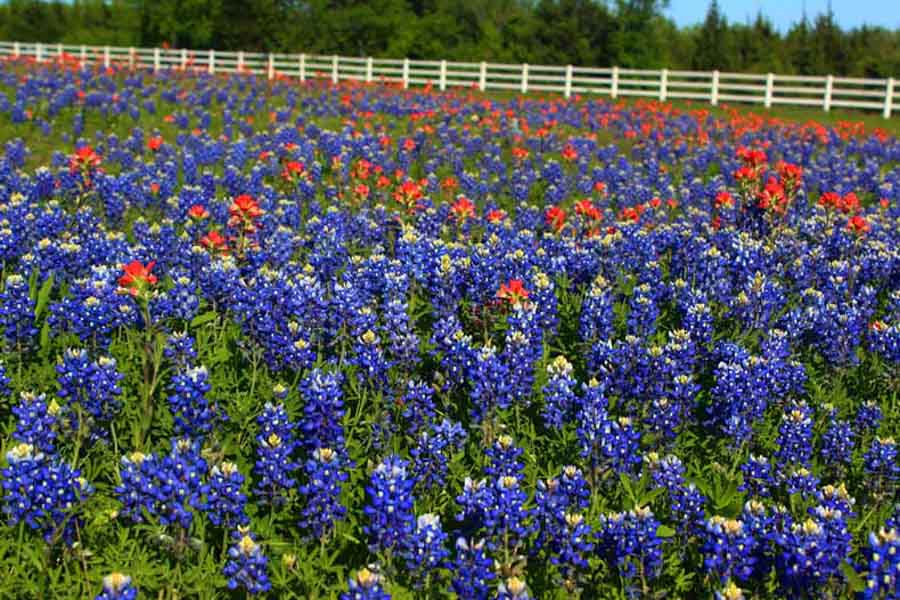 Texas wildflower season
If you're looking to get outdoors and enjoy beautiful weather and nature in bloom, look no further than Texas for your springtime destination in the United States. Spring temperatures in Texas are great for hiking and dining outdoors. But the Lone Star State offers visitors a special treat in spring that can't be found anywhere else in the United States. From early March through early May, vibrant blue flowers begin to spring up all across Texas. The wildflowers known as Texas Bluebonnets blanket fields, pastures, and even the medians of highways. These beautiful flowers are so abundant in the small town of Ennis, Texas just outside of Dallas-Fort Worth, that it has officially become known as the Bluebonnet City of Texas. Each April Ennis hosts a Bluebonnet festival, and throughout spring, thousands of people flock to the town to visit the Ennis Bluebonnet Trails. The series of trails take you through scenic country roads where fields of bluebonnets span as far as the eye can see. Along the rural routes, you'll find wineries and antique shots, as well perfect photo opportunities like old barns and longhorns surrounded in flowers. But you don't have to visit Ennis to experience Texas in bloom. Bluebonnets are native and grow wild throughout most of the state. In fact, the Hill Country, outside of San Antonio and Austin are also popular for flower-seekers looking to see Texas at its most vibrant. The German settlement of Fredericksburg is another great place to spend a spring vacation. With multiple wineries, beautiful rolling hills and jaw dropping naturescapes covered with wildflowers, this tiny tourist town is a Texas gem. If it is bluebonnets you seek, stop by Wildseed Farms just outside of Fredericksburg, where you can wander through acres of flower fields open for public viewing and photos. Explored by Melissa from Parenthood and Passports
Looking for hotels in the area? Check out these highly rated TripAdvisor hotels here in the area for the best prices and availability.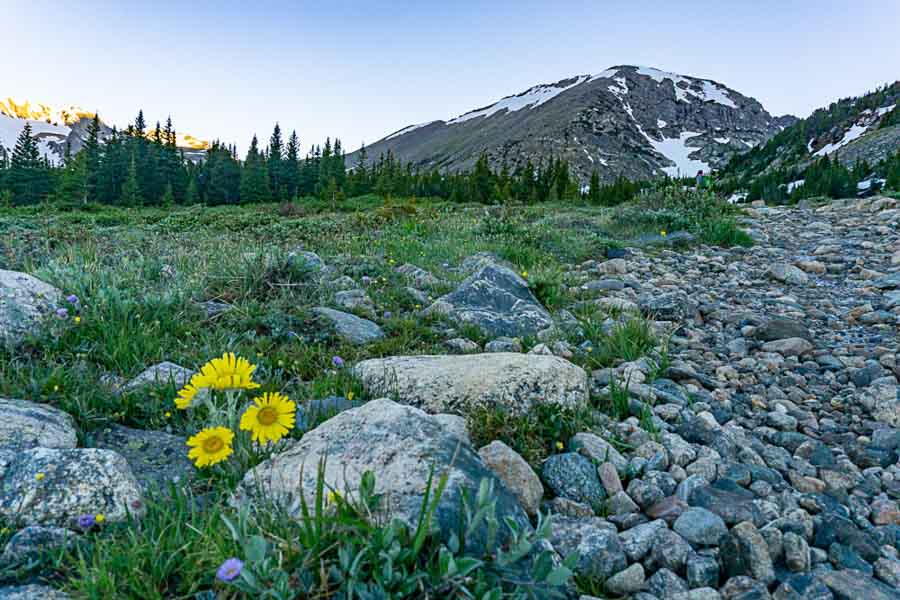 Experience the Snowy Magic of the Colorado Rockies
No springtime destination is quite like the amazing Colorado Rockies. Opt to indulge in some spring skiing (currently advanced reservations only for COVID) or opt to head out one of the best hikes in Colorado – Rattlesnake Arches and Hanging Lake are particularly beautiful this time of year. From Rocky Mountain National Park to the beautiful secluded valley of Crested Butte, there's plenty to explore. Plan a road trip that avoids the crowds, particularly areas such as Vail and Breckenridge. Opt to ski at Loveland or Crested Butte instead. If you can, avoid travel along the I-70 corridor on the weekends, as the traffic tends to be tumultuous. Keep in mind, even though it's spring time, there is still plenty of snow in the high country of Colorado. You'll find that many of the dirt roads are still closed and some of the hiking trails can be dangerous due to avalanche activity, so be sure to check conditions before you head out. By mid to late May, trails and lower-elevation alpine roads are starting to dry out and be snow free. You may even notice some wildflowers beginning to bloom. After you're done hiking and skiing, be sure to relax in one of the many hot springs in Colorado. You can sit back, relax and enjoy a local brew as you let your sore muscles soak. Afterwards, head towards a scenic viewpoint – found in virtually any Colorado mountain town (Buena Vista and Telluride are a few springtime favs) to watch the sun set over the majestic Colorado Rockies. By Meg Atteberry of Fox in the Forest
Looking for hotels in the area? Check out these highly rated TripAdvisor hotels here in the area for the best prices and availability.
Spring break locations in the 
Western USA and coastal regions
If you are considering a spring break destination in the US that is always changing, consider visiting the Western USA and coastal regions. The outdoors and year round living always a wonderful experience to explore so many fantastic places, gorgeous parks and landscapes and fun urban environments during the spring holiday season.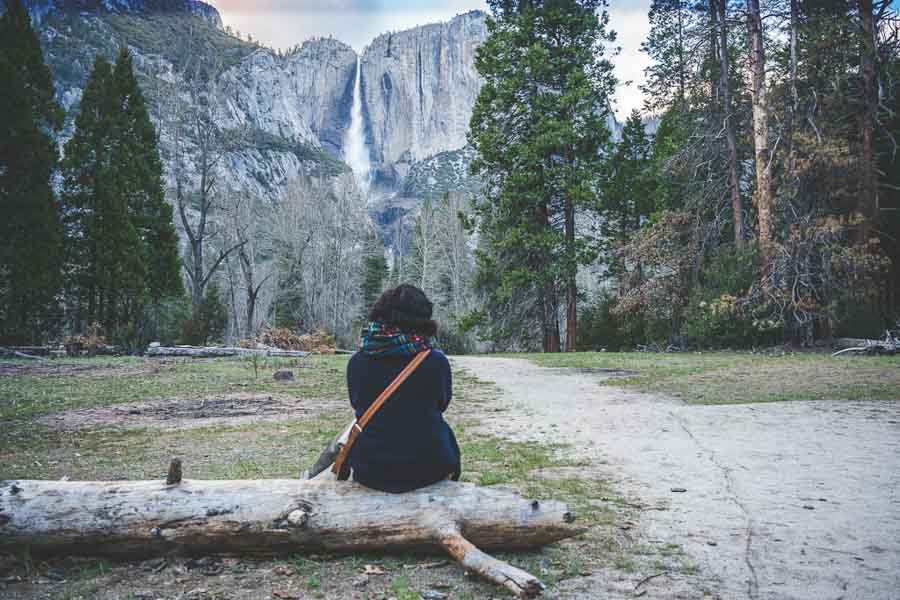 Yosemite National Park
Yosemite National Park, California is one of the best springtime destinations in the USA to see the waterfalls in their full force, thanks to our winter rains. There are several waterfalls all over Yosemite Valley, most of which are accessible via pretty easy-moderate hikes that are perfect for beginners. The most accessible waterfalls in Yosemite are Bridalveil Fall (the very first to greet you in the valley) and the Lower Yosemite Fall, which can be reached by hiking 1.1 miles on a paved path. Although the Upper Yosemite Fall is a very arduous hike away, you can get a fantastic view of both the falls from Cook's Meadow. Besides these falls, the one other springtime attraction at Yosemite is Mirror Lake, known for its still, shimmering waters. Although the easiest way to get to the paved trailhead leading to the lake used to be via the Park Shuttle service (at shuttle stop #17 from the valley), that is no longer the case due to current California health advisory and visitors have to park at Curry Village and trek down. In addition to these attractions, Yosemite is just a great place to visit during spring due to less crowds and a chance to see beautiful vistas of snow covered Sierras. Although Tioga Road (Highway 120) and Glacier Point Road are closed in spring due to snow (they open up in June), there are plenty of hikes to go along in the valley itself and enjoy the lush green spring scenery Due to the ongoing pandemic, the park is only open 8AM-5PM with no overnight staying allowed in the park. Shuttle services are at a halt and food services are extremely limited but restrooms are available for public use with closures in between for cleaning. Check out where to stay close by and base yourself while exploring this fantastic destination, here are some well rated places to check out rates and availability. Paroma with Year of the Monkey
Looking for hotels in the area? Check out these highly rated TripAdvisor hotels here in the area for the best prices and availability.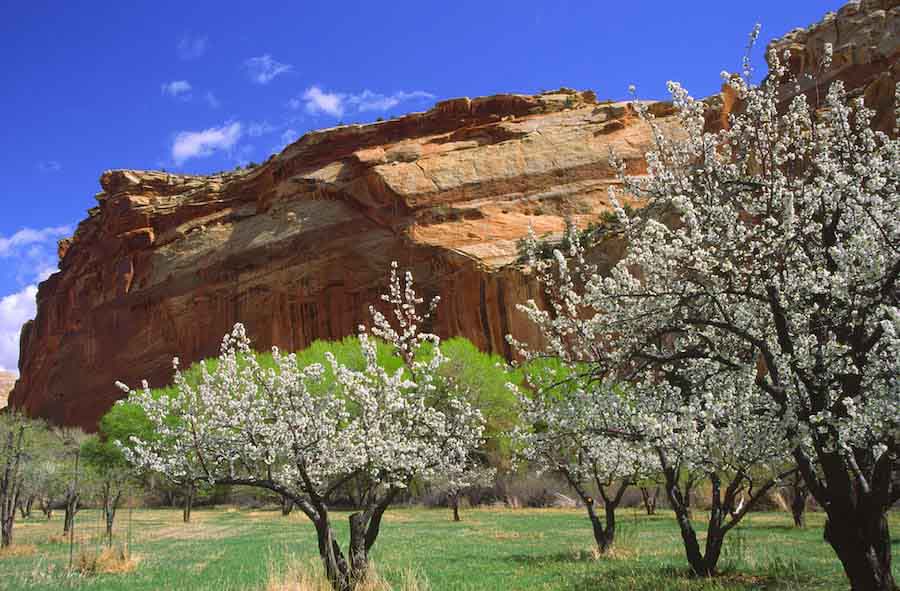 Capitol Reef National Park (Utah)
One of the best places to visit in the United States in spring is Capitol Reef National Park, one of Utah's 'Mighty Five' national parks.  The park offers an abundance of incredible nature opportunities from hiking to stargazing and more. The reason it is best visited in spring is that the temperatures are far more comfortable than during the winter months or summer months.  This will allow you to partake in one of the many activities the park has to offer such as ATVs, picnicking, biking, hiking, wildlife watching, horseback riding, and more! Hiking is an immensely popular activity in Capitol Reef National Park and one of the favorite trails is the Lower Spring Canyon Trail that is 12 miles long.  The canyon offers beautiful and impressive sandstone walls that have multiple headbands and sheer.  The hike also offers fabulous views throughout the Utah park. If you're into wildlife watching, be sure to check out Bicknell Bottoms where it is possible to witness the annual bird migration.  This is also a beloved place for fishermen as it is possible to catch brown and rainbow trout in the water of the Fremont River and Pine Creek.  Both rivers flow powerfully during spring, making it one of the best times of the year to go fishing. To view Capitol Reef's beauty all at once, be sure to drive the scenic route that goes from Loa to Hanksville on Highway 24.  The length of the drive is around 75 miles and it'll pass through the Henry Mountains, San Rafael Swell, Fishlake, and Dixie National Forest. There are so many amazing things to do in Capitol Reef National Park in spring, making it an ideal USA destination. Megan with Megan Starr.com
Looking for hotels in the area? Check out these highly rated TripAdvisor hotels here in the area for the best prices and availability.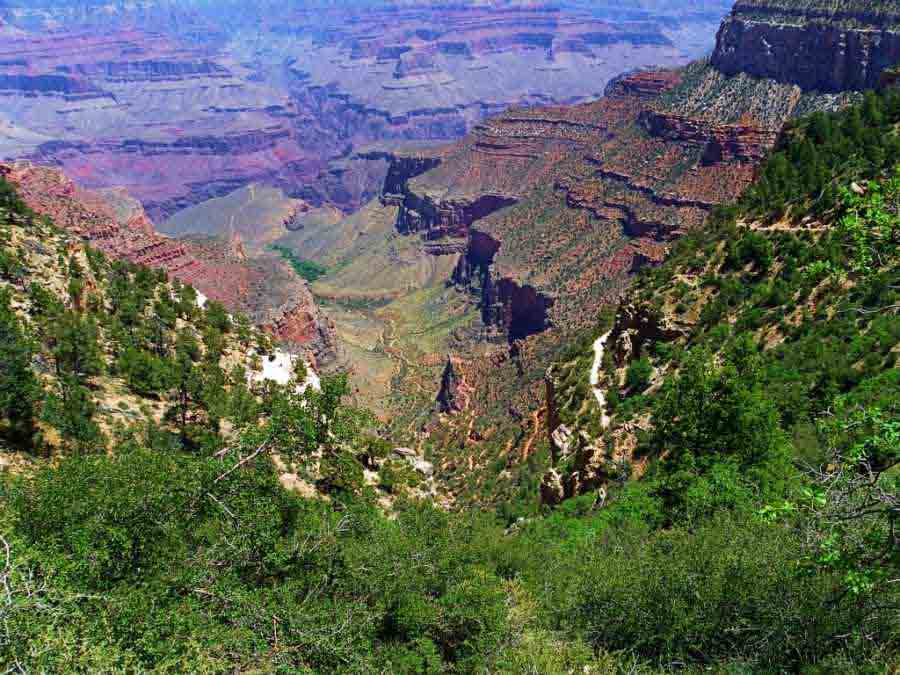 Visiting the Grand Canyon in spring
Grand Canyon National Park is a wonderful place to visit in spring.  The temperatures are not too hot and not too cold, which makes it a perfect time to go hiking down into the canyon.  Take the Bright Angel Trail from the south rim and you will soon be surrounded by the towering walls of the canyon.  Spring is also when the desert flowers bloom, so the hike is especially colorful at this time of year.  You can venture as far as Indian Garden and back in a day, but if you plan to hike the whole way, you will need to camp or stay in a cabin or dorm at Phantom Ranch.  Demand is less in spring than summer, but you will still need to enter a lottery 15 months in advance for a space at Phantom Ranch. At Grand Canyon Village on the south rim, fewer people also means a better chance of getting an amazing room with a room at the grand El Tovar lodge.  Even if you stay elsewhere, be sure to book dinner in their fine dining room. The crisp spring air is a great time of year for photography and there are multiple viewpoints along the south rim to see and photograph the canyon.  If you want to see the Colorado River winding its way through the canyon, visit Lipan Point or Mohave viewpoint.  From Yavapai Point, you can see Phantom Ranch (through binoculars) and visit the nearby Yavapi Geology Museum, where you can learn all about the layers of the canyon that you see.  Don't miss the Desert View Drive, which takes you past several viewpoints and ends at the Desert View Watchtower where you can climb the 85 steps for spectacular 360 degree views. James Ian from Parks Collecting
Looking for hotels in the area? Check out these highly rated TripAdvisor hotels here in the area for the best prices and availability.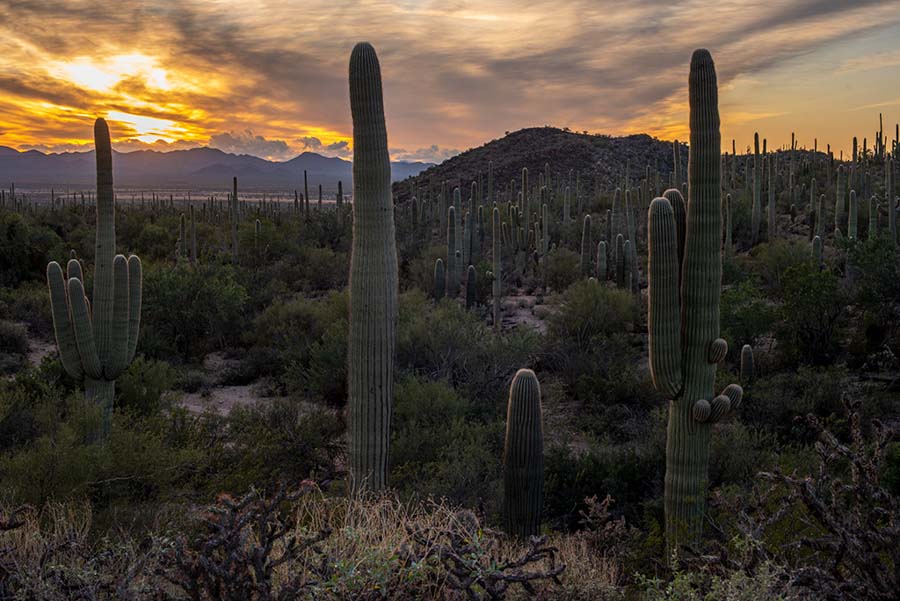 Springtime in Saguaro National Park, Arizona
One of the most beautiful places to visit for a springtime getaway is Saguaro National Park in Arizona. Spring is the time when cacti start blooming. This continues until June. Furthermore, lots of bird nests in cacti, and it is a perfect time for bird watching and photography enthusiasts. The weather is much nicer than in summer. The heat does not bother you, so spring is the perfect time for long hikes through the cactus forest. Saguaro is the name of giant cactus native to the Sonoran Desert. There are around 1,8 million saguaro cacti in the Park. The park is close to Tucson's town, which is the best place to stay for the night. How to visit and what to see in Saguaro NP? The Park consists of Rincon Mountain District (east) and Tucson Mountain District (west). They are different, and both are worth a visit. It's great to start by taking a loop drive in each part of the park and then hiking. Some of the best hiking trails with perfect views are Loma Verde Loop, Cactus Forest Trail, Cactus Wren Trail. Moreover, they are not crowded. The sunsets in Saguaro are fabulous, so it's worth staying longer in the park to admire this spectacle of nature. Worth visiting during spring is also Catalina State Park, 17 miles from Saguaro. And further Tonto National Forest and Lake Pleasant Regional Park, both 150 miles from Tucson. Visits during COVID-19 What's important, all roads, picnic areas, and hiking trails are open. So, Saguaro is a perfect place for outdoor enthusiasts. Visitor information, restrooms, and retail are available in the visitor center from 9 a.m. until 3 p.m. Both visitor centers are closed on Tuesdays and Wednesdays. There is a limit of 10 people inside the visitors center. Water is available on visitor center patios. Agnes @The Van Escape
Looking for hotels in the area? Check out these highly rated TripAdvisor hotels here in the area for the best prices and availability.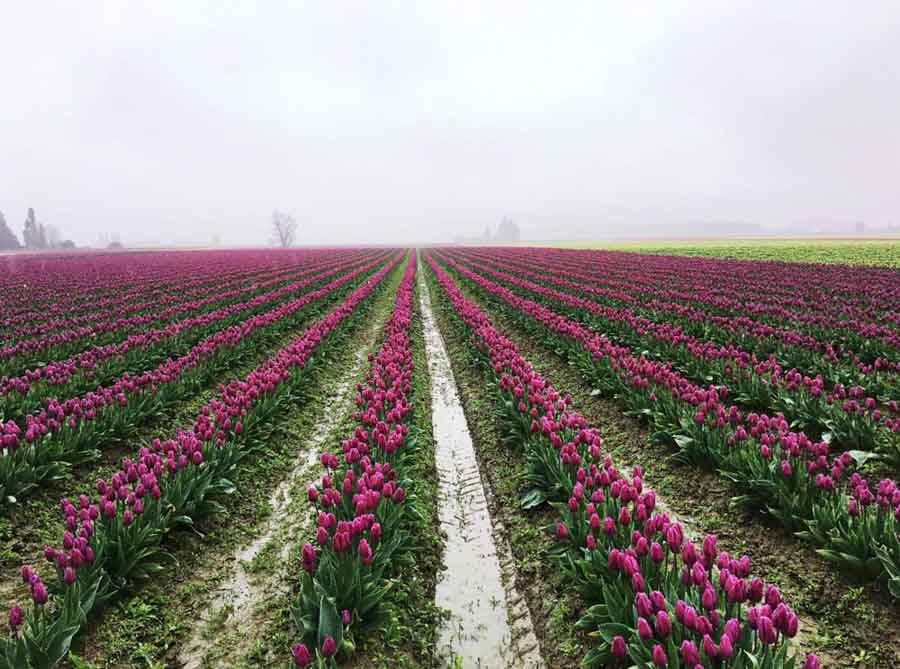 Spring time blooms at Skagit Valley
Skagit Valley (pronounced "ska-jit") is an area about an hour north of Seattle, Washington made up of small towns spanning about 2,300 square miles. The area is known for being incredibly beautiful and has a local, sustainable ethos thanks to its fertile land, farmers, and coastline. Its beauty really shines in spring when the flower farms start blooming. In fact, each April people head to the region for the Skagit Valley Tulip Festival where they'll find rows upon rows of colorful daffodils and tulips dotting the landscape. Visit the Skagit Valley Tulip Festival like a local and drive up early on a weekday to have the area virtually to yourself for prime photo opportunities. Since the area with tulip farms is relatively small, plan to explore more of the fun springtime activities in the area. For example, the coastline in the spring is perfect for visiting oyster farms. The popular Taylor Shellfish Farms has a beautiful outdoor patio overlooking the Samish Bay. Or you can visit the more low-key and under-the-radar Blau Oysters for cheap raw or grilled oysters right on the water. If you make it to Taylor Shellfish Farm, take the 30-minute ride along Chuckanut Drive, a 20-mile scenic road that hugs the coastline up to Bellingham, Washington. Make stops at places like Larrabee State Park or Oyster Dome Trail for a hike and scenic views of the San Juan Islands in the distance. Outdoor enthusiasts should also extend the trip to visit Deception Pass State Park at the bridge that connects Skagit Valley to Whidbey Island, another beautiful place in spring. The fertile land makes the Skagit Valley a worthy destination for wine and beer. Take a self-guided tour of the Skagit Ale Trail or North Sound Wine Trail. If you visit in April, make sure to attend the annual Farm to Pint Fest. You can taste beer from breweries that use malts milled from local grain or using yeasts caught from the air. No matter your interests, Skagit County is a beautiful place to visit in spring with a little something for everyone. Adria Saracino with The Emerald Palate
Looking for hotels in the area? Check out these highly rated TripAdvisor hotels here in the area for the best prices and availability.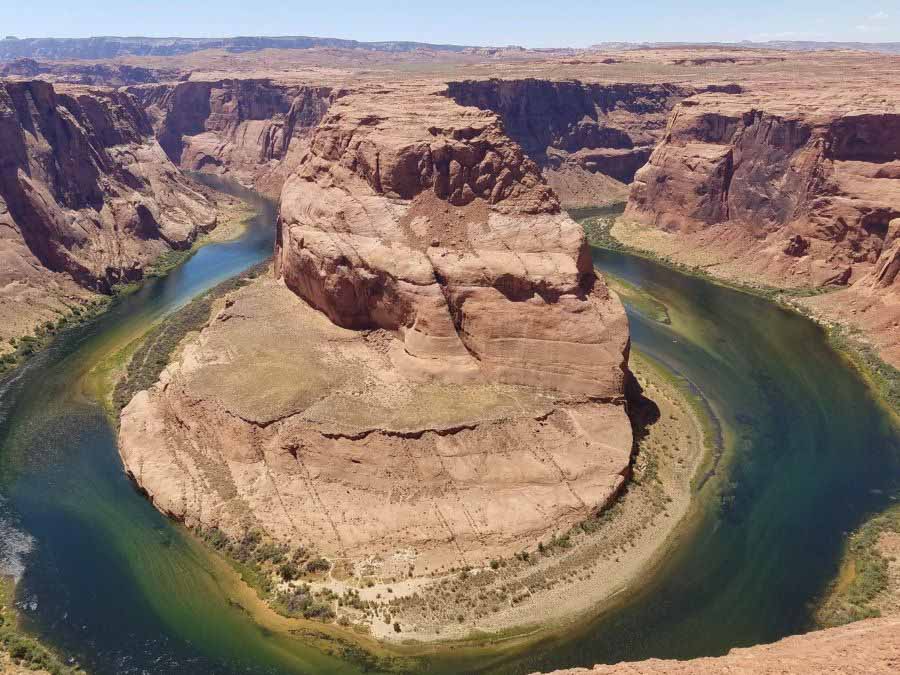 Northern Arizona destinations in Spring time
One of the best destinations in the USA to visit during springtime, is Northern Arizona, especially the typically crowded places like Page, Flagstaff, Sedona, the Grand Canyon, and even Jerome. Spring is considered the off-season for travel in Arizona, so as the weather gets warmer, there are fewer crowds and more activities offered that would normally be unavailable due to snowy conditions. First, the highlights of Page, Arizona include Antelope Canyon and Horseshoe Bend, two of the most beautiful spots in Arizona! Antelope Canyon is a well-preserved slot canyon on the Navajo Reservation and Horseshoe Bend is a stunning natural wonder where the Colorado River curves around a rocky plateau, in a horseshoe shape. Page is best enjoyed in the spring when the climate is more comfortable and crowds are thinner. Two hours south of Page, is Flagstaff where in the springtime you can enjoy the Arboretum, hiking Humphrey's Peak, or Walnut Canyon National Monument, where there are 25 cliff dwelling rooms constructed by the Sinagua around 1150 AD! Don't forget to visit the Grand Canyon, which sees incredible spring flowers bloom come March or April. Sedona, known for its bright orange rock, is a short 30 minute drive from Flagstaff. Be sure to see the amazing natural rock formations like Devil's Bridge and Cathedral Rock. Even farther south, between Flagstaff and Prescott, you'll find one of Arizona's ghost towns called Jerome, which used to be a copper mining town. Visit the Mining Museum, Gold King Mine, and Jerome State Historic Park to learn all about this remarkable mining town established in 1876! Alanna Koritzke from Periodic Adventures
Looking for hotels in the area? Check out these highly rated TripAdvisor hotels here in the area for the best prices and availability.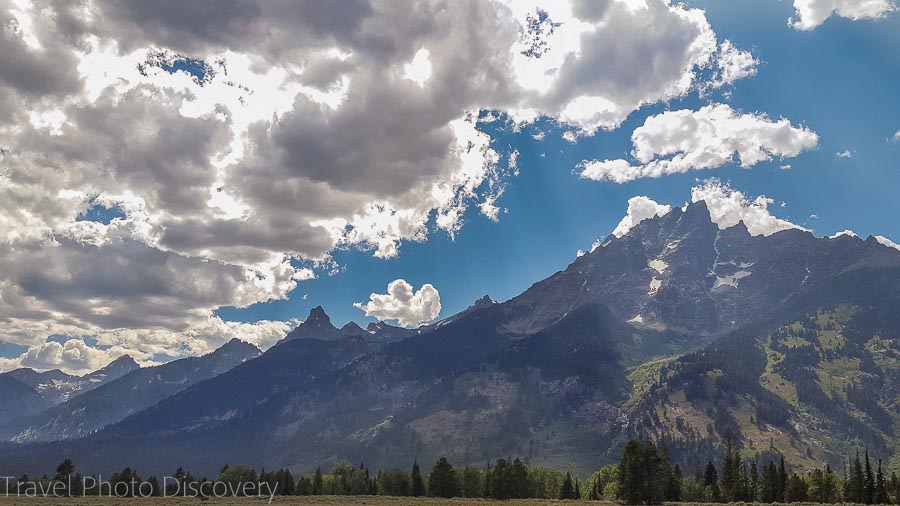 Grand Teton National Park in Spring
One of the best springtime getaway destinations in the United States is road-tripping between Grand Teton National Park and Yellowstone National Park. There are so many amazing 
things to do at Grand Teton National Park
 and Yellowstone National Park, you are bound to have a wonderful time. Spring is one of the best times to visit both of these parks due to it being a less popular time to visit, which means fewer crowds! Starting in the south at Grand Teton National Park, you will be able to view the gorgeous mountain backdrop along the main road, 191. In the spring the Tetons can still be snow-covered, but 191 is always open and is a convenient road that will take you to all the best spots to view the Tetons and see an abundance of wildlife!
After enjoying all that the Grand Tetons has to offer, you can continue up 191 about 30 minutes to reach Yellowstone National Park. Visiting Yellowstone in the spring is truly a hidden gem. Because Yellowstone is one of the most popular national parks in the United States, it can get quite crowded in the summer months. To enjoy everything the park has to offer without all the crowds, it is highly recommended to visit in the spring! The weather is usually a high of 50 degrees with lows in the 20s and 30s making the days on the warmer side and the nights a bit chilly. Spring is also a great time to visit Yellowstone because of all the wildlife you can see! Bison will be calving in the Lamar Valley and bears are starting to emerge from their dens. Wildflowers will also start to bloom around this time and the snowmelt makes the waterfalls in the park simply spectacular.
Of all the places to visit in the United States in the springtime, a road trip around Yellowstone and Grand Teton National Park are some of the best destinations out there!
Jessica with Unearth The Voyage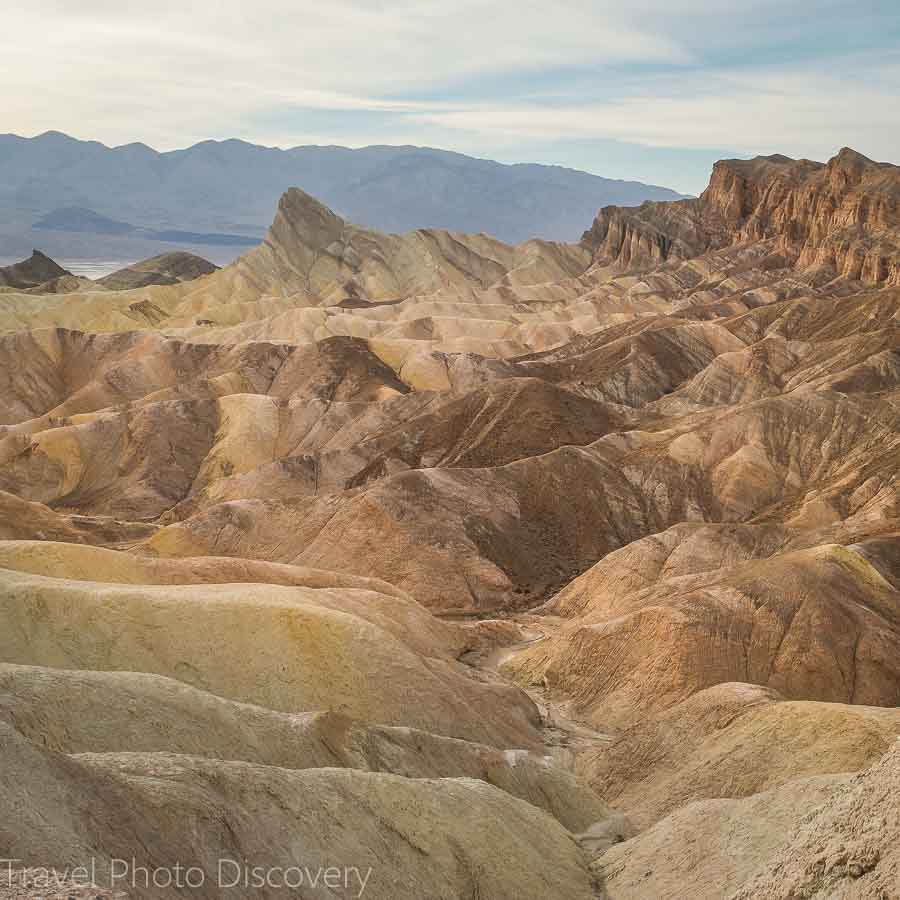 Death Valley in Spring time
It's no secret, Death Valley National Park is one of the most popular spring destinations in the USA. The weather in Death Valley in spring is pleasant, and the wildflowers bloom occurs in spring as well. Thousands of wildflowers bloom and cover Death Valley in spring. Amazing Death Valley Super Bloom is a rare and unique event in spring that attracts people to the valley. Add enjoyable hikes to the Super Bloom and it's easy to understand why Death Valley in spring is a must destination for all outdoor lovers. The easiest way to reach Death Valley is to fly to nearby Las Vegas, to rent a car and to take a thrilling road trip from Las Vegas to Death Valley. Iconic Zabriskie View Point with great views of the valley is the first stop when coming from Las Vegas to Death Valley. But if you are after impressive views, don't miss to check out the Dantes View Point for the spectacular views of the Badwater Basin. Enjoyable spring temperatures make touring all must-see Death Valley's sites a pure pleasure. Make the most of pleasant temperatures in Death Valley in spring and head to jaw-dropping Devil's Golf Course, reminiscent of a lake that had existed a hundred years ago. Visit the Badwater Basin, the lowest point in North America, and wander the golden Mesquite Flat Sand Dune. Inspect old Harmony Borax Works where once borax was mined and hike the Artist Palette vista with pastel-colored volcanic and sedimentary rocks as well. Go further and explore the views of the several thousand years old Ubehebe Crater, trace mysterious 'sailing stones' at the Racetrack Playa, and hike a 1-mile long Golden Canyon trail. Don't forget to hike the 2.7-mile long Twenty Mule Team Canyon, and walk up to the Father Crowly Point to watch US fighter jets testing their skills. Currently, due to the COVID situation, there's no better place to be than in nature and in a national park. Most of Death Valley's park roads, trailheads, and overlooks are currently open. The Furnace Creek Vistors center is open for all needed info too. Please make yourself a favor and head to Death Valley in spring. An amazing American spring trip is granted! Milijana Gabrić from World Travel Connector
Looking for hotels in the area? Check out these highly rated TripAdvisor hotels here in the area for the best prices and availability.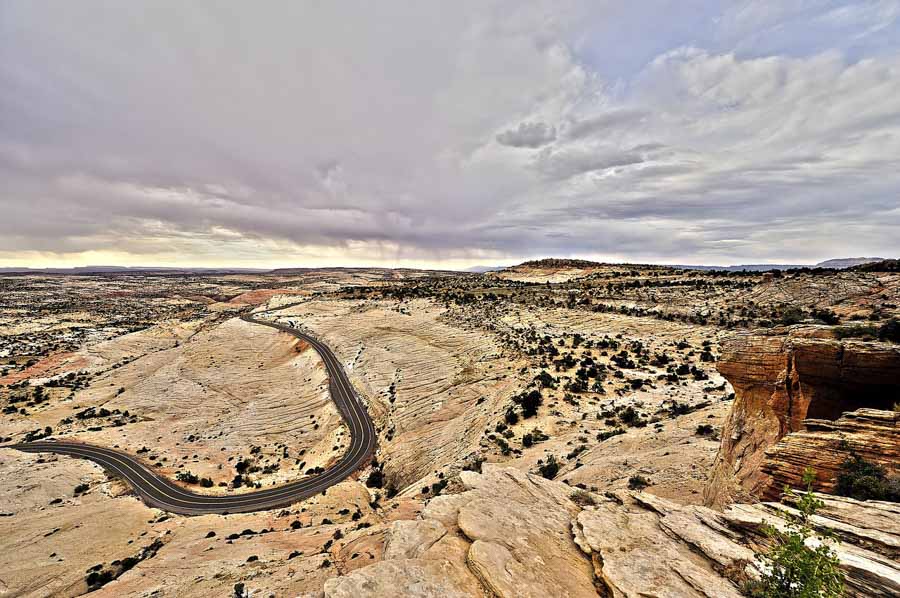 Escalante 
Escalante, Utah is the launchpad for incredible outdoor activities in the enormous Grand Staircase-Escalante National Preserve. The town itself has under 1000 residents but the peak seasons of spring and fall bring brings many outdoor enthusiasts. The National Preserves spans an enormous expanse of Utah's colorful mountains, filled with canyons, valleys, gorges, streams and waterfalls. It's located midway between "Bryce Canyon and Capitol Reef National Parks" We did a couple of hikes and drives from Escalante. The calf creek canyon is a easy half day hike along a wide canyon, with a stream in the middle. The canyon ends at the calf creek waterfall. All along the hike, you'll see a huge variety of plants and changing landscape with rock faces of different textures, shapes and colors. Drive on Burr trail is an unforgettable experience. On the entire drive we were the only couple. The entire road is lined with incredible scenery of rock formations. Not far into the dirt road, is the hair raising switchbacks, not for the faint hearted. The trail leads into the southern section of Capitol Reef National Park. Bryce Canyon is not too far from Escalante. It's great for a day trip or more. The Bryce amphitheater is the big attraction but there are many amazing hikes in the park. If you are the adventurous slot canyons enthusiast, the extremely narrow spooky and peekaboo canyon is an amazing experience. Jyoti with Story at Every Corner, check out her post on visiting Utah and Arizona
Looking for hotels in the area? Check out these highly rated TripAdvisor hotels here in the area for the best prices and availability.
Coastal road trip from San Francisco to Santa Cruz
Enjoy a day trip or a short road trip from San Francisco to Santa Cruz. The entire route is 70 miles and takes about 1.50 to 2 hours if you drive non-stop. You will be on Highway 1, connecting the two destinations, and with stops at Half Moon Bay, and Año Nuevo State Park will take another 2 to 4 hours, or as long as you wish to stay. Highway 1 presents the best of what the coast of California has to offer. From picnic spots to quiet sandy beaches, there are plenty of activities to keep road trip lovers at the edge of their seats traveling between San Francisco to the south – Santa Cruz. From San Francisco head to Half Moon Bay (total driving time is 40 minutes). Known for its beaches including Half Moon Bay State Beach and Poplar Beach, these areas are perfect for picnics, hikes, and nature walk. Poplar Beach is the most popular and entry to the beach is completely free. There is parking available for $2/hour fee. Dogs are allowed on leash. From Half Moon Bay to Santa Cruz is another hour's drive. In Santa Cruz, spend time at the Beach Boardwalk – which is an oceanfront amusement park. A walk by the beach or a Ferris wheel ride is a nice break after the drive. There is a Santa Cruz Surfing Museum, and more beaches for a relaxed afternoon. Lighthouse Field State Beach is the spot to hang out to capture golden hues on the beach waves. The best time to embark on this drive is early spring or late summer, fall months, as the weather is much nicer, and fewer crowds at attractions. By planning well, you can definitely beat the crowds and find a quiet spot to enjoy your spring break, relaxing at the beach, picnicking, or reading a book. Other than the drive, be sure to stop at a local cafe or restaurant for a nice meal, hand-brewed beer, and finish the trip by enjoying a sunset over Santa Cruz's picturesque bluffs. Mayuri from To Some Place New
Looking for hotels in the area? Check out these highly rated TripAdvisor hotels here in the area for the best prices and availability.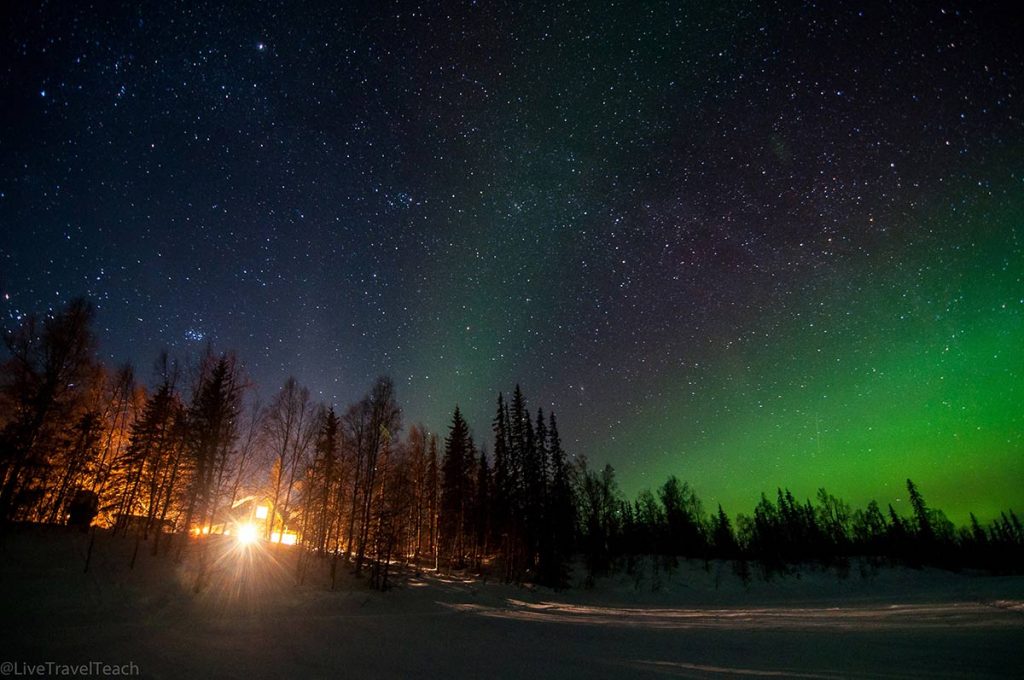 Visiting Anchorage in Spring time
Anchorage, Alaska is an underrated Spring Break destination for countless reasons.  Depending on when your 'spring' break is you might even catch some late winter skiing but one of the main attractions for Alaska in the spring is the aurora borealis!  The northern lights are only visible when it's dark which means travelers who visit in the summer won't get a chance to see these beautiful dancing lights.
Alaska is a great destination for following social distancing since most activities involve being outside and in the mountains.  Chugach National Forest is a short drive from town with Byron Glacier's ice caves and Portage Glaciers ready to explore.  You'll find Chugach State Park within the city limits of Anchorage and countless trails around the city. Drive for an hour north to find yourself at Hatcher Pass or heading out towards the Knik Glacier.  Spring is a great time to visit Anchorage since it is shoulder season in Alaska which means lots of discounted tours and hotels!
Gray whales start arriving in Alaska in the Spring and you can find incredible whale watching tours out of Seward If you're willing to drive a bit further south.  Stop at Exit Glacier in the Kenai Fjords National Park on your way for the full experience.
Mike Still @LiveTravelTeach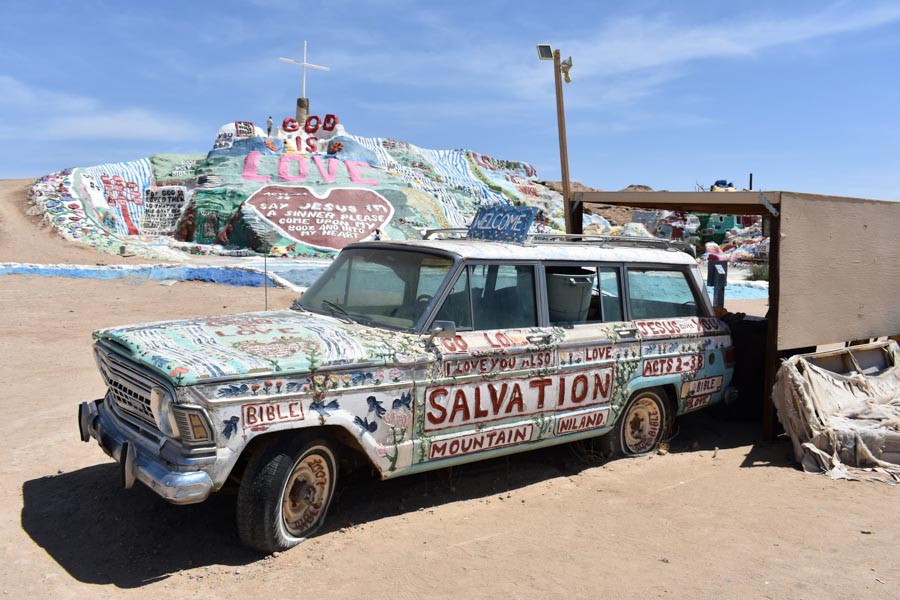 Visiting The Coachella Valley deserts in Southern California
Hands down, spring is the best season to visit California's famed Coachella Valley deserts. Between the months of late-March through early-June, wildflowers and poppies bloom all throughout the mountain valleys, and the temperatures are still a comfortable warm with a pleasant breeze. If you are a fan of the outdoors, Coachella Valley has very spacious and spread out parks and nature trails. Anza-Borrego State Park is the best to spot wildlife such as mountain goats and desert rodents, and has multiple slot canyon hikes, hidden oases, and even giant iron sculptures from a local artist. Just north of the valley is Joshua Tree National Park. It is a popular destination for climbing and bouldering…or for just taking pictures of its iconic Joshua Trees. Or, for a more adventurous route, you can head to the Imperial Sand Dunes State Park for ATVing. Although the parks are never really crowded, it is still best to visit in the mornings or afternoons because there isn't much shade. If you are more inclined to cultural exploration, Coachella Valley is home to a few outdoor events like Desert X, which is a biennial art scavenger hunt throughout the valley with contemporary art pieces that provoke social criticism. But for all other travelers, the cities in Coachella Valley are all relatively calm in the spring, with the exception of Coachella Music Festival weekends, and many restaurants have beautiful outdoor patios to enjoy both the weather and the farm-to-table menus. Palm Springs is the most populated, but also has many outdoor art walks. Meanwhile if you would prefer a more secluded resort experience, head to the town of La Quinta. Regardless of where you stay, you are only a short ten minutes away from an easy outdoor escape. Kay with The Awkward Traveller
Looking for hotels in the area? Check out these highly rated TripAdvisor hotels here in the area for the best prices and availability.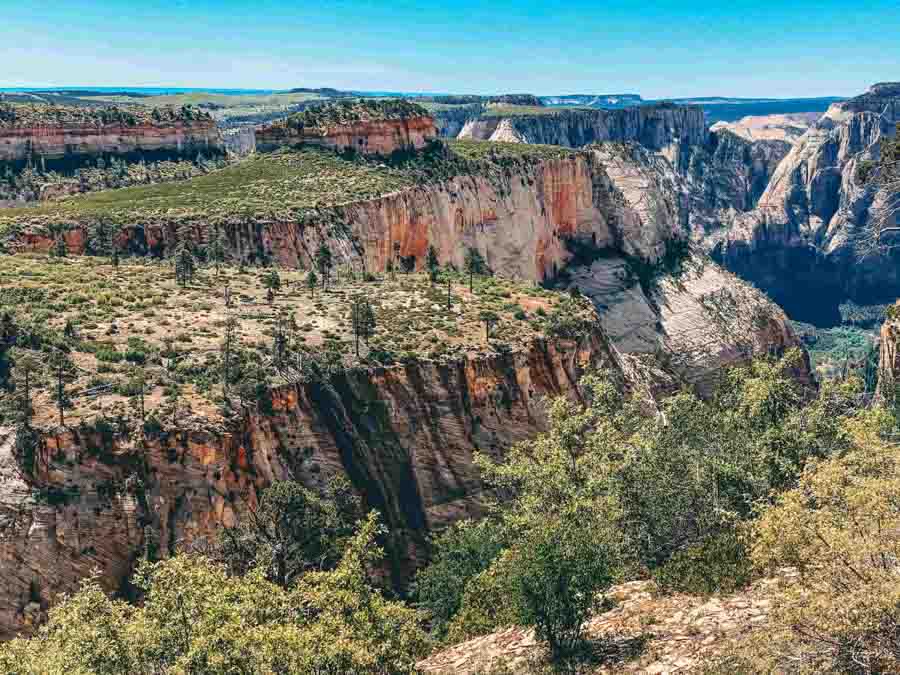 Spring visit to Zion National Park
One of the best springtime destinations around the USA is Zion National Park in Southern, Utah. What makes Zion National Park perfect for a spring visit? Southern Utah can get quite hot in the summer even in the morning or late in the day. However, in the springtime, the weather is much nicer. Because of the more comfortable weather, it is not a secret that this is a great time to visit so the park can get crowded. In order to avoid the crowds, start your day at or before sunrise, or plan to do late afternoon and evening excursions inside the park. Consider avoiding the more popular hikes if you can only go during peak times of the day. If you are interested in a longer, but less heavily trafficked hike, consider hiking the West Rim Trail in Zion National Park. If long hiking trails are not your scene but you still want to avoid people, explore East Zion or visit Kolob Terrace Road. There are a few important COVID considerations for your trip to Zion National Park. Zion National Park operates a shuttle service that must be reserved several weeks ahead of time. If you miss the window for your preferred date, there is a second set of shuttle tickets that is released one day prior to entry at 9 AM Mountain Time. Afternoon walk up tickets are an additional option subject to availability. If you are unable to get a shuttle ticket you can reserve a private shuttle or rent a bike and bike up the canyon itself. Bikes must yield to shuttle buses. Andrea Cannon from Beautahful World
Looking for hotels in the area? Check out these highly rated TripAdvisor hotels here in the area for the best prices and availability.

Photo inspired visit to Arches and Canyonlands
Spring is one of the best times to explore and photograph Arches and Canyonlands National Parks. You'll be in awe of the natural rock formations that include arches, giant balanced rocks, and massive pinnacles. These two Utah National Parks are open during this time of covid – roads, trails, park stores, restrooms and campgrounds. The Fiery Furnace (Arches), museum exhibits and theater are closed. Per the Utah governor's orders, masks are required whenever you are within six feet of anyone you don't live with, indoors or outside. You can see quite a bit of each park doing the scenic drives. Many of the must-see formations and views can be seen from the car, parking lot or a short walk to the viewpoint. But there are a few iconic places that require a bit more effort to see. In Arches, a 2 mile round trip hike in Devil's Garden takes you to Landscape Arch, which is the largest arch in the world! And if you want to see Delicate Arch up close, you'll need to hike the moderate 3.2 mile round trip hike, with a steep elevation gain. You can see the arch from afar at the Lower Delicate Viewpoint if you don't have time to hike to the base of the arch. At Canyonlands Island in the Sky, a short 2 mile round trip hike is required to see Mesa Arch. Now for the really must-do activity at Arches or Canyonlands: look up! Both parks have the slogan "Half the Park is After Dark" because this area has some of the darkest skies remaining in the contiguous 48 United States. Our biggest tip for visiting Arches and Canyonlands in the spring is to enter the park early, like before 9 am! That way you avoid the lines to enter the park, and you will get a parking space at the popular points of interest. Beyond that, enjoy exploring these parks in the cooler weather you'll find in the spring! Jamie with Photo Jeepers
Looking for hotels in the area? Check out these highly rated TripAdvisor hotels here in the area for the best prices and availability.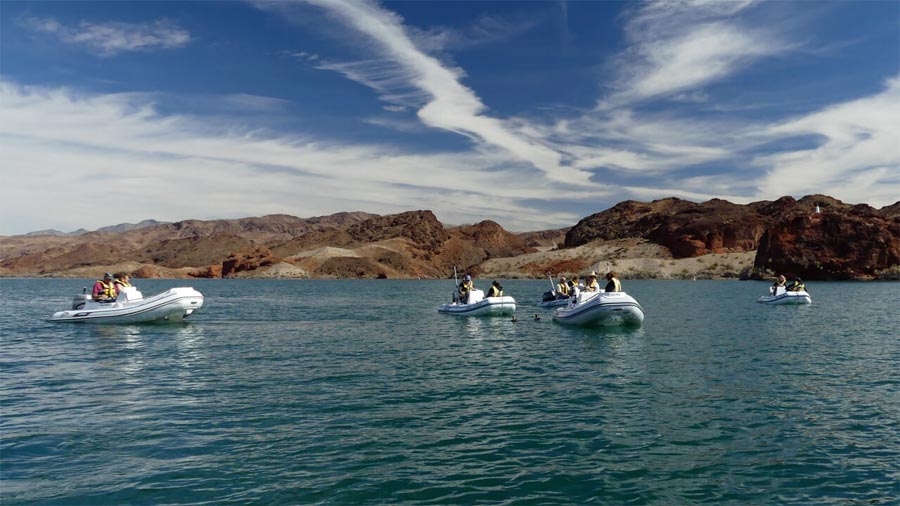 Lake Havasu in Spring
Lake Havasu has been called both 'America's Best Lake Town for Watersports' and 'Arizona's Playground.'  It has a warm, dry, desert-like climate.  Spring daytime temperatures are 70s-80sF, perfect for watersports and outdoor pursuits.  You'll find all sorts of activities from easy to strenuous. Lake Havasu The stunning lake is the biggest draw, with palm trees along the waterfront and white sand beaches.  It can be enjoyed when dining outdoors, walking or biking along the lake path, chilling on the beach, exploring the 25 lighthouse replicas, or on-water experiences. Watercraft rentals, boat charters, paddle sports, day and sunset cruises are all available.  Learn all about the area on a narrated lake cruise, seeing the natural beauty and watching for wildlife like bighorn sheep, coyotes, fox, bobcats, burros, and water birds.  Cruises go to Copper Canyon, Topcock Gorge, and Pirate Cove Resort in California.  Lake Havasu's ideal conditions also make it one of the best fishing lakes in the southwest.  We enjoyed three lake cruises.  You can't go wrong choosing from Sunset Charter & Tour Company, Bluewater Jet Boat Tours, or Rubba Duck Safari. Land Sports In addition to the lake, there are many outdoor land activities, like biking, hiking, ballooning, or golf. Enjoy off-roading on the 20 plus network of trails through the sand dunes, desert, canyons, and abandoned old mines and towns. Biking is another great way to see the town and stunning scenery.  The island trails offer scenic views of the lake, mountains, and city.  Road bike to Parker Dam to the south.  There are also mountain bike trails, like the one that climbs to a mountaintop with breathtaking views.  Bike rentals are available. Don't forget your hiking boots!  Lake Havasu's hiking trails go through a variety of terrains.  This is a great way to explore the diverse natural features, like rock formations, slot canyons, and the gorge.  There are easy hikes and nature walks too, several local parks, and Lake Havasu State Park on the lake's shoreline where you'll find the Mohave Sunset Trail.  Watch for spring wildflowers while exploring.  In Lake Havasu State Park, visit Arroyo-Camino Interpretive Garden that displays life within the park and its surrounding desert.  Easy to difficult hikes, from 1 to 8 hours, are a perfect spring activity here. Other special activities In spring, there is a music festival called Bluegrass on the Beach Music Festival.  Tickets are required and reasonably priced. If you love the outdoors no matter whether you actively or passively take part in the activities, Lake Havasu is a beautiful and fun spot to visit especially in spring. Check out Wendy's post on exploring Arizona destinations
Looking for hotels in the area? Check out these highly rated TripAdvisor hotels here in the area for the best prices and availability.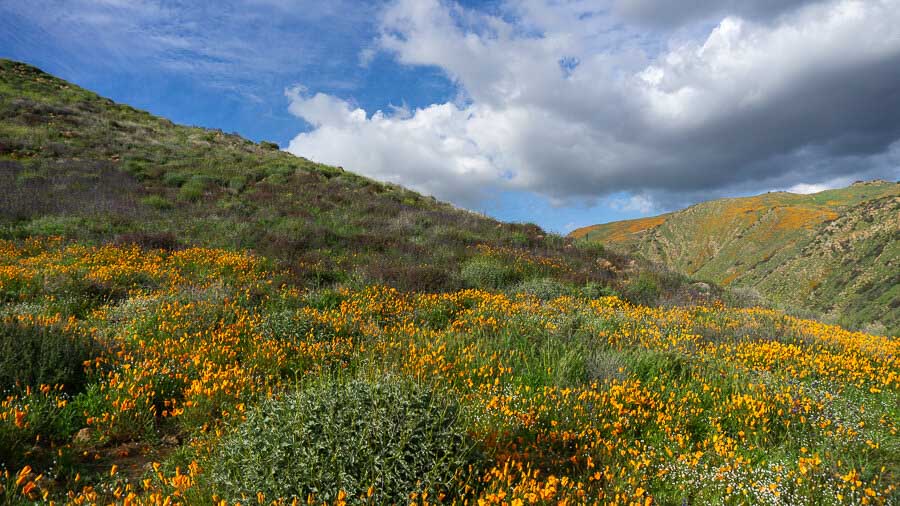 Southern California during Wildflower Season
Spring in Southern California is a magical time – it's when the grass is greenest and the wildflowers are blooming! There are lots of open spaces and parks in Southern California, making it an ideal place to see wildflowers. If you're lucky, there might even be a super bloom. You can find wildflowers in all kinds of places including parks above the beach, hiking trails in the hills, and hidden in the desert. You'll find a wide variety of flowers too, including the state flower, the California poppy. Some of the most popular places to see wildflowers in Southern California include Anza-Borrego Desert State Park, Walker Canyon in Lake Elsinore, Chino Hills State Park, Antelope Valley California Poppy Reserve, Laguna Coast Wilderness Park, Joshua Tree National Park, and Carrizo Plain National Monument. Your best bet to avoid crowds and to get the best photos is to visit during a weekday if possible, and the earlier the better. If there is a way to find parking on a side street and walk to your destination instead of using a parking lot or major entrance point, that might be helpful to avoid crowds. Be on the lookout for those off-the-beaten-path viewpoints that others don't see from the main entrance, or don't bother taking the time to look for. The harder it is to get to, the fewer people you will find. Make sure you follow local laws and regulations when visiting wildflower areas. Some locations are right next to the highway and it may not be safe or legal to park on the side of the road. Whatever you do, do not pick, walk on, or drive on the wildflowers and always stay on the trail. Bring plenty of water and your typical hiking gear if you'll be hitting the trails. Heather Saez with That OC Girl
Looking for hotels in the area? Check out these highly rated TripAdvisor hotels here in the area for the best prices and availability.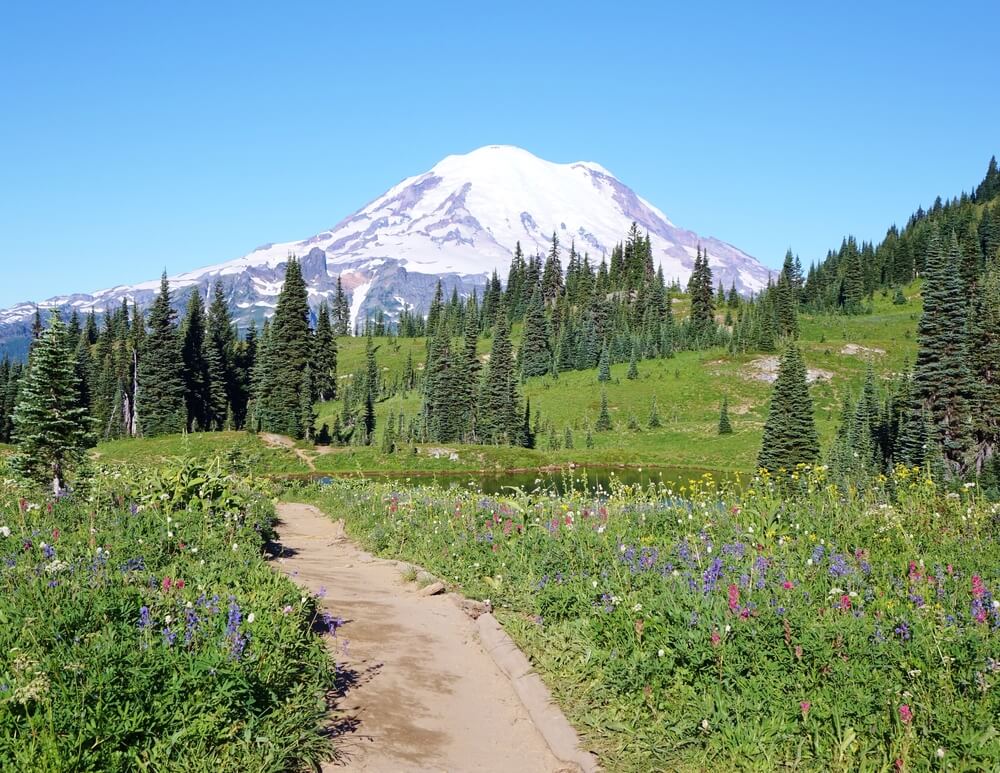 Mount Rainer visit in spring
For an incredible springtime USA destination, look no further than Mt. Rainier National Park in Washington State.
This gorgeous national park is beautiful any time of year, but it excels in the spring — particularly the late spring, when the wildflowers emerge from the snowpack and create beautiful landscapes everywhere you go!
While many of the more challenging, high-elevation hikes in Mt. Rainier will still be too snow-packed to enjoy in spring, there are plenty of lower-elevation hikes that should be accessible, such as the beautiful Grove of the Patriarchs as well as Naches Peak Loop. Naches Peak Loop is also one of the 
most beautiful wildflowers hikes in Washington State
 once the snow melts in the late spring.
In order to avoid crowds, it's best to visit Mt. Rainier National Park on a weekday. Due to its proximity to Seattle, it's a popular weekend hiking trip destination. You can rent a cabin near Mt. Rainier and stay overnight there in order to get several early days of hiking in while also enjoying a getaway in the beautiful nature.
Other places of interest in Mt. Rainier National Park in the spring include the parks many waterfalls! As long as the weather has warmed up a bit and the waterfalls are no longer frozen, they should be rushing at their peak waterflow. The area around the Paradise section of the park has some of the best waterfalls. Christine Falls is just a short walk away from the parking lot, as well as Narada Falls, another beautiful waterfall in the park. If you want a longer hike, head to Comet Falls, though be sure to check snow and trail conditions before embarking on this hike.
Allison with Small Town Washington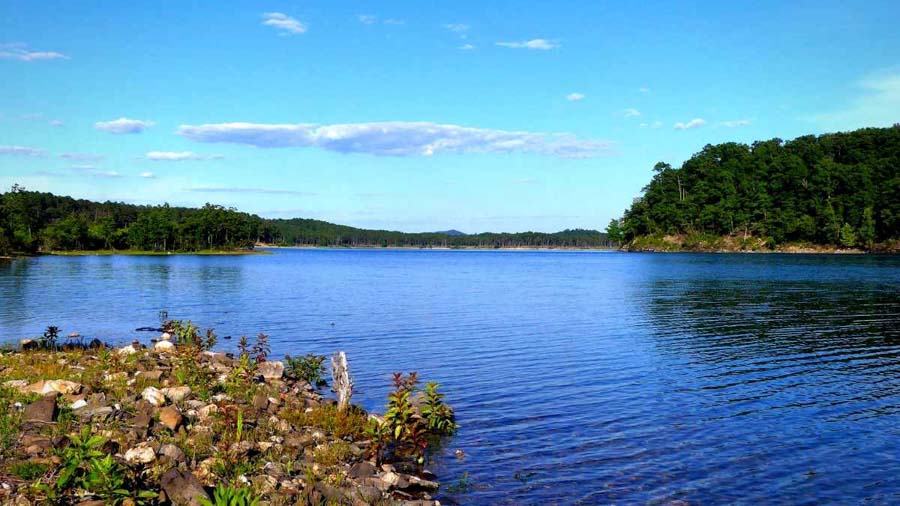 Springtime visit to Broken Bow, Oklahoma
One of the best places to visit in the United States during the springtime is the small town of Broken Bow, Oklahoma. It's located in southeast Oklahoma, about three hours from Dallas and Tulsa. The town is quickly becoming one of America's top camping and glamping sites. It is nestled in the rolling hills around Mountain Fork River where it flows into Broken Bow Lake. There you'll find Broken Bow, gateway to Beaver Bend State Park. It's full of fun outdoor activities, untouched wilderness and Broken Bow makes a fantastic spring getaway. Spring conditions are perfect to enjoy the region's lakes with boating, fishing and swimming possible throughout the season. A visit to the area's wineries, like Girls Gone Wine on Route 259, is another perfect spring activity. If you prefer beer, there are breweries like Beavers Bend Brewery, named for the nearby state park. For a rainy day,  check out the Gardner Mansion, a two-story farmhouse constructed in 1884. It was built for the chief of the Choctaw tribe and today serves as a museum housing Pioneer and Native American artifacts. Spring in Broken Bow is perfect for camping and enjoying the region's wilderness. For travelers who prefer a more comfortable stay, Broken Bow Airbnb cabin rentals are often as well-appointed as five-star resorts. They're also located in the same wilderness to give you the feeling of an outdoors getaway with a warm shower at the end of the day. Whatever lodging you decide to book, there's no shortage of fun to be had and memories to make during a springtime getaway in Broken Bow, Oklahoma Derek and Mike with Robe Trotting
Looking for hotels in the area? Check out these highly rated TripAdvisor hotels here in the area for the best prices and availability.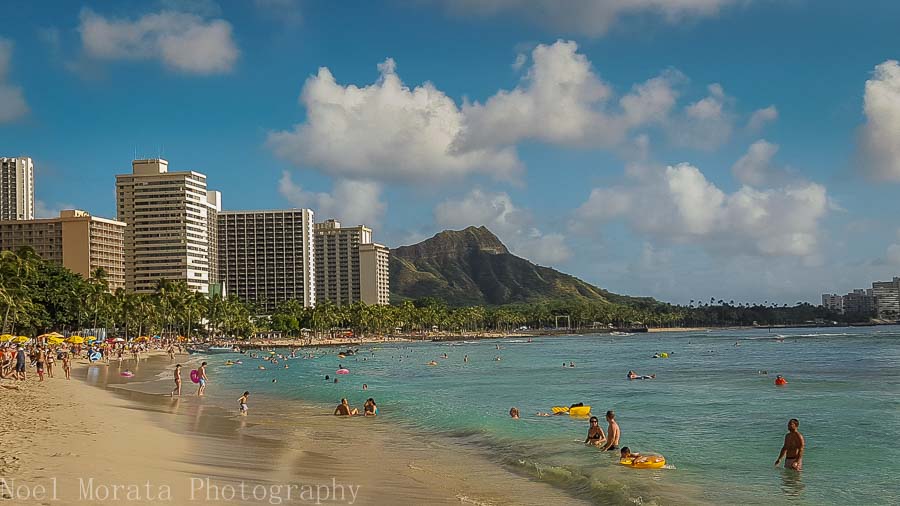 Honolulu is perfect in Spring
Visiting Honolulu is where you want to be in spring time with great weather, fantastic outdoor activities along with all the fun urban activity and cool attractions to visit. Oahu is open for business with Covid conditions in mind to follow safety masking and social distancing at all business establishments, but that doesn't mean you can't go out shopping, find a fun bar or restaurant or participate on a wonderful sunset cruise around Waikiki. Cool neighborhoods to explore around the city, the classic historic district with architectural and important landmarks like Pearl Harbor, Chinatown and even climbing Diamond Head for expansive views of Honolulu and Waikiki make the city lively during the spring holidays and beyond. You'll enjoy visiting urban, outdoor and outlying areas for lush landscapes and waterfalls, sandy white beaches and having your first Mai Tai and an open air bar. Check out my post here on visiting Honolulu attractions and landmarks here for more inspiration, photos and tips about visiting the city and island. Noel at This Hawaii Life
Looking for hotels in the area? Check out these highly rated TripAdvisor hotels here in the area for the best prices and availability.
East coast spring break locations
Spring break US destinations to the east coast are filled with fantastic options below. If you are looking for east coast spring destinations, check out these inspiring places to visit and enjoy the fantastic spring weather.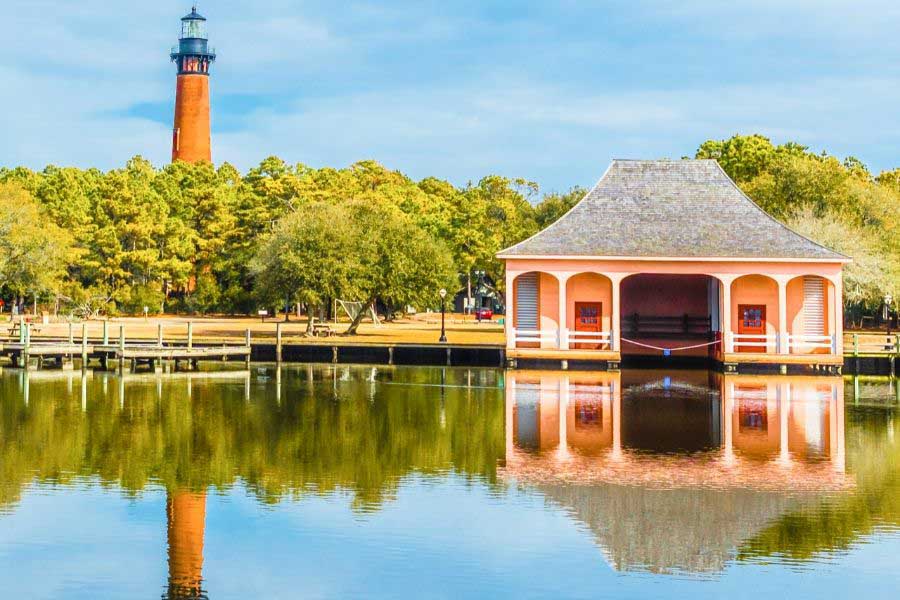 Outer Banks, North Carolina
One of the favorite Spring time destination in the USA is Outer Banks. Located in North Carolina, Outer Banks is an archipelago of islands overlooking the Atlantic Ocean. Spring is a great time to visit if you intend to beat the crowds and enjoy the many outdoor activities. The weather is pleasant with temperatures ranging from mid 60's to 70 Fahrenheit. The water is still cold to take a swim, but the beautiful beaches are great to sun bathe and make castles on the sand. It is also a great time to indulge in fishing especially at the popular Jenette's Pier. Outer Banks is the place where history was created by the Wrights Brothers. One of the best things to do in Outer Banks is visiting the Wrights Brothers Memorial. Watch the strip on which the brothers took their first flight or climb the replica of their airplane. With the coast spanning across 200 miles, there are many beautiful and historic lighthouses – Currituck beach lighthouse, Bodie Island Lighthouse and the iconic Cape Hatteras lighthouse that are worth visiting. Most of them open for climbing atop during springtime. The Jockey Ridge State Park has the most massive natural sand dunes of the East coast and a great place to watch the sunset. This is also the place to fly kites and hand glide. Drive along the Outer Banks scenic byway for mesmerizing views of the ocean and greenery. It is fun to drive all the way to Ocracoke Island on the State ferry with your vehicle on it from Cape Hatteras Island. Ocracoke is a small village and a must stay to unwind and rejuvenate. Outer banks will definitely make a special place in your heart with memories to be cherished forever. Neha from Travelmelodies
Looking for hotels in the area? Check out these highly rated TripAdvisor hotels here in the area for the best prices and availability.
Hartford in spring time
Hartford, the capital of Connecticut, is conveniently located two hours north of New York City and ninety minutes south of Boston. Hartford is also easily accessible by bus from either city (there are no direct train routes). Throughout the city of Hartford, and most notably in its neighboring town of West Hartford, you will witness the beautiful Cherry Blossom trees in full bloom, usually in mid May. A great spot for finding those trees as well as a perfect architecture photography spot is in front of the Connecticut State Public Library within walking distance of the State Capitol & Legislative Office Building. You will instantly notice its famous High Victorian Gothic design with a gold, pointed arch. The second beautiful photography spot in the spring is Hartford's Elizabeth Park where you can easily spend hours walking about–an idea activity for those especially concerned about COVID-19. The beauty of the park is quite stunning, and is the ideal destination for an afternoon picnic, and it is a lovely spot for drawing. Currently during the COVID-19 pandemic, unfortunately there are no concerts or events allowed with more than fifty persons outdoors (and 25 people indoors). Restaurants are currently at 50% capacity with a maximum of eight people per table. In addition, restaurants and entertainment venues like bowling alleys and movie theaters must close by 9:30pm. Luckily, Hartford has several opportunities for exploring the sights and scenery outdoors this spring. For dining, Hartford has some excellent al fresco dining destinations. Our top picks include Artisan in West Hartford at the Delamar Hotel, The Half Door in Hartford, and Salute in Hartford. The Mark Twain House, for example, is a must visit in the spring season no matter what the weather holds. Tour the outside of the home and then step inside to see this fun historic home's unique interior. Speaking of weather, be sure to pack generously as Connecticut is known to have some rainy days in April and June. May in particular is a very calm month usually with plenty of sunshine. Another great spot if it is a rainy day is the Connecticut Science Center, a perfect education destination for the whole family with four floors of exhibits. Lastly, once the pandemic restrictions lift, a spring cruise down the Connecticut River is a great way to cap off your visit. Lady Katharine Cruises offers public and private tours along the famous river, as well as specialty tours like culinary-themed cruises and dance cruises. Check out Vanessa's post on visiting Hartford's dining scene
Looking for hotels in the area? Check out these highly rated TripAdvisor hotels here in the area for the best prices and availability.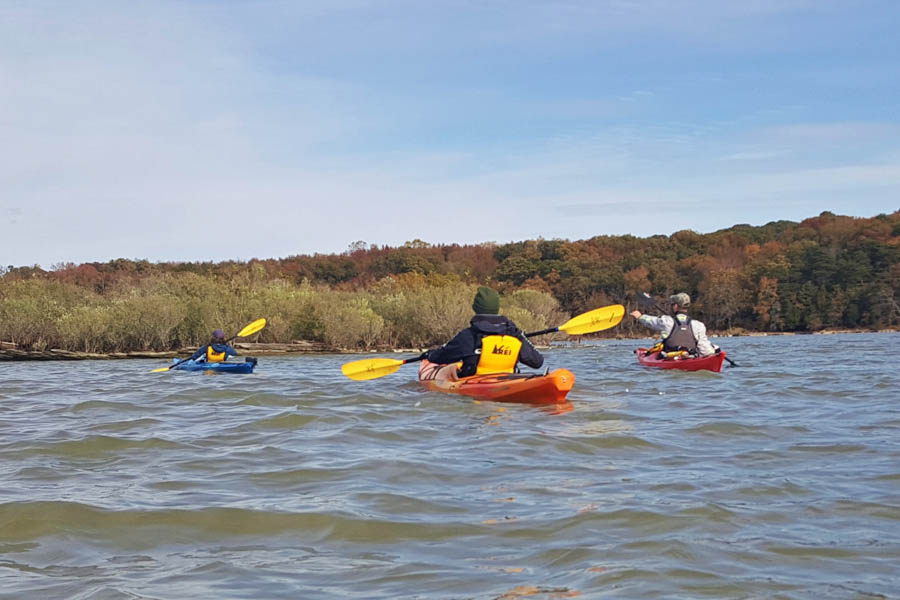 Mallows Bay in Maryland
Located just 40 minutes from Washington DC sits a destination for adventurers and fans of abandoned places. Situated on the Maryland side of the Potomac River, Mallows Bay's shallow waters hold the largest collection of wood and steel-hulled shipwrecks in the Western Hemisphere. It is one of only 14 sites in the country named a National Marine Sanctuary by the National Oceanic and Atmospheric Administration (NOAA) and the first new designee in nearly 20 years. Kayakers eager to view the Ghost Fleet of Mallows Bay should be aware that the waters here are tidal. This means that during high tide, few of the vessels stand above the waterline. Therefore, plan your visit during low tide. This will provide you the best opportunity to observe the greatest number of "Ghost Ships." Better yet, if you can time your visit for a foggy morning, you can expect a haunting sight. While the best way to see the ghost ships is from on the water, landlubbers can also enjoy Mallows Bay Park and the Ghost Fleet.
The recreation area offers multiple walking trails of varying distances. All are relatively easy and provide multiple vantage points from which to view the wrecks. As you're exploring keep your eyes open. You just might find an Indian arrowhead or other relics left behind by the Piscataway tribe who have been stewards of this land for 12,000 years. Additionally, the wrecks provide shelter for flora and fauna, including fish, osprey, bald eagles, heron, beaver, river otter, and turtles. Mallows Bay Park offers outdoor enthusiasts walking trails, a boat ramp, and a kayak launch. All are available for public use at no cost. Susan with Gen X Traveler
Looking for hotels in the area? Check out these highly rated TripAdvisor hotels here in the area for the best prices and availability.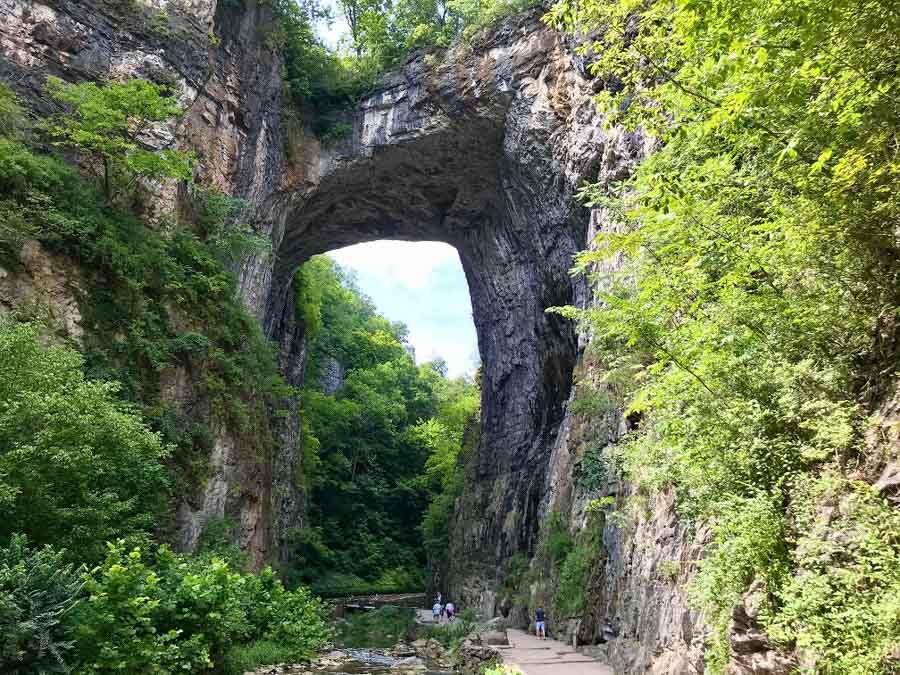 Virginia's Shenandoah Valley
Virginia's Shenandoah Valley is a natural beauty that wows with rolling hills, rural landscapes and stunning vistas. At the center is Shenandoah National Park, home to famed Skyline Drive and more than 500 hiking trails that criss-cross the park, welcoming visitors in springtime with an abundance of gram-worthy scenery. More than 75 viewpoints, including Signal Knob Overlook (milepost 5.5) and Jewell Hollow Overlook (milepost 35.6) implore motorists to brake along the iconic 105-mile stretch of scenic byway to savor dramatic views for miles and miles. Take a hike at Shenandoah National Park for historic remains, cascading waterfalls, rock scrambles and far-reaching vistas. The short and sweet hike to Hawksbill Summit wows with spectacular views of Massanutten Mountain. Meanwhile, the delightful waterfall hike to 67-foot-tall Rose River Falls awes with a refreshingly dreamy swimming hole. Book a one-hour or 2.5-hour guided horseback trail ride at Skyland Stables to see the Shenandoah Valley from a new perspective. As in, from atop a horse as you trot across an old apple orchard along leafy trails. Hand-guided pony rides are available for small children. Shenandoah National Park may be the region's crown jewel, but the Shenandoah Valley's state and regional parks are equally worthy of exploration. Even better, you may find fewer crowds. At Natural Bridge State Park, a 215-foot-tall natural limestone arch leaves many in awe. As you stroll under, look up to see George Washington's initials that he carved in 1750. While in Virginia's Shenandoah Valley, make time for Front Royal. A short 10-minute drive from the national park, Front Royal is the Canoe Capital of Virginia, boasting many opportunities to get out on the Shenandoah River. Book a campsite at nearby Shenandoah River State Park for hiking, biking, kayaking and horseback riding. Erin with Go Hike Virginia
Looking for hotels in the area? Check out these highly rated TripAdvisor hotels here in the area for the best prices and availability.

Spring Getaways in the Mid-Atlantic 
The Mid-Atlantic region shines in the Spring with milder weather for exploring nature and great local events that are perfect for social-distancing fun! Below are 3 great spots in the region specifically with COVID in mind. And if you have kids, check out 17 social distancing activities in the DC area with kids.
Annapolis, Maryland
Annapolis is a beautiful city right on the Chesapeake Bay. It is also a very historical city known for the Naval Academy, 18th-century buildings, and the capital of Maryland. Check out the Annapolis Spring Sailboat Show from April 30 to May 2nd at the City Dock's to see dozens of sailboats on display. While you are exploring Annapolis, you must check out Cantler's Crab House located right on the water for delicious Maryland Crabs. They have a huge patio for outdoor seating, or you can get your crabs to go!
Delaplane, Virginia
Located just an hour outside DC, Delaplane feels like a world apart. It is a valley right up against the Shenandoah Mountains that look like the rolling hills of Germany or France. A must-do in Delaplane is hiking at Sky Meadows State Park. There are many different hikes with sweeping views including hiking parts of the Appalachian Trail. An insider tip is to park in the "Children's Discovery Area" which is your first right after the entrance gate. There you will find much fewer people than the main historic parking lot (5 cars versus 50) and can hike without people in sight! After your hike, be sure to check out the vineyards within a few miles of the park include Delaplane Cellars and Barrel Oak Winery. Both have outdoor tasting rooms with heaters.
Harpers Ferry, West Virginia
Nature and history converge on this beautiful town nestled between two rivers and the rolling hills of West Virginia. Harpers Ferry can be busy with visitors from DC and Baltimore but if you go on weekdays or earlier in the morning, you will avoid the crowds. Highlights of a visit include the Appalachian Trail Bridge and the historic St. Peter's Roman Catholic Church which was the only church in Harpers Ferry to not be destroyed during the Civil War. As a reward for all your exploring, make sure to check out Rations Café a little farther up from the historic part of the city for coffee, smoothies, and sandwiches. Jennifer with DC Family Travel
Looking for hotels in the area? Check out these highly rated TripAdvisor hotels here in the area for the best prices and availability.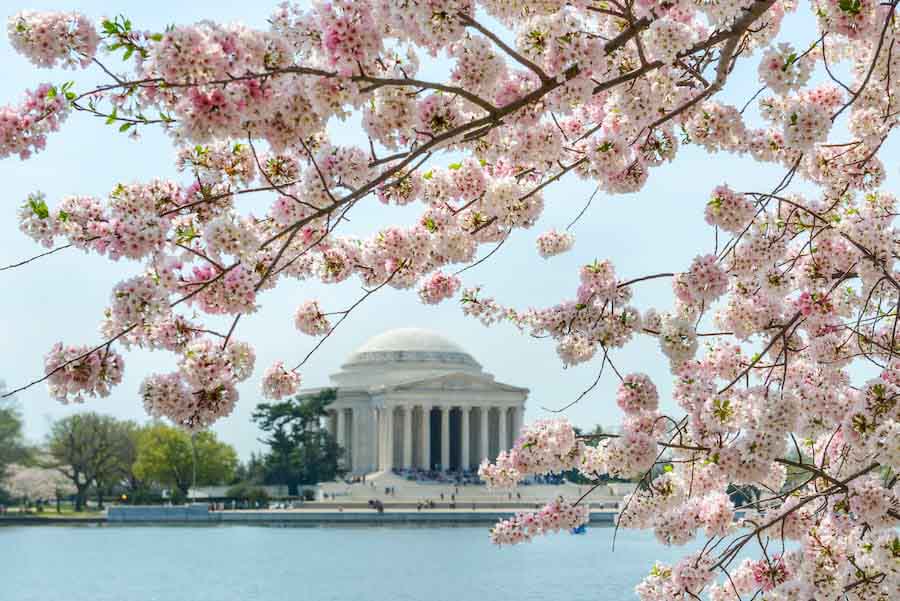 Cherry Blossoms in Washington DC
Another extremely popular place to visit in the USA during spring is the nation's capital city, Washington DC.  The city has so many things to do, fantastic day trips, and is home to one of the most famous flower festivals in the entire world. Travelers often find themselves in Washington DC in spring because of the National Cherry Blossom Festival that takes place there.  This festival honors the Japanese cherry blossom trees that were gifted to the United States by Japan in 1912.  The festival takes place annually and spans over a couple of weeks from around March 20 until around April 10, and usually, the trees will blossom throughout this time. During this famous festival, people come in from all over the globe and there are events and small festivals that take place alongside it, making Washington DC one of the most happening cities in America during that time. If you're looking to get away from the city during this time, you can take a trip to Shenandoah National Park for a day where the spring wildflowers are in bloom or to Northern Virginia to Alexandria or Arlington. There are many things to do in Arlington, including many cherry blossoms as well, albeit without the crowds. The weather in Washington DC can be a bit temperamental during spring, so it is best to have a Plan B.  Fortunately, the capital city is home to one of the best networks of museums in the world, The Smithsonian Institute.  These free museums are phenomenal and an excellent thing to keep occupied with on a rainy day (or even a sunny one!).  Washington DC is a great place to visit in the US during spring. Megan with Virginia Travel Tips
Looking for hotels in the area? Check out these highly rated TripAdvisor hotels here in the area for the best prices and availability.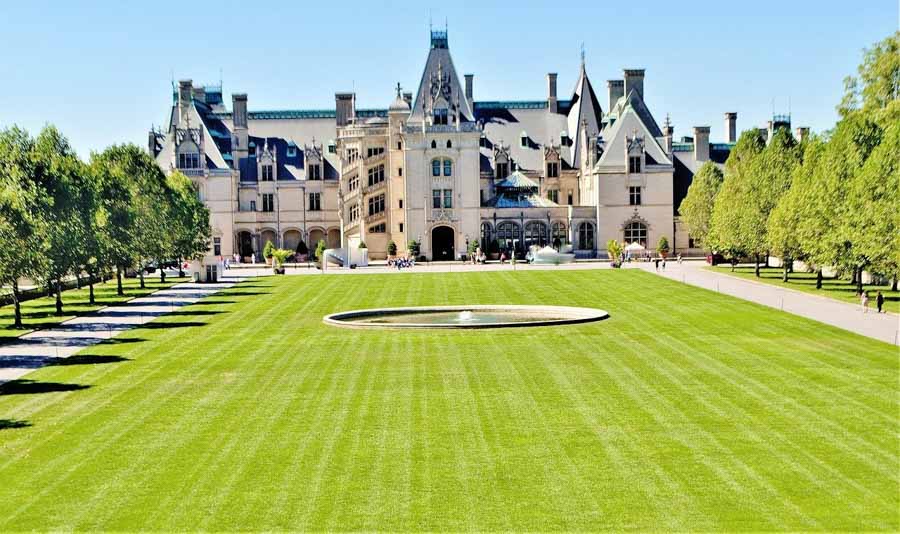 Asheville in Springtime
When I lived in Charlotte, NC one of my favorite in-state getaways was to the gorgeous town of Asheville. I visited during every season but I particularly enjoyed it in the spring when everything was coming to life. Spring in Asheville is great for many reasons but perhaps most pertinent right now is that there are fewer visitors than there are in summer. However, the weather is usually nice enough to be outside. With the current world health crisis avoiding crowds and being out in the fresh air is high on most people's minds when planning a getaway. Plus, Asheville has made a Stay Safe Pledge to its residents and visitors in an effort to help keep everyone healthy. Asheville is nestled in the stunning Blue Ridge Mountains making it a haven for outdoor enthusiasts, nature lovers, and active travelers. Hiking, biking, waterfall chasing, and scenic drives are all popular activities around Asheville and in the spring there's the added bonus of magnificent wildflower blooms. Being surrounded by outdoor spaces like Chimney Rock State Park, Pisgah National Forest, and the Great Smoky Mountains National Park means you can spend the majority of your time outside exploring the natural wonders of the area. Asheville is also known for the grand estate of the Biltmore, former home of the Vanderbilts. There are acres of beautiful gardens and grounds to explore if you wish to stay outside. But if you want to venture inside the Biltmore home you can be assured that modifications are in place to adhere to the highest public safety standards. The food and drink scene in Asheville is varied with plenty of great restaurants, cafes, bars, and brewpubs, many of which have lovely outdoor seating. For accommodations, you'll find everything from basic hotel rooms to 5-star suites, romantic guesthouses, and even luxury treehouse glamping in Asheville. Sarah with All About Glamping
Looking for hotels in the area? Check out these highly rated TripAdvisor hotels here in the area for the best prices and availability.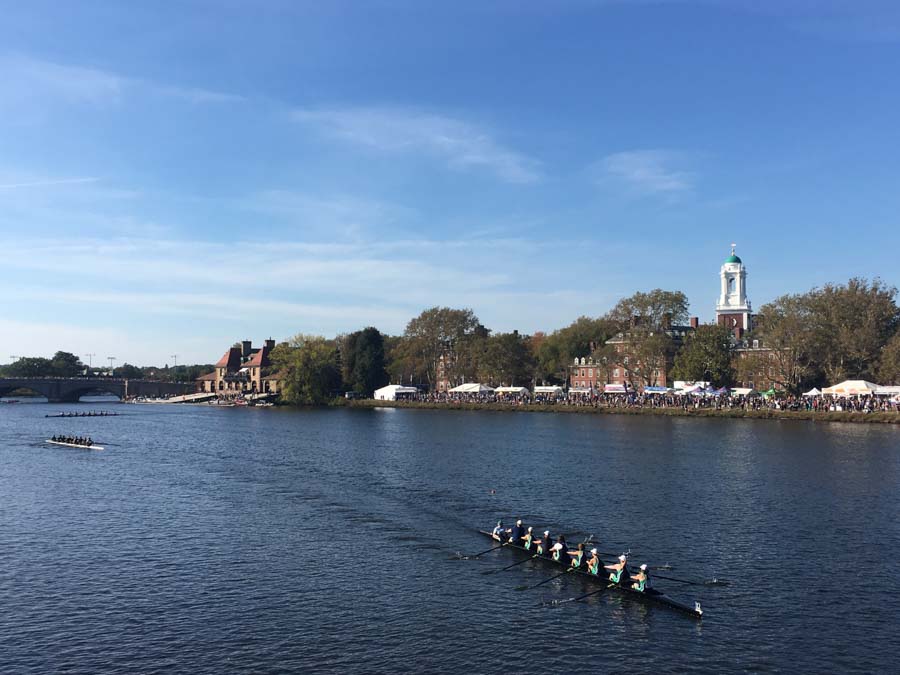 Exploring Boston in Spring
Boston would be a fantastic destination spring time getaway. Boston is a walking city – all of the interesting historical sites, restaurants, and shopping areas are just a few minutes away along flat paths that take you through quiet parks, wide esplanades or bustling sidewalks. However, if you prefer transportation, Boston has an excellent transit system. Avoid taxis and Ubers. The streets are often one way or take you on circuitous routes that mean the cost of taxis or Ubers is a lot more than what the distance suggests it should.
A couple of awesome activities to do in Boston is a food tour, like the Boston Secret Food Tour. You explore Little Italy and other parts of Boston all the while eating delicious food for hours! This spring during Covid, you can still book this tour but it will be private. 
Of course, a visit to Boston would not be complete without walking the Freedom Trail, which is a
2.5 mile walk that connects 16 nationally significant historic sites. You can do this without a guide or choose one of the free walking tours still offered.
If you are looking for a treat at the end of the day, head over to Mike's Pastry, a Boston landmark. Here you can try one of the best cannolis in the city. Bring cash and prepare to wait in a long line!
Nicole with Go Far Grow Close
Looking for hotels in the area? Check out these highly rated TripAdvisor hotels here in the area for the best prices and availability.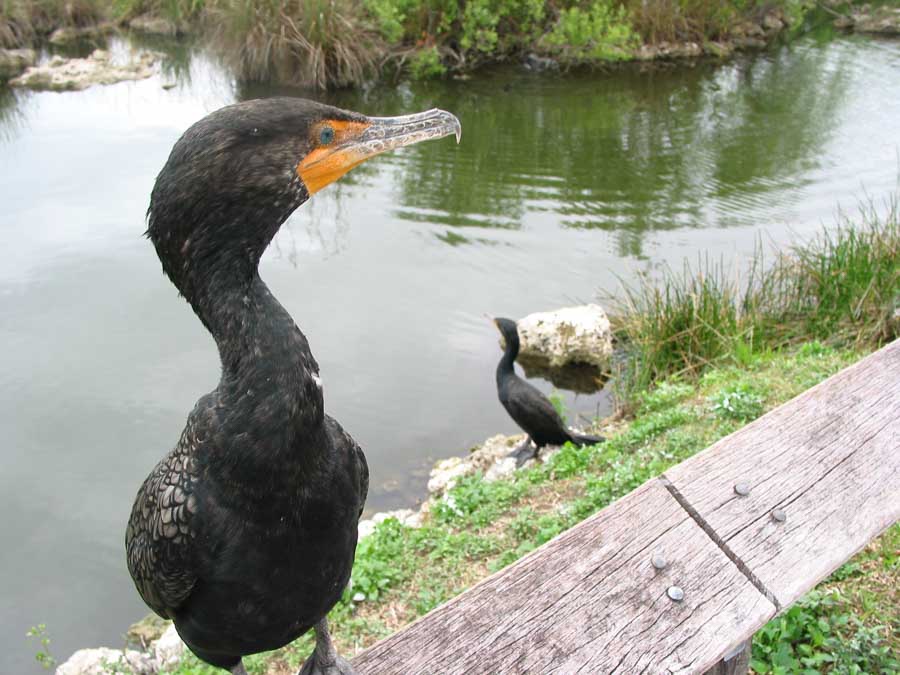 Florida Everglades National Park
For those looking for incredible outdoor experiences for a spring getaway in Florida, the Everglades National Park should be high on any travel plan. The UNESCO World Heritage site in south Florida is a natural jewel composed of tropical wetlands. The unique environment is home to numerous endangered species such as the manatees,  American crocodiles, and the rare Florida panthers, making the park one of the most popular to get a glimpse of these animals. Over 300 bird species live in the area, with some species like the Cape Salbe Seaside Sparrows can be seen in spring, when migratory birds pass through Florida. Wildflowers come in the hundreds, and various species bloom all year round. Nearby Biscayne National Park and Big Cypress National Preserve Spring is a great time to visit the Everglades. Indeed, the subtropical wilderness features a dry season from November through April and a rainy season from May through December. Spring sees the best of the two seasons, with fewer people, water level usually appropriate for kayaking but not impeding hiking opportunities. The best way to explore the wetlands is on an airboat tour, though non-engined powered options exist as well. Walk the famous Anhinga Trail, probably one of the top attractions in the Everglades National Park. Join a ranger-led tour. Hike the Gumbo Limbo Trail or one of the several trails available. Bike Shark Valley or  Pine Key trail. Kayak through Hell's Bay, and consider camping on a wetland platform for the ultimate Everglade experience – mosquitoes included. The park, currently open, follows the US Centers for Disease Control and Prevention (CDC) guidelines and recommends following social distancing practices when visiting. Some activities and amenities might be closed, but as the COVID-19 pandemic situation changes daily, contact the park before traveling to enquire about the latest status. Patricia with Ze Wandering Frogs
Looking for hotels in the area? Check out these highly rated TripAdvisor hotels here in the area for the best prices and availability.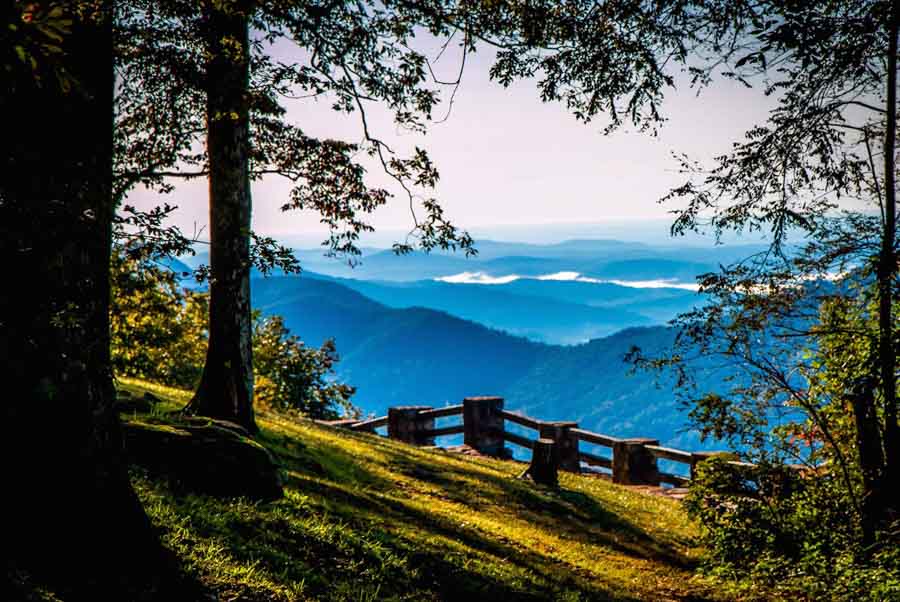 North Georgia Mountains 
The North Georgia mountains are an incredible area to explore at any time of year. The vast wilderness of the Chattahoochee-Ocoee National Forest offers lush greens in summer, vibrant yellows and oranges in autumn, and a light draping of snowy white throughout much of the winter. But spring is truly a special time here at the southern end of the Blue Ridge mountains. Where North Georgia swelters with heat and humidity in summertime, spring in the mountains brings high temperatures averaging around 71º in April to 78º in May and June. Wildflowers and azaleas begin to bloom first, followed by dogwood and magnolia trees and honeysuckle vines, which fill the air with a remarkably sweet fragrance. An average of 4.5 to 5 inches of rain in the spring months ensures stunning views at dozens of the region's most beautiful waterfalls, including Panther Falls and Minnehaha Falls near Clayton, Dukes Creek Falls and Helton Creek Falls near Helen, and Amicalola Falls (the tallest in GA at 729 feet) and Long Creek Falls near Blue Ridge. The cooler temps are also great for hiking some of North Georgia's tallest mountains, including Blood Mountain, Brasstown Bald, and Rabun Bald. Serious hikers may also be interested in tackling all or part of the 115-mile Bartram Trail, the 300-mile Benton MacKaye Trail, or the 2,190-mile Appalachian Trail (which starts on Blairsville's Springer Mountain). For those interested in slightly less active pursuits, there's still lots to do in North GA in the spring. From fishing countless trout streams  and tubing down the Chatathoochee River to strolling the quaint shops of towns such as Blue Ridge, Dahlonega, and Hiawassee, these mountains have a languid pace far removed from the hustle and bustle of Atlanta. And with nearly a dozen lakes dotting the hills, there are also plenty of places to just kick back in a rocking chair with a sweet tea and watch the world drift by. Bret Love & Mary Gabbett of Blue Ridge Mountains Travel Guide
Looking for hotels in the area? Check out these highly rated TripAdvisor hotels here in the area for the best prices and availability.
More USA Travel Inspiration
More Spring break destination ideas
Best National Parks road trips
Guide to the best USA road trips
Top USA national parks by states
Pin this for later on your travel board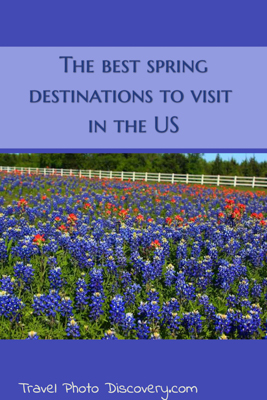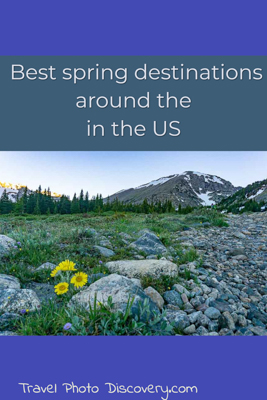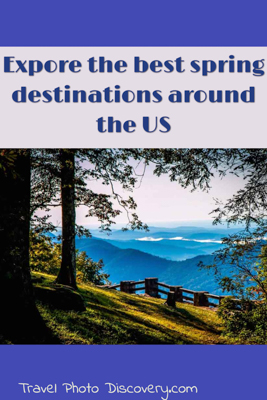 Conclusion on a spring break getaway in the United States
Hopefully some of these inspiration locations have given you some ideas about fun places to explore nearby or as a fun getaway destination around the country to explore soon. Thanks for visiting and checking out this collaborative post on Spring break US destinations. Bookmark this post for future reference when you are looking for some spring activities, adventure or fun experiences. Please do share this post with any of the social media icons on the side bar and thanks for visiting today! Some links in this article on Spring break US destinations are affiliates which provide a small commission to support this site at no extra cost to you. Thank you for reading, and happy travels