Experience the best Top road trips around the USA now (updated 2021)
Traveling around the USA on a road trip is a wonderful way to experience the landscape, culture, national  parks and just the grandeur of the entire country. What better way to do this but on a road trip to some of the most cherished and popular attractions or destinations worth exploring in the nation. To help inspire you to take a wonderful road trip, I've asked some of the top travel bloggers to share their top road trips in the USA and other tips on traveling to those destinations.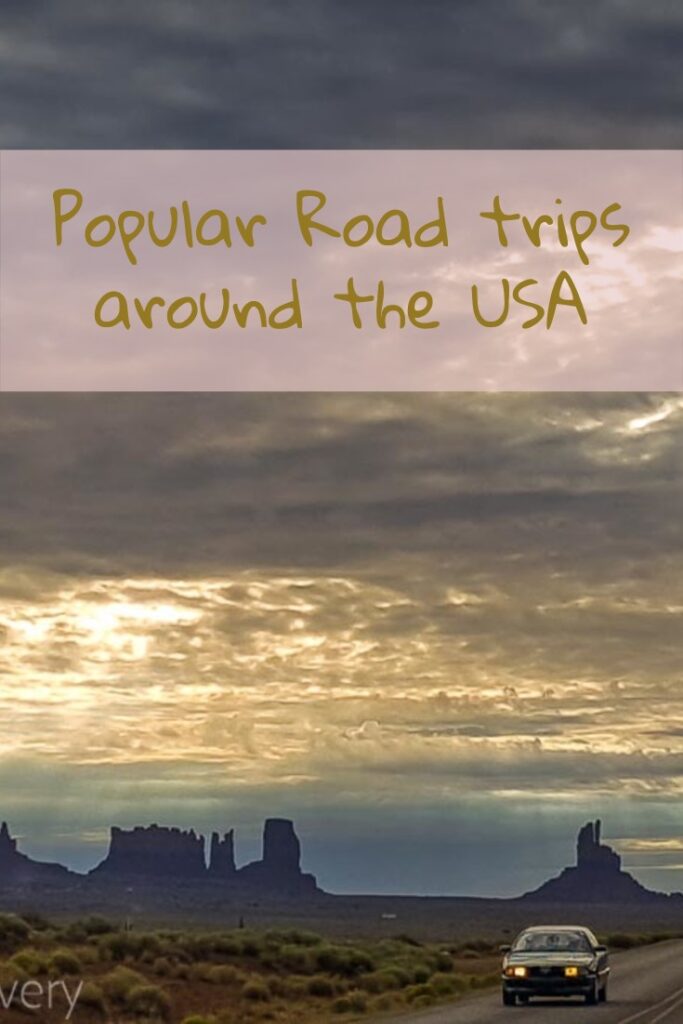 Fantastic road trip round up in the USA
Driving from Los Angeles to San Francisco on the Pacific Coast Highway
California is known for these two major cities but the best destination in the state is arguably the coast between the two. Coming from Los Angeles spend time enjoying the pier in Santa Barbara, play in the dunes in Pismo Beach. Take in the breathtaking view in Cambria with some delicious wines just up the road in Paso Robles and a quick stop to wander through Hearst Castle.
Then you'll drive the 100 miles that make up Big Sur. This area south of Monterey brings you some of the best coastal views around the globe. Then enjoy the Monterey Bay Aquarium to see what's been under the surface of the water you've been driving along this whole time. Or hang out with the surfers in Santa Cruz.
California's Central Coast brings you some of the best sites, activities, restaurants, and even wineries, you'll find around the United States. You can do the drive in a day but it's much more fun to spend a few taking your time along the road.
Megan McNee – check out her post on her California road trip from LA to San Francisco here
Traveling the Pacific Coast Highway from San Francisco to Mendocino City
Most visitors wanting to travel the coastal route end up taking Highway 1 from LA to San Francisco or the other way around.  But, I think the most scenic routes along Highway 1 a visitor should take should be traveling north from San Francisco all the way to Mendocino City. A classic west coast road trip, this route is less traveled on coastal Highway 1. The landscape on this journey is simply stunning with jagged cliffs, long stretches of beaches and magnificent coastal views that you will pass along the way. Some of the best spots to take a break and check out some highlights include: visiting Point Reyes National Seashore and close by Point Reyes Station, the Russian fort in Sonoma called Fort Ross, the gorgeous coastal tidepools at Point Arena and then to the lovely historic town of Mendocino city and even just a little north to Fort Bragg and the cool glass sand beach. When you get to Mendocino relax and take it slow exploring the city, take a coastal hike, or check out this cool and fun garden in the heart of town.
When you get to Mendocino City, make sure you spend some time to explore the scenic coastal trails and enjoy the wonderful galleries and shops downtown. Try to get up early and greet the sunrise along the Mendocino coast or explore some of the fun and quirky parts of the historic district in town.
Just beyond Mendocino city, you can check out the beautiful botanical gardens or visit Fort Bragg and the cool glass beach where you can collect some gorgeous tumbled glass from this old dump that have left polished glass all over the beach.
Noel Morata at Travel Photo Discovery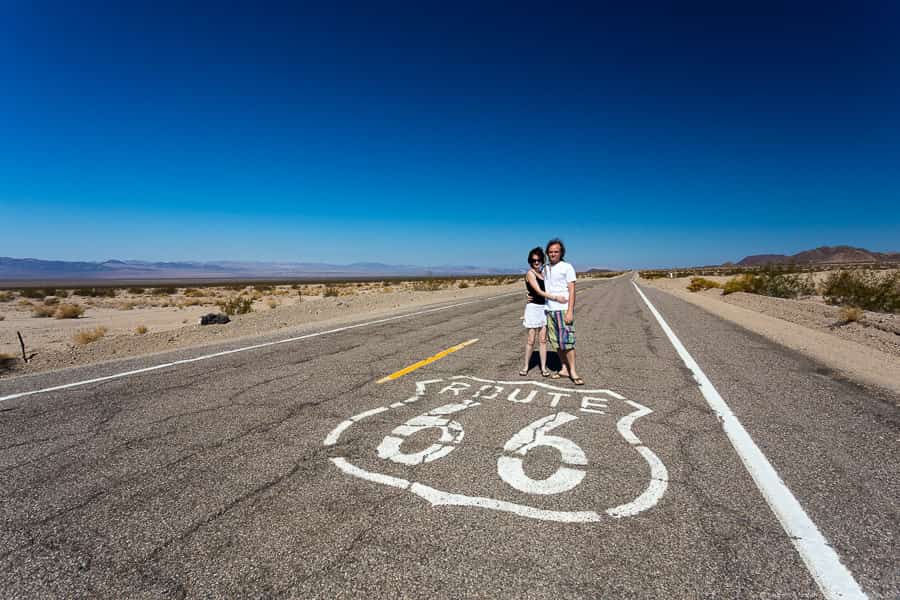 Road trip through Route 66
A US road trip on Route 66 is the ultimate classic American road trip along what is probably the most famous road in the world. Historic Route 66 starts in Chicago, IL and ends in Santa Monica, CA, spanning over 2,400 miles across 8 states. Laurence and I were lucky to be able to drive it from beginning to end in the summer of 2015 and loved every day of our road trip. There are no must-sees but there are a number of attractions throughout which include historic buildings, museums, national monuments, and big city attractions. But perhaps the best parts for us were simply visiting the classic motels, diners, gas stations, and roadside tourist attractions (I mean who doesn't want to see a giant cowboy or a bunch of Cadillacs upturned in the mud?!), meeting the Americans living and working along the route, and admiring the beautiful landscapes along the way. It is an epic road trip and we'd recommend taking at least 2 weeks to drive it. If you have less time, I'd focus on driving a section of the route.
Name: Jessica Norah with Independent Travel Cats
A road trip from Charleston to New Orleans
A roadtrip through the deep south of the USA is a truly wonderful experience. We spent five weeks driving between Charleston and New Orleans, experiencing incredible southern food and friendly hospitality, as well as a swathe of cultural and historical sights. There's everything here from the civil rights movement and the civil war, through to beautiful old plantation homes, beaches and pretty towns. Highlights included experiencing Mardi Gras in three cities, BBQ food in Savannah, the plantations along the river road, the incredible food scene in Charleston and the civil rights museums in Alabama – we certainly had a wonderful time experiencing it all!
Laurence Norah at Finding the Universe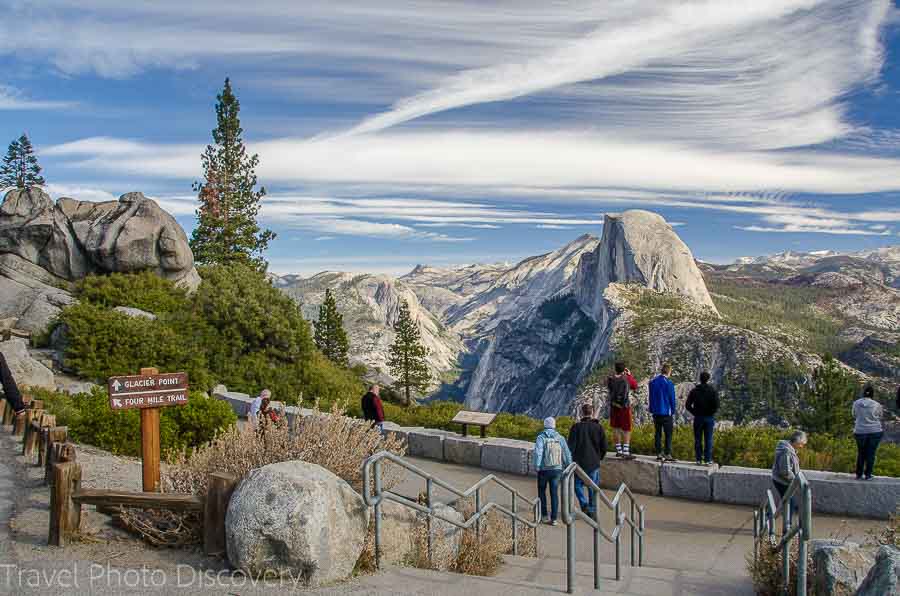 Visiting California's National Parks
One of my favorite U.S. road trips lets you visit three stunning California National Parks—in as little as three days! Visit the jointly-managed Sequoia and Kings Canyon National Parks to see some of the biggest trees in the world and rugged Sierra mountain landscapes. These less-visited National Parks are two of California's hidden gems. After that, drive just about two hours north to Yosemite for world-famous views of Half Dome, El Capitan, and stunning waterfalls. Travel tip: Try to avoid Yosemite in the summer when the park (especially the Yosemite Valley) is crowded and hard to explore. Try winter for picturesque snowy landscapes, spring for the best waterfalls and wildflowers, and fall for brilliant displays of fall colors.
Cassie Kifer, more info: http://www.everintransit.com/majestic-mountain-loop/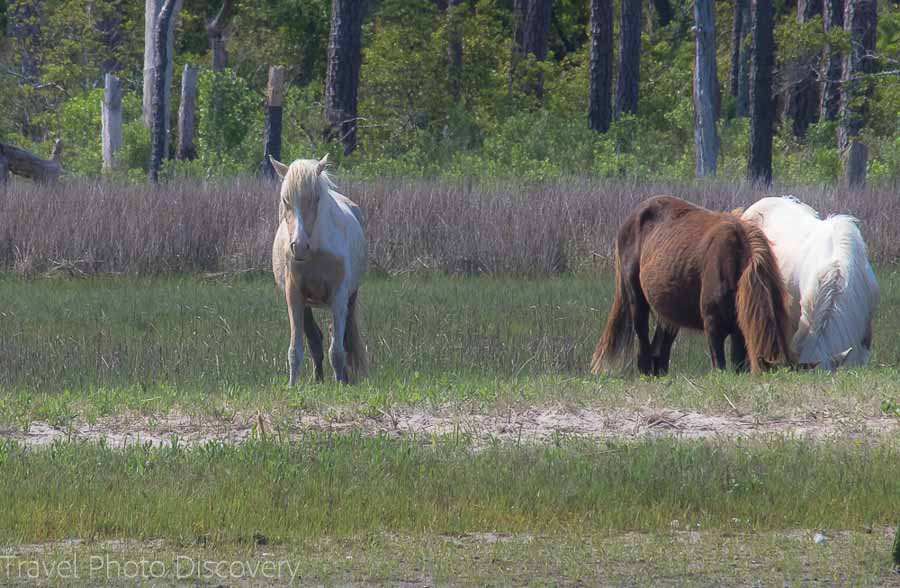 Road trip through Virginia's Eastern Shore
Virginia is well known for its natural beauty but the Eastern Shore is often overlooked to do as a USA road trip. Visitors flock to the nearby resort towns of Ocean City Maryland and Virginia Beach leaving the Atlantic barrier islands and inlets along the Chesapeake Bay blissfully uncrowded. The drive from Virginia Beach via the 21 mile long Chesapeake Bay Bridge Tunnel transports you to another world, where instead of overpriced resorts and souvenir shops you'll find miles of pristine wetlands, hidden beaches and charming small towns.
Cape Charles, on the southern end of the shore, is like Mayberry on the Chesapeake Bay. Home to a handful of artists and boutique, this is where to stop if you want a beach break without the crowds. Heading up the shore be sure to take a ferry to Tangier Island, where very little has changed and whose residents still speak a form of Elizabethan english. End your trip at Chincoteague Island, known most for the herds of wild ponies that call the barrier island home (including Marguerite Henry's beloved Misty of Chincoteague) and the ​dunes of the Assateague National Seashore. The Eastern Shore may be Virginia's best kept secret.
Brianna Simmons at Casual Travelist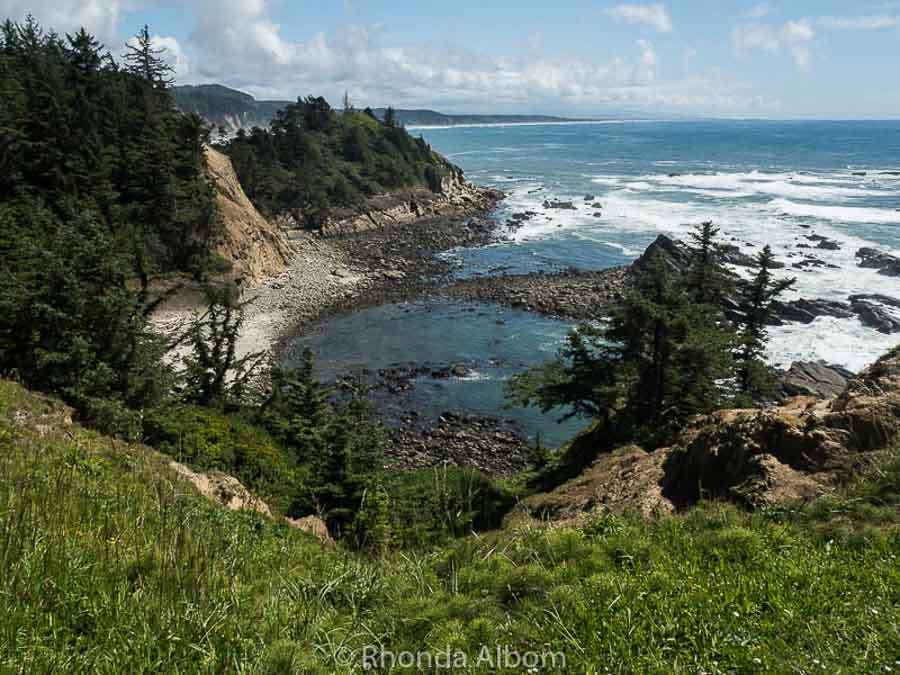 Driving through the Oregon Coast
A round trip in Oregon, USA – As we drove south from Astoria along the Oregon coast, we saw some of nature's most spectacular scenery.  Cliff tops, blowholes, sea lions, and miles of wild beach all fought for our attention. Driving slowly, we spent three days enjoying 350 miles of ever-changing coastline. From north to south, our favourite stops include Haystack Rock at Cannon Beach, Cape Lookout, Yaquina Bridge, Devil's Churn and Spouting Horn on Cape Perpetua, Heceta Head Lighthouse, and Cape Arago State Park (photo). Don't stop at the state line; the drive keeps going through the majestic California Redwoods. A spectacular road trip from Eugene to Portland and into the Columbia River George is another fantastic option to try if you are coming south to northern Orgeon.
Check out Rhonda Albom's road trip post on the Oregon coast here
Michigan's Sunset Coast Road Trip
One of the best road trips is to take an extraordinary drive along Michigan's Sunset Coast. Explore small and large towns, climb Sleeping Bear Dunes, named the most beautiful place in the USA, and stop at countless award-winning beaches, many with lighthouses.
Start at the bottom left of the mitten state. In South Haven, swim at 3 beaches, visit the Michigan Maritime Museum and take a sunset cruise, and get your fill of myriad flavors at Sherman's Ice Cream, which just celebrated its 100th birthday.
Stop in Saugatuck at stunning Oval Beach, one of the top 25 beaches in the world. Get some coffee at Higher Grounds and explore the cute downtown – art galore! In Holland, discover local history at Windmill Island Gardens.
In Onekama, just north of Manistee, detour to Portage Point Beach – a lovely local hangout. Be sure to stop and fill your bottles with artesian water at the spring. Keep on M-22 to Beulah (Cherry Hut for pie), Frankfort (smoked fish for a picnic), and Empire (hand-made chocolates at Grocer's Daughter). At Empire Beach, you can see the enormous scope of Sleeping Bear Dunes. Climb them at the National Park, and then head to Traverse City for great food, wine, and MORE beaches.
Check out Dr. Jessie Voigt's post on beach towns of Michigan here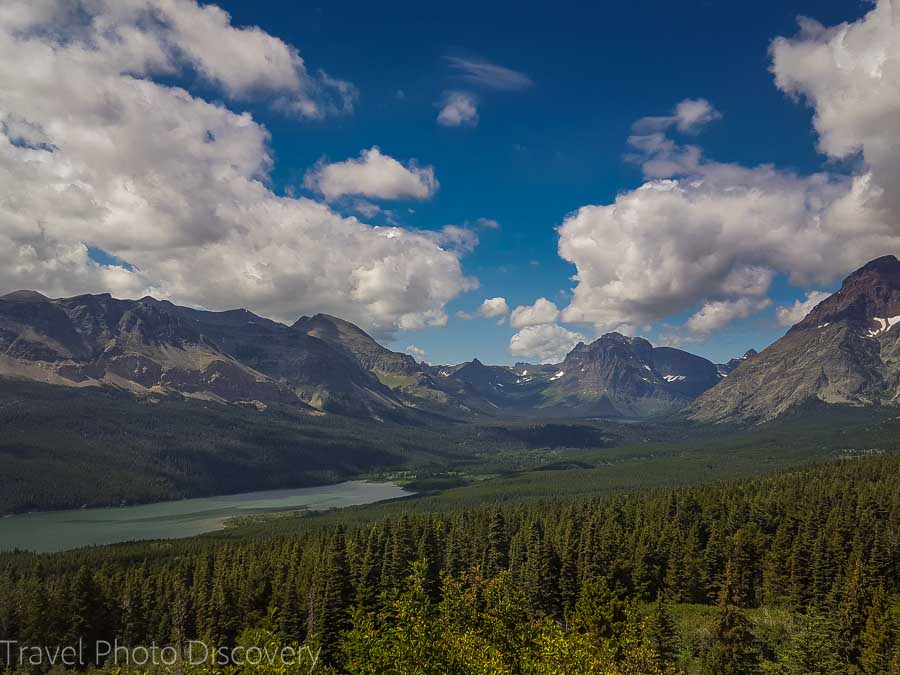 Drive the Road to the Sun at Glacier National Park
One of the best US road trips to experience is to visit Glacier National Park. Truly is one of the most spectacular road trips to do in a national park and doing the famous Road to the Sun experience . You start on the valley floor passing through scenic lakes, rushing rivers and stunning views from below looking up to the spectacular mountain. Then you slow drive uphill to encounter so many scenic overlooks of different views of the park until you get to the summit and you see the most amazing scene unfold. There are many turnouts and places to stop for picture taking or doing some short hikes so you can finish the drive in one day. But I would definitely stay overnight to see the amazing landscape again the following day or do a longer hike around a section that looks interesting. Check out my road trip post to Glacier National Park here for more details and images.
Noel at Travel Photo Discovery
 
Road trip to the Cascade Loop in Washington
The Cascade Loop (http://forgetsomeday.com/cascade-loop-scenic-highway-best-washington-road-trip/) is a scenic 440-mile drive through some of Washington State's most spectacular landscapes! Start the journey on Highway 2 about 30 miles north of Seattle near Everett. Pass through small towns in the Snohomish River Valley, as you make your way through Stevens Pass toward Leavenworth, a Bavarian-themed village at the foothills of the Cascade Mountains. You'll want to pull over often with tempting views of gorgeous waterfalls, gushing rivers, and towering mountain peaks. Once you pass through the quaint towns of Cashmere and Wenatchee (the apple capital of the world), you'll visit the beautiful Lake Chelan), the third deepest lake in the US. Feel like you've taken a step back in time as you wander through the towns of Twisp and Winthrop, both of which are preserved to look like something straight out of a Western.
Mazama in the Methow Valley has an incredible network of hiking trails, including Heather Maple Pass, which continually ranks as one of the best hikes in the Pacific Northwest. The North Cascades Highway is definitely this drive's main attraction! The views here are simply unrivaled! You'll round out the drive with a journey through the North Cascades National Park and a visit to the charming Whidbey Island. Allow a minimum of 4 days, preferably more, to really take in all that this stunning drive has to offer!
 Toccara & Sam with Forget Someday
A Vermont road trip
Running south to north, along the Green Mountains of Vermont, is where you will find one of the most scenic drives in the country: Route 100. The 'Skier's Highway', as it is also known, connects some of the most popular ski towns in the state – Mount Snow, Okemo, Killington, Sugarbush, Stowe, and Jay.
At any point of the year you will be happy with the sights and activities along this drive. In winter, snow covers the mountains and you'll experience some of the best skiing on the East Coast. The spring and summer bring opportunities for hiking and discovering off-road swimming holes. But the fall is where this route really shines. During peak foliage, the mountains burst with red, yellow and orange. As one of the top fall foliage destinations in the US, there are many mountaintops and drives to experience the amazing colors, and Route 100 is no exception.
At 146 miles, it's do-able in a day, but you'll enjoy it much more if you take your time to truly enjoy the beauty of this scenic route.
Katie McGrain at Around the World in KT Days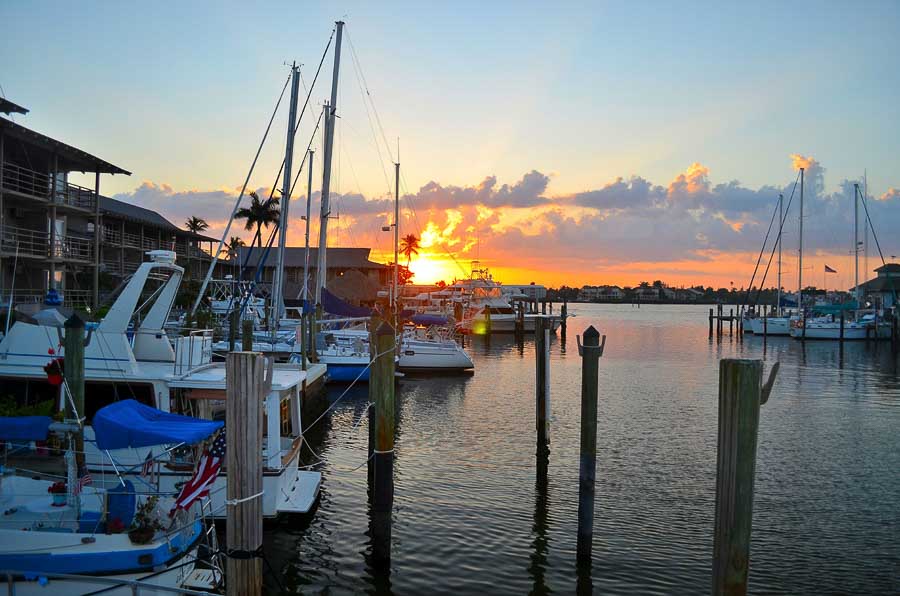 South Florida's Gulf of Mexico Coast
For me, the best road trip in the continental United States is in Florida, along the southern coast of the Gulf of Mexico.  First, this area has arguably the best tropical beaches in the country.  Each of the barrier islands hosts a beach that is prettier than the next.  Siesta Key, across from Sarasota, has consistently made lists of "best beaches" due to its sparkling turquoise water.  This gorgeous beach gets crowded in high season and weekends. Longboat Key has 12 miles of secluded white sand beaches. Lido Key is known for its eco-tourism and sunset cruises.
For arts, shopping and dining, head to downtown Sarasota, a smaller metropolitan city which was once the winter home of the Ringling Brothers Circus.
The best activity on the Gulf Coast is the opportunity to snorkel with wild manatees in Crystal River.  These gentle creatures are friendly and sometimes initiate play with humans.
End the road trip in Naples, one of the wealthiest cities in the U.S.  The Naples Pier, erected in 1888, is the city's symbol and a popular spot for fishing and dolphin-watching. As an alternative, simply chilling on a houseboat at the marina is equally attractive.
Patti Morrow with Luggage and Lipstick
Discovering Utah's National Parks
Utah is a perfect state for a road trip. The scenery is astonishing and goes from arid desert to lush mountainous forests. If you are a Nature Lover, Utah is the state for you, as there are five National Parks and many State Parks to explore. My favorite Road Trip takes you to the three most famous of the bunch: Zion, Bryce and Arches National Park.
Starting out in St George on the Arizona/Utah border, you make your way east on Hwy 9 that cuts through Zion National Park. Most people tend to do a drive through of Zion National park and just stop at the many view points. So if you want to get away from the crowds, take a hike and explore. A nice half day walk (~3 miles) is to the Emerald Pools.
After you leave the park, you head North on Hwy 85, passing through Dixi National Forest and then turning East again on Hwy 12, then take head South on Hwy 22, that leads you to the main entrance of Bryce Canyon. I highly recommend watching the sunrise over Bryce Canyon, as it is much less crowded as sunset and the sun rises directly over the canyon. Stunning!
After exploring Bryce Canyon, you can choose from several routes that take you up North to I-70. I recommend a slight detour that takes you back West on Hwy 12 and then North on Hwy 89, and while it is a longer distance, driving will be more comfortable and faster.
To get to Arches National Park, you will have to do a detour of about 27 miles one way from I-70. I highly recommend getting there early, especially in the summer time, as parking lots fill up quickly.
Check out Maria Haas' post on National parks photo essay here
East coast of Florida, down to the Keys
Forget about Disney, Universal, or other overpriced mainstream places. If your road trip is coming through the east coast, get ready for an epic weird time.
Head south to St. Augustine and take in Ponce de Leon's Fountain of Youth, the Castillo de San Marcos, and the St Photios Greek Orthodox National Shrine. Keep heading south to Daytona Beach to take in one of Florida's better beaches, or keep it weird by heading to the Dunlawton Sugar Mill Gardens. This free site covers how sugar was made… along with some concrete dinosaurs.
Continue southward to Titusville for the Kennedy Space Center, the most expensive stop I'll recommend ($50 admission), but also one of the most impressive launch simulators I've ever ridden. Stop by the American Police Hall of Fame for a photo op with the electric chair.
From here, stay south to Mel Fisher's Treasures Museum in Sebastian, the World Erotic Art Museum on Miami Beach, and the Burger Museum in Miami. On the way to Key West, stop by the Coral Castle in Homestead and the History of Diving Museum in Islamorada. Once in Key West, celebrate with a margarita and a slice of key lime pie – you've earned it!
Chris Backe at oneweirdglobe.com
Exploring the Blue Ridge Parkway
The Blue Ridge Parkway stretches 469 miles and is filled with overlooks and countless stops along the way worth exploring. The National Park Service maintains the BRP and it's the most visited unit each year. Visitors can catch the Parkway anywhere between Rockfish Gap, Virginia near Roanoke and at the western tip of North Carolina, after passing through Asheville. Regardless of where you land on the BRP, colorful landscapes around every corner will capture your imagination and keep it hungry for more.
Each twist and turn of this road leads to spectacular views and something fun to do. Whether you're into hiking, finding quirky little towns, or just staring out at the abyss from one of the many overlooks, the Blue Ridge Parkway has exactly what you need. I love this part of the US and think plenty of people already know about it. However, even the most popular and best known places need a shout-out from time to time.
Check out more of Duke Steward's experience exploring the Blue Ridge Parkway here.
Road trip from Los Angeles to the Grand Canyon
Planning a trip to one of America's most well known National Parks, the Grand Canyon, is as much about the journey getting there as it is the actual destination. Starting in Los Angeles on the iconic Route 66, you will pass through the some of the most picturesque parts of this old highway. Take time to visit Elmer's Bottle Tree Ranch, the old mining town of Oatman where wild burros still roam freely, while slowly working your way from naturescapes to the classic Route 66 feel of Seligman and Williams. With their neon signs, roadside motels and quirky shops you will get a true sense of the spirit of the old Route 66.
Spend some time oohing and awing over the absolute grandness of the Grand Canyon before hitting the road again towards Zion. On your way to Utah, make time to go underground at the breathtakingly beautiful slot canyons of Antelope Canyon, test your nerves at Horseshoe Bend and detour off-road to see some of the most colorful mountains in Paria townsite in Grand Staircase Escalante National Monument.
Stopping off in Kanab for some tasty treats at Rocking V Cafe is a must, before landing in Zion to fully immerse yourself in nature. Don't miss the best hike of all here, The Narrows, before heading home.
Check out more of Karilyn Owen's LA to Grand Canyon road trip here.
The Mega Music Road Trip: Nashville, Memphis and New Orleans
Starting in Nashville tap your toes down Broadway, aka Honky Tonk Row, where bar after bar offers live music all day long. Some of the greatest musicians got their start here and you'll see up and coming local talent, or visit the Grand Ole Opry for the greats. Make sure you add the Studio B tour to your Country Music Hall of Fame visit too so you can sit at Elvis's piano and hear how eccentric he was when recording here.
About three hours drive from Nashville and you'll arrive in Memphis, the infamous home of Elvis, Graceland and Sun Records where he was first discovered. Walk along Beale Street which is closed to traffic each evening. Start at BB King's Blues Club where the legend himself has been known to walk in and start jamming with the artist on stage, and make your way down the street over the next few hours.
Six hours drive south and the sound of New Orleans caps off your music roadie. It's not just jazz, but let's face it, that's what you've come for. My favourites are Irvin Mayfield's Playhouse at the Royal Sonesta on a Wednesday night and Ellis Marsalis at Snug Harbor on Frenchmen (where the locals go for live music) on Friday nights.
Megan Singleton at Blogger at Large
Road-tripping Nevada: 3-day itinerary
Nevada is more than just the bright lights and the grand casinos of Las Vegas. Escape its pleasures and drive north to Pahrump. Stop by at the Pahrump Valley Winery for a vineyard tour and a frisky zinfandel. Make your way to the nearby Lake Spring Mountain where you can get an adrenaline high with JetPack flights. Drop in at Sanders Family Vineyard for a wine tasting, and if you're lucky, a live concert. It isn't Napa Valley, but the rustic setting and the spectacular Nevada sunsets make it worthwhile.
Head further north towards Tonopah, with a quick stop at Goldfield ghost town to visit the wacky International Car Forest of the Last Church. Stop for lunch at the Tonopah Brewing Company, and sample their craft beers. Continue on to Fallon, driving with a slight detour on to Route 50, the loneliest road in America. At Fallon, tour the Frey Ranch Distillery, and get a taste of their superb, small-batch gin.
Depart for Virginia City, the former mining town that seems stuck in the 19th century. Leave the country roads behind and end your trip in Reno, the biggest little city in the world.
Prachi Joshi at Deliciously Directionless
M-22 in Michigan
There's a road spanning 116 miles, hugging coastline most of the way, and is dotted with art galleries and wineries. The road climbs over hills and winds through forest at times before opening up to another breathtaking water view. It even passes through a National Park Service unit. The location of this road may surprise you. It's not in California, Oregon, or even New England. It is in Michigan.
That's right. MICHIGAN.
State highway M-22 is a U-shaped road in northwest Michigan that rides the Lake Michigan shore from Manistee to Traverse City. Part of the Lake Michigan Circle Tour, M-22 is gorgeous all year-round, but fall is when it's most scenic. The intense colors of the autumn foliage contrast beautifully against the dark blue waters of Lake Michigan. My favorite spots along M-22 are Sleeping Bear Dunes National Lakeshore, historic Fishtown in Leland, and the 4-season resort town, Traverse City. Stop along M-22 to hike, visit art galleries, sample outstanding local wines and beers, and visit lighthouses. Or, don't stop at all and just enjoy the ride on magnificent M-22.
Francesca Mazurkiewicz at The Working Mom's Travels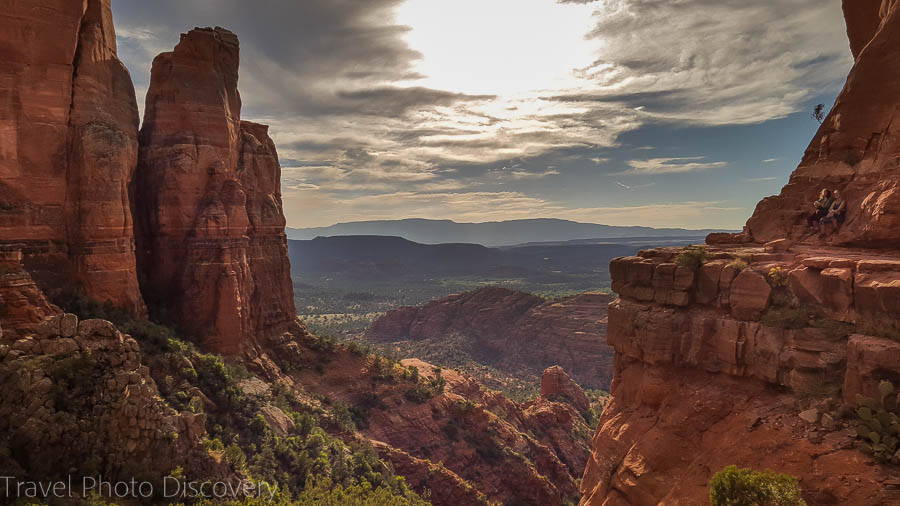 Drive from Phoenix to Sedona
A wonderful day trip or extended weekend getaway from Phoenix is the wonderful city and amazing outdoor landscape of Sedona. Covering federal, state and county parks in the entire region, Sedona is an amazing natural wonderland of parks, hiking areas with red rock outcrops, bluffs, mountain ranges and spectacular views anywhere you go around Sedona's magnificent landscape. There are so many different areas to visit to include petroglyphs caves, the historic downtown area, arts and culture and the myriad of natural wonders that you can see in the various parts of the city, perimeter and outdoor landscape.
You can check out more of what to do on Sedona here and also check out my post of the best photo spots to visit here around the Sedona area.
So now that you've heard about some of these travel bloggers favorite road trips to take around the USA in your bucket list, hope you have bookmarked this post for future reference. It's time to head out on the road and explore some of these wonderful places around the USA don't you think?
If you enjoyed this, please pin it!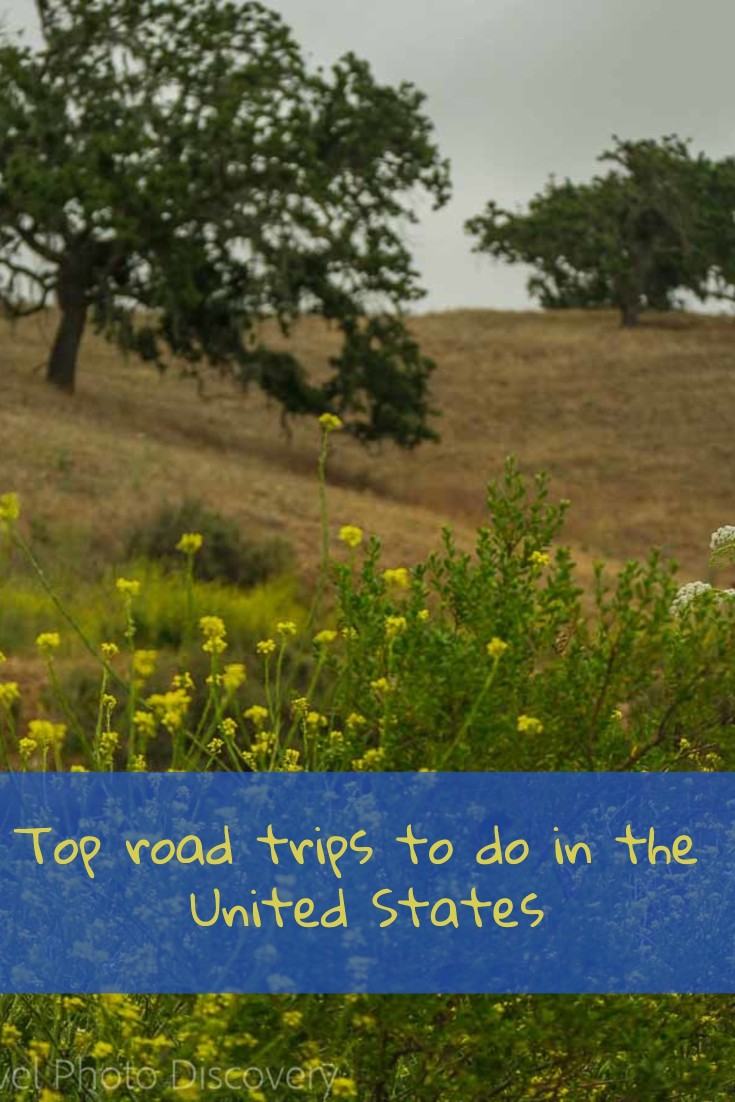 Have you done any of these cool road trips around the USA?
Enjoyed visiting any of these cool places around the USA? Please share your thoughts in the comments below.
Thanks for visiting today and checking out this post on the Top road trips USA, if you enjoyed the images and post, could you please share it with any of the social media buttons located around the post.
If you like what you see, come and check out my other social media channels for more updates, including Instagram, Pinterest and Twitter