Welcome to the Travel Photo postcard series to get you out on the weekends and hopefully visit some of these wonderful destinations. Some of them maybe easy day road trips or even quick getaways from where you live so I hope this inspires you to see some of the world around you even if its close by to where you live. Today, we are visiting the gorgeous coastlines and town of Laguna Beach in Southern California.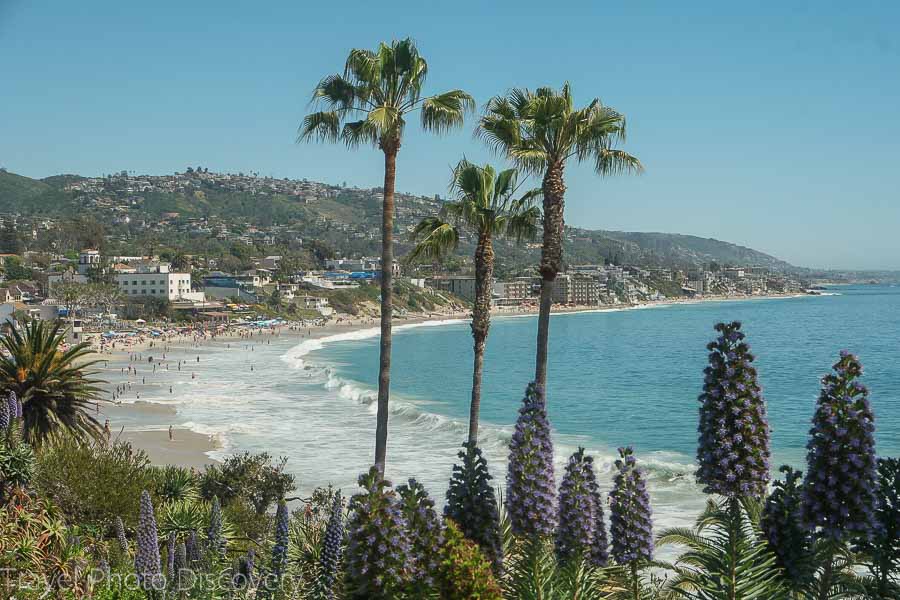 What to see and do around Laguna Beach
Laguna beach is what everyone thinks about and expects the Southern California coastline, beaches and lifestyle is all about. And they would be pretty much spot on with this expectation with all the scenic beaches and outdoor lifestyle. When you combine this with an active and recreational activities and you can see why the beach scene is so popular at Laguna Beach. But that's not the only reason why people flock to this popular beach town in Southern California. The town itself is a draw with people strolling all the chic shops, art galleries and open air cafes that really present that complete look and vibe and the people watching is also part of the fun in seeing and being seen in this trendy coastal community.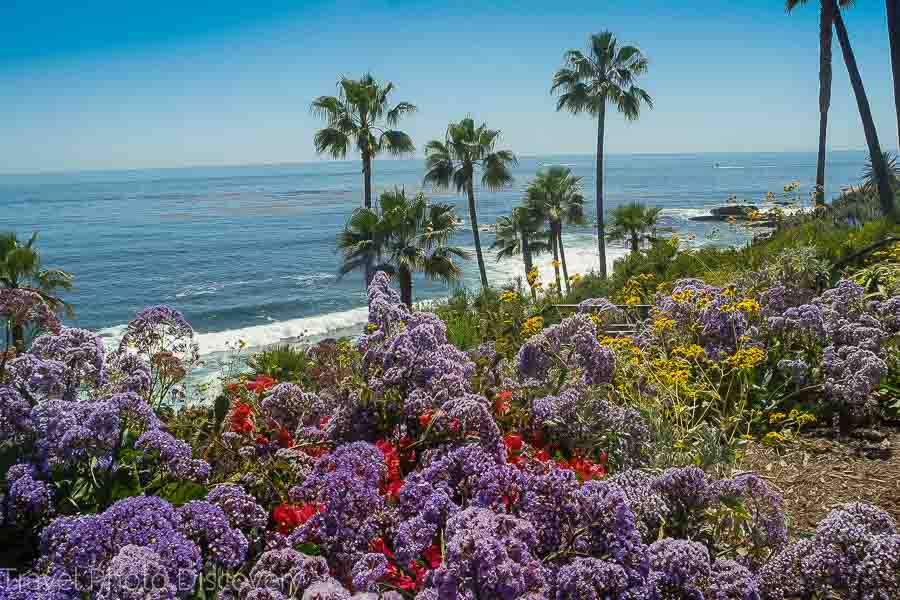 Laguna Beach is a creative area with lots of galleries and public art located all around town. The city also hosts one of the most popular art weeks in Southern California that brings in art admirers from all over the state.  I love the figurative piece below overlooking the main stretch of public beach. I forgot to write down the details about this colorful sculpture – so if anyone knows the details, please add it to the columns and I can update the image details below.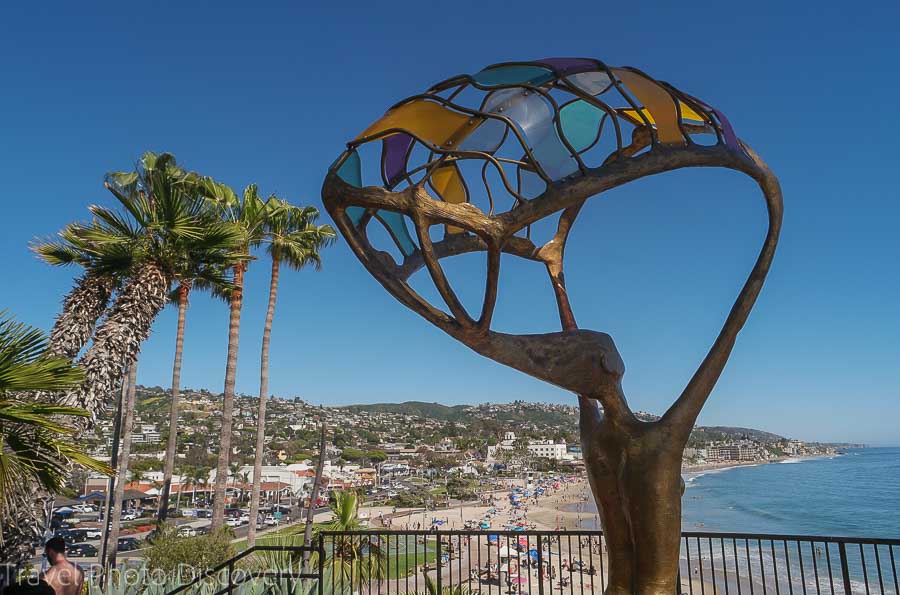 A coastal walk around Laguna Beach
For those who don't spend the entire time on the beach, a coastal walk to the various hidden coves and cool vista points along the main coastal walkways are a real treat. Not only are the views of the beaches and ocean spectacular but the colorful blooms of local wildflowers create these impressive and picture perfect views that seem to go on forever.
Tip – the coastal walkways are fantastic but very exposed and hot so take precautions to bring sunscreen and protective coverings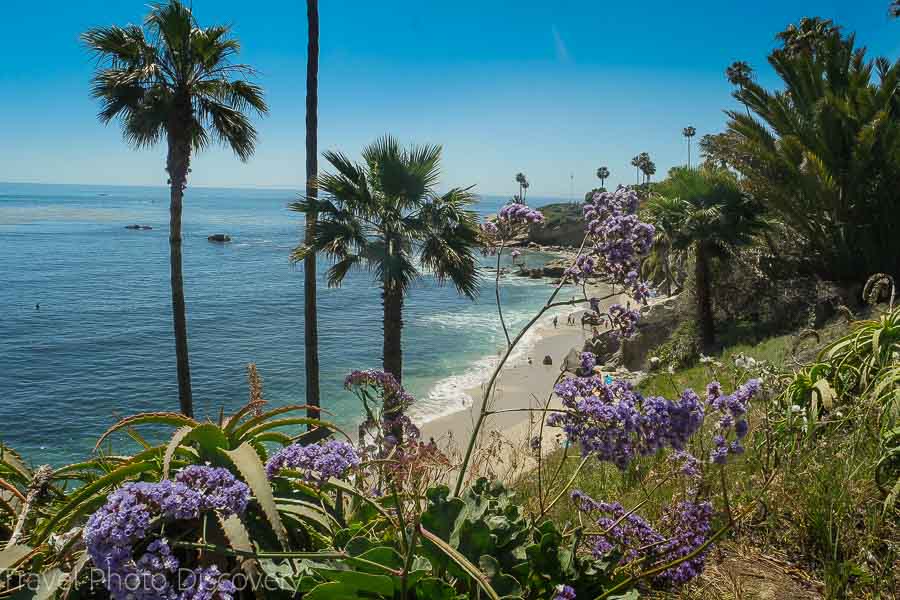 Photo shoots on the beach
It's fascinating what you'll see on the beach everyday and I'm sure the beaches here are a popular spot for modeling any fashion or product ads like this photo shoot below. It's fun to see all the production going on and what it takes to create the perfect Southern California Sunkist look to be picture perfect.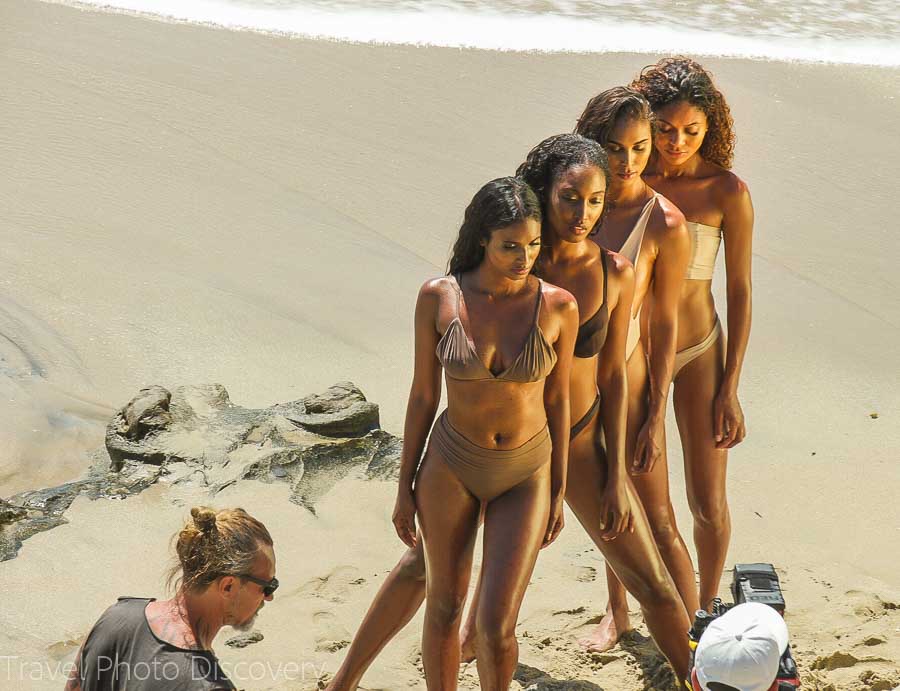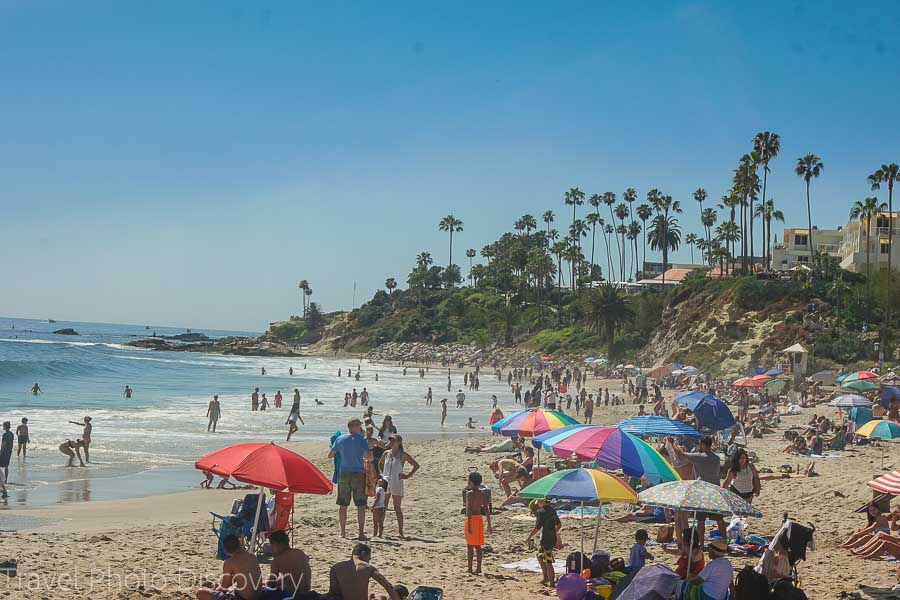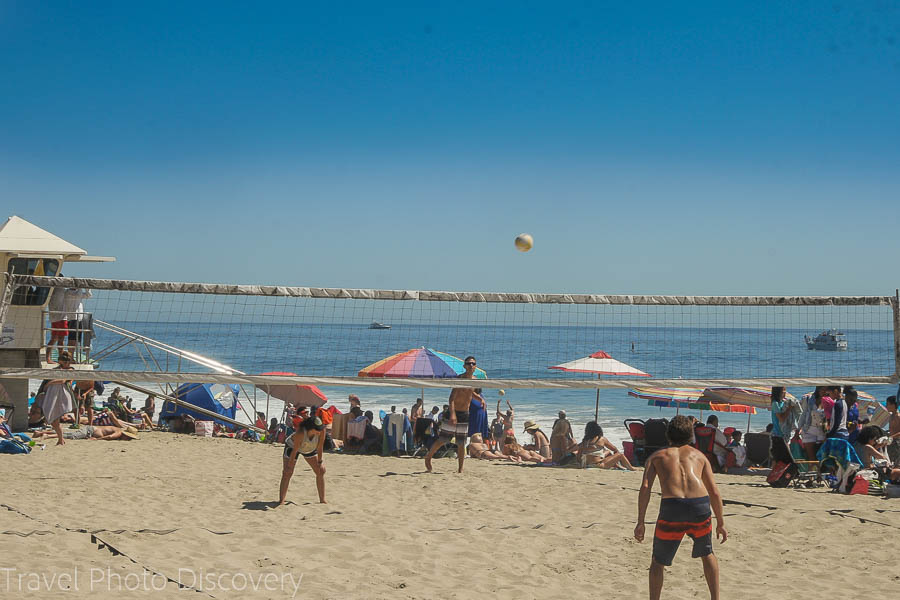 Adventure and sports on Laguna Beach
Southern California lifestyle and recreation is always active with basketball games, beach volleyball, surfing, board skimming, jogging and all sorts of physical activities that tie in with those perfect bodies and culture. Of course, it doesn't mean everyone needs to be active, enjoying the beach and water is what on everyone loves to do when hitting the beach and trying to get some color & hopefully not a sunburn from the sun from the area.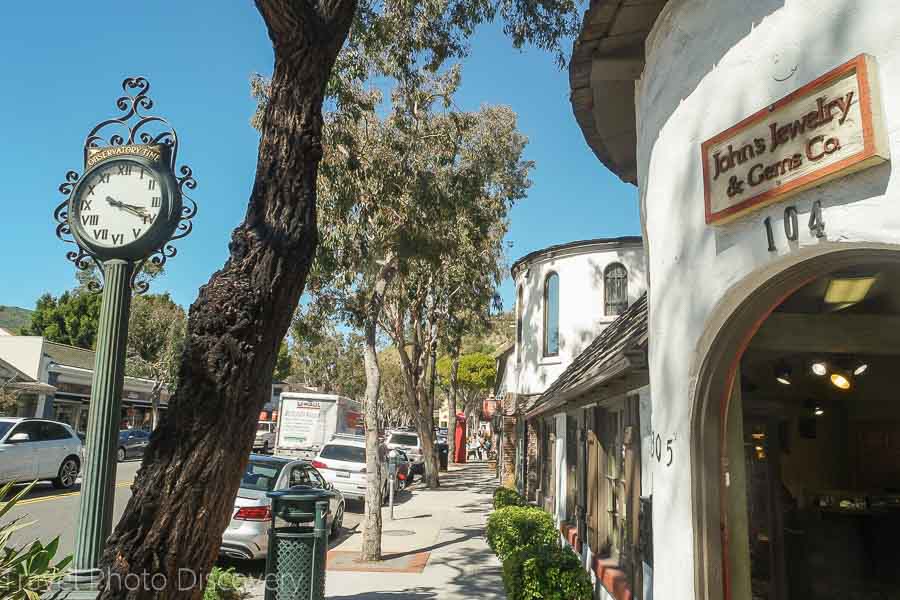 Exploring Laguna Beach downtown village area
The village is where you will find all the cool shops, art galleries and cafes in the area or just a fun bar to sit and check out the scene & vibe of the area. There's plenty of eateries, ice cream shops and other foodie focused spots in the village to induce to you stop and try something sweet or savory – depending on your mood.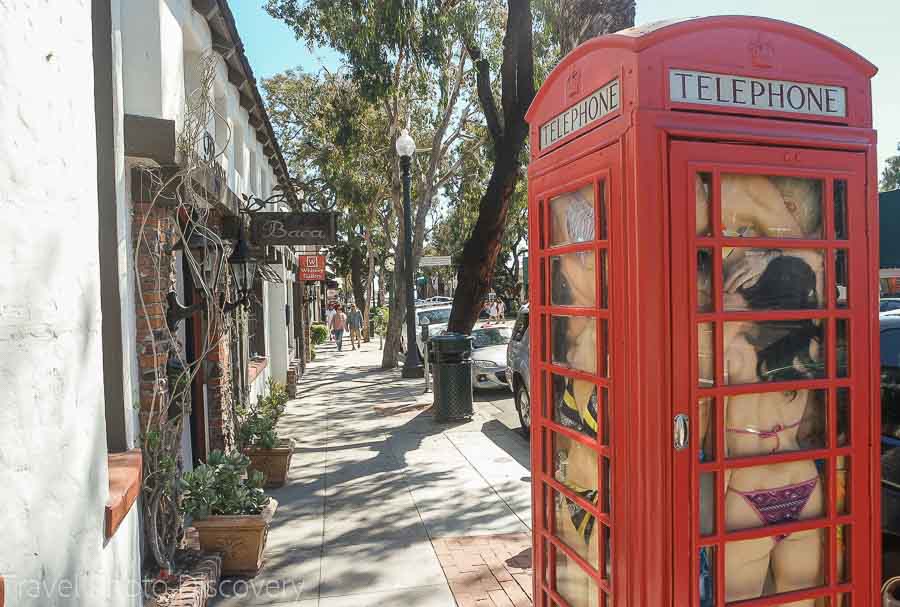 More travel details for Laguna Beach
Parking – everyone wants to park as close to the beach as possible, so all the parking spots are typically full around the coastal areas with short metered parking limits. My suggestion is to drive further back in the neighborhood streets and walk down to the beach or village. Just make sure you note the main street and cross street.
Lifeguard stations are located at prominent sections of the main beach and a few stations in the smaller cove beach areas.
Driving to Laguna beach is busy on the surface roads and you can save more time by taking the toll road I 133 to the outskirts of town
For more information about what to do and see, check out the Laguna Beach visitors site here for details and the current calendar of events.
Check out these Los Angeles region posts
20 places to visit around Los Angeles
Exploring Balboa Park in San Diego
A visit to Queen Califia's Magical Garden
Visiting San Juan Capistrano Mission
40 Top things to do and see in San Diego
If you enjoyed this post, please pin it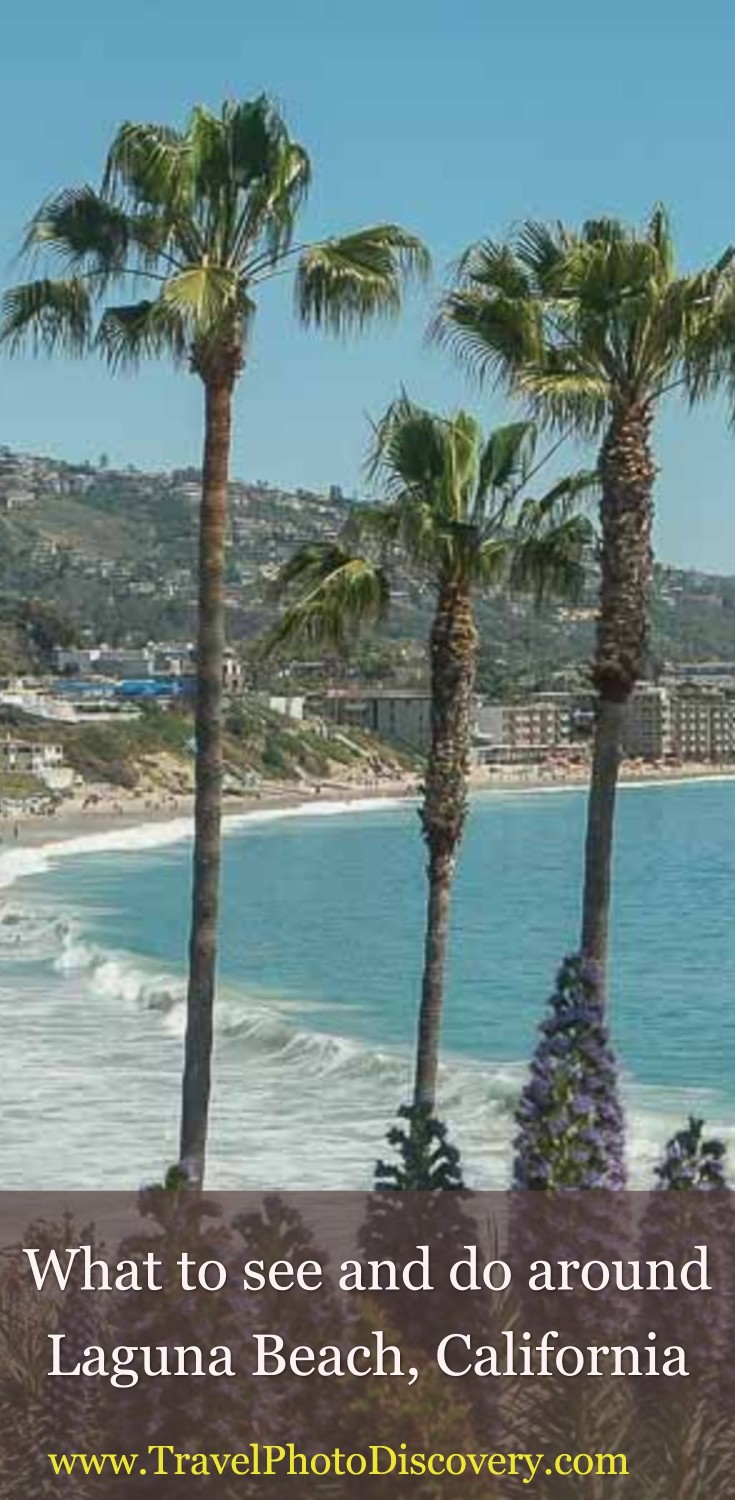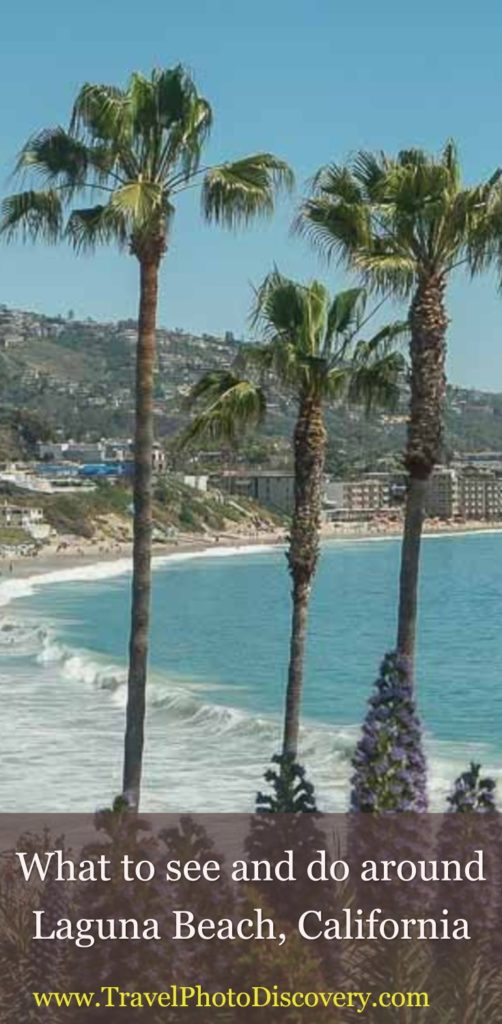 Thanks for visiting today and checking out this post on an Travel Photo postcard – exploring Laguna Beach, if you enjoyed the images and post, could you please share it with any of the social media buttons located around the post.
If you like what you see, come and check out my other social media channels for more updates, including Instagram, Pinterest and Twitter
Disclosure – There are affiliates links on this posts which provide a small commission to support this site at no extra cost to you. Thank you for supporting the site and reading, and happy travels