Sedona's Photographic Paradise: Unveiling the Best Places to Capture Nature's Beauty (updated 2023)
Want to find out the best places to photograph Sedona? When you are visiting Sedona, it doesn't take too much to see a spectacular view while you are driving around, taking a hike or just exploring around the stunning landscape, but to find the best places to photograph around the city, you'll have to find some of the magic spots around the area for Sedona photography must visit sites.
It's easy to get inspired immediately with the surroundings and checking the fun thing to do in Sedona. But if you are looking for some of the most inspiring views to capture, take a look at some of these locations that will get you the best places to photograph Sedona and surrounding areas and you'll capture the best pictures around Sedona city and surrounding areas just outside the city.
Visit this inspiring places to photograph around Sedona now
Best way to get to Sedona, Arizona
Getting to Sedona, Arizona is straightforward, and there are a few different transportation options available:
By Air: The nearest major airport to Sedona is Phoenix Sky Harbor International Airport (PHX), located about 120 miles south of Sedona. From the airport, you can rent a car and drive to Sedona, or you can arrange for a shuttle service or private transportation to take you directly to your destination.
By Car: Driving to Sedona is a popular option, especially for those who want to explore the scenic landscapes along the way. Sedona is conveniently located off of Interstate 17, making it easily accessible from cities like Phoenix and Flagstaff. The drive through the red rock country is a breathtaking experience in itself.
By Shuttle: Several shuttle companies offer transportation services from Phoenix Sky Harbor International Airport to Sedona. These shared-ride shuttles provide a convenient and cost-effective option, allowing you to sit back and enjoy the journey without worrying about driving or parking.
By Bus: Greyhound and other bus companies operate routes that connect major cities to Sedona. However, keep in mind that bus services to Sedona may be limited, and it's advisable to check schedules and availability in advance.
Once you arrive in Sedona, having a car is recommended for getting around and exploring the area, as public transportation within Sedona itself is limited. However, there are also guided tours and transportation services available for visitors who prefer not to drive.
Before traveling, it's always a good idea to check transportation schedules, road conditions, and any travel advisories or restrictions that may be in place. By choosing the best way to get to Sedona based on your preferences and circumstances, you can start your adventure in this stunning Arizona destination with ease.
Where is Sedona, Arizona located?
Sedona is located in the northern part of Arizona, USA, nestled among the stunning red rock formations of the Coconino National Forest. Sedona is approximately 120 miles (193 kilometers) north of Phoenix, Arizona.

 Sedona FAQ
What's the best time to visit Sedona?
Visiting Sedona is a year-round destination that has seasonal interest depending on what interest you have in particular to the change of seasons. The most popular time frame to visit Sedona is late May to summer time when the weather is nice and dryer to be outdoors exploring the areas that are mentioned to visit and photograph. Coming to Sedona during different times will also give you a better view-point of how beautiful the change of seasons are in this spectacular region to experience all the subtle changes to the landscape during each season.
Your Sedona experience and capturing some scenic photography locations will vary with seasonal changes in the environment. Come back at a different time will give you an opportunity to capture the landscape in different light, change of season, colors and view-points that change to each season from spring to summer then fall into winter time. Every season is different and exciting to explore and be outdoors and capturing the magnificent landscapes in photographs.
What makes Sedona so special is basically the magical landscap. The Majestic red rock scenery is predominant in the landscape with large mountain ranges, outcrops and cliffs that dot the landscape. Combined with the unique energy and vortexes around the city, the vibe, outdoor venues and spectacular landscape is very special to visit here.
We recommend spending at least three days in Sedona to visit the many attractions and gorgeous landscapes. Outdoor adventure, self healing and discovery and enjoying a unique experiences adds up to exploring both the internal and external while visiting this magical city
What's the weather like in visiting Sedona?
Sedona is definitely a four seasons travel destination with variable weather that changes with the season. March through May is considered the best time to visit Sedona with wild flowers blooming around the landscape and average temperature during the day time pleasant in the low 80s. Summer time temperature ranges in the 90s throughout the region but is definitely cooler than the rest of the state and visitors coming for pleasant weather in the area. August is the hottest time to visit Sedona with the Monsoon season also bringing heat, humidity and rain to the area.
Night time lows in summer tend to be around the mid 60s range. Fall time in Sedona is also nice with day time highs in the mid 80s and 50s the night lows, there's also the added benefit of fall colors around the landscape that make it even more striking to exploring and photographing the area. Winter time is a real contrast in seasons with some snow dusting the tallest peaks in the area and the average temperature in the 50s during the day and the mid 30s at night-time.
Here's where to take the best photographs in Sedona
With so many outstanding hikes, vista points and places to discover around Sedona some are an easy drive while others require a bit of hiking to capture the best views, light and magic at each of these spectacular locations.
Following in an inside guide to the best places for you to explore and capture the best panoramas and unique views around the Sedona area. You'll love visiting and spending more time in all these photo worthy spots around Sedona area.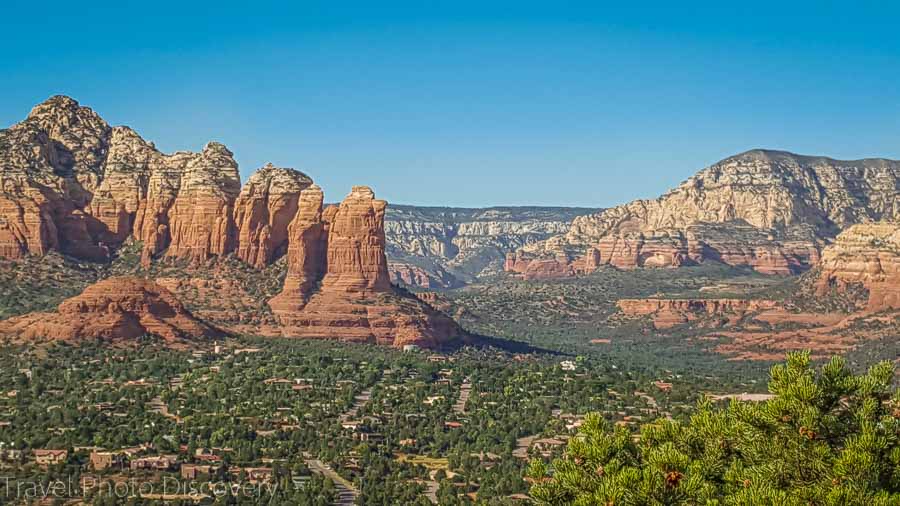 S
edona's airport overlook area
You wouldn't expect this to be a popular Sedona attraction but considering fantastic Sedona photography views, the bluff where the airport is located commands impressive panoramic views to many of the stunning mountains, bluffs and outcrops around Sedona as well as the central part of Sedona town and surrounding areas. It's easy enough to follow the signs to the airport and go directly to the parking lot with the vista point. Further downhill is a smaller parking lot with a short hike for you to capture some extra spots of landscapes surrounding the city. Definitely one of the easiest to get to and best places to photograph Sedona, the airport overlook area has a wonderful 360 degree look all around the city worth visiting and capturing some of the iconic monuments around the city proper.
How to get there
Follow Highway 89A south out of the city limits and follow the signs to the Airport Road and drive uphill to the airport area and parking lot where you can take an easy walk to the perimeter view areas off the parking lot.
Here's a look around the Airport lookout point to below and surrounding landscape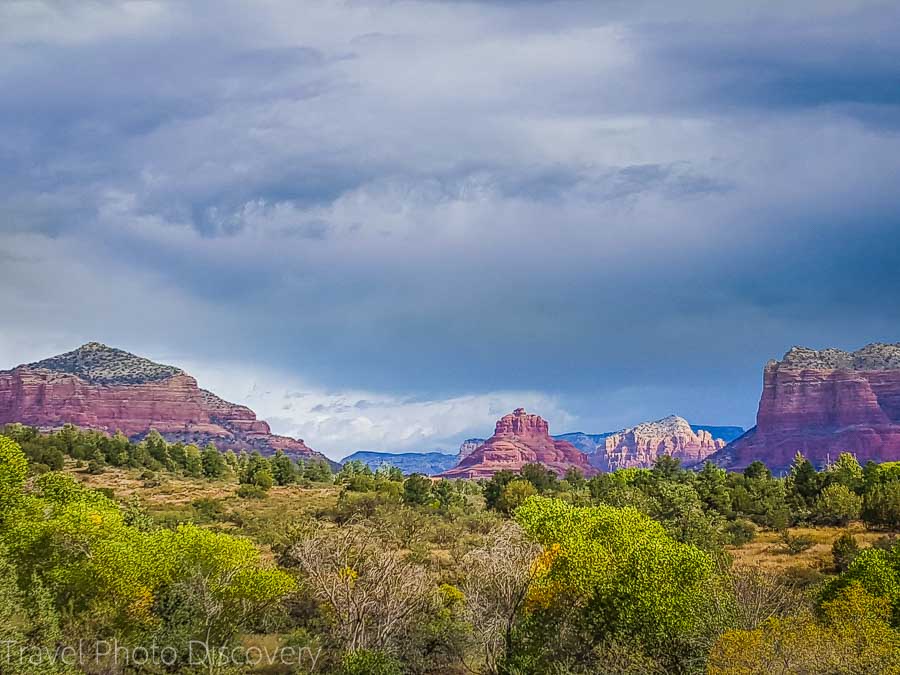 Red Rock ranger station and visitors center
One of the most scenic drives entering the Sedona area and scenic landscapes is taking Highway 179 from the Highway 17 junction all the way to downtown Sedona. You'll find a lot of fantastic Sedona photography must visit spots and your first stop is to visit the Red Rock ranger station (One mile south of Oak Creek Village) for the magnificent views of the Sedona landmarks from the outdoor patio overlook. This first impression of Sedona gives you a wonderful view of the valley and many of the popular monuments/mountain ranges. As a first impression of the area and one of the best places to photograph Sedona, drop by the visitors center for some wonderful vistas and check out the center for valuable information and tips to visiting this magnificent landscape.
How to get there
Drive Highway 179 past the Village of Oak Creek and look out for the signs to the Red Rock Ranger Station and visitors center
Tip – visit the information desk and ask for tips on other popular hiking trails, places to eat and personal photo opportunities in the area
Here's the view from the Red Rock visitors center viewing area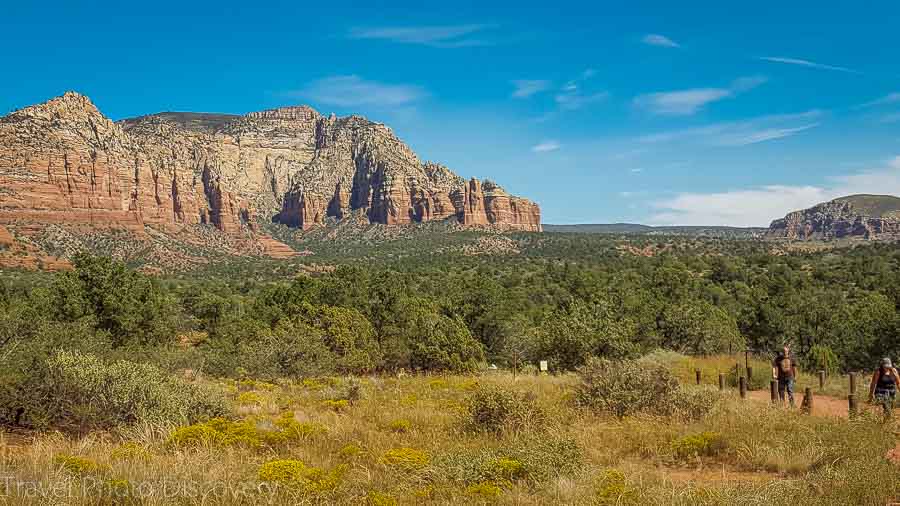 Explore Bell Rock parking lot and trails for excellent Sedona captures
Past the village of Oak Creek on Highway 179 is a parking lot to the Bell Rock pathway and vista point. This Sedona hike is actually a few scenic trails that you can choose from in exploring the area with stunning views of Bell Rock, the Courthouse Butte and other outcrops in this area. If you do some of the wonderful walks, you'll discover some of the best places to photograph Sedona on various hikes in the area.
Tip – go to the hiking trail signs to check out the popular hikes in the area or you can just drive down to the end of the parking lot to get some magnificent views of Bell Rock and the surrounding buttes and mountains in the immediate area.
How to get there
Take Highway 179 south from downtown Sedona to the Bell Rock trailhead and parking lot area. Look for the trailhead information area for the general hikes and vista points
Here's a visit to the Bell Rock Pathway below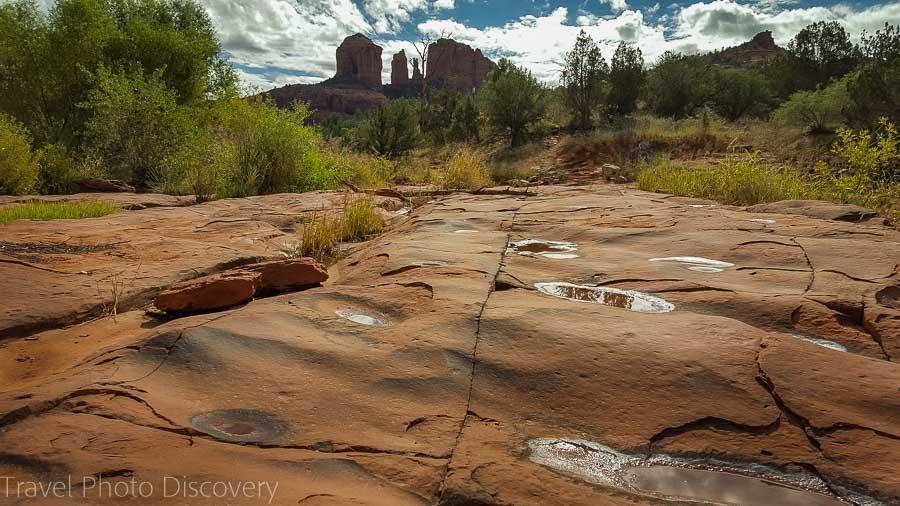 Cathedral Rock at Oak Creek river – Back O'Beyond Road and amazing photos
The end of Back o Beyond road is the parking lot with trails heading out around Cathedral rock and the river areas surrounding Oak Creek. For better images with Oak Creek in the foreground, you need to go across the other side from Red Rock State park or a private entrance down Chavez Ranch road. The views looking up to Cathedral rock are spectacular from this vantage point.
How to get there
Go south on Highway 179 from downtown to Back o Beyond road before Oak Creek. Keep driiving to the end where there is a parking lot and you can walk the trailhead to the river area and follow a loop trail to Cathedral Roack outlook area and the surrounding rock outcrops.
Here's a quick look at Oak Creek River looking out to Cathedral Rock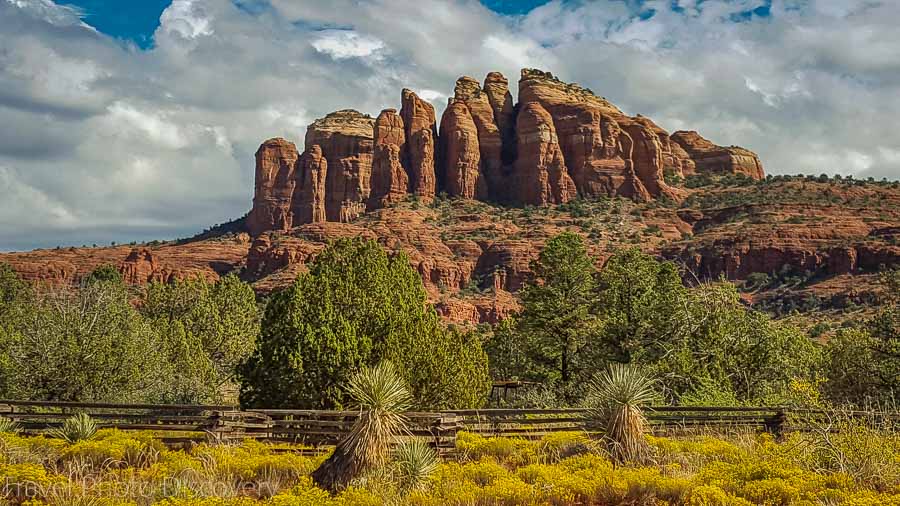 If you hike back to the creek from the parking lot, once you cross the fenced area, head left to get to the flat boulder areas which offer a different perspective to photograph the Cathedral rocks. Then you can walk along the river bank towards the rocks and loop back to the parking lot for some nice meadow views and a different vantage point of the Cathedral Rocks.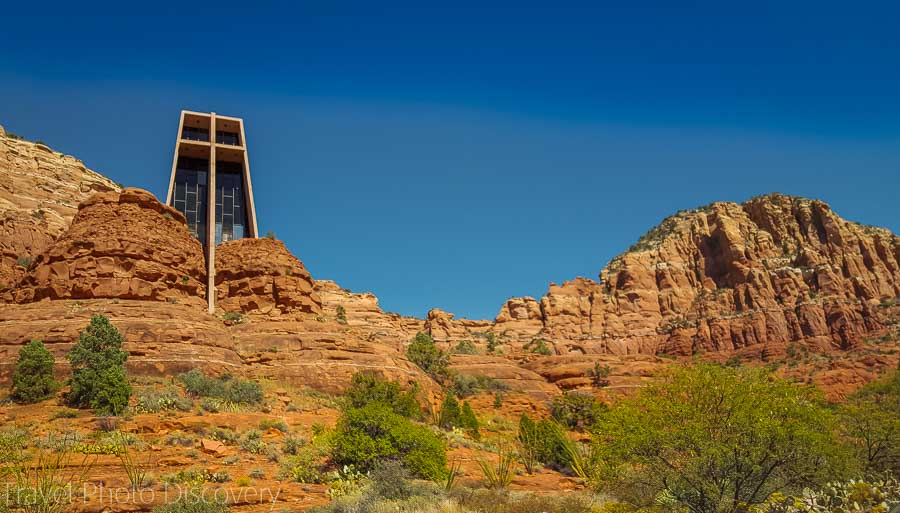 The Chapel of the Holy Cross – an iconic Sedona capture
If your looking for spiritual fulfillment along with spectacular views then visiting the Chapel of the Holy Cross fulfills both objectives. Set directly into the solid red Sedona rocks, the chapel location commands magnificent views of the surrounding area and nearby Mystic Hills. The Chapel surroundings is also one of the famous 4 vortex in Sedona that is full of energy fields, so maybe you will feel and see somethings special at the same time that you visit.
How to get to the Chapel of the Holy Cross
From downtown Sedona, take Highway 179 south to the Chapel road exit and follow the signs directly to the parking lot and walk up to the chapel.
Tip – parking is difficult mid day and in the upper parking areas so find something on the bottom and walk up to the chapel or visit early or later in the evening before closing time.
Looking out to the Mystic Hills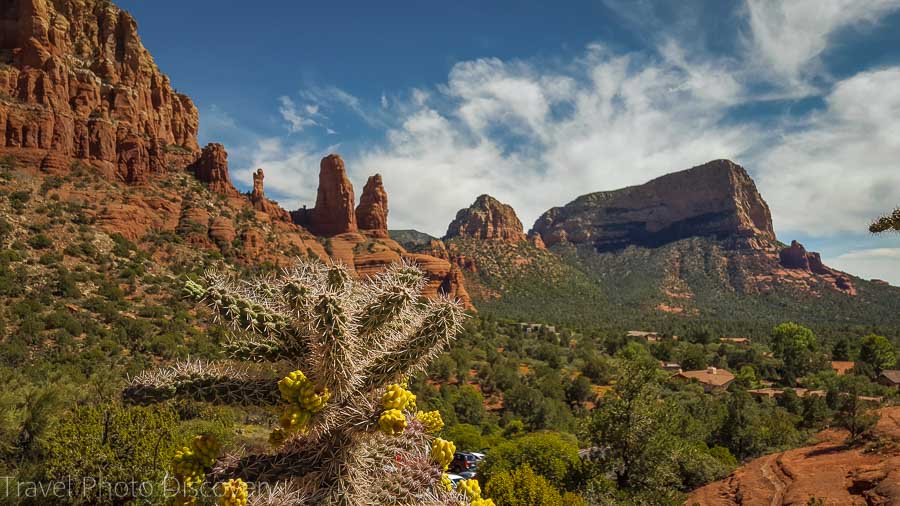 Here's the view from the Chapel of the Holy Cross inside and out
The trail up to Cathedral rock and vortex viewpoint
Taking the Sedona trail hike to the overlook at Cathedral rock gives you a scenic viewpoint down to the Sedona valley and other surrounding rocks in the nearby area. This is an all uphill trek and a little challenging at some points, but the views from the top are quite spectacular.
How to get there
From downtown Sedona, drive south on Highway 179 to Cathedral Rock trail exit and follow it directly to the parking lot and look out for the trail head to the start of the uphill climb.
Tip – try to get to the top later in the afternoon when you can get the beautiful golden light and sunset views of the valley.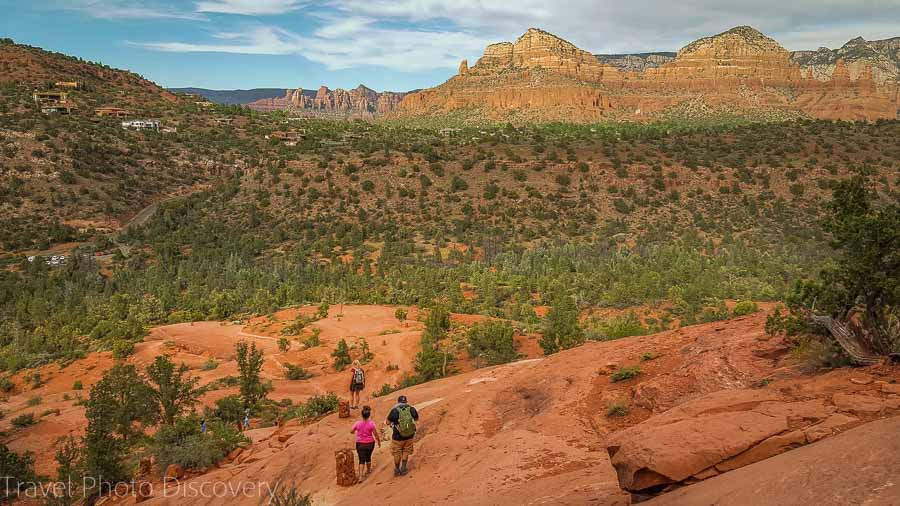 Hiking up to the scenic overlook at Cathedral Rock
Scenic outlook from Cathedral Rock
Here's the hike and views from Cathedral Rock below
Photo road trip around Red Rock loop road and Red Rock State Park
South of Sedona city limits is the Red Rock loop road that you can approach from the lower to upper loop or the other way around. There are several shoulder turnouts and stops that you can make for impressive views to Cathedral rock and surrounding mountains and rocks. Also you can drive into Red Rock State Park to capture views with Oak Creek fronting Cathedral rock which is an iconic image to capture of Sedona's impressive monument.
How to get there
From downtown Sedona, go south on Highway 89A and drive down to Upper Red Rock loop road and follow the scenic road which has a lot of view point areas to stop and capture some photographs and eventually into Red Rock State park. You can exit south through the loop to connect back to Highway 89A.
Scenic overlook from the Red Rock lower loop drive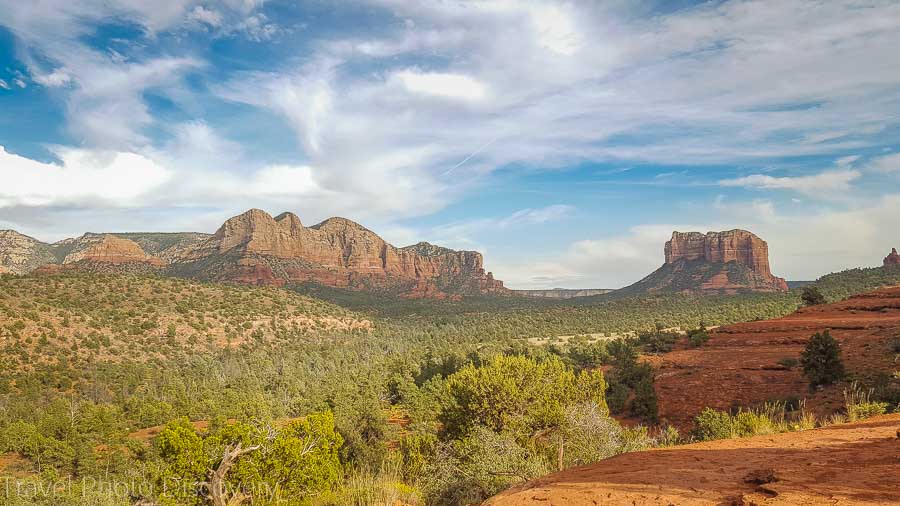 Here's a quick drive and look around the Red Rock Loop area below
Uptown Sedona – shops at Hyatt Pinon has spectacular views
At the Hyatt Pinon, go to the outdoor patio seating areas with gorgeous views of the popular Snoopy Rock and Merry Go Round Rock along with the mountain wilderness in the background. This elevated patio area gives unobstructed views of the upper town along with these wonderful landscapes that you can photograph easily and with plenty of parking available.
How to get there
From downtown Sedona on Hwy 89A, take Forest Road into the shopping center area. In the shopping center are look out points overlooking Oak Creek, Snoopy Rock and Merry Go Round Rock.
Tip – if you are hungry there's a few really nice cafes and restaurants in this luxury Hyatt property.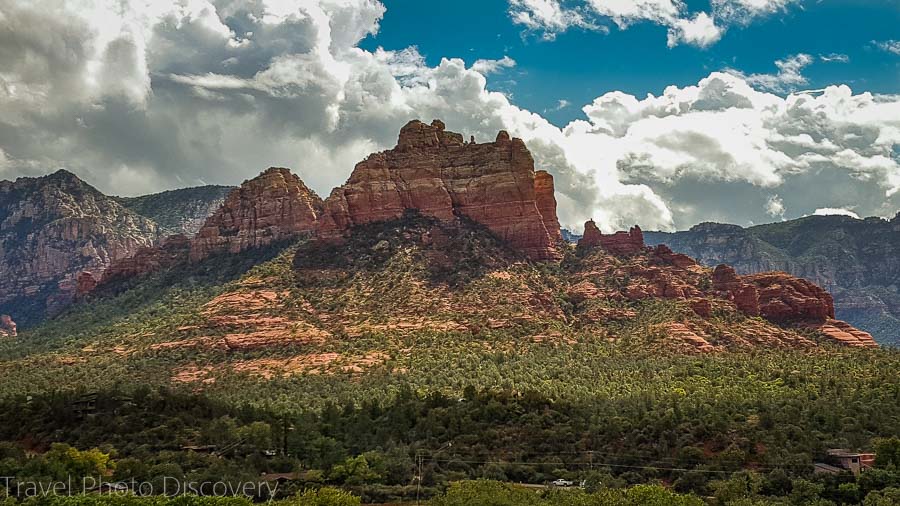 Perfect views to Snoopy Rock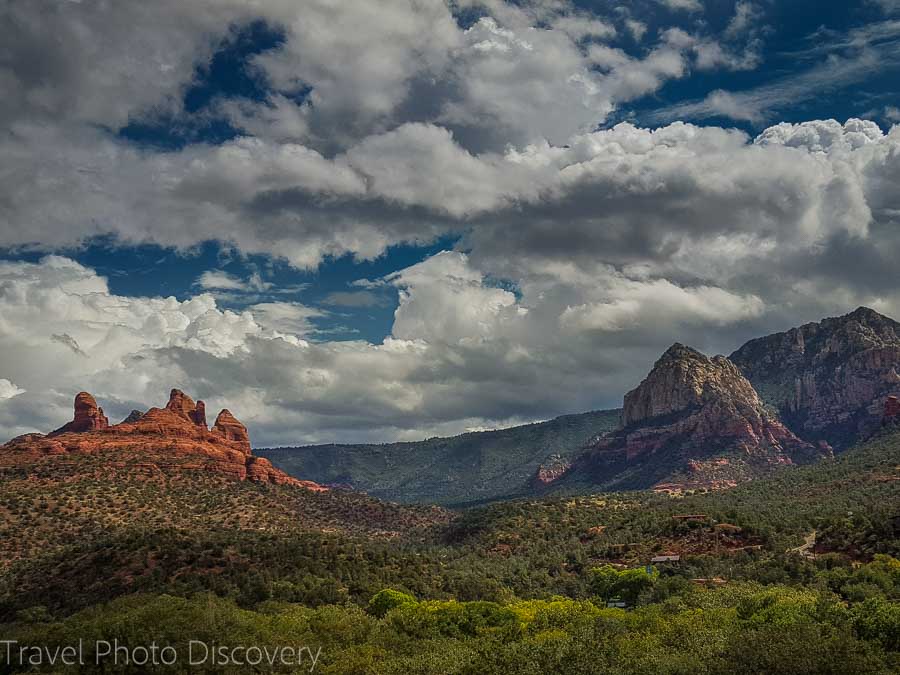 Panoramic views from the Hyatt Pinon, Uptown Sedona
How to get around Sedona
Getting around Sedona, Arizona is relatively easy, and there are several transportation options available:
Car Rental: Renting a car is a popular choice for exploring Sedona and its surrounding areas. There are several car rental companies located in Sedona, as well as at airports in Phoenix and Flagstaff. Having a car gives you the flexibility to navigate the scenic drives and visit various attractions at your own pace.
Shuttle Services: Sedona offers a variety of shuttle services that cater to both local transportation and guided tours. These shuttles provide convenient transportation to popular destinations, such as hiking trailheads, vortex sites, and scenic viewpoints. Some shuttle companies also offer airport transfers and customized private tours.
Taxis and Rideshares: Taxis and rideshare services like Uber and Lyft are available in Sedona, providing on-demand transportation within the area. You can easily hail a taxi or request a ride through a rideshare app on your smartphone.
Biking: Sedona has a network of biking trails and paths, making it a great destination for cyclists. You can bring your own bike or rent one from local bike shops. Exploring Sedona on a bike allows you to enjoy the beautiful scenery and navigate through traffic-free areas.
Walking: Sedona's compact downtown area is pedestrian-friendly, with shops, restaurants, and attractions within walking distance of each other. Taking a leisurely stroll through the charming streets of Sedona gives you the opportunity to soak in the atmosphere and discover hidden gems.
It's important to note that while public transportation options within Sedona are limited, the above methods provide convenient ways to get around and explore the area. Consider your preferences, the duration of your stay, and the attractions you plan to visit when deciding on the best transportation option for your needs.
.
Where to stay in Sedona
There are a variety of fantastic places to stay and be based in Sedona while you are exploring the area. Check out my extensive post on Sedona resorts and hotels here for more information and the different areas of Sedona to stay in.
For the best reviewed places to stay in the region consider these Trip Advisor hotels and local inns here for reviews, availability and current prices.
Top picks to stay in the Sedona area below
Amara Resort and Spa – a truly stunning four star property and luxury resort with impeccable service, luxurious rooms and red rock views and fine dining restaurants.
Junipine Resort – a beautiful property located in the forested areas of Oak Creek in apartments and cabins with close by trails to take you outdoors and enjoying this scenic area
Baby Qual Inn – located in the west side of Sedona in a quiet residential area, this famly run inn is affordable, clean and easy walk around the downtown district.
Check out these other post visiting Phoenix area
Things to do around Phoenix, AZ
Exploring Montezuma Cliffs and well
Visit Flagstaff and surrounding areas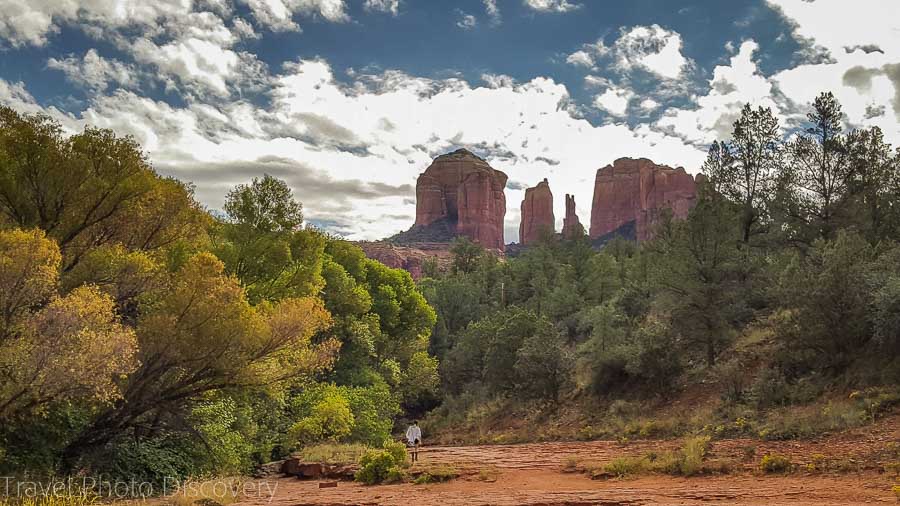 Inside tips on capturing great photos of Sedona area
Certainly! To capture stunning photos in the Sedona area, consider the following inside tips:
Golden Hour Magic:
The best times to photograph Sedona are during the golden hours, shortly after sunrise and before sunset. The soft, warm light enhances the vibrant red rocks and creates a magical atmosphere.
Wide-Angle Wonders:
Use a wide-angle lens to capture the grandeur of the rock formations and the expansive landscapes. This allows you to fit more of the dramatic scenery into your frame.
Circular Polarizer
A polarizing filter can help reduce glare and enhance the colors of the red rocks and blue skies. It's especially useful when photographing reflective surfaces like Oak Creek.
Composition Rules:
Apply composition techniques like the rule of thirds and leading lines to create visually appealing photographs. Sedona offers numerous opportunities for dynamic compositions.
Reflections in Oak Creek:
If you're visiting places like Red Rock Crossing, look for reflections of the iconic Cathedral Rock in the tranquil waters of Oak Creek. This adds depth and symmetry to your shots.
HDR Photography:
In high-contrast scenes, use High Dynamic Range (HDR) photography to blend multiple exposures and capture details in both shadows and highlights.
Panoramic Views:
Sedona's vistas are perfect for panoramic shots. Use a tripod and take a series of horizontal images to later stitch together for a breathtaking panorama.
Starry Skies:
Sedona's dark skies are ideal for astrophotography. Capture the Milky Way or star trails over the iconic rock formations by using a sturdy tripod and a fast wide-angle lens.
Off-the-Beaten-Path:
While popular viewpoints are stunning, consider exploring less-known areas for unique perspectives and fewer crowds.
Respect the Environment:*
Remember to respect the natural environment. Stay on designated trails, pack out all trash, and avoid disturbing wildlife.
By applying these tips and exploring the diverse landscapes of Sedona, you'll be able to capture breathtaking photographs that showcase the area's natural beauty.
Please pin this for later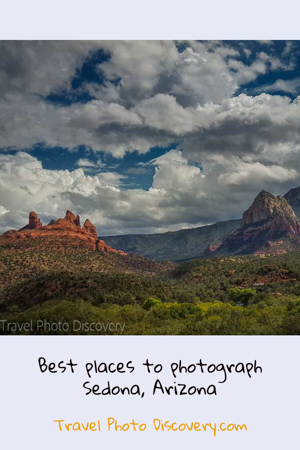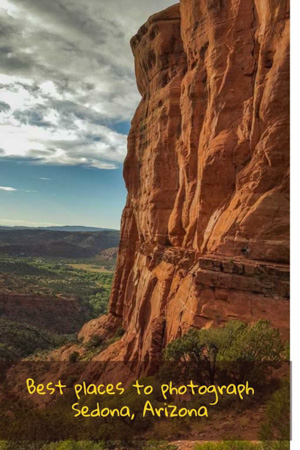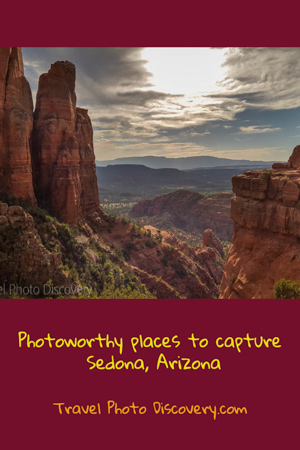 Conclusion to capturing Sedona in Photographs
In conclusion, photographing Sedona is an awe-inspiring experience that allows you to capture the breathtaking beauty of this remarkable destination. With its iconic red rock formations, stunning landscapes, and vibrant colors, Sedona offers endless opportunities for photographers to create striking and memorable images. Whether you're drawn to capturing the majestic vistas, the intricate details of desert flora, or the interplay of light and shadow, Sedona's natural beauty will inspire and challenge your creative vision. Remember to plan your visit during optimal lighting conditions, explore different viewpoints, and immerse yourself in the unique atmosphere of this enchanting place.
As you venture through Sedona's scenic wonders, be open to the unexpected, allowing the landscape to guide and inspire your photographic journey. With patience, creativity, and a keen eye, you'll be able to capture the essence of Sedona and create a collection of photographs that reflect its captivating charm.
You can visit most of these sites in a long day around Sedona, but I would recommend taking your time to get to these spots and find the just the right spots to capture on your Sedona trip. There's definitely a lot to see in Sedona and have some time to enjoy the wonderful views and being present at all these places.
Thanks for visiting today, if you enjoyed reading this post on Best places to photograph Sedona, please do share it with any of the social media links below, thank you.
If you like what you see, come and check out my other social media channels for more updates, including Instagram, Pinterest and Twitter
Disclosure – Some links in this article on Sedona resorts are affiliates which provide a small commission to support this site at no extra cost to you. Thank you for reading, and happy travels!