Road trip from Sedona to Jerome, Arizona – charming towns, Indian pueblos, and cool venues (2023)
If you are looking for a cool road trip off the beaten road trips in Arizona, consider driving from Sedona to Jerome. Definitely one of the most fun and scenic road trips to do in Arizona, you'll visit historic towns, Indian monuments and gorgeous landscape traveling from Sedona down to cool hill town of Jerome or done in reverse. The road trip through Highway 89A, basically a two lane road traverses some of the most scenic landscape, foothills and the magnificent red rocks around the Sedona region. After exploring all the best viewpoints of Sedona and the top attractions to visit, it's time to hit the road and take the scenic road trip from Sedona area to Jerome, Arizona below.
You'll find the trips to be visually striking from the start to the end with interesting towns, Indian historic monuments and unique attractions that would make a perfect visit even for a short timeframe.

Sedona to Jerome FAQ
What makes this a fun and scenic drive from Sedona to Jerome?
Coming from Sedona or the opposite way in Jerome, the landscape is really spectacular with the surrounding red mountains, rugged terrain and these gorgeous cloud formations that make it an inspiring drive from each location. Along the way are Indian dwellings that are unique and fun towns that surprising are lively and fun to explore. The wine industry is also making a lot of inroads with wine tasting venues and cafes that specialize in locally grown wines from the region that makes it a fun drive to eat, drink and enjoy nature at its very best in Arizona.
You can easily do this as a day road trip or extend it out to really get a relaxed visit and stay in some of the fabulous places along the way.
How far is Jerome from Sedona?
The trip from Sedona to Jerome is only 27.3 miles or approximately a 45 minutes drive. But that doesn't include the time exploring the various towns, Indian monument and other cool vista points along the way that you will want to stop and enjoy the views or capture in your photography.
What route do you take to get to Jerome?
The route through Hwy 89A goes through scenic landscapes and fantastic places to stop and visit along the way including Cottonwood, Tuzigoot, Clarkdale and then Jerome. You can easily do this as a day trip from Sedona to Jerome or continue on to Phoenix if that is your end destination.
What is Jerome, AZ famous for?
The area around Jerome used to have mines that are now abandoned and the city is filled with art galleries, wine tasting rooms and cool places to shop and eat with spectacular views of the Verde Valley.
Is Jerome a Ghost town?
Once a large town (the fourth largest in Arizona) that reached 15,000 people when the gold and copper mines were a boom in the area, the city eventually became a bust when the mines closed down. Only about 50 people were left and the city reinvented itself into an artsy and popular tourist destination.
Why do this road trip from Sedona to Jerome, AZ?
I took this road trip starting from Sedona and enjoyed the landscape and gorgeous historic stops and cool towns to visit along the way. This road trip from Sedona to Jerome, AZ, offers a thrilling adventure through Arizona's stunning landscapes. You'll witness breathtaking red rock formations, explore charming towns, and enjoy the scenic drive along winding mountain roads.
It's a journey filled with natural beauty, history, and unforgettable experiences, making it a must-do excursion for travelers seeking a taste of the Southwest's unique charm.
Highlights on this road trip from Sedona to Jerome Arizona
I chose the Sedona route after spending two days exploring Sedona and its magnificent red rock landscapes and various vista points. Passing through Red Rock State park, the last outlines of the impressive rock formations transitions into rolling green hills with dramatic and puffy skies adding to the drama and pleasant landscape.
Exploring the historic district at Cottonwood
First major stop along the way is the city of Cottonwood which has recently become a cool spot to explore especially in the historic district with a variety of wine tasting rooms, trendy art galleries and antique shops to keep you busy in the colorful downtown area. There are plenty of dining options in town so take you time browsing through the menu's before you choose a meal for lunch. Cottonwood is a perfect spot to stop and explore this charming city and its historic district and if you're hungry, there are lots of fun places to eat in town.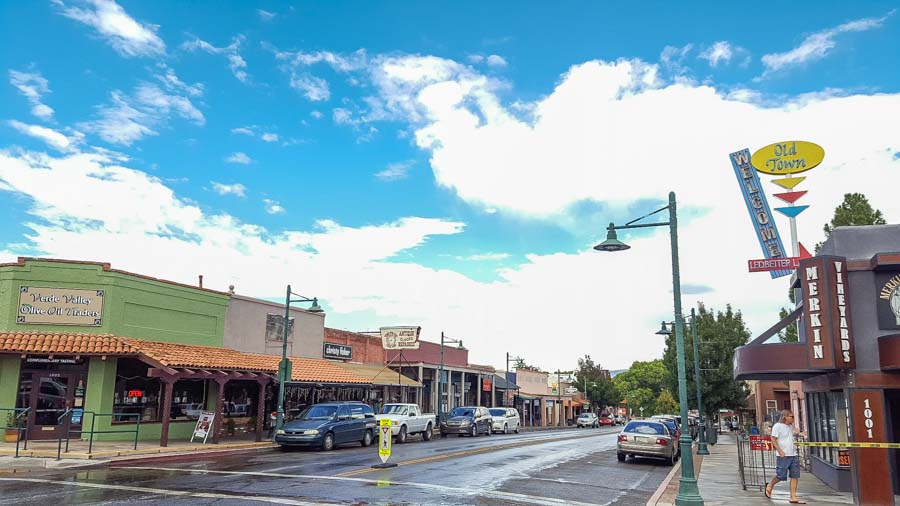 Walking around Cottonwood's historic district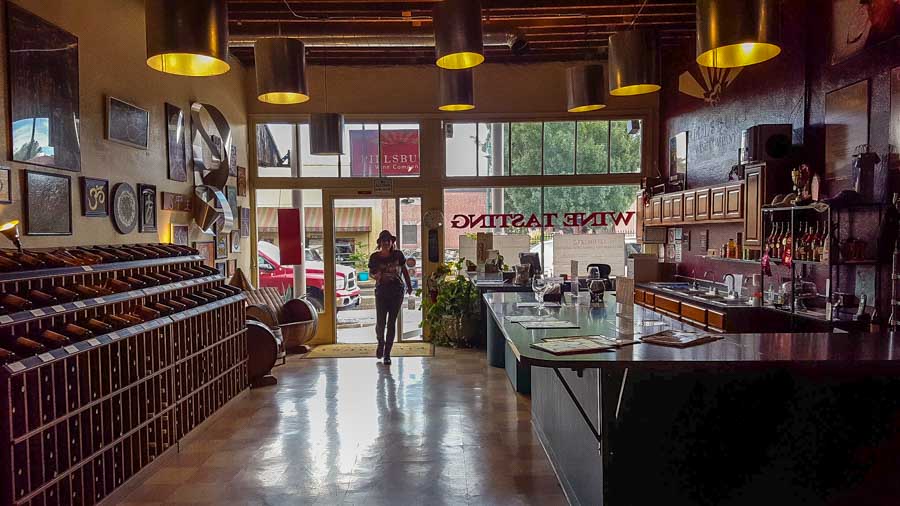 Wine tasting in Cottonwood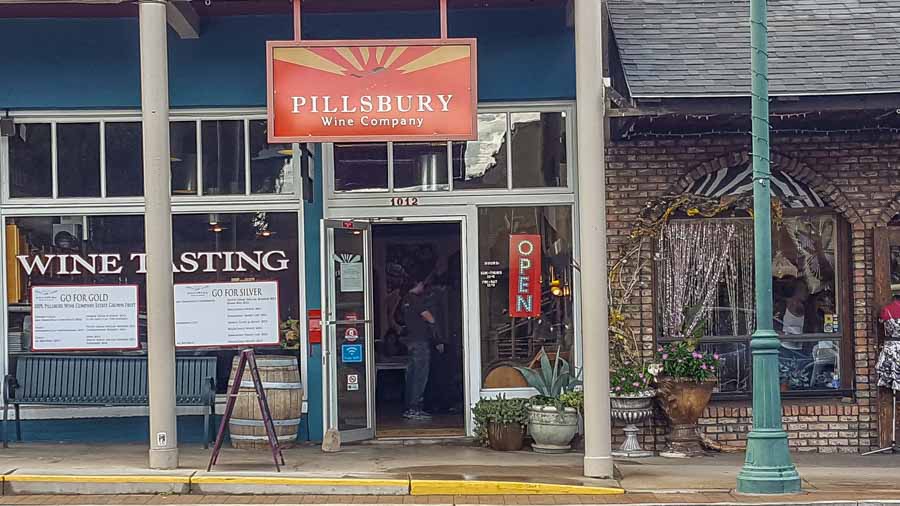 Checking out antique shops in Cottonwood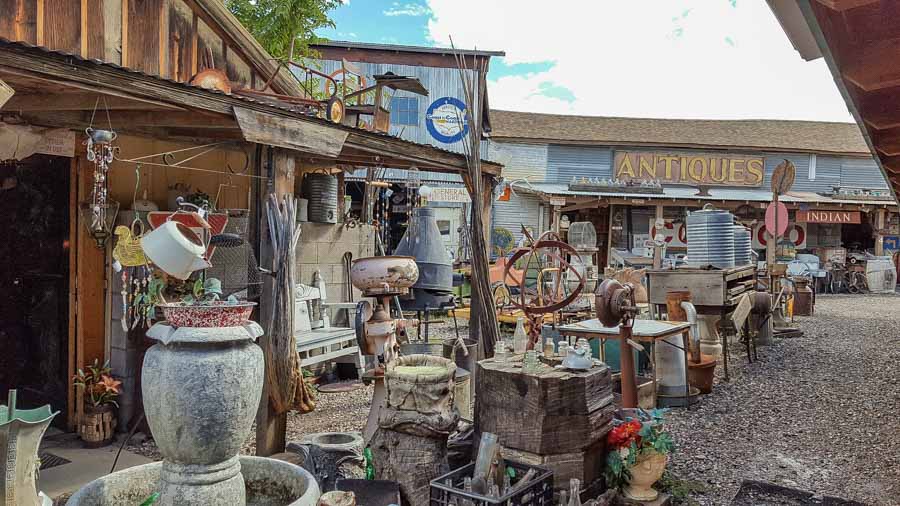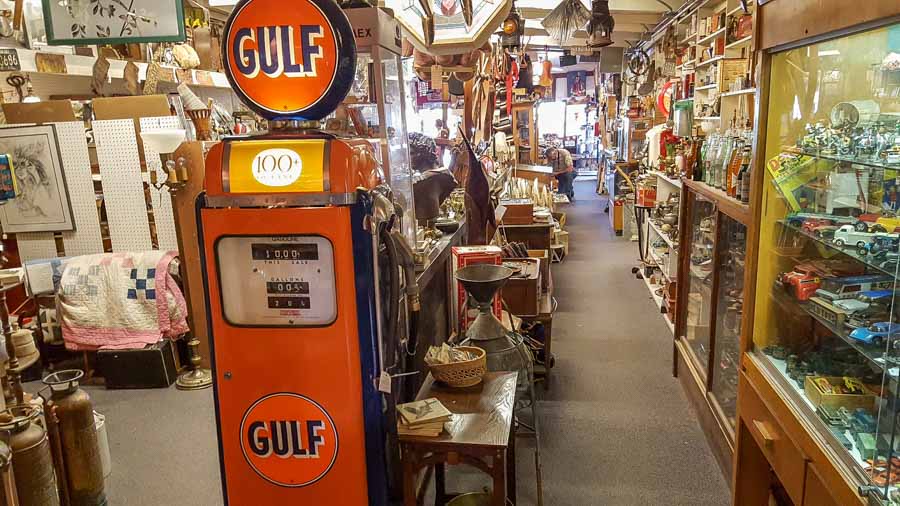 Here's a fun visit to the first stop at Cottonwood, Arizona in this video below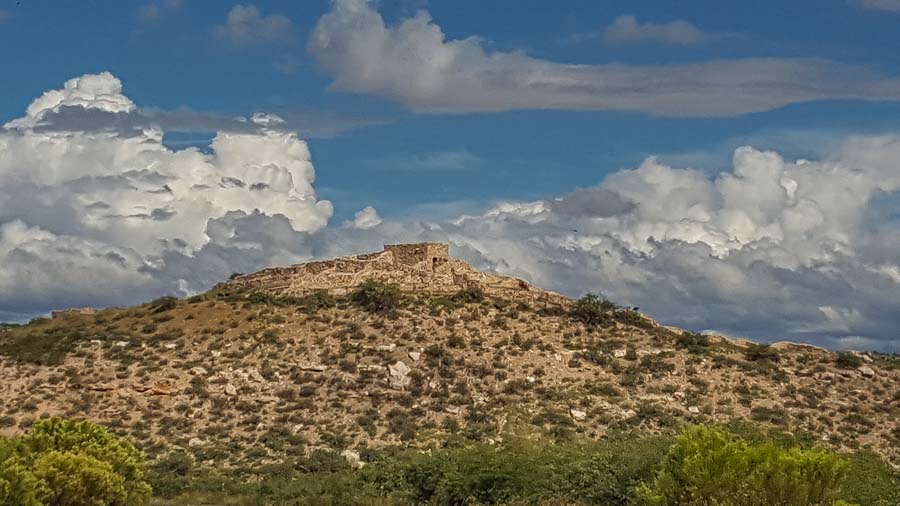 Indian ruins at Tuzigoot National Monument
Just a short drive from Cottonwood are the historic ruins of Tuzigoot, a national historic monument which was faithfully recreated from rock ruins to its original state. When you climb up from the visitors center, you are rewarded with panoramic views of the entire region and impressive mountain range surrounding the historic monument. There is an audio video tour included along with wonderful educational signage around the main portions of the indian Sinagua pueblo ruins. You can continue your climb up the bluff to a cluster of building ruins with wonderful views of the area below.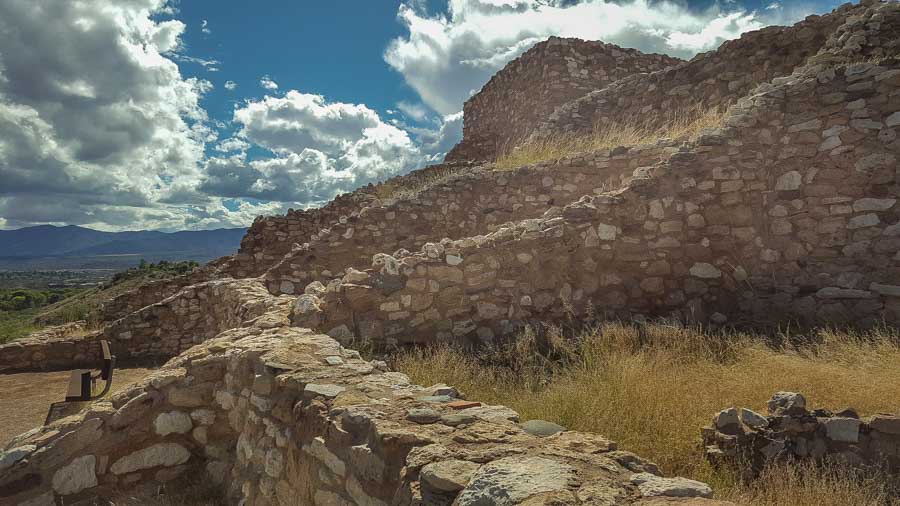 Exploring the interior dwellings at Tuzigoot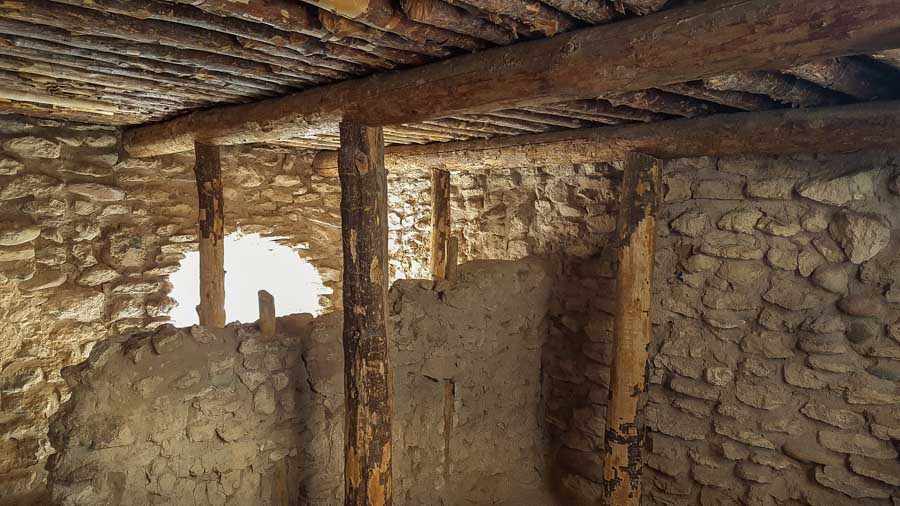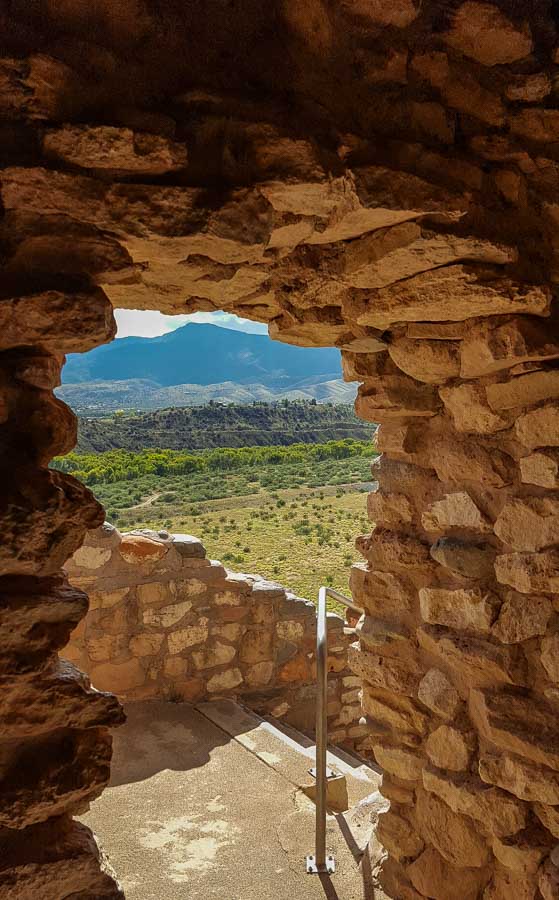 After exploring Tuzigoot, I continued on the idyllic two-lane road another hour and passing quickly through the small village of Clarksdale on the way to Jerome.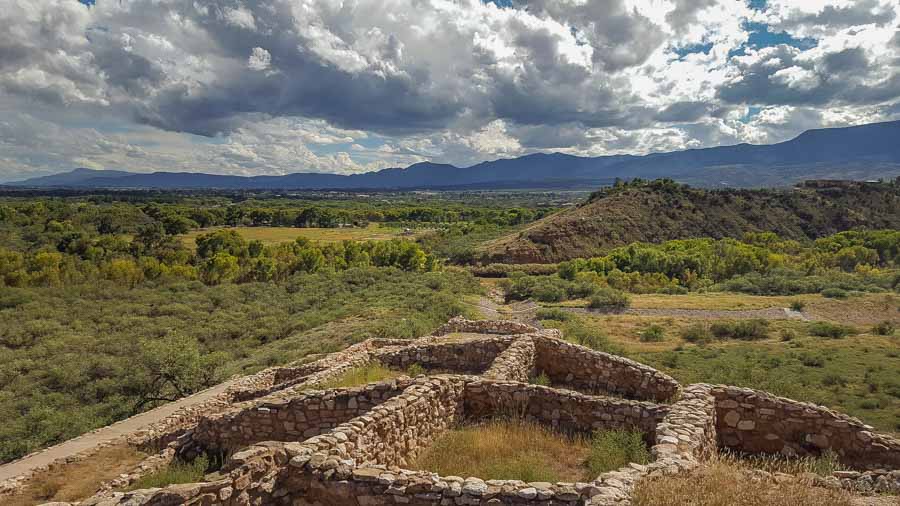 Here's a video on the national historical site at Tuzigoot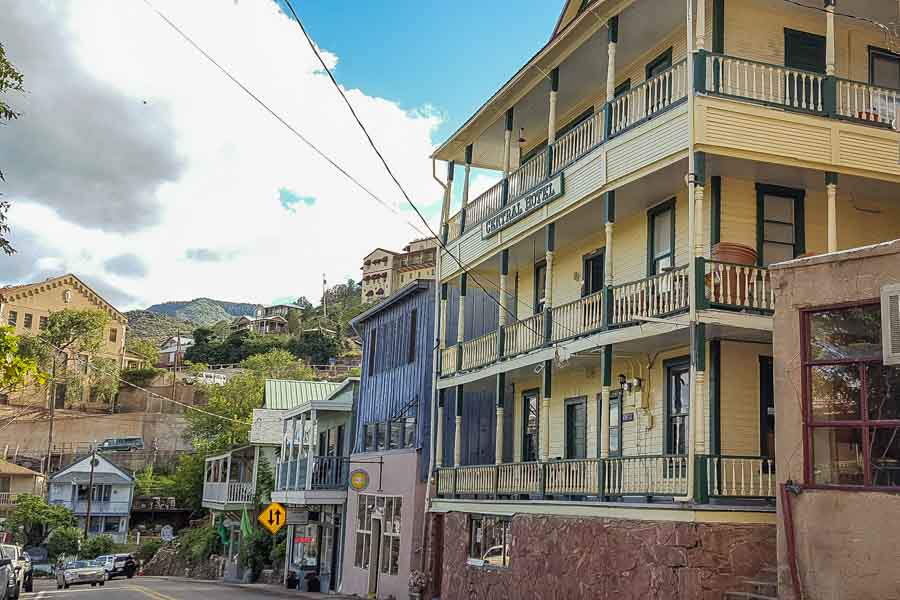 Jerome on top of the hill
The highlight of this road trip is the visit to the hilltop town of Jerome, a funky community with a large ratio or artists and art galleries in town that make this such a fun place to explore. While you wander up the hill and around the historic town, there are a variety of new wine tasting rooms all featuring wine vintners from around the state and operating tasting rooms in this tourist focused destination. While you walk through the quirky and impressive Victorian buildings, there are peek a boo view below to the scenic landscape. Probably one of the most popular summer In Arizona destinations, Jerome is fun, artsy and worth visiting.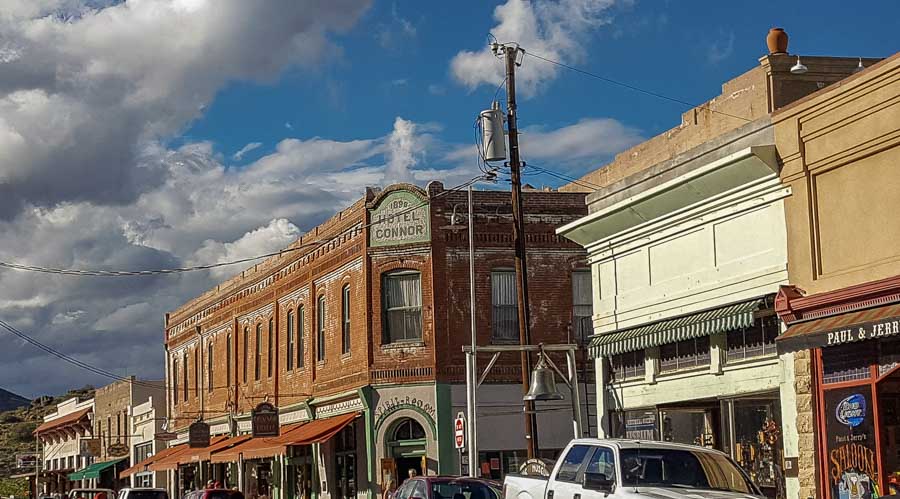 Things to do in Jerome
It's easy enough to walk around the city and take in the cool western vibe, fun shops and find a delicious place to eat in town. But if you are looking for more highlights of the cool things to do in Jerome this includes the following:
Once the home to James S. Douglas who developed the Daisy Mine in 1912, this home converted into a living museum is open for visitors to see the historical artifacts, collections and historic overview of the mine and town's development in this fascinating look at the Family and how the city came into being.
Visit Jerome's Sliding Jail
Once the city's main jail, the sliding jail happened with all the earthquakes and excavated tunnels around town, created the unsettling and slipping jail where it landed 225 feet from where it was started.
Located on the corner of Jerome Avenue and Main street, the Mine Museum was formerly a saloon called the Fountain and houses many artifacts of the mining era and explaining what day to day life was like in the town and mining communities. Also finding out why this was considered the wickedest town in the west with bordellos, saloons, gambling and gunfights happening regularly in town during its' heyday.
Visit the largest Kaleidoscope shop
Touted as the largest Kaleidoscope store in the world Nellie Bly Kaleidoscopes does have an impressive collection of amazing scopes and the back window area is a fun place to go to try out some of the scopes for their fantastical graphic images that stand out in the full sun.
Visit the Gold King Mine
Located above Jerome town, the Gold King Mine and ghost mine that was originally home to over 300 miners and eventually converted into a living museum that houses a variety of buildings, saw mill, old cars and other collectibles from the area and time frame. Old rusting cars and dilapedated buildings create photo ops along with a petting zoo, panning for gold or looking down the spooky mine shaft and visiting their cool gift shop.
Here's a cool visit to the Gold King Mine below
Enjoy the many art galleries in town
After the town started to die off and dwindle to a population of less than 50, a variety of artists and creatives moved into the area and attracted to the cheap rent, great views and outdoors in the area to set up their studios and collectively recreated the town from the ground up as a tourist town and very art focused with a variety of crafts and arts galleries around town to explore and talk to local artists from the area.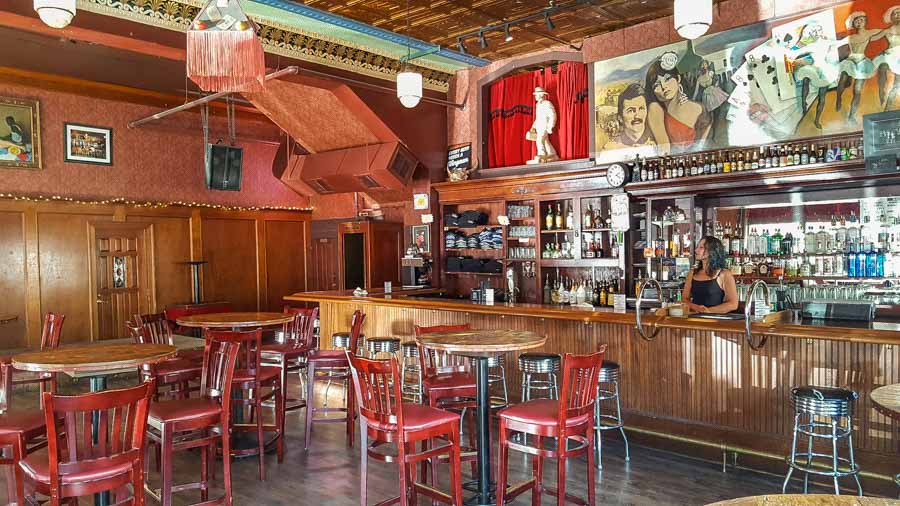 Jerome bar scene and wine tasting rooms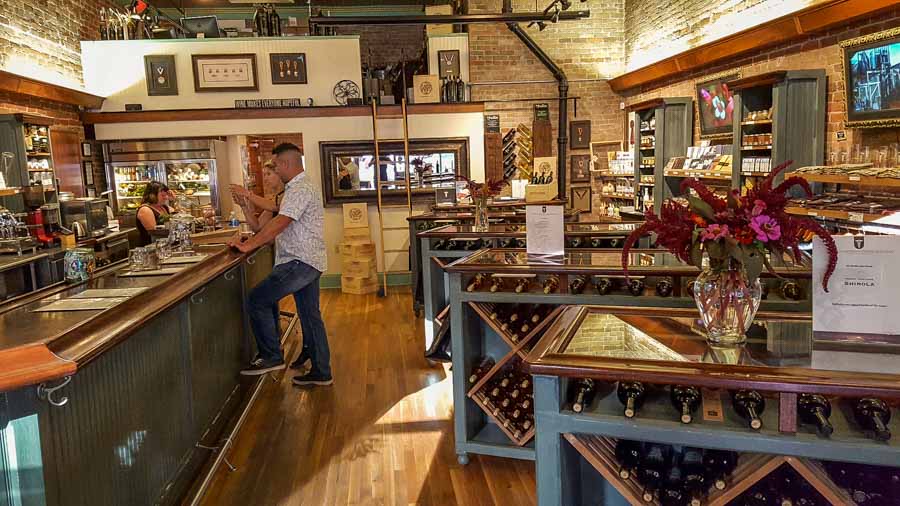 Lots of cool overlooks and vista points around Jerome to the distant red rock hills in the background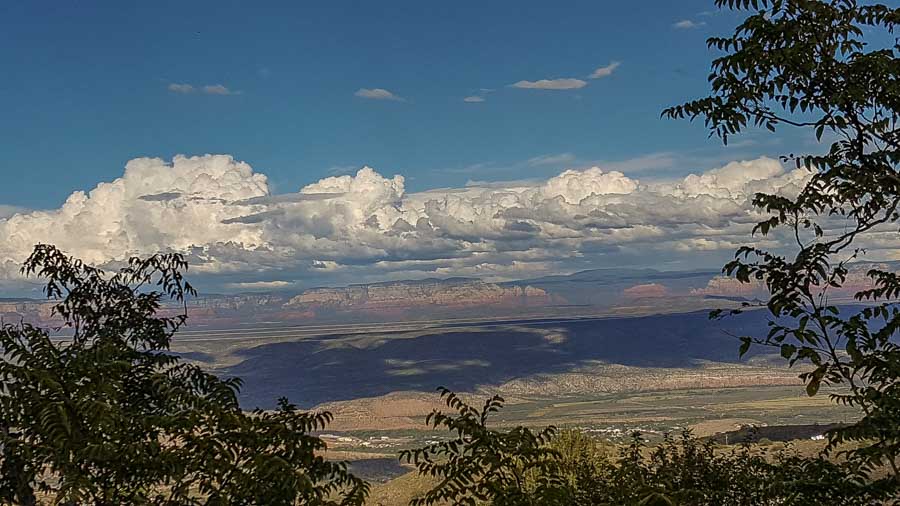 Jerome's scenic landscapes from above
On clear days like today, you can see all the way to the outskirts of the mountain ranges and buttes that feature the famous Sedona red rock formations.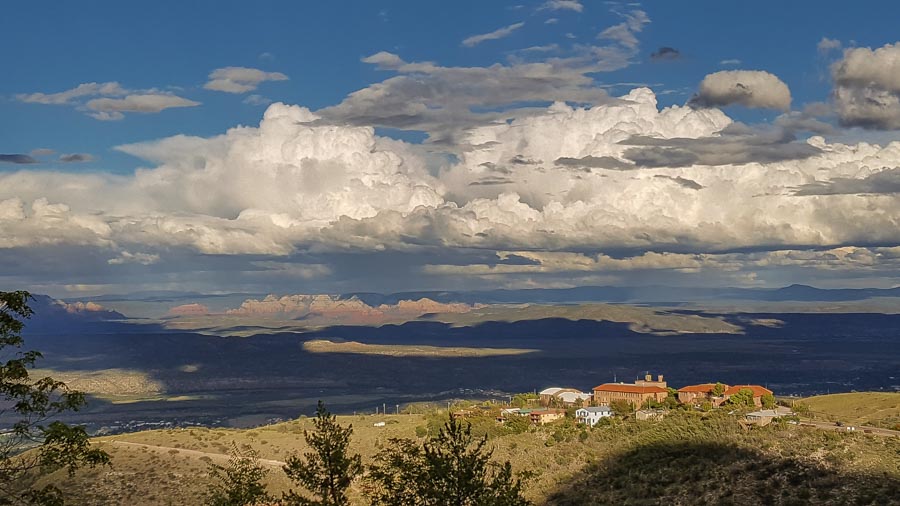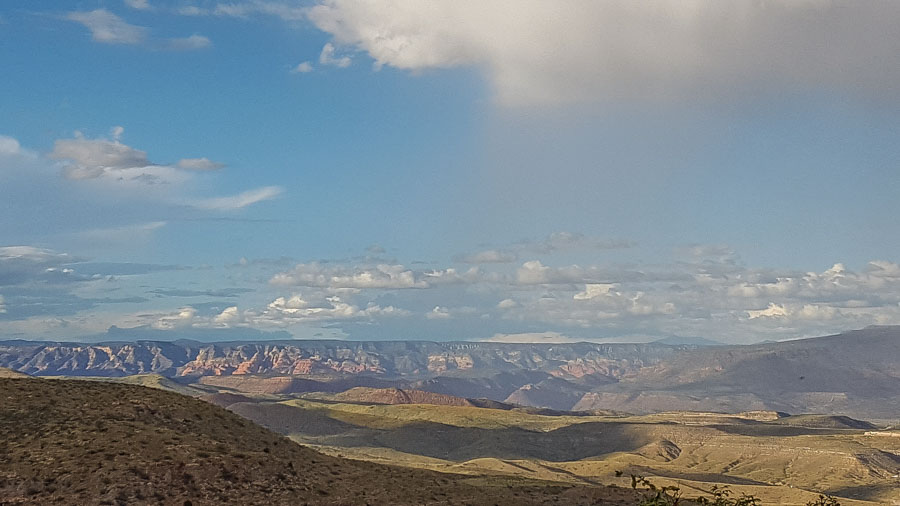 It's easy to spend most of the afternoon if not the entire day just exploring the entire town from top to bottom while stopping in at a few interesting wine tasting rooms to sample some of the unique boutique wineries from around Arizona. There are also plenty of choices for dining ranging from simple casual dining venues to more creative outlets and restaurants featuring locally sourced produced and inventive season menus.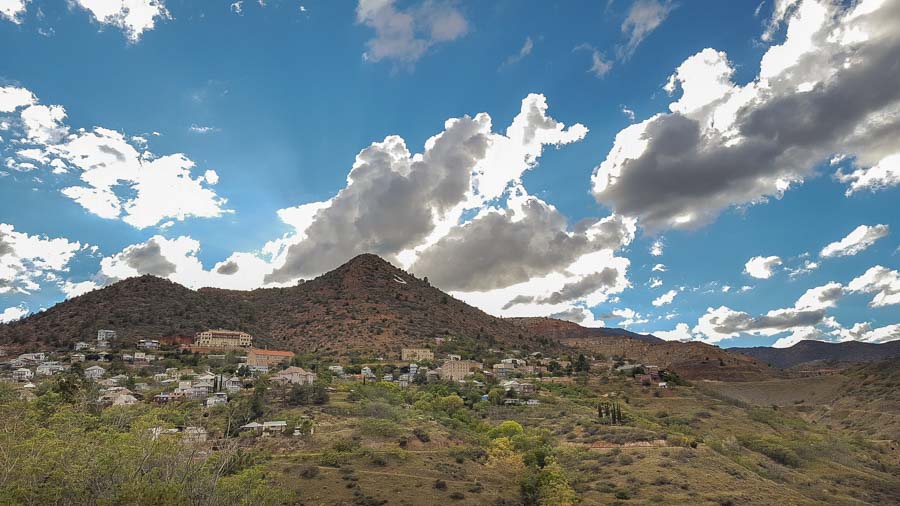 Here's some highlights visiting Jerome
Check out these tour experiences
If you are looking for a guided tour experience with driver from Sedona area, check out this Sedona to Jerome experience here for more details and booking.
Jerome Haunted history tour of the city's fascinating past.
Wild West tour of Jerome, Arizona
5 National Parks tours of Arizona
Where to stay along the way
You can easily stay any where in the various locations to relax and take your time in exploring the area. There are a variety of nice place to stay in the region so you can be comfortable and enjoy your visit. Here are some of my recommendations below on where to stay in each area from Sedona, Jerome to even Phoenix if you want to base yourself there to explore other areas of the region..
Check out rates and availability in Jerome area
Check out rates and availability in Phoenix area
Rental Cars
You can rent cars from Sedona or the Phoenix area and do this easy road trips. Check out the best rates from the sites offered below.
Check out car rentals with Expedia
Check out car rentals with Hertz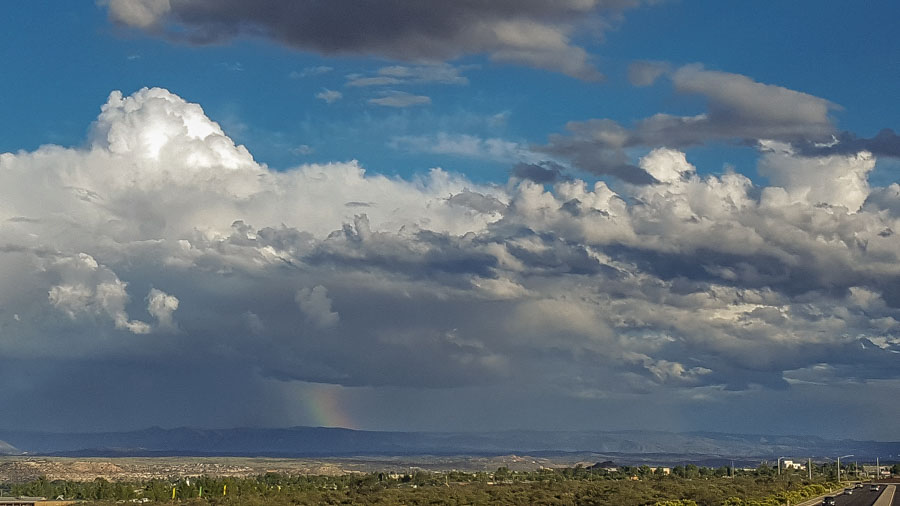 Conclusion on a road trip from Sedona to Jerome.
If you are looking for a unique and fun road trip in this part of Arizona the slow pace and gorgeous landscape between Sedona to Jerome is a must do for any visitor to the state. You can easily visit Jerome also as a day trip from the Phoenix metro area and drive up towards Sedona if you want to visit the other attractions heading north. This road trip can easily be a day trip or broken up into an over night visit if you want to see other Indian sites and landscapes in the vicinity.
Weather and best time to do a road trip from Sedona to Jerome
The weather and the best time for a road trip from Sedona to Jerome, both located in Arizona, can significantly impact your experience. Here's what you need to know:
Best Time for a Road Trip from Sedona to Jerome:
Spring (March to May): Spring is an excellent time for a road trip in this region. The temperatures are mild, ranging from the 60s to 70s Fahrenheit (15-25°C), making it comfortable for outdoor activities and exploration. The landscape also comes alive with wildflowers in bloom.
Fall (September to November): Similar to spring, fall offers pleasant temperatures, usually in the 70s to low 80s Fahrenheit (20-28°C). The fall foliage in Jerome and the surrounding areas can be stunning, adding an extra layer of beauty to your trip.
Weather Considerations:
Summer (June to August): While summer can be enjoyable in Sedona and Jerome, it's essential to be prepared for hot weather, with temperatures often exceeding 90°F (32°C) in both locations. If you plan to visit during summer, start your road trip early in the morning or in the evening to avoid the heat of the day.
Winter (December to February): Winters in this region can be quite chilly, with temperatures dropping into the 40s and 50s Fahrenheit (4-15°C). Snowfall is possible, especially in Jerome, which sits at a higher elevation. If you don't mind the cold and are interested in a more peaceful, less crowded experience, winter can be a good option.
Monsoon Season (July to September): Arizona experiences a monsoon season during the summer months, primarily in July and August. While rain can be refreshing, it's essential to be cautious of flash floods, especially if you plan to explore any desert canyons or low-lying areas. Check weather forecasts and be prepared for sudden rain showers.
Additional Tips:
Check Road Conditions: Before your trip, check road conditions, especially if you plan to travel during the winter or monsoon season. Some mountain roads leading to Jerome can become icy or treacherous in inclement weather.
Scenic Route: The drive from Sedona to Jerome is incredibly scenic. Consider taking the historic Highway 89A, which winds through Oak Creek Canyon and offers breathtaking views.
Plan Stops: Along the way, you can explore attractions like Slide Rock State Park and Red Rock State Park. Jerome itself is a historic mining town known for its art galleries and quirky charm.
Altitude Change: Be aware that Jerome is situated at a higher elevation than Sedona, so the temperature can be several degrees cooler. Dressing in layers is a good idea to accommodate temperature changes.
In summary, spring and fall are the best times for a road trip from Sedona to Jerome due to the pleasant weather and scenic beauty. However, with proper preparation, you can enjoy this road trip year-round, taking into account the weather conditions and your personal preferences for temperature and crowd levels.
Check out these other post visiting the region
Things to do around Phoenix, AZ
Exploring Montezuma Cliffs and well
Visit Flagstaff and surrounding areas
Best places to photograph Sedona
Weekend getaway to Phoenix Arizona
If you enjoyed the post – please Pin it!
Interested in doing this road trip from Sedona to Jerome Arizona?
Thanks for visiting today and checking out this post on this Road trip from Sedona to Jerome, if you enjoyed the images and post, could you please share it with any of the social media buttons located around the post.
If you like what you see, come and check out my other social media channels for more updates, including Instagram, Pinterest and Twitter
Disclosure – There are affiliates links on this posts which provide a small commission to support this site at no extra cost to you. Thank you for reading, and happy travels