Girona, Spain – Key attractions to see and photograph
Girona, Spain is just over an hour and a half train ride from Barcelona along the scenic Costa Brava region.  It's a charming city with a historic center, retaining many of its medieval appeal and well-preserved architecture. The old center is walkable with most of the attractions located along both sides of the Onya river. Following are some of the most photo-worthy sites and attractions to visit and spend some time capturing the essence and lifestyle of this idyllic place.
Along the river front
Most sites center around the river front area along the Onya, there are nice strolling walkways on both sides of the river. The pedestrian walkways on either side are lined with vendors selling locally made products and craftsmen presenting their art work and crafts. Usually on weekends, there are even more vendors on the bridges setting up their booths to maximize on the foot traffic through these busy areas. Even though most of the monuments and attractions are in the old section, its easy and fun to just walk around the neighborhoods of Girona.  Its compact size and mostly flat terrain, outside of the Jewish quarter allows for easy access and handicap considerations in the larger squares and streets.
The Jewish quarter
The old medieval sector close to the cathedral is very intimate with cobbled streets, little shops, cafes and tiny alleyways leading to hidden gardens and squares. This quarter in Girona, is one of the best preserved Jewish ghettos in Europe and the Montjuic (Hill of the Jews in Catalan) has an important Jewish cemetery. Through the many small and narrow streets are many splendid shops to explore and dessert cafes to tempt you to linger. But save that for later in the day and concentrate on your photography while the lighting is still good in this typically darker area with narrow and dimly lit medieval walls and architecture. The entire area is  ideal to walk around and photograph fine architectural details, street scenes and prominent buildings.
Ramparts of Girona, Spain
Walking along the old ramparts of Girona is a wonderful way to experience the city with magnificent views of the countryside surrounding the city.  Green and rolling valleys extend endlessly with little villages and old churches framing the landscape. There are many photo opportunities to capture nice compositions of the rolling hills or take some focused shots framing the center or the medieval sections of the old town and Jewish quarter. It's good to experiment with older architectural fragments, interesting rampart details or garden foliage or flowers framing the foreground and extending your depth of field to the composition.
 Views of the countryside in Girona, Spain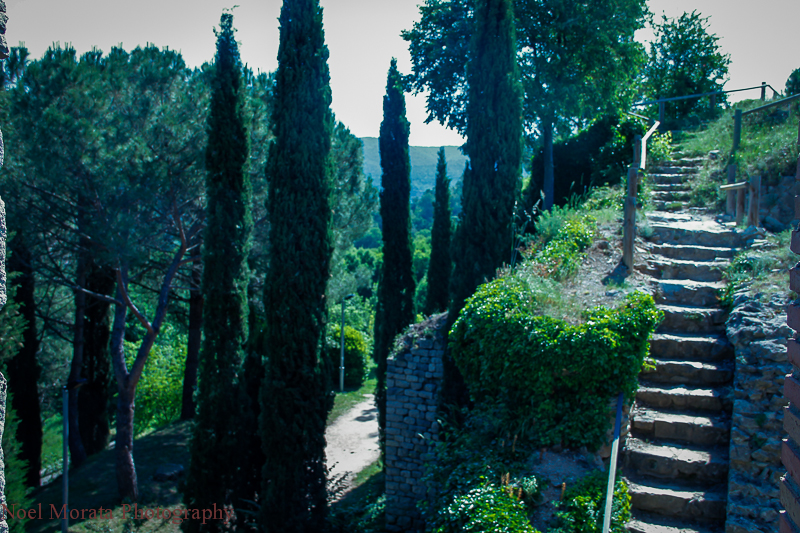 Cathedral and Cloisters
The medieval cathedral of Girona looks so stoic with its prominent site and scenic views overlooking the city and countryside. The interiors of this gothic cathedral are quite simple considering that this has the widest gothic nave in the world and is second widest overall after St. Peter's Basilica in Rome.  Limited light and restricted tripods use makes the interior shots a little more difficult to get a precise and sharp image, so you have to be creative with your settings.  You will have to make adjustments to ISO, shutter speed and aperture, or use steady surfaces like the pews to support your camera.
The adjoining building and cloister house a museum containing local architectural and church treasures worth visiting. There are many interesting insignia and crests built into the walls around the cloisters, look out for them and admire their subtle details. Framing the views of the central garden with the many arched columns creates a classic composition. In the image below, mid-day light is utilized by including the  shadow effects on the stone ground flooring as part of the composition. Creating leading lines away from the central axis of the image and out of the frame helps to create a better composition and a more dynamic image.
These interior spaces are an interesting place to experiment with your photography and try different compositions, leading lines, light and dark, HDR techniques or any other subject that captures your imagination.
Independence Square and dining
Plaça de la Independencia or Independence Square is a historic square in the center of Girona filled with many bars and dining spots, making it a popular gathering and dining venue. A mixture of 18th to 19th century styles called the Noucentisme style represents the romantic period with a timeless neo-classical appeal.  It's a prime people watching venue and photographing the cafes, local food specialties and urban street scenes are a nice way of presenting the lifestyle here in Girona. For more about the wonderful foods of Girona, check out this fantastic Girona dining overview here.
Girona has all the nicer amenities of a smaller city in Catalonia with medieval charms, and it is easy to manuever and enjoy.  It's just the right size of city to walk around and spend a leisurely weekend. For longer stays, it's a perfect place for visiting the surrounding attractions along the Costa Brava.  These were my favorite attractions and areas of Girona that I enjoyed visiting, if you also have a favorite spot in the city that I didn't cover, please share some of your favorite experiences in the comments.
Best places to photograph
If you enjoyed this post, please check out my other best places to photograph series from around the world.
Best places to photograph Budapest, Hungary
Best Places to photograph in Sedona, Arizona
Best places for views and photograph Tokyo, Japan
Best places to visit and photograph San Francisco, California
The most photo worthy spots in Split, Croatia
If you want to enjoy more travel journeys through Spain, please take a look at this series of posts on Barcelona starting with this first article. I hope you get a chance to enjoy reading these other stories.
Thanks for visiting today and seeing this post on Girona, Spain – Key attractions to see and photograph , if you enjoyed the post, please do share it with any of the social media buttons around the post, thank you.