Best places to photograph Tokyo Japan
The best places to photograph Tokyo, Japan vary throughout the city, different vantage points and the main attractions to visit and capture just at the right moment. Tokyo is exciting, bizarre and filled with so many unusual and colorful places to visit with districts that are traditional and then juxtaposed with cutting edge architecture and design, unexpected venues and somewhat familiar scenes (including 7-11 stores in almost every corner) that you will come across while visiting Tokyo. Capturing something unique is definitely challenging in Tokyo and finding the best places to photograph Tokyo is fun but difficult in this large metropolitan jungle because of the sheer size and number of fascinating areas to explore in the city.
It can be difficult to visit the many districts and lifestyles that bring out the best of photography opportunities in this dynamic city without extensive planning and spending quite some time in the city. There are many photogenic attractions, food venues,  people watching spots and unusual areas in the city to keep you busy and wandering through the different areas in the city. Fortunately, I will highlight some of my favorite things to do in Tokyo and scenic places for you to explore and have your camera ready to shoot because you will definitely find some amazing photo opportunities to capture while checking out the best things to do in Tokyo.
When is the best time to visit Tokyo, Japan?
The best time to visit Tokyo varies on your own time frame and the most popular times tends to be in the summer season. But the actual best time to visit here is the shoulder season from March to April in spring and then September and November in Fall. Spring time weather is mild and comfortable and fall time around September can stil be relatively nice and clear. Spring time brings in wonderful spring time color with cherry blossoms in bloom, annual plantings around public areas and gardens to bring color and beautiful vignettes to capture in the urban environment. Fall time brings autumn colors which again adds more color and seasonality to the urban environment and giving it a different perspective of enjoying fall time weather and seasonal changes in the city which is fantastic for photography opportunities in the city.
Here's where to photograph Tokyo
Following is a quick guide of some of my favorite places to capture the best photos of Tokyo, locations you should visit and what to do in Tokyo while experiencing unique places in this vibrant and colorful city.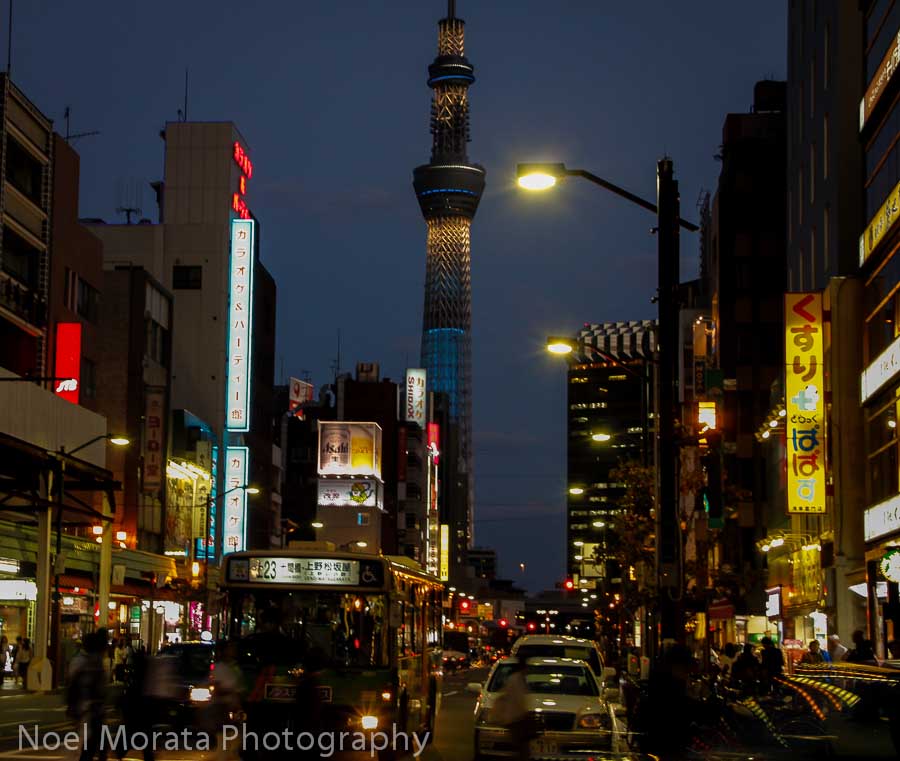 Tokyo's Asakusa and Senso-Ji
Probably the most popular tourist attraction in your Tokyo sightseeing visit is the Asakusa district and touring Senso-Ji, a iconic temple and main landmark in the area. Asakusa used to be the pleasure den of ancient Tokyo, but now it is visited for the many temples, shopping galleries and dining spots around the neighborhood. One of the most aesthetic places to experience in Tokyo, is the Buddhist temple of Senso-Ji. This traditional temple in Tokyo and grounds is one of the best place to photograph Tokyo and some of the traditional costumes, iconic imagery and details of temple lifestyle and architecture.
Tip – To get a better understanding of the what you are seeing, it's good to sign up for a Tokyo tour guide at the entrance of Senso-Ji. Also, while your visiting the temple grounds, explore some of the surrounding neighborhood around the temple –  you'll find some colorful local landmarks, quiet areas to explore and many interesting photo opportunities.
Senso Ji – the ancient Buddhist temple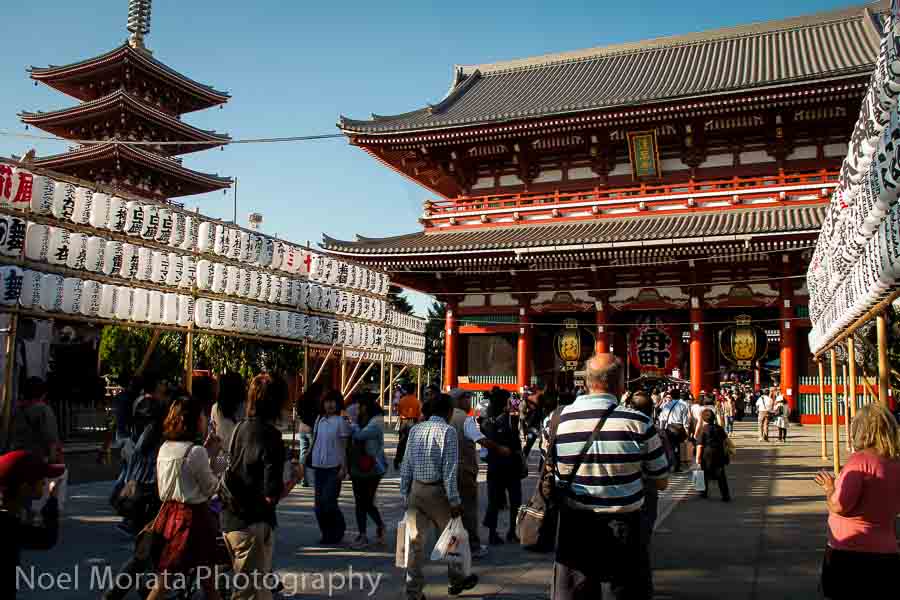 Entering the temple area of Senso-Ji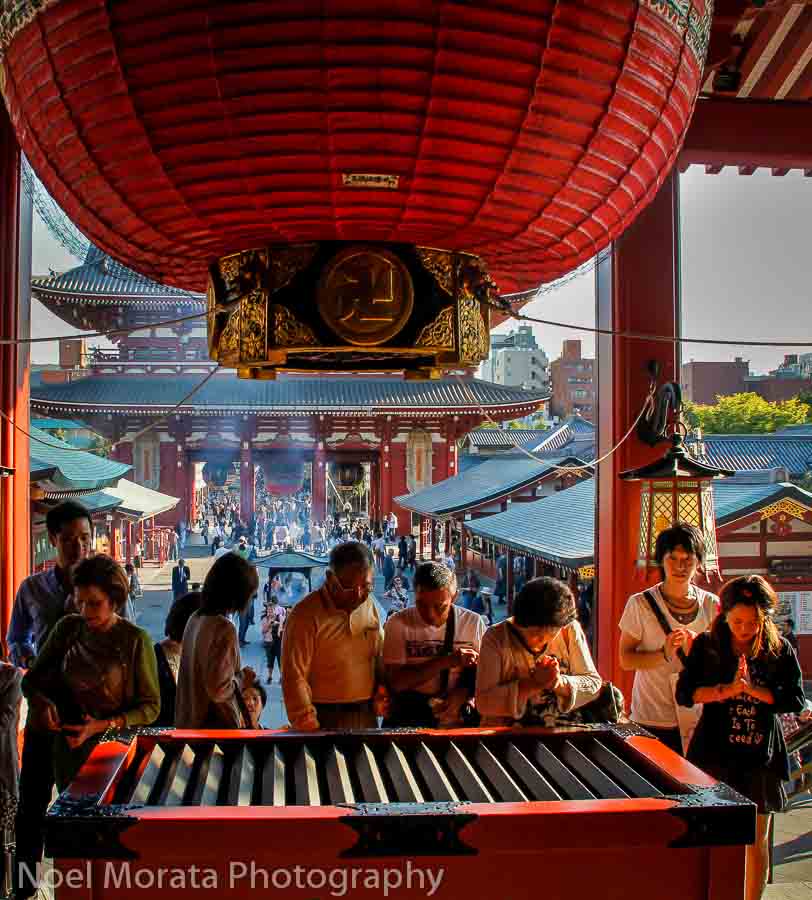 Photo tip – On your Tokyo tour, it's best to visit the temple grounds and the main temple early in the morning or later in the afternoon into sunset to avoid the big crowds and also to get the best light to photograph while visiting the area.
Ueno
The Ueno district of Tokyo is a perfect spot to explore for the many cultural attractions you can easily find in the area including: the zoo, a very colorful outdoor market, history and national museums and the entrance of the Imperial Palace demon gate. Outside of these venues there are many small intimate neighborhoods that are worth exploring because these areas have remained intact with their distinct small town appeal within Tokyo's huge metropolis even prior to the World War two bombings to the entire city. This includes the neighborhood areas of Nippori, Yanaka Ginza and Yanaka cemetery.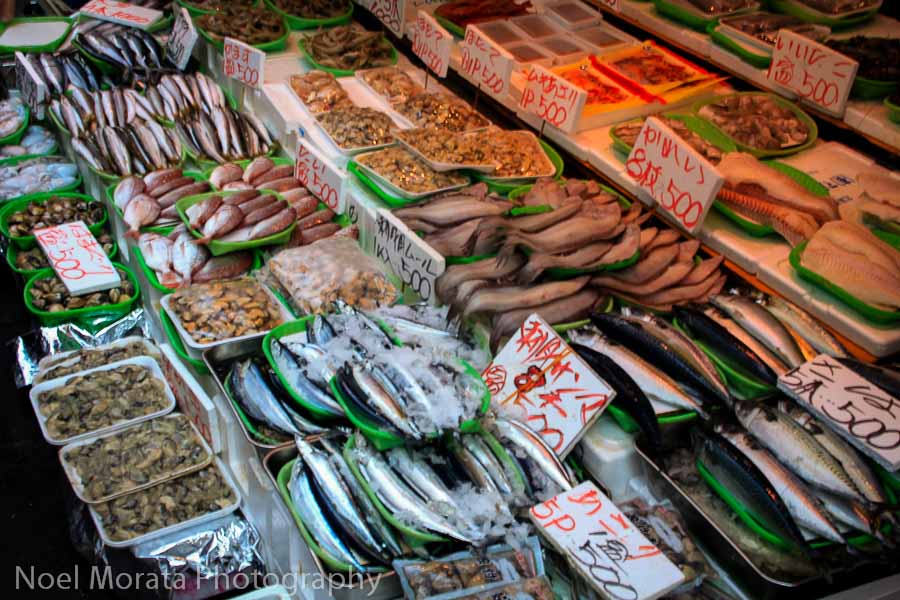 Exploring the large outdoor markets next to Ueno station

Imperial palace and East gardens in central Tokyo
You can visit and tour the interior of the Imperial palace if you register in advance for a tour reservation (check the details and requirements here) from 10am to 1:30 pm on week days. If you cannot make a reservation, it's just as nice to walk around the grounds, East gardens and the  ruins of the old Meiji palace with scenic views of different parts of downtown Tokyo. The gardens surrounding the palace are fun to wander and take a nice break from all the walking and busy crowds touring the immediate area.
A beautiful tiled building from the royal palace ruins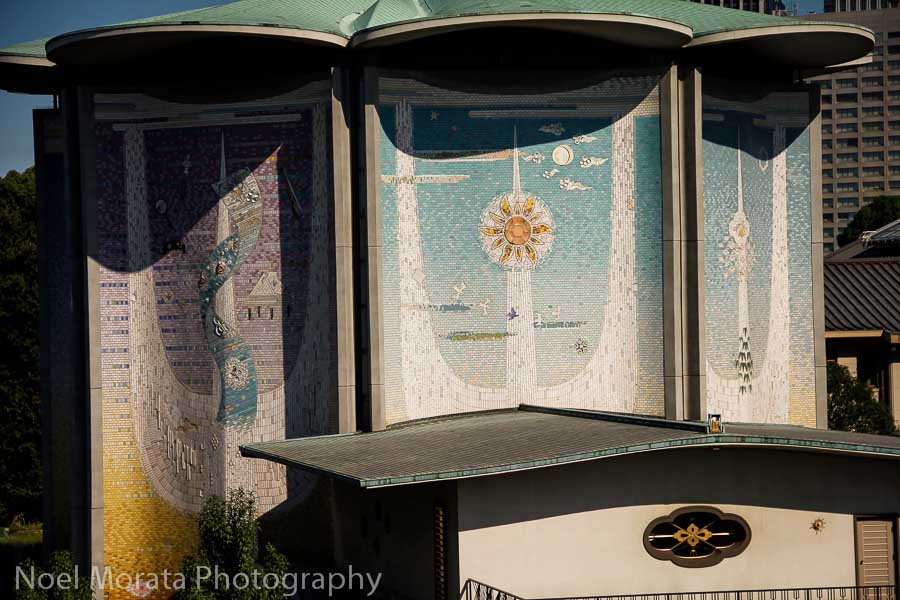 A Panoramic view of Tokyo and Yoyogi Park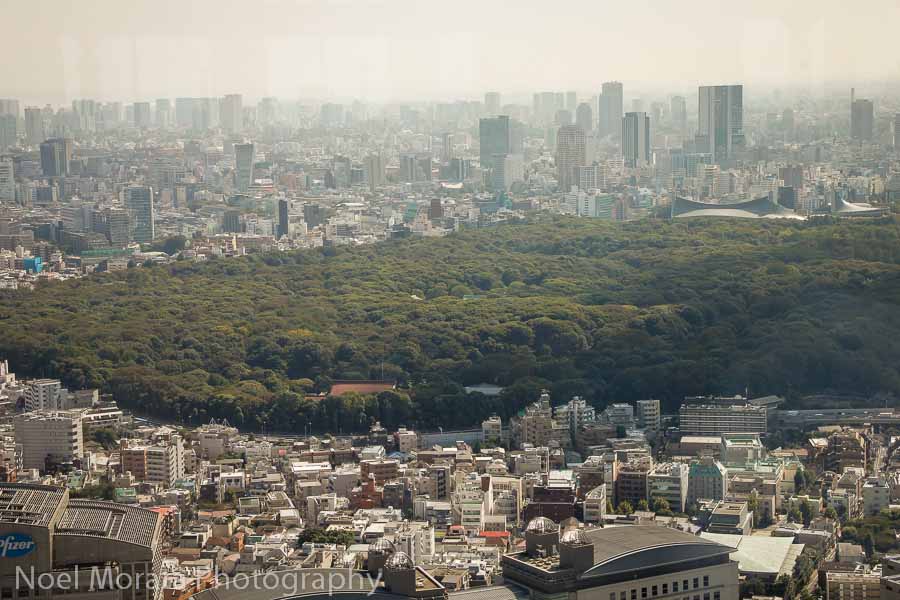 Yoyogi Park
One of the largest parks in central Tokyo, Yoyogi park is a large park that buffers two of Tokyo's most colorful districts and one of my favorite Tokyo spots to breath and relax in a world of green. The park is an urban oasis with forest areas, fountains, lakes and the largest Shinto shrine in Tokyo called the Meiji Shrine where major Shinto festivals and traditional weddings are held. The area was also used for the Tokyo Olympics in 1964 with the athletic village and national gymnasium. Today the park is a gathering place for biking, walking the nature trails and then juxtaposed with subculture groups, Harajuku and Cos players along with a slew of photo opportunities for street performers, martial artists and Japanese rock performance groups.
A quiet area of Yoyogi park in Tokyo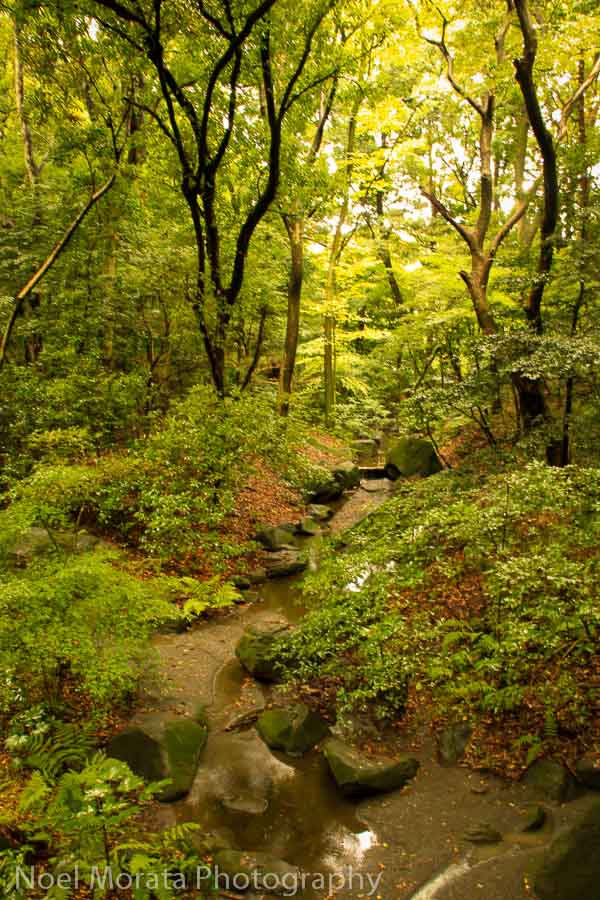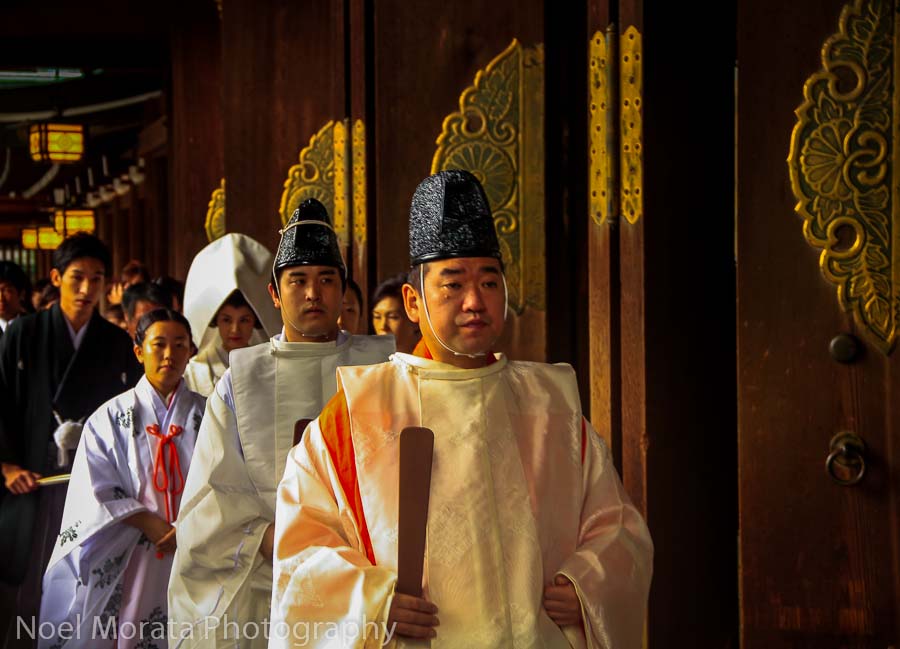 Meiji Shrine
Tokyo's largest Shinto Shrine, the Meiji Shrine is located right in the middle of Yoyogi Park is one of the best places to visit to see and capture a Shinto procession, special ceremony or a traditional Shinto wedding in full Japanese Kimono gear and other traditional garments. Walk around the fascinating grounds and open areas surrounding the temple and you will be able to capture some magic moments of the people, costumes, priests and celebrations that occur here regularly. Most of the temple area is open outside of the individual buildings which can be viewed from open partition doors to the inner courtyards and assembly halls.
A large wishing tree at Meiji Shrine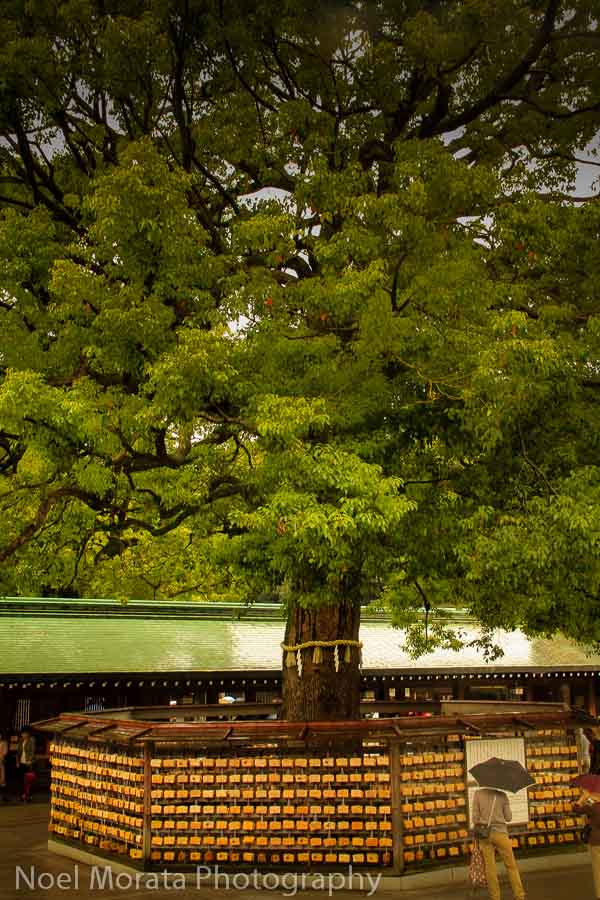 Harajuku district of Tokyo
Filled with fashion forward shops, street art and performances everywhere is Harajuku,  this is definitely one of the cool places in Tokyo to see all the young from all over Tokyo come in costume to play, shop or just hang out. Cos play and Anime are always popular and a photo opportunity around the area fronting Harajuku Station and the entrance of Yoyogi park. This area is filled with  many young Harakuju girls, Cos play and other street performers assemble in the general area play acting, performing or even  shopping in the area. This entire area is a fantastic starting point to photograph the fun and strange mixtures of Cos Play, costumes and impromptu performances (weekends are the best times to see more crowds dressed up and performing dances or other fun routines for the public). Close to Harajuku station is Takashita dori, a popular pedestrian street filled with trendy boutiques, street vendors and other retailers catering to the young Harajuku set and fashion types looking for cheap or used clothing and accessories. This area is a great spot to find interesting gatherings or impromptu performances of anime or locals in costume.
Photo tip – for the best Tokyo pictures of Anime, Cos Play and outrageous dress stay close to the front of the Harajuku station, the entrance of Yoyogi park and the shopping alleyway of Takeshita street in Harajuku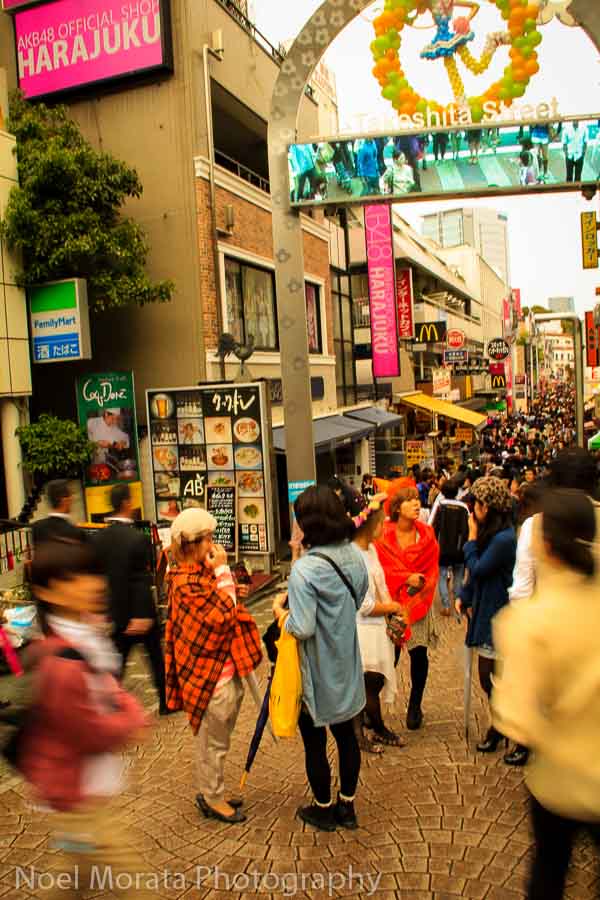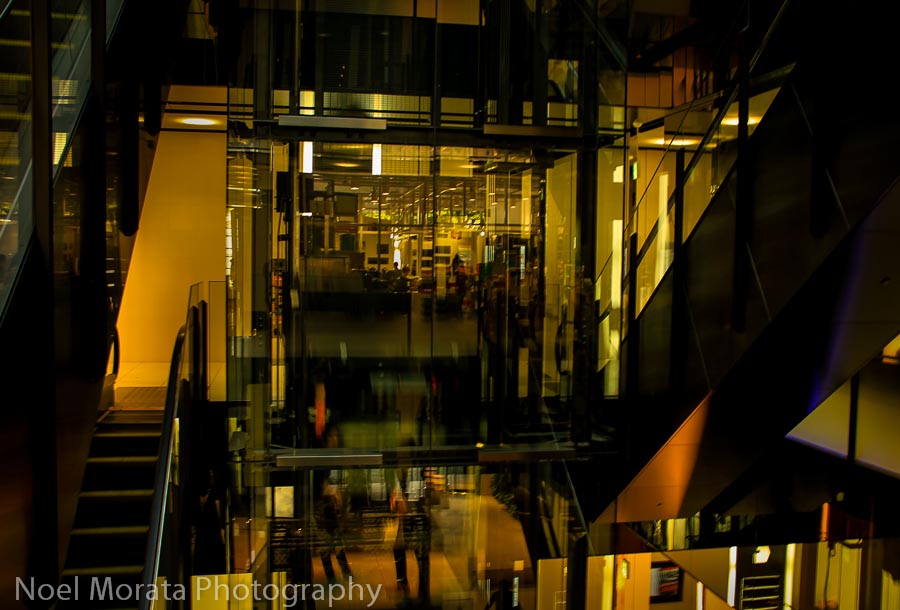 Tokyo's Omotesando district
This is Tokyo's posh neighborhood with high end boutique stores, galleries and international designers are housed in glamorous and designed forward buildings. You can easily capture some beautiful architecture, street scenes, people and eclectic mixing of traditional and contemporary lifestyle in the area by just walking around the streets and taking in the cool vibe and street life in the neighborhood.
Tip – go to this area for the best Tokyo pictures of unusual and modern architecture, fashion forward design and eclectic street scenes in general.
 Fashion forward architecture and designs at Omotesando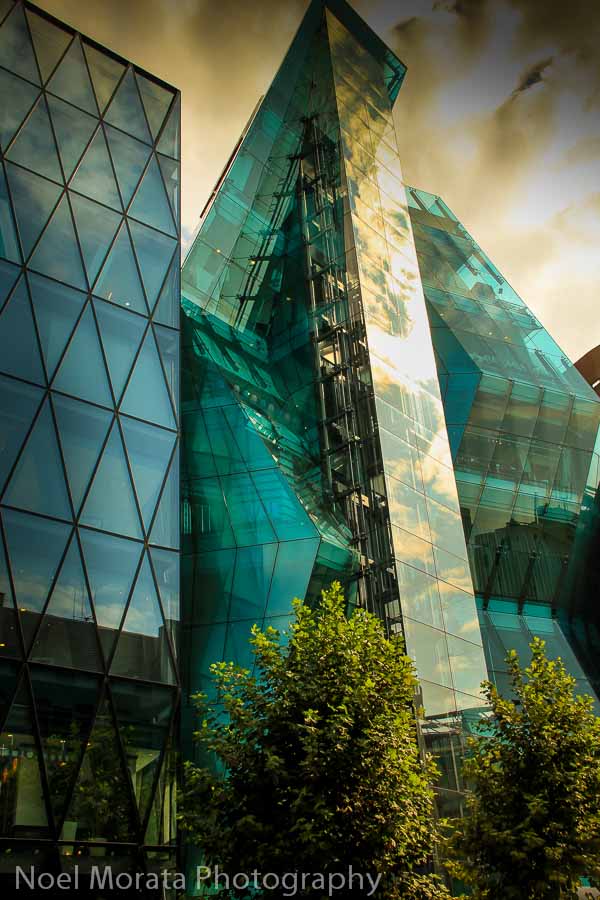 Shinjuku Goen
Another oasis of green and gardens in urban Tokyo, Shinjuku Goen is on the edge of busy Shinjuku and a spit of quiet and green in this urban jungle. Expect to see and capture wonderful images of beautiful nature, Japanese bonsai and gardens with framed views to the urban areas and skyline surrounding the park.
Quiet contemplation at Shinjuku Goen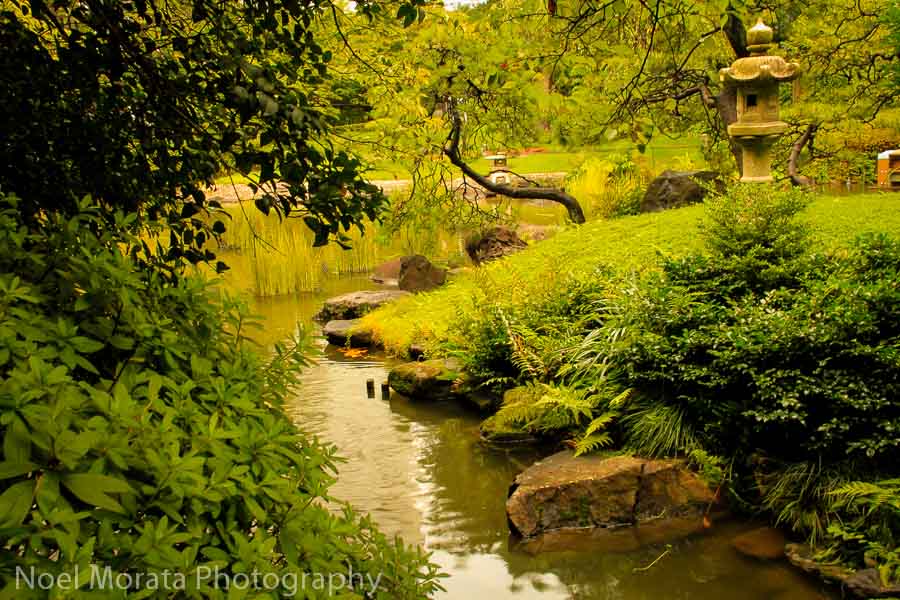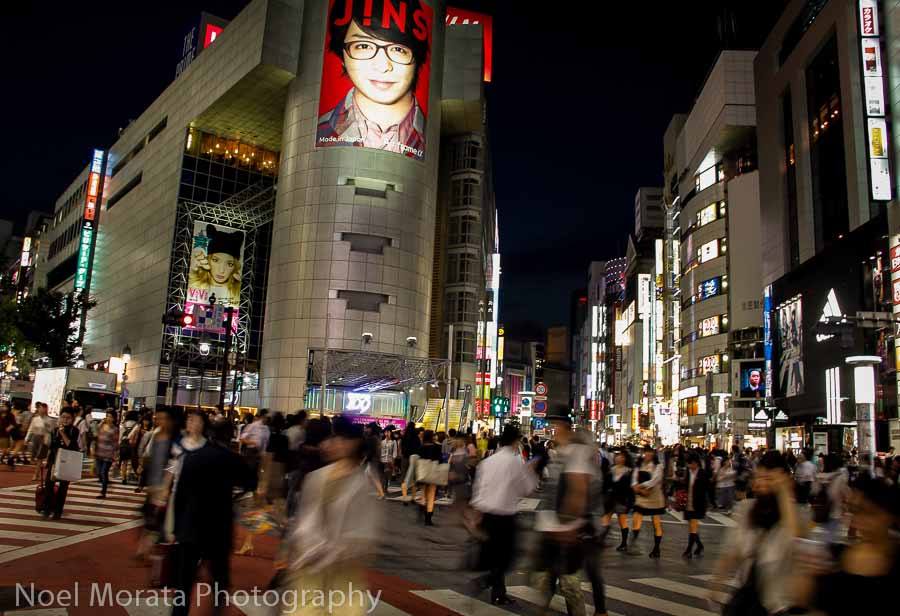 Shibuya Crossing in Tokyo

This is the world's busiest pedestrian crossing and Shibuya is pure madness at its best and a fantastic spot to photograph during the daytime and late into the night. With over one million crossing this spot, there are unlimited possibilities to capture the people, neon, architecture and urban jungle of Shibuya crossing and the walking promenades around Center Gai close by.
Photo tip – to capture the craziness of Shibuya crossing and photographing Tokyo – shoot from above, at night time when all the neon lights are bright and using slower shutter speed to show action.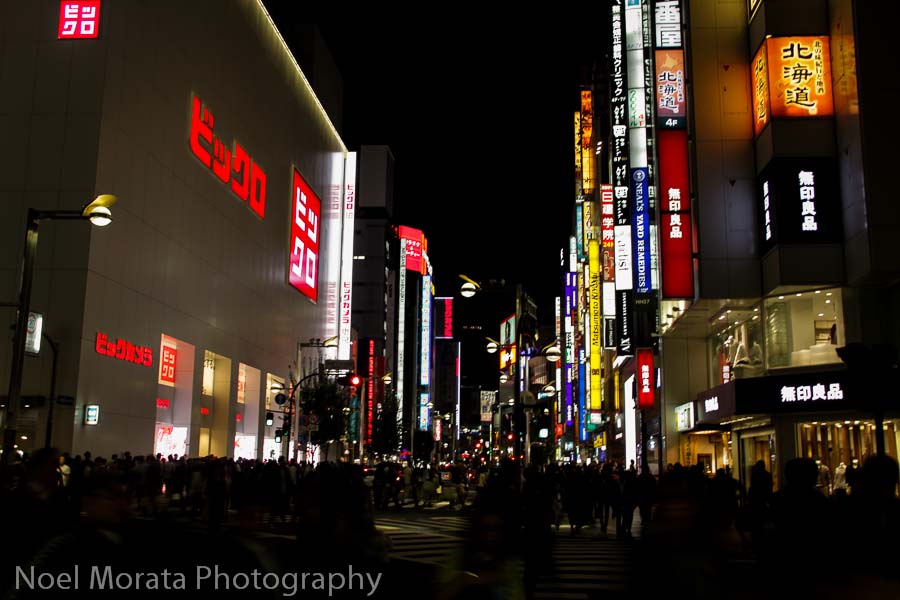 Kabukicho
Considered the red light district of Tokyo in Shinjuku, while visiting Kabukicho, you'll see a combination of barkers, street performers and shady characters amidst the neon plastered promenades and gritty street life in this area of Shinjuku. One of the most popular areas include the Golden Gai which hosts a tiny in the wall bars filled with shady characters. Check a few of these out and you will definitely come out with some fantastic captures of Kabukicho.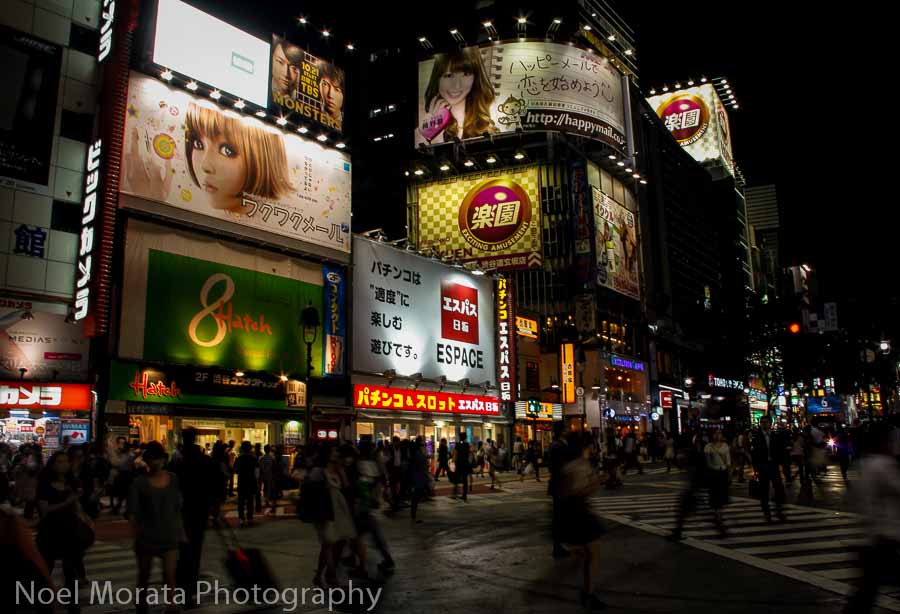 Center Gai
The area around Shibuya that is mostly pedestrian zone and filled with neon lit businesses, tacky tourist shops, varied eateries and Japanese subculture. This is a great spot to capture the urban jungle, neon lights of the pedestrian area and interesting locals that tend to hang out regularly in this busy area.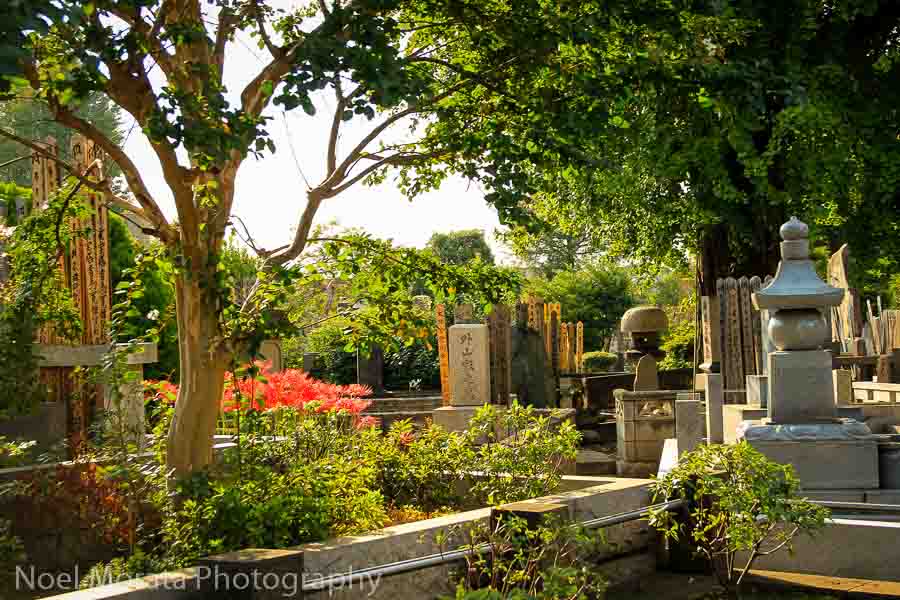 Tokyo's Aoyama Cemetery
Tokyo's oldest cemetery called Aoyama Cemetery is located in a dense business district with upscale housing. This hidden gem has so much photogenic potential and not visited by many tourists coming to Tokyo, so put it on your travel must visit to find some wonderful photo opportunities of the city. There are old traditional parts of the cemetery to explore along with a large foreign section of foreigners that helped to modernize Japan's entry into the world market.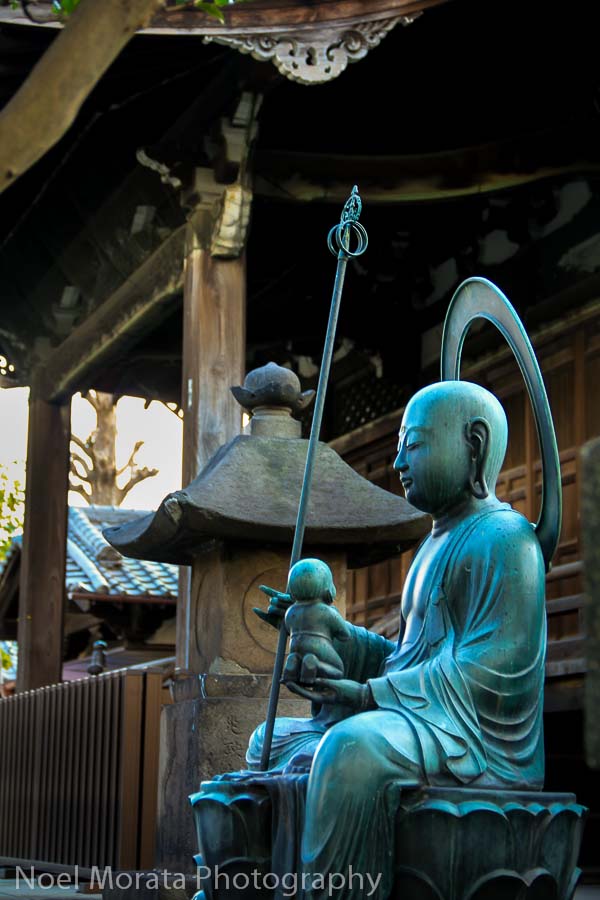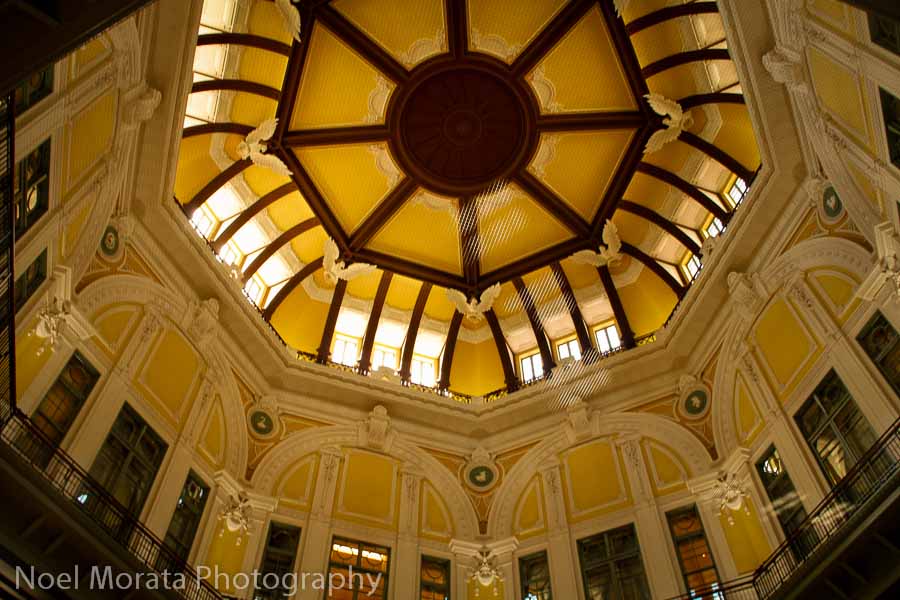 Central Tokyo Station
The historic Tokyo Central train station located in downtown Tokyo is practically a city on its own with expansive retail shops, restaurants and other sundry shops that caters to the millions that pass through this huge railway station. The areas surrounding the station are filled with huge and fascinating buildings and stunning architecture worth walking through and exploring the urban areas around Central station.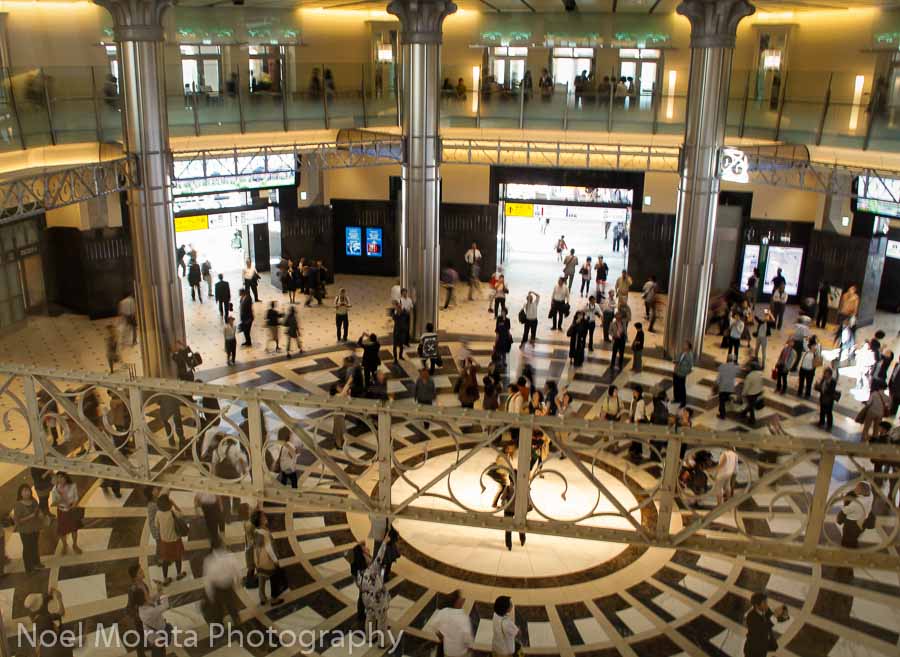 The outdoor plaza at Tokyo Central Station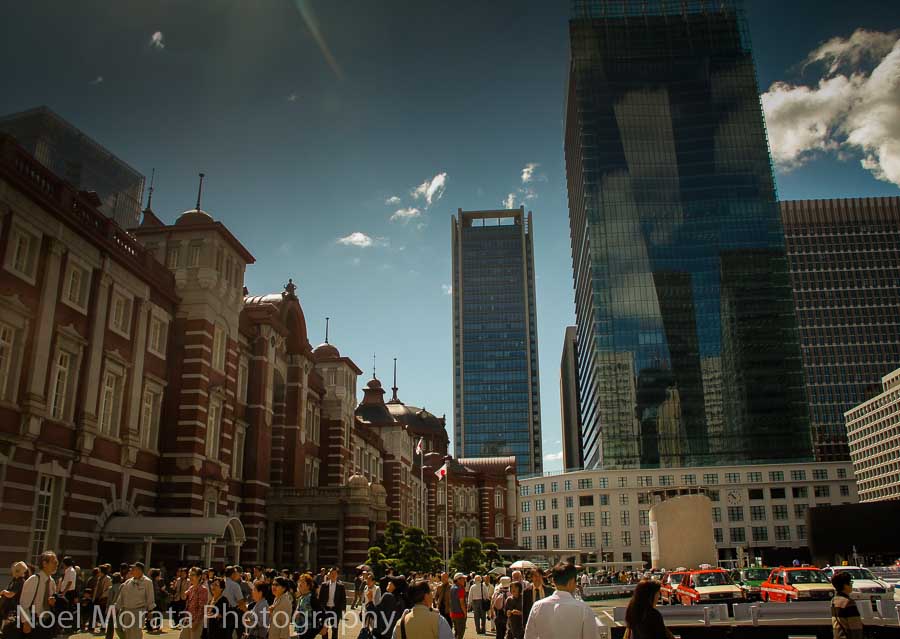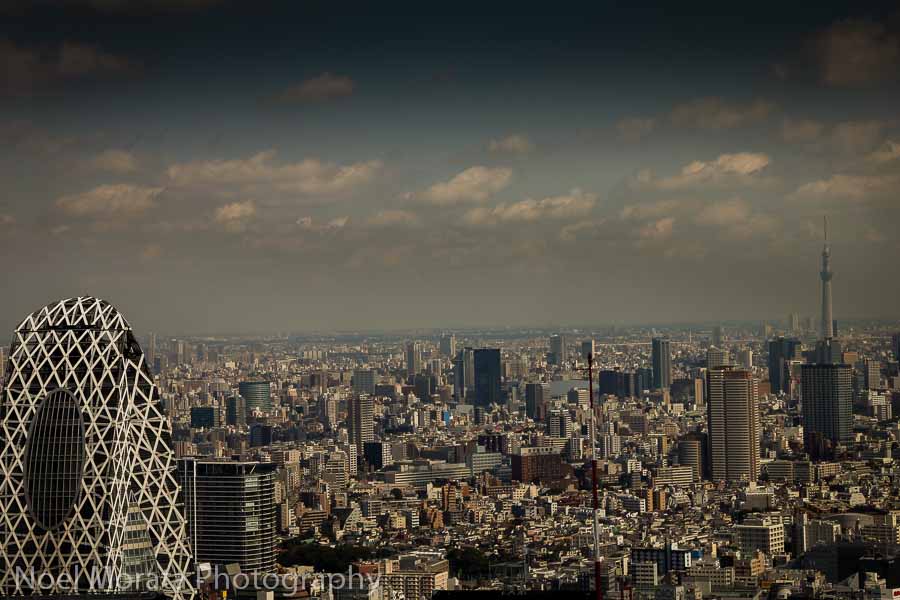 Tokyo Metropolitan Government buildings at Shinjuku
One of the top things to do in Tokyo is to visit the Tokyo Metropolitan Government buildings. This free visit allows you to take an elevator ride up to the observation area and check out the amazing views from above on both towers of the each building. Located in the Shinjuku district close to Shinjuku station, both towers are free and open to the public to visit the upper observation areas with panoramic views of the entire city. This is by far one of the best place to photograph all of Tokyo from above and see all the major landmarks around the city.
From the towers, you can practically see every major monument and attraction in central Tokyo. There is also a café at the observation area so it is nice to take a break and enjoy a drink or meal with those magnificent views.
General tip –  The area around the Metropolitan Government buildings have spectacular contemporary architecture to explore and walk through the district.  Also if you are there around lunch, there are plenty of restaurants that offer the typical business lunch meal specials which are a fantastic deal for eating in Tokyo at affordable prices.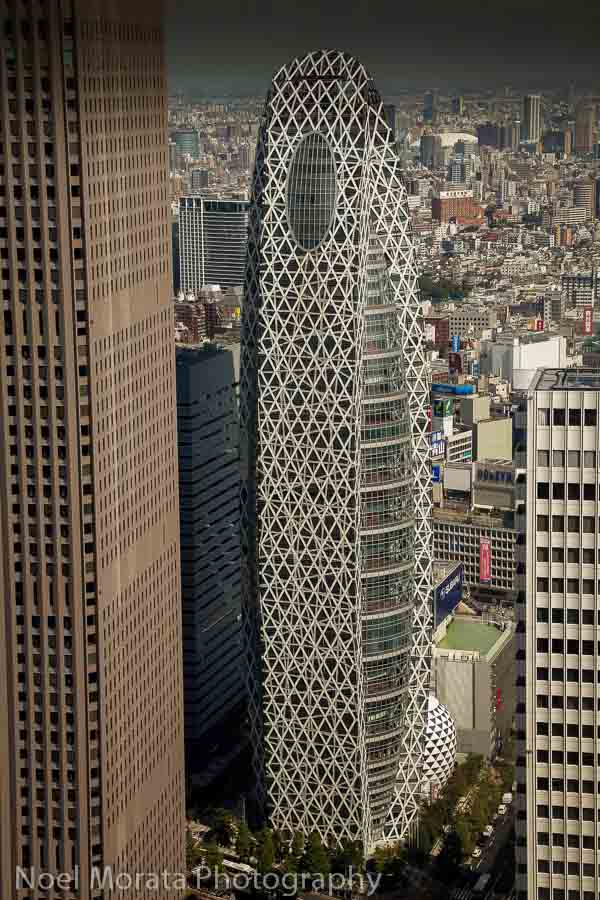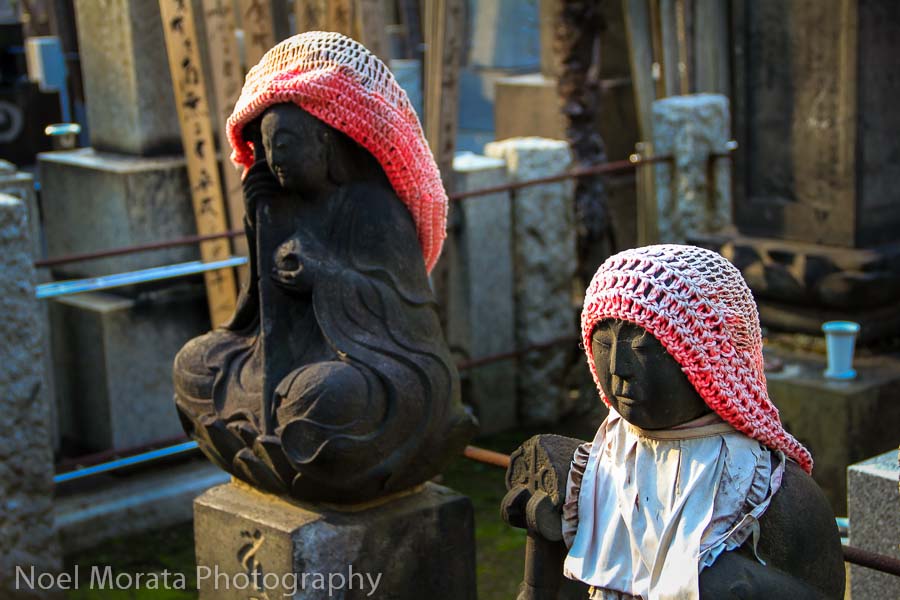 Quiet streets of Yanaka Ginza and cemetery
This area of Tokyo is one of the few neighborhoods that have maintained their small village appeal within the large metropolis of the city.  Due in part to surviving as a small neighborhood after the bombings during World War II, the area around Yanaka maintains this shitamachi  (old town atmosphere). The general ambience of the area is definitely more quiet with an air of rustic charm and traditional nostalgia with small community walking neighborhoods and pedestrian only streets, open markets and little mom and pop shops catering to a mostly local crowd.
A large part of Yanaka Ginza is dominated by the large cemetery with elaborate gardens, the grave of the last Shogun of Japan and Sakura-dori Street, a tree-lined street of mature cherry trees and beautiful statuary with cute knitted red caps.  I have no idea about the significance of the red color hat but I'm really curious to find out. (If anyone knows, please do tell me below in the comments)
Far away from all the tourist attractions and crowds this area feels like old Tokyo, in fact it is one of the oldest remaining in the city. I consider this one of the best spots to photograph Tokyo on a quieter side and find unique scenes to capture walking around the neighborhood, shopping district, temple grounds and cemetery.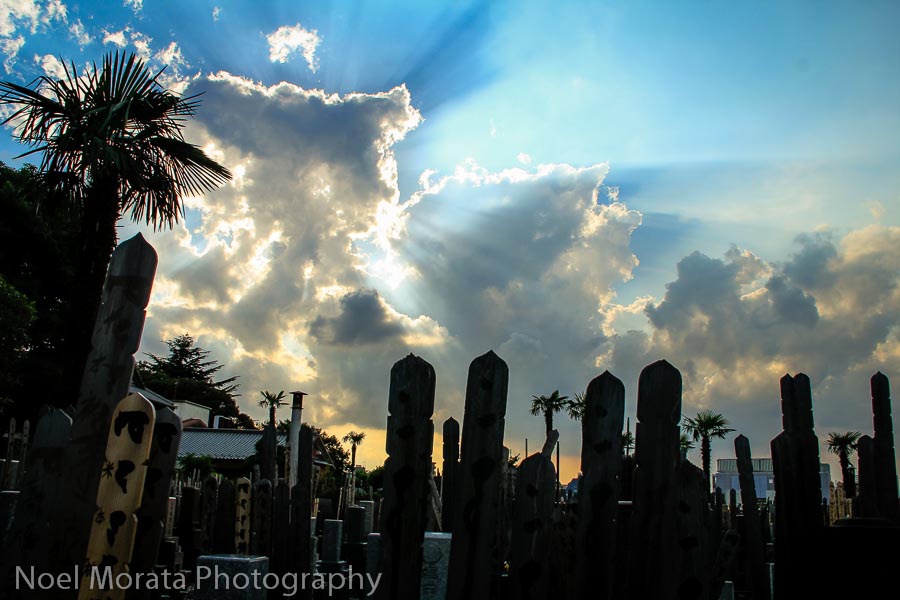 Tip: look for the main temple called Tennoji Temple which has a large bronze Buddha to the left entrance of the temple, it's perfect in its location and worth visiting when you are at the cemetery.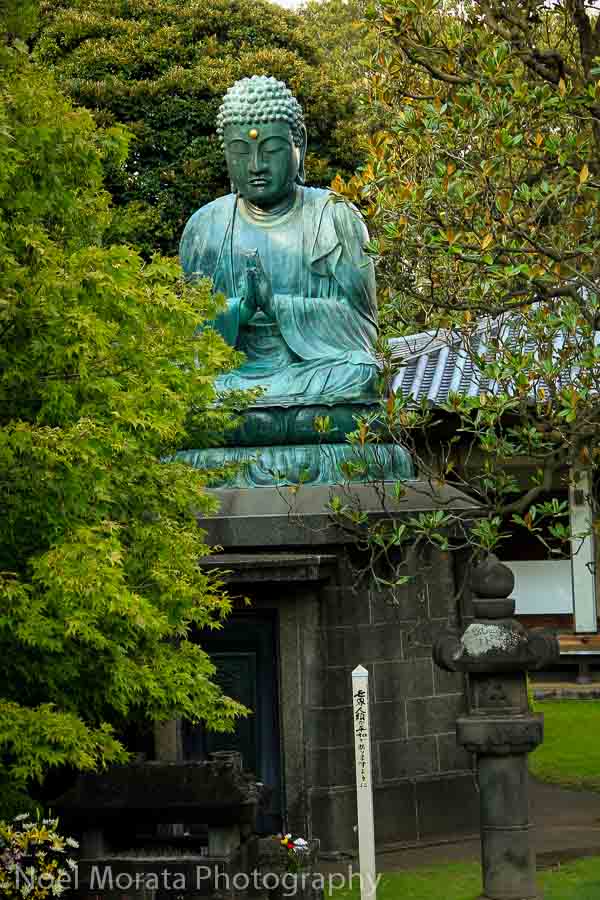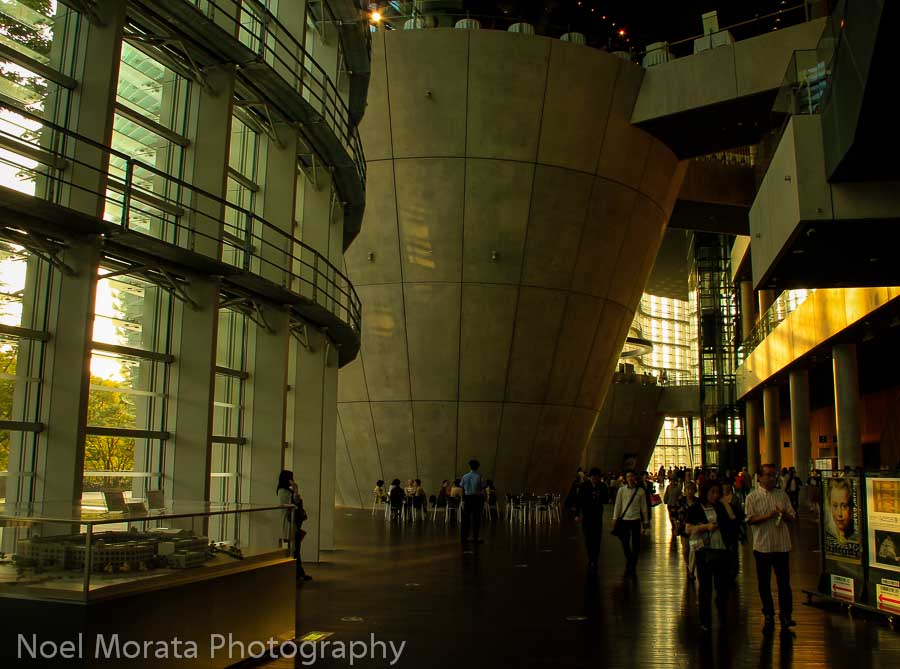 Roppongi hills district in Tokyo
The Roppongi hills district is practically a city within a city in Tokyo featuring a series of business and public complexes that also epitomize Tokyo's IT and financial sector. This area of Tokyo where the uber trendy and posh meet for dining, shopping, gallery hopping, museum gathering and a busy nightclub scene. Contemporary art and displays are shown at the Mori art center with stunning views of the entire Tokyo skyline below. Other worthwhile places to visit include the Mori building, Tokyo City View, Asahi headquarters and the Roppongi Hills shopping center. For visitors, the views and museum scene are worth checking out and later shopping, dining and night clubbing becoming the norm.
Walking through the stunning Mori Art Museum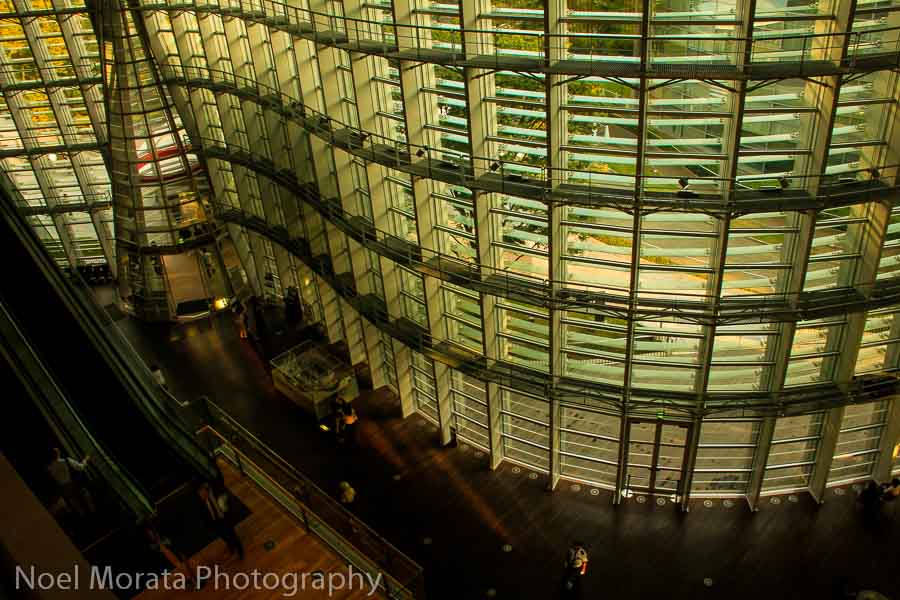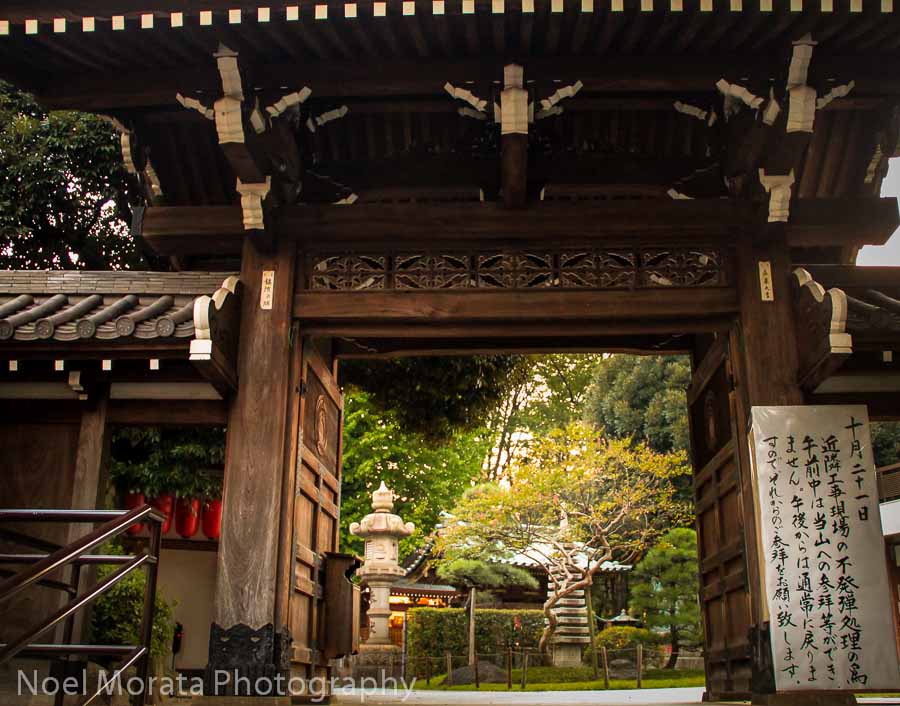 Nogi Shrine in Tokyo
The Nogi Shrine is a shrine complex that was established in the Meiji period where the general and his wife killed themselves to honor the Meiji emperor's death. The rebuilt shrine in 1945 is a series of gardens, portals and gates and the shrine itself. A popular spot for weddings, the shrine is more intimate but very picturesque and worth a visit and not as busy as the other popular shrines and temples of the Meiji Shrine and Senso-Ji.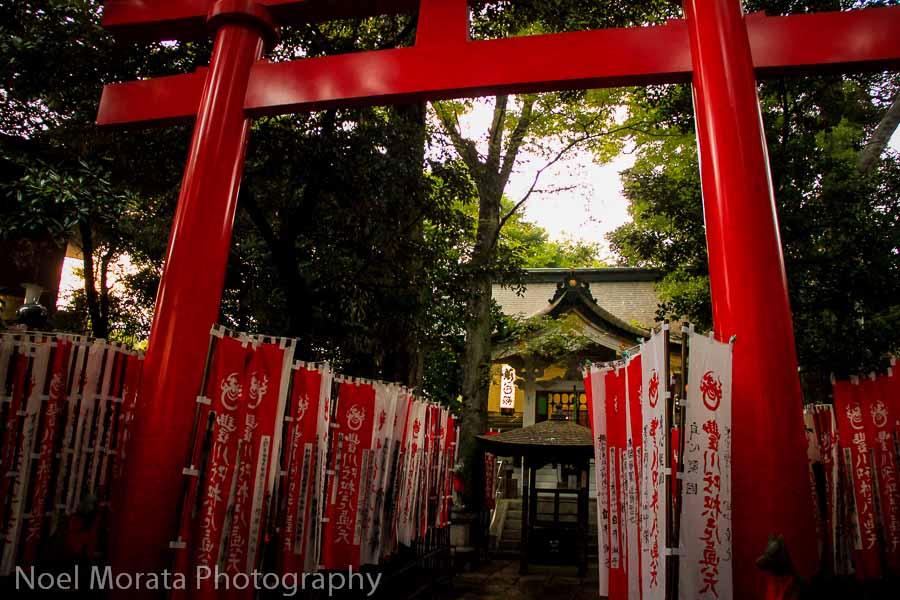 Where to stay in Tokyo
The metropolitan area of Tokyo is so vast, it feels like you are traveling to many cities just in this huge area. It's not so easy to find one central place, but its good to find a location that is close to a train station and better in one of the major train hubs. Here are some suggestions below:
Central Tokyo train station is a good location for transit to many areas around the capital and various attractions in the area. Check out these hotel listing top reviews and prices here for more details about staying in Central Tokyo.
Shinjuku area is another central area of Tokyo with easy access to metro and train lines along with close by attractions in the area. Check out these hotel listing top reviews and prices here for more details about staying in the Shinjuku district.
Shibuya district in the western side of Tokyo is a popular area for dining, shopping, clubs and other entertainment venue. This is also a major hub for metro and regional train lines with easy access to the rest of the city. Check out these hotel listing top reviews and prices here for more details about staying in the Shibuya district.
Ueno district is on the way to the airport but still in the city metro area with easy access to all major lines and metro services along with some of the cool places to visit nearby including Asakusa, Yanaka and the Imperial palace and gardens. Check out these hotel listing top reviews and prices here for more details about staying in the Ueno district.
Please pin this for later
If you are exploring Japan, check out these other Japan attractions and places to visit
Conclusion to best places to photography Tokyo, Japan
I hope that this has inspired you for exploring some of these wonderful attractions and landmarks around Tokyo, Japan. Have you been to some of these places or know some other interesting places to explore and photograph? Please do share them in the comments section below. Thanks for visiting today and checking out this post on Best places to photograph Tokyo Japan, hopefully some of these places will inspire you to visit when you come to the city. If you enjoyed the images and post, could you please share it with any of the social media buttons located around the post.
If you like what you see, come and check out my other social media channels for more updates, including Instagram, Pinterest and Twitter.
Disclosure – There are affiliates links on this posts which provide a small commission to support this site at no extra cost to you. Thank you for reading, and happy travels