Japanese outdoor markets
It's fun to visit markets when I travel to new places and visiting a local farmers market in the early morning hours is always an interesting adventure in discovering new foods and seasonal specialties from the area. While visiting the city of Takayama in Gifu province one morning, I wanted to check out the local farmers market close to the main river and see the fall harvest crops for sale in the region and any other snack items that I might want to bring with me on my daily excursions.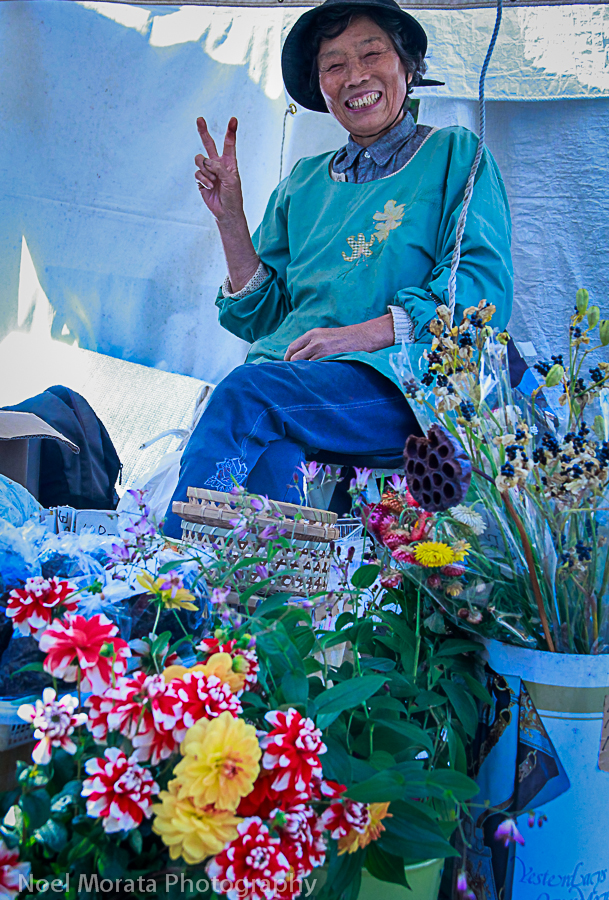 Why visit a farmer's market in Japan?
Visiting a farmer's market in Japan really shows you the heart beat of what Japanese people treasure with foods in season and things that they prepare and enjoy on a daily basis. It is a visual feast of foods, ingredients, snacks and other prepared foods along with local fruits and vegetables that are in season. Visiting a local market gives you the day to day living and rituals that you'll see from visiting these marketplaces.
Most of the vendors were just getting started setting up their stalls so they didn't bother when I started to take photographs while they were setting up. I like the fact that most of the vendors were not shy, some smiled and even encouraged me to come by and sample some of their fruits or other delicacies.
Best outdoor markets in Kyoto
Kyoto, with its rich history and culture, offers some fantastic outdoor markets to explore. Here are a few you won't want to miss:
Nishiki Market (Kyoto's Kitchen):
Known as "Kyoto's Kitchen," this covered market in the heart of the city is a food lover's paradise. You can sample various street foods, sweets, and pick up local ingredients and spices.
To-ji Temple Flea Market:
Held on the 21st of each month, this market around To-ji Temple is famous for antiques, clothing, and various knick-knacks. It's a great place to hunt for unique souvenirs.
Tenjin-san Flea Market:
Taking place at Kitano Tenmangu Shrine on the 25th of each month, this market offers a wide range of goods, from ceramics and textiles to vintage kimonos.
Hanami-koji Dori:
While not a traditional market, this historic street in the Gion district is lined with traditional tea houses, restaurants, and shops. It's a fantastic place to explore and experience Kyoto's traditional culture.
Exploring these markets in Kyoto will give you a taste of the city's cultural richness and provide ample opportunities for capturing captivating photographs. Enjoy your time in Kyoto!
Not surprising were the typical fall weather crops that are prevalent during this timeframe including apples, pears and squashes. Surprisingly, there were a few things being offered that I could not recognize and are grown mostly in Japan for a local market. This included the fruit below which I have no idea if it was a fruit or a vegetable, in any case it was very exotic looking and beautiful to photograph.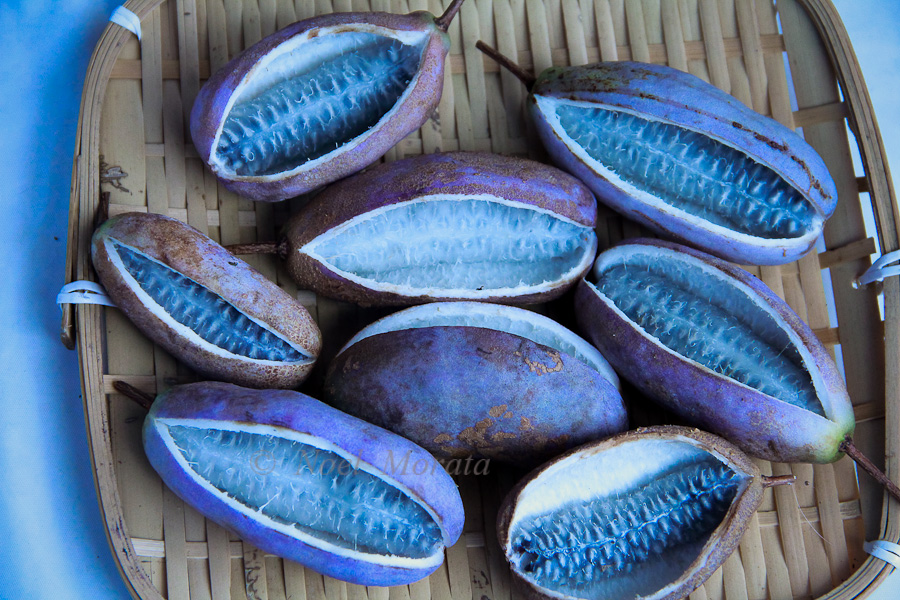 There were a few vendors that sell a variety of pickled radishes and other delicacies. It makes sense with the short growing season here that pickling is one of the best ways to store perishable items for longer term usage. I love seeing Japanese fermenting and pickling which is very popular so it is not surprising to see many different types of pickles and fermented foods here. One of these days I would love to grow and make pickles and other root stock to pickle just like these gorgeous fermented foods below.
Best outdoor markets in Osaka
Osaka, a city known for its vibrant street food and lively atmosphere, offers some fantastic outdoor markets. Here are a few you should check out:
Kuromon Ichiba Market:
Located in the Nipponbashi district, this market is often called "Osaka's Kitchen." It's a food lover's paradise with stalls selling fresh seafood, street food, and local delicacies.
Shitenno-ji Temple Flea Market:
Held on the 21st and 22nd of each month, this market offers a variety of items, including antiques, clothing, and crafts. It's a great place to find unique souvenirs.
Kema Sakuranomiya Park Flea Market:
With a lovely backdrop of cherry blossoms in spring, this market is perfect for picking up secondhand items, local snacks, and handmade crafts.
Nakanoshima Farmer's Market:
A charming market located on Nakanoshima Island, it's a great place to sample fresh produce, artisanal goods, and enjoy the beautiful riverside setting.
Tenjinbashisuji Shopping Street:
While not an outdoor market in the traditional sense, this is one of Japan's longest shopping streets. It's filled with shops, boutiques, and street food stalls, making it a great place to explore.
These markets will not only provide you with an array of goods but also give you a glimpse into Osaka's lively street culture and culinary scene. Enjoy your market adventures in this vibrant city!
I love taking photographs of the farmers if they would let me, most Japanese people are okay with this but some of the seniors were a little shy so I didn't take them, but a few here were okay about having their photos taken since the market is in the tourist district and I'm sure they are used to visitors always coming to visit the markets to sample and take photographs.
Apples seem to be the main offering at this market and the apples were huge Fuji like apples which I sampled and they were delicious!
Best outdoor markets in Tokyo
If you are looking for markets in Tokyo, the city is a vibrant and bustling city with a plethora of outdoor markets that cater to various tastes and interests. When you're in this dynamic metropolis, you definitely shouldn't miss these fantastic outdoor markets:
Tsukiji Fish Market (Toyosu Fish Market):
While the historic Tsukiji market has moved to Toyosu, it's still a must-visit. You can find the freshest seafood here, and don't forget to try some sushi from the local stalls.
Ameya-Yokocho Market:
This market, located near Ueno Station, is a lively and bustling place to explore. It's famous for its affordable clothing, street food, and various trinkets.
Harajuku's Takeshita Street:
While not a traditional market, Takeshita Street in Harajuku is known for its quirky boutiques, delicious crepes, and unique street fashion. It's a great spot for people-watching.
Oedo Antique Market:
If you're into vintage finds, this market is a gem. Held at different locations, it offers antiques, crafts, and collectibles from Japan's past.
Ueno Park Flea Market:
Held on weekends, this market in Ueno Park is perfect for exploring while enjoying the park's serene ambiance. You can find art, ceramics, and handmade items here.
Nakamise Shopping Street:
Located near Senso-ji Temple in Asakusa, this traditional shopping street is ideal for picking up souvenirs, local snacks, and Japanese trinkets.
Shimokitazawa Tengu Flea Market:
This hip neighborhood hosts a monthly flea market, offering vintage clothing, records, and a taste of Tokyo's alternative culture.
Check out these other Japan travel topics
Best places to photograph Tokyo, Japan
Looking for Geishas at Gion and Pontocho, Kyoto
Why you must visit Hiroshima, Japan
Conclusion to Visiting outdoor markets in Japan
Exploring the outdoor markets of Japan is a delightful and enriching experience. Each market offers a unique window into the local culture and traditions of the region. From the bustling streets of Tokyo's Nishiki Market to the serene surroundings of Kyoto's To-ji Temple Flea Market, and the mouthwatering street food at Osaka's Kuromon Ichiba Market, these markets have something for everyone.
It was fun discovering what is for sale during the fall harvest season here. I loved the expressions and wonderful smiles I received when I was allowed to take some photographs of the vendors at the market. Not to mention trying out some of the seasonal offerings and other specialties of the region which is always a great way of exploring the foods of a particular region.
If you like this post on Japanese outdoor markets, please consider subscribing to the blog by email  below – also I appreciate it if you could share this post with any of the social media buttons located below and around the post, thank you!