Interested in finding out more about Japanese street food or Yatai? (updated 2021)
Japanese street food occur mostly during the many festivals that happen throughout the country at various times of the year. It's a very festive scene with the street food vendors, wonderfully festooned booths with colorful and graphic details standing out in the large procession of food offerings vying for the hungry public's yen with vendors loudly hawking their delicious bites and delicacies to any visitor that was ready to eat! Even if you're visiting when there are no events, look out for Japanese food trucks in many urban areas of Japan selling a variety of Yatai for sale.
Tasty Japanese food – try these Yatai now!
One of the most beautiful festivals that I visited in Japan was the fall festival at Takayama, in the Gifu province. The entire riverbank area was packed with very colorful yatai or "street food vendors" offering little bites of regional delicacies from the area. You'll find street food offered all around Japan, even Tokyo street food or Japanese food trucks around certain venues around the capital worth looking for.
Japanese street food or yatai – Japanese octopus balls or Takoyaki
This yatai vendor below is offering a large assortment of fried goodies including whole octopus, tentacles, fried fish, yakitori and large snails grilled in their large shells. One of the most popular Yatai you will find at any street fare or Japanese food trucks are Takoyaki or Japanese balls made mostly with octopus parts and it really is Onolicious!
The local beef specialty called Hida beef is a high-grade Wagyu style of beef comparable to Kobe style beef. Hida beef are the black-haired Japanese cattle raised in the Gifu district and has beautiful marbling efffects and texture with grade A and B ratings for their quality and flavor. The yatai vendor below sold a lot of the Hida beef (meat kabobs next to right side griller) along with various grilled seafood and yakitori (grilled chicken and meats)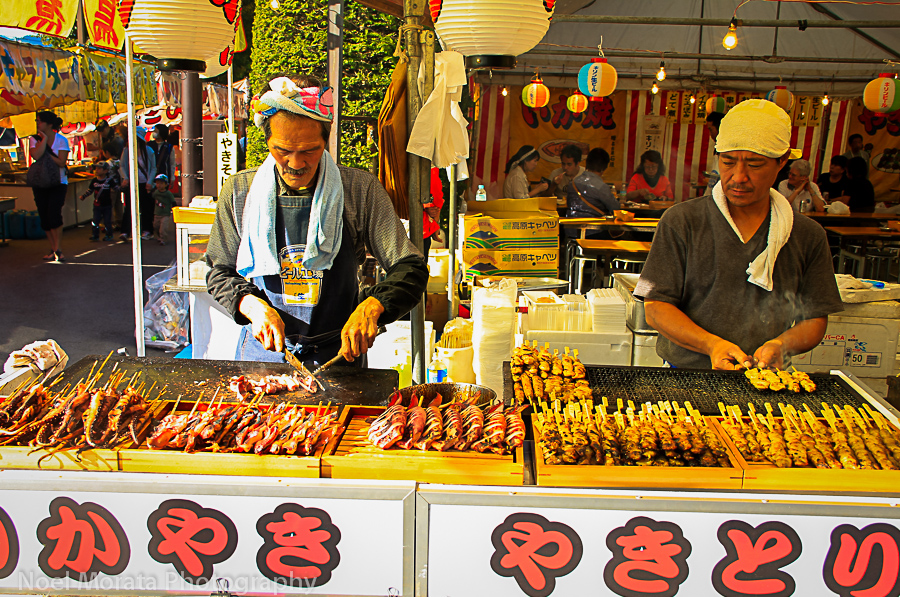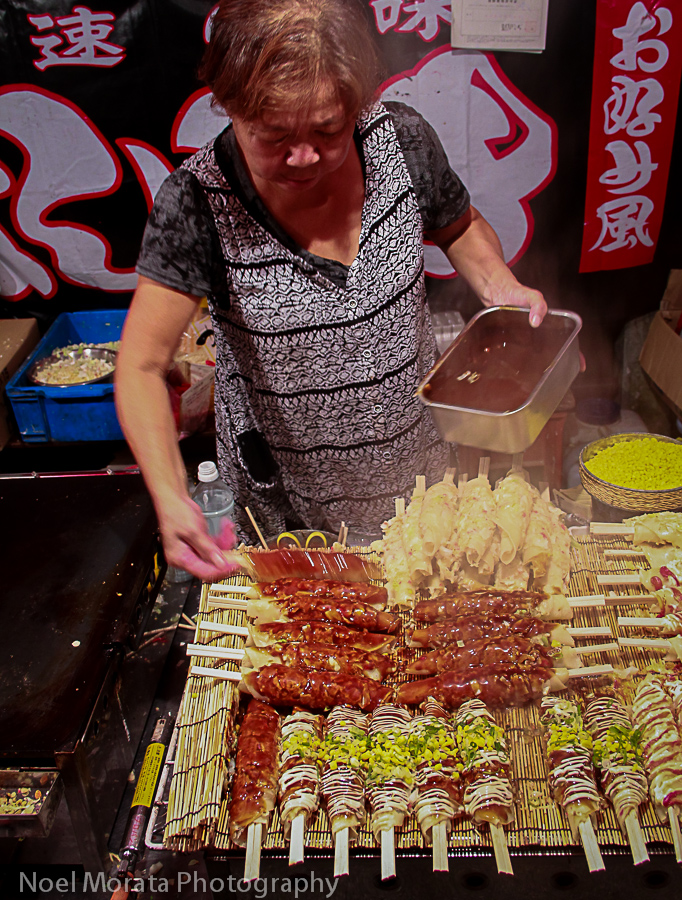 A popular Japanese food are these savory Taiyaki done many ways
Japanese street food or yatai snacks and rice crackers
Probably one of the famous Japanese food sold by vendors are snacking items that are popular take-aways, Japanese people love to constantly snack. Japanese street snacks include a variety of rice crackers, dried fruits, salty seeds like peanuts and pumpkin in spicy flavorings or dried squid, small smoked fishes or various dried seafood. The snacks are all very interesting and flavorful with a variety of spices, soyu, ginger and wasabi based flavorings to give them a different taste.
Japan food culture includes snacking and other take out delicacies
Japanese street food or yatai  – Okonomiyaki
Okonomiyaki is a regional specialty fast food of the Kansai or Hiroshima region offering a savory pancake style food filled with different meats or seafood and toppings. It can be filled cabbage and vegetables with anything from pork, chicken beef or seafood and topped with an egg or ham like the vendor display above.  This all depends on the regional specialty of the area and what is grown or produced locally. Other variants include noodles or udon (yakisoba) and piled high in a layered effect. A local favorite offered with Japanese food trucks, events or Japanese street venues.
Japanese street food or yatai – boiled Oden
The large pot above of boiled oden specialties are typically a winter dish typically consisting of eggs, daikon radish, tofu and different varieties of fish cakes.  Different flavorings for the soup include meat broths, soyu sauce, spicy ingredients or miso are used based on regional specialties. Dipping sauces are either served on the side or added to the soup to flavor for individual taste.
 Yatai's come alive at night time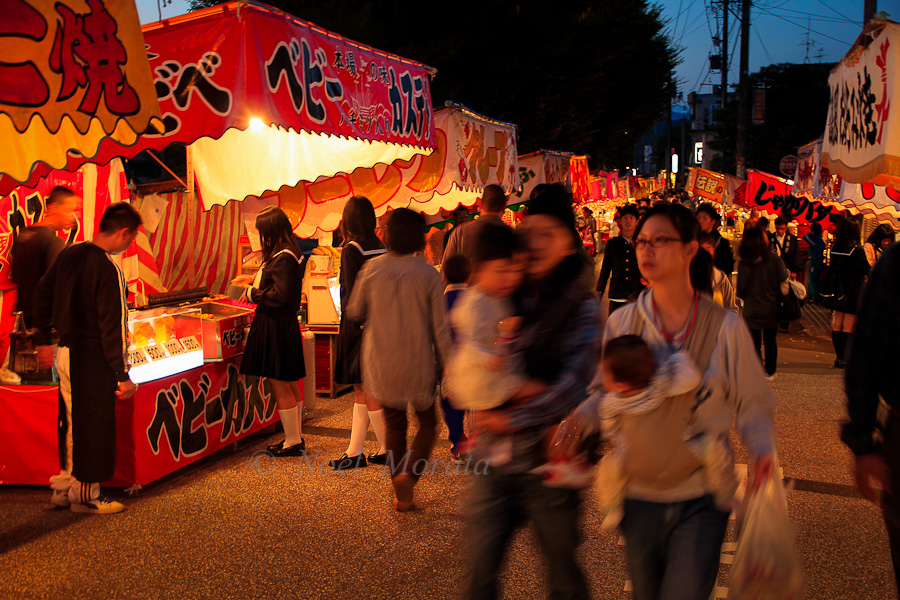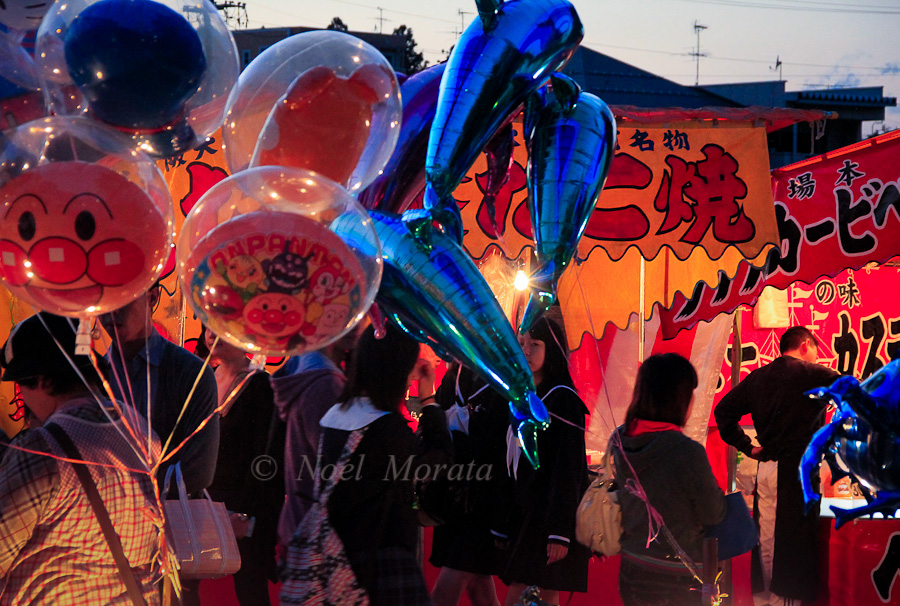 Night time checking out the vendor stalls selling Japanese street food
Night time food cravings and everyone from school children, families to seniors love to stroll down the river front and sample some of the regional specialties of the area. The yatai stalls are a visual delight in their colorful stalls and delicious looking food.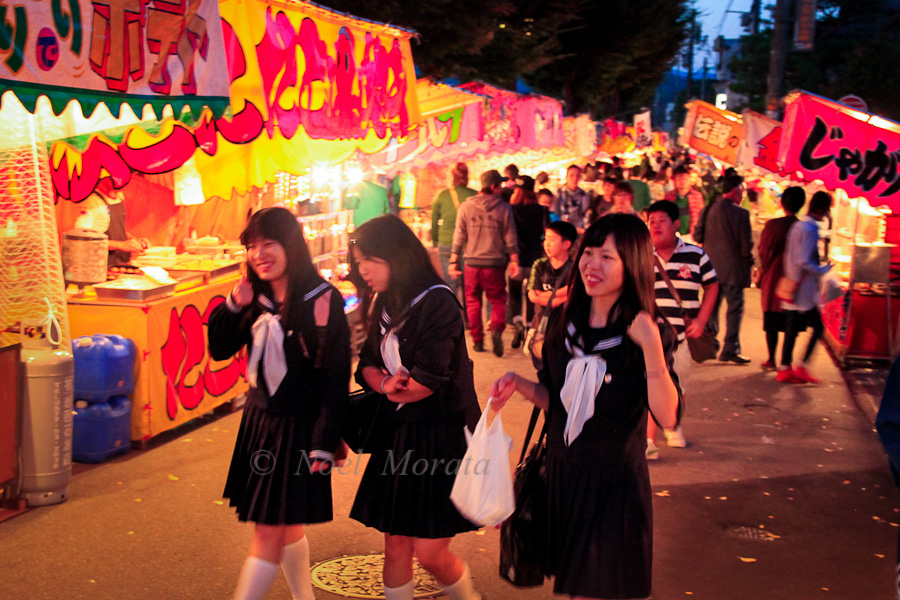 Strolling the yatai booths at night are very popular
So many yatai to try, these girls are enjoying Japanese street food of crispy chicken wings and gooey fried egg with cod flakes.
If you are exploring Japan, check out these other Japan attractions and places to visit
Best places to photograph Tokyo
If you enjoyed the post, please pin it!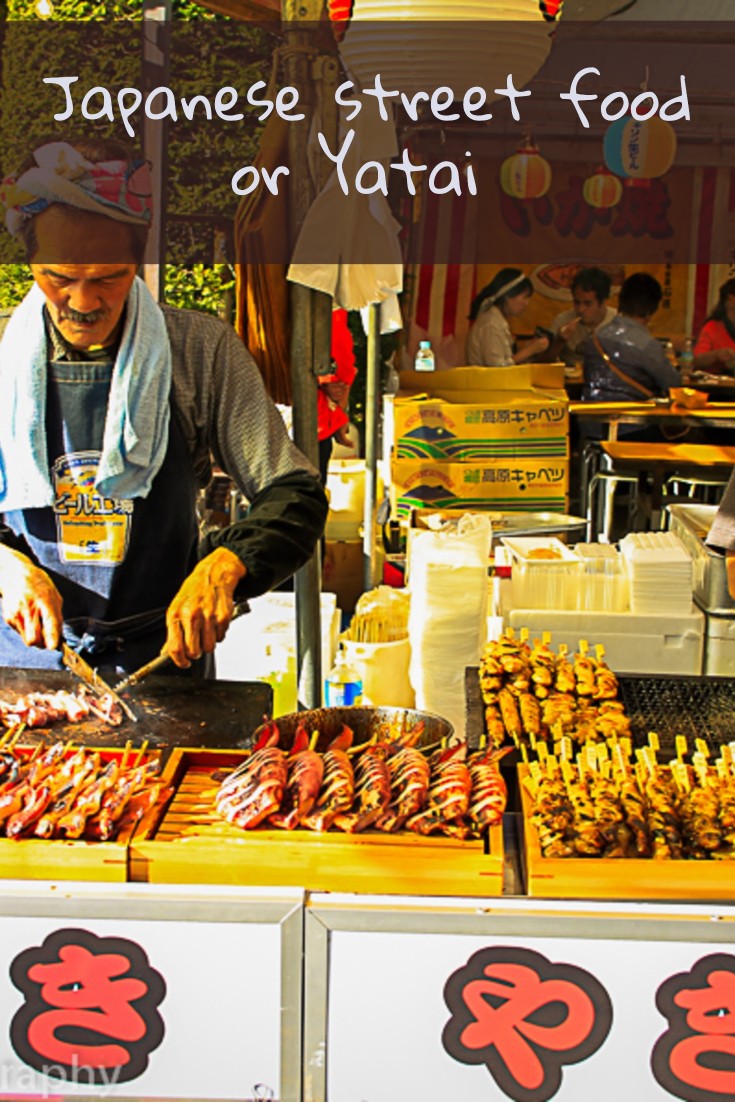 Conclusion to Japanese street food or Yatai
Hopefully you'll get a chance to try some local Japanese street foods or Yatai in your visits to Japan or at specialty markets and events happening where you might visit. Look out for yatai food stands, truck vendors or events to find some of these delicious stalls and specialty foods soon.
There's a lot of great yatai to sample local delicacies all day and night at the fall harvest festival. Whenever you visit Japan, make sure that you mark some local event that you can visit and try some of the delicious variety of street food. This usually is the only opportunity to try a lot of small bites and regional specialties offered only at these venues, but don't ask for any tempura for sale, those they want really fresh and not from vendor stalls.
Have you tried any of these delicious Yatai food?
Any of these stand out and look delicious to try? Please share your thoughts in the comments below.
If you like this post on Japanese street food or yatai, please consider subscribing to the blog by email  below – also I appreciate it if you could share this post with any of the social media buttons located below and around the post, thank you!