Road trips are back in again with visiting some of the most amazing landscapes around the Southwest. If you're looking for some inspiration on spectacular road trips to do in Utah, check out these fantastic places. Travel bloggers and writers share their favorite road trips to take around the state with some inside story and tips on how to really enjoy your experience on some spectacular Utah road trips around the state including some motorcycle touring. Winter time is also a great time to visit Utah with some ultimate ski road trip itineraries around the Utah area for a different take and experience around this gorgeous landscape.
You should take these Utah road trips now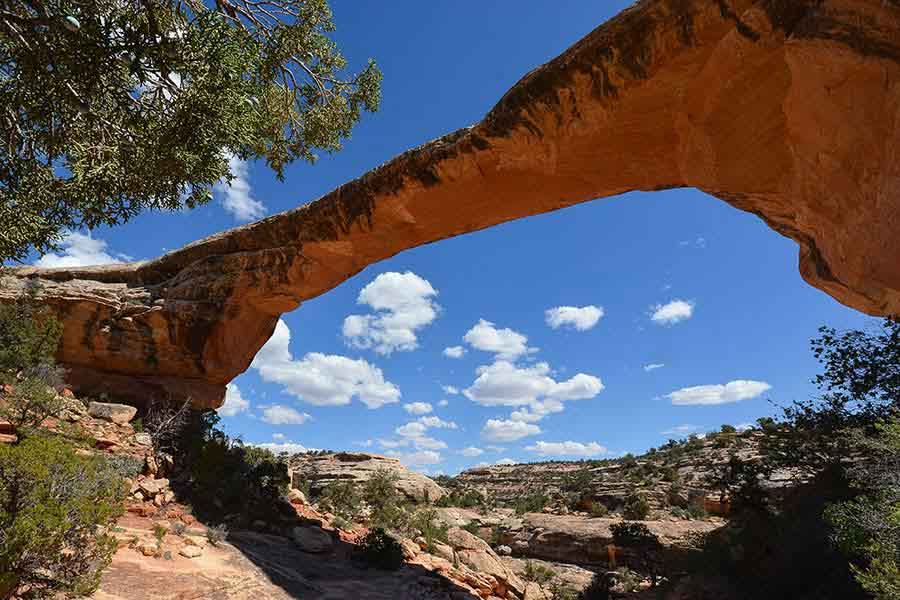 Moab to Valley of the Gods
The trip between Moab and Monument Valley has some hidden gems that are so worth your time. This drive is a chance to visit lesser known attractions that are perfect if you are looking to avoid the crowds. It adds 2.5 hours onto your drive and will give you memories that last a lifetime.
30 minutes out of Moab is your first stop at Wilson Arch. It is right off Highway 191S and a 10 minute hike from the parking lot. This is a perfect spot to stretch your legs before the 90 mile drive to Natural Bridges National Monument. Natural Bridges State Park has 3 massive natural bridges that have been carved by water running through this canyon. You can hike a 9 mile loop to all 3 bridges or you can drive and take short trails to each bridge.
Saving the best for last, Valley of the Gods is a sandstone valley with striking landforms. It would honestly be a huge tourist attraction if it weren't 30 minutes away from impressive Monument valley. While the sandstone buttes are amazing, what makes this place worth the visit is that you can drive around with a 4WD on your own, camp here if you want and it's all without crowds. There is no admission fee either. Tips: Go to the bathroom ahead of time and don't attempt the road if it's raining. There are no facilities here.
Check out Evolista's post on USA trip ideas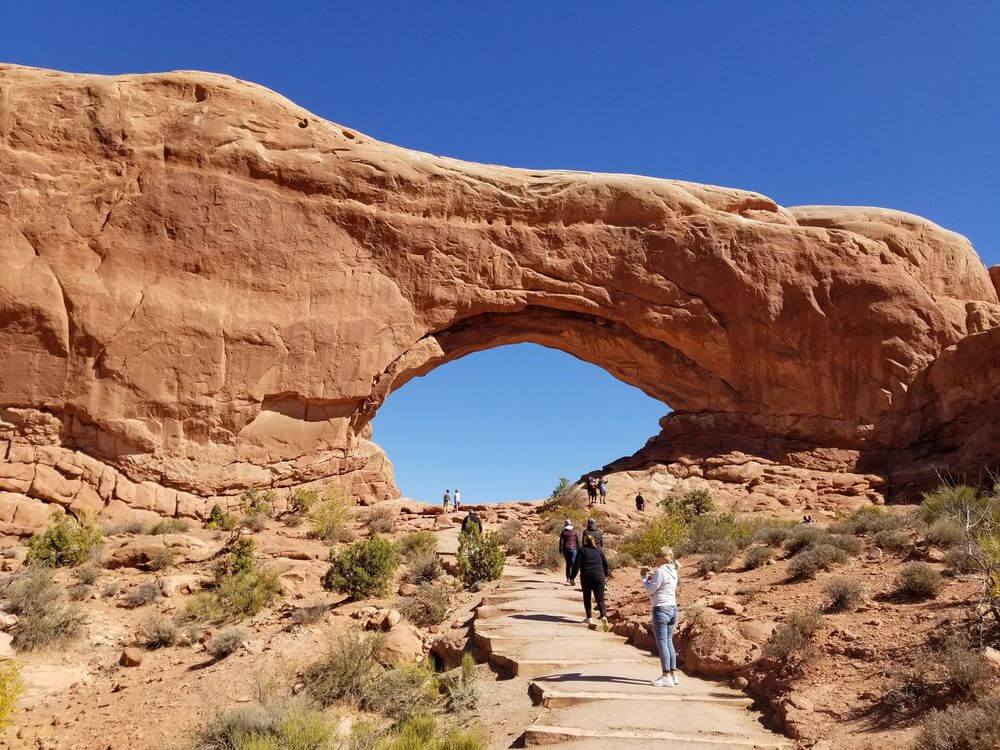 A visit to Arches National Park
Arches National Park has the world's largest concentration of natural sandstone arches, with over 2000 of all shapes and sizes. Located some 5 miles outside the small town of Moab, Utah, the park is known for its red rock formations, and you'll find the best of all of it right here. If you're feeling adventurous, there are plenty of walking paths, while rock climbing feels ancient and epic as you climb rock that has been created by millions of years of wind and water erosion.
Stunning arches like Delicate Arch, Double Arch, and Skyline Arch offer direct access to the United States' most stunning landscapes, many with once-in-a-lifetime opportunities to view unique rock formations.
Begin your exploration of Arches National Park at Park Avenue Viewpoint, then make your way to Balanced Rock. There is a short hike that, for minimal effort, can take you to a precariously perched stone. It's an easy hike and very child-friendly. It's common for the nearby parking lot to be full, but luckily cars come and go every few minutes.
Take the turn off just after it towards the holes in rock walls called windows. From here you can do the short walks out to Double Arch, which was famously featured in the opening scene of Indiana Jones: The Last Crusade. To finish the loop pass the North and South Windows and Turret Arch (one mile).
Then return to the main road and take the turn off to the right towards Delicate Arch. This is a must-see for most visitors since it is one of the few landmarks you cannot see from the main road. The hike out to the arch is three miles, with some steep sections, and it's best done in the evening as there is not much shade along this route. Alternatively, if you're short on time, you can follow the one-mile path to the Lower Delicate Arch Viewpoint. Note that the Upper Viewpoint involves walking one-half mile and climbing some rock stairs.
The Delicate Arch and the Landscape Arch are the two most famous arches in the park since they feature Utah's best landmarks. Expect to encounter stunning photographic opportunities, as well as the gaggle of photographers lined up waiting to snap pictures whether it's day or night, rain or shine, sunrise or sunset.
Ivan with Mindful Travel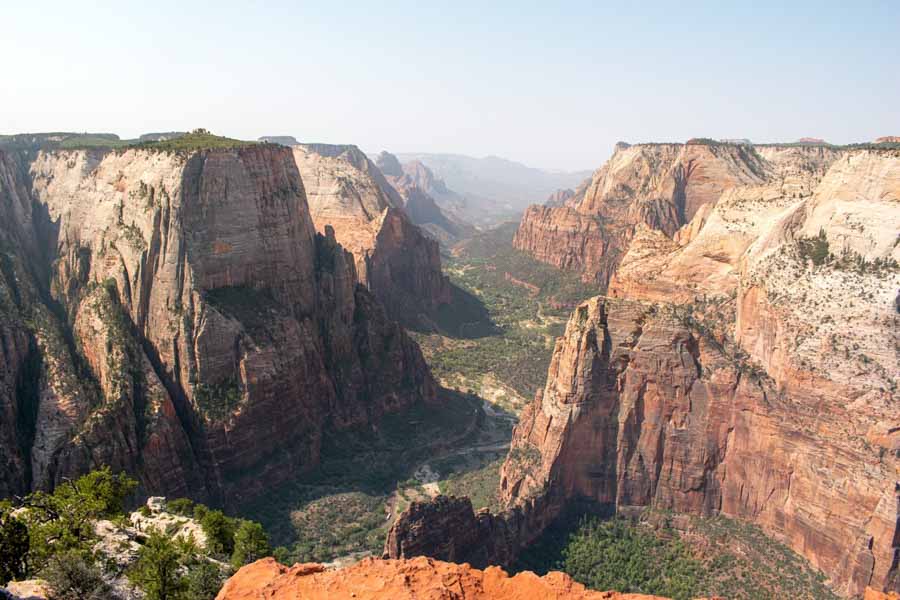 The Mighty 5 in Utah
Widely known as the Mighty 5, a road trip visiting these National Parks in Utah makes for an incredible way to enjoy some of the most impressive scenery. Make sure to add in some of the state parks as well, if time allows. We were fortunate to have 3 weeks to explore and hike in all 5 of the National Parks in in a spectacular Utah road trip around the state.
While our road trip required some backtracking due to the availability of suitable accommodations, the distances between the parks were small enough that it didn't have a large impact on our trip. We drove to Utah from Canada and started in Bryce Canyon National Park in early April. The dusting of snow that remained made the hiking the Fairyland Loop views even more incredible. Nearby Kodachrome State Park is well worth a visit, as is the I.D.K. BBQ restaurant in Tropic, for some ribs after a long day of hiking.
From Bryce Canyon NP, we camped outside Zion National Park. While we did as many hikes as possible the two that stand out for us was hiking Angels Landing and the Watchman Trail.
We had to backtrack to get to Arches National Park, so we broke up this drive with a stop at Goblin Valley State Park. After several recommendations from other hikers in Zion, we knew it would be worth the stop and we didn't regret it. Once in Moab with our camp set up, we were able to visit both Canyonlands National Park and Arches National Park. The Needles area of Canyonlands was a great spot to avoid some of the crowds we found in Arches National Park, but it was in the Island in the Sky section of Canyonlands where we got the best views. In Arches NP, the hikes that topped our list was the Delicate Arch and Devil's Garden Loop trails.
The final part of our road trip had us in Capitol Reef National Park and what a way to end. One of the best days hiking we had on our Utah tour was hiking the Frying Pan to Cassidy Arch and finishing on the Grand Wash Trail.
There are more direct ways to visit all 5 National Parks in one trip, but even with the backtracking, there's not one that we would have left unvisited. They each offer such a unique experience.
Celine with Family Can Travel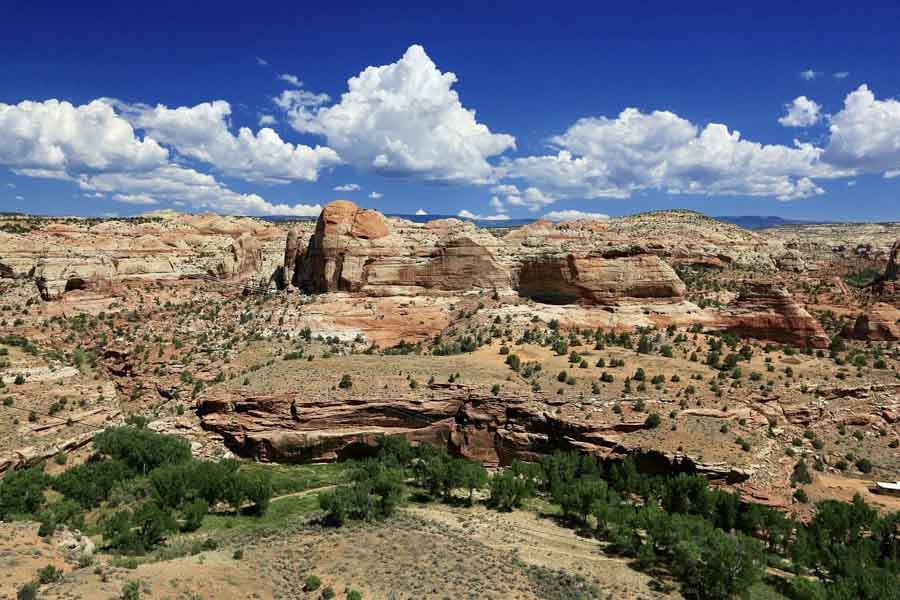 Driving through the Grand Staircase Escalante National Monument in Utah
Looking for the ultimate adventure away from crowded places? Come to Utah's Grand Staircase Escalante National Monument!
This monument covers the astonishing 1.9 million acres of remote area in Utah. It's one of the most isolated areas in the United States with thousands of miles of prime wilderness and pristine dark skies. The rugged backcountry of Grand Staircase Escalante is a true paradise for adventure-seekers with tons of unexplored places and hiking trails for all levels. Take Scenic Byway 12 through the monument through red and orange sandstone cliffs, endless plateaus, and sweeping vistas.
The monument is divided into three parts: The Grand Staircase, the Escalante Canyons, and the Kaiporawits Plateau. The Grand Staircase boasts close access to some of the most beautiful national parks in Utah, such as Bryce Canyon National Park.
When you drive through this national monument, you will not see well-maintained facilities and stores and restaurants catering to tourists. The lack of infrastructure and typical amenities is what actually draws most people here. If you are looking to dine at a restaurant, stop at a store and spend a night in a hotel, you can stop either in Escalante or Boulder, two small towns along Scenic Byway 12 before getting to Torrey, the gateway to the Capitol Reef National Park. When you come to the Grand Staircase, make sure you have at least a week to explore its untouched landscapes.
Most of the region is remote, and you will need time to explore its slot canyons and trailheads few of which can be accessed via paved trailheads. These features make Grand Staircase Escalante popular among adventure seekers who come here to test their navigation skills in the wilderness and enjoy the solitude. Here you can camp, hike, and enjoy some of the most scenic untouched areas in the United States.
The most popular areas of Grand Staircase Escalante are Peek-a-Boo and Spooky Slot Canyons where you can enjoy amazing red rock formations; Coyote Gulch where you can enjoy amazing backcountry, and the scenic Calf Creek Falls, a relatively easy but very scenic hike that culminates with a waterfall!
Daria with The Discovery Nut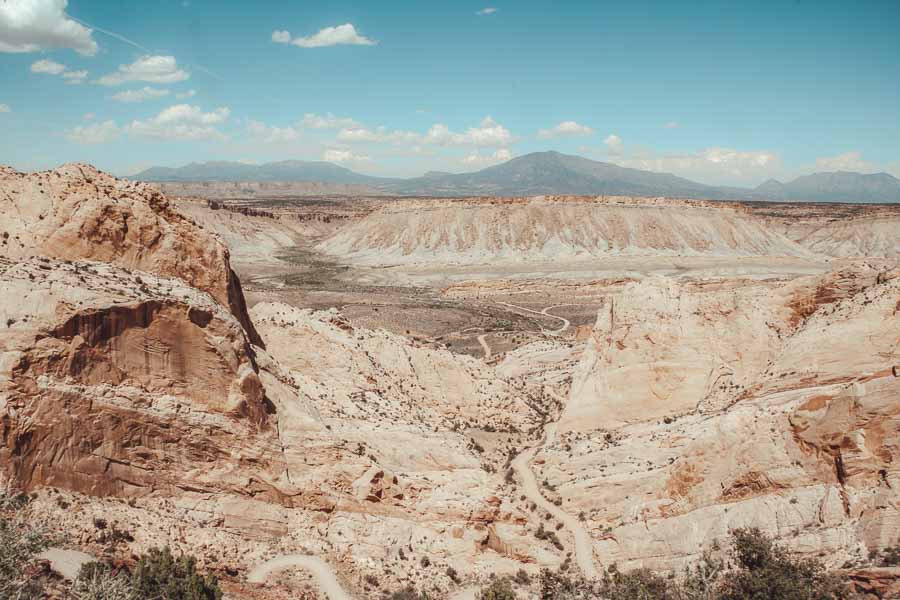 Burr Trail
Burr Trail is a 68-mile part-paved, part-dirt road connecting Boulder, Utah to Bullfrog, Utah at the north end of Lake Powell.  It takes you through a Grand Staircase Escalante National Monument, Capitol Reef National Park, and Glen Canyon National Recreation Area.  Any car should be able to drive this (motorcycles, too) but if there has recently been heavy rain, there may be a few washes that are impassable, so be careful of that.
This is more of a day drive, but you can camp along the road in one official campground or on the BLM land (not the part in Capitol Reef) if you want to spend more time on it.  It takes about 2.5 hours to drive, but plan for a little more if you want to stop and enjoy the views or do any hikes.  There aren't tons of marked hiking trails, but a few are Pedestal Alley, Halls Creek Overlook, Headquarters Canyon, and Surprise Canyon.  If you have a high-clearance 4WD vehicle, you can drive the Wolverine Loop off the Burr Trail and hike through the Wolverine Petrified Forest, too.
In Bullfrog, there is only one hotel and restaurant, but there are a few choices at the other end in Boulder.  I would highly recommend eating at the Burr Trail Grill, the restaurant right at the end of the road and if you want something a little fancier, the Hell's Backbone Grill is delicious.  While you're in Boulder, visit the Anasazi State Park Museum to get a taste of the Anasazi history abundant in the four corners region.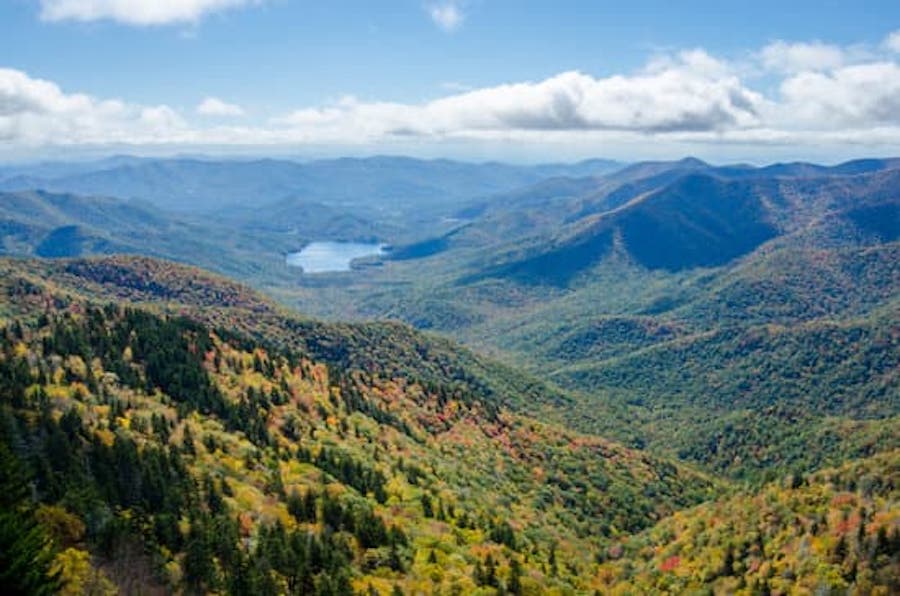 Road trip through Emigration Canyon
Emigration Canyon, one of northern Utah's best-kept secrets and magical road trips. It is a small canyon that is next to the popular I-80 that takes you from Salt Lake City to Park City. If you are looking for a special road trip and want to avoid major highways, you might want to consider this canyon.
The drive itself is pretty short, the canyon will only take you about 45 minutes from the base of Salt Lake to the middle of Parley's, from there Park City is only another 15 minutes drive. It is only open in the non-winter months, as it is not plowed during the winter.
The views and the scenery is out of this world and it is rare to see any other drives on the road. The drive takes you through windy mountain roads, so this road trip is probably not the best for anyone that gets car sick. However, if your stomach can hang it is totally worth it. 
If you are lucky enough to be in Utah for the Autumn months or just before the snowfalls, this Canyon is one of the prettiest drives around. I love driving this canyon in October, just as the leaves start to change, the views are just spectacular. 
There is also a cute little diner that everyone must check out if doing this drive. It is at the bottom of the canyon just as you leave Salt Lake City and it is called Ruth's, their food is amazing. It also has great outdoor seating making it perfect for the summer months when you will be doing the drive.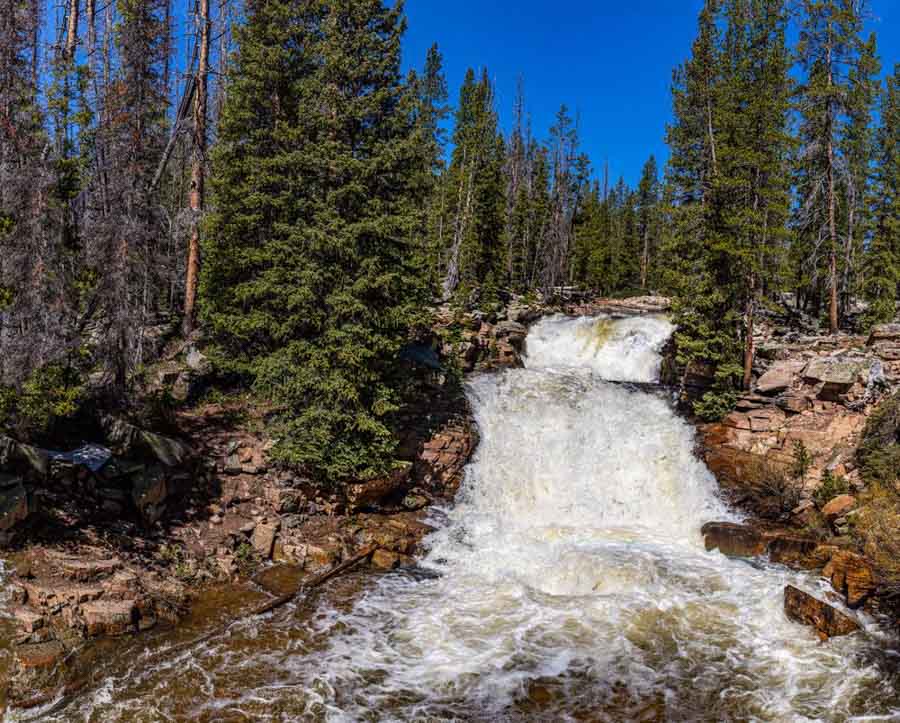 Visiting Arches National Park to Zion National Park
A southern Utah road trip is something that should be on everyone's bucket list.  Utah has some amazing landscapes and scenery and the perfect place for a road trip.
Most people want to head to the Mighty Five National Parks in Utah.  On this drive you will start at Arches National Park, Canyonlands is just down the road, and you can drive through Capitol Reef, and then head to Bryce Canyon before ending in Zion.  Of course you can't do this all in a day as you won't be able to appreciate the national parks.
The drive From Arches National Park in Moab to Zion National Park in Springfield along Highway 12 bypass is one of the most beautiful drives in the State.  The drive takes about six and a half hours but you will definitely want to make stops along the way.  You can cut about 90 minutes off the drive if you don't take Scenic Highway 12 but I think the extra time is worth it.
One of the first places you will arrive at is Fruta, Utah which is the start of Capitol Reef National Park.  Along this stretch you can see the petroglyphs from the road or drive the 21 mile Scenic Drive if you want a slight detour.
Next you can head to Bryce Canyon National Park.  Here you can take the 20 mile scenic drive and stopoff at the scenic points to take in the views or get out and stretch your legs on an easy hike like sunset point.
Finally, you will arrive at Zion National Park.  There are so many great hikes and scenery in Zion National Park.  Actually, all of the National Parks have some of the 
best hikes in Utah
.  Hiking is a great way to see the beautiful scenery in Utah.
Nicole from American SW Obsessed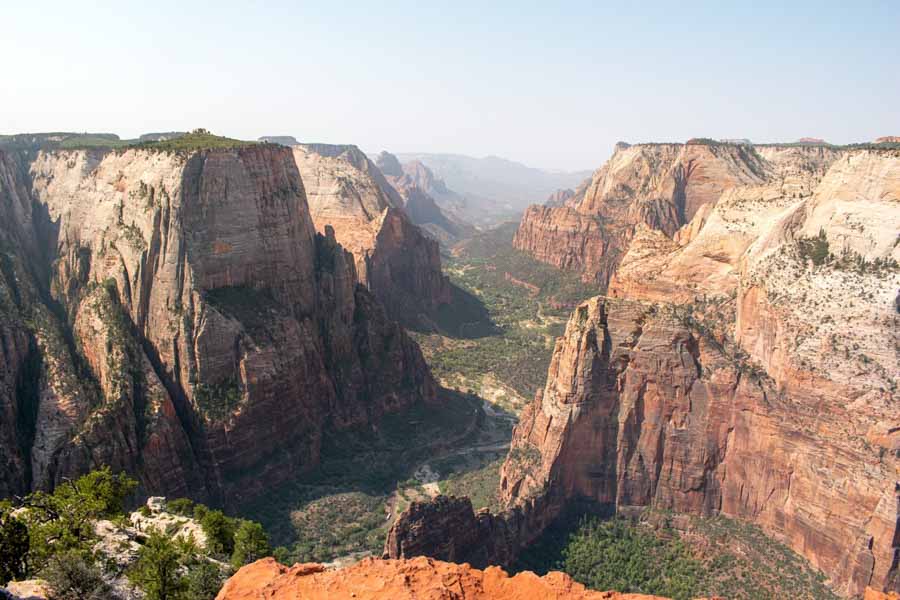 A short road trip from Zion to Bryce Canyon
Zion and Bryce Canyon National Parks are only two hours apart from one another and thus, make the perfect stopping points for a multi-day road trip. Start your adventure by exploring Zion Canyon and its dazzling landscape, with mesmerizing red Navajo sandstone cliffs reaching towards the brilliantly-colored desert sky; you can spend anywhere from one day all the way up to a week exploring this expansive geological playground.  If you're looking for Zion's most iconic hike, look no further than Angel's Landing, a 5.4 mile out-and-back trail where brave hikers cling to chains on the last half mile on a narrow spine that juts out of the canyon with sheer drop-offs of 1200+ feet on either side. Another fan favorite is the Narrows, a 16-mile trek through the Virginia River as it snakes through a soaring red rock slot canyon.  While renting an Airbnb in the nearby Springdale, UT is a great option, nothing beats snagging a spot at the South or Watchman Campgrounds in Zion and catching a glimpse of the Milky Way at night. Once you've had your fill of Zion, snake your way east through the park and make the two hour trek to Bryce Canyon, which offers a jaw-droppingly unique landscape of striated orange hoodoos and panoramic vistas. Bryce Canyon can easily be tackled in two days, using the nearby town of Bryce as your home base. For your time in the park, some iconic hikes include the Navajo Loop and Queen's Garden Trail, which will take you below the canyon rim to explore the hoodoos up close and personal. Whatever you do, don't leave the park without catching the sunrise at Inspiration Point- it's the perfect place to sit and bask in the unbelievable beauty that is so abundant in Utah.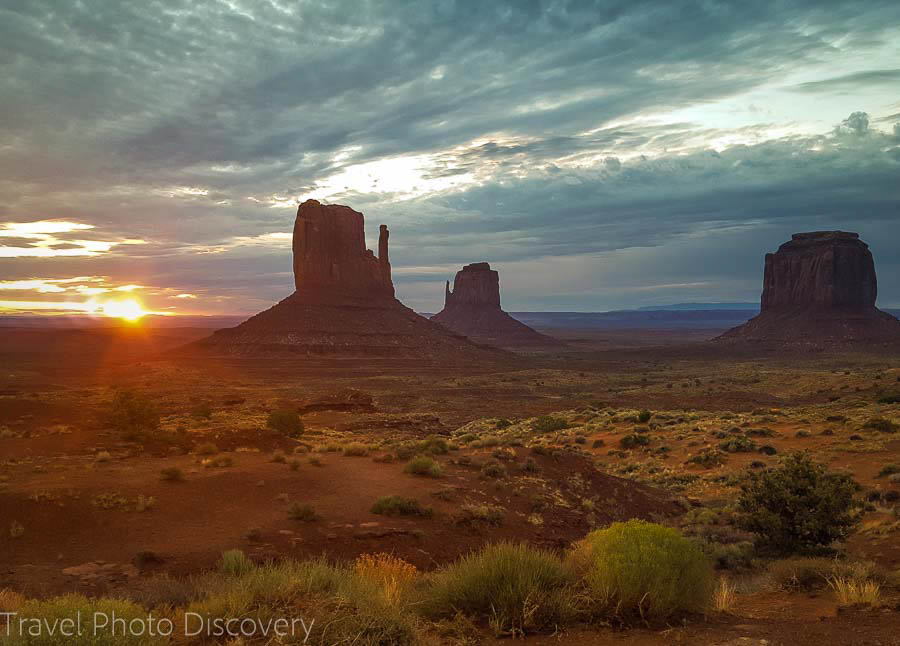 Monument Valley National Park
Right on the border of Utah and Arizona lies the Monument Valley National Park – the national park that is part of a Navajo tribal park located on the southeast corner of Utah and bordering Arizona. Monument Valley took 3000 years to develop from desert plains with deep canyons, buttes, rocky outcrops and spectacular landscapes. The main monuments to see and witness in this mostly dirt and gravel series of roadways includes: The Three Sisters,  Totem Pole, John Ford's Point, Yei be Chai and Ear of the Wind. To experience the monuments, you sign up for a docent tour with a Navajo guide that will show you the expansive areas of Hunts Mesa, Mystery Valley and other significant areas of monuments. Ancestral Anasazi tribes settled in the area and settled in the region to be followed by Navajo tribes that populated the area since 1581. Although this is not an official US National park, it is considered a national park within the Navajo tribal lands.
To get to the Oljato Monument Valley, you can get their from Salt Lake City, Las Vegas or nearby Grand Canyon national park from Highway 160 to Highway 163 to the entrance of the park. Check out the highlights on this post visiting and touring Monument Valley here for more inspiration and images to visiting the park.
Noel with Travel Photo Discovery
Check out these other USA road trip posts
Popular road trips around the USA
Share or pin this for later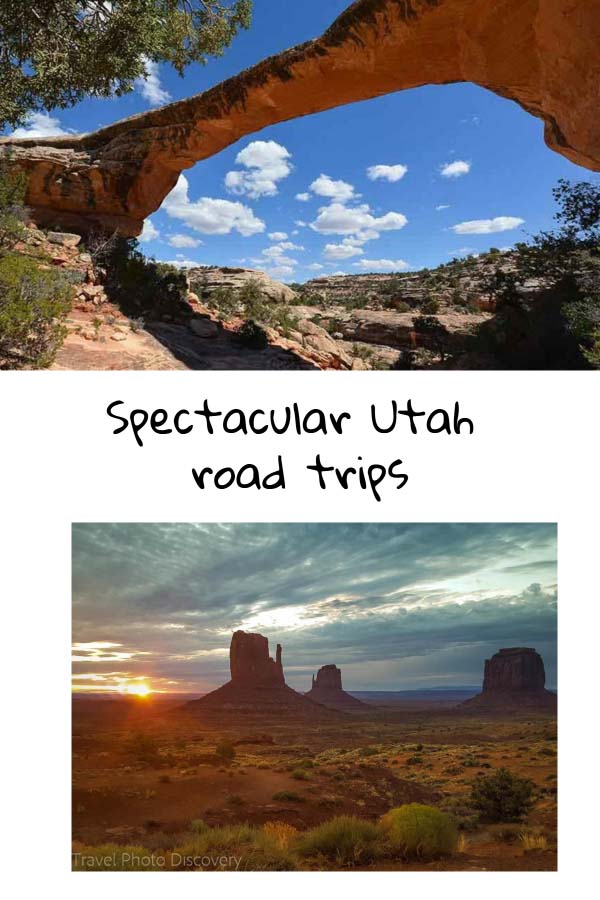 Thanks for visiting and checking out this post on Spectacular Utah road trips . Bookmark this post for future reference when you are looking for some Hawaii activities, adventure or fun experiences.
Please do share this post with any of the social media icons on the side bar and thanks for visiting today!