Discover the top Arizona Road Trips to experience around the state now (updated)
There are so many fantastic places to visit in Arizona and explore doing a road trip to various historic areas around the state. If you are planning on doing a road trip to some of the famous parks, historic sites, stunning landscape and fascinating towns or cities to visit, check out these top Arizona road trips from top travel bloggers around the world. hopefully you'll be inspired to do an  road trip to one of these fantastic places to visit around Arizona soon!
Do these fantastic road trips around Arizona
Check out these top Arizona road trips starting from the main hubs at Phoenix, Flagstaff, Sedona and Tucson for some great suggestions of day trips or place of interest close by that you can easily do from these base locations.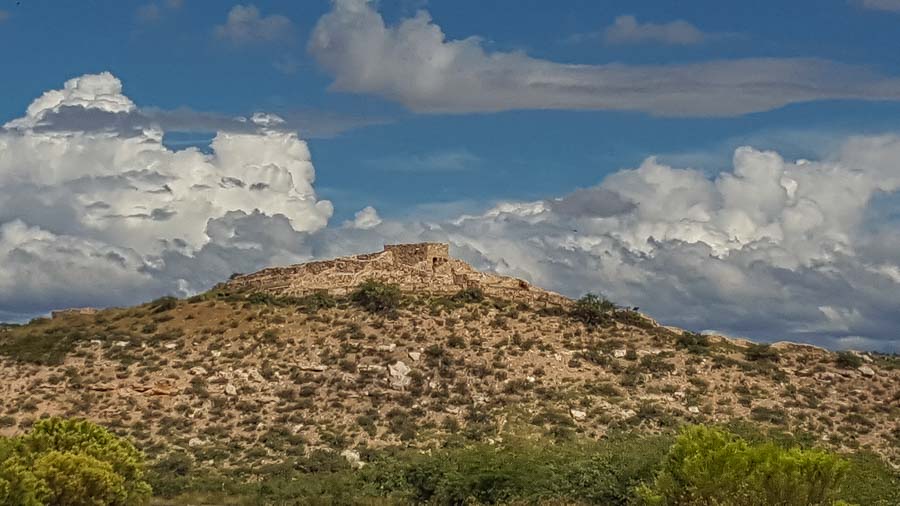 Day trips from Phoenix
With Phoenix as a base for discovering some of the beautiful landscapes, parks and historical areas just outside and around the city, check out all these fantastic road trips that you can do as a day trip from the Phoenix metropolitan area.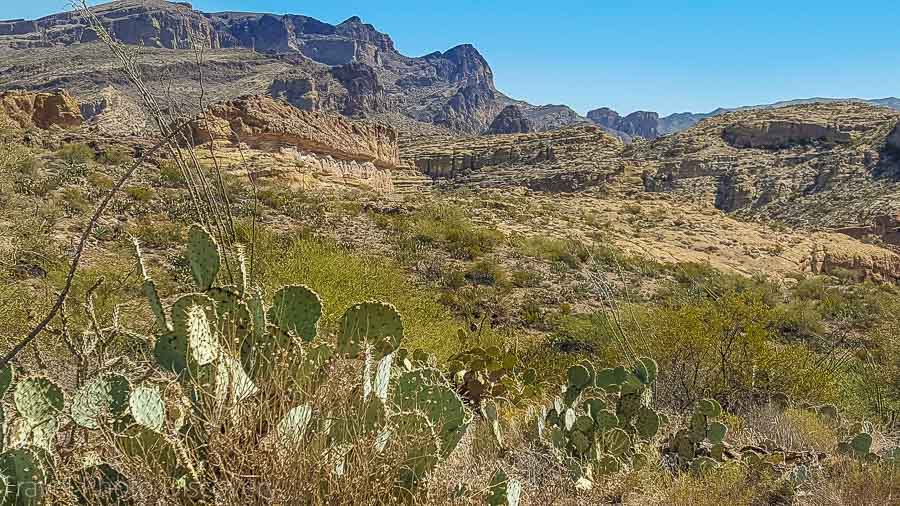 Day trip exploring the Apache Junction and Trail
Just to the southeast of Metro Phoenix is a totally different world just outside the city and an area where the water reservoirs from the local mountains store most of the water needs of the city and outdoor adventure and activities are a fun escape away from the city.  A feeling of Phoenix's western past you'll drive through Superstition mountain, an old mining town turned western pit stop with shops, cafes and tourist shops, an old western town called tortilla flats with a really cool old time bar, store and restaurant combination and then through to Roosevelt lake and a few reservoirs leading up to the large lake area. You'll be driving through gravel and dirt roads through hot desertscapes that really give you a sense of place of how things look like long ago. Check out my post here on visiting the Apache trail for more inspiration and planning a road trip through this scenic area outside of Phoenix. It's a wonderful place to explore of old Phoenix and the small western towns and lifestyle of the area.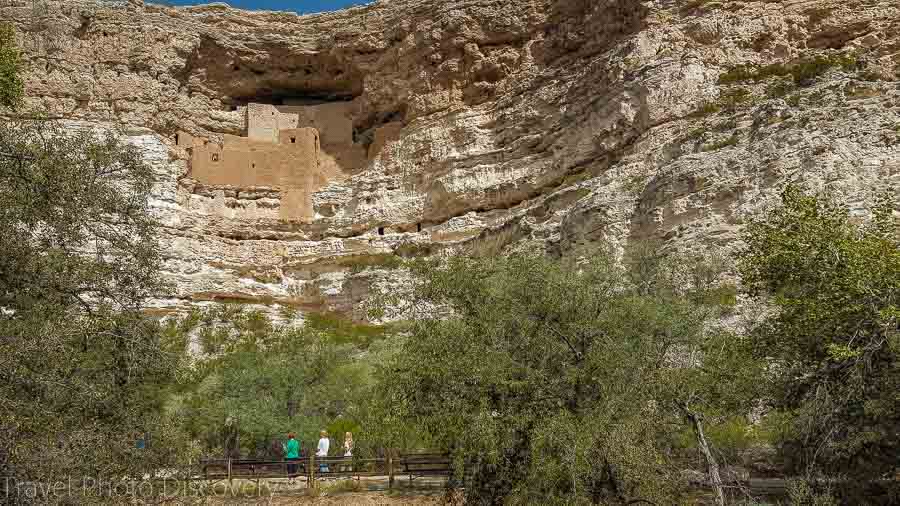 Visiting the Pueblos and cliff dwellings of Montezuma and ancient Sinagua petroglyphs
An easy and fun day trip from Phoenix to explore the wonderful Cliff dwellings and pueblos of the Sinagua people and their petroglyphs is a nice way to enjoy the ancient Sinagua civilizations of Arizona's past. Driving up to Montezuma on Highway 17 is just a short one hour and a half drive to the Montezuma Castle Cliff dwelling exit 293 and follow the signs directly to the national monument established in 1906. Check out the visitors center before you take the loop route to see the cliff dwellings and other adobe structures in the area offering a fascinating look of the Sinagua people and how they survived off the harsh landscape and seasonality of the region. A short drive from Montezuma are the pueblo's of Montezuma well which is a large water hole with dwellings again on the cliffs and surrounding landscape of this historic park.
Another worthwhile historic treasure is to visit the ancient petroglyphs of the the Sinagua which is just a short drive on dusty gravel roads from Montezuma Well. Just follow the signs until you reach the parking lot of the petrogypyhs and its a short walk to the visitor center to get tickets. It is about a mile hike through beautiful flat landscape to reach the petroglyphs and there is a guide there that will give you some highlights of what the petroglyphs represent to the ancient peoples of the area. From the park, is an easy drive back to the junction to Highway 17 and you can drive back down to the Phoenix area. Check out my post here on visiting Montezuma castle, well and the Sinagua petroglyphs for more images and details to visiting the area.
Day trips from Sedona, Arizona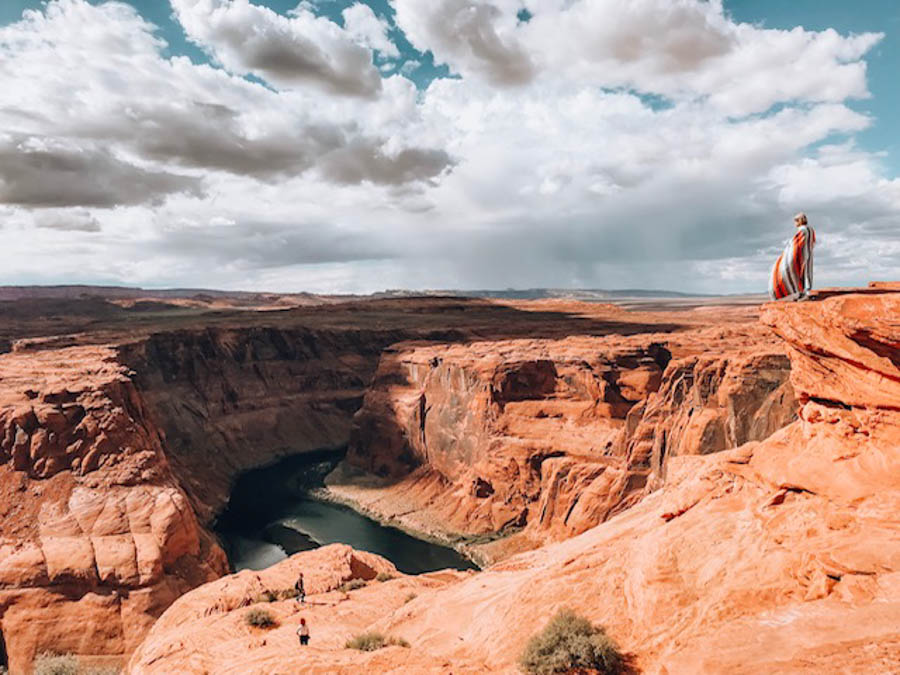 Horsehoe Bend road trip from Sedona
Sedona is a magical place-at least I think so. It is unlike any other place. The rocks and mountains are filled with a vibrant deep reddish color and the people from this town are so genuinely kind. Sedona has so much to offer, from hikes to Pink Jeep Tours. It is made for one who loves the outdoors.  Although, Sedona has a lot to offer there are also tons of road trips that you can take from Sedona. One of these being a day trip to Horseshoe Bend in Page, Arizona. From the heart of Arizona to this place you are looking at about just under a 3-hour drive. So, yes it makes for a long day trip and lots of driving, but the views are worth it.
Most of the drive from Sedona to Horseshoe Bend is pretty desolate and there is not much to offer as you are driving through Indian Reservations. When you arrive at Horseshoe Bend you will have to pay a few dollars to get in and park. Once you park you will hike about ¾ of a mile until you reach the scenic view. It can get extremely hot out here. So, even though it is a short hike bringing water is highly recommended. Close-toed shoes are also recommended especially during the summer when the sand can get extremely hot.
If you are looking for another fun local attraction that is nearby to Horseshoe Bend than check out Antelope Canyon. You will need to make a reservation in advance for these tours, but again I highly recommend it. The scenery is incredible.
Chelsea with Explore with Me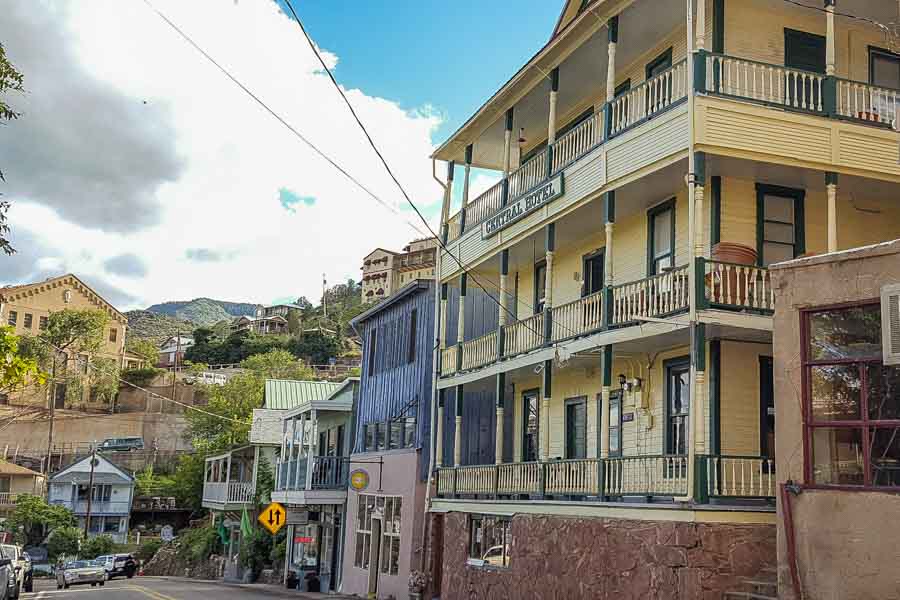 Sedona through Jerome, Cottonwood to Phoenix
A back roads trip from Phoenix to Sedona and passing through scenic landscape and quirky western towns of Jerome and Cottonwood will give you a nice vibe to Arizona's historic past. From Phoenix you can drive through the main highway 17 to exit AZ 89 towars Cottonwood and make a left until you arrive Cottonwood and it's central downtown district which is surprisingly filled with cool boutique stores, restaurants and even some wonderful wine tasting rooms from the region. You continue south on route AZ 89 heading towards Jerome which is a western town located on bluff overlooking majestic landscape and the red mountains of the Sedona ranges. Jerome is a funky artist town with a large ratio of art galleries, wine tasting rooms, restaurants and cool shopping boutique stores along with wonderful views of the valley and surrounding landscape. Explore the two main roads of the historic town, grab a bite to eat and you can continue your road trip back north to Sedona. Along the way is the historic Indian Pueblo at Tuzigoot which is really wonderful to explore and walk around starting with the small and friendly visitors center and museum at the entrance to the pueblo. The landscape is really stunning walking around the pueblo bluff and you definitely can be inspired to taking lots of magnificent photographs. From Tuzigoot, the drive to Sedona is just under an hour so you'll enjoy an easy drive throught the back roads to this fantastic city. Check out my post on doing this road trip in from Sedona to Jerome here for more inspiration, images and fun things to do along the way.
Noel with Travel Photo Discovery
Day Trips from Flagstaff area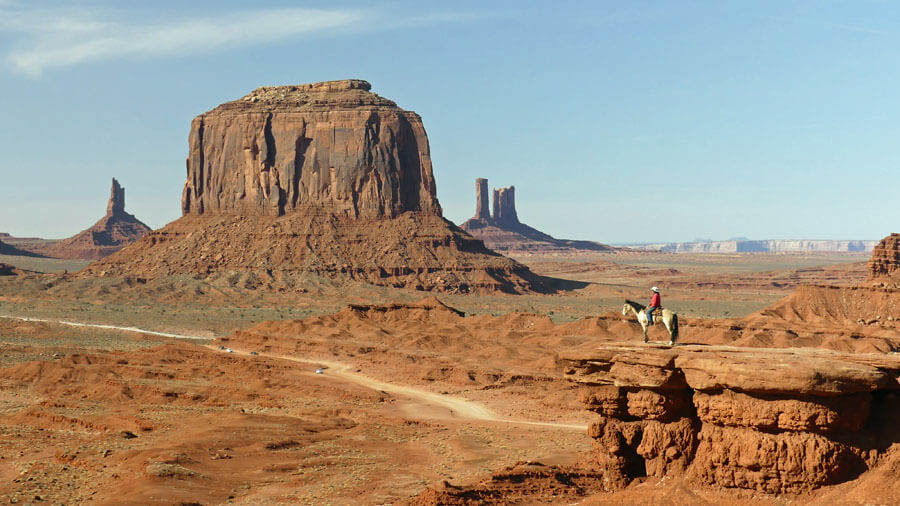 Native American Sites Roadtrip in Northeast Arizona
For the explorer willing to get off the beaten track, start from Flagstaff Arizona or the Grand Canyon to explore the culture and beautiful lands of Arizona's Native American people.  Head into Navajo Country over to Cameron Trading Post on Rt 89, an original Navajo and Hopi Trading post.  Today it is filled with authentic Native American arts and crafts, demonstrations, staffed by Native Americans.  Learn the Trading Post history and enjoy the fine native arts.
Dinosaur Tracks – Continue on Rt 89 North to Rt 160 East toward Tuba City.  On Rt 160, watch for the gorgeous painted desert hills.  Follow the hand-painted 'Dinosaur Tracks' sign enter and allow a local Navajo show you actual dinosaur footprints and skull imprint 'in-the-wild.'  Tipping is welcomed.
Continue on Rt 160 to Tuba City to the Navajo Interactive Museum; it tells the traditional story of a Navajo's life journey.  Call for an appointment!  Visit the Navajo Code Talkers Museum next door and learn how the Navajo's contributed to the Allies winning WW II.
Continue west to the Hopi Reservation.  Hopis, known for their beliefs in ancestral spirits, are called the 'oldest of People.'  Take a tour to learn the interesting Hopi history, beliefs, view petroglyphs, and meet artisans in their homes.  We enjoyed touring with Left-Handed Hunter Tours.
Head north to Monument Valley Tribal Park.  It's one of the most majestic and photographed parks, especially near sundown.  Visit on your own or take a guided tour (highly recommended).
Next, proceed southeast to Chinle and Canyon De Chelly US National Monument.  The land belongs to the Navajo tribe and is considered sacred ground.  You may only enter the canyon if escorted by an authorized Navajo guide.  Drive the paved rim roads, but the best way to experience this amazing place is by Indian-guided tour in the canyon to see the Anasazi ruins, petroglyphs, learn the history and culture from 350AD to 1300AD.
This roadtrip can be done in 3 or 4 days.  Choose to continue exploring Native American History, visit Zuni in New Mexico, or head back to Flagstaff, and if time permits, visit the Petrified Forest National Park and the Painted Desert to view nature's beauty at its finest.
By Wendy Blumenstein-Elliott of Adventurous Retirement

Route 66 Road trip
Historic Route 66 traverses nearly 2,500 miles of the US. However, most of this route has been absorbed by the interstate system over the years and many great stops have been lost and forgotten over time. 
But the
town of Seligman
is the start of one the best-preserved stretches of Historic Route 66 and one of the top examples of a town that refuses to let go of its past. 
To reach Seligman from the east, take Exit 123 off I-40 approximately 3 miles west of Ash Fork (a unique stop in its own). 
You'll quickly arrive in the town, where you should stop in for a burger and shake at Delgadillo's Snow Cap Drive-In and wander through the quirky relics in the back of the property. Pick up a souvenir at any number of shops along the half-mile stretch of town. And even see the town on horseback if you like. 
When you finally decide to leave Seligman, continue on your drive along Route 66 and drop into Kingman from the north with several other small towns to explore along the way. This 80-mile stretch of Historic Route 66 is sure to impress the past upon your travels!
Chris with Call to Wander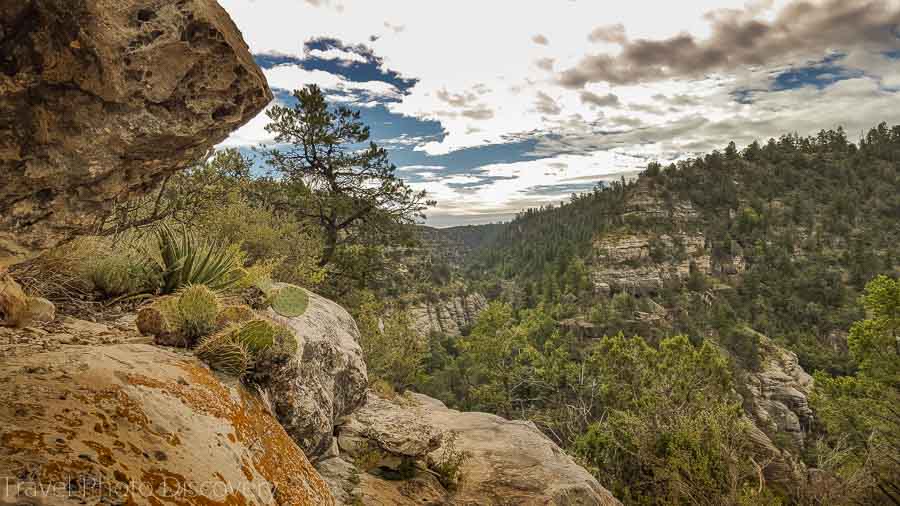 Flagstaff to Walnut Canyon and Indian reservations
You can have a day of exploring nature and ancient Sinagua Indian reservations in the region specifically the dwellings of Walnut Canyon, abodes at Wupatki National Monument and also the large cinder cone of Sunset Crater National Monument. All of these three sites are easy to do as a day trip and explores gorgeous landscape, historic cliff dwellings or adobes of the ancient Sinagua tribes in the region and even the volcanic black cinder cone at Sunset Crater which feels very surreal in this landscape. The two ancient Indian sites have visitors centers that are worth checking out to see some of the artifacts, videos and other interesting collections of the people living in these harsh conditions and how they survived all the elements of each season in this rugged part of Arizona. There are some wonderful trails to also do around each site that you can do in a shorter version if you plan on visiting each of these sites for a nice day trip just outside of the Flagstaff area. There's also so fun places to explore around the city, so do make time to check out the historic downtown area if you are planning to base yourself in the area. Check out my post here of the various places that you can easily visit around Flagstaff here for more inspiration and details of what to see and do in the area.
Noel with Travel Photo Discovery
Tucson road trips
Organ Pipe National Park
Road tripping the 2.5 hour drive from Tucson to Organ Pipe National Monument gives you a unique perspective on this part of this part of the country. The route takes you across the Tohono O'Odham Nation Reservation and a portion  of the lonely Sonoran Desert. Starting in western Tucson on State Route 86, the route crosses the reservation and passes Kitt Peak, the highest point in the the Quinlan Mountains. If you have time, you can visit Kitt Peak National Observatory. It's open to the public every day 9 am – 4 pm and has telescopes, tours and a visitor center.
Continuing on, State Route 86 ends at Why, Arizona. Even though there isn't much in Why, stopping at the Why Not Travel Store is a must to stock up on water and snacks, or gas, before you get to the National Monument. Organ Pipe National Monument is just 5 miles from Why but feels a world apart. The fact that it's the only place in the US where you can see the Organ Pipe cactus growing wild is just one of the many reasons that it's so special. In the park, drive the 21 mile loop road and see the endangered Quitobaquito pupfish in the garden at the Visitor Center. This route makes a great day trip from Tucson or could be extended to include the Kofa National Wildlife Refuge, northwest of Organ Pipe, before returning to Tucson or even Phoenix.
Lori with Southerner Says.com
Tucson to Mount Lemmon
If it's a short but epic road trip you're after, the drive from Tucson to Mount Lemmon is sure to check all the boxes. On this mini road trip, you'll be able to escape the heat of the city and in less than 2 hours you'll feel as if you're a world away!
From downtown Tucson to the top of Mount Lemmon, it should take 1.5 hours on the nose. But you'll definitely want to factor in extra time for stopping at multiple viewpoints along the way, as the views are a big reason to make this drive.
If you want to get out and stretch your legs, there are plenty of pullouts and trails along the way to be explored. You'll notice the landscape change as you climb in elevation, and at the top you will find much cooler temperatures and perhaps even snow (depending on the time of year).  Once you make it to the top, stop by the General Store for fudge or at the Cookie Cabin for a cookie that's bigger than your face!
With incredible vistas and a completely different landscape than the city below, it should come as no surprise that the drive to Mount Lemmon is one of the best things to do in Tucson.
Katie Diederichs from Two Wandering Soles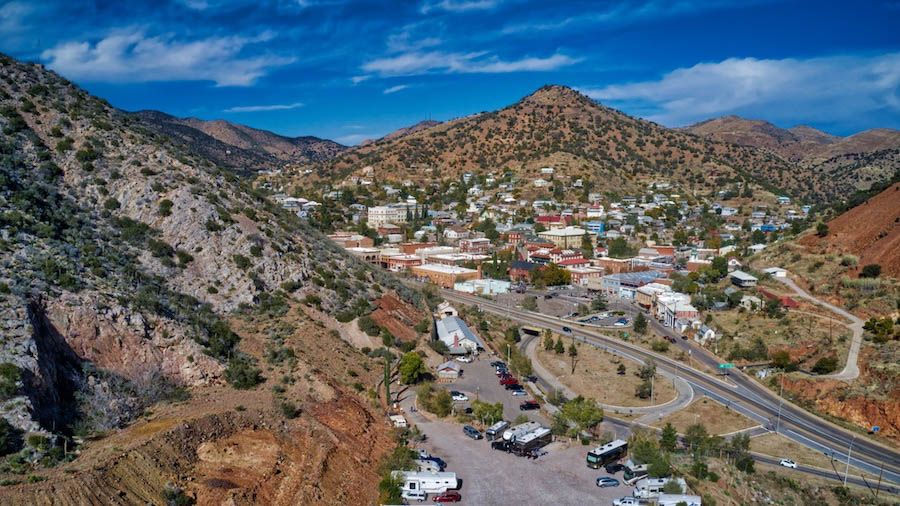 Bisbee road trip from Tucson
A Southern Arizona road trip from Tucson to Bisbee gives travelers a chance to take-in some spectacular Sonoran Desert landscape, while soaking up the savory culture and cuisine of the Southwest. 
On your way to Bisbee, don't miss stopping in Benson to see Kartchner Caverns, an incredibly well preserved living cave. Discover the difference between stalactites and stalagmites, while learning about the geological and historic information on the cave.
Continuing toward Bisbee, be sure to stop in Tombstone for an authentic look at the ol' west. You can walk the very streets where the famed shootout at the O.K. Corral took place. This is one of the few authentic Western towns left in the United States.
Long ago, Bisbee was a town where copper and silver mining were in full swing. Today, Bisbee celebrates its rich historical heritage while also being a magnet for tourists. This quirky mining town is an enclave for artists with its eccentric charm and picturesque mountainside perch.
Where to stay in Bisbee: Bisbee Casita Chinquita (Fantastic Airbnb casita in a quiet and walkable area.) [Note: Don't stay at the Cooper Queen.]
Where to eat: Best place in town is Cafe Roka
Route: I-10 east to 80 south. About 90 miles or 1.5 hours of driving
Mike with Mike's Roadtrip.com
Check out these other Arizona posts below
Road trip from Sedona to Jerome
Things to do around Flagstaff,Arizona
Getaway weekend to Phoenix Arizona
Road trip to Walnut Canyon National Park
Road trip to Waputki National Monument
Best places to photograph Sedona
Visiting Sedona landscapes and photography
Exploring the Montezuma cliff dwellings
Pin this for later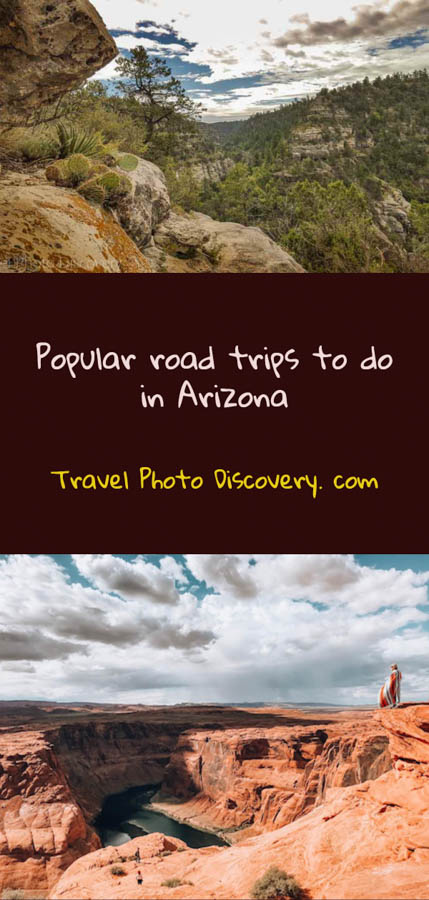 Have you been on any of these Arizona road trips?
Any favorite places that you have been on a road trip through Arizona? Please share your thoughts in the comments below.
Thanks for visiting today and checking out this post on these top Arizona Road Trips , if you enjoyed the images and post, could you please share it with any of the social media buttons located around the post.
If you like what you see, come and check out my other social media channels for more updates, including Instagram, Pinterest and Twitter
Disclosure – There are affiliates links on this posts which provide a small commission to support this site at no extra cost to you. Thank you for reading, and happy travels