Whenever I get tired of all day urban adventures with packed schedules, I find that its nice to spend a little quiet time in a beautiful garden to relax or enjoy a meal. Fortunately, Barcelona has many green spaces, beautiful parks and botanical gardens scattered throughout the city. Montjuic, the large imposing mountain in the middle of the city features important art and history museums along with an amazing collection of regional to mediterranean inspired gardens.  When you're visiting the city, make sure take the time to explore the Montjuic parks and botanic gardens in Barcelona.
What to see and do at Montjuic in Barcelona
Not only are there gorgeous botanical gardens to visit at Montjuic, but there are also historic places to include the Montjuic castle, museums like the National art museum of Catalunya, Catalan Museum of Archeology, Joan Miro Foundation, Museo de Carroses Funebres, Etnology Museum. These alone will keep you busy at Montjuic of enjoy some culture, art and historical treasures to visit. But the main outdoor and beautiful gardens are the treasures to see at Montjuic and here are some of the best to enjoy walking around this massive mountain in the middle of Barcelona.
.
Take the cable car to the top and views from Montjuic
Spending an entire day up in the Montjuic area visiting many of the world-renowned museums is enjoyable but my head was starting to spin from all the art and treasure sensory overload.  It's fortunate that the area has many magnificent botanical gardens and parks to explore and enjoy at my leisure. Many of these parks have stunning views of the entire city, its worlth while to take some photographs of the skyline or panorama shots from different vista points. It's best to start your visits to Montjuic via cable car to the top and head directly to the fortress. Afterwards, one can decide on which route to take or attractions that may be interesting to visit.  There are maps and points of interests at key road locations, giving directions and descriptions of the various attractions in Montjuic.
Montjuic castle and views
At the very top of Montjuic sits the castle of Montjuic. Originally a fortress built to defend the city, it was later converted into a castle and has had many incarnations back to a fortress, a prison and is now military museum. The views from the top offer a 360 degree look of Barcelona from the mountains to the bayfront area and all the key attractions around the city. It's easy to just relax and enjoy the views or stroll along the ramparts of the fortress. In front of the entry is a nice colorful garden parterre filled in from the original moat. Bright spring annuals to add more visual color and frame some nice photos of the fortress. It's worth spending a little time here to take a few photos of the fortress or some magnificent views of Barcelona.
Montjuic's botanical gardens
The botanical gardens and parks of Montjuic are quite impressive. They include the National botanical garden, the Laribal garden, the fortress and the desert gardens of Mossen Costa i Llobera. Large directional maps are available on the thoroughfares along with well-marked walkways directing you to the various garden destinations. It's a pleasant mostly downhill walk through many shaded trails, vista points and monuments before arriving at each garden. The gardens are all unique and distinctive with a variety of plants species being represented. Some of the gardens are more formal with terraced and boxed-in garden rooms like the Laribal gardens. While other gardens like the National botanical gardens are more relaxed and park-like with indigenous plantings of the region and countryside. There are also exotic gardens like the Mossen Costa i Llobera, which has an impressive collection of desert, cactus and sub-tropical plantings amassed into one of the largest cactus and succulent collections in the world.
Laribal Gardens
Right after visiting the Joan Miro museum and the spectacular artwork of Barcelona's famous artist, I headed outside to the Laribal  gardens close by. A semi-formal garden with mediterranean plantings, this garden is a delightful mix of boxed terraced beds, topiary mixed in with a variety of roses, covered pergolas, shaded walkways and colorful annuals. The scenic views overlooking the downtown areas of Barcelona are attractive with roses framing the views, making it a perfect photo opportunity. It's easy to find some quiet time and shade in this garden from the intense mid-day sun while enjoying the attractive views below.
Views, stairs and fountains at Montjuic
There are many splendid views along the Montjuic mountains showing some of the key attractions of Barcelona including this image below with the familiar outlines of the Sagrada Familia in the distance. Here are some more views of from Montjuic, its parks and other vista points.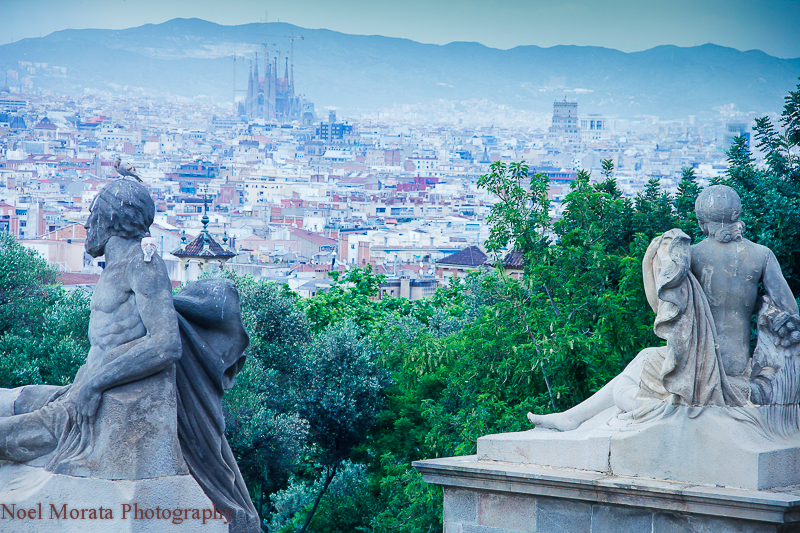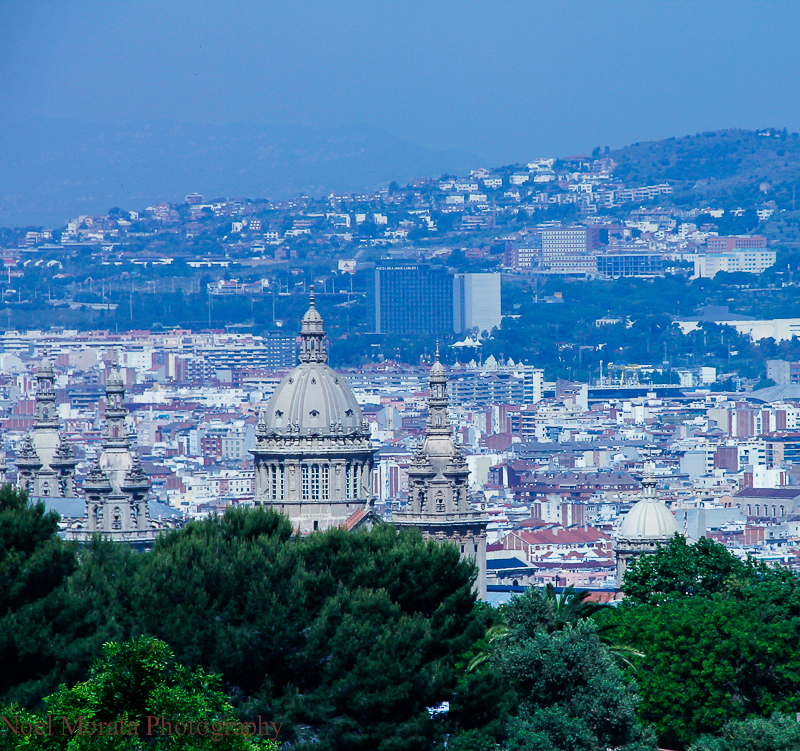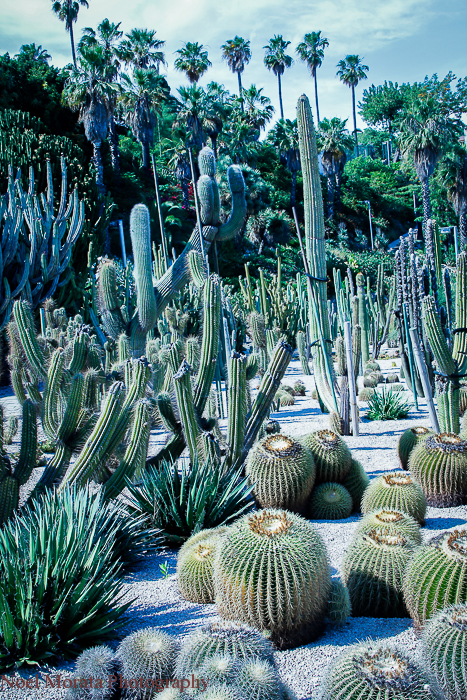 Mossen Costa I Llobera gardens
One of the more unusual and exotic gardens that I visited was the Mossen Costa i Llobera gardens on the hillside of Montjuic, affording magnificent views of the harbor and bay front area of Barcelona.  If you are in the mood for something unusual to do in Barcelona with almost no tourists jostling for space to take pictures, read my upcoming post on for this inspiring garden worth visiting in Montjuic.
For more beautiful imagery and background to the Mossen Costa I Lobera garden, check out my post below for more details and viuals of this exotic park in Montjuic definitely worth visiting, have a look here.
In case you didn't get to see it, I wrote a post recently about taking better nature and flower images with techniques on how to make your photo images pop, here's the link and I hope you take a look at some of my suggestions for improving your camera techniques on any floral or landscape photography.
Check out these fantastic posts to visiting Barcelona
Barcelona attractions and key places to visit now
Traditional Catalan food you should try
Free things to do in Barcelona
Enjoy the Mossen I Llobera garden at Montjuic
Top places to photograph Barcelona
Exploring the Gothic District of Barcelona
If you enjoyed this post on Montjuic parks and botanic gardens in Barcelona, please subscribe to my updates below and share the post with any of the social media buttons around the post. I appreciate your visiting today.
If you like what you see, come and check out my other social media channels for more updates, including Instagram, Pinterest and Twitter