Casa Mila La Pedrera – a must visit Gaudi structure and Unesco Heritage site
Casa Mila is one of Gaudi's most successful commercial and private mixed-use buildings created in Barcelona and in the fashionable Gracia district and one of the most distinctive Barcelona attraction to visit. This complex located at 92 Passeig de Gracia sits in one of the most prestigious areas in Barcelona. Gaudi's civil project was started in 1906 to 1910 represents the new architectural style of Catalan Moderisme to a new level with organic undulating forms and beautiful wrought iron work on the balconies and windows of the buildings facade.
From the rooftop, you'll get some gorgeous viewpoints of Barcelona that are unique along with exploring some of the strange undulations and colorful chimney tops from the building.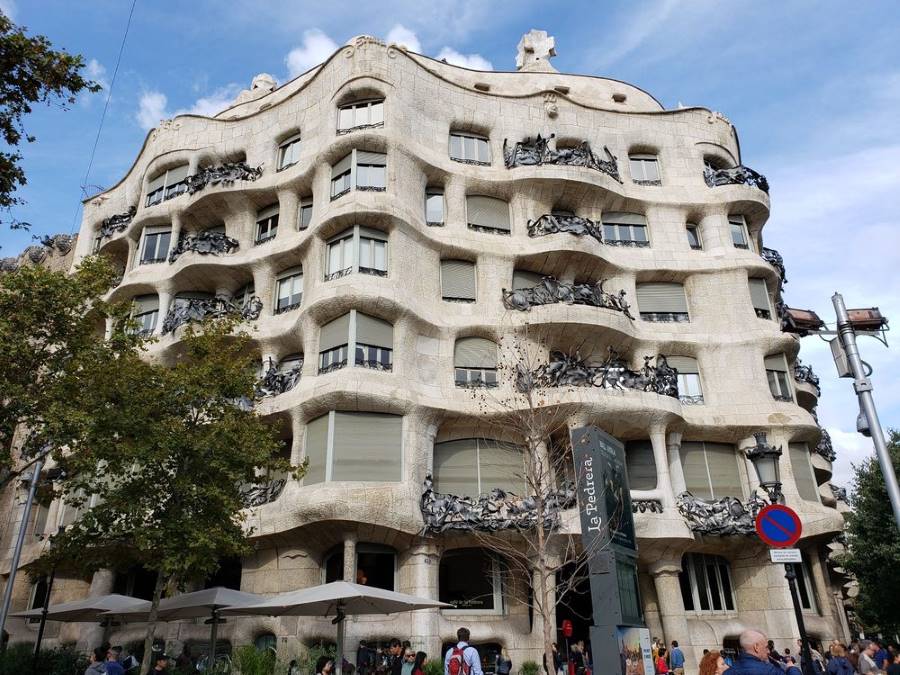 Touring Casa Mila in Barcelona
The building called La Pedrera or the Quarry has been recognized as a World Heritage site along with many of Gaudi's architectural buildings in Barcelona in 1984. As part of the Fundaciao Catalunya La Pedrera, this body administers the tours and events, museum and exhibits of the building and interior spaces that are open to the public. 
Downstairs is a museum which hosts rotating exhibits about Barcelona history, culture, lifestyle and traditions that are also worth visiting when you are at the property and waiting for your designated time slot to tour Casa Mila.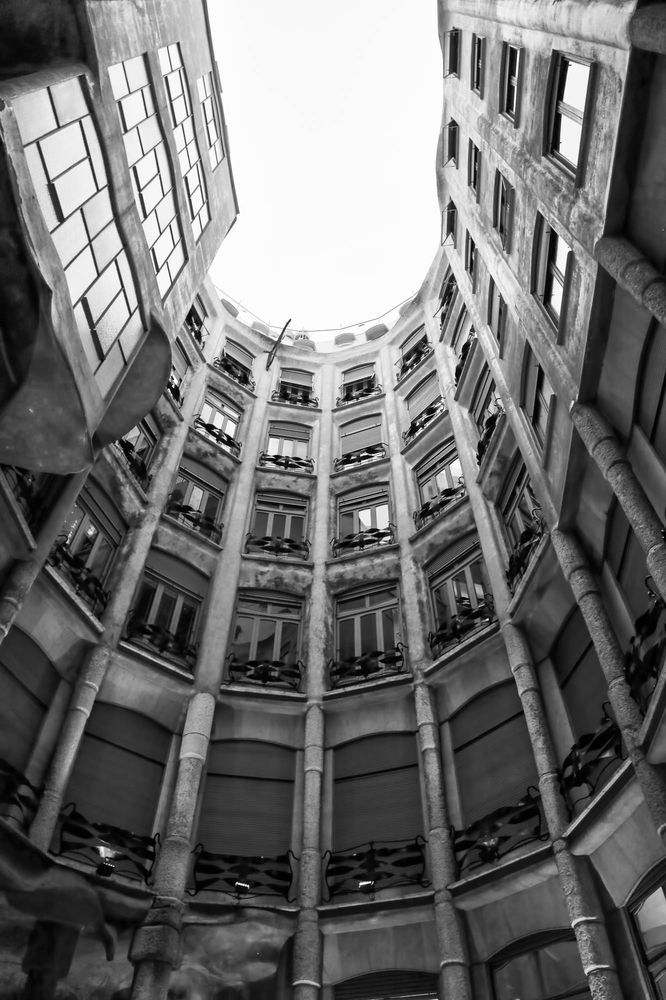 A brief history of Casa Mila La Pedrera
This stunning building was erected from 1906 to 1912 and created by Antoni Gaudi, one of the master architects of Barcelona at the period of Catalan Moderisme.  The building is an apartment complex commissioned by Pere Mila and Roser Segimon which was their main home with apartments placed above their unit. A real estate developer and wealthy family, they lived in the main apartment and rented the offices and apartments in the building.
This iconic structure that Gaudi envisioned was cutting edge during its time combining constructional and functional innovations as well as design and crafted details. This combination of engineering, construction and artistic details created a standout building of design.
The building is called La Pedrera for "Stone Quarry" which it resembles in its facade and appearance and draws from a lot of nature and natural elements. The chimney pots on the roof are a signature element of this design and unique artistic creation of its timeframe.
in 1984 the building was declared a World Heritage site by Unesco with a foundation that helps to inspire and educate visitors coming to see this amazing structure.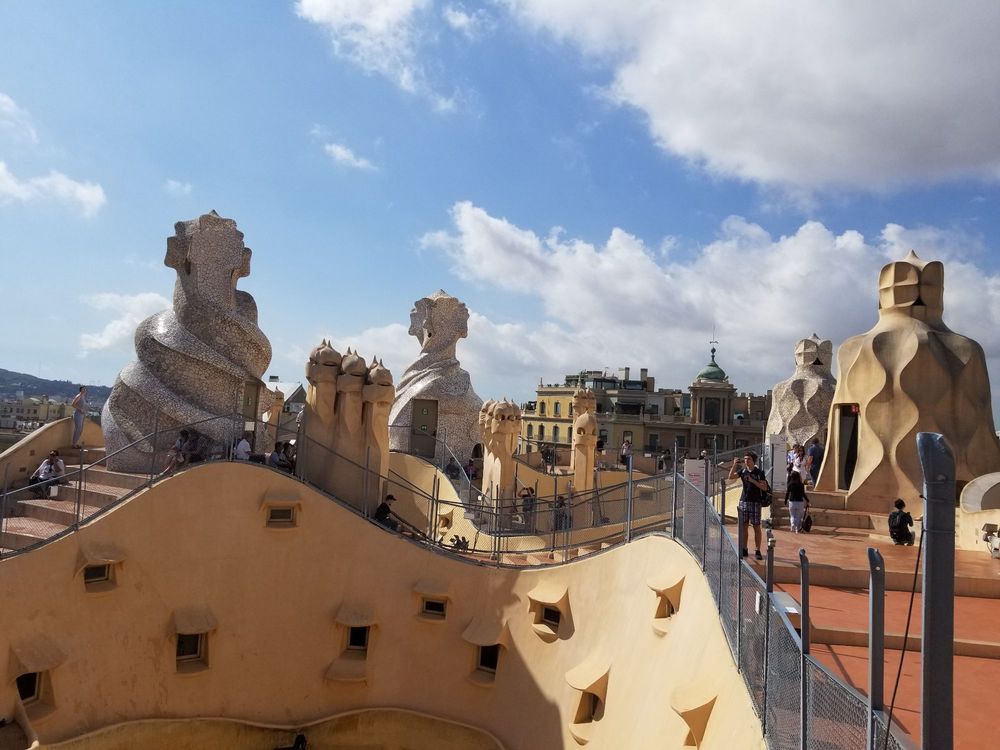 When is the best time to visit Casa Mila
Casa Mila is one of the most popular attractions to visit and easily accessible from Gracia so the best time to visit is in the morning before the tourist crowds come out to visit. The attraction opens up at 9am to 11pm
For details to visiting, you can check out their website here for more information and entry prices.
The famous chimney pots of Casa Mila and rolling roof
First impressions of the new building
With its undulating facade, the building did not adhere to standard conventions and Gaudi's work at that time received a lot of criticism and was a source of ridicule between Gaudi and Pere Mila and published in many humorous articles.
It wasn't until a later time frame that the building was noted as an architectural masterpiece and given status as a Unesco World Heritage site.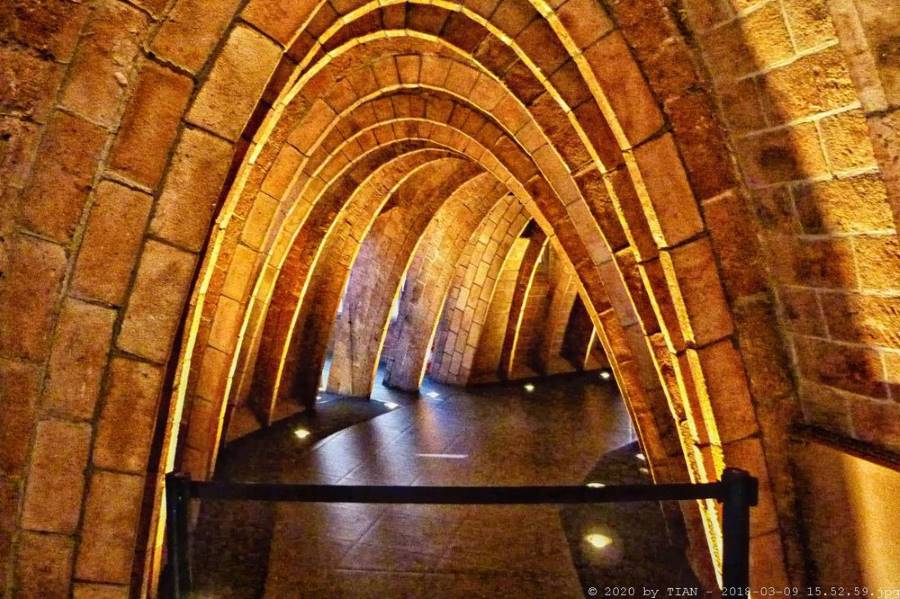 Technical innovations to Casa Mila La Pedrera
Casa Mila La Pedrera has a lot of interesting technological innovations and design. A free flowing front stone facade is a very unique facet to the structure that required a lot of detail and engineering planning. Other cool features of its time included:
Underground garage
Two open space entry courtyard design for air circulation and ventilation of the kitchens and interior apartments.
Undulating rooftop with innovative chimney pot design.
The building was large pillars instead of construction walls allowing for a large courtyard areas in the middle and creating an open, airy design in the interior spaces.
Like everything that Gaudi designed, Casa Mila La Pedrera followed his main principle of functionality, ventilation, open spaces, lighting, organic natural tributes and aesthetics.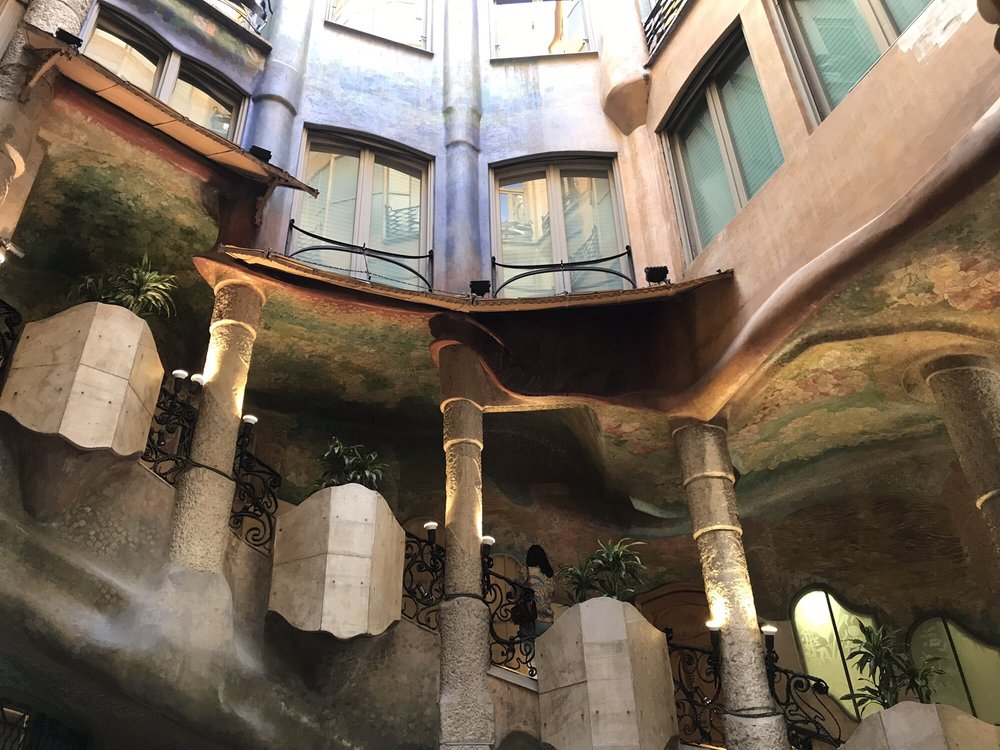 Check out this video tour of Casa Mila below
How to get to Casa Mila La Pedrera
No 92 Passeig de Gràcia
Metro: Diagonal (Green Line, L3)
Where to stay in Barcelona
With so many fantastic places to enjoy and explore around the city, there are so many wonderful options for accommodations. Check out these top reviewed paces to stay here for reviews and updated prices
Alexandra Barcelona Hotel – a 19th century hotel with modern aesthetics and amenities with easy walks to Gracia and Las Ramblas, centrally located, good sized rooms, good breakfast and attentive staff.
Serras Barcelona – a luxury boutique hotel with award winning Michelin star restaurant, cool and trendy hotel with comfortable, with world class amenities and service
Majestic Hotel and Spa – a luxury traditional hotel centrally located and close walk to Ramblas with excellent service, amenities, rooftop terrace and outdoor pool
Check out these fantastic posts to visiting Barcelona
Barcelona attractions and key places to visit now
Traditional Catalan food you should try
Free things to do in Barcelona
Enjoy the Mossen I Llobera garden at Montjuic
Top places to photograph Barcelona
Exploring the Gothic District of Barcelona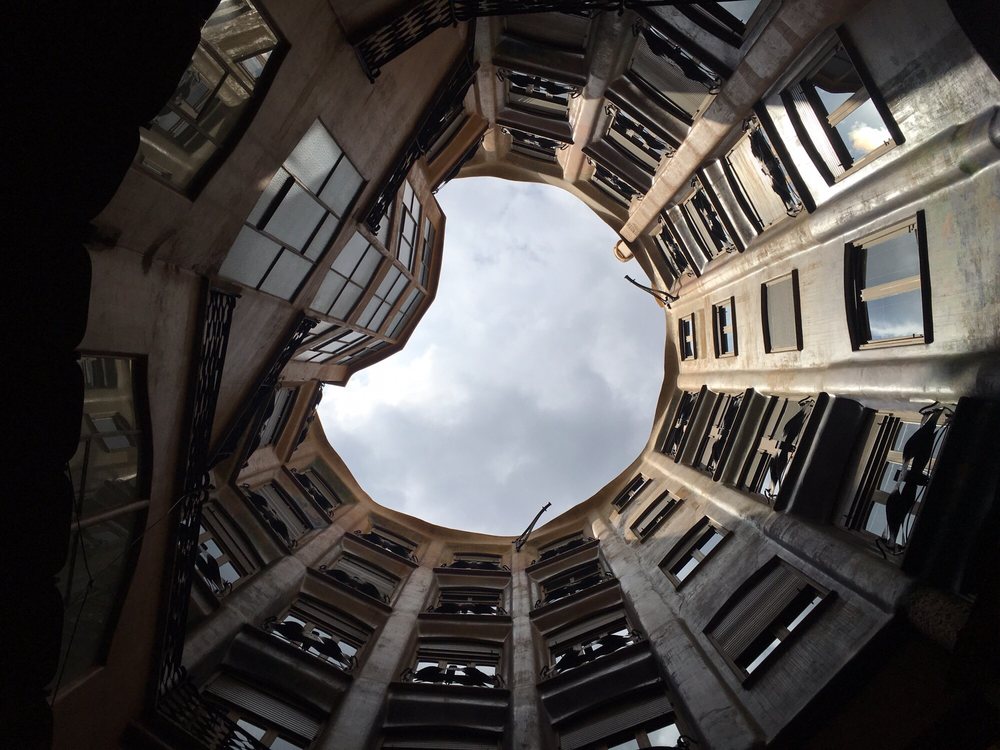 Conclusion to visiting Casa Mila
Hope you enjoyed this visit to Casa Mila, to see other posts about Gaudi and Barcelona check out this other posts:  La Sagrada Familia in Barcelona
To find out more details about Casa Mila and Gaudi, check out the Wiki page here.  If you enjoyed reading about Casa Mila, please do share it with any of the social media buttons located on this post. Thank you.
Thanks for visiting today and checking out this post on Travel photo: Casa Mila, Barcelona, if you enjoyed the images and post, could you please share it with any of the social media buttons located around the post.
If you like what you see, come and check out my other social media channels for more updates, including Instagram, Pinterest and Twitter
Disclosure – There are affiliates links on this posts which provide a small commission to support this site at no extra cost to you. Thank you for reading, and happy travels