La Boqueria in Barcelona – A place to photograph beautiful food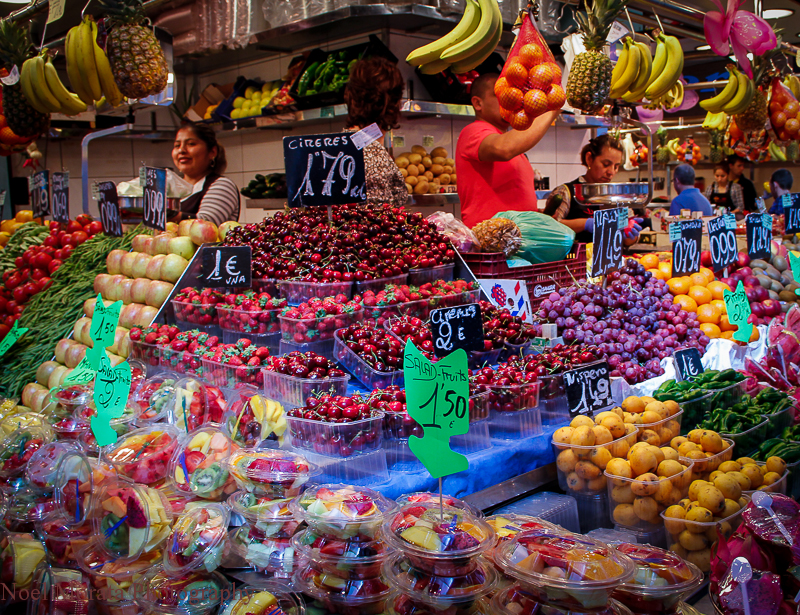 Why visit Mercat de la Boqueria market
The market is a visual treat and fun to explore and capture in photographs while you walk through the colorful displays, beautiful produce, meats, seafood and other specialty foods from the area. You can event try some of the local specialties with cafes in the market that serve up delicious local and comfort foods or some Spanish Coffee specialty drinks from the region.

Where is La Boqueria located in Barcelona?
One of the most famous food markets in all the world to explore, La Boqueria is located right in the middle of La Ramblas and very close to Liceu, the Opera House of Barcelona. Started in the 1200s, La Boqueria grew as various neighborhoods developed and catered to the many residents of these areas surrounding La Rambla along with offering many produce, finished goods and eating venues at the marketplace.
What to photograph at La Boqueria
If you love seeing some beautiful food imagery of La Boqueria take a look at the following images. Every section of the market has well presented and delicious looking food from seafood, fresh produce, meat products and locally made finished goods. If your hungry, you can find everything imaginable to take away or even eat at some of the food stalls on site.
Explore La Boqueria's glorious food stalls and displays
Entering inside the covered glass pavilion of La Boqueria, you will find colorful displays and stunning food vignettes that make you want to sample everything on site (vendors freely give samples out). There are photo opportunities walking down every aisle and you will see displays of catalan foods, produce, and local foods prepared daily. The cafes are engaging and filled with people dining on local specialties, these are great for capturing candid photographs.  Just explore around and look for some great angles, displays and engaging vendors and you will find plenty of photo opportunities to capture beautiful images.
La Boqueria's Foodie culture
When you visit La Boqueria you can see how important food is to Catalan and daily Spanish life. Ingredients are typically purchased daily at these markets and finding quality products that are in season are always preferred. That's one of the reasons why dining out in Barcelona ranks high in food experiences with such devotion to fresh and quality products being served.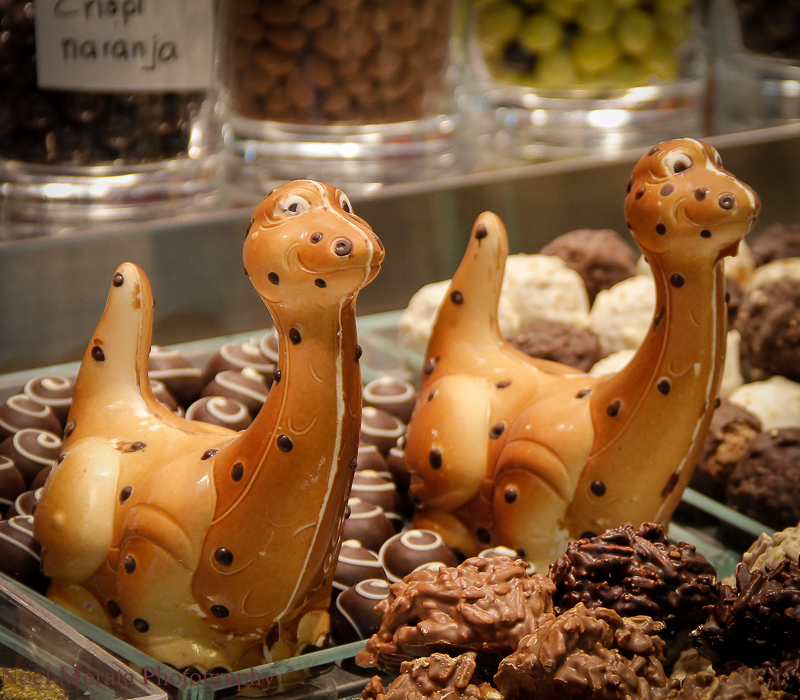 Places to eat at La Boqueria
If you are looking at trying some delicious tapas, local foods or something comforting at the market, check out these delicious foodie venues when you walk around the market.
Bar Ramblero – a popular favorite spot serves up the best and freshest seafoods from the region. Try the local gambas,order a seafood platter or just nosh on some tapas or little appetizer bites they make fresh every day.
Bar Pinotxo – not fancy or trendy, this small bar serves delicious and local tapas and authentic Catalan dishes that you'll savor and enjoy for this no frills establishment. Sample their specialty dish which is the chickpeas and morcilla (blood sausage).
El Quim de La Boqueria – a fun and welcoming foodie venue that specializes in egg dishes like the Huevos Rotos with Foie or try eggs with squid which is to die for!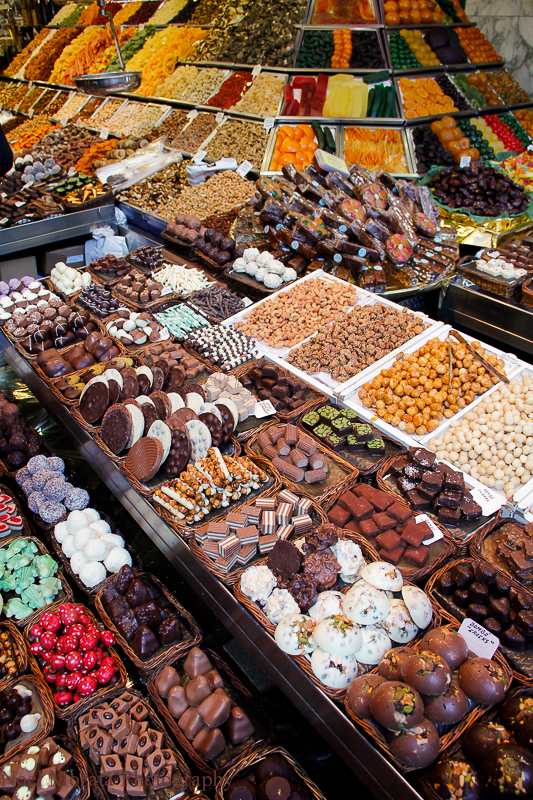 Conclusion for visiting La Boqueria
It's fun to visit and explore La Boqueria and sample some of the local delicacies, specialty foods, produce and other delicious finds here. Make sure to take some time to find a cafe and enjoy some of the regional specialties while you are visiting here.
La Boqueria is truly a good place to explore and capture some great farmers market and food related images.  You will be amazed at how well designed and beautiful all the displays are, and the vendors are happy when you take photos of their colorful displays. There are so many wonderful food vendors offering many local specialties, take a look at some of these delicious foods from Spain from my friend Yaras blog.(drool)

Check out these fantastic posts to visiting Barcelona
Barcelona attractions and key places to visit now
Traditional Catalan food you should try
Free things to do in Barcelona
Enjoy the Mossen I Llobera garden at Montjuic
Top places to photograph Barcelona
Exploring the Gothic District of Barcelona
Where to stay in Barcelona
With so many fantastic places to enjoy and explore around the city, there are so many wonderful options for accommodations. Check out these top reviewed paces to stay here for reviews and updated prices
Alexandra Barcelona Hotel – a 19th century hotel with modern aesthetics and amenities with easy walks to Gracia and Las Ramblas, centrally located, good sized rooms, good breakfast and attentive staff.
Serras Barcelona – a luxury boutique hotel with award winning Michelin star restaurant, cool and trendy hotel with comfortable, with world class amenities and service
Majestic Hotel and Spa – a luxury traditional hotel centrally located and close walk to Ramblas with excellent service, amenities, rooftop terrace and outdoor pool
Conclusion to visiting La Boqueria in Barcelona
If you enjoyed this post on La Boqueria in Barcelona – A place to photograph beautiful food, please subscribe to my updates below and share the post with any of the social media buttons around the post. I appreciate your visiting today.
If you enjoyed the post, please do share it with any of the social media buttons around the page. Thanks so much for visiting today.
Disclosure – There are affiliates links on this posts which provide a small commission to support this site at no extra cost to you. Thank you for reading, and happy travels