Barcelona Attractions: Exploring the Vibrant Heart of Catalonia (updated 2023)
Barcelona attractions are endless with Gaudi inspiration, gorgeous Mediterranean gardens at Montjuic, historic sites and fabulous walking promenades like Las Ramblas, fun outdoor markets and food venues. When you are visit Spain at Barcelona, there's so much to do and see in this magnificent city that is fun to explore from daytime to late at night. In my experience and background to travel and visiting Barcelona, you'll find so many fascinating places to explore, if not too many places that you'll want to spend a lot of time in. If you love to see the best viewpoints of Barcelona, check out the Free things to do in Barcelona or enjoy some delicious Catalan food, visiting this dynamic and vibrant city will be a fantastic experience for you to enjoy.
Barcelona is such an overwhelming city because there's so much to see and do around the metropolis. But don't worry, this short guide will highlight all the best attractions and must visit locations to make your visit complete. We even share the most delicious traditional Catalan foods here for you to enjoy and try when you visit this amazing city.
Located in the region of Catalonia in a sunny area between sea and mountains, Barcelona is rich in historic treasures, cultural presence and lifestyle, architectural gems and amazing food from the region to sample. It's a very comfortable and casual place to explore and the atmosphere walking around the streets of the city is always colorful and a fun vibe everywhere you explore. You'll enjoy these top places to photograph Barcelona and explore around this fabulous city. When you visit Spain, make sure to spend time in the Catalonia region and explore all these fantastic places in Barcelona.
This guide will help you with a check list of everything worth visiting to make your visit to this magical city complete.
A little history and background to Barcelona
Barcelona, the capital of Catalonia, Spain, is a city steeped in history and culture. Its roots can be traced back over 2,000 years, and its rich past has shaped the vibrant and diverse city we know today. Here's a brief overview of the history and background of Barcelona:
Roman Origins: Barcelona was founded as a Roman colony called "Barcino" in the 1st century BC. The city's layout still bears traces of its Roman heritage, including remnants of the city walls and an underground archaeological site.
Visigothic and Moorish Periods: After the fall of the Roman Empire, Barcelona saw the rule of Visigothic and Moorish forces. During this time, it experienced both Christian and Islamic influences.
Medieval Barcelona: The city flourished during the Middle Ages. It became a powerful maritime and trading hub in the Mediterranean and was a part of the Crown of Aragon. Gothic architecture, including the famous Barcelona Cathedral and Santa Maria del Mar, dates from this period.
Union with Castile: In the late 15th century, Barcelona was united with the Crown of Castile, forming what is now modern Spain. This period saw the beginning of the decline of Catalonia's political autonomy.
18th and 19th Centuries: Barcelona experienced significant growth and industrialization during the 18th and 19th centuries. The construction of the Eixample district and the influence of Catalan architect Antoni Gaudí contributed to the city's unique architectural character.
20th Century and Catalan Identity: Barcelona played a pivotal role in the Spanish Civil War (1936-1939) and the struggle for Catalan autonomy. After the death of dictator Francisco Franco in 1975, Spain transitioned to democracy, and Catalonia gained a degree of self-governance.
1992 Olympics: The 1992 Summer Olympics were hosted in Barcelona, bringing international attention to the city and leading to significant urban redevelopment. Iconic venues like the Olympic Stadium and Port Olímpic were built.
Contemporary Barcelona: Today, Barcelona is known for its stunning architecture, including Gaudí's Sagrada Família and Park Güell, as well as its lively arts scene, culinary delights, and a strong sense of Catalan identity.
Tourism: Barcelona is one of the world's top tourist destinations, attracting millions of visitors each year. Its beaches, cultural attractions, and vibrant atmosphere make it a popular choice for travelers.
Challenges: The city has also faced challenges, such as debates over Catalan independence, overcrowding in certain tourist areas, and concerns about sustainability.
Barcelona's history and culture are deeply intertwined with its Catalan heritage. The city's unique blend of Gothic, Modernist, and contemporary architecture, along with its vibrant neighborhoods and cultural institutions, make it a fascinating and dynamic place to explore.
Weather and best time to visit Barcelona
Ideal Time to Visit Barcelona: With a Mediterranean climate, Barcelona is inviting year-round. For vibrant beach weather and festivals, go in summer (June-August). Spring (March-May) and autumn (September-November) offer mild temperatures and fewer crowds.
Winter (December-February) provides a relaxed experience, lower prices, and a chance to appreciate architecture, museums, and local cuisine. Choose based on your preferences: summer for energy, spring/autumn for pleasant weather, and winter for a quieter visit.
Depending on the time that you visit, you might want to consider what to pack and wear in Spain or bring different clothing you can layer during the day to night time. This is important if you like to travel off season or in the cooler months when layering your clothes will makes more sense
Top 30 things to do and see around Barcelona top attractions
Barcelona, the vibrant capital of Catalonia in Spain, offers an array of exciting experiences for visitors. From architectural marvels to beautiful beaches and a thriving culinary scene, there is something for everyone. Here's our top things 30 to do in Barcelona for you to experience:
Explore Gaudi's amazing architecture!
Visit some of Gaudi's impressive architecture and you'll see why he is the most admired architect in the city with these magnificent buildings.
1. Visit to Sagrada Familia
The most popular Barcelona attraction is this the basiiica of Sagrada Familia that is still in progress to completion and one of Gaudi's masterpieces that dominates the skyline. You can sign up to visit this basilica and come early because it is busy all day and tickets have to be booked in advanced to see the wonderful interiors and details to the church.
Tip – the lines are very long to enter Sagrada Familia so why not skip the line here to save time and effort and you'll get right in!
The Sagrada Familia is truly spectacular to view both the inside and outside including views from various angles and from some of the towers.
** For fast track entry, check out this Sagrada Familia details here for booking and not wasting time waiting in line.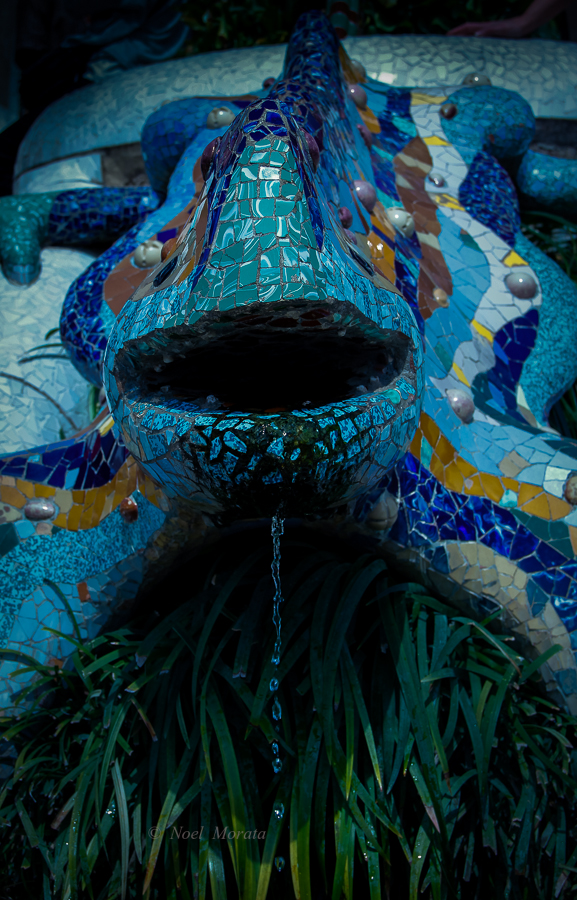 2. Park Guell
One of the signature parks Gaudi created with the waving mosaic benches, the signature salamander and all the engineering work done underneath with the columns and the purpose to creating this amazing park. It's fun to explore the entire park, watch the views and capture it from above and visit the beautiful fairy tale like buildings on the park grounds to give you an idea about what was planned in this area before it became a public garden.
Tip – getting into the gardens is time consuming so make sure to book your reservations here to get into the gardens and have more time enjoying all the vistas and attractions here.
Park Guell was one of Gaudi's first master planned communities planned for a developer that didn't quite work out,  but converting it into a public park for all to enjoy turned out to be a great inspiration for all that gets to visit the park and the various monuments here.
** Get your tickets in advanced for Park Guell here so you don't have to wait on those long entry lines at the front gate.
Check out this inspiring walking tour around Park Guell below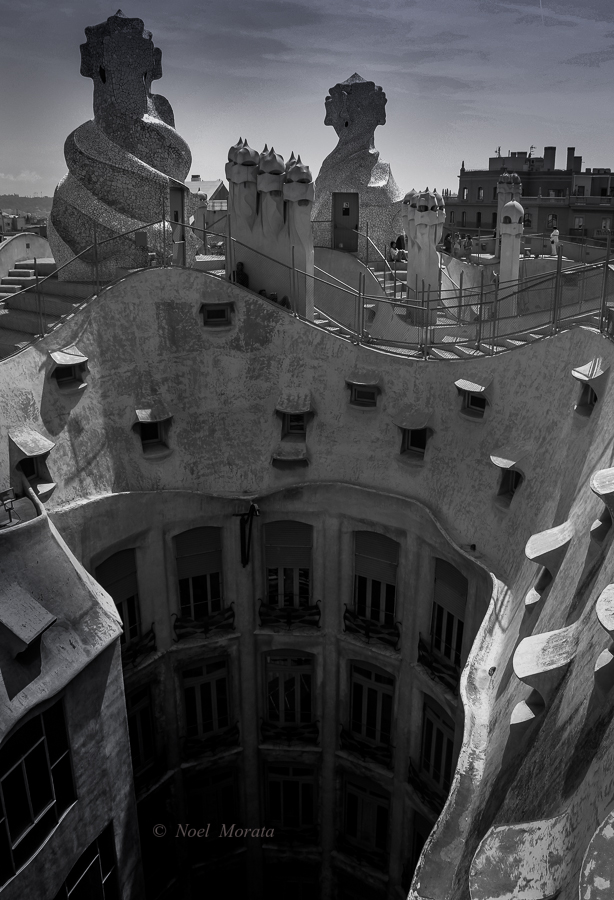 Catalan Modernismo architecture comes alive with Gaudi's Casa inspired apartment buildings here that you can visit as living museums to these gorgeous structures that are converted into museums and one that is still used as apartments with places you can visit inside. A fantastic tour of the building from top to bottom with the undulating roof and chimney pots into some of the private apartments that are now part of this living museum for you to explore along with the public spaces and visitors center located inside.
Check out our post to visiting Casa Mila here for more inspiration and images to visiting.
** You can get your tickets in advanced to visiting Casa Mila here so you don't waste time waiting in line and book in advanced.
Also, here's a fun video and education experience to visiting Casa Mila below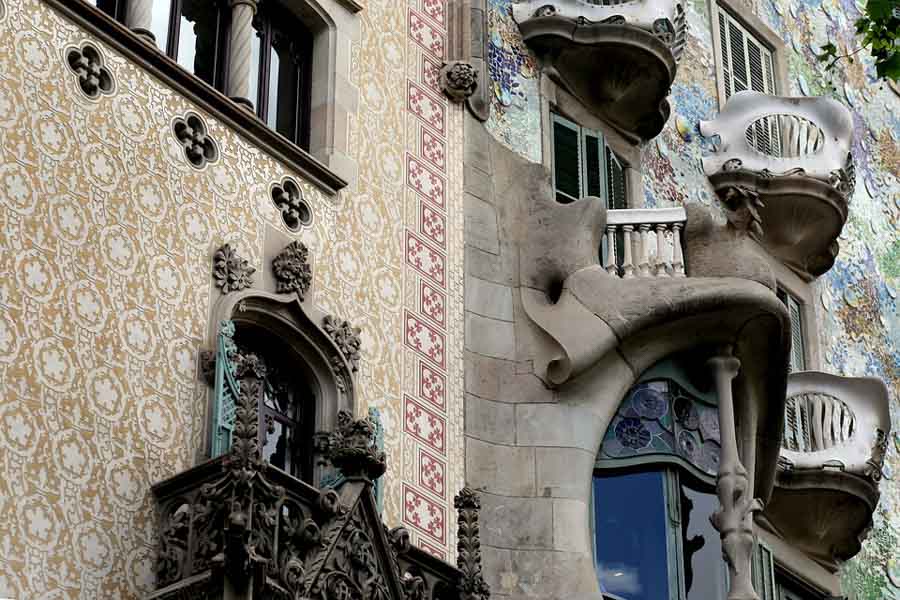 4. Casa Battlo
This classic building located on Passeig de Graca is considered one of Gaudi's masterpieces with a stunning front facade completed in colorful mosaic tiles, Stunning large stained glass windows, surreal roofing tiles and beautiful portals and balconies that are out of this world. The building and apartment units you can visit are done with the best artisans of the era creating the best of this Modernismo style that Gaudi is known for.
You can visit the site by making advanced reservations here, or if you don't have time, you can just explore and enjoy it from the street views on the Passeig de Graca.
Check out this tour of Casa Battlo below
Gorgeous Montjuic on the hill
The large hill dominating the city at Montjuic commands impressive views of Barcelona from above and hosts some of the most magnificent museums and gardens in the area. It is worth spending even a whole day if you love views, Mediterranean gardens and really wonderful Barcelona inspired museums worth visiting in the area and even at night time, the fantastic water ballet dances at the Magic fountain is just that truly magical. You'll also find some inspiring panoramic views of Barcelona to enjoy at the Montjuic hill.
Check out our post on visiting the gardens of Montjuic hill here for more information and images.
** You chttps://visitspainandmediterranean.com/montjuic-parks-and-botanic-gardens-in-barcelona/an get your tickets in advanced to visiting Montjuic by teleferic cable ride here so you don't waste time waiting in line and book in advanced.
Check out the views from Montjuic and the castelo below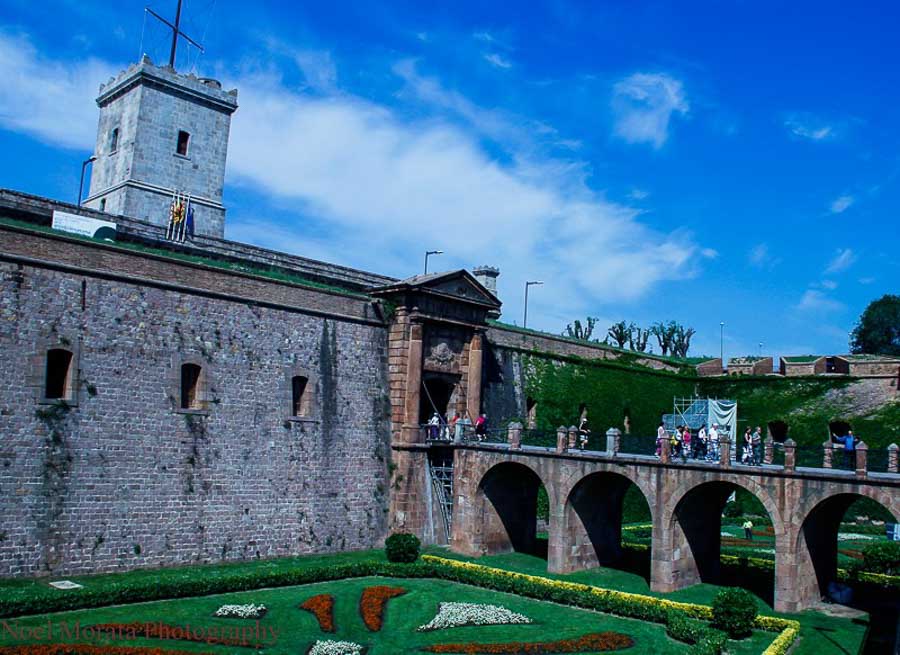 5. Montjuic Castle
Right at the top of Montjuic sits the historic Castle that is wonderful to explore and enjoy the amazing views of the city from above. Built in the 17th century as a military fortress, it later served as a prison, military base and now is a living museum for the public to explore and check out the collections and displays inside.
Here's our post on Montjuic castle for more inspiration and images to visiting this historic site in Barcelona.
Check out this tour and visit along with views of Montjuic castle
6. The Magic Fountain at Montjuic
The night comes alive at the Magic Fountain where you can view the fountains from above at the National Museum of Art of Catalunya MNAC or on the lower levels. It is a fantastic and free show that really captures the essence of the park and city and fun to do at night time. Come early to the viewing areas so you can enjoy sunset from above and the first night show that happens daily.
Check out our post about the Magic Fountains here for more information and images to visiting the fountains at night time.
Check out the magic fountain show below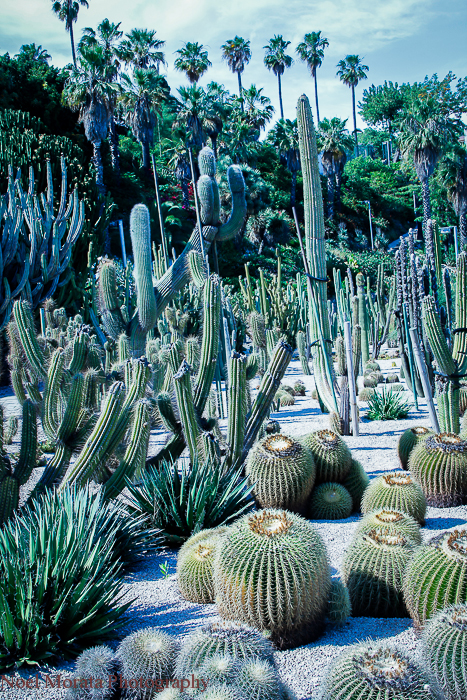 7. Visit the Mossen Costa i Llobera Garden
One of the most underrated gardens to visit in Montjuic but dramatic and with gorgeous views of the city and water views is at the Mossen Costa i Llobera garden on the side of this famous mountain. Not as easy to get to, you can take public transportation or an Uber ride directly to the park entrance. Once inside, you'll be fascinated with the gorgeous displays of this arid garden that showcases the plants that survive in many different parts of Catalunya and Spain. The garden is beautful and gorgeous to explore and rarely crowded with tourists visiting the other parts of the mountain's many attractions here.
Check out this visit to the Mossen I Llobera garden here for more information and images.
Here's a quick visit to Mossen i Llobera garden below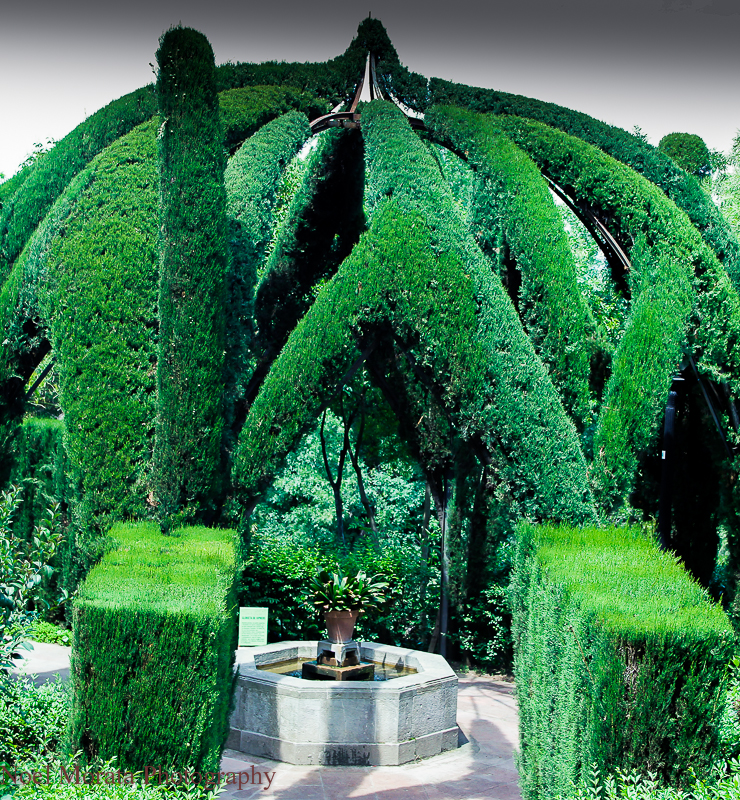 8. Laribal Gardens
Located close to the Joan Miro museum and the spectacular artwork of Barcelona's famous artist, you can visit the gorgeous gardens at the Laribal  gardens close by. A semi-formal garden with mediterranean plantings and beautiful annuals, this garden is a delightful mix of boxed terraced beds, topiary mixed in with a variety of roses, covered pergolas, shaded walkways and colorful annuals.
The scenic views overlooking the downtown areas of Barcelona are attractive with roses framing the views, making it a perfect photo opportunity. It's easy to find some quiet time and shade in this garden from the intense mid-day sun while enjoying the attractive views below.
Check out our post on visiting the gardens of Montjuic hill here for more information and images.
Here's a quick tour of the gardens below
Visit to the historic central district of Barcelona or Bari District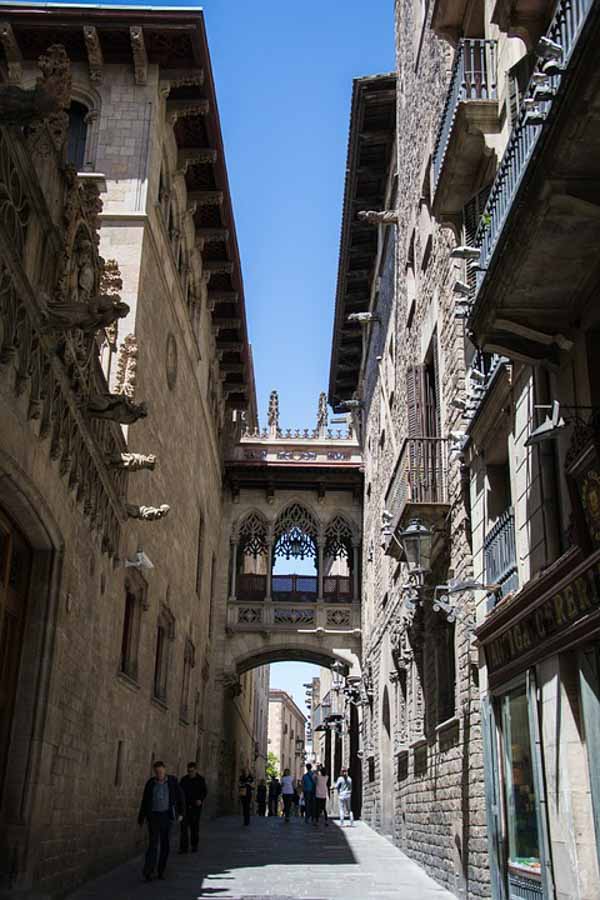 9. Gothic Quarter of Barcelona
The historic district or Gothic Quarter of Barcelona has all the impressive plaza's, cathedral and significant Roman and Medieval architecture that is fun to walk through and see what ancient Barcelona was really like in the historic parts of the original city.  It's fun to explore the famous squares of Placa Reial and Placa San Jaume and then wander through the picturesque streets in the historic district near the Ramblas.
Explore the highlights visiting the Gothic quarter here.
Here's a video tour of the Gothic district below
10. The Cathedral of Barcelona
Sitting majestically in the historic district, the gothic cathedral is imposing, dark and filled with menacing gargolyes and a beautiful little cloister to walk around. It is an impressive structure built during the 13th century and receive updates and more impressive detail work in the early 19th century. and creating more of a Neo Gothic appearance than the Gothic architecture that it was created as originally.
It took two centuries to complete the cathedral and you can visit the interiors by making a reservation on their website here for more details.
Here's a quick look at the interiors of the cathedral below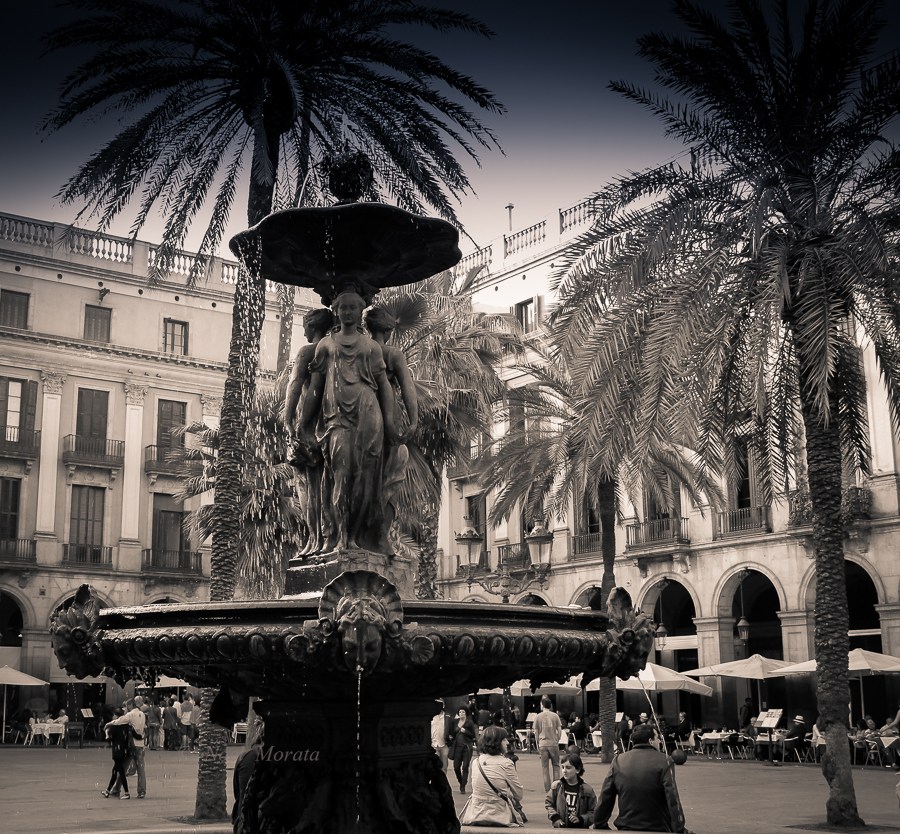 11. Placa Reial
A gorgeous square located in the Gothic district, this stately square is surrounding with beautiful architecture with elegant fountains in the center, beautiful palm trees and street lights add to the formal details around the square along with restaurants that spill out into the main parts of the square at night. This area is very popular with visitors looking for a bite to eat or place to hang out and enjoy the beautiful views, people and activity around this lively square.
Make sure to check out the lamp posts throughout the square, these are the first public installments created by Gaudi before any of this masterpieces made his mark in the architecture throughout the city.
12. Placa del Pi
One of the most beloved squares in the Gothic District with artists and creatives that love to hang out in the cool shops, bars and restaurants in the area and named for a large pine tree that is located in the center and the elegant Santa María del Pi church located on the square. It's a nice square that comes alive at night and is a more popular local hang out spot.
13. Barcelona's Roman Temple
Hidden on a narrow street behind the Cathedral is the Temple D'August which is almost hidden from view. Located on Carrer Paradís in a small courtyard  are the remains of four columns of the temple dedicated to August.  You'll also find some fragments and artifacts around the tempe It is open most days to 8pm to visit.
Explore the Ramblas area of Barcelona
The grand thoroughfare of Barcelona is the Ramblas with a median area that is mostly for pedestrian walking, souvenir stands and shops along with occasional popups and entertainment that happens spontaneously on the Ramblas. You'll find these attractions on or around the Ramblas to explore and worth visiting.
13. Palau de la Musica Catalana
Close to the Gothic Quarter, the Palau de la Musica is one of the most stunning concert halls of Europe and is worth visiting inside and out.  Designed by Lluis Domenech I Montaner, who was one of the founders of the Catalan Modernism period. Construction begain in 1905 to 1908 and this magnificen hall is declared as a World Heritage Site.
Check out the details and a visit to Palau de la Musica Catalana here.
** You can do a nice tour of the interiors and exterior of the Palau de la Musica here for more details and booking a tour.
Here's a grand walking tour of Palau de la Musica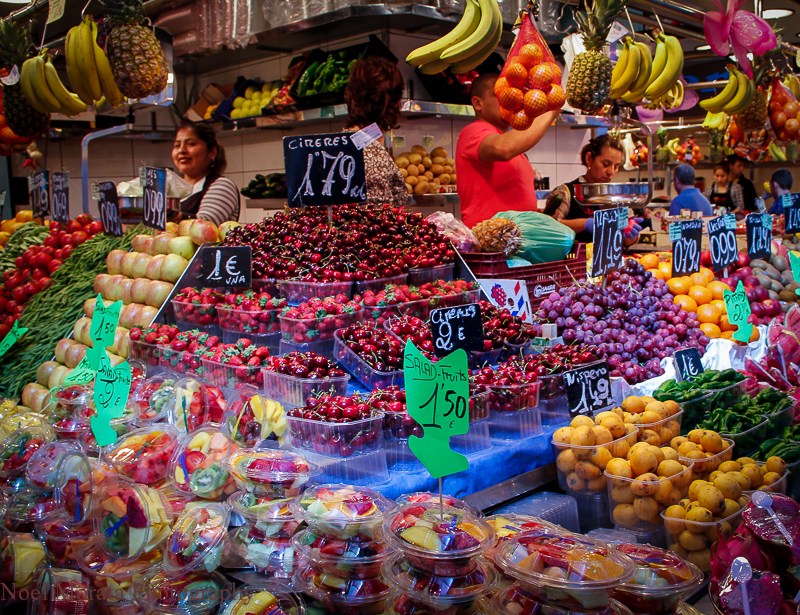 La Boqueria is the famous outdoor public market of Barcelona and is truly a beautiful market with beautifully presented produce, prepared foods and finished products and even some delicious local cafes that you can stop and try some of the local tapas and favorite local foods of the area.
A fun place to explore, take some lovely photographs and be amazed with the quality and gorgeous displays of how Barcelona food and products should be seen and why eating is a favorite pastime in the city.
Check out our post to visiting Mercat de la Boqueria here for more inspiration and images to visiting.
Check out this video tour exploring Mercat de la Boqueria
Try these 15 specialty foods and dishes of Barcelona when you visit
When you visit Barcelona, be sure to savor these delectable specialty dishes:
1. **Paella:** Dive into a steaming plate of authentic seafood paella or its Catalan cousin, "paella de mariscos," bursting with flavors of the Mediterranean.
2. **Tapas:** Explore a variety of small plates, from patatas bravas (crispy potatoes) to gambas al ajillo (garlic shrimp), at local tapas bars.
3. **Crema Catalana:** Satisfy your sweet tooth with this creamy dessert, similar to crème brûlée but infused with citrus flavors.
4. **Escalivada:** Roasted vegetables like bell peppers and eggplants are drizzled with olive oil, garlic, and herbs, creating a delicious Catalan appetizer.
5. **Botifarra:** Sink your teeth into Catalan sausage, often served grilled and accompanied by beans or other sides.
6. **Calcots:** If you visit during calcot season (winter to early spring), don't miss these sweet, grilled green onions served with romesco sauce.
7. **Fideuà:** This seafood dish is like paella but made with short noodles instead of rice, absorbing the rich flavors of the sea.
8. **Coca:** Enjoy a savory pastry topped with ingredients like vegetables, meat, or fish, often served as a delightful snack.
9. **Xató:** Try this Catalan salad with endive, cod, and a rich romesco sauce, a true local specialty.
10. **Churros with Chocolate:** Indulge in crispy churros dipped in thick, hot chocolate—a favorite treat any time of day.
11. **Bacalao a la Llauna:** Savor tender codfish prepared with garlic, olive oil, and spices, typically served in a shallow, rectangular dish.
12. **Mar i Muntanya:** Experience the best of both worlds with dishes combining seafood and meat, a culinary tradition in Catalonia.
13. **Canelons:** Enjoy these hearty pasta rolls stuffed with a flavorful mixture of minced meat, often served on St. Stephen's Day (December 26).
14. **Esqueixada:** Relish a refreshing salad of salted cod, tomatoes, onions, and peppers, perfect for warm Barcelona days.
15. **Catalan Cream:** Conclude your meal with this velvety dessert, topped with a caramelized sugar crust—a delightful end to your culinary journey.
When in Barcelona, these specialty dishes offer a taste of Catalan culture and a gastronomic adventure you won't forget.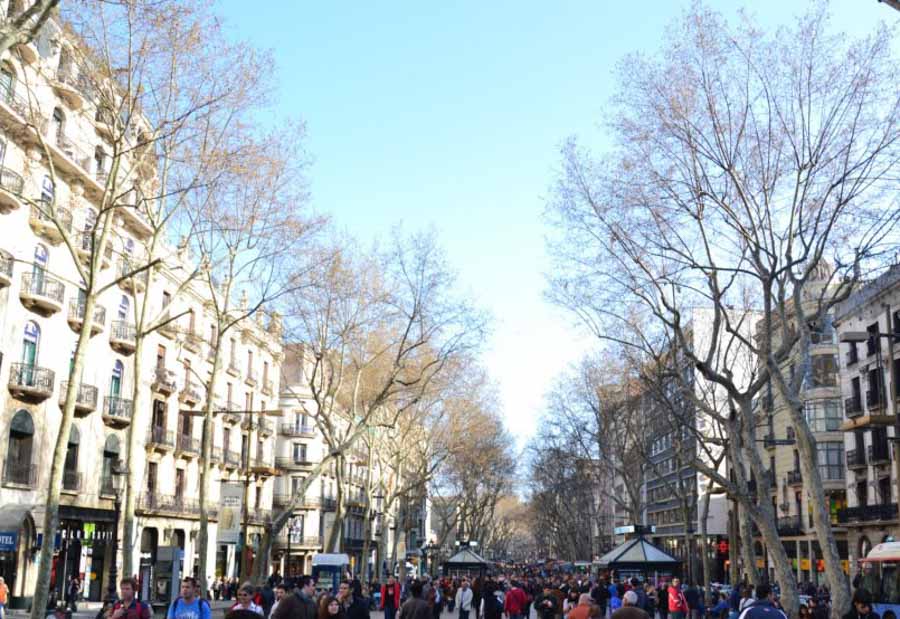 15. Las Ramblas
Barcelona's most famous street is a wide boulevard with a walking promenade in the center of the boulevard that hosts daily markets, street art and performances and exploring the shops and other venues that line this large thoroughfare that cuts through the biggests sections of the city to keep exploring.
A visit to the popular strolling boulevard at las Ramblas
16. Watch a performance at the Gran Teatre del Liceu
Created in 1847, this is Barcelona's most famous theater that is well known for classical programs like the Opera. The Liceu also offers a variety of performances throughout the year and you can check out their calendar here for more information.
Here's a visit to the Gran Teatre del Liceu
17. Check out the Columbus Monument
At the end of the Ramblas is the circular roundabout with the impressive Columbus Monument located on the waterfront area. The monument is dedicated to the world famous explorer and you can actually climb the interiors to the top for a fantastic view of the area and landmarks surrounding the monument.
Museums of Barcelona
Barcelona has some of the most dynamic and impressive museums to visit around the city covering the gamut of local Catalan art, historic treasures and collections and even living museums to famous buildings to explore. Some of the most popular to visit in the city includes the following below.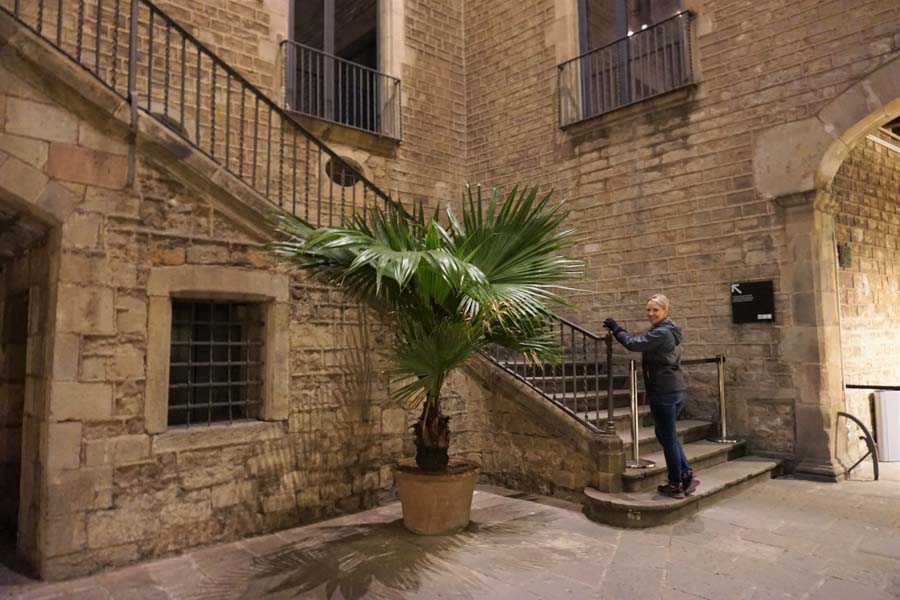 18. Picasso Museum
The museum has arranged all of Picasso's impressive works into time periods of when he painted and presented his work in chronological order so that you can also follow the time frame and inspiration to his thinking and the periods of his work and development
** to save time, you can book entry to the Picasso Museum here for more details and information on booking a timed entry.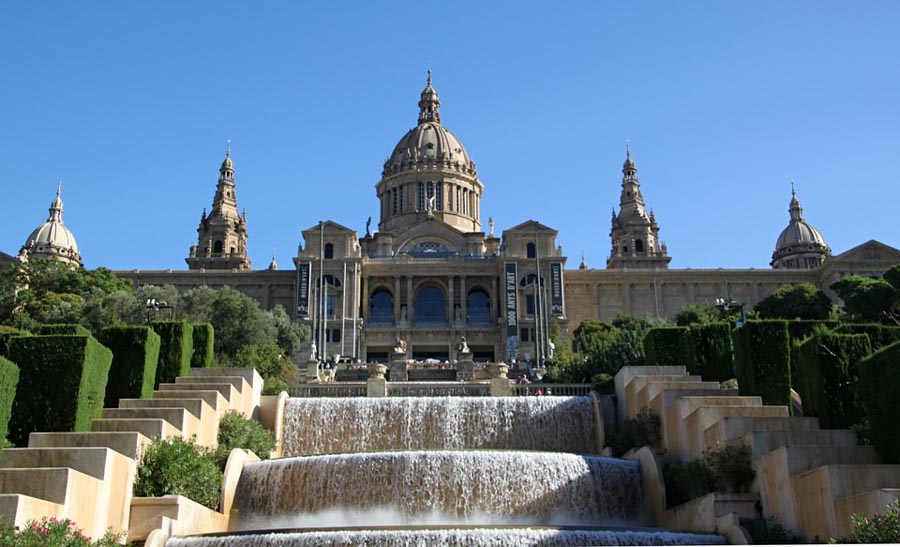 19. National Museum of Art of Catalunya MNAC
This impressive regional art museum sits at the top of Montjuic and commands impressive views from above and down into the city. Hosting all of the most impressive artist, sculptors and other arts inspired collections from the Catalan regions, this is a wonderful museum to get acquainted and absorb the major influences of regional art in the area.
Check out our post to visiting the National Museum of Art Catalunya here for more images and information.
** You can book tickets in advanced to visiting the National Museum of Art Catalunya here for more information and details.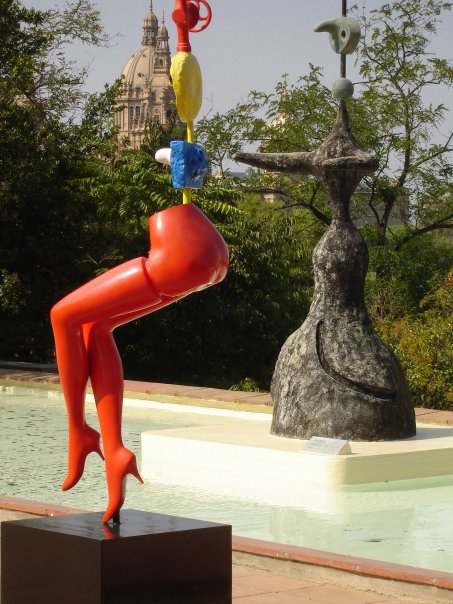 20, Miro Museum
Also located in the Montjuic area, Miro Museum is a delight, light and color inspiration and Miro's large graphic works, paintings, sculptures, taspestry and even his early drawings to explore and enjoy at this beautiful museum. This museum is a must for art lovers especially modern art created by master artist Miro.
** Check out this skip the line entry to the Miro Museum here for more details and information to visiting this fabulous museum.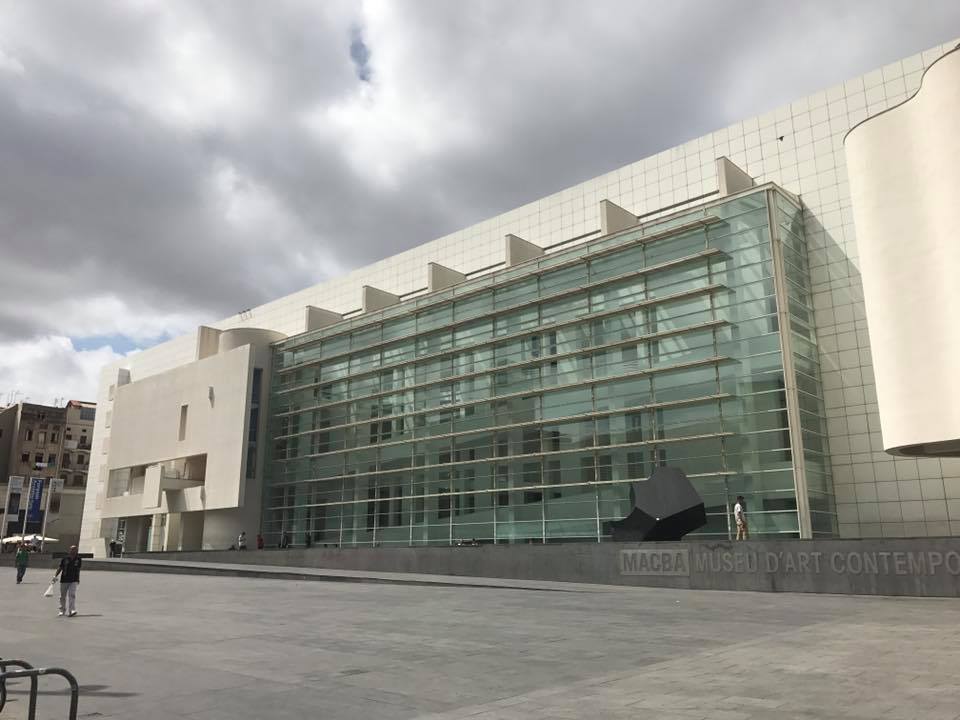 21. MACBA: Museu d'Art Contemporani de Barcelona
The Modern art museum is a beautiful art space that is designed by American architect Richard Meier and hosts some of the most impressive modern art collections of the 20 to 21st century along with fantastic rotating art shows to enjoy when you visit the museum.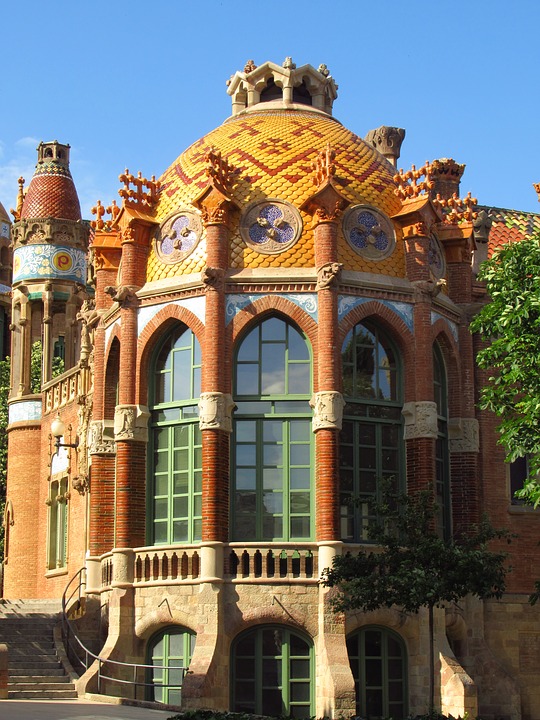 22. Sant Pau Hospital
Another stunning architecture and a Unesco World Heritage site on it's own, the Sant Pau Hospital is unique and also built by master architect, Domènech i Montaner. The Sant Pau Hospital opened in the 1930s as an impressive structure to serve Barcelona citizens and was a fully functioning hospital until 2009 when a new structure was constructed to replace it. The building used today as as a cultural centre and museum that is open for the public to visit.
** Check out this fabulous tour of the  Sant Pau Hospital here for more details and information to visiting this amazing architectural treasure created by one of the modern masters of architecture in Barcelona.
Historic public areas and waterfront of Barcelona
Along the waterfront plazas and walking promenades of Barcelona, the newer areas fronting the ocean are fun to explore with large plazas, gardens and other public areas and monuments in this part of the city. The new section of Barcelonita is also very popular with beach goers and locals wanting to do a quick getaway from the city to the beach areas of town.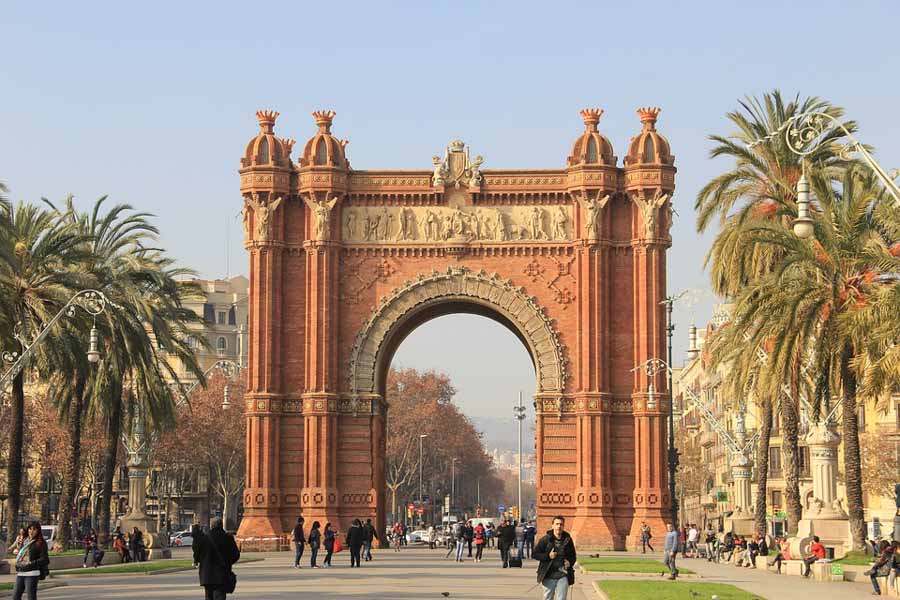 23. Visit Barcelona's Arc de Triomf
Built in 1888 as the gateway to the Universal Exhibition and fair, the arc has become of the city's main emblems and iconic landmarks. Classical in shape and proportions, the arc sits on a small hill overlooking the exhibition grounds which is now the Parc de la Ciutadella, a gorgeous public park located in the waterfront area.
Built of brick and done in the neo-Mudejar style which was very popular during that timeframe. The top of the arch showcases the shields of the 49 Spanish provinces and the coat of arms of the city of Barcelona.
Here's a quick view of the Arc de Triomf at Parc de la Ciutadella area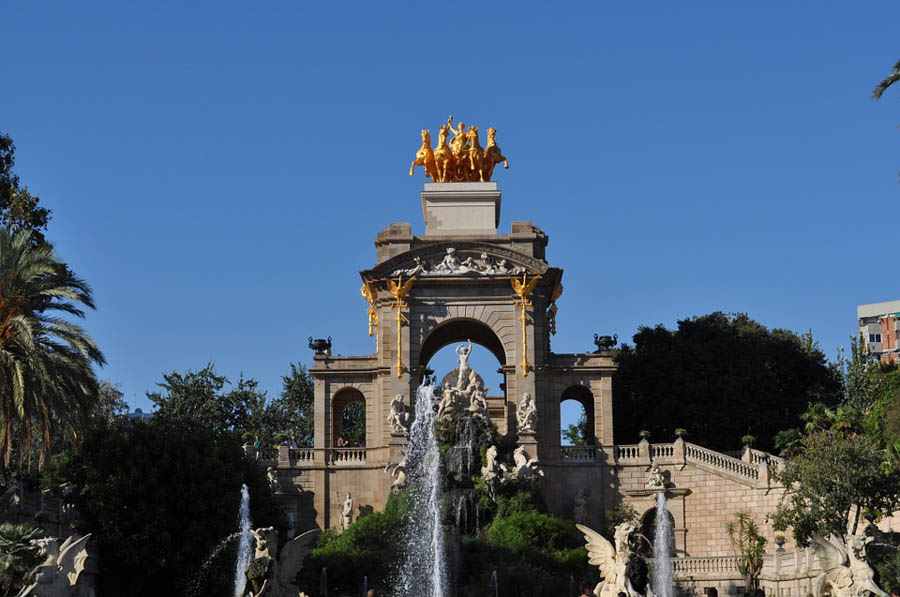 24. Parc De La Ciutadella
Originally the grounds of the Universal Exhibition, the area was converted into a beautiful park afterwards with lovely fountains, glass houses, a boating pond and the stately Arc de Triomf take center stage overlooking the entire park area. The lush gardens are fun to explore or just hang and take a relaxing break from touring all the attractions around the Ramblas and Gothic district close by.
Let's explore the Parc de la Ciutadella grounds below
25. Visit Barceloneta
This quiet neighborhood is not really on the tourist map but if you go to the beach area and get off on Barceloneta, you'll come across the narrow streets and low key neighborhood of Barceloneta. Once the old fishing village area of Barcelona the place is still very local with nice seafood restaurants around the many narrow streets and offering a real taste and better prices compared to the waterfront and beach areas close by. It's fun to walk around this less touristy part of the city and enjoy the real vibe and experience of one of Barcelona's old historic neighborhoods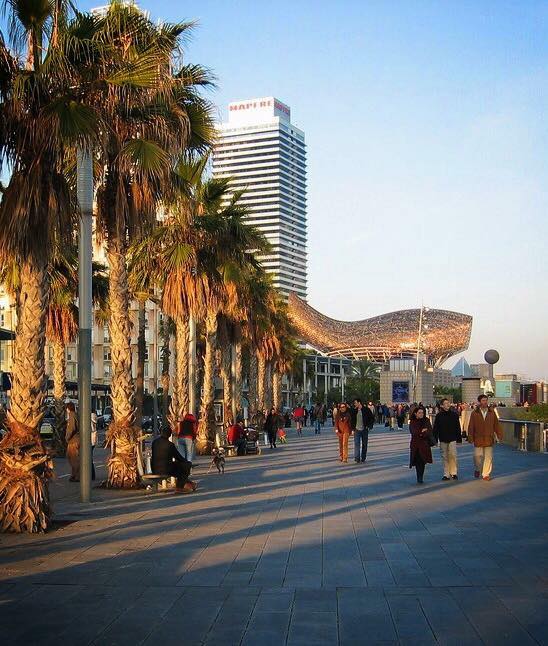 26. Barcelona Waterfront and the beach scene
The beaches around Barceloneta is where the locals go to escape the heat and crowds of Barcelona and enjoy the outdoors and ocean along with seafood restaurants. The large promenade area along the beach is long and fun to explore people watch and find a cool bar or restaurant to hang out and enjoy the views and later sunset in the area.
There's also all the cool sculpture, modern buildings and constantly changing venues that makes Barceloneta the fun and hip hang out spot on the waterfront of the city.
If you are into a fun beach day, check out our extensive guide to Barcelona's beaches here for more inspiration and images.
Let's visit the beach area of Barcelona below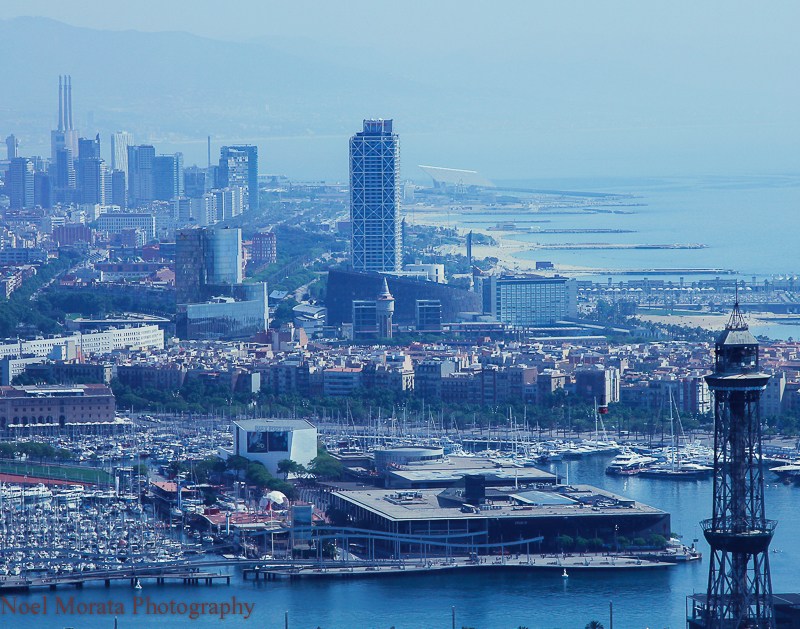 27. Port Viel and Cable Car ride to Montjuic
Port Viel is the old Harbor area of Barcelona but turned into new promenades, shopping arcade called Maremagnum shopping center, a world class aquarium and many other restaurants and bars around the beautiful harbor area. You can catch the fantastic cable car ride up to Montjuic with spectacular views of the waterfront area that covers the entire coastline.
Make advanced reservations for the cable car roundtrip here for these gorgeous views to the top of Montjuic
Check out the cable car ride to Montjuic below
Other cool places and districts around Barcelona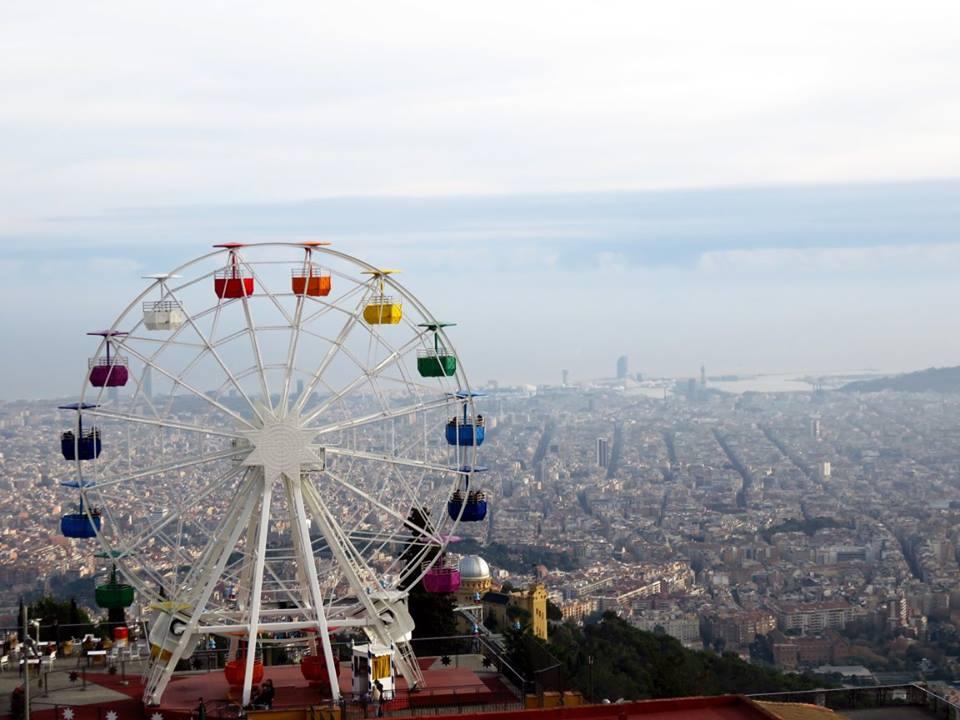 28.Tibidabo Panoramic Area
Located above Barcelona at Tibidado is the amusement park area with gorgeous panoramic views of Barcelona below is free to enter and is the 2nd oldest amusement park in Europe. With a wonderful viewing platform, you can ride all the rides for one set price, visit the Sagart Cor Church with even more spectacular views and a cool museum to explore.
To get to Tibidabo you can catch a public bus (T2A shuttle) or take the Tibidabo funicular to the top of the skywalk area.
Here's a cool view of Tibidabo and the amusement park area

29. Camp Nou – F.C. Barcelona
Camp Nou is the largest stadium in Europe hosts the home town of the world famous F.C Barcelona football team and a visit to the olympic stadium is a must for die hard fans or those curious about this much hyped up place. This is one of the most popular attractions to visit in Barcelona and watching a game or event here would be a highlight to visiting the city.
You can book a genera tour of the stadium here to visit the cool lockers, stands, pitch area, players bench and other cool spots including a small museum that showcases the trophies and other collections of the team and stadium.
** Check out this basic tour of Camp Nou here for more information and booking a tour.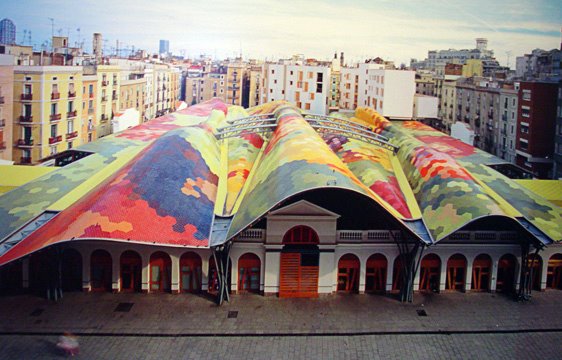 30. Mercat de Santa Caterina 
Located close to the Picasso museum, this colorful market with a wavy rooftop and beautiful mosaic tiles is lively and fun to explore inside. This local market is where everyday Barcelona shops for fresh produce and artisanal products along with getting a snack or bite at the many eateries on site. A more modern design and layout, it is easier to shop here and sample all the delicious local specialties from the area.
Open daily except for Sunday, the market hours are from 7:30am to 8pm
Check out the Mercat de Santa Caterina below
Best ways to get to Barcelona, Spain
There are several convenient ways to reach Barcelona, Spain:
By Air: Barcelona has an international airport, Barcelona-El Prat Airport (BCN), located approximately 12 kilometers southwest of the city center. It serves numerous airlines and offers direct flights from major cities worldwide. From the airport, you can easily reach the city center by taxi, airport shuttle bus, or train.
By Train: Barcelona is well-connected to various European cities by train. The city has several train stations, with Barcelona Sants being the main station. High-speed trains, such as the AVE, connect Barcelona to major Spanish cities like Madrid, Valencia, and Seville. International trains also operate, linking Barcelona to cities in France and other neighboring countries.
By Bus: Barcelona has an extensive bus network with connections to cities within Spain and other European destinations. Estació del Nord is the main bus station in Barcelona, serving both national and international routes. Several bus companies operate services to and from the city.
By Car: If you prefer driving, Barcelona is well-connected to the European road network. Major highways and motorways provide access to the city from different directions. However, keep in mind that traffic congestion can be significant, especially during peak hours in the city center.
By Sea: Barcelona has a large cruise port, Port de Barcelona, which welcomes numerous cruise ships. If you are arriving by cruise, you can easily explore the city after disembarking.
Once you have arrived in Barcelona, the city has an efficient public transportation system, including metro, buses, and taxis, making it easy to navigate and reach your desired destinations.
More details to visiting Barcelona
To visit many of these attractions, consider using the Barcelona Pass here which covers many of these places for you to visit including the Hop on Hop Off bus system in Barcelona.
Transportation to Barcelona Central is easy with the Aerobus airport bus here, check the site for more details.
If you love Gaudi architecture, consider this Gaudi bundle here to save time and money to visiting all these amazing sites.
Getting around Barcelona, consider the Barcelona transport card covering public transport including the airport.
If you plan on visiting Montserrat Mountain, consider all these different tour options here to make your visit easier.
There are so many fabulous places to visit around this amazing city and all the Barcelona attractions here will delight you in all the places that you visit. Enjoy your visit to the city and hope that these Barcelona attractions inspired you to visit all of these wonderful places to visit around the city.
Inside tips to visiting Barcelona
Visiting Barcelona can be an enriching experience beyond the main tourist attractions. To make the most of your trip and delve into the local culture, consider these inside tips to really getting a local feel and vibe to visiting the city.
Explore Neighborhoods: Wander through the less touristy neighborhoods like Gracia, El Raval, and Poble Sec. These areas offer a more authentic feel of local life, with charming streets, lively plazas, and hidden gems.
Taste Local Cuisine: Venture beyond the touristy restaurants and try traditional Catalan dishes at local eateries. Look for "Menu del Dia" deals at lunchtime, which offer affordable three-course meals.
Tapas Tour: Experience the vibrant tapas culture by hopping from one tapas bar to another. Head to areas like El Born or Barceloneta for excellent tapas and a lively atmosphere.
Visit Local Markets: Explore bustling markets like Mercat de Sant Antoni or Mercat de la Boqueria. These markets offer a feast for the senses, with fresh produce, seafood, and local specialties.
Attend Local Festivals: Check if there are any local festivals or events happening during your visit. Barcelona hosts numerous festivals throughout the year that provide a glimpse into Catalan traditions and celebrations.
Picnic in the Park: Pack a picnic and spend a relaxing afternoon in one of Barcelona's parks, such as Parc de la Ciutadella or Parc de Montjuïc. Enjoy the greenery and beautiful surroundings.
Take a Day Trip: Venture outside of Barcelona to explore nearby towns and attractions. Consider visiting Montserrat, Sitges, Girona, or the Costa Brava for a different perspective of Catalonia.
Discover Street Art: Barcelona boasts an impressive street art scene. Stroll through neighborhoods like Poblenou and El Raval to admire colorful murals and graffiti by local artists.
Experience Flamenco: While not traditionally Catalan, experiencing a flamenco show can be a captivating cultural experience. Look for authentic venues that showcase this passionate art form.
Local Events and Workshops: Keep an eye out for workshops, talks, and events organized by locals. This could include cooking classes, language exchange meetups, or art exhibitions.
Public Transportation: Use Barcelona's efficient public transportation system, including the metro and buses, to get around the city. It's not only convenient but also a way to observe everyday life.
Check out these fantastic posts to visiting Barcelona
Traditional Catalan food you should try
Free things to do in Barcelona
15 best viewpoints of Barcelona
Enjoy the Mossen I Llobera garden at Montjuic
Top places to photograph Barcelona
Exploring the Gothic District of Barcelona
Where to stay in Barcelona
With so many fantastic places to enjoy and explore around the city, there are so many wonderful options for accommodations. Check out these top reviewed paces to stay here for reviews and updated prices
Alexandra Barcelona Hotel – a 19th century hotel with modern aesthetics and amenities with easy walks to Gracia and Las Ramblas, centrally located, good sized rooms, good breakfast and attentive staff.
Serras Barcelona – a luxury boutique hotel with award winning Michelin star restaurant, cool and trendy hotel with comfortable, with world class amenities and service
Majestic Hotel and Spa – a luxury traditional hotel centrally located and close walk to Ramblas with excellent service, amenities, rooftop terrace and outdoor pool
Did we miss anything?
Any other inspiring places we missed on the post above, please share in the comment section below. Thanks for checking out this post on Barcelona Attractions. Hope the post was informative and a must read article.
Conclusion to Barcelona Attractions
Barcelona, Spain offers a captivating blend of stunning architecture, vibrant culture, beautiful beaches, and lively nightlife. Explore Gaudí's masterpieces, wander through the Gothic Quarter, and indulge in the bustling food markets. Enjoy the vibrant atmosphere of La Rambla and the waterfront of Barceloneta. Visit art museums, experience the city's energetic nightlife, and immerse yourself in the local festivals. Barcelona guarantees a memorable and enchanting experience for every traveler.
If you enjoyed the post, please do share it with any of the social media buttons around the page. Thanks so much for visiting today.
Disclosure – There are affiliates links on this posts which provide a small commission to support this site at no extra cost to you. Thank you for reading, and happy travels