Catalunya is a region in the Northeast of Spain. It's well known for its strong culture and the Catalan people's incredibly fierce sense of pride in their heritage. The majority of people in the region don't identify as Spanish, but rather as Catalan. There is also a strong independence movement there that aims for Catalunya to break away from Spain and form their own sovereign country. After exploring the top attractions of Barcelona and some of the best views of Barcelona from above, you'll want to try some of these traditional Catalan foods to eat below.
5 Traditional Catalan Foods You Have To Try Next Time You're In Catalunya
The political history of Catalunya is long and complicated, which is why I won't go into it in detail in this article, but it's this very history that makes traditional Catalan food and culture so unique and so special.
Much like the Catalan language, their food is indeed unique and not commonly found in other parts of Spain, however at the same time it shares many similarities and influences with its Spanish counterpart.
It's these similarities that leads us nicely to present our first dish.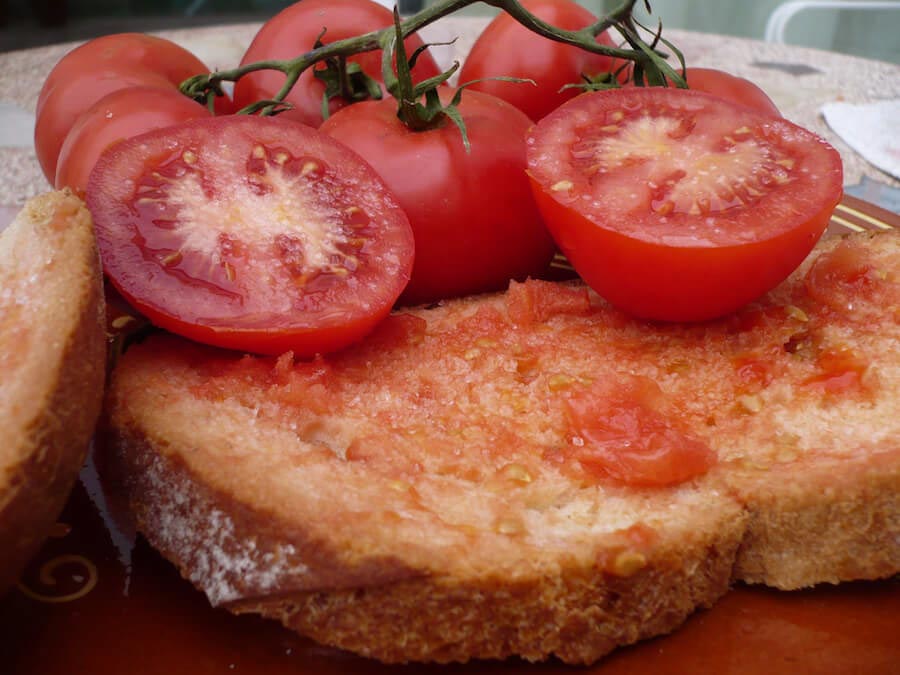 Photo Credit: https://flic.kr/p/4tDAvg
Pa amb Tomaquet
Pa amb Tomaquet (or bread with tomato) is maybe one of the most famous traditional Catalan foods. It's simply toasted bread that has been rubbed with garlic, a slice of tomato and had a little olive oil drizzled over it. It's normally served as either an accompaniment to a main dish, or as the bread when making sandwiches.
Let's go back to the similarities between Catalan food and Spanish food for a minute.
There is something very similar served in the rest of Spain, normally for breakfast. Pan con Tomate (again, bread with tomato) is very similar but the tomato is usually blended into a pulp and spread on the bread more generously rather that simple rubbing a slice of tomato on it. It also doesn't feature garlic.
Another difference is the bread that is used. In Catalunya they typically use their local bread which has a slightly chewy crust and is fluffy inside.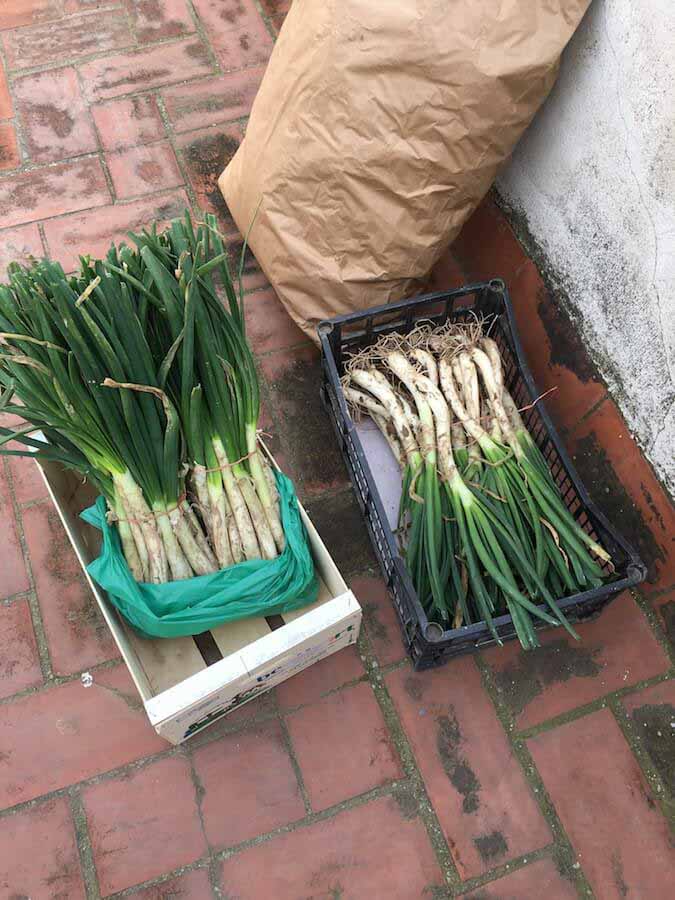 Calçots
 Calçots are perhaps the most Catalan food ever. They are a type of onion that grow to be long and thin. They look a little bit like spring onions but much bigger and fatter.
They are typically cooked on a barbecue over flaming wood until they are completely charred and burnt on the outside.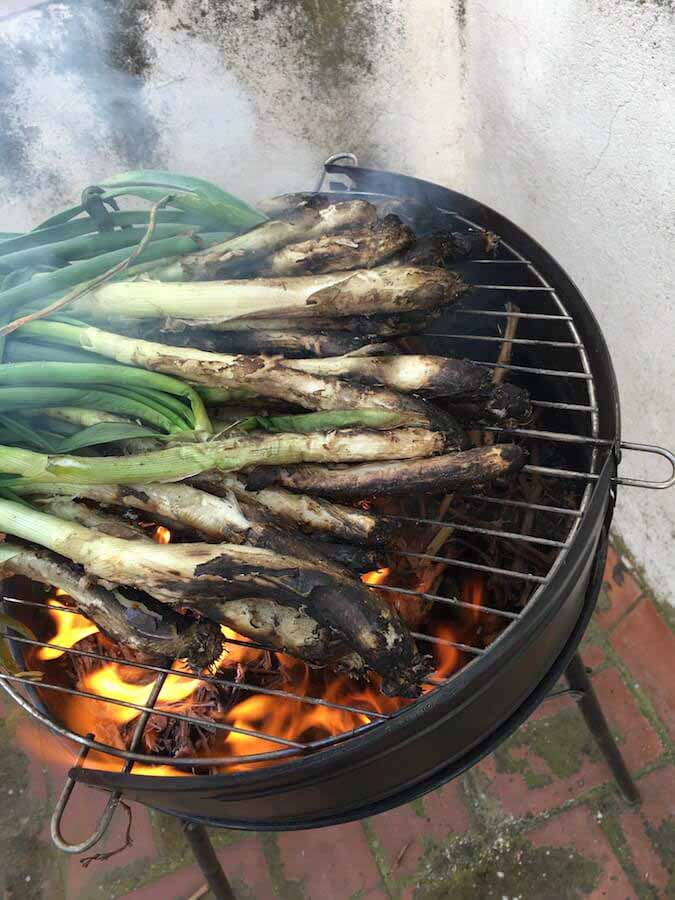 At this point you might be thinking why would you cook them like that? Well the way to eat them is by pulling the centre out from the top, discarding the burnt outer part and dipping the sweet inside part in Salsa Romesco (Romesco Sauce). If they are cooked well, the centre part slides out with very little effort.
If you want to try them you have to be quick as you can only get them during Calçot Season which only lasts a couple of months per year, at the beginning of the year. There are plenty of Calçotadas around Catalunya during the season which are basically barbecues dedicated to this amazing onion. Calçots are actually legally protected and registered as an EU Protected Geographical Indication, so you won't find them anywhere else in the world.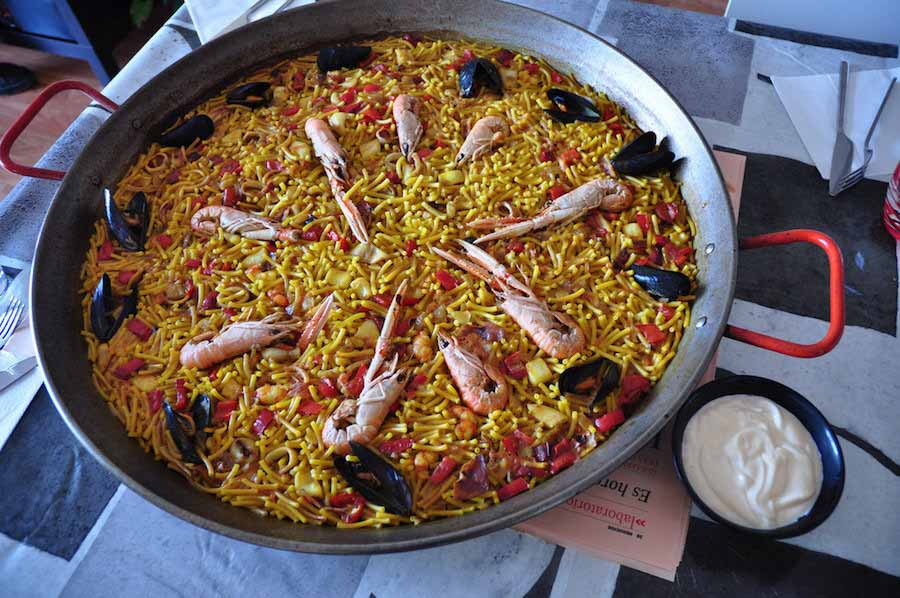 Photo Credit: https://flic.kr/p/8dvJzo
Fideuà
 You are probably familiar with a traditional Spanish Paella. Well a fideuà is a nod in that direction. It's essentially the same thing but instead of rice they use short noodles, or fideos.
Traditionally a fideuà contains seafood and is cooked in the same large, shallow pan as a paella is. It's cooked in just enough stock so that it doesn't become dry but at the same time is cooked through to perfection. It's also typically served with alioli which is like a garlic mayonnaise, and a squeeze of lemon.
The story behind fideuà, and how it came into existence, is that there was once a fishing boat captain who used to love rice so much that he ate more than his fair share of it. That would leave the crew without enough left to make their paella. They would then be left with no choice but to cook their seafood with fideos (noodles). The dish grew in popularity and today has become one of the most traditional Catalan foods.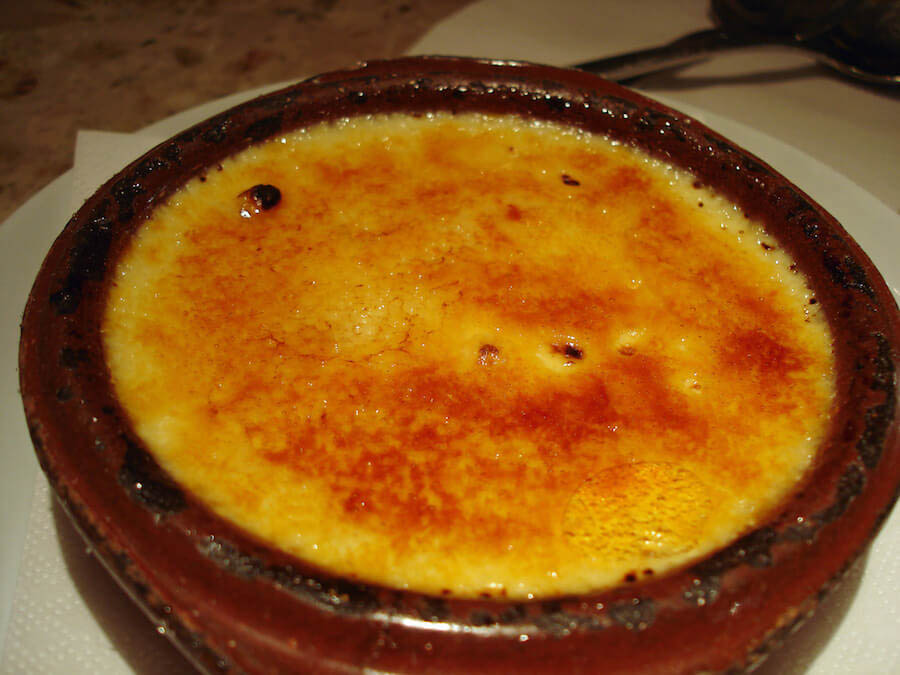 Photo Credit: https://flic.kr/p/7wW8EK
Crema Catalana
Crema Catalana, or Crème Brûlée? Now that's the question. Ask any French person and they will tell you that it's called Crème Brûlée and is very much a French dish.
Now ask a Catalan the same question and you'll get a very different response. As far as they are concerned it's called Crema Catalana and is of Catalan origin. It's essentially the same dish, but it has to be included in this list of traditional Catalan food because no matter where you go in Catalunya you'll find it on the menu. It is without a doubt the most popular dessert in the region.
Whoever invented it, one thing is for sure, the Catalans kept the dish alive throughout the 18th and 19th centuries while it disappeared from French cookbooks. It wasn't until the 1980's that it regained it's popularity and became a restaurant favorite across the world once again.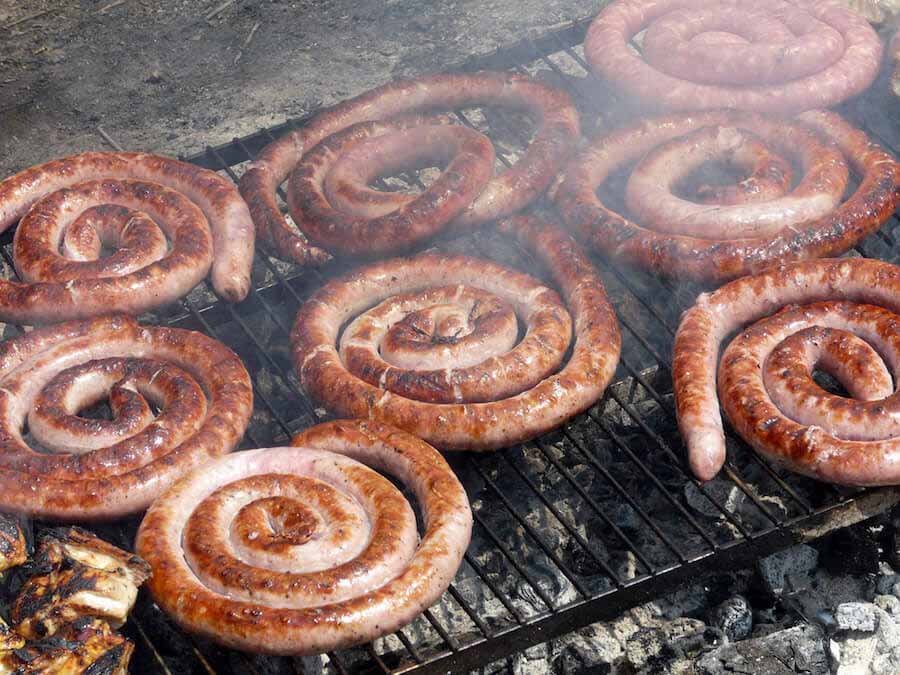 Photo Credit: https://flic.kr/p/82UKtM
Botifarra
This is one of the most emblematic traditional Catalan foods and personally one of my favourites. It's a type of sausage that is usually grilled on a barbecue and served with white beans, but it's not uncommon to find it served with chips these days.
As you can see in the photo above, it typically comes in long rolls as opposed to smaller each sausage. It has a lot of herbs and spices, particularly pepper so it can taste almost spicy even though there isn't actually any chili in it.
Final thoughts on traditional Catalan food
 Traditional Catalan food is a result of the region's rich history, the influences from both Spain and the rest of Europe are very obvious. There are plenty more great dishes they serve in Catalunya but this article would never end if I listed them all.
The best thing you can do is explore their markets and visit restaurants the locals eat in. Keep an eye out for the five dishes I've mentioned here and use them as your starting point but be adventurous, you never know what you might end up enjoying!
Check out these fantastic posts to visiting Barcelona
Free things to do in Barcelona
15 best viewpoints of Barcelona
Enjoy the Mossen I Llobera garden at Montjuic
Top places to photograph Barcelona
Exploring the Gothic District of Barcelona
Where to stay in Barcelona
With so many fantastic places to enjoy and explore around the city, there are so many wonderful options for accommodations. Check out these top reviewed paces to stay here for reviews and updated prices
Alexandra Barcelona Hotel – a 19th century hotel with modern aesthetics and amenities with easy walks to Gracia and Las Ramblas, centrally located, good sized rooms, good breakfast and attentive staff.
Serras Barcelona – a luxury boutique hotel with award winning Michelin star restaurant, cool and trendy hotel with comfortable, with world class amenities and service
Majestic Hotel and Spa – a luxury traditional hotel centrally located and close walk to Ramblas with excellent service, amenities, rooftop terrace and outdoor pool
Enjoyed the post – please pin it!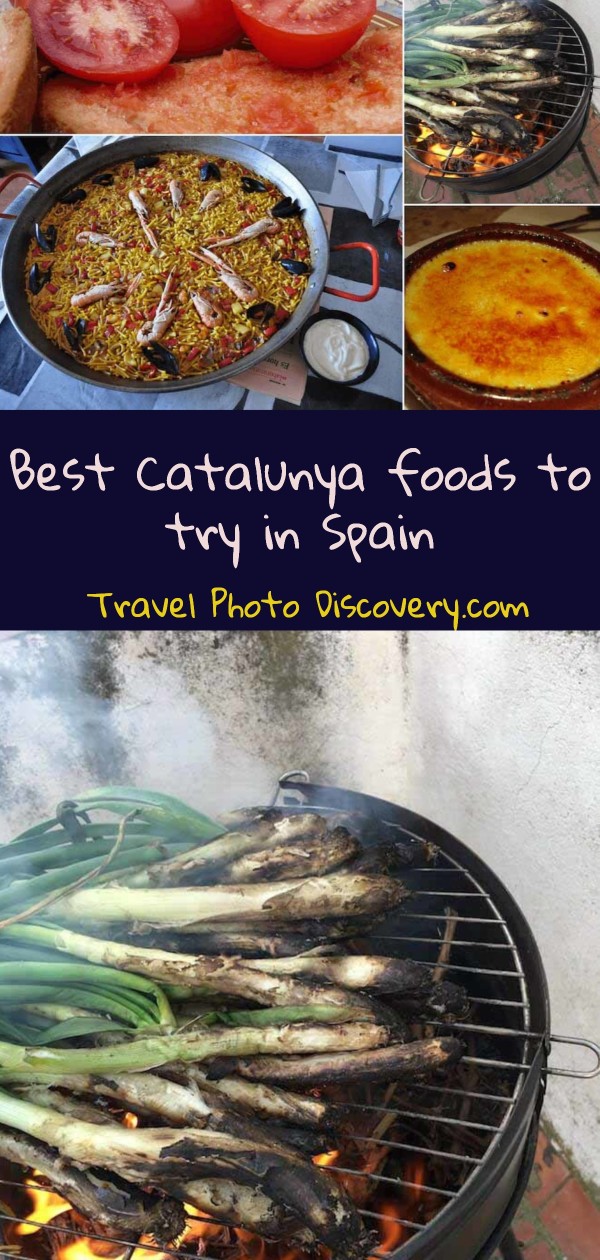 Check out these other posts on Fruits, markets and foods of the world
Exotic and unusual fruits around the world
Traditional Food specialties in Italy
Popular food to eat in New York
Best countries for food around the world
Top food destinations around the world
8 Traditional Portuguese foods to try
10 must try dishes and street food of Sri Lanka
Outdoor markets and street food of Bologna
Local foods of the Dalmatian Coast in Croatia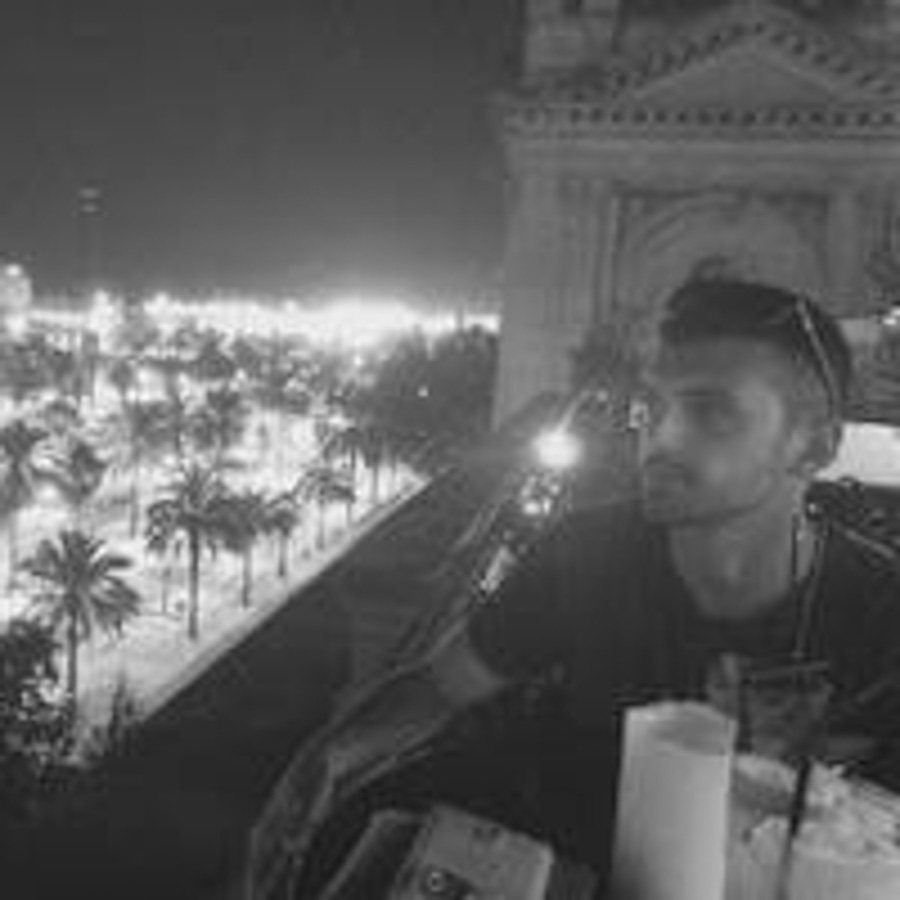 AUTHOR BIO:Originally from the UK, Charlie is a travel photographer and writer over at World of Travel Photography where he helps others on their journey towards becoming successful travel photographers. He has been living the digital nomad lifestyle for the past couple of years and is currently based in Poland, but planning on soon following the sun to Portugal.
Thanks for visiting today and checking out this post on the 5 Traditional Catalan Foods You Have To Try, if you enjoyed the images and post, could you please share it with any of the social media buttons located around the post.
If you like what you see, come and check out my other social media channels for more updates, including Instagram, Pinterest and Twitter
Disclosure – There are affiliates links on this posts which provide a small commission to support this site at no extra cost to you. Thank you for reading, and happy travels