17 Day trips from Phoenix: Enjoy amazing landscapes and historic sites
Phoenix, Arizona makes a fantastic base to explore the surrounding area and we share 15 day trips from Phoenix that are easy and manageable. You can visit some amazing desert scapes, stunning Indian ruins and ancient dwellings, lakes to the gorgeous Red Rock features of the surrounding landscapes. We share the best day trips from Phoenix so you can plan some time exploring the local areas and things to do and see outside of the city metropolis below.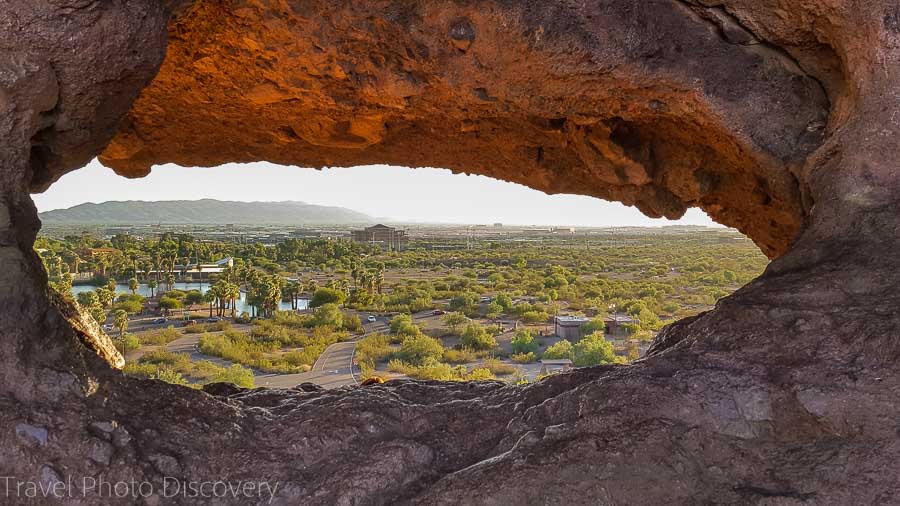 Weather and best time to visit Phoenix area
Phoenix experiences a desert climate with hot summers and mild winters. The best time to visit is during the fall, winter, and early spring months when the weather is more comfortable. Here's a breakdown of the seasons:
Fall (October to November): Fall is one of the best times to visit Phoenix. The weather becomes more pleasant, with temperatures ranging from the mid-70s to mid-80s Fahrenheit (24-30°C). It's ideal for outdoor activities and exploring the city.
Winter (December to February): Winter is another popular time to visit. Daytime temperatures range from the mid-60s to low 70s Fahrenheit (18-23°C), making it enjoyable for outdoor activities and sightseeing. Nights can get cooler, so bring a light jacket.
Spring (March to April): Spring is also a great time to visit with temperatures ranging from the mid-70s to low 80s Fahrenheit (24-28°C). The desert blooms with wildflowers, and outdoor events and festivals are common during this period.
Summer (May to September): Summers in Phoenix are extremely hot, with temperatures regularly exceeding 100°F (38°C) and even reaching up to 110°F (43°C) or higher. Many people avoid visiting during this time due to the intense heat, but if you plan to visit, be sure to stay hydrated, wear sun protection, and seek indoor activities during the peak heat of the day.
Keep in mind that outdoor activities are more comfortable during the cooler months, and some attractions, like golf courses and resorts, offer discounted rates in the summer due to the heat. Regardless of the time of year, be prepared for the desert environment with sunscreen, sunglasses, and plenty of water.
How to get around and outside Phoenix area
Getting around and outside of the Phoenix area in Arizona involves a variety of transportation options to suit your needs. Here's how to navigate the region:
Getting Around Phoenix:
Valley Metro Light Rail: Phoenix has a light rail system that connects many major areas within the city. It's a convenient way to travel between downtown Phoenix, Tempe, and Mesa.
Valley Metro Bus: Valley Metro also operates an extensive bus network that covers the Phoenix metropolitan area. Buses are a practical way to reach destinations not served by light rail.
Rideshare Services: Uber and Lyft are widely available in Phoenix and offer an efficient way to get around the city, including airport transfers.
Taxis: Traditional taxi services are still available in Phoenix, but they are less common than rideshares.
Biking: Phoenix has a growing network of bike lanes and bike-friendly roads. You can rent bicycles from various shops or use bike-sharing services like Grid Bike Share.
Car Rentals: Renting a car is a popular choice for exploring the wider Phoenix area, as well as venturing into the desert and nearby attractions. Major rental car companies have locations at the airport and throughout the city.
Getting Outside Phoenix:
Interstate Highways: Phoenix is well-connected by major highways, including I-10, I-17, and Loop 101 and 202. These highways allow easy access to destinations throughout Arizona.
Day Tours and Guided Excursions: Consider booking day tours or guided excursions to popular attractions outside Phoenix, such as the Grand Canyon, Sedona, and Scottsdale. Many tour companies offer transportation as part of their packages.
Amtrak: Amtrak's "Sunset Limited" and "Texas Eagle" routes pass through Phoenix's Union Station. You can use these routes to travel to other cities in the region and beyond.
Greyhound: Greyhound bus services connect Phoenix to various cities in Arizona and neighboring states. The Greyhound bus terminal is located in downtown Phoenix.
Phoenix Sky Harbor International Airport: If you plan to travel further afield, Phoenix Sky Harbor Airport offers domestic and international flights. It's the largest airport in Arizona and provides access to numerous destinations.
Shuttle Services: Shuttle services like Arizona Shuttle offer transportation to and from airports, as well as to popular tourist destinations like Flagstaff and Tucson.
Private Transportation: Private transportation companies, such as private car services and limousines, are available for those seeking a more comfortable and personalized experience.
Whether you're exploring the city or embarking on day trips to nearby natural wonders and historic towns, Phoenix provides a range of transportation options to make your journey convenient and enjoyable. Be sure to plan your transportation based on your itinerary and desired destinations.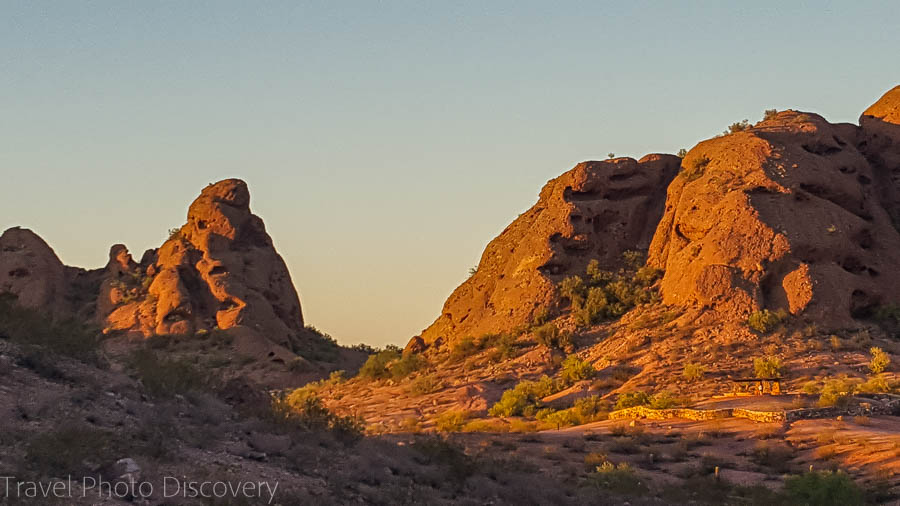 The best 17 Day trips from Phoenix to do now
Not in any particular order, these day trips are easy and worth doing when you want to explore more historic sites and gorgeous nature just outside of Phoenix area.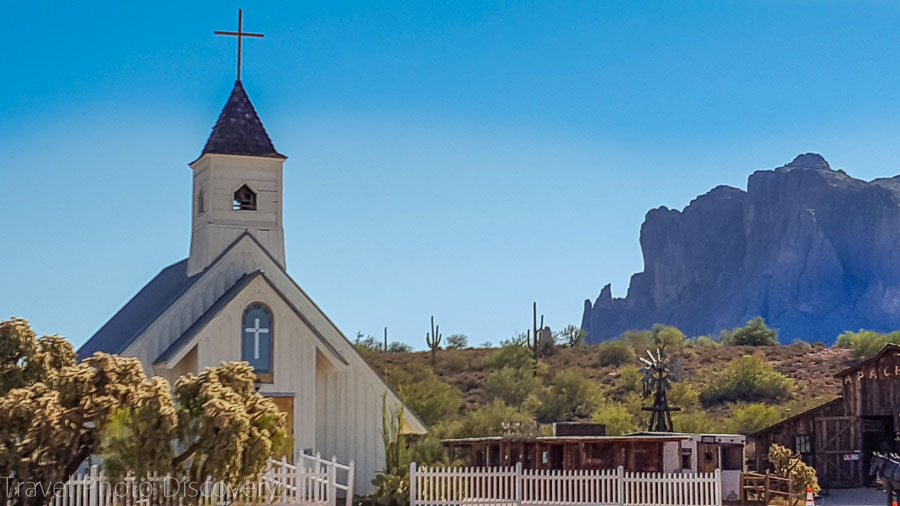 1. Day trip to Superstition Mountain
Less than an hours drive from downtown Phoenix, you'll really see the wild west and gorgeous landscape at Supersition Mountain. Explore Lost Dutchman State Park with its hiking trails and petroglyphs. Capture desert flora, visit the Superstition Mountain Museum for local history. Afterwards you can drive the Apache Trail for scenic views, spot wildlife, and enjoy the sunset.
2. Visit the Goldfield Ghost Town
The Goldfield Ghost Town is a recreated Old West town near Superstition Mountain. It offers a glimpse into the past with its historic buildings, mine tours, narrow-gauge train, and unique shops. Visitors can experience the ambiance of a bygone era, learn about mining history, and enjoy attractions that capture the essence of the Old West. You'll have some fantastic shops to explore along with some cool venues and views of the ghost town and surrounding landscape in the area.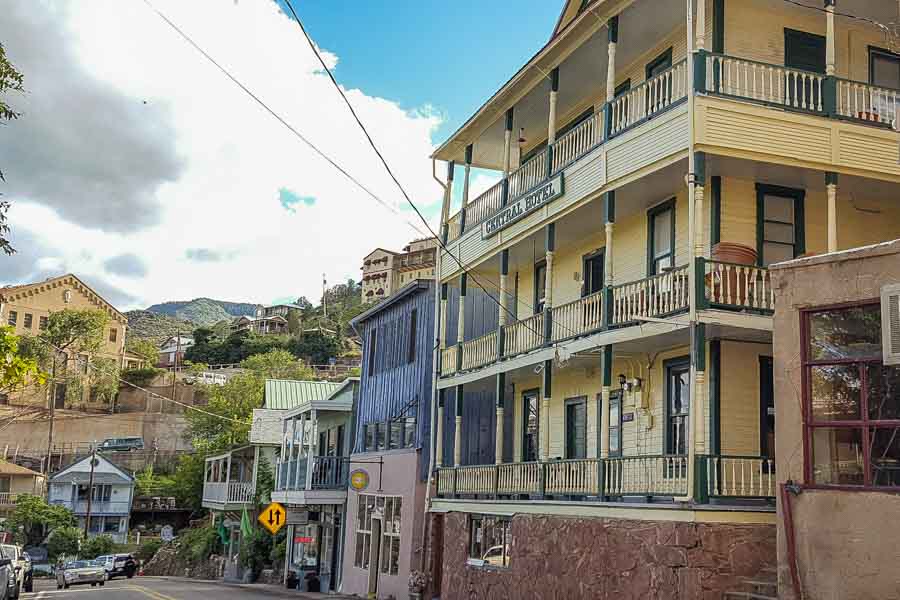 3. Road trip to Jerome, Arizona
You can take an easy day trip from Phoenix to Jerome, covering about 120 miles in 2.5 to 3 hours and enjoy a day exploring this fascinating town. Once there it's easy to walk around the historic mining town perched on a hillside. You can visit Jerome State Historic Park, wander the charming downtown with galleries and shops, take mine tours, and enjoy panoramic views. Discover local art, capture unique photos, and experience the town's artsy vibe. There's even some cool wine tasting bars to enjoy from wineries in the region that have repurposed halls into colorful tasting rooms to enjoy at Jerome.
Check out my post to visiting Jerome from Sedona here for more information and images.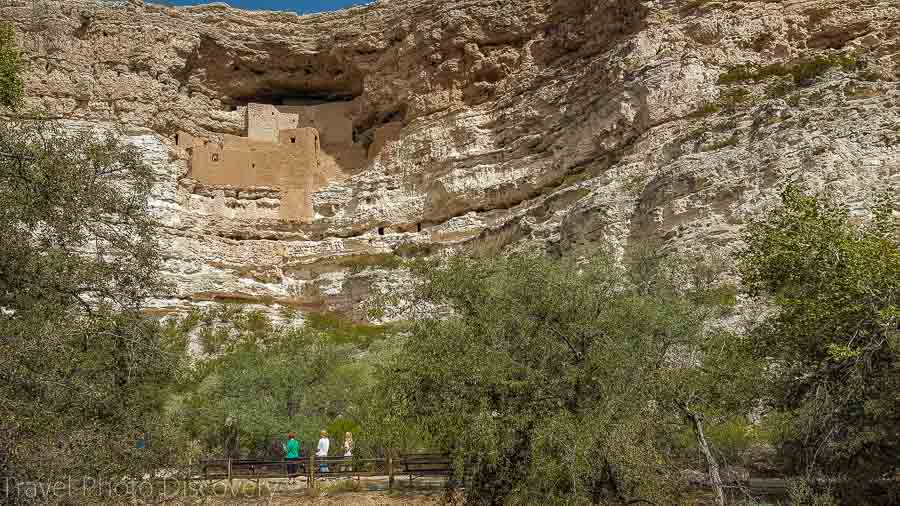 4. Explore Montezuma's Castle and Well
Explore Montezuma's Castle and Well from Phoenix, about 90 miles away. This fantastic National Monument is worth the visit to experience the magical cliff dwellings of Montezuma's Castle and explore the surrounding ruins and landscape. First start with going to the visitor center to learn more about the ancient Anasazi Indian culture and history. You can take an easy self-guided trail for insights into ancient Native American life. Afterwards, you can drive to see Montezuma's Well to witness the unique sinkhole and its ecosystem. Both of these places can be viewed for the price of one admission ticket to the area.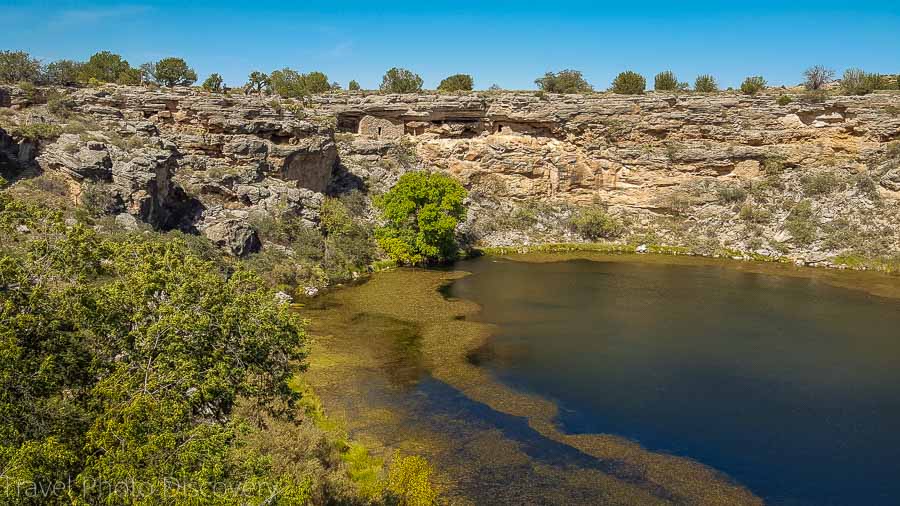 5. Do a fun day trip visiting Sedona, Arizona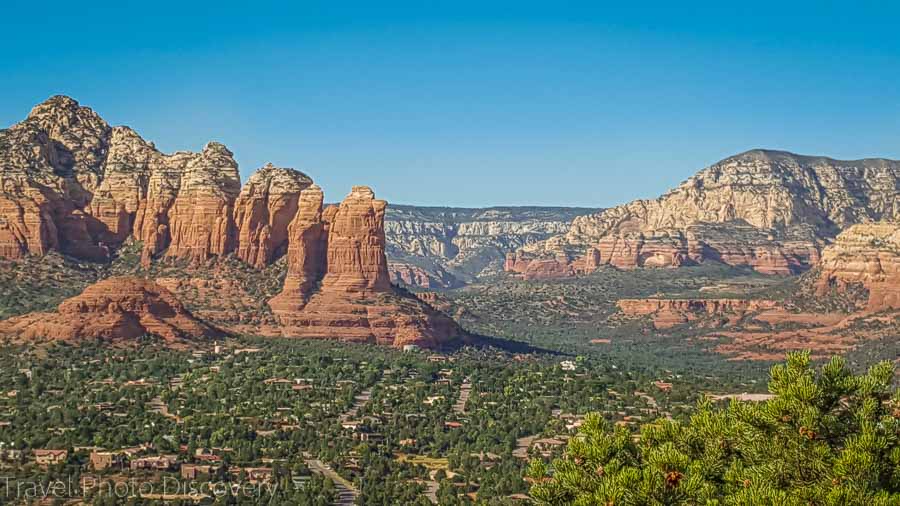 One of the best day trips is to discove Sedona to experience its many attractions. Drive north for approximately 2 hours to reach this picturesque destination. Top things to do at Sedona includes a visit to the gorgeous Red Rock Scenery at Oak Creek Canyon, Do some hiking there or the Devil's Bride or West Fork. You can check out the iconic Chapel of the Holy Cross perched on the red rocks with stunning panoramic views of the surrounding area. In town are cool art galleries to explore and the charming village scene at the Tlaquepque Arts and Crafts Village and the Sedona Arts Center. The food scene is amazing at Sedona and having a delicious meal here at any of the local and popular venues is not to be missed.
The outdoor experiences incudes discovering the unique Vortex locations around the city, visiting Slide Rock State Park and discovering some of the best views around town like from the airport viewpoint.
Check out my post to visiting Sedona and the region here for more information and images.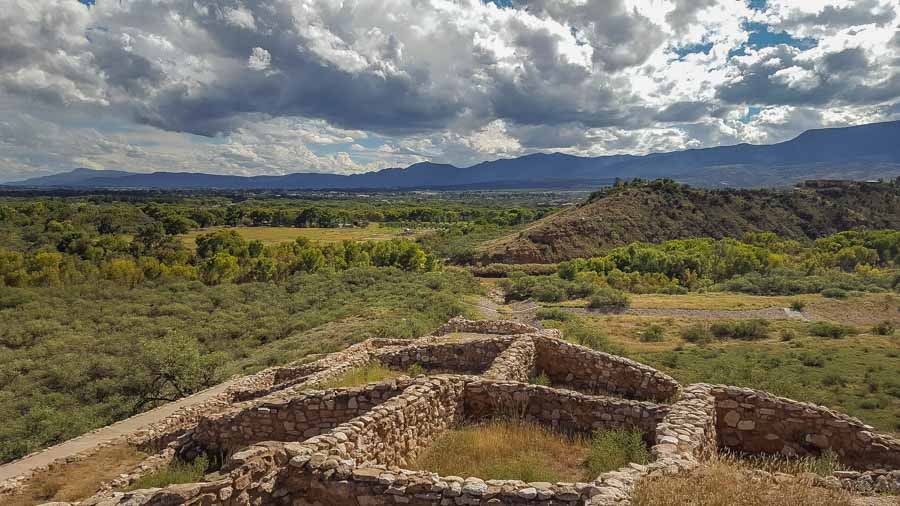 6. Easy day trip from phoenix to Tuzigoot National Monument
You can take an easy day trip from Phoenix to Tuzigoot National Monument, it takes about around 2 hours to get to this historic city. You can explore the ancient Sinagua pueblo ruins nestled in the Verde Valley and learn about the culture and history of the Native American people who inhabited the area. Start your tour with a visit to the information center with some dioramas, collections and talk with local guides on what to see and do.
At Tuzigoot you can do a self-tour walk through the well-preserved rooms and admire the panoramic views of the surrounding landscape. The views and ruins at Tuzigoot is spectacular and worth the drive from Phoenix to see this historic national monument.
Learn more about the Tuzigoot Monument below for more insight to this historic site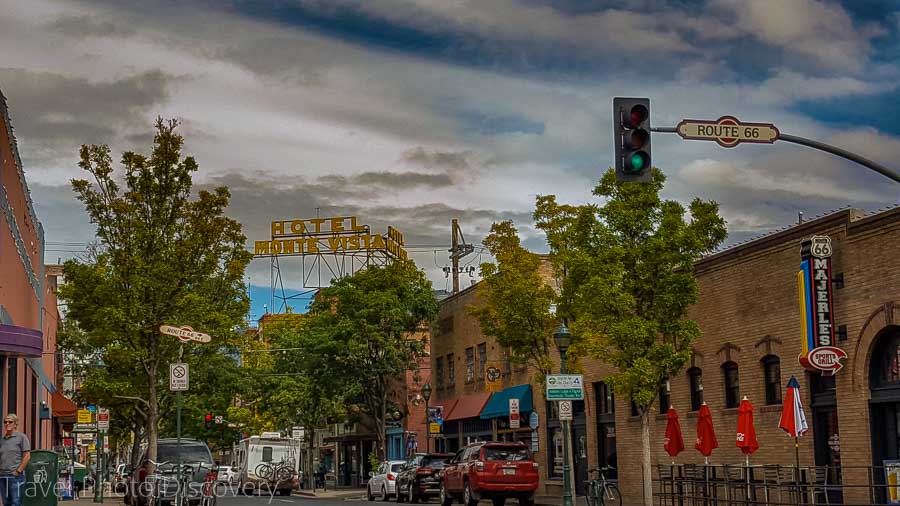 7. A fun day trip from phoenix to Flagstaff
Take a day trip from Phoenix to Flagstaff, a drive of about 2 hours to this cool and quirky city. While visiting the downttown area and region you'll discover the charm of this mountain town with diverse attractions. Start with exploring the historic Route 66, visit the Lowell Observatory for celestial insights, and wander through the vibrant downtown area with shops and eateries. If time permits, venture to the Museum of Northern Arizona for cultural enrichment. Experience the scenic beauty of Flagstaff's surroundings or stay in town and discover some fantastic dining venues, craft breweries, museum scene, art galleries or shopping the many boutique stores in the city center.
Check out my post to visiting Flagstaff and the region here for more information and images.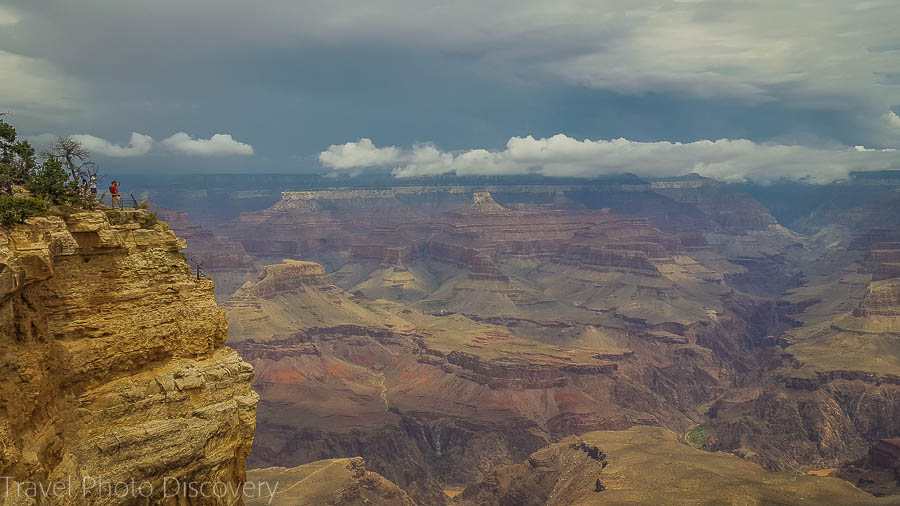 8. Trip to the Grand Canyon National Park
Take a remarkable trip from Phoenix to the Grand Canyon National Park, a journey of around 3.5 to 4 hours. It is doable but wll be a long road trip that you can easily break down into an overnight stay or longer. As you drive northward, the landscape transforms into an awe-inspiring spectacle. Arriving at the Grand Canyon, experience the breathtaking vistas from viewpoints like Mather Point and Yavapai Observation Station. Explore the South Rim's trails, taking in the majestic canyon walls and Colorado River below with some easy or longer hikes to the area. Visit the Grand Canyon Visitor Center to learn about the park's history and geology. Capture memories of this natural wonder and return to Phoenix in the evening, carrying the indelible beauty of the Grand Canyon with you.
Check out my post to visiting the Grand Canyon as a Unesco site here for more information and details.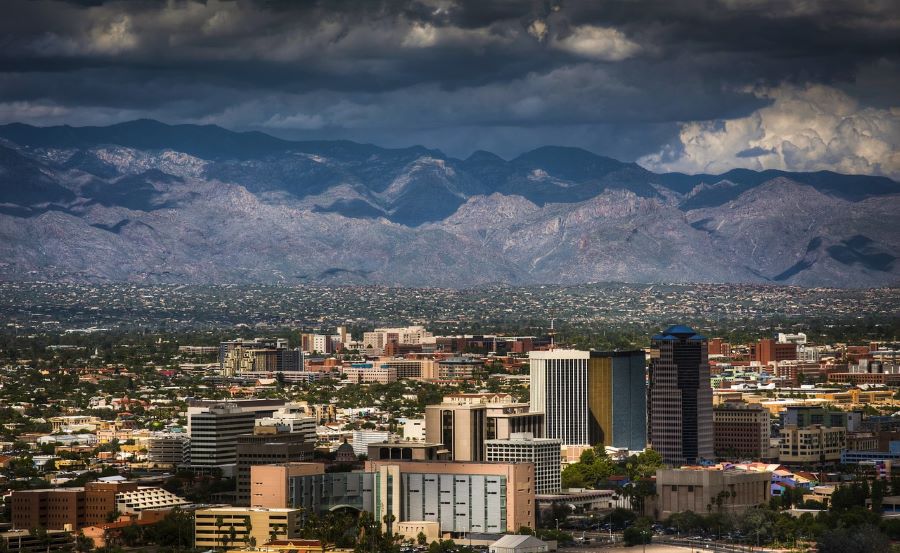 9. Visit downtown Tucson
Take an easy day trip and visit from Phoenix to downtown Tucson, a drive of approximately 2 hours. Discover the vibrant heart of this city with a mix of culture, history, and entertainment. Explore Fourth Avenue's eclectic shops and eateries, capturing the artistic spirit. Visit the historic Presidio San Agustín del Tucson to learn about the city's origins. Wander through the Tucson Museum of Art and Historic Block for enriching cultural exhibits. Experience the lively atmosphere of downtown and many attractions including: The Fox Theater, Main Gate Square, the Cathedral of St. Augustine, Old Town Artisans and Mercado San Augustin.
Check out my post to visiting Tucson and surrounding areas here for more information and images.
Here's more to visiting Tucson below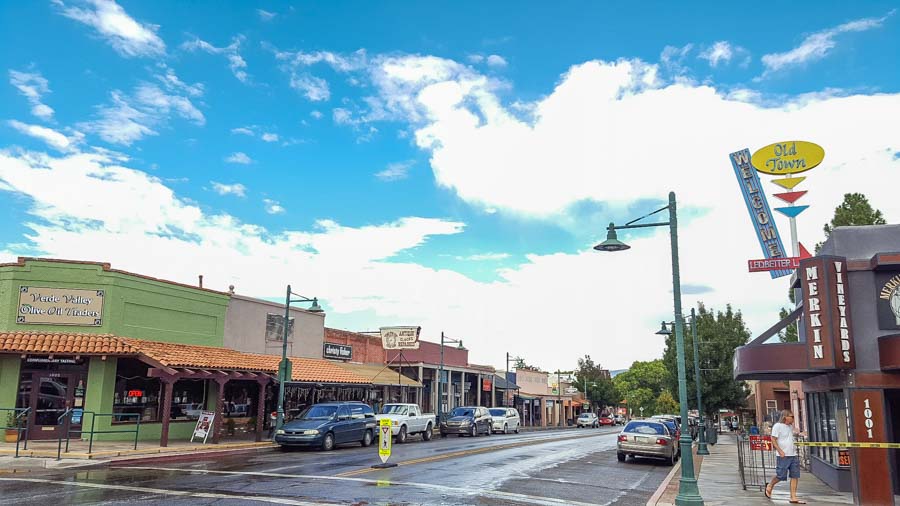 10. Visit to Cottonwood, Arizona
Take a fun road trip from Phoenix to Cottonwood, Arizona, approximately a 2-hour drive. Explore the charm of this historic town nestled in the Verde Valley home to many wineries in the area and many tasting rooms you can visit downtown. While exploring the historic old town district, you can check out the many galleries, shops and eateries on Main Street, do some wine tasting and check out historical sites like the Clemenceau Heritage Museum and Cottonwood Historic Society. Outdoor venues include Sycamore Canyon Wilderness, Tuzigoot National Monument and Dead Horse Rance State Park. You might want to also consider the unique and fun Verde Canyon Railroad with a ride through the Verde Canyon and vineyards for some breathtaking views of the area.
11. Visit Prescott, Arizona
Prescott, Arizona from Phoenix is about 1.45 hours drive and covers some gorgeous landscapes. The Historic town center is filled with old western storefronts, remodeled saloons and cool bars that attract locals and also visitors to the area to hang out and explore the downtown district, check out Whiskey row, a really cool local attraction. A popular outdoor venue closeby is Watson lake with hiking venues, camping, biking and walking trails, fishing, rock climbing or you can continue your road trip visiting the surrounding region like Jerome, the Hassayampa River Preserve, Heritage Park Zoological Sanctuary, and the Granite Dells.
Here's a quick tour of downtown Prescott and key attractions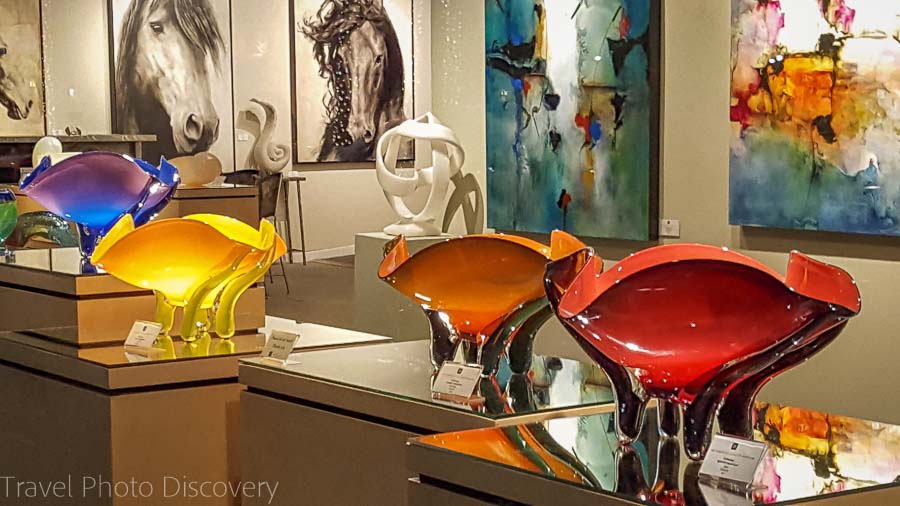 12. Explore the cool town of Scottsdale
Scottsdale is a stylish and vibrant town known for its upscale atmosphere and artistic flair. Located near Phoenix, ithe city offers a blend of luxurious resorts, high-end shopping, and a thriving arts scene. Visitors can explore the many fine art galleries, enjoy fine dining, and experience the Sonoran Desert's beauty. With a mix of cultural attractions and a relaxed ambiance, Scottsdale is a captivating destination for those seeking sophistication and leisure and a taste of refinement and beauty that's just a short drive away from Phoenix.
13. Check out Tempe, Arizona
Tempe is located about 10 miles east of downtown Phoenix, Arizona. The two cities are very close to each other and connected by major highways, making it a convenient and short drive between the two. Take a a memorable journey to Tempe, Arizona where you will experience a vibrant city known for its lively atmosphere and diverse attractions, cool outdoor venues and fun places to eat and explore. You can visit the Arizona State University campus, indulge in the bustling center at Mill Avenue District's shops and restaurants, and relax by Tempe Town Lake. You can participate in many cultural events, outdoor activities, and a thriving arts scene, making Tempe an exciting destination that caters to various interests.
Check out the Visit Tempe Website here for more information and details.
Here's a cool look at some of the fun and cool attractions around Tempe below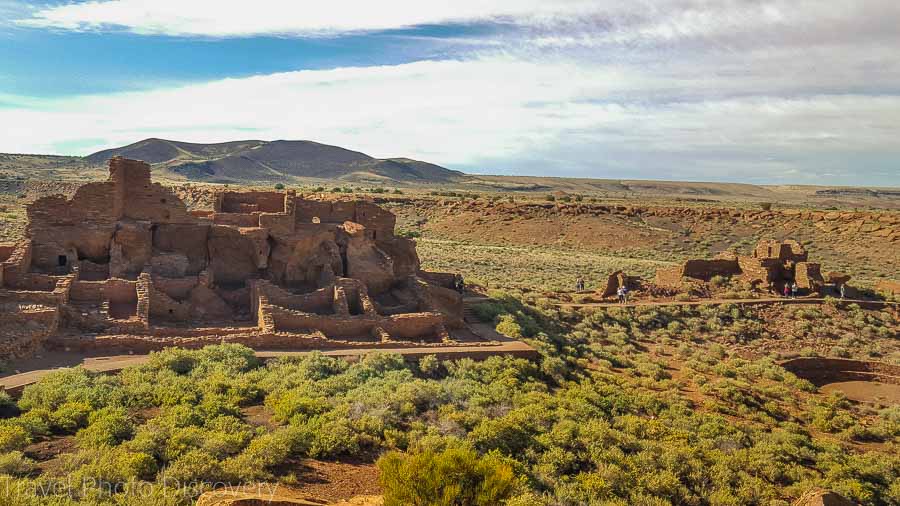 14. Enjoy some outdoor exploring at Wupatki National Monument
For those adventurers that love outdoor exploration and Indian culture and ruins, you can visit the historic site at Wupatki National Monument. Located just outside of Flagstaff area you can immediately immerse yourself in ancient Puebloan ruins, surrounded by Arizona's captivating landscapes. Discover the rich history and culture of indigenous peoples while hiking through well-preserved archaeological sites. Wupatki offers a unique blend of history and natural beauty for an unforgettable adventure.
Check out our post to visiting attractions around Flagstaff and Wupatki National Monument here for more images and inspiration.
15. Road trip to Saguaro National Park, Tucson
This is definitely a must do for local desert landscape at Saguaro National Park which is less than 1.5 hours from Phoenix. Saguaro National Park offers an immersive experience into the captivating Sonoran Desert. With its towering saguaros, diverse trails, stunning sunsets, and abundant wildlife, it's a place to connect with nature's beauty and the unique desert ecosystem that thrives here. Top attractions to visit and see include:
Explore the Saguaro forests and experience the iconic giant saguaro trees stark against the desert landscape
You can take a scenic drive around the Bajada Loop drive with panoramic views of the desert landscape. Also, the Cactus Forest Loop winds through dense saguaro groves to experience.
You can take hikes along the diverse trails including the Valley View Overlook trail and the Desert Discovery Trail.
Check out Mountain districts like the Rincon Mountain District and the Tucson Mountain district for panoramic views, petroglyphs and the Mica View Loop and the Rincon Peak Trail
Here's a fun and quick driving tour of Saguaro National Park below
16. Petrified Forest National Park
Explore the ancient world at Petrified Forest National Park from Phoenix. Just hours away, this geological wonderland features vibrant petrified logs from over 200 million years ago. Drive along the 28-mile road to witness colorful badlands and panoramic Painted Desert views. Hike the Blue Mesa for a close-up of the unique terrain, and visit the Rainbow Forest Museum to uncover the park's history. Keep an eye out for wildlife. This day trip offers a glimpse into prehistoric times and the enduring beauty of nature's creations.
Check out more details to visiting Petrified Forest National Park here for more information and details.
Here's a quick overviews of visiting the Petrified Forest National Park Below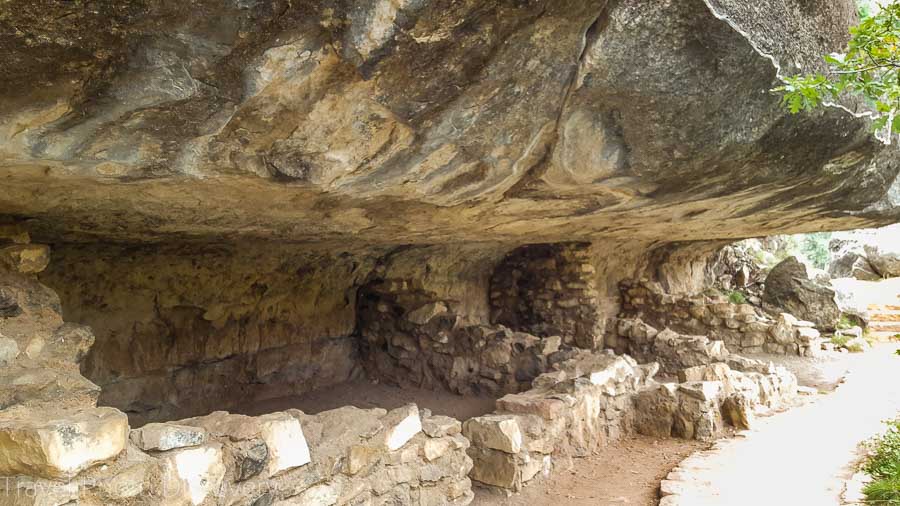 17. Walnut Canyon National Monument
The drive from Phoenix to Walnut Canyon National Monument takes approximately 2.5 to 3 hours, depending on traffic and road conditions. Walnut Canyon National Monument is a geological marvel with ancient cliff dwellings. Carved by Walnut Creek, its rugged terrain and layered rock walls captivate. Sinagua cliff dwellings, built over 700 years ago, cling to the cliffs, offering a glimpse into the past. Trails along the rim provide panoramic views and insights into its history. Amid the high desert ecosystem, diverse wildlife and plant life thrive. This site weaves together nature's wonders and the legacy of the Sinagua people, creating a powerful and evocative experience. You start at the fantastic visitors center and displays and can take either a docent tour or self tour with audio visiting the main attractions in the national monument.
Check out more details to visiting Walnut Canyon National Monument here for more information and details.
More inside tips to doing a road trip around Phoenix, Arizona.
here are some insider tips to make the most of your road trip around Phoenix, Arizona:
Timing Matters: Consider traveling during the shoulder seasons (spring and fall) to avoid extreme heat and enjoy more pleasant weather. Summers can be scorching, so plan outdoor activities for early mornings or late afternoons.
Hydration and Sun Protection: Staying hydrated is essential in the desert climate. Carry plenty of water with you and use sunscreen, hats, and sunglasses to protect yourself from the intense sun.
Local Cuisine: Explore the local food scene. Don't miss out on trying authentic Southwestern dishes like tacos, burritos, and chimichangas. Seek out local farmers' markets for fresh produce and artisanal goods.
Gas and Supplies: Fill up your gas tank before embarking on longer stretches, as remote areas might have limited gas stations. Additionally, stock up on snacks and necessities before leaving urban areas.
Scenic Byways: Research scenic byways like the Apache Trail and the Historic Route 66, which offer breathtaking views and unique experiences along the way.
Hiking Safety: If you plan to hike, inform someone about your plans, carry a trail map, wear appropriate footwear, and be aware of the signs of heat exhaustion. Stay on marked trails to avoid getting lost.
Cultural Etiquette: When visiting cultural or sacred sites, such as Native American reservations or historic sites, be respectful of local customs and regulations. Ask permission before taking photos, and follow any guidelines provided.
Wildlife Awareness: Keep an eye out for wildlife, especially if you're driving through more rural areas. Stay cautious and avoid feeding or approaching animals.
Mobile Apps: Download helpful apps for navigation, weather updates, and finding local attractions. Apps like AllTrails can help you discover hiking trails, and Yelp or TripAdvisor can guide you to popular restaurants and attractions.
Travel Permits: Some areas, like national parks and monuments, might require permits or entrance fees. Research and obtain these permits in advance to avoid any last-minute hassles.
Local Events: Check local event listings for festivals, fairs, and cultural celebrations that might be happening during your road trip. This can add an extra layer of cultural enrichment to your journey.
Respect Nature: Leave no trace behind. Pack out everything you bring with you and maintain the pristine condition of the areas you visit.
By keeping these insider tips in mind, your road trip around Phoenix and its surroundings will be filled with memorable experiences, stunning landscapes, and a deeper appreciation for the beauty and culture of the American Southwest.
Check out these other posts to visiting around Arizona
Final thoughts on day trips from Phoenix
You can easily do a day trip around the Phoenix area and explore many of these sites outside the city. To travel further outside of the city on a road trip might entail an overnight stay or longer to really enjoy the landscape, cities and historical sites to visit around the area.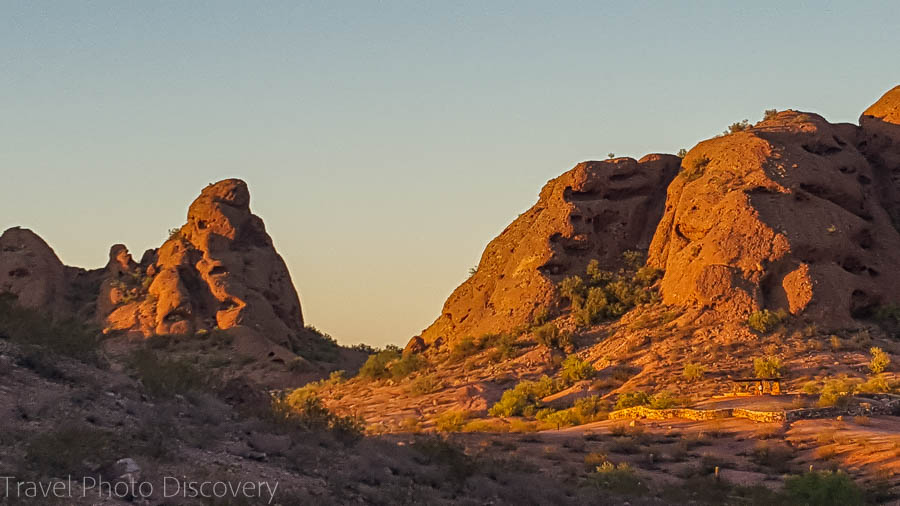 Conclusion to these Day trips from Phoenix
In conclusion, the diverse array of day trip options from Phoenix offers something for every type of traveler. From the stunning natural beauty of the Grand Canyon to the rich cultural experiences found in Sedona and the historical charm of Prescott, these destinations provide an escape from the bustling city life and a chance to explore the unique facets of Arizona.
For outdoor enthusiasts, the adventurous hikes and breathtaking vistas of the Grand Canyon provide an unforgettable experience, while Sedona's red rock formations offer both scenic beauty and spiritual rejuvenation. History buffs can delve into the past in Prescott, uncovering the stories of the Old West and the area's rich mining heritage.
No matter the choice, each day trip allows for a retreat into the heart of Arizona's striking landscapes and vibrant history. As the sun sets on these day trips, the memories made and the moments experienced will undoubtedly leave a lasting impression, inspiring a deeper connection to the captivating essence of the Southwest. So whether it's the rugged canyons, the serene desert oases, or the echoes of bygone eras, these day trips from Phoenix promise an enriching and fulfilling exploration of this remarkable region.