17 Incredible Weekend Trips From Tucson Not To Miss
Are you looking for the best weekend trips from Tucson? You've come to the right place as we discuss weekend trips as well as a few day trips if you are short on time!
Buckle up, desert-loving friends, because we've got some epic weekend getaways from Tucson that will blow your cacti-loving socks off!
We spent an entire winter exploring the Tucson and Tombstone area (trust us, it ain't just for cowboys) and are certified lovers of the Southwest landscape.
Over the years and on several visits, we've braced the heat, endured the dust, and have come to find these little pockets of paradise that promise adventure and a break from the humdrum of big city life.
So, if you've had your fill of Tucson's saguaros and are itching to hit the road, you're in good company. Ready to trade the city lights for starry nights?
Let's get this show on the road!
Weekend Trips From Tucson
We know Tucson is a gorgeous place to visit, and if you haven't spent time exploring the sights, you definitely should. But when it is time to get out of the city, here is what we recommend.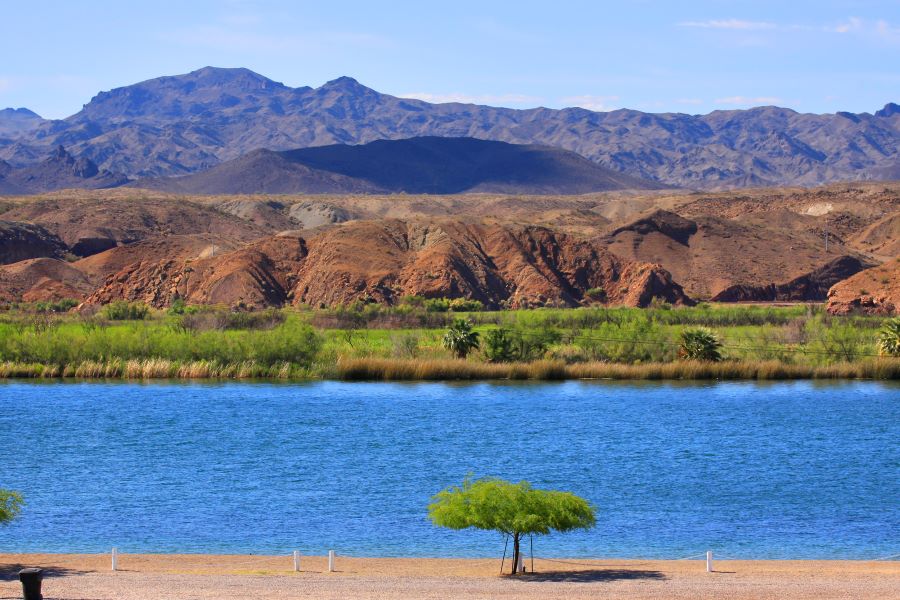 1. Lake Havasu City, Arizona
Lake Havasu City, a veritable oasis in the Arizona desert, is calling your name.
Located about 300 miles northwest of Tucson, this city is more than just a beautiful body of water – it's a celebration of life wrapped in Arizona's sun-kissed landscapes.
Lake Havasu City is famous for its London Bridge. Yes, you read that right! The actual London Bridge, bought by the city's founder Robert P. McCulloch, from the city of London in 1968.
Not every day you get to cross the Atlantic without leaving the U.S., right?
But wait, there's more! This city is also known as the 'Personal Watercraft Capital of the World.'
So, dust off your jet skis (or rent one in town if you left yours at home), and test your skills on the pristine waters of Lake Havasu.
On your visit, don't miss out on a boat tour to explore the lake's hidden coves and beaches. And if you're a fan of hiking, the scenic trails of the nearby Havasu Wildlife Refuge will leave you spellbound.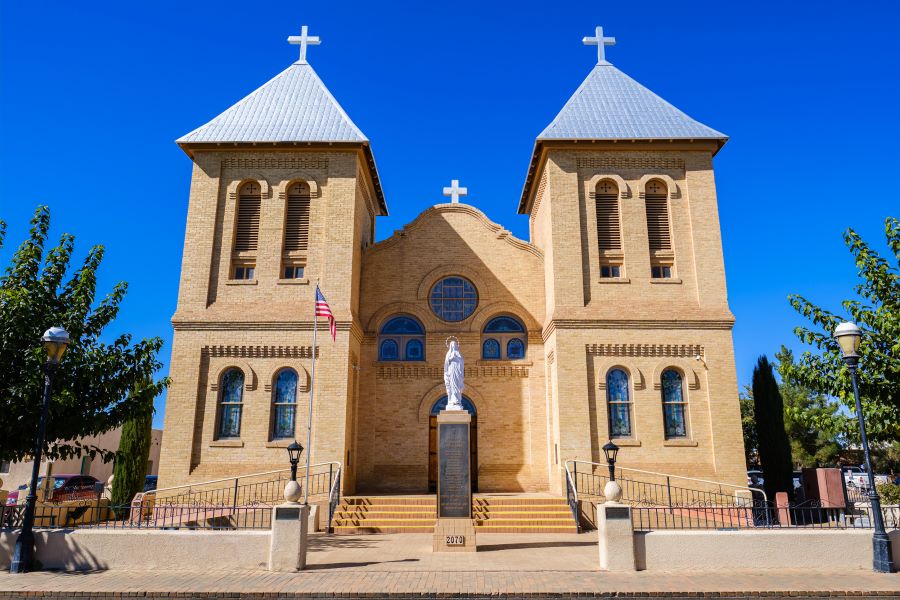 2. Las Cruces, New Mexico
Located in the Mesilla Valley of southern New Mexico, the vibrant city of Las Cruces is a hidden gem and the perfect destination for weekend getaways near Tucson.
It's the second-largest city in New Mexico, but with a population of just over 100,000, it still maintains that rustic, small-town vibe.
One of the top attractions here is the Mesilla Village, where Billy the Kid and Pancho Villa once roamed. Time seems to stand still in this centuries-old village, with its authentic adobe buildings and the Basilica of San Albino, one of the oldest missions in the region.
For nature lovers, the Organ Mountains-Desert Peaks National Monument is a must-visit.
This breathtaking natural wonder offers countless trails for hiking. And the views? They're out of this world, literally and figuratively!
Of course, don't miss out on the city's food scene. From green chili enchiladas to local pecan pies, your taste buds are in for a real treat.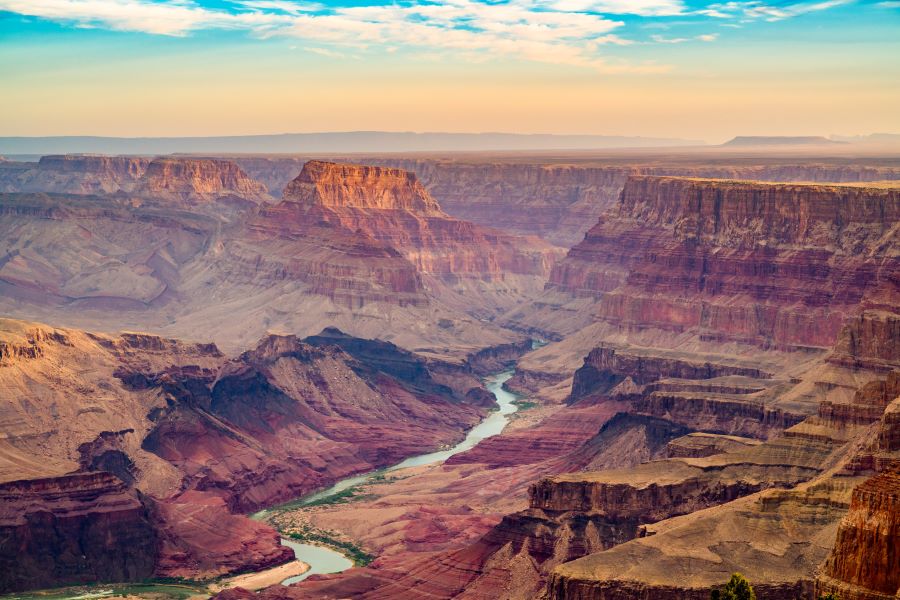 3. Grand Canyon National Park
Time to brace yourselves for one of the best weekend trips from Tucson – Grand Canyon National Park!
We've had the good fortune of visiting this monumental chasm not once but twice, and let us tell you, the sheer enormity of it will blow your socks off.
Seriously, it's like staring into the Earth's soul.
Now, onto the boring stuff (just kidding, there's nothing dull about this place). The Grand Canyon is a colossal 277 miles long, up to 18 miles wide, and a mile deep.
That's no small crack in the ground!
When it comes to things to do, you're spoiled for choice. If you want a bird's-eye view of the canyon, hop aboard a helicopter tour – it's the only way to truly appreciate the vastness of it all.
Or, if you prefer to keep your feet firmly on terra firma, the Rim Trail offers stunning views and isn't too strenuous.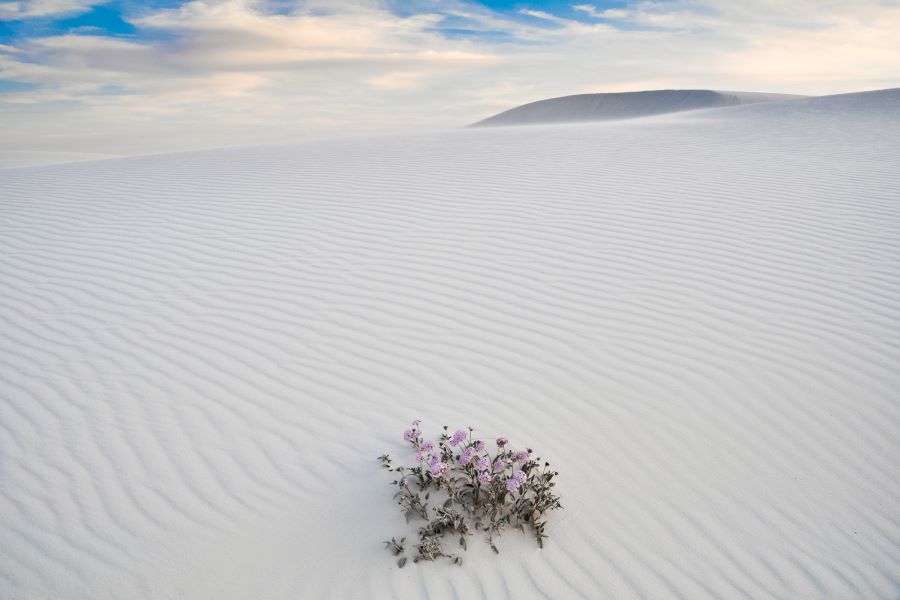 4. White Sands National Park
If you've ever longed to feel like an astronaut exploring an alien landscape without leaving good ol' planet Earth, then let us tell you, White Sands National Park in New Mexico is your place.
This stunning park, roughly 275 square miles of gypsum dunes (the largest of its kind in the world!), resembles a vast, white snowscape that seems to have been dropped smack-dab in the middle of the desert.
But don't let the barren looks fool you. This place is brimming with life. From the elusive Apache pocket mouse to the bleached earless lizard, the park is a nature lover's dream!
And the fun doesn't stop at wildlife spotting. Have you ever tried sledding without the cold and the snow?
Well, get ready because sand sledding down these giant dunes is an absolute blast! Just rent a sled from the visitor center, find your perfect dune, and off you go!
So, come on over and experience the jaw-dropping beauty of White Sands National Park. Just remember to bring your sunglasses. You're going to need them!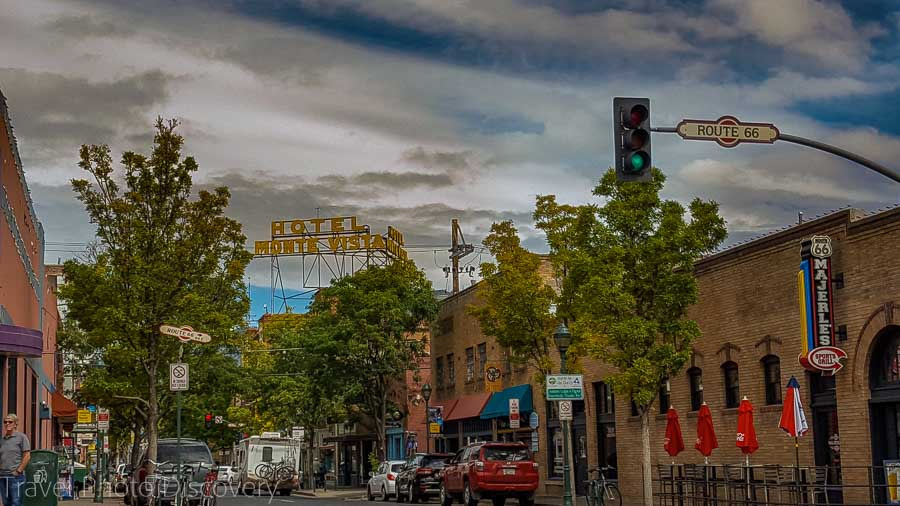 5. Flagstaff, Arizona
Shifting gears from our rocky adventures, let's head to the cooler climate of Flagstaff, Arizona.
Situated at a lofty 7,000 feet, Flagstaff is not your typical Arizona city.
When people mention Arizona, you think of cactus, not pine trees. But Flagstaff is flanked by the largest contiguous ponderosa pine forest in the world!
If you're a fan of astronomy, prepare to have your mind blown. Flagstaff is a designated International Dark Sky City, making it a prime location for stargazing.
And take a trip to the renowned Lowell Observatory, where Pluto was discovered in 1930, to marvel at the majestic universe.
Grab your warm clothes, telescopes, hiking boots, and get ready to explore Flagstaff.
Just a tip, though – don't challenge the locals to a pine cone-throwing contest. They've had more practice!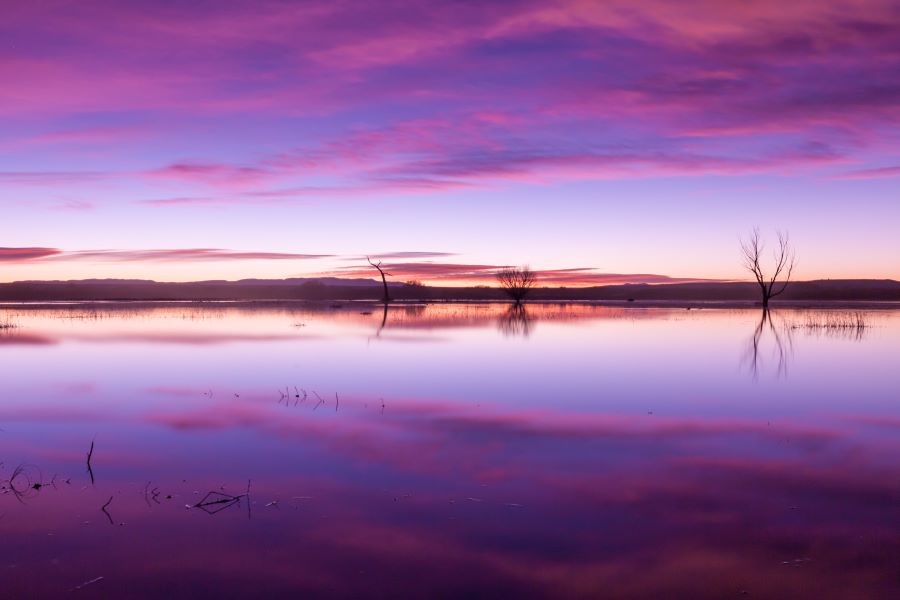 6. Bosque Del Apache National Wildlife Refuge
Bosque Del Apache National Wildlife Refuge is quite the mouthful, isn't it?
But don't let the name scare you off! This 57,331-acre paradise in southern New Mexico is a birdwatcher's dream.
Every year, from November to the end of January, the refuge becomes the winter home to tens of thousands of Sandhill Cranes, Snow Geese, ducks, and a myriad of other waterfowl species. Now, that's a party!
It's like witnessing the avian version of Times Square on New Year's Eve but without the confetti and the awkward renditions of 'Auld Lang Syne.'
For things to do, we highly recommend embarking on the 12-mile auto loop around the refuge. It's a bit like a drive-thru safari, only with feathers instead of fur.
The route offers a variety of habitats and, therefore, a diverse set of wildlife sightings. Just remember to take your binoculars; you wouldn't want to miss the spectacle!
If you're a fan of our feathered friends or simply looking for a unique adventure, put Bosque Del Apache National Wildlife Refuge on your itinerary.
It's a wild, winged wonderland just waiting to be explored!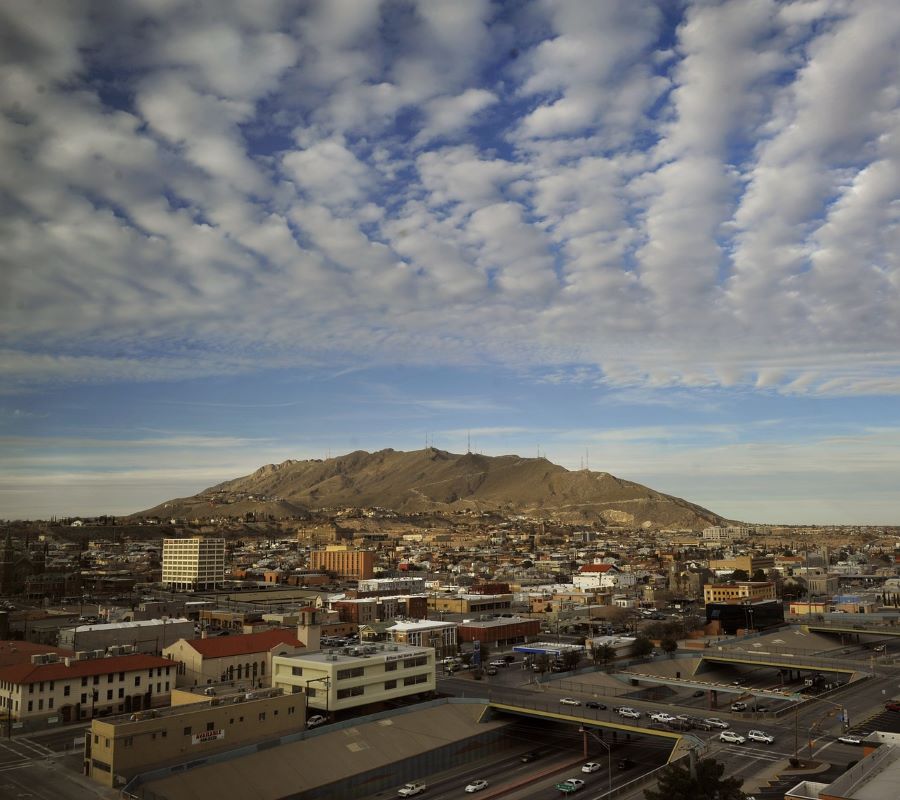 7. El Paso, Texas
Let's mosey on down to El Paso, Texas, a vibrant city with a rich cultural tapestry nestled right against the waters of the Rio Grande.
Known as the Sun City, El Paso boasts more than 300 days of sunlight a year, so pack your sunglasses and your sunblock – it's going to get bright!
El Paso's history stretches back over 400 years, and its many museums – such as the El Paso Museum of Art and the El Paso Mission Trail – are a testament to its diverse heritage.
But the city also knows how to let its hair down, with a lively music scene and festivals like the Neon Desert Music Festival.
Make sure you don't miss hiking in Franklin Mountains State Park. This 27,000-acre park, the largest urban park in the nation entirely within a city's limits, serves up panoramic views that will take your breath away.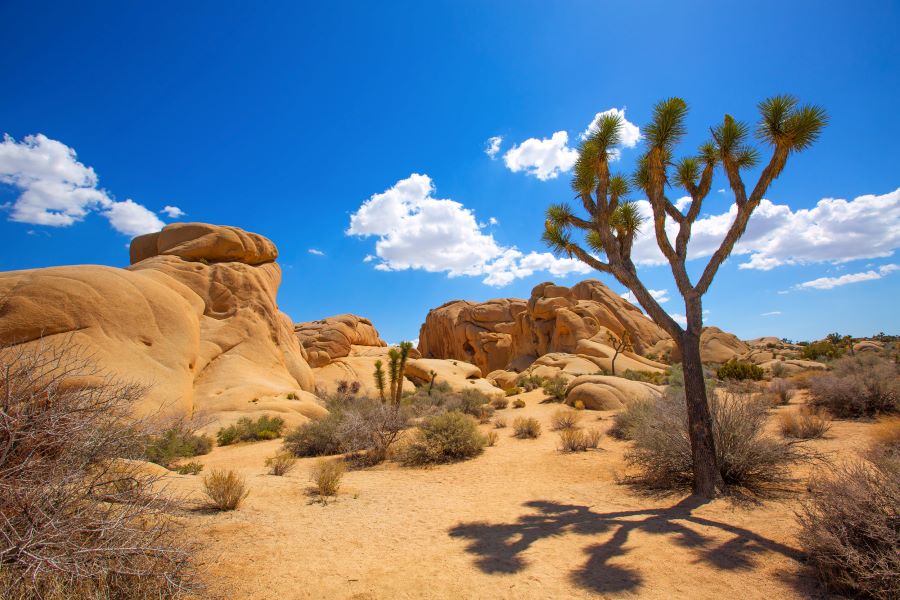 8. Joshua Tree National Park
Joshua Tree National Park is the perfect marriage of Mojave and Colorado deserts, where the iconic Joshua Trees stand sentinel in a landscape that feels otherworldly.
This park, covering a whopping 1,235 square miles, is a nature lover's paradise, where the desert's stark beauty is juxtaposed with rugged mountains and stark geologic features.
The park is a haven for adventurers, with over 300 miles of hiking trails.
Take a stroll down the Hidden Valley trail, where legend has it that cattle rustlers once hid their stolen goods.
Or, if you fancy a bit of a climb, Ryan Mountain offers an invigorating hike and jaw-dropping panoramic views at the summit.
But the beauty of Joshua Tree National Park doesn't fade when the sun goes down. As a designated International Dark Sky Park, it serves up some of the best stargazing in the country.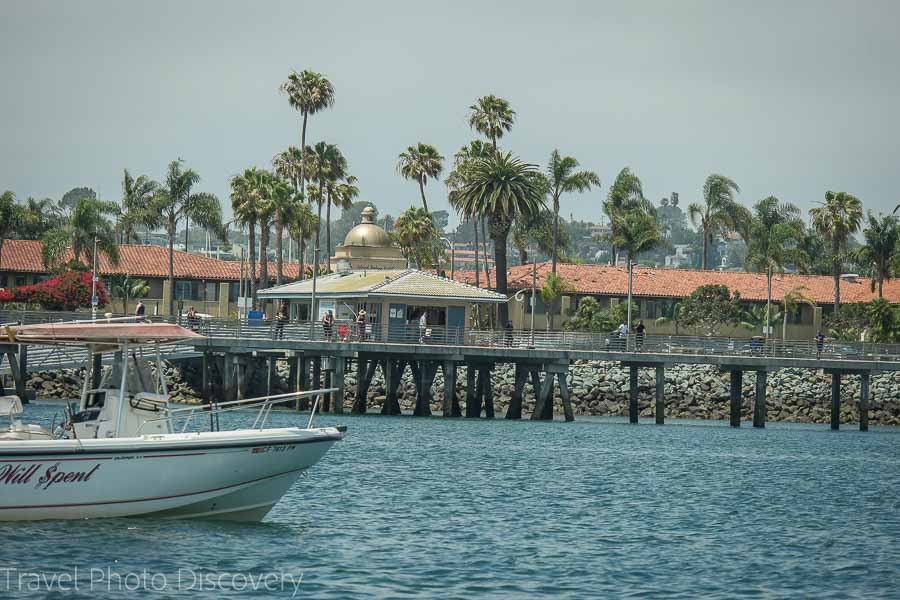 9. San Diego, California
San Diego, California, will pull you in with its stunning coastline, year-round pleasant weather, and friendly locals.
It's not just another beach town – it's a vibrant melting pot with an unmistakable soul.
As midwesterners, we're used to cornfields, not coastlines. But the moment we set foot on one of San Diego's pristine beaches, we knew we'd stumbled onto something special.
The views? Spectacular doesn't even begin to cover it.
Picture this: the sun setting over the Pacific, painting the sky in hues of pink and purple while the waves gently lick the shore. It's enough to make your heart skip a beat.
But don't just take our word for it; you have to see it to believe it!
Spend time exploring the historic Gaslamp Quarter, with its beautifully preserved 19th-century buildings and a plethora of dining and entertainment options.
Or visit Balboa Park, a 1,200-acre urban cultural park home to numerous museums, gardens, and the world-renowned San Diego Zoo.
And for the adrenaline junkies, there's always the option to try surfing.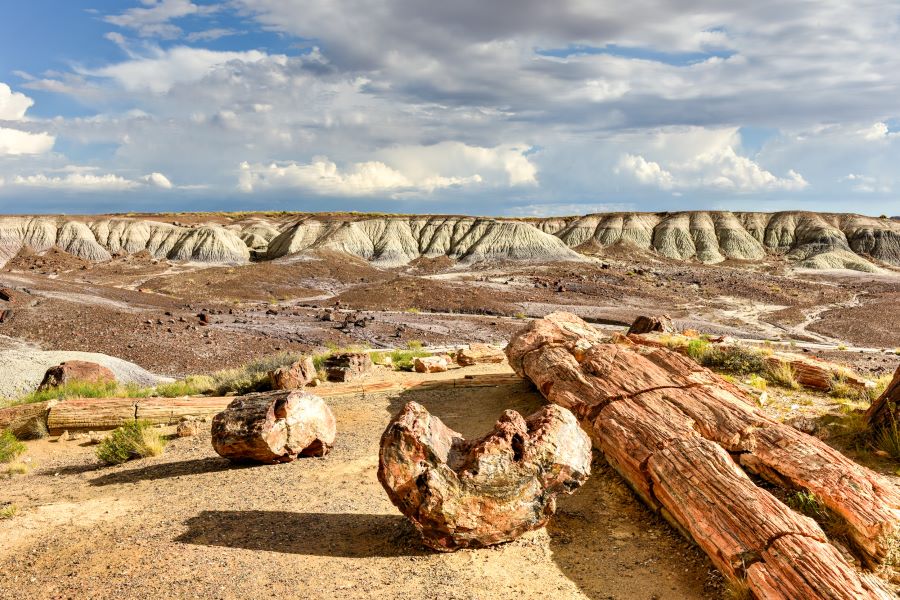 10. Petrified Forest National Park
Next up, we're taking a trip back in time!
Our destination? Petrified Forest National Park, a natural wonder that dates back over 200 million years.
This place is a real-life time capsule, with its fossilized trees, ancient plant and animal species, and archeological sites.
Now, don't let the 'forest' in the name fool you – this isn't your typical green-canopy type of forest. Instead, think of a color-bursting desert sprinkled with brilliantly colored logs that once were trees, now turned to stone.
And these aren't just any stones. These are gems, literally!
The petrified wood is packed with quartz crystals that shimmer in the sunlight – a sight that'll leave you saying, 'Gemme more!'
One thing you definitely can't miss when you're there is the 28-mile scenic drive, which offers panoramic views of the park's stunning landscapes.
And for those of you who like your history with a side of cardio, there's a multitude of walking trails where you can get up close and personal with the fascinating fossilized flora.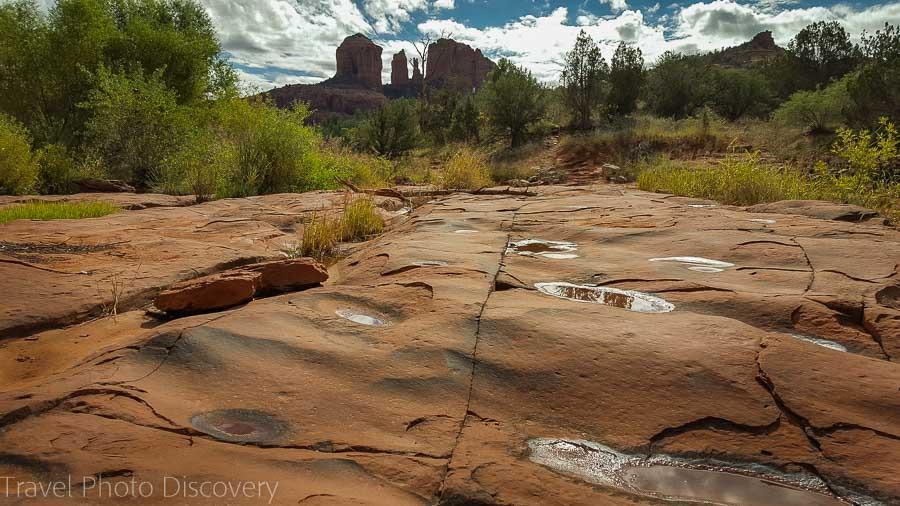 11. Sedona, Arizona
Sedona, Arizona, is one of the most captivating weekend getaways.
Known for its iconic red rock formations, the shades of red, orange, and pink paint a mesmerizing backdrop that changes with the sunlight. You'd think you've accidentally stumbled upon Mars instead of Arizona!
But Sedona is more than just pretty rocks.
It's a spiritual sanctuary, home to some of the most renowned vortexes that draw energy-seekers from around the globe.
For you explorers out there, you're in for a treat too. Sedona's landscape is riddled with hiking and biking trails that cater to all levels of adventurers.
Fancy a bit of a thrill? Try the Cathedral Rock trail. It's a steep climb, but trust us, the panoramic view at the top is worth every huff and puff.
Day Trips From Tucson
Not sure if you can get away for two or three days? But you still want to head out of the city and explore? We've got you covered.
These next trips are all under 2.5 hours, so you can head out for the day, have an adventure, and be back before bedtime!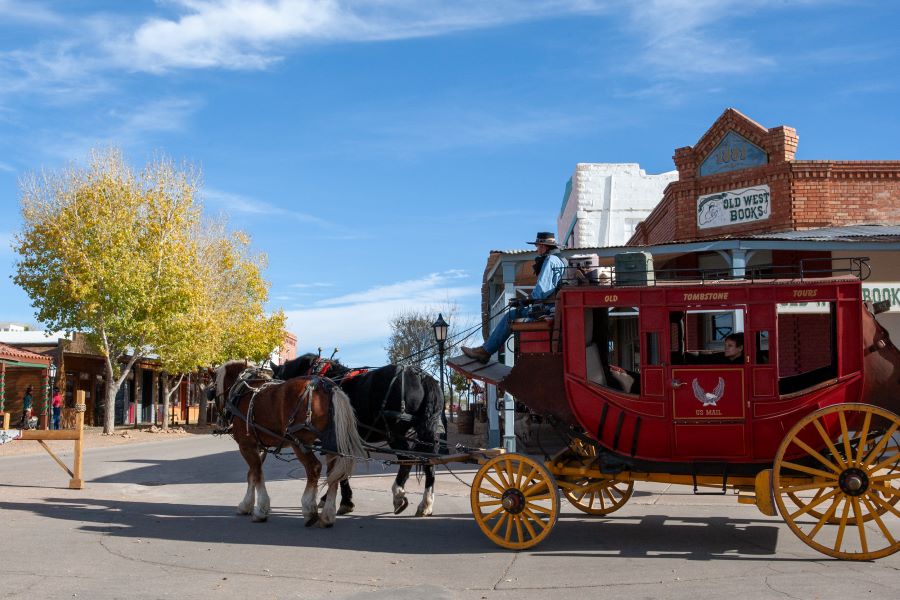 12. Tombstone, Arizona
Only about 70 miles southeast of Tucson, you'll stumble upon a nugget of the Old West – Tombstone, Arizona.
Now, this isn't a town for the faint-hearted, oh no! You see, Tombstone has a rich and rowdy history, giving it a rightful place in the American folklore record books.
It's best known as the site of the infamous 'Gunfight at the O.K. Corral,' a 30-second showdown between lawmen and outlaws that's been dramatized in countless Western movies.
But Tombstone isn't just about its wild past; it's a living, breathing snapshot of Western heritage.
We spent a good chunk of time there, walking the boardwalks (which are as charming as they are creaky) and immersing ourselves in the town's attractions.
One must-do while in Tombstone? Visit the O.K. Corral. Here, you can watch a reenactment of the legendary gunfight that put Tombstone on the map.
Also, stop in the Bird Cage Theatre, where you can still see the lobby peppered with bullet holes.
13. Chiricahua National Monument
Have you heard of Chiricahua National Monument? We hadn't either, so don't feel bad!
This remarkable landscape, often called the 'Wonderland of Rocks,' is an 11,984-acre monument and a marvel of erosion and time.
Geologists and sightseers alike are fascinated by its peculiar rock formations from volcanic activity millions of years ago.
Among these natural wonders, the most famous is perhaps the balanced rock. This precariously perched stone seems to defy gravity, offering a fantastic photo opportunity for visitors.
Motoring through the eight-mile scenic drive or hiking the 17 miles of day-use trails, you will likely spot various wildlife, from white-tailed deer to hundreds of bird species.
Be on the lookout for the Faraway Ranch Historic District within the monument. This former cattle and guest ranch tells the story of Swedish immigrants Neil and Emma Erickson, offering an insight into the area's history.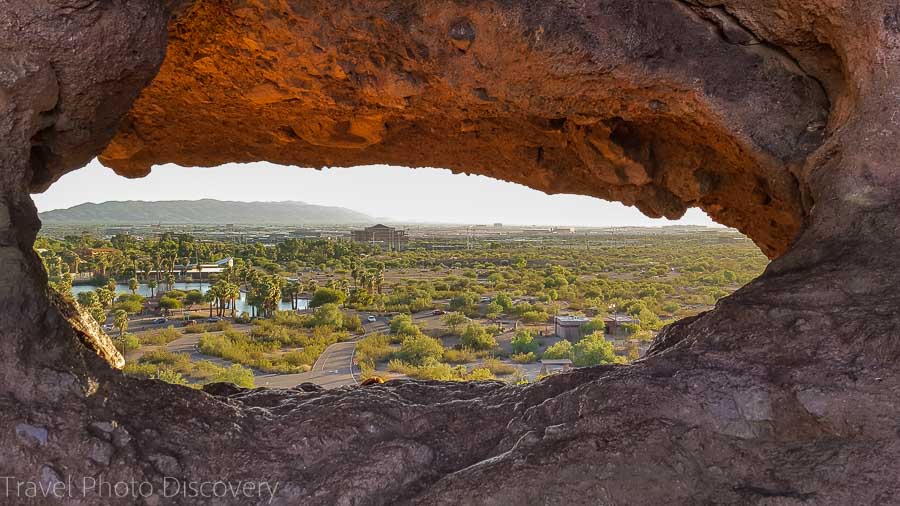 14. Phoenix, Arizona
Welcome to Phoenix, Arizona, the Valley of the Sun!
Just a short trip from Tucson, this vibrant city is a desert metropolis that truly knows how to live.
Did you know that Phoenix is the fifth largest city in the U.S.? Or that it boasts over 300 sunny days a year? It's true, and sun seekers from across the globe flock here for its warmth and clear skies.
Now, what to do? There are plenty of options, but for a unique Phoenix experience, you must visit the Desert Botanical Garden.
This isn't any old granny's garden. It's home to over 50,000 plant displays showcased in beautiful outdoor exhibits.
You'll encounter blooming cacti, towering saguaros, and a host of other desert dwellers that'll have your camera working overtime.
Between the sunshine, the culture, and the unforgettable desert scenery, it's a city that has something for everyone. Just don't forget your sunscreen!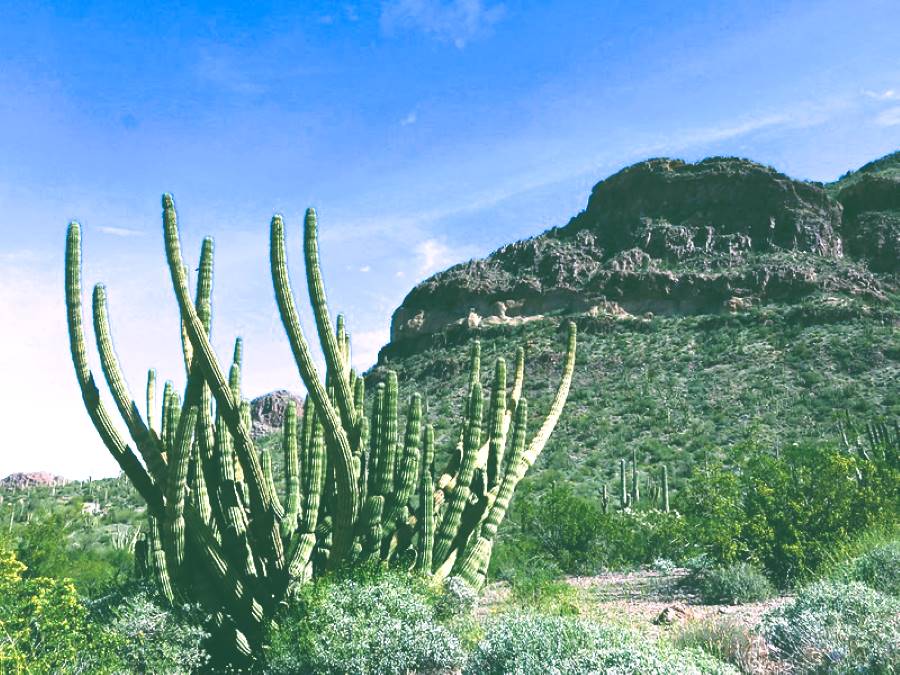 15. Organ Pipe Cactus National Monument
If you still haven't decided where to head to get away from the hustle and bustle, look no further.
Located just about two hours south of Tucson, Organ Pipe Cactus National Monument offers a completely different experience.
Sprawling across 330,000 acres of pristine Sonoran Desert landscape, the monument is home to the nation's largest concentration of organ pipe cacti.
Named for their resemblance to old-fashioned pipe organs, these cacti stretch towards the sky in a spectacle that's as surreal as it is beautiful.
The biodiversity here is staggering, with more than 30 species of cacti and an abundance of wildlife – it's a true nature lover's paradise.
During your visit, don't miss the 21-mile Ajo Mountain Drive, an unpaved loop that offers stunning views of the monument's most remarkable features.
Enjoy the scenic beauty and explore the desert trails – but remember to watch where you step. After all, the cacti might be organ pipes, but they sure don't play a welcoming tune if you get too close!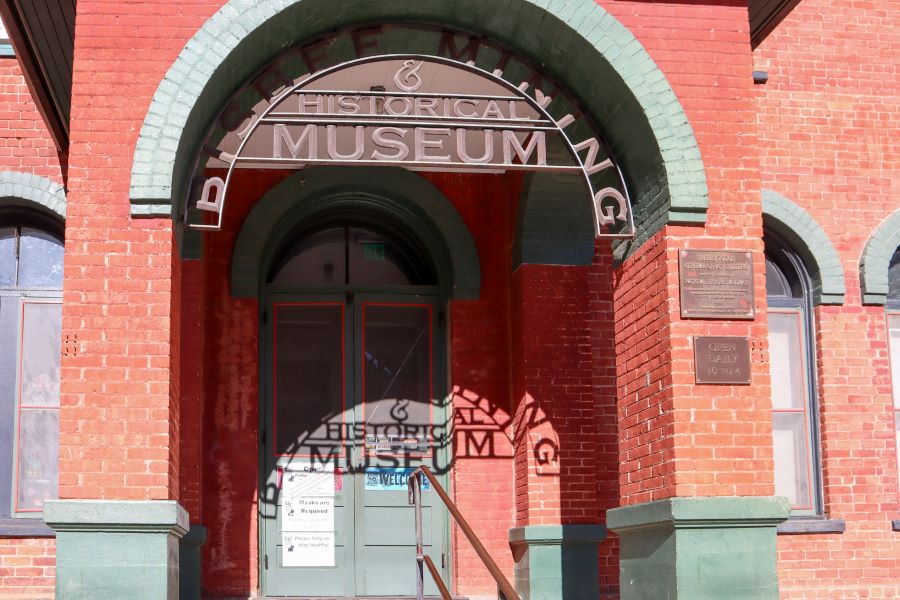 16. Bisbee
Situated in the Mule Mountains of Arizona lies the charming town of Bisbee.
Once known as the 'Queen of the Copper Mines,' Bisbee is now a vibrant blend of its mining past and a growing arts scene.
The town's history echoes through its Victorian and European-style houses, perched haphazardly on the hillsides, while the creativity shines in the lively shops, galleries, and cafes dotting its narrow streets.
Any visit to Bisbee would be incomplete without a trip down the Queen Mine.
Don a hard hat, miner's headlamp, and a yellow slicker, and embark on a journey that takes you 1500 feet into the mountain.
Your guide? None other than a retired miner, ready to regale you with stories of the mine's glory days.
It's a cool 47 degrees down there, so it's a great way to beat the Arizona heat. But don't worry; there are no canaries involved (these sensitive birds were used as early warning detectors of toxic gas!).
If you're game for a step back in time, itching for a bit of an adventure, and want a hearty dose of arts and culture, Bisbee is your place.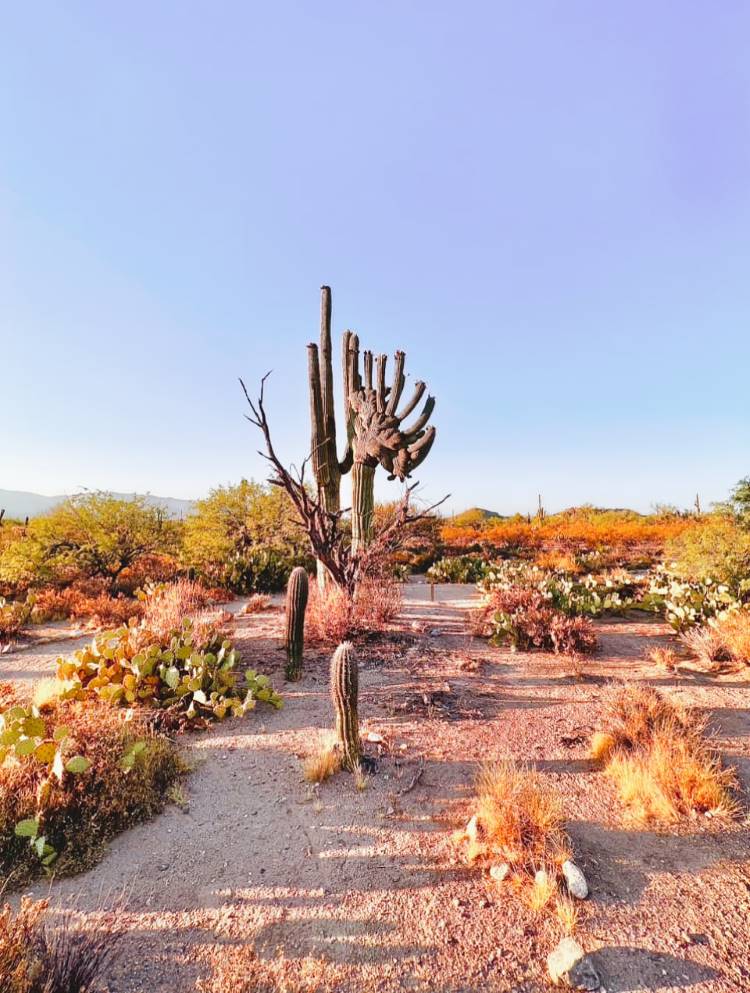 17. Coronado National Forest
We have come to the end of our list, and we are ending on a doozy.
Let's explore Coronado National Forest, a forest spread over 1.78 million acres of southeastern Arizona and southwestern New Mexico.
It's a wonderland of diversity that'll make any nature lover's heart flutter faster than a hummingbird's wings!
From desert lows to mountain highs, this place has it all – including 12 major mountain ranges. Talk about a geographical smorgasbord!
When you are in the forest, make time to hike the Sabino Canyon.
This jaw-dropping trail winds through the desert landscape, revealing the sheer beauty of the Sonoran Desert.
Witness towering saguaros, a wide variety of wildlife, and, if you time it right, a spectacular sunset that paints the sky in hues you previously thought only a mad artist could dream up.
Be sure to pack plenty of water and a camera; you're going to need both.
Coronado National Forest is like the nature version of a choose-your-own-adventure book, except every choice leads to breathtaking awe.
Dare we say, a tree-mendous experience awaits!
Tasty Food In Tucson
Whew, you've been out on your big adventure and are now getting back into Tucson after your drive. We know you don't feel like cooking because we sure wouldn't!
How about hitting up one of these incredible places for a bite to eat?
El Charro Cafe
Welcome, foodies, to the legendary El Charro Cafe, the nation's oldest Mexican restaurant in continuous operation by the same family.
Serving up mouthwatering Sonoran-style cuisine since 1922, it's an absolute must-visit in Tucson.
The star of the show here? Their delectable carne seca – sun-dried beef cooked to perfection. And don't get us started on their heavenly chiles rellenos!
El Charro is more than just a cafe; it's a cherished culinary institution.
So, loosen up your belt buckle and prepare for an explosion of flavors that'll make your tastebuds dance a festive salsa!
Poco & Moms Cantina
Say hello to Poco & Moms Cantina, a local favorite that's a fiesta for your senses.
The aroma of sizzling fajitas, the vibrant colors of fresh salsa, and the rhythmic beats of mariachi music will greet you upon your arrival.
Their green chili pork is an absolute knockout – a symphony of flavors that hits all the right notes.
And their margaritas? Let's just say they are the perfect partner-in-lime to your meal.
Tito & Pep
A culinary oasis in the heart of Tucson, this place serves up vibrant, wood-fired cooking that'll have you saying, 'Oh my grill!' in no time.
The brainchild of acclaimed Chef John Martinez, Tito & Pep fuses local ingredients with international flair, creating dishes as beautiful as a desert sunset.
Every plate is a love letter to Tucson's diverse flavors, from its zesty citrus salmon to its fire-roasted cauliflower.
Put Tito & Pep on your food bucket list and prepare for a dining experience that's hotter than a jalapeno's reputation!
Tumerico
For something slightly different, why not try a haven of vegan deliciousness in Tucson?
This little slice of plant-based paradise will make even the staunchest carnivore contemplate a lifestyle change.
Their menu is a colorful mosaic of fresh veggies, spices, and plant proteins, each dish bursting with bold flavors that'll make you say, 'Who needs meat, anyway?'
One bite of their jackfruit tacos, and you're on a one-way trip to vegan-ville. And their turmeric latte? It's like a warm, comforting hug in a mug.
Reilly Craft Pizza & Drink
Finally, we have Reilly Craft Pizza & Drink, Tucson's go-to spot for pizza enthusiasts.
Imagine a thin, crispy crust, molten cheese bubbling hot, and a riot of fresh, quality toppings that make your taste buds do the happy dance.
But hold on; there's more! Their artisanal cocktails are the perfect liquid accompaniment, trendy, and delicious to book.
The vibe? Pure urban chic, served with a side of laid-back comfort.
At Reilly's, whether you're a 'pepperoni classic' type or a 'truffle and arugula' adventurer, your pizza dreams are set to come true.
Conclusion- Best Weekend Trips From Tucson
There you have it, a handy guide to some of the best weekend trips from Tucson that are sure to strike the right chord with every kind of wanderer.
From the time-traveling tour of Petrified Forest National Park to the intergalactic vibes of Sedona, there's a little something for everyone.
These spots promise a mix of adventure, relaxation, and good-old nature-loving fun.
Don't forget your camera, though, because these trips are packed with postcard-perfect views.
Now, all that's left is for you to hit the road and make some memories!
Guest Post by Jenny from Traveling In Focus