Road trip to Antelope Canyon in Arizona – a spectacular natural canyon experience
One of the most famous landscapes to visit for photography in Arizona is Antelope Canyon located just outside the city of Page. If you plan on taking a road trip through the area, there is definitely a lot of wonderful parks, monuments and landscape to visit in the surrounding region, and Antelope Canyon is one of those must see places to visit. Check out the tour highlights below of this road trip to Antelope Canyon in Arizona.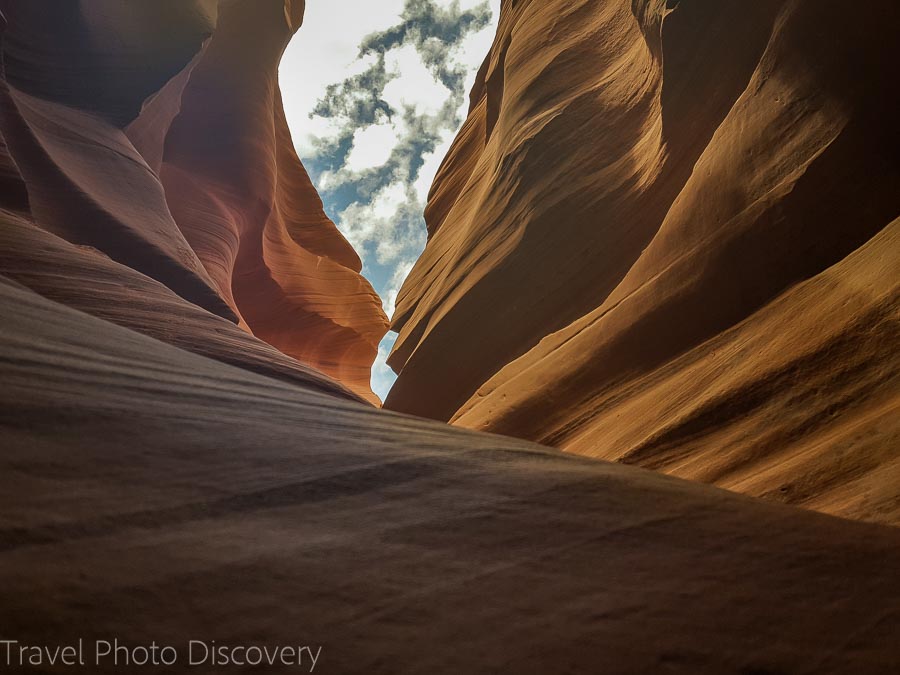 Why visit Antelope Canyon?
For those that love photography and also visiting natural landmarks, Antelope Canyon offers the best of both worlds with these spectacular formations that you can enter and see such stunning displays of the earth's motions and formations that really impresses. It is worth visiting when you are looking for something unique and beyond the typical natural phenomena that we are accustomed to seeing around us.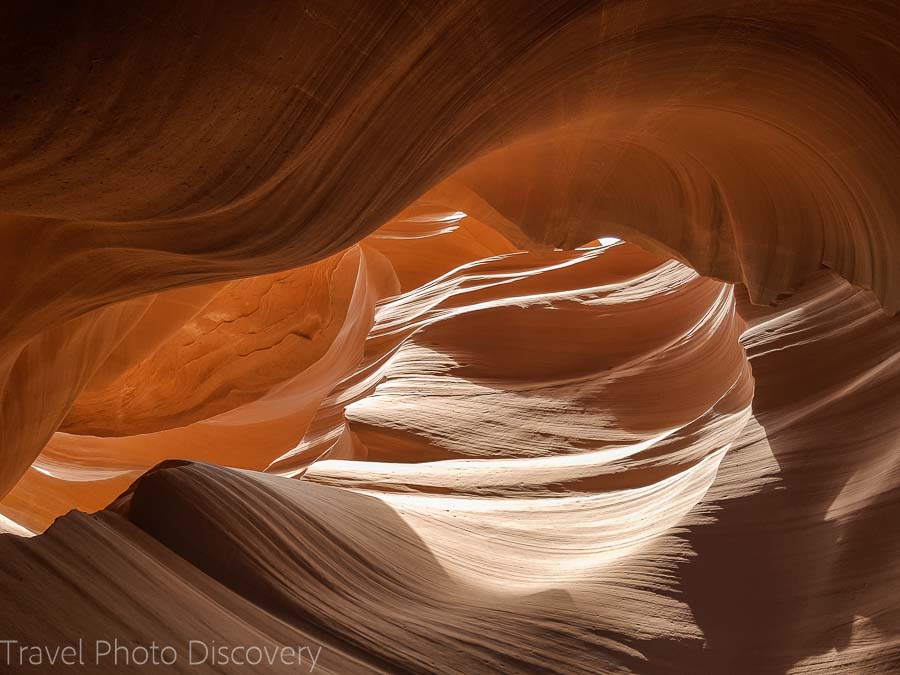 Tour highlights visiting of Antelope Canyon
There are two areas of Antelope Canyon that you can visit – the Upper Antelope Canyon and Lower Antelope Canyon, and it is possible to visit both sites on the same day. In order to do this, you have to reserved in advanced so you may see one or both parks in your desired time frame.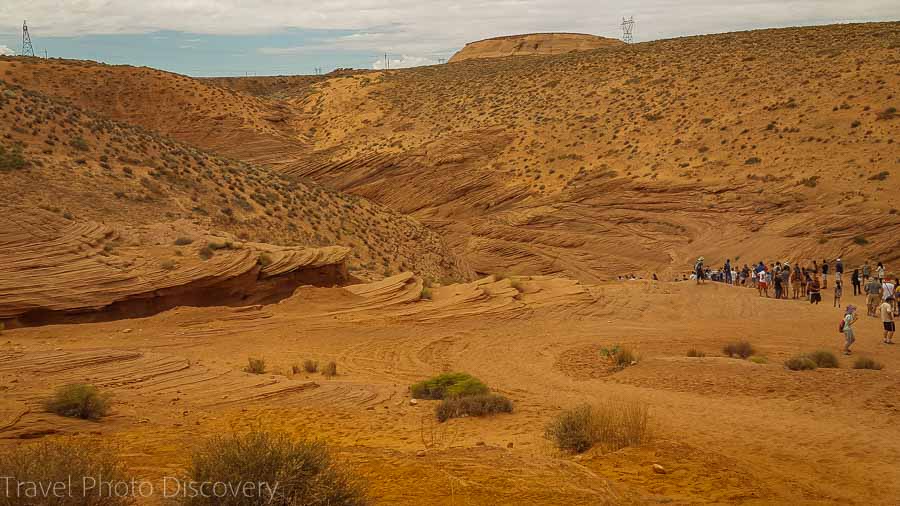 Lower Antelope Canyon guide
You have to book a tour with a designated guide for a timeslot and the guide will take you through the canyon and share some stories and details of how the canyon was created and found. Our particular guide was also very helpful to spot those ideal photo compositions in the canyon that really highlight the lighting effects and interior details that can easily be missed.
Note – you have to stay  with your group and guide for the entire visit, so you definitely have to look and shoot quickly before entering a different segment of the canyon – there is no returning to a previous area that has been visited.
Entering the Lower Antelope cavern and climbing down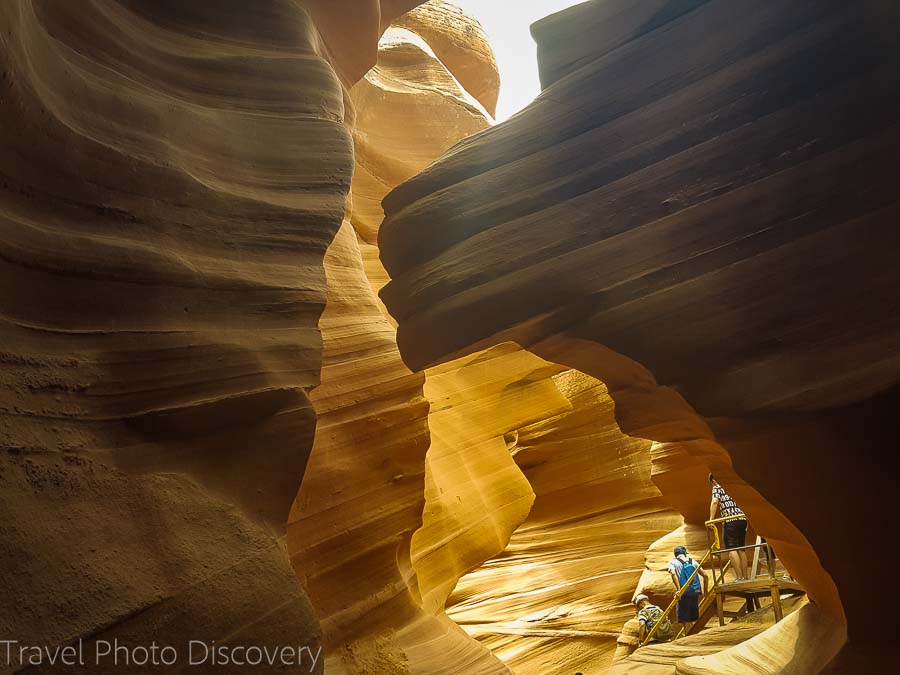 Descending the staircase to the lower segment of Lower Antelope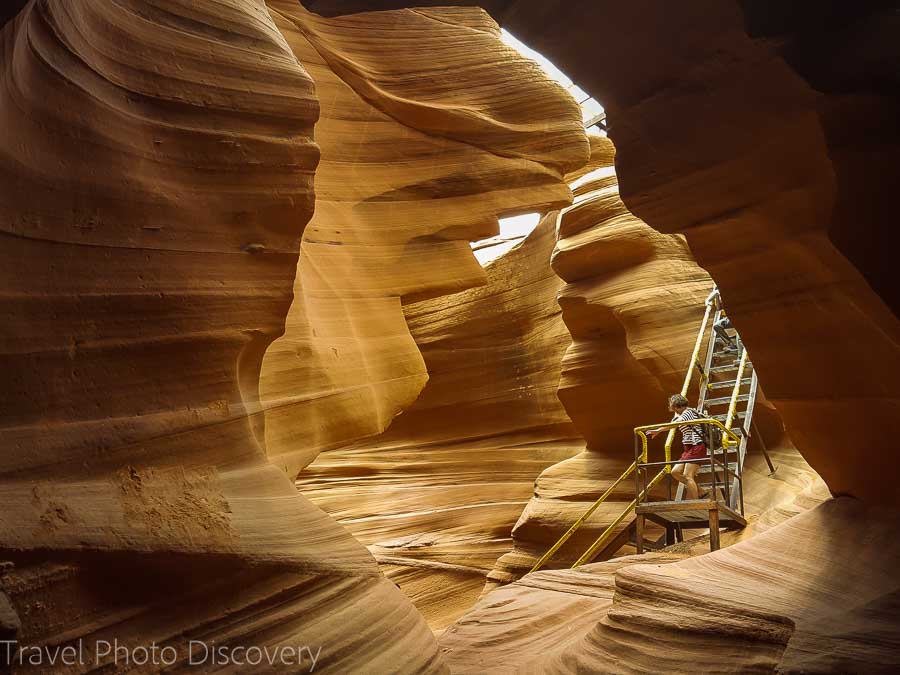 Lower Antelope Canyon Highlights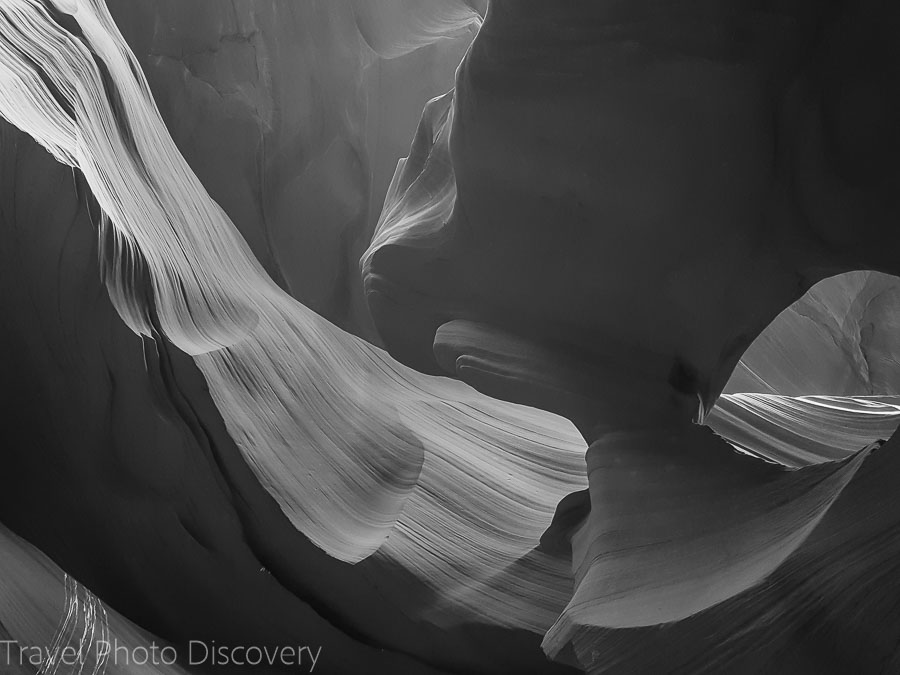 Visiting the lower Antelope Canyon is an excellent time to not only experience this magnificent landscape but to also create some wonderful photographs. It seems like any spot you look at from above looking down or up, in a detailed presentation or even a selfie, there is so much inspiration to being present and enjoying this amazing and unique landscape.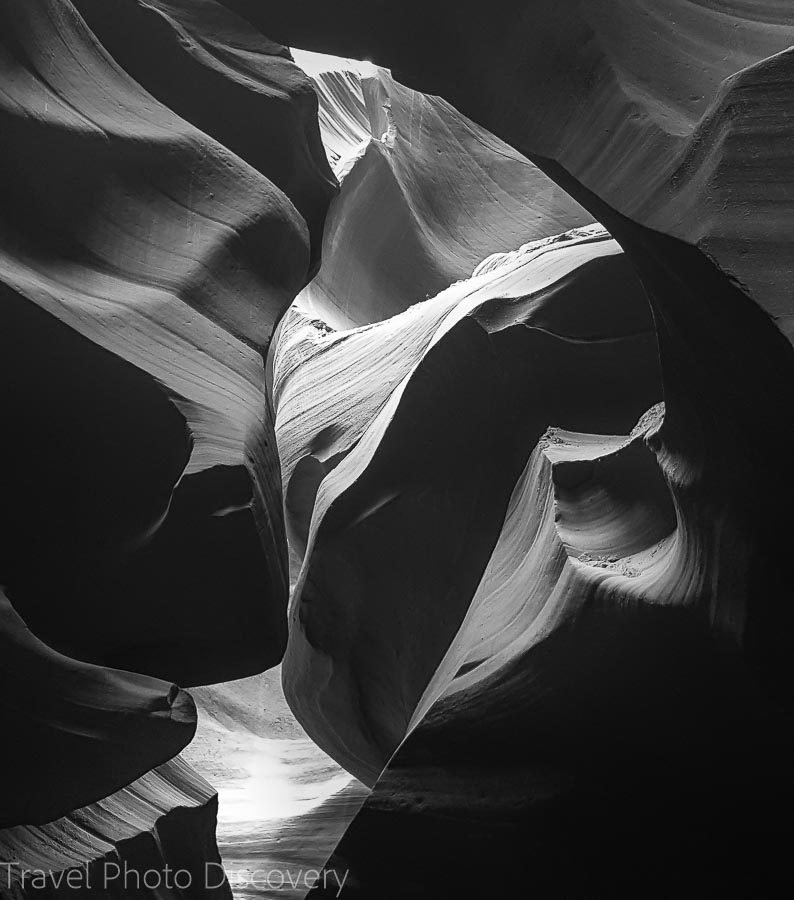 Antelope Canyon in color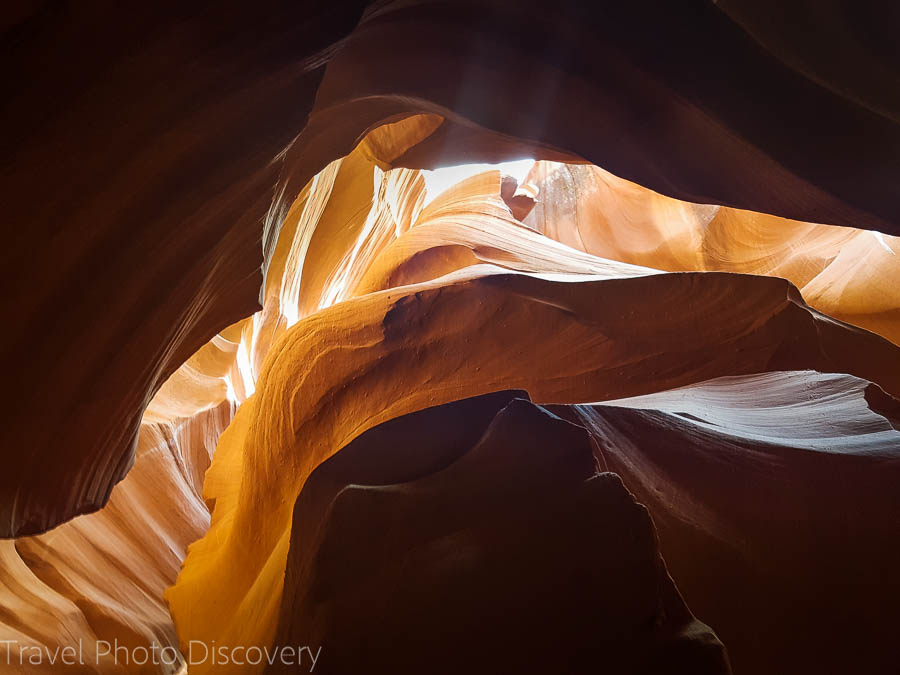 Even if you photograph the images straight on, you can get some fascinating abstract patterns and designs from looking around at different angles. It's such an inspiring environment to experiment and try different shots and techniques with your camera. Following are some of my abstract studies done in color.

Camera composition
You can get some very interesting compositions by just looking up or in different angles to get a different perspective of the interior and details. The canyon is a fun place to experiment with your camera and take lots of pictures that you can easily edit after the fact.
Tip – use an HDR setting to get both dark and highlight features including the sky images that can easily burn in a normal exposure.

Looking up to the skies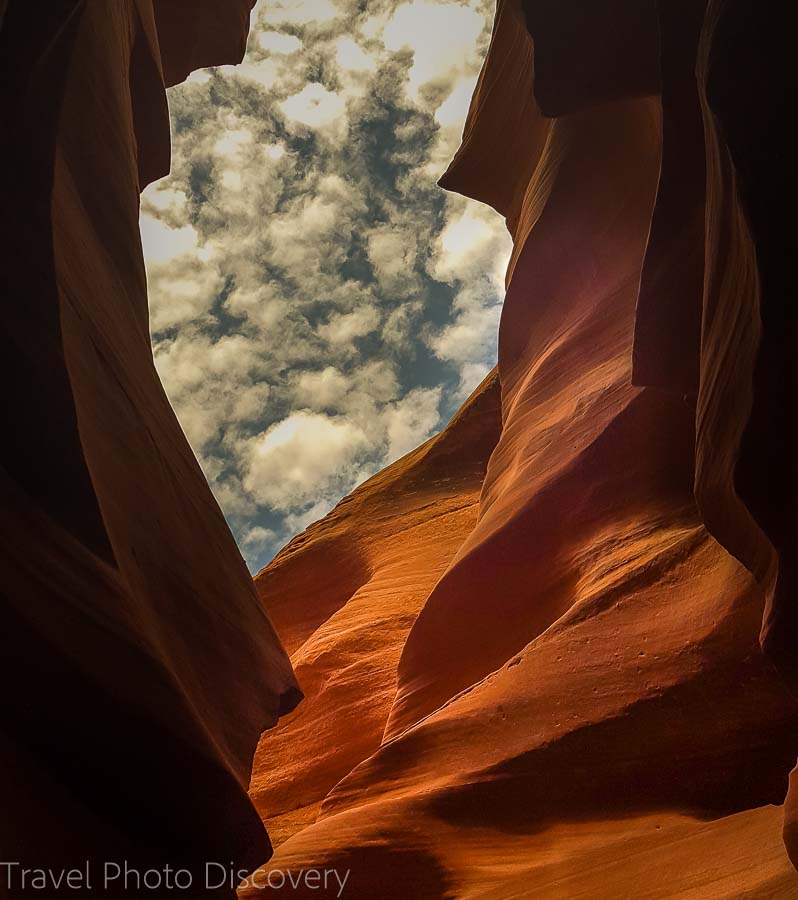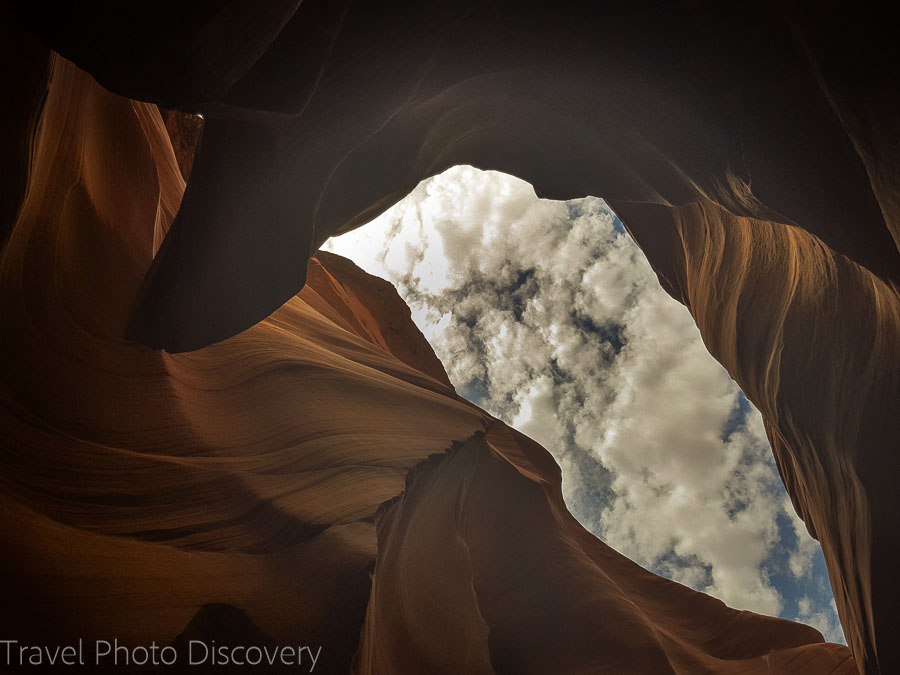 Selfie time in Lower Antelope Canyon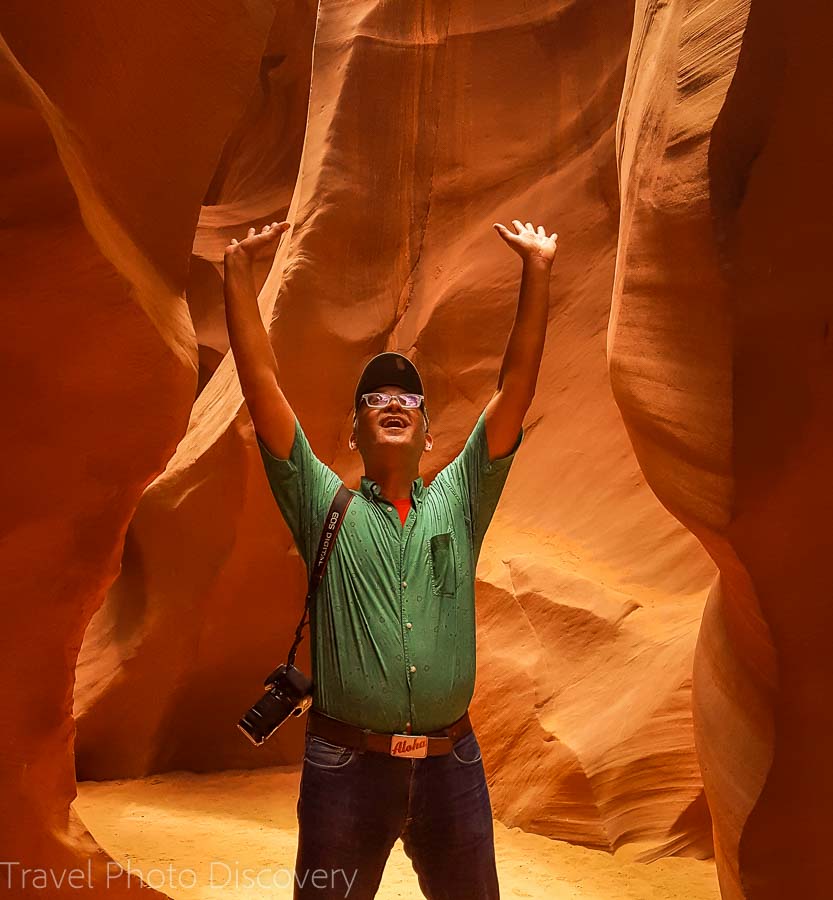 Of course everyone wants to do a selfie in the canyon to highlight their visit. There is a spot above where the lighting is even and highlights anyone standing in the middle. Our guide patiently took pictures individually with the group and I decided to take a slight different approach from a standard portrait shot.
Exiting Lower Antelope Canyon
Leaving out of the canyon, you practically have to crawl out through a tight crack (in the image above) and walk back to the visitors center. The center has a large gift store, food service and even a nice photo gallery of some Indian artist. The most popular item it seems for a typical hot day is any of the ice cream bars selling like hot cakes.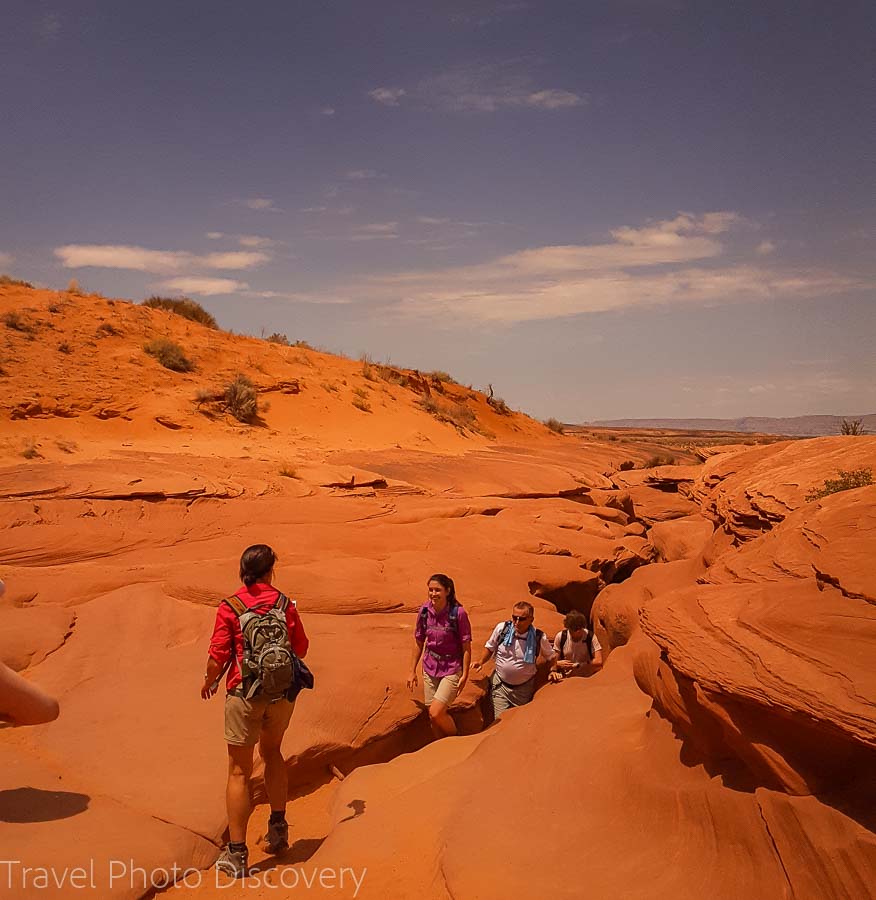 Check out these other Arizona posts below
Road trip from Sedona to Jerome
Things to do around Flagstaff, Arizona
Getaway weekend to Phoenix Arizona
Road trip to Walnut Canyon National Park
Road trip to Waputki National Monument
Best places to photograph Sedona
Visiting Sedona landscapes and photography
Exploring the Montezuma cliff dwellings
More details for visiting Antelope Canyon
Tours start from 8am to 4pm MST
Prices are $40 per adult and $20 for children ages 0-12
An additional $8 per person fee for parks and recreation services
There are also special photography focused tours, you can find out more details on the different tours here.
During monsoon season, monsoon season occurs in the area and both canyons can be closed depending on a threat of flooding. Check details on the website here, for updated weather conditions.
Thanks for visiting today, if you enjoyed reading this post on a Road trip to Antelope Canyon in Arizona, please do share it with any of the social media links below, thank you.
If you like what you see, come and check out my other social media channels for more updates, including Instagram, Pinterest and Twitter