Palau de la Musica Catalana, Barcelona – Photo Friday
The Palau de la Musica Catalana in Barcelona is an architectural marvel. Built in the Catalan Modernisme or Art Nouveau style that was very popular in Catalana especially Barcelona. This magnificent building was created by architect Lluis Domenich, who was one of the main architects creating in this distinctive Catalan design.
Unesco world heritage site
The main facade of the Palau de la Musica is very ornate, with large balconies decorated with exquisite stain glass panels, mosaic column tile work and radiant lighting details. At night, the entire building illuminated resembles a giant jewel box lighting up the dark streets of the Barrio Gotic. There is continuation of highly crafted artwork, intricate tile mosaics, architectural details, and ironwork throughout the interiors of the music hall. You will be awe-inspired with all the artistry, details and quality craftsmanship designed into every part of this stunning structure. Declared a Unesco World Heritage site, this beautiful palace dedicated to music is worth a visit and partake in any musical performances that highlight the Catalan culture.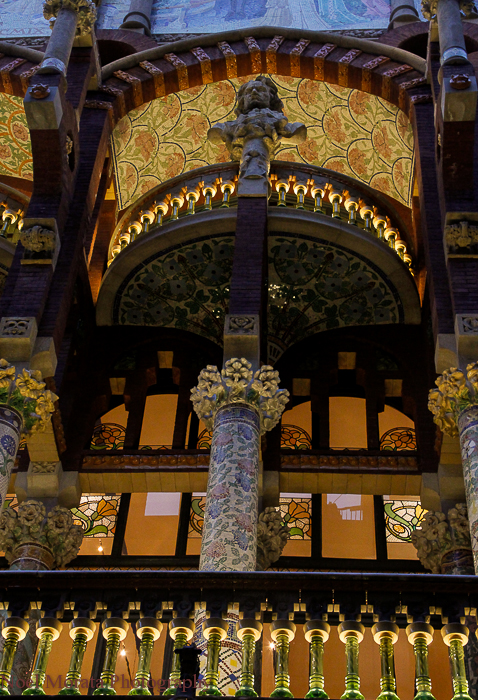 One of the many ornate upper balconies from the street
Evening performances
The evening I came for a performance of regional Catalan folk style dances akin to square dancing, the entire building was lit up magically. It felt very special going to an event here and dine on tapas and champagne inside the cavernous bar, elaborately decorated with fine materials.  The performance was the perfect musical experience, enjoying a wonderful cultural presentation within this expansive and lavish interior. Being able to partake in a live performance at the Palau de la Musica adds a nice exposure to the cultural diversity and creativity of enjoying a city like Barcelona.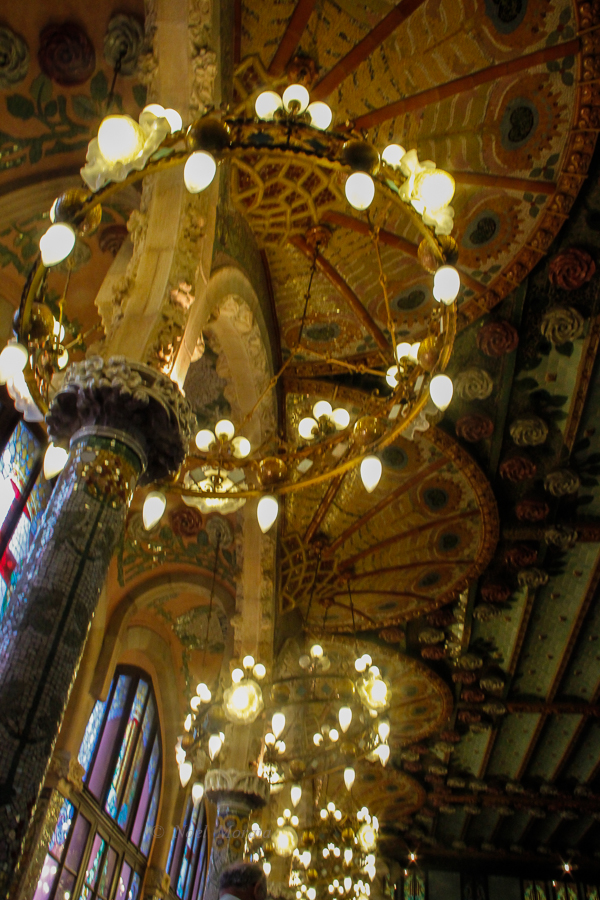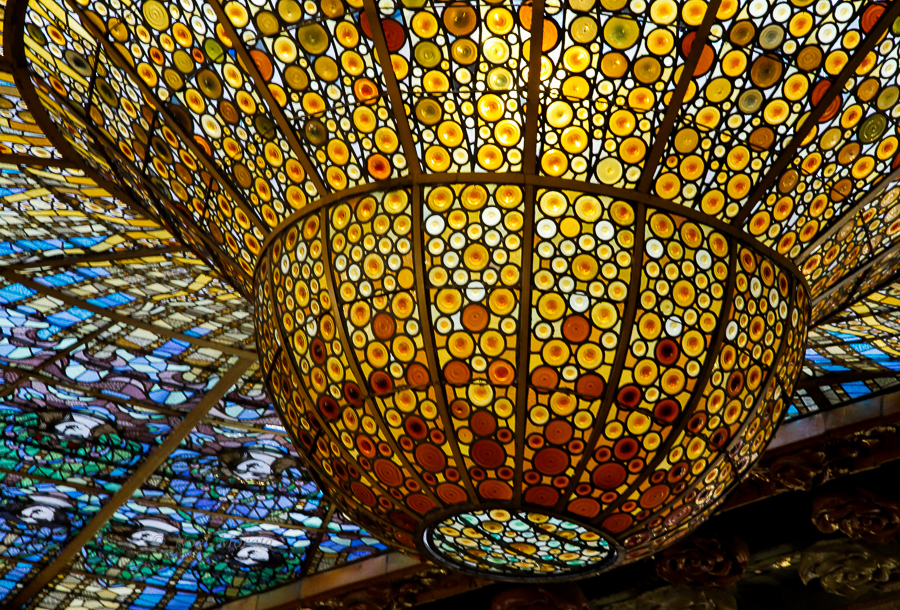 This is such an impressive monument to Catalan artistry and architecture, offering a unique historic legacy where music and art merges magnificently.
If you would like to see more posts I wrote about this beautiful city, please check these links below.
https://travelphotodiscovery.com/mossen-costa-i-llobera-garden-in-barcelona-an-exotic-garden/
https://travelphotodiscovery.com/barcelona-parks-in-montjuic-and-the-national-botanical-garden/
https://travelphotodiscovery.com/la-boqueria-in-barcelona-a-place-to-photograph-beautiful-food/
https://travelphotodiscovery.com/discovering-barcelona-a-photo-essay/
https://travelphotodiscovery.com/panoramic-barcelona-vistas-a-photo-journey/
Have any of you visiting this beautiful building or any other amazing architecture in Barcelona, tell me what your favorite place was in the comments section. After an evening performance, it's good to check some of the local bars and cafes in the immediate area or just retire for the night at your hotel or hostel in the neighborhood.
Also, if you enjoyed this post on Palau de la Musica Catalana, Barcelona, please click on my 'Like' button on the right navigation bar –  containing images, thoughts and more tips outside of my blog.