Palau de la Musica Catalana, Barcelona – a grand concert hall
The Palau de la Musica Catalana in Barcelona is an architectural marvel and stunning to visit and experience in person. It is beautiful to visiting during the day to night, but it really sparkles and comes alive with all the beautiful details, glass and carvings lit up at night and the grand chandelier in the main performance chamber is brilliant to see.
The first time I came to visit here during the day time, I was marveling all the impressive exterior details that makes this concert hall so special and characteristic of the wonderful Catalan Moderisme style that created this new look for Barcelona that still stands out as unique and grand architecture today.
After visiting the concert hall and touring the outside and inside, I decided to treat myself to watching a local dance performance at night time and this experience took everything to a new level and made the visit to the Palau de la Musica even more special.
The Palau de la Musica Catalana may be the place to visit for the music and orchestral performances but seeing the concert hall is a visual treat in itself so different from any other concert halls with its rich details, gorgeous artwork and hand crafted artisans making such a beautiful building worth seeing when you visit Barcelona.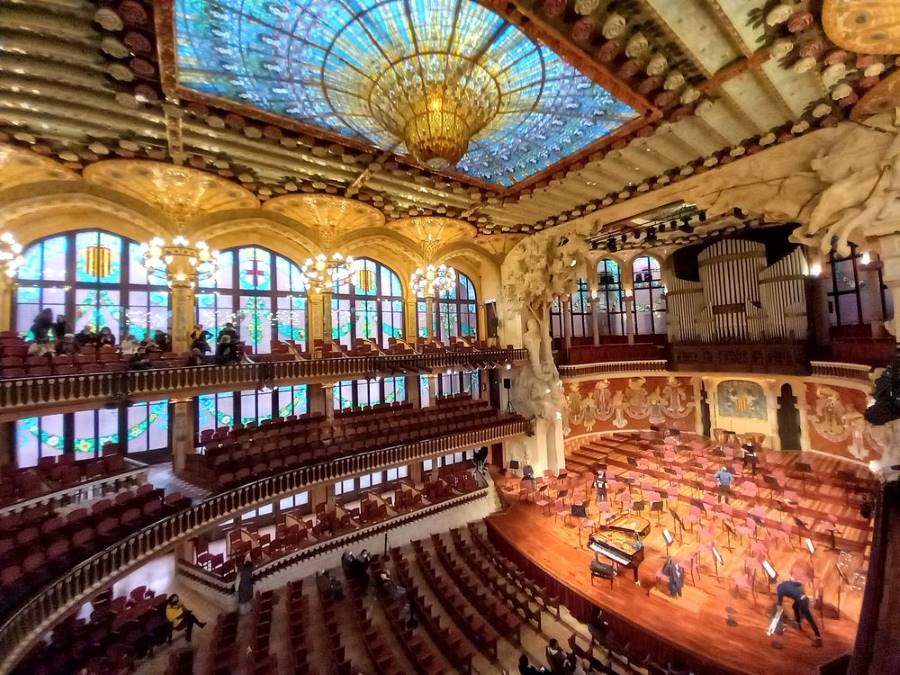 A brief history of the Palau de la Musica Catalana
The Palau de la Musica was built in the Catalan Modernisme or Art Nouveau style that was very popular in the Catalan region and predominant in Barcelona. Built between 1905 and 1908 for the Orfeó Català – a choral society founded in 1891 that wanted to create a special place for music and performances.
This magnificent building was created by architect Lluis Domenich, who was one of the main architects creating in this distinctive Catalan design. Along with the stunning engineering work, Lluis blended the gorgeous ornamentation of local artists creating stained glass, ceramics, mosaic, wrought iron and murals into this magnificent structure.
It took about three years to construct the Palau de la Musical with all the rich details assembled and placed for the grand opening and on going performances. Along with local and regional performances, the concert hall also hosts international orchestras from the New York Phllharmonic, Berliner Philaharmonider, Chicago Symphony Orchestra, Wiener Philharmoniker to many other well recognized symphony and other performance groups.
Palau de la Musica is a Unesco World Heritage Site
Declared a Unesco World Heritage site in 1997, this beautiful palace dedicated to music along with Lluis Domenech's other masterpiece the Hospital de la Santa Creu i Sant Pau or the Hospital of the Holy Cross and Saint Paul also located in Barcelona.
The Palau del la Musica Catalana and the Hospital de la Santa Creu where recognized as one of the finest examples of Catalan Modernisme that Lluis Domenech created.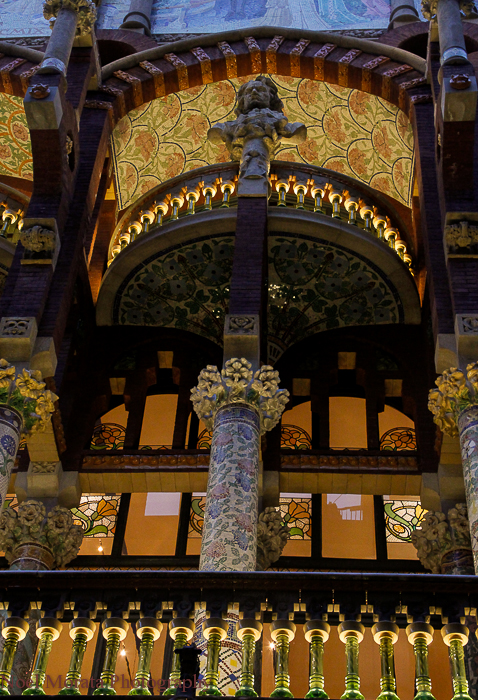 One of the many ornate upper balconies from the street
Evening performances at Palau de la Musica
The evening I came for a performance of regional Catalan folk style dances akin to square dancing, the entire building was lit up magically. It felt very special going to an event here and dine on tapas and champagne inside the cavernous bar, elaborately decorated with fine materials.
The performance was the perfect musical experience, enjoying a wonderful cultural presentation within this expansive and lavish interior. Being able to partake in a live performance at the Palau de la Musica adds a nice exposure to the cultural diversity and creativity of enjoying a city like Barcelona.
Tip: enjoy a nice meal at the concert hall's dining restaurant with lavish details and friendly service. It is a special event that deserves a nice meal in their richly decorated dining area.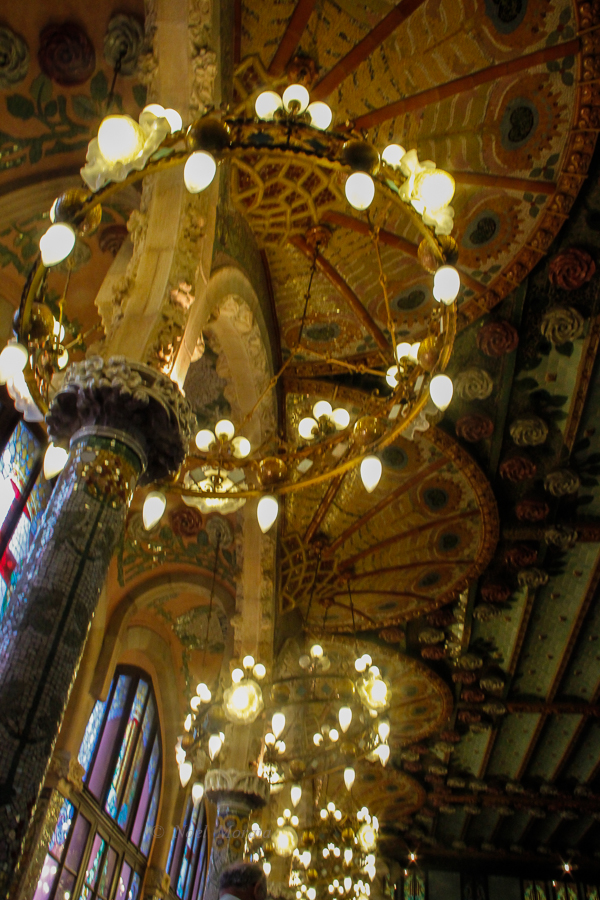 Gorgeous details to the Palau de la Musica
The main facade of the Palau de la Musica is very ornate, with large balconies decorated with exquisite stain glass panels, mosaic column tile work and radiant lighting details. At night, the entire building illuminated resembles a giant jewel box lighting up the dark streets of the Barrio Gotic. There is continuation of highly crafted artwork, intricate tile mosaics, architectural details, and ironwork throughout the interiors of the music hall. You will be awe-inspired with all the artistry, details and quality craftsmanship designed into every part of this stunning structure.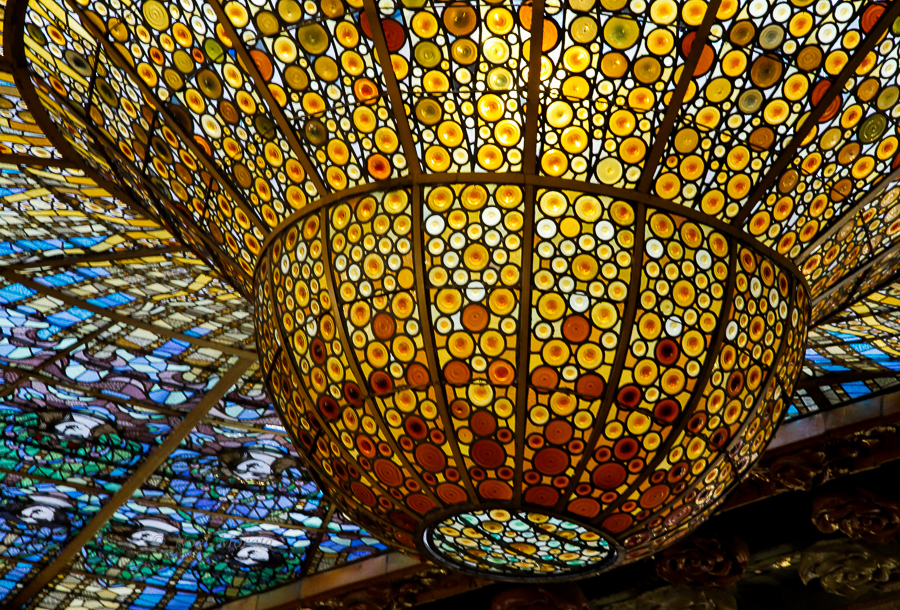 Rich ceramic and mosaic details at Palau de la Musica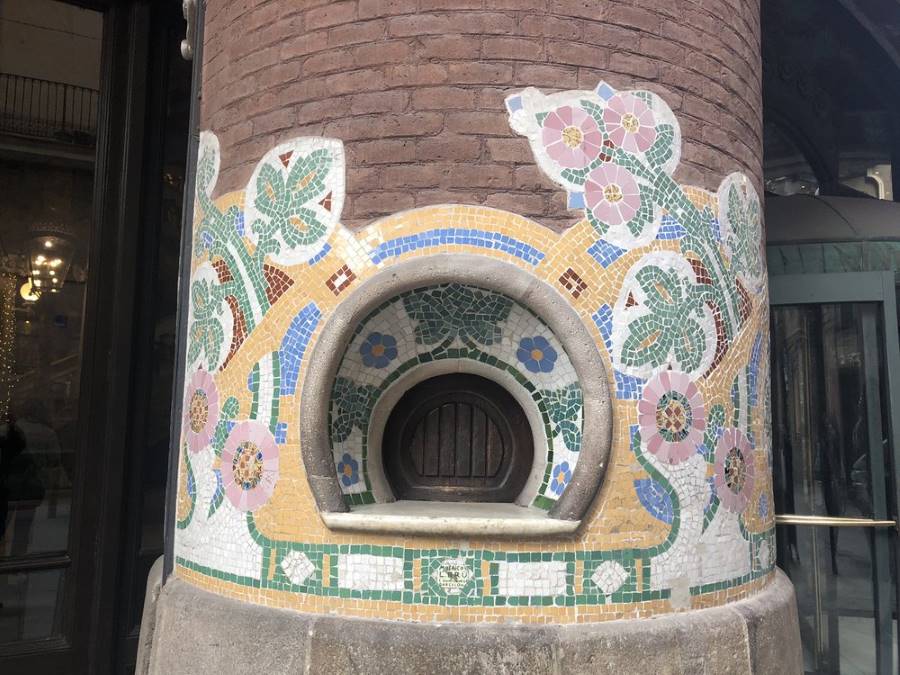 Final thoughts on visiting Palau de la Musica Catalana
This is such an impressive monument to Catalan artistry and architecture, offering a unique historic legacy where music and art merges magnificently. You can do a self tour of the concert hall but if you can fit it into your shedule, try to watch one of the performances at night and you will see the concert hall it all its brilliant details all lit up magically. It is a very unique and wonderful experience to witness in person and for a live performance when you are visiting Barcelona.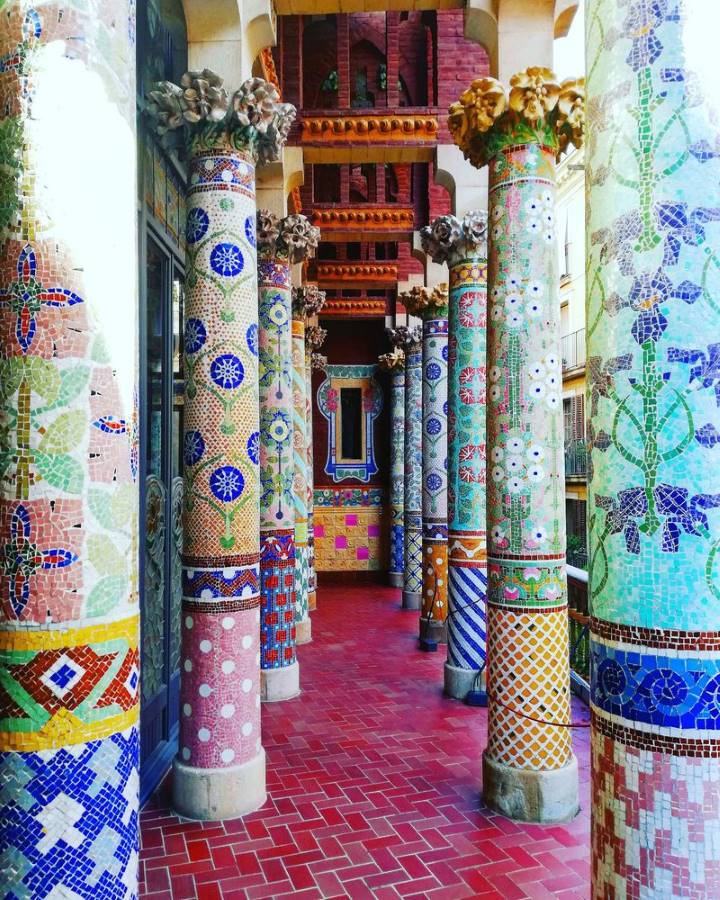 Guided Tour of Palau de La Musica Catalana
If you're not a fan of classical music or you're trying to save money, a guided tour is a perfect opportunity to view the building for the interior and exterior details. It has a reputation for being more impressive on the inside so it's worth paying to see the interior with an audio tour experience.
The Palau de la Música Catalana is open every day from 9 am to 3 pm (for guided tours in Catalan, Spanish, English, French, or Italian) or from 9 am to 3:30 pm (for self-guided tours, with an audio guide in Catalan, Spanish, English, French, Italian, or Korean included). If you are visiting the concert hall, check out the website or visit the concert hall to see what is playing and seeing a performance in person would be a highlight to experiencing this marvelous concert ha..
You can check out the performance schedule on their official website of the Palau de la Música Catalana.
Tip – to just do the tour, they do fill up daily so book the tours as early as you can so you will be able to see the inside of this marvelous architectural building.
Location of the Palau de la Musica
Reception entrance:
Palau de la Música Catalana
Carrer Palau de la Música, 4 – 6
08003 Barcelona, España.
Information: +34 93 295 7200 / +34 93 295 7207
Check out this wonderful walking tour of the Palau de la Musica below
Check out these other posts to explore Barcelona
Traditional Catalan food you should try
Free things to do in Barcelona
15 best viewpoints of Barcelona
A visit to Montjuic Castle
Historic Museu Nacional d'Art de Catalunya
Night time at the Magic Fountain of Montjuic
Enjoy the Mossen I Llobera garden at Montjuic
Top places to photograph Barcelona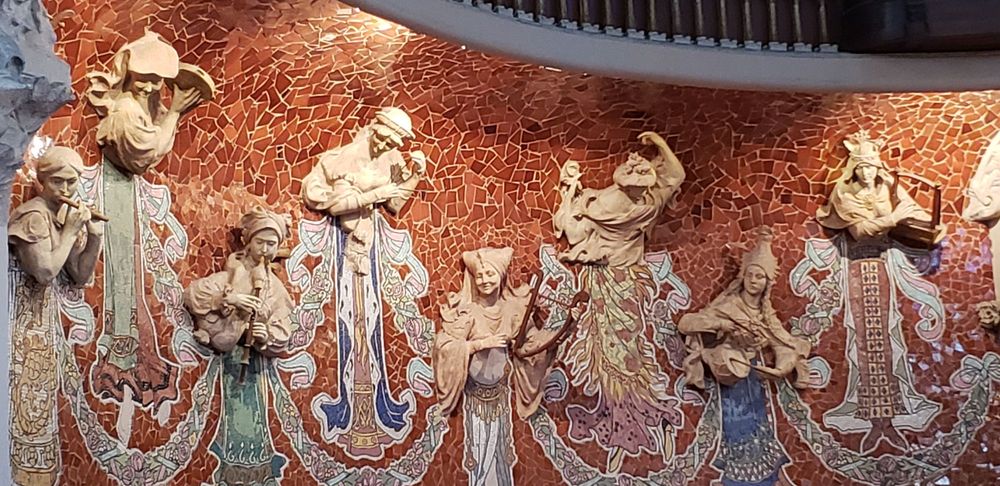 Conclusion on visiting Palau de la Musica Catalana, Barcelona
Enjoyed your visit here or any other tips to share? Please share on the comments below.
Thanks for checking out this post on visiting this gorgeous concert hall at Palau de la Musica Catalana. Hope the post was informative and a must read article – if so please do share it with any of the social media buttons around the page.
Disclosure – This article and related articles may have some affiliate links. This means that  we earn a commission from qualified purchases and bookings at no additional costs to you.
Thank you for supporting the site, if you do.