Travel Photo : Gaudi's masterpiece, La Sagrada Familia
When you enter the majestic space of the La Sagrada Familia interior,  the soft cylindrical columns draw your views and attention immediately up to the ceiling and focusing on the golden lit opening above the main altar. This opening seems to magically draw a spiritual light and presence that just envelops the entire cathedral, the golden details sparkle with the presence of the holy spirit. Gaudi's master piece has been a work in progress since it's start in 1882 with its finally projected completion by 2026.   Pope Benedict XVI consecrated in the Catholic church as a basilica in 2010 with a crowded capacity of over 6,500 in the church and over 50,000 celebrating outside. If you have time to explore any of the towers, the views of Barcelona are stunning to see from above from either the passion or Nativity towers. One of the most beautiful and popular Barcelona attractions, La Sagrada Familia is Guadi's masterpiece coming true to completion.
Even though it is incomplete, the site is registered as a Unesco World Heritage site along with six of Gaudi's other architectural works representing the Modernisme period of Catalania architecture and arts.
Capturing the interiors of La Sagrada Familia
The interior of La Sagrada Familia is a breathtaking testament to Antoni Gaudí's architectural genius and vision. As you step inside, you are greeted by an awe-inspiring space that radiates with light, color, and a sense of spiritual grandeur.
The most striking feature of the interior is its towering columns, reminiscent of a forest. These columns branch out like trees, reaching towards the ceiling, and their unique design allows for a distribution of weight that creates a sense of harmony and stability. The columns are adorned with intricate details and feature organic shapes and textures, evoking a natural and organic ambiance.
The light-filled space is bathed in a kaleidoscope of colors, as the sunlight streams through the stained glass windows. The windows, located high above, showcase a stunning palette of hues that create a mesmerizing interplay of light and shadow within the interior. The colors change throughout the day, casting a magical glow and adding to the ethereal atmosphere.
The soaring ceilings of La Sagrada Familia create a sense of expansiveness and transcendence. The intricate vaults and arches overhead add to the architectural beauty and structural integrity of the basilica. Gaudí's attention to detail is evident in every aspect, from the intricate carvings and sculptural elements to the carefully designed acoustics that enhance the experience of music within the space.
The focal point of the interior is the sanctuary, where the main altar is located. The altar is adorned with intricate decorations and symbolic elements, creating a sacred space for reflection and worship. Surrounding the sanctuary, chapels and alcoves provide intimate spaces for prayer and contemplation.
Overall, the interior of La Sagrada Familia is a captivating blend of architectural marvels, artistic beauty, and spiritual significance. It is a place where visitors can immerse themselves in a harmonious fusion of light, color, and intricate design, experiencing a truly transcendent journey within Gaudí's masterpiece.
Completion of La Sagrada Familia
The construction of this iconic basilica began in 1882 under the guidance of renowned architect Antoni Gaudí. However, due to various factors such as funding issues and interruptions caused by the Spanish Civil War, the construction progress has been gradual.
While the construction continues, significant portions of the Sagrada Familia have been completed and opened to the public. The Nativity Façade and the Passion Façade are two notable parts that have been finished and showcase Gaudí's distinctive architectural style. Visitors can marvel at the intricate details, symbolism, and breathtaking designs found in these completed sections.
The ongoing construction is expected to continue in the coming years, with an estimated completion date set for 2026, marking the centenary of Gaudí's death. It's worth noting that the timeline may be subject to change, and it is recommended to check the latest updates before planning a visit to the Sagrada Familia to ensure the most accurate information regarding its completion status.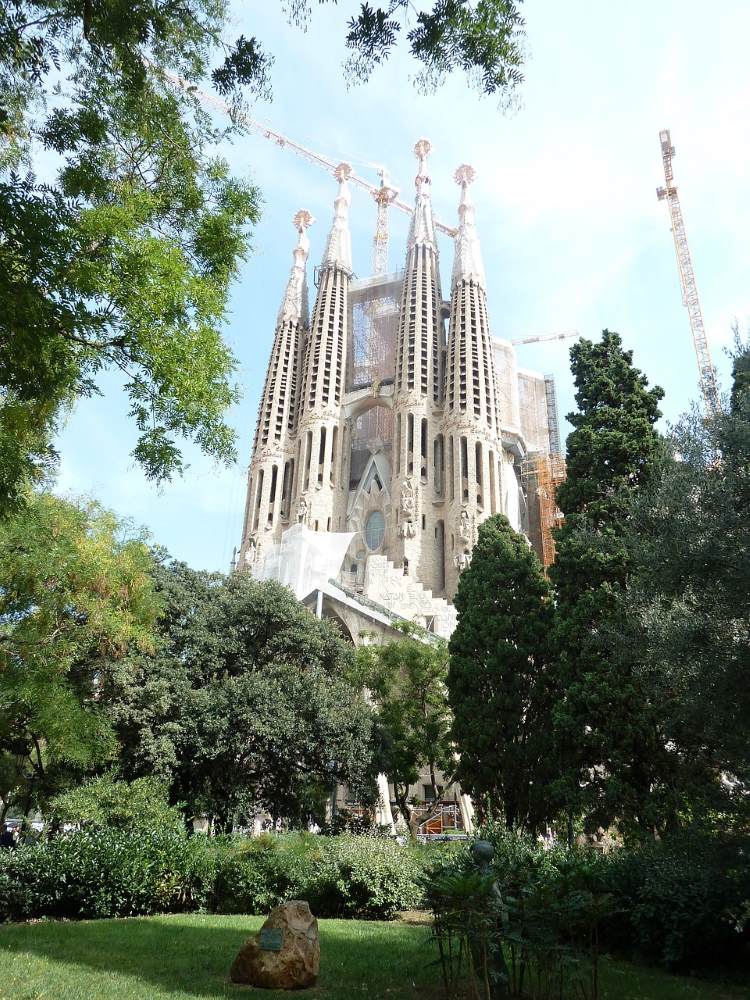 Best places to capture the exterior of La Sagrada Familia
To capture the stunning exterior of La Sagrada Família, consider these best spots and angles for photographing Gaudí's iconic masterpiece:
Plaça de Gaudí: The square in front of the Nativity Façade provides a wide-angle view of the entire basilica's facade, showcasing its intricate details and soaring towers.
Carrer de Mallorca: Walking along this street towards the basilica allows for dramatic shots of the Nativity Façade from a distance, capturing the entire facade and surrounding trees.
Hospital de Sant Pau: Located across the street from La Sagrada Família, the hospital's terrace offers a unique elevated perspective of the basilica's towers and facades.
Bicing Park: This small park situated on the corner of Carrer de la Marina and Carrer de la Independència offers an interesting angle for photographing the Nativity Façade with the Sagrada Família in the background.
Bunker del Carmel: While not directly in front of the basilica, this former bunker atop Turó de la Rovira provides a panoramic view of Barcelona's skyline, with La Sagrada Família as a prominent feature.
Helicopter Tour: For an extraordinary aerial view, consider taking a helicopter tour that allows you to capture the basilica's grandeur from a unique and breathtaking perspective.
Mirador de Colom: The rooftop terrace of the Columbus Monument provides a different angle of the basilica and the city, offering a blend of history and modernity in one shot.
Turo Park: Located in the affluent neighborhood of Sarrià-Sant Gervasi, this park offers a tranquil setting with La Sagrada Família visible in the distance, ideal for capturing the basilica amidst a natural landscape.
Elevated Metro Platforms: Some metro stations, like Sagrada Família and Verdaguer, have elevated platforms that offer elevated views of the basilica, providing a fresh perspective for your photos.
Remember to visit La Sagrada Família during different times of the day, as the changing light can drastically influence your photos, adding depth and character to your shots. Additionally, capturing the basilica during golden hour and at night when it's beautifully illuminated can yield magical and enchanting photographs of this iconic architectural wonder.
More inside tips to visiting La Sagrada Familia
When planning a visit to La Sagrada Familia, one of Barcelona's most iconic landmarks, consider these inside tips to make the most of your experience:
Book Tickets in Advance: La Sagrada Familia is a popular attraction, and long queues are common. To avoid waiting in line, it is advisable to book your tickets in advance through the official website. This will ensure a smooth entry and allow you to make the most of your visit.
Choose the Right Time: Visit La Sagrada Familia during the early morning or late afternoon to avoid the busiest periods. These times often offer a more tranquil atmosphere, allowing you to appreciate the beauty of the basilica without feeling rushed or crowded.
Opt for a Guided Tour: Consider joining a guided tour to gain deeper insights into the history, architecture, and symbolism of La Sagrada Familia. Expert guides can provide valuable information and enhance your understanding of Antoni Gaudí's visionary masterpiece.
Explore the Exterior: While the interior is undoubtedly captivating, don't overlook the exterior of La Sagrada Familia. Take your time to admire the intricate details, sculptures, and facades that adorn the basilica. Each facade represents a different phase of Gaudí's design and offers unique artistic elements.
Look Up: When inside, be sure to look up and marvel at the extraordinary ceilings, vaults, and columns. The interplay of light and shadows creates a mesmerizing atmosphere, and the intricate details in the architecture will leave you in awe.
Visit the Museum: La Sagrada Familia has an informative museum on-site that provides historical context and showcases Gaudí's original plans and models. Exploring the museum will deepen your appreciation for the basilica and its construction process.
Dress Appropriately: As La Sagrada Familia is a religious site, it is recommended to dress modestly and respectfully. Avoid wearing revealing clothing and ensure your shoulders and knees are covered.
Plan for Extra Time: Allocate ample time for your visit to fully immerse yourself in the beauty and intricacies of La Sagrada Familia. It is not uncommon to spend a few hours exploring both the interior and exterior of the basilica.
By following these inside tips, you can optimize your visit to La Sagrada Familia and have a truly memorable experience, delving into the architectural marvels and spiritual significance of this extraordinary landmark.
Check out these fantastic posts to visiting Barcelona
Traditional Catalan food you should try
Free things to do in Barcelona
15 best viewpoints of Barcelona
Enjoy the Mossen I Llobera garden at Montjuic
Top places to photograph Barcelona
Exploring the Gothic District of Barcelona
Where to stay in Barcelona
With so many fantastic places to enjoy and explore around the city, there are so many wonderful options for accommodations. Check out these top reviewed paces to stay here for reviews and updated prices
Alexandra Barcelona Hotel – a 19th century hotel with modern aesthetics and amenities with easy walks to Gracia and Las Ramblas, centrally located, good sized rooms, good breakfast and attentive staff.
Serras Barcelona – a luxury boutique hotel with award winning Michelin star restaurant, cool and trendy hotel with comfortable, with world class amenities and service
Majestic Hotel and Spa – a luxury traditional hotel centrally located and close walk to Ramblas with excellent service, amenities, rooftop terrace and outdoor pool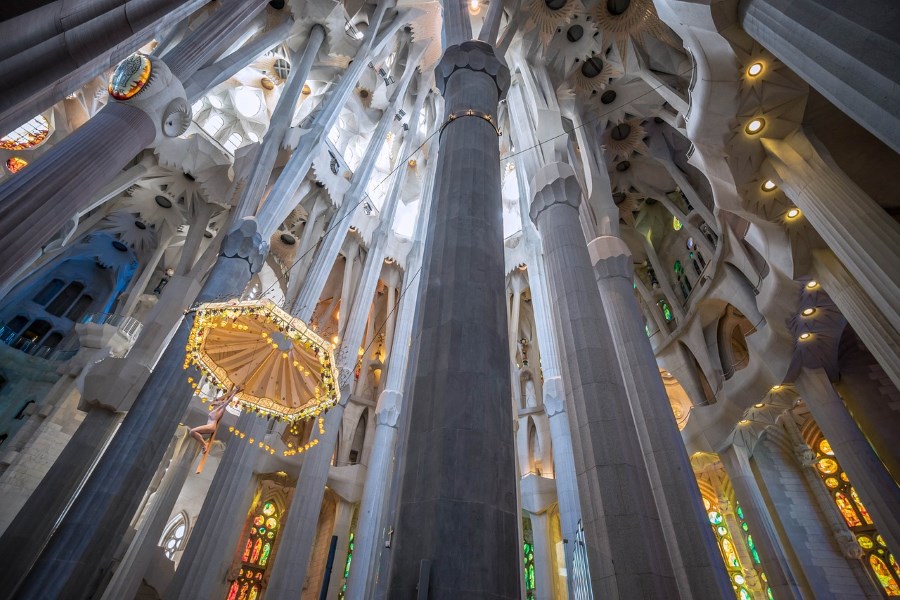 Conclusion to visiting La Sagrada Familia in Barcelona
Visiting La Sagrada Familia is a transformative experience. This architectural masterpiece by Antoni Gaudí blends Gothic and Art Nouveau elements, creating a captivating atmosphere of wonder and spirituality. The soaring columns, mesmerizing stained glass windows, and intricate details reflect Gaudí's genius. Exploring the basilica's interior and exterior reveals his symbolism and storytelling. A visit to La Sagrada Familia is a profound journey into art and spirituality, leaving an indelible mark on your heart and soul.
Hope you enjoyed this tour of La Sagrada Familia in Barcelona, to find out more information and details about Gaudi's masterpiece, you can check out the wiki page here. If you enjoyed the post, please do share it with any social media buttons below.
If you enjoyed the post, please do share it with any of the social media buttons around the page. Thanks so much for visiting today.
Disclosure – There are affiliates links on this posts which provide a small commission to support this site at no extra cost to you. Thank you for reading, and happy travels