Taking an Olympic Peninsula road trip is the perfect way to explore Washington State's natural beauty. The Olympic Peninsula sits just west of Seattle and is easily accessible by car and ferry. It comprises largely of Olympic National Park, Olympic National Forest, and many Native American reservations. The biodiversity found within the region is spectacular. Moreover, Olympic National Park is a designated UNESCO International Biosphere Reserve and World Heritage Site. With a diverse set of ecosystems, from coastline to mountains to forest, there is a lot explore. While even a day trip to the region is worth the visit, spending at least a few days to enjoy the scenery is ideal.
Highway 101 is the primary road to follow on your Olympic Peninsula road trip. It is a well-maintained single-lane road that skirts that coast most of the time. It also makes a giant loop around the region. This road trip can be done traveling either clockwise or counterclockwise, depending on where you want to visit first!  Here are some of the highlights for an Olympic National park road trip and discovery tour.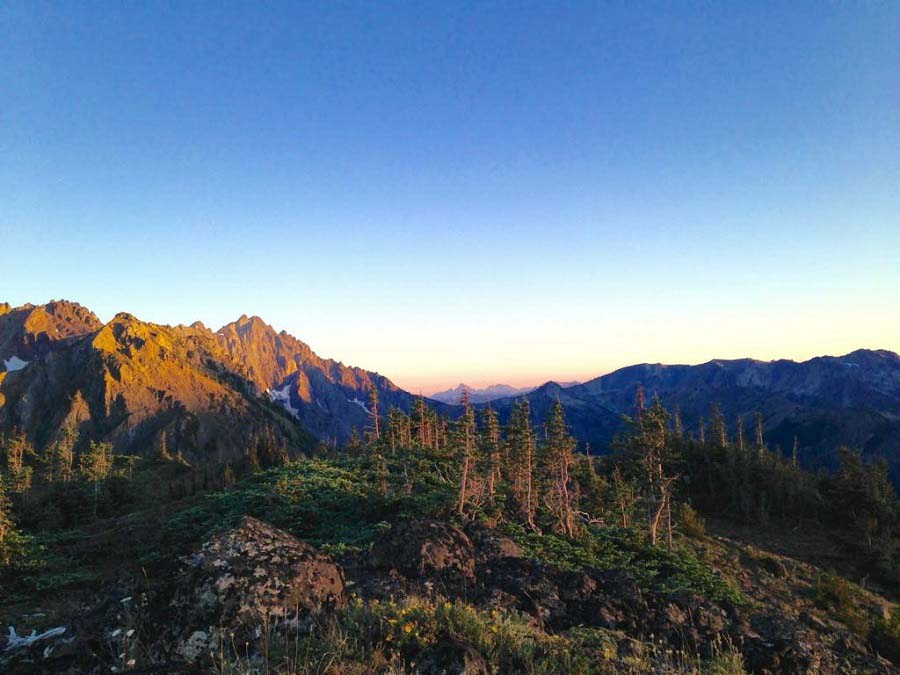 A r
oad trip through
Washington's Olympic Peninsula 
Stopping in Aberdeen for tasty local food
If starting in a clockwise direction to head up the west coast first, stop in Aberdeen for a bite to eat.
A historic timber port, Aberdeen is right on the water and the gateway into the Olympic Peninsula. Along the coast, places to eat become more scarce.
Al's Hum-Dinger is a must if you fancy a diner burger and milkshake. This small, carry-out joint doesn't look like much, but the food is delicious. Or, try out the local seafood at Breakwater seafood and Chowder.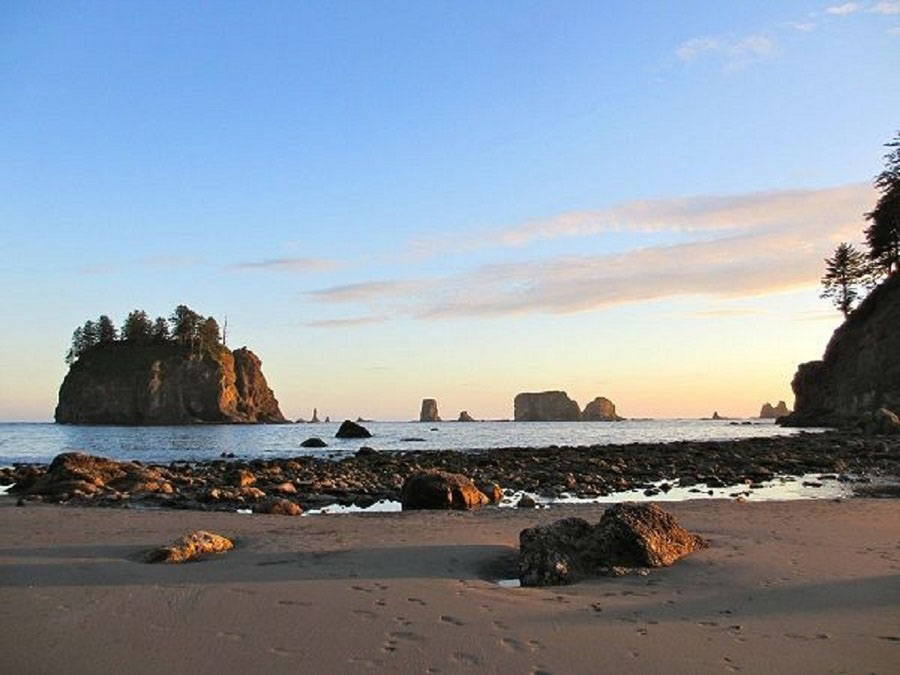 Visiting the sea stacks on the Pacific Ocean
Sea stacks are large rock formations found on the coastline, and the Olympic Peninsula is full of them. These rocks act as miniature ecosystems for all sorts of animals.
Consequently, the Olympic region is one of the best places to see wildlife in Washington State. Whales are easily spotted eating just offshore during their migration times in late winter and early spring. What's more, marine life, including seals, seabirds, starfish, and anemones, are found on and around the sea stacks, too.
Kalaloch Beach 4, Ruby Beach, and Rialto Beach are all easily accessible from Highway 101 and perfect for getting closer to the sea stacks. The beaches' accessibility also means they may be busier on good-weather days.
Alternatively, for a little more seclusion, hike to Second Beach outside La Push or take the Shi Shi Beach trail. These walking routes start in dense coastal forest, and when you emerge to see the water, you'll feel as if you've stepped into another world.
Step lightly, as lots of little critters live among the rocks, and avoid climbing on them. This is especially important during bird breeding season, from April to July.
Consult the local tide charts and visit the sea stacks at low tide to see them closer. However, the ocean comes back in quickly so watch the clock if you are walking along the mudflats.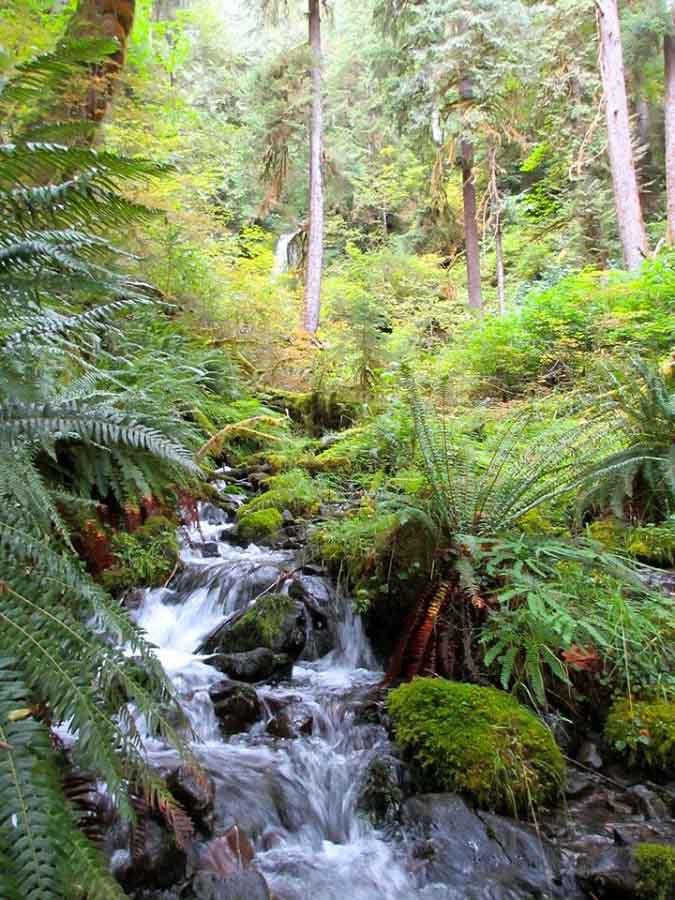 Hiking through the Hoh Rainforest
The Hoh Rainforest is one of the largest temperate rainforests in the United States. One of the best hikes to do in Olympic National Park, Hoh Rainforest is lush and amazing to experience.
It's named after the massive Hoh River, which flows from the center of the Olympic Range, through the forest, and out into the Pacific.
Getting to the Rainforest can take some time, as it's located deep within the Olympic National Park. On your drive inland, the road runs along the Hoh River and is a great place to stop off for scenic views and a picnic. The milky blue hue the River often adopts is from the high-mountain glacial runoff.
While the area can get busy in the summertime, hiking a short time in on many of the trails will see fewer and fewer visitors.
The massive trees here are covered in mosses of all kinds, and the forest floor has ferns as far as the eye can see. There's so many fantastic hikes in Olympic National Park and the Hoh Rainforest is one a perfect place to explore.
Hiking considerations in the Hoh Rainforest
From the Hoh Rainforest Visitor's Center, there are many trails to choose from. Notably, the Five Mile Island loop and the Spruce Nature Trail loop are more popular.
The Five Mile Island loop is a day trek, totaling around 10 miles, while the Natural Trail is only a little over a mile. Seeing the Spruce is a nice way to get a taste for the Rainforest. You'll also spot climbers hiking into the Park's interior, especially to climb Mount Olympus, the tallest mountain on the Olympic Peninsula.
Note that bringing a dog is restricted in many parts of the Olympic National Park. The Hoh Rainforest is one such place and dogs are not allowed. If your furry companion is with you, keep this in mind as you plan your Olympic Peninsula road trip.
Additionally, any backpacking and camping into the Olympics may require a bear canister, depending on the location.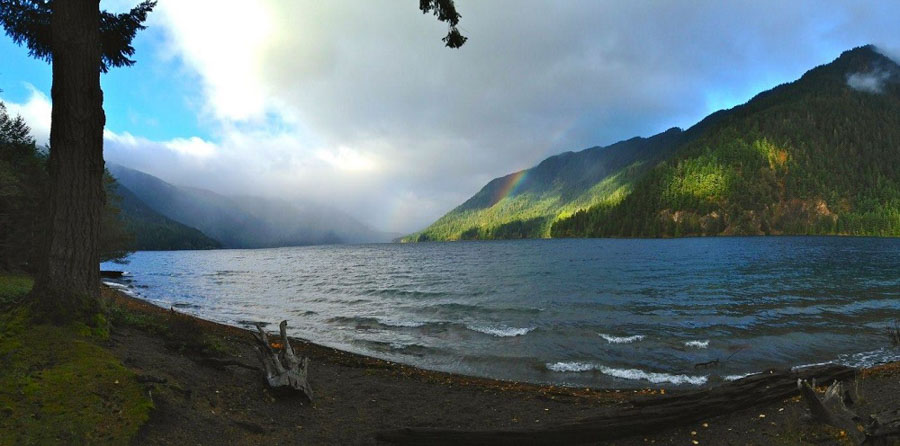 Kayaking Lake Crescent
Spending time outdoors in the Olympic Peninsula requires good layers and rain gear, as the weather can be finicky.
Being on the water in a kayak, in particular, is most enjoyable if the weather is fair.
Lake Crescent, named for its crescent-shape, is a fabulous place to stop off and enjoy some time on the water.
Surrounded by forest, the lake is an enjoyable place to launch a canoe or kayak and go for a picnic. Secluded beaches are found all throughout the lake, so there are plenty of places to stop and relax.
Late afternoon often sees higher winds, and the lake is so large that sizeable waves can form on the water. Given this, kayaking in the morning and early afternoon is best for a smooth ride.
White motorized boats are allowed on Lake Crescent, the lake is large enough that it's often not a disturbance.
Canoes, kayaks, and stand-up paddleboards can be rented from the Log Cabin Resort and Lake Crescent Lodge.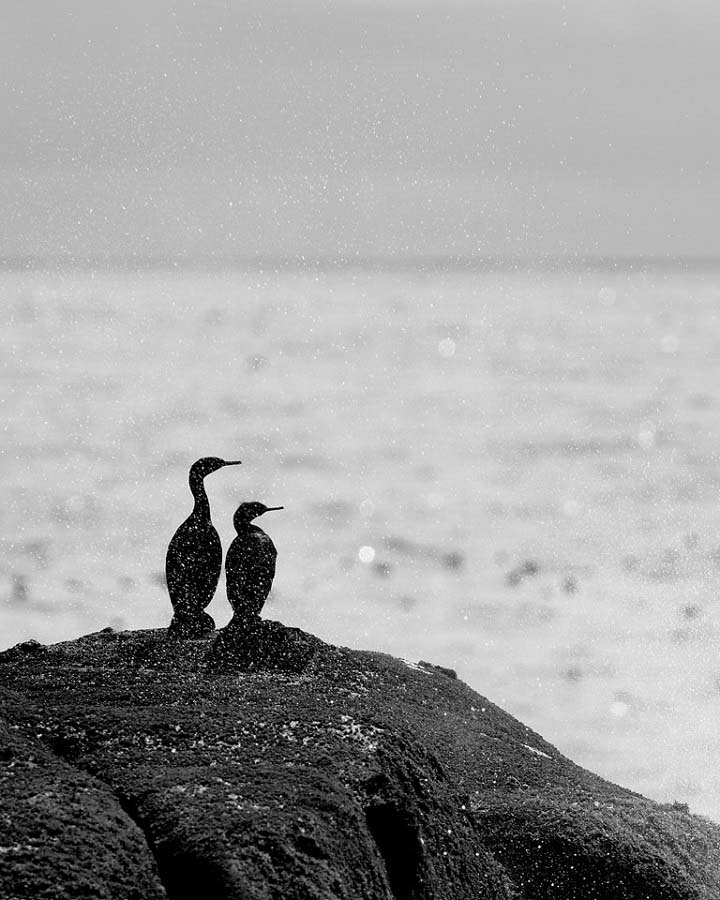 Watching whales out of Port Angeles
Port Angeles is a bustling seaside town and an easy jumping-off point to get into the Olympics on your road trip.
It's also one of the best places to set off into the Salish Sea in search of whales. Island Adventures takes visitors out throughout the year to see the awesome sea life that calls the Pacific Northwest home.
Orca, Minke, Gray, and Humpback whales can be spotted, and you're guaranteed to see at least one! Keep a lookout for seabirds, seals, and stunning scenery, too.
The seas can be rough any time of year, so if you're prone to seasickness, bring your seasickness remedy of choice.
Back in Port Angeles, there are lots of window shopping and local food options. If you're a coffee-lover, there are endless shops from which to choose. For example, Easy Street Coffee and Tea has tasty treats for everyone.
Port Angeles is home to Peninsula College, so you might be surprised how busy it is compared to the rest of the Olympic Peninsula.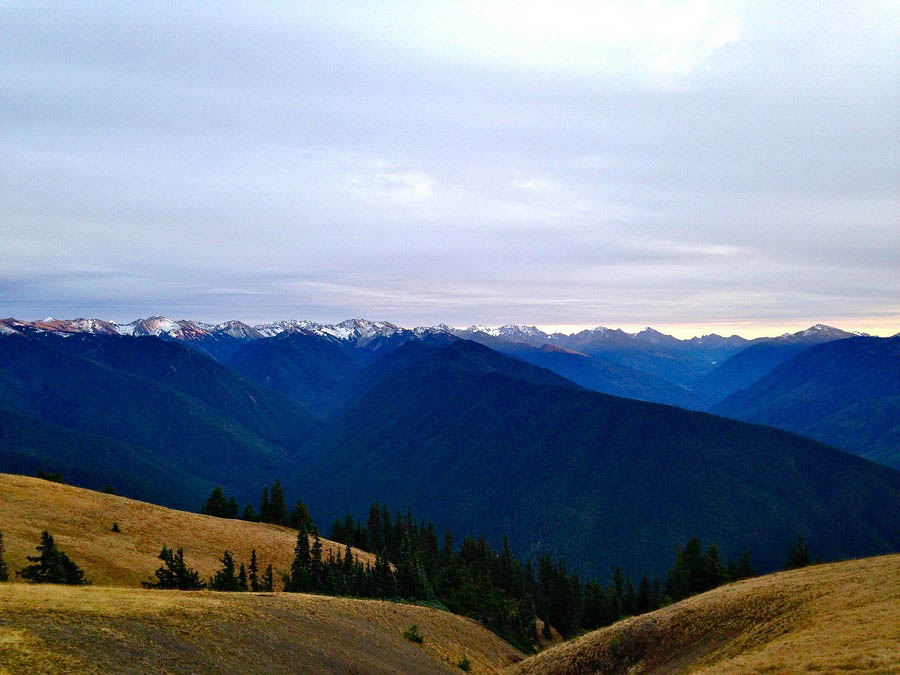 Hiking mountain vista views at Hurricane Ridge
Hurricane Ridge is easily accessible by car, perfect if you want those mountain-top views without hiking up a mountain.
An hour's drive from the visitor's center at Port Angeles leads to vista views over the Olympic Range. Even stopping at the Hurricane Ridge Visitor's Center at sunset is easily worth the drive.
Vista hikes, such as either the Hurricane Ridge or Hill trails, are wonderful for a stroll.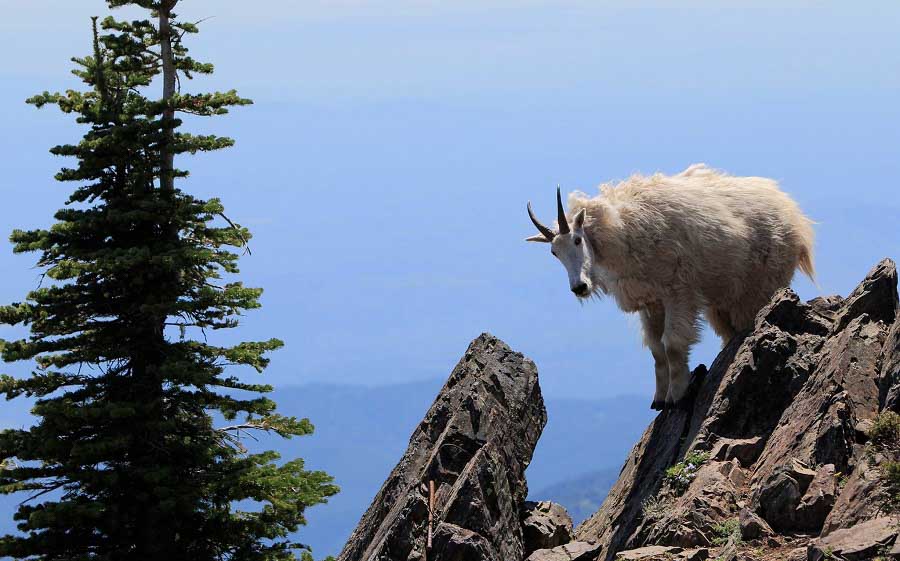 Details to hiking in the Olympic Peninsula
There are hundreds of hiking possibilities throughout the Olympic Peninsula, and there's something for people of all hiking abilities. In the summertime, the mountains are covered in all variety of wildflowers, while the winter has some spectacular snowshoeing.
In the Olympics, keep a lookout for mountain goats, as they're readily seen in higher elevation, rocky landscapes. Be sure to keep your distance and give them their space if you do happen upon one.
If you're looking for a good hike in the Olympics, or anywhere in Washington, visit the Washington Trails Association website. This page is by far one of the most comprehensive for finding hikes and seeing trip reports.
Visiting art and lavender festivals in Sequim
The Olympic Peninsula has nine Native American tribes that call the region home. This diversity in cultures produces some of the most stunning and one-of-a-kind artwork.
Arts and crafts fairs and festivals are hosted in Sequim (pronounced "skwim") at many times of the year.
Also, Sequim is considered the lavender capital of the United States! While lavender fields often evoke thoughts of Provincial France, this region has acres upon acres of lavender fields. Further, July's Lavender Festival is a must-visit on your Olympic Peninsula road trip.
If a festival isn't being held during your visit, every Saturday from May to October the Sequim Farmer and Artisan's Market opens. Here, you'll find local foods, homemade goods, and artwork.
Conclusion
Getting to the Olympic Peninsula is an easy drive or ferry-ride. The multitude of outdoor experiences is endless! Be sure to bring along good layers and rain gear, as this part of the country sees more rain than most. Especially along the coast, the weather can be unpredictable. Take a moment to breathe in the fresh coastal or mountain air at this must-visit destination.
Share or pin this for later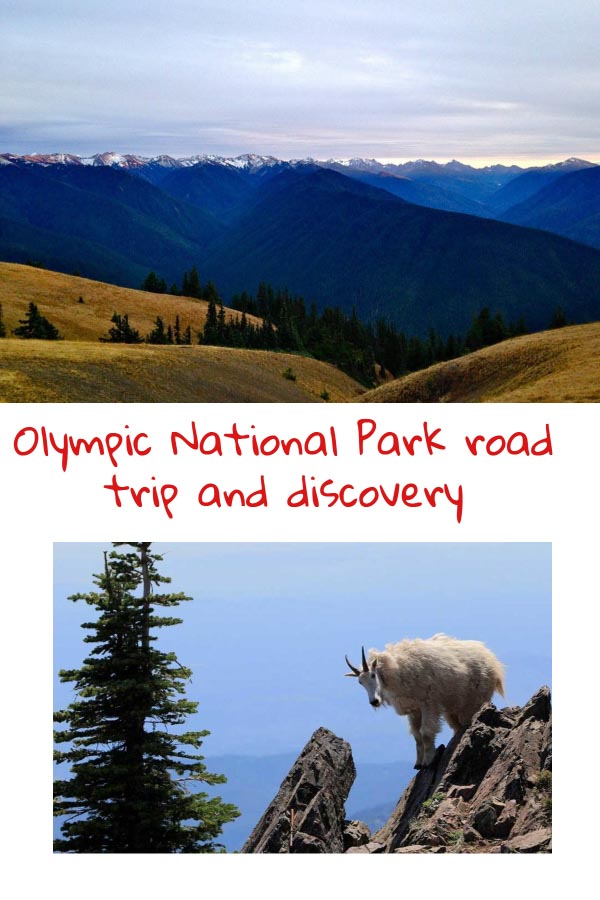 Check out these other road trips around the United States
A road trip from Sedona to Jerome, Arizona
A road trip to Walnut Canyon National Park in Arizona
15 photography tips on your road trip
Road trip along the Hamakua coastline in Hawaii
A visit to Glacier National Park in Montana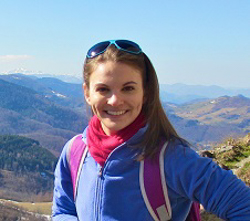 Guest writer Bio
Christa is an avian ecologist and conservation biologist who loves to go birding, hiking, and traveling to see what this wild world has to offer. She is the founder of Expedition Wildlife, a blog that focuses on sharing about wildlife travel destinations and ethical outdoor experiences. Her passion has always been to study wildlife and find ways to meld wildlife conservation and preservation with human activities and actions.
Check out Christa's post on the best places to see wildlife in Washington State
Thanks for visiting today and checking out this post on these Olympic National Park Road Trip and Discovery, if you enjoyed the images and post, could you please share it with any of the social media buttons located around the post.
If you like what you see, come and check out my other social media channels for more updates, including Instagram, Pinterest and Twitter
Disclosure – There may be affiliates links on this posts which provide a small commission to support this site at no extra cost to you. Thank you for reading, and happy travels