Sri Lanka is such an amazing country to experience the fascinating people, culture, traditions and cuisine around the country.  Food is a very important facet of daily Sri Lankan lifestyle and everything centers around making the best available dishes from shopping every day at a local market, preparing the ingredients and then making the food. If you are visiting the country, these are the 10 must try dishes and street food of Sri Lanka worth looking out for.
For those with limited time to cook, there is a plethora of street food vendors and cafes that cater to take out style or fast turn around instead of dining in. No matter if you seek the street food or an exceptional fine dining experience in Sri Lanka, the quality and delicious food you will encounter will make an indelible impression on your visit to this magical island country.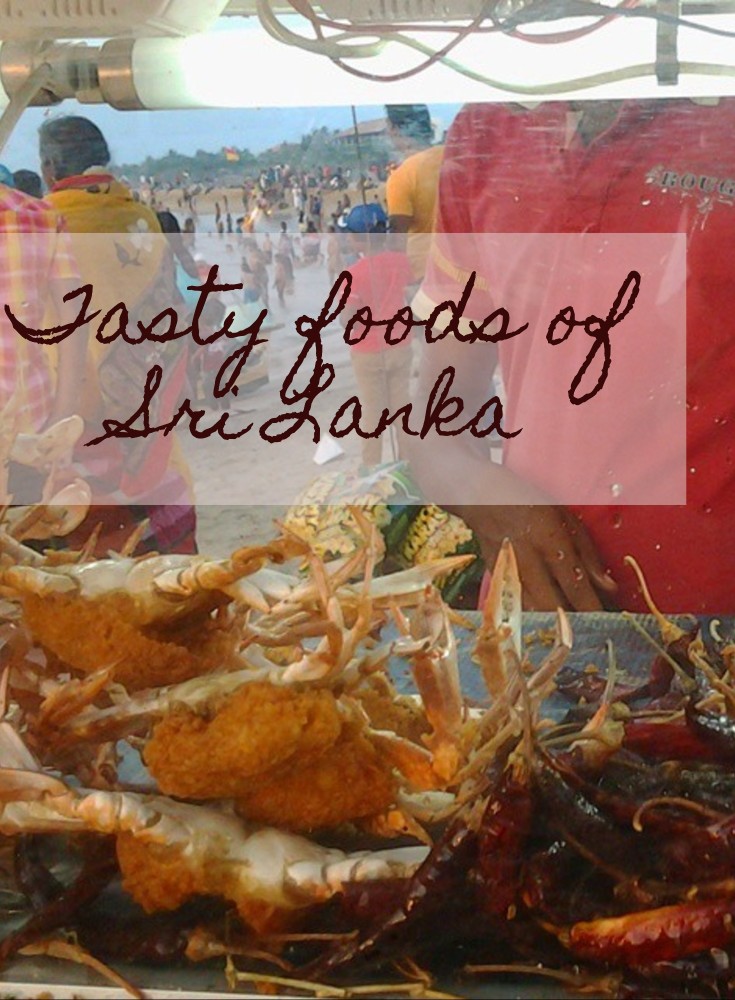 What is Sri Lankan food and what should you try?
Covering a broad range of specialty foods from each region of the country, these are the most common and popular local foods from the country that you should try. Most Sri Lankan cuisine is infused with so many wonderful spices and fresh ingredients grown throughout the country.
Sri Lankans also love hot and spicy dishes with a variety of peppers and spice that makes all their foods so flavorful and hot with a range of heat depending on the dishes but more so for popular curry dishes that locals love as hot as they can take it. Sri Lankan street food culture is prevalent in the many markets, streets and even on the beaches and ocean areas for people that love to snack constantly while being outdoors.
Sri Lankan food FAQ
Of of the most popular and well known dish to eat in Sri Lanka is kottu roti is ubiquitous — in fact, it's Sri Lanka's national dish to try in the country
Probably the most popular snack to eat on the streets of Sri Lanka are Aggala.  This traditional sweet is is popular in Sri Lankan for its traditional snack that is accompanied by a cup of tea in the afternoon. These desserts are delicious, roasted balls are made with a combination of roasted rice flour (or rice), honey, coconut, and salt
Sri Lankan food tends to be a balance of a variety of food groups spicy, healthy and rich. There is a variety of vegetarian and healthy meals that you can choose that are easy stews, casseroles and slow fired technics to make this a delicious meal.
Popular Sri Lanka local and street foods
Not entirely a comprehensive list, but these 10 dishes and specialty foods, that I have eaten all around Sri Lanka are the typical favorite Sri Lankan dishes everywhere and a wonderful sampling of the best regional cuisine from Sri Lanka. Sri Lankan street and local foods are spicy, flavorful and and adventure to try even though you might not know what you ordered or what it will taste like. But do keep an eye for these Sri Lankan of foods in the public markets, food vendors or small eateries and on the menus for you to try.
Try these 10 must eat Sri Lankan dishes and street foods
Sri Lankan coconut curries
Yes there is a lot of coconut milk in Sri Lankan cuisine and it is used in many of the curries that are made throughout the country.  Utilizing a variety of similar spices and ingredients like onions, peppers, garlic, curry leaf, turmeric, cardamom, cloves, mustard seed and cinnamon the dishes are then sautéed with chicken, beef, seafood or vegetarian ingredients.  Many of the popular Sri Lankan curries include:  dhal curry, chicken curry, lake fish Badhuma, Elabatu Pahi (vegetarian curry), cashew and pea curry and so many other varieties. Even a popular curry made with jackfruit called Polos which is made with young green jackfruit and cooked with garlic, ginger, onions and spices and it is delicious. You'll love sampling all the delicious food in Sri Lanka especially all the different types of curries to enjoy.
Try these Sri Lankan Sambols, chutney and condiments
Sri Lankan cuisine always has a variety of condiments to enjoy with the main entrees. Along with the main entrees and curries are the spicy chutney and accompanying side dishes that include a variety of accents to the dish which can be tangy like a pickle, hot like a sambol mix or sweet like a fruit based chutney. All of these accent side dishes usually follow the entrees and are used based on each preference to sweet, hot, spicy or sour tastes. Popular sambols include: Gotu Kola Sambol (pennywort and greens), Pol sambol or coconut relish.
You can eat these condiments on the main dishes or as a nice side dish to complement the flavors that you are eating with the main course.
Sri Lankan Seafood specialties
Sri Lanka is a small island country with so many coastlines and fishing villages throughout that create a variety of regional specialties in each district. I stayed mostly in the coastal communities of Galle, Negombo, Beruwalu and Colombo and had a chance to sample a variety of wonderful seafood which has an incredible assortment of seafood that includes: crabs, cuttle fish, fish and other shell-fish. Following are some of the more popular Singhalese seafood dishes worth trying
OMG delicious and popular Crab curry is the most popular dish here in Sri Lanka
Fish ambul thiyal (sour fish curry) is on of the most beloved fish dish and traditional Sri Lanka food, made typically with a large firm fish like tuna and curry leaf, turmeric, cinnamon, garlic, pandan leaves and a blend of spices and dried goraka which gives it a sour flavor.
Ambul thiyal (dry curry dish),  a variety of spices again mixed in with small amounts of water which reduces to mostly coat the fish. This Sri Lankan dish is flavorful and delicious to eat.
 Kool seafood, from the northern region around Jaffna is a mixed seafood broth with crab, fish, prawns and cuttlefish with long beans, spinach and tamarind. One of the traditional foods of Sri Lanka, Kool seafood is so delicious and flavorful.
Sri Lankan breads, Appam (or hoppers), Paratha and Pittu
Outside of the typical rice served with curries, Sri Lankans also love breads to dip in the many sauces and side Sri Lankan dishes. A typical breakfast bread includes Theti Paan (local bread) which is a typical flat bread that is served with a jam or coconut sambal. Another popular bread is the Sri Lankan Banis, a soft and sweet bread roll that includes sweet raisins in the mixture and served with butter and a nice cup of black tea.
Pittu is a typical rice side that are cylinders of steamed rice mixed with grated coconut, a Sri Lankan staple dish
Roti – a simple Sri Lankan flat bread made with wheat flower and added ingredients create different varieties like Thengappu made with dried coconut flakes and Uraippu Roti made with chopped onions and green chilies
Here's Appam or how Hoppers are made in Sri Lanka
Kottu and other popular Sri Lankan Street food
You can find street food everywhere in Sri Lanka including the beaches at very popular areas with so many different street vendors offering fried crabs and other seafood specialties from the area. Most of these are served spicy hot with fried peppers added to go and wrapped in a cone paper takeaway, it's that simple and oh so fresh and spicy hot! If you see some interesting Sri Lankan street food and everyone is forming a line, then make sure you also see and try what kind of food specialty is being offered at that particular stall or cart.
Photo credit Dani Heinrich | Globetrottergirls.com
Another popular street food in Sri Lanka is Kottu, which is basically a grilled mix of up mostly of shredded meat, vegetables, eggs and roti as a starch.  It is mixed with steel blades that chop the ingredients into smaller pieces and then scraped into a take away plate and it is delicious. Vegetarian options are also available as are seafood and other meat dishes depending on preference. Kottu is typically served with a spicy curry sauce that you can use as a dip on the side.
Hmmm delcious Kottu in Sri Lanka
A typical Sri Lankan breakfast
Sri Lankan Breakfast
It's typical with any of the western style hotels that you will stay at will typically serve a buffet service with many local dishes and western fare at the buffet. Like most countries in South East Asia, there is not much differentiation between the foods made for breakfast,  lunch and dinner so you can find that most breakfast include leftovers or a common bread that is used for dipping into a condiment or sambol which is typical for a Sri Lankan style breakfast. My favorite below is a mixture of east and west with Hoppers and egg served with nice slices of crispy bacon and some local tropical fruit and it's delicious.
But also there are typical sweet breads, pastries and the ever popular Appam (or hopper, a fried crepe-like batter which you can fill with various toppings)and paratha (roti). A typical roti or appam mixed with a chutney or jam or sambol is the standard Sri Lankan style breakfast along with any leftovers from last night and a nice cup of black Ceylon tea.
 Exotic and Tropical fruit from Sri Lanka
Like most Southeast Asian countries, Sri Lanka grows a plethora of tropical fruits of every size and shape. The most popular fruits range from the typical coconuts, to mangoes, pineapples, guavas and bananas to the more unusual wood apple fruit, durian, longan, jackfruit and the delicious rambutan, which tastes like a sweet lychee fruit.
Tasting  a wood apple fruit – it's an acquired taste
Sri Lankan Tropical drinks and alcohol
There are a variety of tropical drinks that are sold throughout the country and are great to have throughout the day. These include:
Coconut water, either directly from a fresh king coconuts or canned is plentiful and cheap everywhere you go around the island
Arrack – another coconut drink, but this time made with fermented coconut flower. This is a popular staple to many Southeast Asian countries including Sri Lanka. You can find some low-grade distilled version made locally or some nicer versions aged in oak for many years to mellow out the flavors. A popular combination drink is mixing Arak with ginger beer
Ginger beer, This is typically the poor mans beer, ginger is a very popular and refreshing drink in Sri Lanka with main brands like Elephant ginger beer or EGB and made with 100 percent natural ginger extract.
Lion Beer – the beer of Sri Lanka is an ale beer originating from industry giant Carlsburg. It's a  simple and refreshing ale perfect for those hot days and evenings while you are waiting for that wonderful sunset moment
With tea and coffee plantations throughout the country, both these drinks are also common served hot or cold in a variety of flavors and combinations.
A contemporary Arrack cocktail below was offered at Cinnamon Hotels in Columbo, it's a mixture of Arrack, a fermented coconut flower, with a sparkling water and some pomegranate juice. It was a winner in my book for trying the local Arak with something more trendy and exciting.
Check out this introduction to Arrack from Sri Lanka
Sri Lankan Desserts
The street food of Sri Lank is not complete without sampling their exotic pastries and desserts. Sri Lankans love their desserts and this can range from mostly baked or steamed dishes to more elegant pastry and cake like dishes made at various cafes and eateries. From basic snacks like Kokis (biscuit like pastries) which go with teas or Sri Lankan dodol, rice cake with cashews or the very popular Athirisa – a sweet made with rice flour and jiggery into a paste and fried. Fried sweet rice flour pastries are the most common and popular Sinhalese dessert.
Sri Lankan tea
Tea culture is very strong with the English colonization and tea plantations grown mostly in the central highlands and southern areas of the country. The most popular of Sri Lankan tea is the Ceylon black tea. There are also Ceylon green teas and whites teas that are made from the various plantations around the country.  There are also many specialty and flavored teas created from the basic teas to include:  Chai, fruit green teas, Vanilla black tea, Mint black tea, lemon and a host of many other mixed teas and ingredients, based on your personal preference.
Here are some inside tips for trying the must-eat dishes and street foods of Sri Lanka
Local Markets: Visit bustling local markets like Pettah Market in Colombo or Galle Face Green for a street food feast. These markets offer a wide variety of authentic Sri Lankan dishes.
Street Food Stalls: Seek out street food stalls and carts, especially in busy urban areas. These humble vendors often serve the most authentic and delicious local fare.
Ask Locals: Don't hesitate to ask locals for their recommendations. They can guide you to the best places for specific dishes and introduce you to hidden gems.
Hygiene: While street food is a must-try, prioritize hygiene. Look for vendors with clean cooking equipment and a steady stream of customers to ensure freshness.
Spice Level: Sri Lankan cuisine is known for its bold spices. If you're not used to very spicy food, be sure to ask for a milder version, especially with dishes like curries.
Hoppers and Kottu: These are quintessential Sri Lankan street foods. Try hoppers, which are bowl-shaped pancakes, and kottu roti, a flavorful mix of chopped roti, vegetables, and meat or seafood.
Sambol Varieties: Explore the various sambols (condiments) that accompany Sri Lankan meals. Coconut sambol and seeni sambol (caramelized onion) are popular choices to enhance your dishes.
Fresh Seafood: If you're near the coast, indulge in fresh seafood. Beachside restaurants and local seafood markets are excellent places to savor the catch of the day.
Biryani and Rice and Curry: Don't miss trying biryani and the traditional Sri Lankan rice and curry. Each region may have its own twist on these dishes, so enjoy the regional variations.
Roti Shops: Look for local roti shops, where you can enjoy stuffed or plain rotis with various fillings, from vegetables to meat and fish.
Fruit Vendors: Taste the island's tropical fruits from local vendors. Mangoes, pineapples, papayas, and jackfruit are refreshing treats.
Chai and Fresh Juices: Pair your street food with a cup of Sri Lankan chai (tea) or fresh fruit juices for a complete experience.
Street Food Tours: Consider joining a street food tour led by a local guide who can introduce you to the best hidden street food spots and provide insights into Sri Lankan cuisine.
Cash: Street vendors often prefer cash, so ensure you have some local currency on hand for your culinary adventures.
Exploring Sri Lanka's street food scene is not only a gastronomic adventure but also a cultural one. Embrace the flavors, interact with locals, and enjoy the diverse and delicious world of Sri Lankan cuisine.
Please check out these posts on Sri Lanka
Visit Colonial Galle
Colonial Galle on the southern coastline of Sri Lanka has a rich Portuguese heritage and this historic area has so much to offer visitors to explore the cultural attractions, cool shops and delicious restaurants and hang out spots in the area to visit.
Check out our post on visiting Colonial Galle in Sri Lanka for more inspiration and images to visiting.
Sri Lanka in color
Sri Lanka is a vibrant and colorful country with everything filled with color, patterns and imagery. It is startling and fun at the same time to explore and capture in photographs.
Check out our beautiful and colorful post on Seeing Sri Lanka in full colorfor more inspiration and images to enjoy.
Sri Lanka in Black and white
When you take out the color from Sri Lanka imagery, you are left with more unique views, historic vistas and a timeless vibe to seeing the country in a different way that really captures the attractions differently. Check out our post on visiting Sri Lanka captured in Black and Whitehere for more inspiration and imagery.
Check out these other posts on Fruits, markets and foods of the world
Exotic and unusual fruits around the world
Traditional Food specialties in Italy
Popular food to eat in New York
Best countries for food around the world
Traditional Catalan foods you need to try
8 Traditional Portuguese foods to try
top food destinations around the world
Outdoor markets and street food of Bologna
Local foods of the Dalmatian Coast in Croatia
Hopefully you'll enjoy the experience of eating some of these specialty Sri Lankan dishes and local Sri Lanka cuisines when you visit or even get a chance to experience at a local restaurant, public market or specialty event. I hope you enjoyed reading the 10 must try dishes and street food of Sri Lanka. Have you tried Sri Lankan food before and what did you think of the food from the country, please do share.
If you like what you see, come and check out my other social media channels for more updates, including Instagram, Pinterest and Twitter