Want to know the best countries for food around the world?
Traveling to a new destination is completely enhanced when you take a little effort to try all the local foods and delicious cuisine in a location. foodie travel and experiences are at the top of many visitors want to do bucket list and following are some of the best places to go to if you are looking for an amazing food experience. Top journalist, food and travel bloggers share their favorite places to discover around the world where food interests are the primary reason for going to this wonderful location. Check out the best of these foodie destinations around the world and place these on your bucket list soon!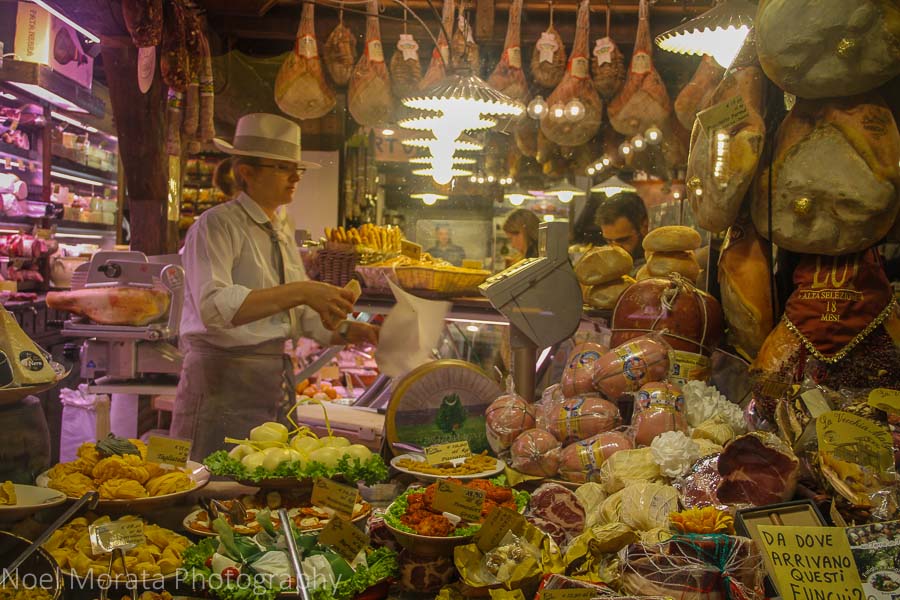 What are best Foodie destinations around the world?
What makes a country well know for being a food inspired destination? Basically you'll learn that places that place a priority on food in it's culture and tradition to include shopping local markets, buying the freshest ingredients, enjoying artisanal and hand made food products and finished foods to go is a part of that country's food culture and history. This ingrained love of quality ingredients, food preparation and presentation makes an impact on why people travel to certain places to experience the ultimate in good and delicious foods in that destination.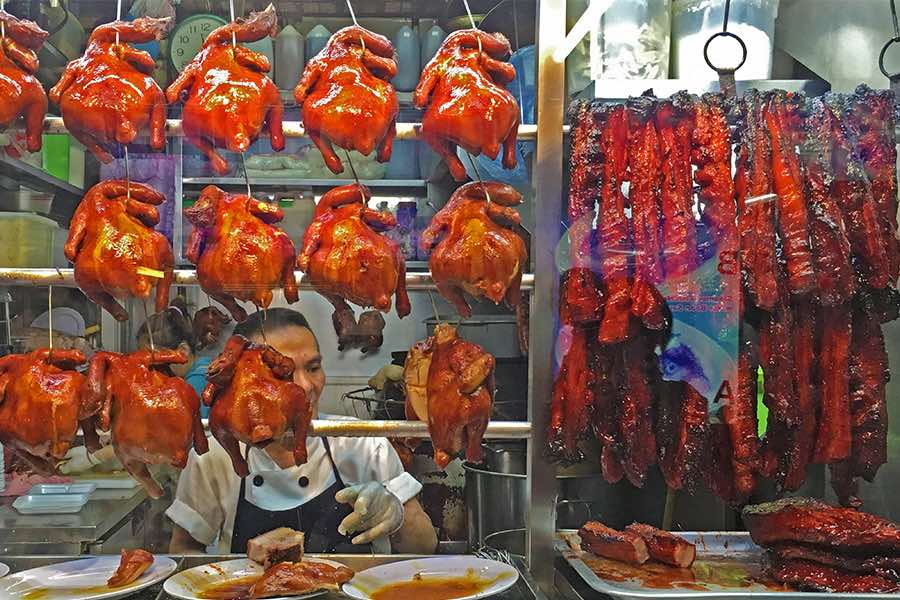 Visit Singapore for the spectacular food
While it is nice to spoil yourself on the odd special occasion, you will be missing out if you don't eat at a Hawker Centre when traveling Singapore. This is not only one of the best places to eat in Singapore but also a fantastic introduction to the unique culture of the Little Red Dot. Even the first meal in the blockbuster hit Crazy Rich Asians is at a Hawker Centre (Newton Hawker Centre to be exact), which shows that everyone congregates at these establishments for a bite to eat. They are filled with artisanal delicacies from respected cooks using family recipes that date back a few decades. You can try the satay, laksa or chili crab, or even venture into biryani or fried Hokkien Mee.
After pleasing your taste buds at the Hawker Centres, another must try is the first Michelin restaurant that serves an entirely Peranakan menu, Candlenut. Come in a big group and order multiple dishes as Peranakan food is meant to be shared. I wish I could share a standout, but honestly, everything is amazing.
Porto for amazing cuisine in Portugal
James with Portugalist
Food vacation to Alba, Italy
Italy is a country of intensely varied regional cuisine, from the lemons and seafood of the Amalfi Coast to the prosciutto and Parmesan of Bologna. Tucked away in Italy's northwest corner is the Piemonte region and the countryside surrounding Alba is home to some of the best food in Italy.The rolling hills of Piemonte are home to vineyards producing the finest Barolos, trees heavy with hazelnuts and farmers proudly making pungent gorgonzola but Alba's real culinary jewel is the truffle. Every fall foodies and Michelin starred chefs gather in Alba for the International Alba Truffle Fair where truffle hunters show off their prized white truffles, some of which can be sold for over $3,200 per pound. COnsidered one of the most luxurious foods in the world in Alba white truffles are best served simply shaved over silky buttered pasta.
Check out Brianna's post on an Alba Truffle fair in Italy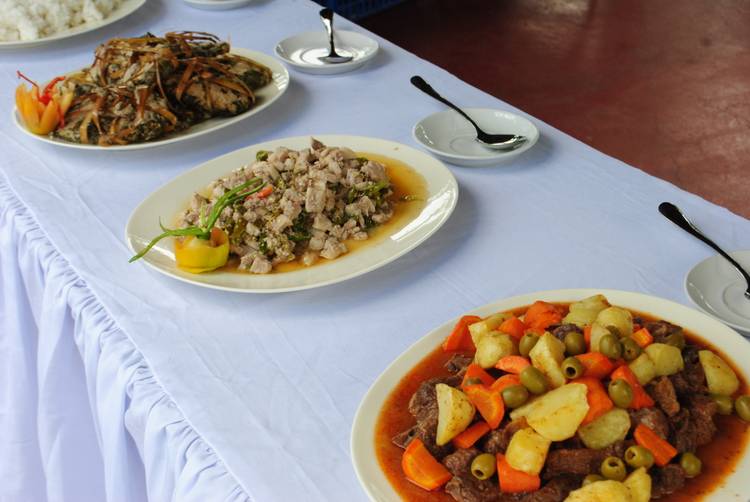 Visit the Philippines for delicious food
Tim Kroeger with Universal Traveller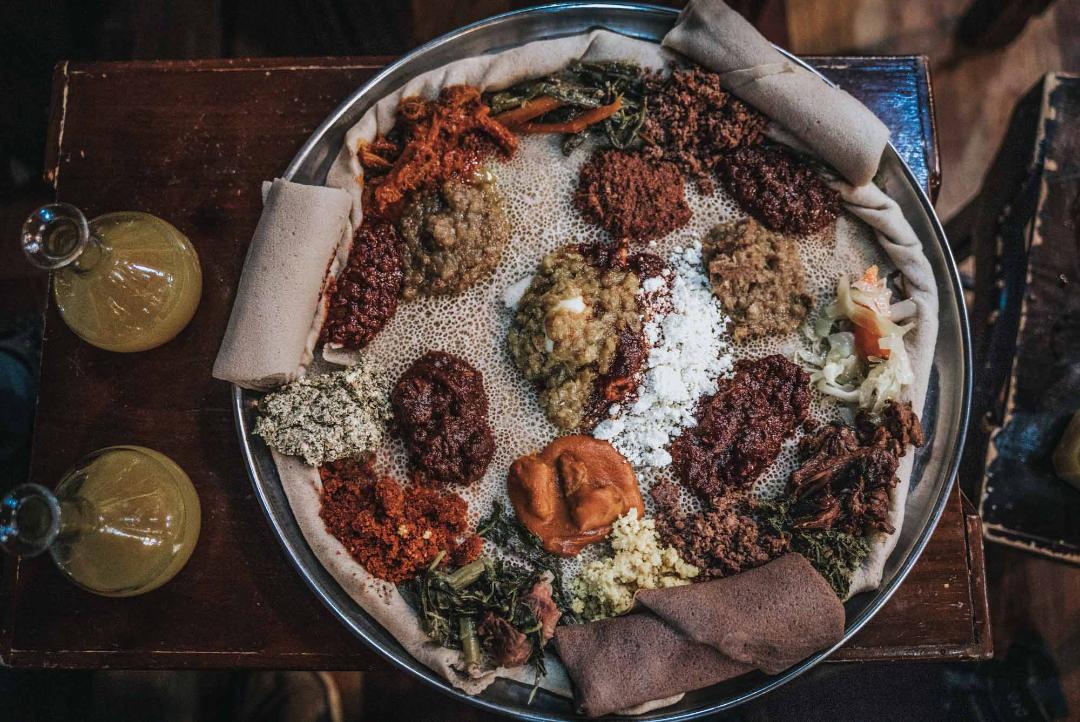 Savory and delicious Ethiopian cuisine
Ethiopia is a mystery to most, but its cuisine is renowned for incredible flavours. For us, the desire to taste authentic Ethiopian cuisine was one of the main reasons to visit Ethiopia this summer.
The phrase 'sharing is caring' is taken very seriously in Ethiopia when it comes to food. Here, food is served on a communal platter called a gebeta. The plate is lined with injera, a sourdough flatbread made out of teff flour that acts as a key component of any Ethiopian dish. The plate is then filled with a variety of stews made with vegetables, spices and meats and served in the middle of the table for all to share. The stews are scooped up with a hand using a small piece of injera bread. There are no utensils, no individual plates, which usually makes for a really communal dining experience.
There are lots of delicious dishes to try in Ethiopia, but if you only have a chance to try a few, consider the following:
Fir-Fir is sliced pieces of injera mixed with leftover stew, left to marinade in the fridge. It makes for a spongy, tasty and cool start to the day. Served usually at breakfast.
Doro Wat – one of Ethiopia's most famous dishes, a rich, slow-cooked chicken stew. It's usually made for special occasions and holidays but if you see it on a menu, it's a must!
Shiro is a chickpea stew made with chickpea flour and plenty of berbere. It's the Ethiopian version of fast food and is also a very tasty option for vegetarians/vegas exploring the country.
Contributed by sustainable travel bloggers Oksana & Max from Drink Tea & Travel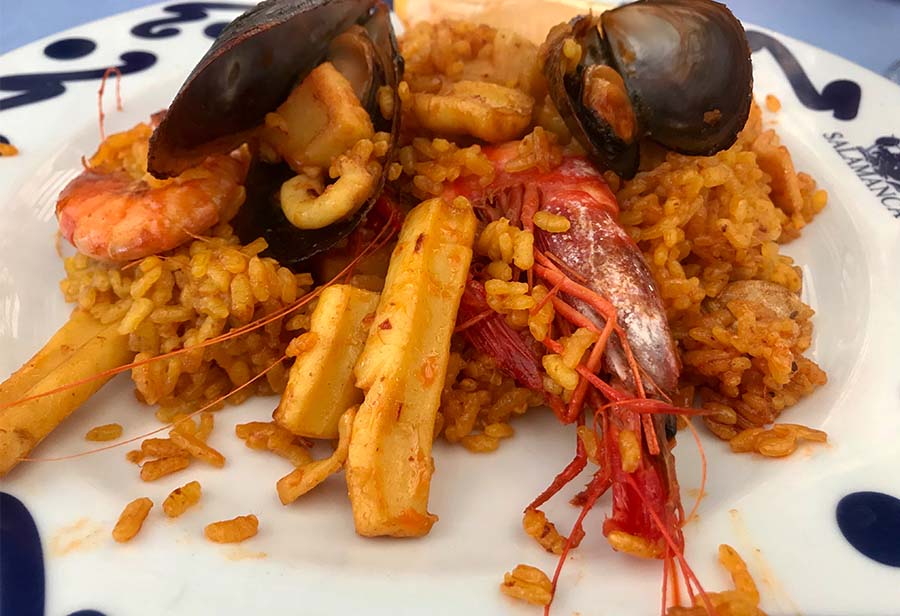 Barcelona for Foodies
There's nothing like a foodie destination to get you all excited for a trip! That's exactly what happens to me even at the thought of visiting Barcelona, Spain. Traveling solely for food is a real thing and it's very enjoyable especially in a city like Barcelona.
Barcelona takes food very seriously! It's one of those cities where you arrive to endless options of foods extravagant in taste. Barcelona has the tendency to spoil you with great food. Starting with a variety of Tapas across the many Tapas bars across the city, each with its own specialty. Some of the most delicious tapas or sharing plates are Patata Bravas, Spanish Omelet, Paamb tomàquet, Calamari, Pimientos de Padrón, Pulpo a la gallega, Croquetas, Anchovies, cheese variants.
Another specialty is the range and quality of jamon, especially the Iberico ham that the Spanish swear by!
You cannot be in Spain, especially in Barcelona and not have the Paella which comes with rice and variants of vegetables, chicken or seafood. Fideua is basically paella with noodles and is very popular in the Catalan region.
For those with a sweet tooth, this is where you find the best Churros with hot chocolate, Panelletes that you cannot miss.
And of course, there are wide ranges of locally produced high-quality Wines and Sangrias available everywhere to go with all your meals!
All these great dishes and more are available across the many food markets, street side stalls, bars, and restaurants in the city and they are easily affordable for all!
There's good local food literally everywhere in Barcelona and each time around, there's something new to discover. I'd highly recommend Barcelona as the foodie destination for 2019. Barcelona literally is a food heaven!
Check out Parampara & Parichay's post on a 72 hour guide to Barcelona from Awara Diaries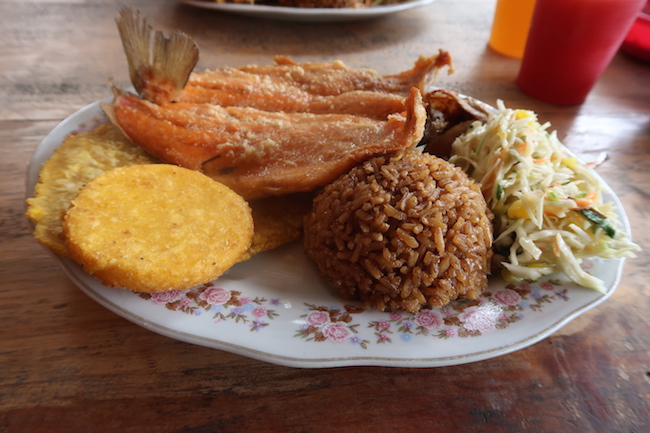 Visiting Colombia for the food
If you're thinking of going to Colombia, one region to expect to find some great food is Antioquia. Infamous for it's Bandeja Paisa, a dish consisting of many traditional Colombian ingredients, such as red beans, white rice, sausage, plantain, egg and avocado.
You'll have to build up an appetite as it is very filling. The dish has been influenced by several cultures and is not of the faint hearted. Although the sound of Colombian food doesn't alarm many foodies, the Bandeja Paisa is arguably the national dish of Colombia, so it's not be sniffed at.
If you fancy something a little lighter but equally as tasty whilst in the Antioquia region, you can be sure to find some of the best trout you have tasted. This perfect fried trout with garlic and coconut rice, plantain, arepa plus salad, was my favourite dish in the region. I tried this in Jardín, as small coffee town around 3 hours from Medellin.
So, if you are in Colombia's Antioquia region, make sure you check out one of these two amazing dishes. You see either one sold in most resturants and these local dishes are what make Antioquia a great food destination to visit in 2019.
Check out Daniel's post on Backpacking Colombia

Amazing food in Lyon, France
Forget Paris! The food in Lyon, France (only two hours from Paris on the high-speed TGV train) is just as good (if not better), more reasonably priced, and visitors will find that hotel and restaurant reservations are far easier to come by.
Lyon (the third largest city in France) has wonderful public markets and restaurants ranging from humble bouchons to Michelin-starred establishments. If you are food enthusiast, be sure to make a pilgrimage to L'Auberge du Pont de Collonges, the countryside home where legendary Chef Paul Bocuse was born and died. Only 20 minutes away from the city center by Uber, you'll enjoy a three-star Michelin meal at Monsieur Paul's restaurant, the place where nouvelle cuisine was popularized. The food, service and setting all combine for an unforgettable culinary experience.
Visitors to Lyon will also want to taste some of the specialty foods associated with the city, These include Saint-Marcellin cheese, Bresse chicken Lyonnaise salad, saucisson brioche, quenelles and the bright red Tarte Lyonnaise.
But Lyon offers far more than a gastronomic adventure alone. One of the most beautiful cities in France, it is rich in art, architecture and culture. Designated a UNESCO World Heritage Site, it also has one of the best-preserved old towns.
Irene S. Levine with MoreTimeToTravel.com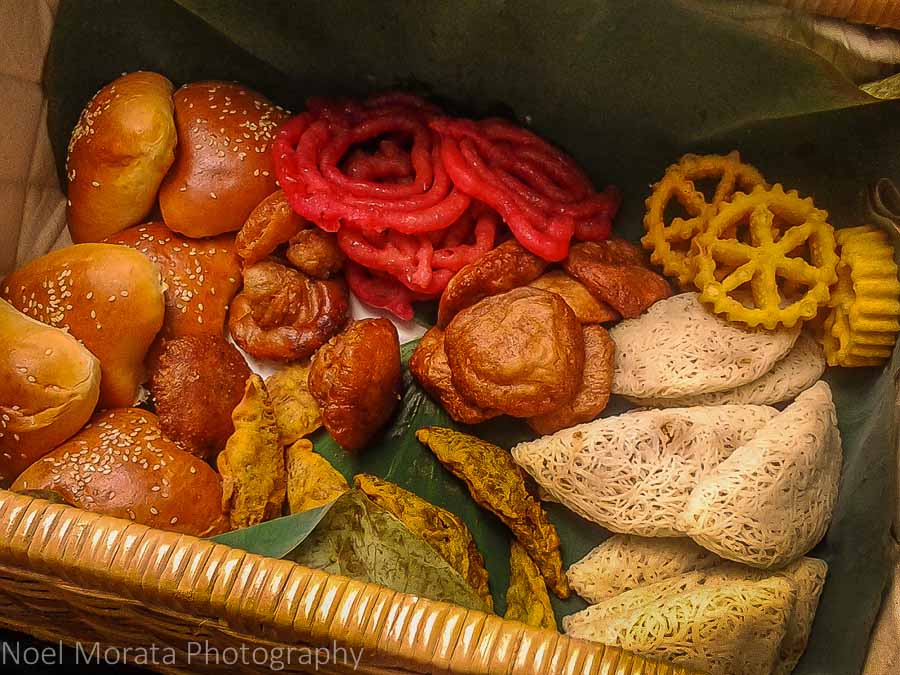 Sri Lankan  Cuisine
Noel with Travel Photo Discovery
Amazing cuisine in Madrid, Spain
Delicious food and travel to New Orleans
New Orleans is the ultimate foodie destination in the USA. The city is famous for its culinary history and the unique Creole / Cajun cuisine that evolved there. Along with iconic foods, New Orleans French Quarter is also the birthplace of many cocktails including the famous Sazerac. Many restaurants in New Orleans are famous for their signature dishes while others for their unique jazz brunches. I recommend starting your trip to New Orleans with a Po-Boy sandwich. These come in several varieties, the roast beef and fried shrimp are my personal favorites. Next up are oysters! You can try the Oyster Rockefellers at Antoine's or the chargrilled ones at Drago's. Try some of the Cajun and Creole specialties like the gumbo, jambalaya, crawfish etouffee, and red beans and rice. In season, you can find most eateries selling Cajun boiled crawfish by the pound – these are delicious served with a side of boiled corn cob and red potatoes. Off course, you can't leave New Orleans without eating some of the famous beignets along with a cup of Cafe Au Lait at the famous Cafe du Monde. If you happen to visit the Crescent City during Mardi Gras or the Carnival Season then don't forget to eat some delicious King Cake available at each and every bakery in town.
Ketki of Dotted Globe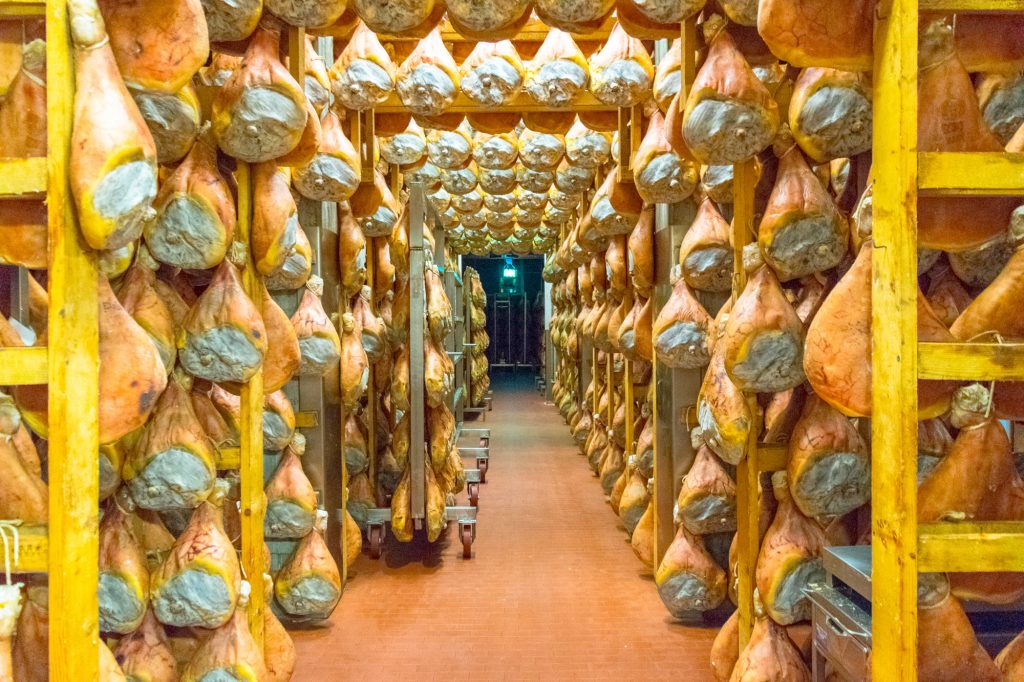 The Emilia Romagna region for amazing food
Tucked away to the east of world-famous Tuscany, the cuisine of the region of Emilia-Romagna, Italy is arguably some of the very best in all of Italy–which of course, makes it some of the very best in the world.
The original versions of parmigiano-reggiano, traditional balsamic vinegar, Parma ham (a sweet, delightful form of prosciutto), mortadella (what is known elsewhere as bologna), and tagliatelle al ragu (known elsewhere as pasta bolognese) all hail from this tiny spot on the map–and unanimously, Emilia-Romagna is able to produce versions whose quality is so high, the rest of the world doesn't have a prayer of matching them.
While you're in the region, be sure to also try tortellini en brodo, tigelle with culatello, tortelloni, and a true lasagna made in a region that knows how to do it perfectly.
Consider starting your foodie explorations of Emilia-Romagna in the city's capital city, Bologna, before heading out on a mouthwatering pilgrimage to Modena (home of traditional balsamic vinegar), Parma (home of parmigiano-reggiano and Parma ham), and Reggio Emilia (which contests the claims of both the previous cities and produces their own versions of these products).
Your taste buds will thank you!
Check out Kate's blog post on things to do in Bologna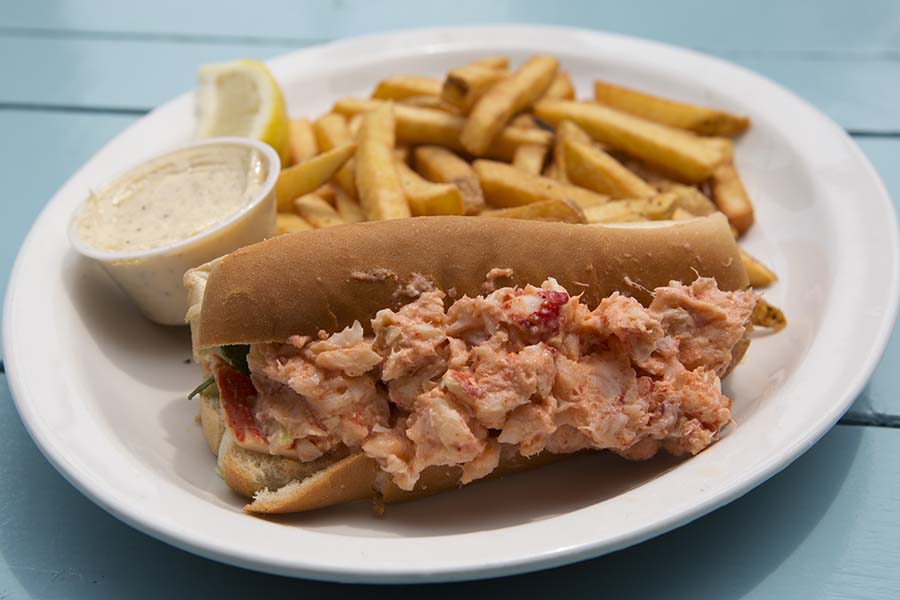 Seafood discoveries in Nova Scotia
Nova Scotia lies on Canada's east coast, so it probably comes as no surprise that the province is renowned for outstanding seafood. Thanks to the proximity of some of the world's most productive fishing grounds, lobster, served with fries or potato salad, is a delicacy in restaurants across Nova Scotia. If you don't fancy the idea of pulling on a bib to tear apart the claws and shell, you can select a lobster roll; that's pieces of lobster served with salad and a creamy sauce in a brioche roll.
Scallops, particularly those harvested at Digby, are served on gastronomic menus in Nova Scotia and beyond, along with oysters.
Cod, often seen as a speciality of Newfoundland and Labrador, is well represented on local menus. Fish and chips may be primarily associated with Great Britain but the down-to-earth dish is prepared well in Nova Scotia too.
Yet after a boozy night in Halifax there's nothing like a donair to soak the liquid. Spit-roasted spicy meat is served with sweet, garlicky sauce, tomatoes and chopped onions.
Prefer something healthier? Blueberries and haskap berries count among the fruit that thrives in the Annapolis Valley, an area winning a reputation for the quality of its wineries, several of which have chic restaurants.
Fantastic cuisine of Puglia, Italy
Check out Cristina's post on visiting Puglia
Delicious food from Basque Country in Spain
Visit Amsterdam for incredible food
Visit West Sumatra for regional specialties
Indonesia is one of the world's largest democracies – an archipelago nation with more than 17,000 islands. There are so many regional dishes across this vast nation, but every Indonesian agrees that the culinary capital for Indonesian food is West Sumatra.
Everywhere you go in Indonesia, you will find a restoran Padang, usually with a distinctive pointed roof. Nasi Padangs' rendang beef dish, along with several other dishes served with steamed rice, has become the nation's official culinary delight.
Although this regional food style is named for the West Sumatra's biggest city and capital, Padang, you must head to Bukittinggi in West Sumatra for the best foodie action. In this hill town, you can find traditional markets and restaurants showcasing their delicious dishes. Many people consider this to be the birthplace of Padang food. 
Be prepared to become an Indonesian food addict when you try these dishes lathered in spicy sambal sauce. Learn a few things about Indonesian food before your visit.
Halef and Michael with The RTW Guys

San Miguel del Allende's wonderful cuisine
Tucked into a sunny spot of central Mexico's high desert, the city of San Miguel de Allende is a magnet for both chefs and culinary travelers. Some estimates that there are over 350 restaurants in this small town, including everything from Michelin-star-worthy molecular gastronomy to the best damn street tacos in the world. The aptly-named The Restaurant serves pan-fried salmon and goat-cheese risotto, while at Zumo, the experimental chef serves mezcal-marinated foie gras and sea bass seasoned with achiote and miso. Then there is La Parada, a restaurant specializing in Peruvian-style ceviche. For the carnivores, steakhouses like Tio Lucas and Buenos Aires Bostro can scratch that itch. These are just a few of the fine-dining experiences available in town, but don't forget to try the local cuisine. Places like El Pegaso and La Mezcaleria serve up high-grade Mexican food. Eat some of the finest mole ever made at La Cocina, or try the incredible chile rellenos at Mi Bistro 300. For the adventurous eaters, we highly recommend the taco stand on Insurgentes Street, near the library. Well-established with locals, this is likely to be the messiest and most authentic meal you'll have in San Miguel de Allende. And possibly most the most delicious. Finish it off at one of the dozens of artisanal ice cream stands, with flavors like mamey (cousin to papaya) and garambullo (fruit of the blue myrtle cactus). Buen provecho!
Jason Andrew Jenkins post on things to do in San Miguel de Allende with kids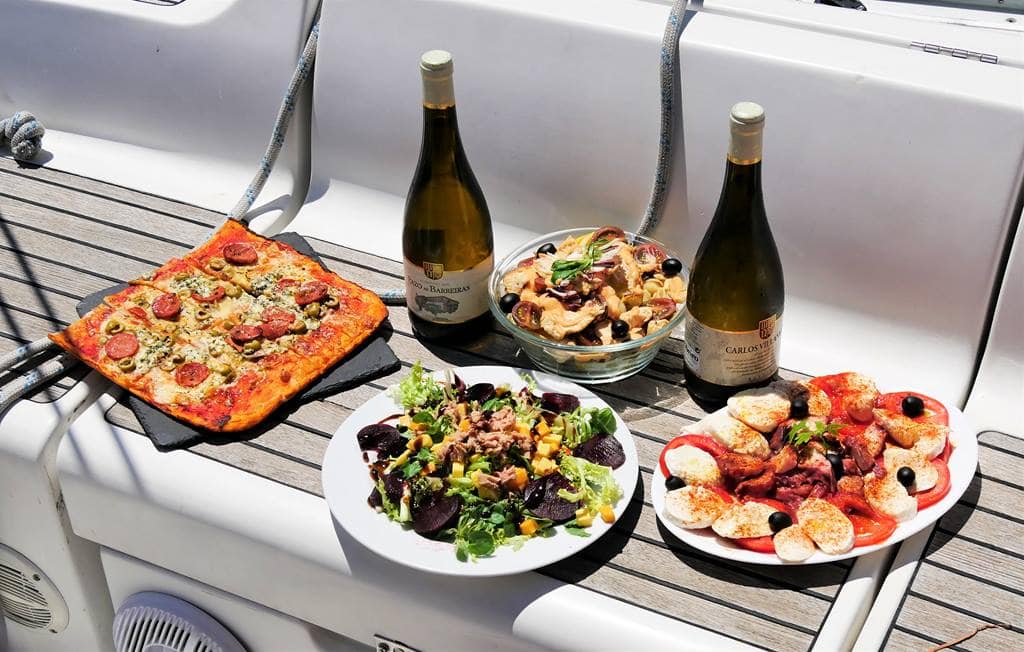 Discover Galician cuisine in Spain
Inma with A World to Travel
Must try foods in Penang, Malaysia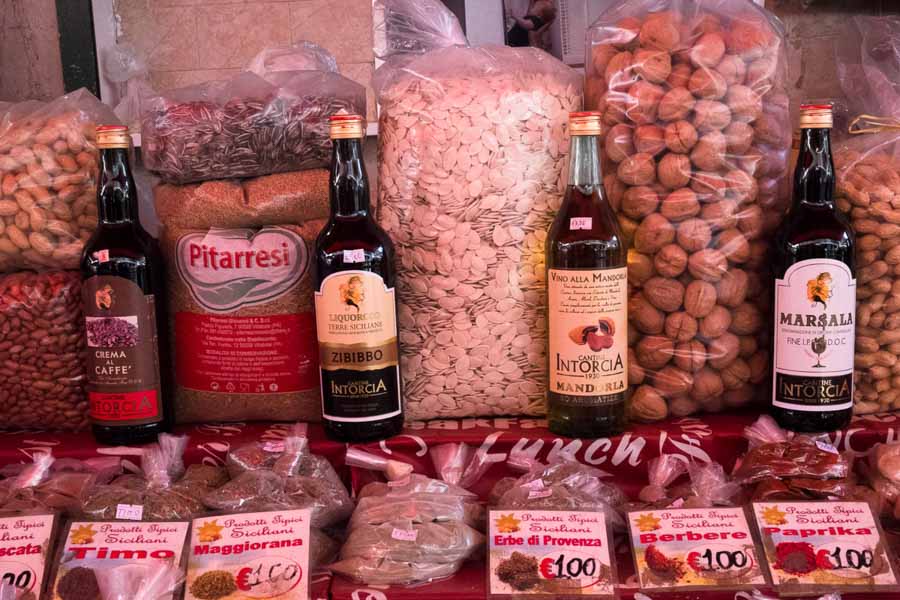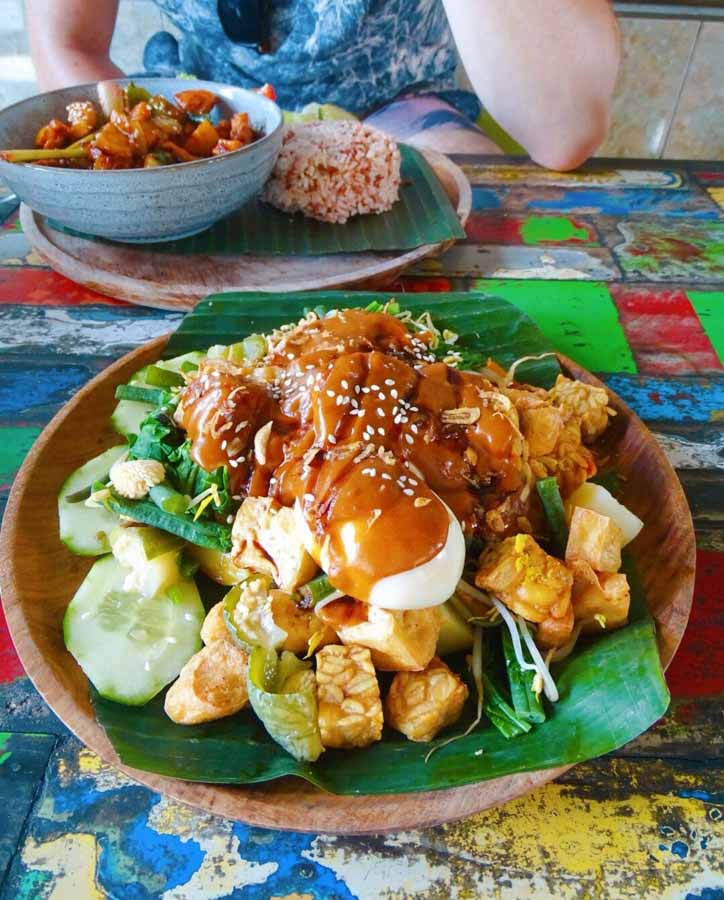 Exotic Balinese cuisine
In addition to beautiful beaches and ancient Hindu temples, there's another reason to visit Bali: the food! While tourists love the smoothies and Buddha bowls, there's so much more to the eating scene in Indonesia. Fresh, organic ingredients and on vegetarian dishes make the food different to other Southeast Asian cuisines. 
The town of Ubud in central Bali is a good base to try lots of typical dishes at local warungs (small family-run restaurants). Don't miss gado gado which is a dish made with fresh greens and bean sprouts doused in rich nutty satay sauce. You might also like nasi campur which is a mixed plate of Balinese goodies: rice, tempeh, veggies and lilit (a pork or fish mix usually served on bamboo skewers). 
For an authentic, affordable place to eat, visit Sibogana restaurant in south Ubud. Gianyar Street Night Market is another good place to sample all the favourite dishes, as well as tasty Balinese sweets!
Check out Rose's post on Best Balinese foods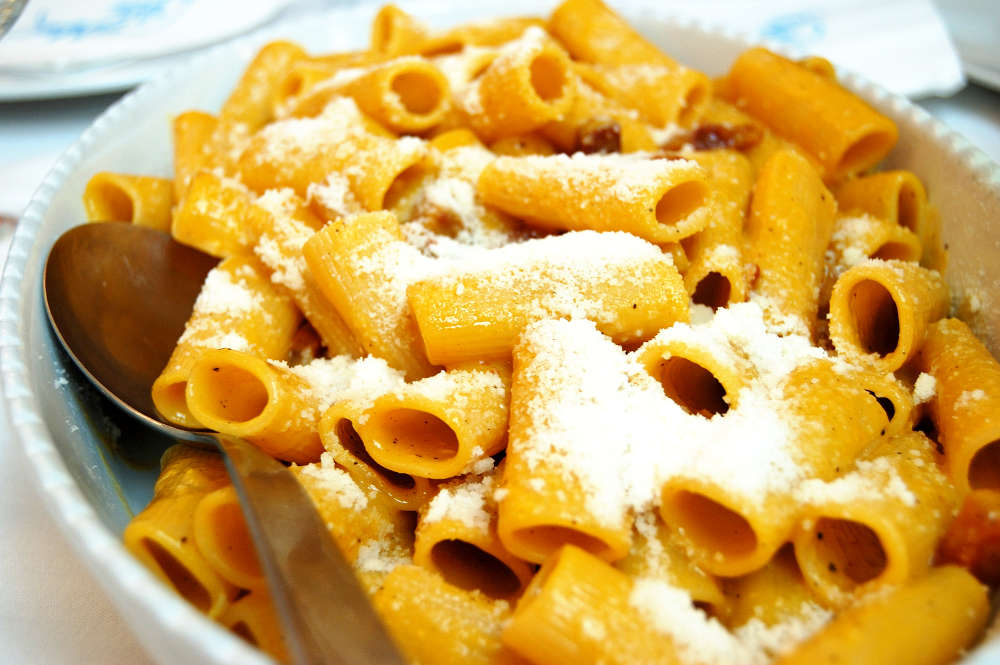 Experience Roman food in Italy
Without a doubt, Rome is one of the best foodie destinations in Italy. Whatever are your preferences or if you are vegetarian, in Rome you are sure to find anything you are looking for.
The most adventurous can also try Roman traditional dishes prepared in a more innovative and creative way. For example, at Porto restaurant, you will find the cacio e pepe pasta with seafood, a pretty daring combination that actually works great.
Rome has also its own style of pizza, which here is called "pinsa". This is oval-shaped and slightly crunchy. It's a great idea if you want a quick street-food style lunch. Some of the places serving delicious pinsa in Rome are Pinsere and Bonci, both close to Termini station.
The fans of street food shouldn't miss Supplizio for traditional nibbles such as supplì, fried rice balls with different stuffings, eggplant balls, crunchy salted codfish, or bread carbonara style.
Angela with Rome Actually

Discover wonderful Albanian food
Many overlook Albania's influence on food but finally, the country has started to get some recognition for its fresh ingredients and simple, yet delicious cuisine.  The slow food movement is starting to become one of Albania's most important movements for tourism. Albania is a haven for fresh produce.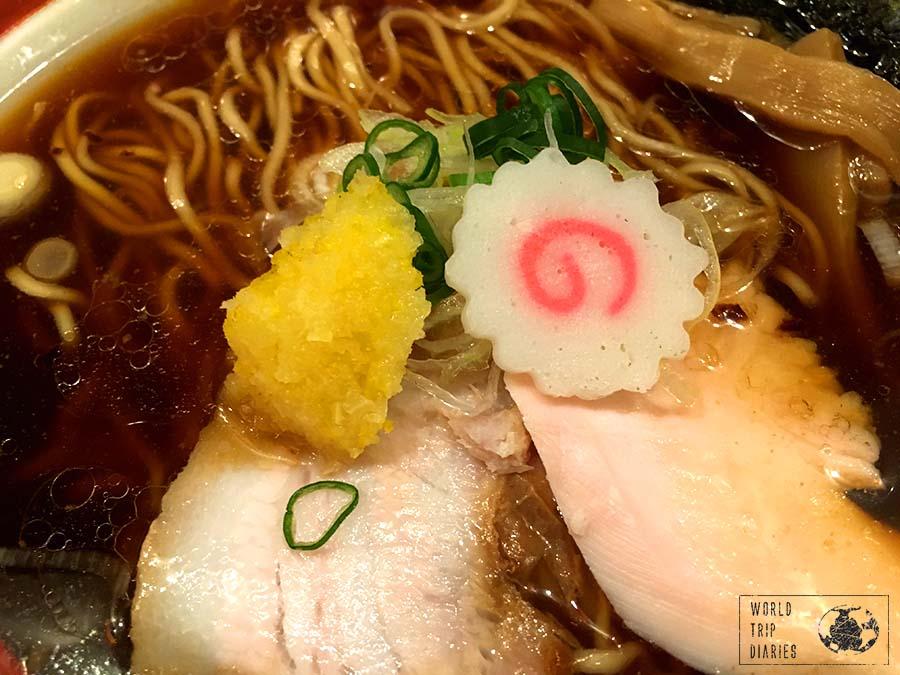 Tokyo's amazing dining scene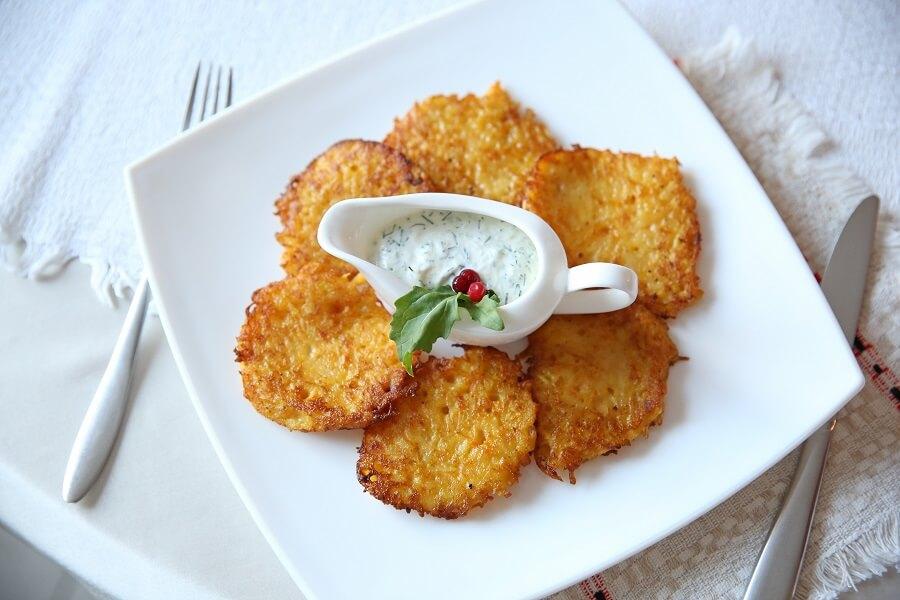 Discover Belarus for local favorite dishes
You might be surprised but Belarus is a great destination for a foodie traveler in 2019. With the 30-day visa-free regime and active development of tourism infrastructure, it is getting more and more interesting for tourists.
The

cu
isine of
South Africa
Thanks to the Indian and South East Asian influence, curries in South Africa are usually delicious: spicy yet mild and without the overpowering taste of garlic or the overwhelming heat that many curries have in India. Fish and shrimp curries are among the best in the world!
If you are looking for something that is exclusively South African, make sure to try "bobotie", a Cape Malay dish of curried ground meat (usually beef, but it's also done with shredded lamb), gently simmered with dried fruits such as raisins and topped with a creamy mixture of eggs and mild cheese.
Claudia Tavani with My Adventures Across The World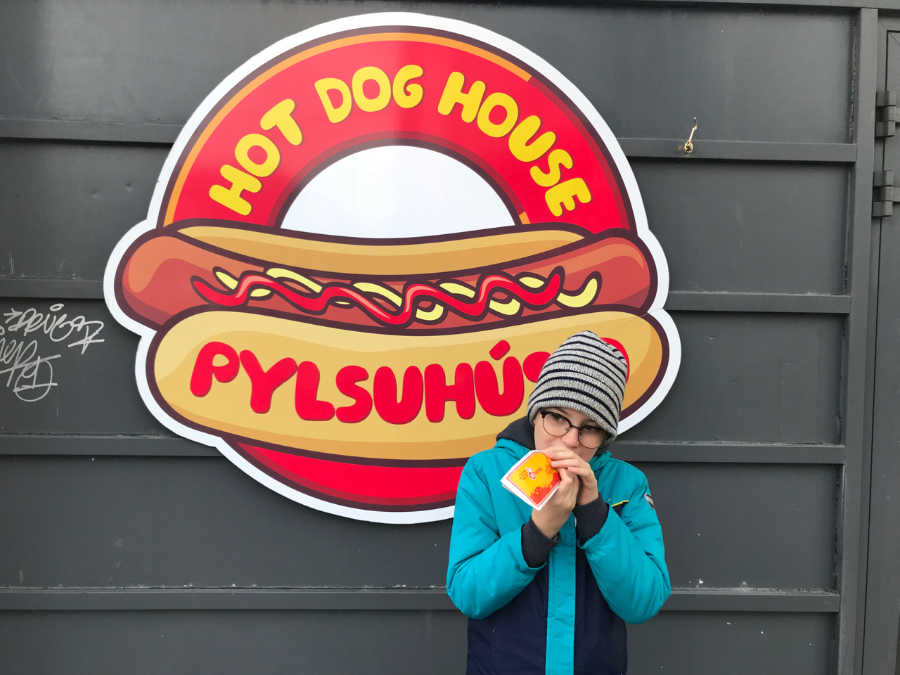 Check out Kajta's post on things to do in Rekjavic with kids.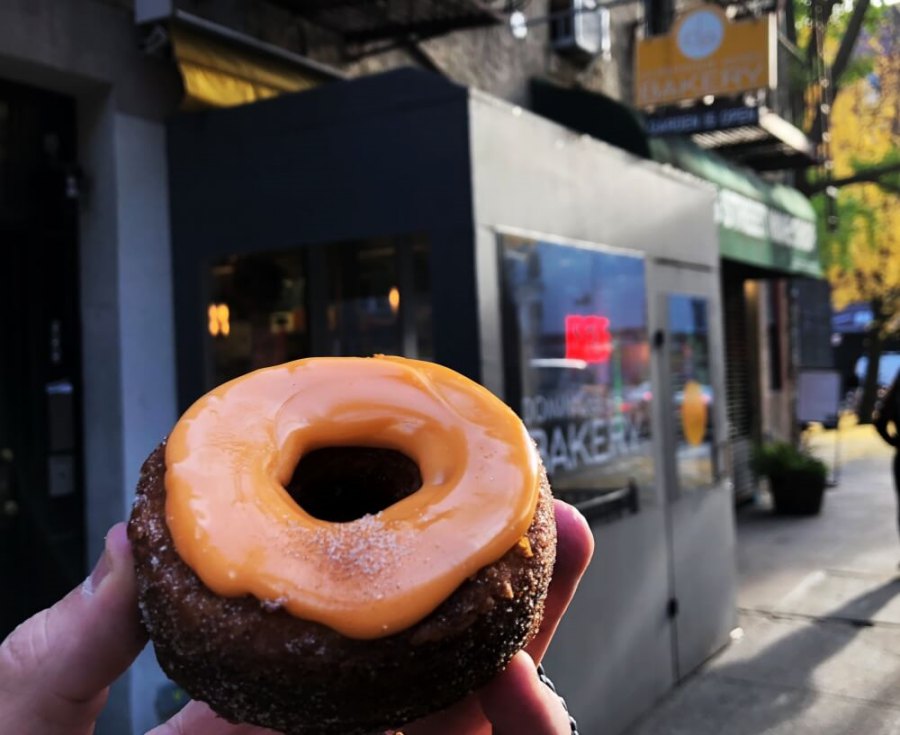 Amazing Food experiences in New York City
New York City is the best foodie destination for several reasons. First, there are modern food crazes that started in NYC and swept the world. Get Crack Pie at Milk Bar at several locations; the original cronut are Dominique Ansel in Soho, What-a-Melon watermelon soft serve ice cream at Dominique Ansel's other 7th Avenue location, and cookie dough at DO in Greenwich Village. Second, there are the classics – pastrami on Rye at Katz's Deli; woodfire thin crust pizza at John's of Bleeker Street in the Village or Lombardi's in Soho; or hot dogs from a street cart around the city. Third, incredible international food in the many ethnic neighborhoods.
You can travel the world in one short vacation if you are wiling to travel the subway out of Manhattan. Try Mongolian hotpot in Flushing; Russian perogies in Brighton Beach; Middle Eastern kebabs and a hookah on Steinway in Astoria; Greek souvlaki in Astoria near Ditmars Blvd; Indian curries at the western end of Jackson Heights; Latin American empanadas at the other end of Jackson Heights; Irish soda bread and sausages in Belmont; the best pasta outside Italy along Arthur Avenue.
James at Travel Collecting
Go visit London for amazing cuisine and dining options
London has really made the foodie map now with a burst of amazing international cuisine, fine dining venues, plentiful food focused markets, a resurgence of locally grown and sourced ingredients and artisanal purveyors. If you're exploring the city, there is a plethora of areas and neighborhoods where you can experience so many amazing cafes, take out venues, pop up eateries and food halls or courts and even ethnic neighborhoods to explore international cuisine at its best. There are specialty food markets open almost every day from Spitafields, Shoreditch, Flat Iron Square, Greenwich to popular standards like Camden market, Market Hall and Borough market. There's an endless list of neighborhood markets that keep opening to cater to demand for more delicious and unique foods.
Please Pin this for Later
Check out these other posts on Fruits,  markets and foods of the world
Exotic and unusual fruits around the world
Traditional Food specialties in Italy
Popular food to eat in New York
Top food destinations around the world
Traditional Catalan foods you need to try
8 Traditional Portuguese foods to try
10 must try dishes and street food of Sri Lanka
Outdoor markets and street food of Bologna
Local foods of the Dalmatian Coast in Croatia
Do you have a favorite type of food or cuisine?
Any of these international food destinations stand out above the others for you? Please share your thoughts in the comments below.