Discover the best foods to eat in London, from classic fish and chips to street food or farm to table foods
Eating in London is definitely an international foodie affair, but what really is London food and what should a visitor try when looking for something delicious to eat in the city? In my experience enjoying food around the world, I know London has some amazing cuisine so I've asked a variety of travel writers, food bloggers and other foodies to share some of their favorite must visit locations and to die for dishes to try when you go to London.
In spite of all the typical English type of dishes, you'll be surprised with some of the delicious foods and places suggested from all these wonderful food and travel writers contributing to this posts. So bookmark this post on the best foods to eat in London and where to find them and you'll have an amazing foodie experience in the city.
London has a wide variety of cuisines to explore. Indian food is particularly popular, with Brick Lane being a hub for delicious curries and street food. Head to Chinatown for authentic Chinese cuisine,or try Korean BBQ in Soho. For a taste of the Mediterranean, check out the many Greek and Turkish restaurants in North London, or indulge in Italian pasta and pizza in Covent Garden.
London's food scene also offers many vegetarian and vegan options. The city is home to a growing number of plant-based restaurants, such as Mildreds and The Gate, which offer innovative and delicious meat-free dishes.
When it comes to sweets and treats, London has plenty to offer. Be sure to try classic British desserts like sticky toffee pudding, spotted dick, and Eton mess. Chocolate lovers can indulge in artisanal chocolates from Mast Brothers or decadent hot chocolate from Choccywoccydoodah.
Finally, no trip to London is complete without sampling some street food. Camden Market is a popular spot for foodies, offering everything from Mexican tacos to Japanese bao buns. Borough Market is another great option, where you can find artisanal cheeses, fresh-baked bread, and gourmet chocolates.
Why is London on top of the foodie scene today?
For those visiting London and not expecting the food scene to be exceptional, things have definitely changed for the better dining all around this fabulous foodie city. So many international flavors and ingredients have created a fusion of flavors, techniques and creativity in London and elevating English cuisine with a variety of new techniques, presentation, farm to table ingredients and supporting local artisanal foods along with so many amazing foodie spots around the city to enjoy really innovative foods around London.
Also, if you love ethnic foods, traditional English style foods or more fusion and a unique blending of food styles and dishes, there's plenty of venues to experience around the city that surprises visitors on how the foods and cuisine in London is pretty amazing.
The food scene is worth exploring some of the amazing food venues, food markets, specialty food places to fine dining establishments around the city to explore now.
London Foods and eating FAQ
What is the most popular food in London?
Popular foods of London covers the gamut of traditional English fare like pie and mash, fish and chips and sticky Toffee Pudding to ethnic foods like Indian Chicken Tikka Masala and Tandoori Chicken. There are so many fantastic choices to eat around the city.
What kind of food should you try in London?
You can try a full English breakfast, fish and chips, Shepards pie, Toad in the Hole, Pie and Mash, Bangers and Mash and a delicious afternoon tea in the many fun eating venues around town.
What is the most popular dish in the UK?
Surprisingly the most popular dish in the UK is not a traditional English dish but Indian food and Chicken Tikka Masala as the most popular dish in a nationwide survey done.
Must try in London traditional cuisine, street foods or specialty dishes
London's street foods and international food markets are popular due to their culinary diversity, authenticity, accessibility, affordability, culinary innovation, and vibrant social atmosphere. They showcase a rich mix of global cuisines, offer genuine flavors, and provide unique and affordable dining experiences. With a range of creative dishes and a bustling atmosphere, they attract locals, tourists, and food enthusiasts alike.
You'll love the experience of tasting the different foods and venues around London from traditional, to specialty artisanal and ethnic cuisine you can find around the city. Check out these favorite foods that fellow travel writers and bloggers are sharing below.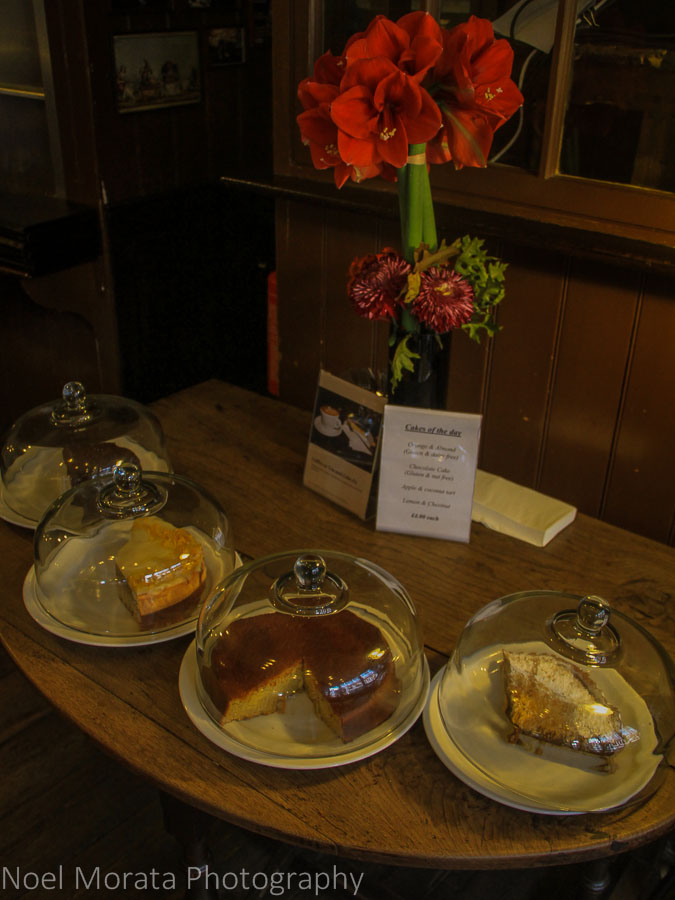 Uniquely English Foods to try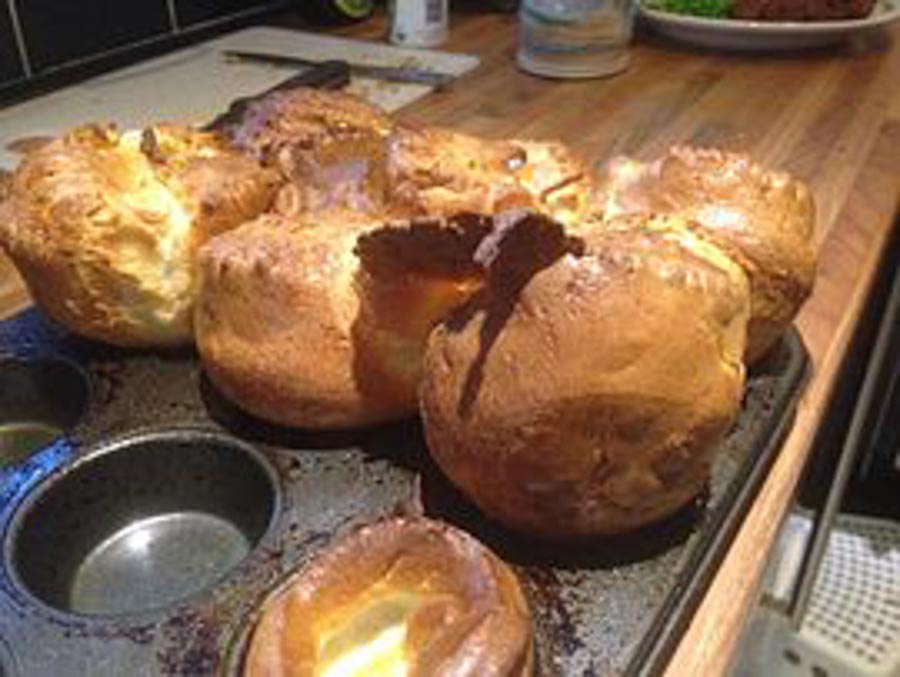 Yorkshire Pudding
A truly English classic and typically served on a Sunday roast, the Yorkshire Pudding is typically a baked pudding side dish made of flour, milk or water and eggs. You'll find Yorkshire Pudding with a roast at most pubs and local restaurants.
Cockles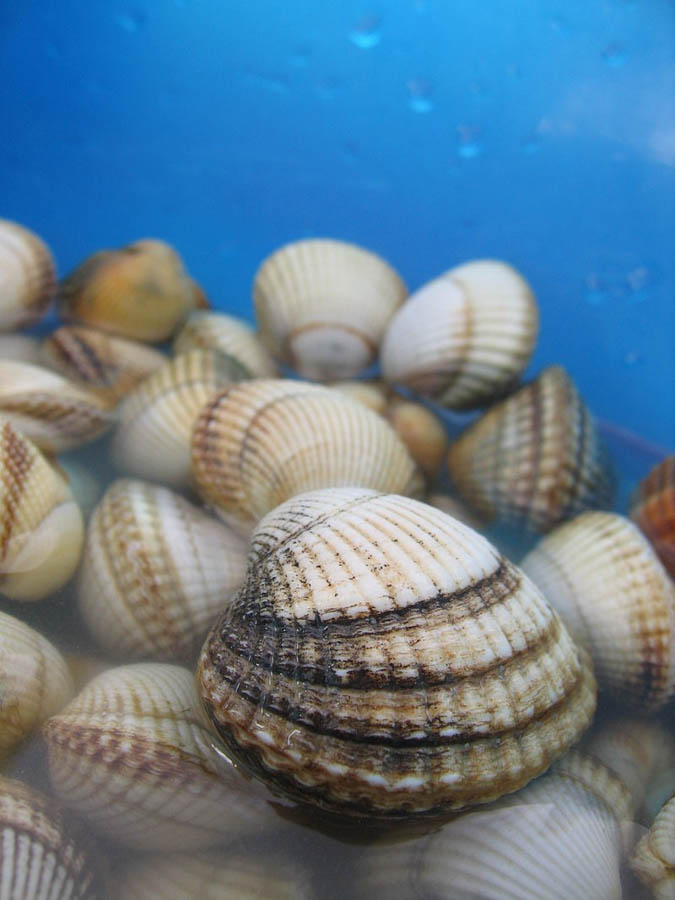 Photo Credit by By Féron Benjamin – CC BY-SA 2.0,
You can find Cockles served in traditionally in East end venues where they have been a staple for decades. These small tasty clam like mollusk are sold as a snack food and seasoned with malt vinegar and white pepper. Cockles can also be served pickled or Welsh style with bacon and laver bread.
Hearty Ploughman's Lunch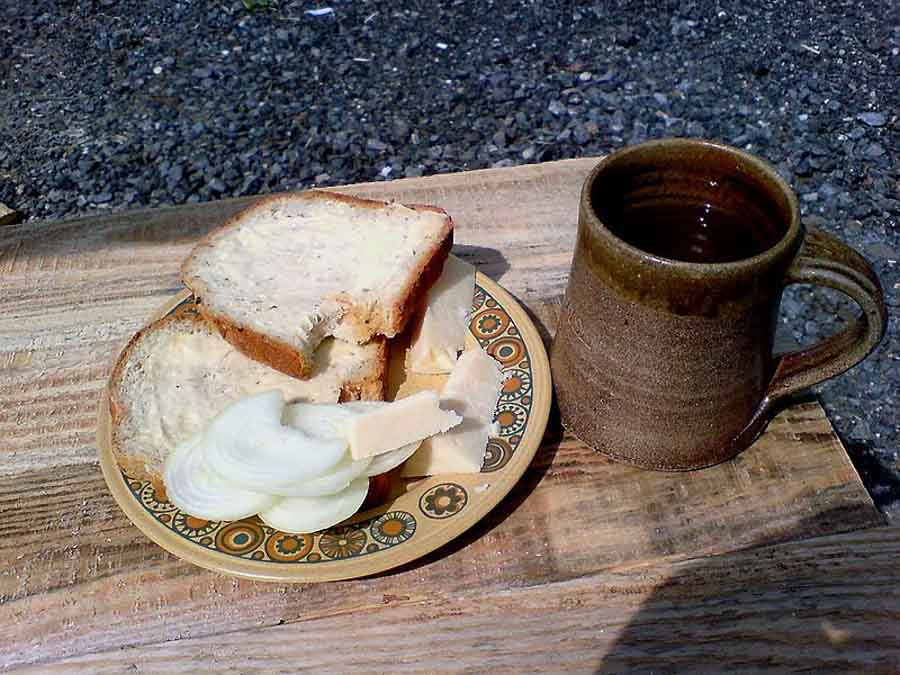 Photo credit by By Clothahump
This typical English lunch is actually a cold meal with bread, onions and cheese with garnishes of relish, pickles, apples and even ham. So pretty much like picnic fare. The lunch is associated with rural laborers having a simple meal combined with hearty pints of beer.
Have a crack at a real English breakfast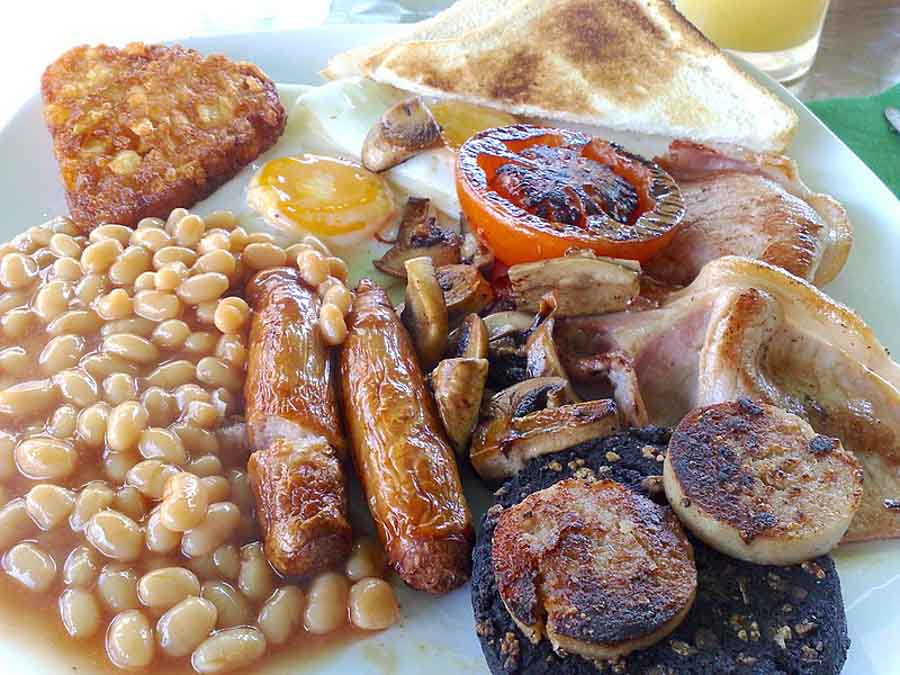 Photo credit to By Jrv73 – Own work, Public Domain
The English love their hearty breakfast and it is quite real. A typical English breakfast consists of bacon, sausages, eggs, fried or grilled tomatoes, fried mushrooms and baked beans and black pudding is included. Fried or buttered toast is also included for wiping up all that delicious goodness. You'll find English breakfast served in hotels and guest houses in London and all around England. Black tea is usually served with this full English breakfast and are a robust compliment to the big meal.
What is an authentic English Breakfast
How about some Bangers and Mash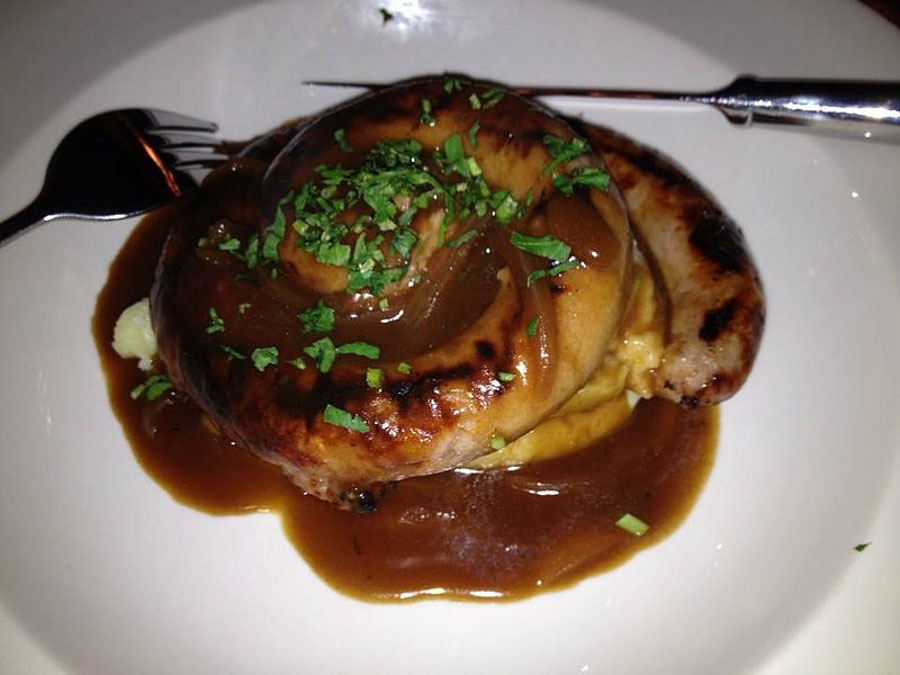 Photo credit By Qwerty Binary – Own work, CC BY-SA 3.0
Another traditional Great Britain dish composed primarily of sausage and mash potatoes. The bangers can be made of pork, lamb or beef and typically served with gravy, fried onions and peas. You'll find Bangers and Mash offered in pubs all around London as a staple food served.
A classic bangers and mash below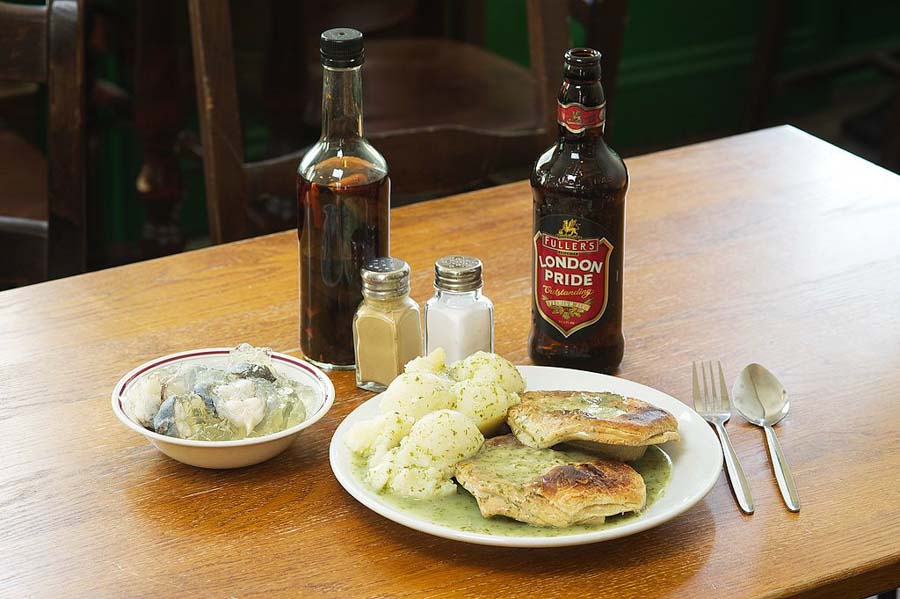 Pie Mash with Eel Liquor
Pie mash and eel liquor are very much a London creation since the VIctorian time in 19th century. Serving this meal since 1890 by a family run business, Goddards at Greenwich is a traditional pie mash and liquor restaurant located in Greenwich, London. Used to be known as the working class food, pie mash and eel liquor were particularly common (and thus cheap) in London back in those days. Eels were one of very few fish that could survive in the heavily-polluted Thames and other London rivers. Eel liquor is the special part of the meal, which it is made from an eel gravy and is heavily flavoured parsley sauce. Goddards at Greenwich is still making this traditional London meal, with different pie fillings ranging from traditional beef, steak, chicken, lamb or even vegetarian options. If you want to try another traditional English dish, the Jellied Eels, are also available at Goddards. The dish consists of chopped eels boiled in a spiced stock that is cooled to form a jelly.

By Allison Wong with Sassy Urbanite's Diary
Here's a staple English dish of pie mash and eel liquor
Beef Wellington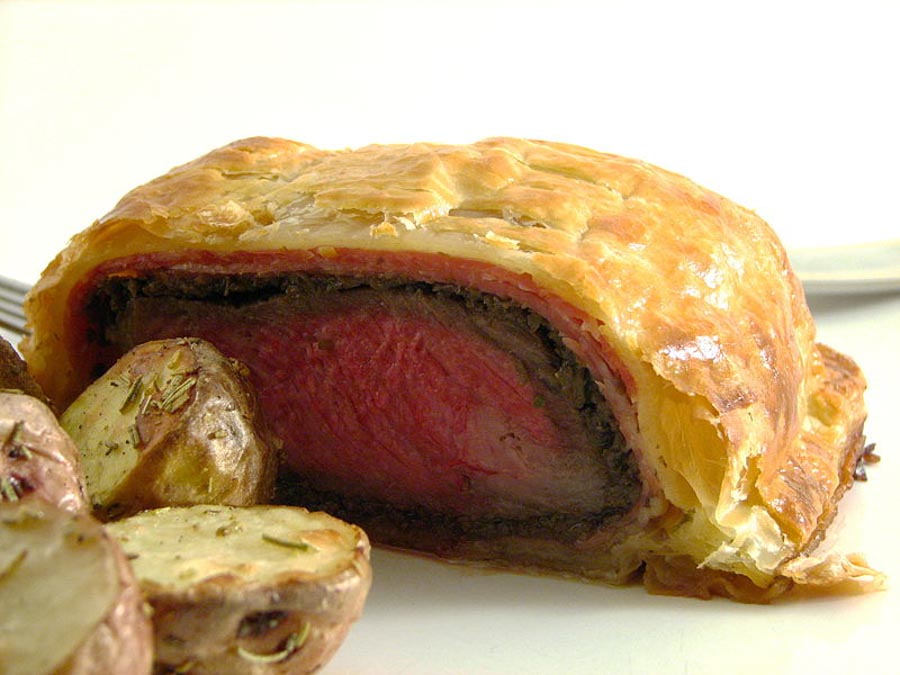 Photo credit by By Parkerman & Christie from San Diego, USA CC BY 2.0
You can't beat a well prepared fillet of steak mostly beef tenderloin with duxelles and pate mixed into and then covered in a flaky puffed pastry and baked to perfection. This extravagant dish is definitely worth seeking out at fine dining restaurants around London when you find it on the menu and looking for a tasty traditional beef dining experience.
A classic Beef Wellington with mustard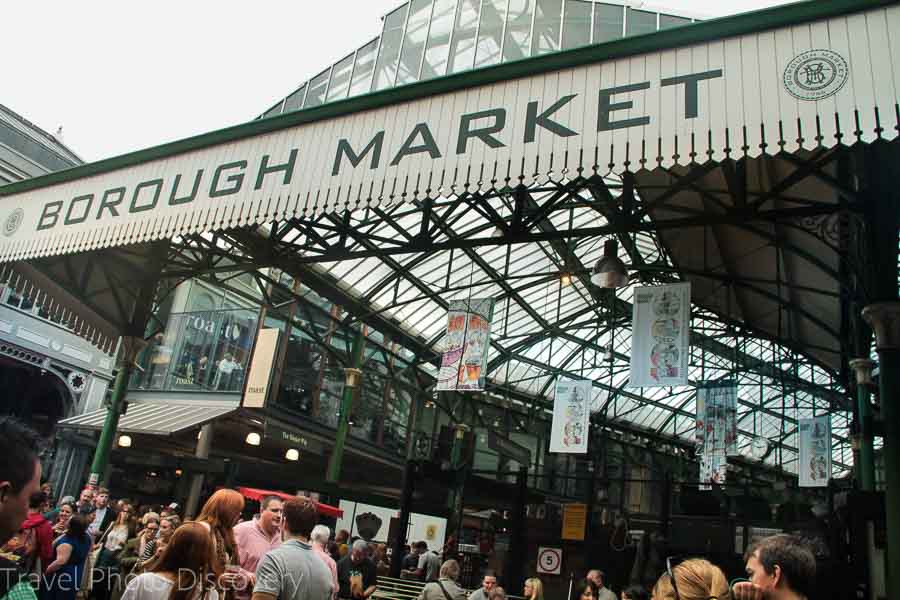 Visiting London markets and specialty dishes
There are so many amazing London foodie markets worth visiting with vendors that offer the most delicious local foods you can imagine from these artisanal to regional purveyors. Check out some of these markets when you visit London with all these wonderful food venues and choices to discover.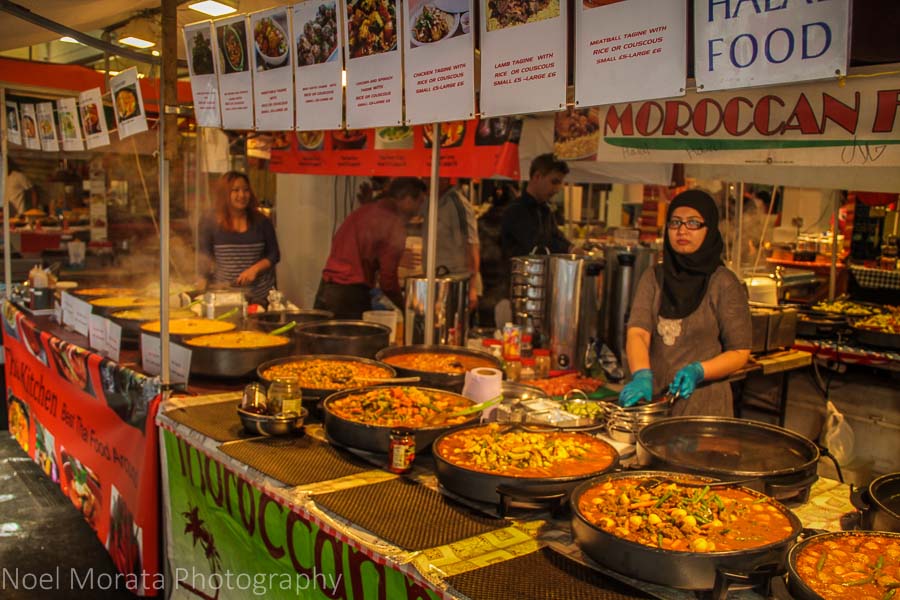 Brick Lane – food markets
Even though Brick Lane is filled with many ethnic restaurants including delicious Indian venues, if you're looking for variety of choices check out the various weekend food markets located in retrofitted warehouses on the street. The most popular foodie markets in the area include Brick Lane food hall at the Boiler House with over 30 food vendors, The Backyard market with mostly finished goods and some food vendors and artisanal products and the Sunday Upmarket serving a variety of ethnic street foods.
Video credit to
Smart Eatery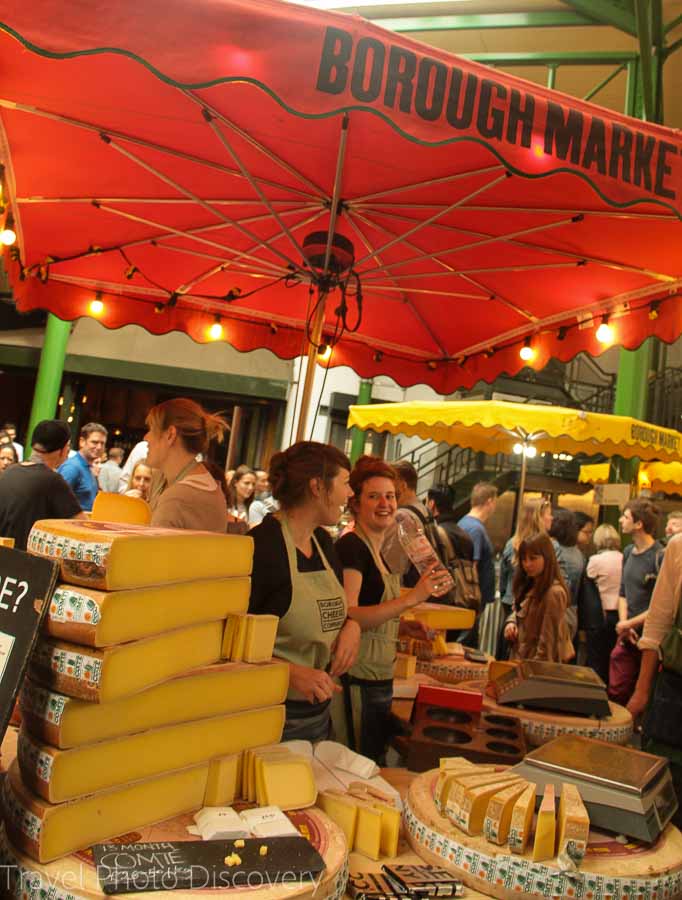 Borough Market
A very popular gathering spot in London's Southbank area, Borough Market is the place to go for fantastic and unique artisanal foods and finished goods along with some amazing wine bars, pubs and restaurants in the immediate vicinity. This the market caters to a hip crowd with amazing food purveyors offering traditional, international and specialty foods including the latest food forward dishes worth experiencing.
** Check out this Borough Market Food tour here – for discovering the tasty food stalls and venues in this popular market.
Video credit to
Love and London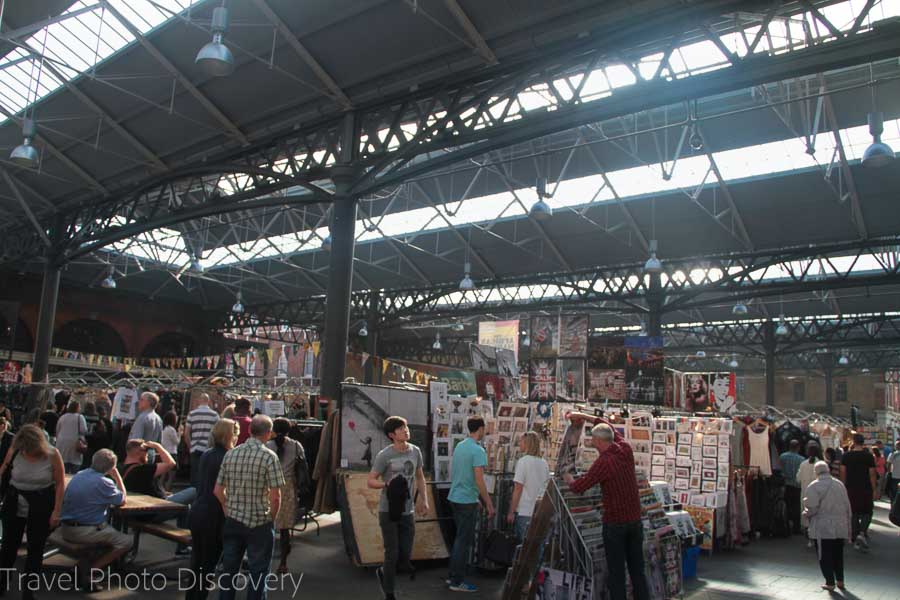 Spitafields Market
Located in a refurbished covered market that has been in operation for over 350 years, Spitafields Market in the East End of London is a hip gathering spot for foodie lovers but also for visitors looking to find DIY craft and design makers, local clothing designers including a slew of wine bars, restaurants. You'll find plenty of specialty food venues, artisanal goods and shops for you to discover what's new, local or trendy in this wonderful foodie marketplace. Also, there's plenty of live entertainment and events to keep you busy and happy exploring around Spitafields which stays open late into the night in this lively neighborhood.
Video credit to
settime2588
Video credit by
GIRL IN PARADISE
Camden Market
Located in Camden Town, this market is comprised of many small markets in the area selling a variety of food, clothing and accessories, art and creative works. The food/dining section is located closer to the River called Kerb and is mostly take away street foods and ethnic foods for sale.
Hours are M-F 10:00-17:00 and weekends 11.00 – 18.00
Whitecross Street Market
Video credit to settime2588
A very popular and considered one of London's best street food market, you'll have plenty of choices of food, flavors and cuisine at Whitecross market. This market specializes in a wonderful array of healthy food venues, Vegetarian, delicious artisanal foods, baked goods and desserts, ethnic food stalls, seasonal goods and gourmet sweets and other fast take out foods made with high quality ingredients.
Exploring London's best street foods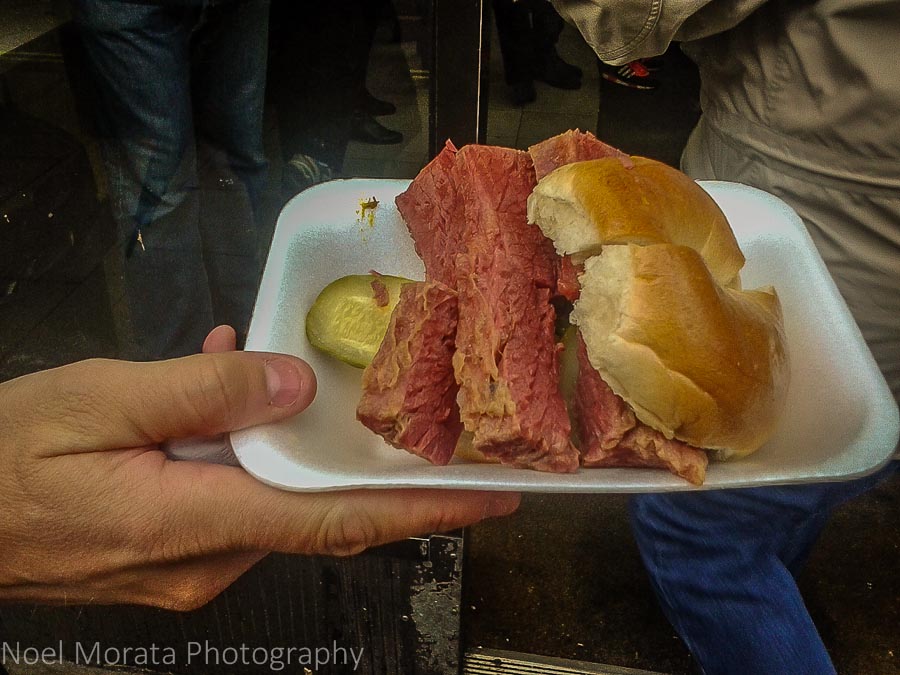 The best London Bagels and salt beef
If you're looking for one of the most iconic dishes to try in London you can't miss the classic salt beef beigel. A Shoreditch favorite, this sandwich is one of the cheapest and most satisfying meals you can find in London. A chewy, freshly cooked beigel straight out of the oven is cut in half, stuffed with tender corned beef, and garnished with mustard and a dill pickle. It's eaten still warm, preferably standing up on the street or walking around the city
There are two classic (and rival) establishments: Beigel Bake (white sign) and Beigel Shop (yellow sign). They're both right next to each other on Brick Lane. I went for Beigel Bake, as it had the longer line and lines don't often lie when it comes to good food! Despite the line, I was in and out of the shop with a beigel in hand in under 10 minutes, so don't be afraid to queue up. A delicious salt beef beigel should set you back less than 5 quid, an excellent deal in a city as expensive as London.
Check out Allison's post on London in 4 days.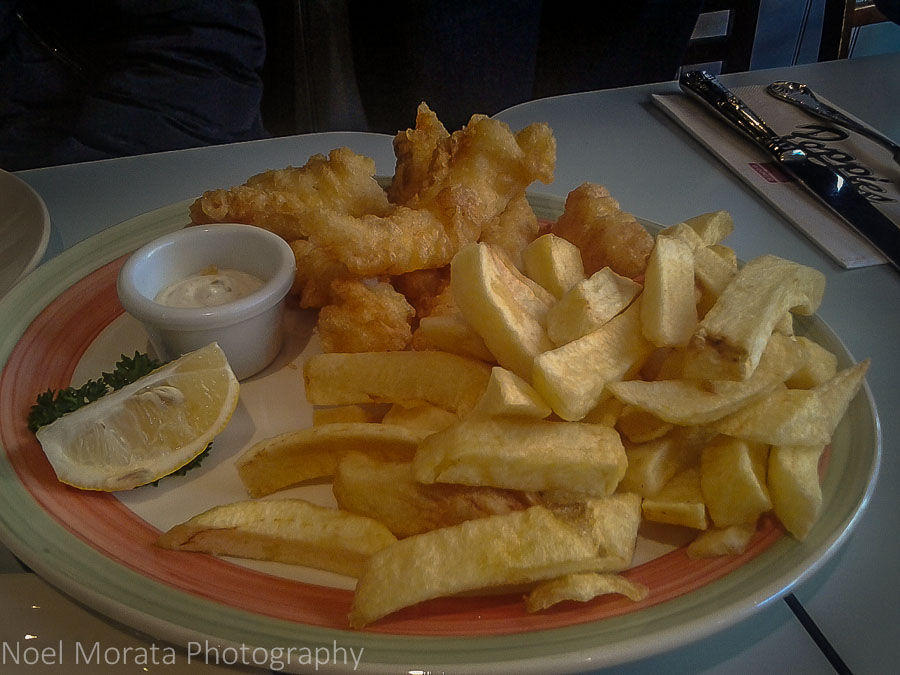 Delicious fish and chips place in London
Poppies fish and chips is typically rated as one of the best, if not the best fish and chips spot in all of London. Operating since 1940s, the fish are perfectly done, flakey, fresh and golden and not greasy – they know great fish and chips. Located in a cool retro 50s type of diner, Poppies can be an easy take out or dine in venue in Camden and a pop up at Spitafield's Market.
London's must try ethnic cuisine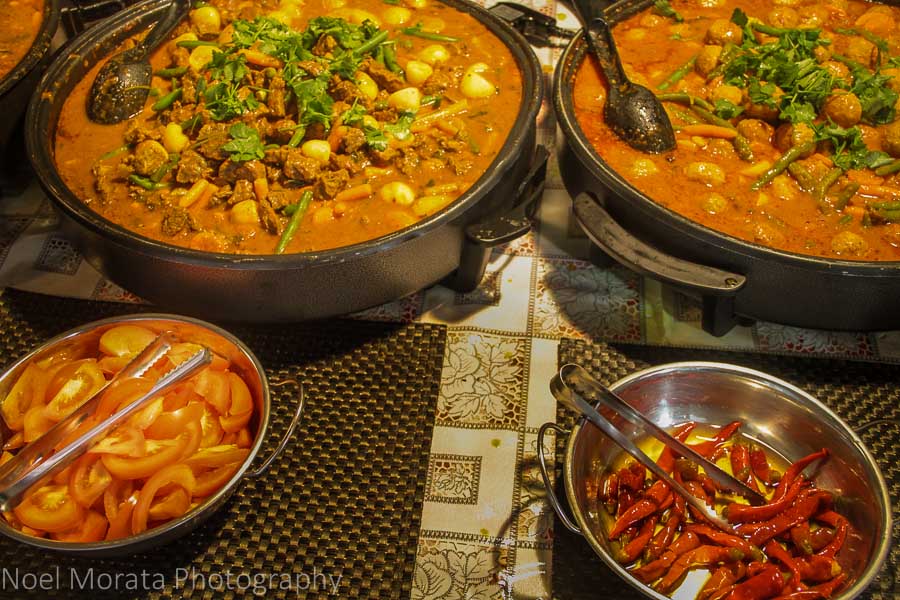 Photo via Photo
The best Indian food in London
When people think of where to get the best Indian food in London, the first thought is usually Brick Lane. However, it is super touristy and
not so authentic. Instead, head to the always packed London favorite
Dishoom
.
Plan to arrive well before you are ready to eat as you will most likely be waiting outside in line for quite a bit. Trust me, it's worth the wait. As a bonus, you will receive either a hot masala chai or a cold nimbu pain (lemonade) while you wait.
Once inside, the choice of what to order looms over you. Everything on the menu is fantastic, but for a true Indian experience, we have a few
suggestions. For starters, order Okra Fries, known in India as lady fingers. Even if you don't like okra, this one will blow you away.
For your main dishes, I would recommend ordering Paneer Tikka which is notoriously difficult to find in London. This perfectly spiced slab of
thick cheese (similar to tofu) is ideal even for picky eaters. Next up, consider the deliciously cooked Masala Prawns or Chicken Tikka if you aren't a fish eater. And last, but not least, save room for the best item on the menu, Dishoom's signature Black Dal. Dip up the best dal outside of India with buttery tandoori cooked naan to complete the meal. Yum!
Check out Karilyn's post on the best Indian food in London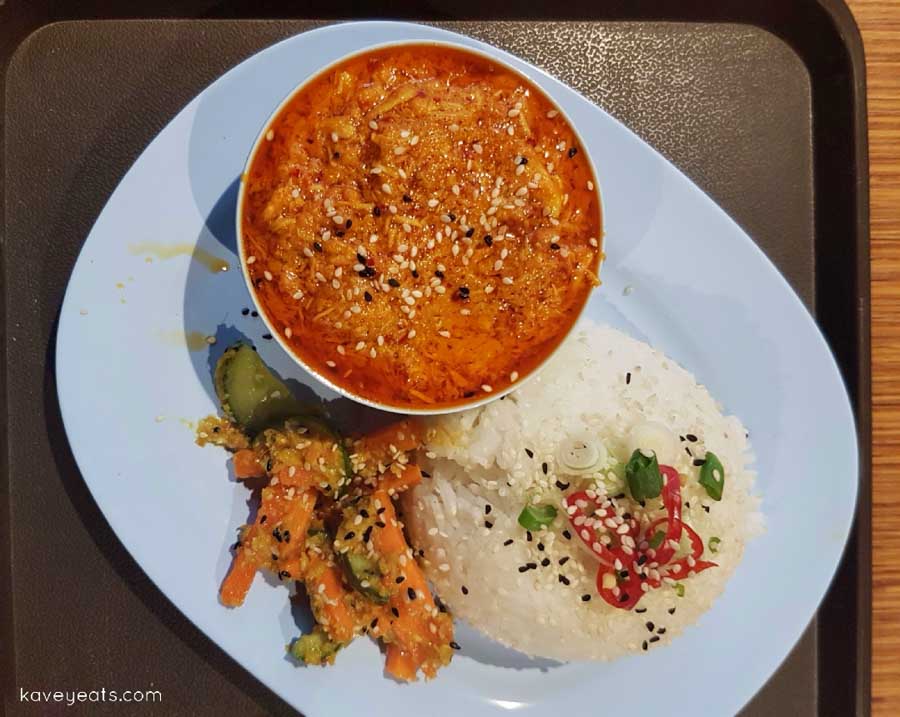 Indonesian classic food in London
For anyone who's travelled to South East Asia and come to love the amazing food courts full of fantastic food vendors, or for those who haven't but want the experience,
Bang Bang Oriental in Colindale
, North London is a must-visit. Since it opened in summer 2017, locals and keen foodies from further afield have flocked to eat here, and there's a Loon Fung Chinese supermarket next door too.
Bang Bang Oriental's food hall is upstairs, and offers over twenty food and drink vendors arranged around a spacious central dining area. Whether you're on your own or with a group, find a table, then head to one or more of the restaurants selling Chinese, Filipino, Indian, Japanese, Korean, Malaysian, Taiwanese, Thai, and Vietnamese dishes. You'll be given a buzzer to keep hold up; when it goes off, head back to pick up your food and carry it back to your table.
One of my current favourite food vendors is Makatcha, selling Indonesian classics including barbequed chicken satay, black manis chicken wings and the most amazing rendang. Available in beef and chicken versions, both rendangs are in the wet style, with meat so soft it's flaked apart in a thick sauce. Served with rice and a Malaysian achar pickle, this dish packs an immense flavour punch and is not for the faint-hearted!
If you still have space after that, try an egg custard tart or Japanese cheesecake from Wonderful Patisserie, or a bubble waffle cone filled with ice cream from Monster Bites
Check out Kavita's post on Bang Bang Oriental in Colindale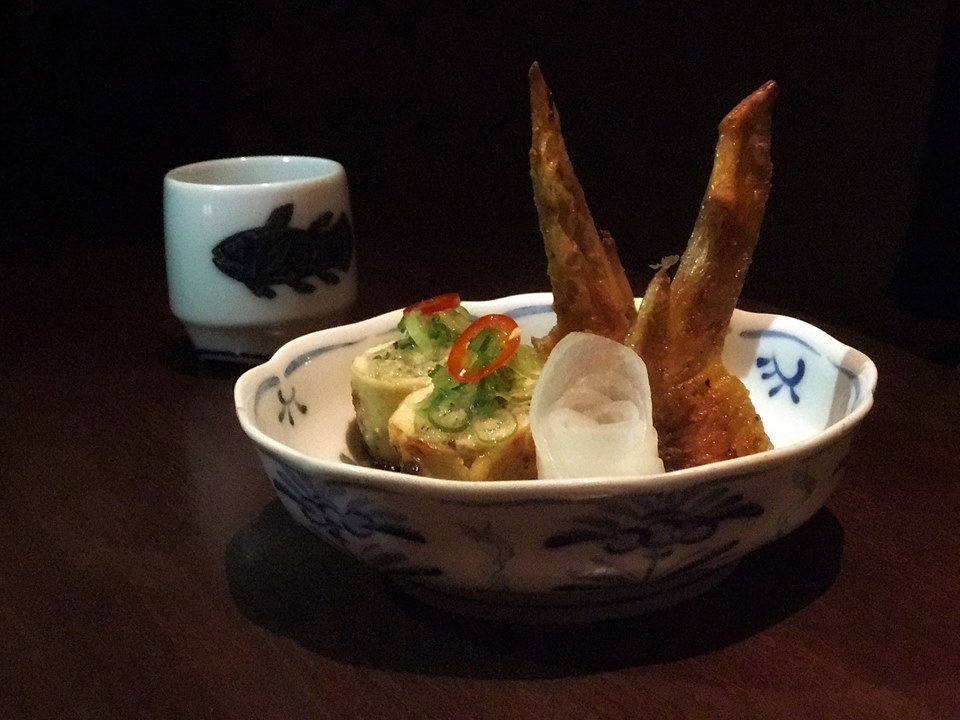 Excellent Izakaya at Sosharu
Sosharu in the trendy area of Clerkenwell is Jason Atherton's British take on a Japanese Izakaya. In Japan, Izakayas are where working men go after work for small bites and drinks with their work friends. It's a chance to unwind before they go home to their families and have dinner.
Jason Atherton earned his cooking credentials working for Gordon Ramsay at the Michelin-starred Maze. When he branched out on his own, his restaurant got a Michelin star in its first year. Atherton now had restaurants in London as well as around the world.
Sosharu is an entry-level experience in terms of his fine dining choices. You can drink and have light bites such as this stuffed chicken wing and get a taste for the Atherton style without breaking the bank. The space is dark and moody with very high ceilings which makes the restaurant atmospheric and not gloomy. Downstairs there is a cool little bar, too.
Having experienced Izakayas in Japan, Atherton's version is definitely more slick but it has the same convivial atmosphere.
Xiao long bao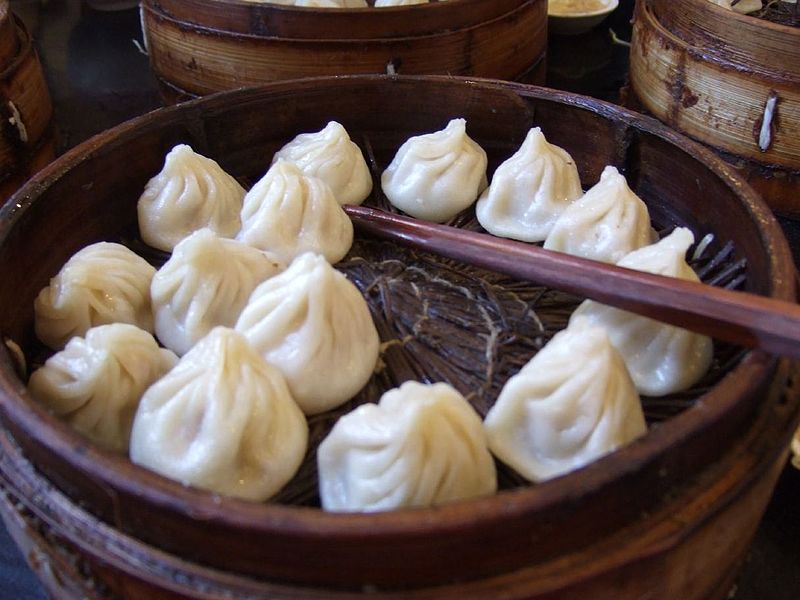 Photo credit By Eason Lai, CC BY-SA 2.0,
If you have a craving for Xiao long bao or steamed soupy dumplings, head out to Chinatown for these yummy dumplings served at ever popular Dumplings Legends in Chinatown which serves these wonderful dumplings along with a whole array of delicious dim sum to go or dine in.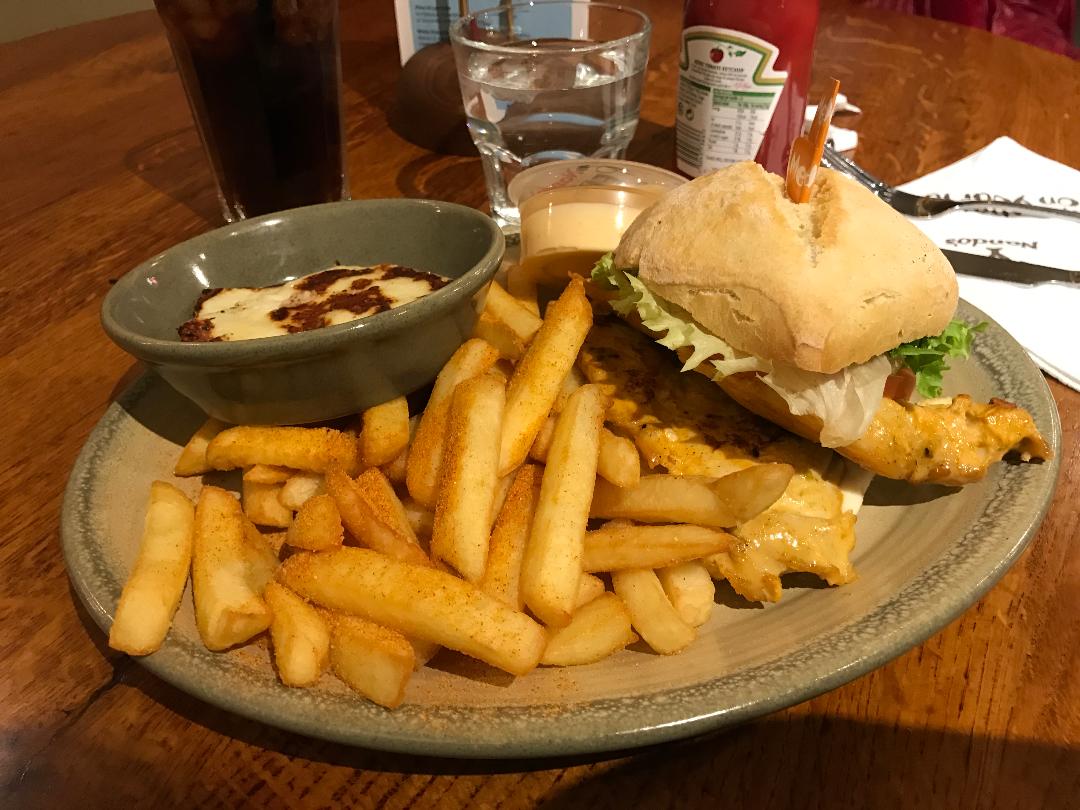 South African Peri-Peri chicken
Nando's is a popular Portuguese
Peri-Peri Chicken chain restaurant
in the UK, with South African origins. They serve up reasonably priced flame grilled chicken with various levels of spice options available. The chain is a mix between a fast food restaurant and fine dining. There are many many options from flame grilled chicken to salad, sandwiches and even vegetarian options.
My favourite thing to order is the Peri-Peri Chicken sandwich with medium sauce, Peri-Peri fries and a side of Halloumi cheese.
As they say in the UK everyone loves a bit of "cheeky Nando's".
Only in London food experiences

Buttery Deviled Kidneys
St.John Restaurant is located in the historic Smithfield Meat Market neighborhood of London. It's a former smokehouse, painted white on the outside, and tables clothed in the same color inside. Pretty classy joint, but still has a sensibility of toughness. It's this dichotomy that makes this place such a good time.
A dish that best exemplifies this institution, established by acclaimed chef Fergus Henderson, is the Devilled Kidneys. A part of the animal many discards, or at the least bring one to wince. However, here, this dish is elevated; and upon arriving at the table, looking every bit as splendid as anything I've seen put on a plate, it brought me to smile rather than grimace.
The kidneys are from sheep. They seemed to have been pan-fried in lots of butter, and served over the most delicious country bread and poured on top is the reduction which is reminiscent of a thick Worcester Sauce (which I love). As I put my knife through the middle, it cut like the butter in which it was cooked and melted in my mouth.
The sensation left me wanting more and more. I couldn't believe that many never think to have this offal. I was glad I decided to order it and with a bottle of their house red wine as a pairing, it made for one of the best dishes I've ever had.
Brenda Tolentino with Dish Our Town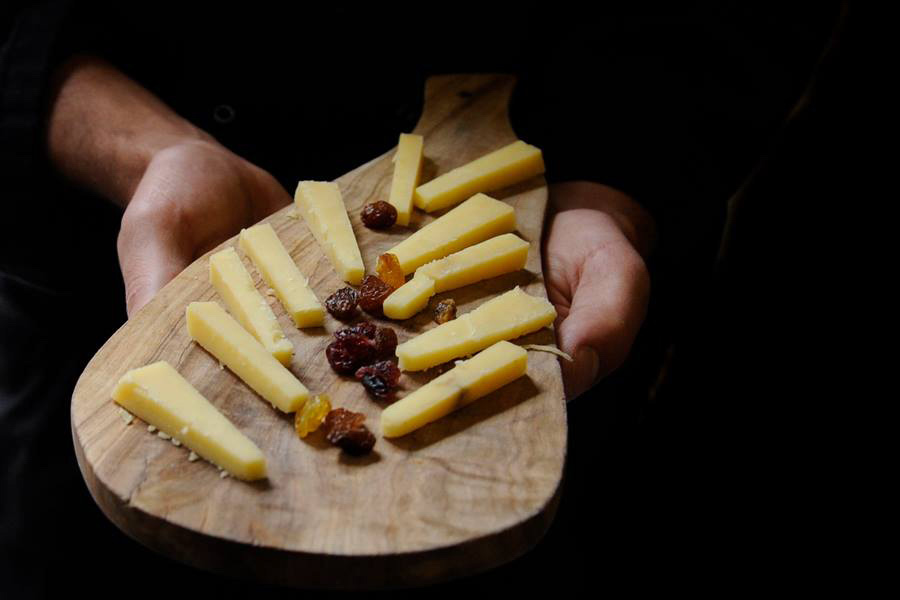 English cheese to die for
If you love cheese, a visit to Androuet in Spitalfields Market in the East End of London is a must. They have a fabulous range from around the world, that they buy in season directly for the producers. When I visited this shop, I was most interested in their English cheeses and tried three.
Ogleshield is a Somerset cheese made from an unpasturized cows' milk, that's been aged for 4 months. It was mild and buttery, and they suggested melting it on toast which sounds dreamy!
Westcomb Cheddar, which has been aged for 16 months in the caves at Cheddar Gorge, had a distinctive earthy flavour.
But my favourite was the Stilton Cropwell Bishop from Nottingham which is aged for just 3 months. It was the creamiest, loveliest Stilton I have ever tasted.
Sorry I don't know how to make the picture smaller but retain it 900 pixels.
Check out Kathryn's post on Eating London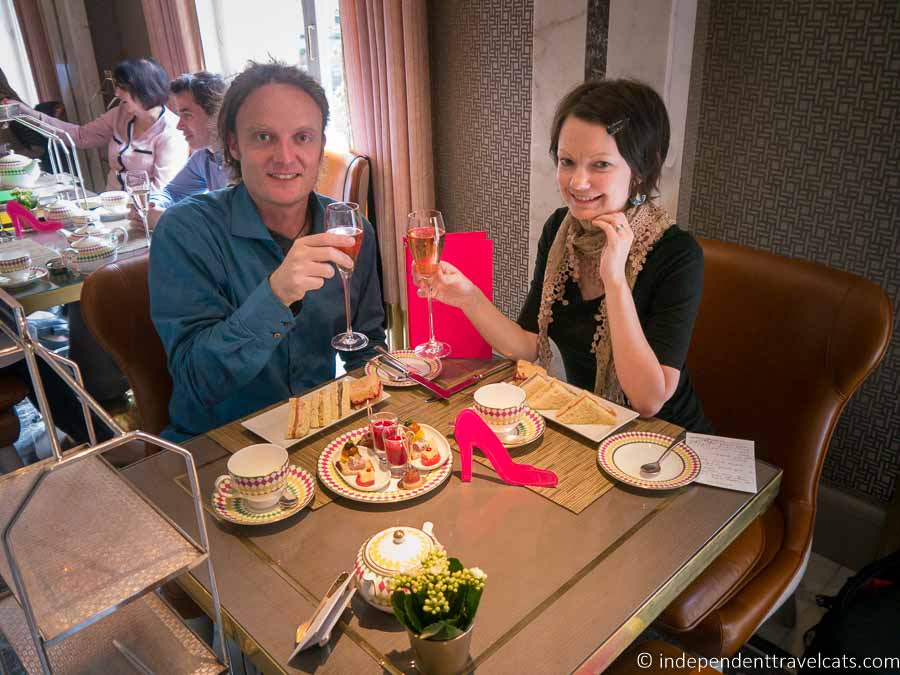 Afternoon Tea in London
The tradition of afternoon tea originated in the aristocratic homes of England, and there is no better place to have afternoon tea than in London. There are of course hundreds of places that serve afternoon tea, from casual cafes where you can get a scone and a cuppa to fancy traditional afternoon teas served on 3-tiered silver trays at many of London's 5-star hotels. So you have loads of choices!
If you are looking for something a little different and enjoy fashion, we can recommend the Prêt-à-Portea afternoon tea at The Berkeley. This tea is designed for fashionistas and has a strong fashion theme with the tea changing each season along with the fashion scene. The pastries and desserts are made to resemble the latest designs from the world's leading fashion houses such as J

ean Paul Gaultier, Chanel, Calvin Klein, and Oscar de la Renta. So you can eat an Alexander McQueen hat, a Chanel gown, or a Burberry scarf!
We had a fun time here and found the service, tea selection, and quality of the food to be excellent. We had the tea option that included a glass of pink champagne which made it a more festive experience.
But if you are looking for a nicer but more traditional tea experience, we'd probably recommend another tea. For instance, The Ritz, The Dorchester, or Claridge's might be good places to check out.
Jessica with Independent Travel Cats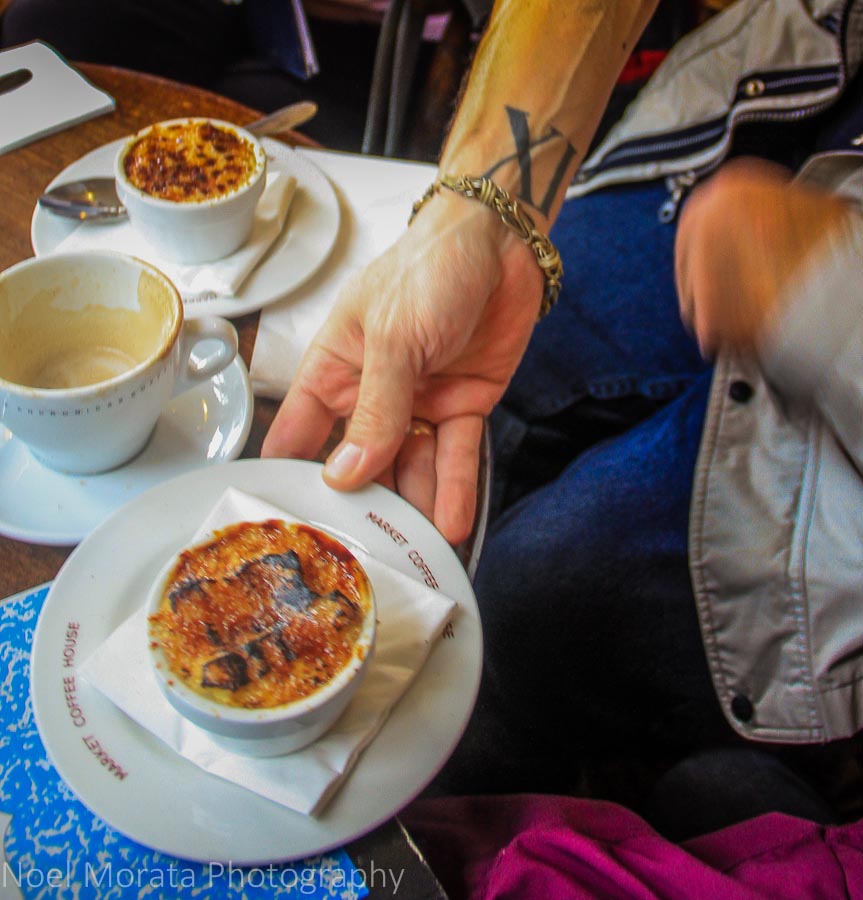 A London food walking tour
A better way of discovering London and where to eat at fabulous places is by taking a walking tour in the city. One of my personal favorites is the popular tour with Eating London. This food tour establishment has been operating for decades in the city, offering a variety of foodie tours in some of the best food venues around the city. Check out my favorite food tour with
Eating London at their East End tour
which is really one of their signature tours in all of Europe and visiting some amazing food venues in a variety of neighborhoods in the East End of London.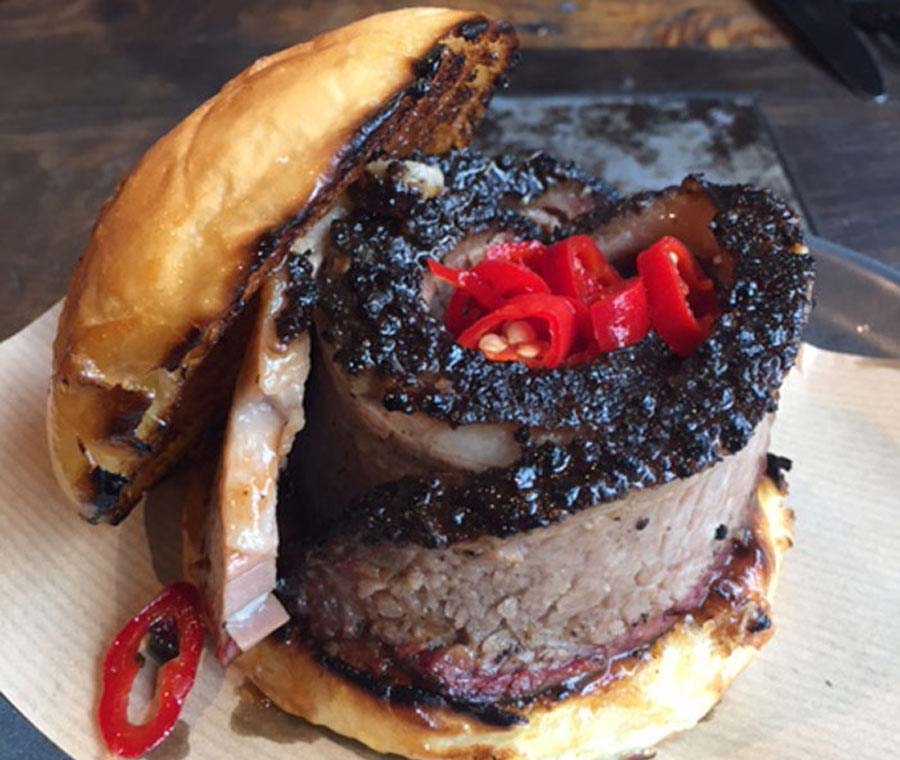 American style BBQ in London
Over the past few years, American BBQ has become a trend in London and there are numerous restaurants giving it a try. Smokestak in the Shoreditch neighborhood is one of the few that absolutely gets it right. Their BBQ is so good it's hard to resist going back again and again. Their main menu items include pork ribs, beef brisket, and a 30-day dry-aged beef rib, alongside a few lighter items like salt-baked beetroot and sea bream crudo. But for us, the brisket bun is the star of the show. They take a thick slice of melt-in-your-mouth tender brisket and roll it up inside a soft, buttered bakery roll, then top it with pickled red chillis. It's so tasty, you'll be disappointed if you don't order two.
The atmosphere created by the rustic, industrial wooden interior design adds to the experience. It's always crowded, even in the summer when extra space is opened up by outdoor tables, so it's wise to make a reservation at least a week in advance.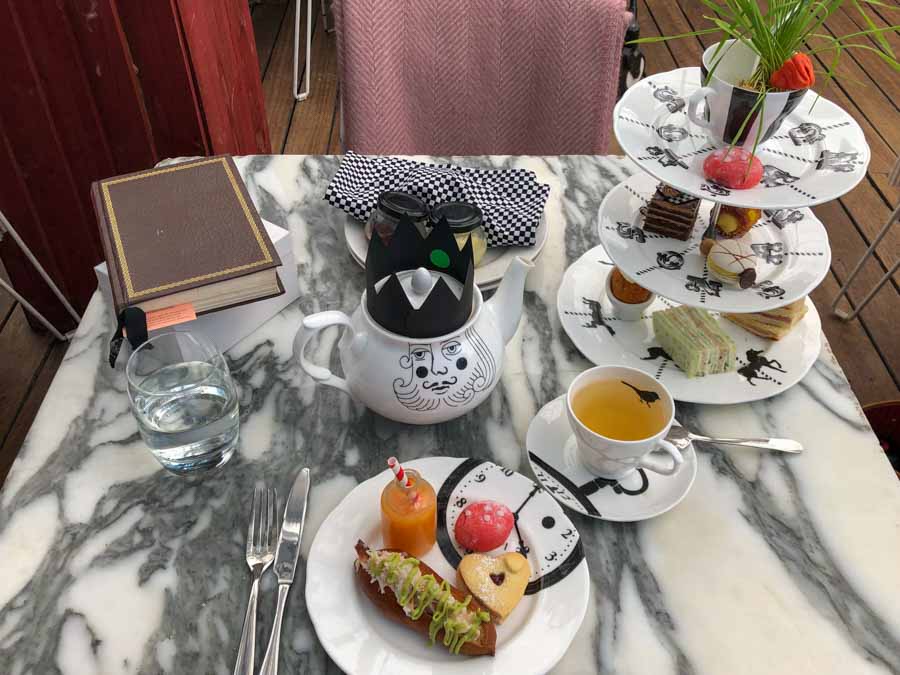 Mad hatters tea
If there's one thing that London does exceptionally well, it's afternoon tea – and, more specifically, the themed afternoon tea. On a recent trip to London, I tried a variety of themed afternoon teas, and decided that the Mad Hatter's Afternoon Tea offered at the upscale Sanderson hotel in Fitzrovia takes the cake (and tiny finger sandwiches) for the best themed tea in London.
Everything about this Alice in Wonderland-inspired tea is whimsical and on-theme, from the tablewear to the custom tea blends to the menu that's presented inside of a book. The food served is tasty and includes all the trappings of a traditional afternoon tea – just with an Alice-inspired twist.
You'll have tea, small sandwiches (the Cornish crab brioche roll with spiced avocado and coriander was my favorite), scones with jam and clotted cream, and sweet treats like a Mad March Hare vanilla pocket watch macaroon, marshmallows shaped like mushrooms, and Alice's exotic fruits "Drink Me" potion.
The Mad Hatter's Afternoon Tea experience runs £48, or £65 if you'd like to add a class of pink Laurent-Perrier Champagne. It's served in either the The Restaurant or Courtyard Garden at the Sanderson, and you don't have to dress up – though it's more fun if you do!
London's best sweet dishes and desserts
English people and Londoner's really have a sweet tooth and love to hang out at the most sweet inspiring venues around town that shares the most delicious dishes around town to enjoy.
Sticky toffee Pudding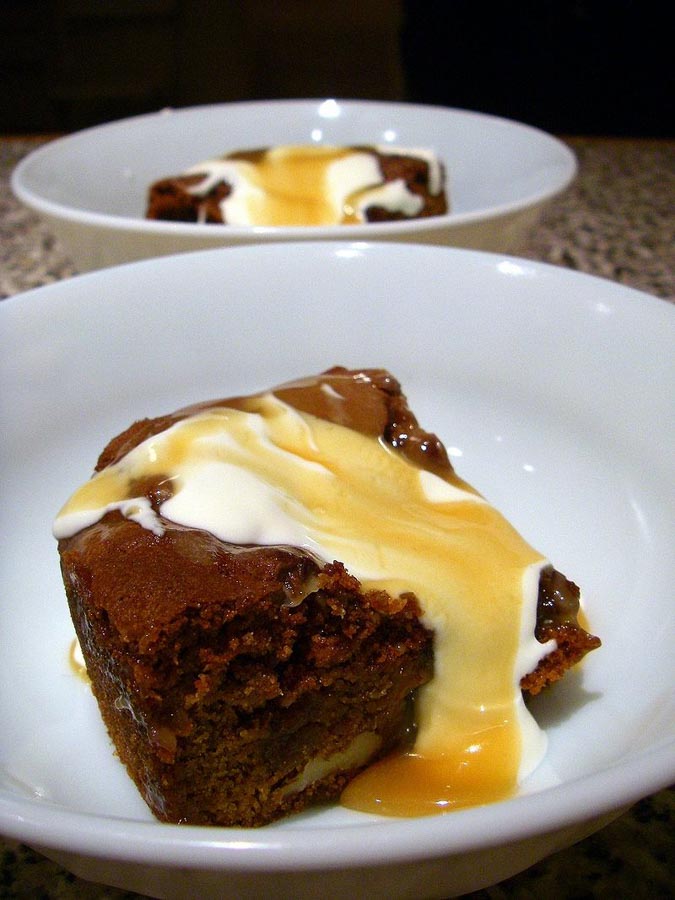 Photo credit By Chalk and Cheese CC BY 2.0
A very traditional English dessert you can find in a variety of gastropubs, cafes and even find dining restaurants. This dessert is basically a sponge cake with finely copped dates mixed in and gooey toffee sauce and then served with either vanilla ice cream or Vanilla custard. If you are a toffee/caramel lover, you definitely have to try this English dessert.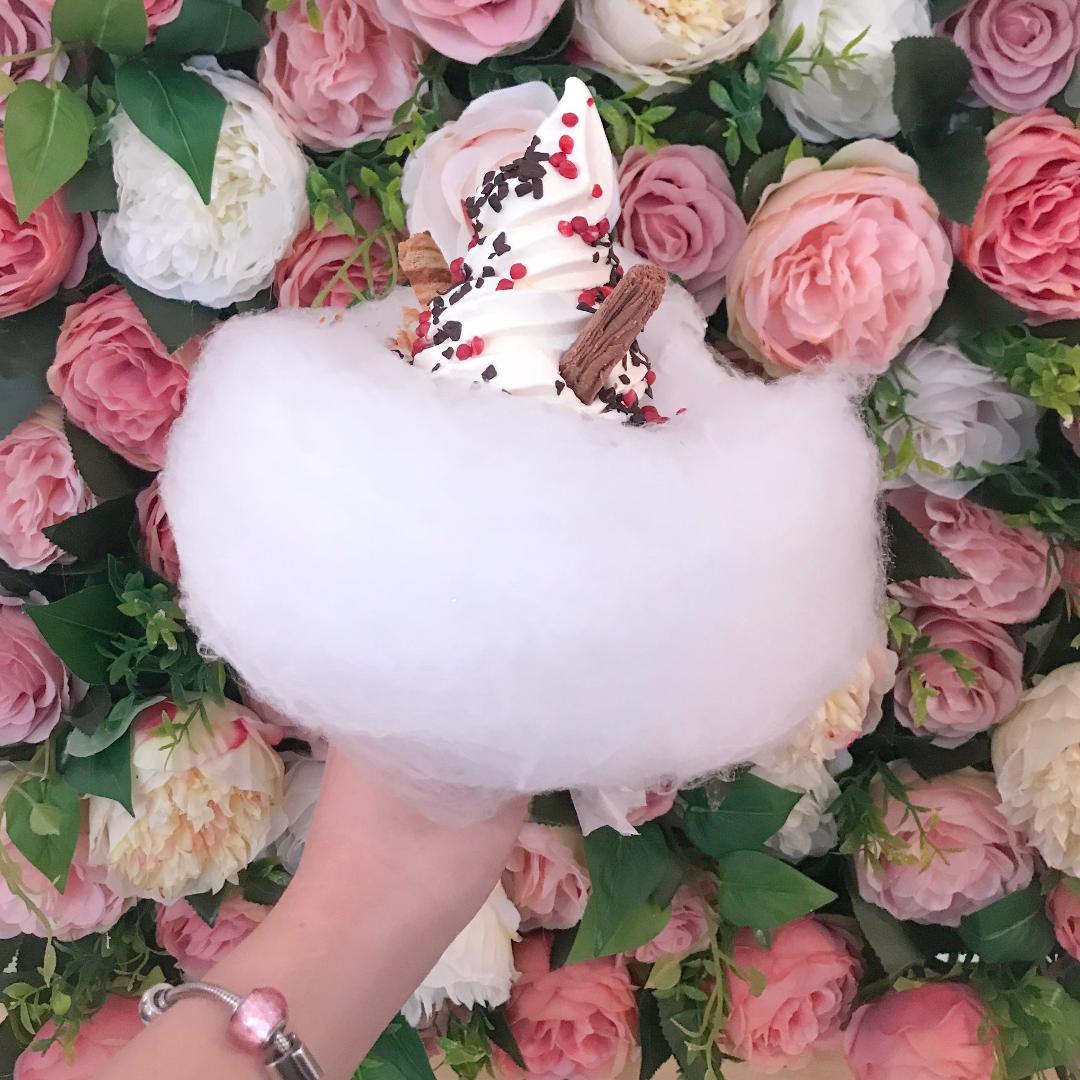 Ice Cream Cloud at Milk Train Cafe
London has so many trendy food options. It's a foodies dream! One of the most trendy foods that you simply can't miss when you are eating your way around the city is the iconic Milk Train Cafe ice cream. It's only a small spot and the line of people waiting to get in usually extends out onto the street, but inside this unassuming store is a sweet creation of diabetic proportions that is certainly worth the wait, particularly on those hot, summer days.
At the Milk Train cafe you can get one of their famous soft serve ice cream cones which is customizable with your choice of toppings, but there's a twist. Surrounding the cone is a cloud of fluffy cotton candy! It's trendy, it's Instagrammable and it's absolutely delicious. It's going to cost you about $6 USD for an ice cream with the cloud and a couple of toppings and, in my opinion, it's worth every cent!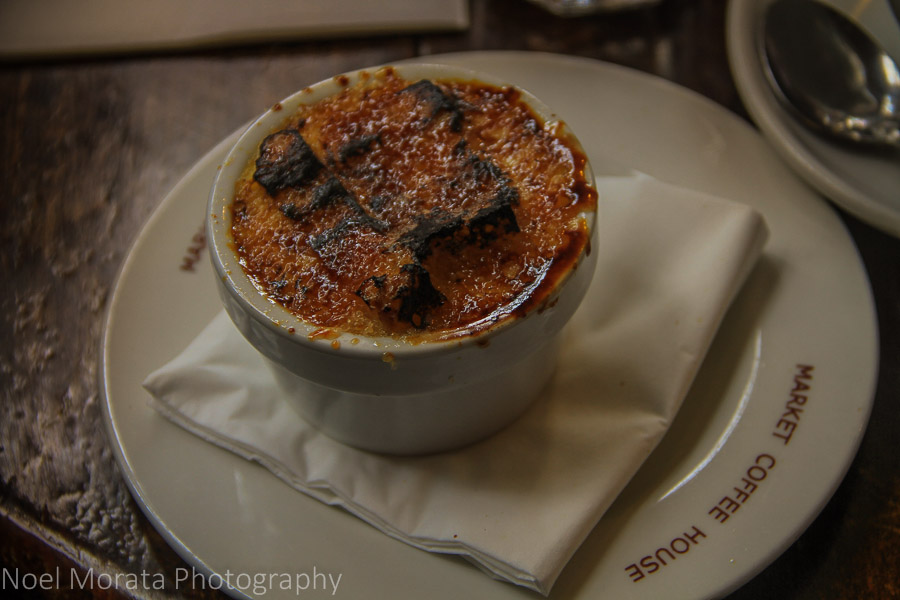 Bread and butter pudding
A very popular English dessert that is a staple and quite delicious when you find this in many eateries with their own spin of this traditional dessert. One of the best places to try the bread and butter pudding delight is at Market Coffee House in a very traditional style restaurant located in East End London.
Eton Mess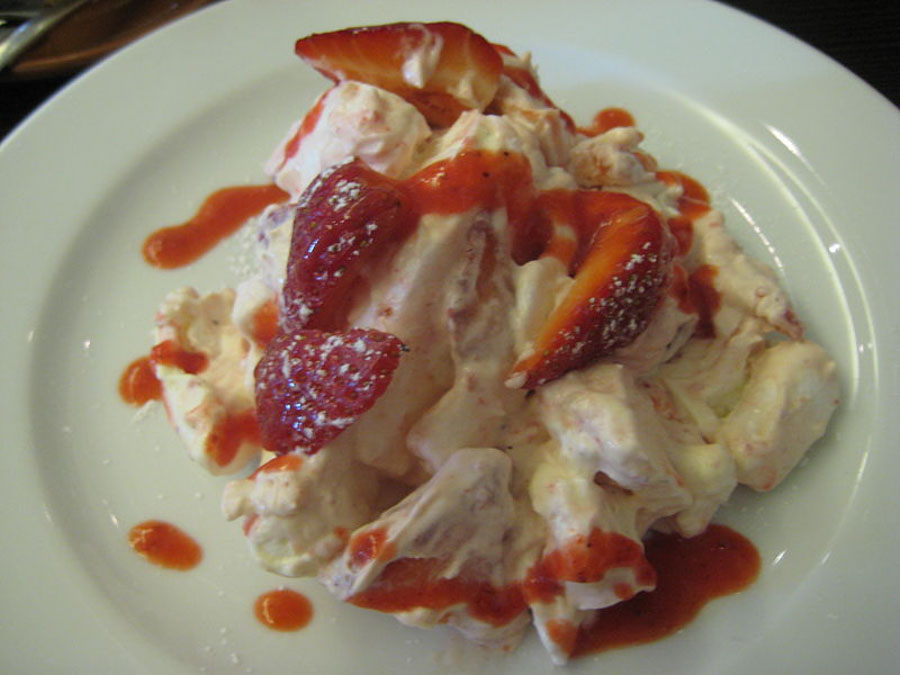 Photo credit By Angus Fraser Eton Mess, CC BY 2.0,
Another traditional English dessert made with strawberries, broken bits of meringue and lots of whipped cream. The strawberry sauce is sometimes mixed in with different liquors to make it unique to the maker or establishment.
Charlie & the Chocolate Factory themed afternoon tea at One Aldwych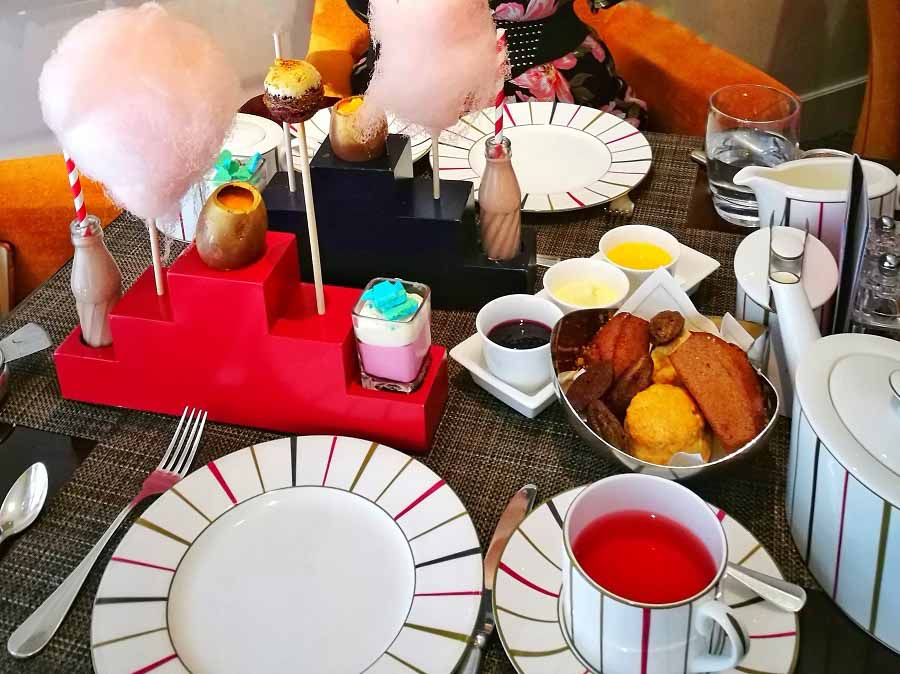 An afternoon tea is a quintessential London treat, but why have any old afternoon tea when you can have a Charlie and the Chocolate Factory themed afternoon tea? This wonderful experience at One Aldwych was voted the best afternoon tea in London by Bookatable in 2017, and it isn't hard to see why. We selected our choice of tea from a specially designed menu, each decorated with a family from Roald Dahl's wonderful book. The feast began with a selection of savouries, including delicate sandwiches and a cheddar scone with bacon jam. Then came the sweets. And they had really gone all out on the presentation. A red stand held a bottle of chocolate caramel milk, candy floss, a golden chocolate egg filled with a creamy lemon cheesecake mouse, a chocolate cake pop and bubble gum flavour mousse. We also had a basket of cakes with raspberry jam and lemon curd to drizzle on top. And if that wasn't enough, you could also order more of anything, and different flavours of tea too. The service was excellent, and even the hotel was right next to the Lyceum Theatre where we went to watch the Lion King after our meal. Perfect!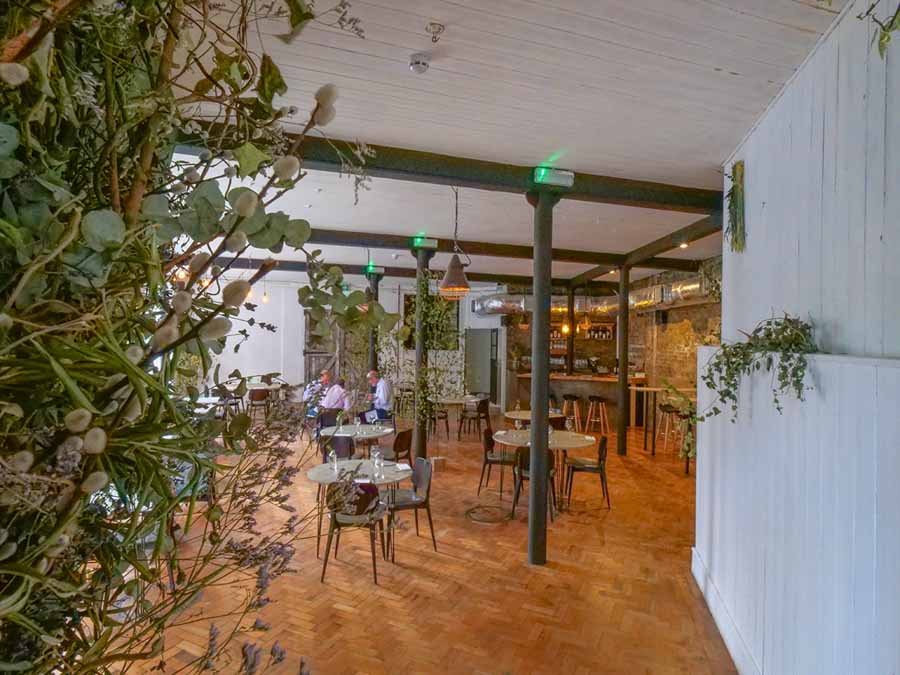 Eating at Native
One of the most stylish new restaurants in London is Native, near Borough Market. Founders Imogen Davis and Ivan Tisdall-Downes focus on wild food found in the UK, putting the spotlight on foraged and home-grown food as well as zero waste. They do some tasty Chef's Wasting Snacks using ingredients that some might consider to be waste like fish skins. These go well with their Sea Buckthorn Negroni cocktails.
The menu changes to reflect the seasons and the team work with local farmers and suppliers to bring diners the best of British. Try the fermented truffle potato risotto with Spenwood cheese and tamari or the Braeburn apple pie with camomile cream, smoked caramel and pistachio.
London's fine dining establishments
London has become one of the hottest go to cities for fine dining and nouvelle cuisine. In fact the annual top 50 restaurants survey of the world typically garners some of the most acclaimed restaurants in London worth visiting. This years top 50 restaurant guide includes three magnificent restaurants that stand out and are must visit food destinations while visiting the city.
Dinner by Heston Blumenthal
In medieval England the art of trompe d'oeil was popular. Fruit that was not really fruit at all but savoury dishes date back to 13th-15th Century Europe. The iconic Meat Fruit was created by the executive chef of Dinner, Ashley Palmer-Watts using a parfait developed for sister restaurant, the Fat Duck. This delicate chicken liver and foie gras mixture is then coated in a mandarin jelly made with mandarin puree, essential oil, paprika extra, bronze leaf gelatine and glucose. A 'peel' effect is created by dipping the fruit several times and the whole thing is then topped with a stem and leaf.
The dish is served with grilled sourdough bread made with campaillou flour – a cross between a brioche and sour dough.
Dinner by Heston prides itself on a menu based on historic British recipes, updated for the palates of today. The Meat Fruit must be one of it's best loved dishes along with snail porridge and a tipsy cake with spit roast pineapple. Definitely worth a visit if you are London and want to understand the origins of British food.
Fiona with London – Unattached.com
Video credit to
Eater
Lyle Restaurant
Video credit to HYPEBEAST
Refinement is achieved in a relatively new restaurant James Lowe and John Ogier at their austere Shoreditch London restaurant. Chef excels at presenting exceptional authentic and modern English cuisine that utilize wonderful ingredients like nettles, pigs cheek, chard ramps and alliums. The city's hottest supper club offers a set dinner menu of four courses that is simple, inventive and elegant to experience. Or you can order a la cart (Lunch menu only) from the menu popular choices like chilled courgette soup with milk curds, smoked eel with roast potatoes or a simple Dover sole dish.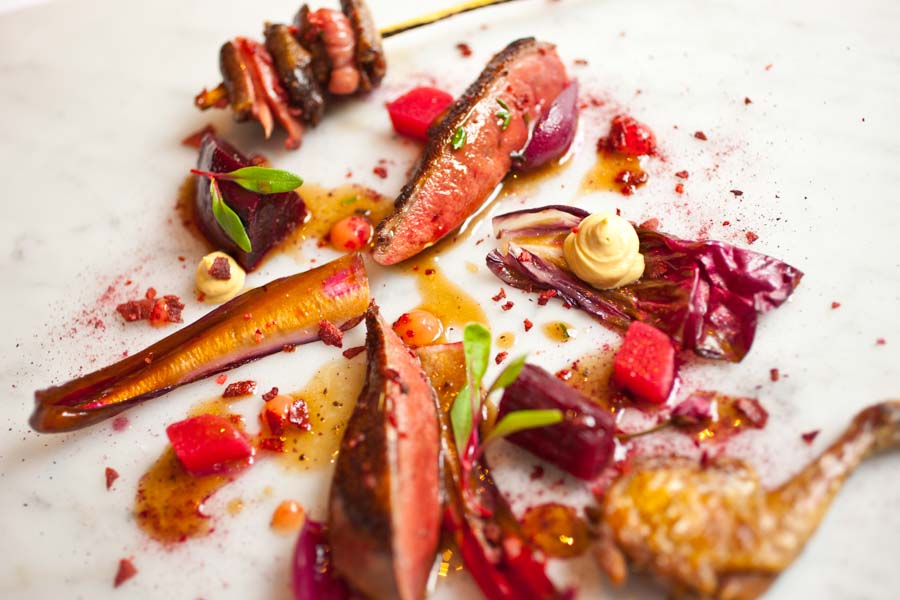 Ledbury Restaurant
The third restaurant making the top 50 list is Ledbury with chef Bret Graham uses the most fabulous English ingredients primarily in season produce and wild game to create the most spectacular iconic dishes like the delicious pigeon entree above, or perhaps a flame grilled mackerel with smoked eel, smoked bone marrow or how about trying the impressive 6 course to 8 course tasting menu offered from Friday to Sunday night at Ledbury and just be wowed!
Video credit to
EliteTravelerTV
Weather and best times to visit London
The weather in London is generally mild, but the best time to visit is during late spring to early autumn. May to September offers pleasant temperatures and less rain, perfect for exploring the city's attractions and enjoying outdoor activities.
However, keep in mind that London weather can be unpredictable, so it's a good idea to pack layers and an umbrella year-round. If you prefer fewer crowds and lower prices, consider visiting during the shoulder seasons of spring and fall. Avoid the peak tourist season in summer if you want to enjoy London with fewer crowds and more comfortable weather.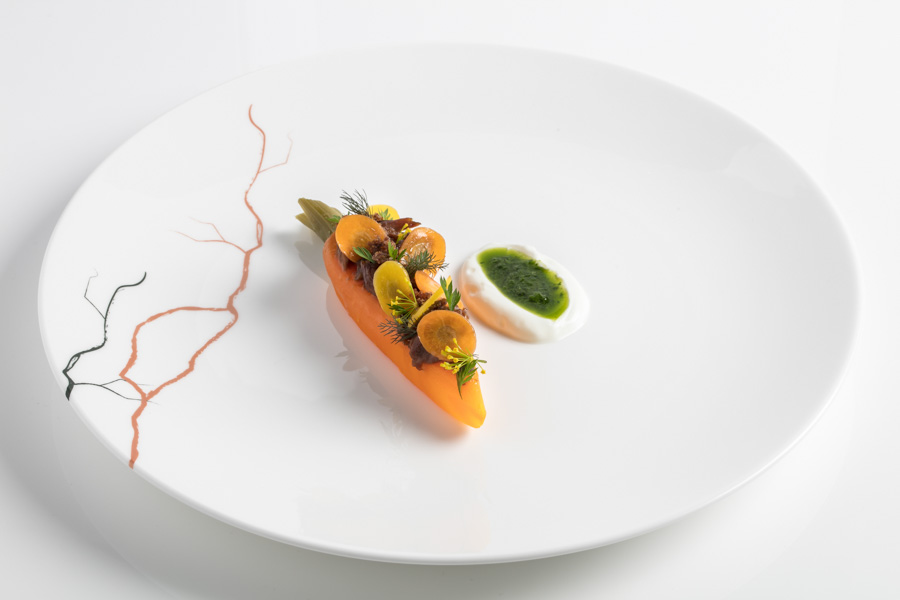 Three star dining at Core Restaurant
Heading by London's only female chef garnering three Michelin stars, Clare Smith opened Core restaurant that has been a hit ever since it's opening in 2017. Featuring contemporary British and European cuisine, Core offers and exceptional dining experience with impeccable food, precision service and helpful staff. The large tasting menu with wine pairings is an unforgettable dining experience that features dishes like potato with trout and herring roe, skate with bay shrimp, Foie gras pate and Madeira, crispy burnt smoked duck wing with burnt orange and spices and Scottish venison as part of this elaborate menu. The emphasis is on local and sustainable food from UK farms food producers
Food tours in London
If you are looking for a guided food tour in London that is unique and fun, consider these types of guided tours below.
Borough Market Food tour here – for discovering the tasty food stalls and venues in this popular market.
London guided food tour – an affordable food tour experience
Walking tour and afternoon tea at the Rubens here for more information and booking infomation
Enjoy any of these fantastic London tea experiences here for more information and booking.
Experience this Sunday East End and Sunday market tour here for booking information.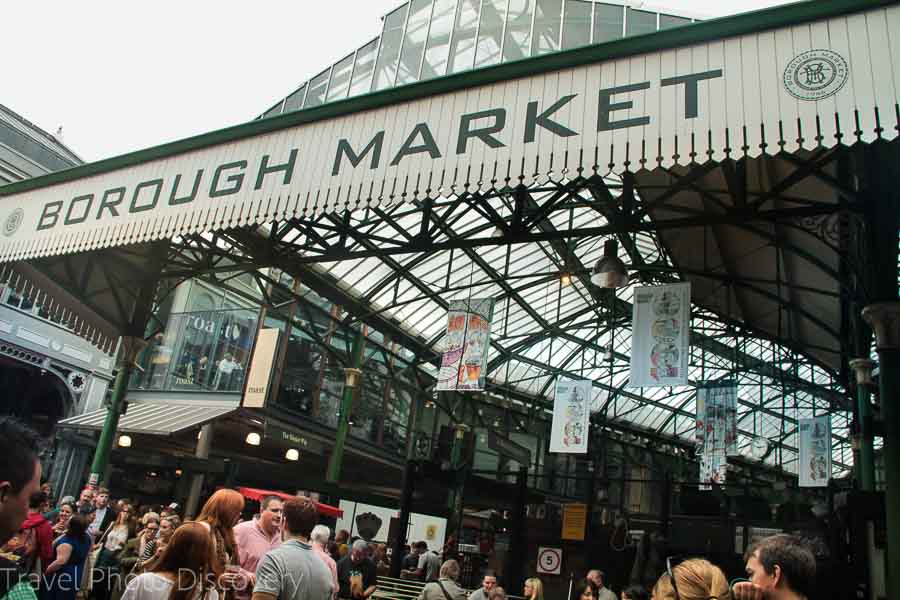 Where are the popular food markets around London?
Here are some of the main food markets in London:
Borough Market: Located near London Bridge, Borough Market is one of London's most renowned food markets. It features a wide array of artisanal and gourmet food stalls, selling everything from fresh produce and international cheeses to street food and pastries. It's a paradise for food enthusiasts.
Camden Market: Camden Market, in the eclectic Camden Town neighborhood, offers a mix of international street food, vintage clothing, and arts and crafts. You can sample dishes from various cuisines, making it a favorite among foodies.
Spitalfields Market: Situated in the trendy Spitalfields area, this market features a range of boutique shops, restaurants, and food stalls. You can find international cuisines, fashion, and unique gifts.
Maltby Street Market: Located in Bermondsey, Maltby Street Market is a hidden gem. It's known for its artisanal food and drink vendors, offering gourmet treats like cheese, charcuterie, craft beer, and more. It's a more low-key alternative to larger markets.
Greenwich Market: In the historic Greenwich neighborhood, this market offers a mix of street food, crafts, antiques, and vintage clothing. You can enjoy international dishes, desserts, and local specialties.
Brick Lane Market: Brick Lane, famous for its curry houses, also hosts a lively market. On Sundays, the market features vintage clothing, antiques, and street food from around the world.
Broadway Market: Located in the vibrant Hackney area, Broadway Market is a bustling food market that takes place every Saturday. You can savor a variety of street food, fresh produce, and artisanal goods.
Leather Lane Market: Leather Lane Market in Holborn is a weekday market known for its lunchtime offerings. You'll find a range of street food stalls serving dishes like falafel wraps, burgers, and Caribbean cuisine.
Ropewalk at Maltby Street: Adjacent to Maltby Street Market, Ropewalk is a covered market with a selection of food and drink vendors, making it an ideal spot for trying different flavors.
Southbank Centre Food Market: Located along the Southbank of the River Thames, this market features a diverse range of street food stalls, perfect for enjoying while taking in views of the river and London's iconic landmarks.
Victoria Park Market: Held on Sundays in East London's Victoria Park, this market offers a mix of food stalls, vintage clothing, and artisanal products. It's a great place to enjoy brunch and browse unique items.
More tips on how to find the best places to eat around London
When it comes to finding good places to eat in London, consider these inside tips to enhance your culinary journey:
Local Recommendations: Seek out recommendations from locals, whether it's friends, colleagues, or even online communities. Locals often have insider knowledge of hidden gems and lesser-known eateries that offer delicious and authentic dining experiences.
Food Markets: Explore London's bustling food markets, such as Borough Market, Camden Market, or Broadway Market. These vibrant hubs showcase a diverse range of food vendors and artisans, offering a wide array of culinary delights to tantalize your taste buds.
Online Reviews: Check reputable review platforms and websites to read customer reviews and ratings. Platforms like TripAdvisor, Yelp, or food blogs can provide valuable insights from fellow diners and help you discover top-rated restaurants and eateries.
London's Neighborhoods: Each neighborhood in London has its own unique food scene. From the diverse cuisine of Brick Lane to the chic eateries of Notting Hill, exploring different neighborhoods allows you to discover local favorites and hidden gems off the beaten path.
Follow Food Bloggers and Influencers: Follow food bloggers, Instagram influencers, and chefs who specialize in the London dining scene. They often share their favorite spots, new openings, and mouthwatering food photography, providing inspiration and guidance for your culinary adventures.
Michelin Guide: For those seeking fine dining experiences, consult the Michelin Guide for London. This prestigious culinary guide features a curated selection of Michelin-starred restaurants and establishments known for their exceptional quality and creativity.
Food Walking Tours: Consider joining a food walking tour led by knowledgeable guides who can introduce you to the city's culinary hotspots, share local stories, and provide historical context while you sample a variety of dishes along the way.
Remember to be open to trying new cuisines and flavors, as London's food scene is a melting pot of cultures. Whether you're craving traditional British fare, international dishes, or fusion cuisine, London has something to satisfy every craving.
By utilizing these insider tips, you can navigate London's vibrant culinary landscape and uncover hidden culinary treasures, ensuring a truly memorable and delicious dining experience in the city.
Check out more posts on Visiting London
25 cool and fun places to visit in London
Eating London – a delicious food tour
Cool attractions in the Southbank of London
Check out these other posts on Fruits, markets and foods of the world
Exotic and unusual fruits around the world
Traditional Food specialties in Italy
Popular food to eat in New York
Best countries for food around the world
Top food destinations around the world
Traditional Catalan foods you need to try
8 Traditional Portuguese foods to try
10 must try dishes and street food of Sri Lanka
Outdoor markets and street food of Bologna
Local foods of the Dalmatian Coast in Croatia
If you enjoyed this please pin it!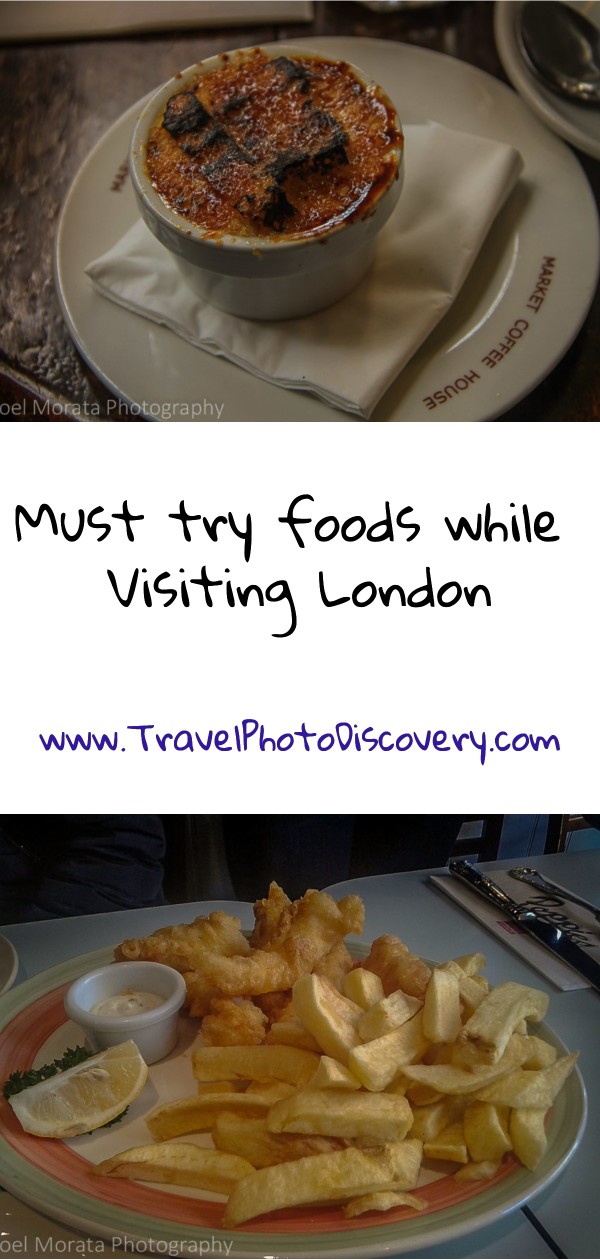 What about you?
Would you like to try some of these delicious foods and venues in London? Please share your thoughts in the comments below.
Conclusion to finding the best foods to eat in London
In conclusion, exploring the culinary delights of London is a journey of gastronomic satisfaction. From traditional English classics to diverse international cuisines, the city offers a rich tapestry of flavors to please every palate. Indulge in iconic dishes like fish and chips, hearty pies, and delectable afternoon teas. Sample street food from vibrant markets or savor Michelin-starred dining experiences. Don't forget to try multicultural delights in neighborhoods like Chinatown and Brick Lane. With its thriving food scene and culinary creativity, London is a haven for food lovers seeking unforgettable gastronomic adventures.
Thanks for visiting today and checking out this post on the Best foods to eat in London, if you enjoyed the images and post, could you please share it with any of the social media buttons located around the post.
If you like what you see, come and check out my other social media channels for more updates, including Instagram, Pinterest and Twitter