Bologna highlights: outdoor markets and street food of Bologna – the best foodie spots around town (updated 2023)
 Bologna in the Emilia-Romagna region of Italy is one of those iconic cities that has a proud and amazing food culture and history.  Better known locally as 'La Grassa' (the fat one), Bologna features so many delicious and wonderful flavors to experience. The city has many food focused venues, specialty shops and food products that are made locally from the region and it is fun to explore and discover some of the many specialty shops and food purveyors in the city. Hope you enjoy this post on Bologna highlights: outdoor markets and street food of Bologna and hope it inspires you to visit real soon.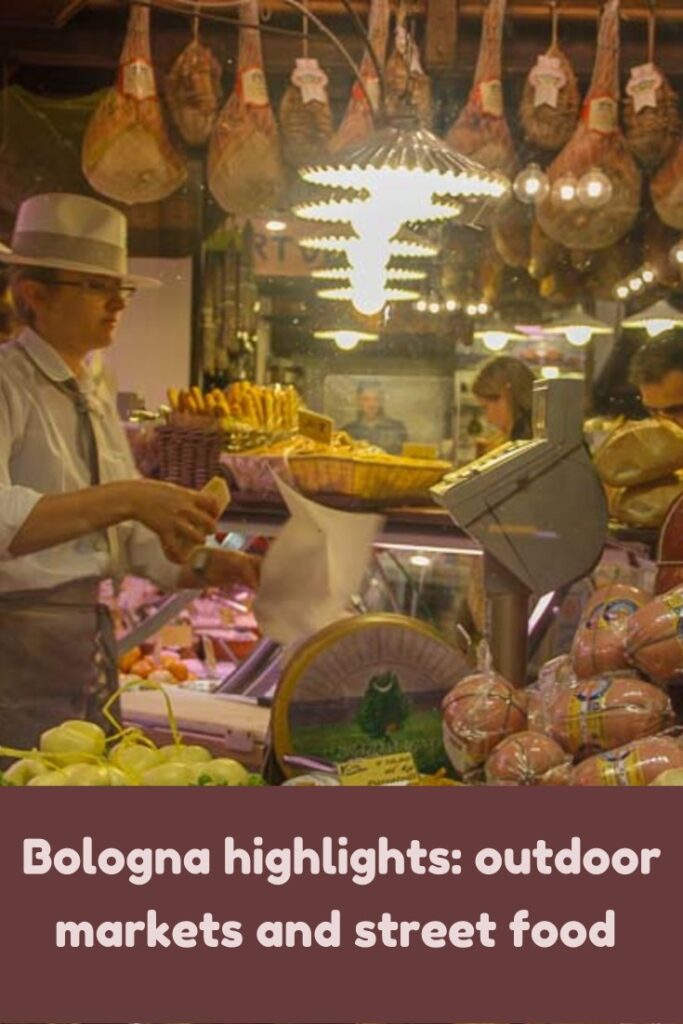 Why visit Bologna now?
Long established as a food growing and production center in Emilia-Romagna, the capital city of Bologna is the centric gathering place for gastronomic foods, markets, specialty eateries and other eating delights around the city and region. You'll enjoy visiting all the delicious food venues, outdoor markets, squares lines with amazing restaurants featuring local specialties and finding out the best gelateria's in town. The city has so many fantastic markets to explore along with the historic attraction of the piazzas, the covered porticoes, churches and beautiful architecture to enjoy.
Bologna is a year round tourist destination but the best times of the year to really enjoy the markets, outdoor lifestyle and those cafes spiliing into the streets in spring time to summer when the weather is pleasant and typically 70s to 80s during the spring to summer season.
The best Bologna highlights: outdoor markets and street food around town
Needless to say, one of my first forays into this wonderful city was find out what to do in Bologna by visiting the tourism office of Welcome Bologna. One of the best things to do in Bologna for me was to take a guided walking tour around the city and enjoy some of the delicious street, exploring the local farmers markets and many special food shops around the city. Welcome Bologna sets up private and group tours around the city especially for a foodie experience that you will enjoy while touring all the markets and fun specialty food places to explore with a guide to show you the best of the best.
It's so much easier sightseeing in Bologna with an experienced guide to show me all the Bologna street food scene, Bologna markets and specialty markets and exploring the cool outdoor markets around the city to experience without having to do extensive research.
Here's where to find the best Bologna outdoor markets and specialty food places 
There are quite a few specialty food markets, venues and restaurants you can explore all around the city. Check out the highlights and some of the best places you can explore around the city now.
The Quadrilatero or ancient Bologna food market
First stop of places to visit in Bologna was the historic district and ancient food market known as the Quadrilatero market. It is located off the Piazza Maggiore, the main square in the central district of the city. The Quadrilatero is an area of very narrow streets with packed vendors and old food stalls that are typical of how they were during the medieval time frame, selling right into the narrow passageways. It is a very colorful area filled with produce stalls, wine shops, specialty food shops and cafes with outdoor seating spilling all over the streets, making it a perfect place for people watching and trying out some of the local specialties of the area.
Not exactly a cheap outdoor and specialty food market area, the Quadrilatero prides itself with all the fresh produce stalls and specialty shops selling the best quality products grown or made in the area. Here you will find the best fish stalls, pasta shops, cured meats or butcheries along with a large assortment of specialty foods from the area like the wonderful local cheese shops or delicious pastry or gelaterias.
Here's a fun video tour of the Quadrilatero below
Evening shopping at the Quadrilatero is an option and very colorful at night-time
At night time, things are more lively in the markets with restaurants expanding into the small alleyways and piazzas for outdoor dining al fresco and a slice of Dolce Vita in Bologna. It's fun to explore, visit some of the unique shops and check out the menus before you decide where you want to dine for the night in the city.
The fish market is lively and well stocked for the evening rush
The Quadrilatero ended up being one of my favorite sites that I visited several times, ate at some delicious trattorias and checked out more of the specialty food markets and stalls in the area. Later in the evening, it reopens again for the after hours crowd to shop for their daily provisions or just drop by for an apperitivo (drinks/appetizers) with some friends at the many outdoor cafes that have magically opened up for the evening passegiata and dinner.
Here are my favorite places to visit in the Quadrilatero market:
A foodie lovers market, Bologna markets and specialty food venues, restaurants, bars and other cool foodie shops fill up the narrow streets and cafes that spill out into the streets late at night.
A. F. Tamburini, is one of the most iconic Bologna food specialty stores and eateries in the area – founded in 1932 as a butcher and cheese shop, it eventually expanded to pasta and specialty foods from the area and has a busy lunch to dinner café style eatery that is very popular with the locals
Paolo Atti & Figli on Via Caprarie is a 100 year old pasta institution in the Quadrilatero market area with traditional interiors and walls. This Bologna food market is filled with pasta that has been unchanged since the start of the specialty pasta purveyor.
Salumeria Simoni,  Of all the markets in Bologna, this aromatic and wonderful place specializes in selling artisan mortadella and all other local cold cuts. They also sell specialty cheese like the very popular locally made Parmigiano Reggiano
Dante Zanetti, is a small bakery selling all types of Bologna hand-made pasta, as well as bread and Bologna's typical sweets like raviole and torta di riso.
Mercato delle Erbe – An indoor Bologna farmers market
The Mercato delle Erbe (vegetable market) in the historic central district is a modern indoor market (established 1949) that is far away from the more touristy and pricier Quadrilatero market off the Piazza Maggiore.  Servicing a more local audience, the market still offers a plethora of the best local and in season produce and finished products from the area at affordable prices. I noticed that all the vendors also place a lot of care and energy to making their food and stalls look beautiful, spotless and easy to take away.  More than a vegetable market, the markets in Bologna also have meat and poultry purveyors along with an area for fresh seafood, shellfish, local fish and specialty foods from the area.
One of the oldest markets in Bologna to visit below
 Bologna street food
Of course the street food in Bologna the bomb and readily available all over the city in small take out shops, bars, deli and food specialty shops and even food courts. Popular street food includes the following delicious bites that you can find in many parts of the historic center of the city:
Pizza to go please…
Street food in Bologna is so easy and fast and pizza is always an easy to go standard. In most take away places, it's usually in a square pan and sliced into nice perfect squares and not pie shaped. It always seems like there are easy pizza shops everywhere in Bologna along with a variety of sandwich and easy take away foods.
Specialty cured meat shops or Salumeria carry a wide variety of sliced and cured meats and salumi. Typically these shops sell sandwiches to go and other side dishes like salads or pastas that are a perfect complement.
Flat breads or Focaccia in Italian are also easy and popular to go items from various take away shops around Bologna.
What are the top street foods of Bologna – check out this video overview below
Bologna desserts and gelaterias
Of course, desserts as a take-away item from the many bakeries, dessert shops and gelateria are almost on every corner block in Bologna (to many to choose from in the city), it's easy to just drop in and pick and choose whatever is appealing to the eyes and smells when you enter these amazing shops.
Who wants to try some local Gelato from Bologna?
Who makes the best gelato in Bologna, check it out!
More inside tips and cool foodie places to visit around Bologna
Bologna, Italy, is a fantastic destination known for its culinary delights and outdoor markets. Here are some inside tips on the best outdoor markets and food venues in Bologna:
 Mercato di Mezzo:
Location: Via Clavature, Bologna.
Why Visit: This market combines old-world charm with modern culinary offerings. It's perfect for foodies looking for a diverse dining experience.
Insider Tip: Sample handmade pasta at Pasta Fresca Naldi.
Piazza Maggiore Market:
Location: Piazza Maggiore, Bologna.
Why Visit: On Fridays and Saturdays, this square transforms into an open-air market with stalls selling fresh produce, artisanal products, and antiques.
Insider Tip: Try porchetta, a savory roasted pork sandwich, from one of the vendors.
Osteria del Sole:
Location: Vicolo Ranocchi, Bologna.
Why Visit: This historic tavern is one of Bologna's hidden gems. It's a great place to enjoy local wines and bring your own food from the markets.
Insider Tip: Grab some cheese, cold cuts, and a bottle of wine, and enjoy a picnic-style meal here.
Trattoria Anna Maria:
Location: Via Belle Arti, Bologna.
Why Visit: For an authentic taste of Bolognese cuisine, visit this traditional trattoria. They are known for their hearty pasta dishes.
Insider Tip: Order the tortellini in brodo, a local favorite.
Eataly Bologna:
Location: Via degli Orefici, Bologna.
Why Visit: Eataly is a food lover's paradise, offering a wide range of Italian gourmet products, fresh ingredients, and multiple dining options.
Insider Tip: Explore the various food counters, and don't forget to sample local wines and cheeses.
Pros and Cons:
Pros:

Bologna's markets and food venues offer a rich culinary experience.
You can sample local specialties and shop for fresh ingredients.
It's a paradise for food photography and storytelling.

Cons:

Popular venues can get crowded, so plan your visit during off-peak hours.
Some markets may have specific opening days and times, so check in advance.
Exploring Bologna's outdoor markets and food venues will not only satisfy your taste buds but also provide ample opportunities for photography and content creation. Enjoy your culinary journey in Bologna!
Interesting places to also explore around Bologna
Did you know there's a cool culinary themed park called Eataly World, Check out the details here to visiting.
Do a fun Ferrari Test drive in Bologna
A fun San Luca train and tasting experience
Conclusion on the best outdoor markets and food venues of Bologna
There's so many inspiring food venues around Bologna to explore and enjoy. From relaxing at a local restaurant in town, exploring the food markets or browsing for local delicacies in a specialty food store, you'll love visiting Bologna for all the savory bites and delicious food experiences you'll come across here – Bon Appetito!
As you can see the choices are endless in terms of the types of places to explore in the city if you have an extreme food fetish and Bologna and its food venues will not disappoint you with any of your choices.  Visiting Bologna for the food experiences alone makes it one of the best foodie destinations in Italy worth visiting especially if you love amazing quality of food, traditional ways of food production and truly remarkable cuisine.
If you enjoyed the post, please check out these other posts of Bologna
Bologna agriturismo tour and cooking class
A first impression of Bologna in Emilia Romagna
Do a walking tour of Central historic Bologna
Where to stay in Bologna
There's so many fantastic choices of places to enjoy and base yourself in the city which is walkable, so being central is key in visiting all the main attractions and markets in town. Here are some of our favorites below.
Located in the historic district and a four star hotel with excellent and comfortable rooms, breakfast service and even a top level hot tub with views for soaking away your tired feet at the end of the day.
Located in a two hectare park, gorgeous swimming pool and grounds, this elegant boutique hotel is comfortable, family friendly and includes a breakfast service. In a more quiet and residential area but still accessible to public transportation, it is a haven in a dense and noisy city to explore and base yourself in.
Located next to the central railway station and a short walk to the historic district, the convenience of this modern and comfortable hotel makes it an easy stay at very affordable prices.
Check out some of these other best rated hotels and inns here for current prices and availability while staying in Bologna.
Check out these other posts on Fruits, markets and foods of the world
Exotic and unusual fruits around the world
Traditional Food specialties in Italy
Popular food to eat in New York
Best countries for food around the world
Traditional Catalan foods you need to try
8 Traditional Portuguese foods to try
10 must try dishes and street food of Sri Lanka
Top food destinations around the world
Local foods of the Dalmatian Coast in Croatia
Pin and save this to your Italy board
Conclusion to Visiting the Bologna Market and street food scene
Which place or market stood out for you and want to visit soon? Please share those in the comments below.
Thanks for visiting the outdoor markets and street food of Bologna, if you enjoyed reading this post, please do share it with any of the social media buttons located around the post.
Disclosure – some of the links above are to affiliate sites that are either reviews or recommendations if you book helps to keep our site running. We appreciate your supporting our website meanwhile