Bologna highlights: outdoor markets and street food of Bologna you'll love to visit
 Bologna in the Emilia-Romagna region of Italy is one of those iconic cities that has a proud and amazing food culture and history.  Better known locally as 'La Grassa' (the fat one), Bologna features so many delicious and wonderful flavors to experience. The city has many food focused venues, specialty shops and food products that are made locally from the region and it is fun to explore and discover some of the many specialty shops and food purveyors in the city. Hope you enjoy this post on Bologna highlights: outdoor markets and street food of Bologna and hope it inspires you to visit real soon.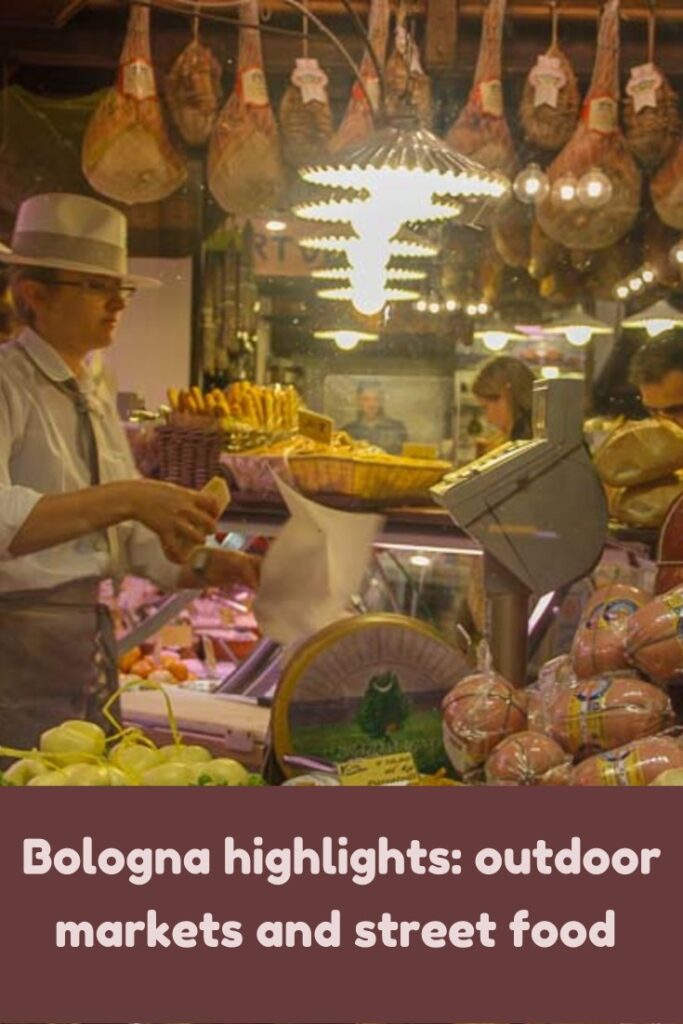 Why visit Bologna now?
Long established as a food growing and production center in Emilia-Romagna, the capital city of Bologna is the centric gathering place for gastronomic foods, markets, specialty eateries and other eating delights around the city and region. You'll enjoy visiting all the delicious food venues, outdoor markets, squares lines with amazing restaurants featuring local specialties and finding out the best gelateria's in town.
Foodie things to do in Bologna
Needless to say, one of my first forays into this wonderful city was find out what to do in Bologna by visiting the tourism office of Welcome Bologna. One of the best things to do in Bologna for me was to take a guided walking tour around the city and enjoy some of the delicious street, exploring the local farmers markets and many special food shops around the city. It's so much easier sightseeing in Bologna with an experienced guide to show me all the Bologna highlights to the street food scene, specialty markets and outdoor markets around the city to experience without having to do extensive research.
Here's where to find the best outdoor markets and specialty food places in Bologna
The Quadrilatero or ancient Bologna food market
First stop of places to visit in Bologna was the historic district and ancient food market known as the Quadrilatero market. It is located off the Piazza Maggiore, the main square in the central district of the city. The Quadrilatero is an area of very narrow streets with packed vendors and old food stalls that are typical of how they were during the medieval time frame, selling right into the narrow passageways. It is a very colorful area filled with produce stalls, wine shops, specialty food shops and cafes with outdoor seating spilling all over the streets, making it a perfect place for people watching and trying out some of the local specialties of the area.
Not exactly a cheap outdoor and specialty food market area, the Quadrilatero prides itself with all the fresh produce stalls and specialty shops selling the best quality products grown or made in the area. Here you will find the best fish stalls, pasta shops, cured meats or butcheries along with a large assortment of specialty foods from the area like the wonderful local cheese shops or delicious pastry or gelaterias.
Evening shopping at the Quadrilatero is an option and very colorful
The fish market is lively and well stocked for the evening rush
The Quadrilatero ended up being one of my favorite sites that I visited several times, ate at some delicious trattorias and checked out more of the specialty food markets and stalls in the area. Later in the evening, it reopens again for the after hours crowd to shop for their daily provisions or just drop by for an apperitivo (drinks/appetizers) with some friends at the many outdoor cafes that have magically opened up for the evening passegiata and dinner.
Here are my favorite places to visit in the Quadrilatero market:
A. F. Tamburini, is one of the most iconic food specialty stores and eateries in the area – founded in 1932 as a butcher and cheese shop, it eventually expanded to pasta and specialty foods from the area and has a busy lunch to dinner café style eatery that is very popular with the locals
Paolo Atti & Figli on Via Caprarie is a 100 year old pasta institution in the Quadrilatero market area with traditional interiors and walls filled with pasta that has been unchanged since the start of the specialty pasta purveyor.
Salumeria Simoni,  specializes in selling artisan mortadella and all other local cold cuts. They also sell specialty cheese like the very popular locally made Parmigiano Reggiano
Dante Zanetti, is a small bakery selling all types of Bologna hand-made pasta, as well as bread and Bologna's typical sweets like raviole and torta di riso.
Mercato delle Erbe – An indoor Bologna farmers market
The Mercato delle Erbe (vegetable market) in the historic central district is a modern indoor market (established 1949) that is far away from the more touristy and pricier Quadrilatero market off the Piazza Maggiore.  Servicing a more local audience, the market still offers a plethora of the best local and in season produce and finished products from the area at affordable prices. I noticed that all the vendors also place a lot of care and energy to making their food and stalls look beautiful, spotless and easy to take away.  More than a vegetable market, they also have meat and poultry purveyors along with an area for fresh seafood, shellfish and local fish from the area.
 Bologna street food
Of course street food in Bologna is readily available all over the city in small take out shops, bars, deli and food specialty shops and even food courts. Popular street food includes the following delicious bites that you can find in many parts of the historic center of the city:
Pizza to go please…
Pizza is always a standard, in most take away places, it's usually in a square pan and sliced into nice perfect squares and not pie shaped. It always seems like there are easy pizza shops everywhere in Bologna along with a variety of sandwich and easy take away foods.
Specialty cured meat shops or Salumeria carry a wide variety of sliced and cured meats and salumi. Typically these shops sell sandwiches to go and other side dishes like salads or pastas that are a perfect complement.
Flat breads or Focaccia in Italian are also easy and popular to go items from various take away shops around Bologna.
Bologna desserts and gelaterias
Of course desserts as a take away item from the many bakeries, dessert shops and gelateria are almost on every corner block in Bologna (to many to choose from in the city), it's easy to just drop in and pick and choose what ever is appealing to the eyes and smells when you enter these amazing shops.
Who wants to try some local Gelato from Bologna?
Conclusion on the best outdoor markets and food venues of Bologna
There's so many inspiring food venues around Bologna to explore and enjoy. From relaxing at a local restaurant in town, exploring the food markets or browsing for local delicacies in a specialty food store, you'll love visiting Bologna for all the savory bites and delicious food experiences you'll come across here – Bon Appetito!
As you can see the choices are endless in terms of the types of places to explore in the city if you have an extreme food fetish and Bologna and its food venues will not disappoint you with any of your choices.  Visiting Bologna for the food experiences alone makes it one of the best foodie destinations in Italy worth visiting especially if you love amazing quality of food, traditional ways of food production and truly remarkable cuisine.
If you enjoyed the post, please check out these other posts of Bologna
Bologna agriturismo tour and cooking class
A first impression of Bologna in Emilia Romagna
Check out these other posts on Fruits,  markets and foods of the world
Exotic and unusual fruits around the world
Traditional Food specialties in Italy
Popular food to eat in New York
Best countries for food around the world
Traditional Catalan foods you need to try
8 Traditional Portuguese foods to try
10 must try dishes and street food of Sri Lanka
Top food destinations around the world
Local foods of the Dalmatian Coast in Croatia
Pin and save this to your Italy board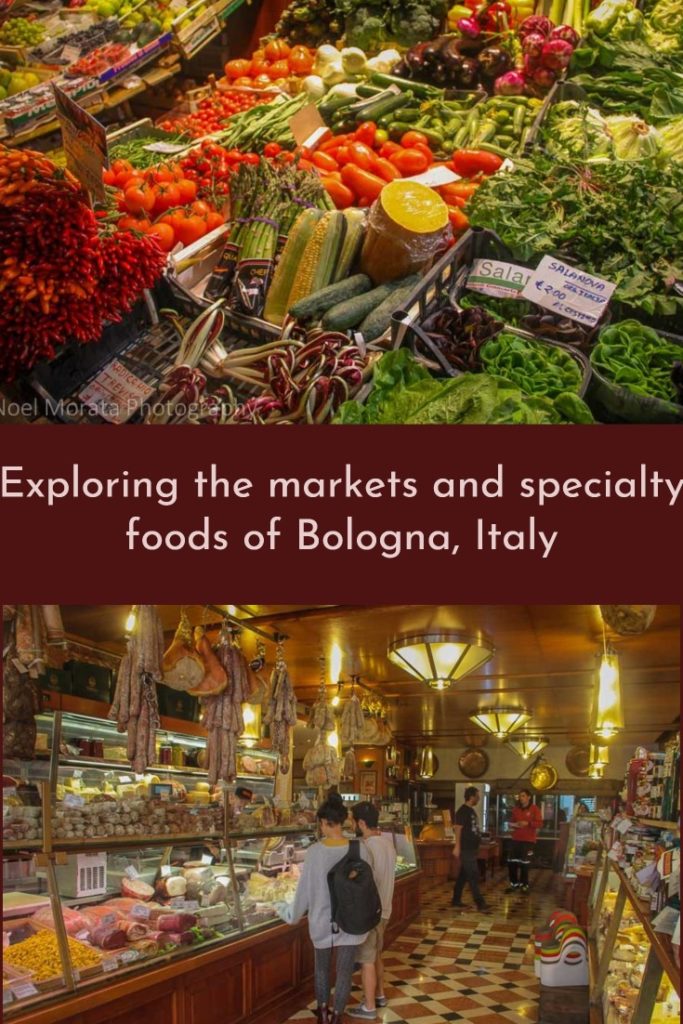 Now it is your turn
Which place or market stood out for you and want to visit soon? Please share those in the comments below.
Thanks for visiting the outdoor markets and street food of Bologna, if you enjoyed reading this post, please do share it with any of the social media buttons located around the post.